Srinagar and the Gorgeous Dal Lake, Kashmir
|
The city of Srinagar is one of the biggest cities in the state of Kashmir and Jammu. The city is situated near the beautiful Dal Lake which is the reason it attracks many tourists on an annual basis.
The name Sri Nagar means City of Prosperity and that is not a surprise if you see how the city is situated in between the beautiful hills and around the gorgeous lake.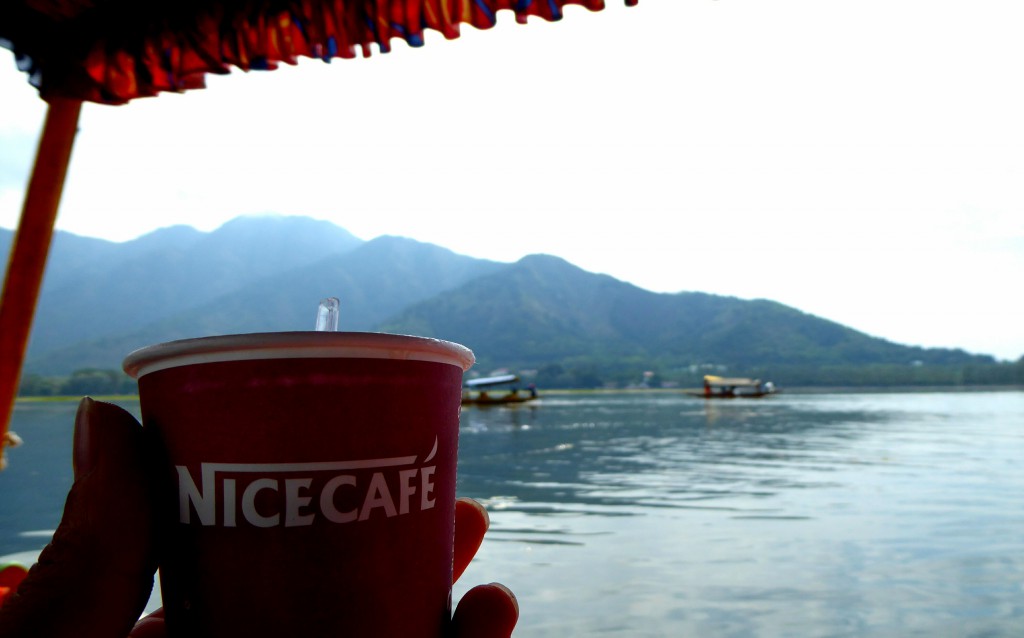 Sri Nagar – City of  Prosperity
Srinagar is also called the Venice of the East or the Kasmiri Venice. This is of course because of the activities on and near Dal Lake, the many houseboats and all the boats that are crossing the lake. The second reason that the city is familiar to tourists are the many Muhgal gardens.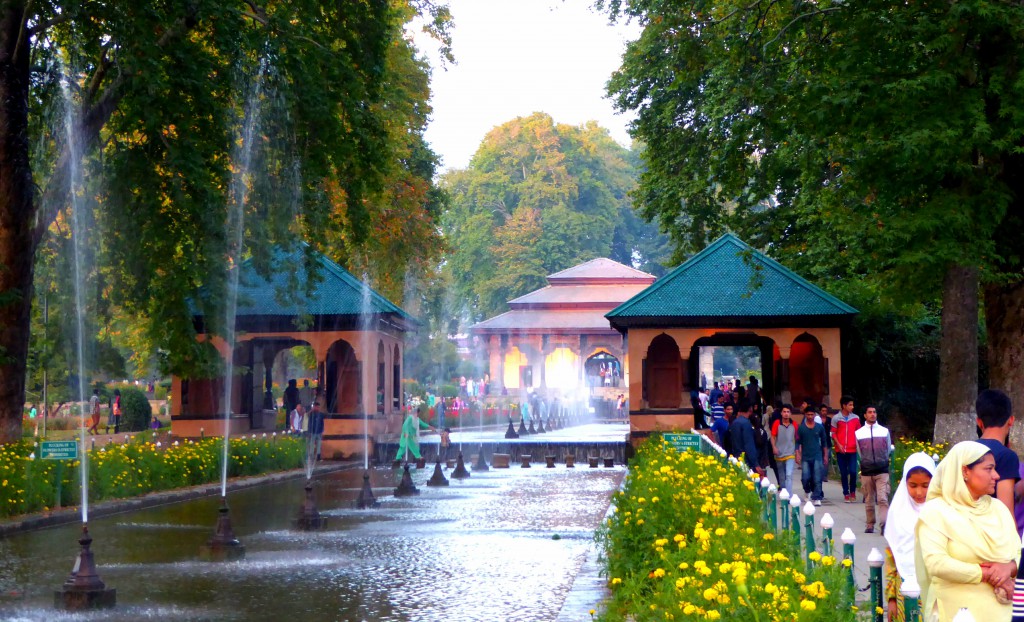 There is a lot to see and do in this old city near Dal Lake. I have visited 5 days and stayed on a houseboat on the beautiful lake. I was invited by a good friend of mine, Latif, to withness the celebration of a Muslim Festival, Eid Ul Adha. That was a great experience to withness!After that I ofcourse visited this city too.
I made a top 5 of must visits when you are in Srinagar:
 Exploring Dal Lake with a Shikara – Srinagar
1. Exploring the Dal Lake with a Shikara
Going for a tour on the lake is a must. The typical boats they use are called a Shikara. The are great and totally relaxing with their covers. It is hard to sit because it is kind of a lounge area. So, take off your shoes and lean back to enjoy the surroudings. The boat always comes with a driver/guide to take you around the lake and to tell you about the history and activities. You'll get to see the gardens where vegetables are grown and ofcourse a Lotus garden.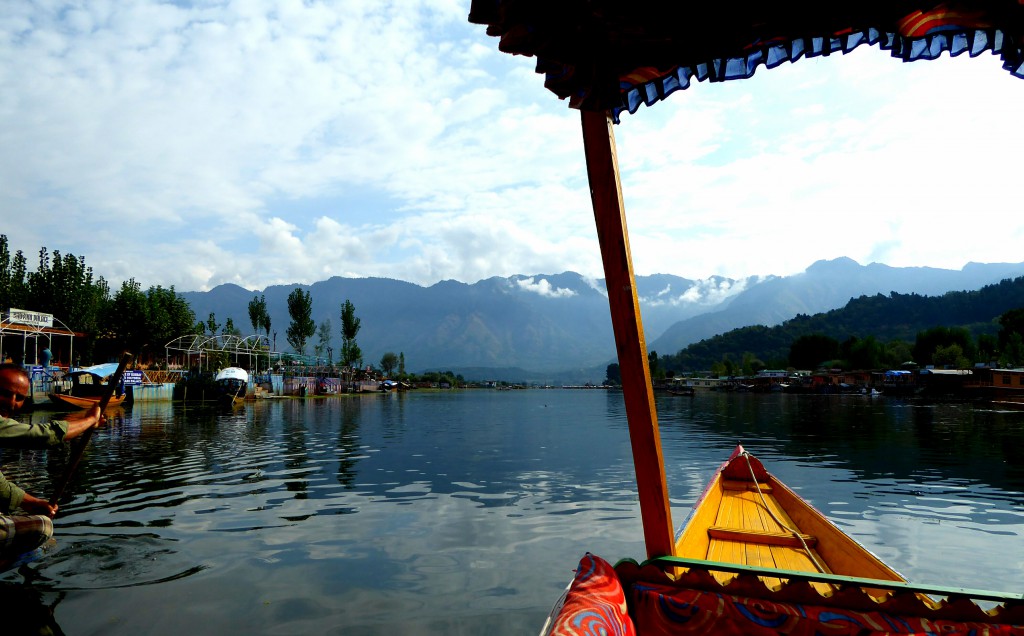 When you're on the big lake you get a great view at the surrounding mountains.
We got some great chai at a floating bar on the lake, how great is that?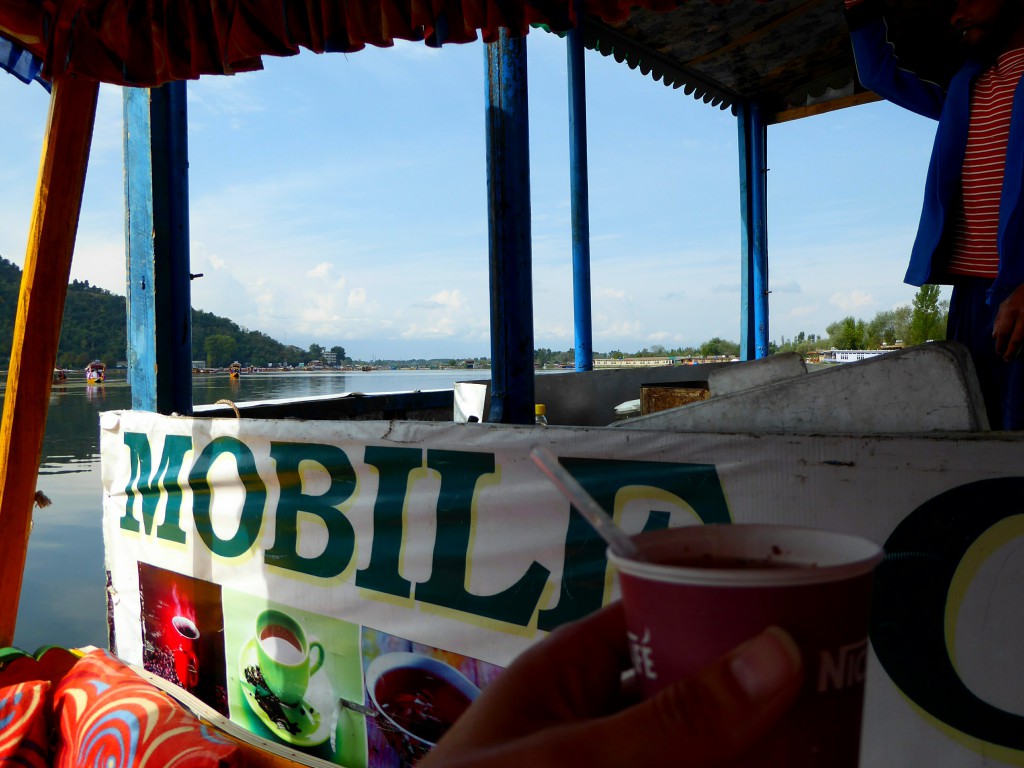 As if time stood still – Srinagar
2. The Old City of Srinagar

Spending an afternoon in the old city gives you the feeling of stepping back in time as it does in many Indian cities. It shows you how the people lived many years ago and how they do exactly the same at this time with aaddition of a car and a celphone.
You see so much just walking around, I wanted to stand still and take pictures at almost every step I took.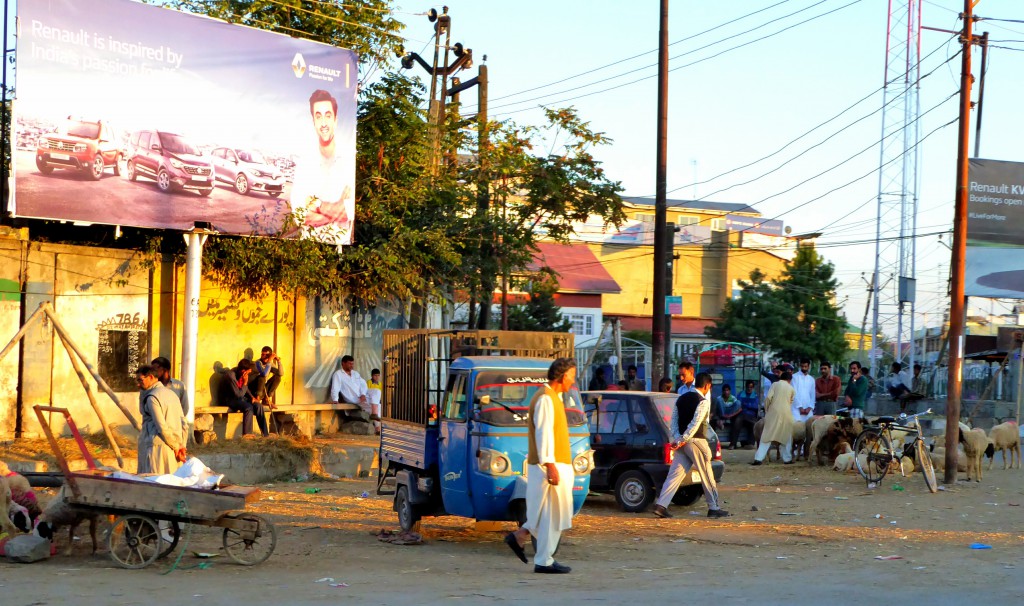 Jama Mashid – Srinagar

In the old City there is the Jama Mashid and that means as much as big mosque. And it is a big mosque. I was  told it can house up to 32.000 people. It is a square building with in the middle a opening/garden and a fountain. When it is full people are seated in the garden too.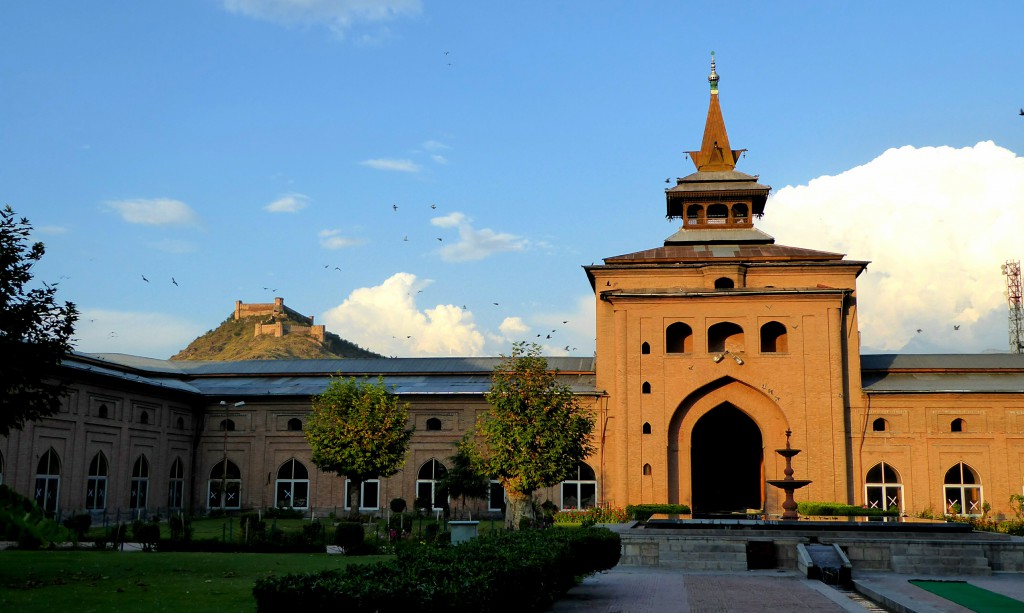 To get in there as a woman you get a dress with a hoody so you are covered from head to toe. The entry was free. It is not open while praying. We just waited for 10 minutes and got in.
 The Famous Mughal Gardens of Srinagar
3. Mughal Gardens
There are a couple of Mughal Gardens in and near this city. They originate from the Mughal area and are great, spacious and well architectured gardens. When I visited it was very busy, it was the day after Eid Ul Adha, a Muslim Festival and everybody was gathered with family and in a festive mood. Still it is used a lot just for families as a getaway for a relaxing day or afternoon. I saw a lot of teenagers, groups of boys and girls. Not mixed but I saw a lot of interaction between the two 🙂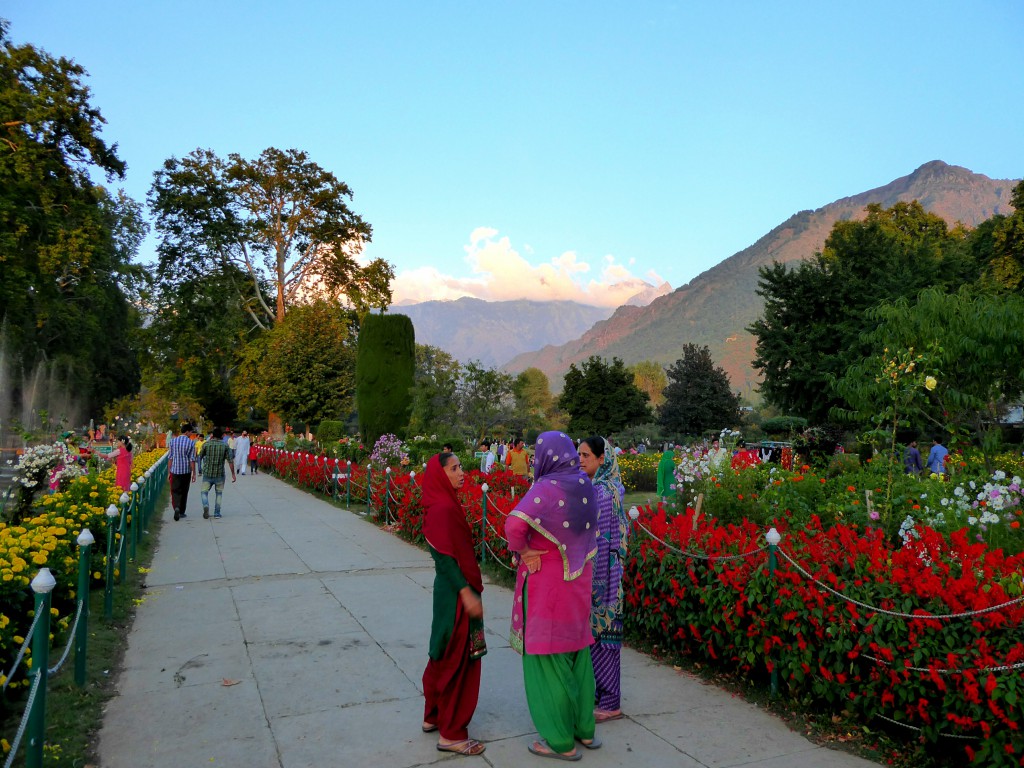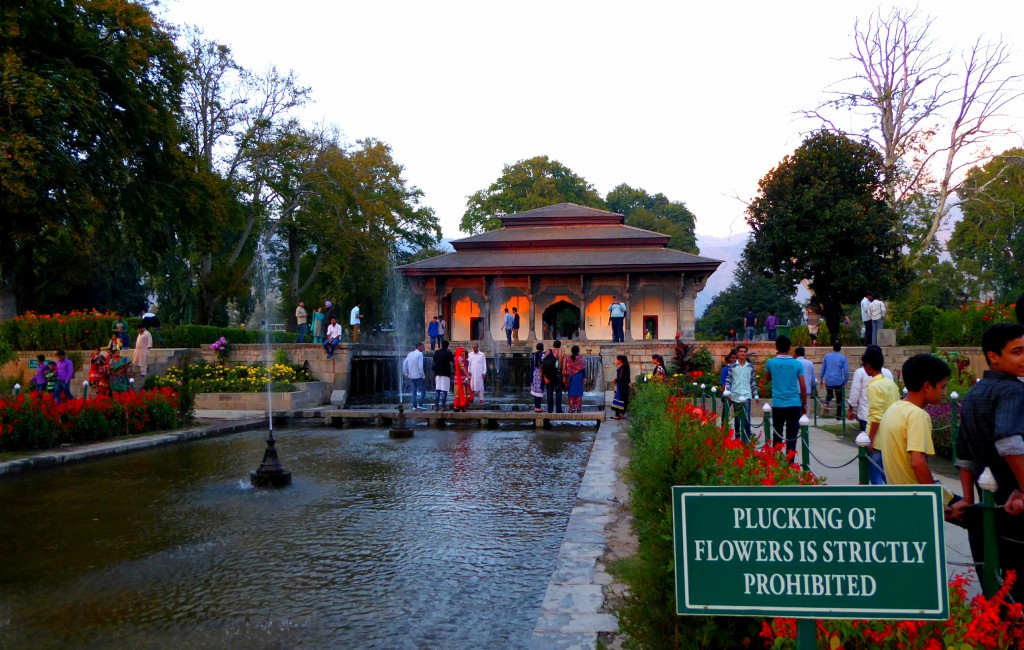 Panorama View over Srinagar
4. Shankaracharya Temple
High above Srinagar and visible from almost everywhere is the Shankaracharya temple on top of the hill. From this temple you have a wonderful view over Srinagar and of course the Dal Lake.  As everywhere in Kashmir there is a lot of security and rules. On this sight you can not make any pictures once you are half way up. If you get higher you can see an army post and get a panorama view which can be used by the 'enemy'. Read
more
about the safety in Kashmir.
There are a couple of viewingpoints made for the tourists ofcourse before entering this 'camera free' point. After that last armypoint you need to walk up a stairs and when you get up there you do have the best view over Srinagar and you earned it!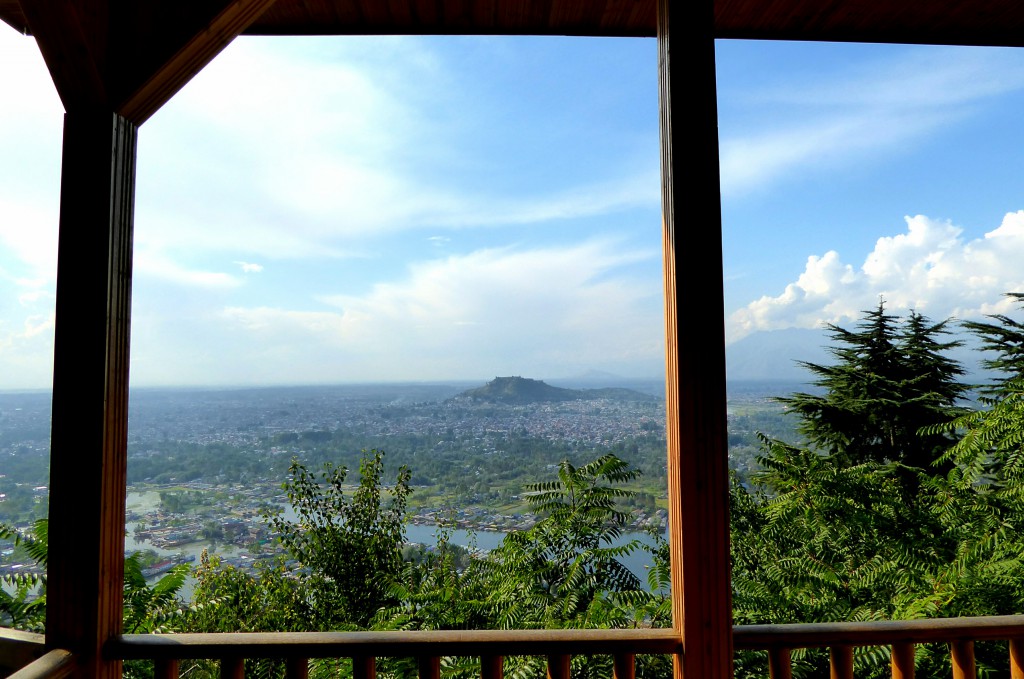 You will always miss a great spot: Khanqah Shah-i-Hamandan
5. Khanqah Shah-i-Hamadan
Unfortunately I only saw this great building from out of the car, crossing the water. It is situated along the river and has a great roof, which I saw. I couldn't explain what I saw to the guide/driver and so we didn't visit. Now I found it online and do want to share it with you.
It is a meeting place for the muslims and is open from 05.30 am untill 9.30 pm. It is build around 1730 and they didn't use a nail in the whole building. And, as you see a lot in Srinagar, they used paper mache to decorate it.
How did I arrange this?
Srinagar –  Kashmir – India
I arranged this through a local agency. You can arrange this too if you want and email to syedmirakshahcarrental@yahoo.in for more information. If you arrange your trips and hotels local you'll save money. You get other hotels, more local and great authentic ones. The ones I had were really great decorated. I can recommend to you to arrange your trip with Latif from Syed Mirak Shah Car Rental.
What to expect of Latif's services?
He will not only arrange a car with driver but also arrange great local hotels and give you tips on where to go every day. Still you have got the freedom to go where you want and can ofcourse use your driver and car for it!

5 Highlights you need to see at #Srinagar and the Gorgous #DalLake, Kashmir #Tips #Kashmir https://t.co/k6y3Is681h pic.twitter.com/wTPy5KvZxY

— Safe Healthy Travel © (@Safe_H_Travel) November 28, 2015
—
If you enjoyed this post I would love it if you would share it on your social media 🙂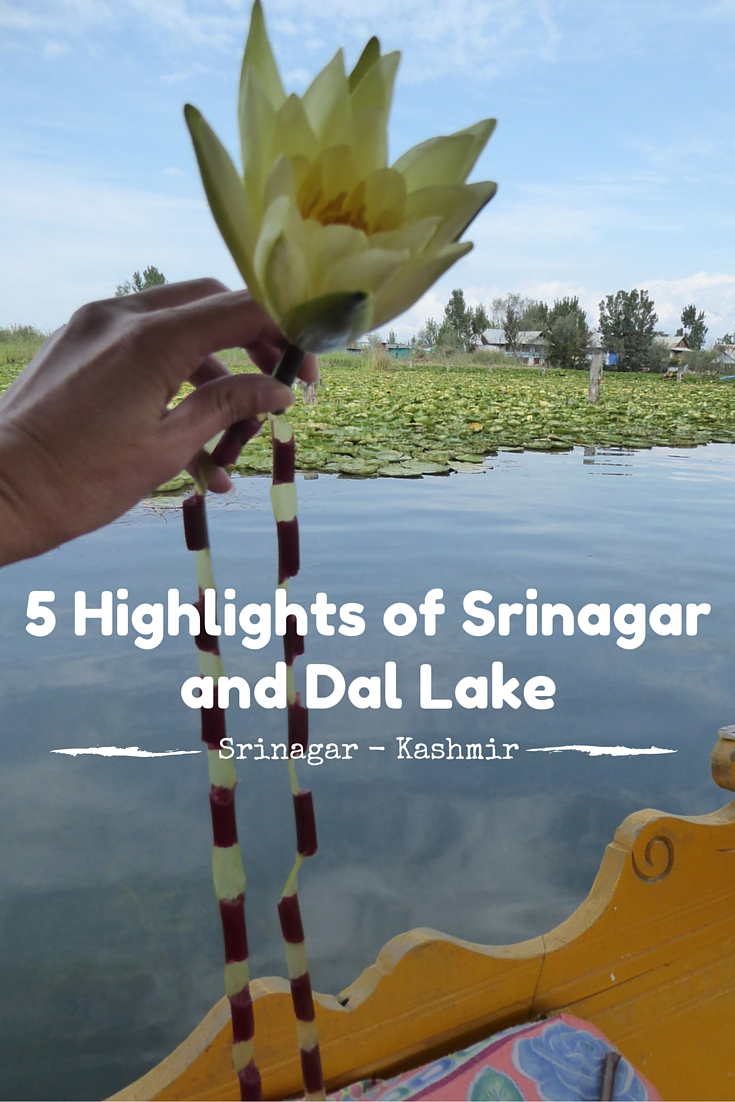 —
Would like to read more about my India travels?
Going too local at a Local Cookingclass in Varanasi
5 Highlights of Jaipur, the Pink City
Rituals, Roasted Rice and Holy Elephants – Cochin Kerala
Puja on the Beach of Papanasam – Varkala, Kerala
Searching for the Tiger at Periyar Tiger Reserve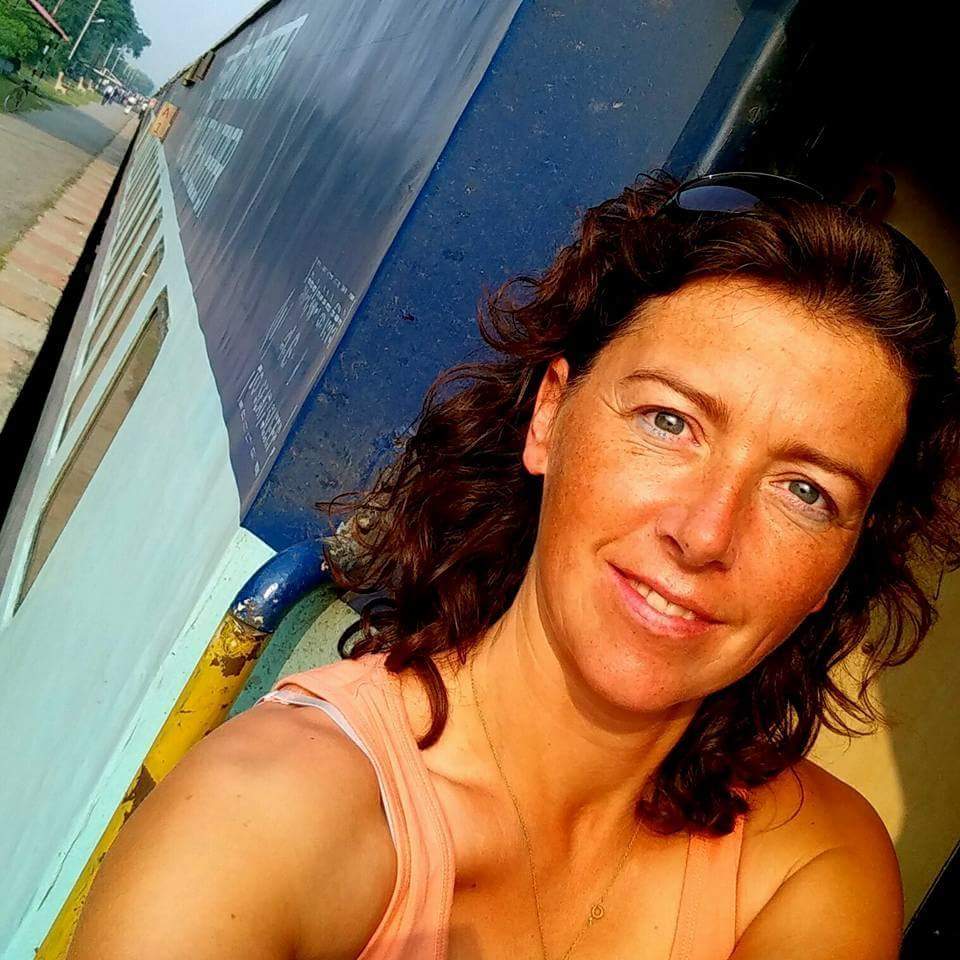 Jacomijn is a police officer from The Netherlands who loves to show you how to travel the world Safe, Healthy and Active!! Safe and Healthy Travel is a MUST!