Exploring The Philippines in two weeks
|
I was in Kuala Lumpur, Malaysia and had reached that point that I had to make a decision
I still had two weeks of exploring to go before my volunteering started at Tioman Island. Two weeks…that is enough to visit another country so I went on searching the internet. Before starting this trip of 3 months I thought about The Philippines and Indonesia – Sumatra. Looking back I visited both and have some wonderful memories about both visits!!
Als je deze post in het Nederlands wil lezen, klik dan
hier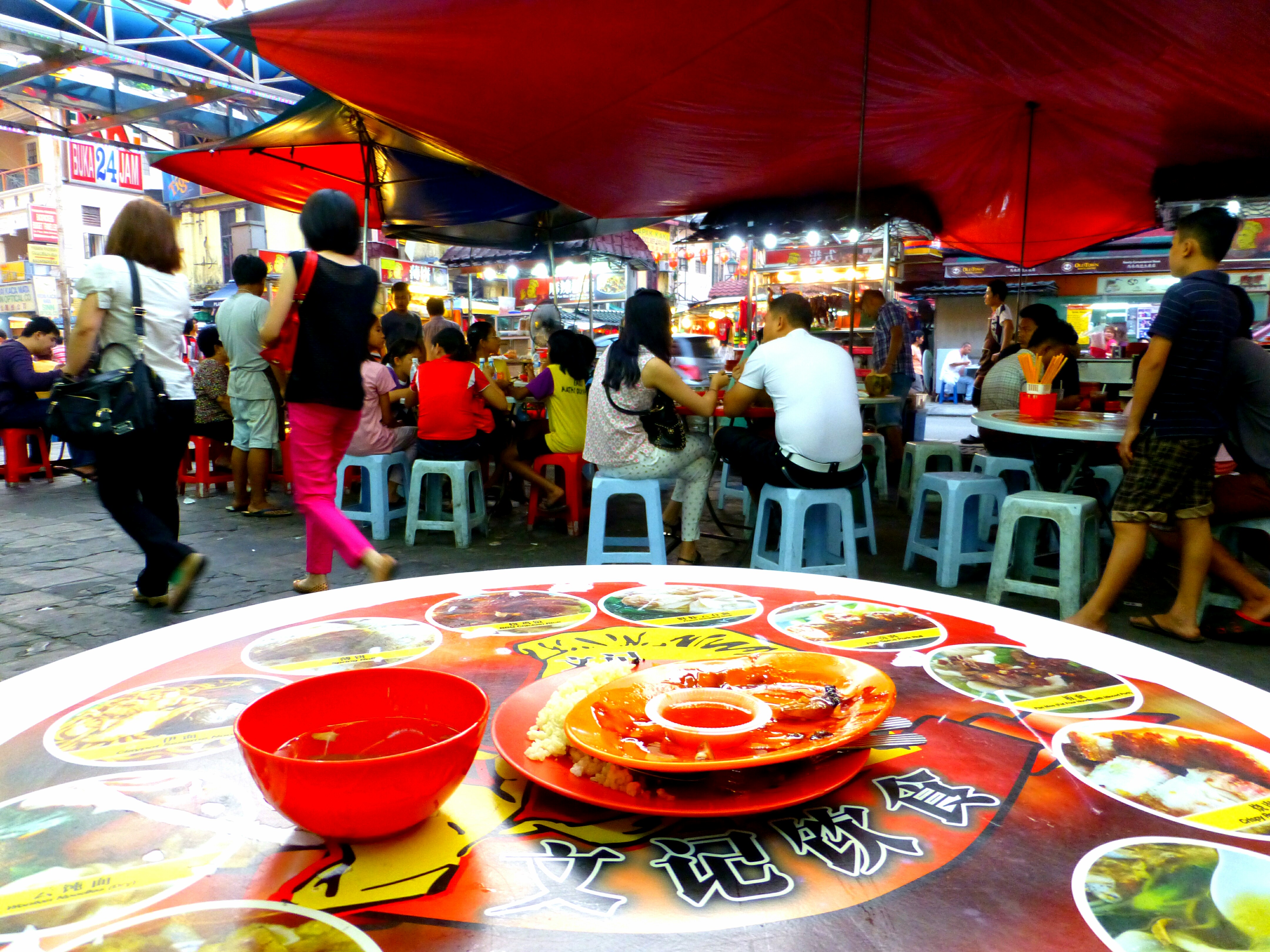 But that night I decided to book a ticket to Cebu City on Cebu Island
It is an island of the Philippines and by most of you known for the tyfoon Haiyan that destroyed so much of the island in 2013. After booking the ticket that same night I went down to the reception of my hotel, 5th Element just next to China Town, and ordered a taxi for the next morning and arranging my check out early the next day. That's how quick things can be arranged!!
Exploring The Philippines in two weeks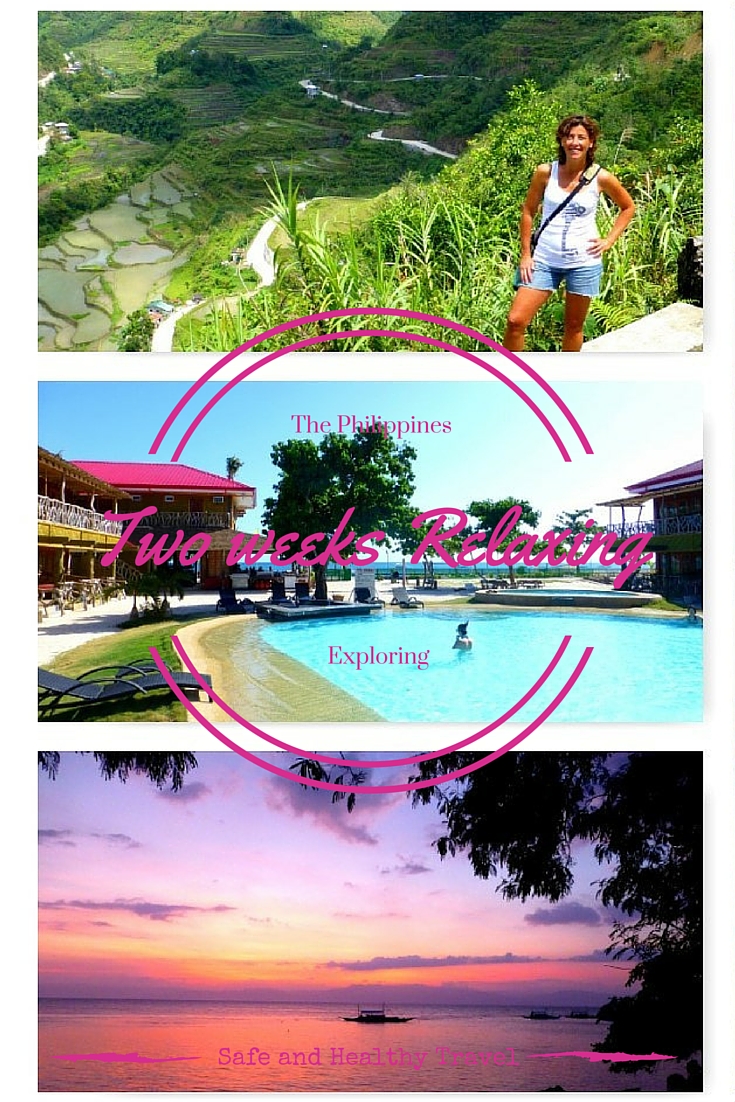 The Island Cebu – The Philippines
In Ceby I wanted to go as soon as possible to a great beach resort of some kind, wanted to do some diving and relaxing. I got a taxi to Malapascua. Although…that was my plan. It was already midday and it was a couple of hours drive. And I was too late to go on a taxi boat to the island of Malapascua and I had to sleep in a hostel. My taxi arranged it for me and I had a dorm for myself. On our way there I saw a lot of the distructions the tyfoon had left. By the way…the tyfoon is called Yolande in the Philippines..
Malapascua – The Philippines
That next day I was the first to go on the local boat to the island of Malapascua. The water was so bright, such a great bleu colour, I was in awe the entire trip to the island. Just wonderful!!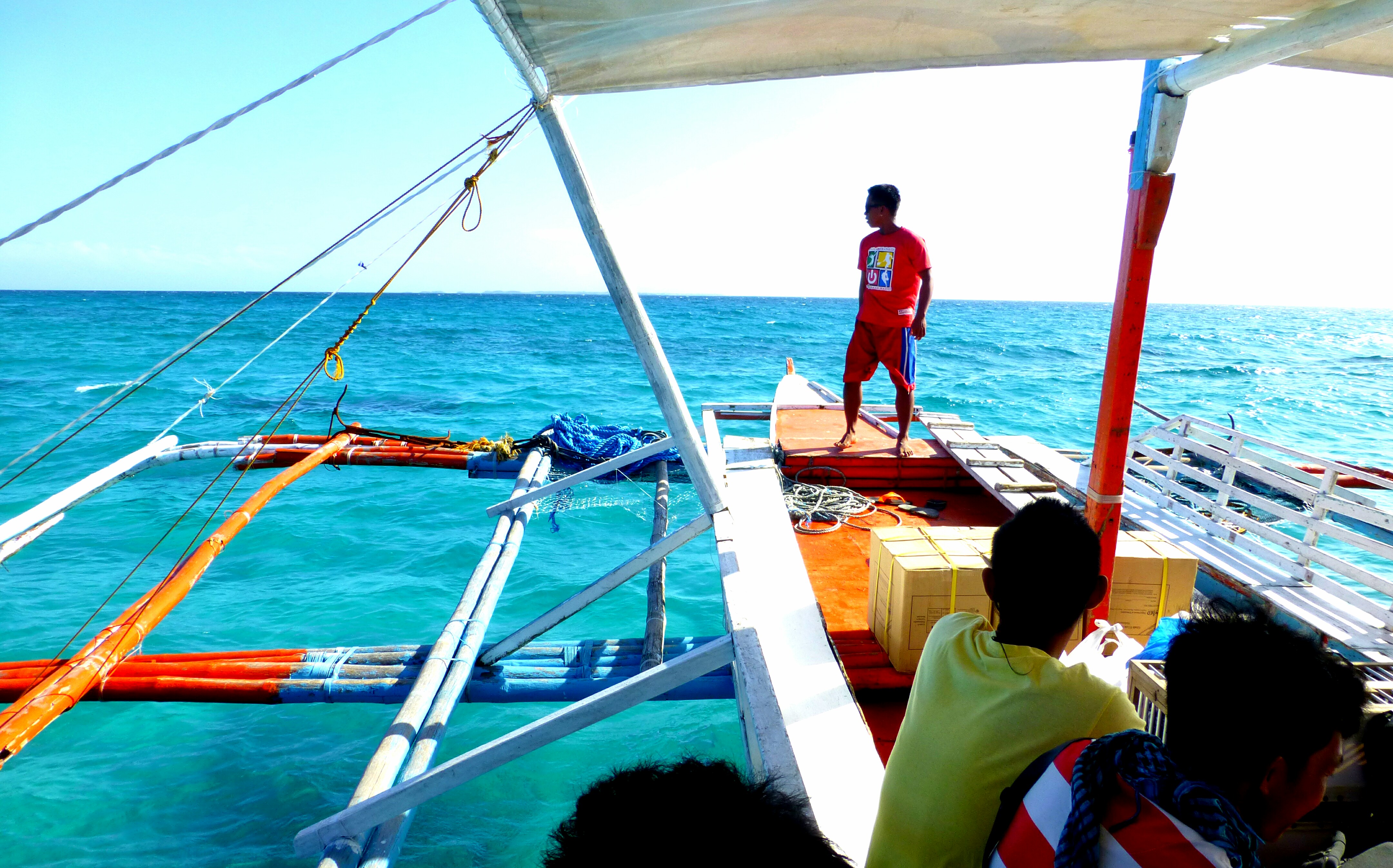 I found a great hotel next to the beach, with a swimmingpool and I stayed there for a lovely 5 days! So relaxing!! I was already traveling for 1.5 month and this was my second hotel with a swimmingpool to relax and enjoying the beach and exploring its surrouding. I was at hotel/resort Malapascua Legend. At that moment the last resort in a row of plenty. Everything else was still destroyed by the tyfoon, people were working hard on restoring everything. So I heard them working all day through. When I went for a walk outside of the tourist area I saw al lot of the
desastrous results of Haiyan
.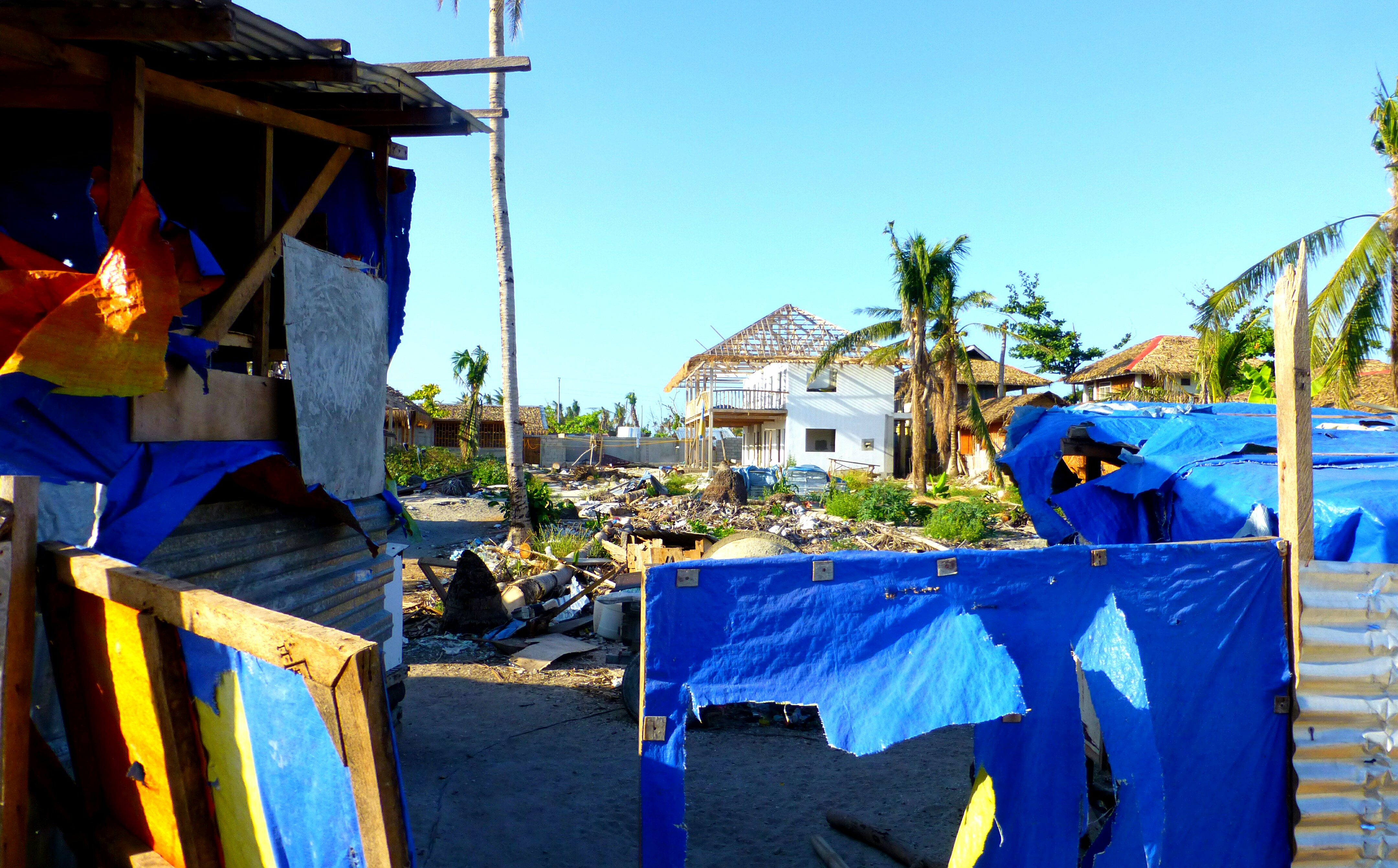 I took some dives and to be honoust, I didn't do much more.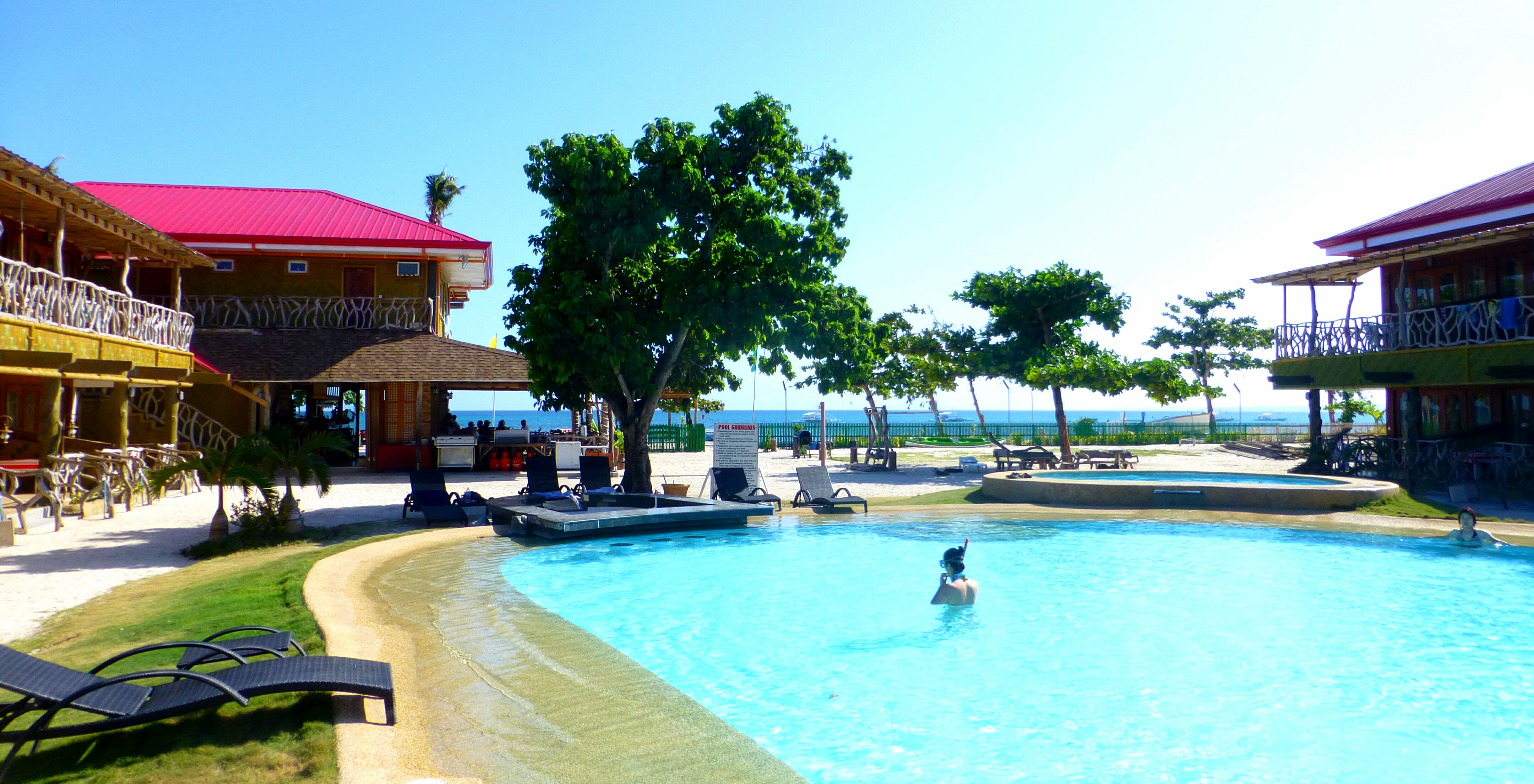 Diving – Swimming – Relaxing on the Philippines
Daytrip to the Island of Bohol – The Philippines
I went back to Cebu City and visited Bohol for a day. The island is about 2 hours with a boat from the city. Taking the first boat gives you the whole day there and you can see all the highlights of Bohol. I visited the Chocolate Hills, the manmade Forest, the Tarsier Monkey, a Butterfly Farm and I had lunch on the Loboc river where I ziplined above just before. That gave me such a kick!!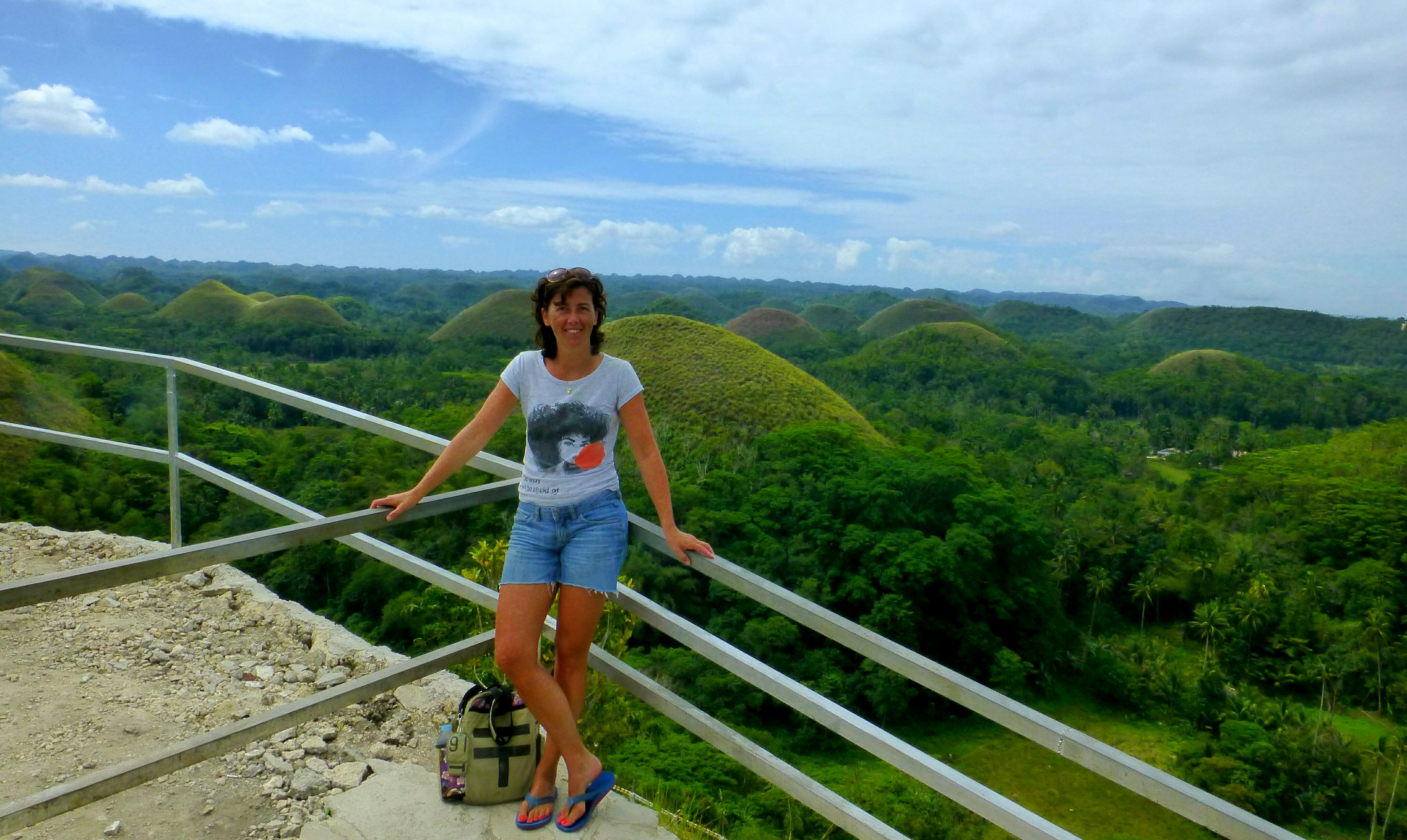 Exploring Bohol – Island of The Philippines
Going to the beach town of Moalboal
The next day I took a local bus to go to Moalboal. When I got there I was picked up by a tricycle and he brought me to Panagsama Beach. It was so much better then Moalboal he told me. I found the resort Quo Vadis Beach Resort and stayed there for a couple of days. I took some dives also and saw the Thresher Shark and I swam in a school of sardines…both were great experiences!!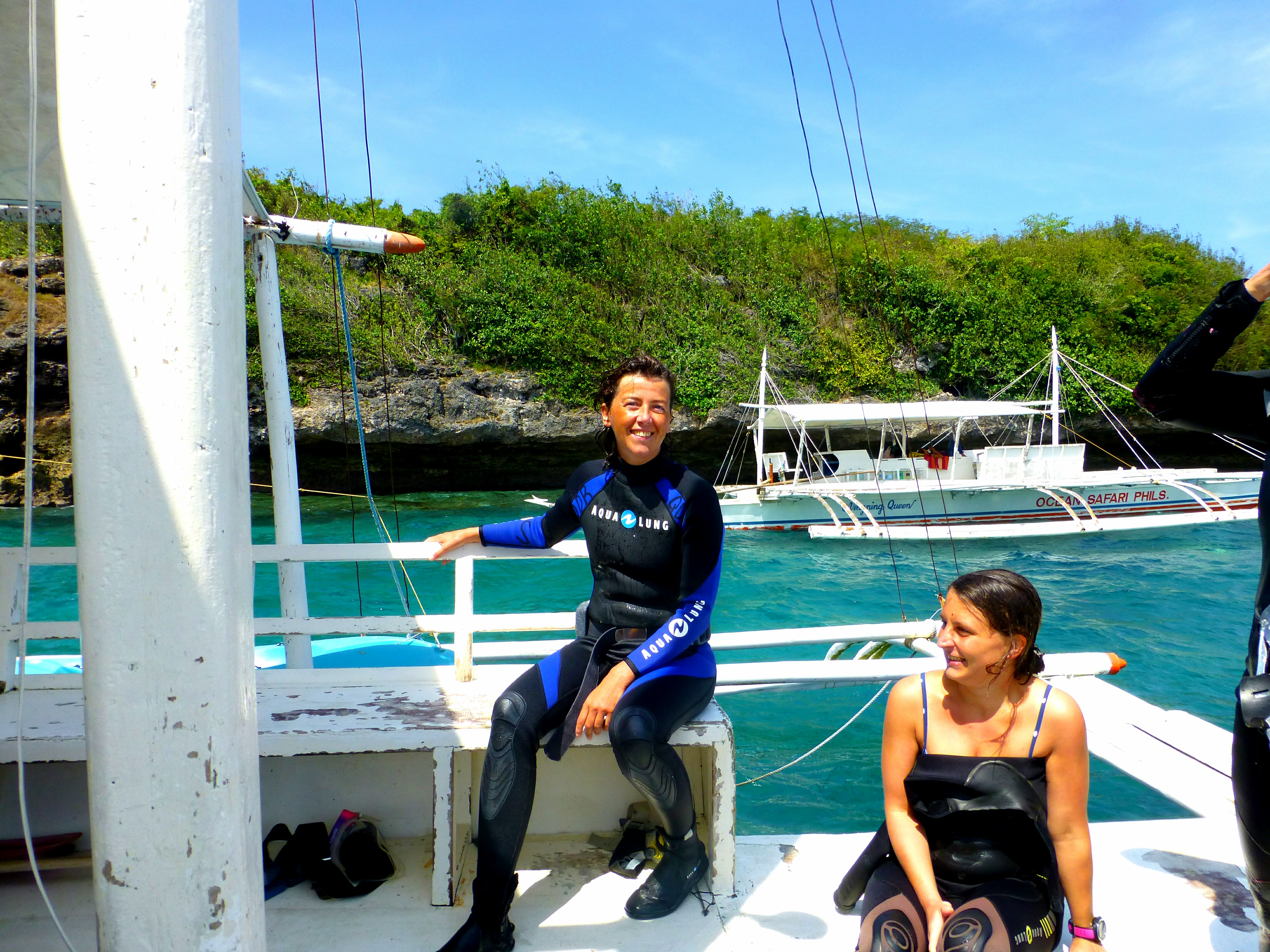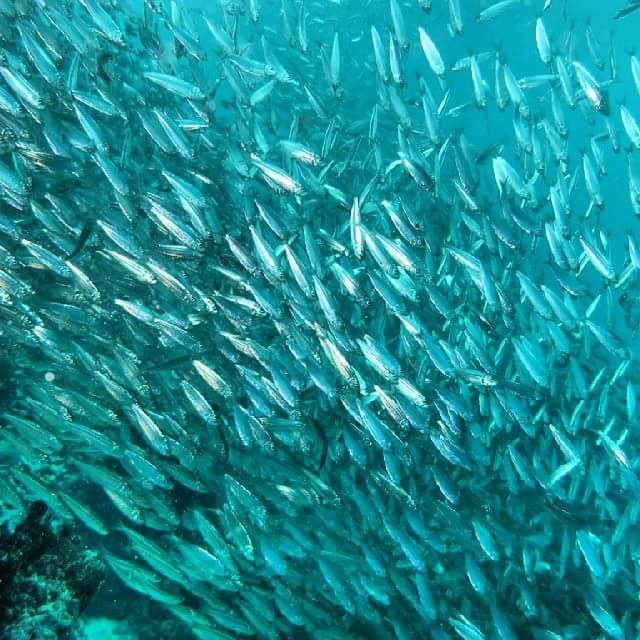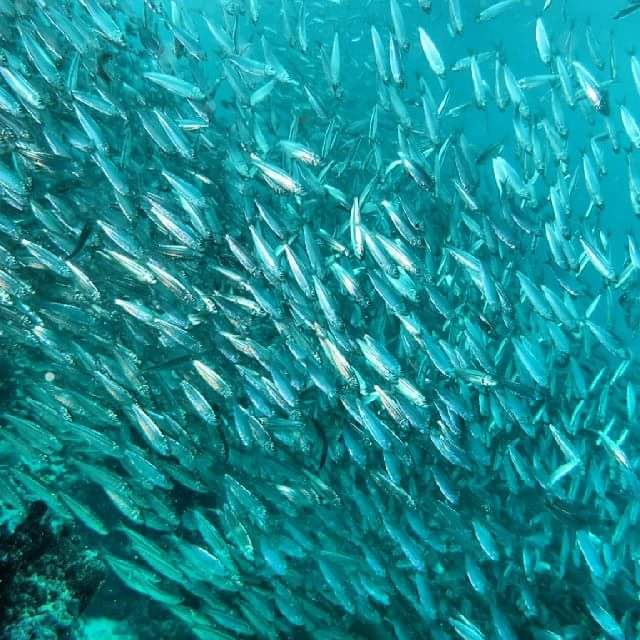 From there I took a hike into a great nature area, I hiked with a guide to
Osmena Peak
. It was quit a hike and because it was warm it took some energy 🙂 Great challenge of exploring the area in between those relaxing days!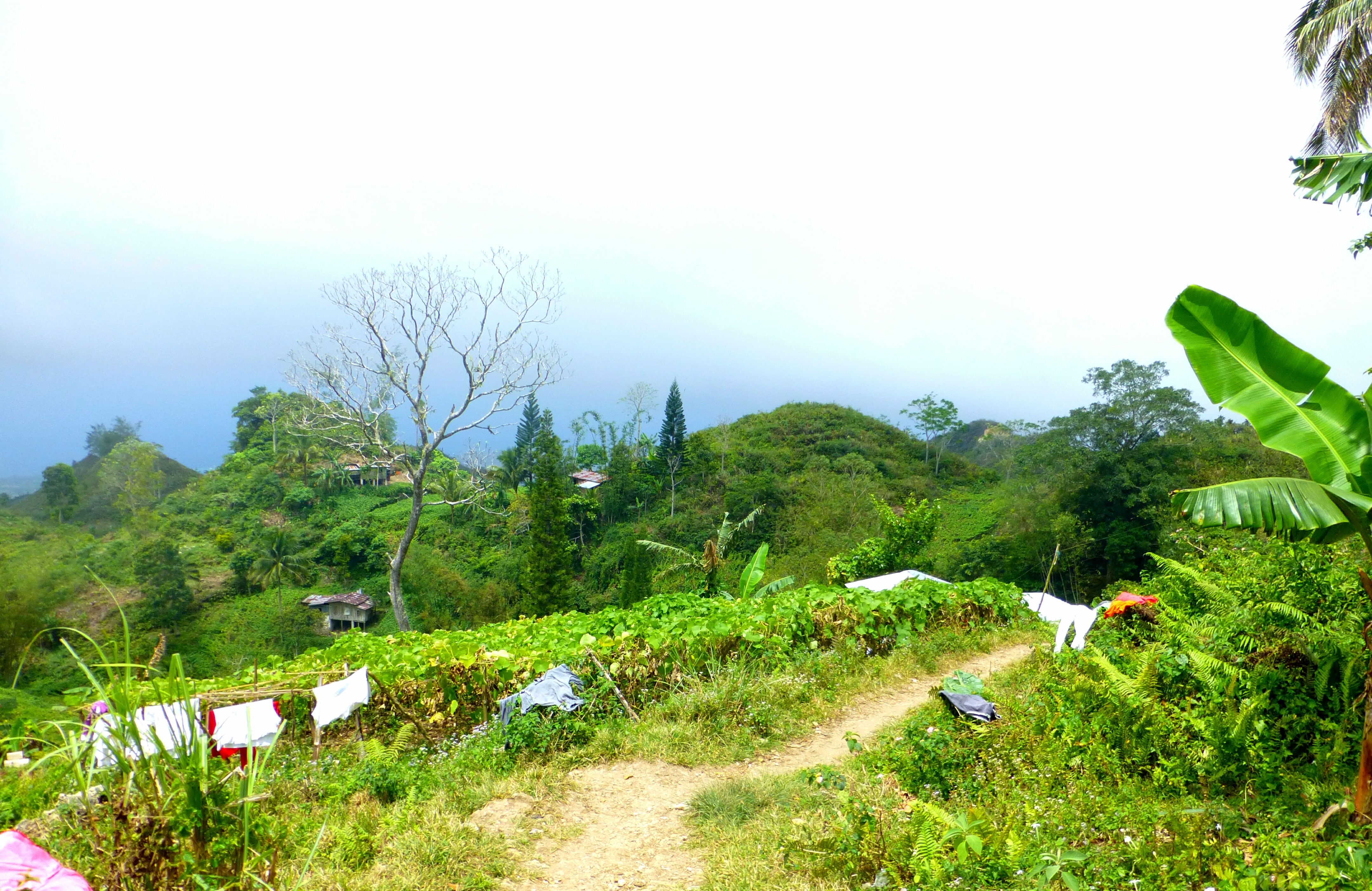 I also went to the Kawasan Fallls and walked around. On the way back we had a flat tire 🙂 I really liked seeing how easy they managed it, every where along the way there are small shops.. And so there is also one to repare this flat tire in no time!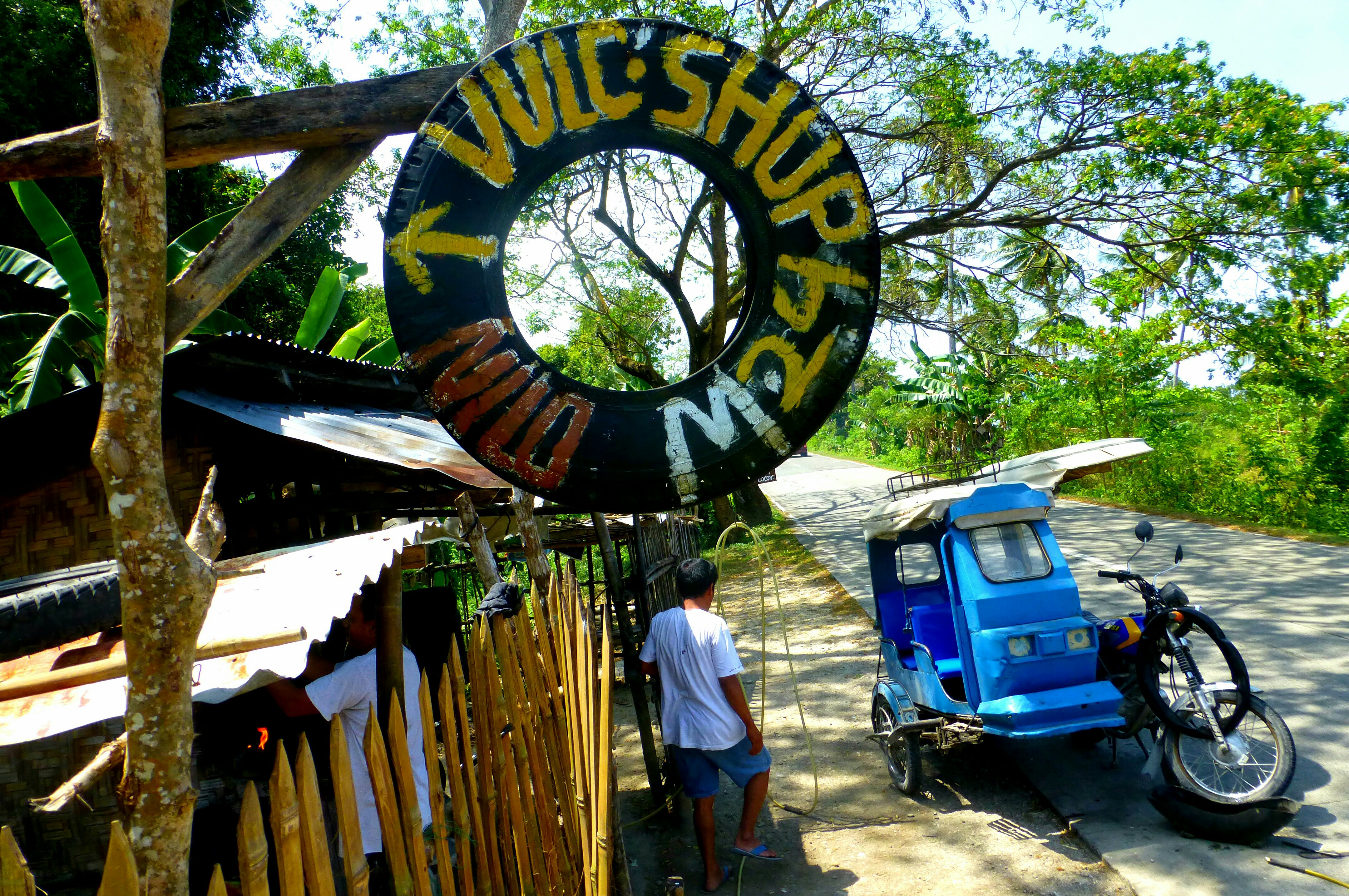 I had bought a ticket from Cebu to Manila and went there after spending to much time on the island. My ticket back to KL had to be changed in order for me to explore some more of the main island of The Philippines. The first day I went to the old city of Manila and explored the intramuros.
Visiting the capital Manila – The Philippines
I had seen some poor and sad things but what I saw in Manila made me so sad. There was so many poor families living in the streets, underneath carton. I saw the toys of children and everything the family owned. It wasn't just one family but everywhere I looked I saw this. The
intramuros
part of Manila is really beautiful, has some great buildings but I couldn't set myself to enjoying this and didn't stay long.
Visiting those Ancient Old Riceterraces – Banaue / Hapao
That next day I went to Banaue where I would be 2 days. It was a nightbus and I was hoping to get some sleep. That next morning I looked for a guesthouse and the first one I entered was the one I saw in the folders. People's Logde, I just paid  a couple of euros for a room with  no view and only one plug to charge my phone, tablet and photocamera 🙂 Well it was enough for those 2 days. The view over the riceterraces this hotel gives with your breakfast is just breathtaking!! And it is a really good hotel for booking trips.
Walking those Ancient Old Riceterraces
Exploring The Philippines
I quickly booked a trip to go exploring the
Ancient Old Riceterraces
that same day. A beautiful hike along those terraces with as a highlight swimming at the great waterfall. I put my backpack in the room and enjoyed my breakfast and off we went! We had a great group, countries variety from France to Columbia and from young, 18 till old(er) 67!

That next day I arranged a trip with a Canadian fellow traveler to the
riceterraces of Hapao
. We went by tricycle, it was great!! Some roads are not really the roads that we are used too. But they are working hard to get it in order for the big flow of tourists in the future. I liked it even more because it wasn't ready and was more challenging 🙂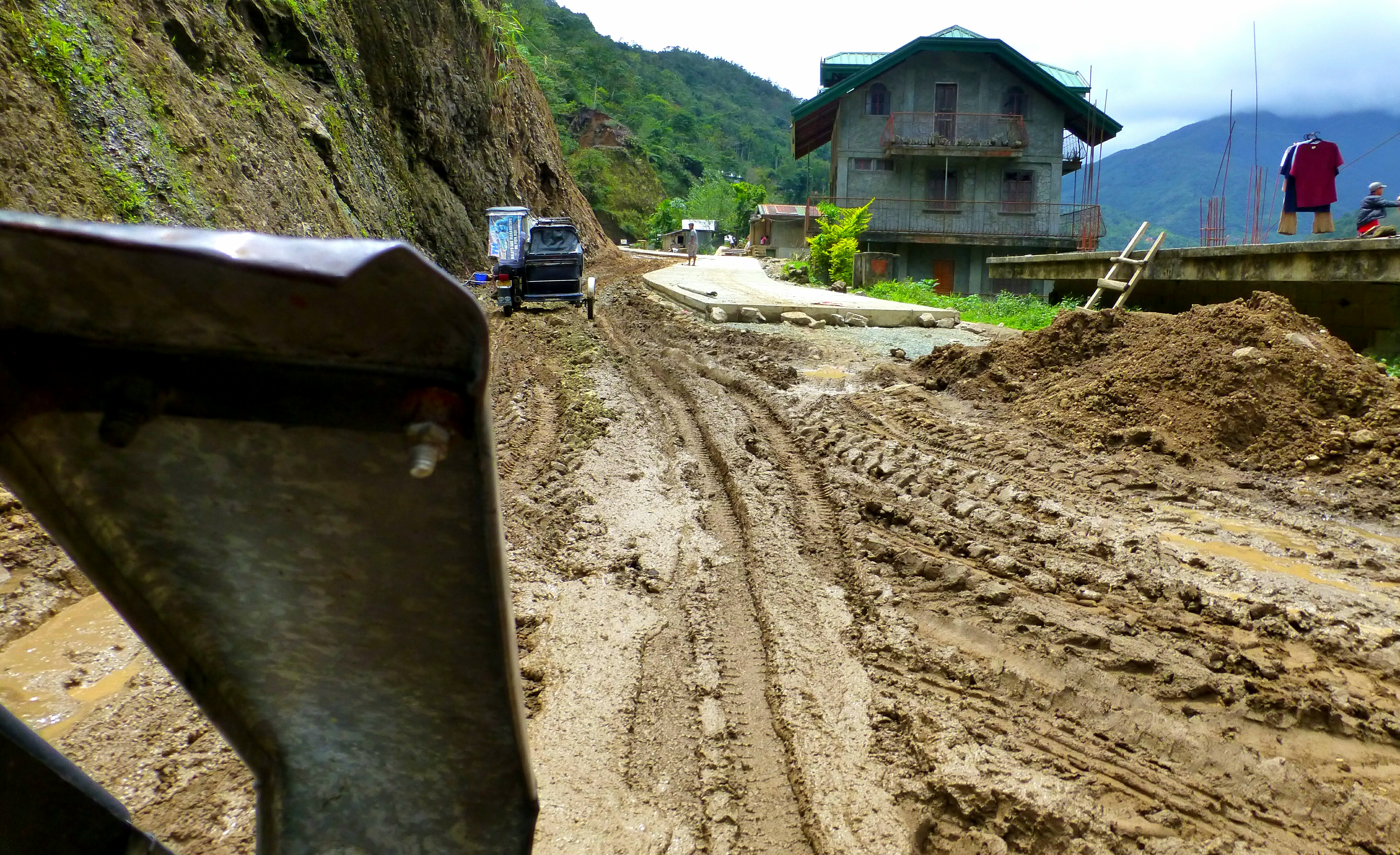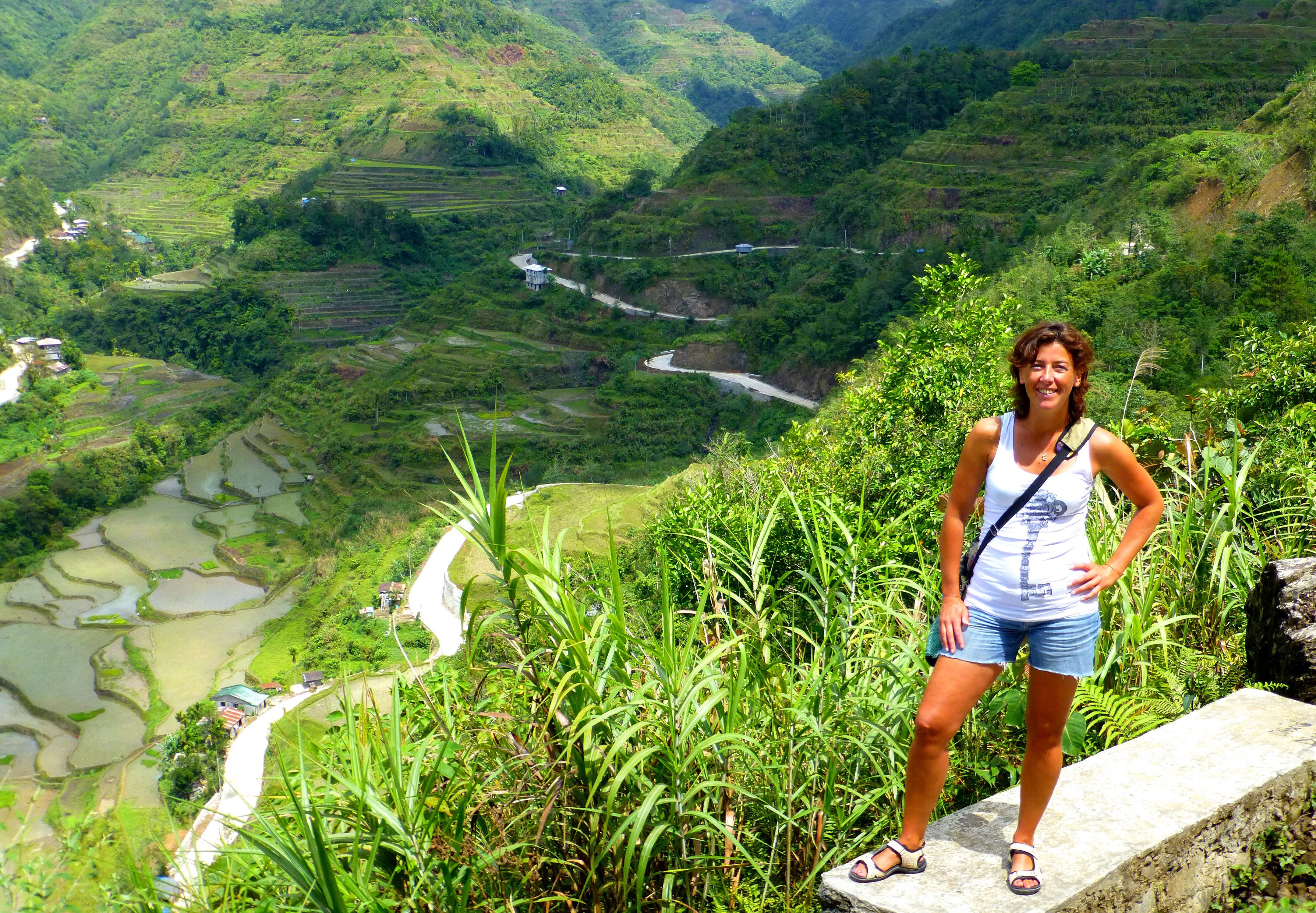 Also exploring with my backpack in Makati City – The Philippines
After this day I took the nightbus back to Manila and took a hotel in the part of Manila called Makati City. It is a totall difference with the Manila I saw before. It is a suburb where people only live to work and where the poor is even banned.. In the nighttime the area is closed by armed security. It is a big differents. I had a good hotel and loved taking a hot shower after those days exploring the riceterraces 🙂 And well….what to do in such a area? Right…shopping!!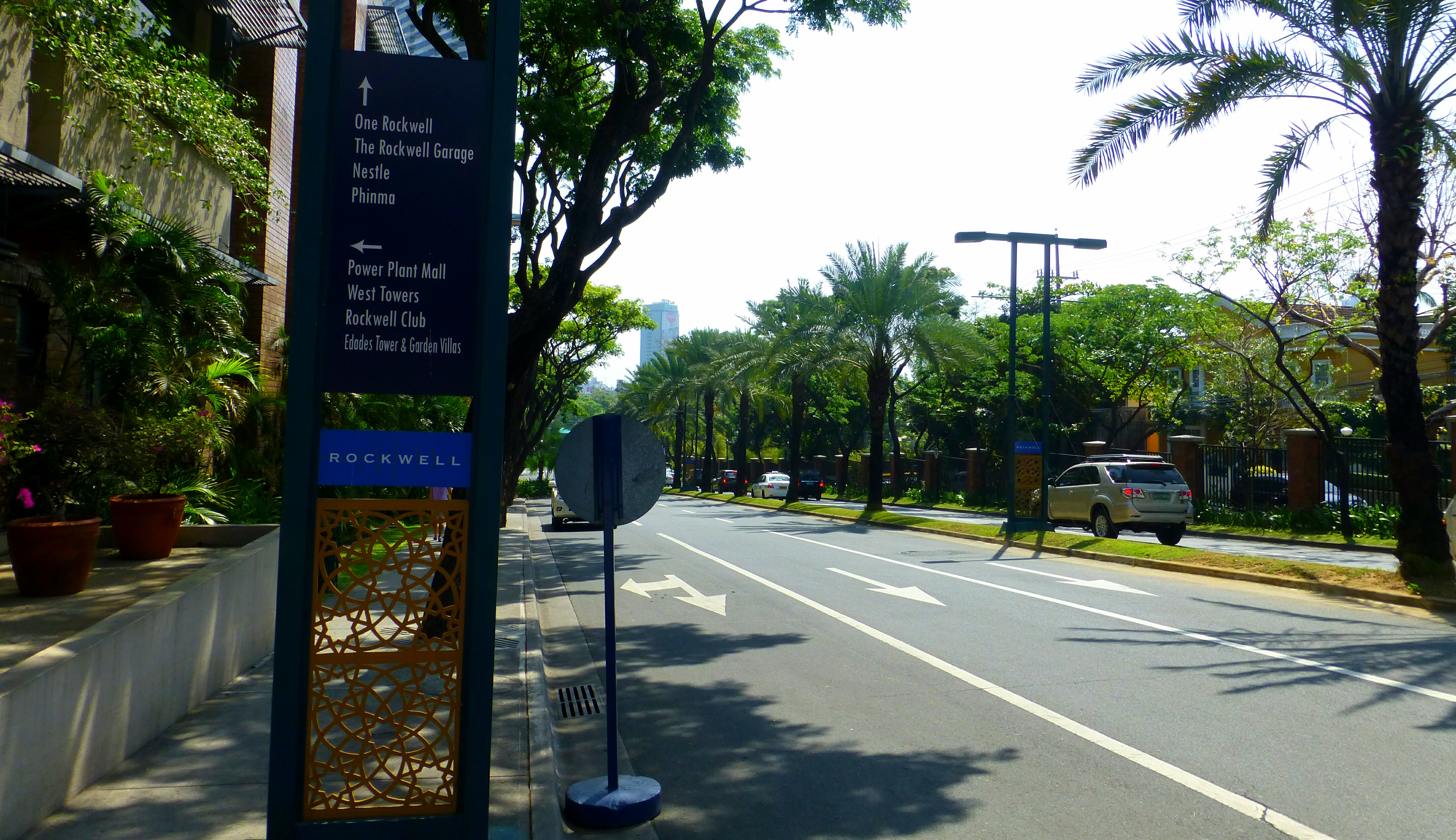 After this I went back to KL to catch the bus to Mersing and a boat to Tioman. My new adventure was awating, volunteering at the Juara Turtle Project!
I had a great time in The Philippines and I would love to go back. There are so many great and wonderful island to explore!!
My bucketlist gets longer the more I travel 🙂
Yours too?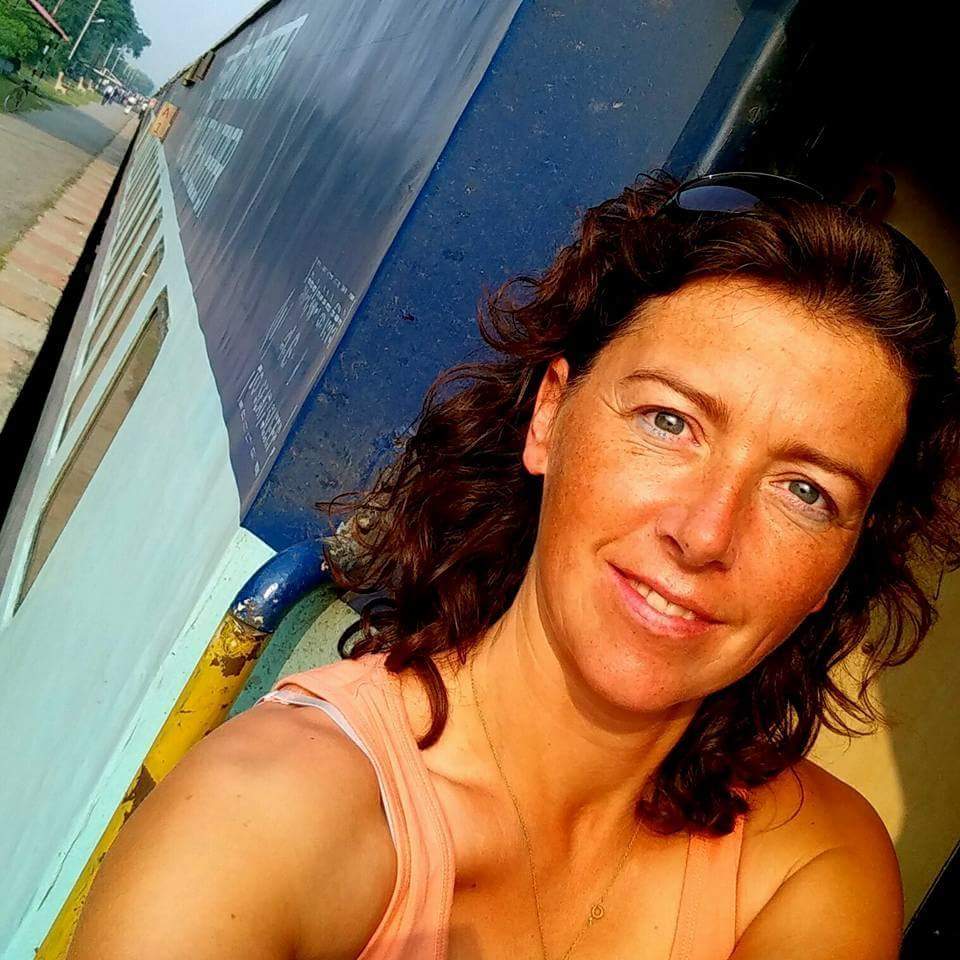 Jacomijn is een politieagent uit Nederland die jou graag laat zien hoe je veilig, actief en gezond de wereld kan over reizen. Safe and Healthy travel is a MUST