2 week Travel Itinerary Rajasthan – India
|
I often hear people say…
"I would love to go to India."
"What an interesting country India is!"
——-
It is for good reason that India is the country that gives you the most impressions a square meter in the world 🙂
You don't want to miss that, do you? All those wonderful smells, all those sounds and all those beautiful and impressive colours?
Yeah… the most impressions per square meter in the world!!
#IncredibleIndia is THE hashtag of India… read on and get to know why!
2 week Travel Itinerary Rajasthan – India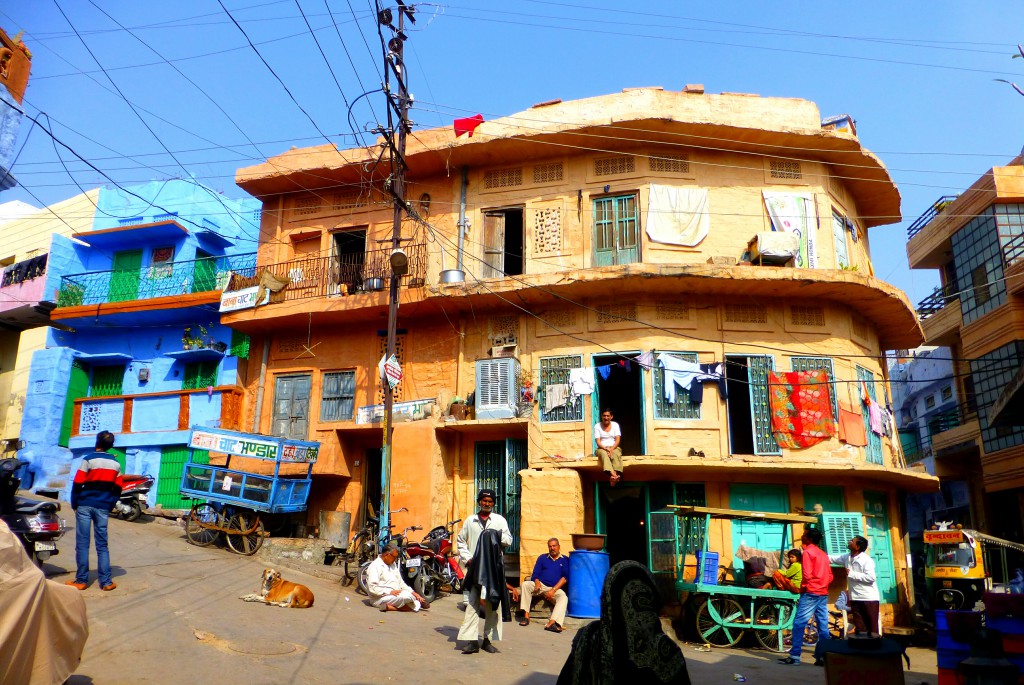 I came across this house on the streets of Jodhpur.
Surely you can stand there and watch for half an hour and still see something new every time?
So India seems far out of reach for the many tourists and travelers that our world has. And yet when you look at it globally, our little country is always well represented at the far away destinations!
And why does India suddenly seem so far away?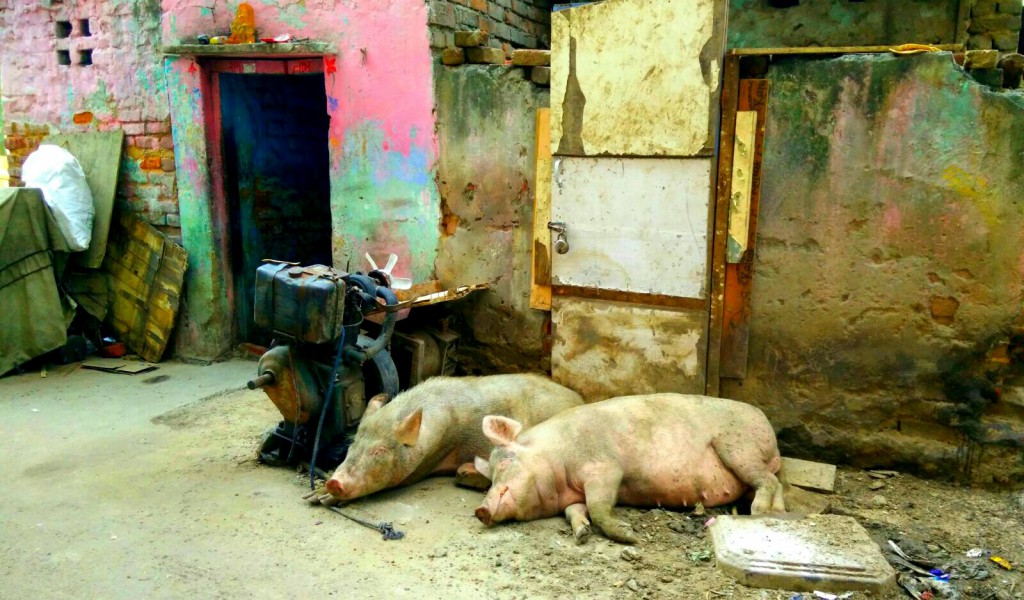 Can you imagine this in the heart of the city of New Delhi.
India still lives in a different era in some parts when you consider how the 'costumes' differ from our western clothes, how religion is part of everyday life, where the watertap one of community is and everyone uses it, where very different rules apply with regard to privacy…
**  Memory Chandni Chowk, in the heart of Old Delhi  **
I never forget that I was waiting to buy a coin for the subway and suddenly I felt the body of a stranger against my back. When I looked back I saw her head wrapped in beautifully colored cloths lying against my shoulder blade.
 Apparently it took her too long and she closed her eyes while hanging on me 🙂
Surely this can't be imagined at all in the Western world? Isn't it great!
     **
But isn't that the same in the many African countries that are visited? A lot of people go there. They book the most luxurious trips there and come back full of praise! Would that be the reason? That not so many trips to India are organized yet? And then some are and they don't have this kind of contact with the locals..
And those who do go there usually travel on a low budget, so people see that?
2 week Travel Itinerary Rajasthan – India
Then we should be able to change that. We have to offer the people a chance to visit this beautiful country and come back full of praise!
I can certainly arrange that for you… and then you really don't have to travel like I did! But I've gone before you, so I'll let you pass those highlights! In the meantime, I'll arrange the transportation and accommodation for you!
Spend the night in a Haveli during this tour of Rajasthan
Because an overnight stay in one of the many Haveli is really luxurious! What great hotels I have had and what a colorful sight it is again and again. A Haveli is a traditional community house or mansion that usually has historical and architectural added value. I've been in some great Haveli's and made a nice movie of them. I will share it here a movie in which I take you from my room to the front through the whole building.
I was still filming vertical back then…sorry 🙂
In this reconstructed tour I have also included some places where I haven't been yet and I'm sorry that I haven't taken the time to do so, so I don't want you to skip them too!
Take two weeks vacation and see the highlights of the colorful state of Rajasthan. Every part of India has its plus points and I think Rajasthan is a super state not to be missed. The centuries-old history of the fairytale world of the Maharajahs makes you dream away as you wander through those forts and palaces. So intensely colourful, so much to see on every street corner, such beautiful clothes worn by the women but also by the men! Not to mention all the smells that fill the streets…
And of course you can't miss New Delhi with its busy streets where you have the feeling that the whole city is just walking down that little street. Or when you suddenly walk from all the crowds in the quiet park of the beautiful Humayun's Tomb.
 Travel Itinerary Rajasthan – India
And how about the enchanting white Taj Mahal? The world-famous white tomb built by the fifth ruler of the empire Shah Yahan as a tribute to his late wife. I recommend you to admire an
enchanting sunrise
when you visit! Isn't it just the best moment to visit the Taj?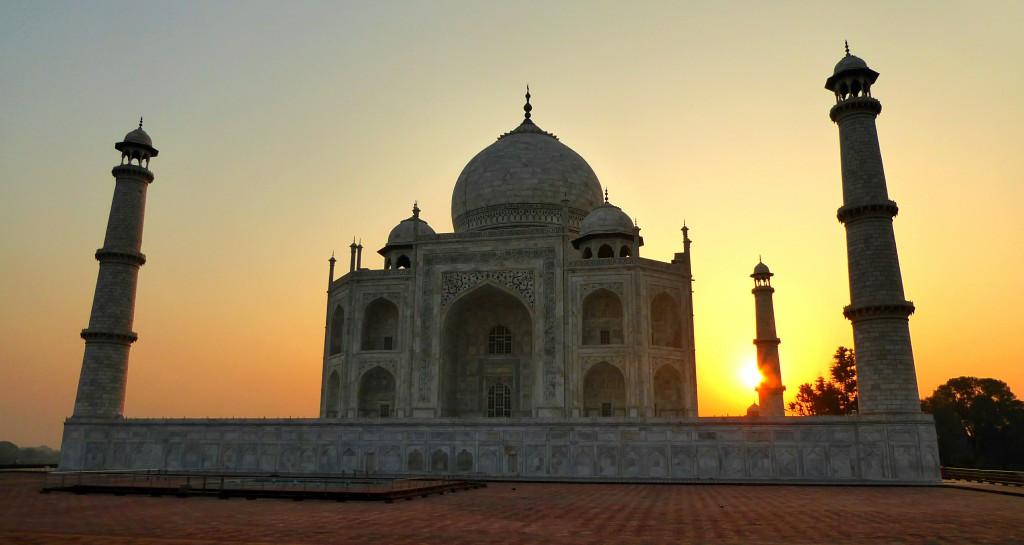 And also Varanasi must have visited you when you go to India… Walk the ancient Ghats along the Ganges where Indian Hindu life is celebrated with the
many rituals
of Hindu faith. This city has existed for more than 2700 years and is one of the oldest cities in the world and you can feel, see, smell … You can't ignore that in this city.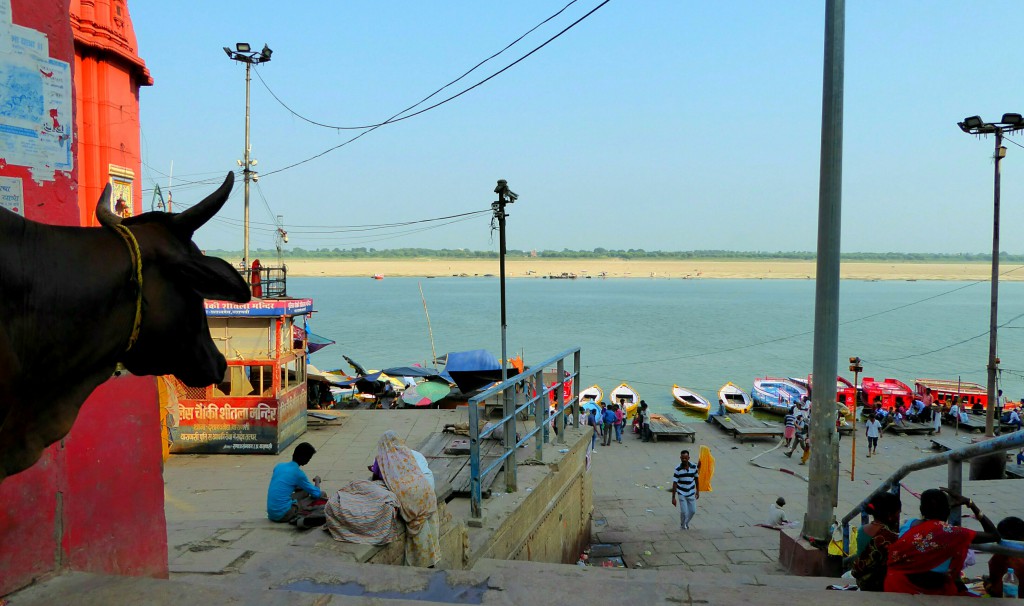 After this impressive visit you will have to acclimatize in Delhi before you go back to the quiet, silent and colourless Western world:)
2 weeks Travel Itinerary Rajasthan – India
The Journey from day to day:
New Delhi – Travel Itinerary Rajasthan

You will have this day at the beginning or at the end of your journey. This depends on the times of your arrival and departure. A day to see the
highlights of Delhi
!
Chandni Chowk by Rickshaw, seeing the ancient Old Delhi
Humayun's Tombe, a great graftombe with beautiful garden
Qutub Minar and other sights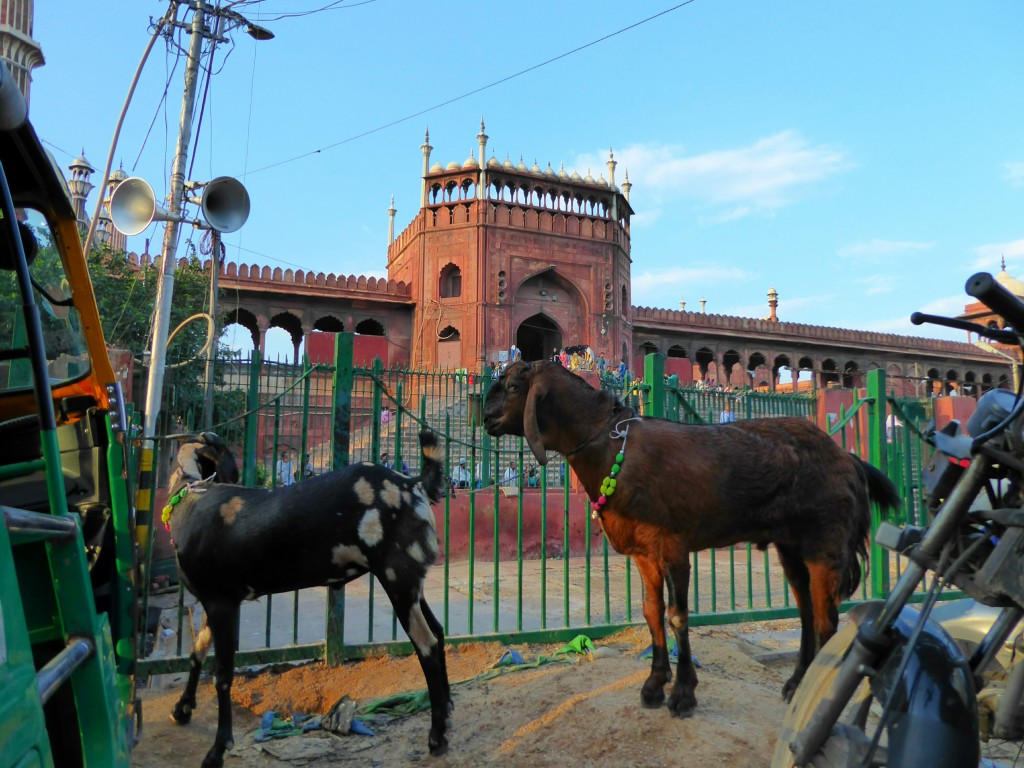 At Jama Mashid in Old Delhi
Pushkar – Travel Itinerary Rajasthan

Pushkar is not a big city, so you can easily see it on foot. Visit the many temples surrounding the holy lake. Lake Puskar is a place of interest during the day, bathing and washing, as well as in the early morning or at dusk when Hindu rituals take place.
Tip: You can also a visit Aloo Baba 5K outside the city.
Jodhpur – Travel Itinerary Rajasthan

At Jodhpur you will see the amazing Mehrangarh Fort from every point of the city. You really should visit it. Walk from the center the path up and don't forget to look back to see the beautiful blue city!
I also booked a trip to the Thar desert. This one is easy to book at the many travel agencies. I also took a cooking class there. Really a nice experience. (I was here 3 days)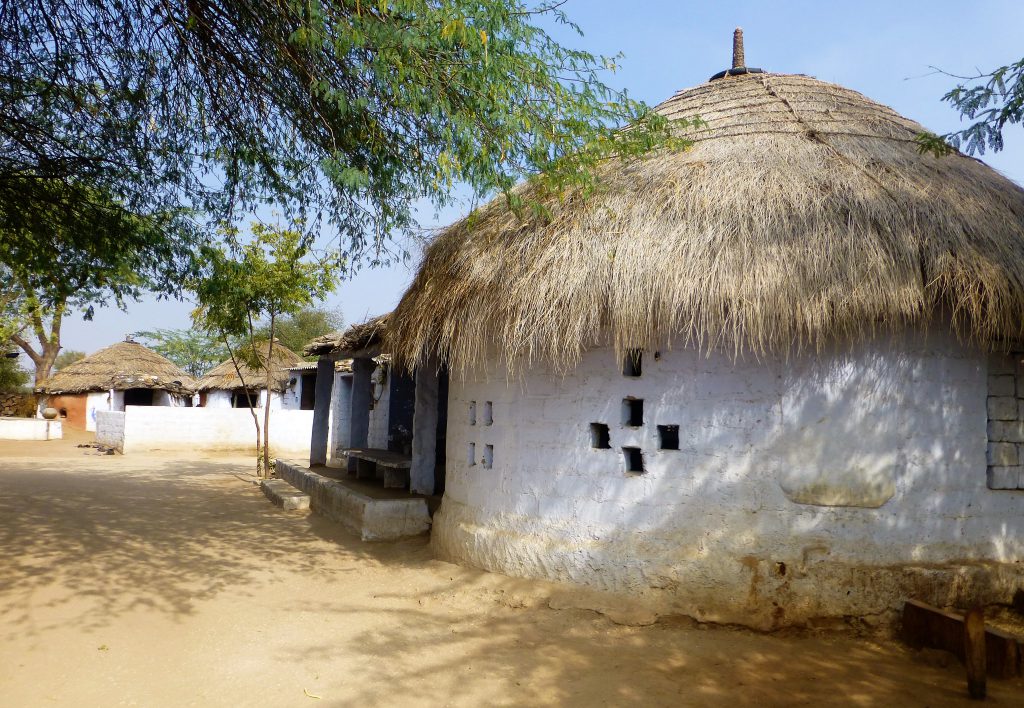 Udaipur – Travel Itinerary Rajasthan

Relax on the terrace of your hotel (Haveli) with the view over the Pichola lake. In Udaipur you can visit the beautiful and big city palace. Also a day trip along the many gardens and beautiful views over the lake and the surroundings is a must.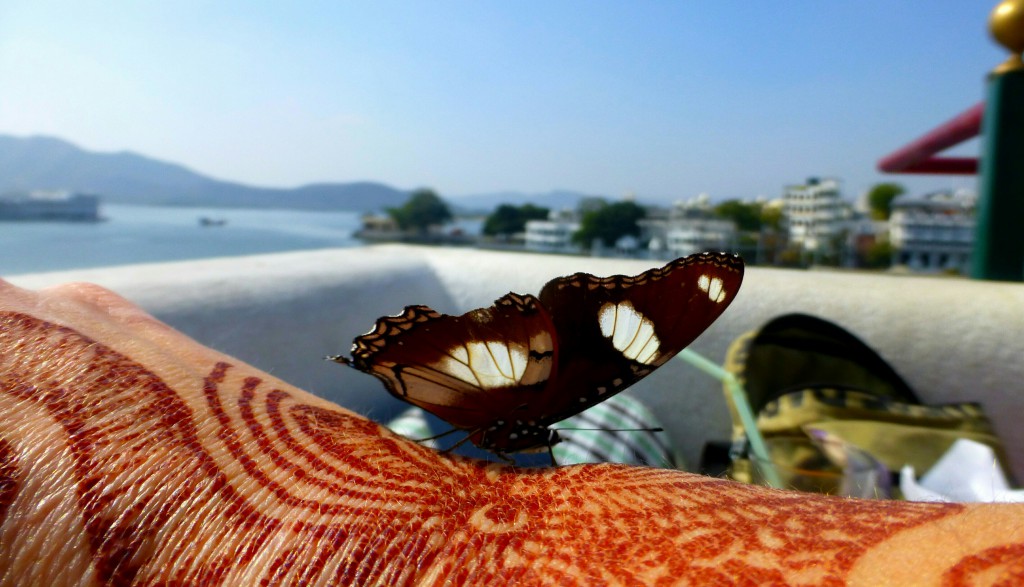 The view over the Pichola lake from my Haveli roofterrace
Jaipur  – Travel Itinerary Rajasthan

In the
pink city of Jaipur
you will visit the huge Amber Fort. A great fortress where you can see the splendor of the maharajahs and hear how they kept several women happy 🙂 See the Hawa Mahal, the famous wind palace. Walk behind the many windows and look out on the busy street. Jantar Mantar, enormous structures with which they used to see the position of the moon/stars and used them to determine a horoscope. See what I visited in
Jaipur
.
As with every travel you will also be able to visit some handicraft factories and buy some souvenirs.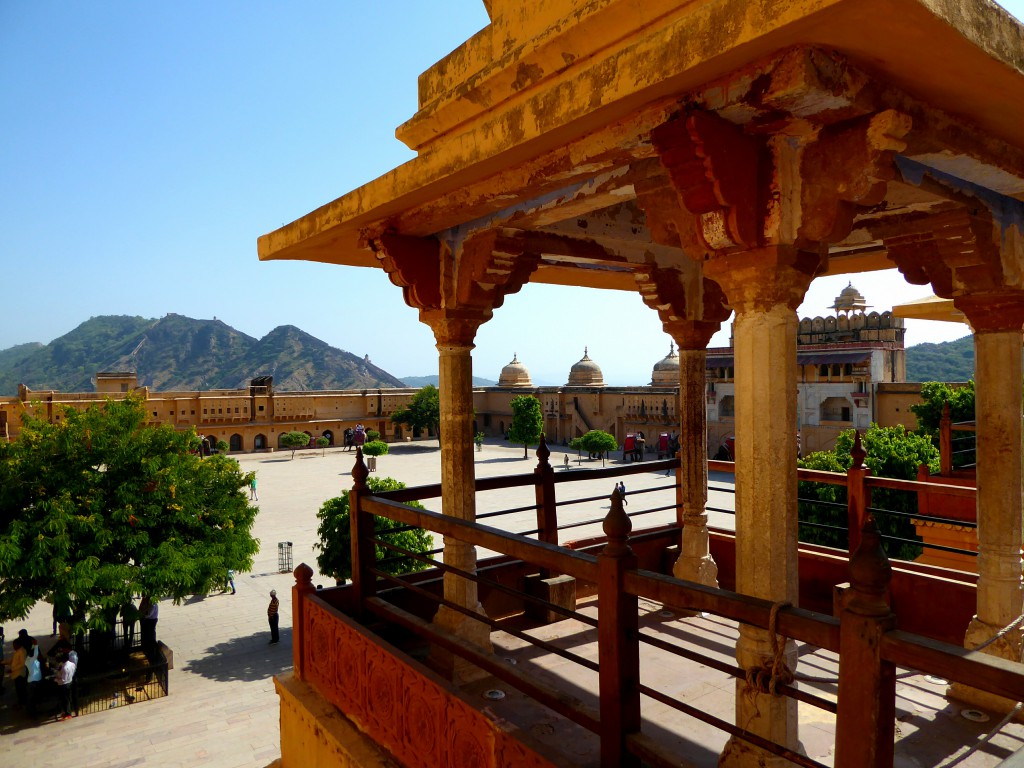 Amber Fort – Jaipur
2 week Travel Itinerary Rajasthan – India
Agra – Travel Itinerary Rajasthan

My recommendation is to watch the sunrise at the Taj Mahal. After that, you still have plenty of time to see the surroundings at your leisure. Don't be disappointed too soon if the sunrise seems to stay in the fog, you'll still get a beautiful sunrise! Go back to the hotel for breakfast and plan the rest of your day in the city of Agra where there's still plenty to see or experience.
I do suggest you take a nighttrain on your travel. You can do it from Agra to Varanasi for instance.
The train alone is quite an experience, at every stop local people come in to sell you anything and everything. Often this is delicious food or a nice warm cup of chai, but they also come on board to sell your homewares. You will have to make your bed and for that you will get a package with a sheet, blanket and a pillow.
You will be picked up from the train the next day and brought to your hotel where you can make arrangements for the next day(s).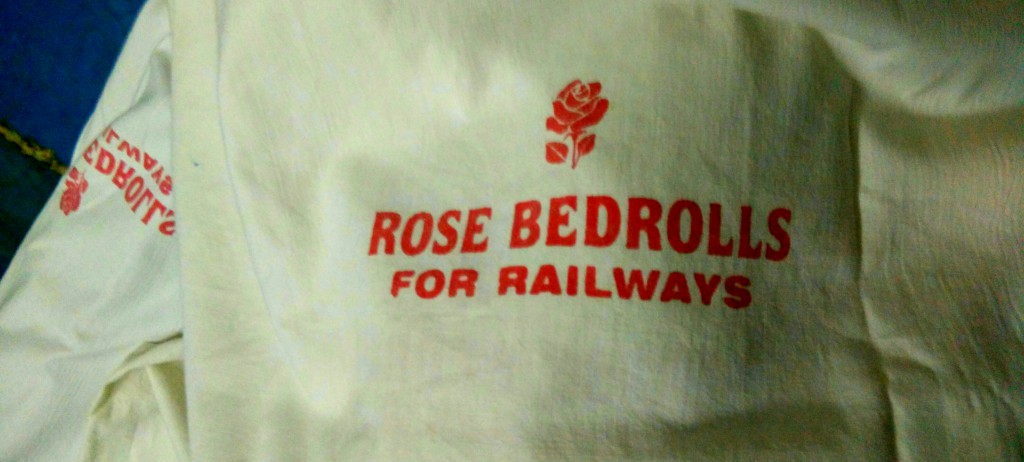 Spend that day exploring Varanasi, wander through the many streets and find a delicious restaurant.
2 week Travel Itinerary Rajasthan – India
The next morning you'll be picked up to spend an early morning on the Ganges. See India wake up and perform the
rituals
they have performed on the Ghats for centuries. You can spend the rest of the day in Varanasi but you can also arrange to go to
Sarnath to visit the place where Buddha got his enlightenment
and became Buddha.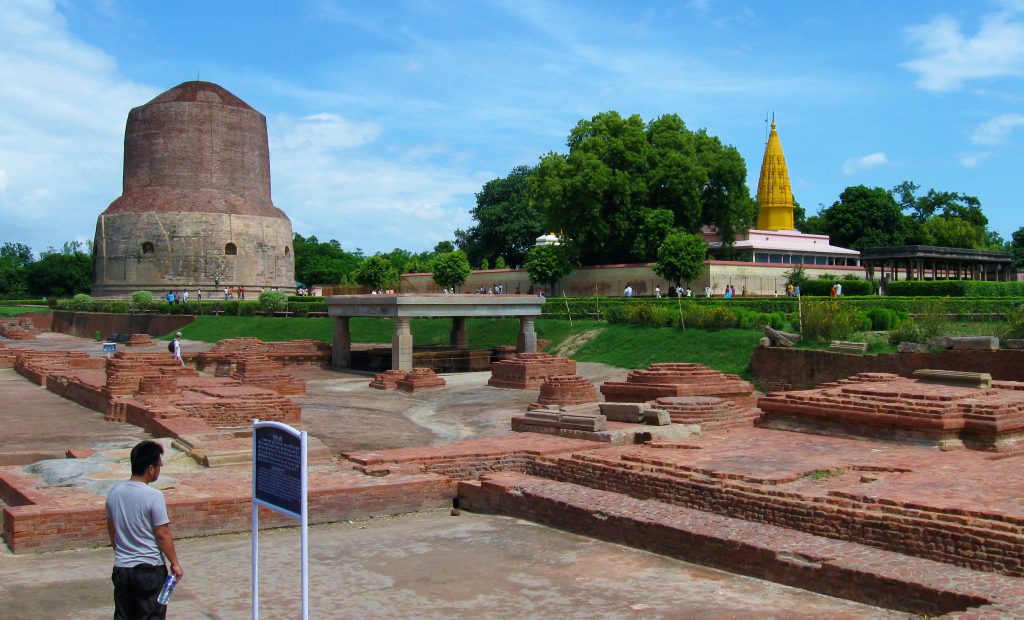 At the beginning of the evening you will be taken to the train station to take the night train to Delhi where you will spend the last hours of your tour. It depends on your return trip whether you still have a day to spend in Delhi or whether you have to go straight to the airport.
WhAT ELSE DO YOU  NEED TO KNOW?

When to visit India?
The temperature is around 30 degrees all year round and is indicated on the internet. But in December and January it can still be chilly in the morning and evening, around 15 -20 degrees comes close. May/June/July and August is the most rain. For the rest of the year I can't think of anything why you shouldn't go.
What should you pay while traveling?
There are no entrance fees included for the city highlights. Breakfast is included at the hotels but not at the night trains. The lunches and dinners have to be arranged and paid for by yourself. Tips you give to your driver, guides and at hotels/diners are not included.
How do you apply for a visa?
You can apply online since 2015 and the application form requires a lot of information from you but is still easy to fill in. I can always assist you with this. If you have paid then this proof is enough if you show it when you arrive in Delhi. The visa costs around 6o euro.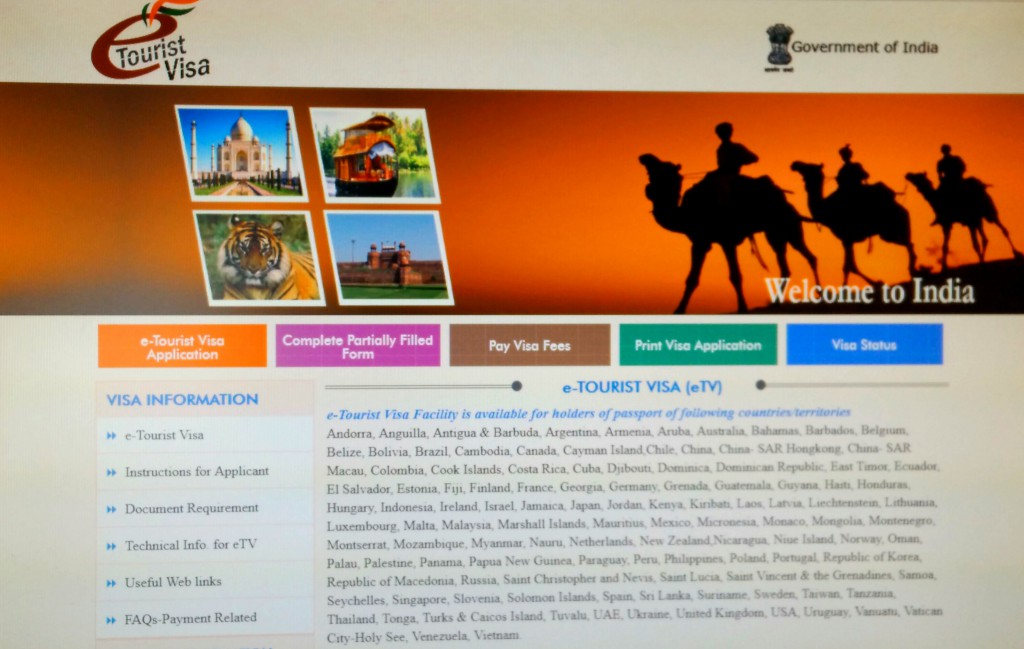 Internet
Everywhere you can go online via WiFi. At most hotels this is well arranged and the connection is good. Often you still have a connection in your own hotel room which is very nice to be able to skyping with the home front.
Travel Itinerary Rajasthan – India
Extension on this trip?
If you want an extension of this trip because you still want a week at the beach, this can of course be arranged. You could then opt for the touristic
Goa
but also for the less touristic and impressive
Varkala
in the state of
Kerala
.
Clothing prescriptions in temples?
Yes, in most temples it is much appreciated if you want to hang a cloth around your bare shoulders when wearing a shirt. In some temples they also like you to cover your legs. For that reason I always have a sarong with me, very handy for this kind of purposes but also when it is chilly in the car/taxi or shops because of the many airco's they have on everywhere.
Food & Alcohol

Most of the menu will be vegetarian. There is also quite a bit of choice in the meat section but the Hindu will eat vegetarian. Usually the meat section will contain lamb or fish. It is also often thought that the food is super hot. This is not so bad but then you have to indicate that you don't want it to be too hot or that you would like to try medium. The food the Indian people eat themselves is often really too hot for me 🙂 but most restaurants have already taken this into account for the tourist.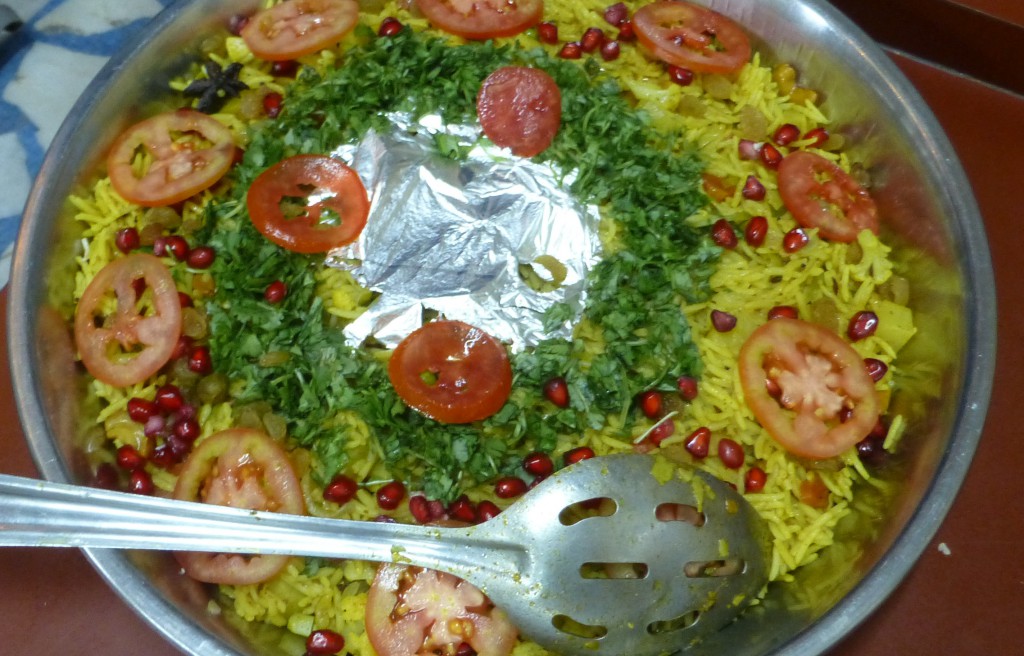 Biryani made by myself 🙂 – Cooking Class Jodhpur
Alcohol is often not there but in many places of course you can get it. My experience is that you can get it at the restaurants that don't have a view on the street, the windows are dark or you are sitting on an upstairs floor. Often the Punjabi's or Sikh's are the owner here.
Travel through Rajasthan – India
Costs:
Price for a 2 week program without airline ticket is +/- 500 euro per person. Put on about 1100 euro for a plane ticket per person ( when coming from Europe) This trip can be booked at any time with me 🙂
If you feel like travelling to India, please contact me for the possibilities. We can expand or shorten the program where desired.
I love to hear from you!!
Ask me for Latif's contacts if you like to book a trip too!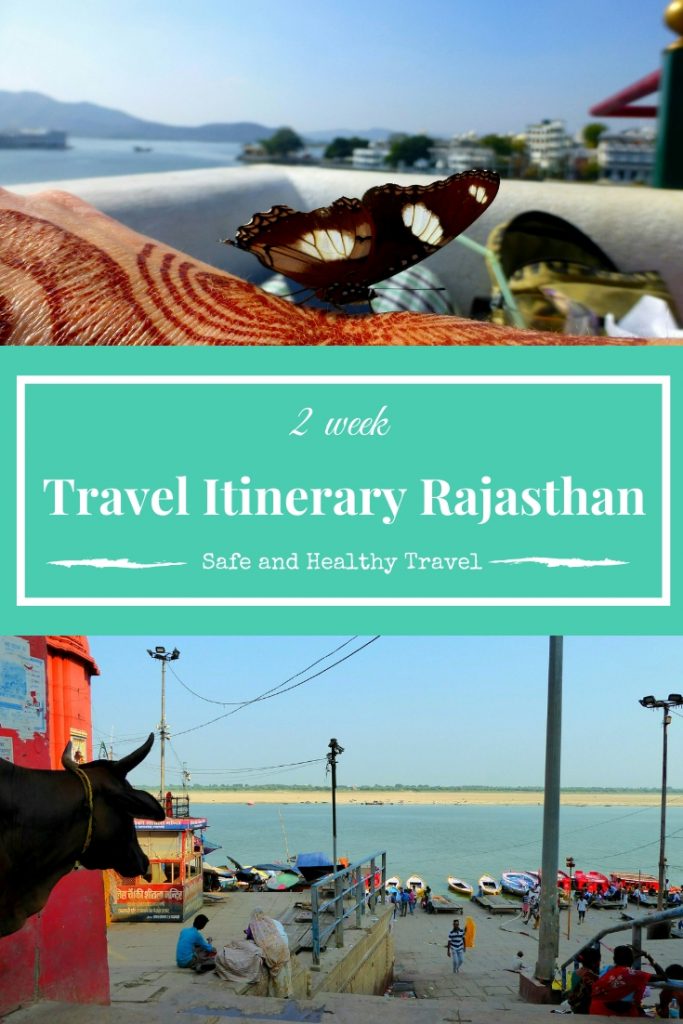 Pin this travel itinerary!
You can, of course, fill in your journey according to your own interests in all kinds of areas!
I also visited Kashmir:
Check my India page for more inspiration.
Check out these tips for women travelling solo in India!
I hope you love this world as much as I do!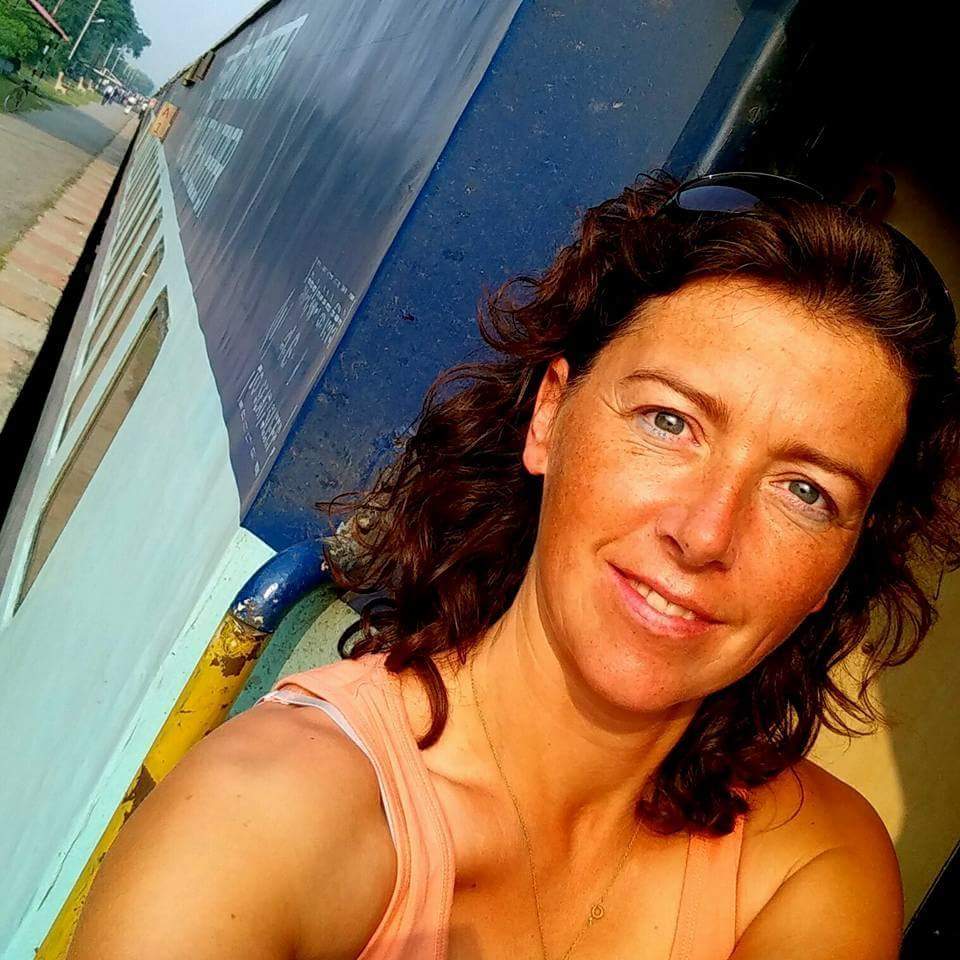 Jacomijn is een politieagent uit Nederland die jou graag laat zien hoe je veilig, actief en gezond de wereld kan over reizen. Safe and Healthy travel is a MUST