Hiking in Turkey – Discover the Love Valley in Cappadocia – Göreme
|
Surely the most evocative valley is the Love valley in Cappadocia. It was therefore at the top of my list to discover the love valley in Cappadocia when I spent a week in Göreme, Cappadocia. Of course, I also hiked the other valleys like Red & Rose Valley and Pigeon Valley / Zemi Valley. But in this blog, I will explore the Love Valley in Cappadocia!
Hiking in Turkey
Discover the Love Valley in Cappadocia – Göreme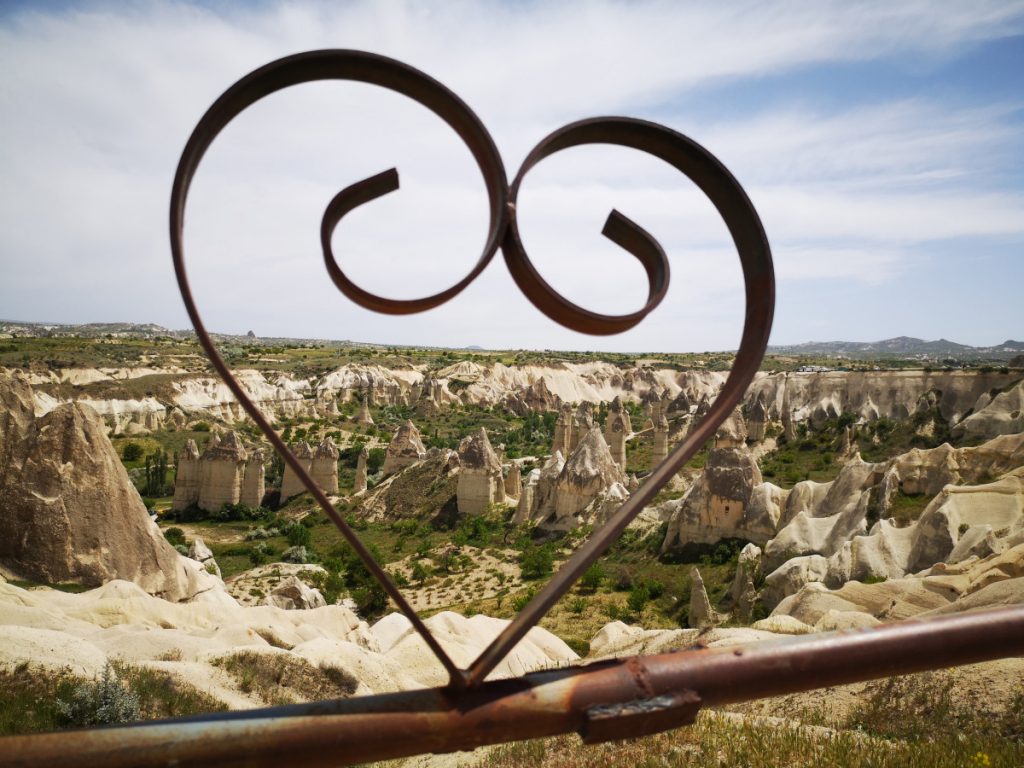 I started walking from Göreme towards Avanos after a relaxing morning. After a stretch along the main road, you can turn left. You will then go to the viewpoint over Love Valley. Many tours will pass here and I could also remember from my first trip in Turkey that we stood here.  Now I walked on to that car park but I should have turned off into the area much earlier, after the first exit. Then I would have gone straight into Love Valley on dirt roads. Now I made an adventurous descent from the car park to avoid having to walk all the way back again.
Tip: So, after the first left turn, you just have to take a dirt road to the left after a few hundred metres. That way, you don't go up the mountain and stay in the valley.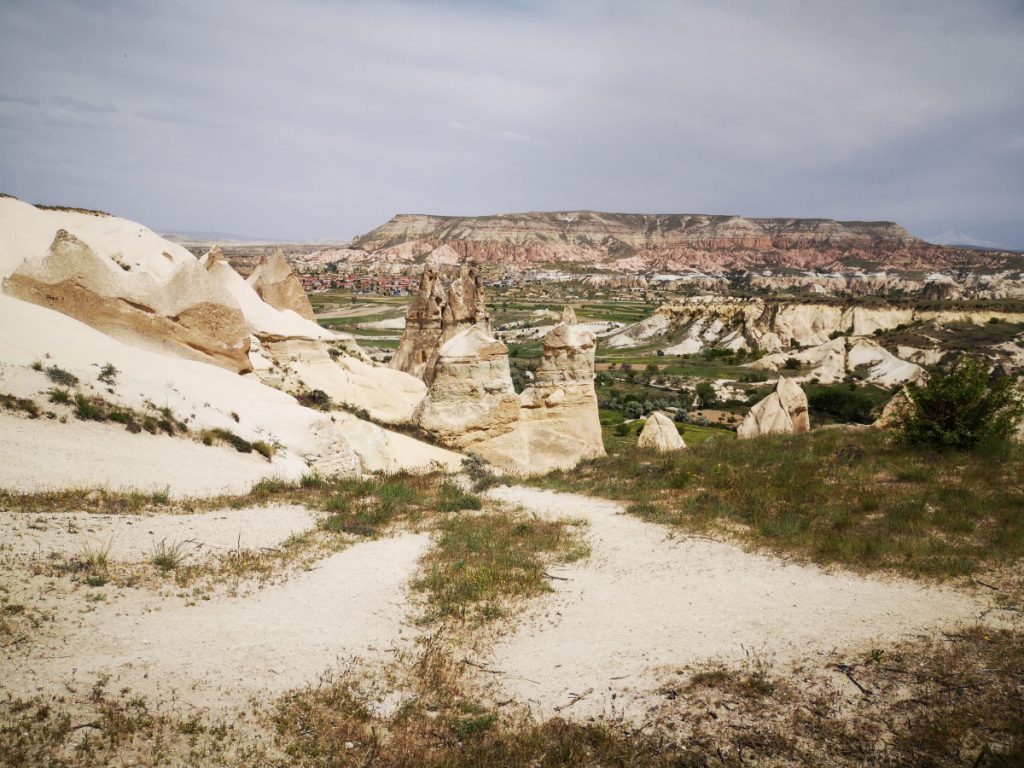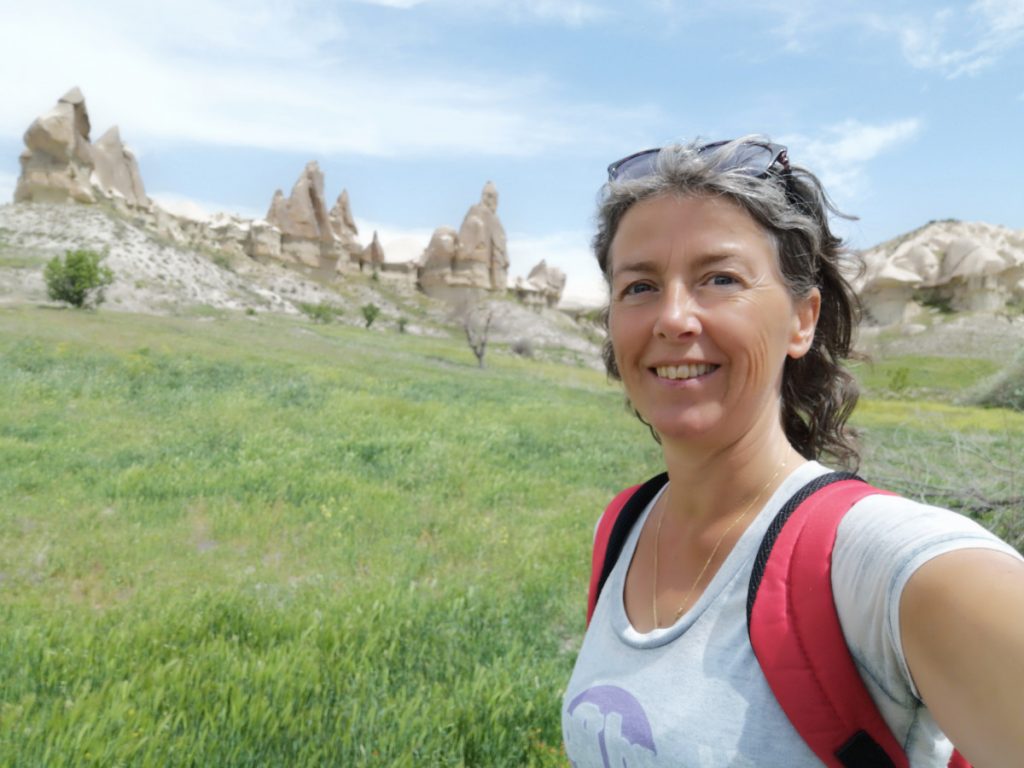 Adventurous Hike in the Love Valley
You arrive first at a sort of clearing with a little restaurant where you can sit for a while with a view of the most famous Love Valley rocks. These are the ones also visible from above. This is a great spot right away though where I stayed for quite a long time. In fact, I went to put down my selfie stick to take a nice yoga photo! I hadn't done this very much this week so this was the perfect spot for it.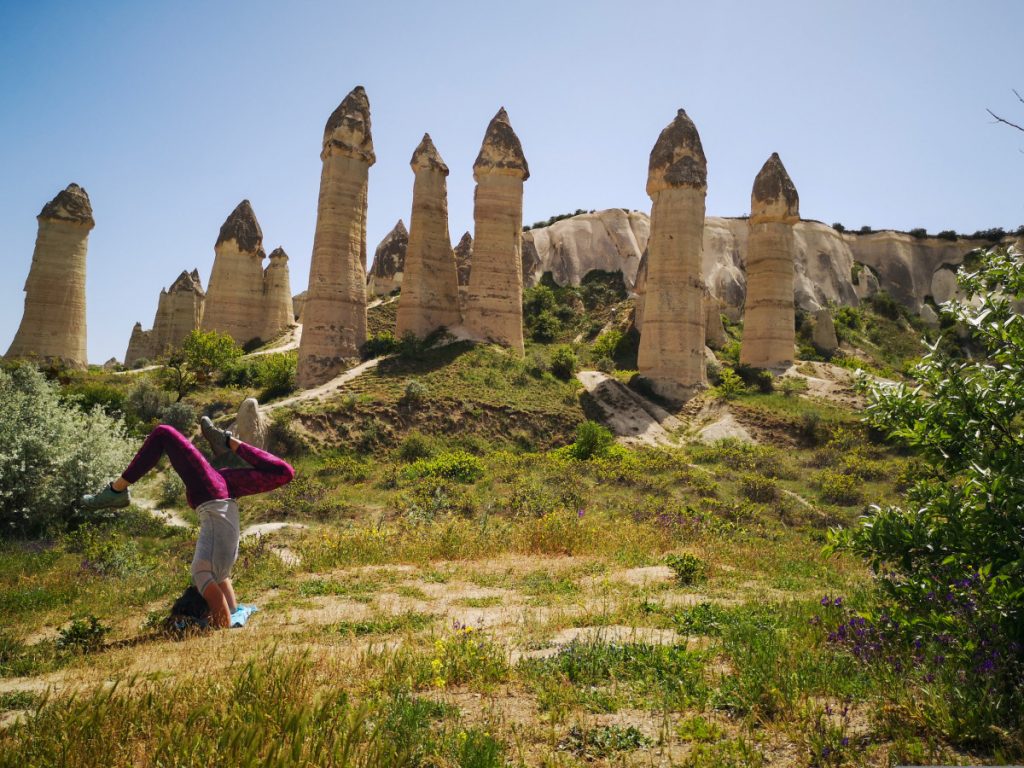 After this, I walked on and climbed up. I saw someone standing there taking photos of those amazing rock formations from height. Naturally, I wanted to go there too. The path can be quite slippery then. The stone erodes quickly and so it crumbles quickly and you slip easily. I slipped already for some times but at this altitude I didn't feel like it taking a risk. So I climbed up via the edge of the path, in order to stand on as much grass as possible.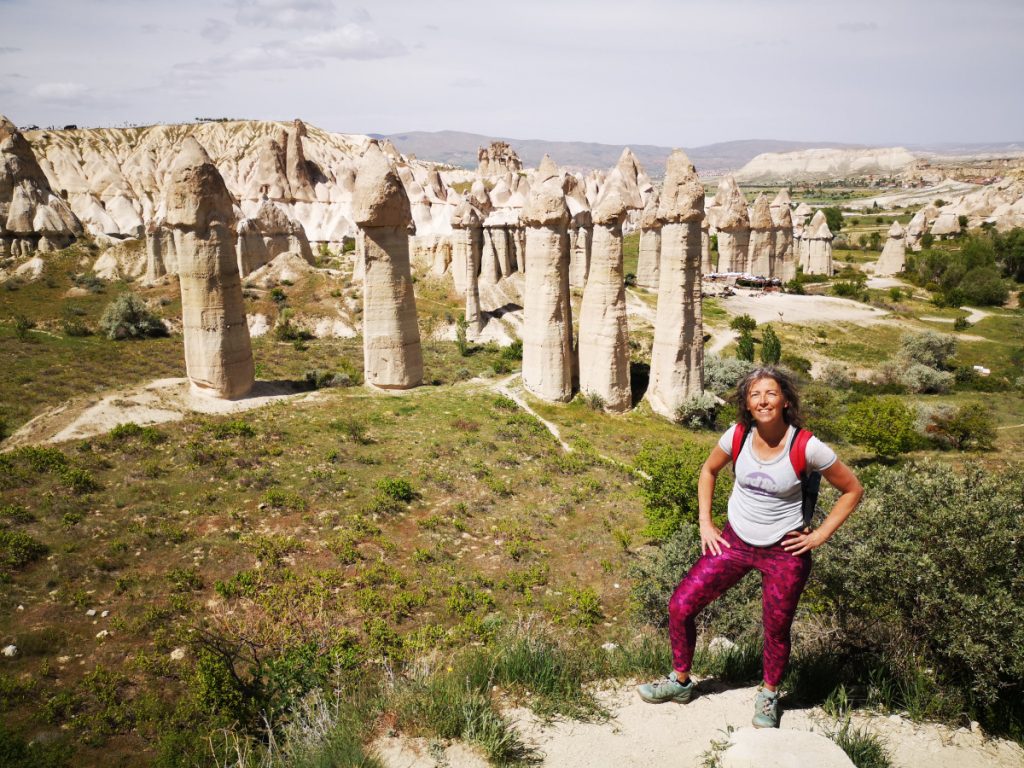 Turned out to be a Dutchman, haha. You run into them everywhere too.
Of course, he was happy to take a photo of me with the beautiful Love Valley in the background.
After this, I walked further into the valley. I had read that it could be around 6 to 7 km but of course I had been on the road for a while since I had started from Göreme. But I had the whole afternoon left and I had plenty of water with me. It was quite hot that May afternoon but in the valley you have shade every time. So a great combination for a nice walk!
Those fairy chimneys gave this valley its name
I loved hiking in Love Valley. There were several trails that all end up going in the same direction. Sometimes one trail runs a little higher and another through the valley. I hiked on all the trails several times. They criss-cross each other so once you have chosen it doesn't mean you can't switch. The valley is long but narrow and so you have a view of the other trail each time. And so sometimes other hikers or even cyclists.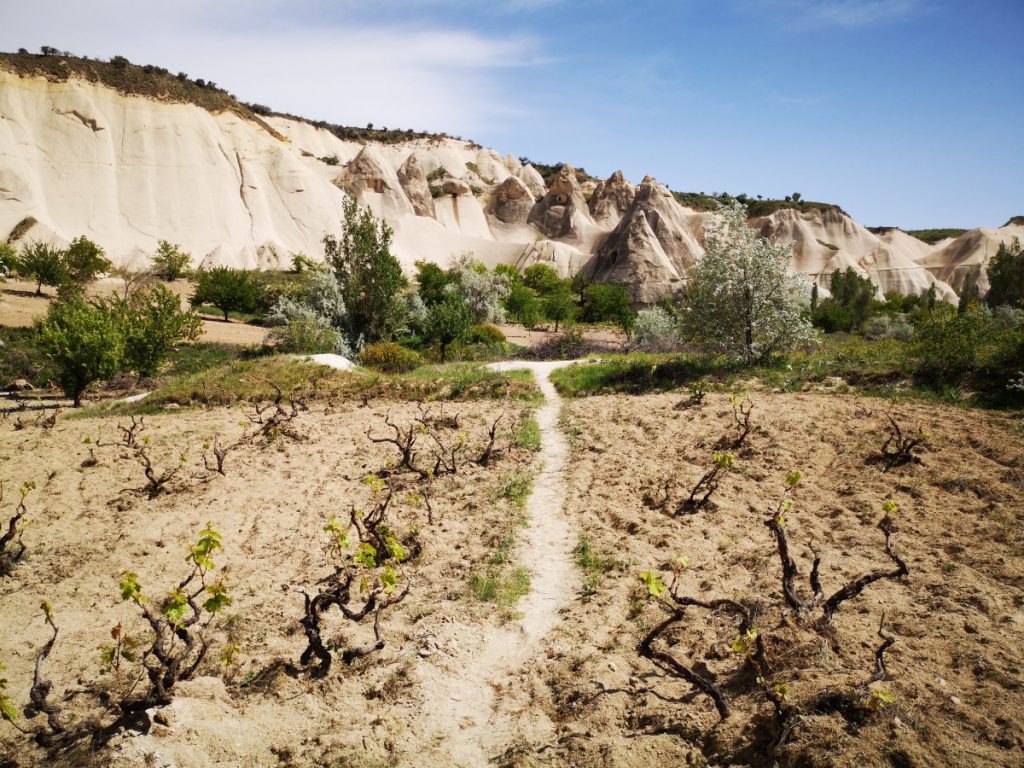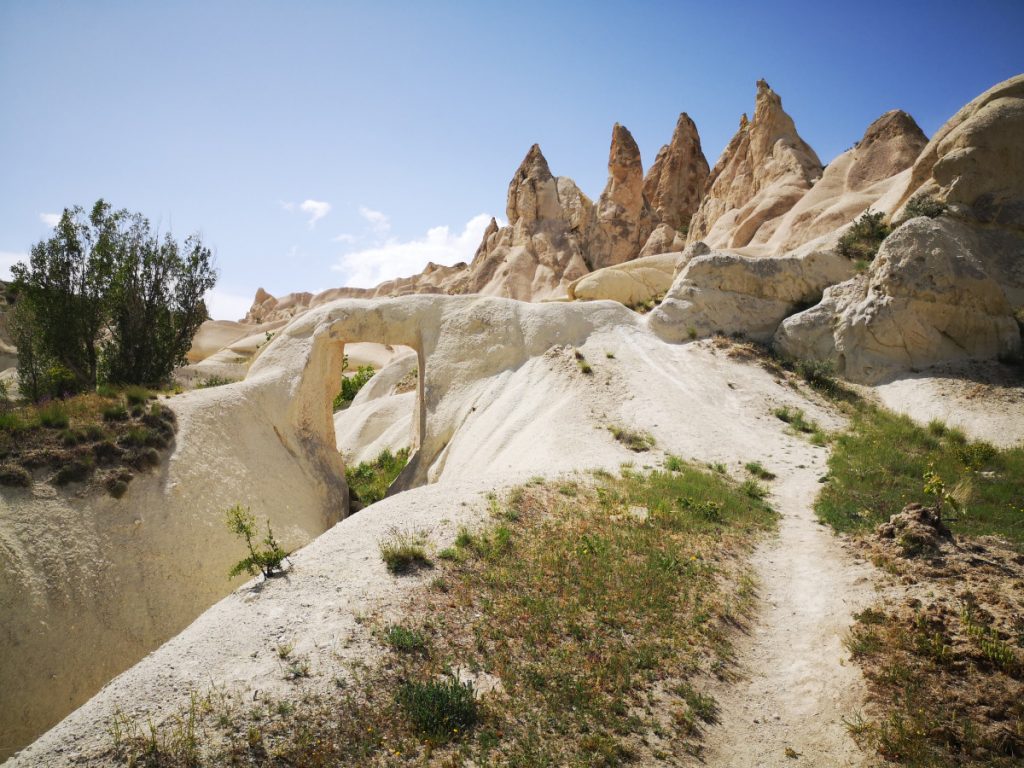 After an hour or so, halfway through the walk, I came to a stream to walk. The trail led me through it and so I walked in the shallow water and under trees and under a rock. It was a really nice part of the walk but as I continued walking it turned out to be deeper and therefore impassable. So turned around again and looked for a higher path. I do love to discover the love valley in Cappadocia.

These kinds of surprises obviously make hiking super fun!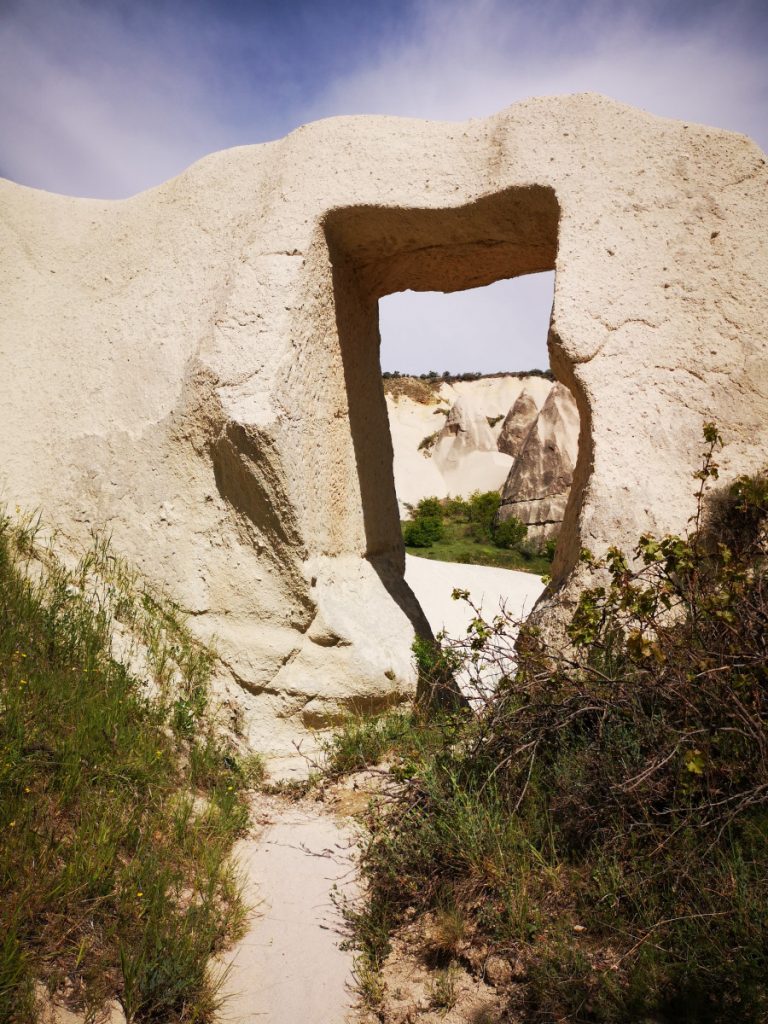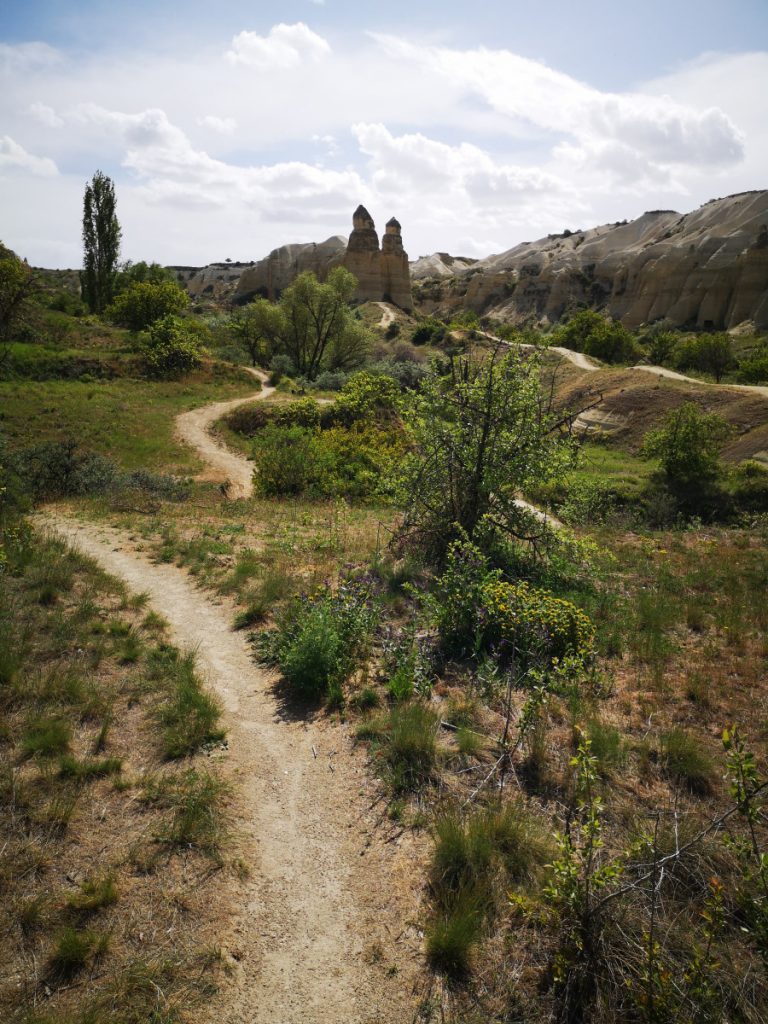 I loved the walk and at one point the path I was walking on sloped upwards. Here I had seen two adventurous cyclists. I went out of the valley in a flash and suddenly found myself standing by a man selling fresh orange juice there. And the customers he had? They were Dutch, of course! And they were on a scooter exploring the area. They pointed me in the right direction. When I reached the main road, it was near Ozler art centre.

From here, I walked back to Göreme via the panoramic restaurants overlooking the Pigeon valley.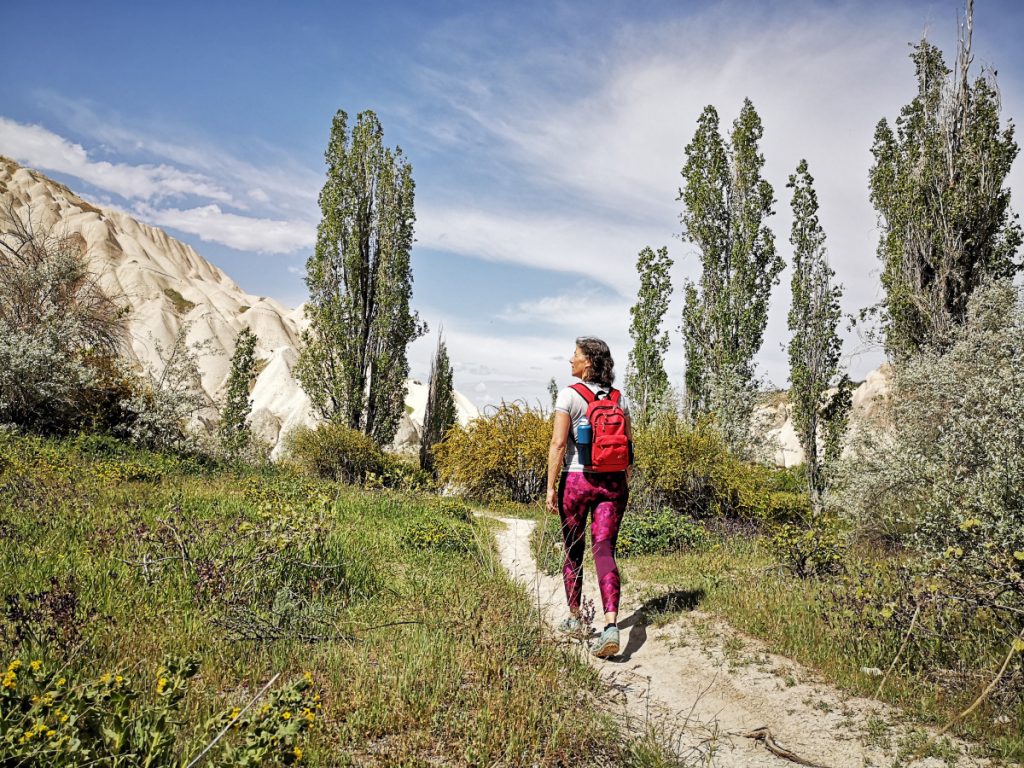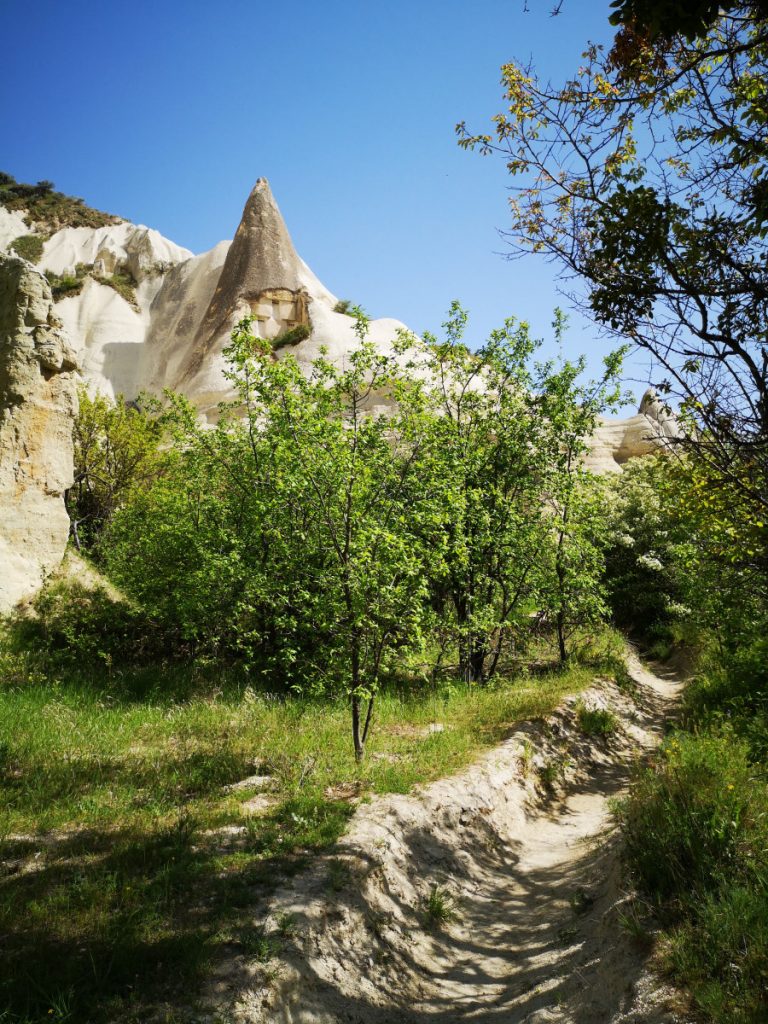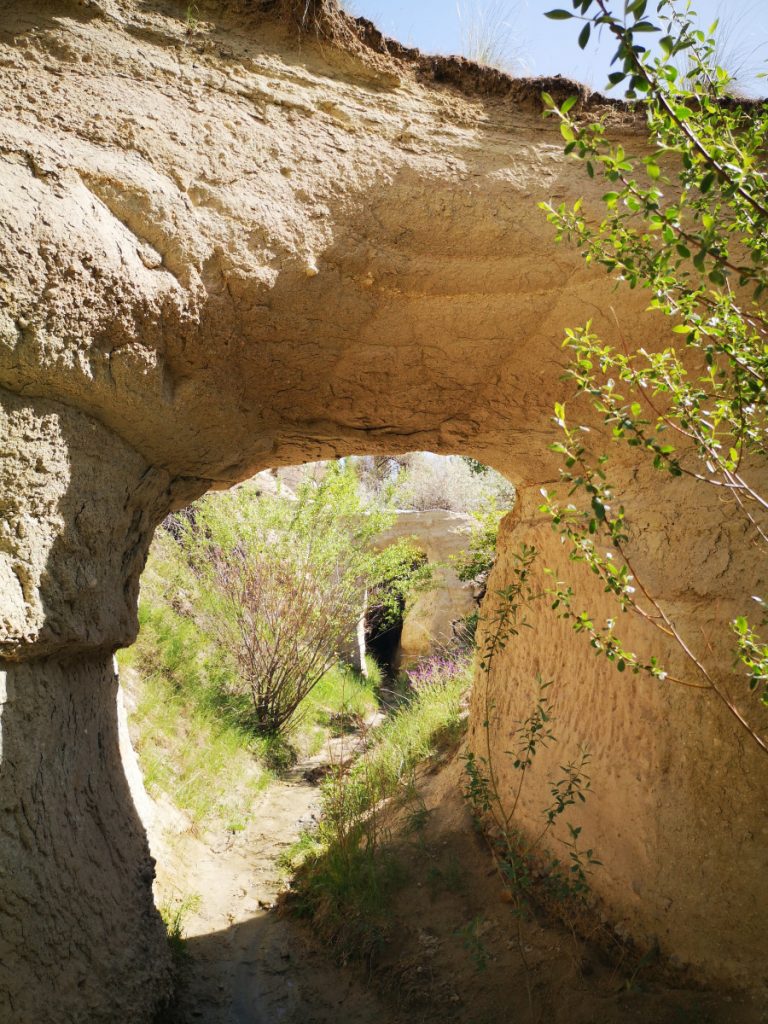 Discover the love valley in Cappadocia
Göreme – Turkey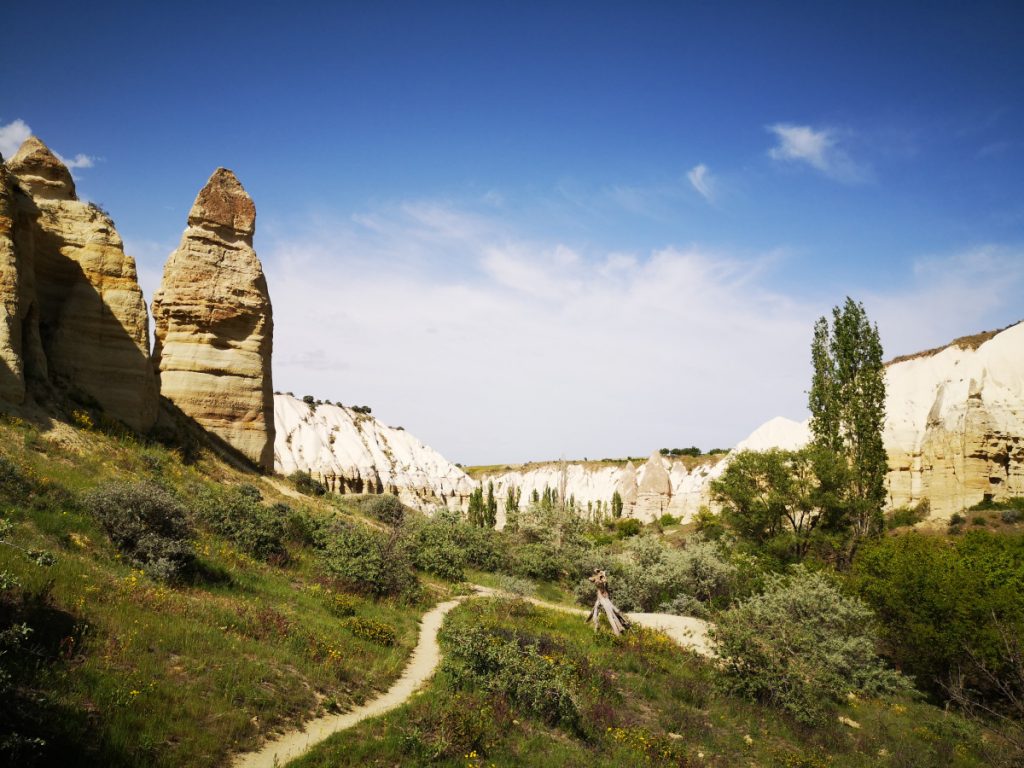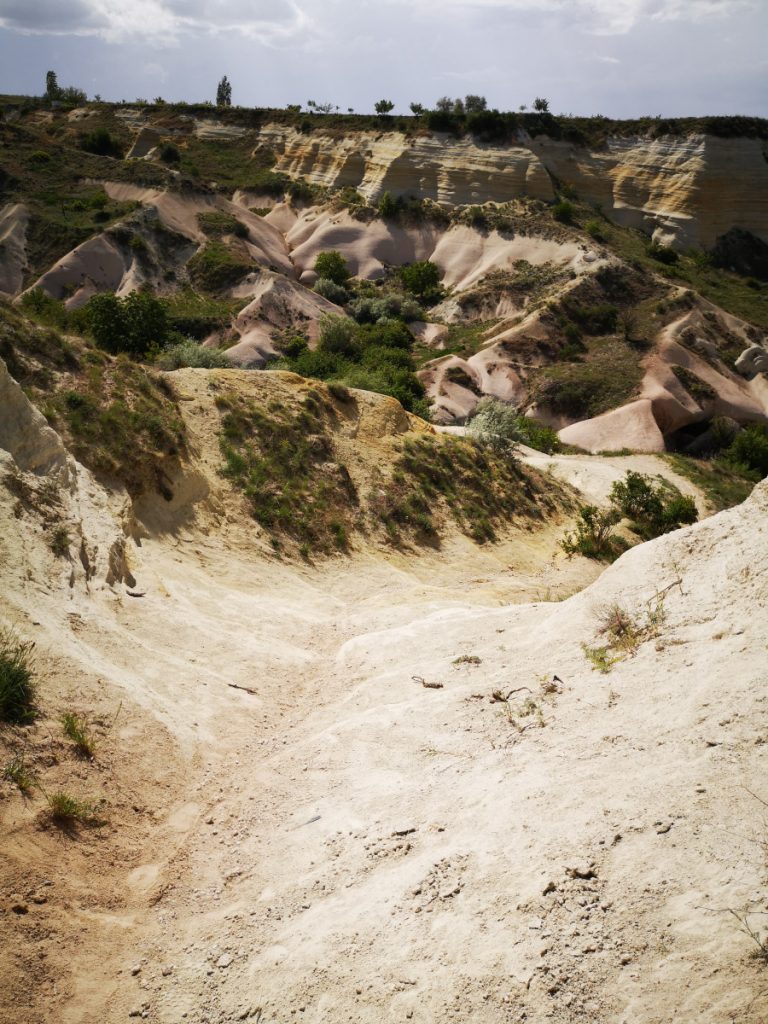 Time duration Love Valley in Cappadocia
I started the walk near the tourist car park around 2pm. I was then almost an hour's walk from Göreme. Around 4.30pm, I walked along the road from Uchisar to Göreme again.

The walk through Love Valley will take about 2 to 3 hours.

If I had walked further down the valley, I would have ended up in Uchisar, of course. In retrospect, it's a pity I didn't do this because now I didn't get around to it all week. There is something you regret every trip…. In this trip, it's that I didn't get to Uchisar.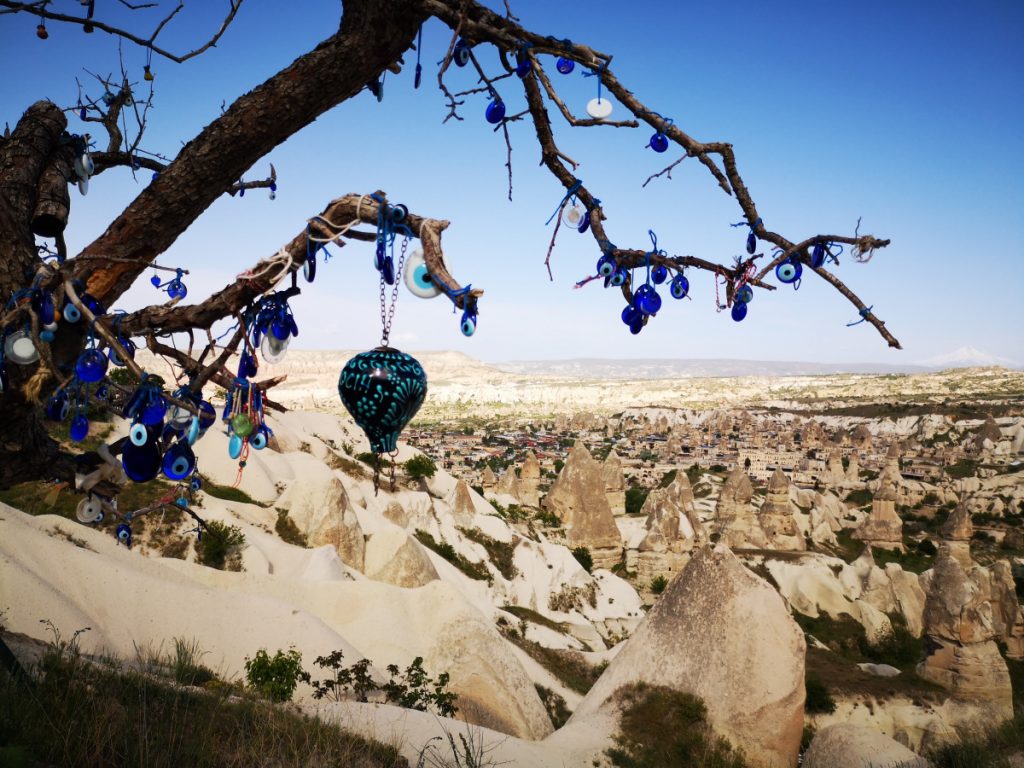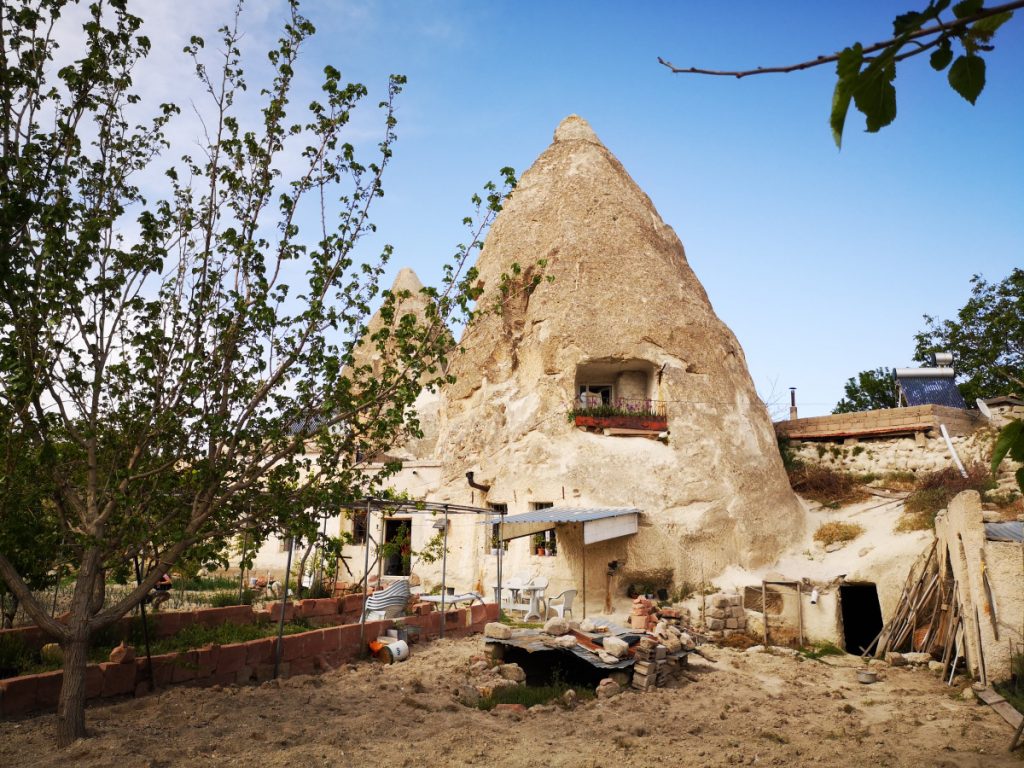 Will you share this amazing walk?
Sharing is multiplying huh?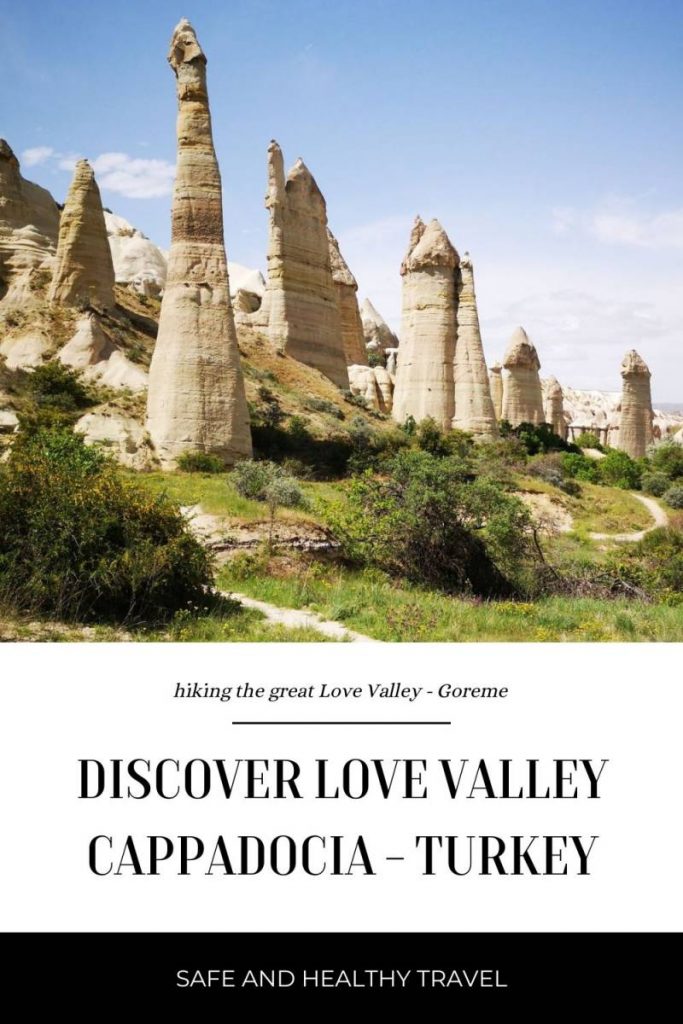 Want to read more about my travels?
In 2021 I visited the great Wadi Rum in Jordan
I really loved hiking in wadis! Hiking in a wadi – Oman / Jordan
Hiking in Dana Biosphere Reserve – Jordan
Would you like to hike a part of the Camino Frances?
Or what about hiking in the famous Alps?
Stages 1 to 6 on the Alpe Adria Trail – Hiking in the Austrian Alps
I hope you enjoy this beautiful world as much as I do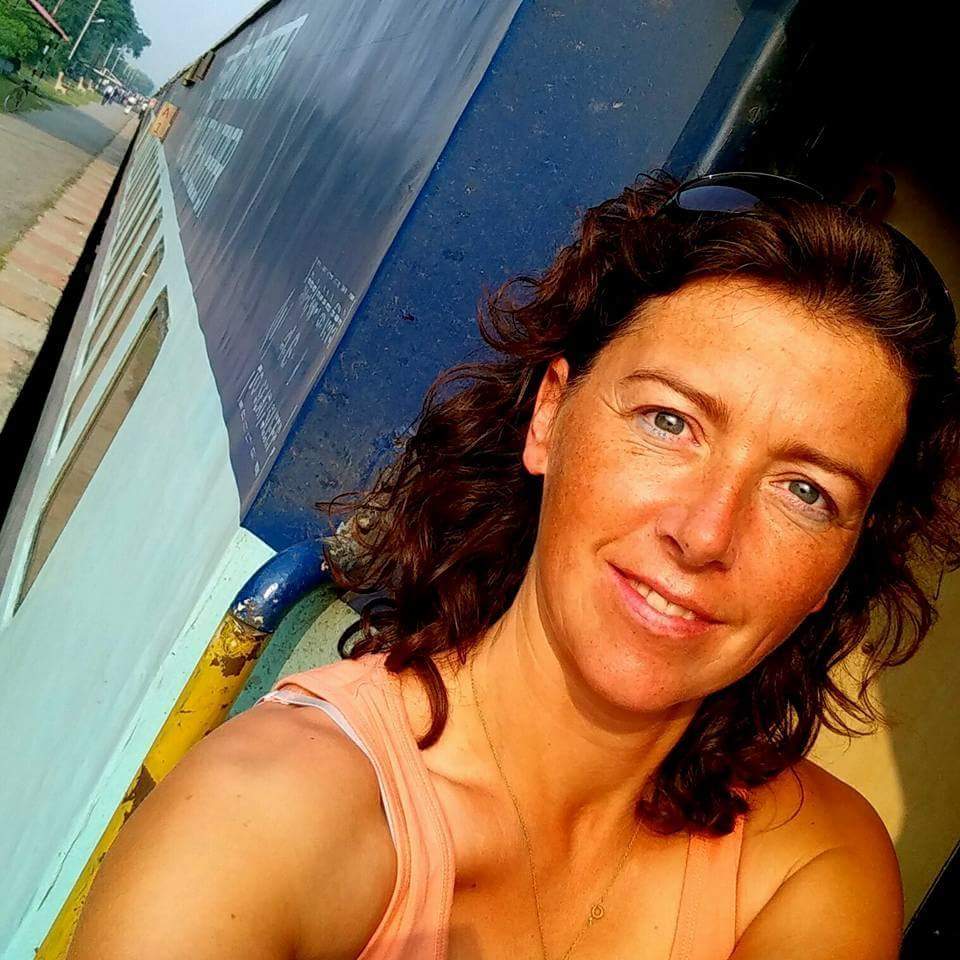 Jacomijn is een politieagent uit Nederland die jou graag laat zien hoe je veilig, actief en gezond de wereld kan over reizen. Safe and Healthy travel is a MUST