Things to Do in Kuala Lumpur – KL Travel Guide, Malaysia
|
After visiting KL already for a couple of times I do love the capital Kuala Lumpur of Malaysia. It always takes me a couple of visits to get to know a city and then I start to love it. I think after my second visit KL had done that already. I could find my way easily and ofcourse loved going to Jalan Alor in the evening!! I do think it is time to share my KL Travel Guide with you!
Kuala Lumpur is a big city with over 1.8m citizins but as big as the city is it keeps its authenticity. I love that about KL, there are skyscrapers next to old colonial buildings. I really love that diversity and therefor the city has a piece of my heart!
When I first came here I booked a cheap room at Daffodils hotel near Bukit Bintang and enjoyed some great food in the evening. Next day I walked out with the tourist map in my hand and got lost a lot… but because of that learned my way around 🙂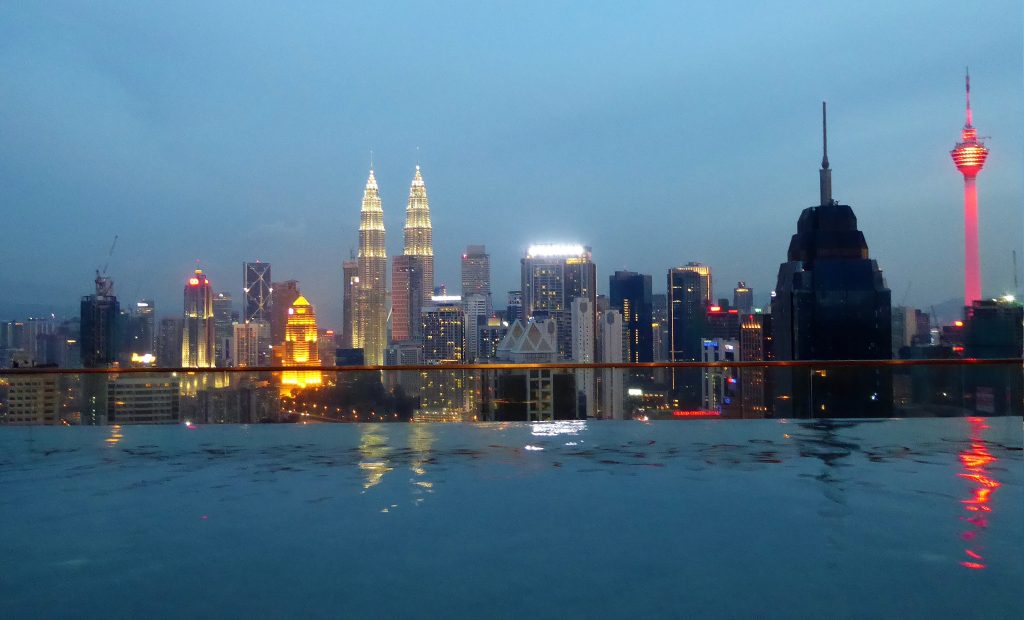 There are ofcourse some highlights of KL you have to see and so I will share those with you. They are enought to have a filled schedule on your Kuala Lumpur Citytrip!! Lets start with the most famous one of all!!
I think everybody knows about the Petronas Towers. You need to go and see them!! Also make sure to visit them one time in the evening when the Lake Symphony is playing. It is a spectacular light and fountain show in front of the Petronas Towers. It will give you some great views on the towers. It is a free activity and so it will be very crowded!
I haven't been up there to get a view from the towers over the city. I costs too much, takes me too much time and the view is better I think when I get the towers in there too 🙂
Maybe some day I will get the picture from out of those towers!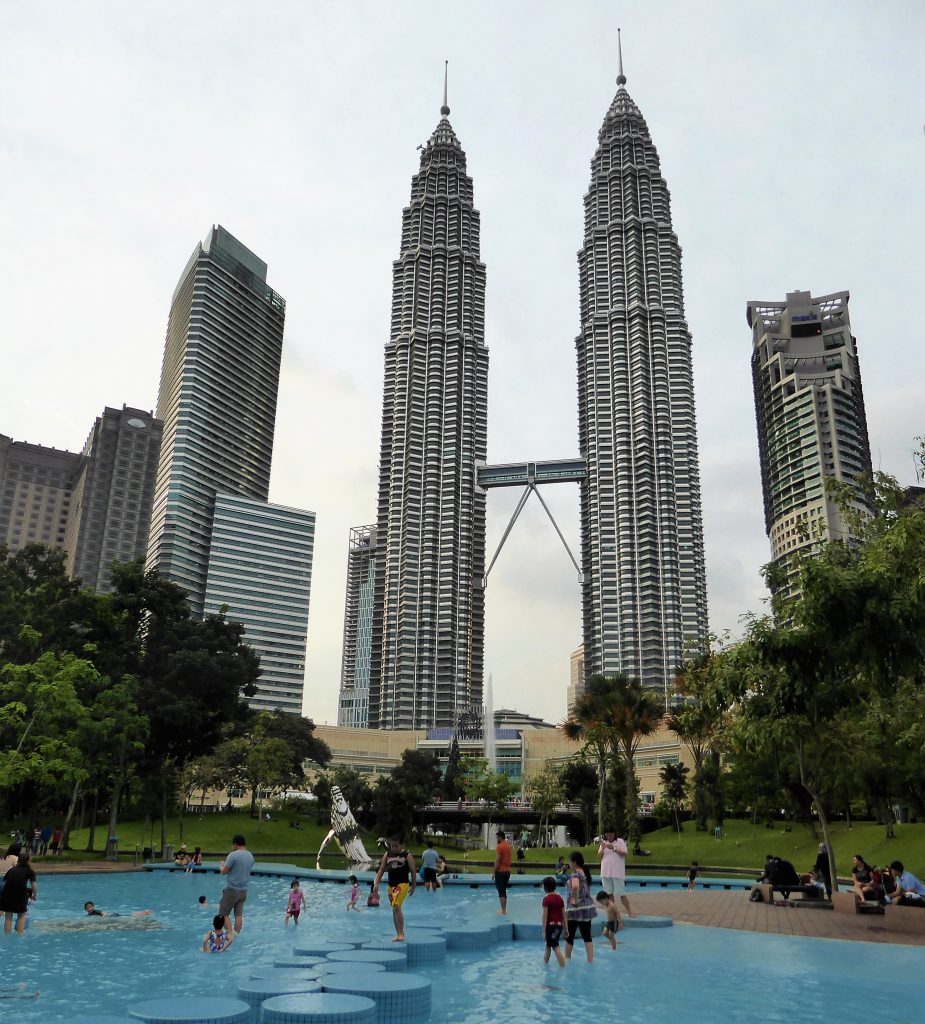 Playground and swimmingpool
Did you know that there is a playground and a free swimmingpool just behind the Petronas Towers? I didn't untill my last visit when I was there with a family with two kids!! Just walk around the waterfountains and find yourself in a wonderful playground for kids with a swimmingpool. We spend some time relaxing there while the kids went out to play 🙂
Menara Kuala Lumpur tower is one of the highest television towers in the world. With over 420 meters it is kind of tall for a television tower, right? Petronas is a bit higher FYI. I went up to get some pictures and just to be amazed by the structure. I bought the ticket for the observation platform but if you want you can go a bit higher and enjoy the panorama view without glass in between.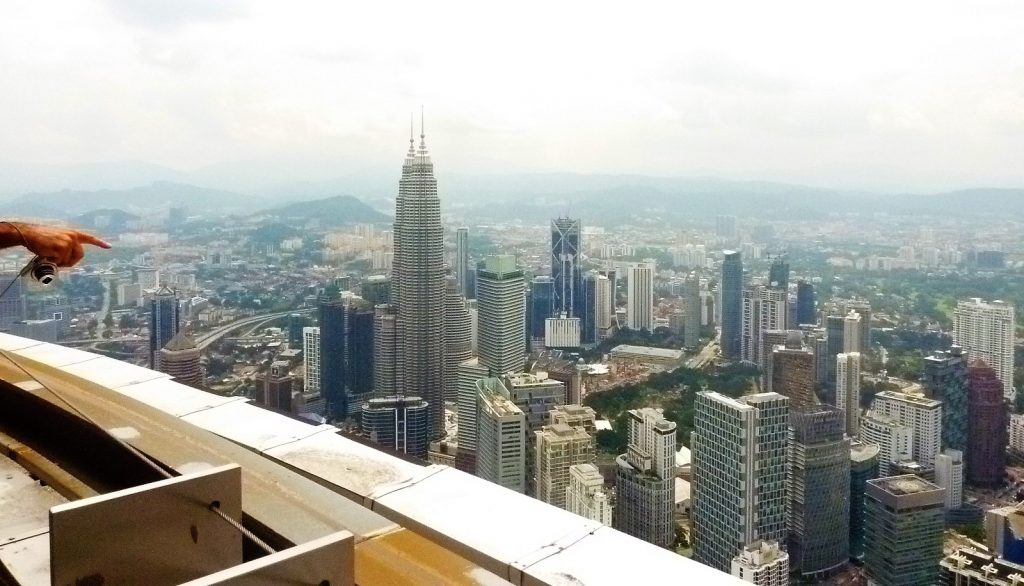 It does give you a good view over the skyline of the city!
The city of KL has some of the best and biggest shopping centras. After some months travelling it was time for me to buy some new shirts and such. This town was the best to that ofcourse! I could eat my heart out!
Berjaya Times Square Theme park
Did you know they even have one with a roller coaster in there? I have been in that one and have totally missed that… So it was that big that I just walked in there for 2 hours and didn't even got to see that!! I think if you are a family travelling with kids you should go and visit this one.
Sultan Abdul Samad-building & Dataran Merdeka-square
This building amazed me when I walked on to it all of a sudden. Big and beautiful, clean and colourful!! They building is a late 19th century build gouvernments building and the first Moghul architecture in Malaysia. It is opposite the Dataran Merdeka square (Independence square).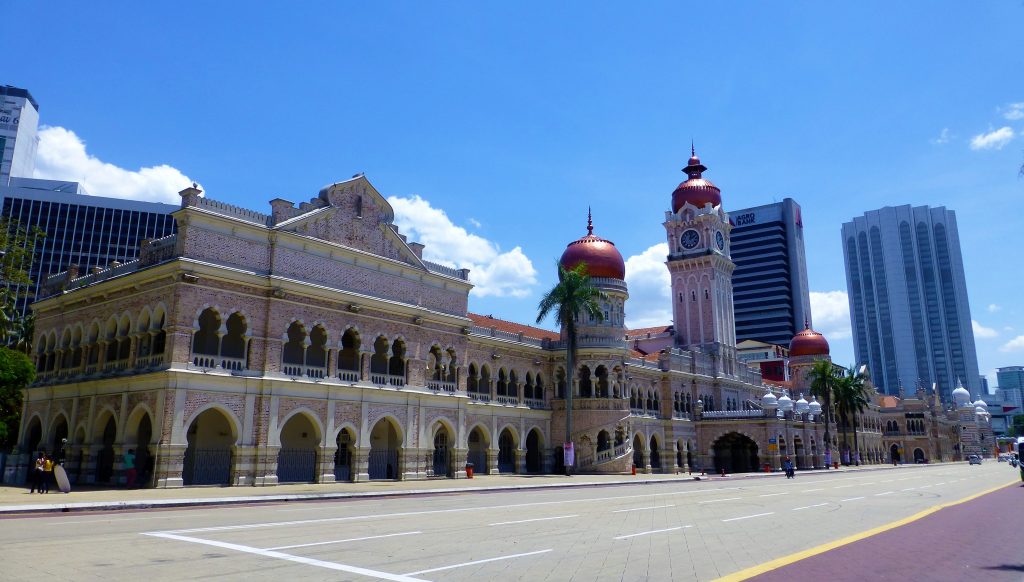 I haven't visit this park yet but it is high on my list for the next stop I make in KL. It looks beautiful and is a great outdoor extension on a citytrip 🙂 There are several trails you can follow in the eco park and that is defenitely a thing for my next visit!
It's located 3K of the heart of this busy city. It's called Bukit Nanas Forest Reserve and it offers you a great time in nature!
KL Travel Guide – Malaysia
China Town – Petaling Street
On my third visit here I stayed in the Fifth Elements Hotel and that is exactly opposite Petaling street. If you need some cheap clothes or other chinese market product this is a great street to wander around. Also for food you are good here! I loved the dumplings!
After spending 3 months in Asia I had them for breakfast just before stepping in the cab to the airport…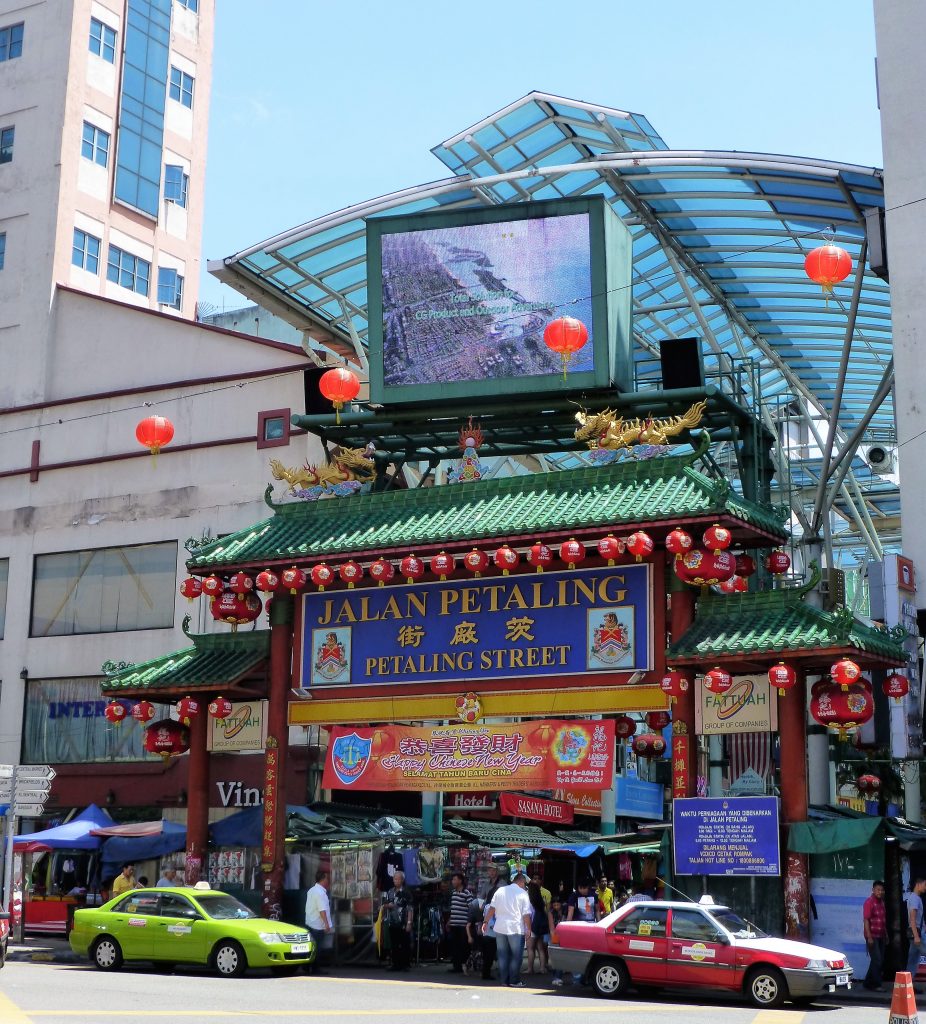 I also missed this huge aquarium. If I had done my homework upfront I should have seen this… But I met someone that cleans this aquarium and the next time I visit KL I will try to go into the aquarium with him 🙂 That's a better way to visit this place right?
Maybe also the most famous temple in KL. These caves houses hindu temples and is accessible with a huge stairs where the monkeys wait for you. My advice for you: don't feed them and they won't bother you either.
Inside you can withness different hindu pujas.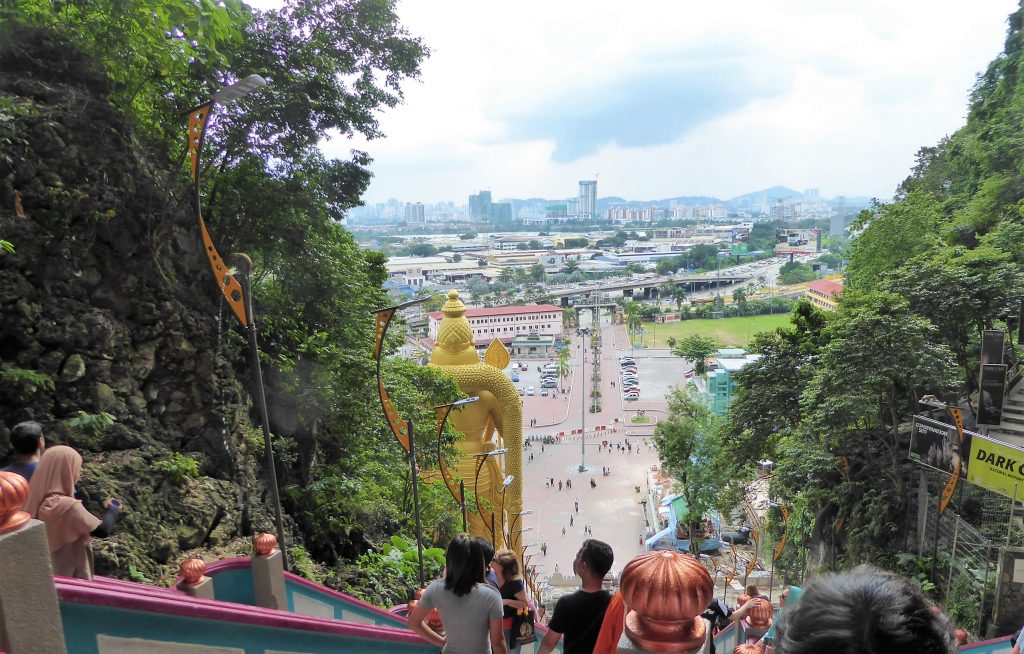 If you haven't shopped untill you dropped yet in the big centres you need to go to this street. It has all the souvenir shops and tourist clothing shops you need. Or do you need something for your travels to come go here. I also got a great foot and back massage in this street! But it also has some of the greatest restaurants to sit down and have a great dinner.
Walking down this street for 1 or 2 hours is a great thing to do before your dinner on a fancy terrace is always good!
This is a street you simple can NOT miss! If you love Asian food you can eat your heart out here! You can get anything from chinese, cambodian to Indian or a great Vietnamese Pho!
My tip…

Don't fill up on your first stop but devide your appetite between several stands and enjou all the cultural food to the fullest! I love to try at least 3 different dishes!!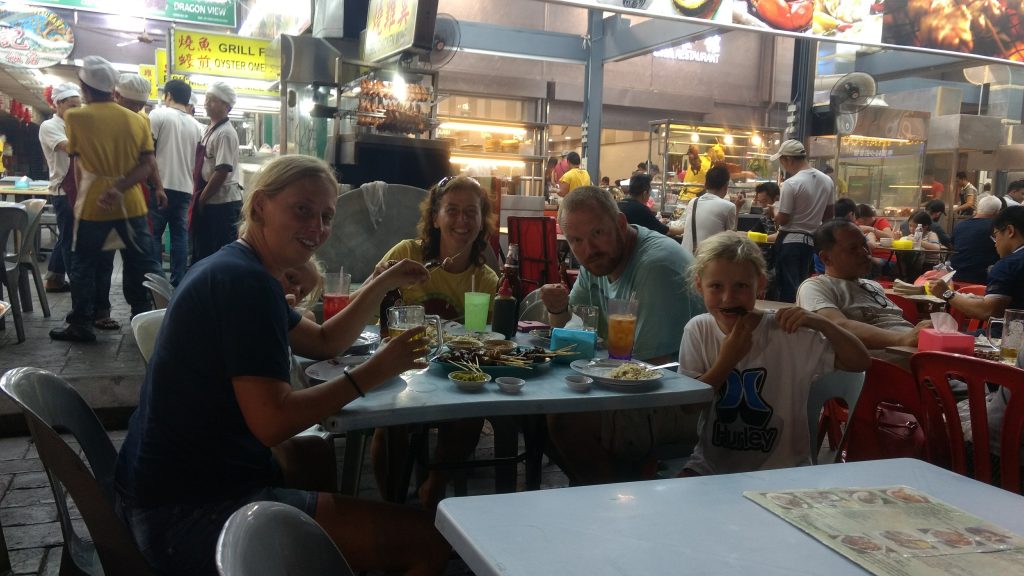 Go book a day outside the city with Happy Yen! It was really nice to spend a day with him. He loves to talk about what you can all do and accomplish if you believe in yourself! I loved the positive vibe of this day and how we really had the same ideas about life and how you are in charge of your own path! He asks all kinds of life questions to let you think and maybe see things differently.
In the meantime you are walking the jungle outside of KL and go for a swim in a river.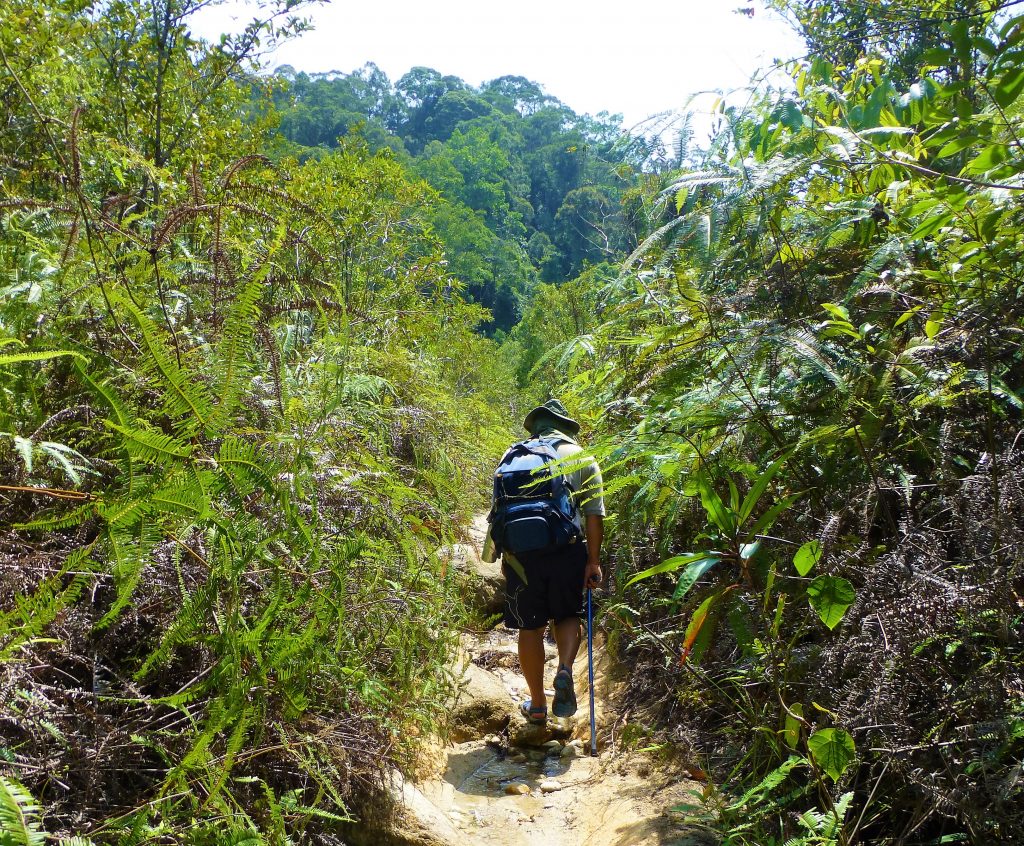 Happy Yen leading our way in the jungle. At the end of this day Happy Yen hopes that you have learned that you are master of your own destiny!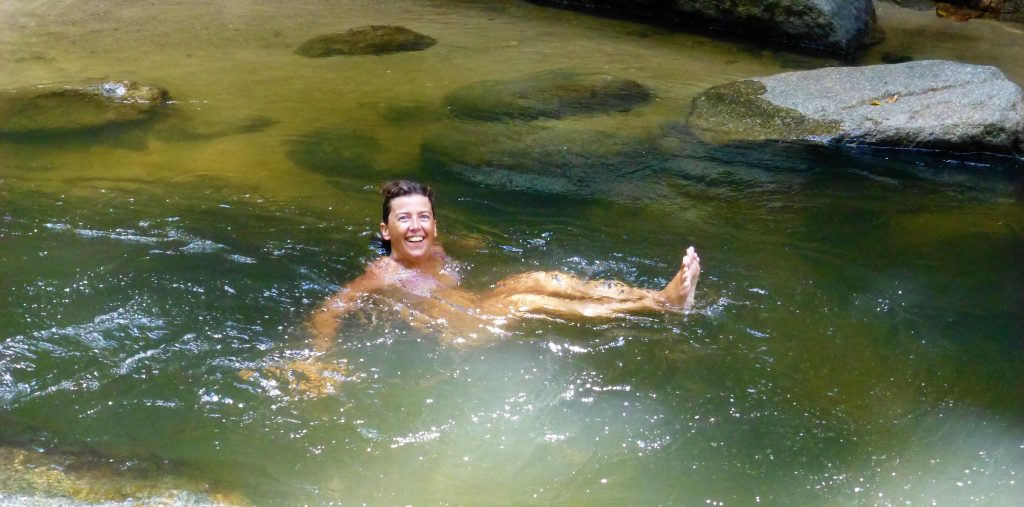 In a KL Travel Guide you also need some tips on where to stay ofcourse. I have used several hotels and will tell you about these KL accommodations.
Kuala Lumpur Accommodation
I visited a couple of times in the last years and for every visit I choose a different accommodation in Kuala Lumpur. That way it is easier to explore the different part of KL. Do also devide your stays over the whole city when you come back for a second or third visit. This way I have 4 accommodation I can recommend you. They all have their own reasons why I would recommend them.
I'll start with my best choice!
This complex can not miss in this KL Travel Guide, it rents out different appartments with one bedroom. Some are a bit bigger but all are really compact but offer you all you need for your holiday exploring KL. What I liked most about this complex is their rooftop swimmingpool!! What better way to end a day exploring the city of Kuala Lumpur then to take a refreshing dive in this pool with view on the famous Patronas Towers!!
Swimmingpool with the best view
Inside this complex is a small supermarket for your quick buys… But when you need more? There is a huge shoppingmall (Sunway Putra) within 5 minutes walking where you can buy all you want. I wen to the hairdresser, watched a movie, ate the best sushi and bought my longtime favorite windjacket in there!!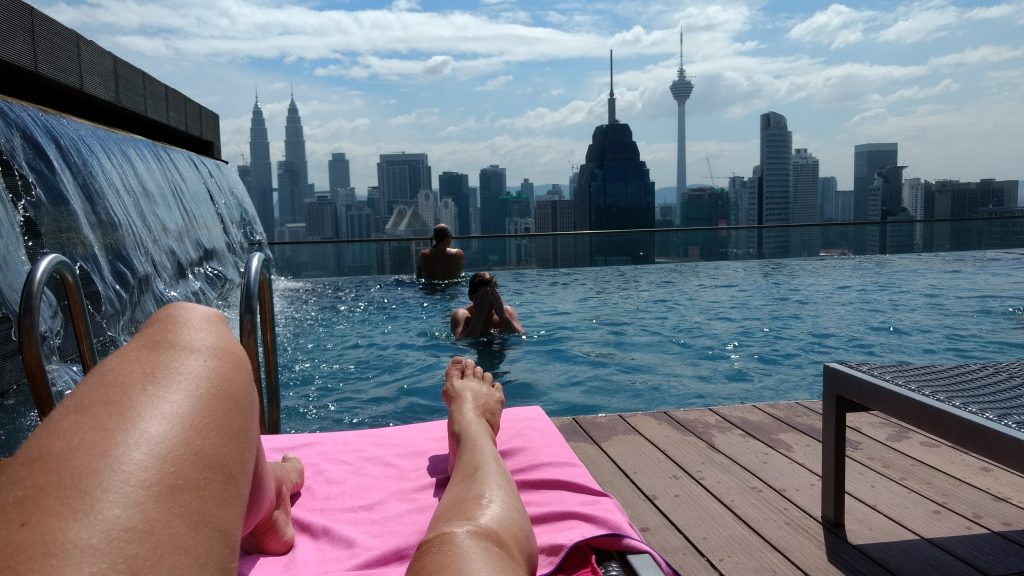 For where it is located I loved this hotel the best! It is exactly located at a side entrance of the street Jalan Petaling (China Town). Of you are looking for some Chinese Streetfood you good here. The hotel is good, clean and it had a great single room for me. That way the price was good also!
Most of the KL sightseeing is within walking distance.
If you like a bit of walking!
When I visited for the first time I was looking for a cheap hotel in the city centre. I would stay only one day or less and I did wanted to go to the famous Jalan Alor. I found this starting (2014) hotel amd got a really cheap room for one person. I paid around 8 euro and it had all I needed for that one night. In the hotel as well as outside the hotel everythings was within reach. Walking out the backdoor of this hotel I stumbled right into Bukit Bintang with lots of shops and terraces.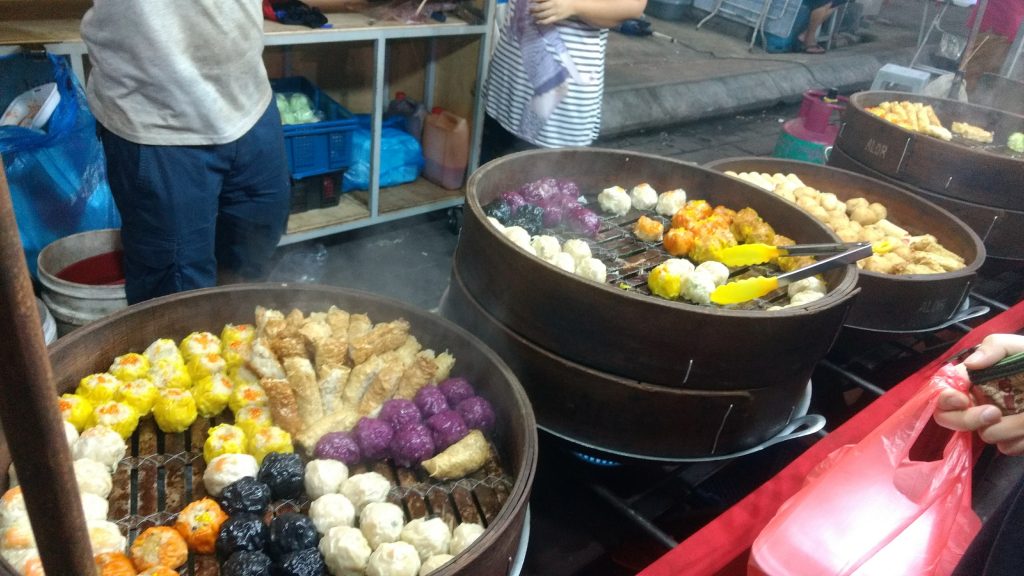 For my last visit I had two extra nights and decided to go near Bukit Bintang again. It was a cheap hotel but it was also really nice. It was a new location and the room was decorated really nice and the arrangment of the room was very economical. I had a small room where they made the bathroom in one corner, super!! I walked in the evening of my arrival to Jalan Alor and bought some of the best Dumplings!! I loved it!
This hotel is exactly near the famous Berjaya shoppingmall.
KL Travel Guide
Best Time to visit Kuala Lumpur
It is always a good idea to visit KL regardless of the time of the year. But if you are questening the monsoon season and don't want to risk getting wet I can tell you not to go in March and April when the western monsoon hits the city.
May to July is the best time to visit Kuala Lumpur
You can count on good weather with clear skies and steamy weather. You can walk the city the whole day and explore it to the fullest!
Temperatures in Kuala Lumpur always fluctuate in between 29 to 35 degrees during the day. In the evening and night it will drop a little bit but will hardly ever go beneath 26 degrees.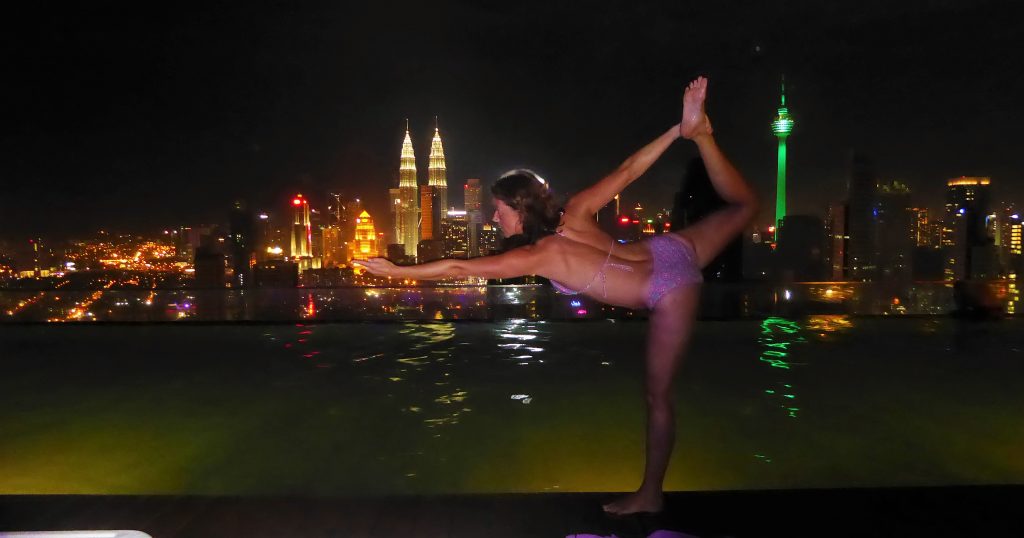 What to wear on your KL visit
As is it always warm enough in Kuala Lumpur you don't need a jacket… Make sure to wear light clothing. Do cover your shoulders when you are female, Malaysia is a muslim country so you get lots of eyes on you if you do. Take a cap or sunglasses to cover your eyes from direct sunlight.
Some good shoes because you will walk a lot!
The evenings can get wet all through the year so an umbrella or rainjacket is always a good idea. Or you can just take your refuge in one of the shoppingmalls where it is cool. Because of the rainshowers humidity can go up to 80%.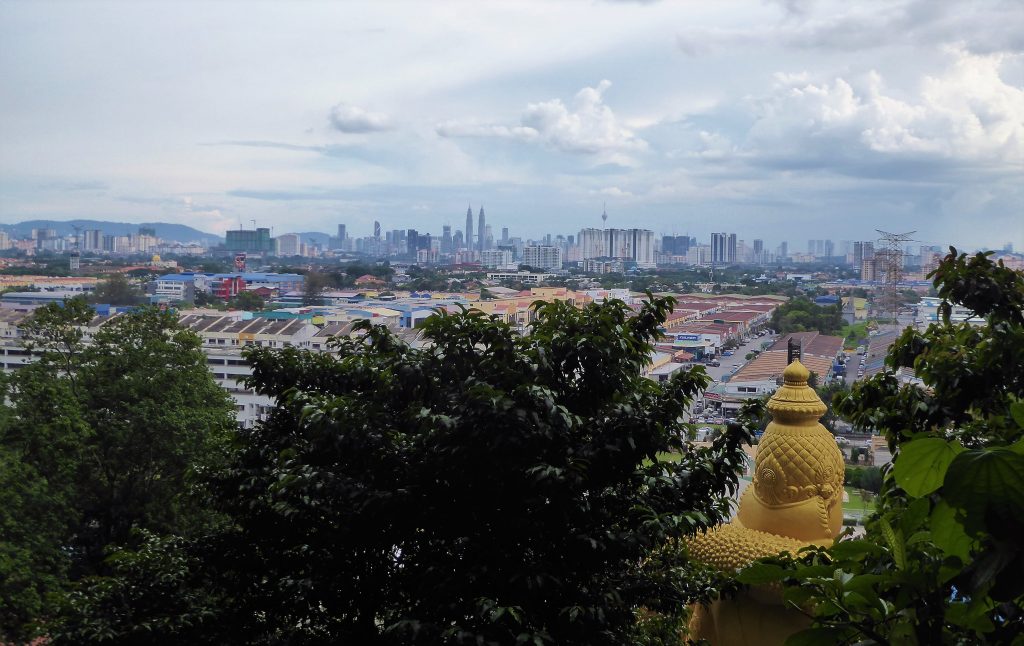 Is KL Safe to Travel Solo?
I have visited Kuala Lumpur a couple of times solo and one time with a family. I loved the times I have been here and have never felt unsafe at all. I did walk the streets in the evening when it was dark already. I say evening… I don't walk the street in the nighttime. You should never do that too…anywhere.
There is a lot of security everywhere to be looking out for you as well. I got to know the locals as very helpfull and friendly. I don't know of any stories of fellow travelers that got into trouble in KL city.
You should alway be aware of your surroundings and take good care of your bag while visting cities.
Read my advice on Anti-theft Tips for your Day Bag
In 2018 they stopped sentencing people to the death penalty. Good to know but still… Keep your act good and don't do anytting stupid on your holiday in Malaysia!
Some Extra Info for your KL Travel Guide
Getting there & Away
Are you arriving by air at KLIA (Kuala Lumpur International Airport) and do you want to go straight into the city? That is of course possible by taking a taxi, but if you want to do it cheaper and certainly just as fast …. and if traffic is a disaster defenitely faster ..
Then you take the train from KLIA to KL Sentral. This will cost you 55 Malaysian Ringgit and it will take you half an hour.
With the monorail or the MRT you can then proceed to Bukit Bintang or another destination in KL. This will cost you a 3 or 4 Ringgit. The taxi, which you can easily book via UBER or GRAB, will cost you around 15 Ringgit to Bukit Bintang.
You can easily get a train from KL to Ipoh. It will take you 2,5 hours and costs you around €10. I thought the train was really comfortable to use. The trainstation of Ipoh is in the citycentre and in walking distance of lots of hotels.
You can also take a bus ofcourse, it will take you over 3 hours but cost you half the price. It's around €4 to €5. The bus will leave from TBS, Terminal Bersepadu Selatan and take you to Ipoh Amanjaya. From there it is easy to take a local bus to the city, this will hardly cost you anything.
From Ipoh I took the trip to Haunted Kellie's Castle.
I took the bus from KL to Melaka. It cost you around €2.50 and takes you around 2 hours. It is located 4K out of the touristic centre of Melaka.
I haven't used the train from KL to Melaka and I read that the trainstation is far out of the city so not recommendable.
In KL I booked a three day tour into the Taman Negara. I was picked up by the company and was transferred in a VIP bus and then by boat into the Taman Negara. I had 3 wonderful days. I can recommend some days in nature and learning about the animals that live there. We also visited the Orang Asli… The original tribe to live in there.
—
I hope this KL Travel Guide will help you through your visit to this great city. I loved walking here and eating my  heart out at Jalan Alor!
If you liked this KL Travel Guide will you share them on your socials?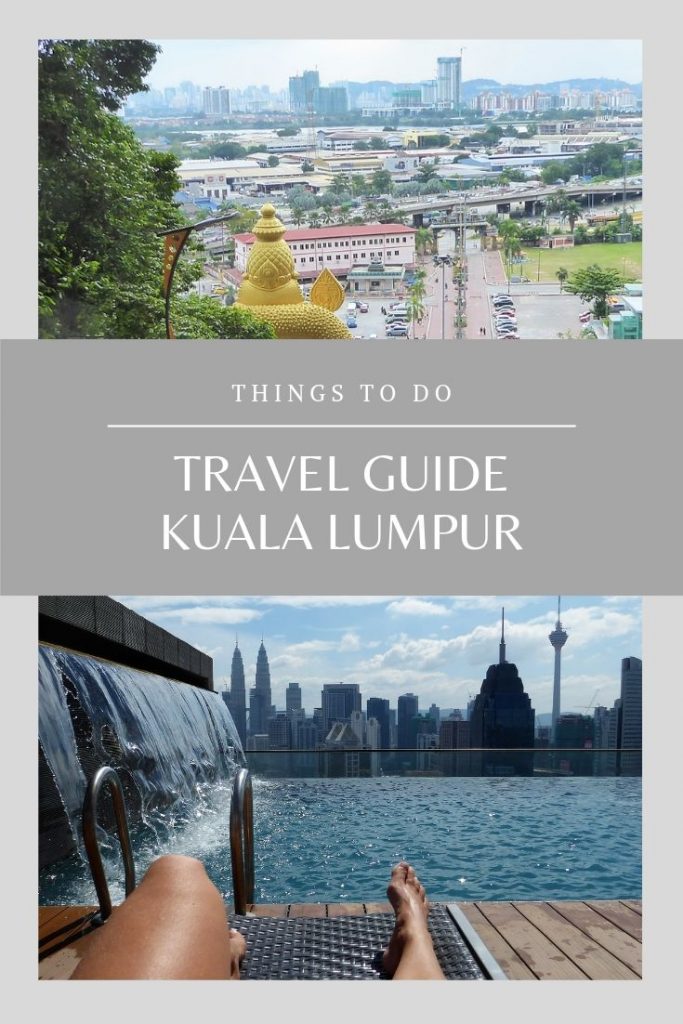 To visit Sabah, Borneo I've got some tips too!
3 Days in the Kota Kinabatangan Jungle
Volunteering at the Juara Turtle Project on Tioman Island
Diving in Sipadan: #1 spot in the world according to CNN Travel
From KL you can easily go to Sumatra – Indonesia!!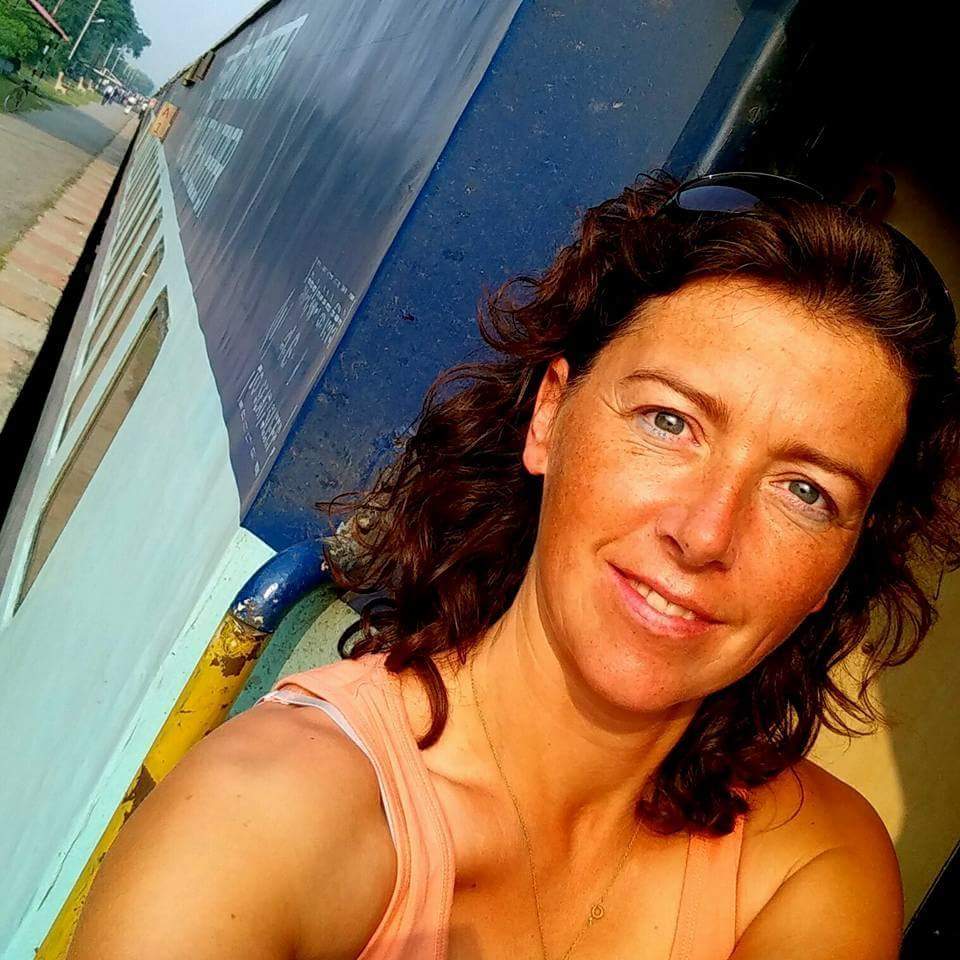 Jacomijn is een politieagent uit Nederland die jou graag laat zien hoe je veilig, actief en gezond de wereld kan over reizen. Safe and Healthy travel is a MUST