Cooking yourself in Melaka, Malaysia – Taking a cookingclass Melaka at Teena
|
Cookingclass Melaka, cooking yourself, the food mecca of Nyonya cuisine in Malaysia. In Penang, too, they can do something and there too, of course, I took a cooking workshop. But this time it was Melaka or also called Malacca's turn. I had been looking for a cooking workshop in Melaka for a while and found it more difficult to find one than I thought. So I was very happy when I received word that I could book a cooking workshop at Cooking School Melaka.
Cooking yourself in Melaka at Teena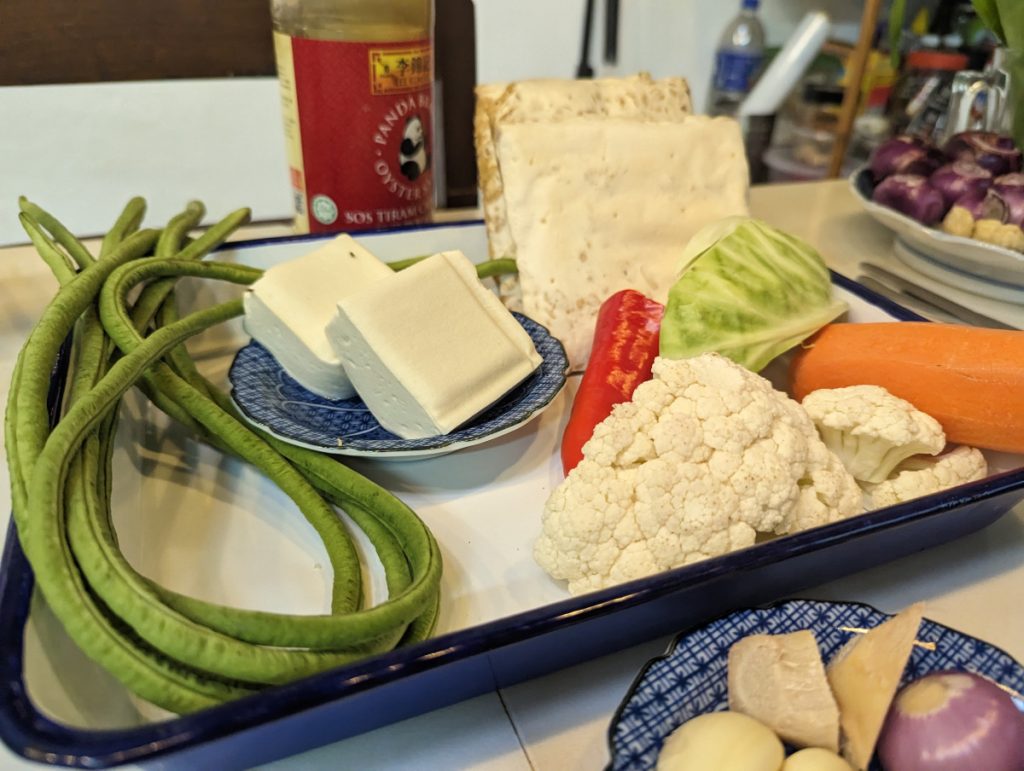 Where is Cooking School Melaka located?
In the bustling centre of Melaka, you'll find Cooking School Melaka in a street parallel to the famous Jonker Street. Its address is 29, Jalan Tukang Besi. On this street, you will also find Orangutan House and the famous colourful street art on the Kiehl's house. Wherever you stay or are in Melaka, you are usually in the area so.
But for me, it was a short half-hour walk. I deliberately chose a flat just outside the tourist centre so that I don't rush into the city and waste my time eating good nyonya food and drinking coffee in cute joints. I'm here for a month to learn!

But in the late afternoon and evening, I get to do fun things like attend a cooking workshop at Cooking School Melaka.
I was going to cook for myself in Melaka and was looking forward to it. The last few nights I had also eaten deliciously, but cooking your own food and putting several dishes on the table is still a very nice prospect. With a good, healthy appetite, I walked towards the city centre.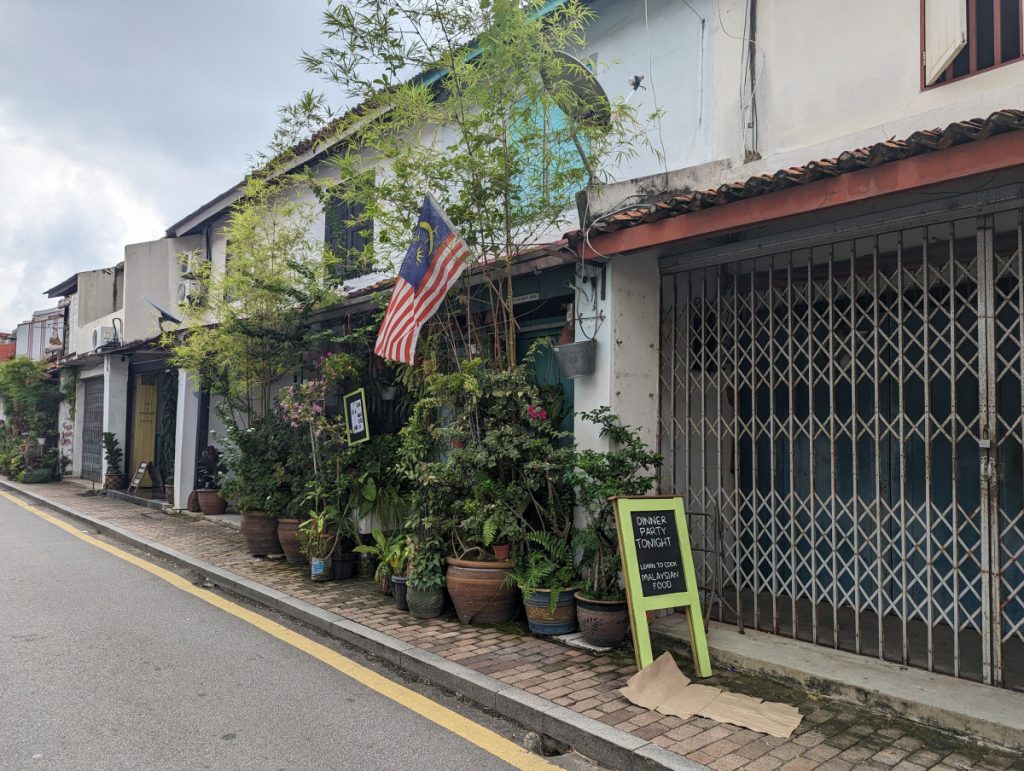 Cookingclass Melaka at Cooking School Melaka – Malaysia
Who will you be cooking with?
I was welcomed by the man of the house, Lee. A Brit who has been living here for several years with Teena who will be running the cooking workshop. They also offer people work and lodging through workaway. So there was another Mexican man present who introduced himself as Edwardo. He has decided not to work for a year but to see what he wants to do with the rest of his life. At the moment he is a lawyer (family law) but he doubts whether he wants to continue doing this work.
There were also two German exchange students who joined us for the cookingclass Melaka. They had finished their exchange and were nearing their return date. For 3 months they had lived in Melaka and gone to university. How fun! A super valuable experience to carry with you for the rest of your life.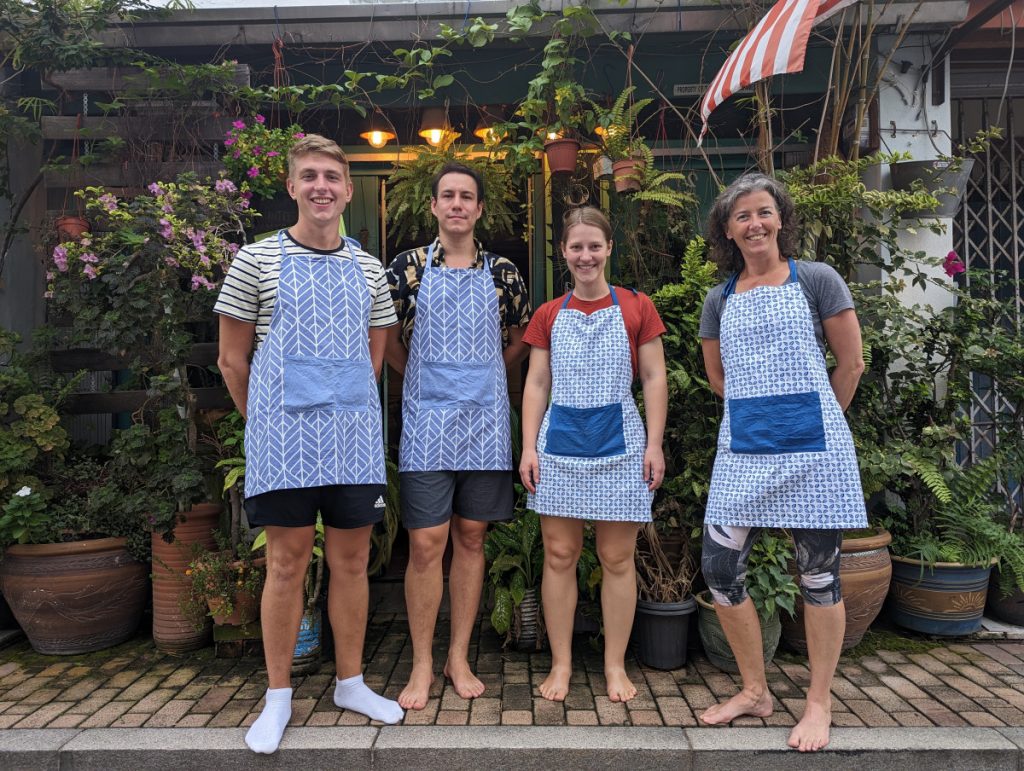 In addition, there were signs on the road inviting you to step inside if you also wanted to join the cooking. Unfortunately, no more people/tourists stepped in and we were left with 3 guests, Edwardo the volunteer from Mexico, Lee and Teena.
The dishes we cook ourselves – cookingclass Melaka

The dishes we were going to make were Chicken Rendang, a fine tasty vegetable mix with tofu and tempeh and a spicy but fresh salad. I was in the mood for it. All ingredients were displayed per dish, so we could clearly see what was used for what. Very handy for when I try to recreate something at home. What was also nice is that we were given a booklet with a pen so we could write down directions for ourselves.
I always miss half of it, I'll be working on a dish and miss what is said on the other side. Or I'm in conversation with Edwardo or the students for a moment and miss part of the other dish….
But I know from the experience of other cooking workshops I attended in e.g. India, Indonesia or Thailand that I still remember quite a lot and I can reasonably imitate a lot at home. After all, we don't have all the ingredients and you can't get it the way it was on a trip at home. So I am always happy with the experience and can always apply something from it!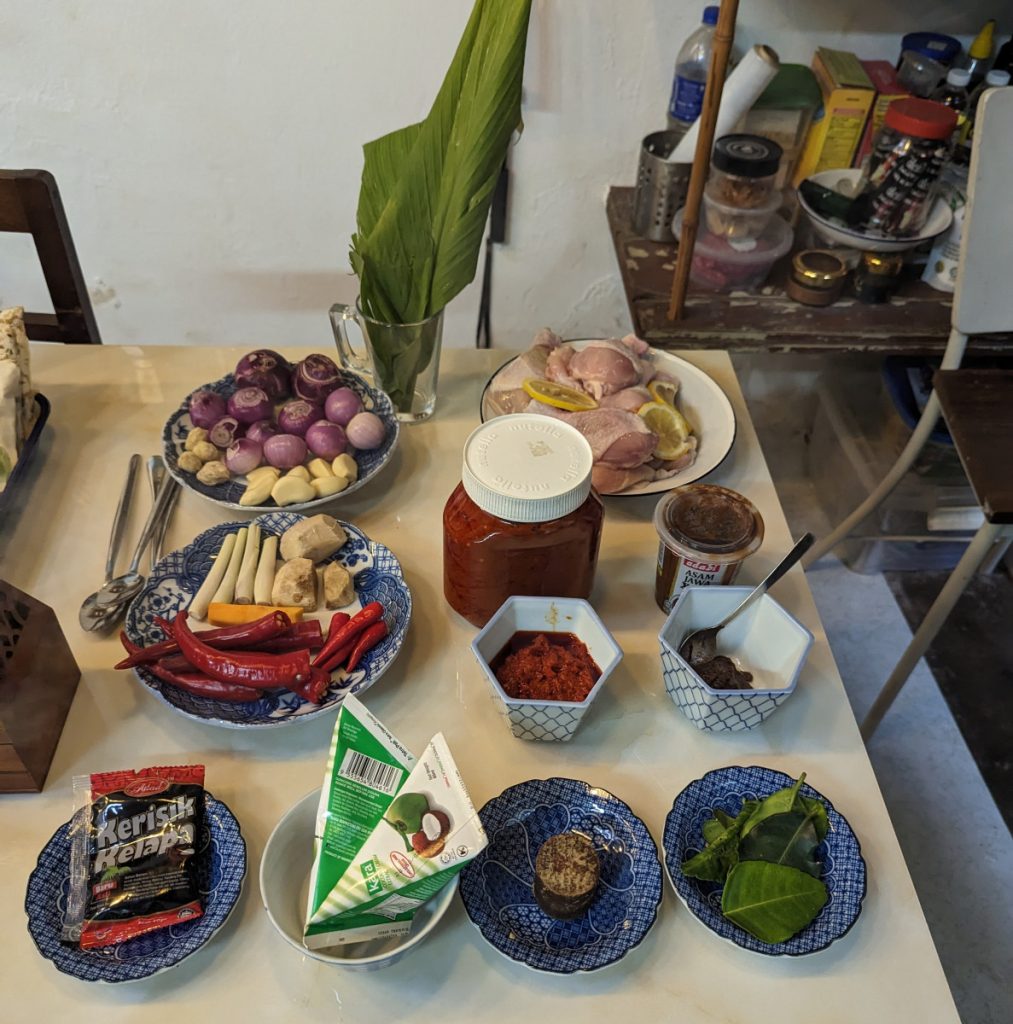 Experience everything yourself during the cookingclass Melaka
Cutting, mixing, baking and cooking yourself in Melaka
And then we were put to work by Teena. We were all given an assignment to cut spices and herbs in order of how quickly it was ready, of course. We cut countless onions, shallots yet more garlic cloves and a whole bunch of red and green chillies! Several times Teena assured us that it would not be hot but that the balance between the hot chillies, coconut, sugar and salt what would be added would give a perfect balance between hot and super tasty!
At home, I never manage that very well but then I use too little sugar I understand, or salt . to get that balance better.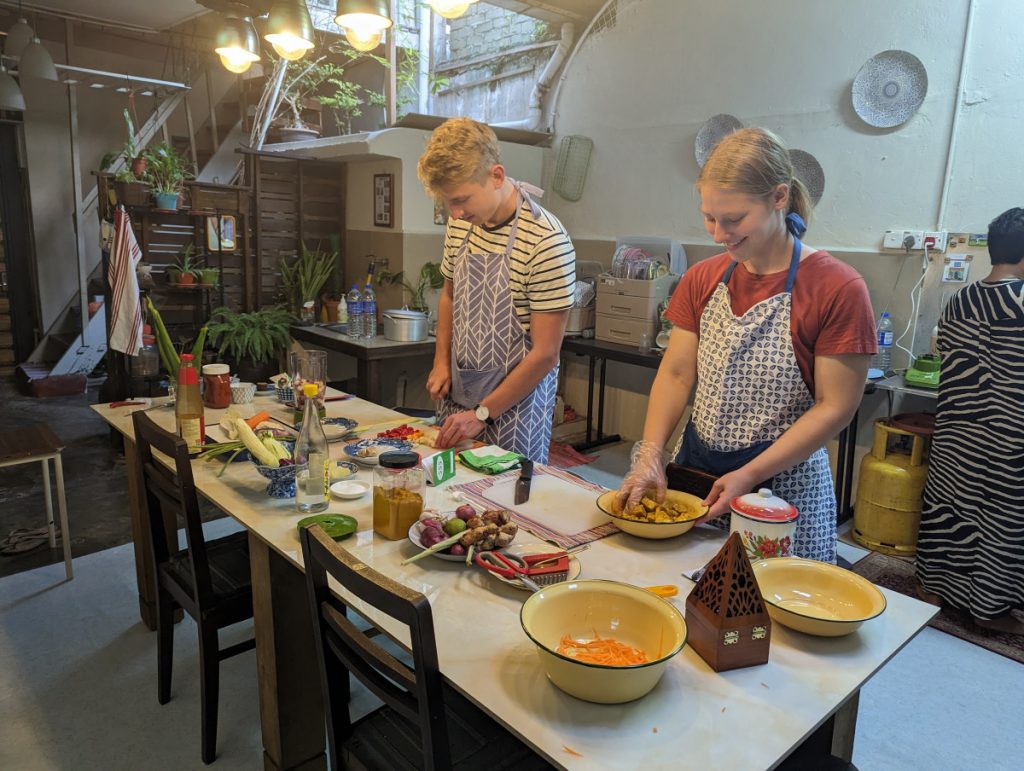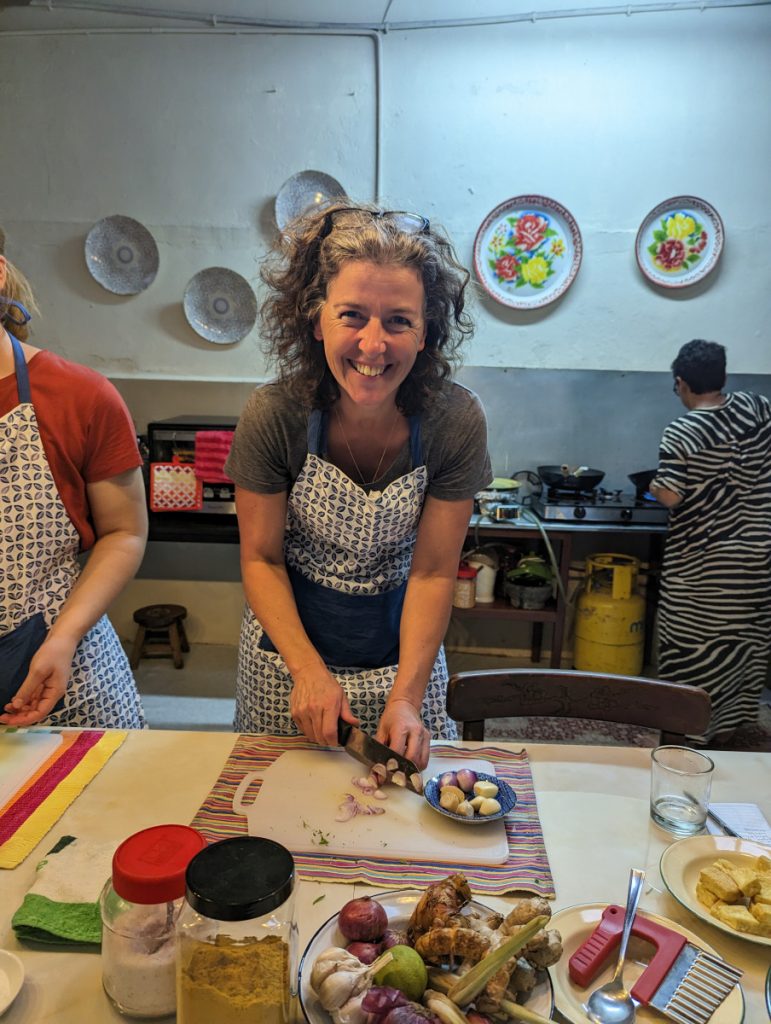 When we had all the ingredients together for the rendang, it went into the hot oil ( palm oil ) In doing so, it became clear how the flavours came together and how it can become a whole in which you taste everything separately but it is also a whole. You have to give it time for the different ingredients to get to know each other, Teena explained.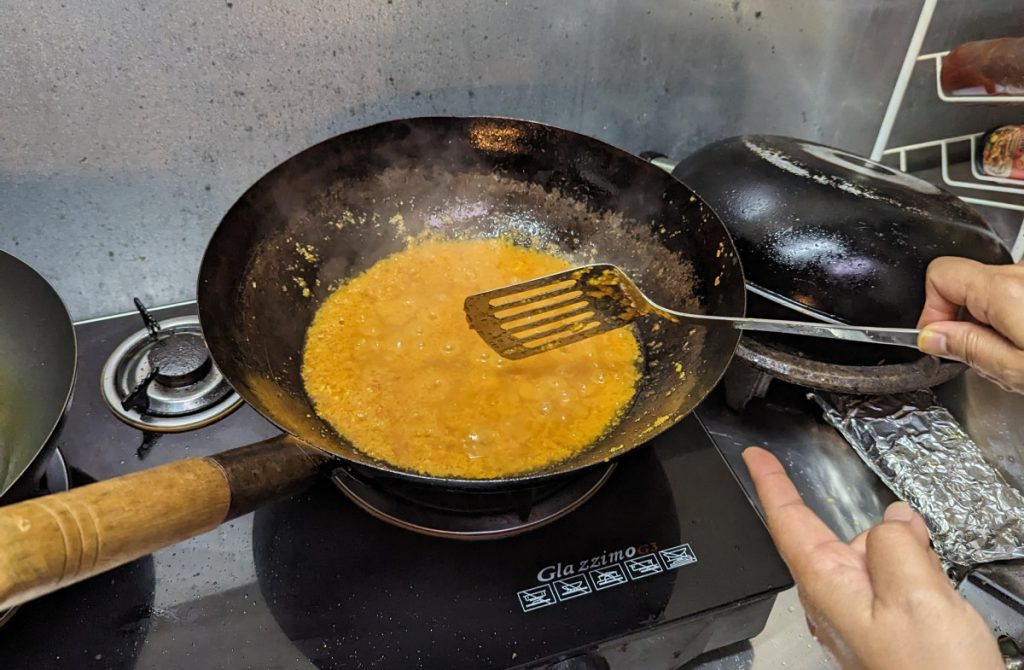 She stirred a few more times and said laughing and a little teasingly
Hello Onions… Hello pepper, hi neighbour garlic and good to meet you turmeric.

How interesting to watch the blending of flavours like this. I think I take too little time for it too often. They don't get to know each other well enough, don't become one and I'm already throwing in the next phase. The chicken legs in this case.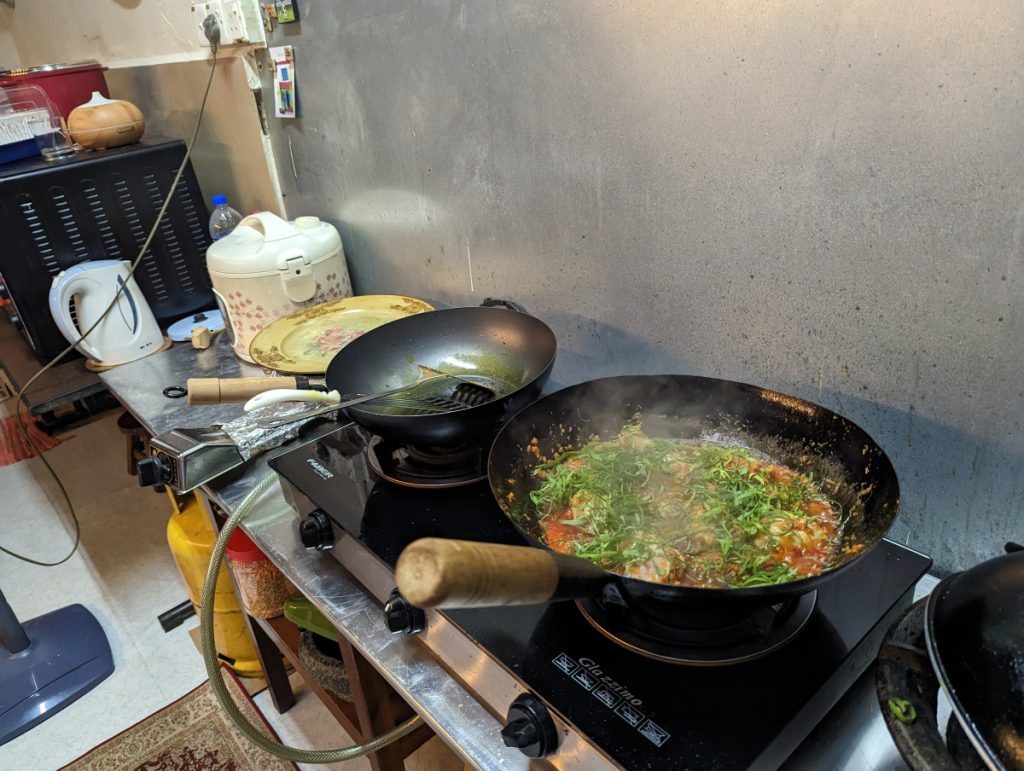 Meanwhile, we were also preparing the salad and vegetable mix. The tempeh was cut into pieces and rubbed with lots of turmeric powder ( and some water to get a better distribution). This was then fried until it turned a nice golden colour. The tofu was also already cut into pieces and then fried. Finally, the vegetables were stir-fried with some water so that the steam can cook the vegetables. I always do this at home too, super convenient and quick.
Cookingclass Melaka at Teena of Cooking School Melaka
Then the vegetables, tofu and tempeh were thrown together in the wok and the oyster sauce went on top. Add some more black pepper, some himalayan salt and you're done.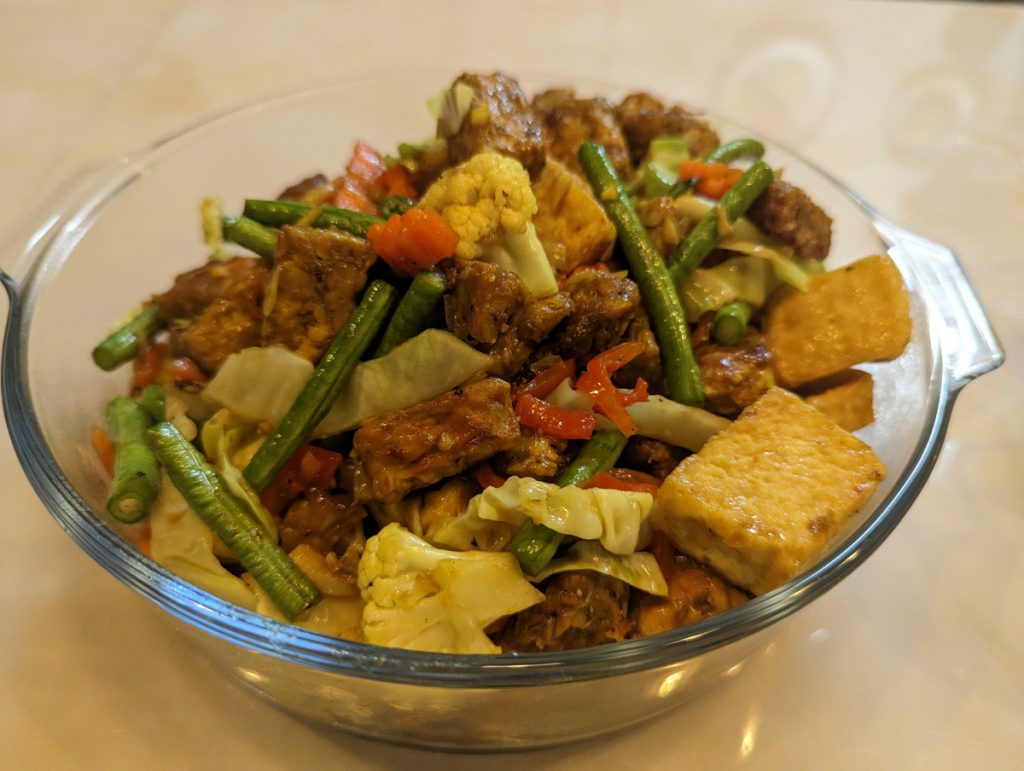 The salad was also very easy but so tasty! After the sliced onion, pepper, cucumber, carrot and pineapple, a whole load of vinegar went on top. Some more sugar on top and this too was ready to be served. The hot flavour of the pepper, the sweetness of the pineapple was tempered this way by the vinegar and sugar. It was simple but oh so delicious!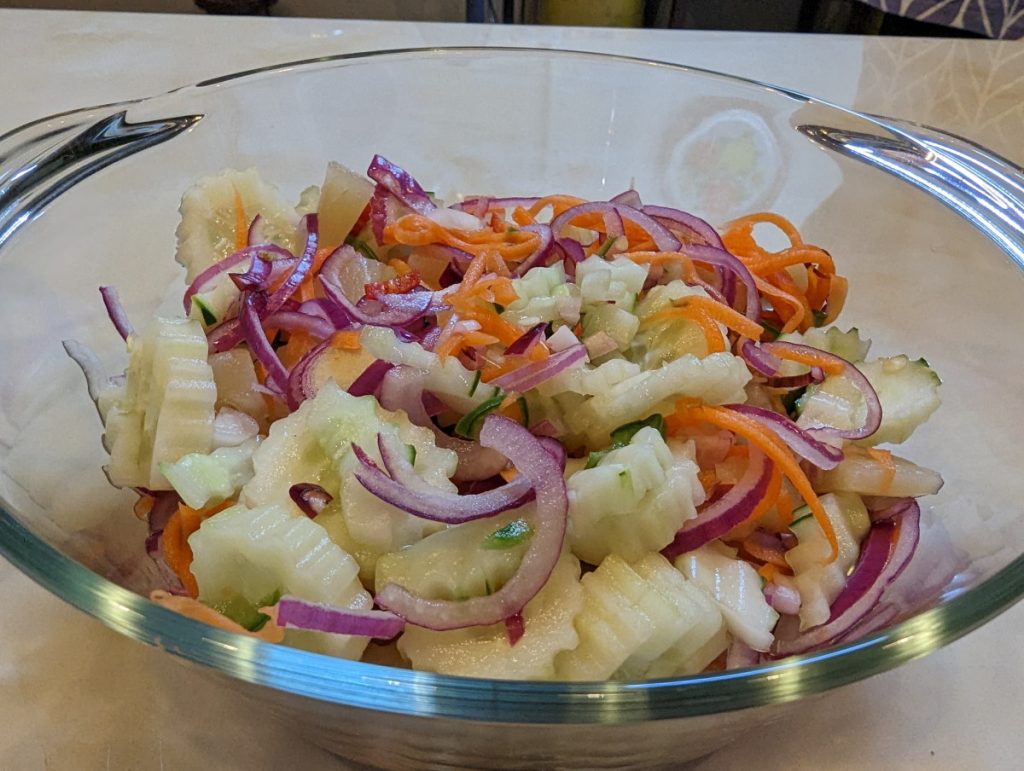 The table was set with all the dishes we had cooked ourselves and to that came a bowl of basmati rice. Now we could scoop everything up and have a delicious meal. It tasted really super! How you can then enjoy the different flavours, the combination of dishes on your plate. You know how it was made, you have participated in it yourself, you understand the fusion of elements….
How the ingredients got to know each other and fused into a great flavour.
Downright delicious!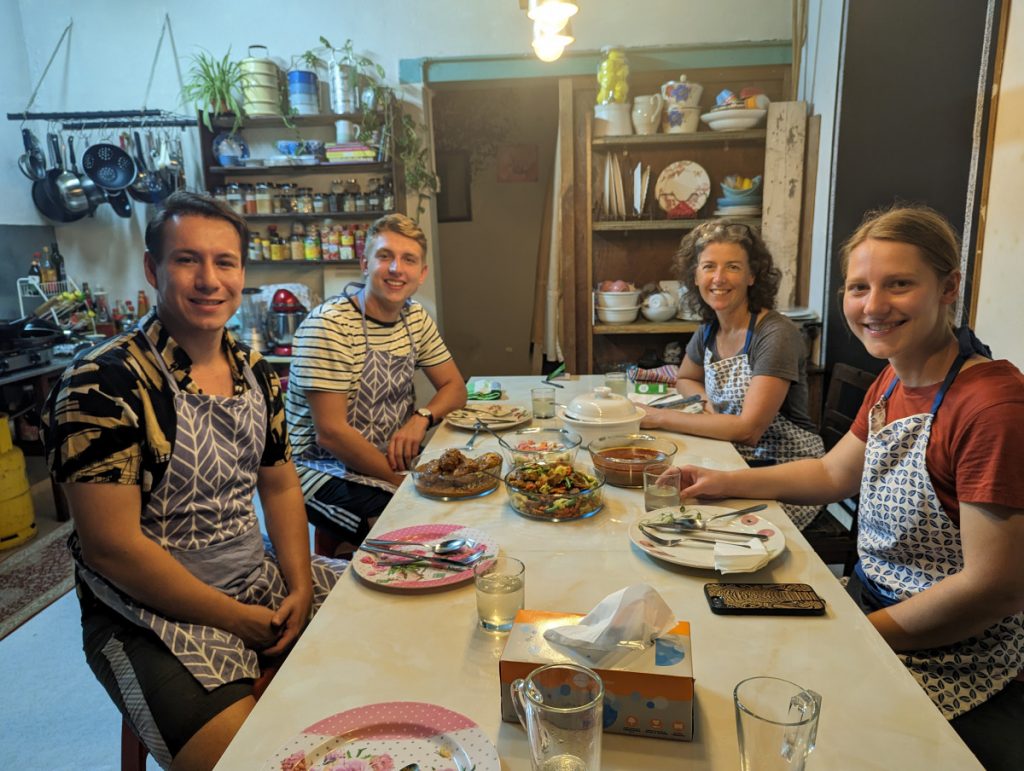 If you would also like to discuss a cooking workshop contact Teena & Lee on Facebook.
These are the experiences that matter most when travelling.
Don't you agree?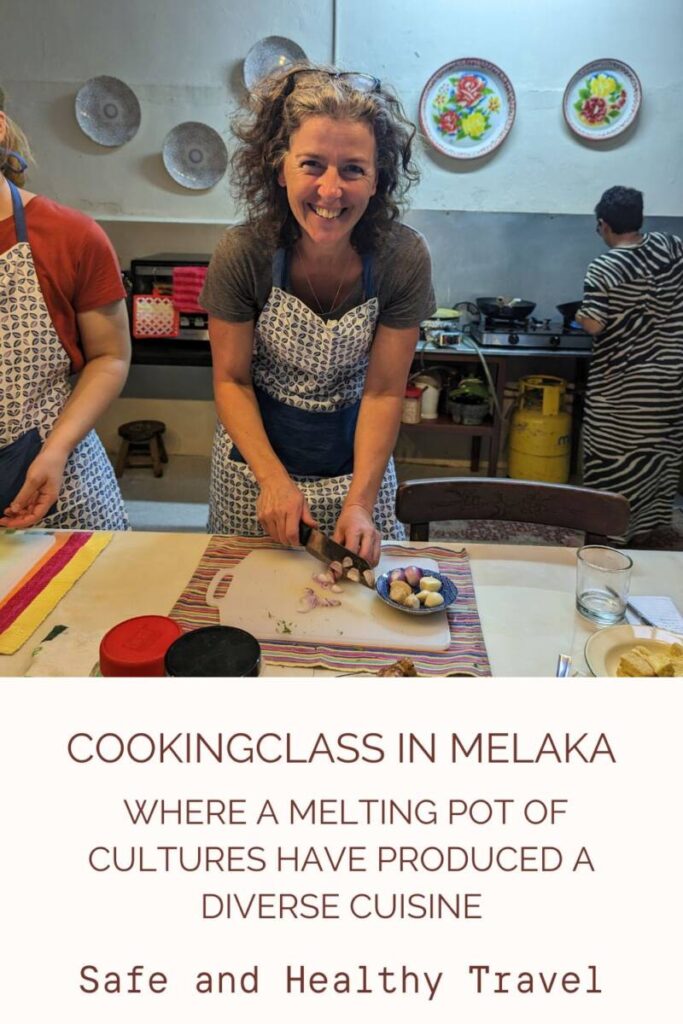 Inspired to read more?
Cooking class at Red Brigde in Hoi An – Vietnam
Cooking Art Class in Pushkar – India
Tasting the local Laksa – Nyonya Laksa at Donald & Lily
Food Walk in Old Delhi – India
Lunch at Ram & Sarda – Pushkar
Or go looking for where the rice comes from
Walking at The Ancient Old Rice Terraces of Banaue, The Phillipines
I hope you enjoy this beautiful world as much as I do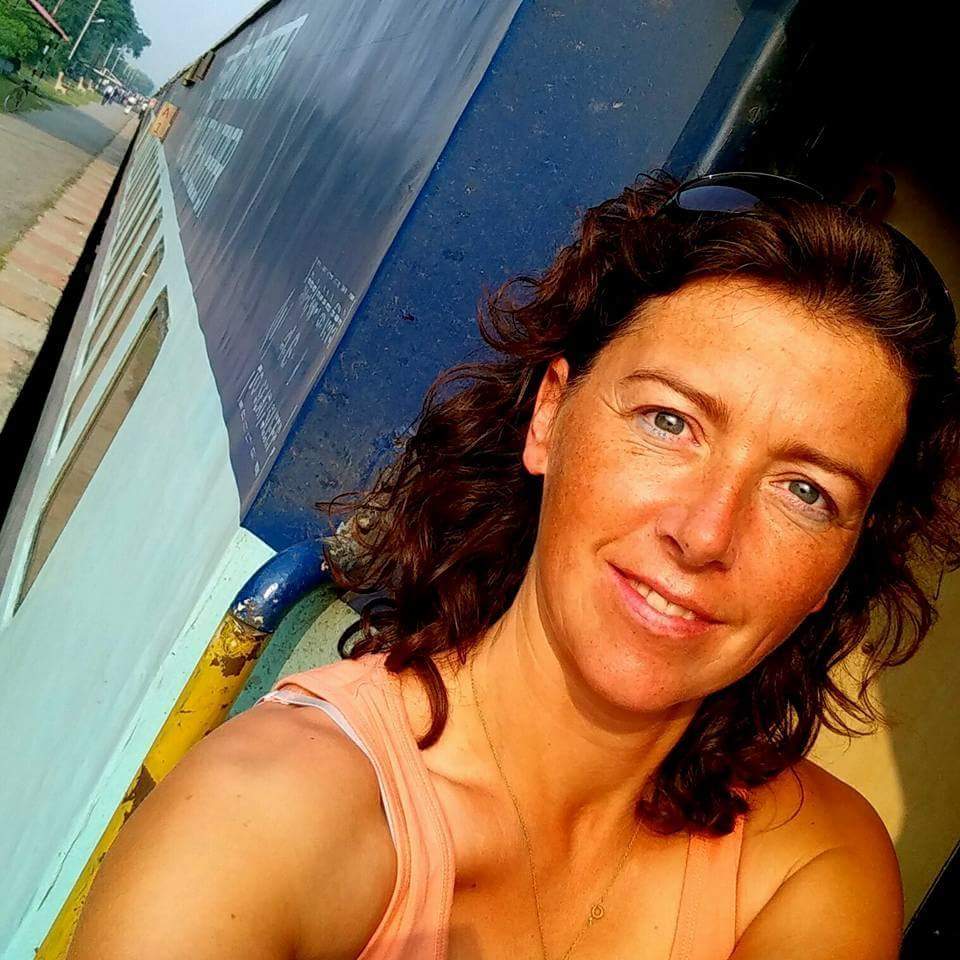 Jacomijn is een politieagent uit Nederland die jou graag laat zien hoe je veilig, actief en gezond de wereld kan over reizen. Safe and Healthy travel is a MUST