On top of Crater Montsacopa I met Maria
'When I finally made the top of this crater I saw a woman. I could see she was a bit older, she had grey hair but was still wearing hip boots under her sporty shorts. I saw a couple of dogs runnning besides her and I saw her pointing up with her arm. I also saw the helicopter she was pointing at. She said something in Spanish but I couldn't understand her.' 
Als je deze blog in het Nederlands wil lezen, klik dan hier
Olot

I drove for 1.5 hour to the great landscape of Catalonia. I had made several stops to make pictures. When I arrived in Olot I parked my car at the first parkinglot that was near the centre. The weather was great, the sun was shining and on the horison I saw the overwhelming mountains of the Pyrenees. On some of these great mountains I saw snow, the snow that will be there all year through. I walked through the small beautiful streets. I saw the colourful houses typical for the mediterranean which have a great iron balcony on each window.  And soon I saw the churchtower above those houses leading me to the centre.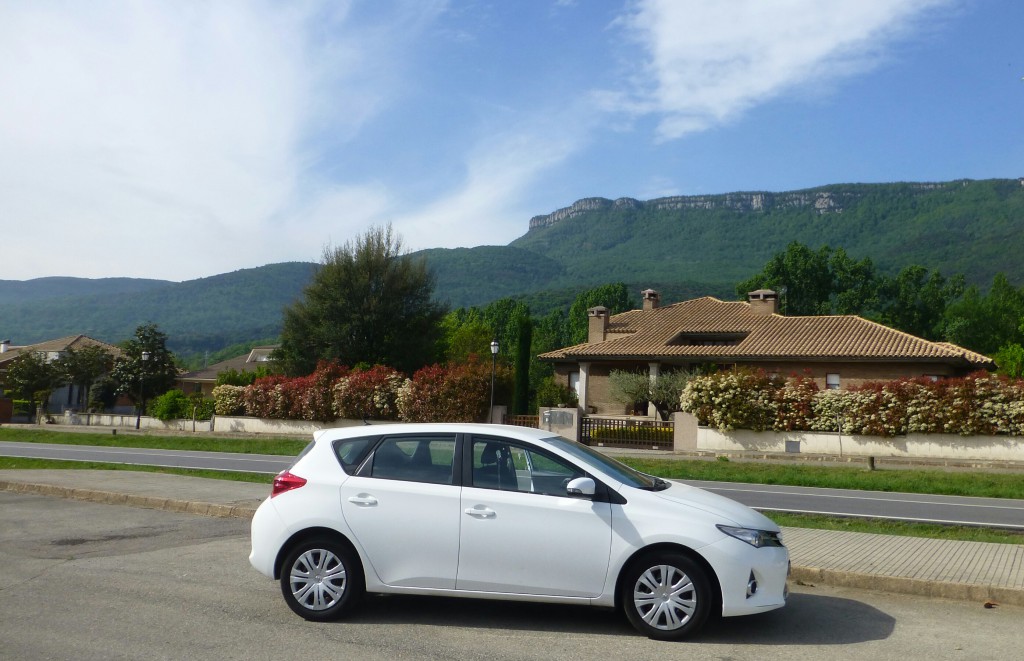 Information
Just before entering the church I walked upon a square. The sun shone through the trees that bordered the square and that gave it that great atmosphere. The one I see when I daydream of these kind of cities in Spain or Italy. In between the branches of the trees I saw the big churchtower in front of this great blue sky. It started to get late in the morning and I was  getting a bit hungry. I sat down at this small cafe where I took a breakfast offer, a cafe con leche and a boqueria Iberica.  I love the Iberica ham!! After sitting here and enjoying the great view I went to the local information centre. I needed information about getting at a vulcano. I hadn't seen any information of traffic signs. A short visit gave me a map of the area and the road highlighted which I needed to drive. Again walking through these great small Spanish streets. Some houses were great maintained. Sometimes you see an open door and while looking inside you see the wall covered with great painted tiles. So colourfull!
Crater Montsacopa

I got a detailed map of the town and area and an explanation on how to get to Crater Montsacopa. She recommended that one to me because it has a great view over the city. I saw on the map that the crater was in the middle of the city, it was build around it! Still I had to ask locals the way to the old cemetary where I could park my car according to the lady. I saw a great path going up the green mountain that arose in the middle of the city. The path was made of poles and they formed the stairs. After every couple of metres I looked back upon the city to see how the view changed with almost every step you take. I saw the magnificent mountains from the Pyrenees with the blue sky above it. It didn't take long and I could see the city.
The wonderful view from Crater Montsacopa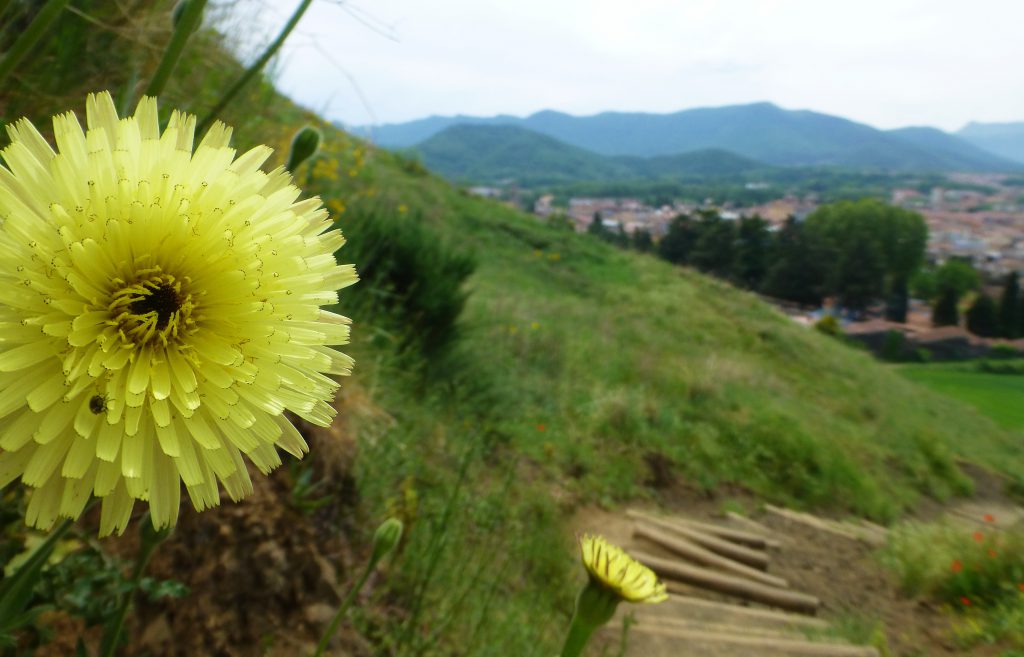 Al those great colourful houses, the lines of green trees that showed me where the streets were. And I saw the arena of the city, an eyecatching round building. In the early ages this want obviously used for bullfighting.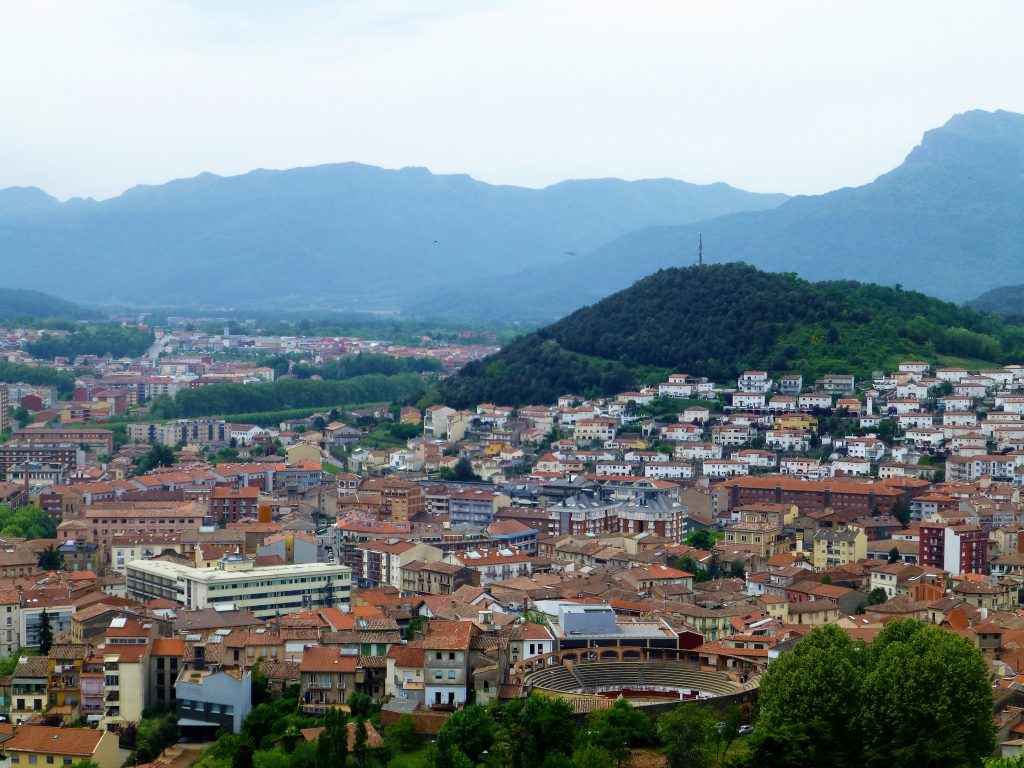 Emita de Sant Francesc

When I finally made it up the crater I turned right. I wanted to see the church that was build up here. It was a great church that was surrounded by a wall. The gate was open and invited me to come in. When I walked in I saw a nice church but not maintained at all. I saw that the whole left window was out of place. The big door was dirty and closed. I couldn't go in but I did take some pictures through that left window. There were rays of sun going in the church. I could see rows of banks and in front of that a old statue in a niche with a bright blue background. On both sides of the niche were stairs going up. It was surprisingly clean en colourful. This church does seem to be in use after all. At some point I saw a light shimmering underneath me and it appaered to be a small candle burning on the sill.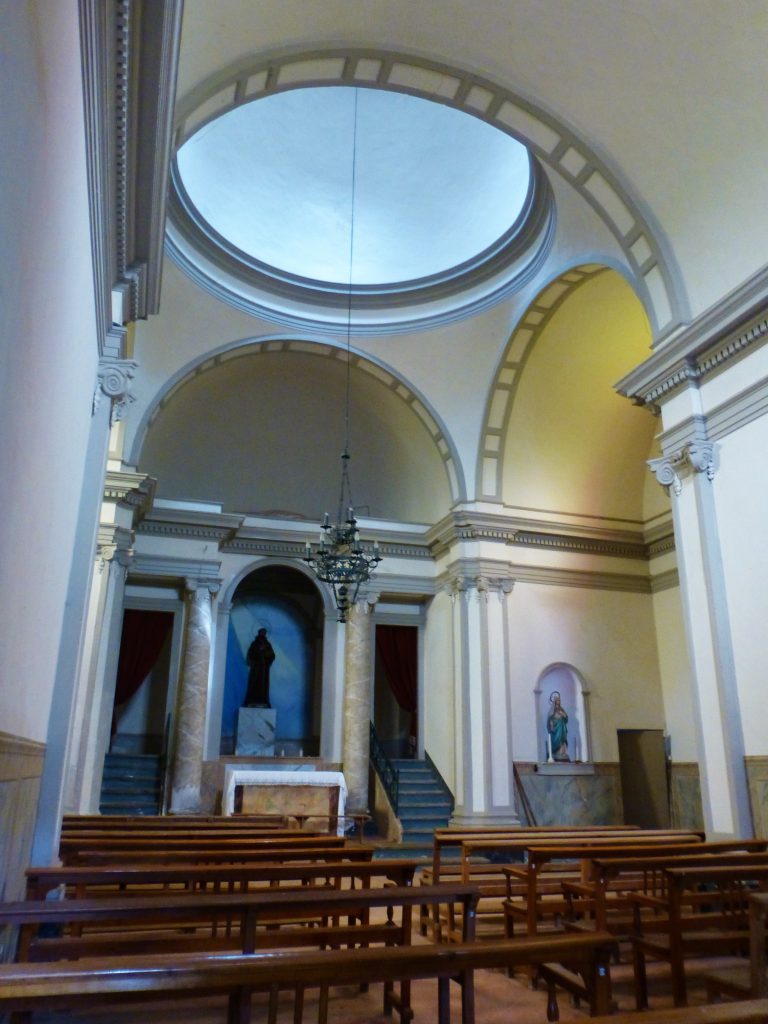 Maria Gre Di Menta

When I walked on I heard a helicopter flying over. As I looked up I saw it flying over. In front of me I saw a woman. I could see she was a bit older, she had grey hair but was still wearing hip boots under her sporty shorts. She was wearing a blue shirt with a red scarf around her neck. I saw a couple of dogs runnning besides her and I saw her pointing up with her arm. I too saw the helicopter she was pointing at. She said something in Spanish but I couldn't understand her. She was saying it to the helicopter and waving to it. I was amazed by what I saw and she obviously saw that. She came up to me. She started to talk to me with her squeaky voice. Long Spanish sentences from which I could not understand a word unfortunately. When she saw me and figured out I couldn't understand her she showed me how fit she was. She lifted one leg and even went down with her hands to the ground while lifting that one leg up!! What a great person!
I met Maria on top of Crater Montsacopa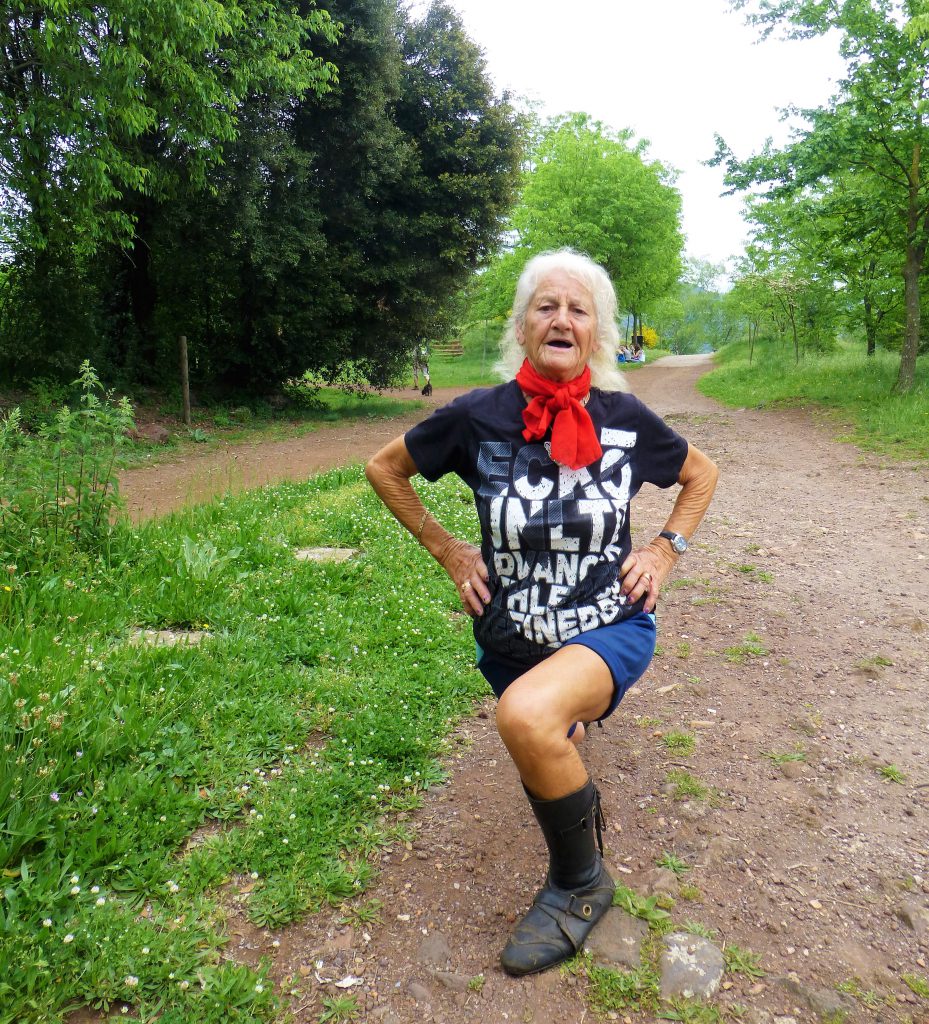 She showed me she could dance and I figured she meant that she used to do that. She spread her arms and her leg was going sideways as to show a Broadway or Moulin Rouge dance. What an energetic person she is at her age, wonderful!
The name I'm using was said by her, I wrote it down and she said yes..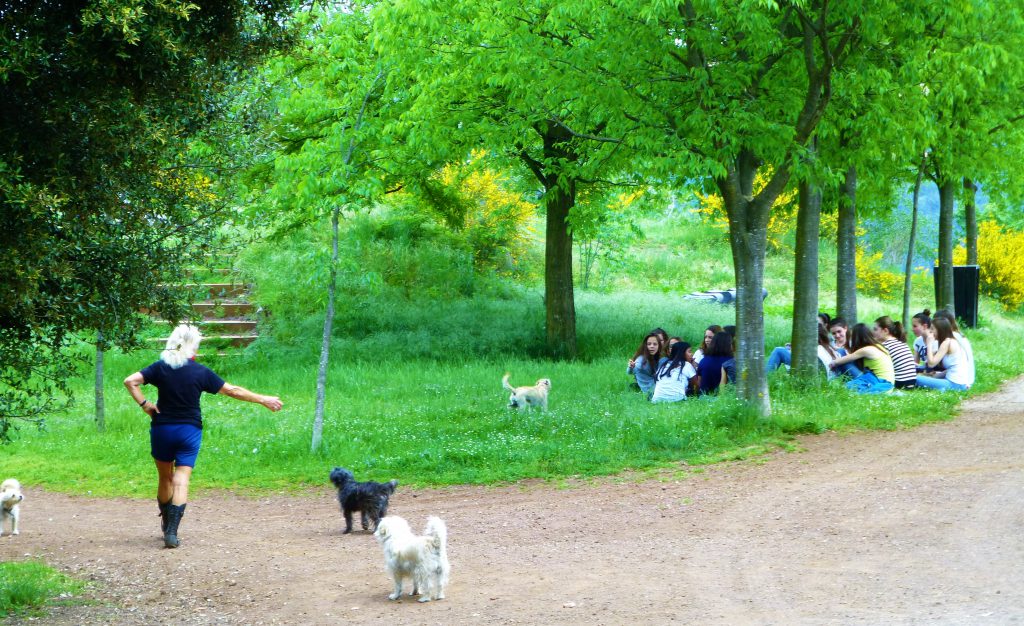 Watch Tower

We said goodbye and she went on with her dogs. I saw she stopped at a group of young kids who were enjoying lunchtime up here. There were many of those groups around this crater or even in the crater. What a great spot to use your lunch. Surrounding the crater were 4 watchtowers. From a couple of them I took pictures overlooking the city and the crater. I saw the city of Otol with all its charm and on the horizon the great pyrenees. Looking back I saw the crater and to my surprise I saw Maria hopping around the crater!! How great was that! She was working out, I saw her grey hair a couple of times above the green bushes and she was waving her arms around. If someone knows how to stay fit it must be Maria!!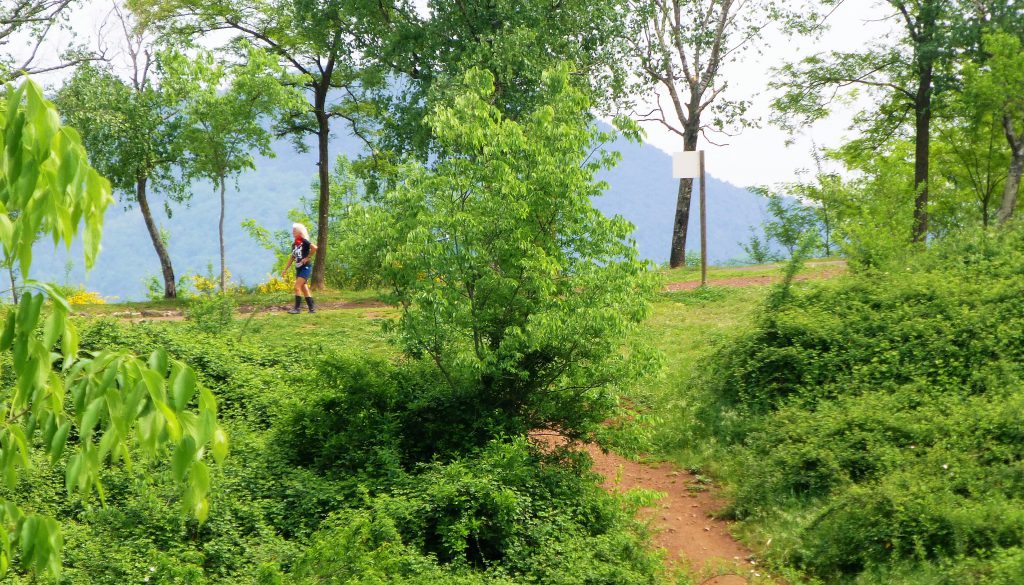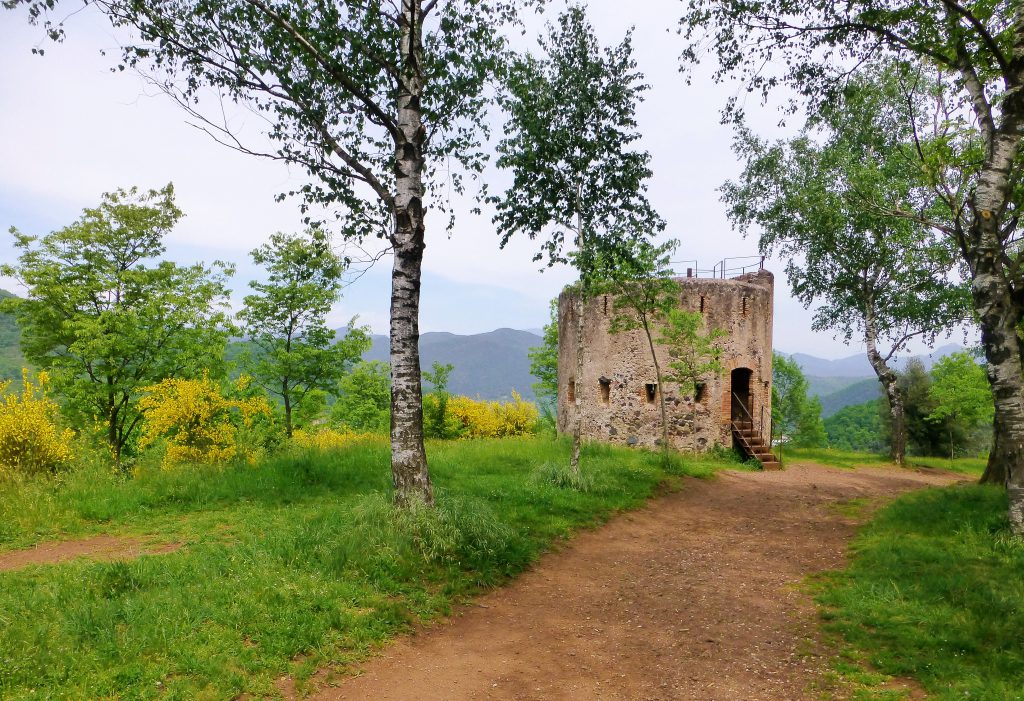 Instagram

I shared her picture on Instagram and I got some reactions from Otol. People there know her! I was told that she shows everybody how fit she is!! What a great person!!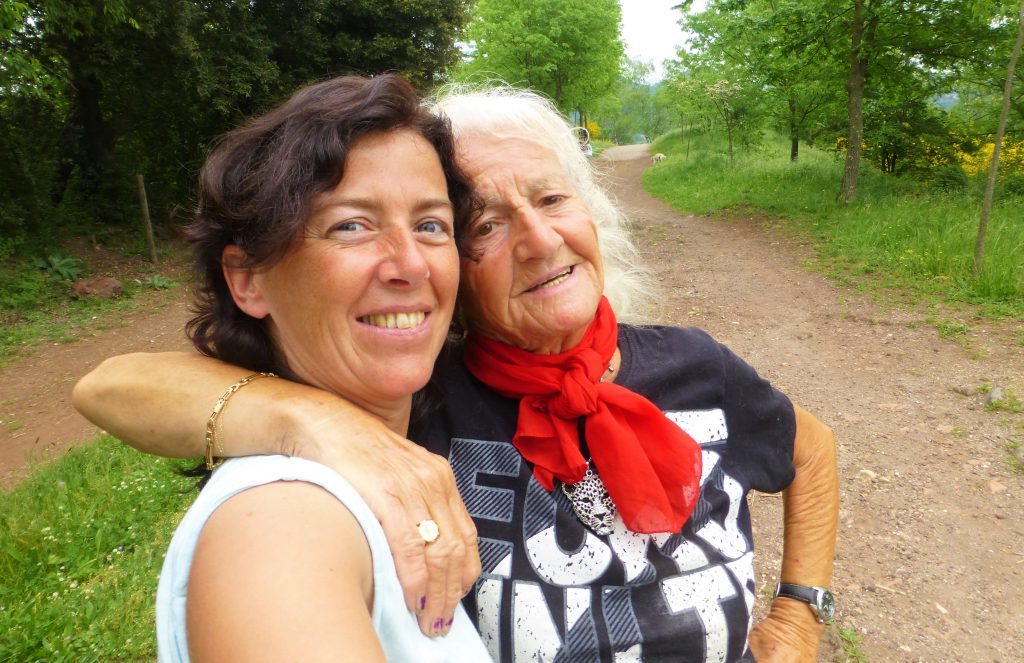 Don't you love meetings like that too?
If you want to see more inspiration check this!!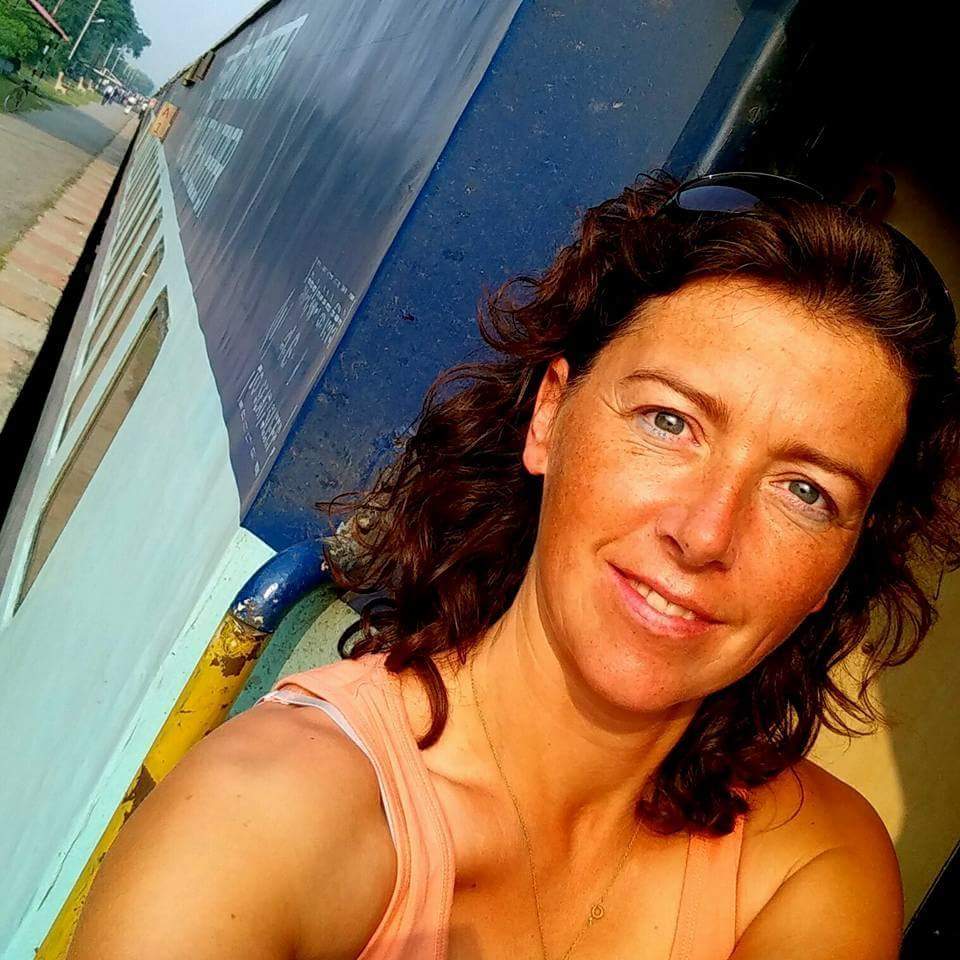 Jacomijn is een politieagent uit Nederland die jou graag laat zien hoe je veilig, actief en gezond de wereld kan over reizen. Safe and Healthy travel is a MUST