Pokhara in a Day – Nepal
|
If you go to Nepal for hiking you will usually end up in the city of Pokhara where your hiking trip starts. This city is well equiped for the hiker and you can buy everything last minute to start your hiking trip. I was before my hikingtrip a day in Pokhara and when we came back from the Himalayas we spend another day in Pokhara. I thought it was a very relaxed town and super fun to walk around. In the shopping street but also just along the Pehwa lake.
A town on a lake always has an extra dimension because of the water. Great views and in the evening it is great to walk along the lake. Maybe you will come across strange voodoo-like practices just like us.

The video I made and posted on YouTube has been removed. It was also really weird and sometimes bloody to see…yet we stood still looking…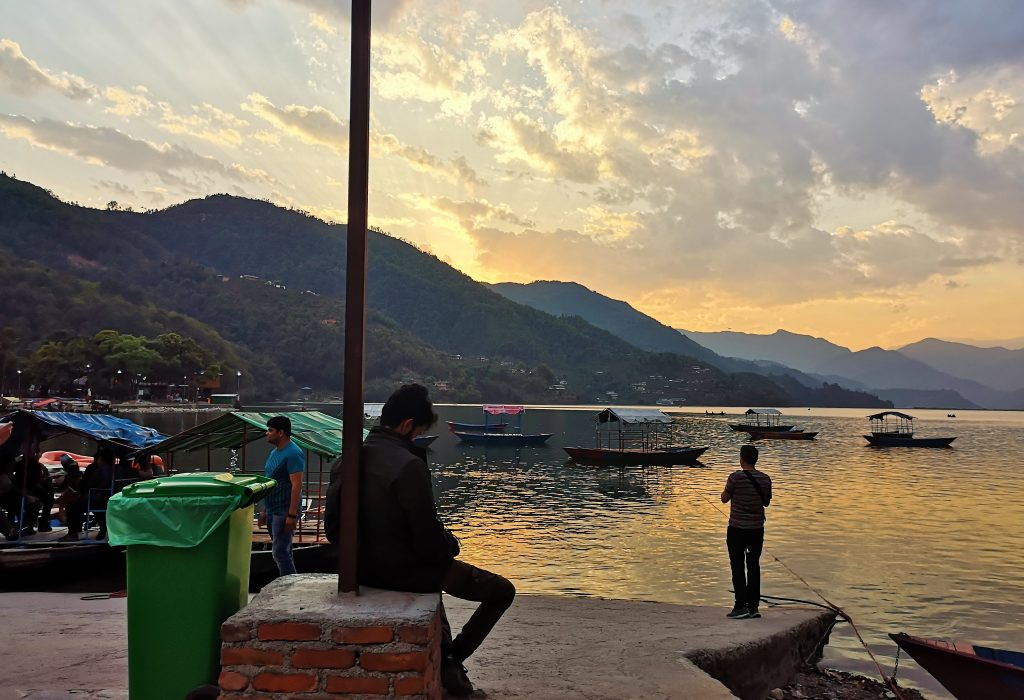 When we came back from our  8 day trek Poon Hill Trek we were still looking for some adventure and booked a paragliding trip!!
You can book this trip anywhere in the city. They offer all kinds of different options. For example, you can choose the early morning, more likely cloud cover, late morning and early afternoon. Most trips will cost you around 45 euros and include a DVD with a movie made along the way with a gopro 🙂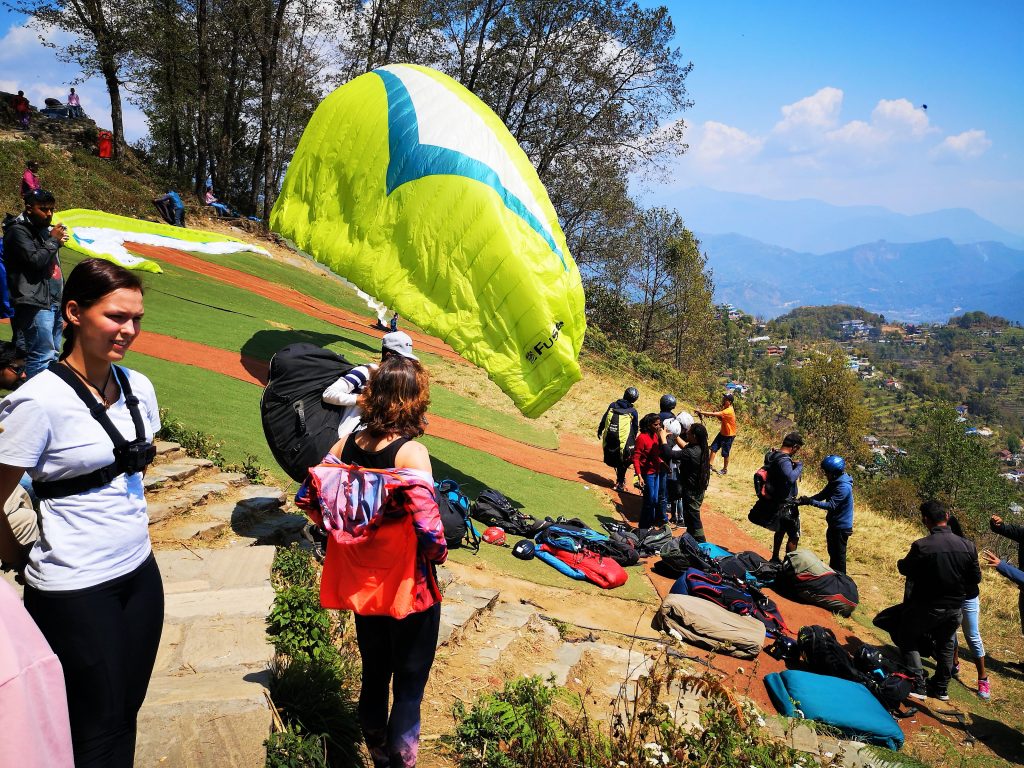 Of course you may also make your own photos and videos at your own risk. If your phone falls, you will of course lose it. I grabbed my phone out of my jacket pocket and immediately felt that my lip balm came with me and fell down…. But I did make some nice images and I have to admit that I still haven't watched the video I got from the company.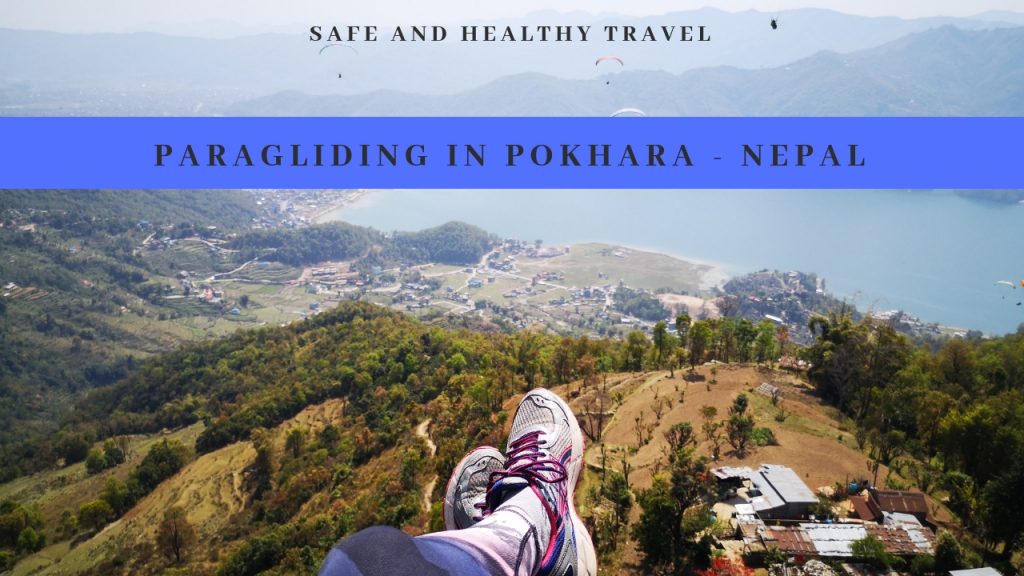 Check my movie (click on the picture) on YouTube and subscribe right away? I regularly share new videos on my channel.
If you got through the morning, you must be hungry 🙂
The main road of Pokhara is full of nice shops, fine restaurants and coffee shops. You will find something there. And if you do walk there you will also find a nice restaurant for the evening too. You can go there for everything, from Mexican to French Cuisine. I prefer Indian…but I'm sure you already knew that 🙂
Pokhara in a day – Nepal
Visit Peace Pagoda and get a great view over Pehwa Lake!

After a good lunch you're probably are looking for some exercise. If you stand by the lake and look into the distance, on the left side you see a mountain with a statue on top of it, a Pagoda. This one is very nice to visit.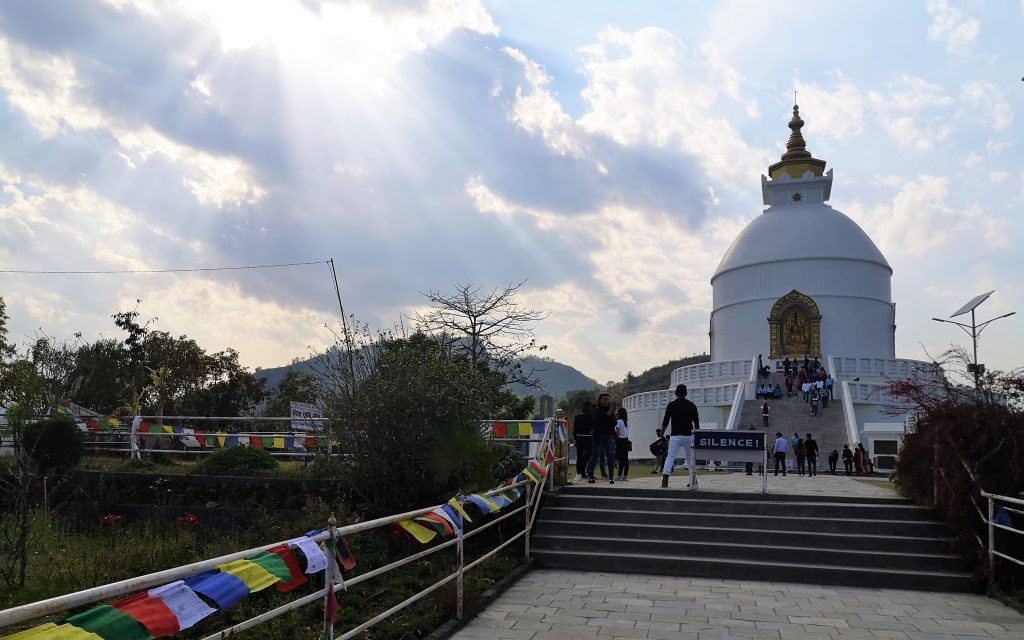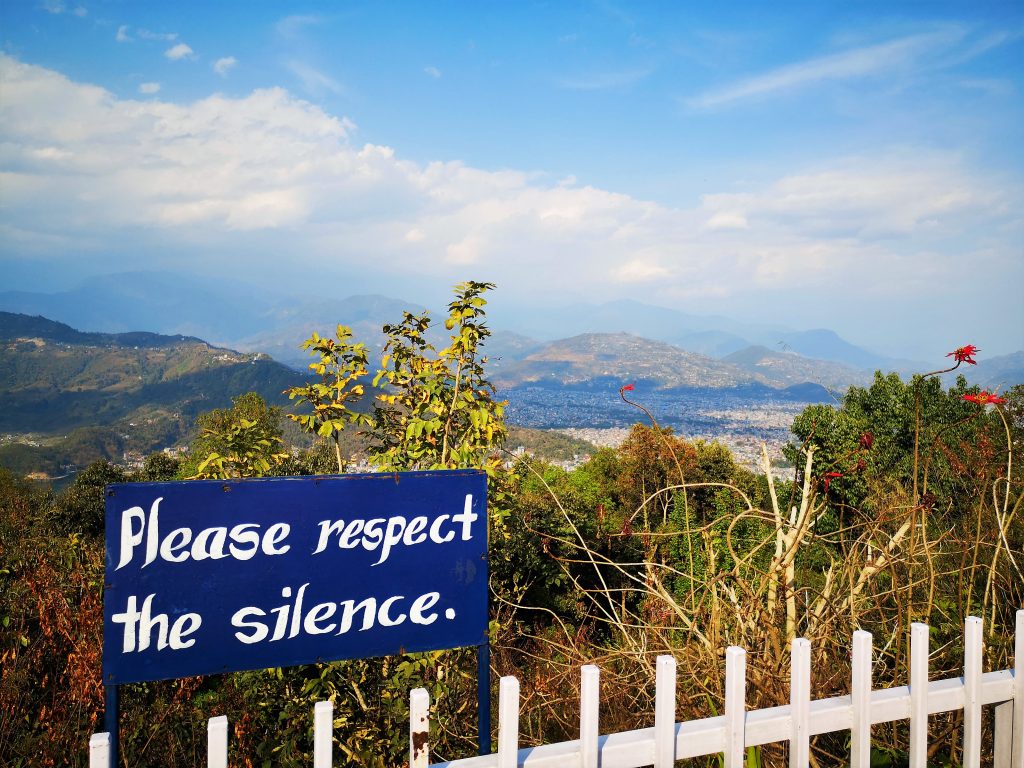 What we did was take a taxi and walk up the stairs to the pagoda and then walk down to the lake to take a boat to the other side again. Back to one of the ghats… If you do that at the end of the afternoon you can go to Barahi Ghat to see the Puja a little later.
The pagoda on top of the mountain gives you a nice view over the surrounding area. And if you want some peace and quiet it is wonderful on top of the mountain.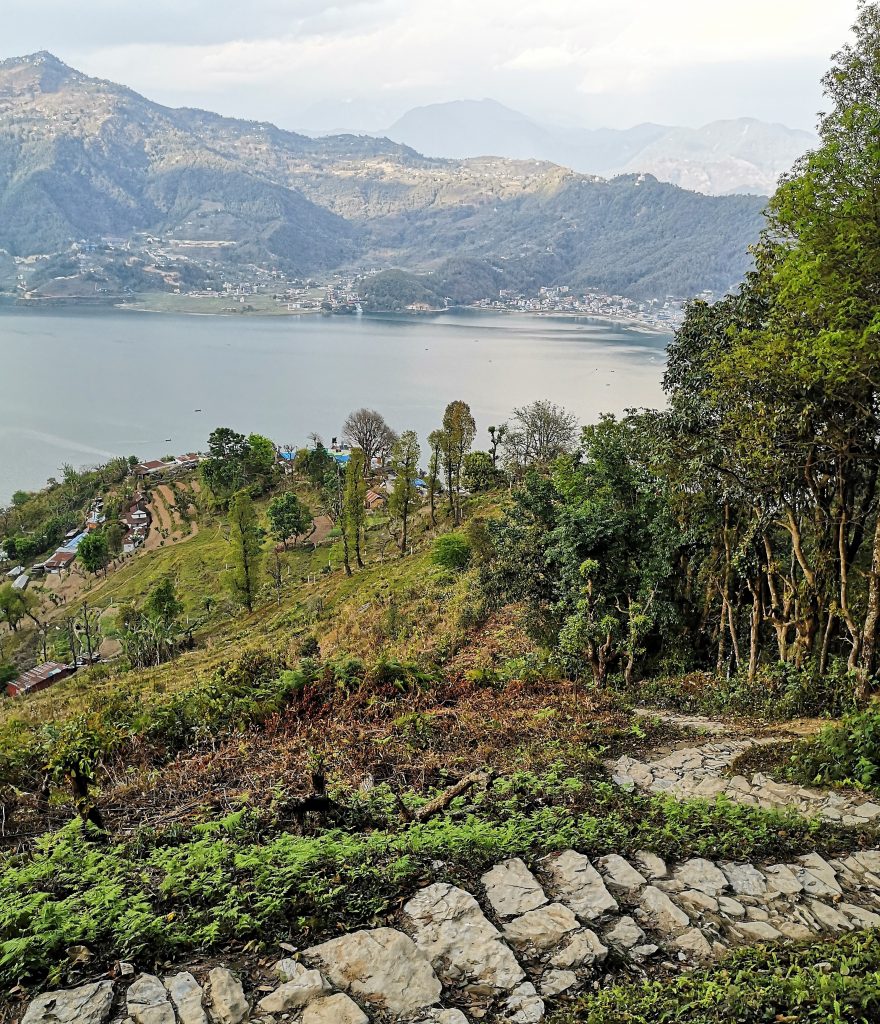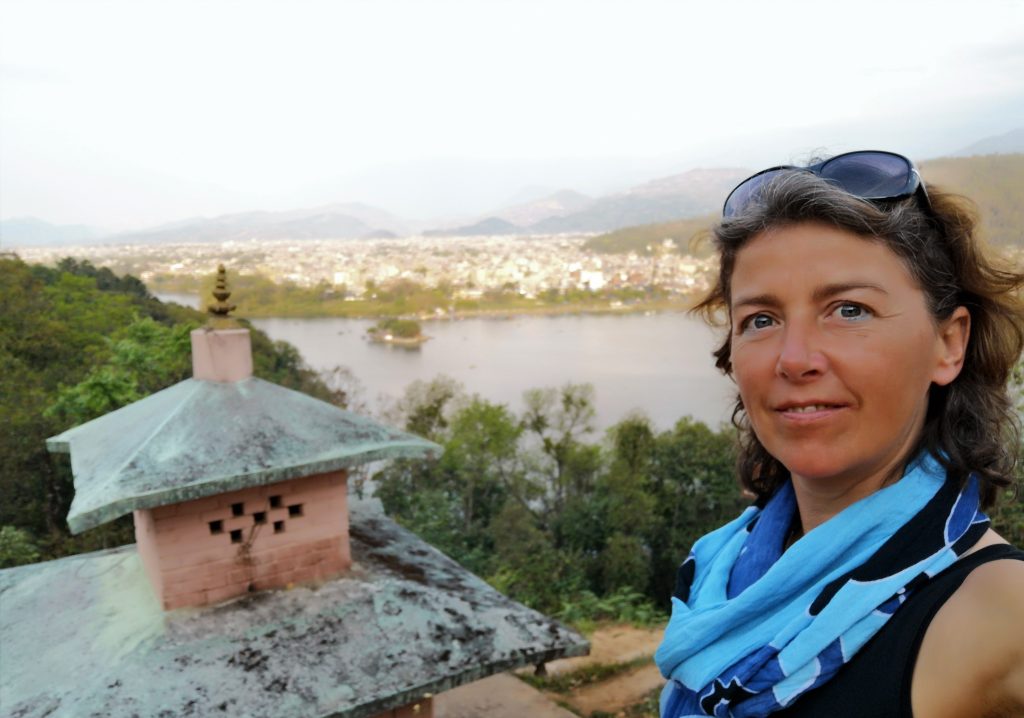 The taxi for the way there cost us 700 NPR after some bargaining. Negotiations started at 1300 so you have to haggle a bit to get to this amount. But maybe you will have better luck and find someone who starts lower and so you end lower too. It is always a question of whether you pay too much or whether you pay so that they make some money but don't scam you. In the end you have to realise that it is only 5 to 6 euros…
The boat for the way back was also 500 NPR and just as much fun! If you want a little more movement you just have to take the boat and walk up and down again. We were just the day before back from the Himalayas of our Poon Hill Trekking… And so… Taking it easy!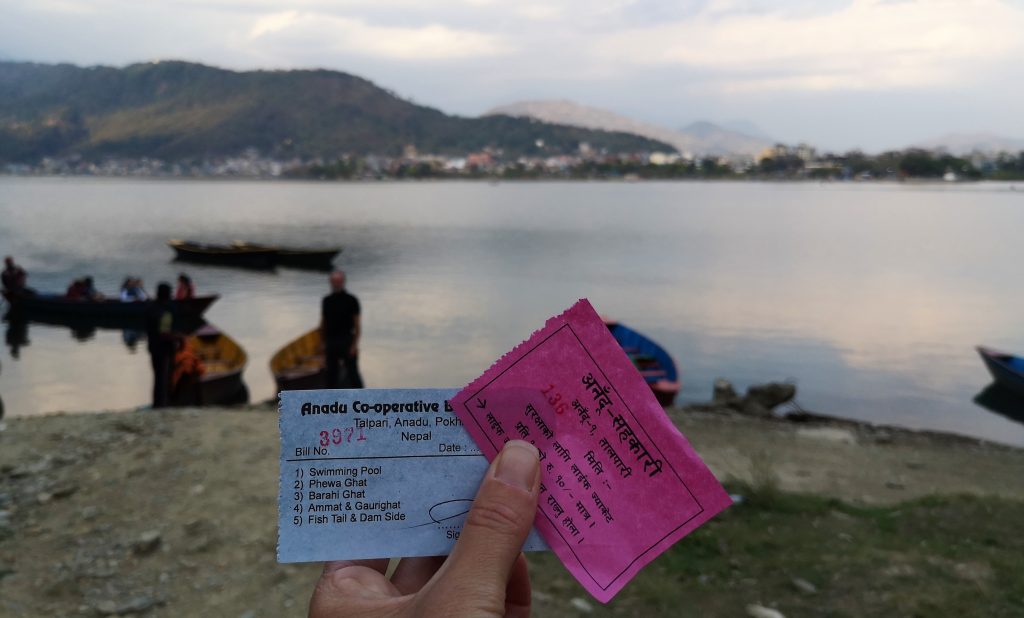 Pokhara in a day – Nepal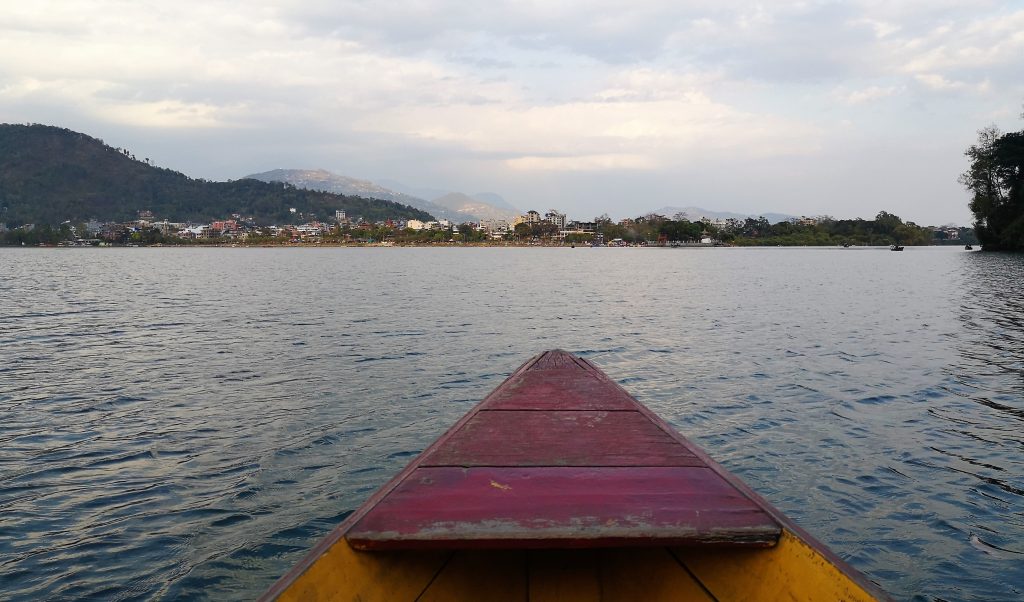 Hiking along Pehwa lake, during the day and in the evening!!
In the morning but also in the evening there is a good atmosphere along the lake. There is always plenty to do. That's why all kinds of tourists are walking, the local but also the western ones. Nice mix of people watching 🙂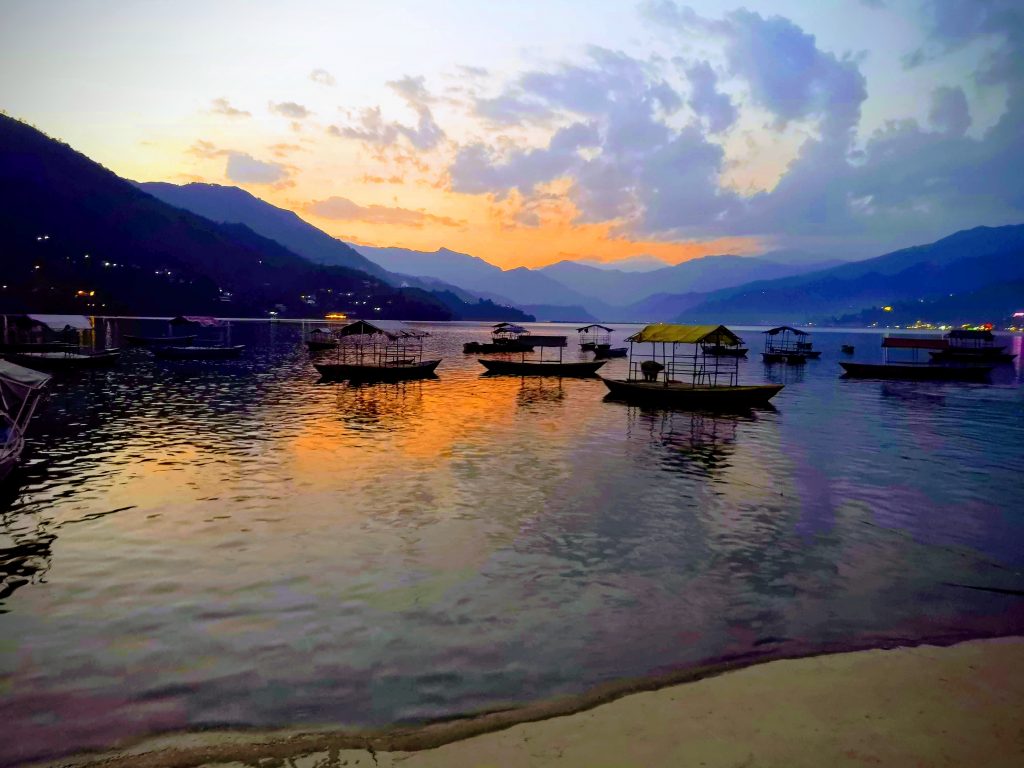 At barahi Ghat you  need to be during sunset to see the Aarti / Puja
As in India, the religion that dominates here is Hindu. This entails that you see colourful images everywhere but also that the puja is performed in the evening. In India I had already seen this a number of times.
Puja on the beach of Papanasam / Morningrituals at the Ganges
At the Ganges is also every evening the evening aarti and this was also performed here on a smaller scale. I really enjoyed the weather. Because it's a bit smaller here there can be more interaction with the audience. I noticed that a lot was donated by the spectators here, mostly Nepali people with every now and then a western tourist.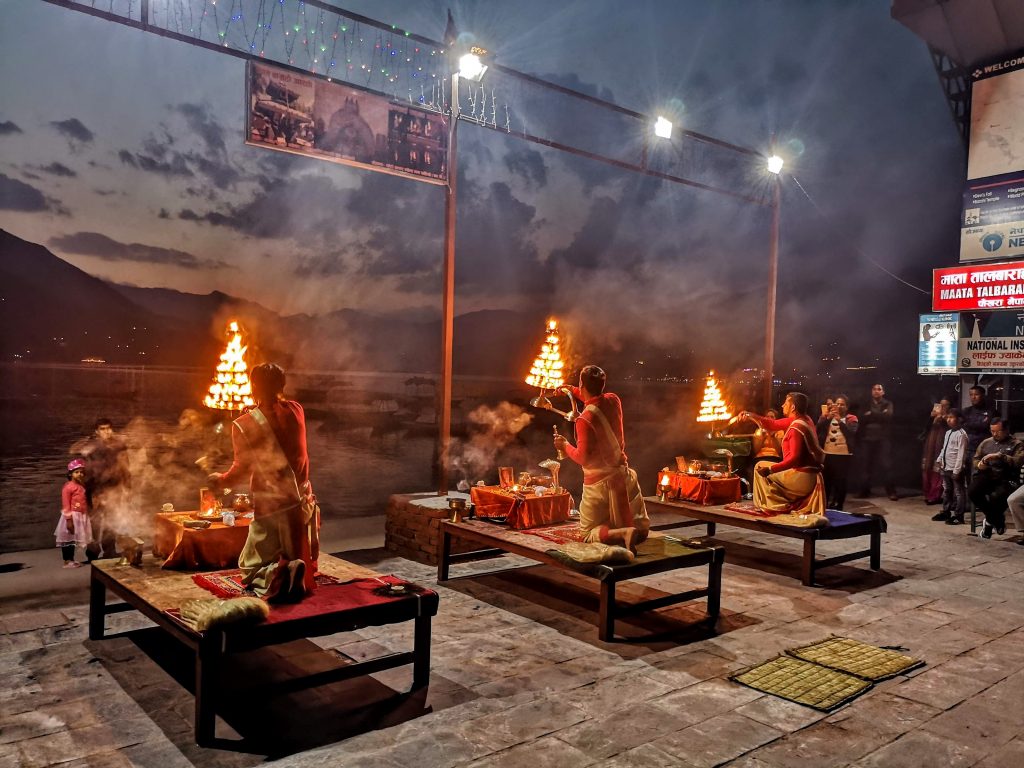 Look at that sunset in the background!!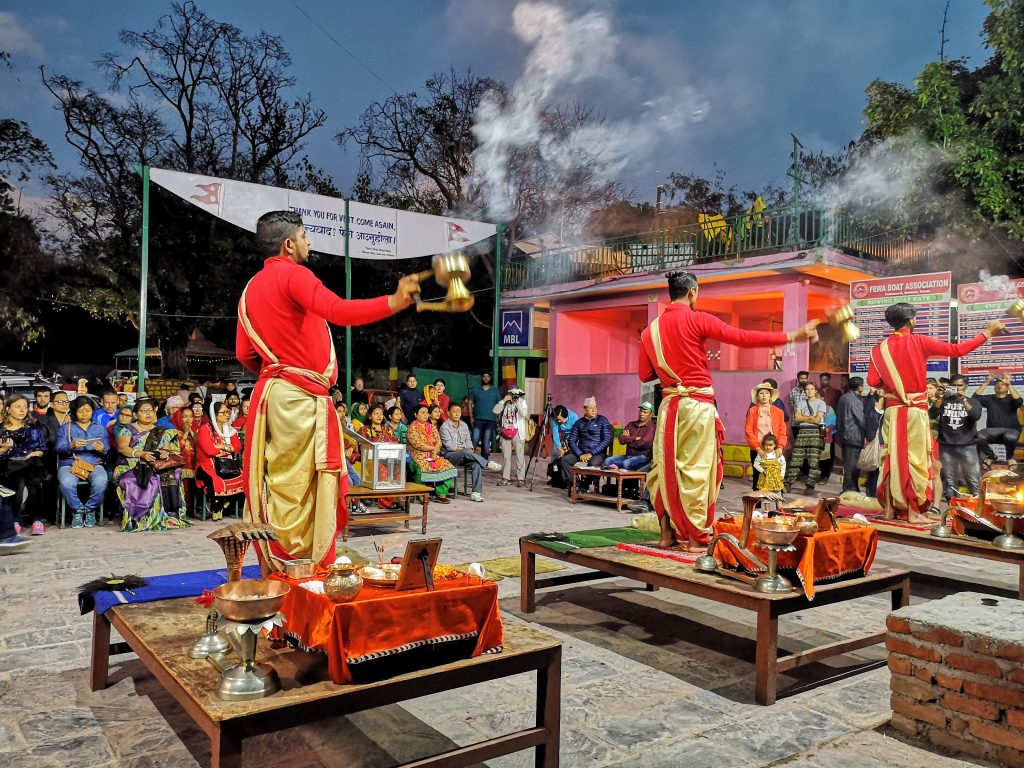 If you want some nice pictures with lots of colours you should defenitely be here!
Shop till you drop
I didn't need anything when I arrived in Pokhara and just enjoyed the delicious food and hippie feeling on the street. I was very surprised about that actually. Also in Kathmandu that feeling reigns, as if you step back in time every now and then when you see the 'hippies' walking.
I like Indian food very much and in Nepal that is of course available everywhere. So of course I went for the naan en curries!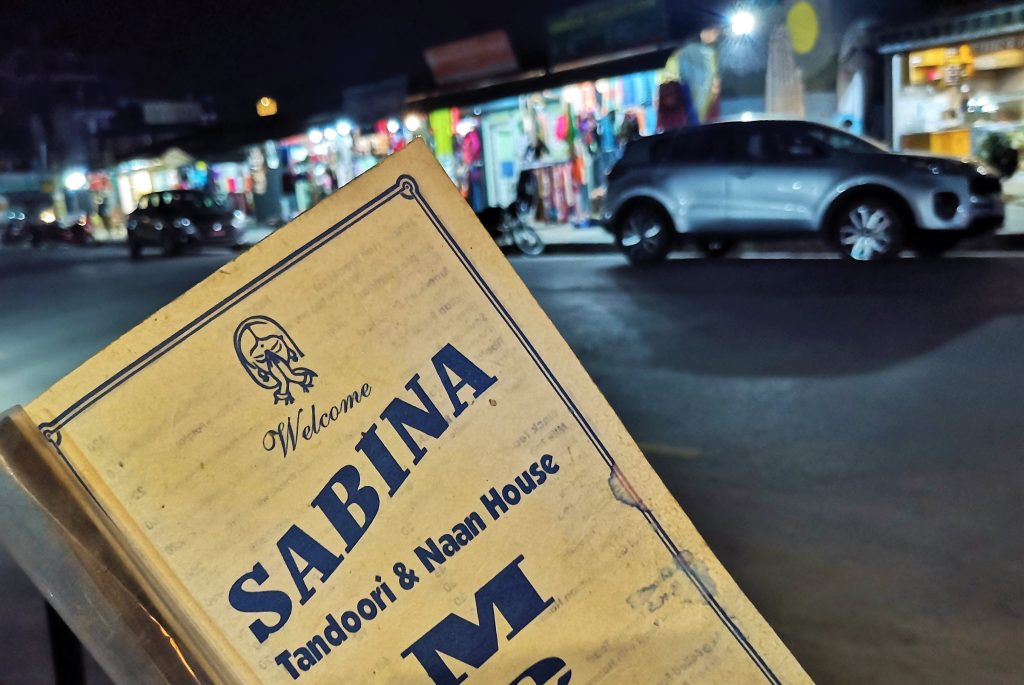 As you see across the street is crowded with all kinds of shops that can sell or rent everything for your hiking trip into the mountains. If you are looking for a souvenir you are of course also at the right place here 🙂
Pokhara in a day – Nepal
Have you visited Pokhara?
What other places can you recommend in the city or surroudings?
I love to hear it from you!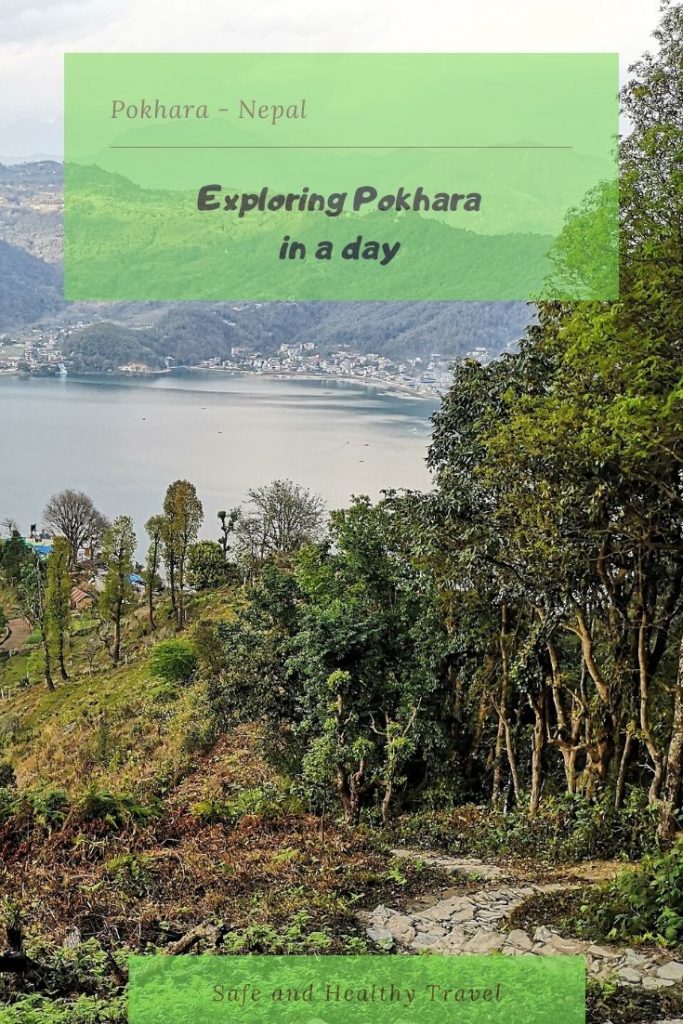 Want to read more about the Himalayas?
10 day journey through Sikkim – India
Travelguide Namchi & Surroudings
Secret Foodtour in Kathmandu – Nepal
Or visit Mumbai!!
I hope you enjoy this world as much as I do!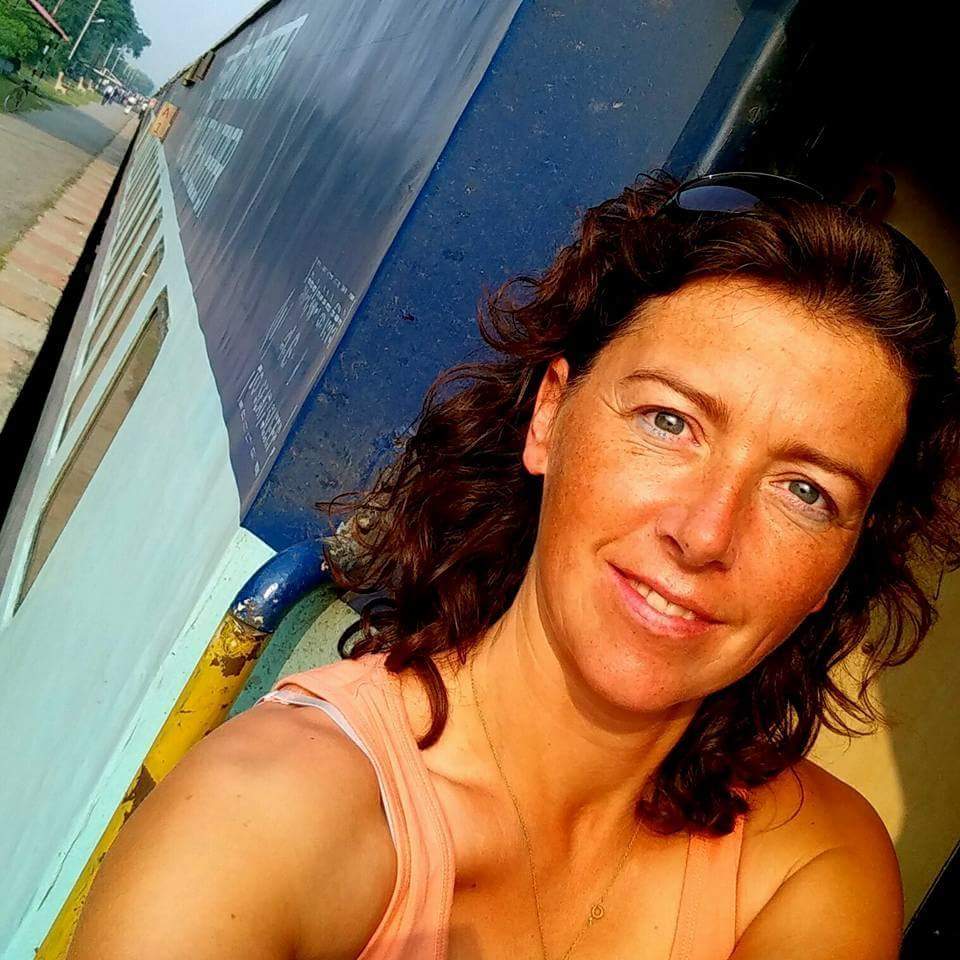 Jacomijn is een politieagent uit Nederland die jou graag laat zien hoe je veilig, actief en gezond de wereld kan over reizen. Safe and Healthy travel is a MUST