Top 25 Tips for Singapore – Everything for a Long Weekend Singapore
|
Singapore, of course I had to visit it once. Since I lived in Melaka, Malaysia for a month, I could just easily plan two long weekends in Singapore. So now I can share with you the top 25 Tips for Singapore for a long weekend of exploring.
I had been to Asia many times before but I never made it to Singapore. A city and country on its own. Super modern but also old history and lots of nature to be found there. I was really impressed by the versatility of the city. The first few days I was in Singapore, I walked around with open mouth, amazed over the different layers of the city. From beautiful old, mostly colonial buildings in the foreground with huge modern flats behind them and yet lots of natural components in between.
I've got a new favourite city in Asia!
25 Tips for Singapore!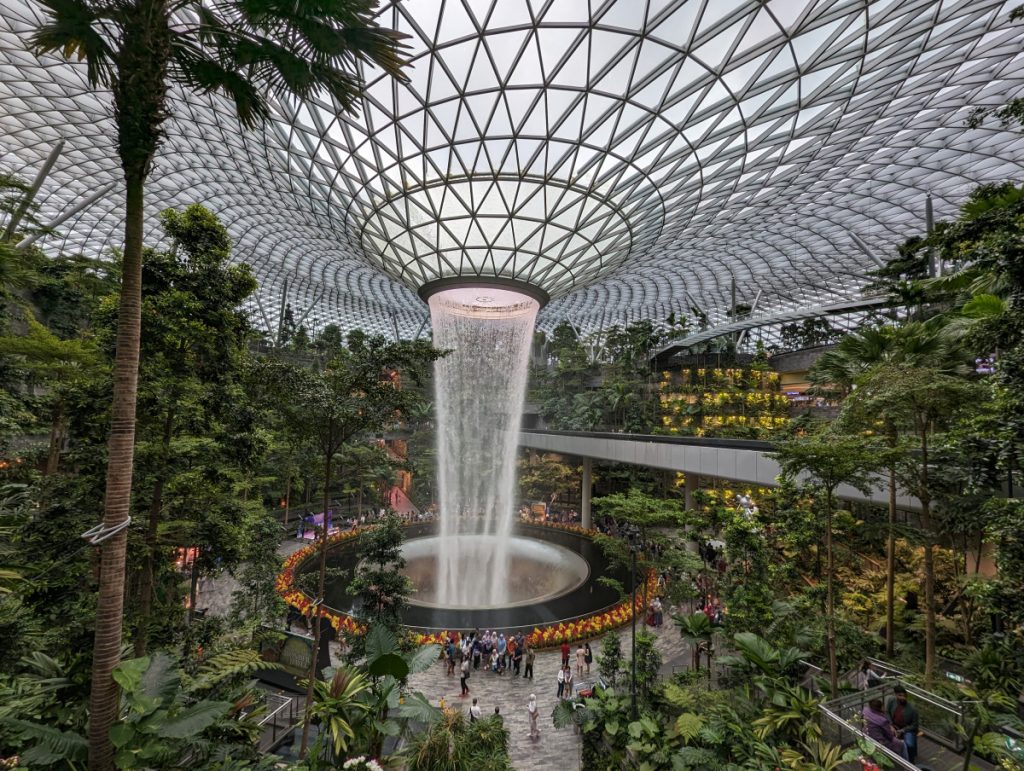 Did you know that Singapore is also called Garden City?
I totally understand why! And partly because of that, I'm sure that's why I like it so much.
And that Singapore already made it onto my favourite cities list too!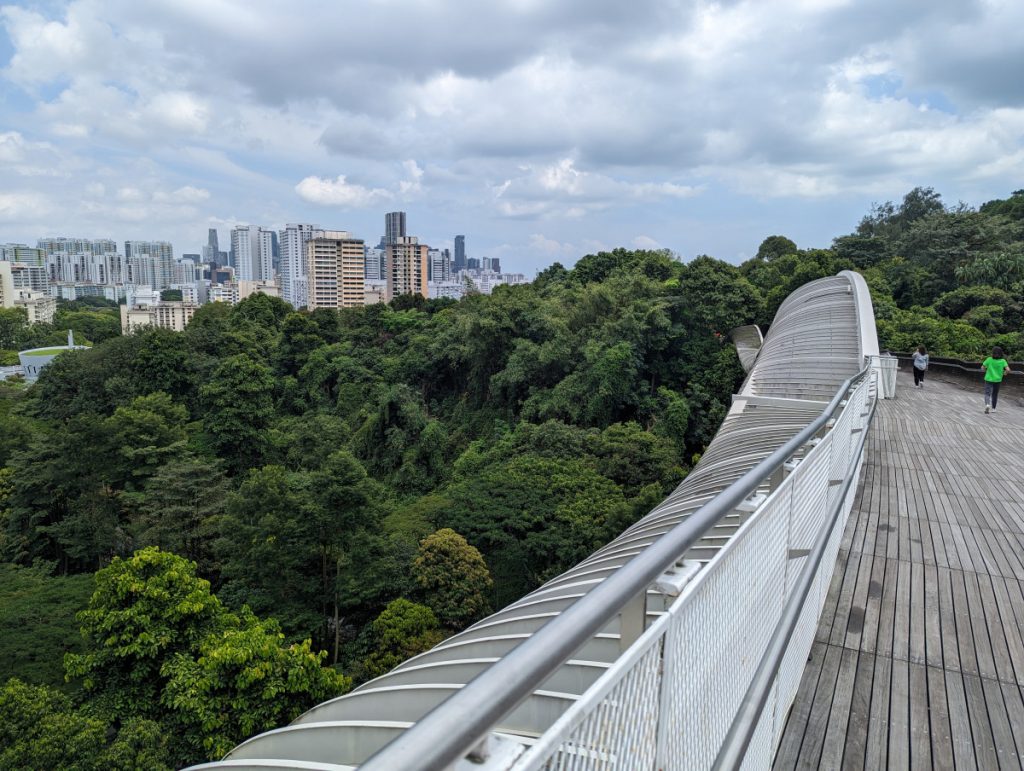 The first two days were a brief introduction to Singapore that tasted like more. When I went for a second visit, I decided to make it a longer weekend Singapore. I'll be honest, I could have made a week of Singapore just as easily. There is so much to experience and do in Singapore. Therefore, I am also happy to share with you a top 25 tips for Singapore.
Coming & Going Singapore
Malaysia – Singapore
From Melaka, Malaysia, it is about 3.5 hours by bus, making it perfect for planning long weekend Singapore. I booked a ticket online through Easybook.com and it cost me 19 euros. The bus was super comfortable with wide seats and plenty of legroom. So a trip during your Malaysia tour to Singapore is very doable.
Amsterdam – Singapore
If you fly to Singapore from the Netherlands, Schiphol Airport, you will be about 12.5 hours away. Most flights then also have a stopover, I had my stopover in Abu Dhabi. So in total, I spent a good day in travel time to Singapore.
As a start or last stop on your tour of Asia, Singapore does come highly recommended!
In this travel guide to Singapore, I list some facts for you. Did you know that Singapore is officially called Republic of Singapore? The country of Singapore largely consists of the city of the same name and the surrounding 63 islands. Republic of Singapore is an island because the Johore Strait separates Singapore from Malaysia and the Singapore Strait separates the islands from Indonesia
Exploring neigbhourhoods in world city Singapore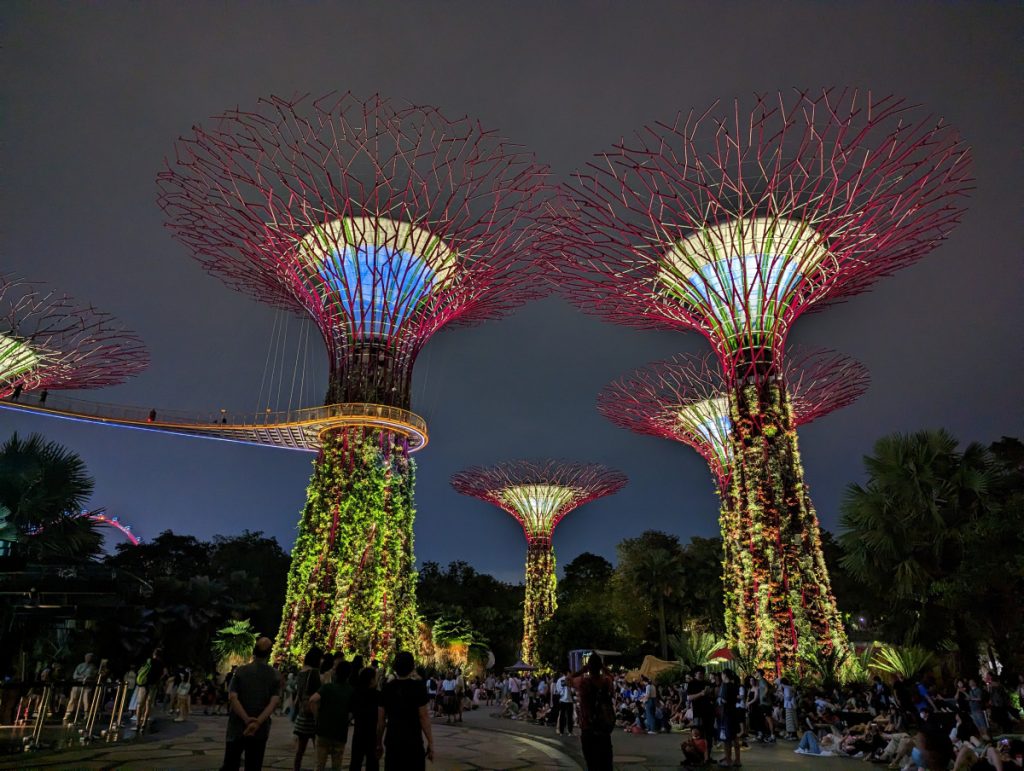 A top 25 tips for Singapore would not be complete if I don't let you explore the different neighbourhoods of Singapore. The only one on this list that I haven't visited is Holland Village. But I don't think that's such a disaster, I'm sure I'll visit Singapore for another weekend!
The fact that cities are divided into typical neighbourhoods is exactly what I like about Asia. The variety of cultures living so close together. It all seems so much nicer and better than how we treat each other in many places in the Netherlands. That we don't tolerate a mosque being built because it is at the expense of 'our' culture. While one culture flourishes here in the neighbourhood and the other culture just as much reigns supreme a few metres away.
Are we Dutch afraid that our culture will be less interesting? That people will stop being satisfied with our own culture and join other cultures, ways of seeing and living. That's a bit human, isn't it? To think like that and then turn against the other.

Can't we just live our own culture more, celebrate it more and give it more space in our streets/villages? And, in this way, allow others to do the same? That way, there can be a nice balance, a balance I experience more often in Asia.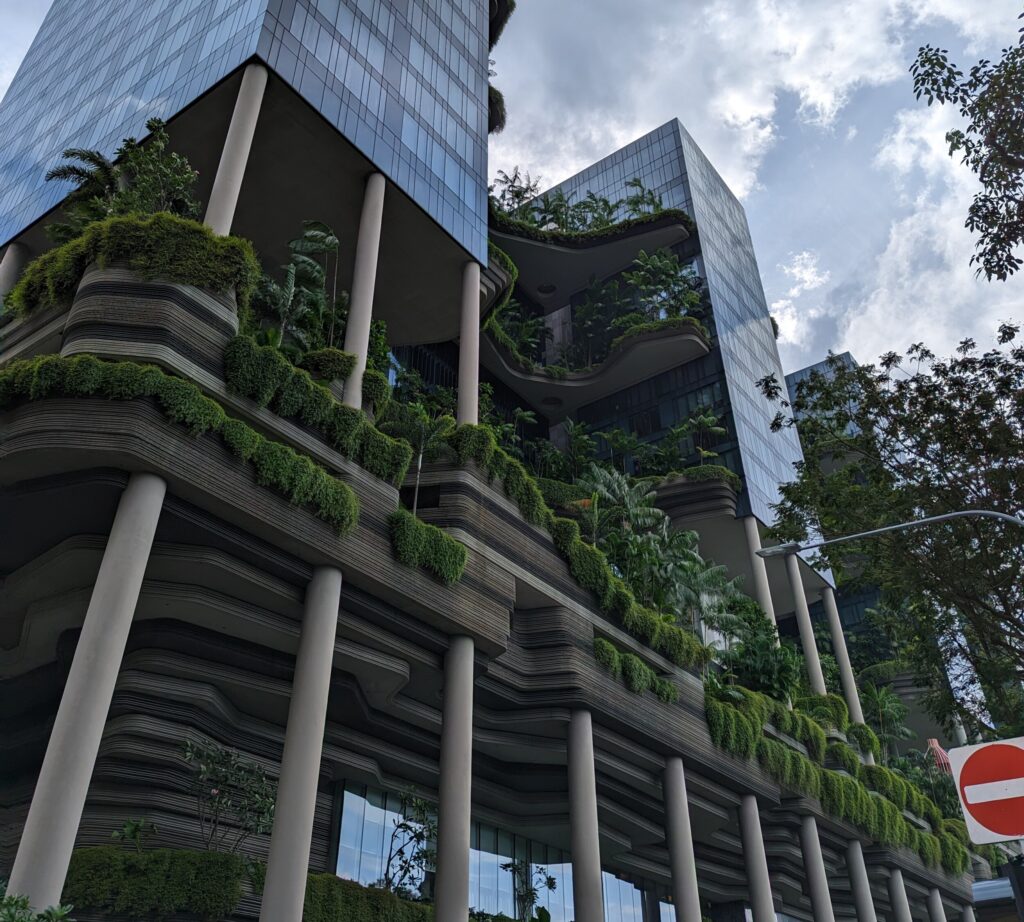 25 Tips for Singapore – What to do?
The Jewel – Chiangi Airport Singapore
Most of us will be coming in at Chiangi Airport Singapore and so the first stop you will probably be The Jewel. Of course, I did and found it a super nice first introduction to this country. I did not visit Singapore airport again after that otherwise I would have definitely walked there again. In fact, it is a short walk from the airport, in half an hour you can admire The Jewel.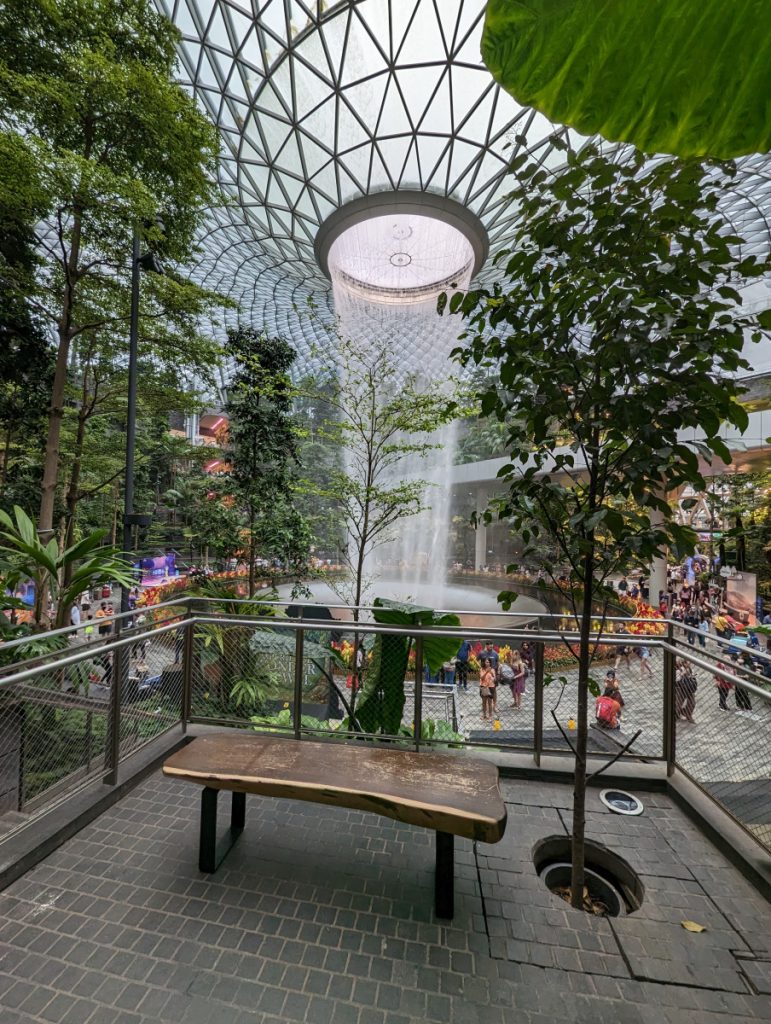 A beautiful waterfall, a lovely green jungle around it and already shops and restaurants to lose yourself in.
Quite a nice place to sit like this after a long flight!

Chinatown
The first few days I stayed in Singapore, I slept in Chinatown. I love the hustle and bustle of Chinatown. On every street corner there is something to do and in every shop I feast my eyes. Everywhere you see strange items I don't know and whose use I don't know. I start walking around after first eating something in Chinatown Point (GPS Chinatown Point). This is a mall where the bottom floor consists of all small restaurants. I had ended up in this centre by metro from the airport. Later, when I walk further, it turns out there are all restaurants upstairs as well.
I next walk into Peoples Park quite smoothly. It started raining I sought some shelter. I saw roast ducks hanging in the display cases and hundreds of chicken legs. Dozens of people sat at small tables with plastic chairs around them eating delicious food. I walk through a bit and marvel at everything on offer.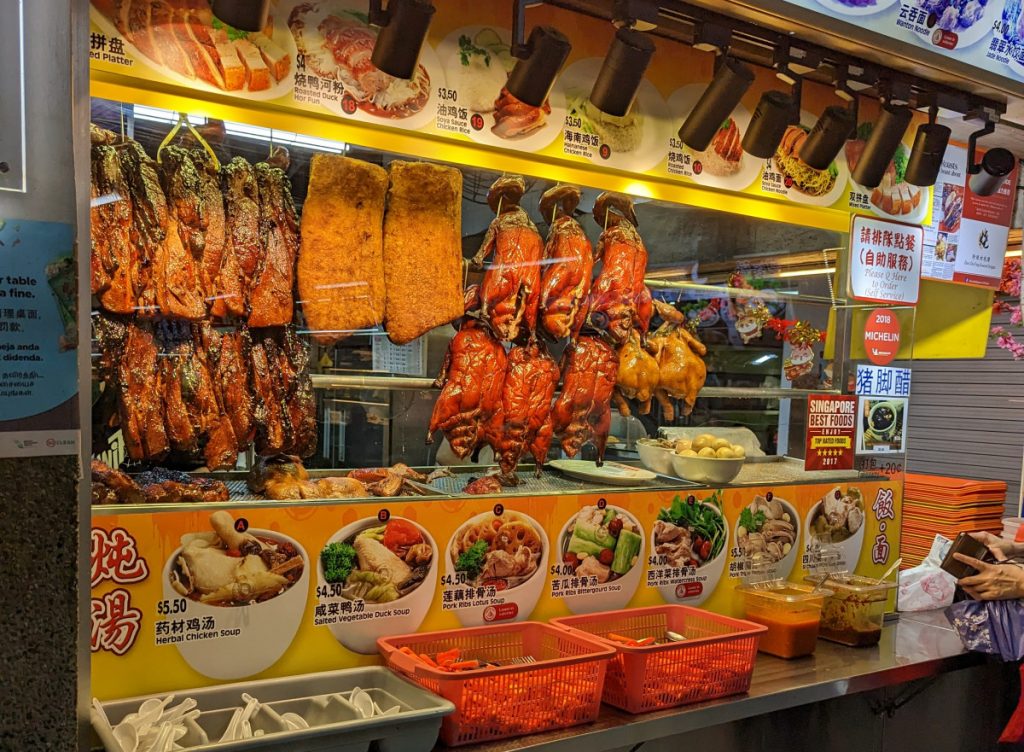 To make it easy for you, I'm also sharing GPS Peoples Park.
As I walk on, across the footbridge, still covered and into Pagoda Street. There, too, I marvel at all the little shops and premises I come across. For instance, I pass a building that used to house a Coolie House (GPS Coolie House). This is a house where slaves used to be sold. These were mostly people from South China. On the house I see a photo of people sitting in front of the house, the photo dates from 1920.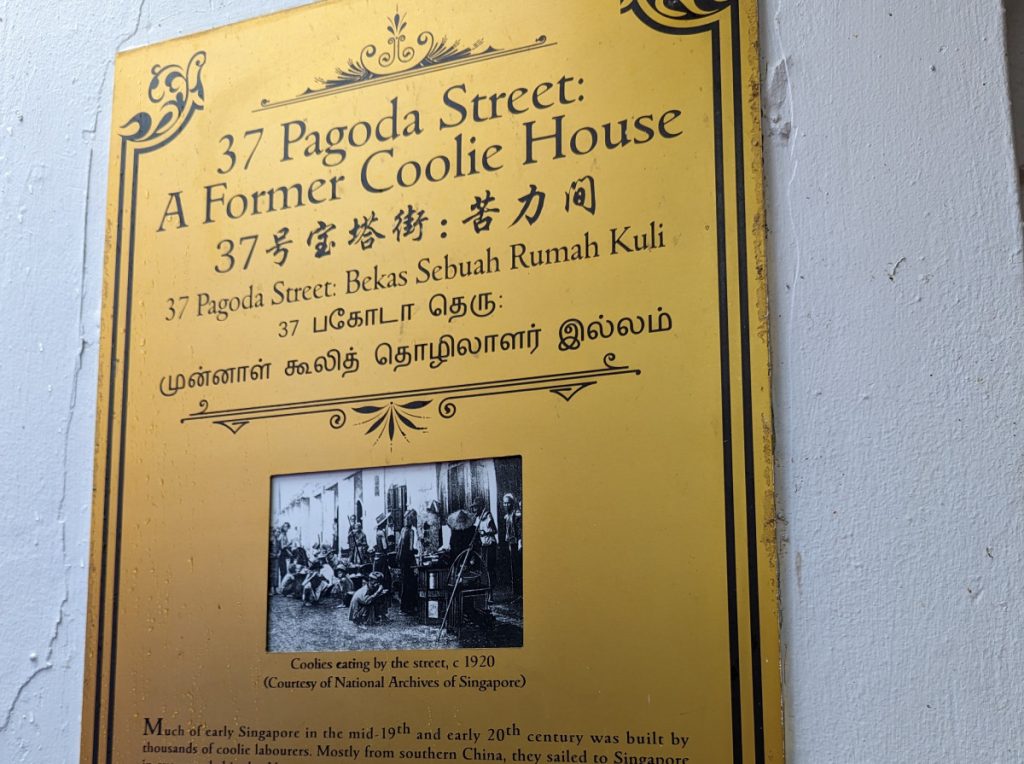 Walking down the street, I come to a temple as I know them from southern India. A Hindu temple with many colourful statues piled high to create a tall temple entrance. During my second visit to Singapore, I stay diagonally opposite this temple. In the morning, I then hear the typical sound from India echoing through the street which makes me go and have a look. I then see a man on a drum with next to him a man on a wind instrument making the sound. Morning prayers are going on.
Top 25 tips for Singapore
Long Weekend Singapore
Buddha tooth relic Temple
A little further down the street you will find the immense complex of the Buddha Tooth Relic Temple. I find it impressive to see. It is big, it is also tall but that still doesn't represent anything with the giants standing around it. I walk inside the temple and wonder where the tooth is hidden…. I distinctly remember getting out of bed very early in Sri Lanka to see the shrine that contained a piece of Buddha's tooth. That was quite a happening only in the early morning. Perhaps the same will be true here?
The temple is full of tiny figurines, every wall is full of them. The atmosphere was very nice and peaceful in the temple.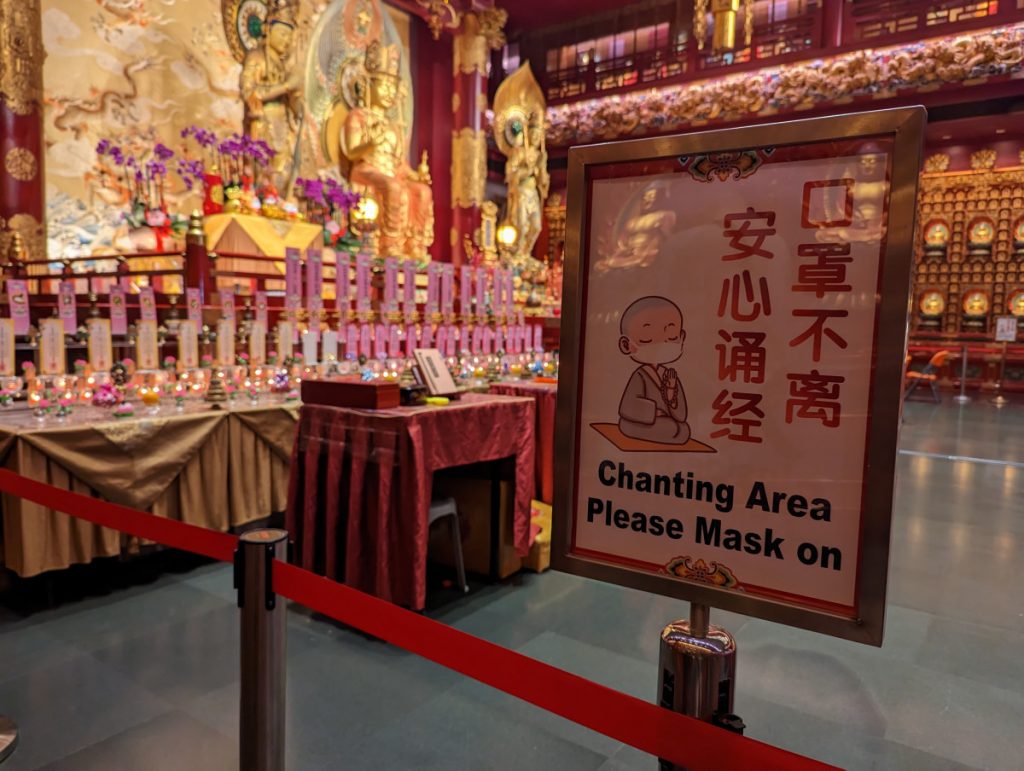 Walking outside again, I remembered a picture online showing the temple from the heights. So when I was outside again, I scanned the area for entrances to the flats surrounding the temple. Yes, soon I see an entrance where I can enter. Feeling somewhat of an intruder anyway, I take the stairs 21 floors up. I take a picture every few floors along the way. What an impressive temple, isn't it?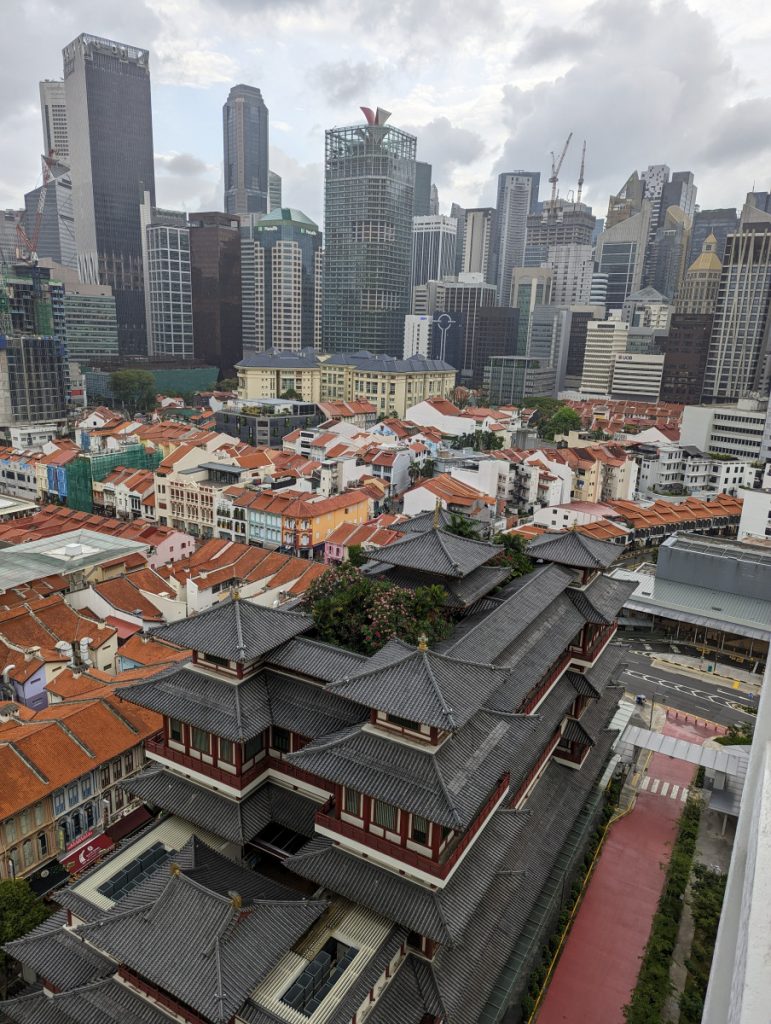 Still, just to emphasise how green Singapore is, which is really not evident from the previous photo…. I share the picture below, which is the alley opposite the Buddha Tooth Relic Temple. Which is right next to Maxwell Station metro station.
Tip… if you want to go to the Buddha Tooth Relic temple from another part of Singapore, then you will thus travel to this metro station if you are travelling with the Tourist Pass. From the Buddha Tooth Relic Temple, you can explore China Town further.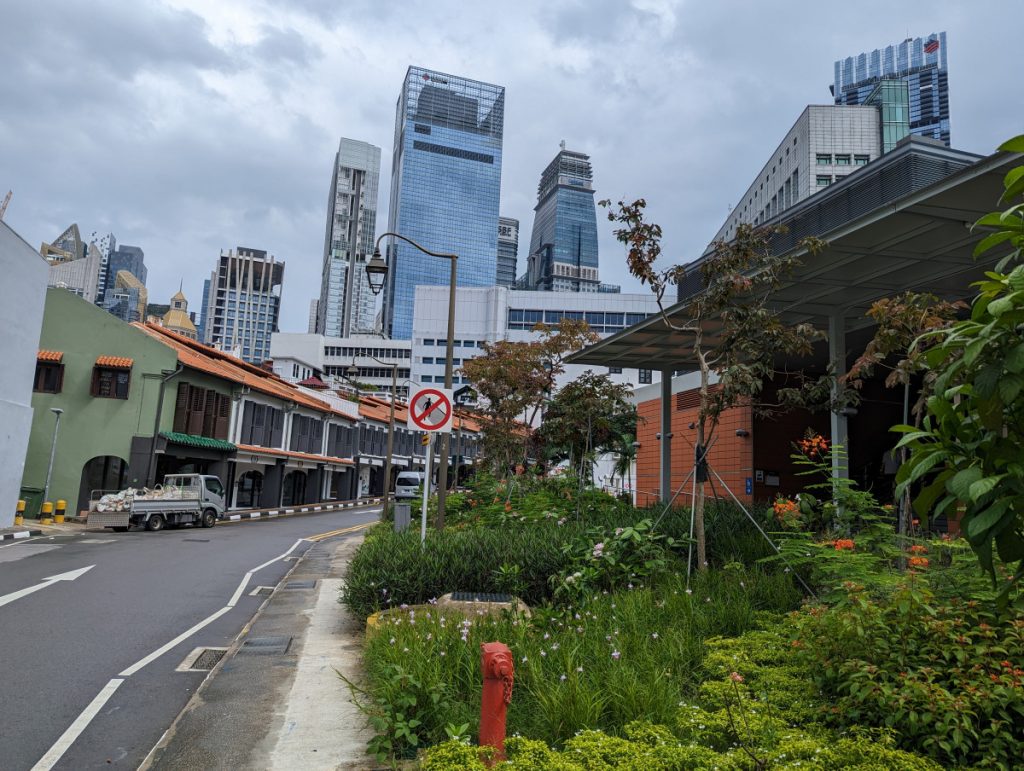 Behind the temple you can also eat, again a kind of small Peoples Park. I decide to buy a bapao at K88 Kopitam. They are called differently here but I recognise the shape. For 1.80 Singapore Dollar I have one and after I finish it I can get on with it.
Tips for a Long Weekend Singapore
Walking along Cross Street to Marina Bay later in the evening, I pass the Thian Hock Keng Temple. Tip: Don't just stroll along the long main streets but instead grab the small side streets. This beautiful temple was hidden in one of the side streets of Cross Street. There was a party going on at the time and so I happened to be standing there watching. There was music, I saw people walking in dragon suits…. Unfortunately, I had just missed the dance.
Yu Huang Gong – Temple of the Heavenly Jade Emperor
Right next to it, I saw a beautiful turret with a small passageway next to it. I decided to walk inside to get a better look at the turret. It was the Temple of the Heavenly Jade Emperor, a Taoist temple. I had this picture as a background on my phone for a while. Tell me, this is a great photo, isn't it?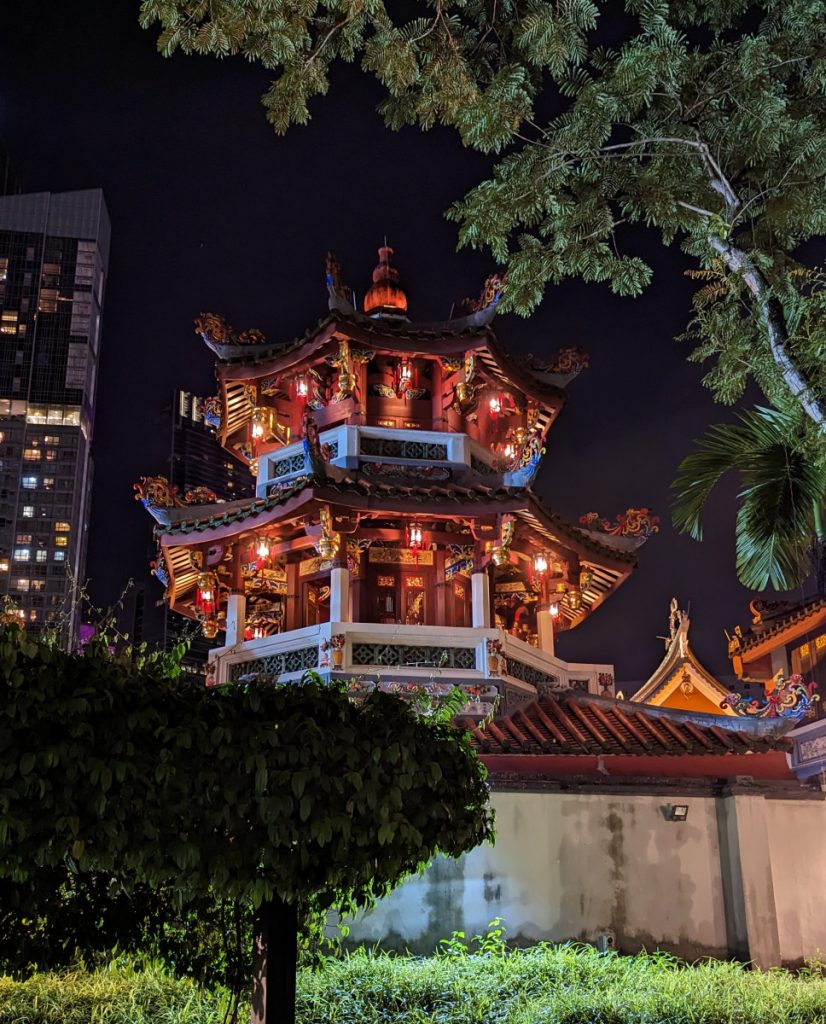 In the small park where I walked, I read a bit more about the people who used to work there and came from different parts of the world. This is another thing I really like about Singapore, everywhere you walk there are statues and a sign explaining things so you really learn something about Singapore and the origins of this diverse and colourful city.
GPS Yu Huang Gong – The Temple of the Heavenly Jade Emperor
Among the top 25 tips for Singapore Baba House can't miss. An amazingly beautifully maintained old blue house on the road (Neil Road) as you walk to Henderson Waves. Just know that if you want to visit this one you really need to make an appointment online. I passed it a few times and even when people were there I was not allowed in because I had not made an appointment online in advance. Bit of a shame. So just a nice photo of the blue house from outside.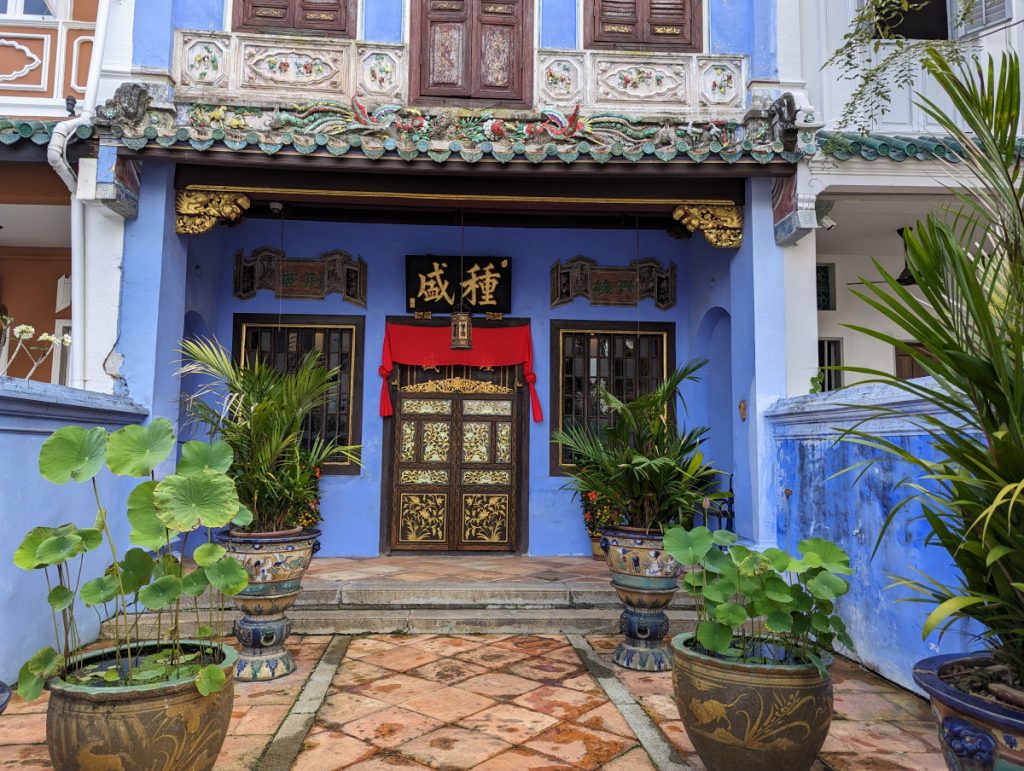 Little India
During my first long weekend in Singapore, I briefly visited Little India but it was so incredibly crowded. I later understood that the festival Thaipusam was going on and a procession is often held on that very day. So this is what I witnessed. I saw in several places that food was being handed out to the people joining the procession. Many police were on hand to make sure the procession crossed the busy road in Little India safely.
Tan Teng Niah House – Little India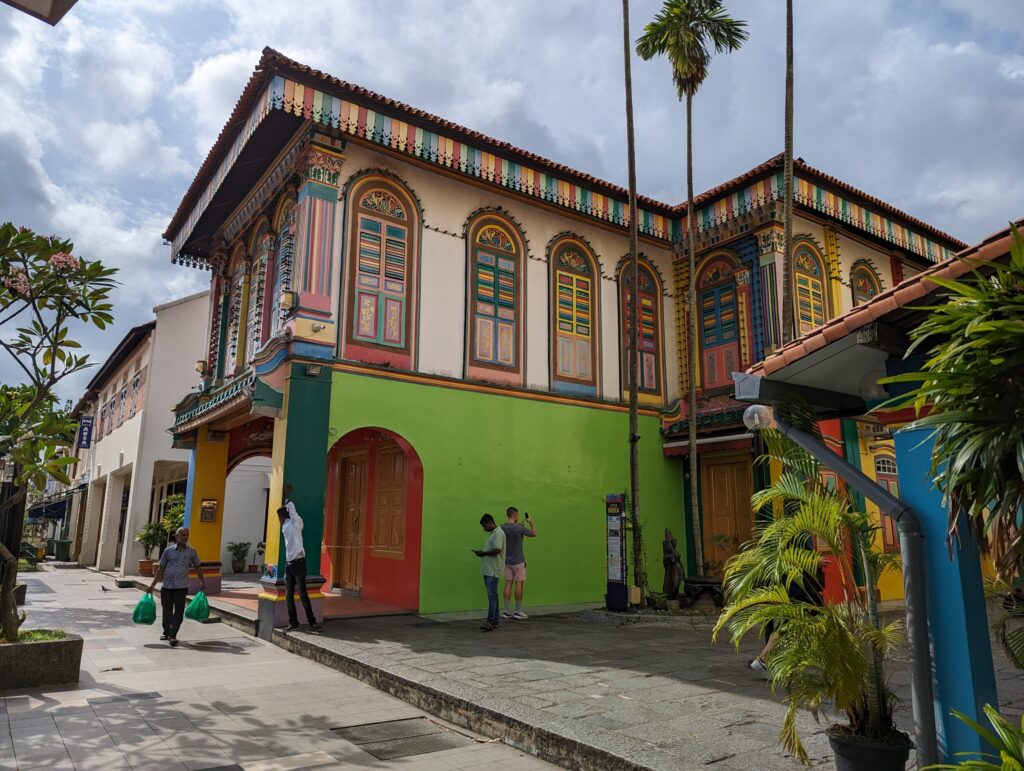 You feel by everything that this neighbourhood is different, I am suddenly stepping into India. The colours and smells are just more prevalent than in Chinatown and I soon notice the many flowers used as offerings in Indian Hindu temples.
I visited Little India on my second day in Singapore and then it was just too crowded because of Thaipusam. During my second long weekend in Singapore, I went back again. Then I visited several beautiful places in Little India.
So what can you see in Little India? Some beautiful old houses, schools, temples, mosques and churches. I also came across a Mahatma Gandhi Memorial (GPS). Across the old race course, you'll also find quite a few beautiful properties with explanations, e.g. the Foochow Methodist Church. Also visit the temples Leong San See Temple and Sri Veeramakaljamman temple.
I was also reminded of the Mustafa Centre. A local mall where you can really buy everything you need. But where there are also very nice markets in the area. I was there on the weekend and it was very busy.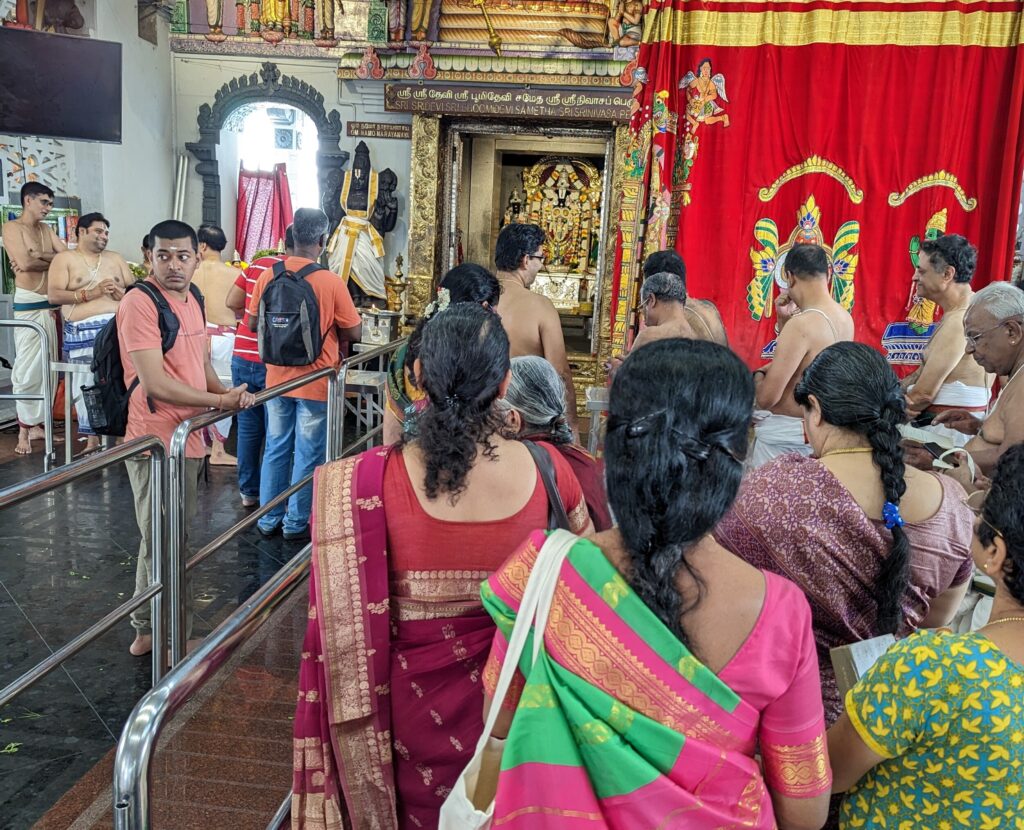 25 Tips for Singapore – Safe and Healthy Travel
Holland V
Also called Holland Village. This area was a bit too far from the centre for me and I did not visit for that reason. You could have good food there in the evening and most importantly go to pub and bars. Since bars and pubs are not my thing I didn't bother going here.

Kampong Glam / Muslim Quarter
I stayed in the Muslim Quarter for 2 nights. I found it a very pleasant neighbourhood, the atmosphere is completely different from Chinatown and its surroundings. Even though I was far from tired of the food in Chinatown and that area I was also in the mood for some Middle Eastern. Some nice bread, a fine salad?
If you are in Kampong Glam, you cannot avoid the beautiful big mosque. The mosque dominates the views throughout the neighbourhood. The Sultan Mosque is tall and the remaining streets around it consist only of low-rise buildings. The neighbourhood is actually just a few streets but very typical Middle Eastern.
GPS Kampong Glam / Muslim Quarter
Sultan Mosque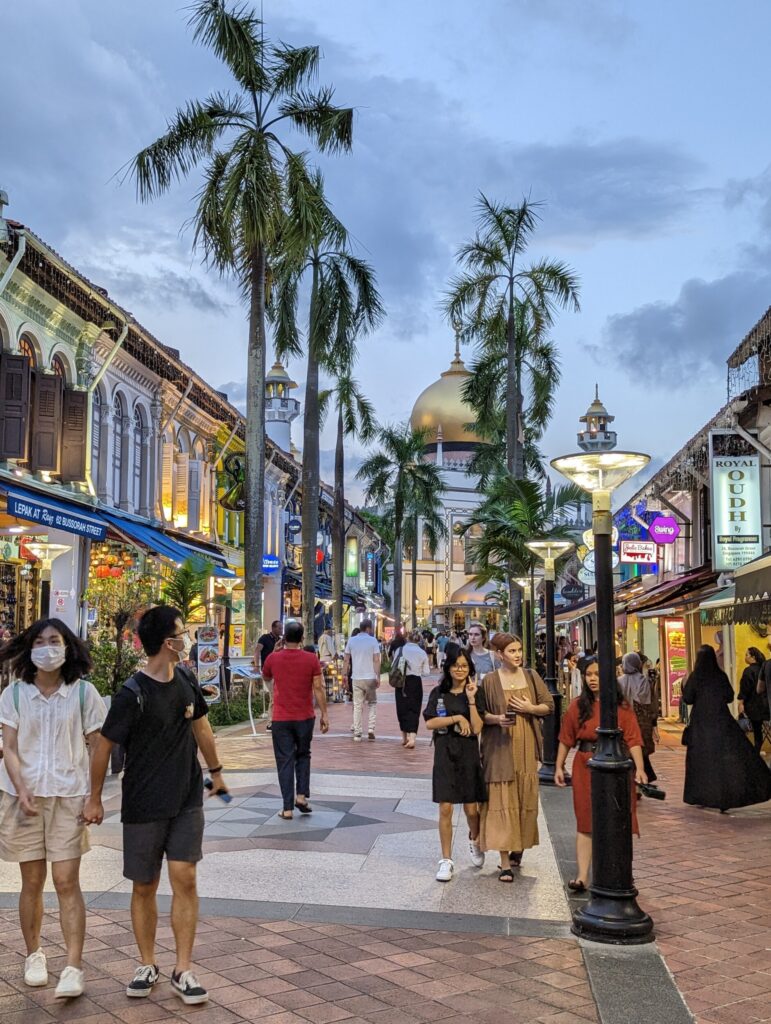 In the surrounding shopping streets, especially Arab Street, I see the beautiful colourful lamps and rugs.
Many Turkish, Greek and Lebanese restaurants can be seen in the streets. The way customers are brought in is not seen anywhere else. Here, men are standing on the street to persuade you to sit with them on the terrace. The whole dynamic changes. I walk down the street twice and then I find it becomes uncomfortable because I am approached by the same men again. If you just want to walk around, it's a bit less pleasant. The neighbourhood is only small, a few streets, so walking around for a long time becomes difficult.
I decide to have dinner and after that I lie back in my capsule, surfing the internet and reading a bit. I had a delicious grilled haloumi salad with bread.
Haji Lane & Bali Lane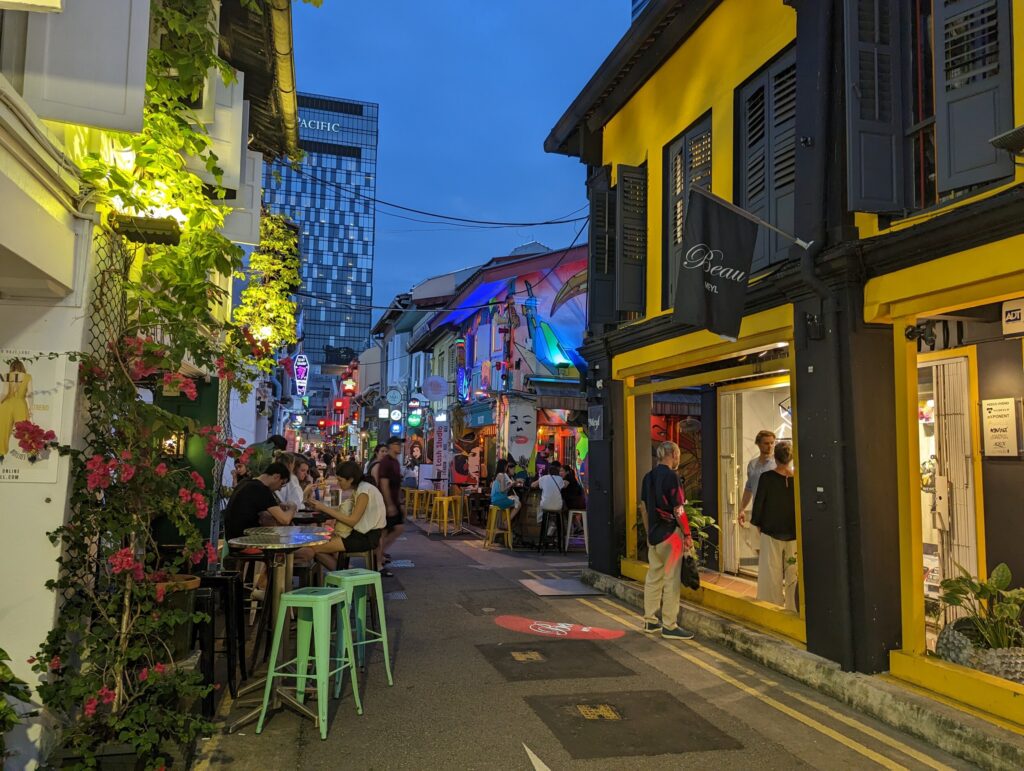 Haji Lane is Singapore's narrowest street and also really fun to walk through. It is a very busy street as there are shops, restaurants and bars on both sides. The pavement cafés are packed to the middle of the street. Very cosy and so. if you like a drink and some socialising you're in the right place. Bali Lane is behind it and is less cosy at the moment because renovations are going on right next door.
All Cultures Are Represented in the World City of Singapore
Tanjong Pagar
Coming to Henderson Waves from Chinatown, I walk through Tanjong Pagar with many beautiful, old coloured houses lining the streets. They remind me a bit of Portugal honestly but I don't find any further support for that. I take lots of pictures of them, though. I really love that, those old coloured houses with the boring skyscrapers behind them.

Noodle Star – Korean Noodle House
Little Korea is part of this neighbourhood. And on Tanjong Pagar Road, I therefore enter a Korean restaurant. The restaurant I had seen on the internet was highly recommended. When I get there, since I am alone, I can just about sit at a table. The place is busy, people work hard and there are many young people eating. I order a noodle soup recommended to me by the staff member. I get sweet, sour and spicy with it and found it very tasty and good for lunch! After this, I walk on to the Henderson Waves so I could use it.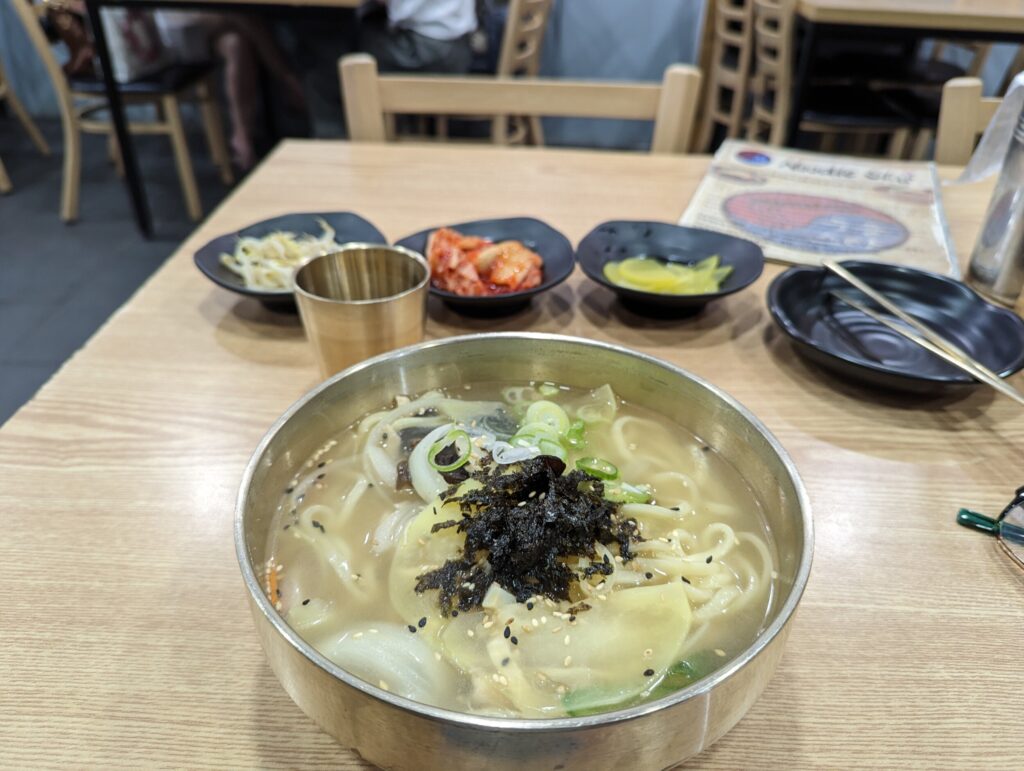 Would you also like to have a Korean soup at Noodle Star?
GPS Noodle Star – Korean Noodle House
I also pass by Everton Park. On the internet I find that there are supposed to be hip cafes here. All I find there is a kind of courtyard near apartment buildings with a hawkers market where you can eat and some shops. I must not have looked hard enough 🙂 I do see chickens and chicks walking around at Everton Park. They are walking in the grass where they are looking for food, right in the busy city of Singapore. Again, very surprising for a big city.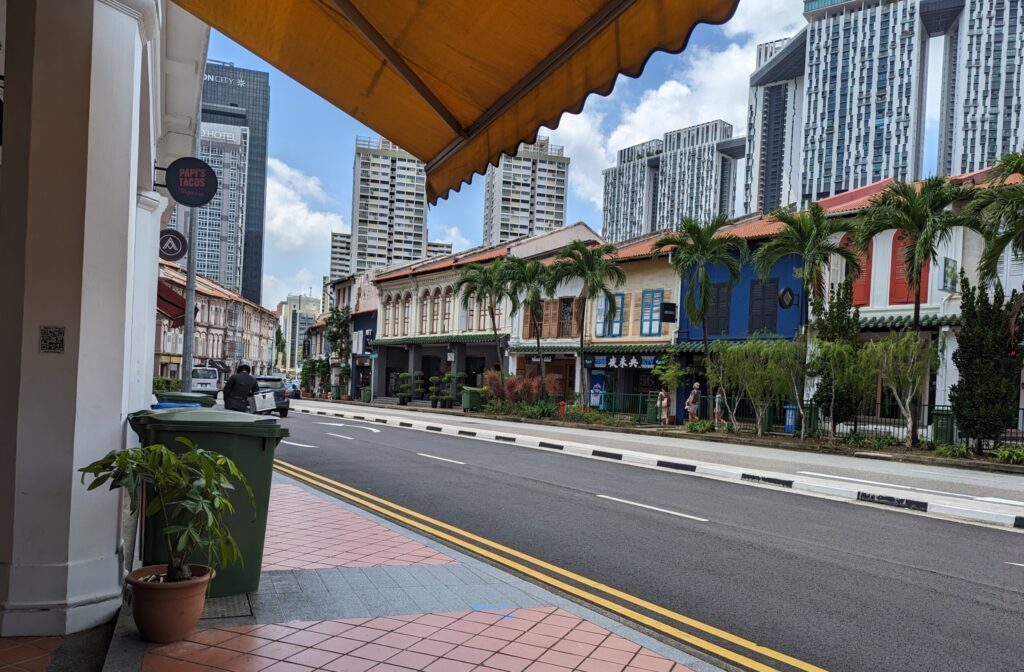 Experiences in metropolis Singapore
Sunset from Marina Bay Sands
In the evening, it is great walking near Marina Bay Sands. The temperature is nice, there are lots of people on the streets and the atmosphere is lovely! In the background, you can see the illuminated Singapore Flyer, the big wheel which of course gives the whole thing a nice view. Everywhere you can buy something tasty to eat while walking or sitting by the water. A nice ice cream, milkshake or a fine cappuccino.
Visit statue of Merlion
If you then take a nice stroll around the water at Marina Bay Sands, you will pass the national symbol of Singapore. That national symbol of Singapore they have given a name namely Merlion and is a half lion half fish statue. To make it complete, the animal squirts water out of its mouth which gives it an extra beautiful sight in the evening.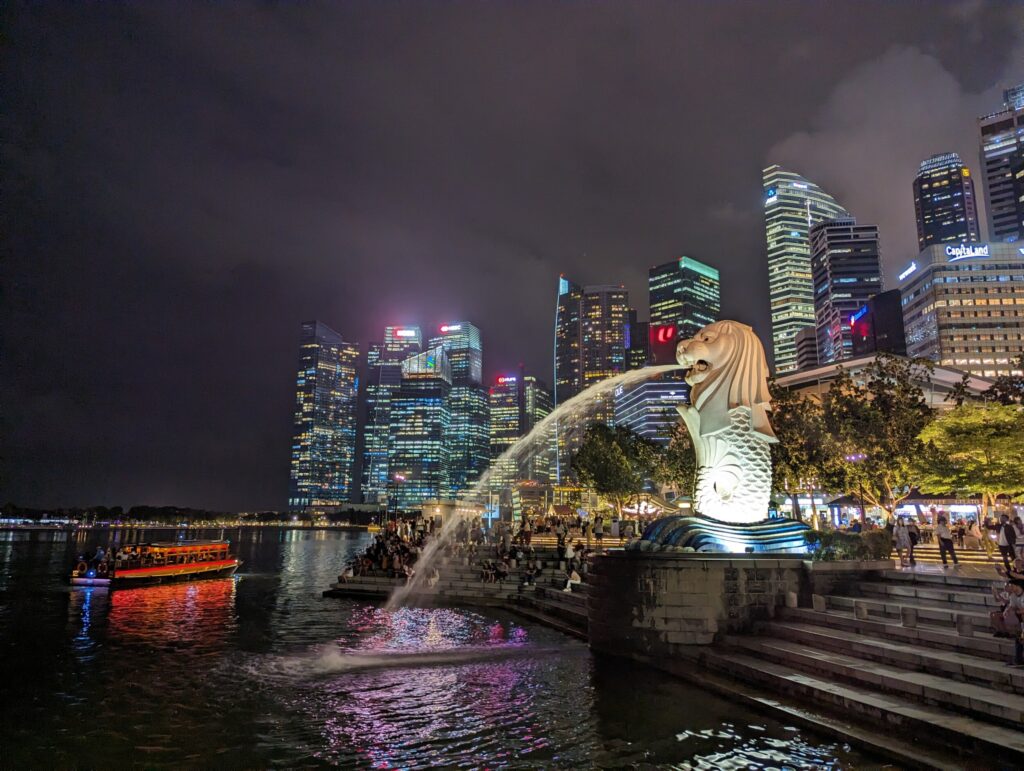 25 Tips for Singapore – Safe and Healthy Travel
Spectra Watershow at Marina Bay Sands
In the evening, a water show is also played with loud music on the water at Marina Bay Sands. If you were then to stand on the side of the Merlion statue, you would naturally see the Singapore Flyer in the background. You would be a little further away from the water show. I also found this quite nice to see for a while. With loud music, it's quite fun for a while! I can't imagine living here and hearing this every night.
If you don't like loud music and largely modern music, both shows may not be for you. But it really is a piece of Singapore, I think. Belongs to the modern part of this city and then really shouldn't be missed 🙂
Eveningshow in Gardens by the Bay
On my first night in Singapore, I walked to Gardens by the Bay and was just in time to catch the 7.45pm show. Just too late for that? No problem because another one starts at 8.45pm. I loved sitting under it for a while, letting the loud music drag me along with the lights of the trees…. Lovely! Of course, there's nothing natural about it but I love that too, you know. For a while… and after 20 minutes, I was walking nicely again on the sultry evening through the beautiful park.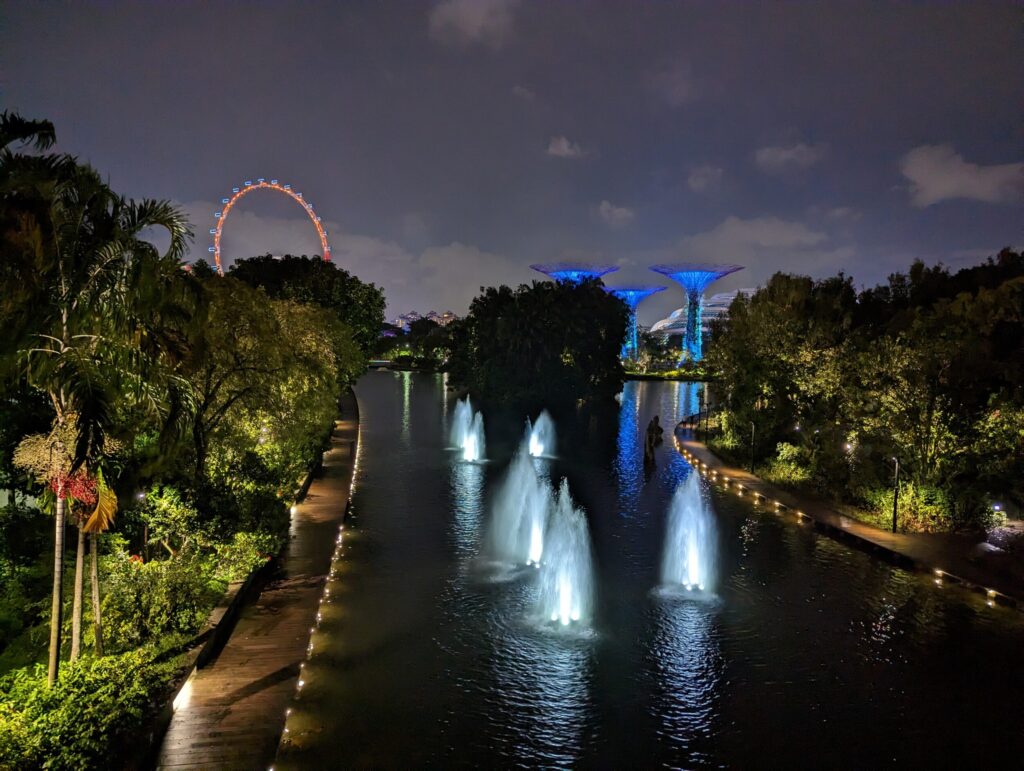 What I didn't do but will be fun to do!

Cycling in Singapore
Cycling is actually something I always really enjoy, so I regret not taking the time to do this. Everywhere I saw the bikes along the road. With an app, you can unlock them and use them for a fee per time. Of course, guided bike tours can also be booked so you get some explanations from a guide. This one is definitely going on the list for my third visit to Singapore!
Singapore seen from the water
Of course, there are all kinds of boats on the Singapore River but also on the water at Marina Bay Sands. Or how about the boat at The Shoppes shopping centre?

Check for a fun boattrip in Singapore
Parcs in metropolis Singapore
Fort Canning Park
I did find Fort Canning Park very nice to walk through for a while. I was looking for the Tree Tunnel so I walked diagonally through the park. Before on my way back when I had a bit more time I saw the big house, Pinacothèque de Paris, which stands in the park. This is a beautiful building but unfortunately not open to the public. After this, I came to walk through the Spice Gallery. I also found this a wonderfully fragrant place. I did spend some time here to see the herbs, take photos of the insects flying around and take in all the info given.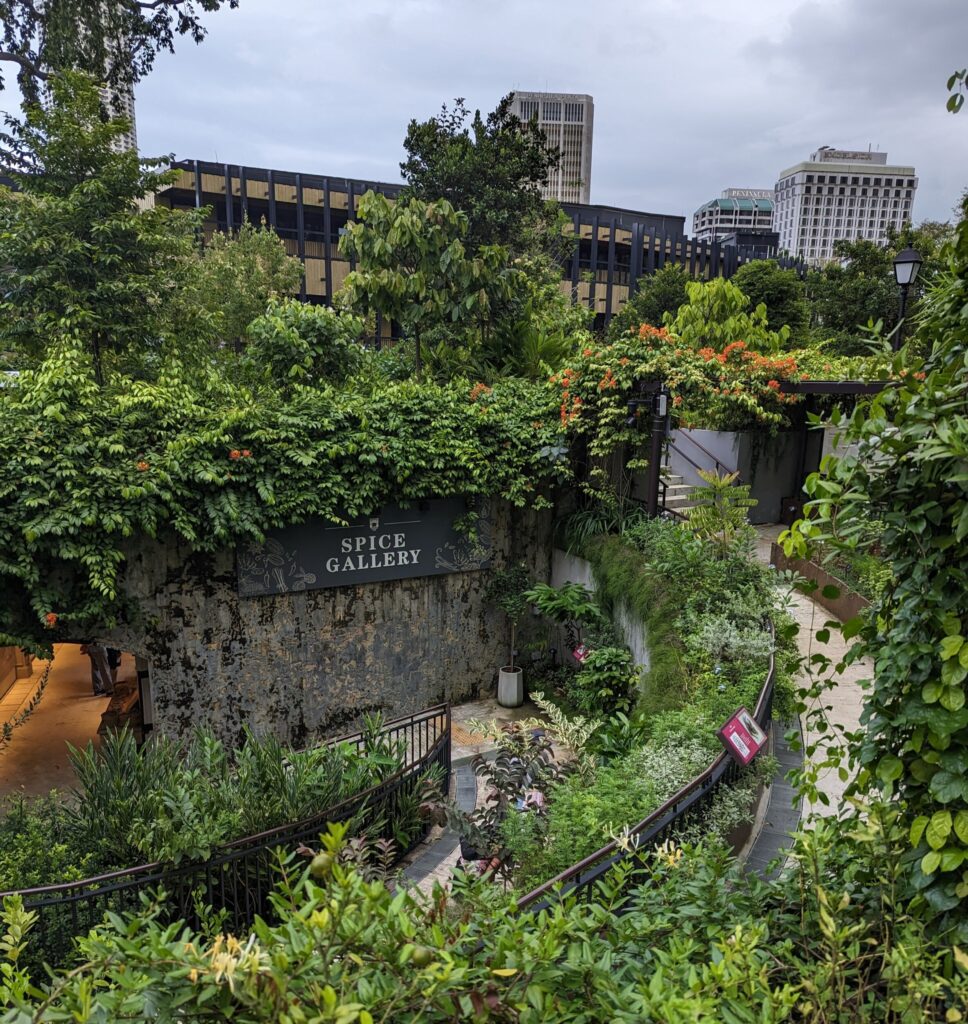 Doby Ghaut Green – Tree Tunnel (Famous Insta Spot)
I went here because I was looking for the Tree Tunnel. It has become a well-known piece after many photos of it appeared on Instagram. Of course, when I found out about it, I had to take a photo of it too 🙂 I even queued up for a while for it, some nice conversations later and a good photographer I can show you the picture below!
Furthermore, Doby Ghaut Green park really seemed to be a local piece of greenery adjacent to the metro station. A nice strip of greenery, some benches and nice winding paths to break the concrete jungle. Without the Tree Tunnel, I would not have named this little park.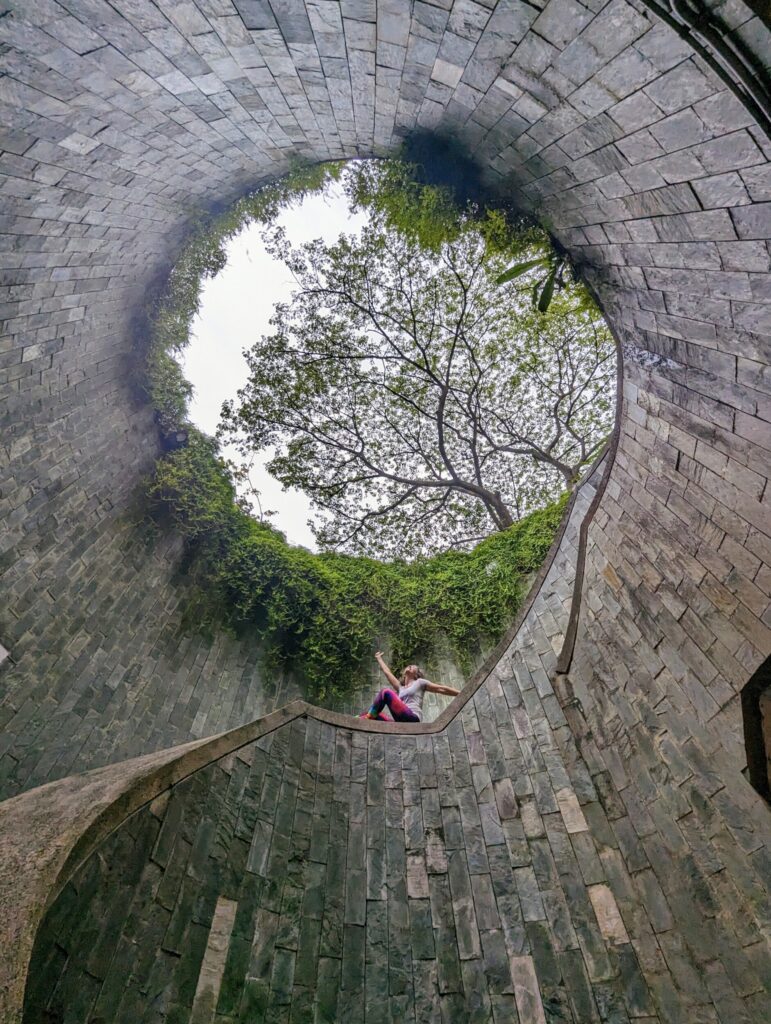 This Tree Tunnel is located exactly between Doby Ghaut park and Fort Canning Park.
The central entrance on this side is to the right of this Tree Tunnel.
Exact location Instagram spot Tree Tunnel: GPS locatie Tree Tunnel
Singapore Botanic Gardens
The Singapore Botanic Gardens is the oldest park in Singapore and was the first UNESCO World Heritage listing for Singapore. I did not visit it but I will on my next visit. If you have a holiday in Singapore and don't venture further into a surrounding country, I can understand taking a trip into this garden.
The Singapore Botanic Gardens are free to visit except if you want to enter the orchid garden, then they charge an entrance fee. But then this National Orchid Garden has over 60,000 different species of plants and orchids on display.
Gardens by the Bay & East
Gardens by the Bay is definitely worth a visit. You can hardly avoid it of course if you go in the evening to see the supertrees and the light and music show. But also go back during the day to see the park in itself. Beautiful paths, lovely artwork and lots of water are to be found in this park.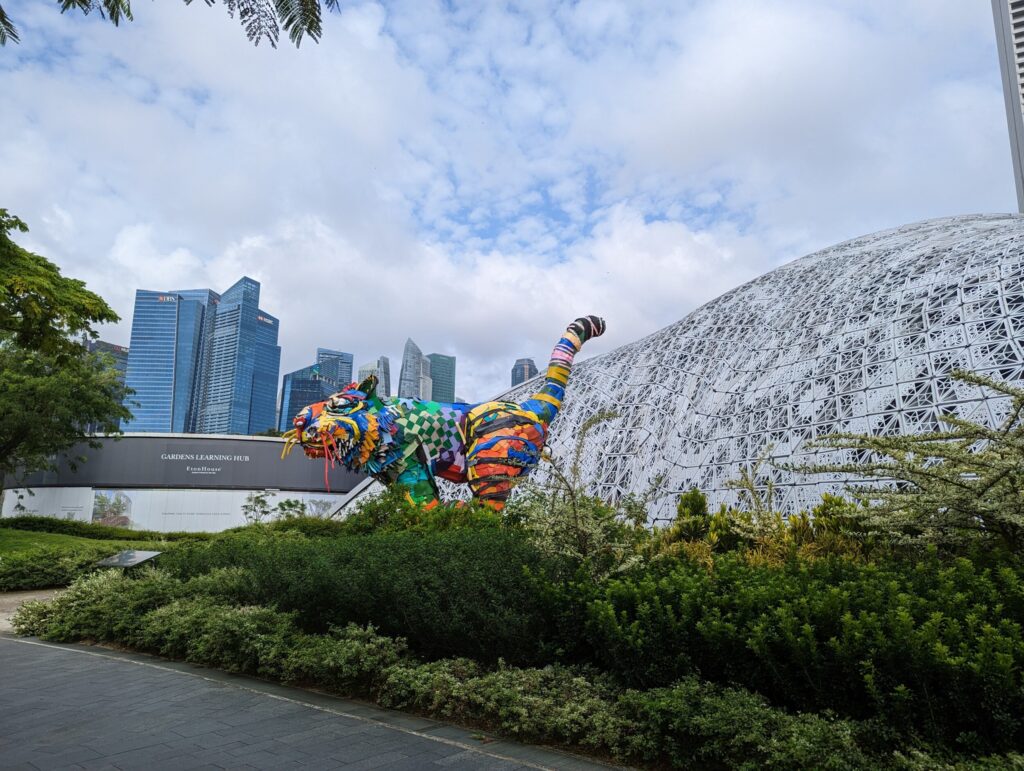 Cloud Forest in Gardens by the Bay
In this top 25 sights Singapore really shouldn't miss Cloud Forest. What a beautiful 'museum' I thought that was. The Cloud Forest is really not to be missed if you ask me. I walked around Cloud Forest for about 2 hours and was really surprised at how they built it up and how much was very much growing and flourishing. It was really beautiful!
There is also the Flower Dome and I instantly believe it is just as enchanting. I did not want to spend a whole day almost on these museums and so I chose to visit only the Cloud Forest.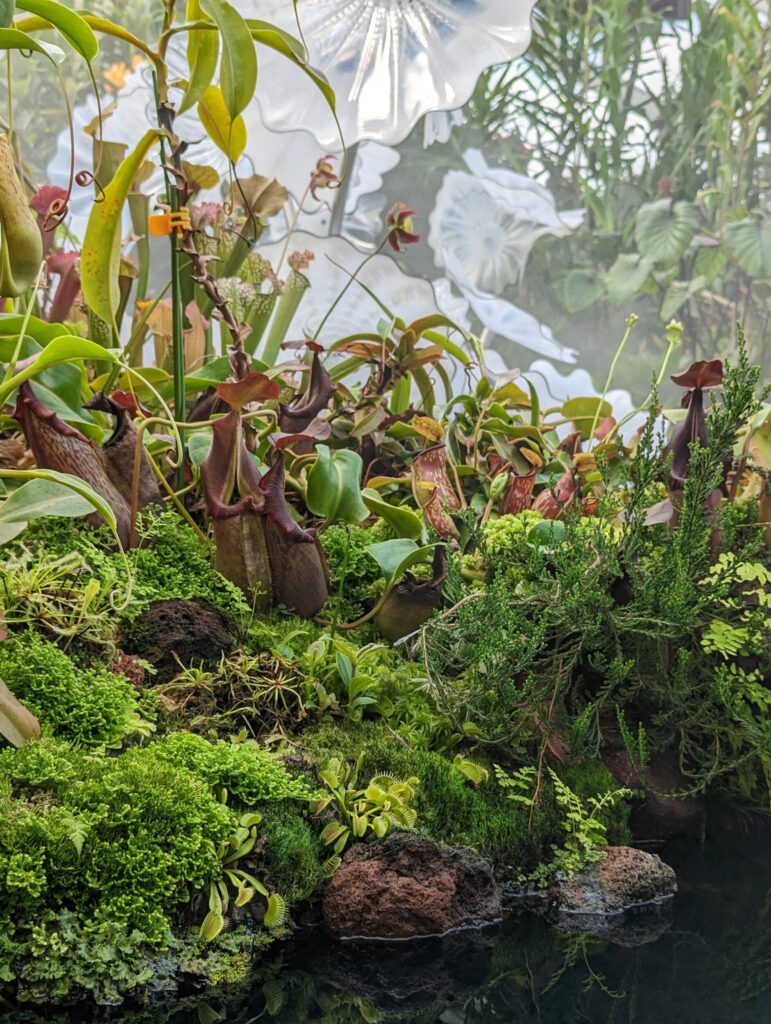 GPS Cloud Forest in Gardens by the Bay
Costs Gardens by the Bay
To visit Cloud Forest, you will pay 35 Singapore Dollars. That's over 23 euros. If you buy a combi ticket to visit the Floral Fantasy and Flower Dome in addition to Cloud Forest, you pay 45 SGD, which is over 30 euros. Visiting all these beautiful places would have cost me a day.
Henderson Waves / Telok Blangah Hill Park / Mount Faber Park
These parks are a bit (4-5 km) outside the city centre but I still walked there 2x. Read more about that in Walks in Singapore. I found it super fun to be in nature for a while like this. Yes, it is landscaped but feels like really being in nature for a while. And about it being landscaped… All the nature we have in the Netherlands is natural so how bad is that? Nature remains nature, of course.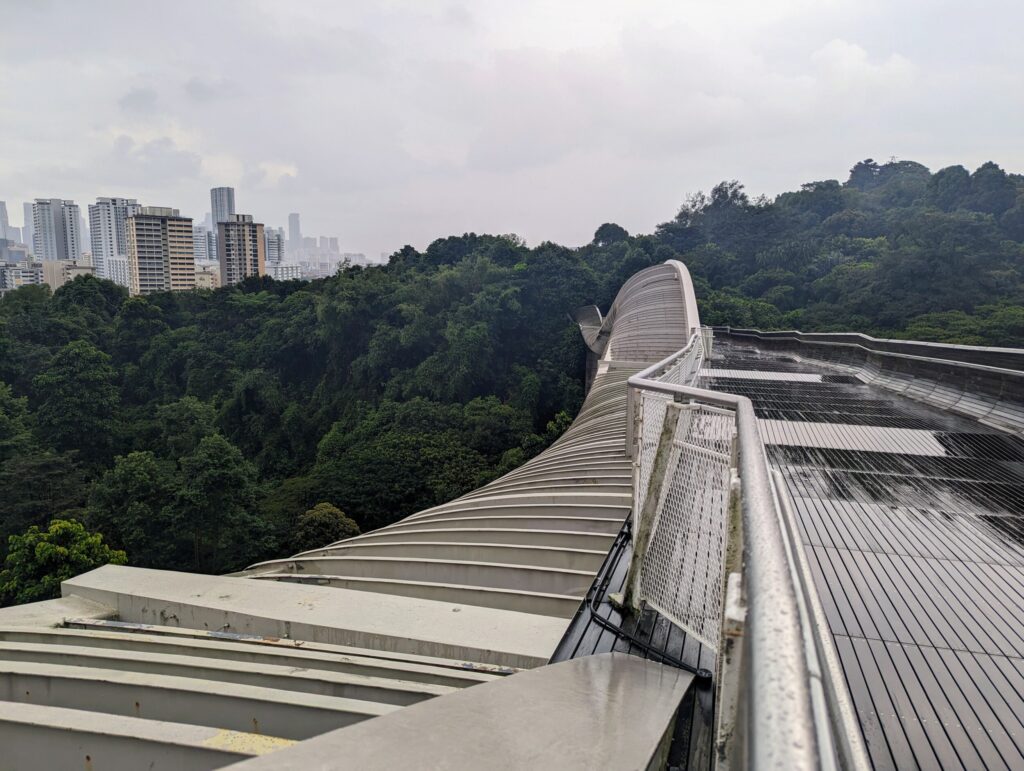 In Telok Blangah Hill Park and Mount Faber Park, you can walk on different paths and this makes it super surprising and fun! You stand under the tall trees or do you walk there in the treetops?
Collective name of this area is the The Southern Rigdes, it covers an area of 10 kilometres and several parks strung together. The first 3 I visited… Hort Park, Kent Ridge Park and Labrador Nature Reserve have remained on the list for another visit.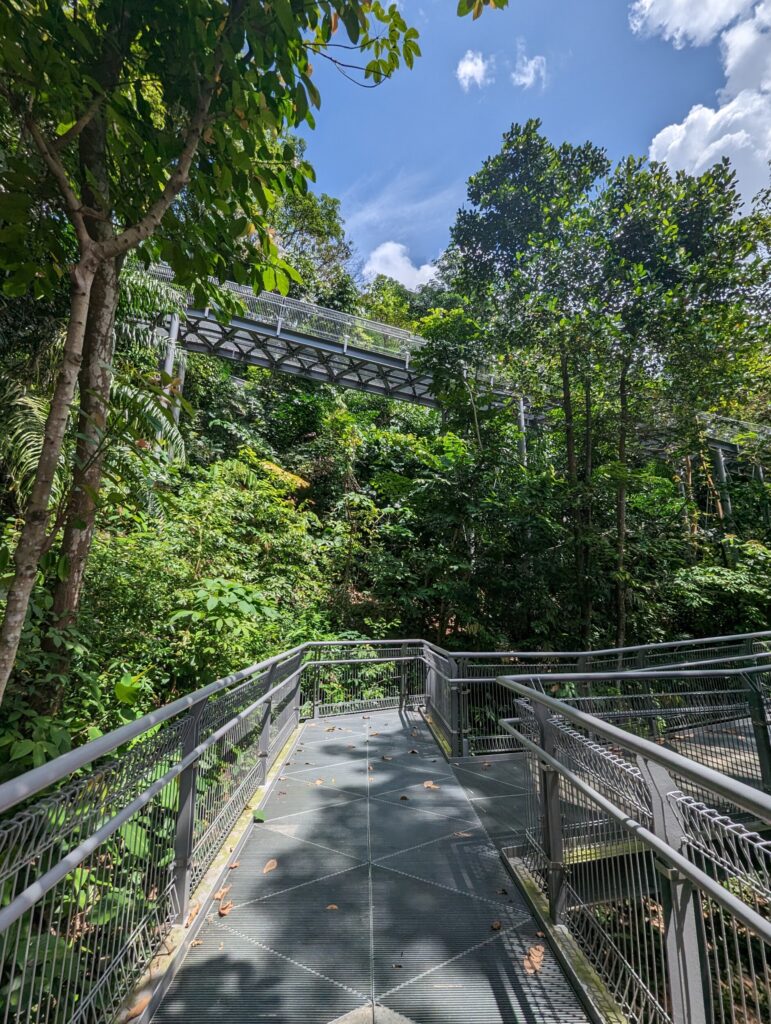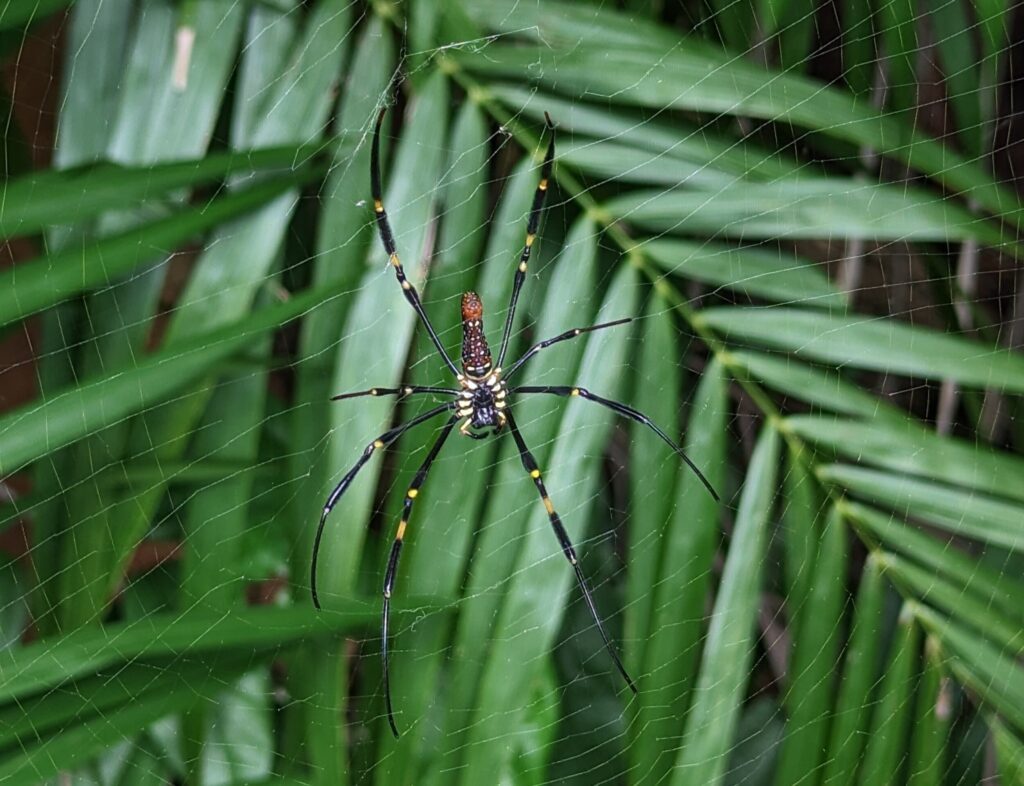 GPS Henderson Waves / Telok Blangah Hill Park /  Mount Faber Park
Which other parks remain on my list?
Tampines Eco Green
A park which has been edited to a minimum for us humans to be there. Perfect for a hike, then. There is a trail for hikers and every now and then you will come across a spot where you can rest/hide. Everything used for the rest areas and signs is natural material.
Tampines Eco Green park is really a model for biodiversity. There is a stretch of wetlands, some rainforest and some grasslands. So this one is really for next time on my list of parks to visit in Singapore.
Sungei Buloh Wetland Reserve
This is Singapore's first ASEAN Heritage Park. The park has large areas of wetlands and a mangrove forest. This brings yet another biodiversity to the park. I read that you can admire very different groups of waterbirds between April and August, they are then in transit to their summer/winter destinations.
GPS Sungei Buloh Wetland Reserve
Singapore Night Safari
Singapore has an animal park. The animal park is 35 hectares and the animals roam freely. I also read that a night safari was organised. I am curious about that. That might be something I would consider doing.
A zoo doesn't appeal to me. I'm not against it right away, but it's always sad to see animals in captivity. Because so many animals are threatened with extinction because of our actions (mankind), for some animals it is almost the only possibility left for survival, reproduction. Education for children is also good, of course. I still can't get happy when I see animals in an animal park.
Book your ticket for a night safari in Singapore
GPS nightsafari at Singapore Zoo
25 Tips for Singapore
Shopping in Singapore?
Orchard Road seems to be the biggest shopping street. If you are into shopping then this is the place to be. Since I am not much into shopping and especially not travelling, I did not go here.
However, I did walk around the huge The Shoppes at Marina Bay Sands. Did you know that this mall houses the most expensive and exclusive shops? Of course I didn't go in there, but I did marvel at the boats sailing around in the canal that goes right through this centre. And the waterfall cascading down…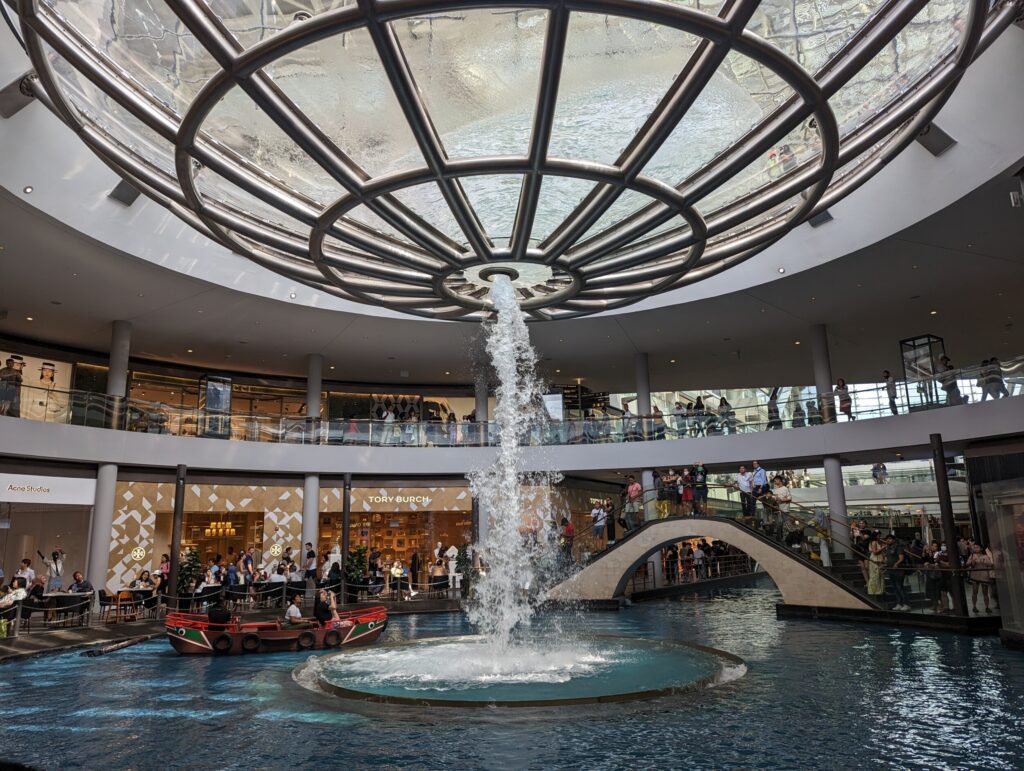 GPS Orchard Road – GPS The Shoppes at Marina Bay Sands
Food in Singapore
Lau Pa Sat
I just had the best food here. It is beautiful old, market building that houses dozens of different eateries. You can walk around to choose from the different food cultures. Once you've made your choice, you can find a seat in the more central area, or outside on the terrace. No one has their own seating area and so everything mixes together and you can sit anywhere.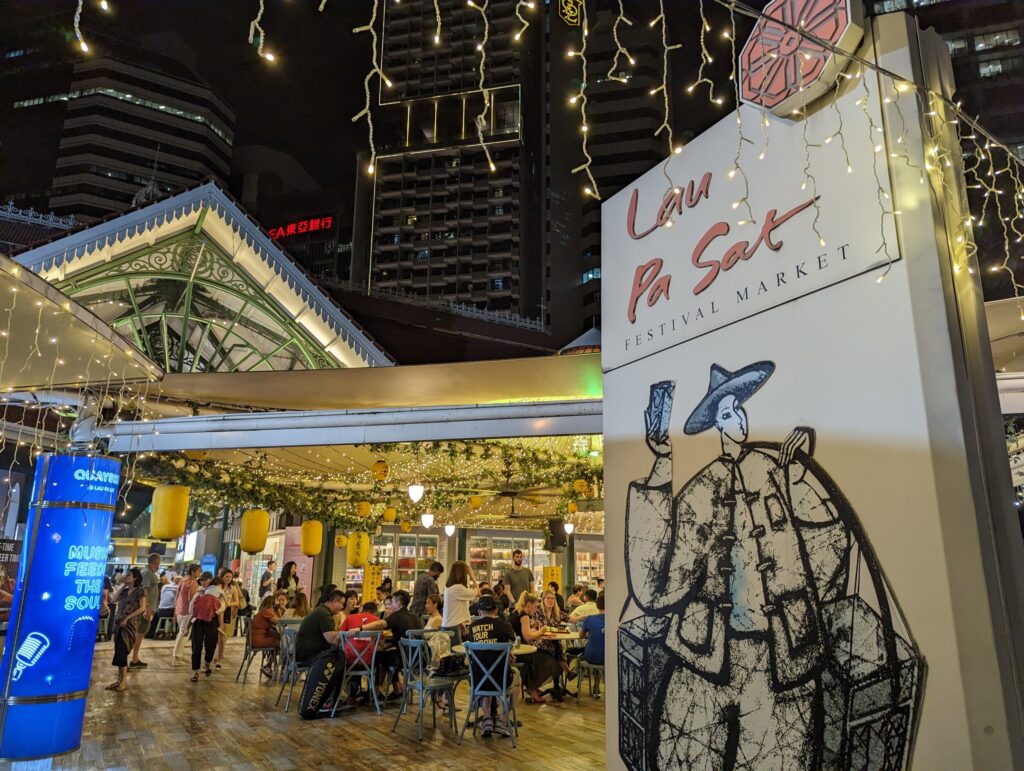 I love these places! And more so…  the food!
Peoples Park
A little more local, a little less tidy but for that very reason there is more to see if you are at least looking for how the local eats, smacks and devours his delicacies 🙂 I didn't eat here because I like to sit more comfortably and look around. The place is a bit less neat – clean and there were slightly fewer vegetarian dishes to be found.
Makansutra Gluttons Bay
Around the water at Marina Bay, there are places on all sorts of sides to sit and enjoy. Makansutra I visited in the afternoon and was not open then. It is an open place where you can have a nice meal in the evening. You can buy some tasty snacks from different tents/food trucks and then sit at a table. I love it!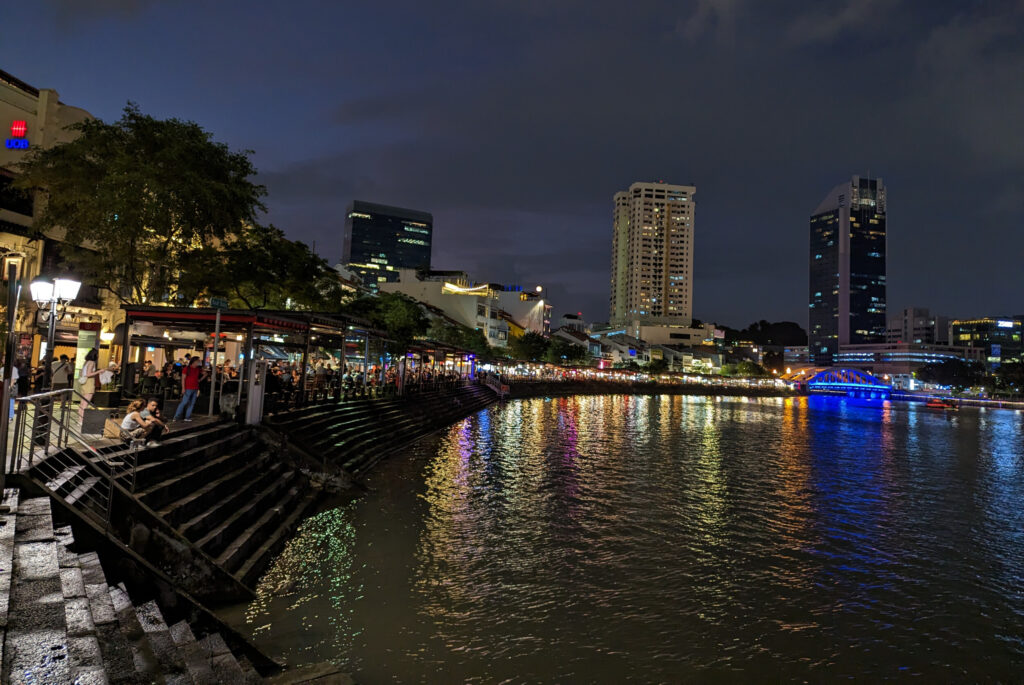 Clarke & Boat Qauy
Nearby, you also have Clarke Quay to have a nice drink on the terrace. And so does Boat Quay. All are in the area or around Marina Bay. In the evening, a lovely place to stroll and cool off a bit. You also have the Market Street Hawkers Centre in the area behind it. There's great food everywhere so you won't have to look long for that in Singapore.
GPS Clarke Qauy – GPS Boat Qauy
Nanking Street / Upper Nanking Street
I also came across this cute little covered street. I saw all kinds of signs and murals explaining the background, life as it was there around the 1930s. In the evening, it is a lively street with many terraces where you can enjoy sitting.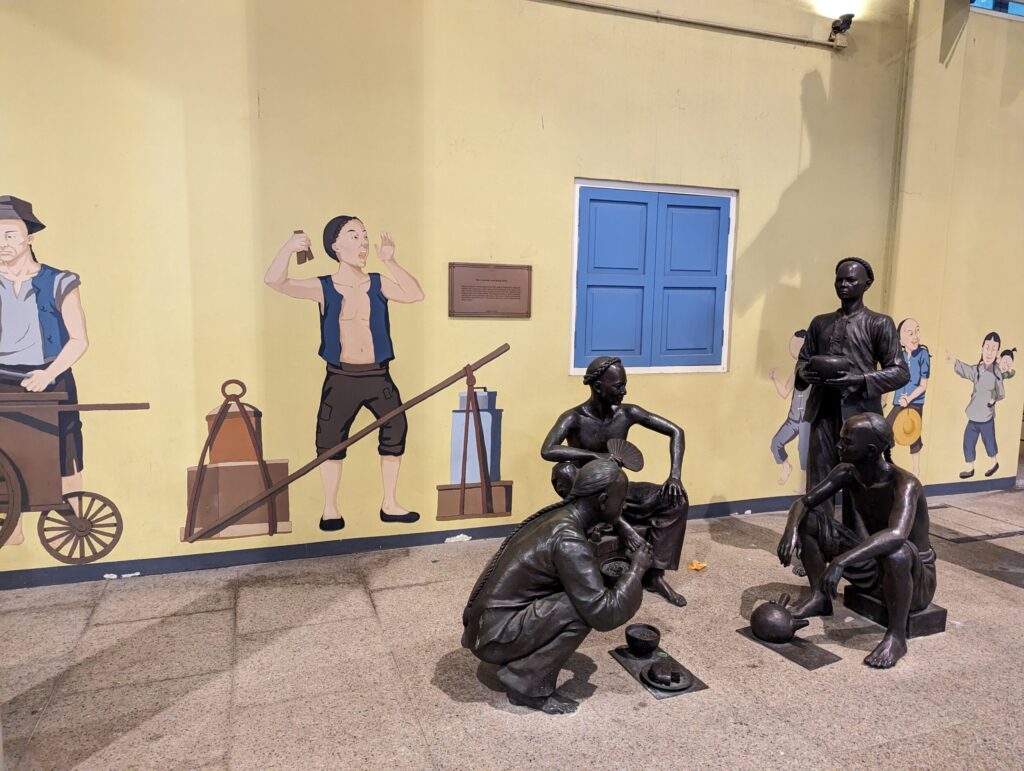 Sleeping in hostels in Singapore
I slept here for two nights. As a starting position, I really liked it. The location is in the middle of Chinaton. To get to Gardens by the Bay, it's a walk of about 3 km. I like that! It's like an evening out and on the way back you pass by Lau Pa Sat where you can pick out your dinner.
Several rooms with multiple cabins that you can close with a blind. Your own, lockable, drawer underneath that can hold your backpack. This was lockable by coming up with your own pin so you don't need a lock. The toilets can be found once you have walked through the common room. In the toilet is also the shower. I don't like this combo….al is for this reason the toilet is very clean. But also walking from your room through the common room to take a shower doesn't feel nice.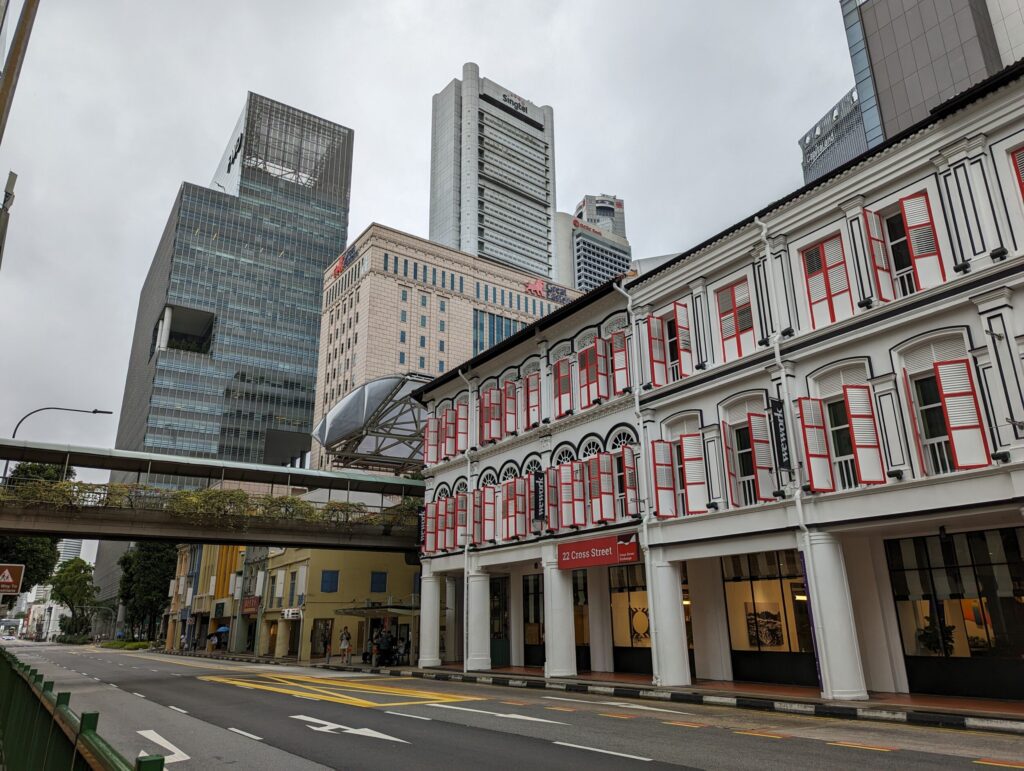 I really thought this was the nicest and cosiest hostel I have been to. Breakfast was tasty but way too small to really stand up to a day of exploring Singapore. It's a French joint, with delicious coffee and nice seating inside and outside. The room was nice and you can close your bed with a curtain. Near the bed was a safe that can hold your whole bag, a light and, of course, an electrical outlet.
In the shared room was a large bathroom with two separate areas where there was a shower and toilet. If these were occupied, you could always find a toilet in one of the corridors. I found it nicely arranged here.
25 tips for Singapore – A Long Weekend
The Pod Boutique Capsule Hostel
In the Arabic Quarter, I stayed at The Pod Boutique Capsule Hostel. Super neat hostel and everything perfectly organised. I could easily stay here again. The bathroom was really perfect! All small complete bathrooms where you can find everything, they even had some shampoo or body lotion there. What more could you want?
Under the capsules, where you had light and socket, was a big safe where you can put everything. This opened and closed with your card with which you could also open the door of the room. Super convenient, no separate lock etc. which always makes noise but also which you then have to look for in your bag. This access pass was all in one.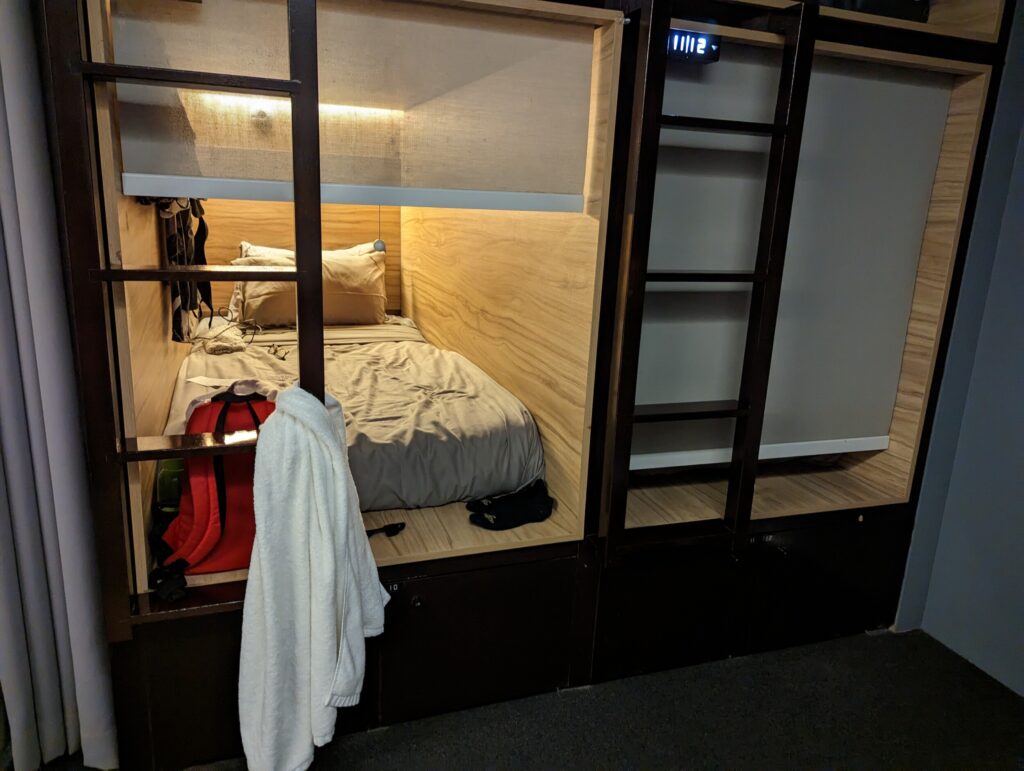 Water from the tap?
The water from the tap in Singapore is drinkable. So bring your own bottle so you can refill it in Singapore's hostels, restaurants. It saves you a lot of money as you don't have to buy bottled water and you are environmentally conscious!
Walking or travelling by metro in Singapore?
In the city of Singapore, I walked a lot. Most of Singapore's attractions and landmarks do lie in a 6 to 7 kilometre circle. I can understand if you're thinking, I don't want to walk that whole stretch back. It's easy to buy a ticket to go back quickly. The card that you can buy for 1 or 2 days to use the subways unlimitedly certainly couldn't work for me. I prefer to walk a lot so that I get to know the city well and that I actually see many streets and buildings. This way, I visited almost all these top 25 tips for Singapore on foot.
On the map below, you can see Singapore's MRT system. You can get to a lot of places by combining the different metro lines.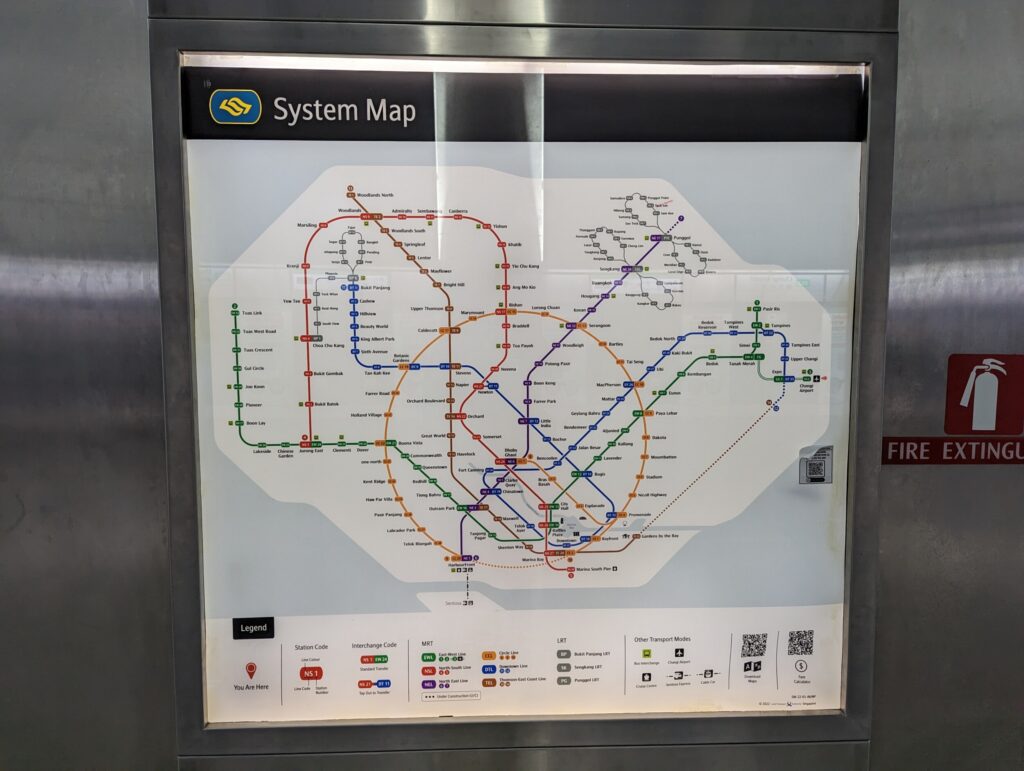 You can buy a card for the Singapore metro, then you can get unlimited travel for one, two or three days. You pay a deposit for the pass, which you get back when you return it. However, you have to do this within a certain period of time. In fact, I wanted to do this after I had spent the two weekend and had not used the card at all. At that time, the period had long expired and I did not get my deposit back. Inquire about this early, saves you a few euros in the expensive city of Singapore anyway.
Tourist Pass Singapore
You can also buy a pass that already includes some of the entrance fees. If you go to different parks and don't want to pay a lot afterwards, this is a good option. I have mentioned many free places to visit in this Singapore travel guide. If you want to visit several parks and museums, check out the different options and passes.
Top 25 Tips for Singapore
Singapore is an expensive city, keep that in mind
Costs Long Weekend Singapore
I didn't keep track of the expenses during my trips to Singapore from Melaka. In that respect, I am a bad blogger 🙂
Ho(s)tel in Singapore
To keep costs somewhat within budget, I only slept in hostels during my long weekend in Singapore. I can tell you that a night in a hostel already costs around 40-50 euros. Anything more you want to spend widens your surroundings. I do have to say that I found the hostels very good and I had a pod, a capsule or whatever you want to call it, at all 3 hostels. So you can hide behind a curtain for a while and lie on your bed reading or take an afternoon nap without everyone walking past your bed seeing you right away.
Food in Singapore
Largely, I ate at food centres like Lau Pa Sat or Peoples Park but also a Korean restaurant. I love Asian food and can't get enough of it easily. Around 10 to 15 euros, I could get a good meal by ordering e.g. Thai Pad Thai or Vegetable with Noodles in Lau Pa Sat.
On the terrace in the Muslim Quarter, I paid maybe just a bit more (15 to 20 euros) but there I also had a lovely street view. Besides, I had a view of the beautiful mosque so it makes sense to pay just a bit more there than in a hawkers' centre.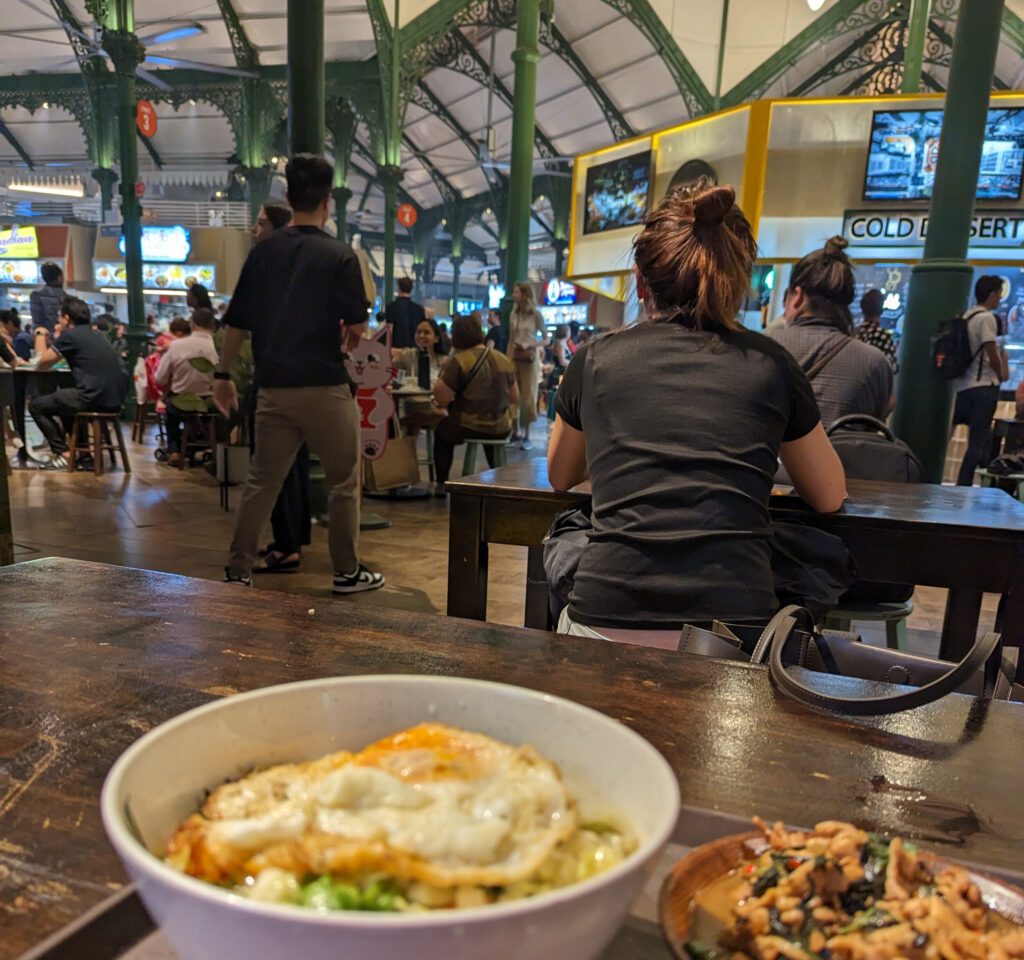 Top 25 Tips for Singapore
All for a Long Weekend Singapore
Do you know any sights Singapore worth seeing?
In this top 25 sights Singapore I already mention many but I must have missed some.
Tell me about them and I will include them in this complete travel guide Singapore.
Tip nr 26 – Sentosa Island
Singapore's Island Getaway with white palm beaches and amusement and water parks. I have not been there but will change that next time too. It's not so much that I want to lie on the beach or go to an amusement park but I just want to see it. It is Singapore's 3rd largest island and you can have a great time there with a family. From the aforementioned Mount Faber, you can take a Cable Car to Sentosa Island. And that cable car, in particular, seems like fun to do sometime. The Cable Car only costs a few Singapore dollars so I could have fun there for an afternoon.
On the island, you have the former Fort Siloso which seems worth visiting. At Fort Siloso, a Skywalk has now been made 11 storeys high and a whopping 181 metres long. Both are free to visit.
There are also water parks, adventure parks a whole bunch of beautiful beaches (laid out). In addition, of course, you can stay in the most luxurious resorts on the island. You could almost realise an entire holiday there.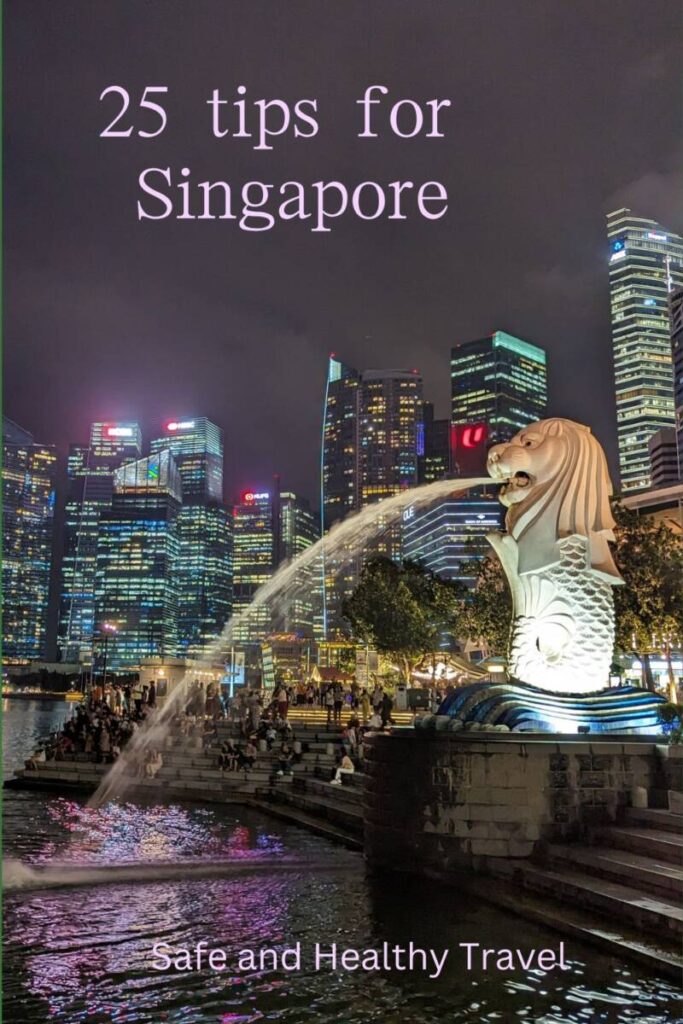 Would you like to read some more?
Tasting the Authentic Nyonya Laksa – Melaka
Hiking on Machinchang Trail on Langkawi Island – Malaysia
Hiking through the teaplantation of the Cameron Highlands – Malaysia 
Snorkeling at Koh Lipe / Hiking on Ko Adang – Thailand
How to avoid a cultureshock – First time India
Cooking yourself in Melaka, Malaysia – Taking a cookingclass Melaka at Teena
I hope you enjoy this beautiful world as much as I do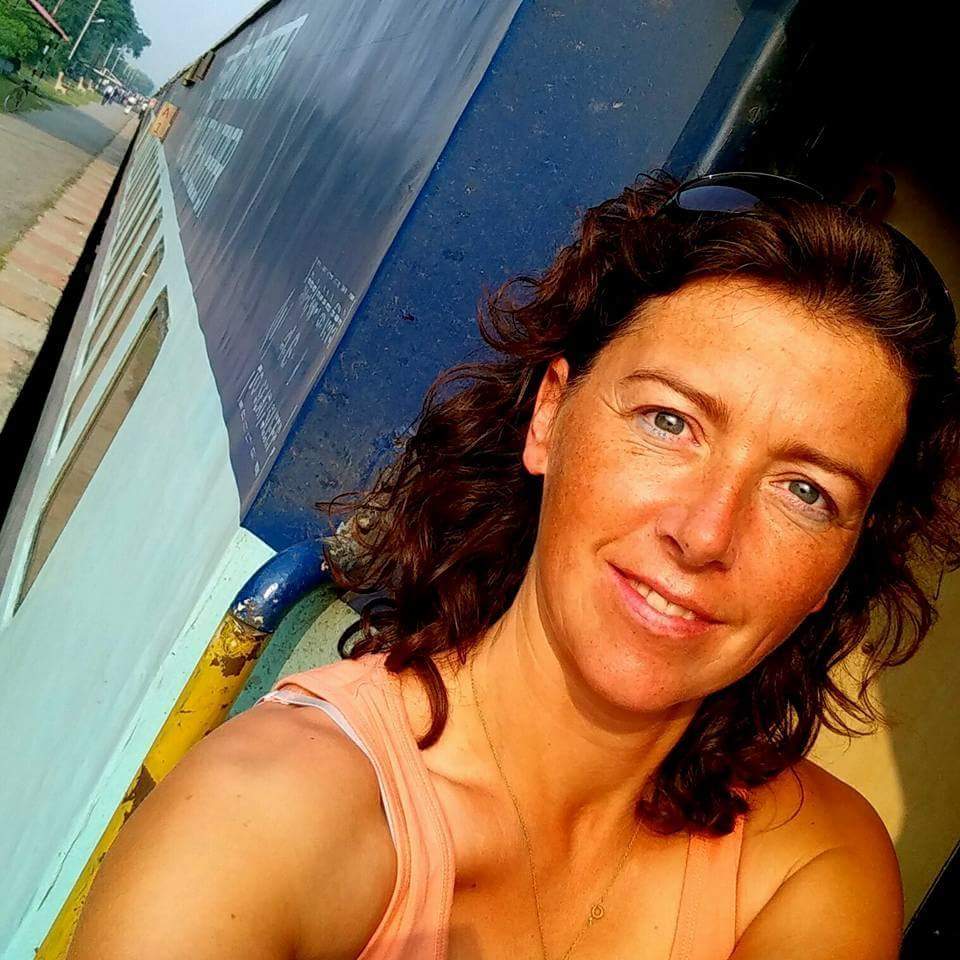 Jacomijn is een politieagent uit Nederland die jou graag laat zien hoe je veilig, actief en gezond de wereld kan over reizen. Safe and Healthy travel is a MUST