Getting my Open Water Divingcourse, Koh Tao – Thailand
|
Every traveler/blogger that has travels to Asia has more then enough to show on Thailand.
I haven't got one blog to tell you about Thailand but I do love that country. My first trip to Asia was one with my dad to Thailand, already 10 years ago. At that time I didn't blog about traveling and were the pictures not yet digital….not for me at least 🙂 I do have some old pictures….but they're so bad… *shame*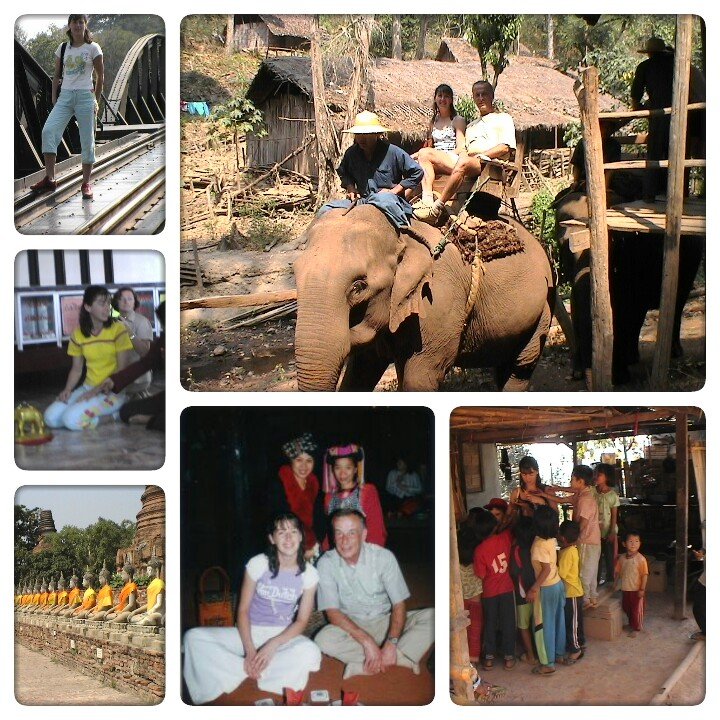 My dad and me in Thailand, 2005
In 2014 I did go back to Thailand. After traveling in Myanmar for almost a month I went to the island of Koh Tao to take diving lessons.
I flew to Bangkok and after spending a day in the capital I went with a nighttrain to Chumpon to get a ferry to the island of Koh Tao. I was picked up by a friend who accidently was there, great reunion because we don't see eachother at all in Holland…we met at a trainingcourse from our work.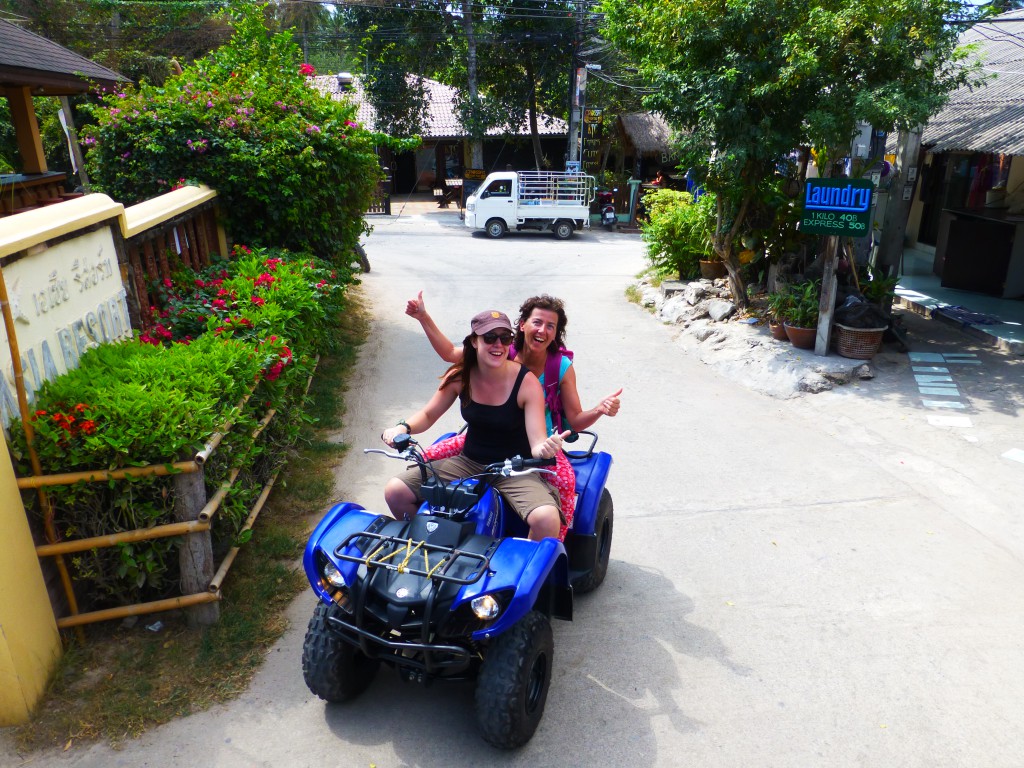 I booked a resort after spending almost a month in Myanmar in not all of the best but good hotels. But I really wanted to swim and relax…and at Asia Divers I could really do that! I booked a diving course the same day and it started the next day.
We got to see a movie with all the knowlegde we should know and got to learn in the upcoming days. We had a small group. 3 other guys and me….so that's nice. They were also very serious about learning but had humour to go with that. Very nice combination!! Also our instructor James was a great guy, also humourous but serious when needed.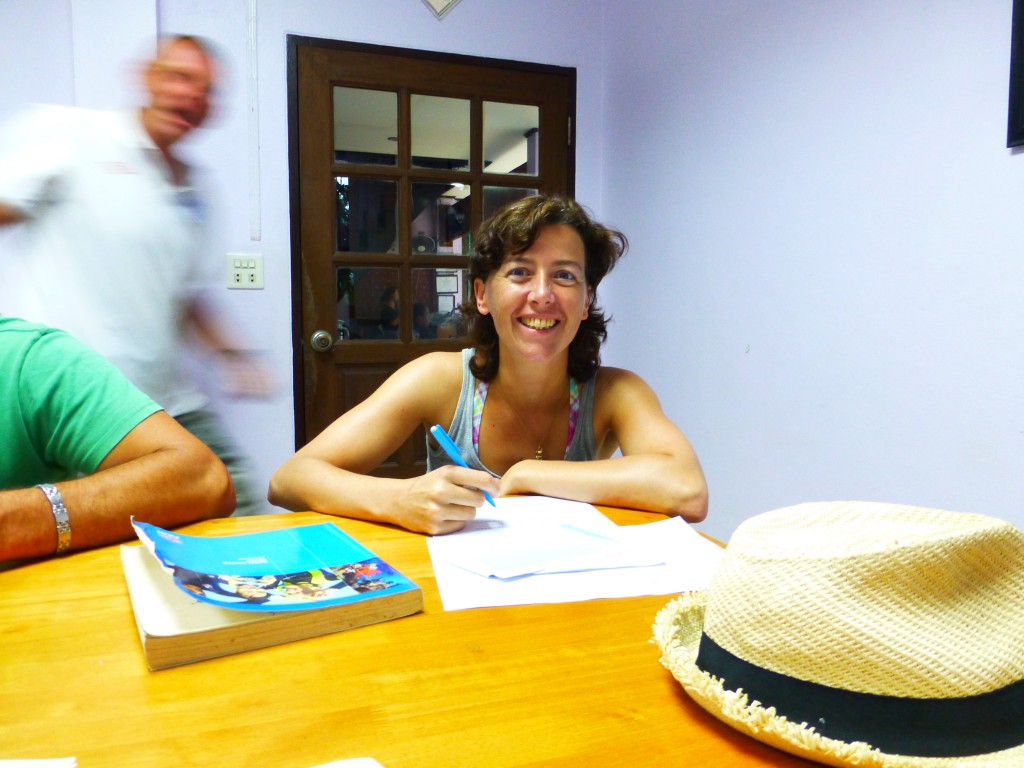 James is trying to get into the picture also 🙂
That first night after the movie we had to make a lot of questions and early next morning we had to be at the pool to get our wetsuite and divinggear matched to our body. We started to practise some floating and being stable under water. It was a bit hard in the beginning but after a while, when you get your weights good, you will get there.
Open Water Divingcourse
In the afternoon the guestions were rehearsed and we got new ones. And the last part we got as homework for the next day. It were two long days with a lot of information to handle.
The next day, day three of the course we would go to the ocean!! But first….the morning rehearsing the last questions we had to make the night before.  We got some tests and things were falling into place. I started to see how you can calculate the timetable. That has to do with your blood, the oxygen and other substances you don't want in your body or at least not too long because it can be toxic after a while. So that's important to know. And the timetable is always there to consult so you don't have to know by heart.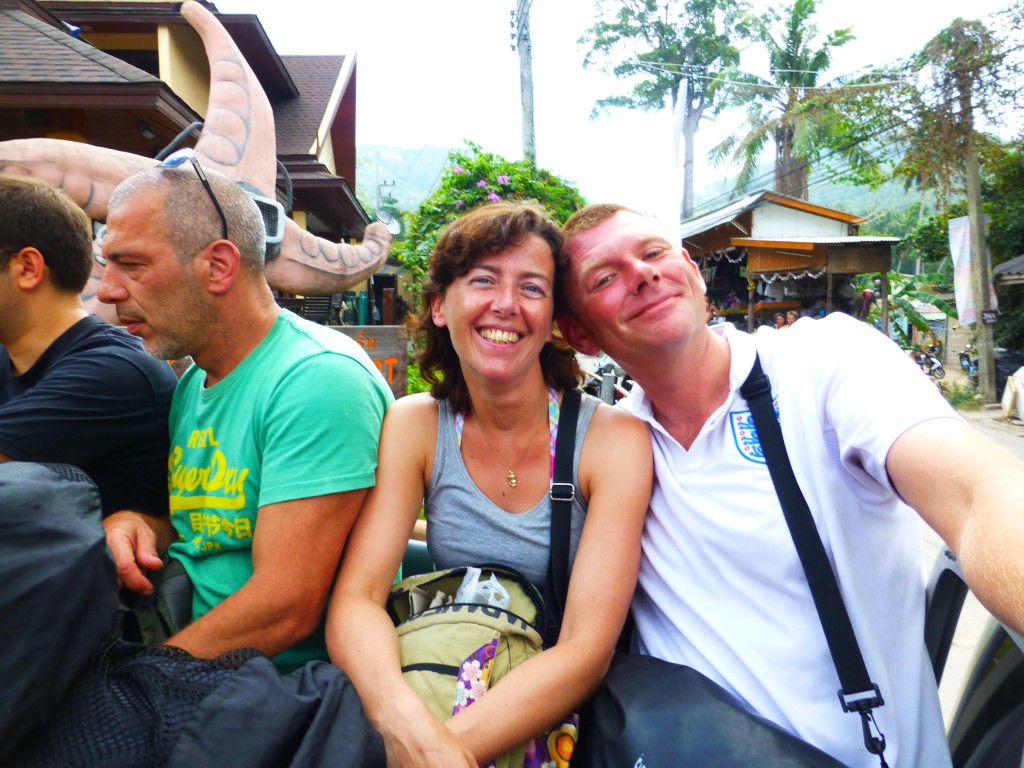 On our way to the ocean, first time!!
So finally on that third day we went to the ocean and went in!! I thought it was kind of exciting….I really don't like fish.. It's not that I panic…as I  did when I was a kid..but still don't like the fact that a fish can touch or even bite me. I did swim by myself, without protection…only wearing a bikini, in Vietnam the year before. In the ocean from a boat to a place to see the coral. At the time that was a victory for me and I was out of breath and a bit scared but I did it!!
I loved the Open Water Divingcourse
On the Island of Koh Tao

I did tell James about it, just in case… We went down, holding on to a rope to descend slowly. After a couple of metres I did see some fish. The nice white and yellow coloured ones. I was inspecting them…..and they were inspecting me. So nice! They stayed away from me and ofcourse I stayed away from them. I realised it would be okay 🙂 I was just breathing normally and didn't panicked at all. I also was wearing a suit, short sleeves but still…
That first dive was great. We started to do some tricks on the oceanfloor like sitting down and staying put on the same hight, just to get your balance and get the right weights on you. Also did all the signals which we learned for oke, not oke, going up or something not good with air and so on. And after that we just went swimming and enjoying the surroundings. We saw multiple fish and coral in all kinds of great colours! What a different world it is. There is nothig to compare with the on land version as we know it. I loved it. We did two dives at different locations and meanwhile James was explaining what we had seen and done. And we were enjoying the boattrip and the nice view! It was a great day!! (One dive was at Mango Bay and I went down 8 metres and the second dive I went down 12 metres.)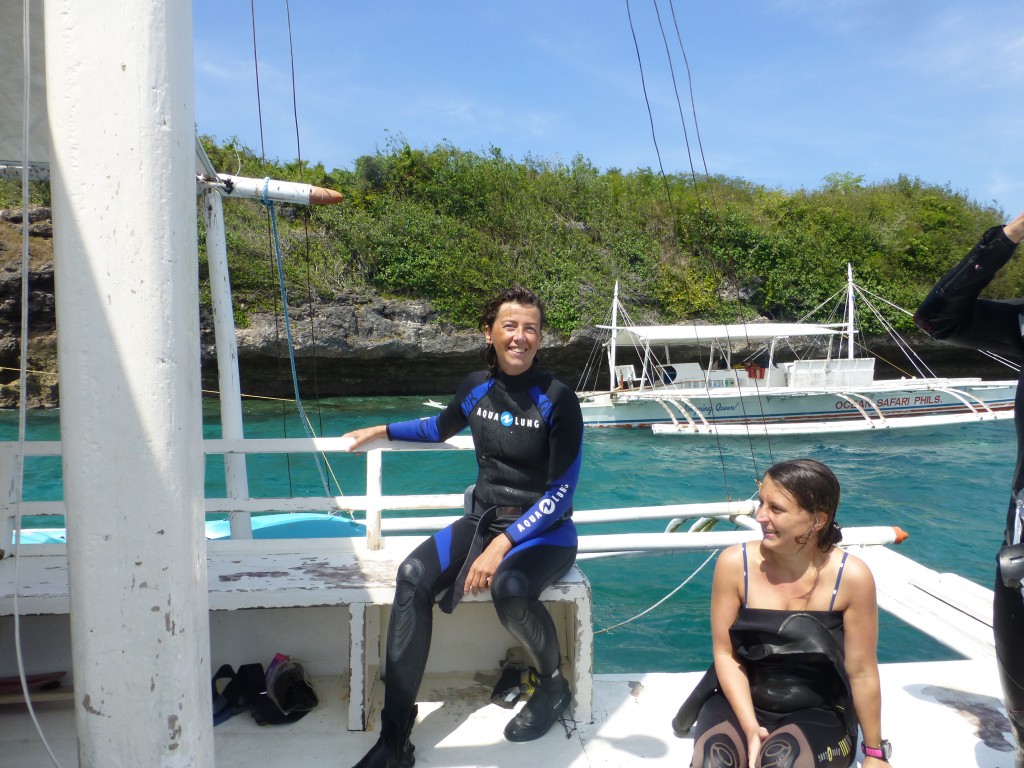 At Moalboal, The Philippines (longsleef suit)
And then the last day, just a morning programm. We would go do 2 dives and because it was the last day they had a professional filmmaker hired…. He would make a movie which you can buy ofcourse!! We had to rehearse some things to make it a nice movie. For a start we had to jump into the ocean with a forward summersault. It was kind of easy but I  thought it would be hard with all the gear on your back 🙂
 Open Water Divingcourse
Also on the oceanfloor we did a dance and took off our glasses to put on sunglasses.. Well…everything for a nice film 🙂  But we did some nice diving too and saw some great fish and I spotted a moray eel between the rocks. Great to see those fish/animals in their natural habitat. I also like the starfishes in all kinds of great colours!!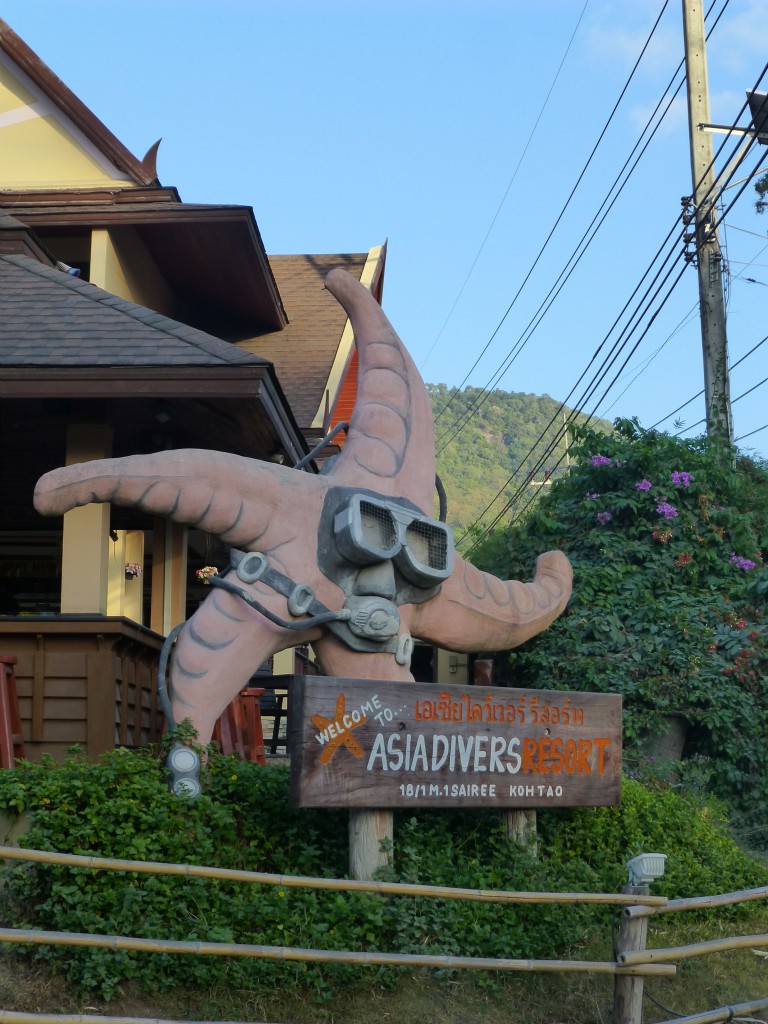 We all passed the class and got our open water pass!!!
Congratulations to us!!
I loved my classes & getting my Open Water Divingcourse – Koh Tao, Thailand

Unfortunately I don't have any pictures of these dives but I did took some dives later on in this SEasia14 trip in The Philippines and got some pictures of the codivers there.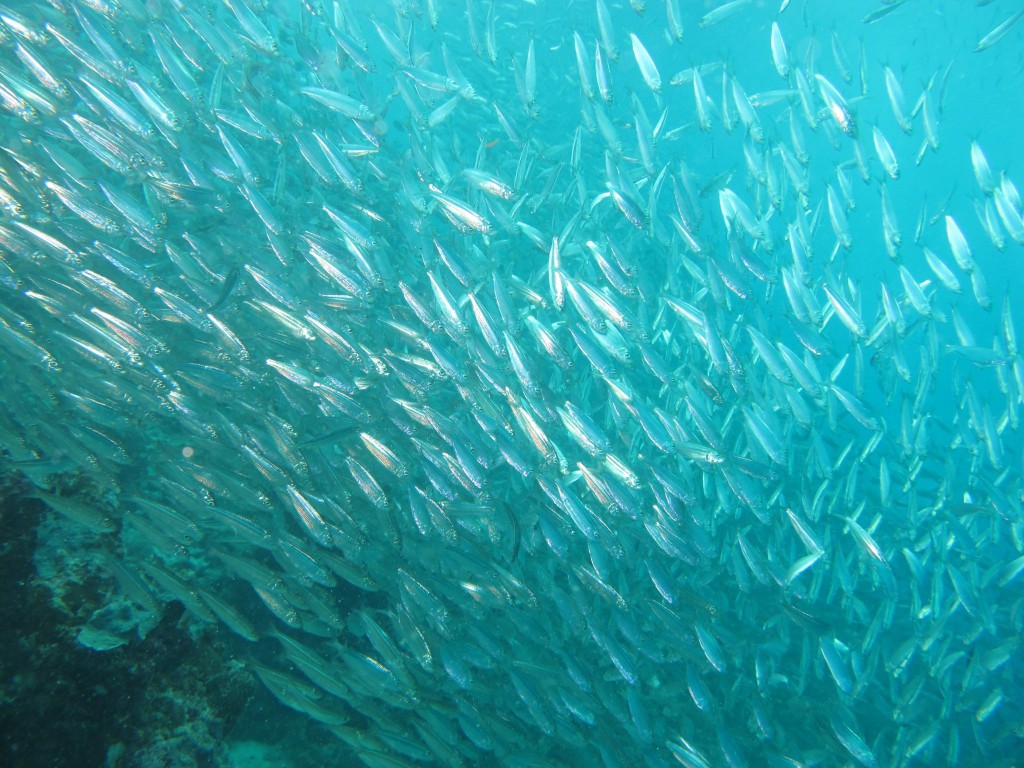 In the Philippines I took a dive in between a school of Sardines, great!!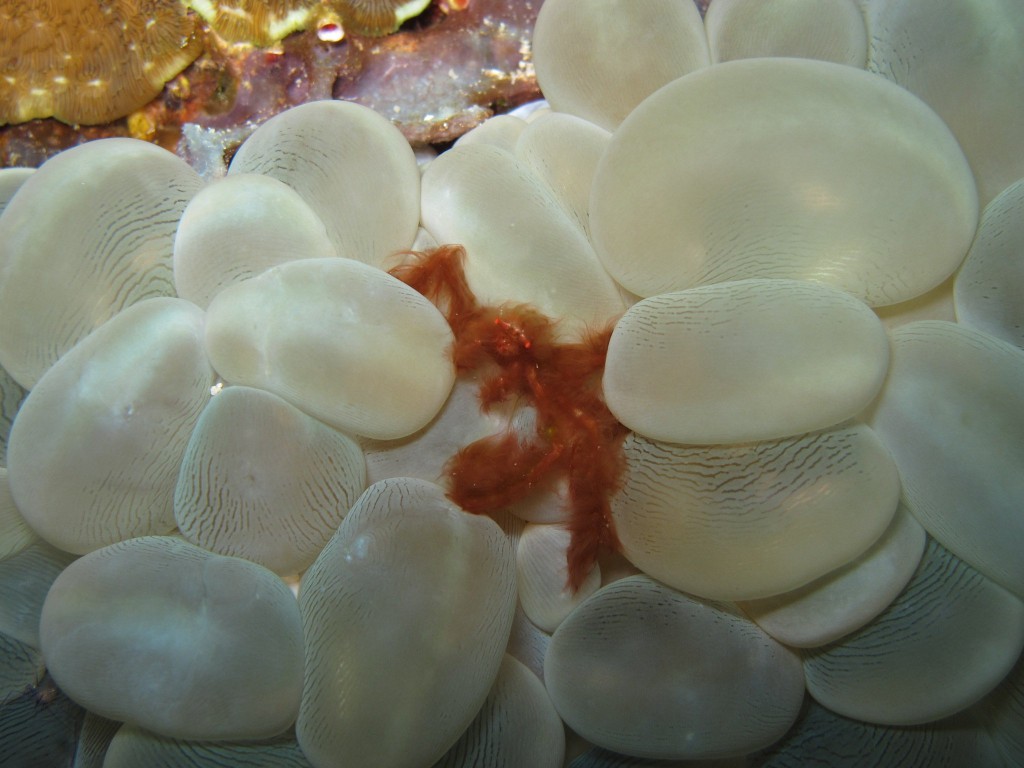 We also saw this Orang Otan Crab 🙂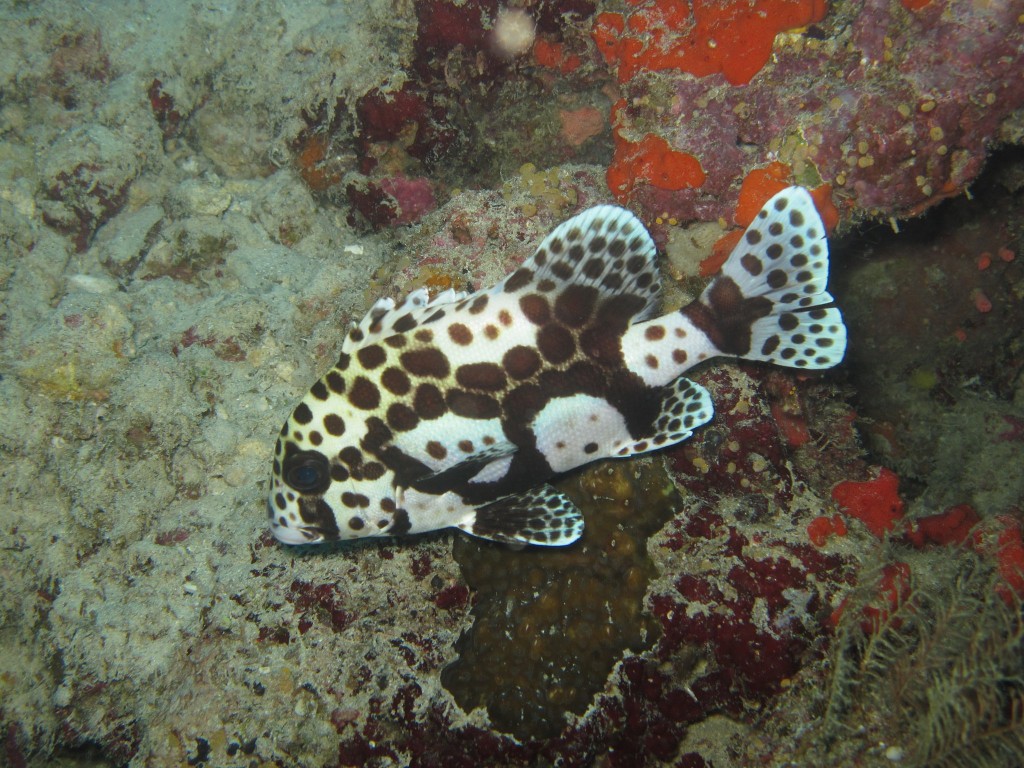 A panther fish
I have made some dives since then…but don't have a camera. I did manage to get some great pics of fellow divers and so could produce a great post about diving at the number 1 spot in the world according to CNN travel!!
Diving at the #1 spot in the World : Sipadan
Are you curious about my other travels? Check these out!!
3 Days Exploring the Khao Yai NP
Cookingclass at Silom – Bangkok
Or explore other asian countries:
Walking the Canopy in the Taman Negara – Malaysia
Or check out these apps!

I hope you love this world as much as I do!!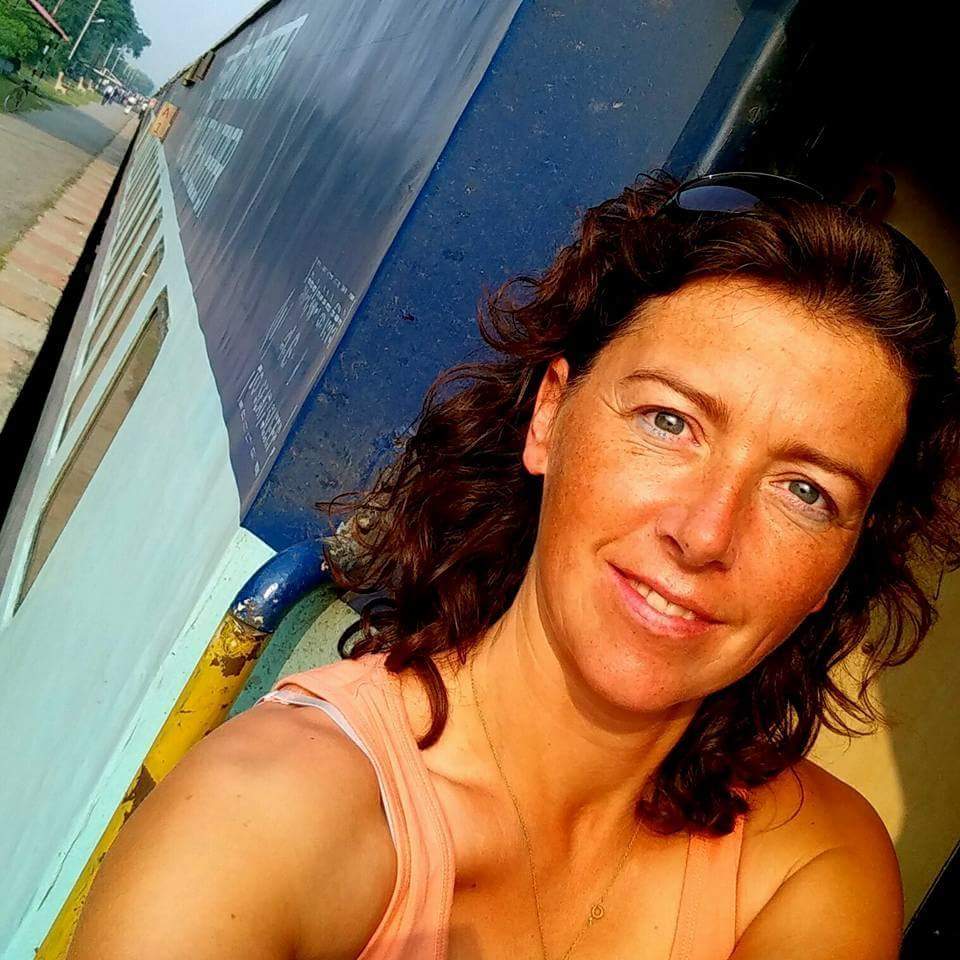 Jacomijn is een politieagent uit Nederland die jou graag laat zien hoe je veilig, actief en gezond de wereld kan over reizen. Safe and Healthy travel is a MUST