Hiking in a Wadi – Oman & Jordan – Adventurous hiking in the Middle-East
|
Hiking in a wadi, do you have an idea of what it is like? In 2019, I hiked in a wadi for the first time, the Wadi Shab and Wadi Tiwi. From then on, I can tell you I was a fan! What cool walks, what adventurous hikes! In October 2021, I went to Jordan for over 3 weeks and then went to Oman again. I went hiking in a wadi again during those trips. I hiked in several wadis and became more enthusiastic!
Adventurous hiking in a Wadi
Have you ever been hiking in a wadi?
Imagine hiking on a winding path in a gorge, nice breeze and adventure climbing and scrambling over all kinds of rocks. And as a highlight, the most beautiful turquoise blue water awaits you at the end where you can take a lovely dip. Warning: You will also be a fan of hiking in a wadi after reading this blog!
After 2 countries and something like 5 or 6 wadis, I obviously cannot say that these are the most beautiful wadis but I can assure you that some of these are definitely somewhere in the top 10. I will briefly touch on all of them and then you can think for yourself after this if you too will plan a holiday around a wadi 🙂
Adventurous hiking in the Middle-East
Wadi Mujib – Hiking in a wadi in Jordan
Wadi Mujib is one of the most beautiful wadis I have hiked. It is a short walk and you walk and wade through the water a lot. The colours of the water but also the colours of the walls around you are really amazing. The hues on the high walls make the whole thing really super mysterious.
All the layers of all the years stand out from each other and so you cannot escape the fact that you are walking in a piece of ancient earth here.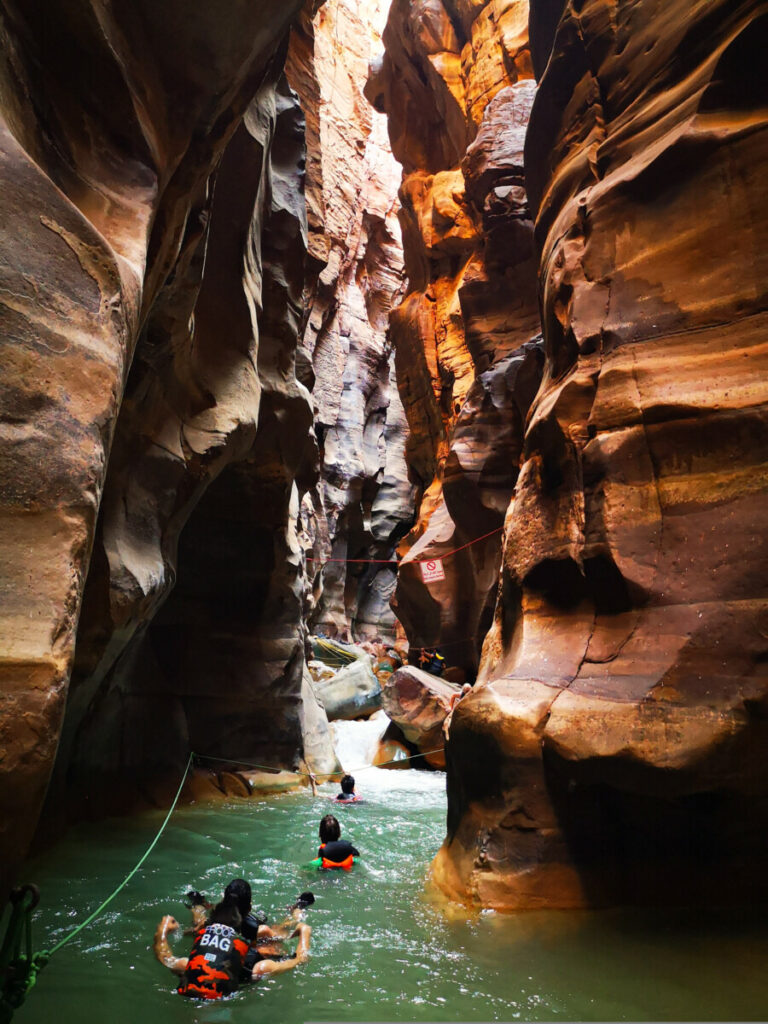 If you are in Jordan near the Dead Sea, you can go to the lowest point of this wadi. You pay an entrance fee and then get a vest and can take a walk of over half an hour into the wadi. You then come to swim, climb and scramble up into the wadi to face a waterfall at the end. The way back is the same only instead of climbing and scrambling you can descend… That, of course, includes a fun slide.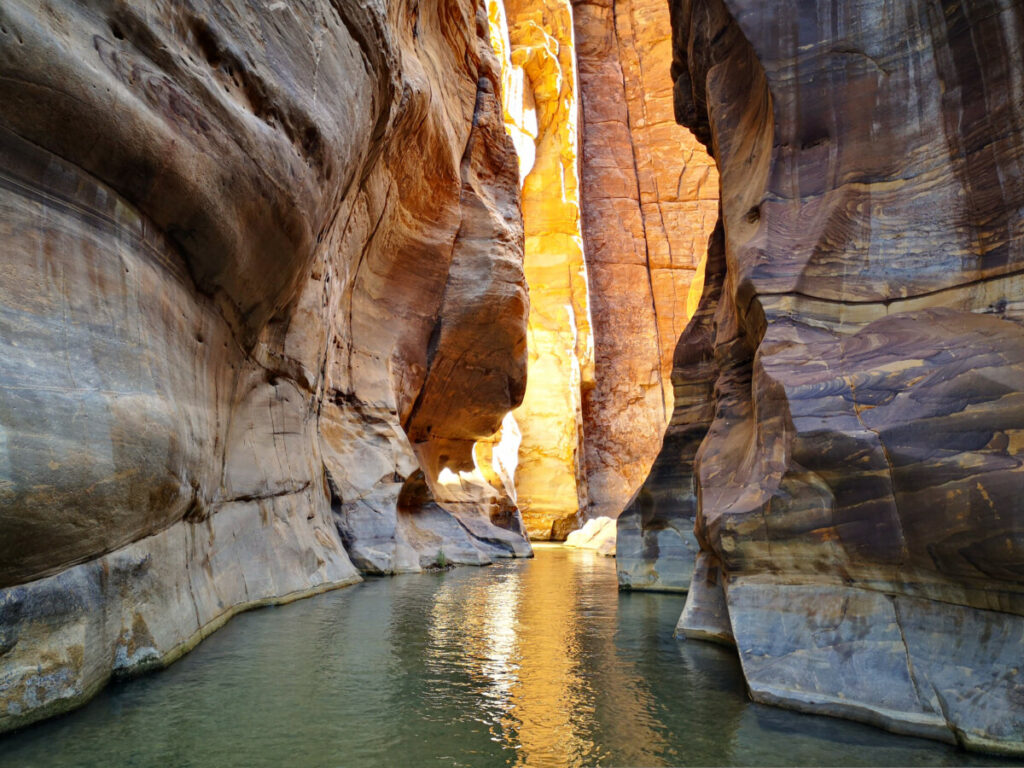 I loved walking and swimming there.
The colours of the water and the gorge are downright amazing!
Wadi Bin Hammad – Hiking in a wadi in Jordan
This wadi can be reached by going high into the mountains. The road to it alone is a challenge with distant views of the surroundings. In the wadi itself, the water definitely does not rise higher than just above the knees and you can focus more your attention on the flora and fauna. I saw many birds, frogs and crabs there but the hanging gardens are also great to see.

Een heerlijke middag door brengen in deze kloof is zeker een aanrader!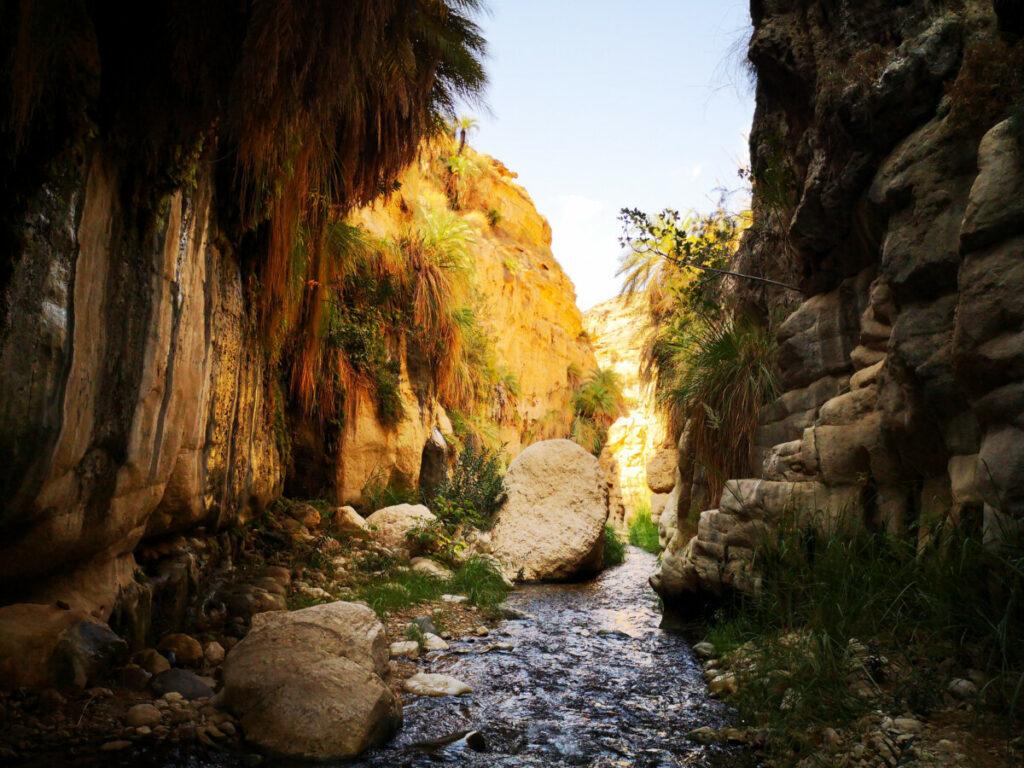 Because you get more walking here and there is a lot of greenery to see, you can't compare this wadi to the aforementioned Wadi Mujib at all.
I made a clip of this afternoon's hike. Check it!
I don't make super many videos but would of course love it if you click subscribe.

Hiking in a wadi in Oman
Where I was first introduced to a wadi was in Oman. I immediately loved it and resolved to hike this adventurous way more often. The first introduction I had to a wadi was to Wadi Shab.

Wadi Shab –  Hiking in a wadi in Oman
You start this challenging hike by boat. First, you will sail across the water and then you may embark on a 45-minute hike between the high walls of this gorge. The views this entails are truly amazing. From palm trees and beige rock walls to white rock walls with green/blue water below. Behind every bend you get another great view with a nice winding path which takes you further and further into the wadi Shab.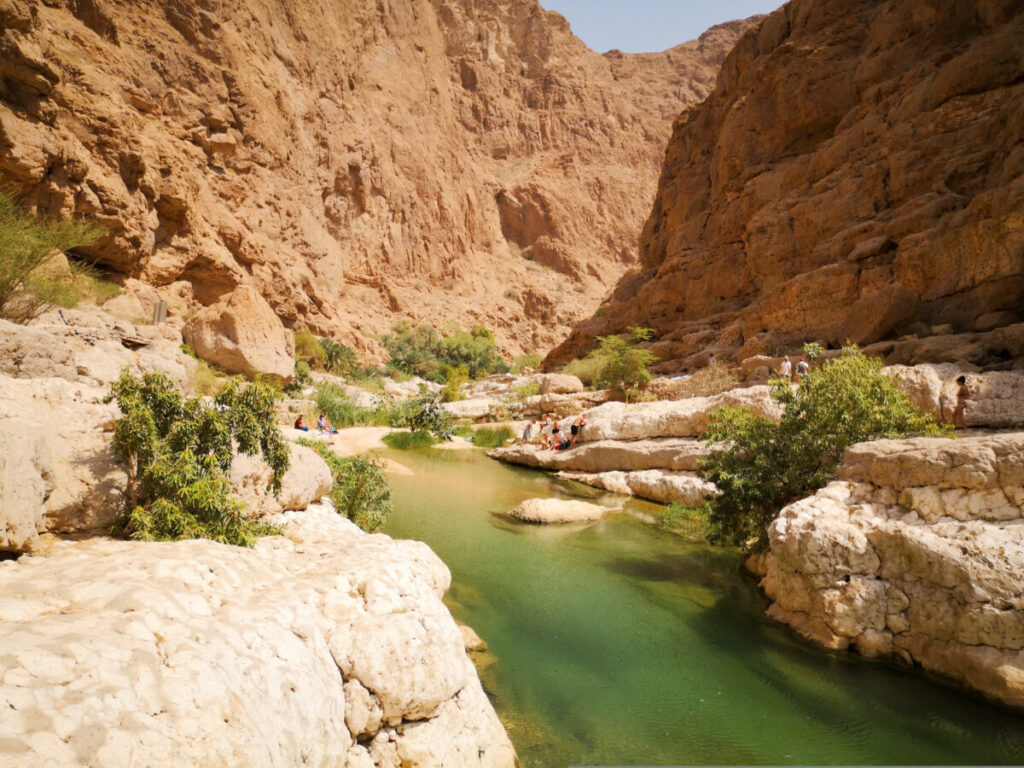 The highlight for me is really the last swim of about 150 to 200 metres where you eventually have to go through a narrow passage to get to a beautiful waterfall. If you are lucky, the sun shines in and gives you the most beautiful sunrays along the waterfall clattering down.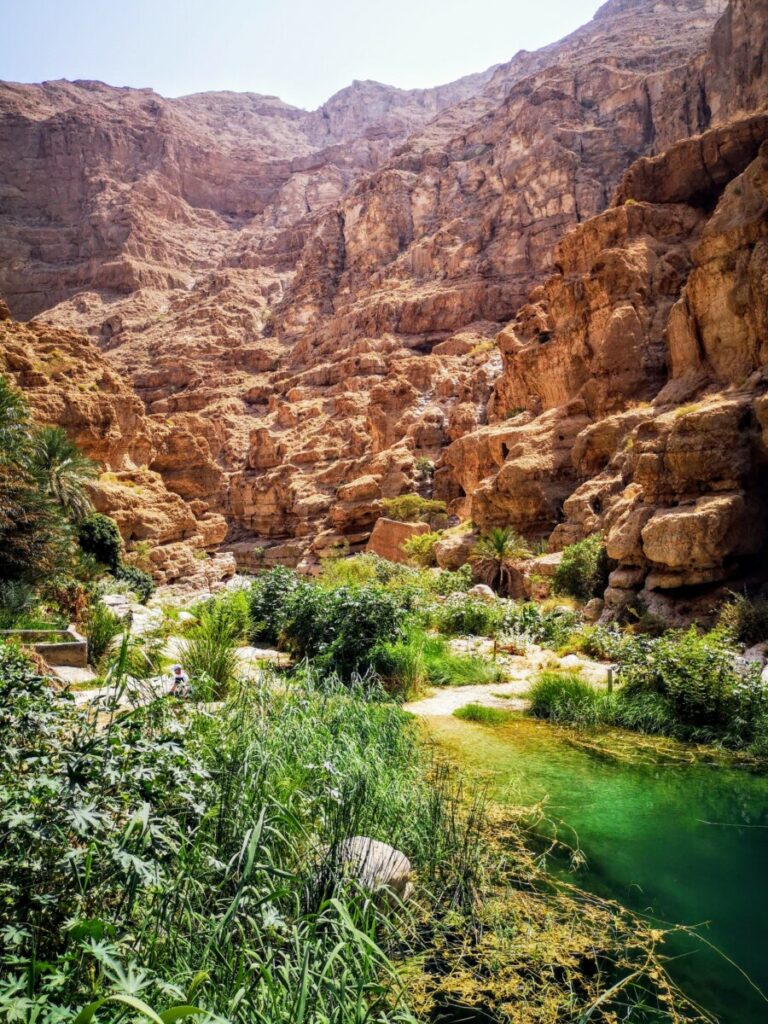 I previously wrote an extensive blog about this walk in 2019 – Wadi Shab
Adventurous hiking in the Middle-East
Wadi Tiwi – Hiking in a wadi in Oman
The wadi Tiwi had high water when I was there so I didn't make it all the way to the end but what a great challenging hike. I wouldn't have wanted to miss the views of this amazing area. Down a rope along the cliff face for a lovely swim. The slide further down seemed to go just a bit too fast for me so I didn't think I would get back on it and so we decided not to continue. Who knows one day?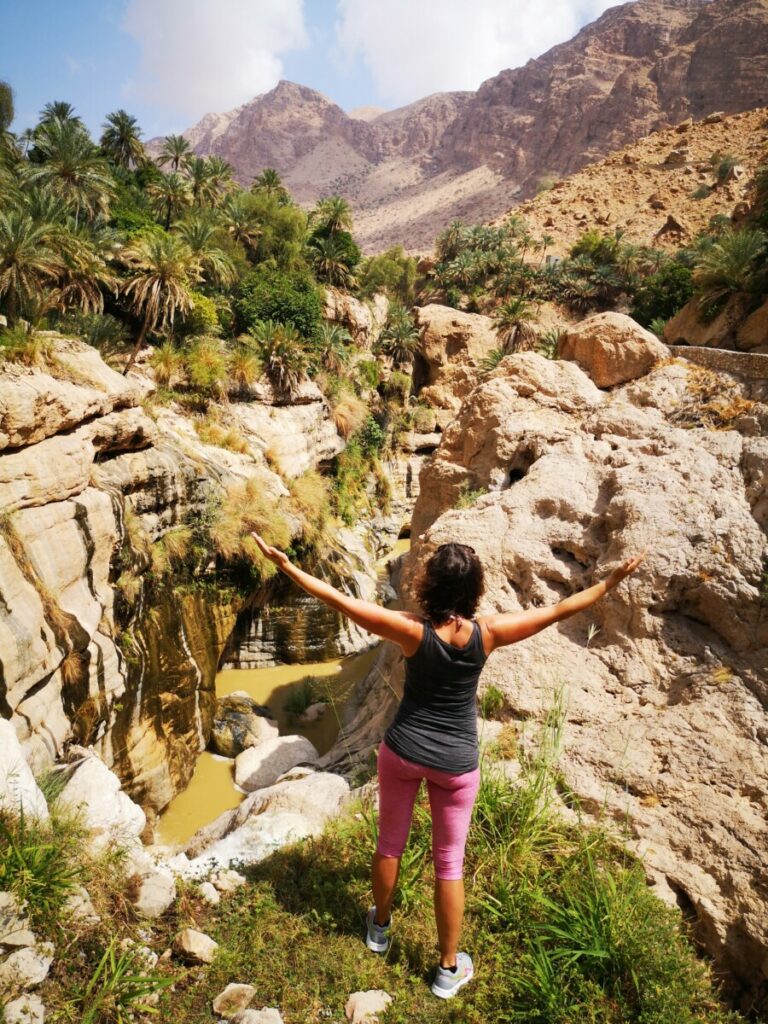 Since this hike has a bit more climbing and scrambling, we chose not to include it in the 10-day round trip. Who knows, I might come here again one day and go all the way to the end. Also, the water should be clear blue when the weather is calmer.
Then, of course, it would be even more wonderful than I already thought it was.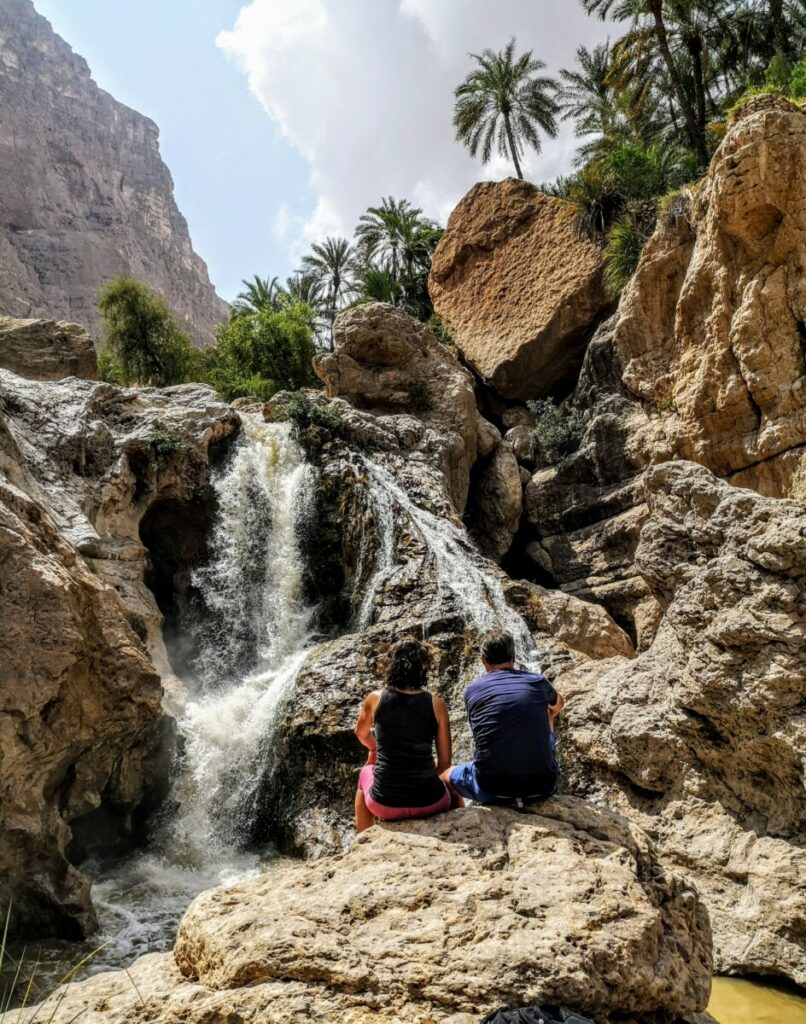 However, the views I had in Wadi Tiwi are the most beautiful ever!
Wadi Dham Dam – Hiking in a wadi in Oman
A nice walk through yet another beautiful gorge brought us to a water where we sunbathed. A very good combination of active and relaxing…. A day enjoying the time and surroundings is also very good #mindful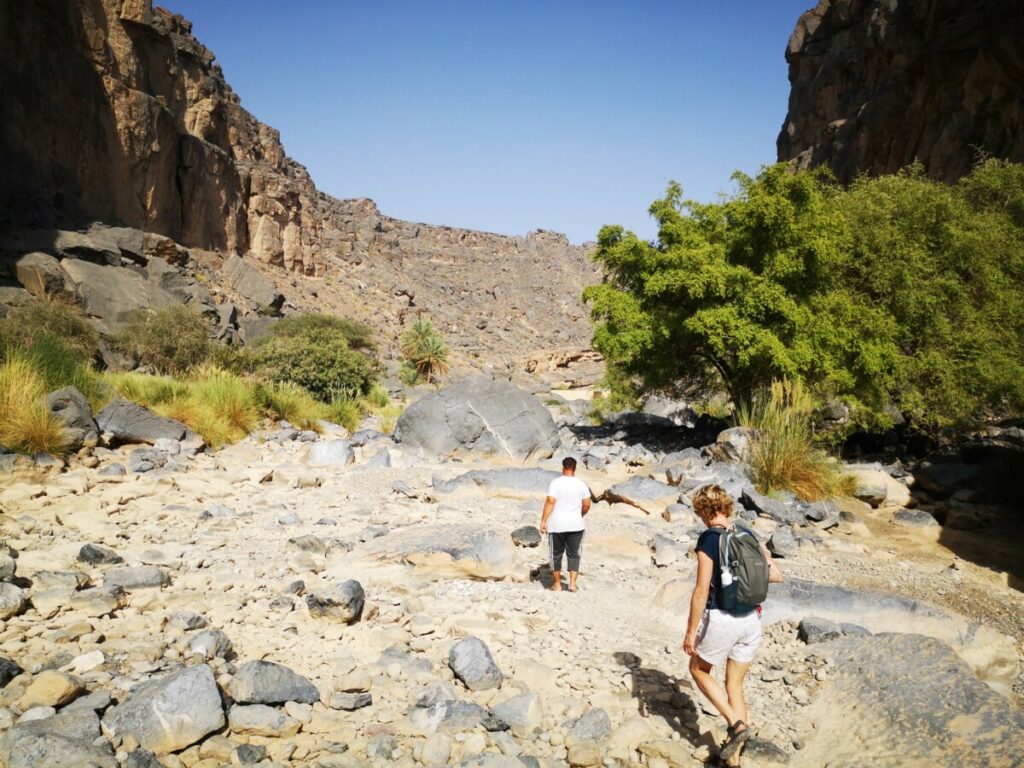 A wadi sometimes has lots of water and sometimes less. This one was partly dry and so you get a nice walk over or under rocks. A walk in a wadi always gives you an adventurous feeling.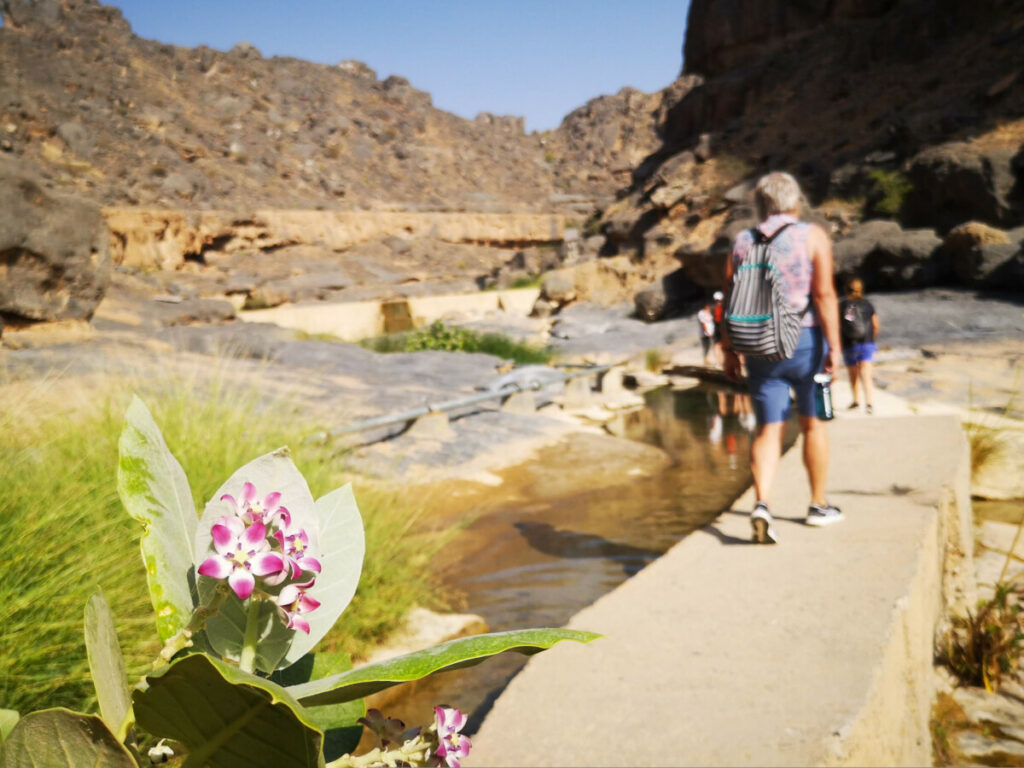 Wadi Bani Khalid – Hiking in a wadi in Oman
If you can't miss 1 wadi in Oman, it's the Wadi Bani Khalid! But know… you have to walk a long way into the wadi to start swimming back there. This wadi is all about clambering over rocks while swimming, jumping off and possibly going under them. There are always alternatives like walking past them, not jumping but sliding etc. You can make it as adventurous as you like.
I took the most adventurous route at 1 of the jumps, doing a somersault backwards. And I was happy to experience that I could still do it at 47! Next time I'm going to have a video of it made, I'd like to share that proof with you then 🙂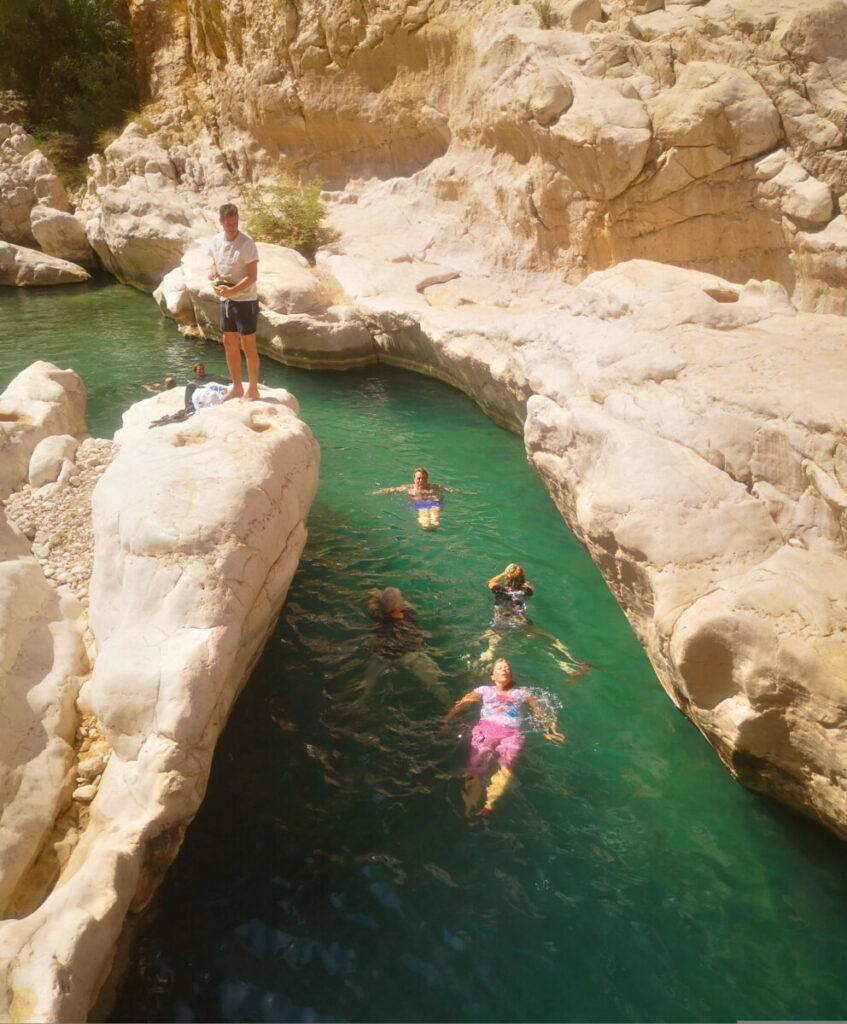 Most people/tours start swimming earlier and then you just don't get that full experience! This is of course saving time and if the focus of your trip is not adventure but culture and distance making….  But if you travel with Abdullah and me you can definitely expect that full experience. Climbing over rocks, jumping from a rock and swimming under passageways to finally emerge in the wide part where you can climb back out of the aqua blue water to enjoy and dry up on the rock for a while.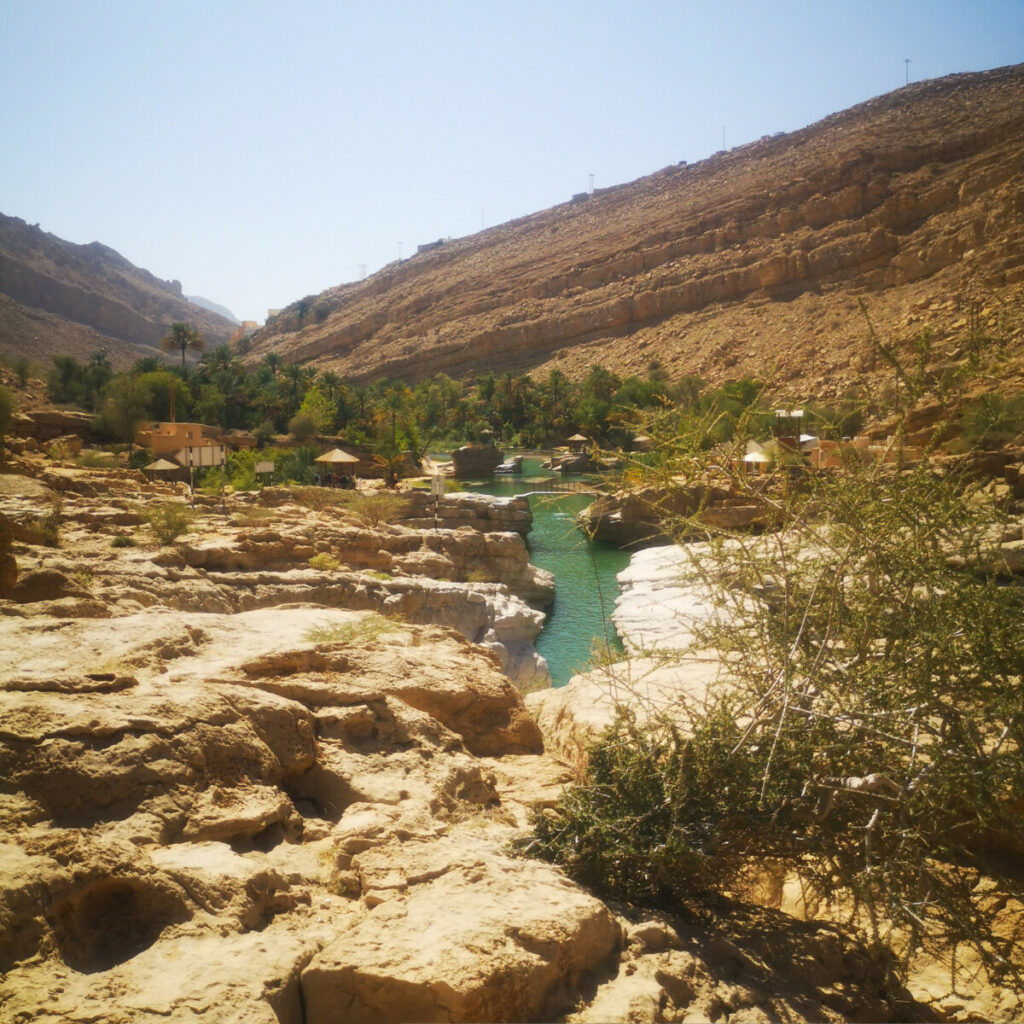 Since it is crowded here also with local tourists, you are expected to go swimming fully covered. That means covered up to over the knees and shoulders.
Hiking in a Wadi – Oman and Jordan
Adventurous hiking in the Middle-East
I hope that after reading about these cool hikes, you have got the itch yourself and start making plans to hike in wadis too. If you need any information, or would also like to book the trip in Oman through Abdullah, I would be happy to help!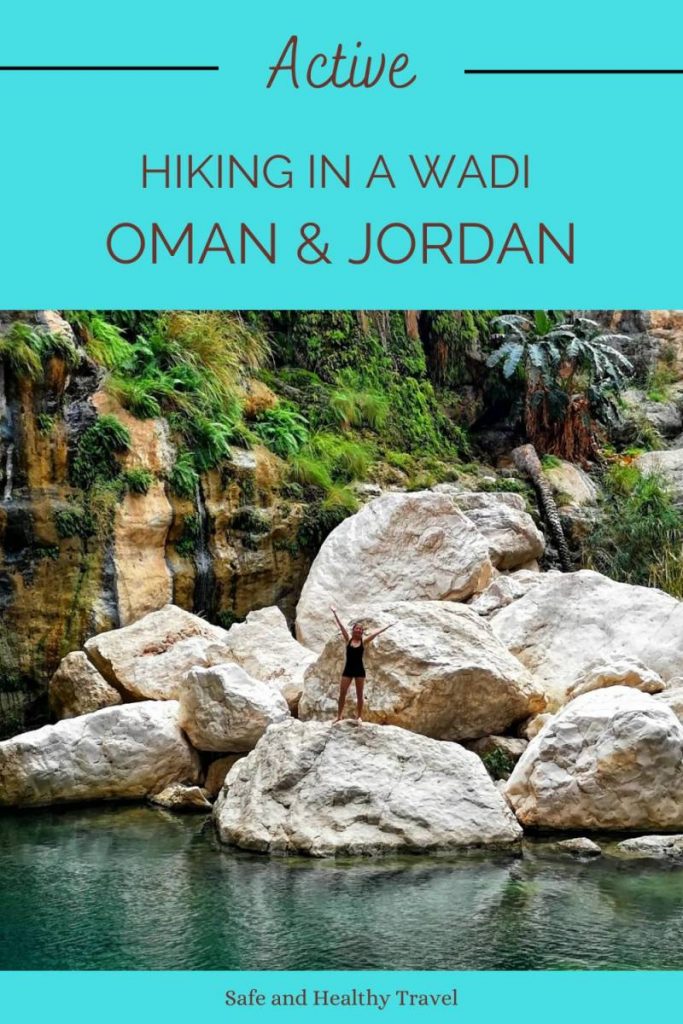 Will you share this blog for others to enjoy?
Want to read more?
Visit the great and impressive desert the Wadi Rum – Jordan
Visit the Ruins of Jerash – Once a prosperous city
Travel Guide Abu Dhabi & Dubai
Floating in the Dead Sea – Israel
Or go hiking in the beautiful Dana Biosphere Reserve!
Hiking in Dana Biosphere Reserve – Get the best views in Dana, Jordan
I hope you enjoy this beautiful world as much as I do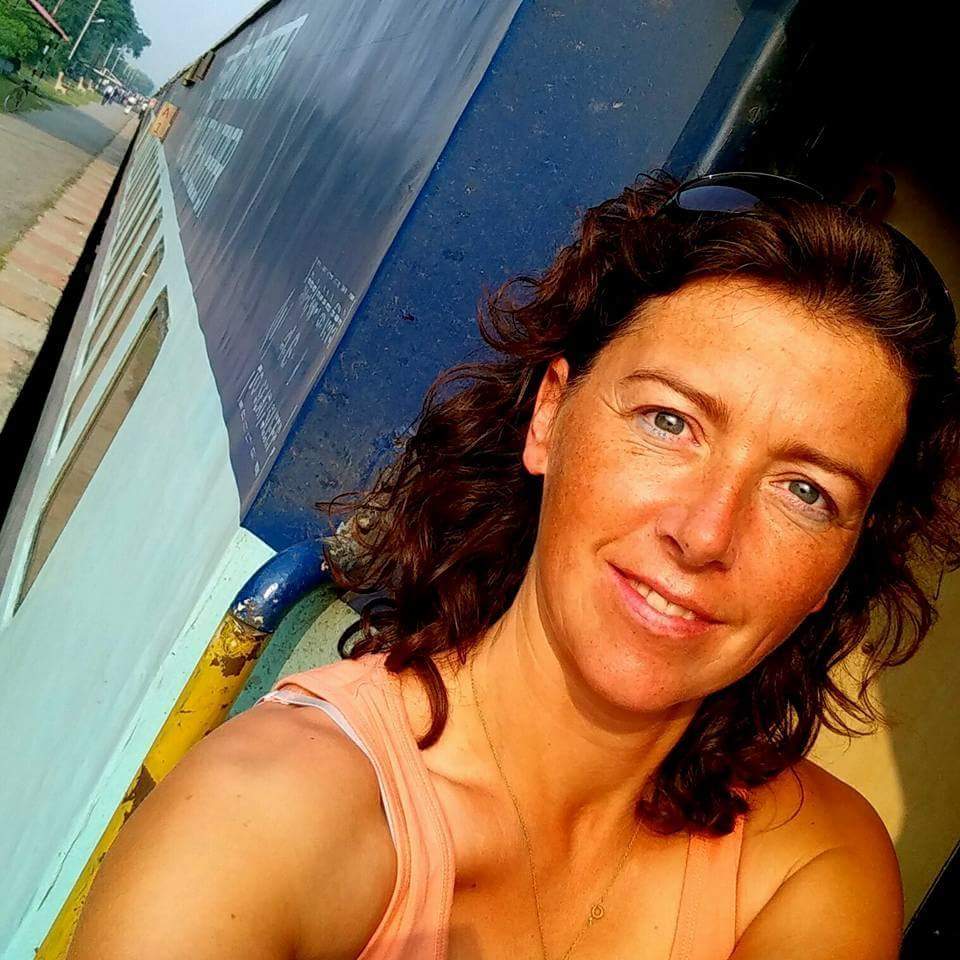 Jacomijn is een politieagent uit Nederland die jou graag laat zien hoe je veilig, actief en gezond de wereld kan over reizen. Safe and Healthy travel is a MUST