Hiking the Alpe Adria Trail – Mallnitz E7 to Seeboden am Millstättersee E11 – Austria
|
The Alpe Adria Trial, a long-distance walk in Austria that I can really recommend. I have walked 19 stages so far and I am almost halfway. If you are also looking for a hiking adventure of several days and you like the Alps, this is the perfect choice if you ask me. Read more about my first week: Kaiser Franz Josefs Hohe to Mallnitz. After Mallnitz we walked further to Obervellach, read more about this cool 5 days hiking the Alpe Adria Trail adventure here!
Mallnitz E7 to Seeboden am Millstättersee E11
Did you know that the entire Alpe Adria Trail is 750 km long? Starting in the Alps at Kaiser Franz Josefs Hohe (Gross Glockner) to the Adriatic Coast in Slovenia. And yes, you walk in several countries if you hike it all the way. From Austria you go briefly into Italy and then you end up in Slovenia.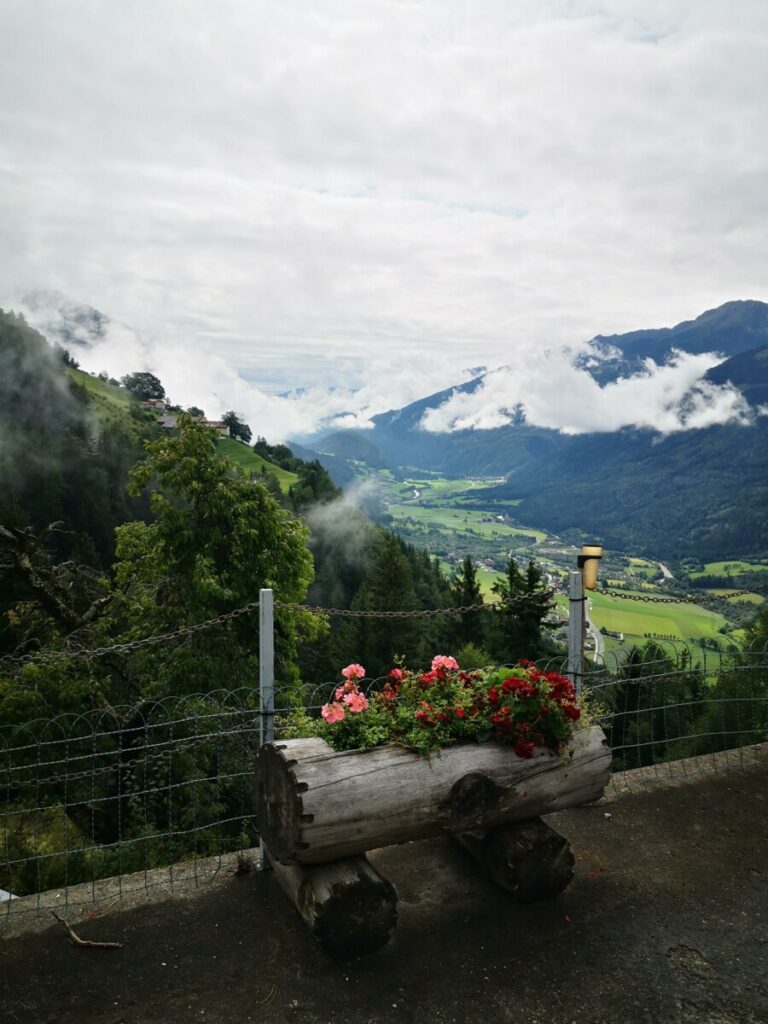 We started on stage 7 during these last 5 days of hiking the Alpe Adria Trail.
Stage 7 Alpe Adria Trail
Mallnitz to Obervellach
This stage is 17.8 km and will take you around 6.00 hour.
Climbing: 238 meters and declining 738 meters
Difficulty of this stage is easy
Overnight stay at Pension Haus Molltalleitn
That morning we walked to Mallnitz, super nice town with a beautiful park and square. After this you walk to Stappitzer See, on the map it looks like you walk back and forth for a bit and then pick up the route again. That is a very short distance and definitely worth doing. It is a beautiful river that you walk along, super clear water and the lake that lies in the valley is also a real mirror. At the point where the route comes together again, you can buy a nice cup of coffee and sit in the sun on the terrace. A fine and beautiful tourist spot.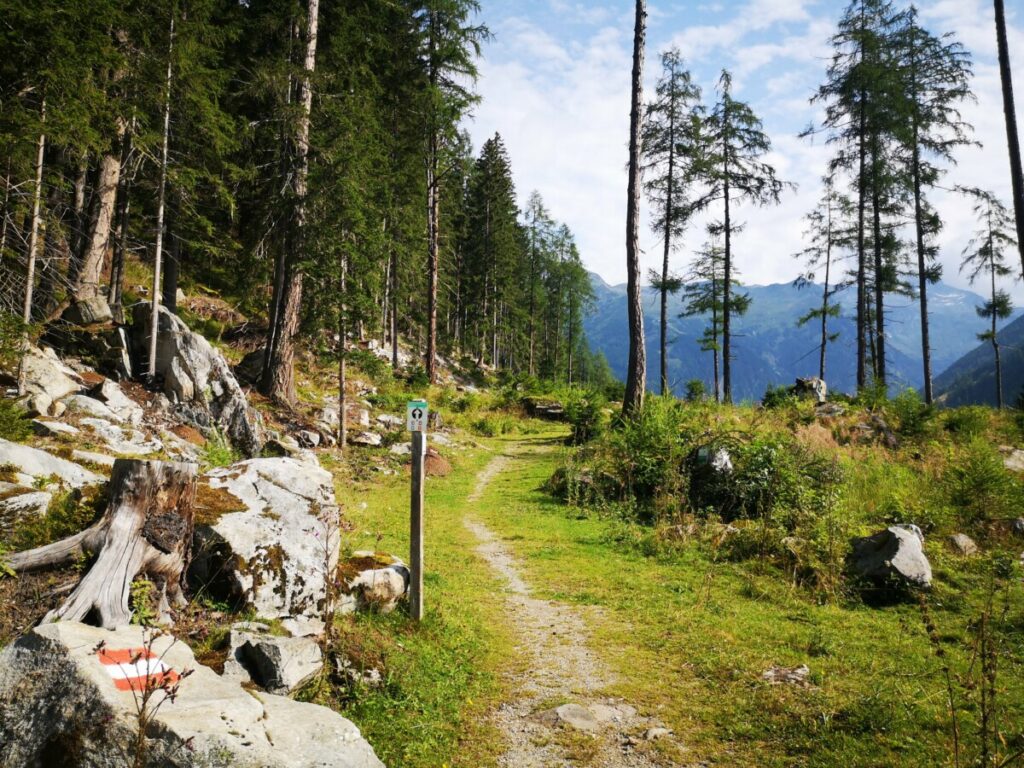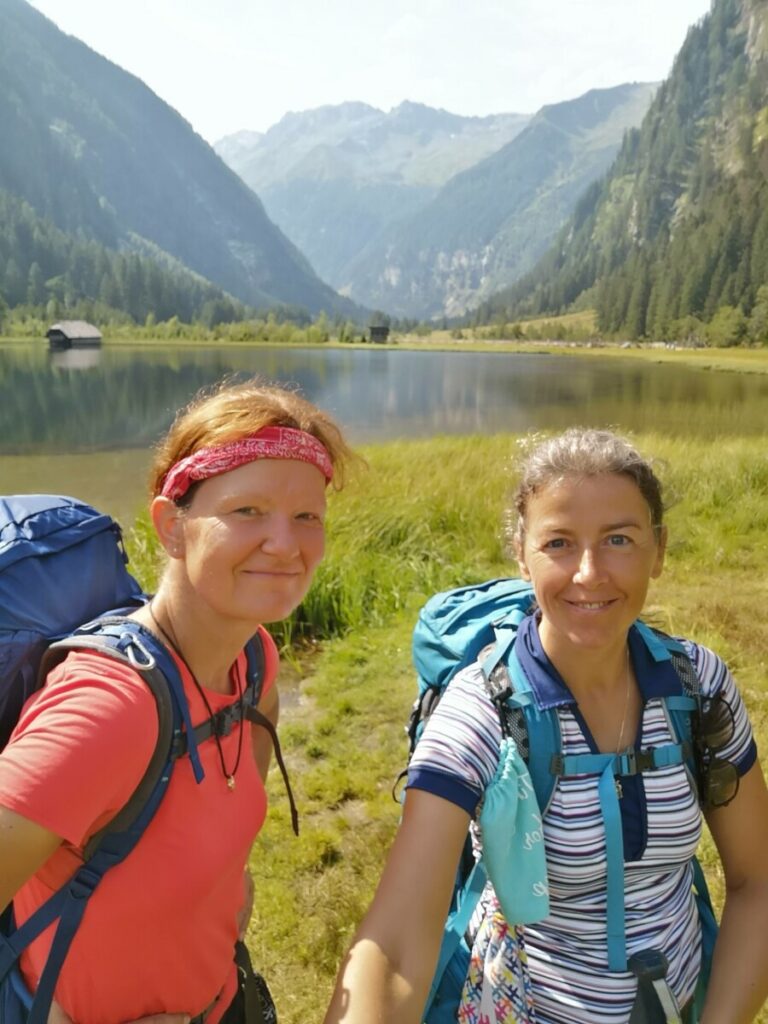 5 days Alpe Adria Trail – Austria
After this, we walked along the valley on the other side than where we walked yesterday back to the Molltal to the village of Obervellach. Meanwhile we walked through the Rabbischschlucht, a gorge with a thundering river. Great places where they then let the Alpe Adria Trial run through. Totally super right?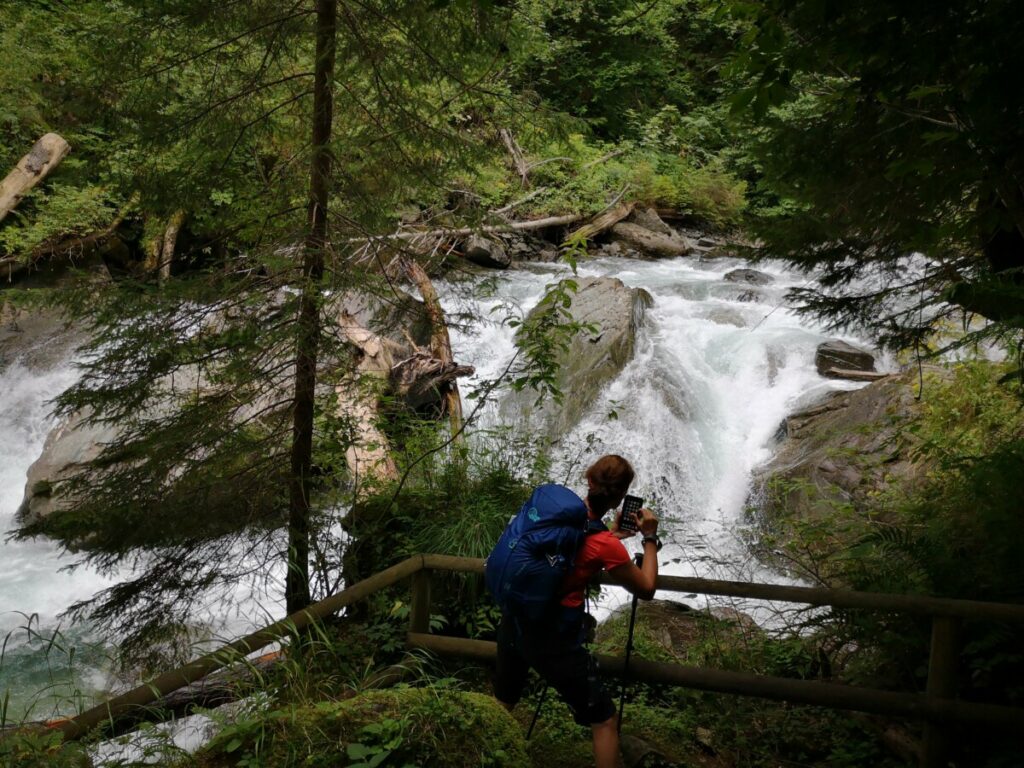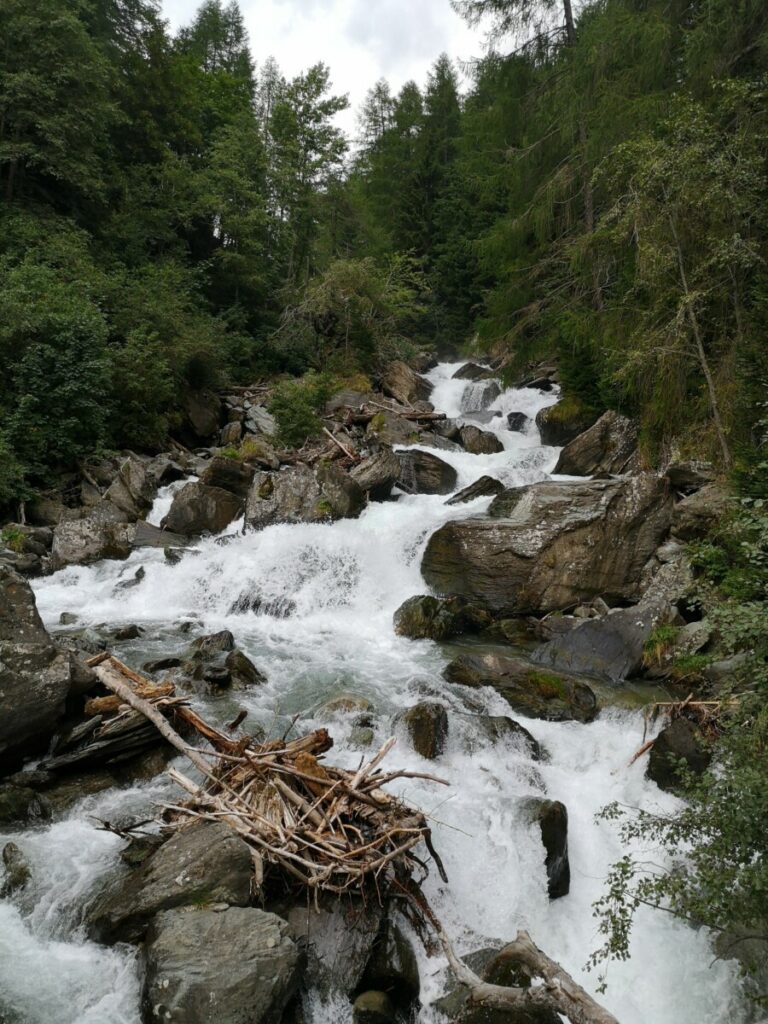 It was going to rain at the end of the day and when we were half an hour before entering the village, it already started to drizzle. When we descended into the forest, it started to rain a little harder but we stayed reasonably dry because of the trees. When we arrived in the village, it really started to pour. We then stood in front of a terrace with all sorts of dry places to sit and eat a currywurst or bratwurst with chips…
Well…we just had to do that!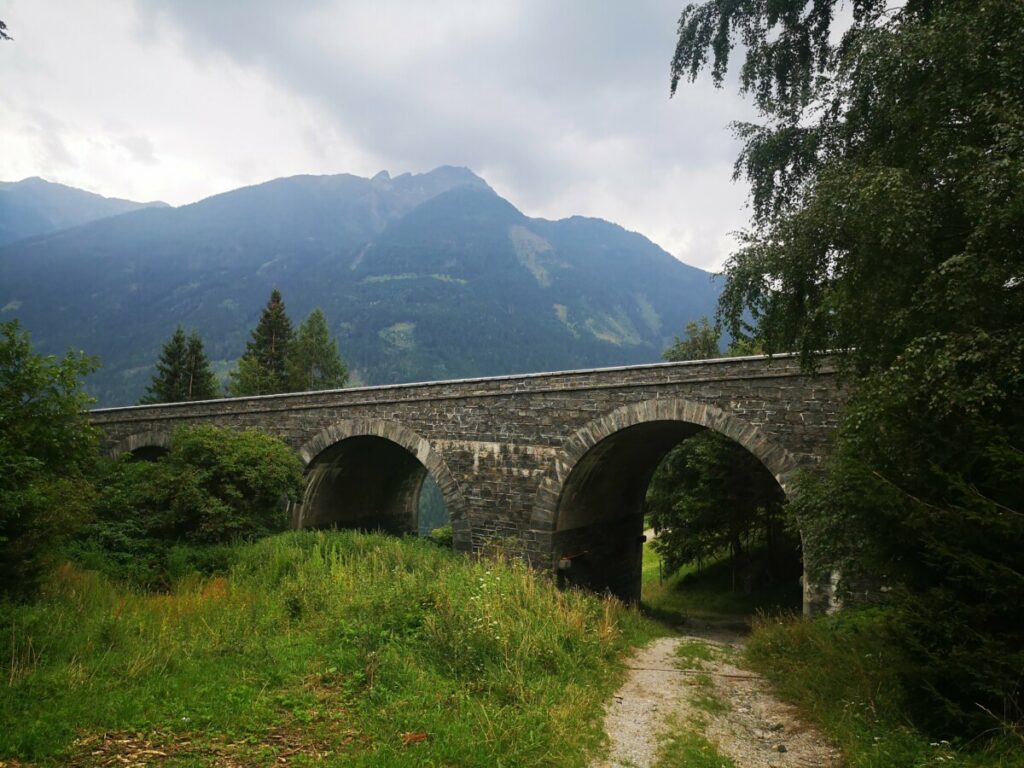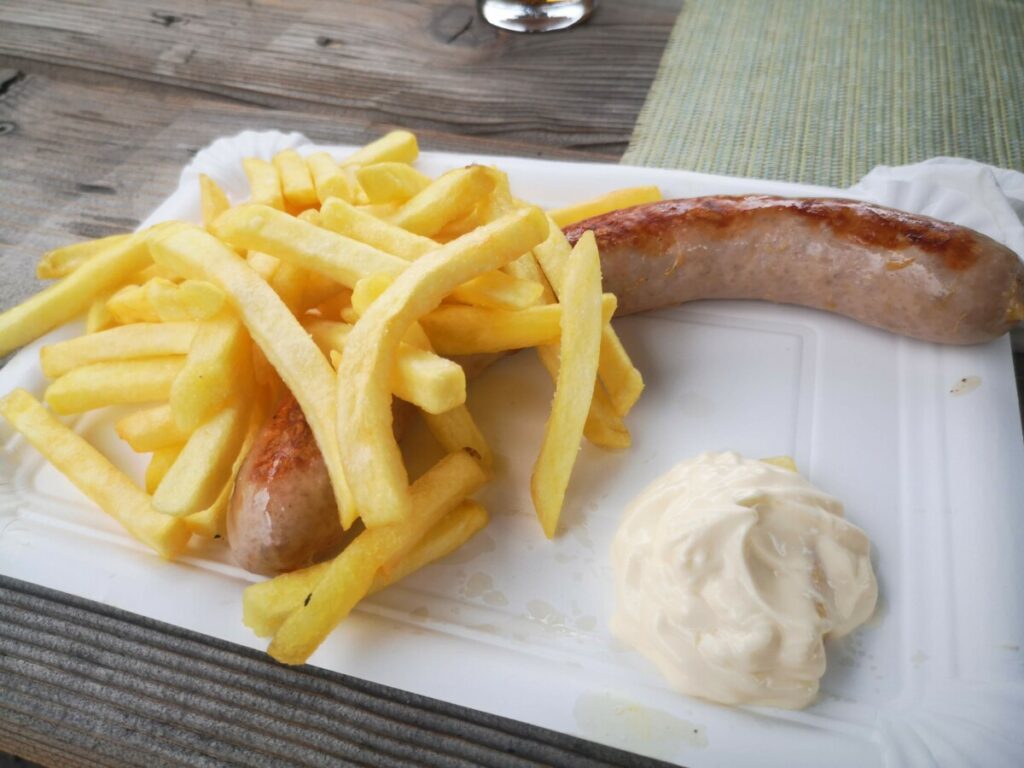 Hiking the Alpe Adria Trail – Enjoying to the Max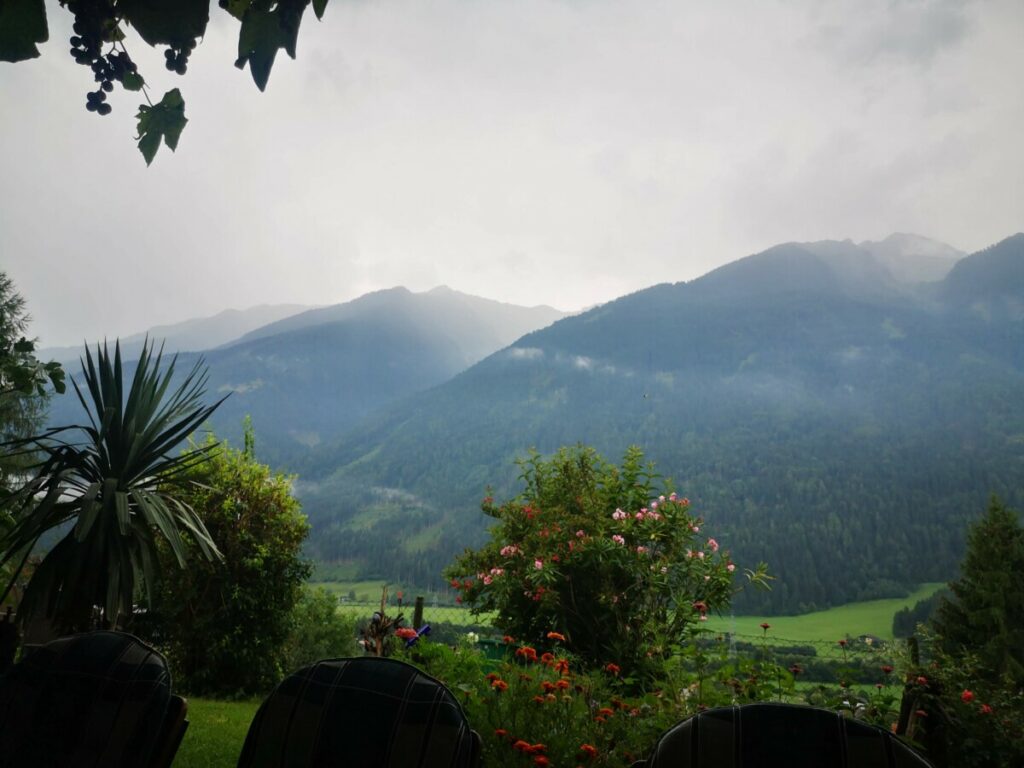 We were over, and immediately received a delicious cup of tea from the lovely people at the Haus Mölltalleitn where we were staying. What a nice and sweet couple they were. They had arranged everything perfectly in a very nice homely atmosphere. Really a must. You have to go up a few extra metres but then you also have this view from the terrace. How nice!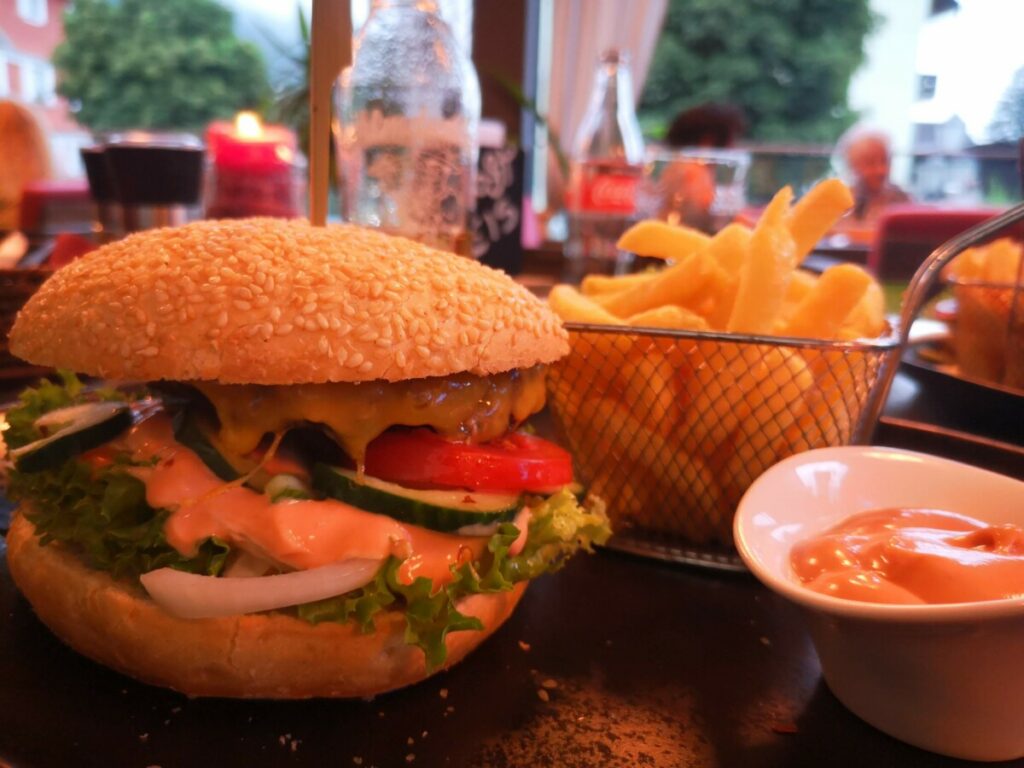 I have largely put aside the fact that I do not eat meat on this trip. It is difficult to choose vegetarian from the menu in Austria. Of course, there are always possibilities but I don't want to make it too difficult for myself when travelling. That is also why I call myself a flexitarian 🙂
Stage 8 Alpe Adria Trail
Obervellach to Danielsberg
This stage is 12.9 km and that will take you about 5.30 hours.
Climbing: 841 meters and descending 559 meters
Difficulty of this stage is easy
Overnight stay at Haus Kolbnitz
From Obervellach, we walked along various country roads that day. Beautiful views over the valley and finally under the train tracks. This was once one of the most spectacular train tracks through the Alps. In 1909, it was opened by Franz Joseph, just a fun fact.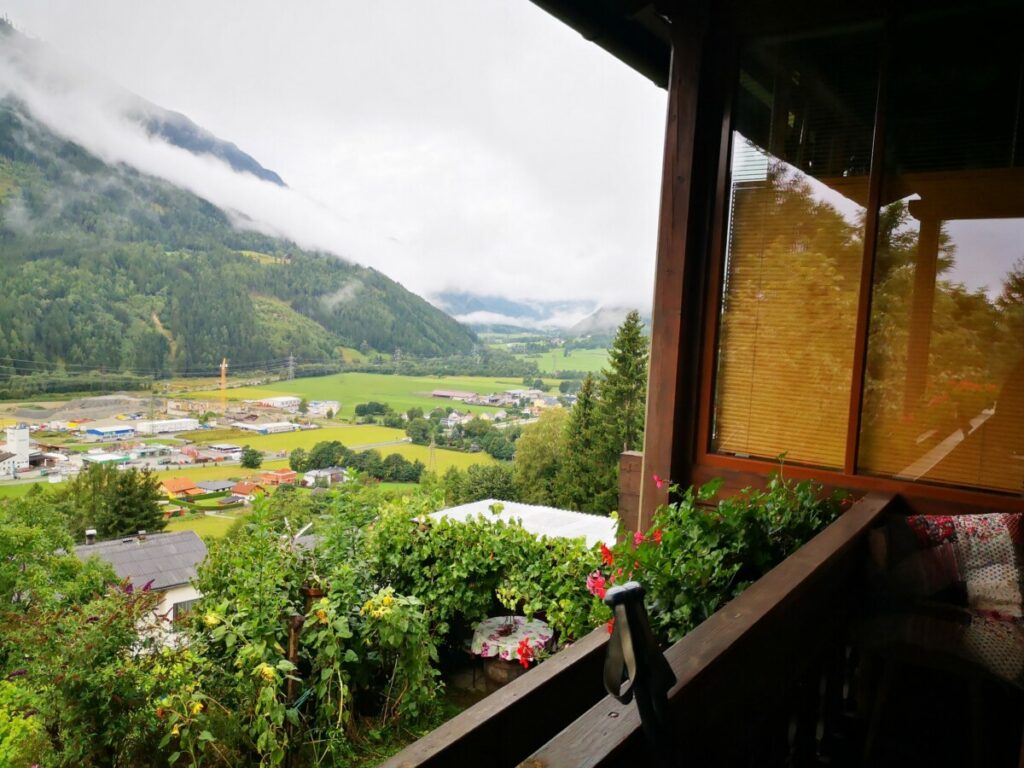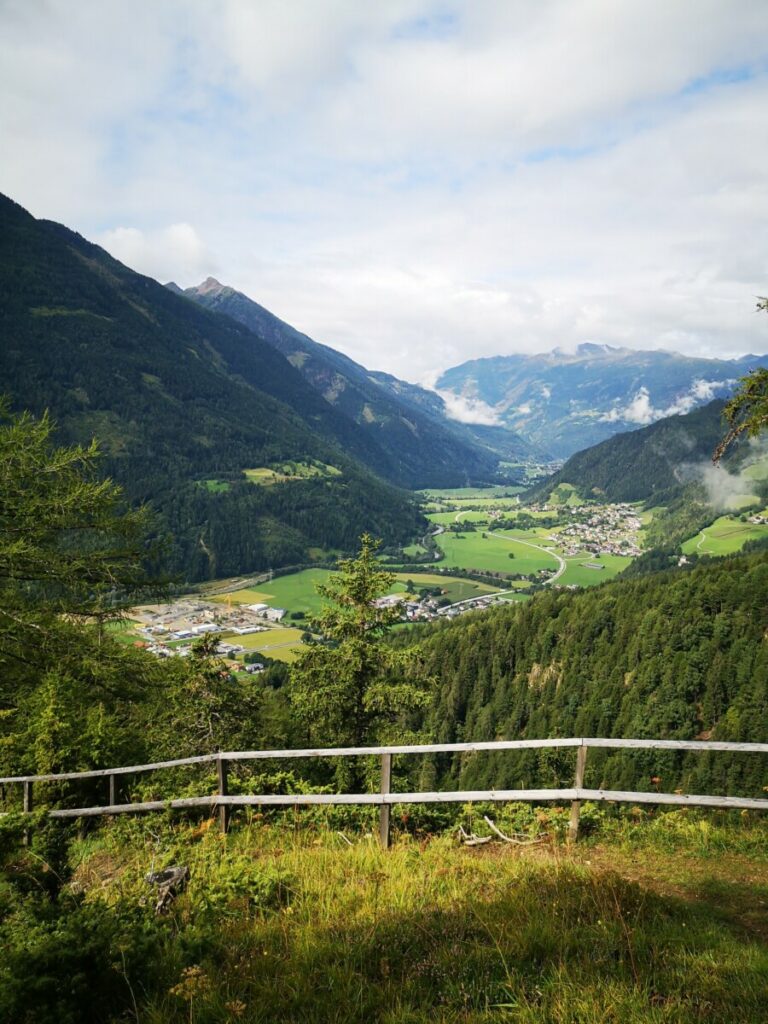 Walking further, we finally reached a village where we had hoped to have lunch. Unfortunately, nothing was open, so when we were almost out of the village, we sat down on the side of the road. It was great to eat some muesli bars in the sunshine. Always good to have something in your bag. Usually you can eat on the way but this day it didn't work out.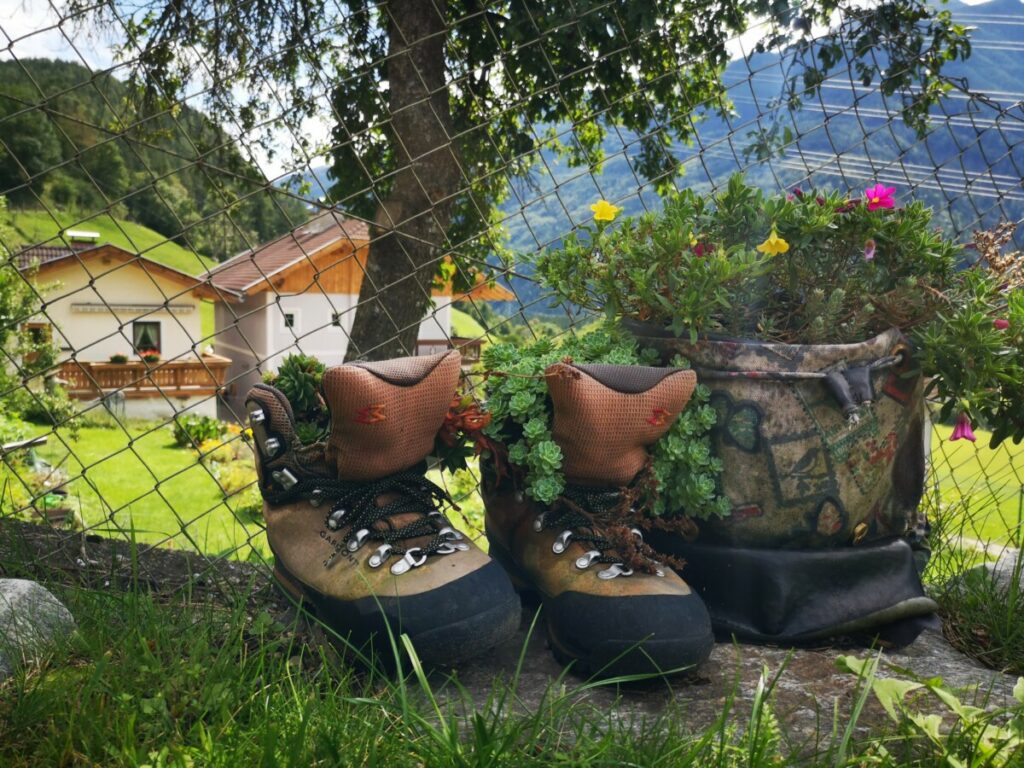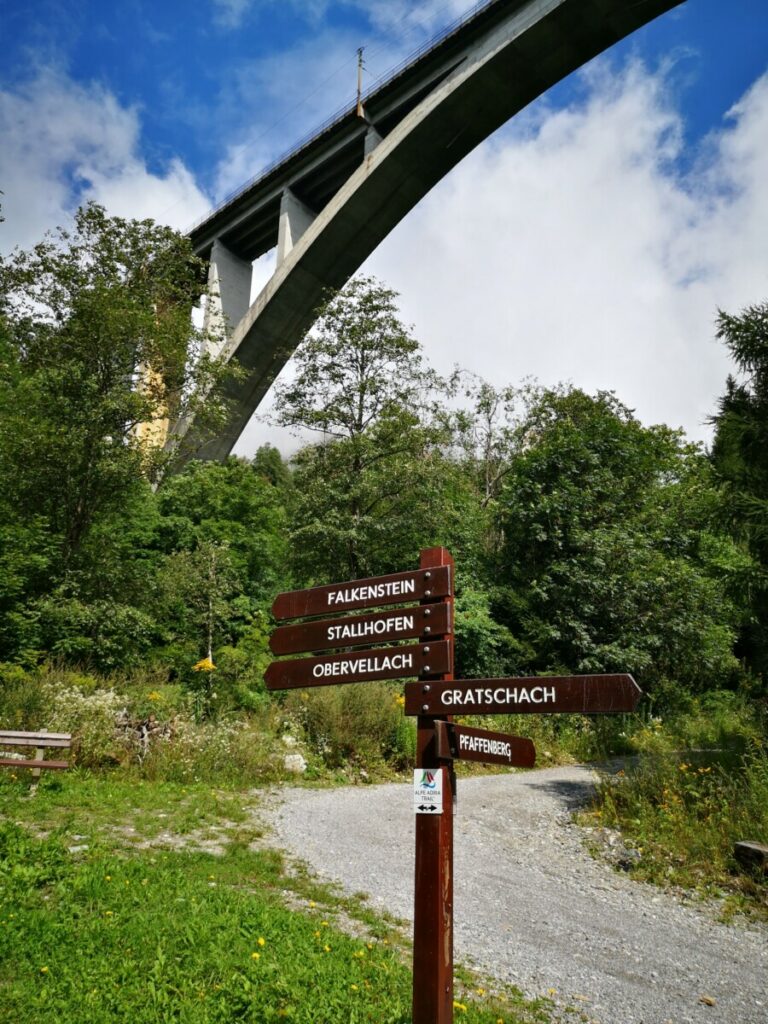 We had been seeing Danielsberg for days and now we finally went up the hill. What a nice area, they have put a lot of information there about the local flora and fauna. Which animals are seen, which stones are found and so on. I thought it was a nice varied walk that takes you up the Danielsberg where you can sit for a while at the almost highest point.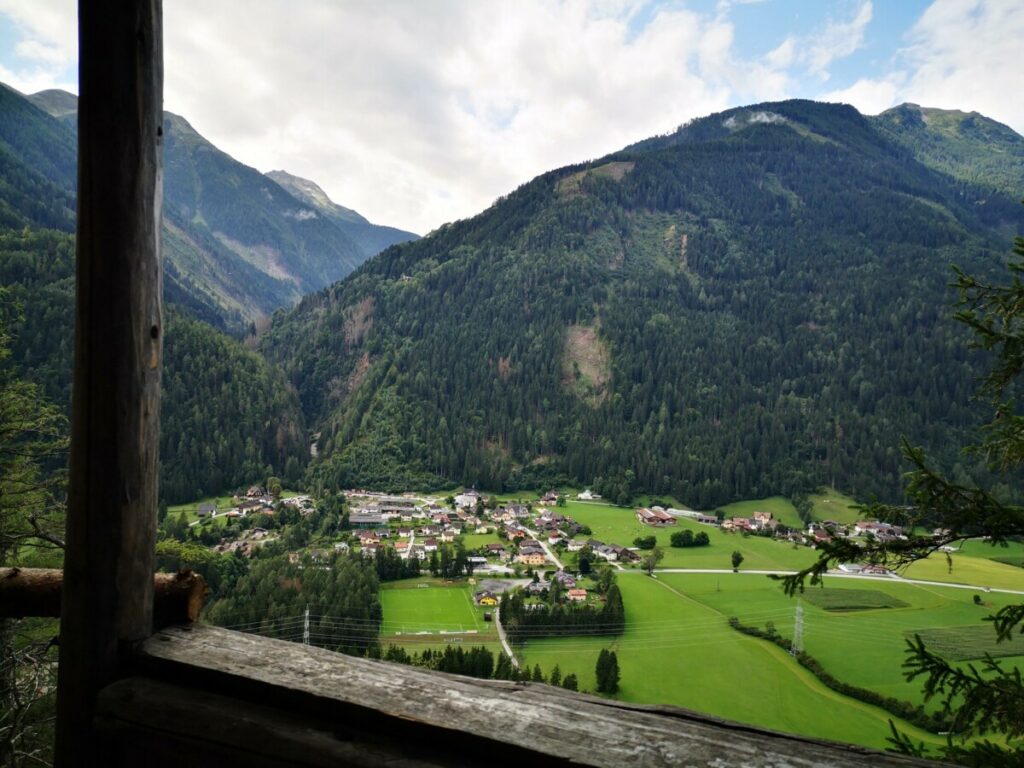 On the Danielsberg you will find Herkuleshof, but it was closed when we were there. What a beautiful place! The path runs along the grounds to the right and at the back, after the beautiful pond, it enters the forest again. A lovely forest path takes you back down again. We had our overnight stay in Kolbnitz. This turned out to be next to the local nightclub, eh no, above the local nightclub. Kolbnitz is just a small town it seemed. It is divided into Uberkolbnitz and Unterkolbnitz. Haus Kolbnitz was super, very neat and there are Dutchies on it, which was also nice.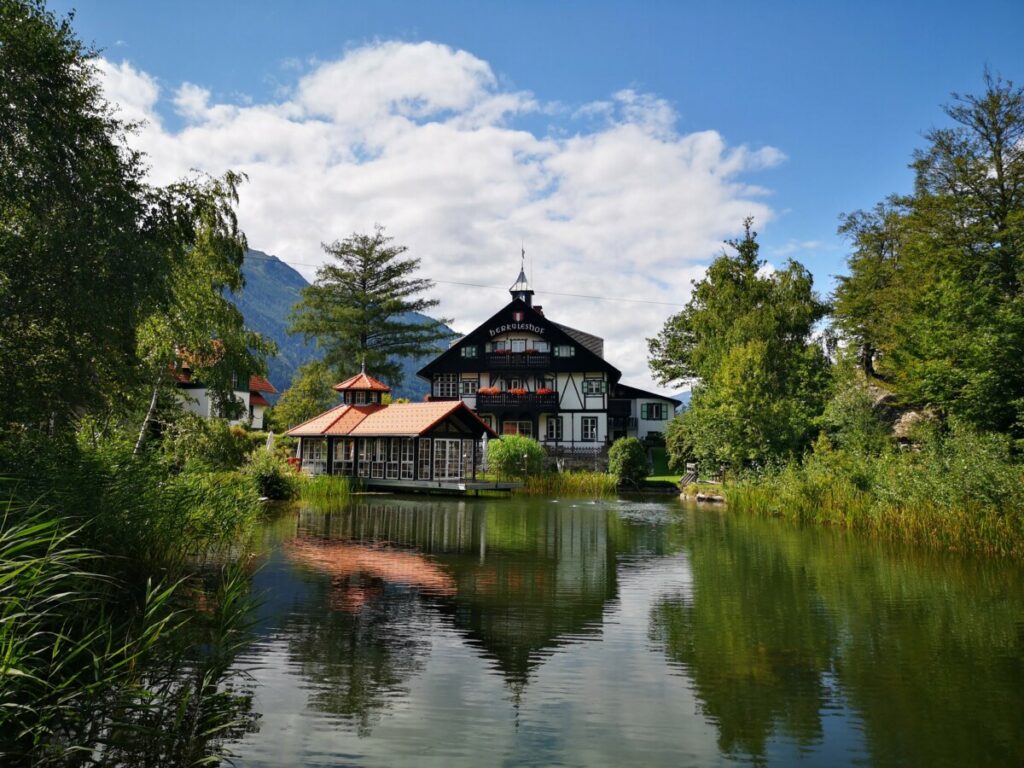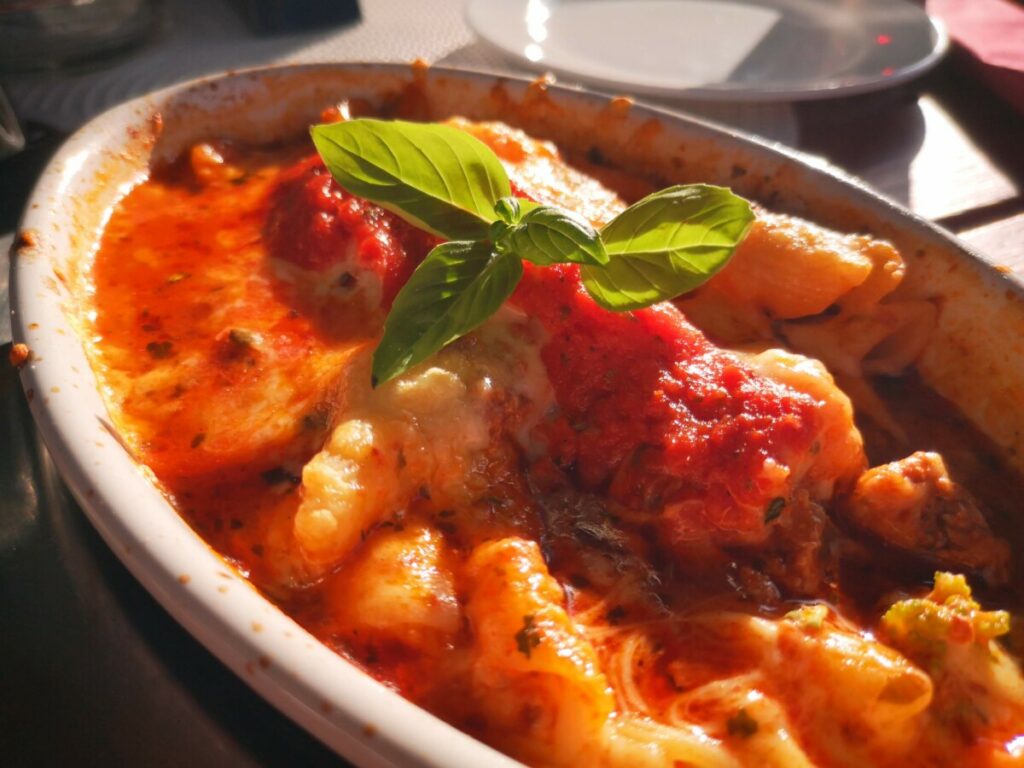 Stage 9 Alpe Adria Trail
Danielsberg to Hühnersberg
This stage is 19.7 km and will take you around 6.15 hours.
Climbing: 744 meters and descending 659 meters
Difficulty of this stage is medium
Overnight stay at Berggasthof Karlbauer
At Kolbnitz you can take a little train up the mountain… A little tourist trip, that's also nice during such a hiking holiday. So early in the morning, with the first train we went up. Normally tourists walk for a couple of hours so the man we asked what time we could go down again looked at us strangely when we wanted to go as fast as possible. In hindsight, we can say that it is nice to be in a train for a while but that we certainly had as much beautiful views hiking the Alpe Adria Trail itself. So you really do not have to do this.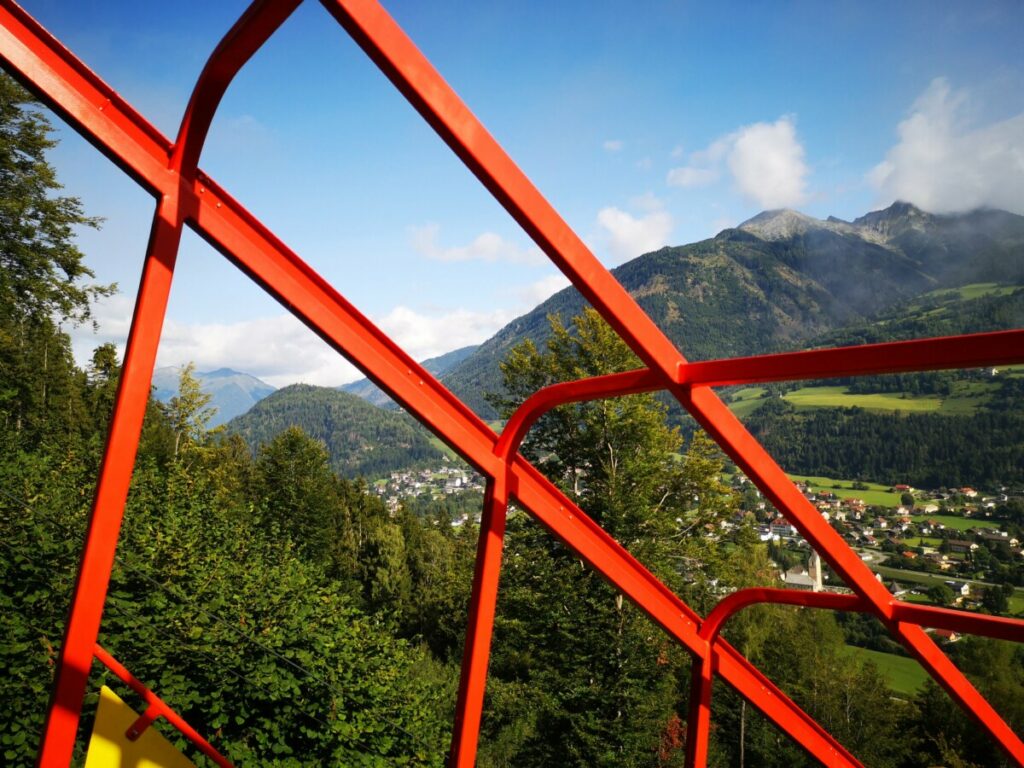 Then we went on our way, along the river, on the cycle path with many fellow cyclists. It was a really busy path with hikers too, it was nice to say hello to some more people. After more than an hour, we crossed the water and arrived in Muhldorf where we had a nice cup of coffee and cake on a terrace. Enjoyed the sunshine of another wonderful day on the Alpe Adria Trail.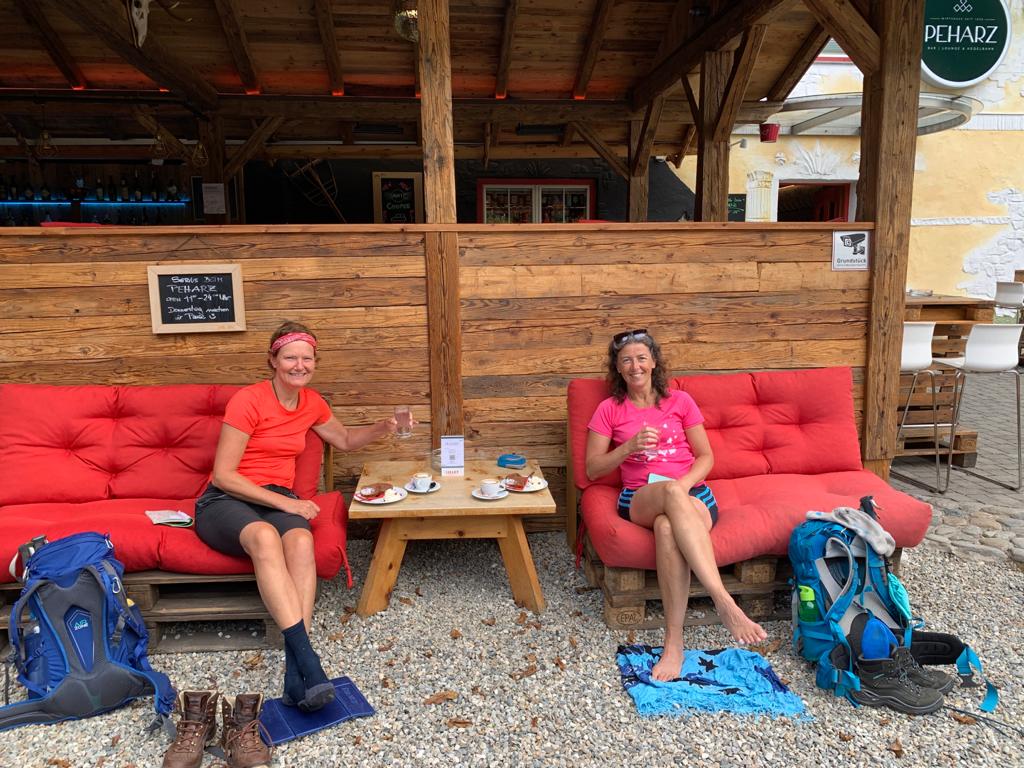 As we continued, we passed a memorial site of the Second World War and slowly walked uphill out of the village. Towards the impressive Barbarossaschlucht: a gorge. What a great part of this day. Up along the water that rushes down. The higher you came the narrower the gorge became at first. Along the route, there were some nice statues to make it lively for the children.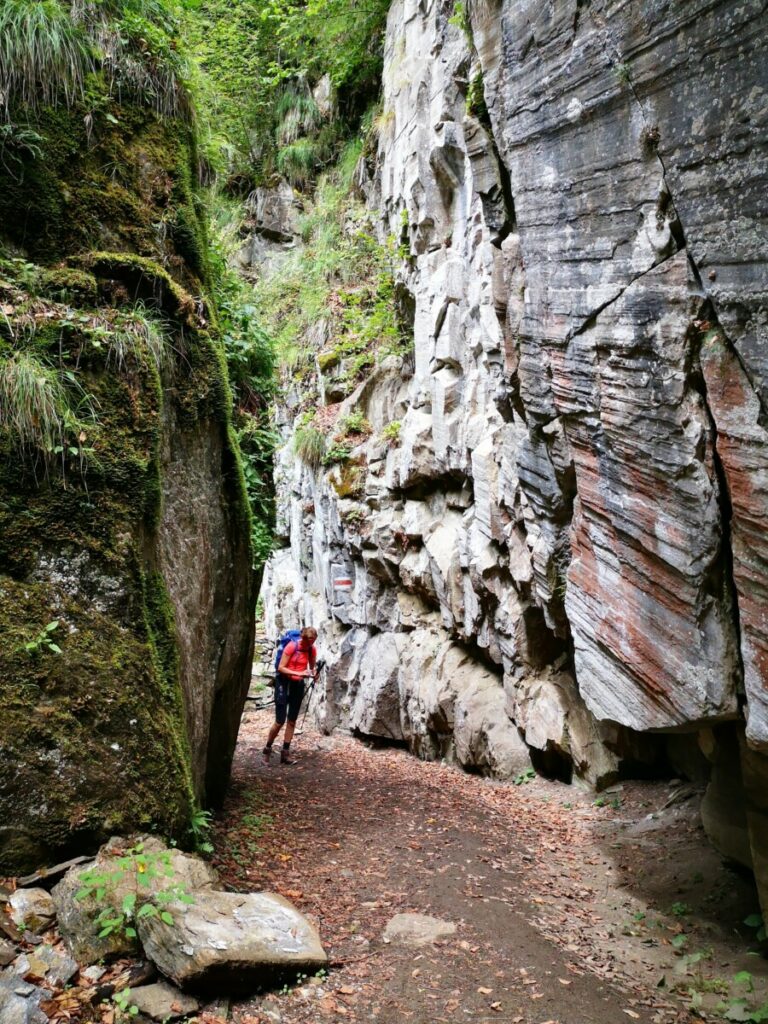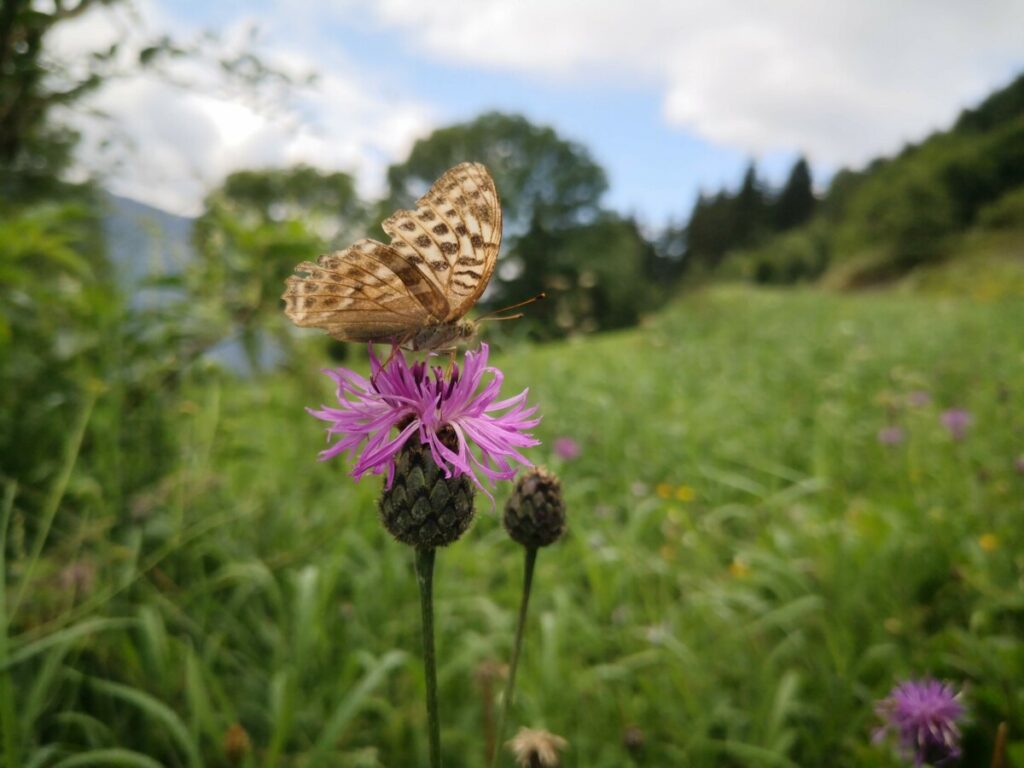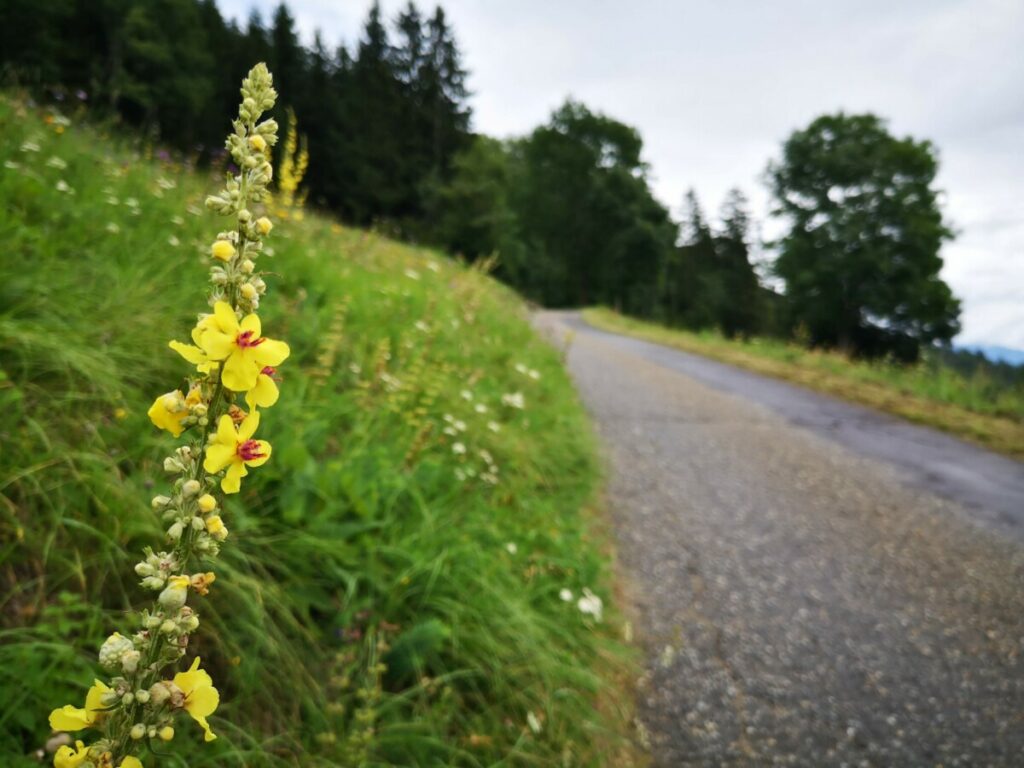 After at least half an hour or 45 minutes, we emerged from the top and continued walking along a wide dirt road. Lovely part of the day! After a while, we came to a paved road and passed through a town called Goriach. Here we got a bit too corny and suddenly, both at the same time, had songs with this word in them… I started with Goriach in the goriach hip hip hooray… And at the same time Nicole started with Goriach (gloria) from Ciao Italia… Ah yes … You have to be there for it to be funny 🙂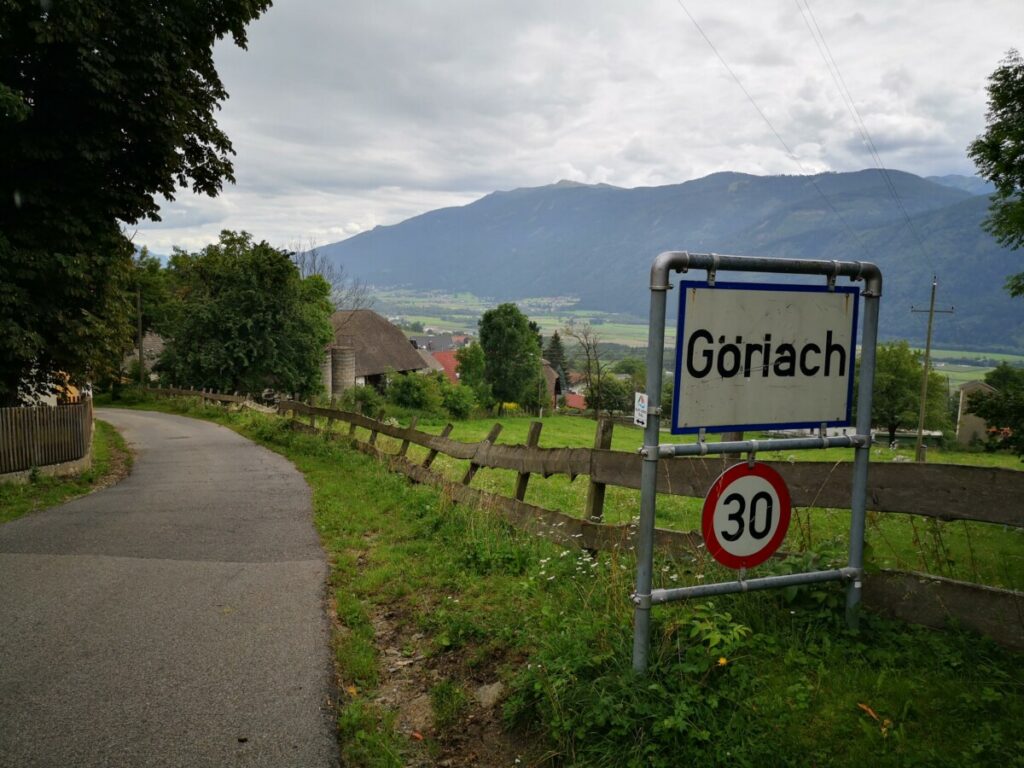 After this, we walked for a while along a beautiful country road and looked for the Wallfahrtskirche Maria, which was in our description. There we could also have a nice cup of coffee. When we got there, the Hohenburg Inn seemed to be open but nothing could be further from the truth. It was just closed, while it was lunch time…What a pity. We walked to the church but forgot to ask her for the key…which we found out on the way back.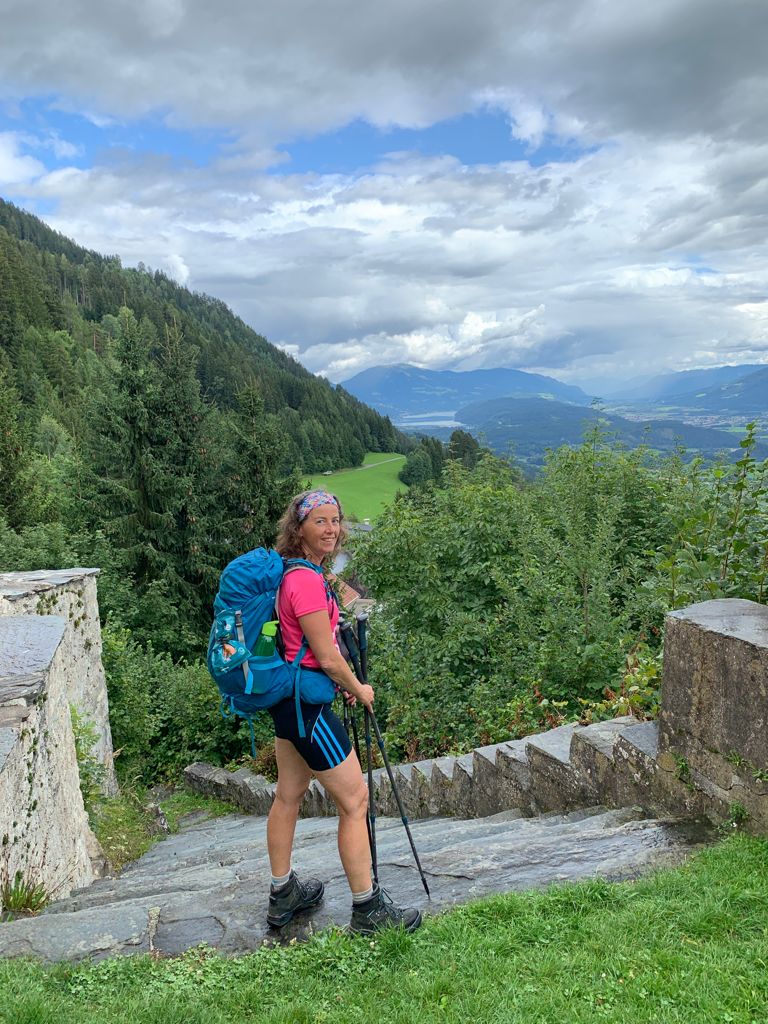 When we descended again, we arrived after a while at Berggasthof Karlbauer. This is a very nice place to spend the night, a bit more expensive but definitely worth it. From the terrace you have a view on a meadow with some goats, also an ADHD goat. They also have horses and chickens. Unfortunately, 1 chicken was dead when we went for a walk. We found the chicken drowned in the water… We suspect that the chicken was killed by the ADHD goat. As you can imagine, the corny mood of that afternoon was back.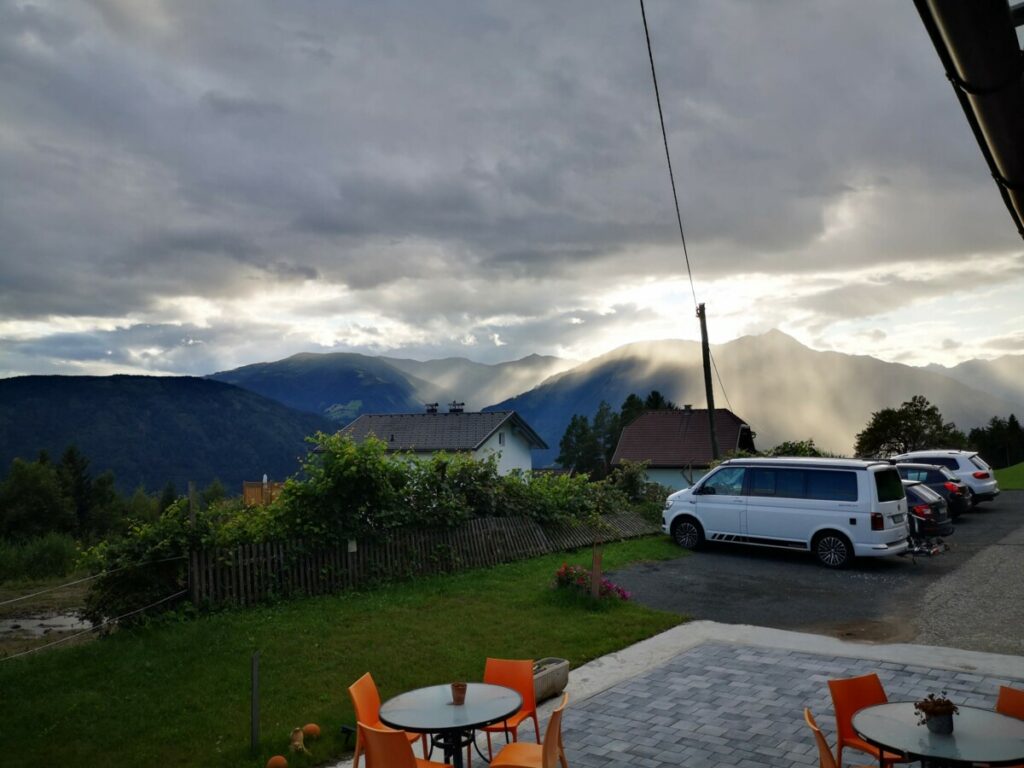 Nicole made a great clip from great moments on the Alpe Adria Trail!! I also shared stories on instagram which you can see in this highlight. I also love to see them every now and then.
Stage 10 Alpe Adria Trail
Hühnersberg to Gmünd
This stage is 16.0 km and that will take you about 5.30 hours
Climbing: 377 meters and descending 687 meters
Difficulty of this stage is medium
Overnight stay at Pension Alte Muehle
We left the Berggasthof Karlbauer behind us and headed for what was supposed to be a nice view into the three valleys. I can assure you that the views were cool but we walked on because we thought there would be a better view. It was not to be. In that early morning we did see a woman sitting on a bench and we didn't want to disturb her. Our suspicion is that she had the view that our booklet described to us.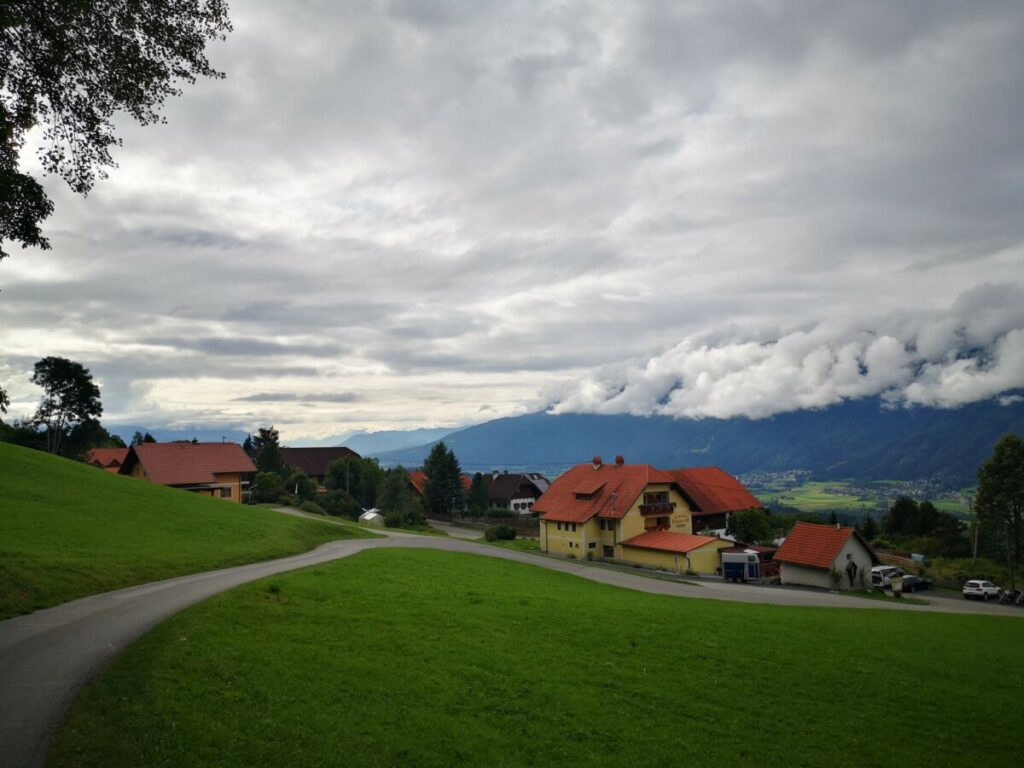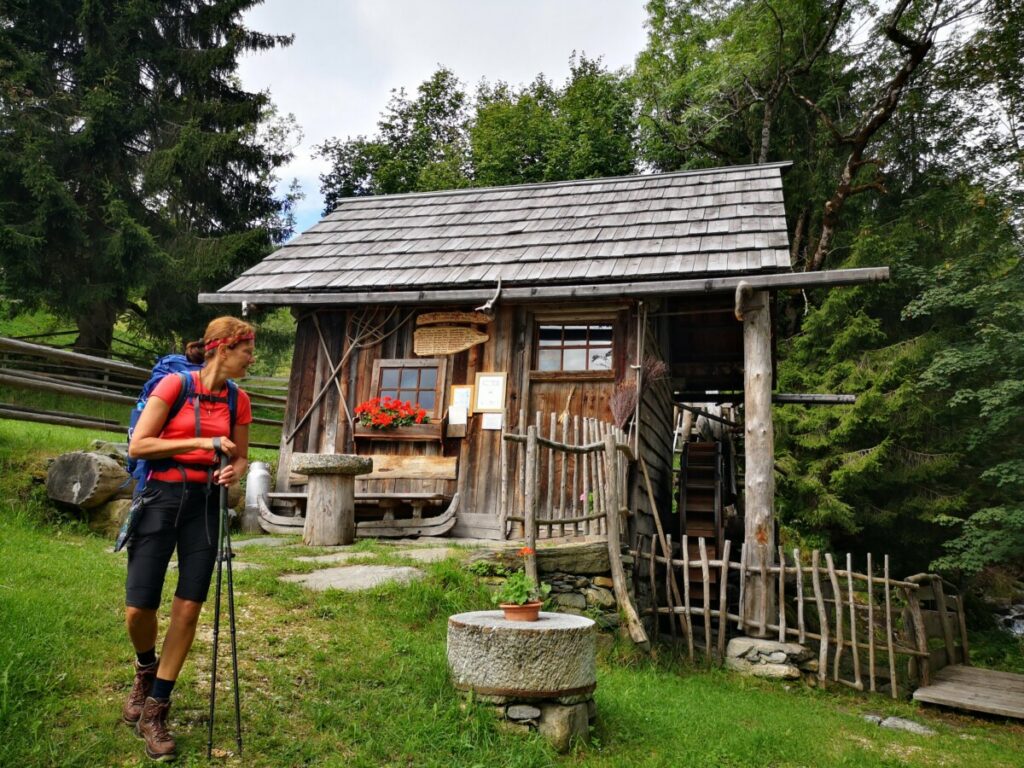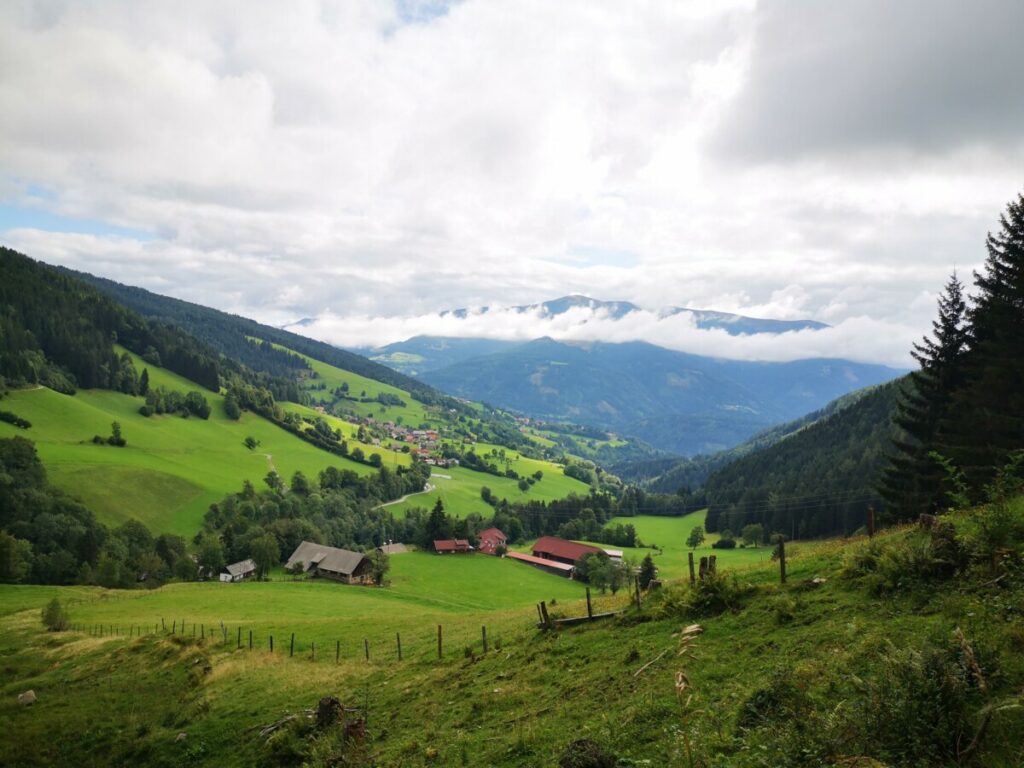 We walked on to go to the Drachenwandermeile. A long suspension bridge that we were going to walk across. The way there was also beautiful, through the countryside with lovely views and past a beautifully restored watermill. Then we went into the forest and came to walk on an old-fashioned path designed for children. Obsolete because it had obviously not been used for years. But at the hotel, we were assured that the bridge would be open… The sign in the village of Altersberg indicated that it would be closed. Fortunately, we took our chances because, yes, the bridge was open. How nice!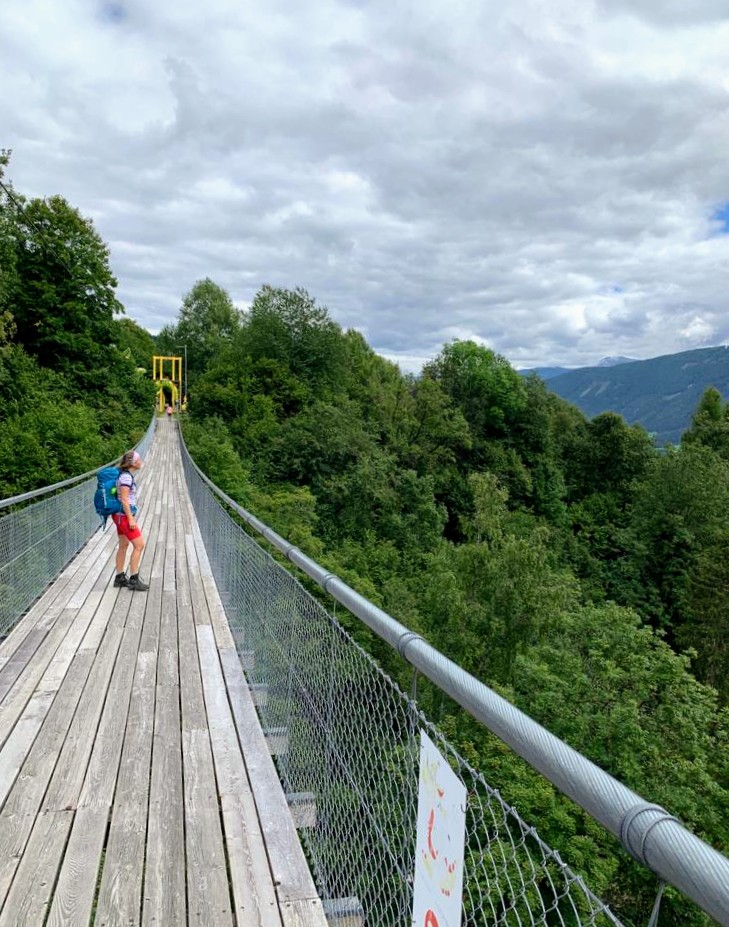 Hiking the Alpe Adria Trail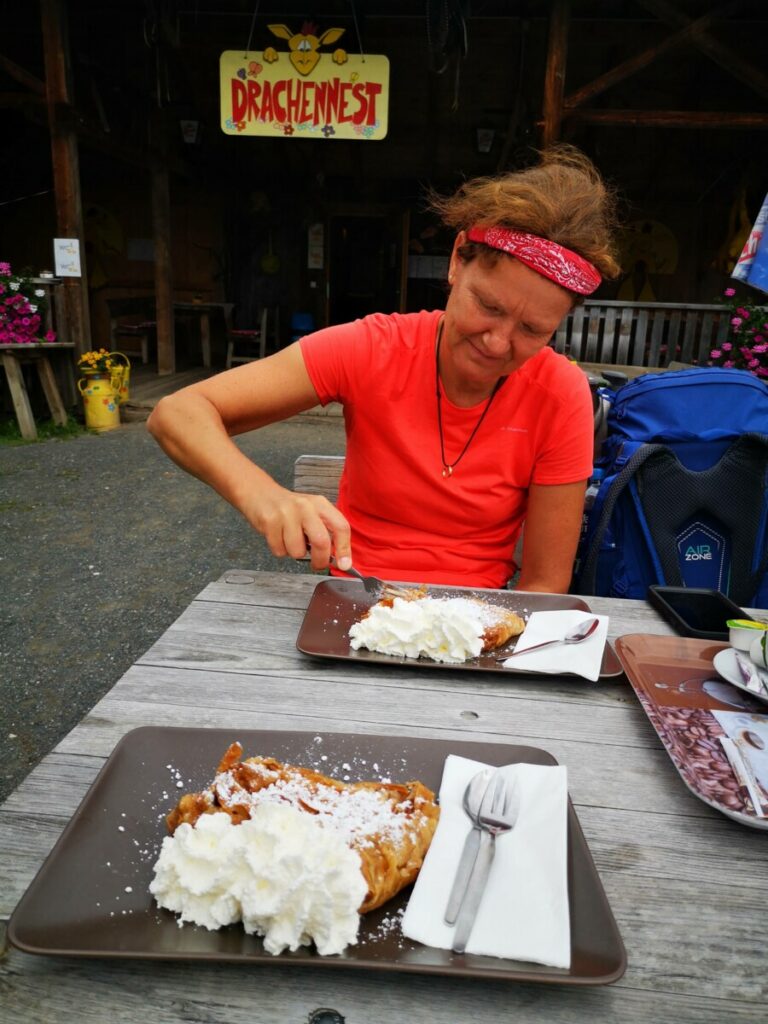 After the bridge, we ended up at an eating place that was part of the children's walk. On this side of the bridge, it was still intact and alive, super nice made. After the apfelstrudel and coffee, we slowly walked down. On the way up we came across a little train with all the children to cross the dragonbridge of course!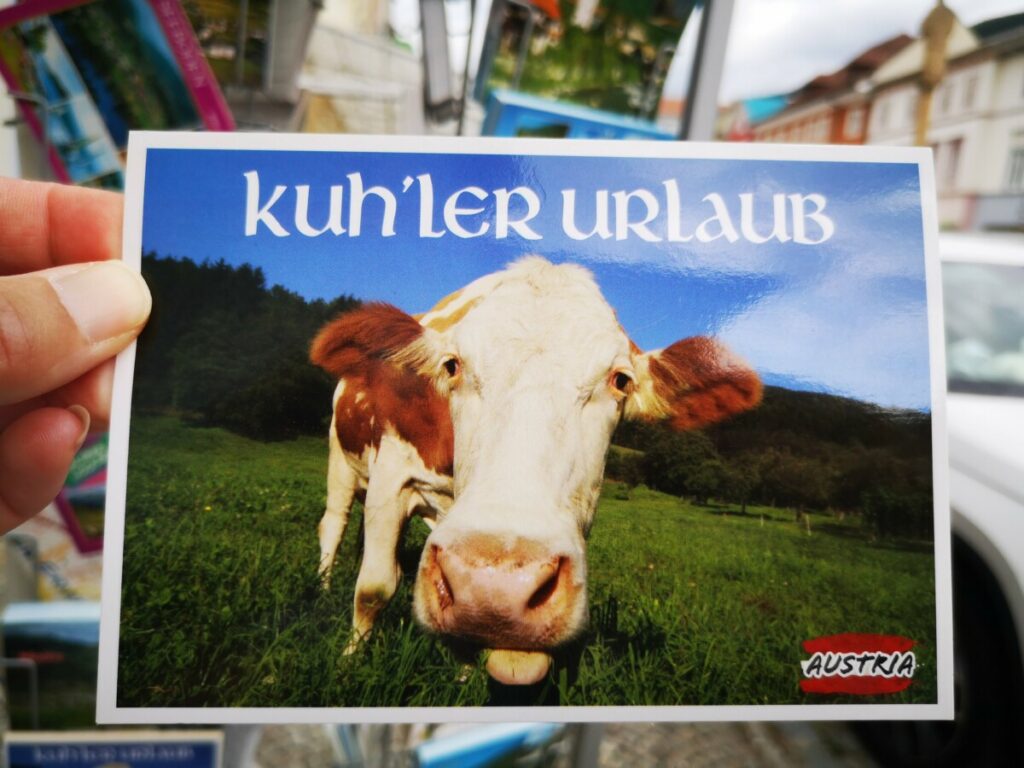 5 Days Hiking the Alpe Adria Trail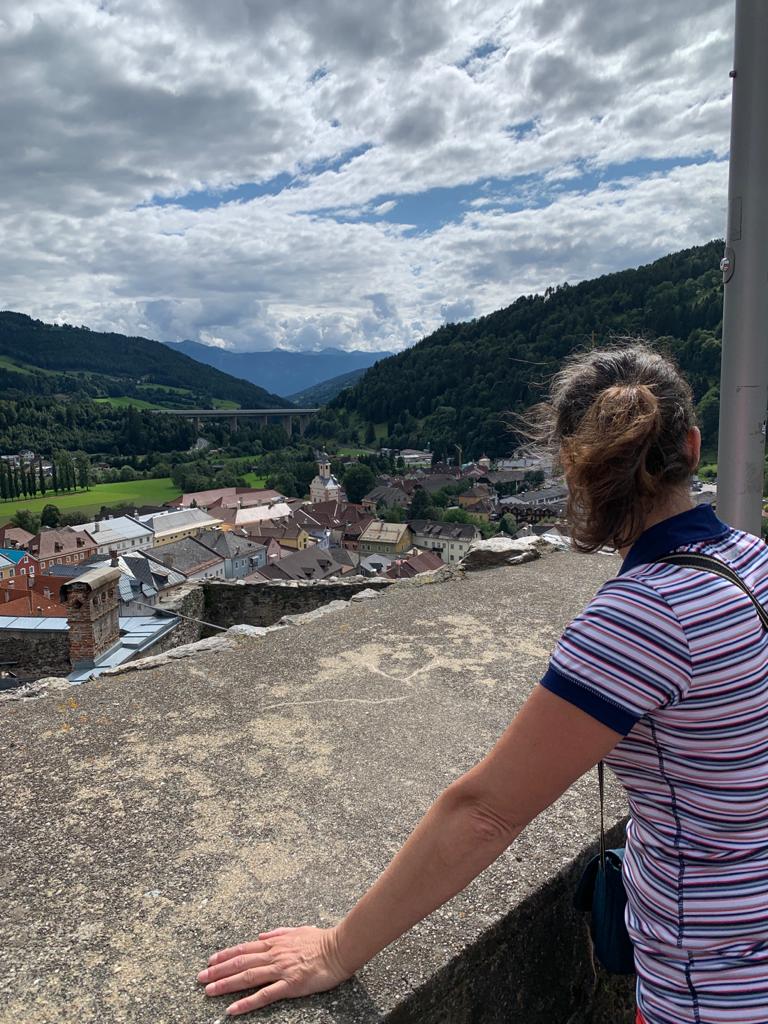 We arrived in Kunstlerstadt Gmünd in good time and we were happy about that. What a nice town! Definitely worth a stroll before dinner. Our guesthouse was also really great, an old building on the outside but ultra-modern on the inside. How nice!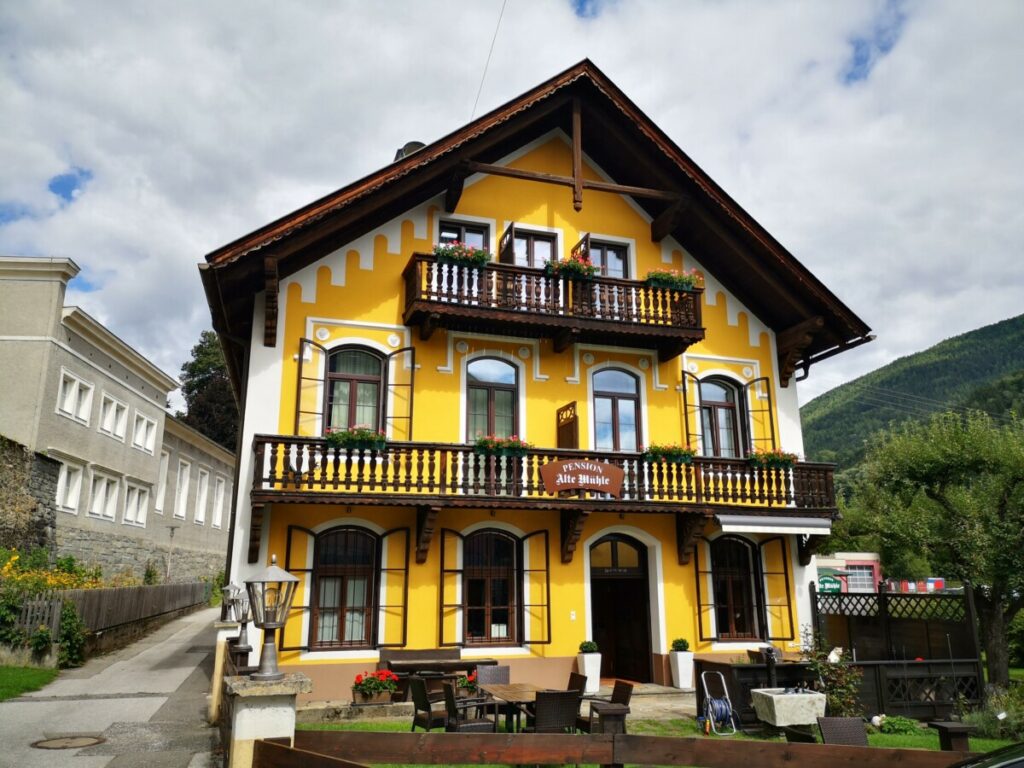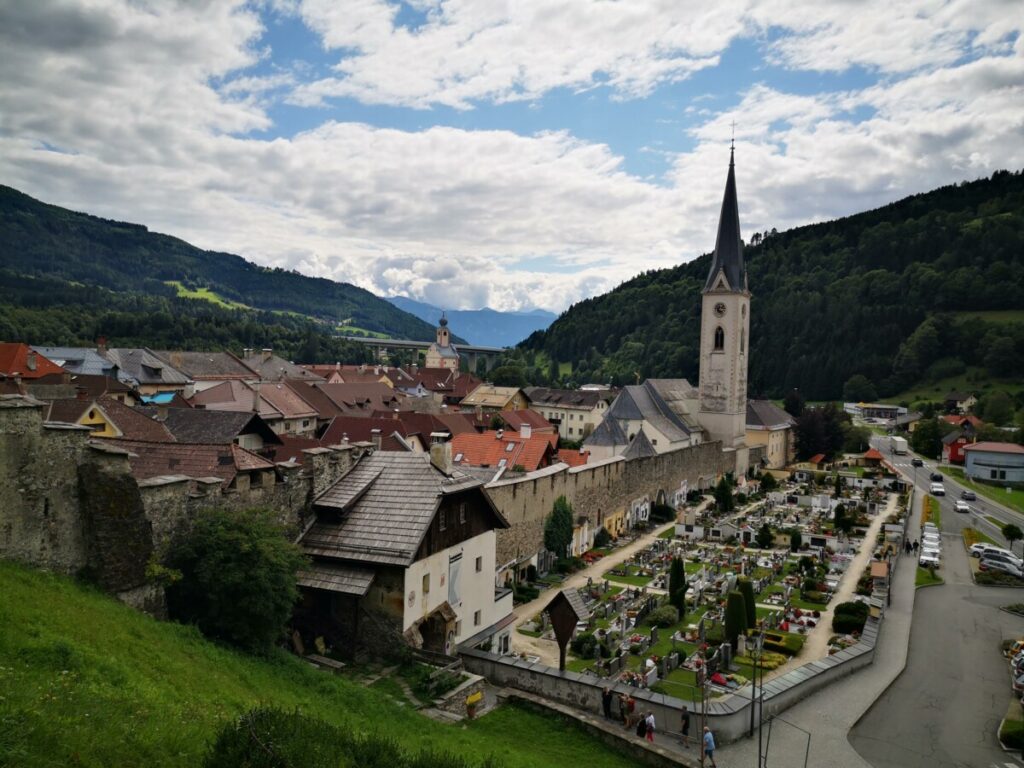 Stage 11 Alpe Adria Trail
Gmünd to Seeboden am Millstättersee
This stage is 14.8 km and will take you around 4.30 hours.
Climbing: 310 meters and descending 460 meters
Difficulty of this stage is easy
Overnight stay at Strandhotel Pichler
We left the nice town of Gmünd but also the super nice guesthouse. We could already look back on a great 5 days Alpe Adria Trail and decided to enjoy this last day. The weather was a little less but we were looking forward to swim in the Millstätter See. The further we came, the better the weather became, how nice!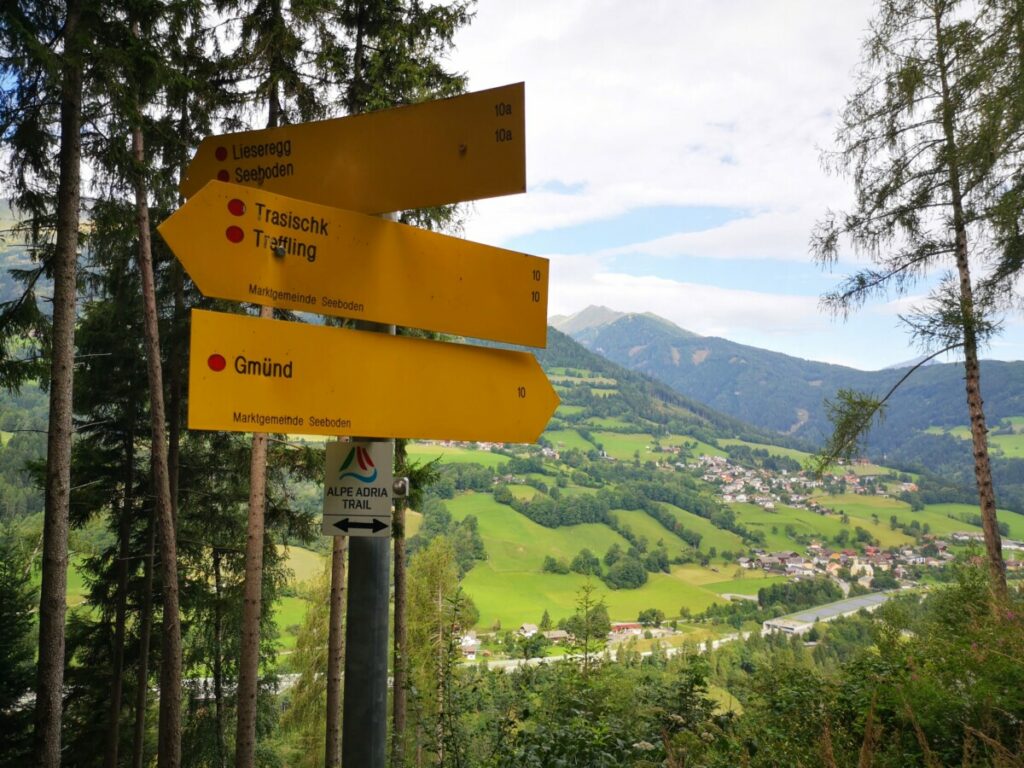 The highlight of this day was the castle (burg) Sommeregg that we passed. We decided to have an early lunch and enjoy the views from the roof. In the distance, we could already see the lake, our final destination. The castle has a beautiful interior and, as we read, a torture museum. We didn't go inside but in the restaurant I found it impressive to see the knights and their attire.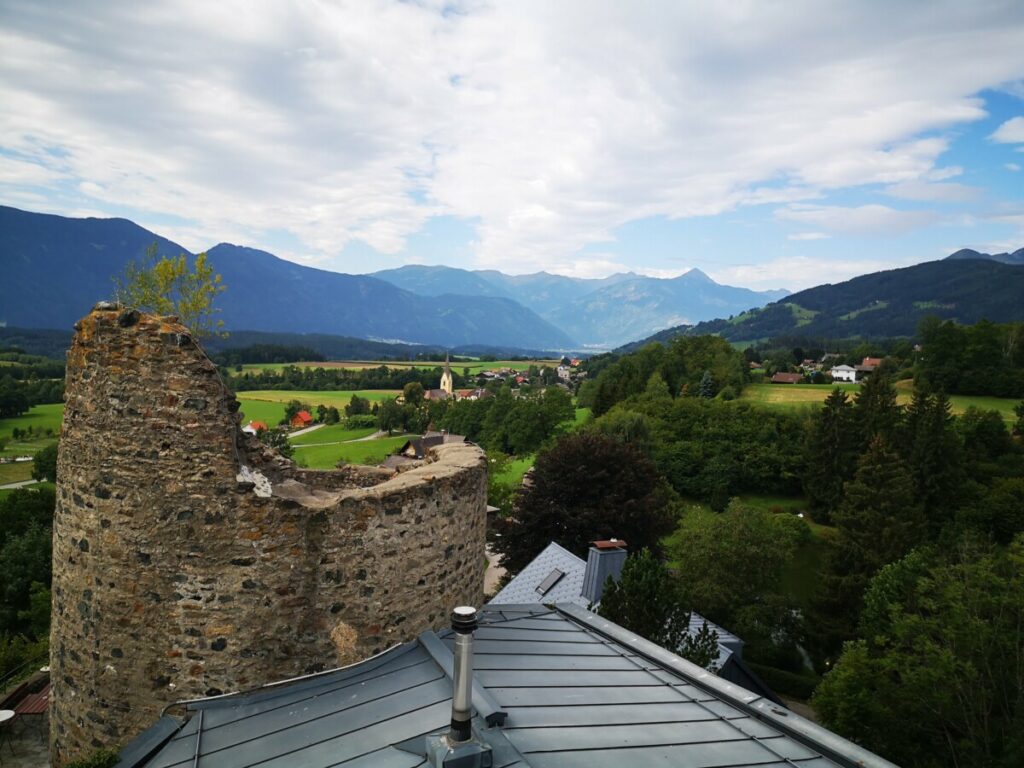 After this we walked in less than an hour to Seeboden am Millstättersee where we arrived at our destination at the stepping stones in the lake. Really, what a great adventure, what beautiful days we had and how happy we were that we reached our destination unscathed.
PROUD OF US!!
HIKING THE ALPE ADRIA TRAIL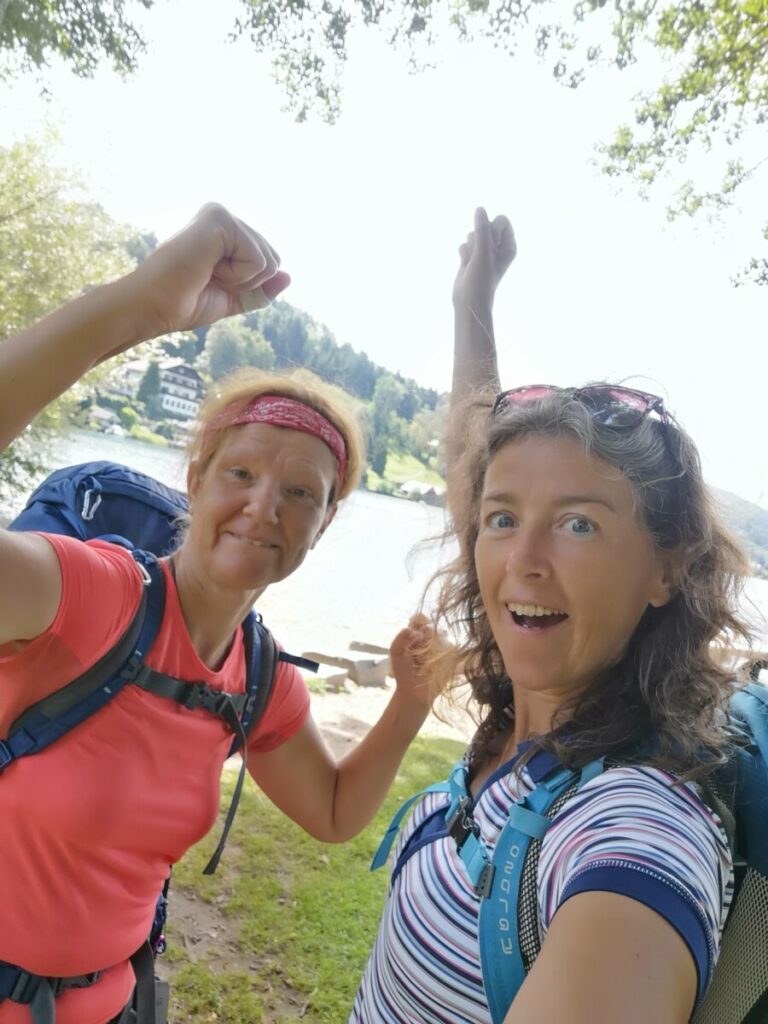 Would you like to do 5 days of Alpe Adria Trail? Or 11 as we did?
Or the stages 12 to 19? As I did the year before…
As a reward after these 11 days of walking the Alpe Adria Trail, we had booked a nice hotel at the edge of the Milstatter Lake. I had seen it last year, when I only ate on the terrace. Now we stayed there! Hotel Pichler with a private beach at the lake. Relaxing and doing nothing for a while.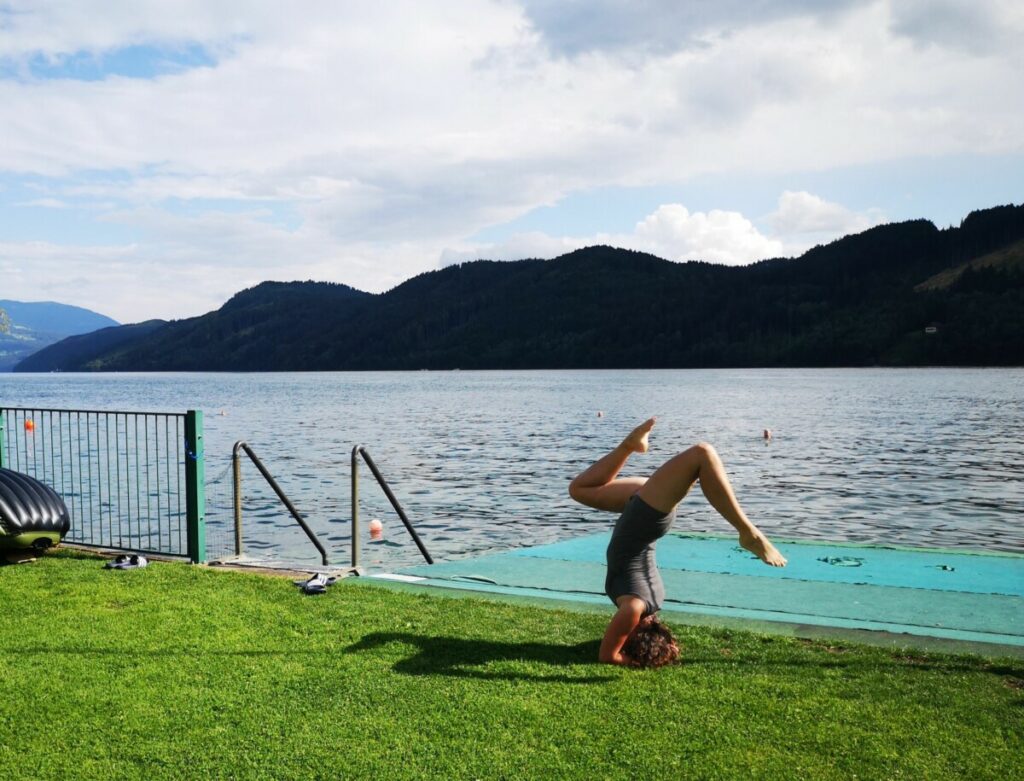 Check out what you can do at Millstätter See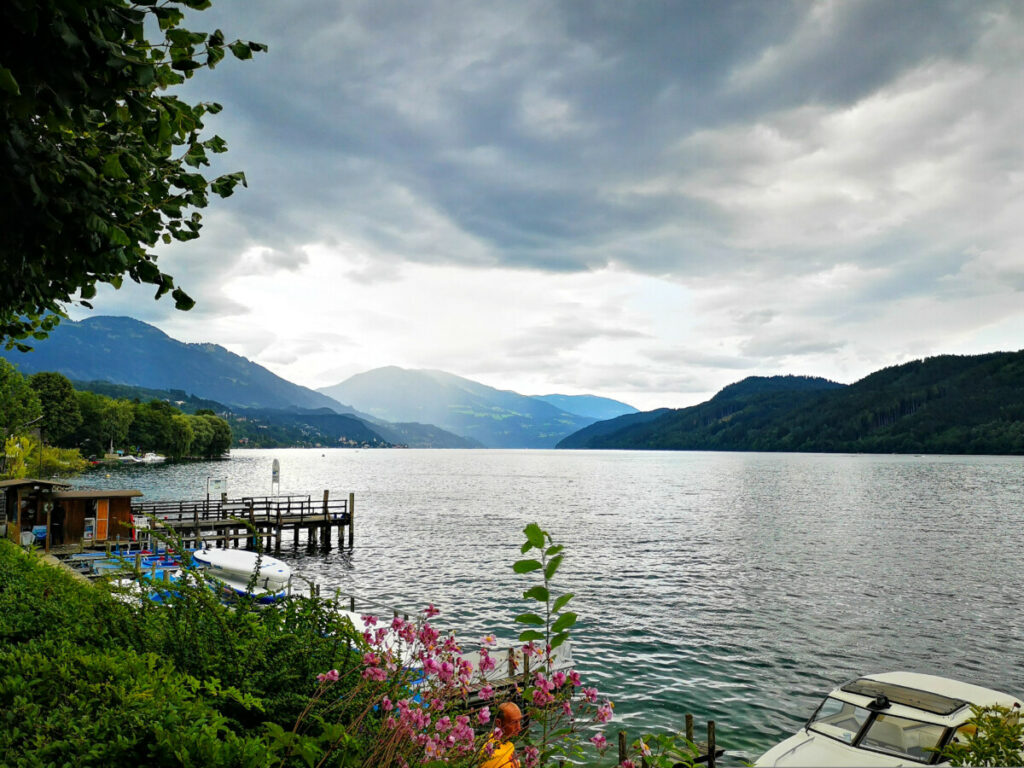 It was a great trip. We had some challenging days but they were all doable. Of course, you shouldn't do it if you are not a hiker and can't walk long distances. The distances seem short but you have to look at the time it takes to do them. It is uphill and downhill, something we are not very familiar with in the Netherlands.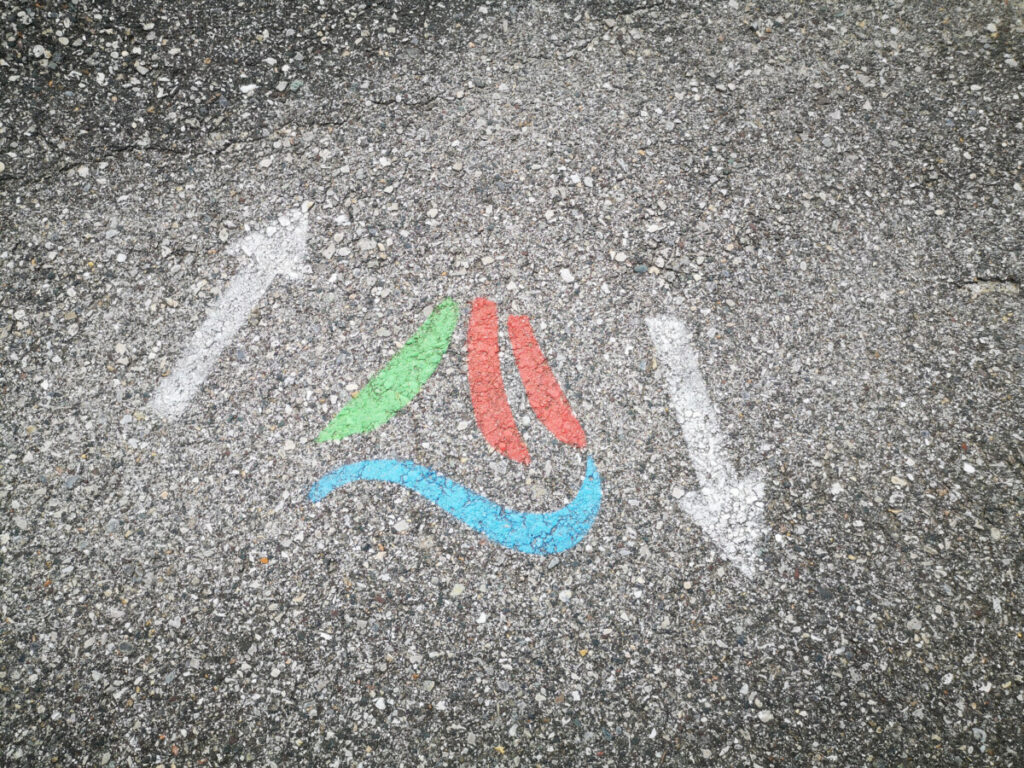 The route is well signposted, but where there is work on the road or in the woods, it is sometimes difficult. What is nice to use then is the app. You can download it for free and then you can always see if you are still on the route. We have used it a number of times when we were in doubt and once when there was a flood and we had to make a detour. It's great that you have the app that can guide you with the GPS route or can lead you back to the route.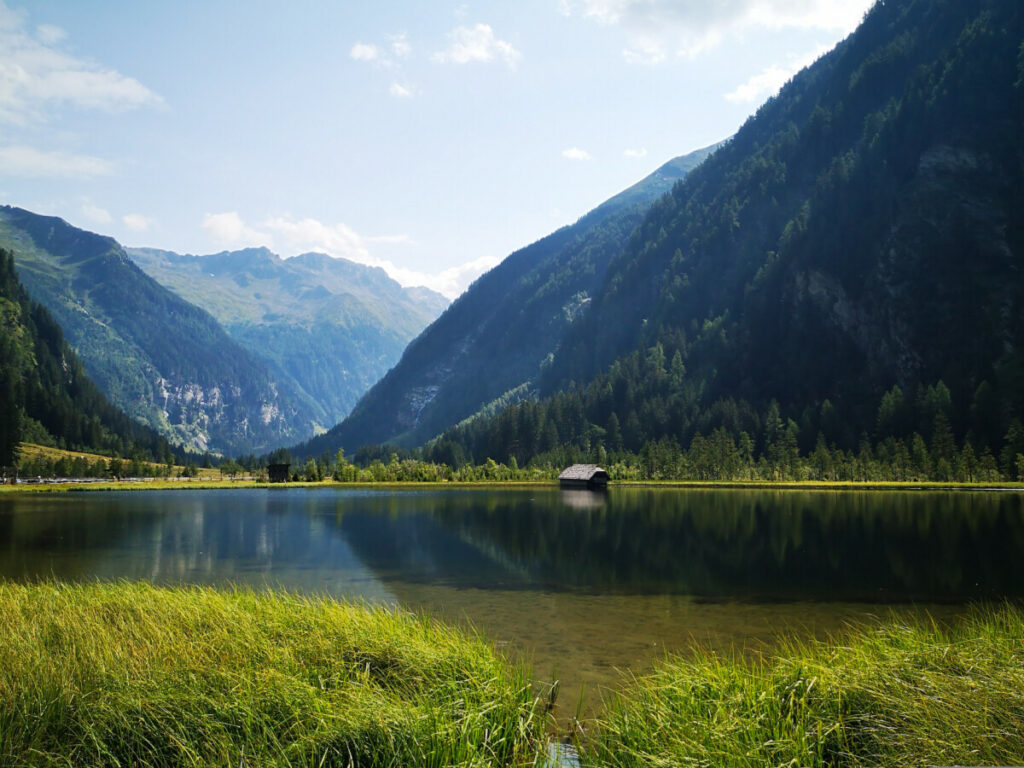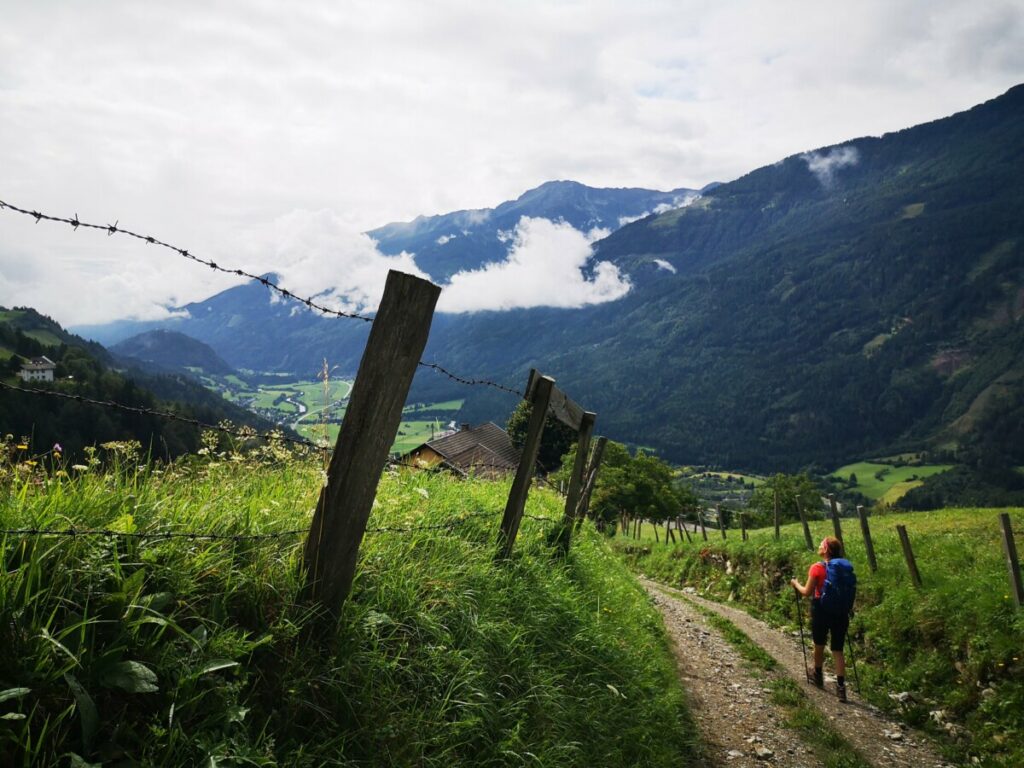 Save this inspiration
Share – Tweet – Pin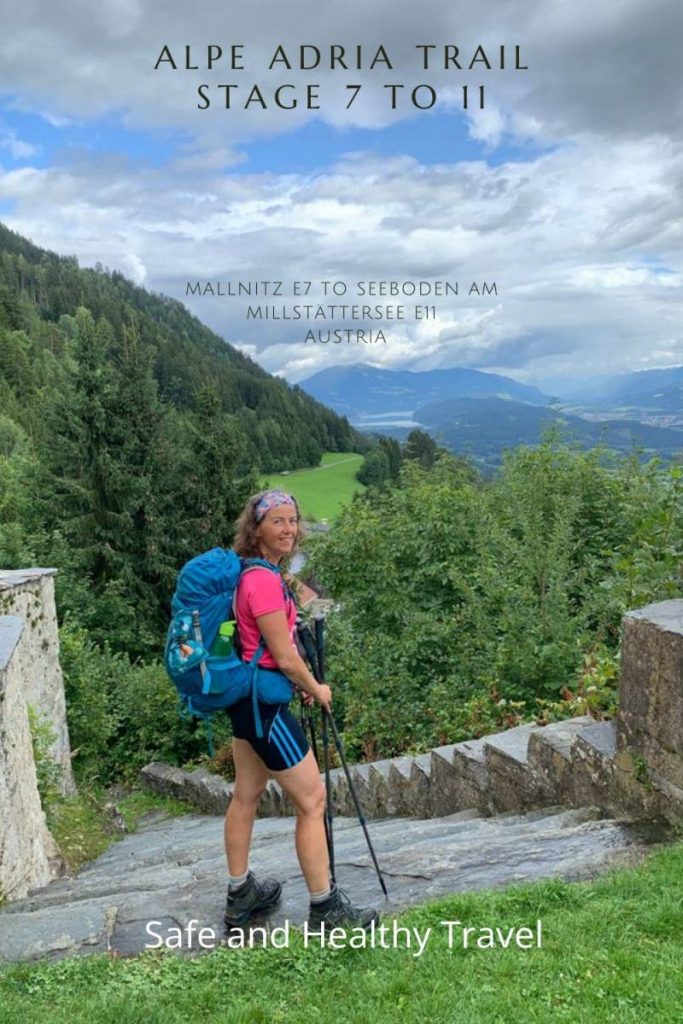 Looking for more hiking inspiration?
Hiking in the Footsteps of Krishnamurti
Hiking the Dutch Coastal Path – Netherlands
Hiking the Hanzesteden (Hanseatic Cities) path
Lee Trail – Luxembourg – 3 days Hiking
Or how about the pilgrimage up north?
I hope you enjoy this world as much as I do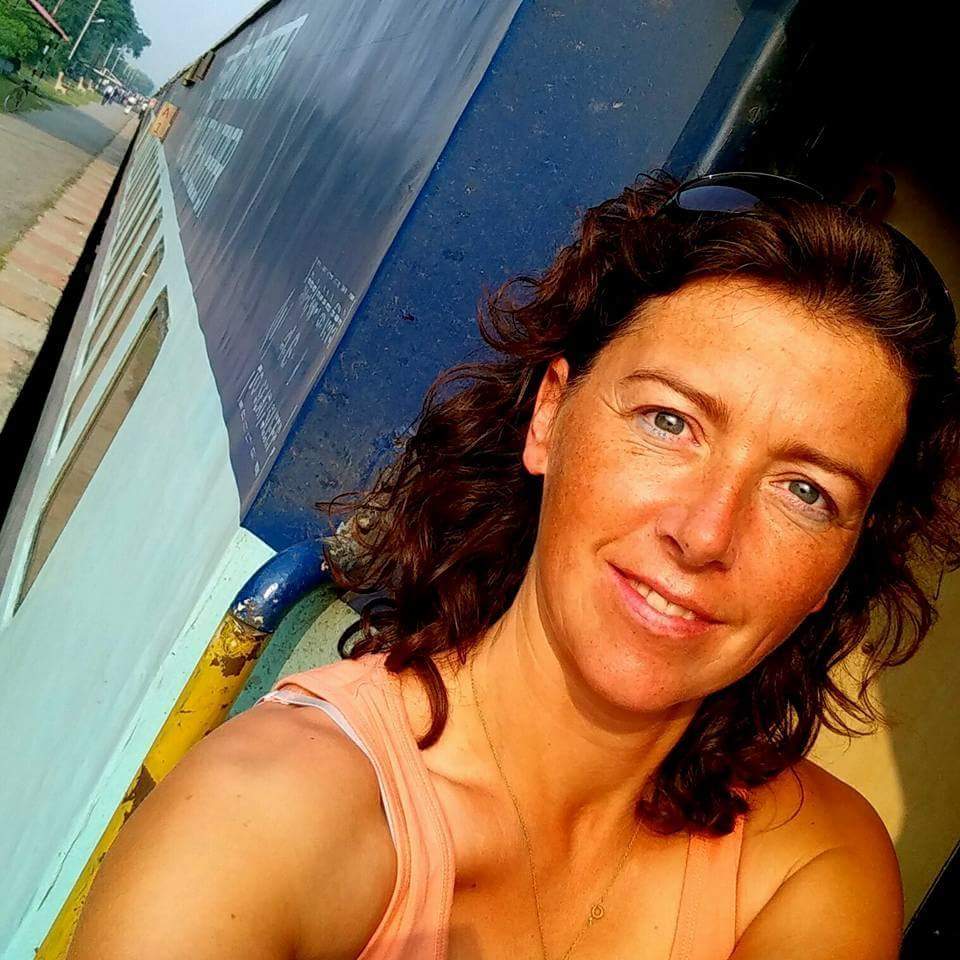 Jacomijn is een politieagent uit Nederland die jou graag laat zien hoe je veilig, actief en gezond de wereld kan over reizen. Safe and Healthy travel is a MUST