Healthy Travel on Gunung Machinchang Langkawi, Malaysia – 2x Great Views – Hiking on Machinchang Trail or cable car to Skybrigde Langkawi
|
Langkawi, a lovely paradise island of Malaysia just off the coast on the border of Malaysia and Thailand. When I went here for the second time, I resolved to visit the Skybrigde but also to hike a fine trail on Langkawi. Both were located on Gunung Machinchang and were easy to arrange. Needless to say, the views of both were really amazing. I think you can verify that my favourite was hiking on Machinchang Trail after all.
What would you rather do?
Hiking on Machinchang Trail for amazing views?
Or take the cable car to Skybrigde Langkawi?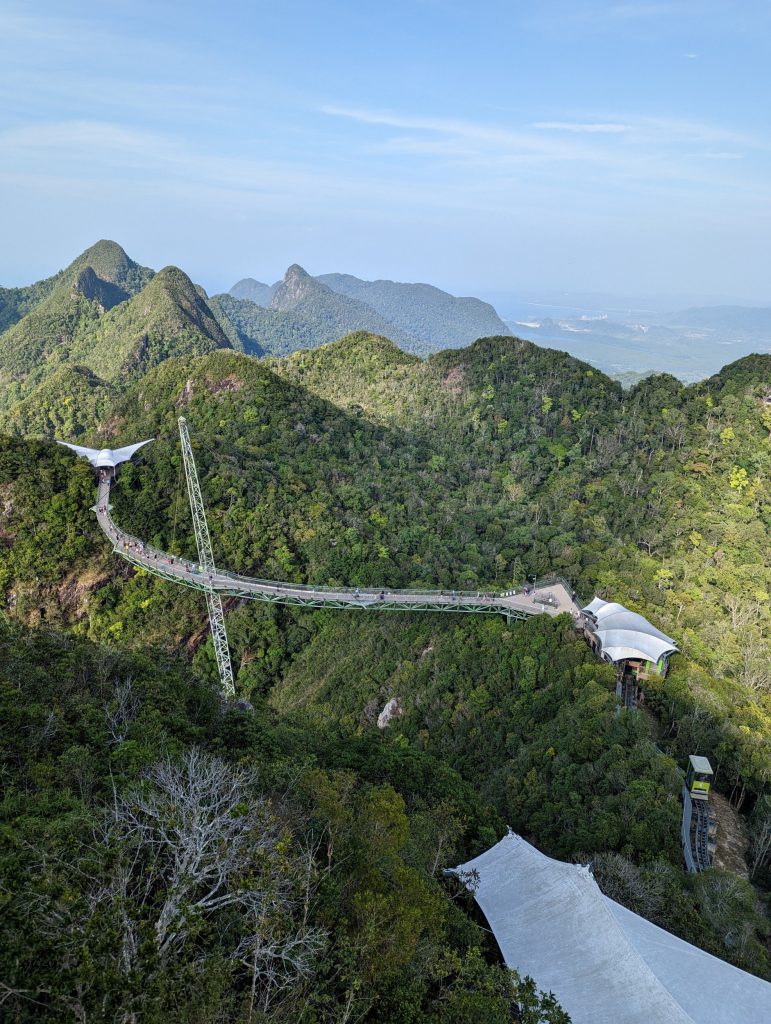 When I arrived in Langkawi, I had a Grab taxi take me to my hotel. After lunch and a short walk on Pantai Chenang's paradisiacal white beach, I decided to rent a scooter. I also decided to go to the Skybrigde that same afternoon. The next day, I could then drive to Mount Machinchang again.
And then to do the hike that took me to Machinchang Peak but also past the Seven Wells Waterfall.
You can rent a scooter in many places on Langkawi. I paid 30 MYR which I converted to about 6 euros. Just know that they are all motor scooters and you will therefore need a motorbike licence. They do not ask for this, so it will not stop you from renting a scooter. However, if something happens to you, your insurance might not pay out because you did not follow the rules.
If you're not really into hiking and don't like a challenge, preferring to go for easy you might want to opt for the cable car and skybrigde. I loved the challenge and workout of hiking on Machinchang Trail and would so do it again. But the two views are really different.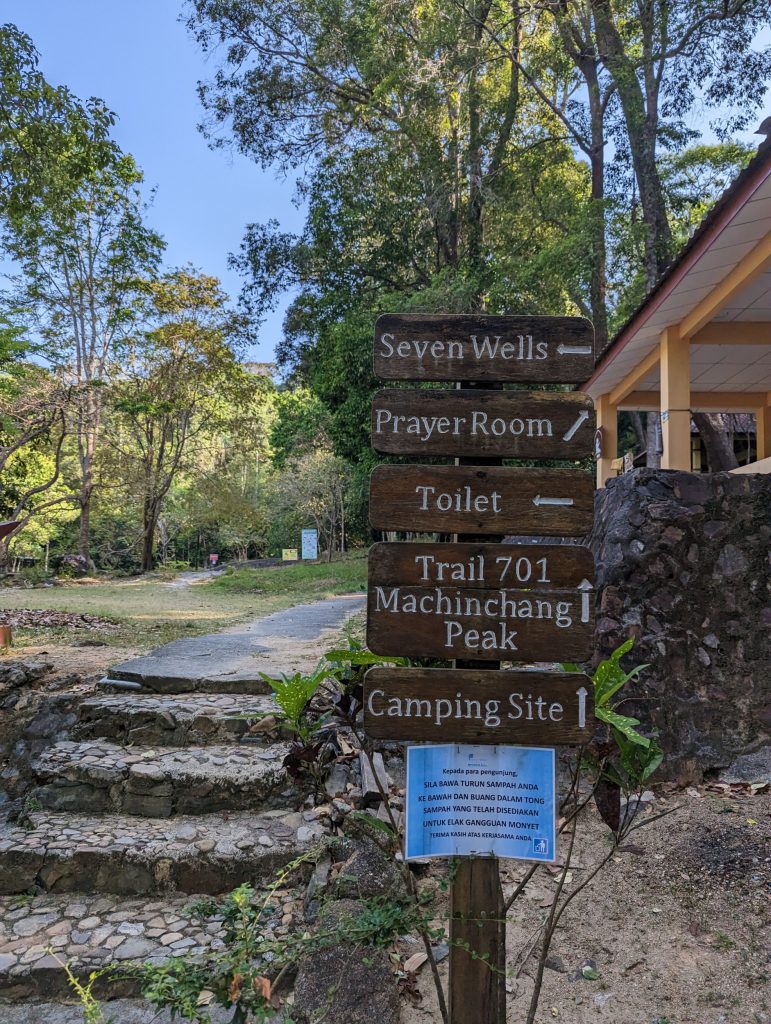 How do get to Gunung Machinchang?
From Pantai Chenang, it's about 20 km to Gunung Machinchang. By scooter, it takes half an hour.
As I said, I hired a scooter to drive myself to Gunung Machinchang but of course you can also take a taxi. From the busy road where most of the hotels and hostels are located, drive along the inland road (the boulevard is one-way). I had my hotel (Dhania) opposite this food truck area. You then drive back past the airport and continue towards Telaga Harbour Marina. If you go to Koh Lipe or other island you will leave here by ferry.
Past the Telaga Marina harbour, you turn left and the road will take you a bit higher and you will also immediately get more into nature. You will also soon see the first macaques sitting by the side of the road. I don't have a picture of this because I don't take any chances in that area and didn't stop.
I'm not afraid of monkeys but I don't want them to get too close and be cheeky. Being scratched or something like that can of course have nasty consequences. I have been sick once because of monkeys…not that again!
At the roundabout at the end of this beautiful road, turn right and after a bit, before the cable car to the Skybrigde, take the first left. At the large car park, park your scooter or have your Grab taxi drop you off.
For if you don't know Grab. It's the Asian Uber.
Tip: If you went by taxi, it's useful to arrange the return journey in advance too. There aren't many Grab's around Machinchang and so ordering a taxi via the app then could be disappointing.
To the Skybrigde Langkawi by Cable Car
Taking the cable car to the Skybrigde is a super tourist trip, of course, so know that it is very crowded. Before you get to the cable car, you pass dozens of shops to buy souvenirs. After you buy the ticket you can join the queue. I was there at the end of the afternoon and fortunately the queue was not that long.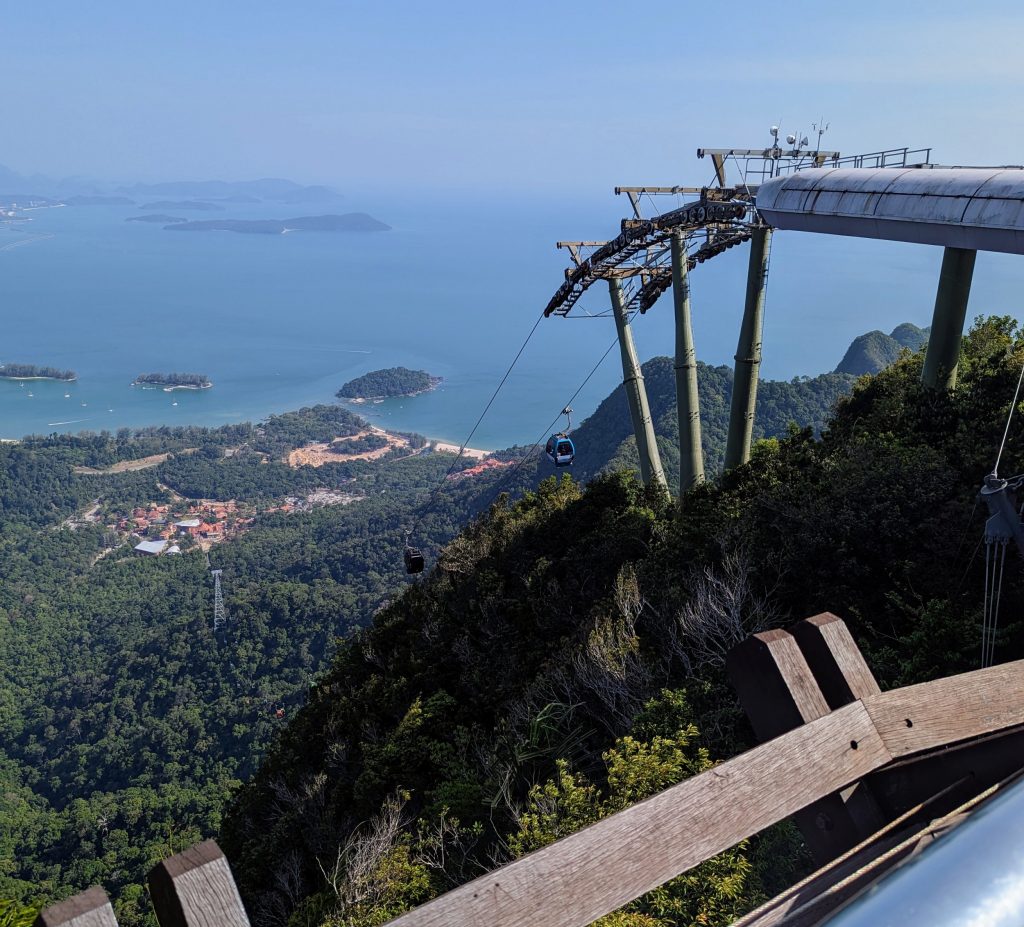 Soon I was in the cable car to the top and was able to enjoy the view. The higher you get the more you can see of the green surroundings and the Straits of Malacca.
I could of course see the Telaga Harbour that I had passed but I also saw the beach where I had taken a short walk earlier that afternoon. At one point you also get a nice view of the bridge, the beginning and end has a sort of canopy of white cloth. With a little imagination, you can turn it into a head and tail and then it's like the bridge is the dragon's body. I think they made that really nice.
When I arrived at the top, I walked straight up the stairs to the skybridge. You can take the glide, a little train that takes you up the last stretch, but of course walking a little is also nice. There were some macaques walking around and every now and then you get a nice view of the surroundings. The stairs first go down a bit and then up again and suddenly you find yourself in front of the 'famous' skybrigde.
The skybrigde is 125 metres long and is the longest bridge that seems to hang above the depths like this. And then it also has a beautiful arch so that at the furthest point you can only see nature, the sea and that depth.
I stood there for a while, enjoying the wind and silence… but of course also the view and the birds flying by. Continuing to the other side, the head side of the dragon, you can stand on a wider stretch for a while and have another view. More on the Machinchang mountain range where I would walk to the next day. Here, too, I stood for a while.
Taking in the space, the vastness of the place, the nature…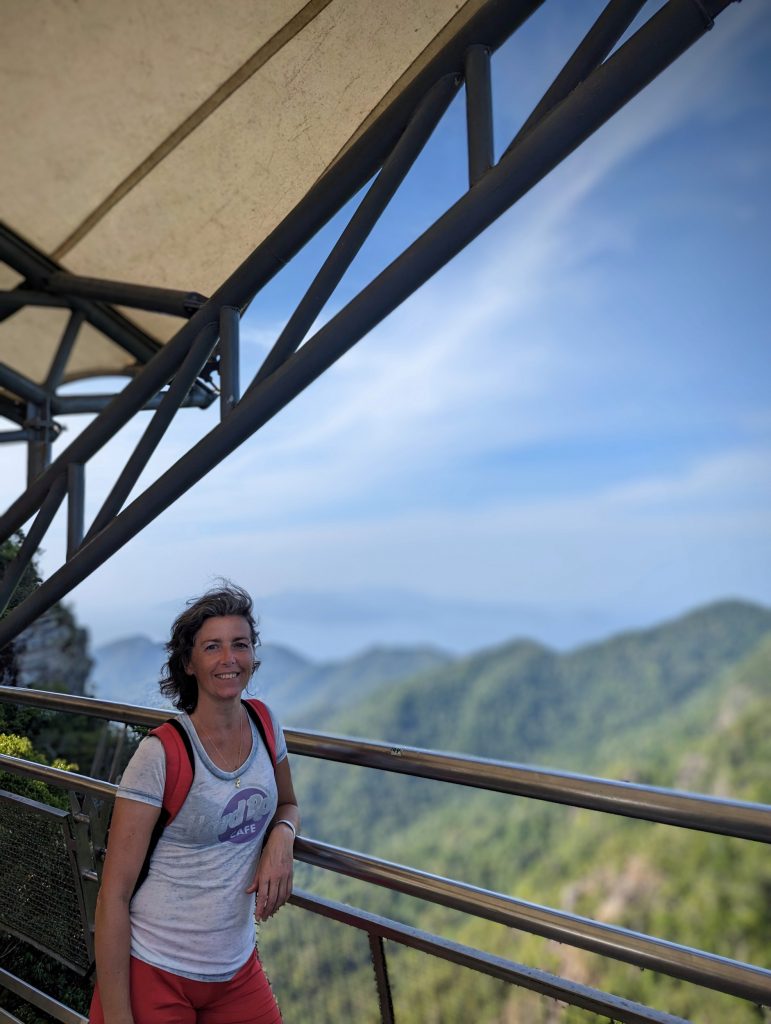 When I went back, I walked up at the cable car on the other side for a while. There are two more nice viewpoints there, also a little bar to get some juice or coffee. There are a number of signs with information about Gunung Machinchang, about the geopark it is part of and all the figures of the skybrigde. Suppose you are afraid of heights and don't want to go on the bridge, you can spend plenty of time at the top even without going up the skybrigde.
Prices Cable Car & Skybrigde
Going up by cable car costs 85 MYR, which converts to about 17 euros. You then pay another MYR 6 for the Skybrigde, about 1.20 euros. There is also an option to take a glide (little train) on that last bit, then you don't even have to walk the last steps to the skybrigde either. This one will cost you 16 MYR, about 3.20 euros. There are reduced prices for children, which I have not mentioned here.

Check for prizes and info for the cable car and Skybrigde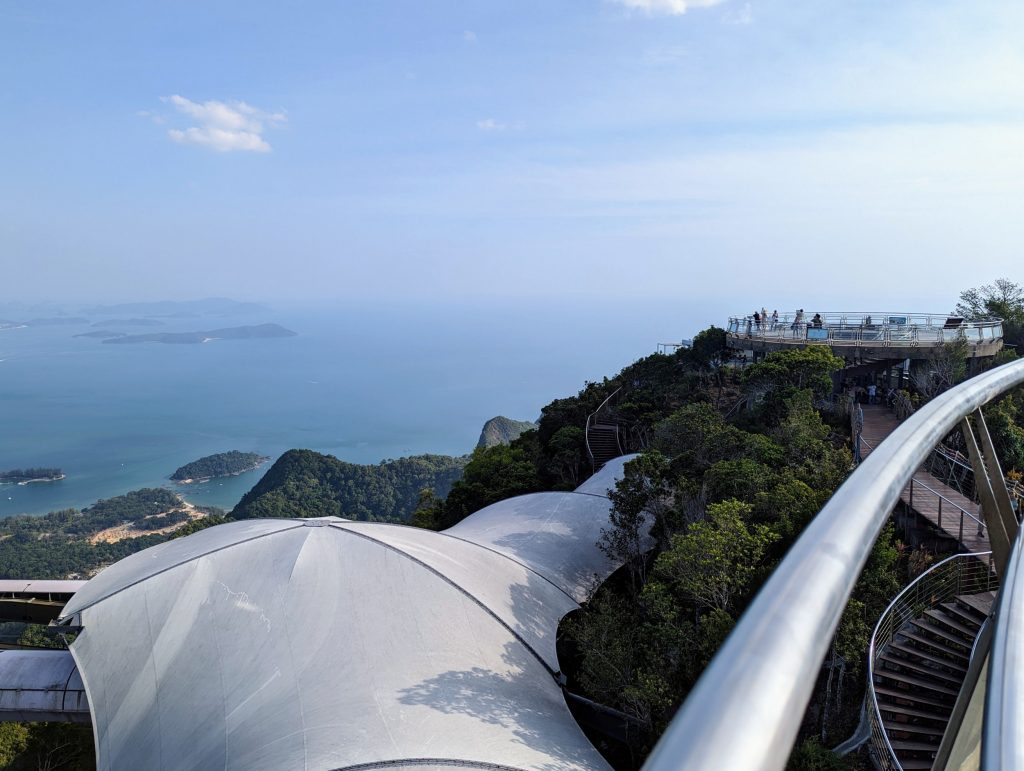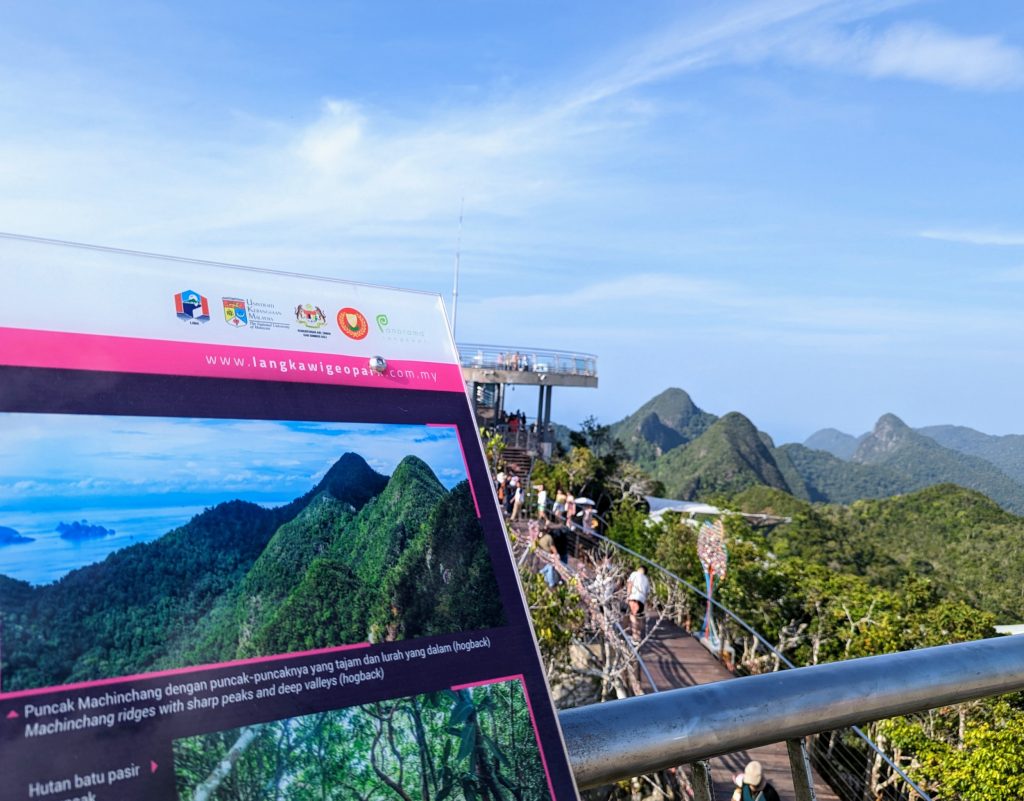 As you can see in the background of this photo, there is a substantial structure built on the beautiful karst stone cliffs. The view is really great but know that you so not walk there alone and it can be quite crowded at the top. I often travel in low season and am mostly lucky with less long queues. It is obviously a favourite trip for most tourists coming to Langkawi and I totally understand why!
Check for all my Maleisia inspiration
Hiking on Machinchang Trail
The next morning, after a fine roti for breakfast, I drove to Gunung Machinchang to go hiking on Machinchang Trail this time. I had an extra roti packed to eat on the way and, of course, a good bottle of water with me. My backpack also contained a granola bar just in case.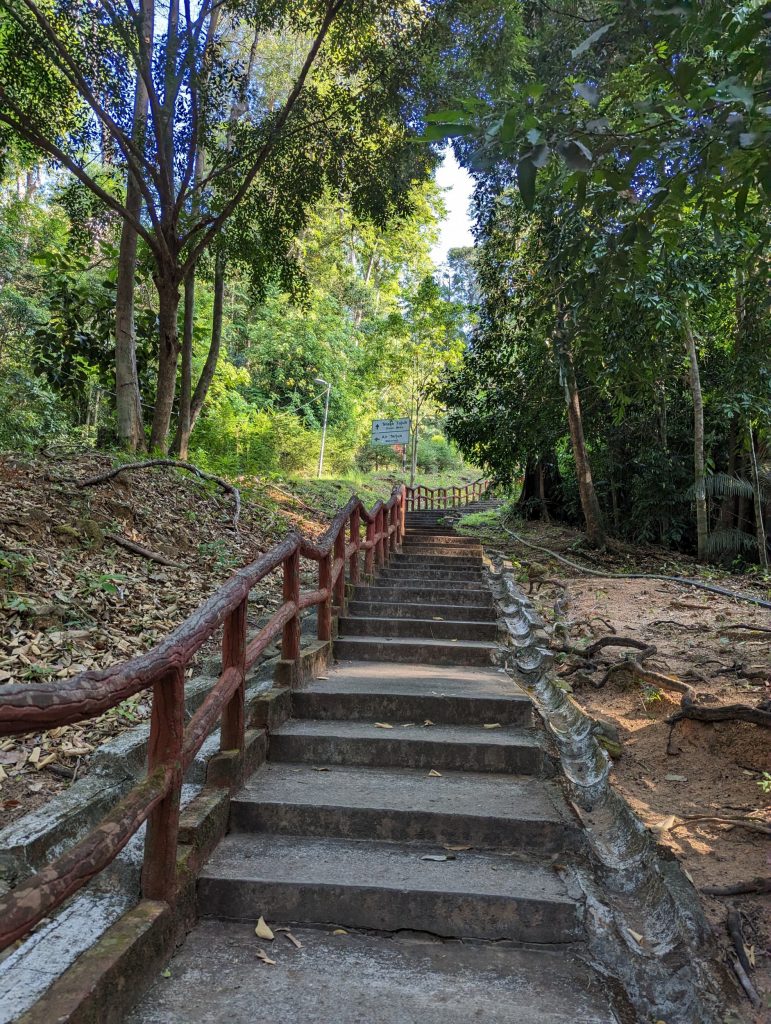 I drove past the car park where I parked yesterday for the skybrigde and soon saw the signs for Telaga Tujuh, the local name for the Seven Wells Waterfall. And moments later the welcome sign that I was in Langkawi's geopark. I parked my scooter, paid a fee of a few Ringit, I think 3 and that would be 60 cents. For that, a couple of males then sit by the car park…. Whether they really pay attention is of course something else but it is guarded.
When you start the walk you go straight up the stairs. After a few hundred metres you can turn left to the waterfall. I went there quickly because my experience is that I don't feel like it on the way back. The water splashes down from a height of 91 metres off a rock face. It then flows beautifully over the rocks and water-carved .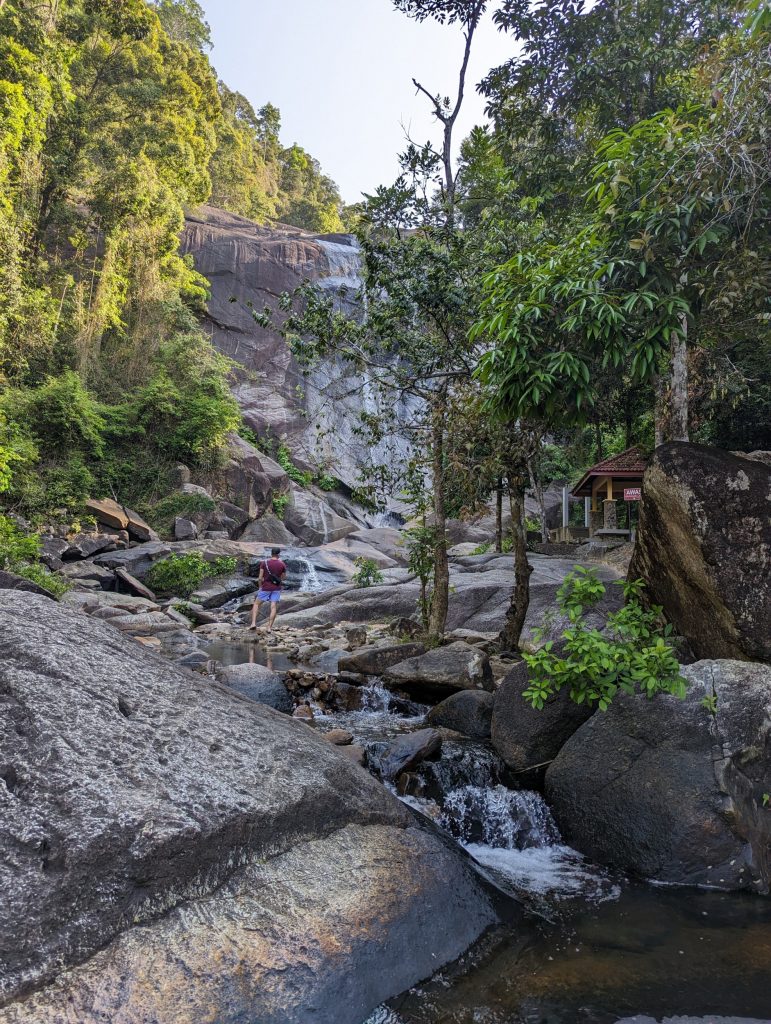 Then you return to the path, up the stairs, and after a few hundred metres you come out at the Seven Wells. I stood here for a while and as it was still early there were few visitors here. I decided to continue straight up. The walk to Machinchang Peak would take me about 2 to 3 hours so on the way back I could take some time here to cool off and wash off the sweat.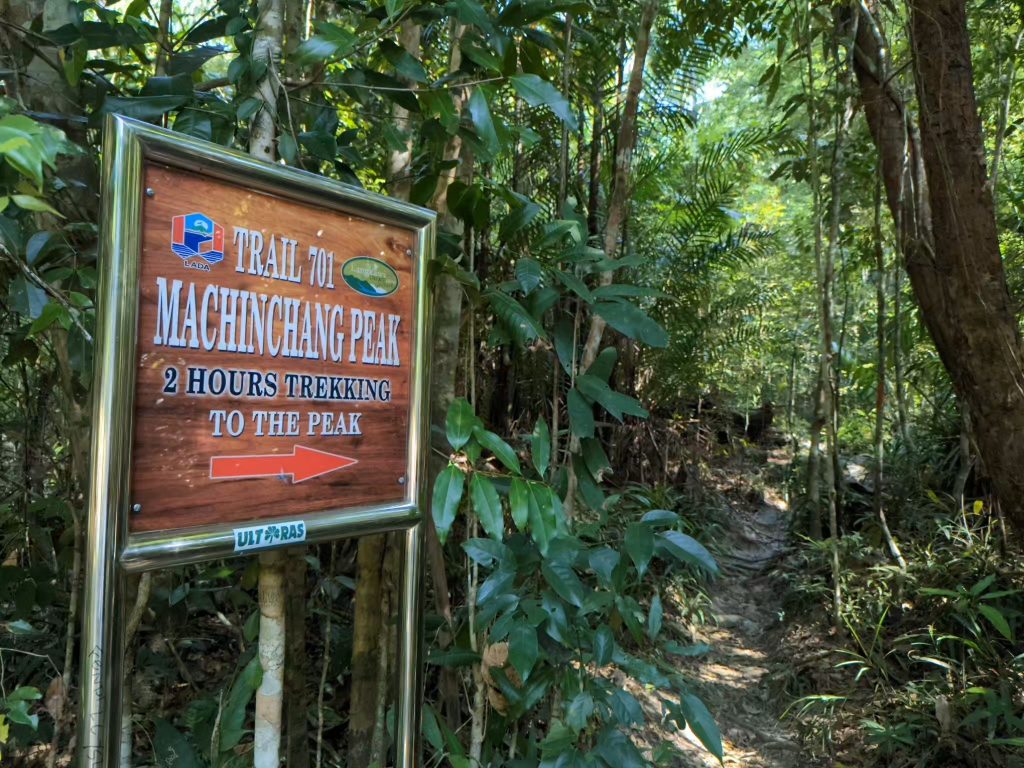 If you follow the water, you will see a trail disappearing into the forest at the end, on the left. You can cross the water at a narrow section and thus start hiking Machinchang Trail without wet shoes. As soon as you leave the water behind you, you find yourself in the jungle.
I always find it admirable how a forest creates its own atmosphere. The trees, the light, the sounds of the different inhabitants…. It all brings in an energy which in turn has an aura. So one moment it can feel super peaceful and everything is in balance while a few steps away there is an imbalance and the jungle has a completely different atmosphere.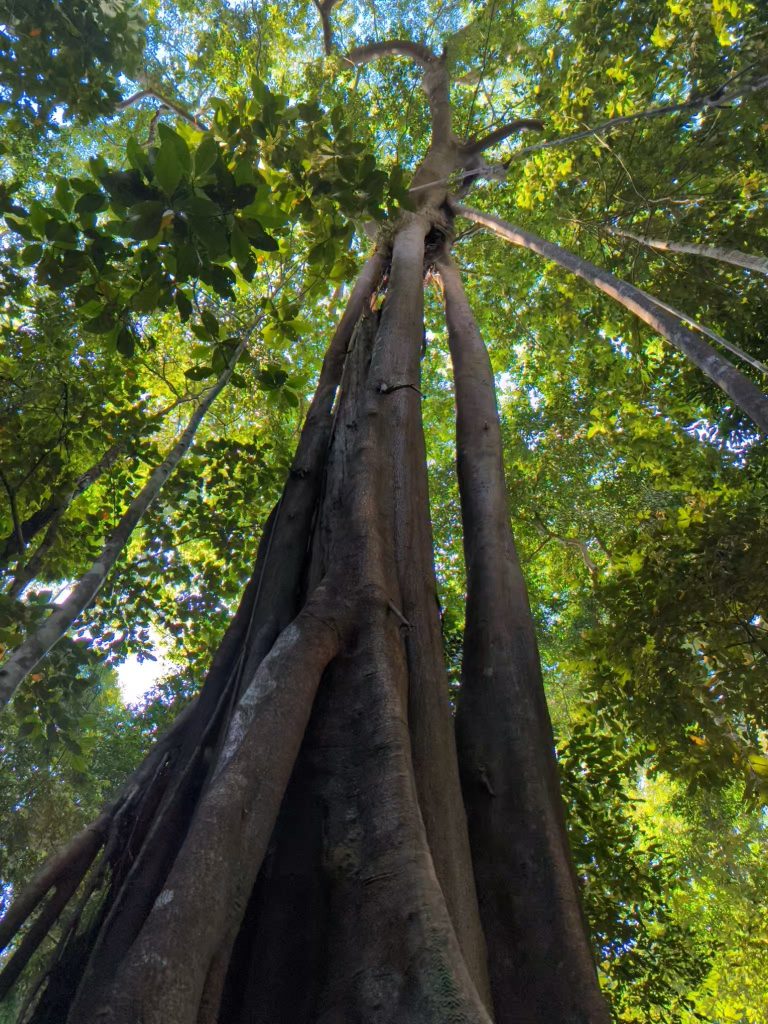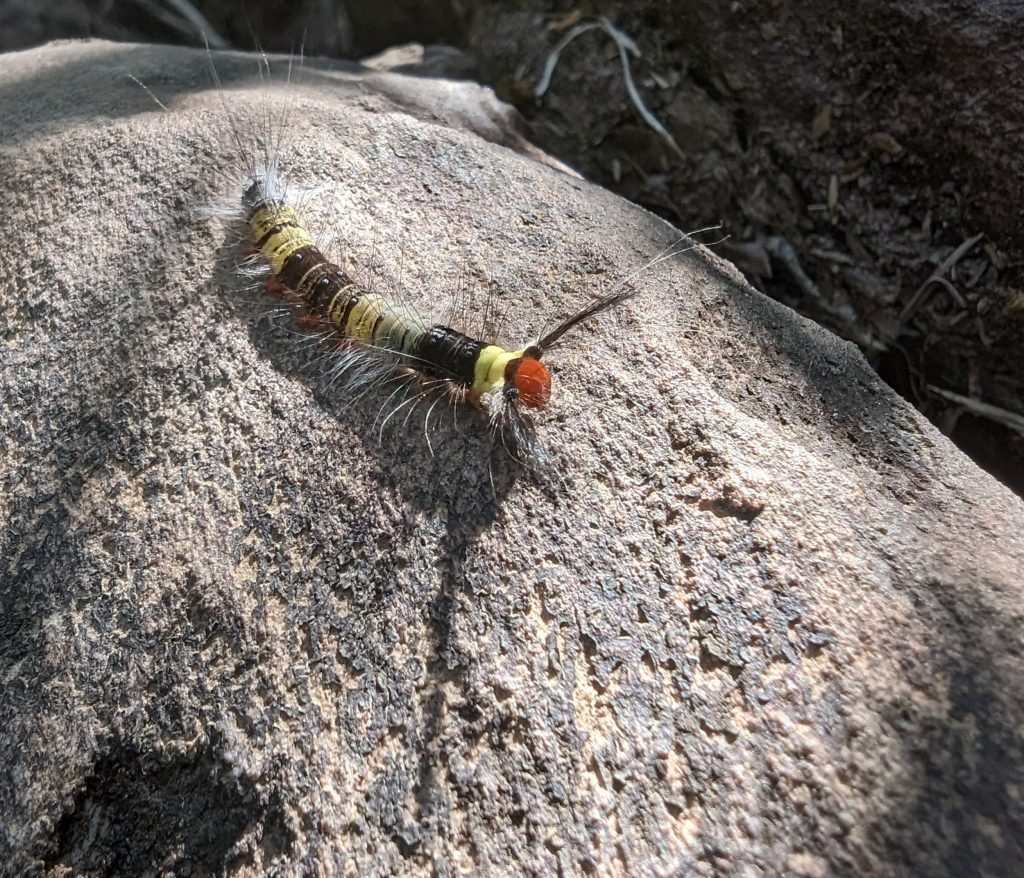 After some videos and photos, I realised that this way I would obviously never get to the top in time, be able to walk back, have a swim and then also return the scooter in time… After all, I had it until 15.30 that afternoon.
So just put the phone away and keep walking. I saw signs everywhere and everything was self-explanatory. After about an hour and after a number of signs counting down to 960 metres, it turned out I wasn't there yet. For a moment I thought I would be there already. But there was a sign telling you not only to continue but that the path would take you to the Peak. Of course I continued on because of course I came for that peak at the end of the Machinchang Trail.
Active hiking on Machinchang Trail
You do get a bit more of a challenge hiking on Machinchang Trail than admiring the view from the skybrigde. There had been some climbing in a few places, and holding on to the thick rope was quite manageable. But after a while on this trail, it actually became climbing and scrambling. How fun. I love this!
If you are a bit less sure of yourself when it comes to hiking, it is highly recommended not to hike and end up climbing here on your own. It is definitely not a trail for wimps. Also in terms of fitness, it's good to know that you can put in a few hours of effort in the heat of the jungle.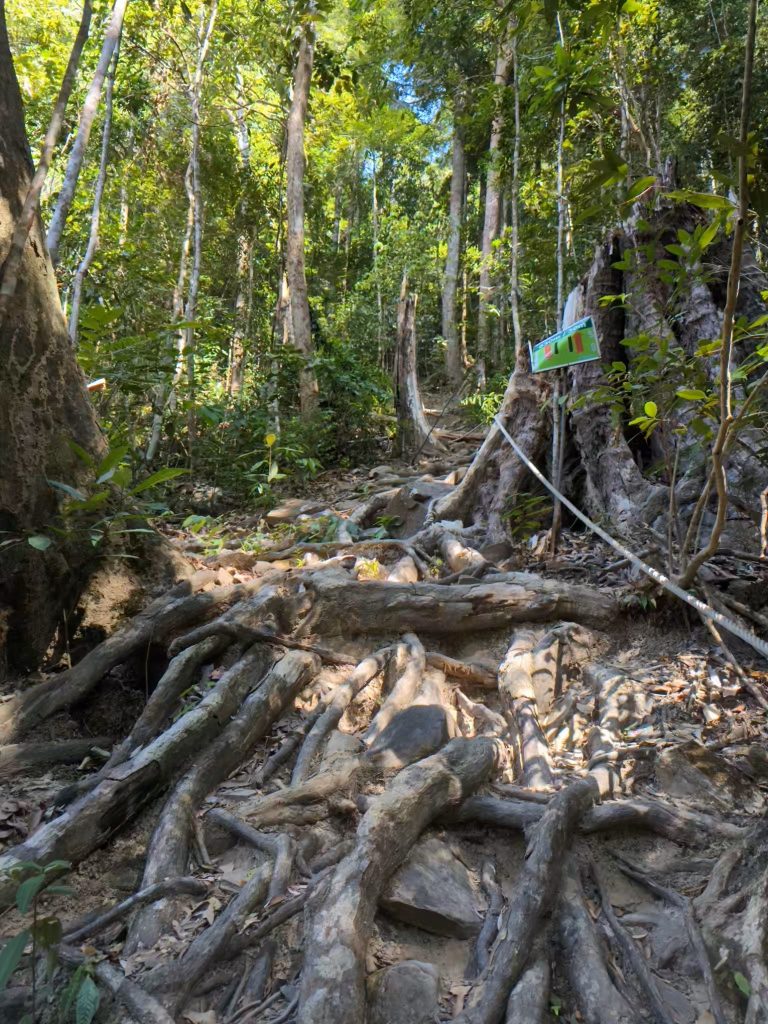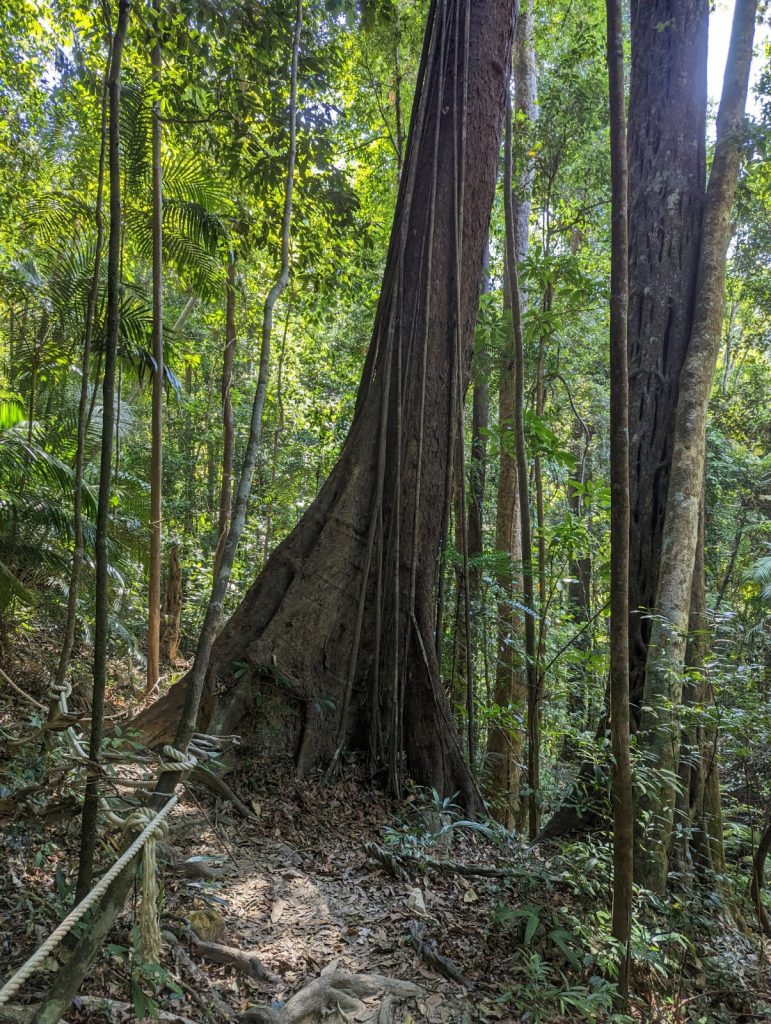 It was hot and humid… I was sweating a lot as a result and sometimes I had to do something on all fours. But I got higher and higher and closer to the Peak of the Machinchang Trail. I could hear monkeys in the distance, lots of birds around me and the occasional thing through the leaves somewhere beside me. Still, I must say I saw very little wildlife really.
I heard a lot, especially the monkeys at a distance. I didn't mind that distance. You walk there on your own and don't really want a group of monkeys to get cheeky anyway. For that reason, I quickly ate a piece of granola bar to avoid spreading the smell. I left my roti with cheese in my bag for a while.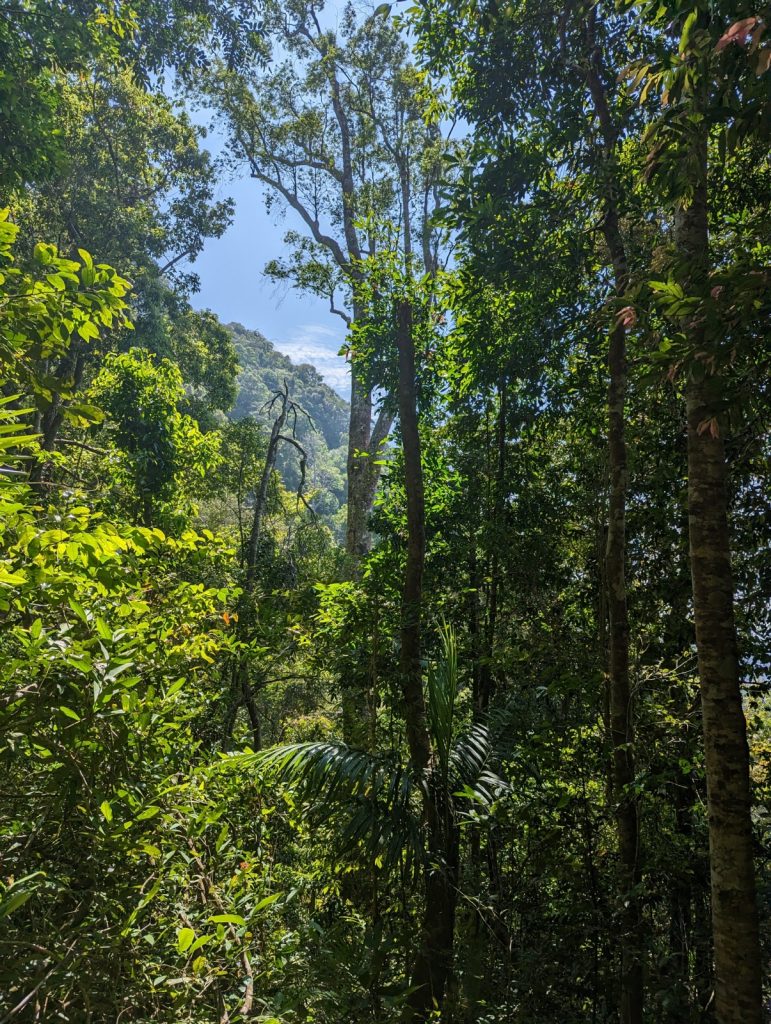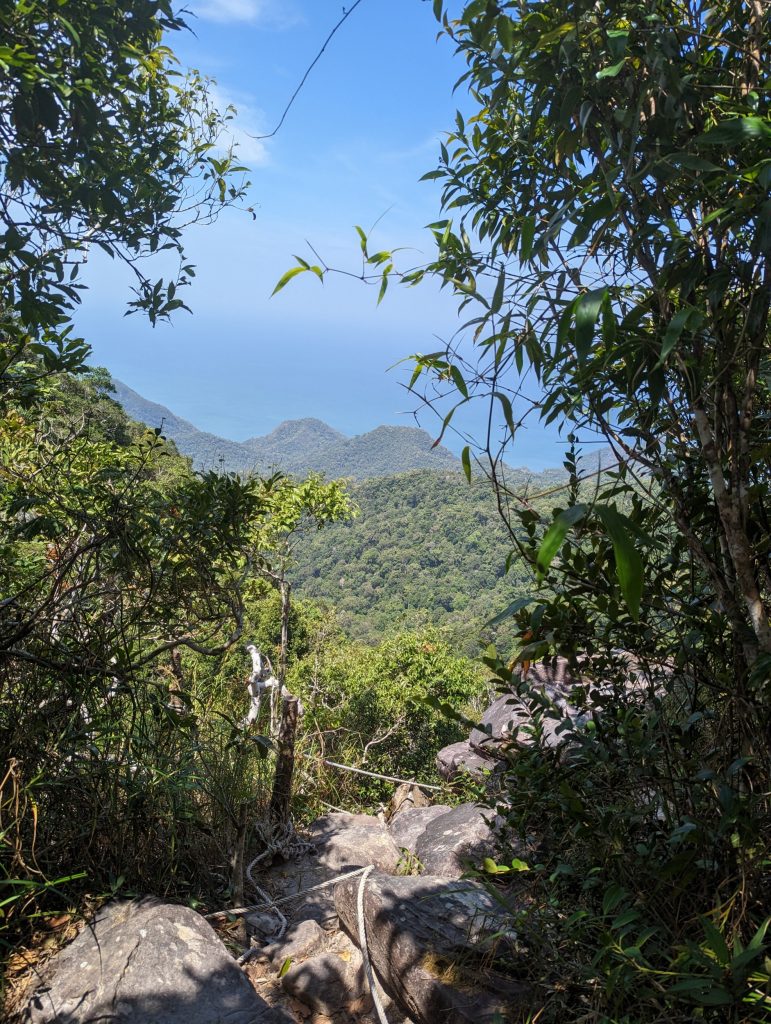 As I started the final stretch of climbing, along a huge rock, I met two young men coming from above. According to them, it was about 20 minutes before I would reach the top and that the view was amazing! I was happy to finally run into someone. Confirmation that I was right and that there was a reward for me at the top. Quietly I climbed on and held on to the thick rope.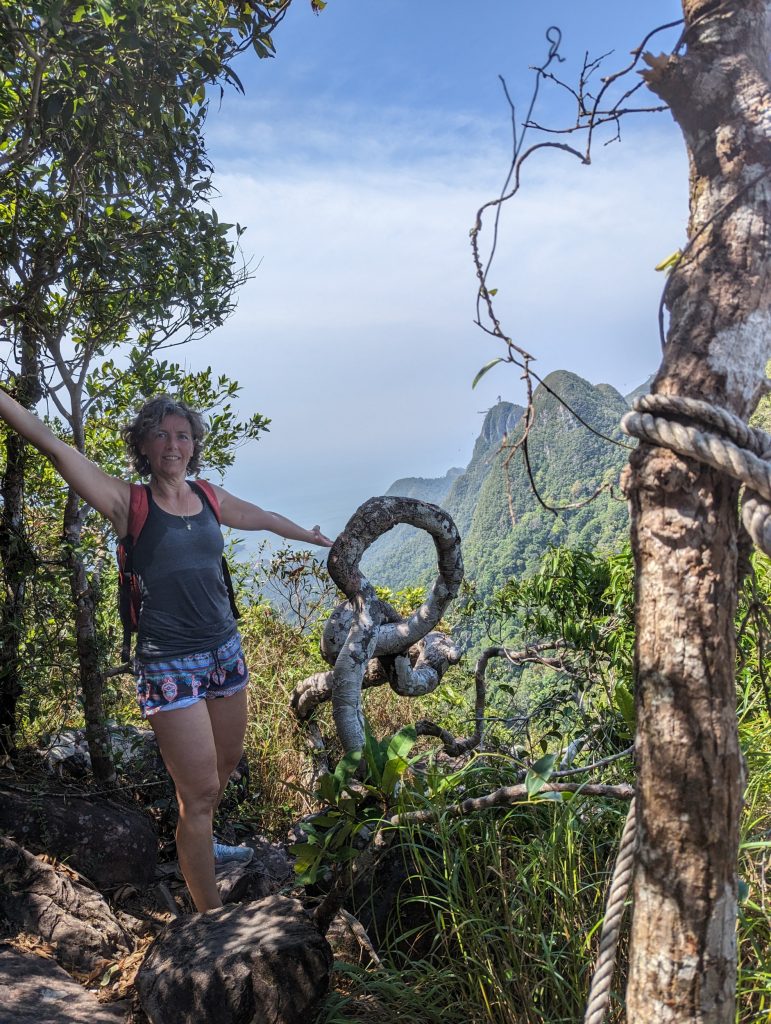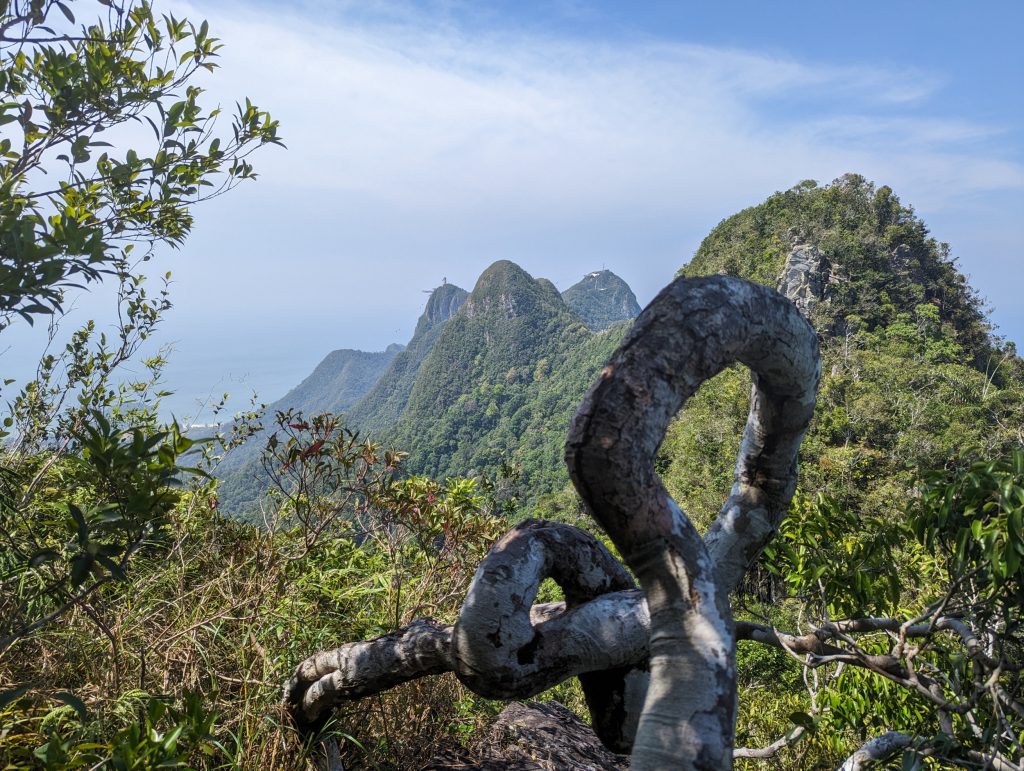 Just before you get all the way to the top, you have the best view if you ask me. I had also seen this picture on the internet every time I searched for this hike. I was tired, did put my phone down to take a picture but didn't check them. How unfortunate that they were then out of focus. And that after the break upstairs I didn't take a good photo on the way back too hahaaha! But yes, I did take a good mental picture!
At the very top, I took a nice break, drank water voraciously and ate that delicious roti with cheese. I always like them but of course now it was absolutely super! If you have to do something for it, feel you've earned it…
I sat here alone for a while until a man came upstairs, speaking just a bit too loudly and telling whole stories about his many walks…. Too bad. I listened to it for a while and then started walking back. Hoping I wouldn't run into him again and that he would keep walking with me. Fortunately, he caught up with me halfway and after a brief conversation continued. I bent down, tactically, to take a picture of an insect oid.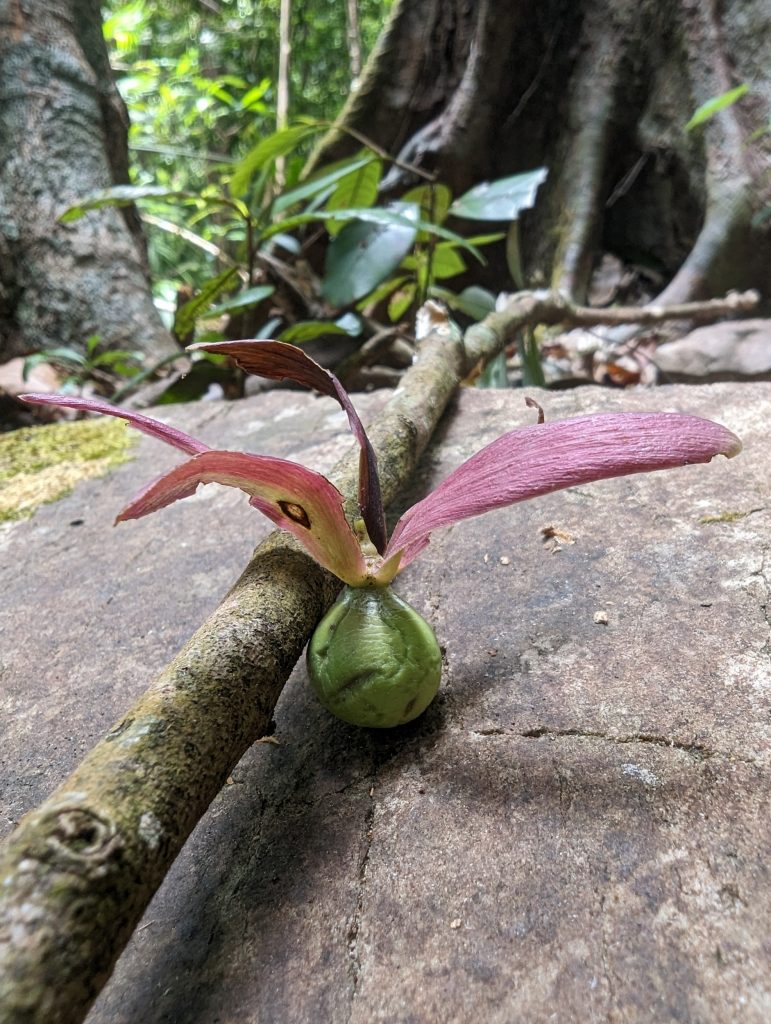 Safe and Healthy Travel on Gunung Machinchang Langkawi
Just know that when you start the way down you have the toughest part. At least for me! I like climbing and scrambling better and have less trouble with my body there. If I go down and have to take up weight in my legs all the time, my knees don't like it as much. So I feel I go a bit slower and choose my steps well.
Tips for hiking on Machinchang Trail

– Allow plenty of time for it. It took me 2.5 hours to go up. Going down is a bit easier after the first steep descent, so it took me half an hour less. So you will definitely lose half a day.
– Wear good shoes; you won't make it on flip-flops.
– Take enough water with you but don't forget to take some food as well.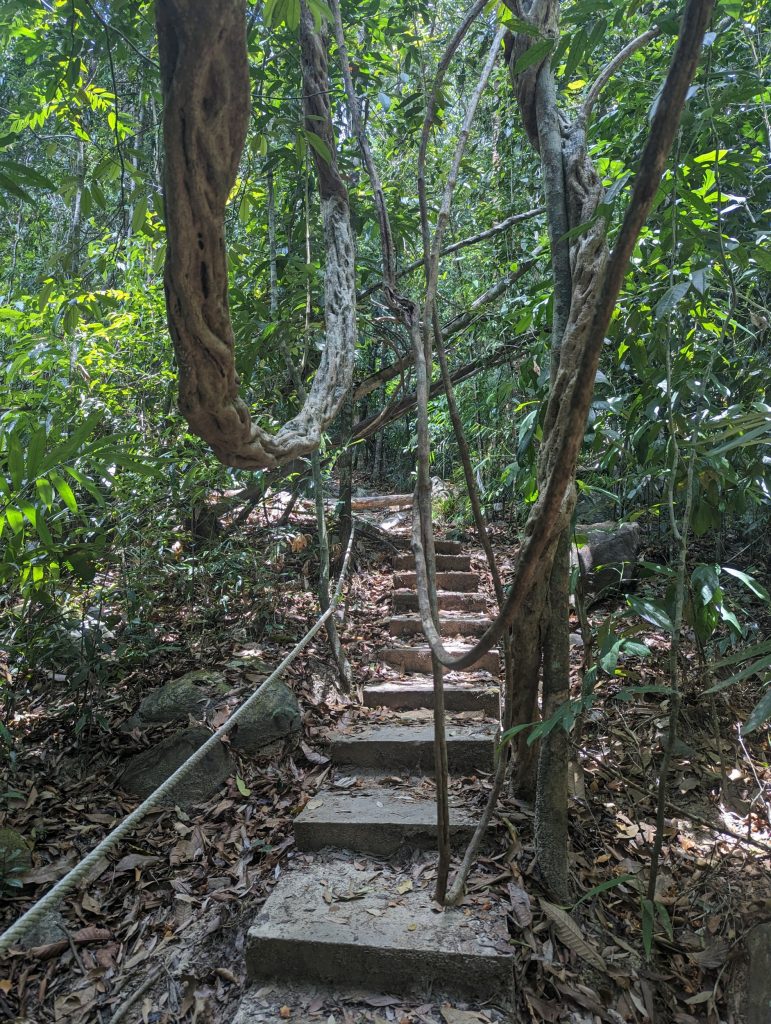 Seven Wells Waterfall – Hiking on Machinchang Trail
But the fine reward of the Seven Wells Waterfall is waiting for you at the end of your trail on Machinchang. It was hot and I had sweated quite a lot when I arrived at the wells. I was wearing my bikini under my clothes so quickly took off the clothes, which could dry in the sun for a while, and I 'dove' into one of the wells.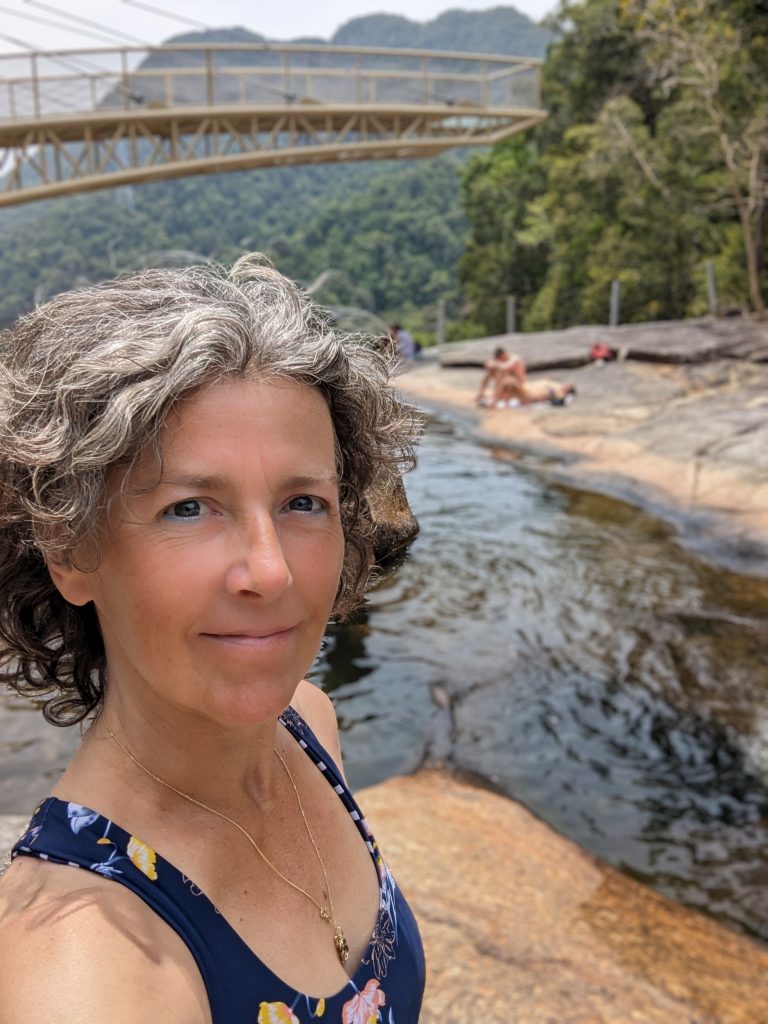 A few were using the slides from one well into another well over the slippery rocks. What a fun bit this is. They were having a lot of fun and I can imagine everything about that!
I struck up a conversation with a Russian woman and two men from the UK. It was, of course, about the war in Ukraine. It was a very interesting conversation and meanwhile I cooled off and we were sunbathing in the fresh water.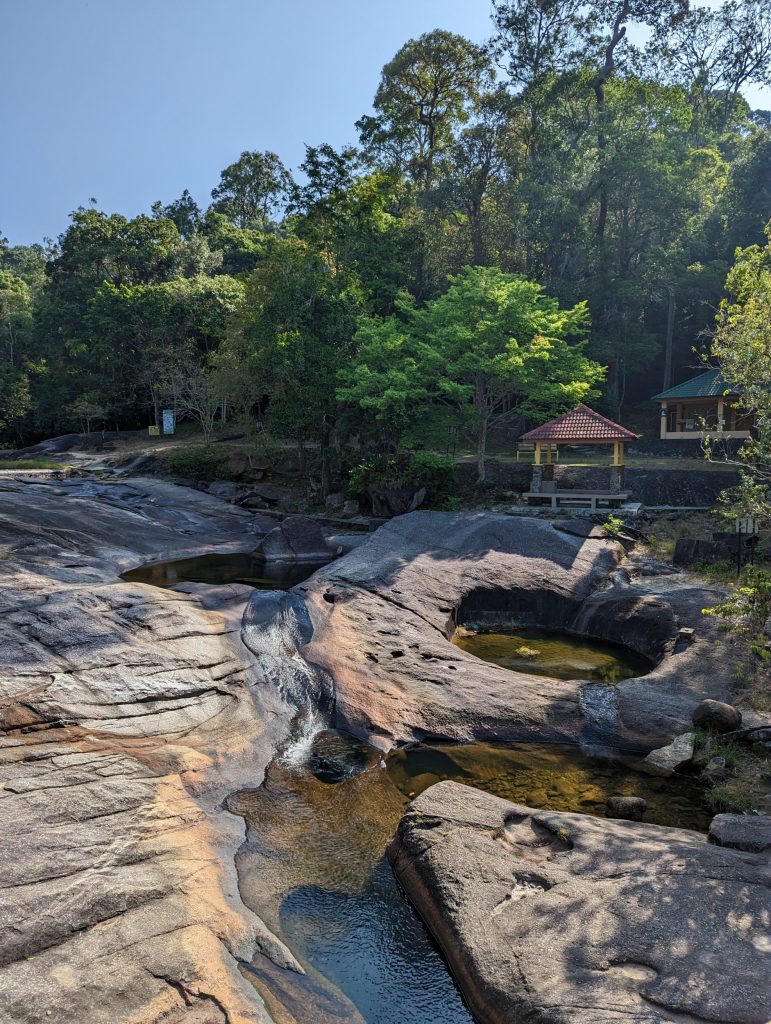 I enjoyed my two days on Langkawi. As I was in transit to Thailand, I decided to take the ferry to the next paradise island called Koh Lipe the very next day. On Koh Lipe, I stayed for 3 nights and went snorkelling and, of course, hiking!
Did you think this walk was cool too?
Then save it in your favourites or share the blog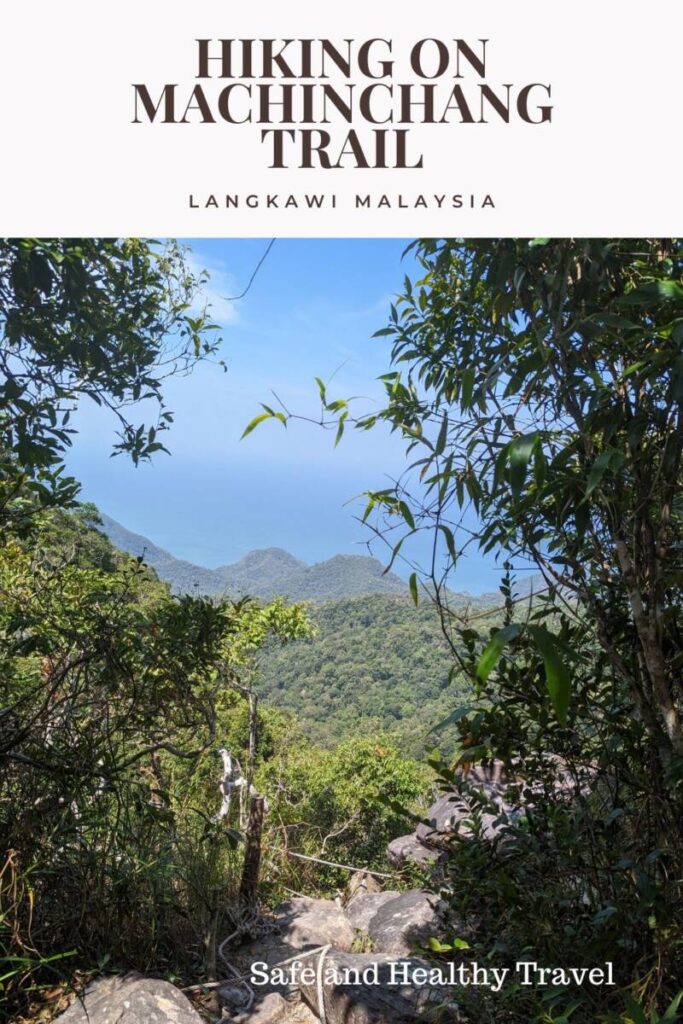 Read more?
Travel Guide Sepilok – Borneo – Malaysia
Hiking in the Sword, Red and Rose Valley – Turkey
Hiking in a Wadi – Oman, Jordan
Or go Cycling in Bangkok – Thailand
Earlier this trip, I walked in a cemetery in Melaka. Also super interesting and beautiful!
2 minutes into the Ice Bath – Meaningful Travel – Boosting your immune system in the ice bath
I hope you enjoy this beautiful world as much as I do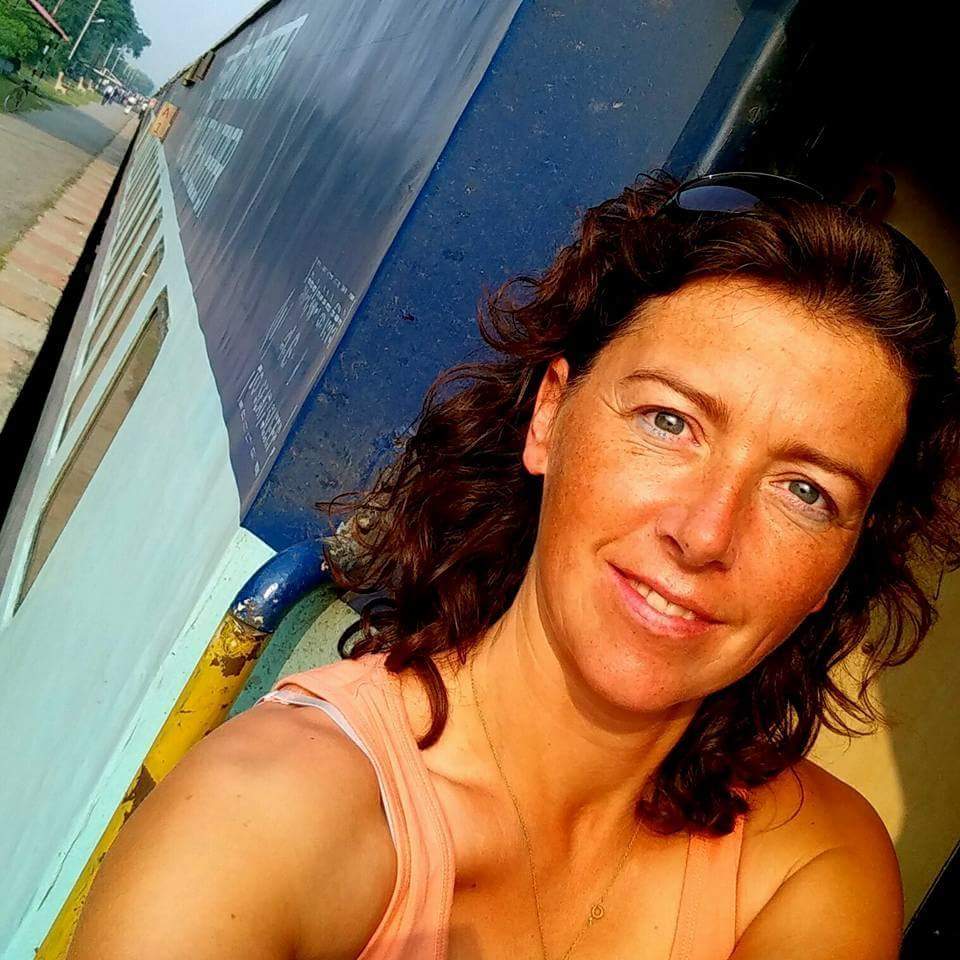 Jacomijn is een politieagent uit Nederland die jou graag laat zien hoe je veilig, actief en gezond de wereld kan over reizen. Safe and Healthy travel is a MUST