Tasting the authentic Nyonya Laksa of Donald & Lily in Melaka, Malaysia
|
Authentic Malaysian cuisine is what I was looking for. When I was here in 2014, I was first introduced to Nyonya culture. While browsing around on Instagram on location yesterday, I came across Donald & Lily and their authentic Nyonya Laksa. I resolved to walk towards the Donald & Lily restaurant. It was about 3.5 kilometres from my flat in the Imperio Residence and so I would arrive nice and hungry.
What does Nyonya mean? In earlier times, many immigrants came to Malaysia. These came from Europe, these of course were more likely to be settlers…but people from China, Singapore or Indonesia also came to Malaysia. In those days, a nyonya was a woman married to a European or Chinese.

The name is now most commonly used to refer to the melting pot that emerged from this. So this is a mixture of all kinds of cultures that is particularly reflected in the cuisine.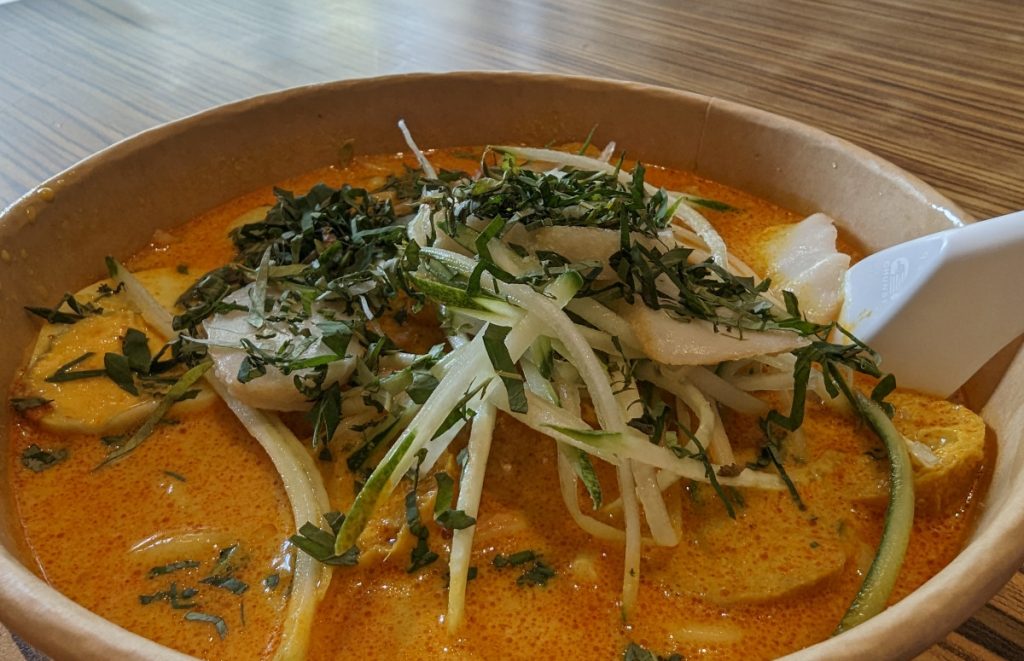 De authentieke Nyonya Laksa van Donald & Lily
Now whenever I read or come across Nyonya anywhere, it is always at a restaurant. So then it is always about food and there is always Laksa to be had. So when I saw the restaurant Donald & Lily passing by, this was perfect. So this afternoon I also went for Donald & Lily's local authentic Nyonya Laksa.
Where can you find Donald & Lily in Melaka?
The Donald & Lily restaurant is not located slightly outside the tourist centre. Yet it is very easy to find. When you get to the junction where you find Christ Church Melaka then walk parallel to the water out of town. At one point, you walk towards a large junction and there you will see big letters #LITTLEINDIA. This is where you enter the Littel India district. You are then already walking on Jalan Bendahara, so keep following the road and you will come across the restaurant on your left at some point.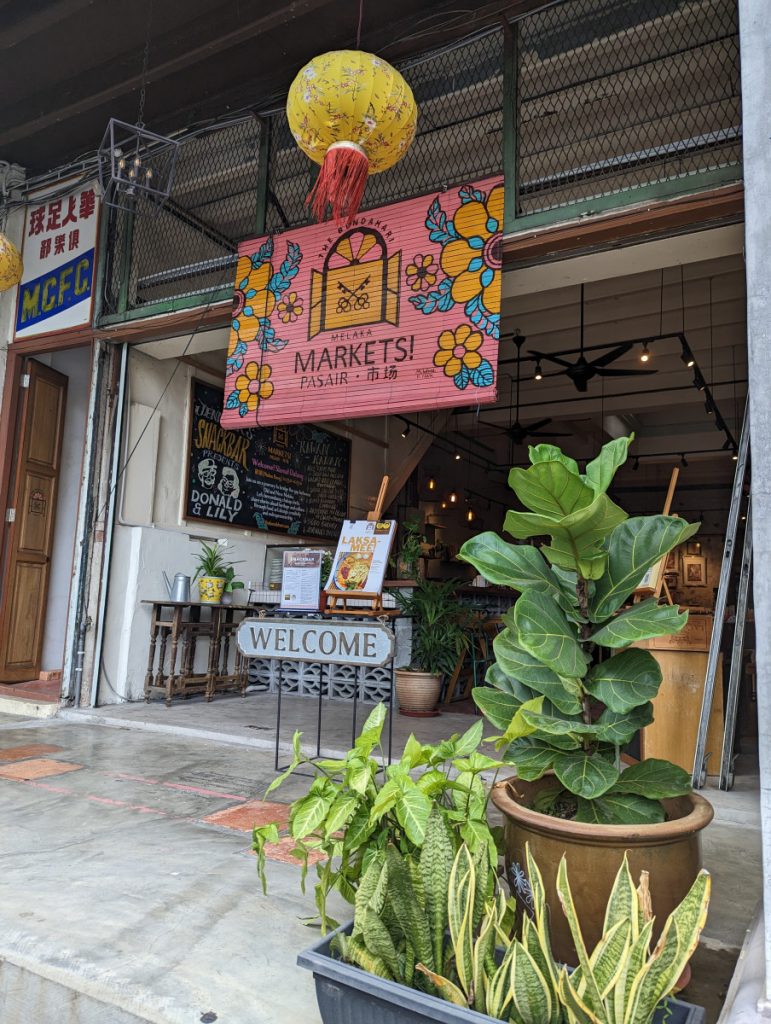 They just hung a beautiful wooden blind with the text Melaka Markets on it.
Jennifer – Daughter of Donald & Lily
It was quiet when I was there so Jennifer who introduced herself to me had all the time she needed to help me. She had run this restaurant recently now, it belonged to a friend of hers. Melissa, who came around the corner shortly after. She was in the shop next door; a library was about to open here. When I peeked inside, it also seemed to be some kind of gallery. Looked nice and chic.
Eating Nyonya Laksa Food in Melaka, Malaysia
Jennifer told me that first, before corona, she had a kind of snack bar in old Melaka but she had not been able to keep it. So now she had a partnership with Melissa and could offer her authentic Nyonya Laksa again. She explained that the name Donald & Lily was not chosen at random, these were her parents. She was second generation in Melaka, she proudly showed me a picture of her parents. I saw a beautiful picture from at least 40 years ago. Early 1980s!

Jennifer added that her parents started here with a tricycle that they used to go through the streets to sell the Laksa. You can still see it now. Yesterday, I took another picture of one of those abandoned bikes….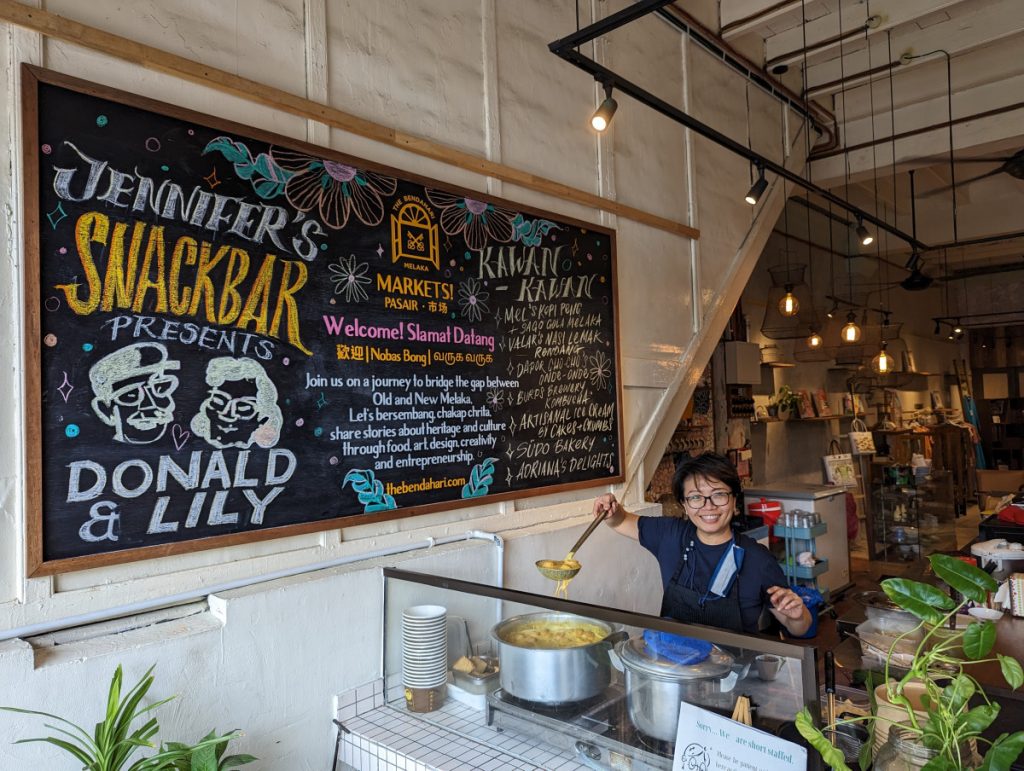 Jennifer her father is no longer alive but this way, by naming the restaurant after her parents, he too remained in her thoughts daily. She told me with a proud smile on her face. I ordered an Authentic Nyonya Laksa from her and she got down to business.
The authentic Nyonya Laksa of Donald & Lily
The Authentic Nyonya Laksa
It was not long before she returned to me with the Authentic Nyonya Laksa in a paper soup bowl accompanied by a glass with juice in which I saw lemongrass, a few mint leaves and something else that looked like groats. It was slightly sweetened with brown sugar she added.
She had not added the hot sambal for me but put it on a small saucer. I can tell you that I didn't use any of it. The soup was delicious and probably hot enough for me. I saw a thick well-filled soup with boiled egg, fish balls, fish cakes, tofu puffs and bean sprouts, laksa leaves (daun kesum) and with thick egg noodles underneath. It was also supposed to have cockles but I asked if they could be left out. I never like that much.
With chopsticks in one hand and a Chinese spoon in the other, I started eating slowly.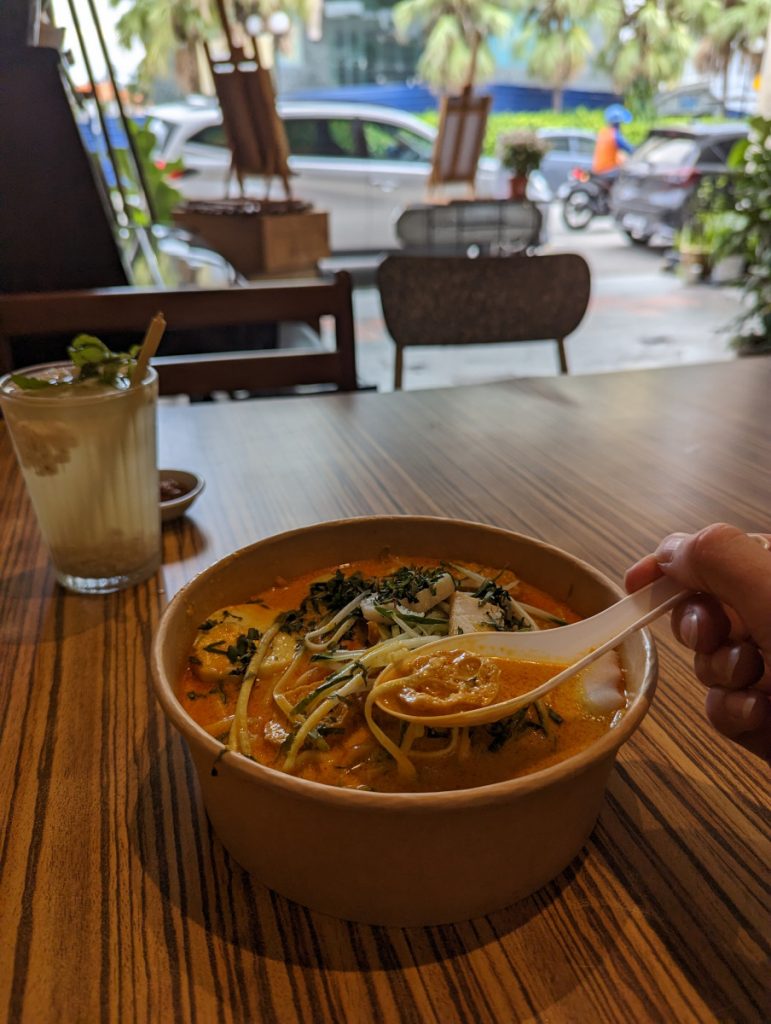 Delicious! This way, with the spoon and the chopsticks, you fish some out with the chopsticks to put on the spoon and then dip it into the soup so that some soup is added and then into your mouth. You can pick your bites really well this way. I do like the way you eat.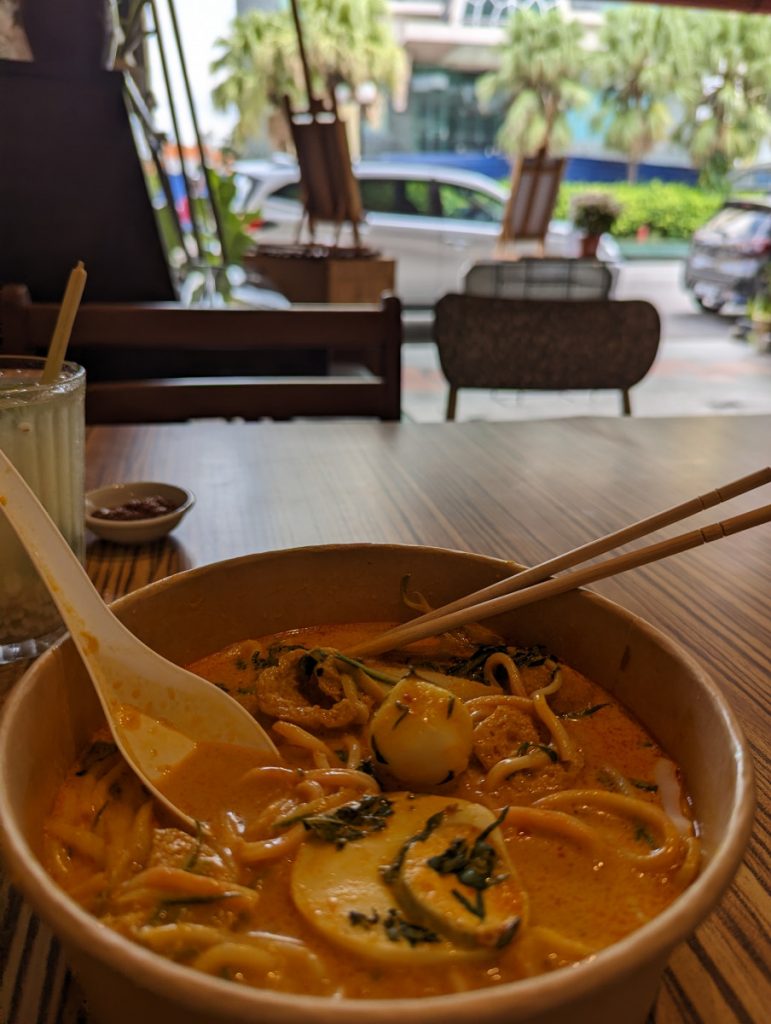 Donald & Lily's restaurant also has a small shop in the back. So if you have to wait a while or after you finish your meal, you can have a good time browsing through what they have on offer. I saw cards, small trinkets but also clothes, jewellery and pretty bags. And all in a super nice and modern shop/restaurant.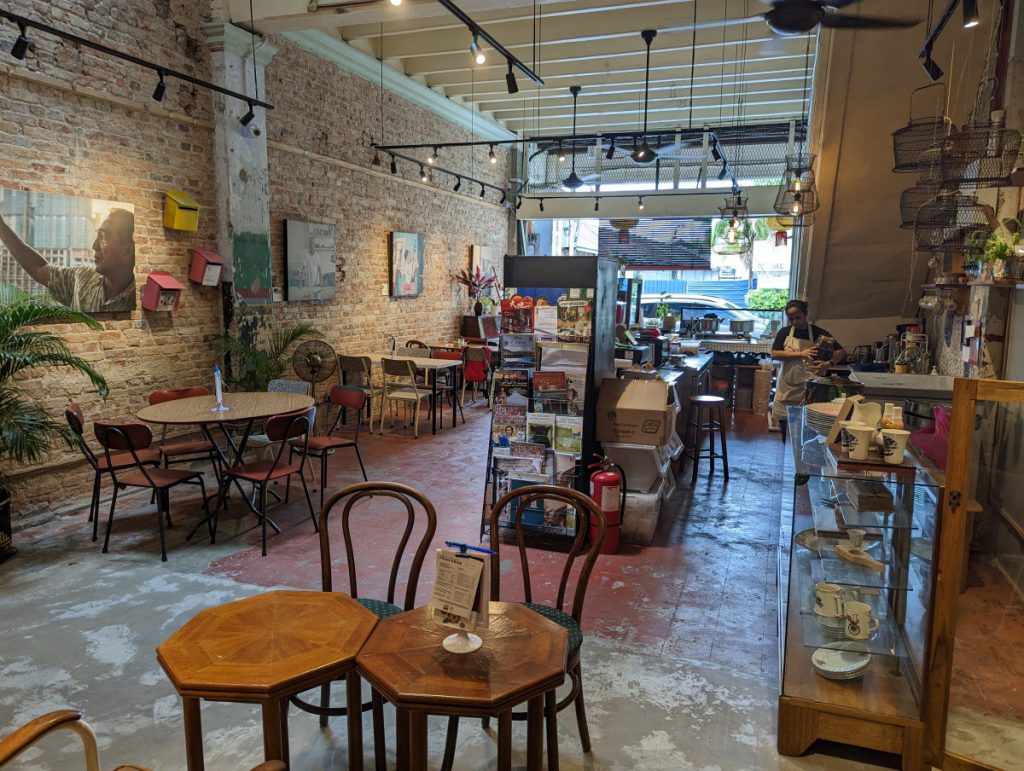 Authentic Nyonya Laksa food in Melaka, Malaysia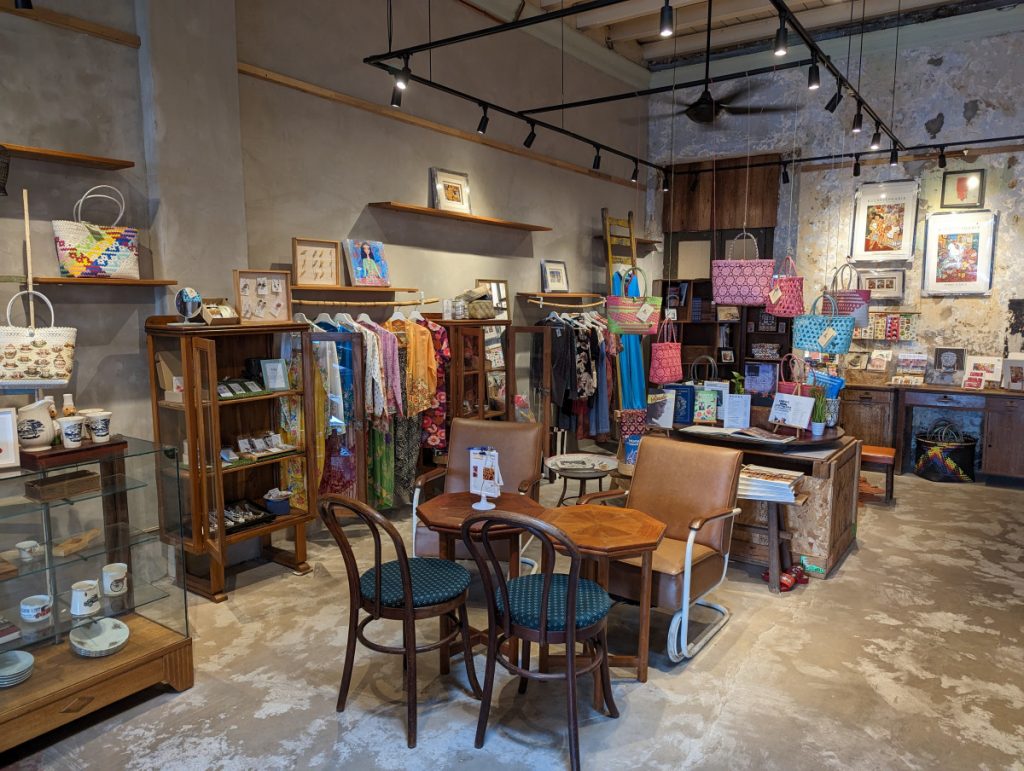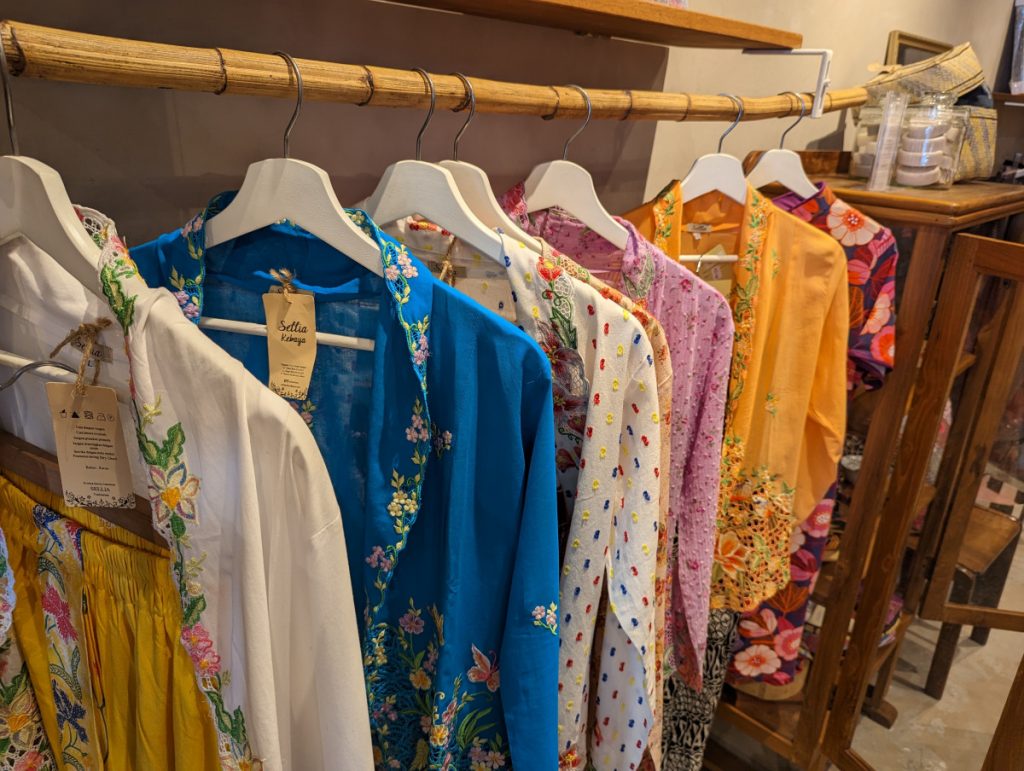 These are places I really enjoy writing about. Places I am very happy to recommend!

Costs of the authentic Nyonya Laksa
I had to pay just over 20 Ringgit for my authentic Nyonya Laksa soup and my drink. Converted, that's 4.30 euros. You can't get lunch for that in the western world, right? Here, it's not the cheapest soup, in fact I ate a good soup with coca cola for 10 to 15 Ringgit the other day. And I can tell you that the cola cost almost as much as the soup.

Would you walk a bit in front of this authentic Nyonya Laksa if you are in the tourist centre?

Share or Pin this great Nyonya Laksa?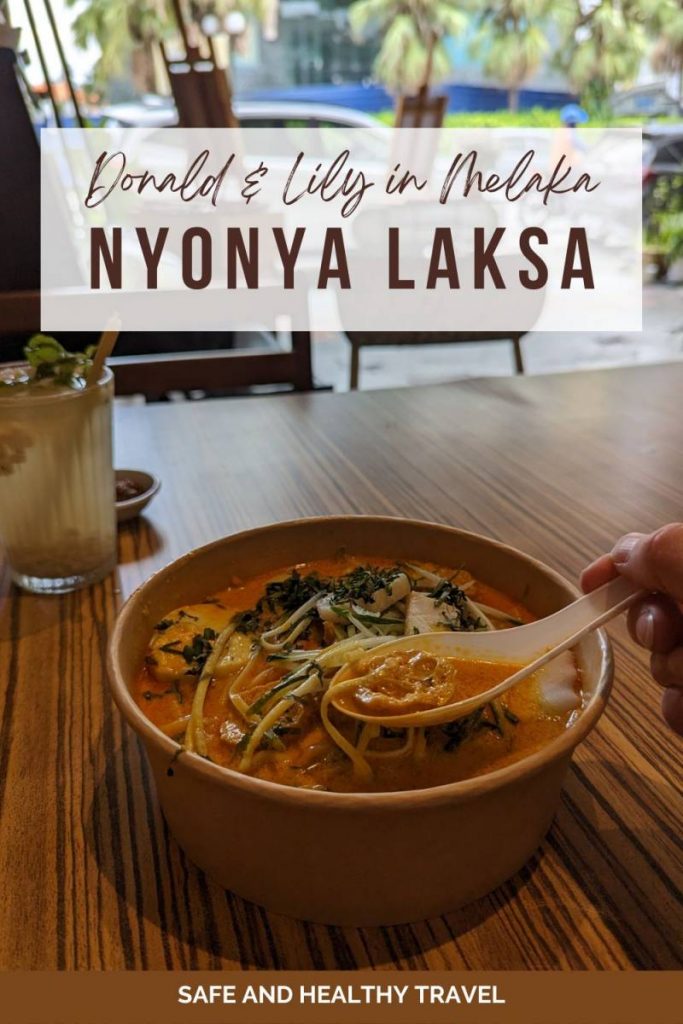 Want to read more about Malaysia?
I once took a cookingclass in Penang
Do you know the story of the Haunted Kellie's Castle?
Or go to Borneo – 3 days in the Jungle of Kota Kinabatangan
And I took some dives at the #1 spot to dive according to CNN
I hope you enjoy this beautiful world as much as I do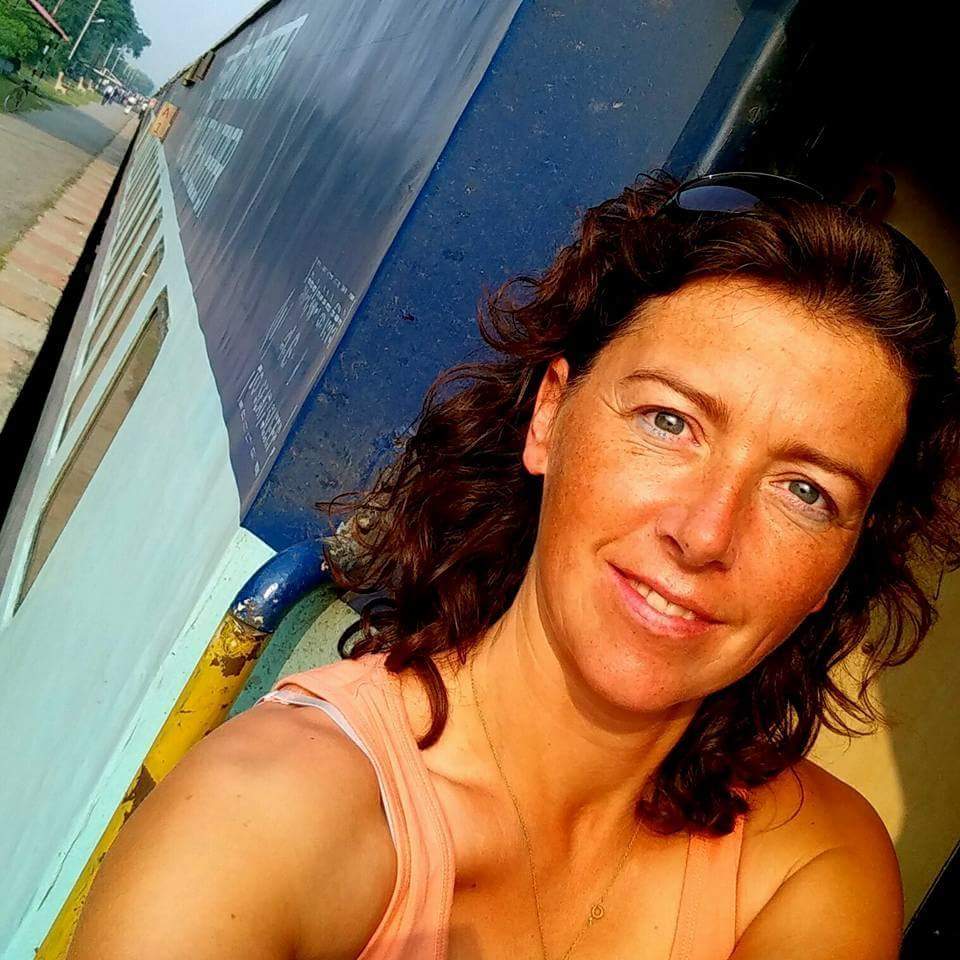 Jacomijn is een politieagent uit Nederland die jou graag laat zien hoe je veilig, actief en gezond de wereld kan over reizen. Safe and Healthy travel is a MUST