Hiking in the tea plantation of the Cameron Highlands – Malaysia – What to do at Cameron Highlands, Tanah Rata
|
I had been to Malaysia before but had never visited the tea plantations there. However, I had seen them in Kerala and Sri Lanka. When I was back in Malaysia in February 2023, I thought it was a good plan to visit them this time. I was going to do it differently though, this time I was going to hike through the tea plantations of Cameron Highlands. Read more about what to do at Cameron Highlands.
The Cameron Highlands is a plateau in Malaysia, about 150 km north of Kuala Lumpur. Ideal for tea plantations, the temperature is 10 to 25 degrees, this is of course because it is 1,500 metres above sea level. In earlier colonial times, the British were here and planted the first tea plants here. They lived here partly because of the pleasant temperature and the beautiful mountainous landscape.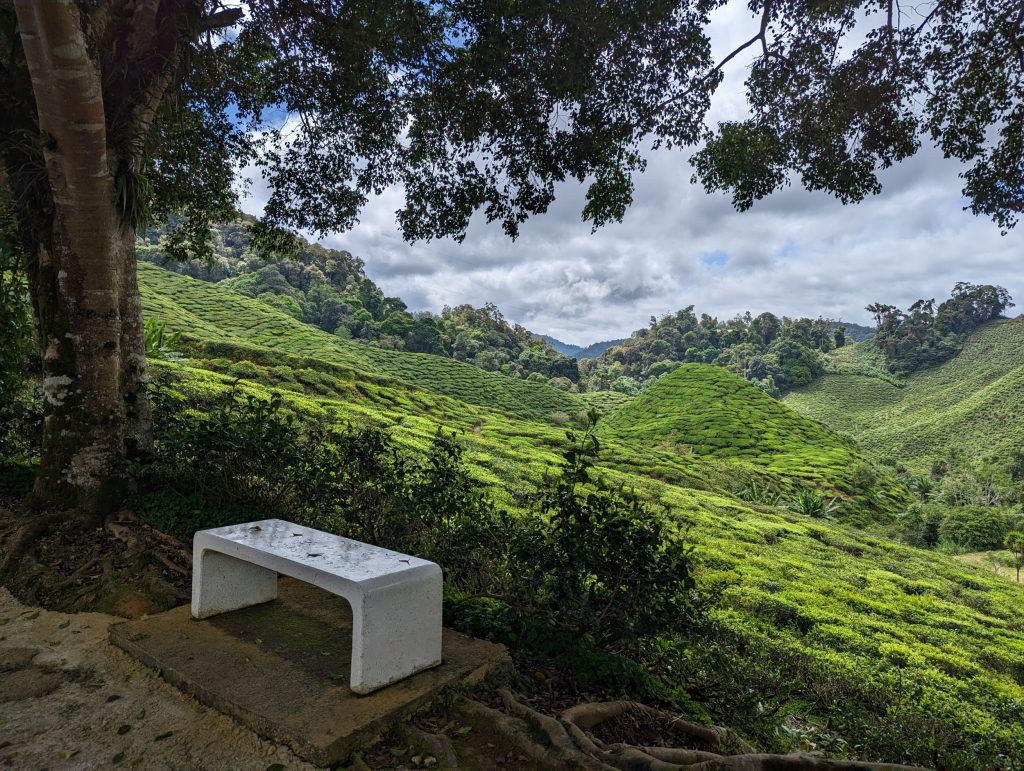 If you are going to look for a place to stay to also go trekking through the tea plantations of Cameron Highlands look for Tanah Rata. That's the village in the middle of the area where you can find a nice hostel or hotel. You'll also find dozens of fine restaurants here!
Hiking in the tea plantation of the Cameron Highlands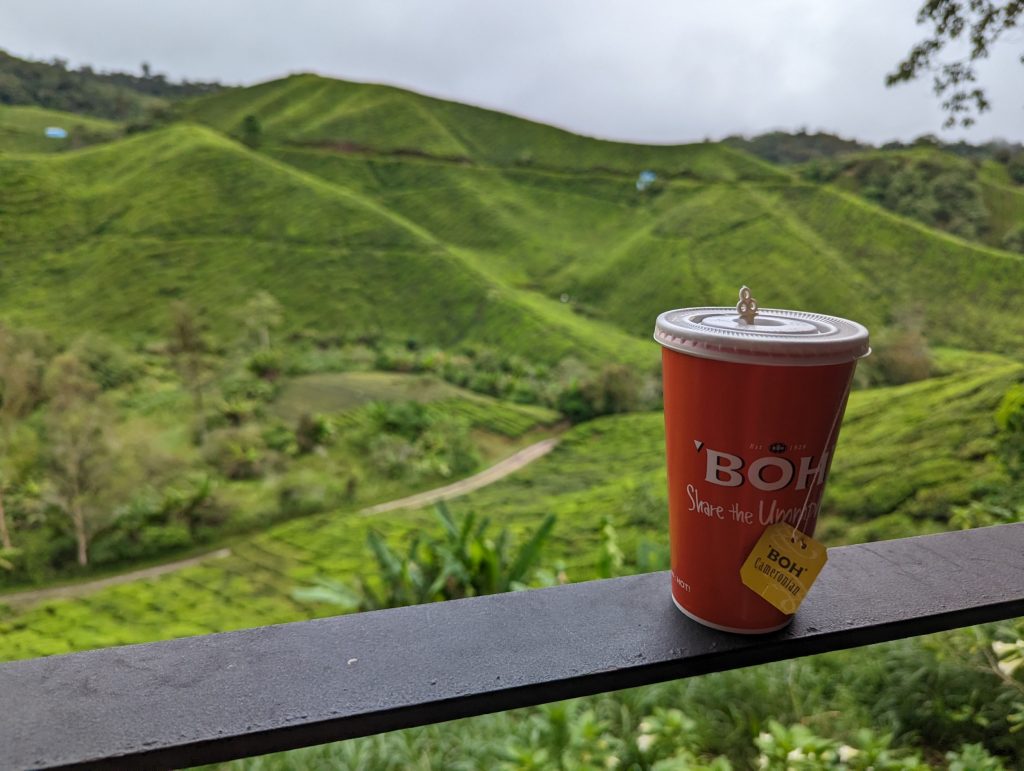 The things that is on top of most lists on what to do at Cameron Highlands is the first tip in this blog:
Boh Tea Plantation
The first day I was in Cameron Highlands, I chose to explore the area with a group. An established tour of the area seemed fine for a first introduction. We were taken to a nice viewpoint that morning to take our first photos of the tea plantations. After this, we proceeded to Boh Tea Plantation. It is the oldest tea plantation and has a small museum and a restaurant with a view over the tea plantations.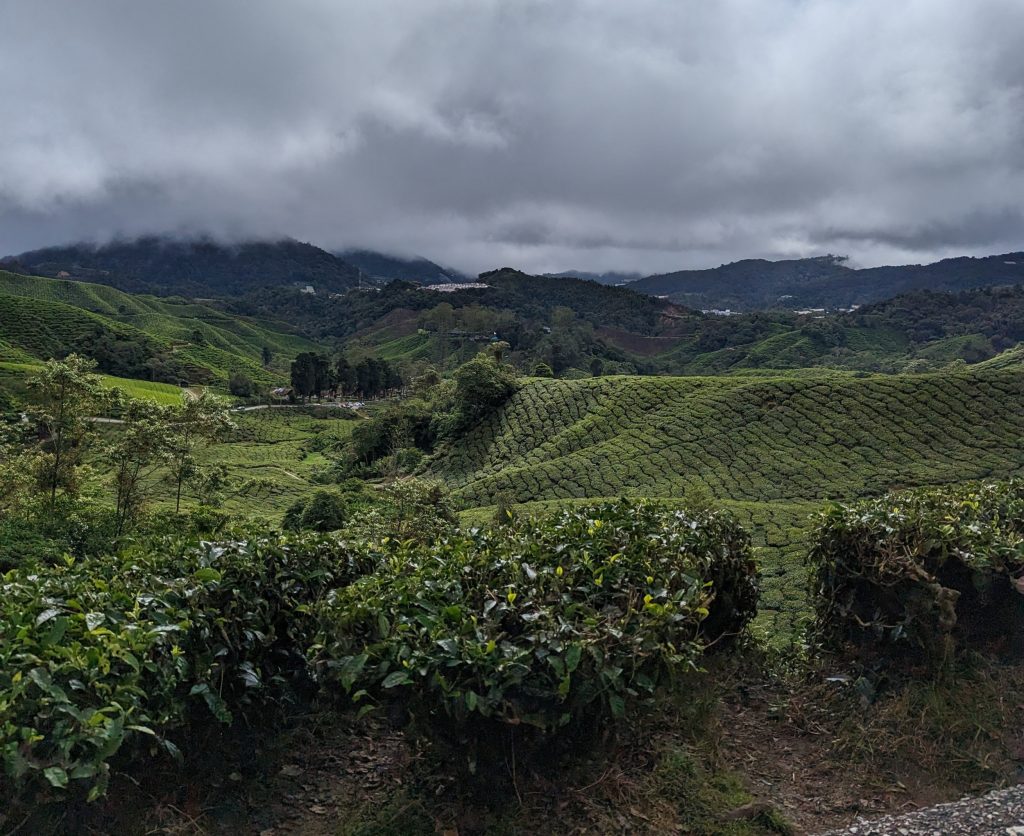 Advised to join the queue right away for a cup of tea as it was now short. I thought it was already a long queue… but joined it anyway. Soon I saw that the second queue went faster and was shorter. This one disappears behind the wall and seems to go to a second restaurant. Know that they both end up in the same restaurant so it doesn't matter which one you choose. I left the queue and joined the second one, the rest stayed put and when I already had my tea they were still waiting in the long queue.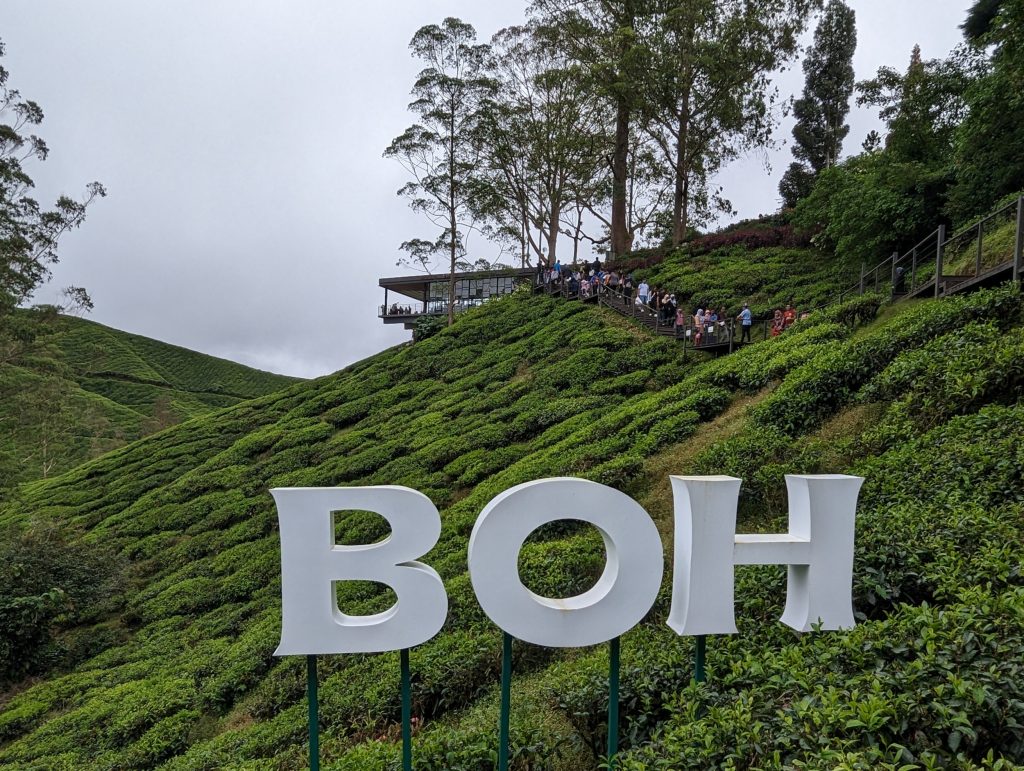 I did do a cup of tea with a tea bag, otherwise it took even longer. To be honest, I am not much of a gourmet so I prefer to walk around. I took a picture with the paper cup with tea bag 🙂 And then I went to check out the museum and walked through the plantation. When I returned at the appointed time, they had just finished fetching the cup of tea and drinking it.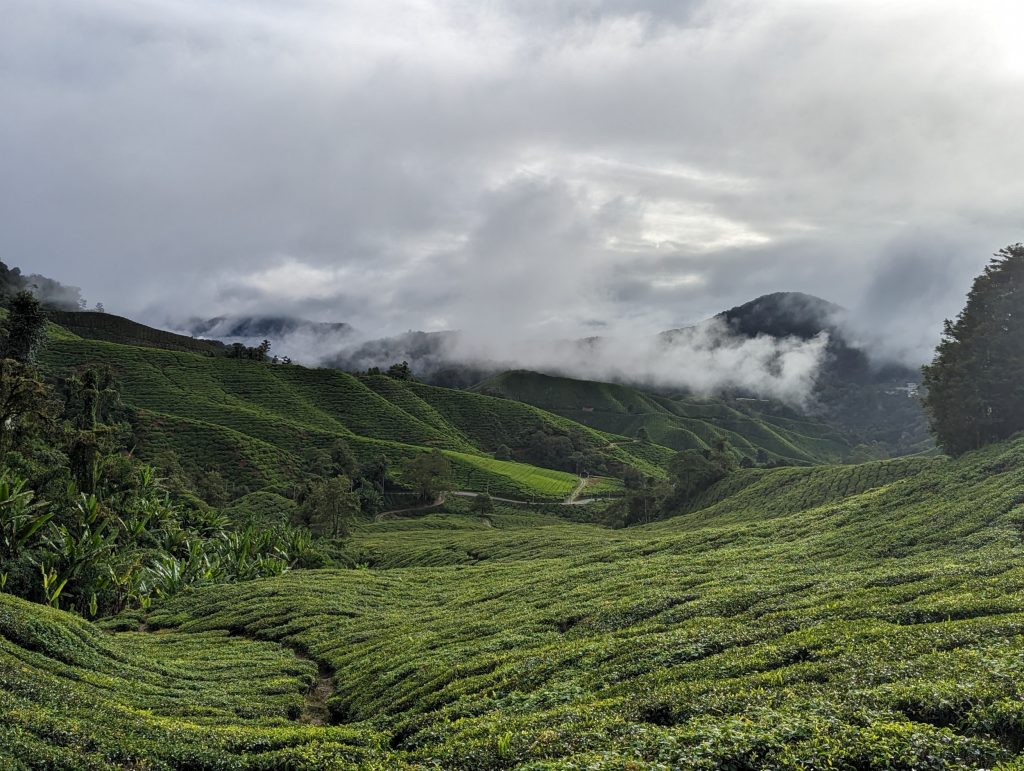 Mossy Forest – Cameron Highlands
After this, we went to the mossy forest. Nice hike to a mountain top where it is super mossy. That it made me so super happy right now I can't say. Maybe the real mossy forest is better…. We went to another mountain because it had rained too much in the last few weeks and so it was too wet. I had also been to the Taman Negara and there too the water was too high …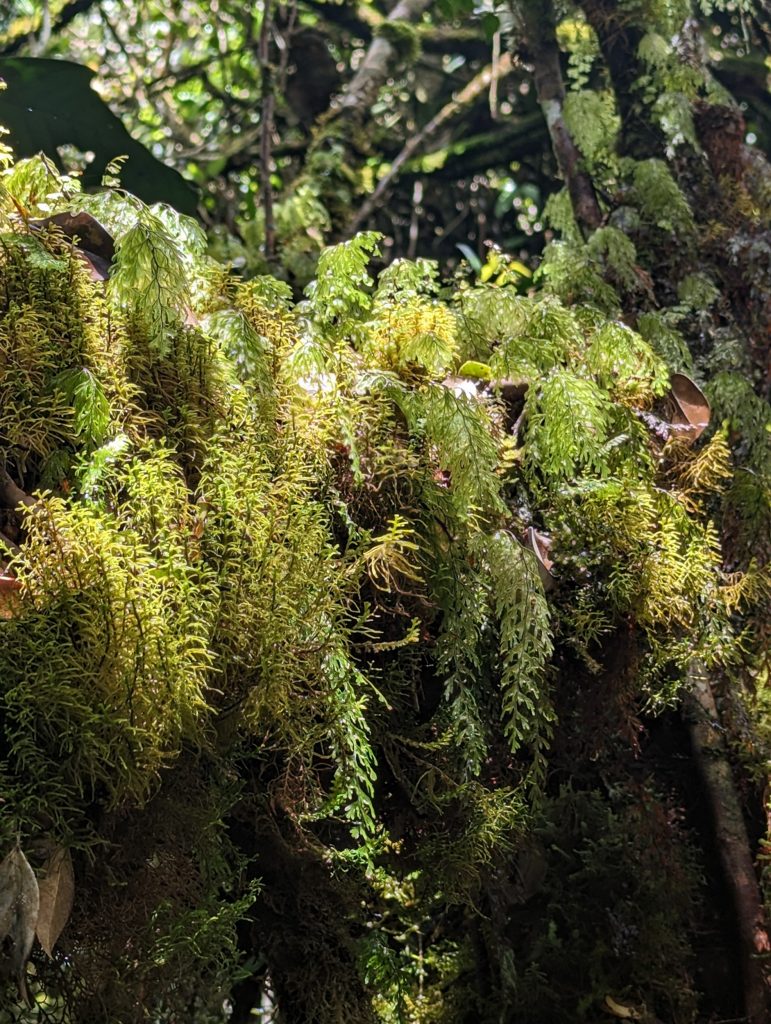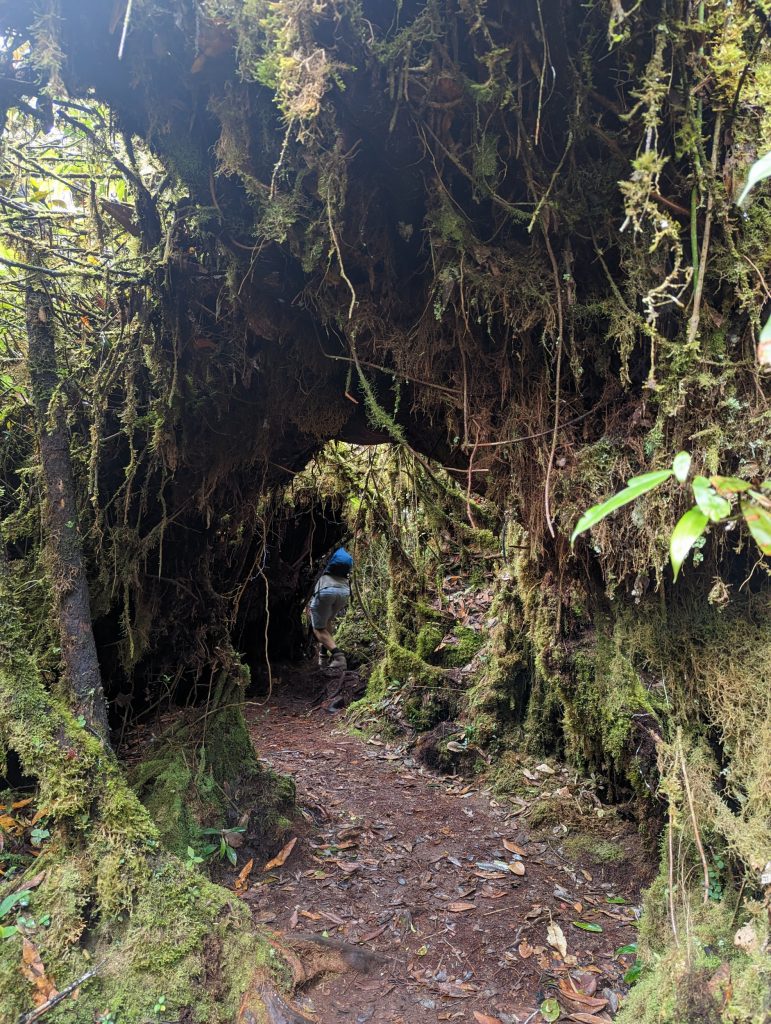 I can't really recommend booking such a trip, it didn't really make me happy. It's easy that you get driven around, that you don't have to look for yourself…. But you then also go where everyone else one goes and so don't have a unique/authentic experience. I really became so much happier from hiking through the tea plantations of Cameron Highlands the next day!

Hiking through the tea plantation of the Cameron Highlands
Trail 10 combined with trail 6
I stayed at Traveller Bunker, a hostel which many backpackers choose. I chose it too and got a good explanation there on how and what to do in the 2 days I was in Tanah Rata. Of course, I booked the previous half-day trip through them too. When I asked about the hiking options, I was able to scan a QR code where I could load all the points into Maps.me for trail 10 and 6. That same morning, quite a few from the hostel also went to do the hike together. So if you don't like hiking by yourself then they offer opportunity to go together.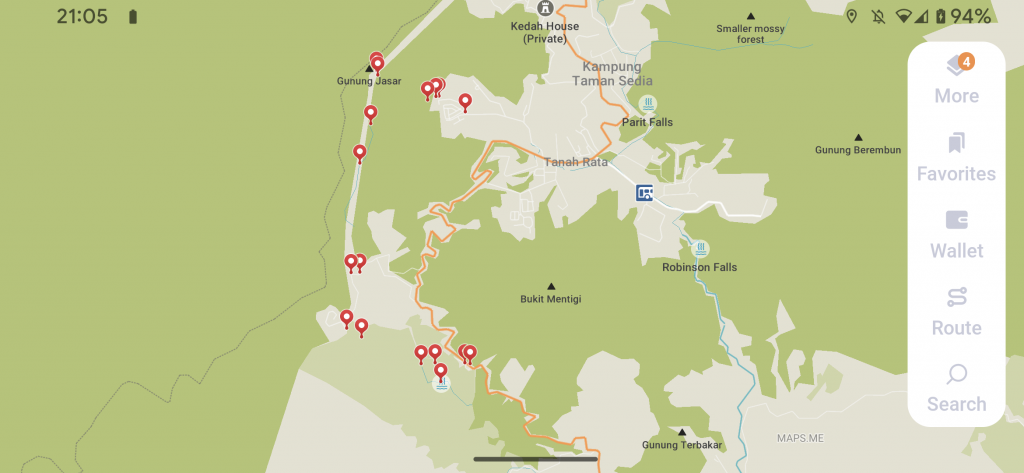 Instead, when I saw the group, at least about 10 men/women, I quickly walked away. My plan was to walk alone and enjoy the peace and quiet and the birds I would hopefully see or hear.
With the waypoints in maps.me, you can hardly get lost, were it not for the fact that once I got to the top, I just immediately walked the wrong way. I saw a path to my left and climbed up it…. When I looked at maps.me a little later, I saw that I had gone the wrong way straight away. After this, I checked a bit more often but I must say that it is just an easy walk with very few side paths or roads.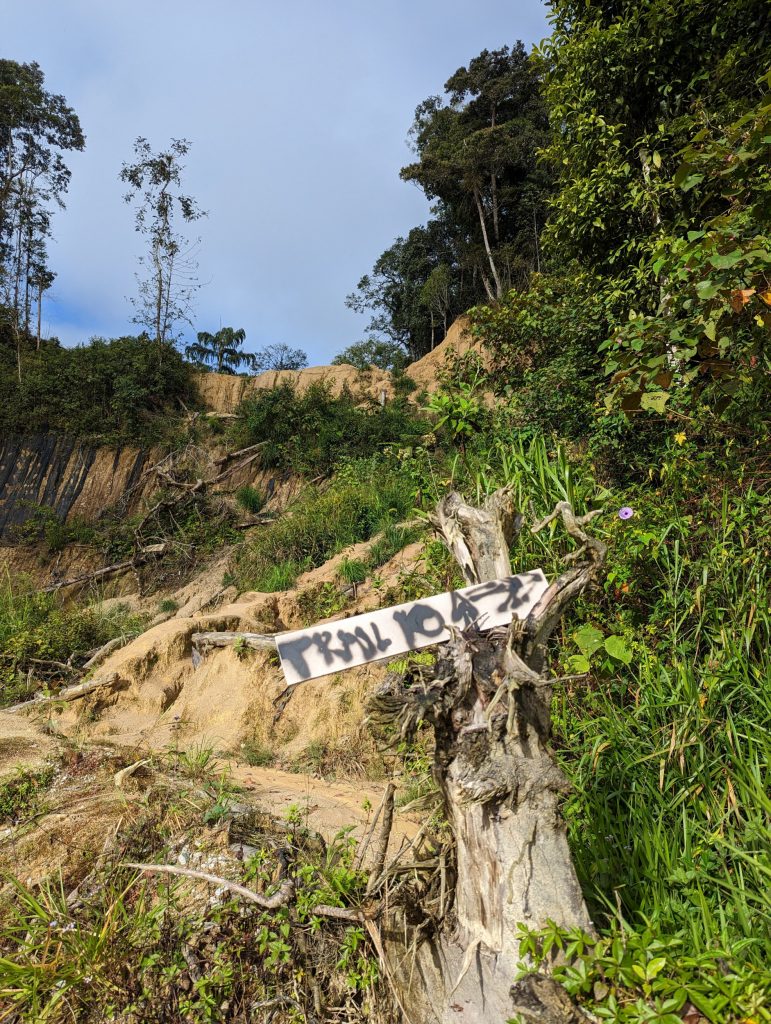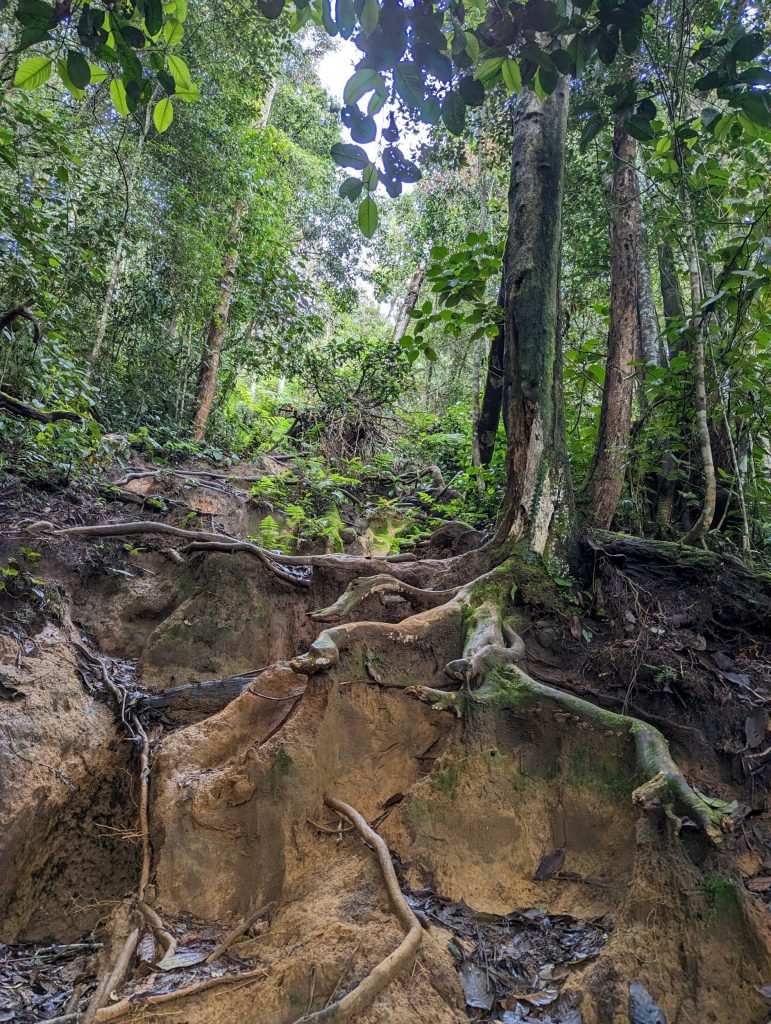 Once in the forest, jungle, I was very happy. I liked the challenge, I really had to do some climbing and pay attention. It was already hot and so it was quite a workout. When the path turned left, I kept walking on the slope and was able to take some more time to take in the view. I heard lots of birds…and saw none. Then suddenly I also heard the group on the opposite side, typical of a group of course…. That brings laughter and loud conversation.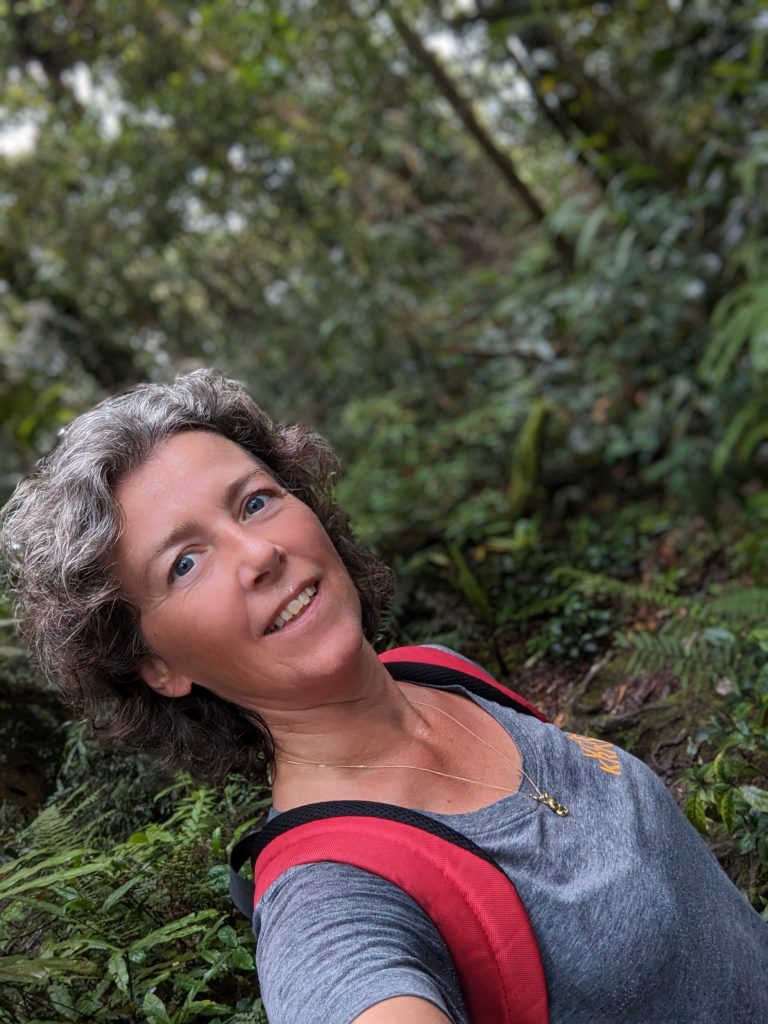 Shortly after this, I started a challenging descent. I really had to pay attention and sometimes hold on to the rope that was there. It was slippery because of all the rain in the last few days. What a super fun hike!
There were even some bits on this walk through the tea plantations where I had to scramble, there the challenge was too much to just keep walking. I love it! Do you?
Do you actually like those kinds of pieces or would you rather drop out?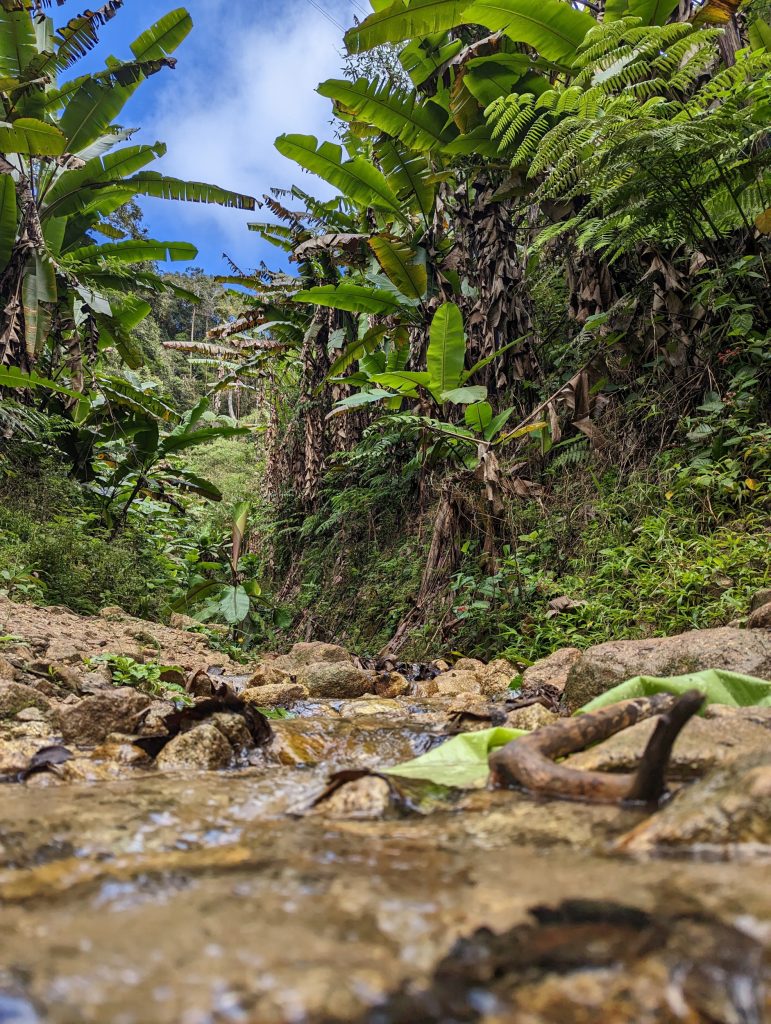 After crossing a stream, where I briefly washed the salt off my face, I was allowed to go up a little more. I had had the hardest part of the walk. Now I looked over the vast plains and could already see the tea plantations in the distance. I took the time to take a yoga photo. I hadn't done that much this trip either. It had to happen again.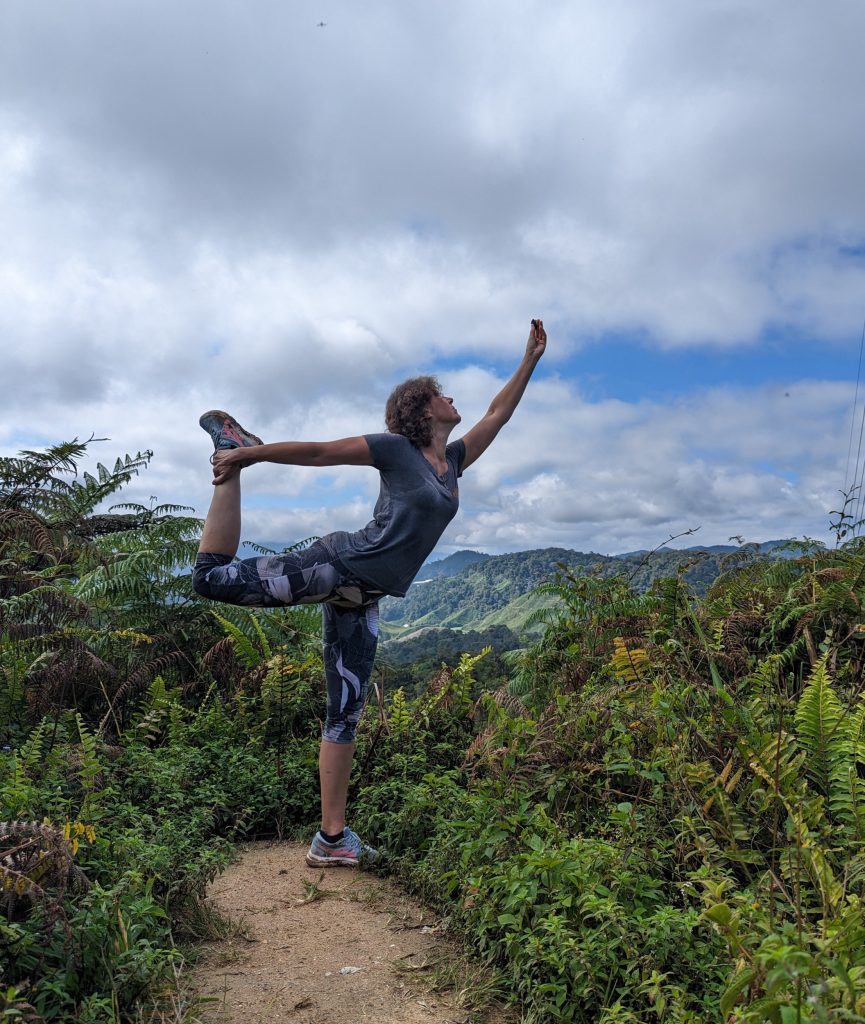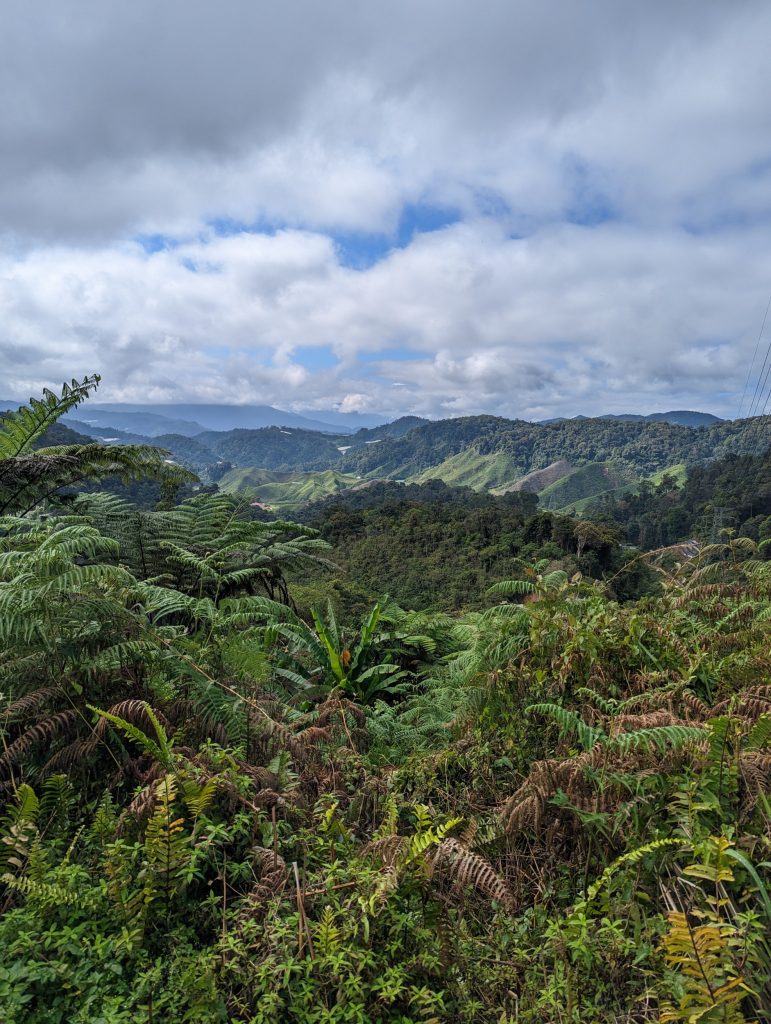 After this, I came to walk through an area where people were growing all kinds of vegetables. I didn't quite get clear from the man what he was growing, as I didn't recognise the plant.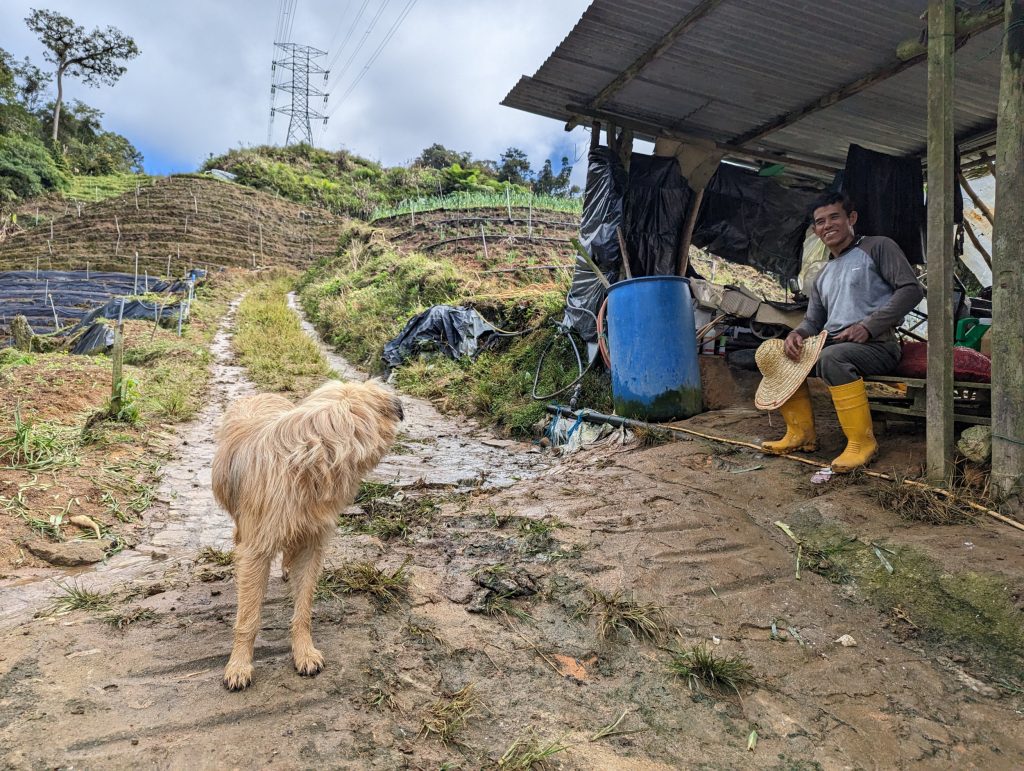 What to do at Cameron Highlands – Malaysia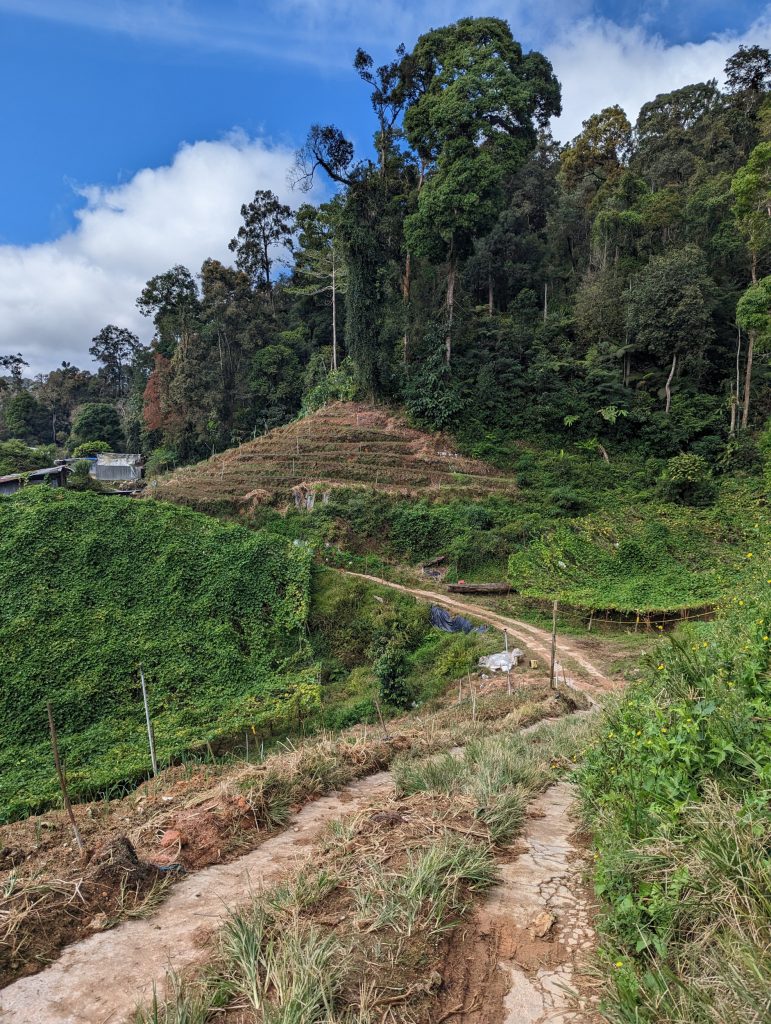 Shortly after this, I found myself walking on a paved road and just as I reached a village, I turned off the paved road again. Near the village was a sign saying Perkampung Orang Asli – Kampung sg. Ubi. I was allowed to walk on again along a fine stream of water and shortly after, I was really walking all the way between the tea plantations after all.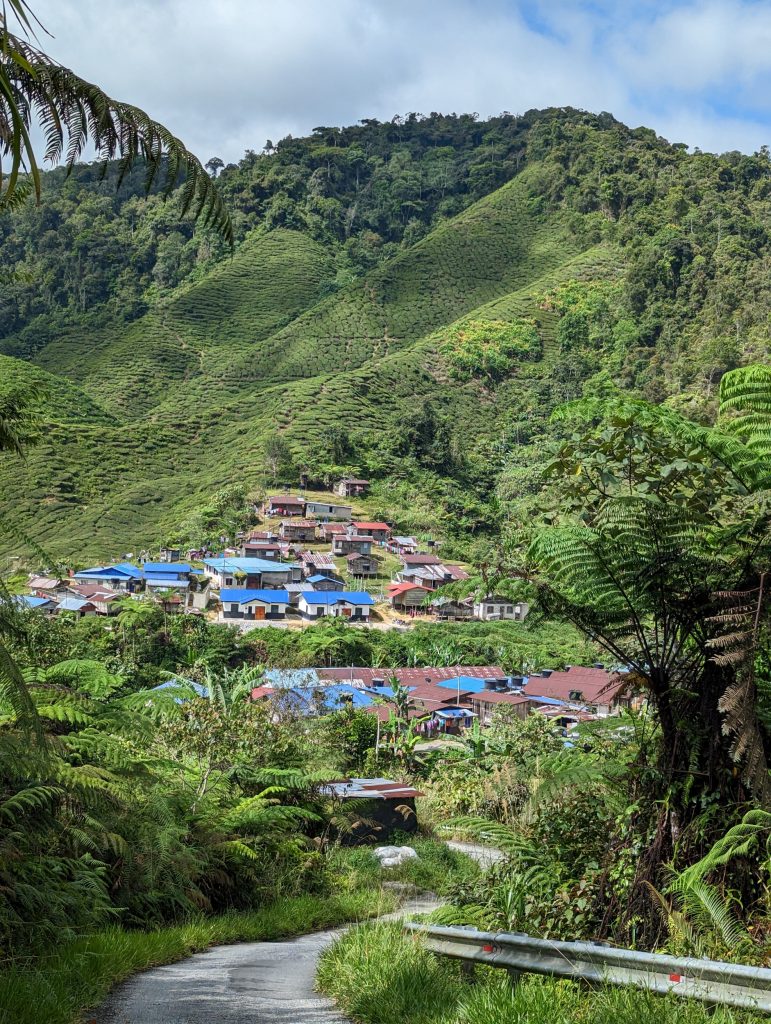 Bharat Tea Plantation
Eventually, you end up at the Bharat Tea Plantation with the waterfall. Here you suddenly find yourself among the mass tourism again and the hike is also over in 1 fell swoop. It's over with the peace and tranquillity. The hike was really super! You really are just outside the touristy part of Cameron Highlands while hiking less than 10 km. I didn't encounter anyone on my hike, apart from a few local people/farmers.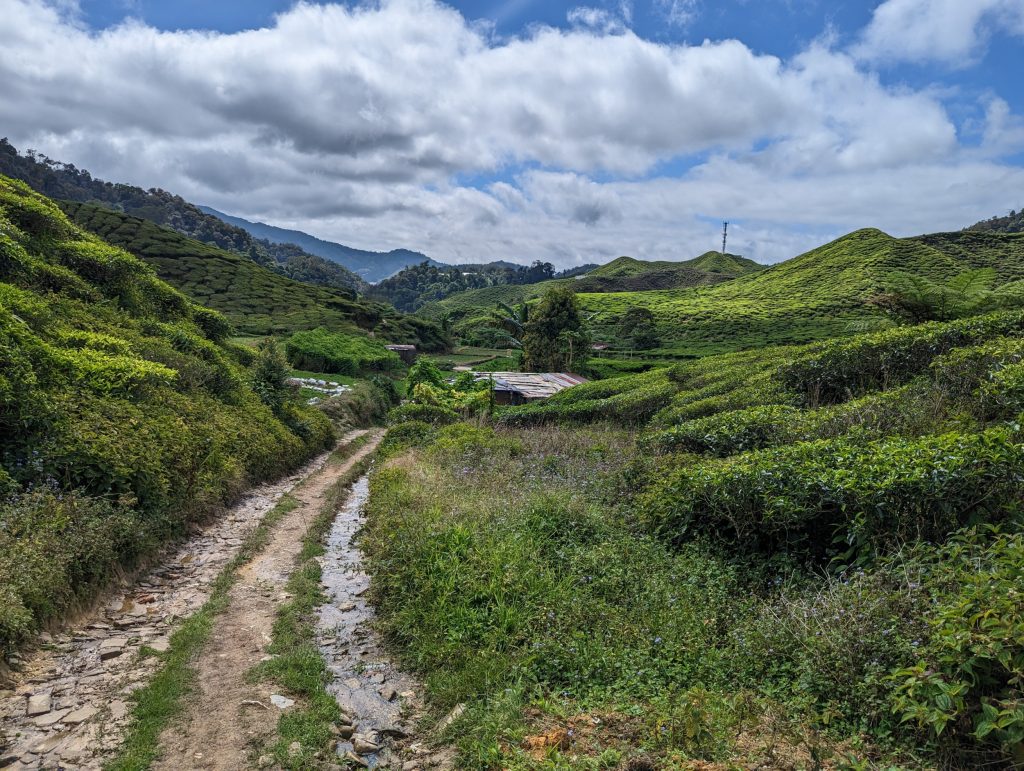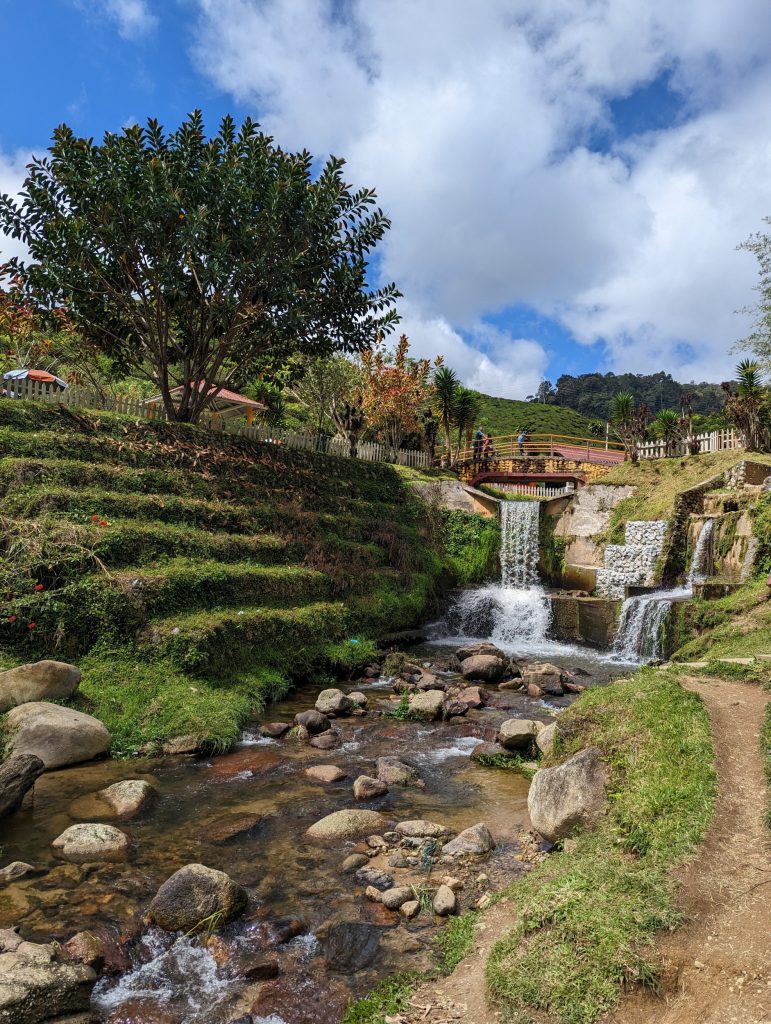 I walked up the path here, had to pay a fee of a few RM when I got out and stood in the large car park.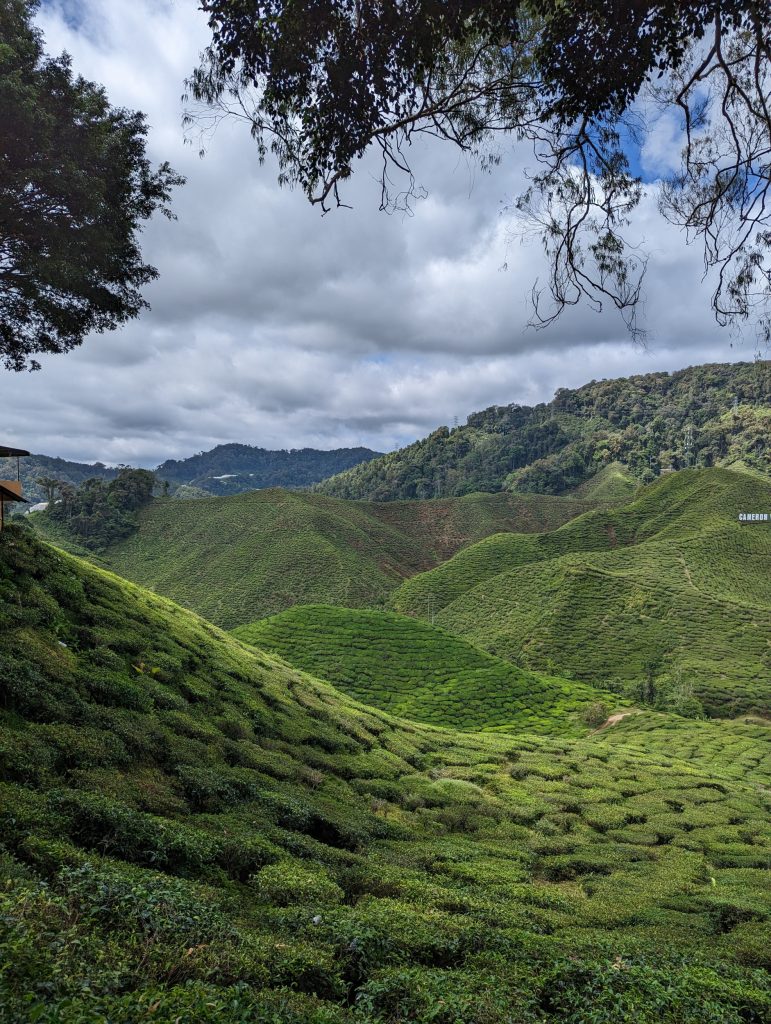 As I walked up the road it occurred to me that I had been told I could hitchhike very well here. So after I raised my thumb, it only took 2 cars before a nice man stopped.
Less than 10 minutes later I was back in Tanah Rata and was able to check out of Travellers Bunker and have some lunch. There I met my good samaritan again, sometimes the world is so small huh? He was also eating delicious Indian food at Restoran Sri Brinchang. Shortly after, I took the bus to Penang to visit the lovely city of Georgetown again.
As in 2014, I looked at Georgetown's street art, of course. It is kind of a shame to see that they are not well maintained and many do not look as nice as they did back then. And this time I did not book a cooking class but did eat delicious food there!
How much time do you need?
It took me about 2.5 hours. I always walk quite a bit so calculate a bit longer for it. It is not far in terms of distance but it is a nice challenging walk so some flexibility is needed.
Tip: You can't refill water anywhere along the way so take plenty of water with you!
Do you like these tips for what to do at Cameron Highlands?
Share / Pin this blog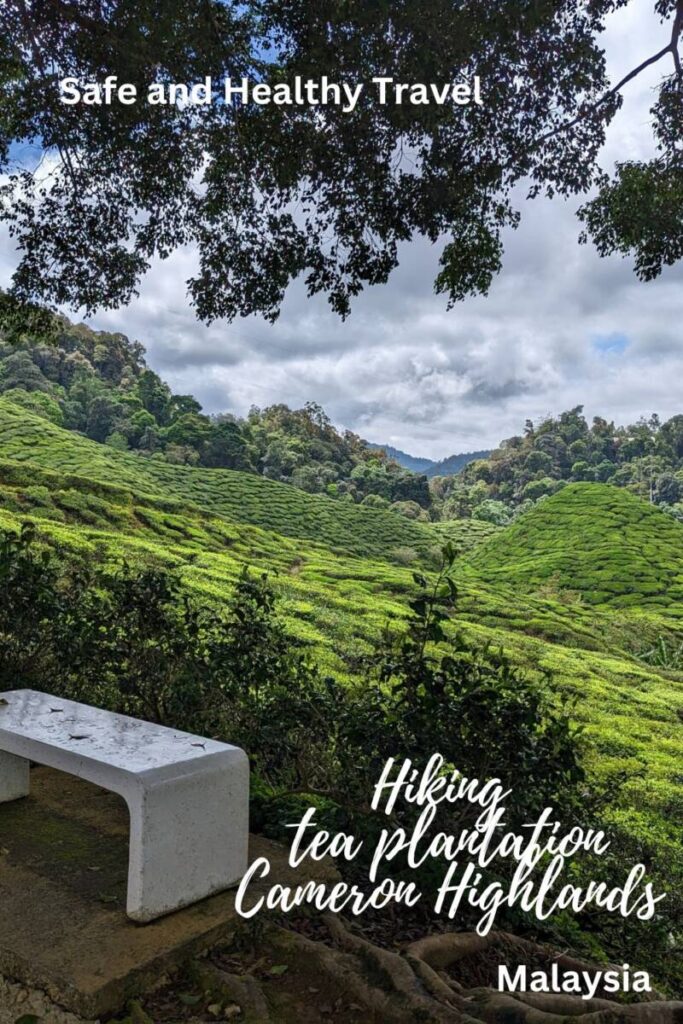 Are you also travelling to Malaysia? Then read on
Hiking on the Machinchang Trail – Langkawi
Travel Guide to Sepilok on Borneo
Top things to do in the capitol Kuala Lumpur
Tasting the authentic Nyonya soup in Melaka
3 days in the jungle of the Kota Kinabatangan – Borneo
Or are you the beach traveller? Check Koh Lipe and Ko Adang – Thailand
I hope you enjoy this beautiful world as much as I do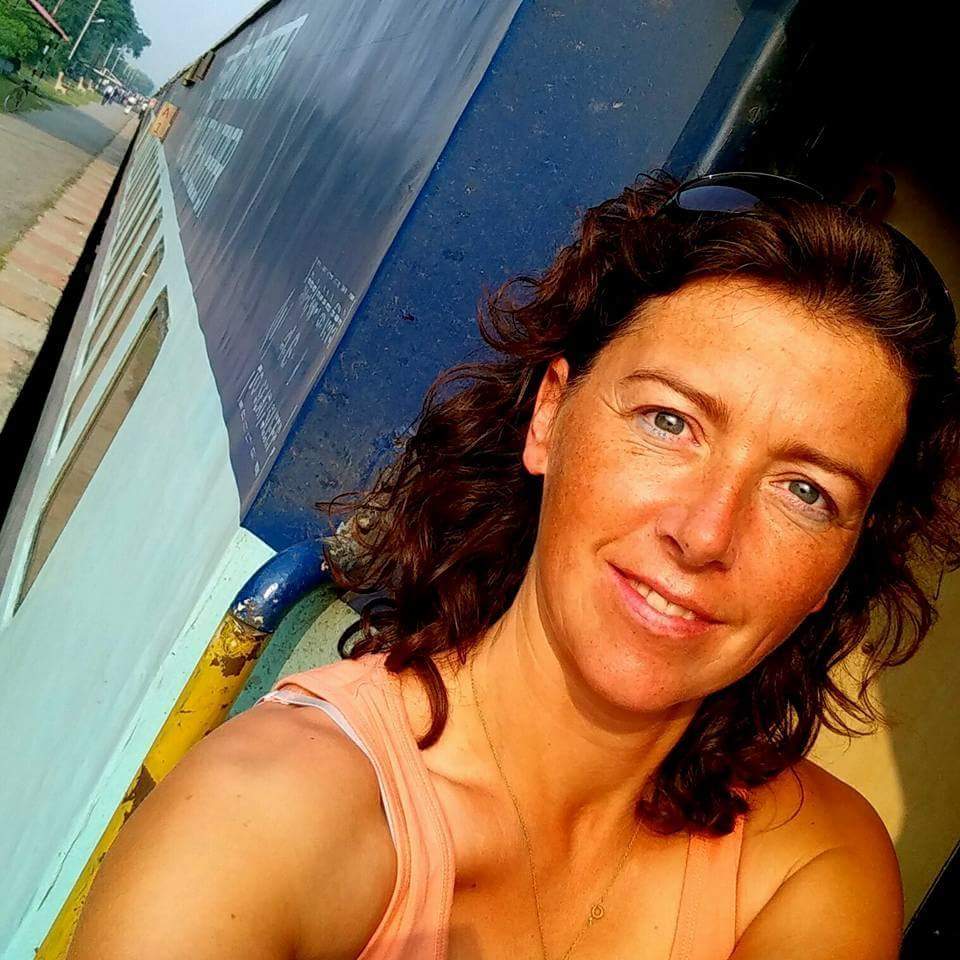 Jacomijn is een politieagent uit Nederland die jou graag laat zien hoe je veilig, actief en gezond de wereld kan over reizen. Safe and Healthy travel is a MUST