Adventurous Travel: Sleeping in a Cave – Harau Valley, Sumatra
|
I like to take on a challenge…I'm sure you know that if you visit my website more often or if you know me 🙂 So when Roni from Roni's Tours asked me if I would like to go sleeping in a cave I wholeheartedly said yes! I didn't quite know what I said yes to but I was looking forward to that challenge! On my two month trip in 2019 the time had come and I went out with Uwan my local guide.
First I had slept one night just outside the Harau valley, near Abdi Homestay. Really a super nice homestay and definitely recommended. They have super cottages and Noni makes really delicious food!
Sleeping in a Cave – Harau Valley, Sumatra
I was there for lunch and I spent the afternoon very relaxed. Hanging out in the hammock on the porch of your cottage for instance but I went for a walk. You walk right into the rice fields and then through a small village. Always fun of course!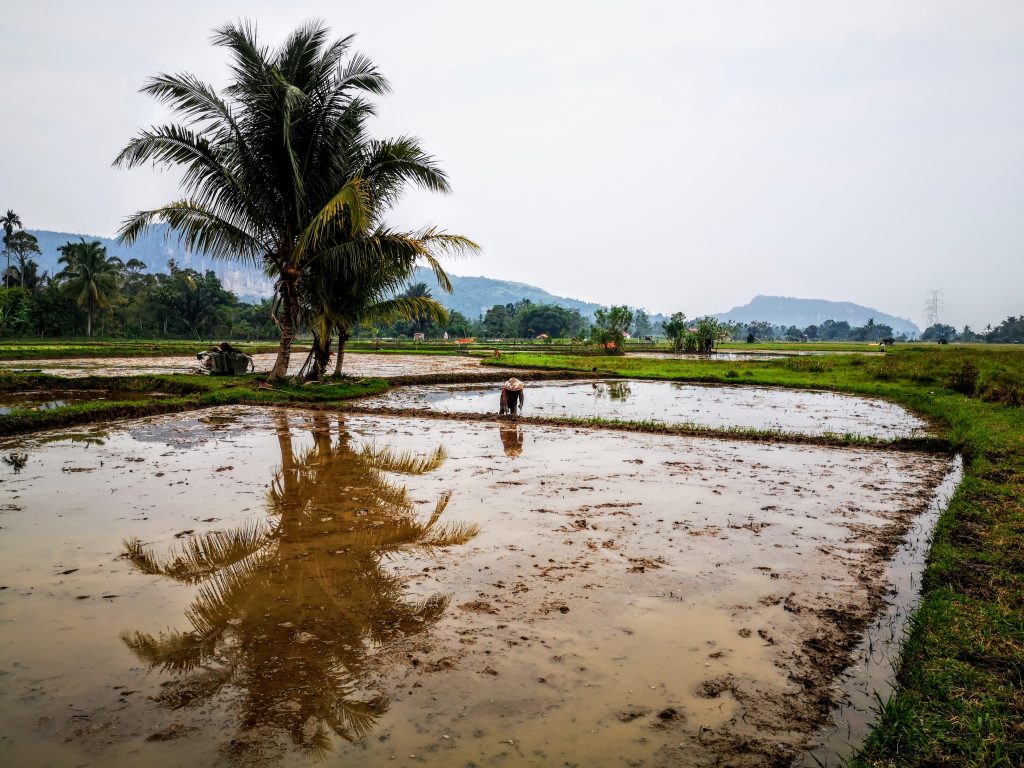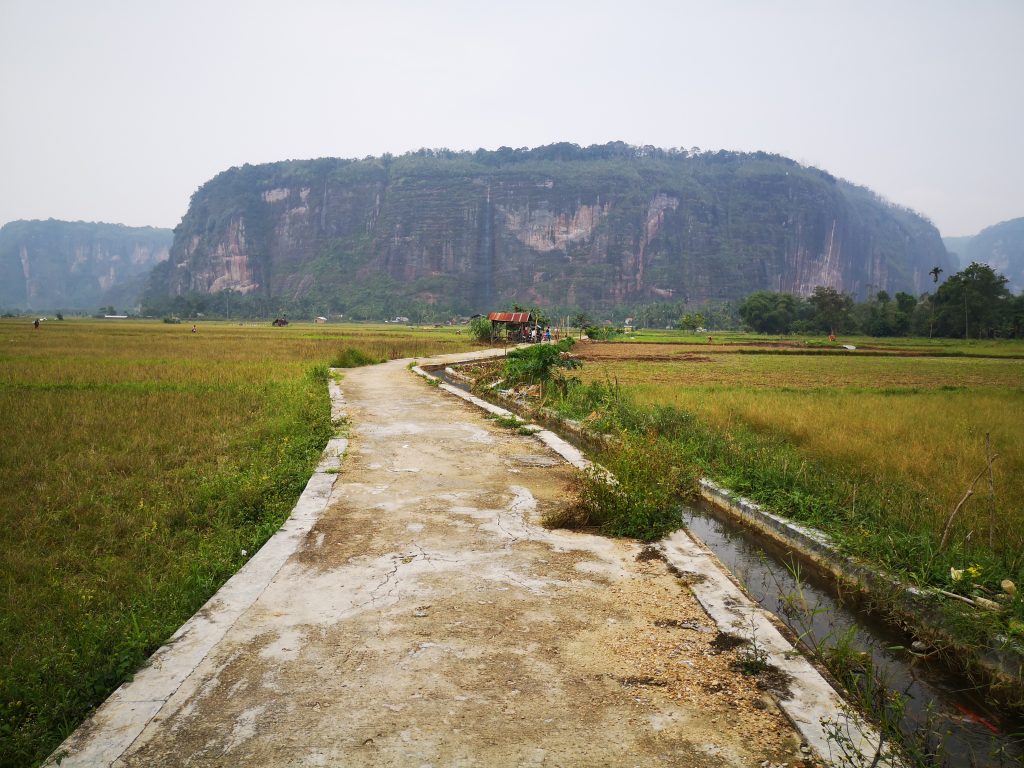 The next day we did some shopping so I had my dinner and breakfast for the night I would be in the cave. We went to the local market and that's a feast for your eyes lwith everything that is for sale there.
Clothing tip:

Because the population on Sumatra is Muslim it is much appreciated if you put on half to long pants and cover your shoulders.
The hike to the cave
Just after lunch, around 2:00 p.m., I left with Uwan on my way to the cave. He lives at the bottom of the mountain and so we could walk away from his house into nature. It started with a very slow ascending path but soon it became different and I started to sweat and the pace went down 🙂
The afternoon hike to the top took about an hour. We were already half way through then I understood. So we would arrive in the cave in time so that we could set everything up for the night before it would get dark 🙂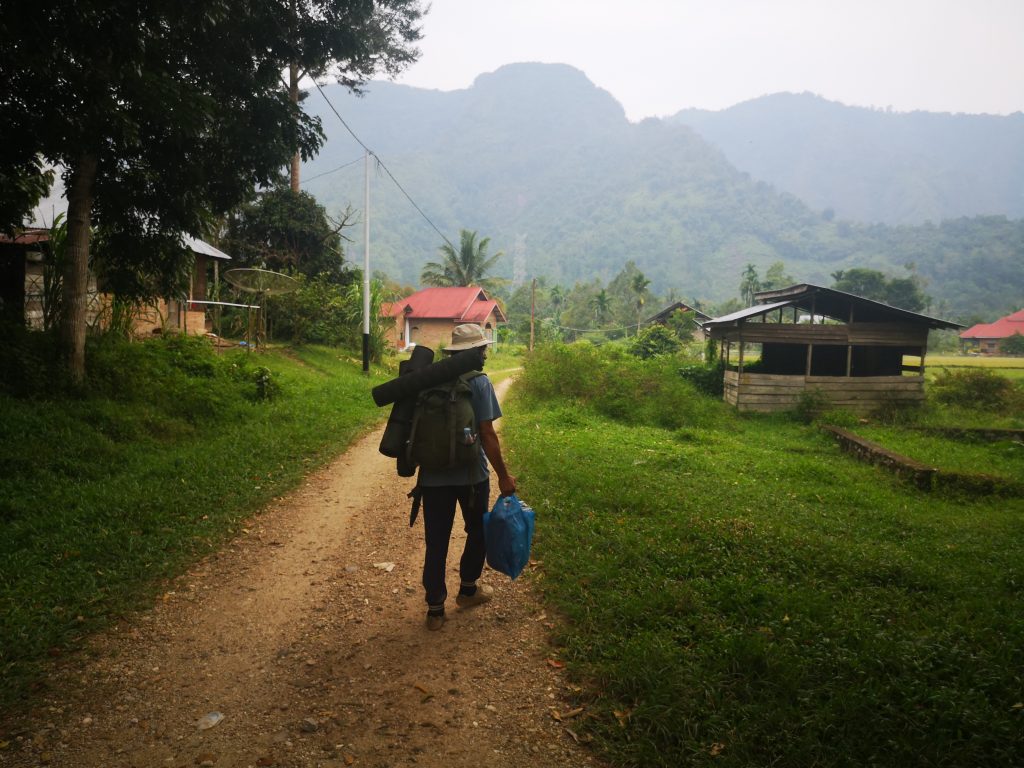 Adventurous Travel: Sleeping in a Cave
Panorama view over Harau Valley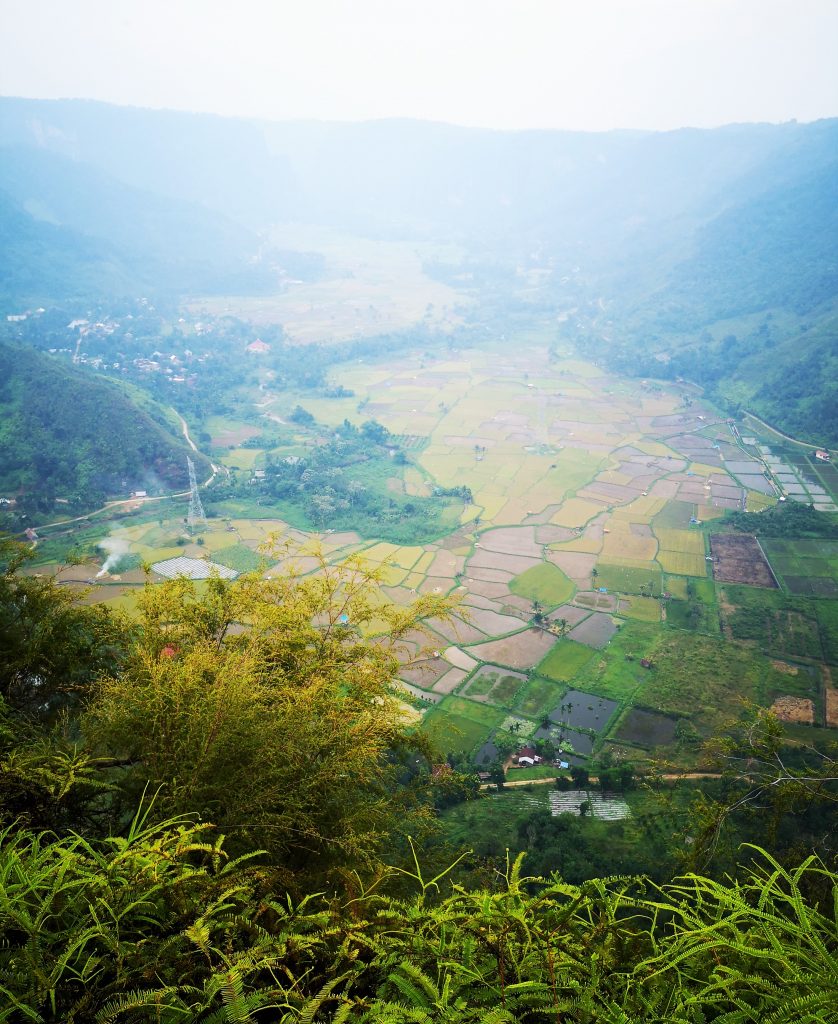 At the viewpoint we of course enjoyed the view over the Harau Valley. The view wasn't very good, just like last time when I was there it was said that this was due to the fires at the bottom of Sumatra. So it is smoke because a lot of jungle is burned down. This is done by the farmers… …of course, by order or demand of the industry… the palm oil industry.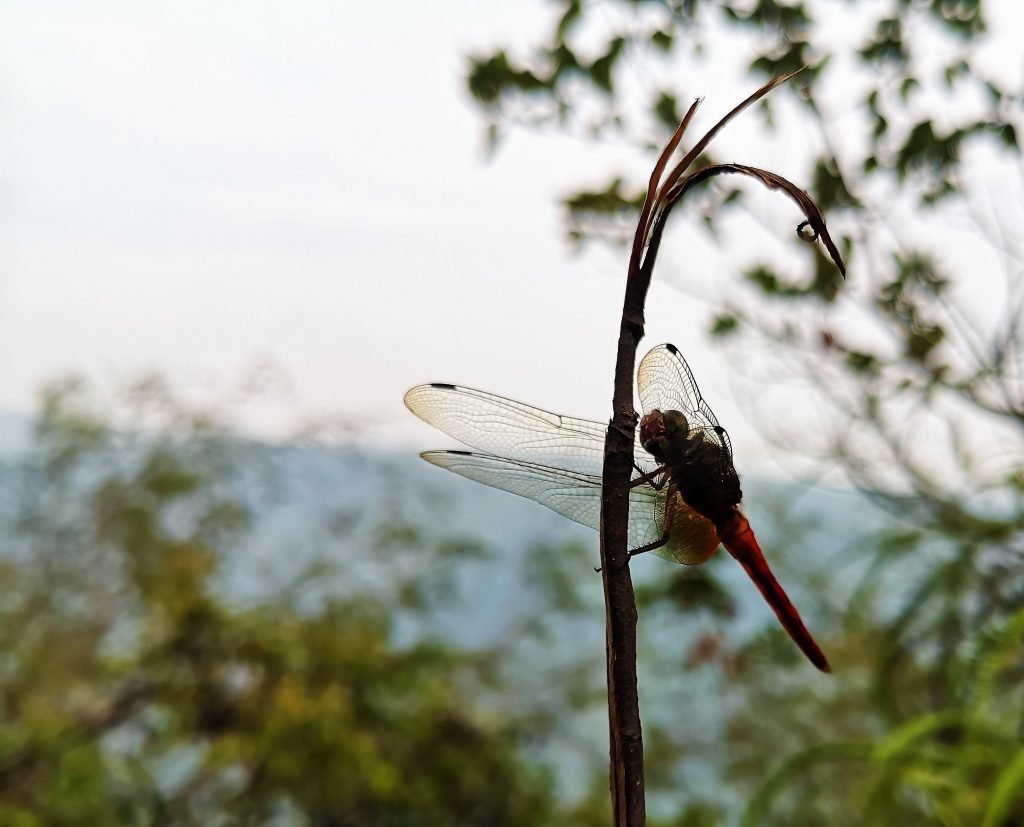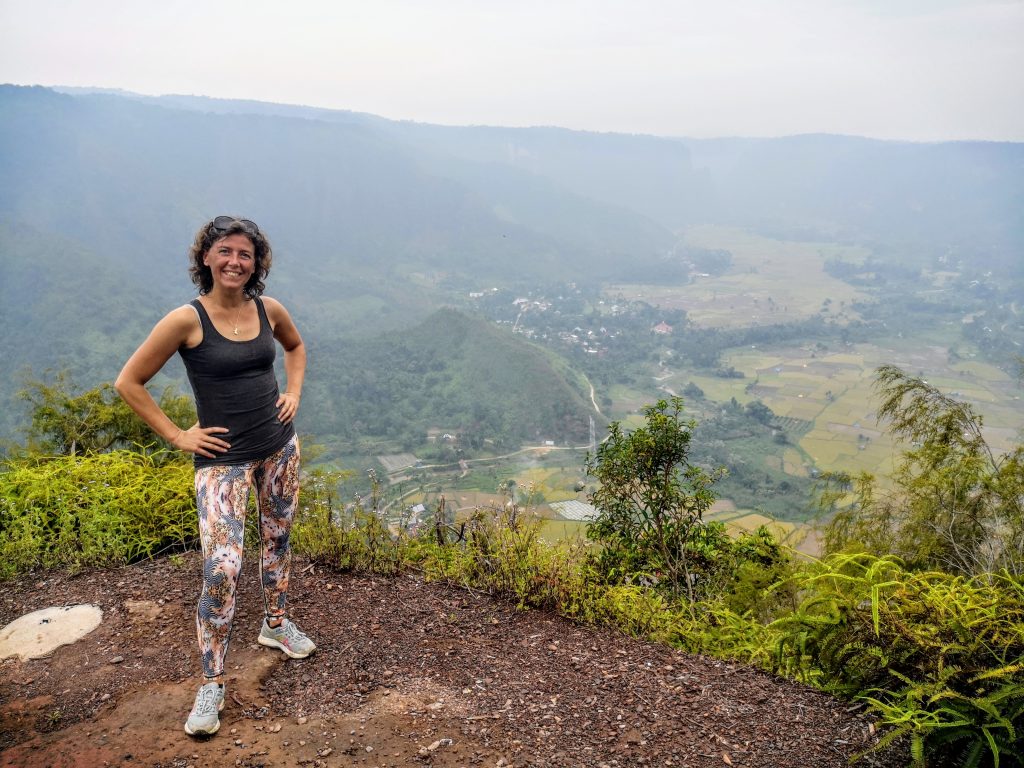 After enjoying this great view over the valley and getting back on temperature we walked on and disappeared into the jungle. It was another 3 quarters of an hour walk on narrow paths to finally reach the cave.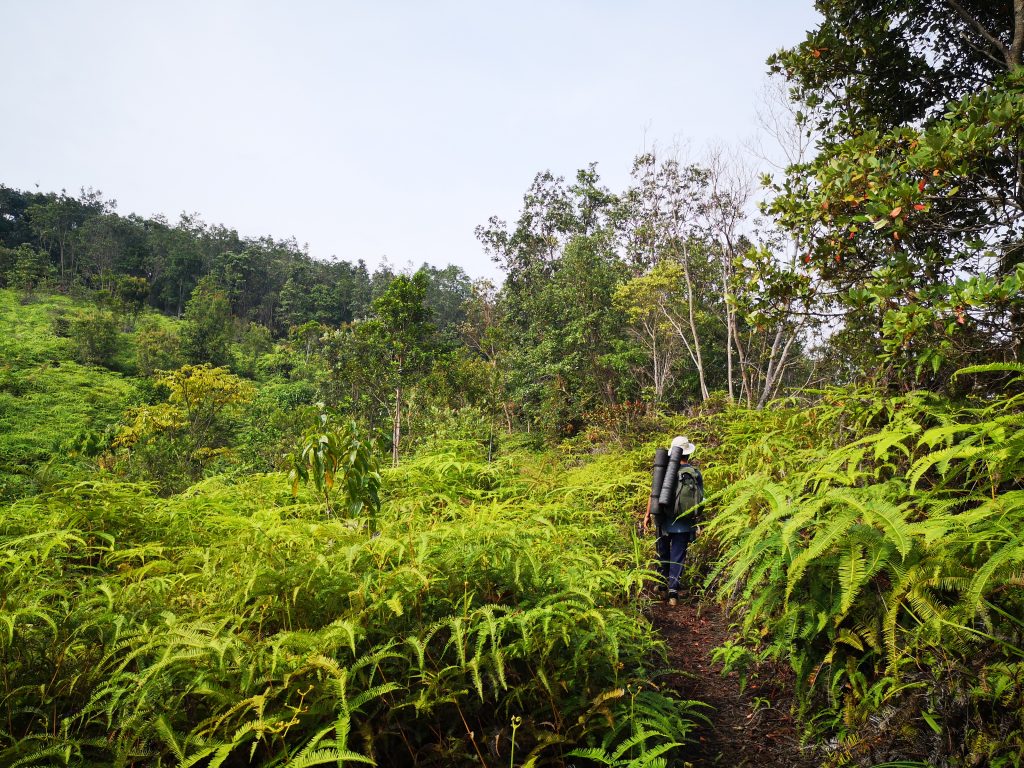 In my mind I had seen a cave that looked out over the beautiful valley and I saw those pictures in front of me that you see in beautiful magazines….
Nothing could be further from the truth.
I wasn't going to sleep in a cave but under a big rock!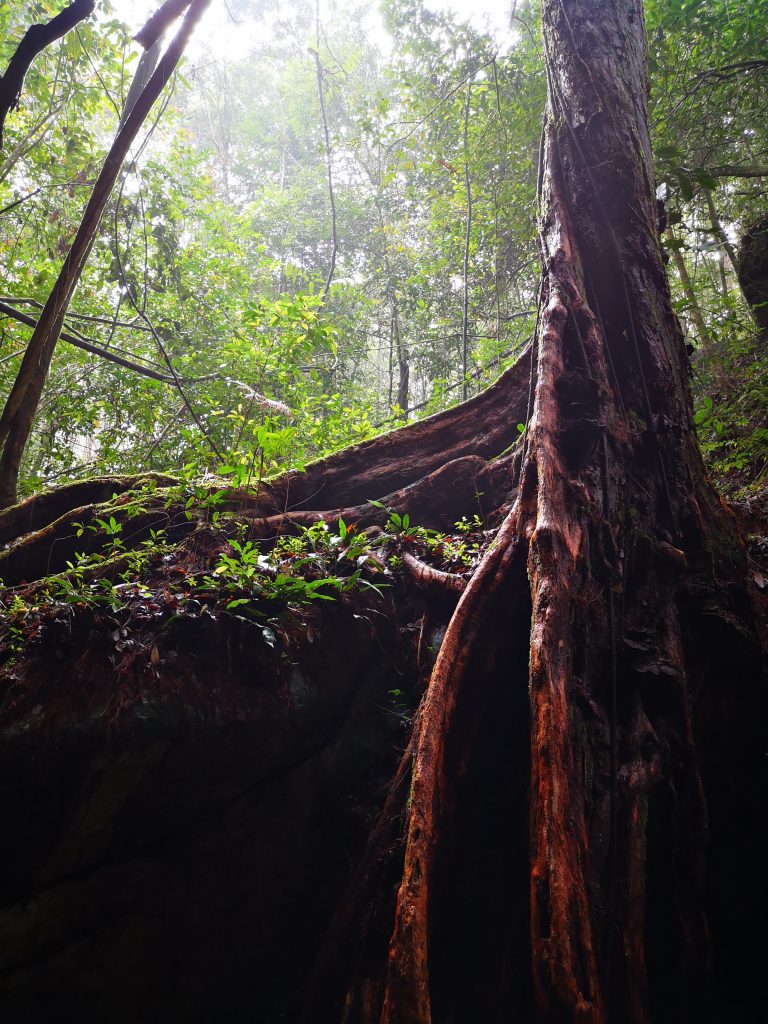 Sleeping in a cave
Beneath that rock was a natural stone floor and they slept there. Uwan often stayed here and started to put his things next to some stones, which we were going to use as a stool and table. He also indicated that I could wash myself and he pointed to the end of the cave. I had already heard the water clattering… He had made a long pipe from which the water came so that it stayed clean. This was just mountainwater, rainwater, and so clean and I could wash myself there. He would go back into the jungle to look for wood for the fire.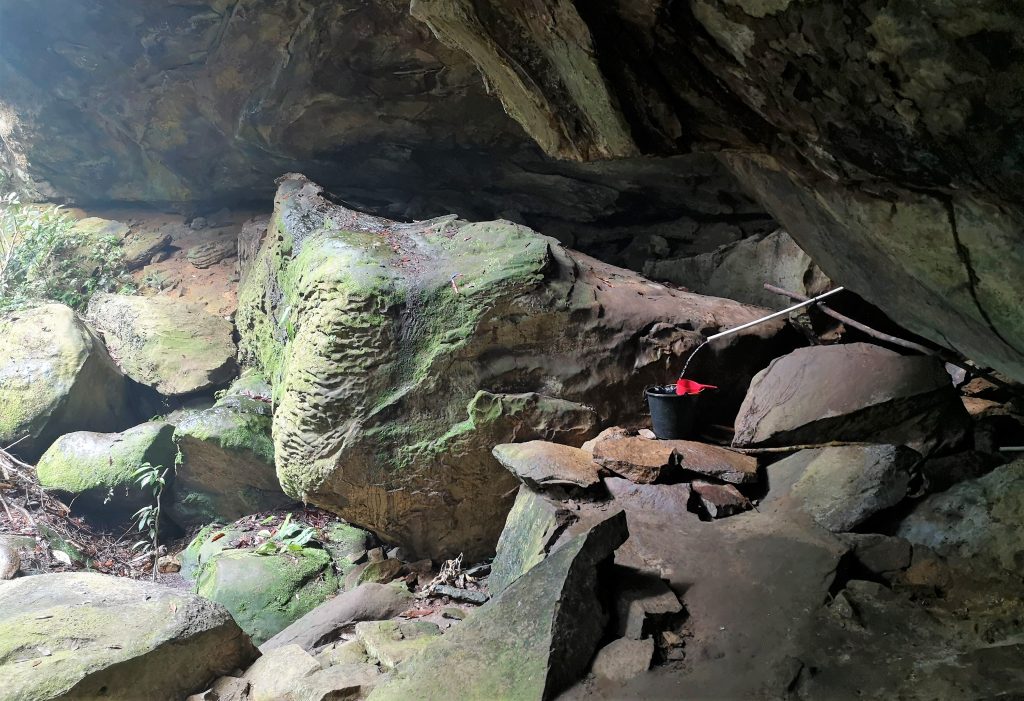 It wasn't long before I heard the noise of Uwan in the distance. He was chopping off branches or chopping down small trees. In the meantime, I went to wash up.
The water was freezing, of course… I washed the sweat off my body 🙂 I took a shower that morning and the next day I would be back at Abdi Homestay's and I could take a good, nice and warm shower.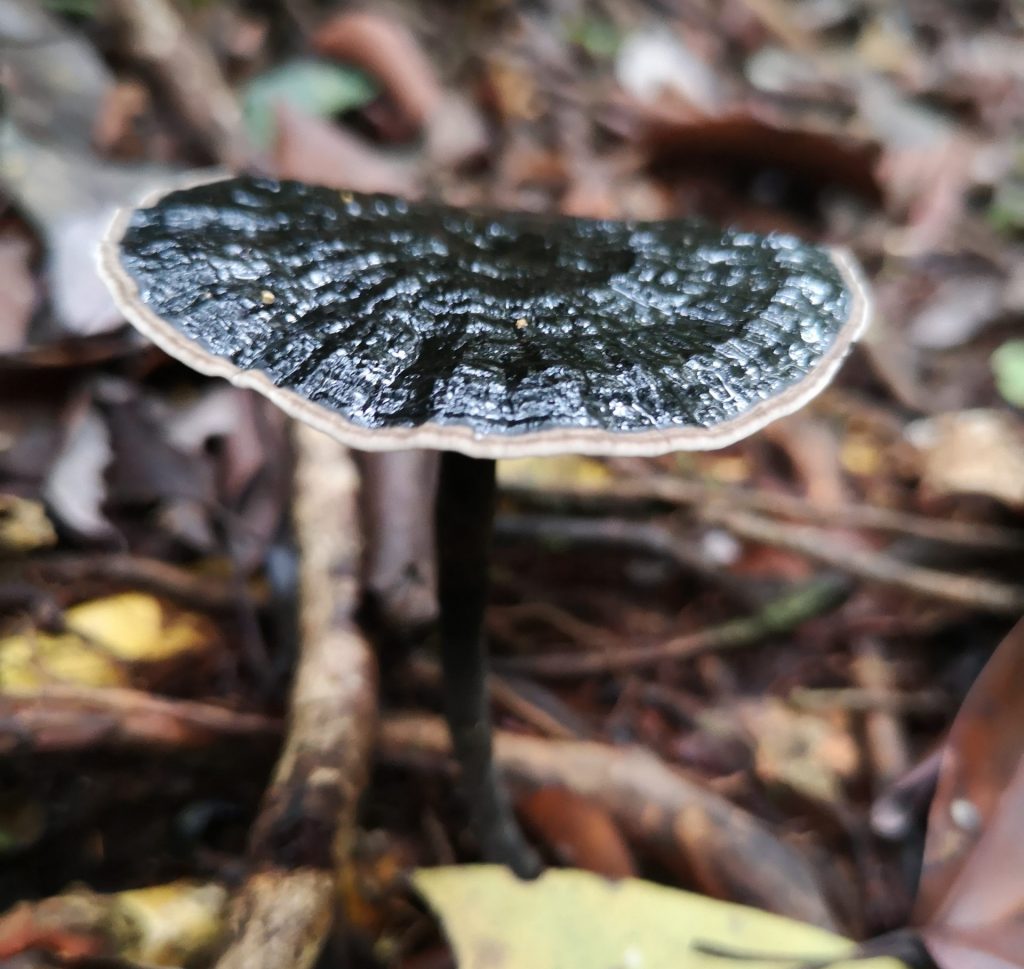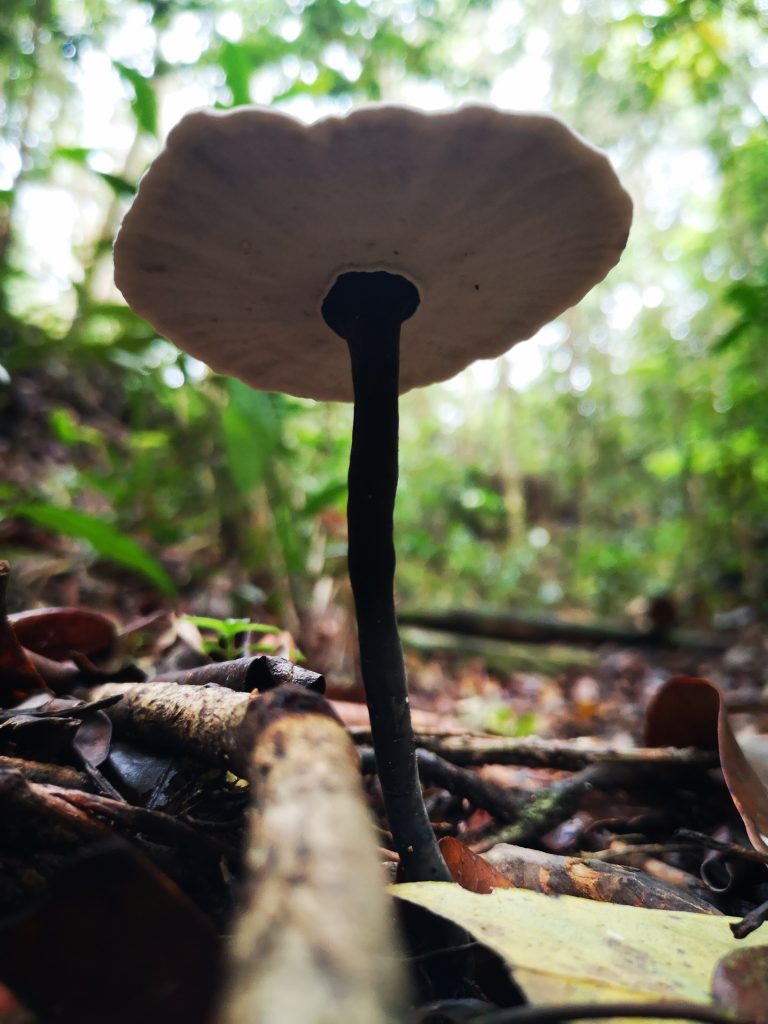 After this I went to explore the area. I still heard Uwan chopping in the distance but I didn't really want to go that far. There are hardly any wild animals…at least, we didn't see anything. Yet you don't know and I didn't want to run the risk that when we came back a lot was destroyed or taken away even. I went looking for small or bigger insects. Some nice spiders or other nice objects to photograph.
I found very little. There are no large spiders to be found, I didn't see any insects and what I said before: you won't find any wild ones either.
As far as that's concerned, quite boring 🙂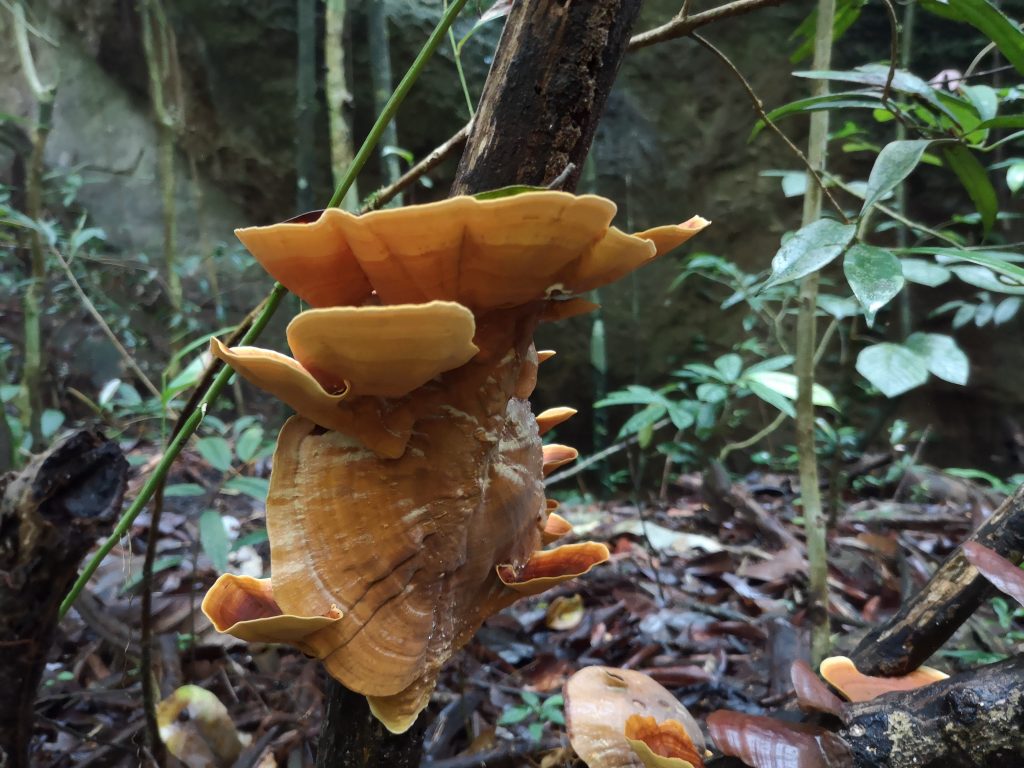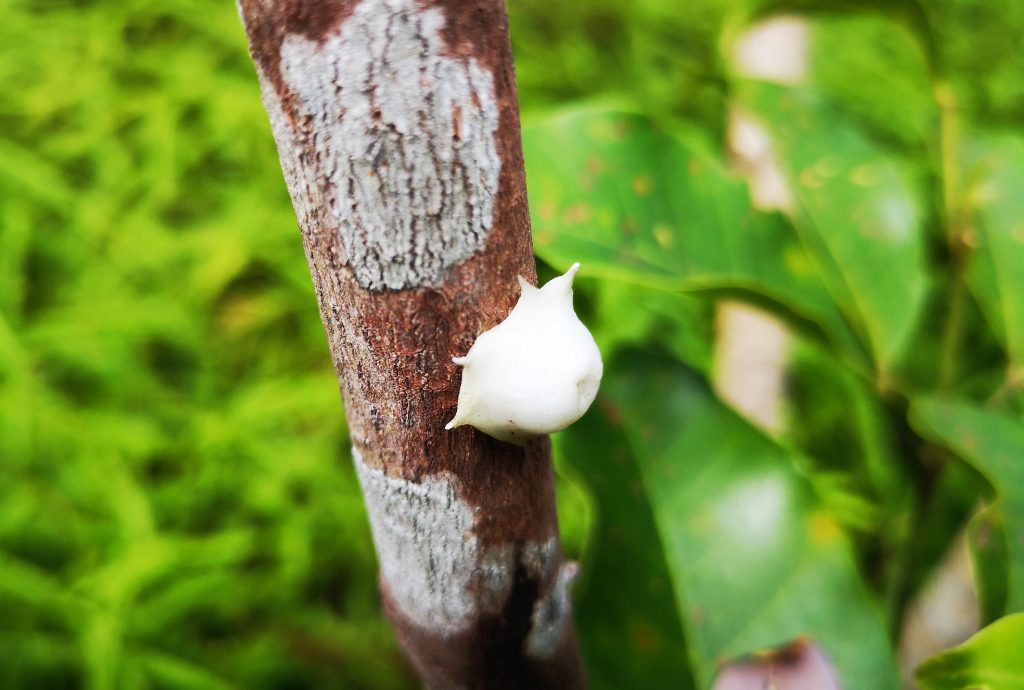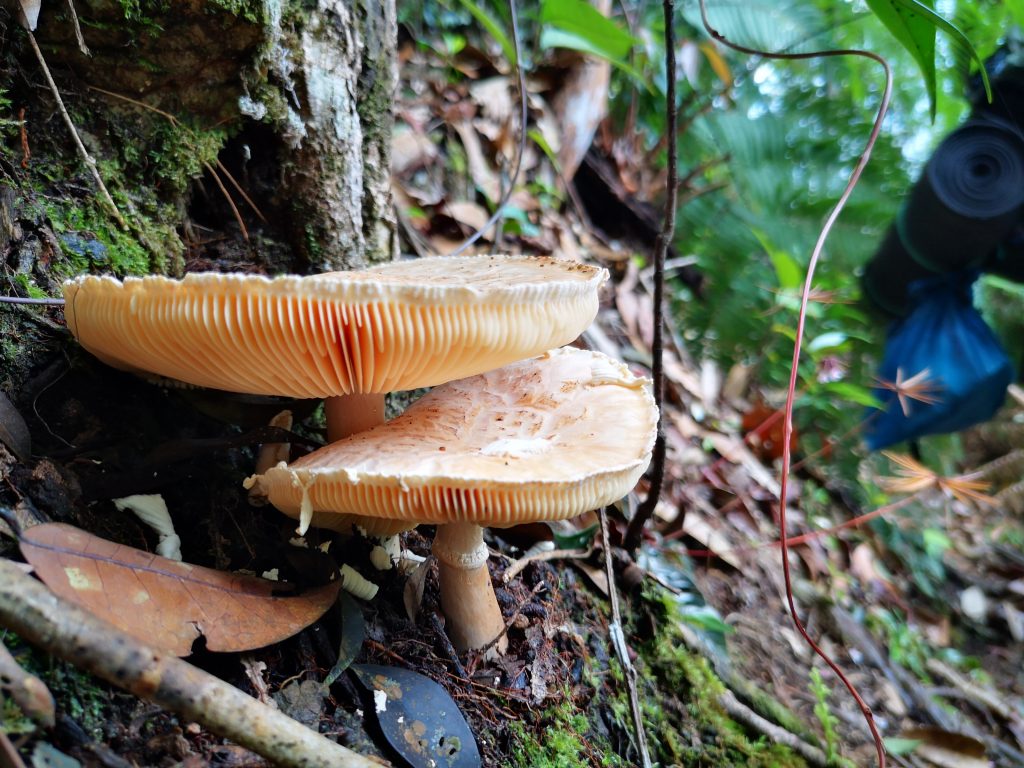 I helped Uwan bring in the great branches / trees he'd cut off. Long straight trunks of a 4 to 5 meter. Uwan made a fire and he put the logs above them as mikado sticks. The whole evening we could slide them over the fire and it would keep burning.
That is a great way of keeping the fire going!!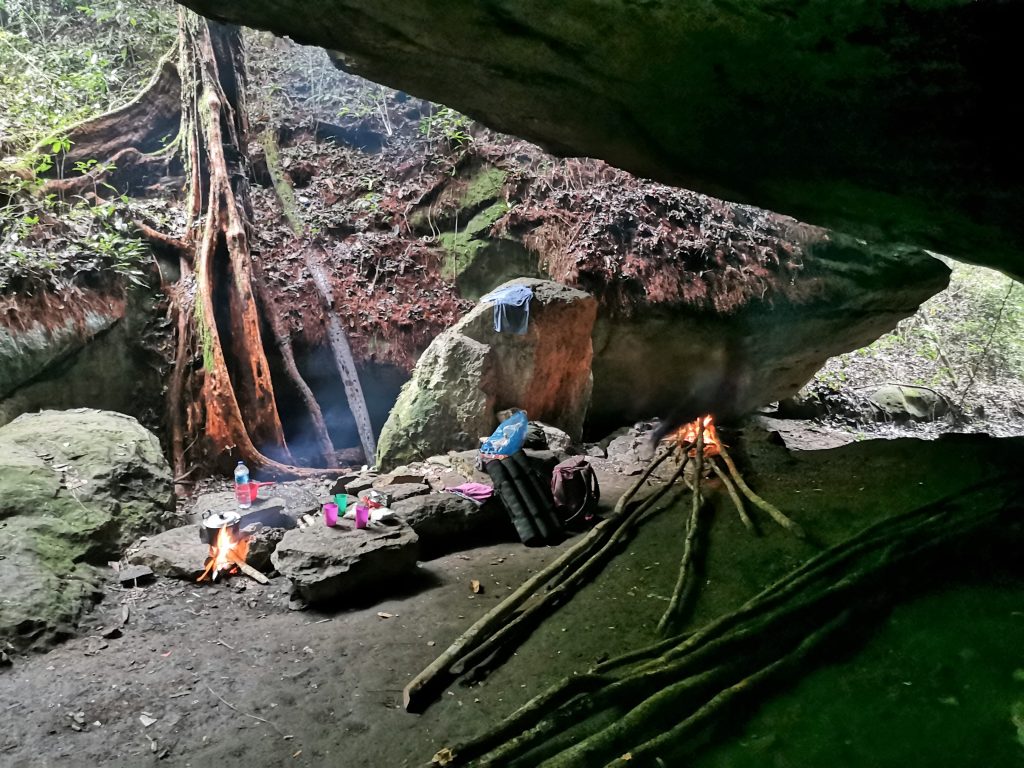 Uwan made the food and I got a cup of tea in the meantime. We had laid a large piece of sail at the back of the cave. We would sleep on it.
Spending the night under a rock
When it was dark the whole thing had a really nice atmosphere! In the background you could hear the sounds of the jungle. Those crickets who starts making that singing sound in the evening… And at one point Uwan took a flute out of his bag, he let me hear a few tunes he knew.
And there you are! With a Sumatran man you don't know, in the middle of nowhere, in a cave above the Harau Valley!
Traveling lets you see and experience many sides of life.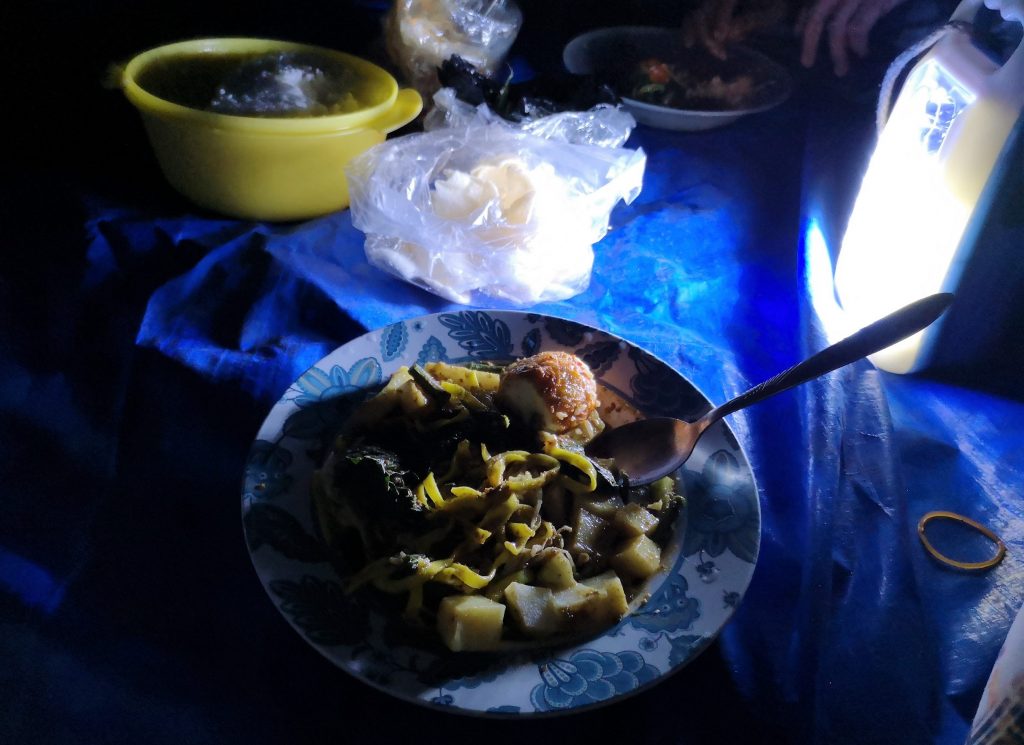 It took me quite a long time to get to sleep… Usually I'm fine, but this time I got disturbed all the time…
By a RAT!
I was just lying down and starting to dull a little… The ground below me was hard and so lying on the side with the little fat around my hips is not nice. It was still quite warm and so my arms were outside the sheet sleeping bag and I was lying on my back. Suddenly I felt something on my arm. I was frightened by it and squealed a girly scream 🙂
I had a flashlight close by and when I put it on I saw the culprit… A rather fat rat!
From under the cliff, where I was first lying next to, he was looking at me for a moment and then disappeared out of sight. Hmm… Hopefully I scared him off and we both laughed at the scream I gave hahaha! Really.. such a girl's scream *shame * 
Lights out again and try to sleep again. It didn't take long before I felt the rat running over the plastic sheet we were lying on near my feet. Eventually this game went back and forth a couple of times until Uwan pointed the 'construction lamp' he was carrying at the bottom of the rock and the rat didn't dare pass it. After that, it didn't bother me anymore!
But… after dinner we had left our plates and everything. I wanted to do the dishes but Uwan said we would do it the next day. It was dark so I didn't want to walk all the way there and so we left it. As a result, that rat came at it! A few more times I heard the plates slide and fall… Of course he was eating all the leftovers.
Watch this video and then you'll see at 4.15 where the rat was…
After an hour it was quiet and we didn't see or hear him again. The next morning I asked Uwan if that rat came more often. Yes, always! Really? Then why don't we clean everything up so that rat has nothing to come for?! But yes, that's my western thought… Here in Asia, they think more like… Gosh, the rat got some food… hahaha!!
Hiking back into Harau Valley
After breakfast from… You maybe guessed it; IndoMie and a nice cup of cappuccino we cleaned everything up and went on our way again! This time we walked out of the cave on the other side and continued our way. We would go down on the other side of the mountain and there would be a waterfall waiting for me for a refreshing dive!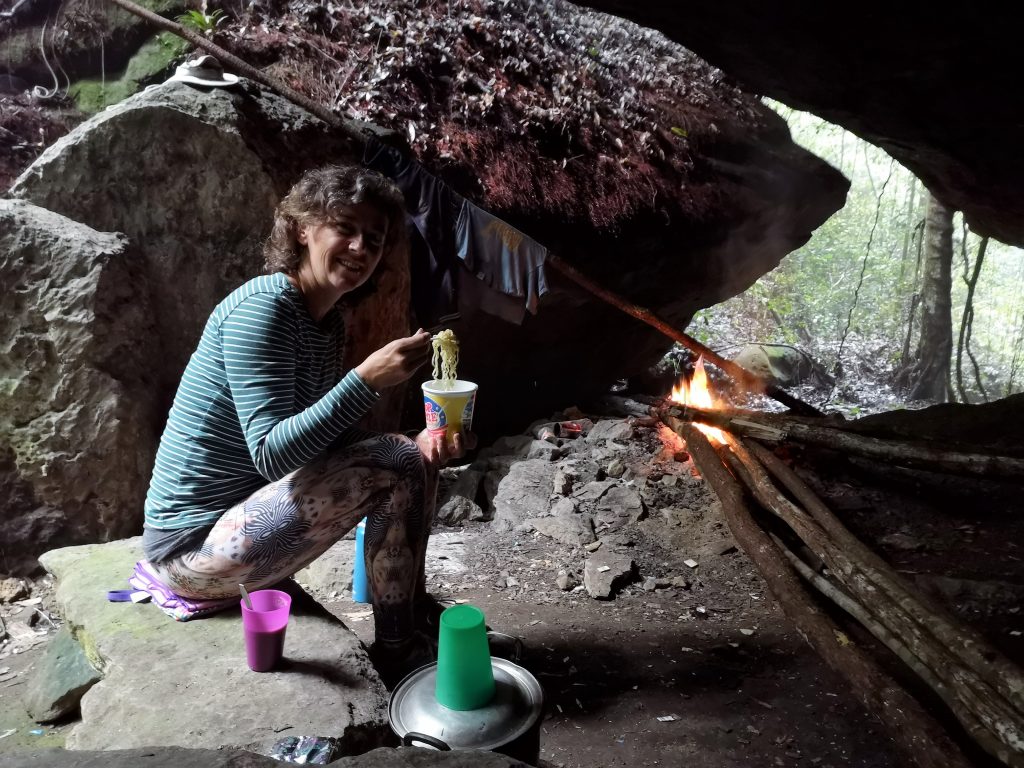 In the beginning we walked on top of the mountain and along great rock formations. As we started the descent more and more, the path became denser and denser. We walked about 1.5 hours on a path that was cleared by Uwan and where I walked through the branches. A very nice expedition was my thought in the beginning!
As it took longer and I got more and more scratches and grazes on my bare arms I was a bit done with it. And as always, the end was in sight! I was happy to be able to walk normally again for a while and not to slip and get branches in my face all the time. The area we walked through was really great! The views I still had over the branches and ferns were super!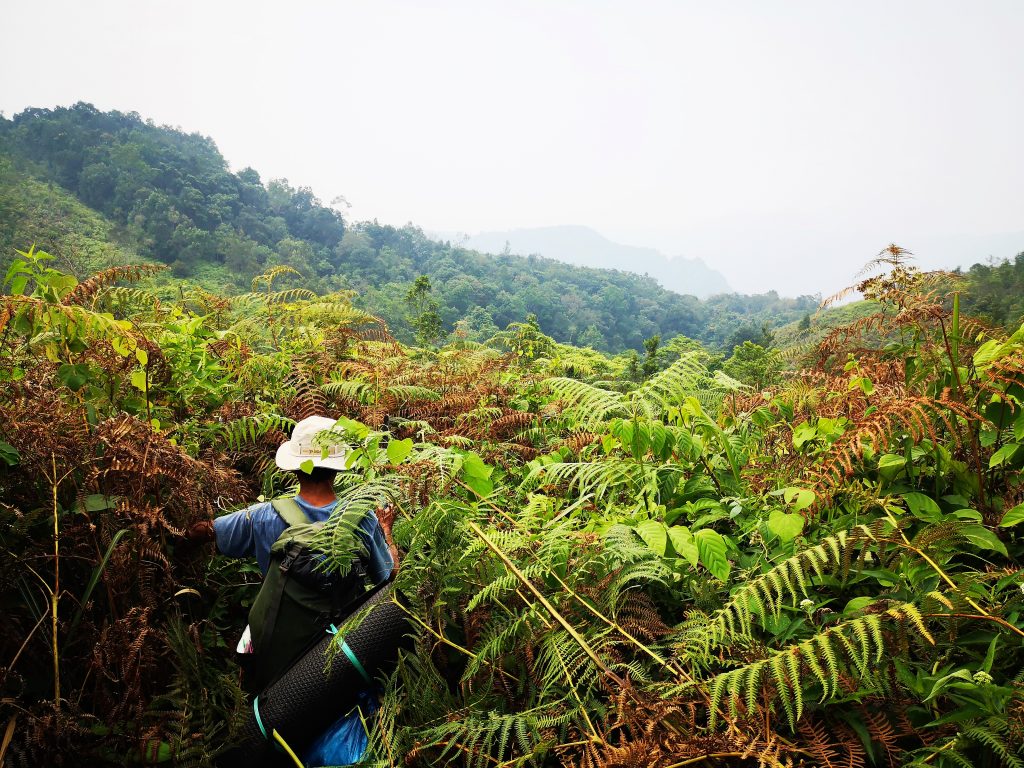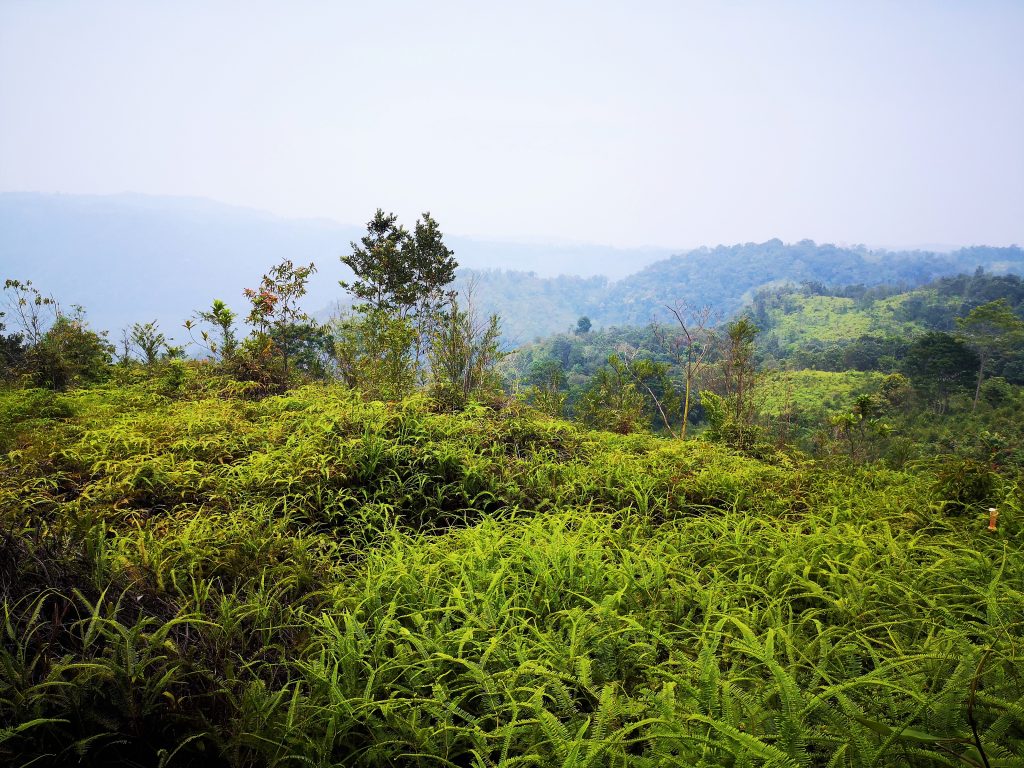 And then the path down began. At one point it was a kind of staircase down, which Uwan had made all by himself together with another guide!
Eventually we ended up on a road where we walked up for a while and then plunged back into the forest at a large parking lot. I began to hear the clatter of water in the distance… It was warm… I was very sweaty and really looking forward to a refreshing dive!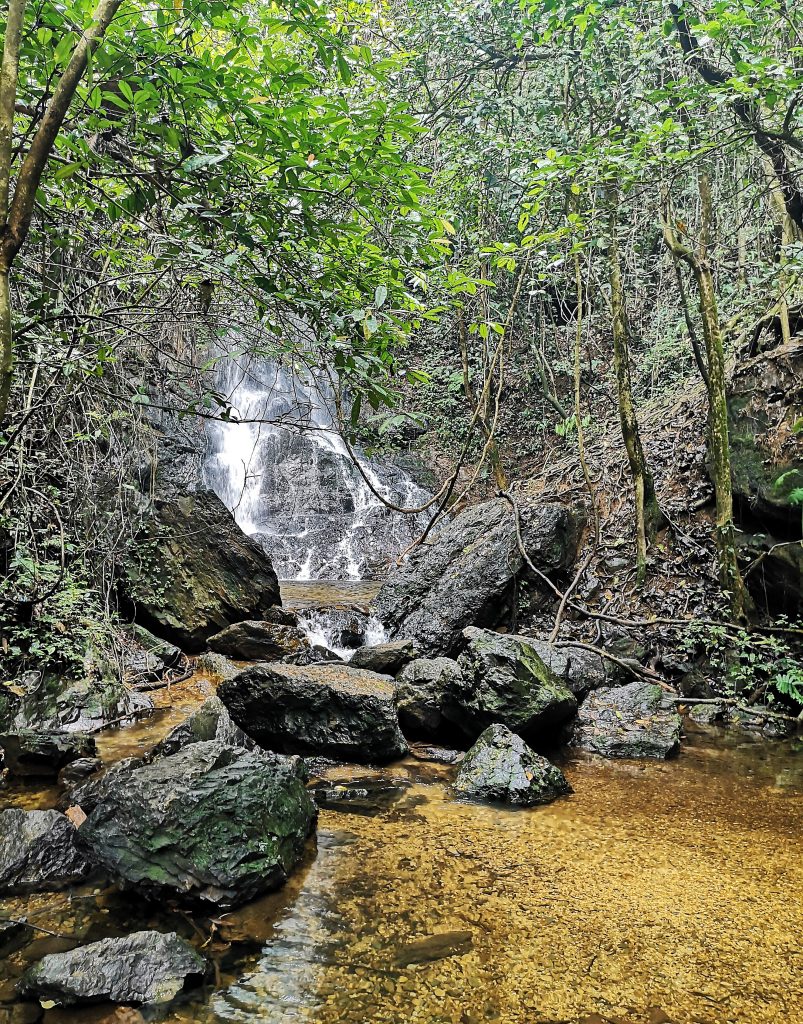 Under the waterfall it was a little deeper and the rock along the waterfall lent itself perfectly to climb up so that the water massaged your shoulders!
Wildlife during the trip
I haven't seen any wildlife other then these insects.
I've heard a lot of monkeys, but unfortunately I haven't seen them. And if you're lucky you'll see a wild pig, or if you are unlucky they see you too and they feel you are a threat to them they can attack. Furthermore, you have little chance of spotting wildlife.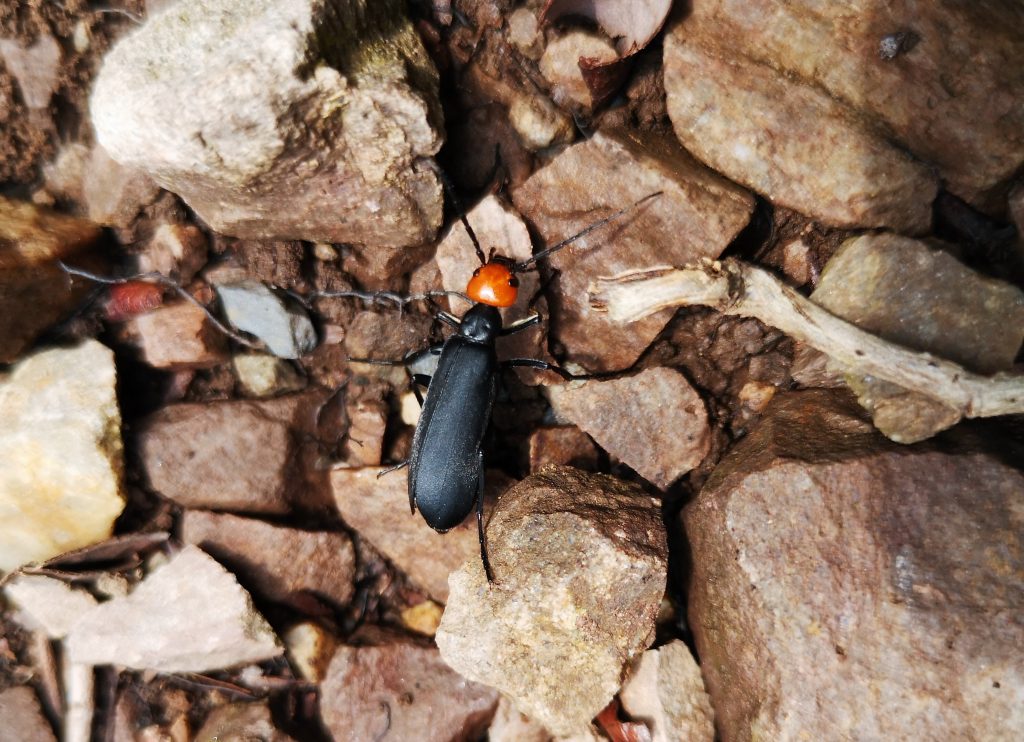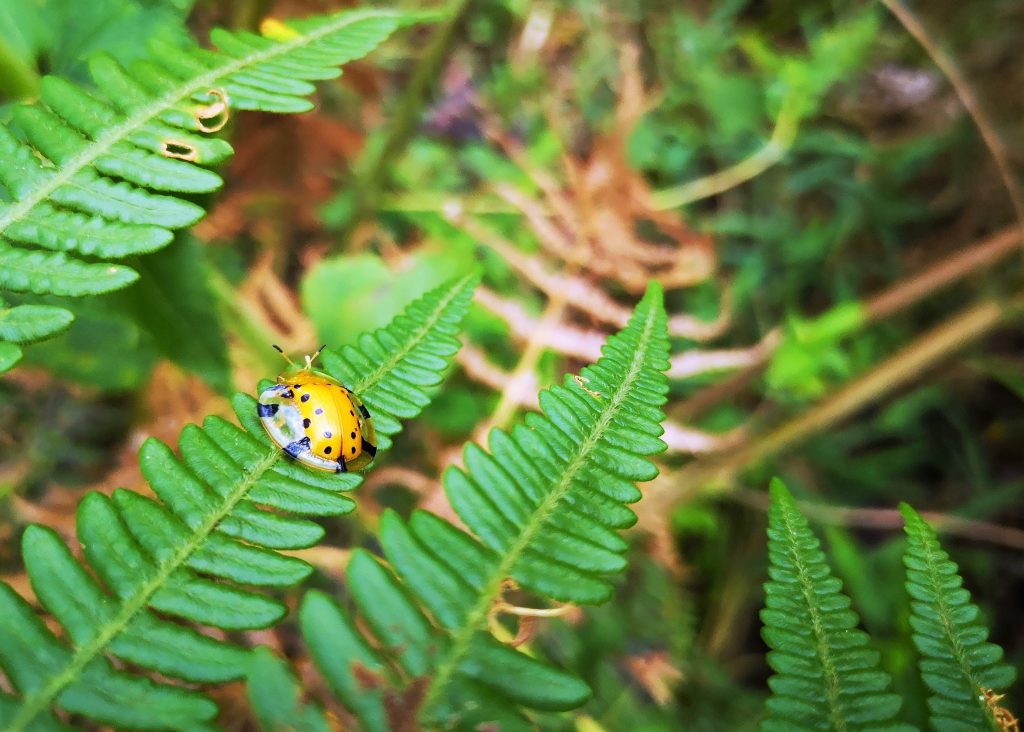 How beautiful is this one? Who knows what kind it is?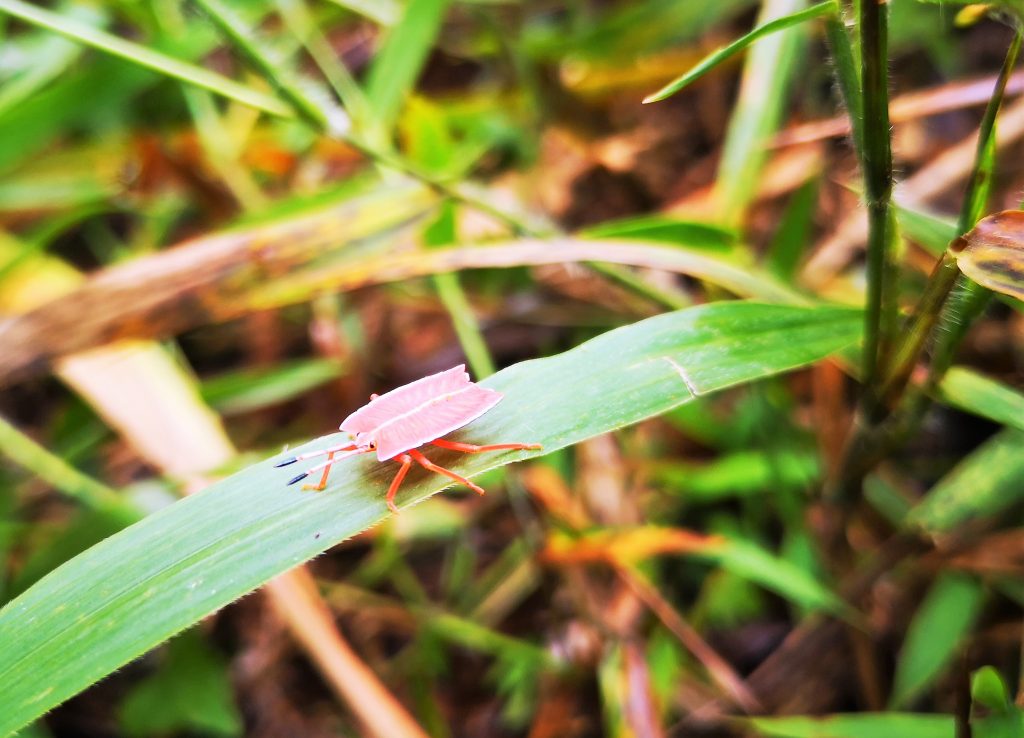 Facts : Sleeping in a cave
To get access to Lembah Harau, the Harau Valley, as a tourist you have to pay an entrance fee of 5000 Rupees.
From starting point to panoramic view we ascended 300 meters. That was more than an hour's walk. Then it was half an hour to 3 quarters of an hour to the cave.  The first day we walked about 7 km. The second day we walked about 12 km to get down over the mountain on the other side. It took us about 3 hours. I think the km's numbers are very high, I think it's less.
According to Uwan we walked in total about 19 km and it took us about 5 hours.
In the cave you sleep on the floor, there's no comfortable mat other than a thin yoga mat that Uwan brought for us. It's hard, not slippery, so you probably won't sleep very well 🙂
I had never slept in a cave in the jungle before and I really thought that was a super experience and I would do it again in no time! I was alone with the guide…in a group the evening would have been a bit more pleasant 🙂
Adventurous Travel Sumatra
Sleeping in a Cave
I went straight to the next adventure the next day…
Read how I spent a night on the volcano Marapi!
Does this seem like an adventure to you, too? Pin to save him!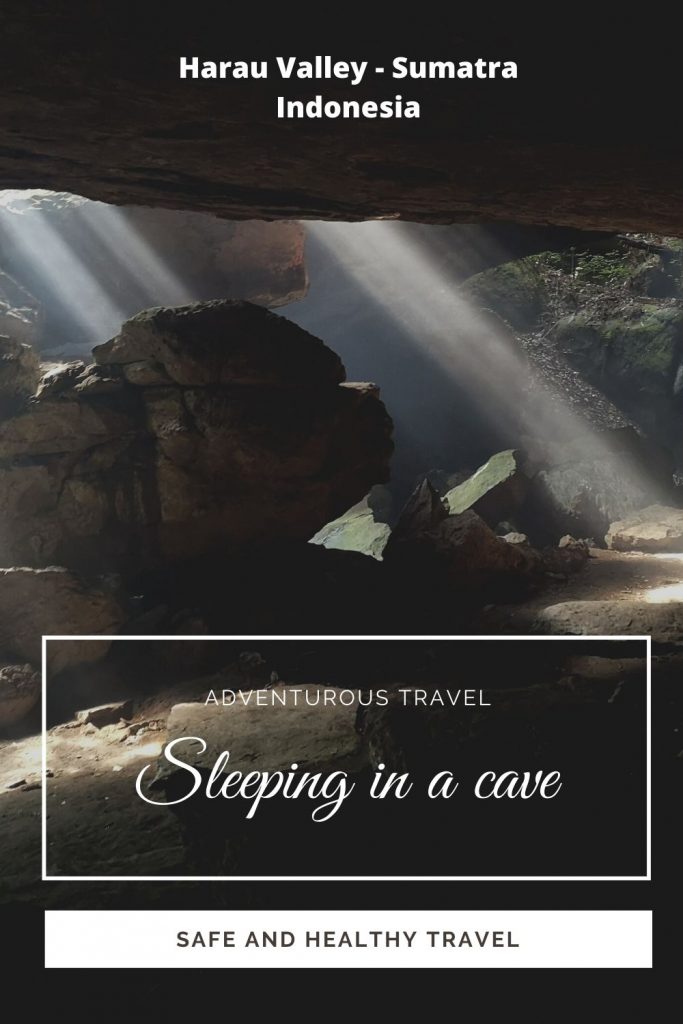 Or share this adventure with others!
Looking for more travel inspiration?
Seeing the Orangutan in the Rainforest – Bukit Lawang
Cookingclass at Juwita's cafe – Samosir Island
2 week Travel Itinerary Sumatra
Old Post: Java in a couple a days
Travel Tips for Borneo – Malaysia
And also read how to travel safely with your bag!
I hope you love this world as much as I do!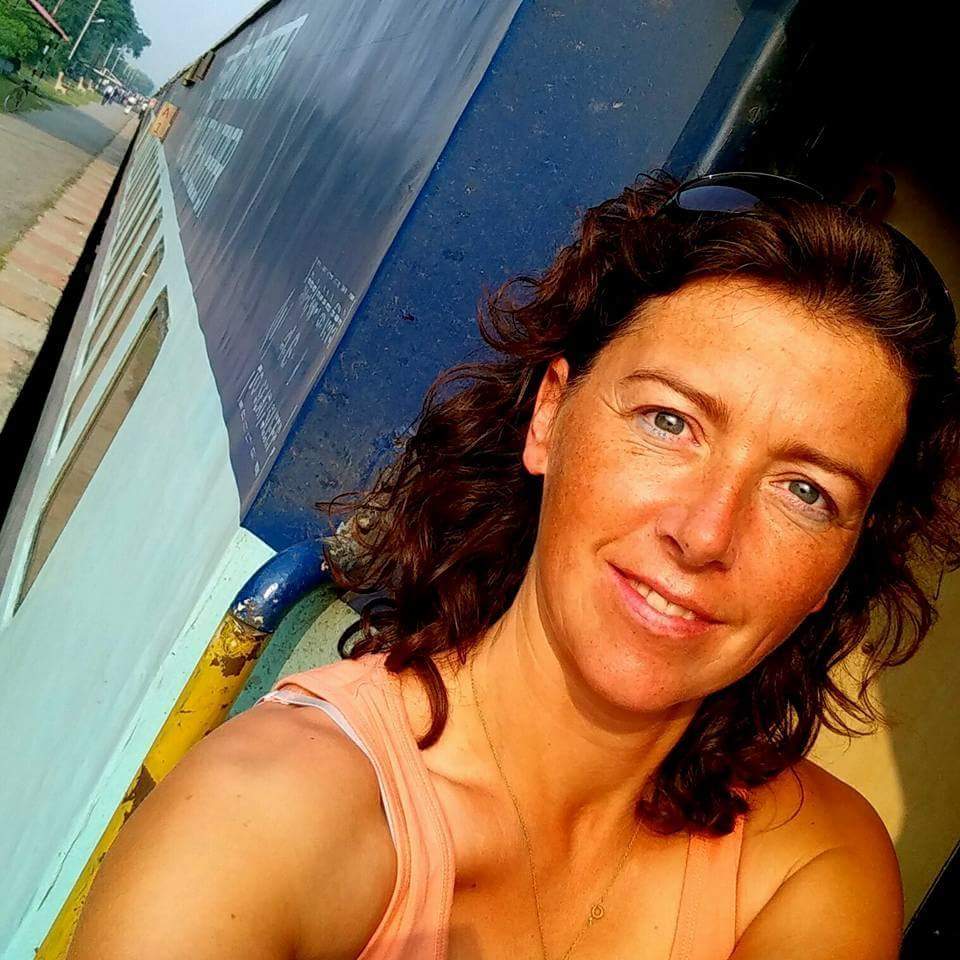 Jacomijn is een politieagent uit Nederland die jou graag laat zien hoe je veilig, actief en gezond de wereld kan over reizen. Safe and Healthy travel is a MUST