2 week Travel Itinerary Sumatra, Indonesia
|
Sumatra is one of those great islands of Indonesia that defenitily is worth a visit! I loved spending time on the island Sumatra and will definitley go there again, soon I hope!! I went there while backpacking Sumatra and my goal was to search for the Orang Utan and if you visit the island that must be on top of your list! Check this 2 week travel itinerary sumatra!
And the island Sumatra has a lot more to offer then only that great Orang Utan, the cultural aspects are the best! How about those great and so impressive Minangkabau houses with the rooftops that has horns on both sides that makes it look like a waterbuffelo? I made a trip on the north part of the island and started and ended my trip in Kuala Lumpur Malaysia. You can fly easily to KL from all kinds of cities of the world!!
Check out this 2 week itinerary on Northern Sumatra!!
Kuala Lumpur (Malaysia) – 2 day
Well…a day or two in this great city is not a bad start or end of your journey. I really liked the city and started to recognize the different parts and found my way around easily. I have visited in the years multiple times and get to like it more and more. Do stay for at least two days to see the highlights!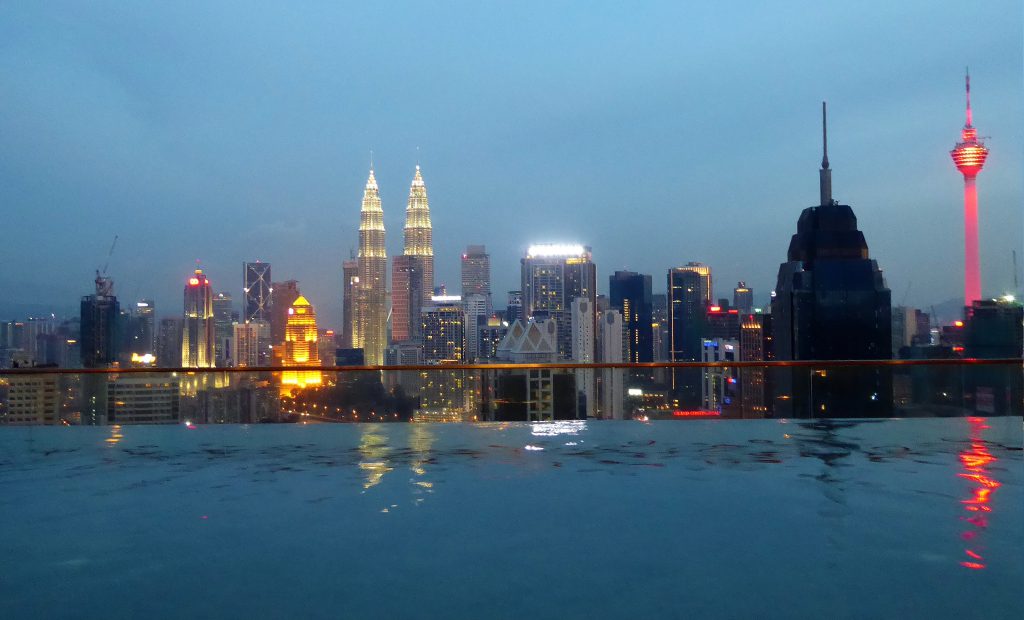 Rooftop swimmingpool at the Regalia Suites
You can use one day to explore Bukit Bintang. All kinds of small alleys to explore with nice little shops and temples to visit. In the centre you also find the famous Petronas Towers, and next to that you have a huge park with a swimmingpool for children. And then there is the China Town and Petaling Street, you can also shop untill you drop in there. The next day you can go out of the busy city and go to Batu Caves!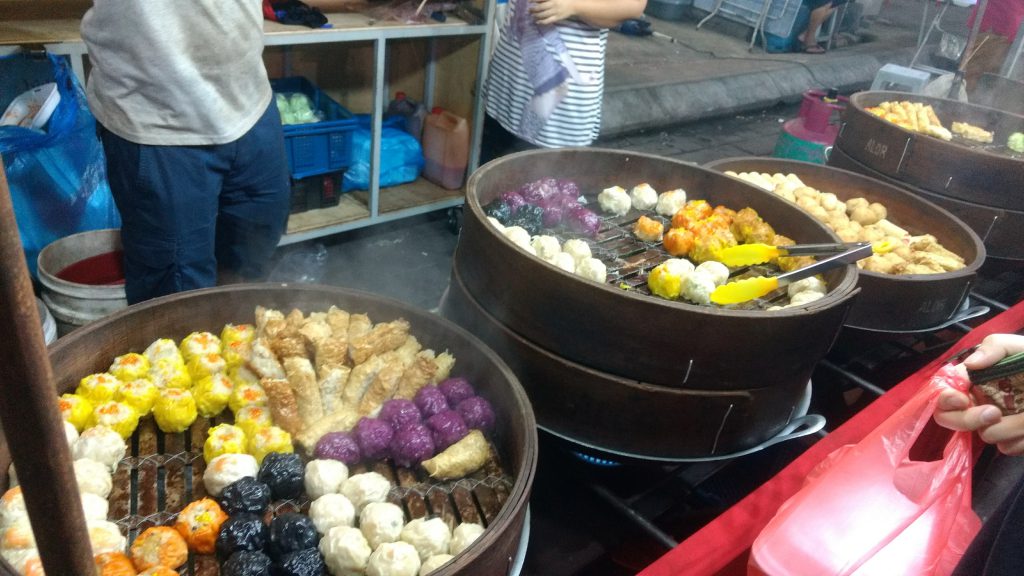 If you walk in the city in search for your evening dinner you have to go to Jalan Alor. Many streetfood stalls and just try all kinds of small local and Asian dishes.
Malacca (Malaysia) – 1 day
As a start of your journey it is just great exploring a new country. This is your last day in Malaysia so do explore this great historical rich city of Malacca. Especially for the Dutch interesting to see how much we influenced the streets. If you catch an early bus from KL you can have your lunch in the streets of Malacca and explore it for the rest of the day!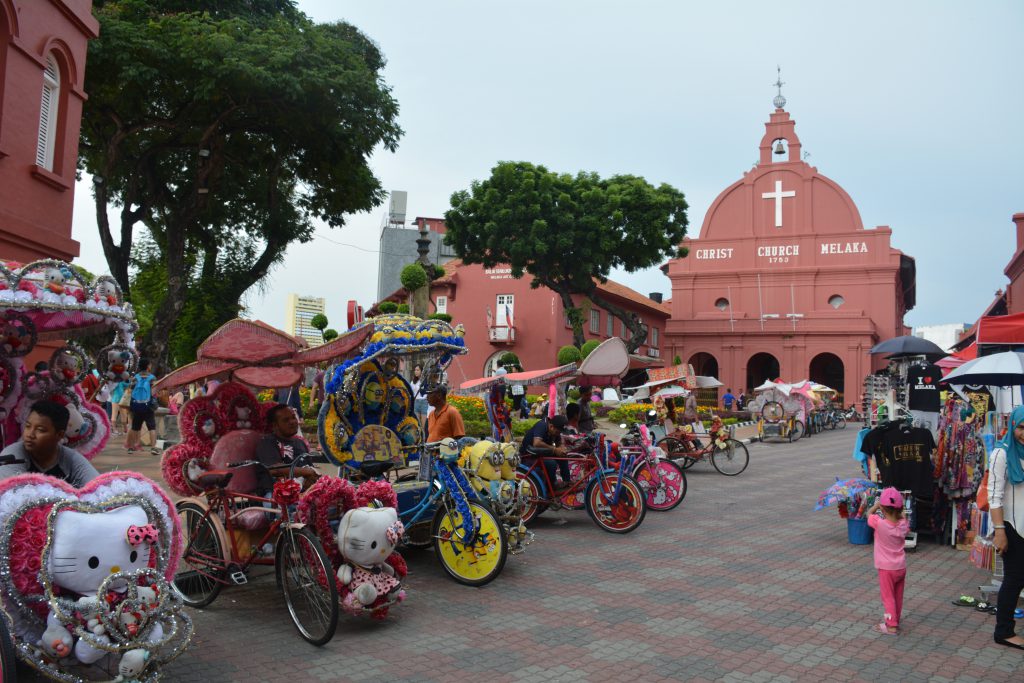 Picture of Linda van Travellers of the World
It is a Dutch site but always good for some inspiration about Malacca
As I mentioned, the city has a lot of Dutch heritage. The Dutch have been there, not that kind in those days… For now you still find a church, a cemetary and a fort with Dutch names on it. There is also a nice China Town with temples and lots of shops and if you want to relax on a terrace try the Hard Rock cafe next to the river!
Boat : Malacca – Dumai (Indonesia)
Get the ferry from Malacca to Dumai for around 20 Dollars and make sure to get the early one so you can get the cab or shared taxi to Bukittingi. It will take you a couple of hours. Entering Indonesia you'll pay a fee of around 20 dollar for you visa of 30 days.
I didn't arrange a taxi up front and had to wait untill my bus was full of costumers. I reached Bukittingi in the middle of the night and that resulted in the fact that I only could get into the best hotel ever 🙂 It was at that time The Hills…now it is Novotel. Loved the swimmingpool there 🙂
If you don't have that much time and want to shorten the trip a bit, you can easily take the plane to Indonesia. Then you can also skip Melakka and go directly to Padang, Sumatra. Of course you can also choose to book a daytrip from KL to Melakka to see those hightlights. I thought it was a nice town to walk around so I can imagine that you do too!
If you fly on from KL and book in time you will have a return trip for about 60 to 70 euro's with 20kg luggage. From Padang it is, if it is quiet on the road, about 3 hours drive to Bukittingi.
From Bukittingi there are several trips to book. Go to the Harau Valley, sea the coffeeplantation and the old amazing Minangkabau houses. And how about that view on the vulcanos!! From the city you can easily walk into the Panorama park.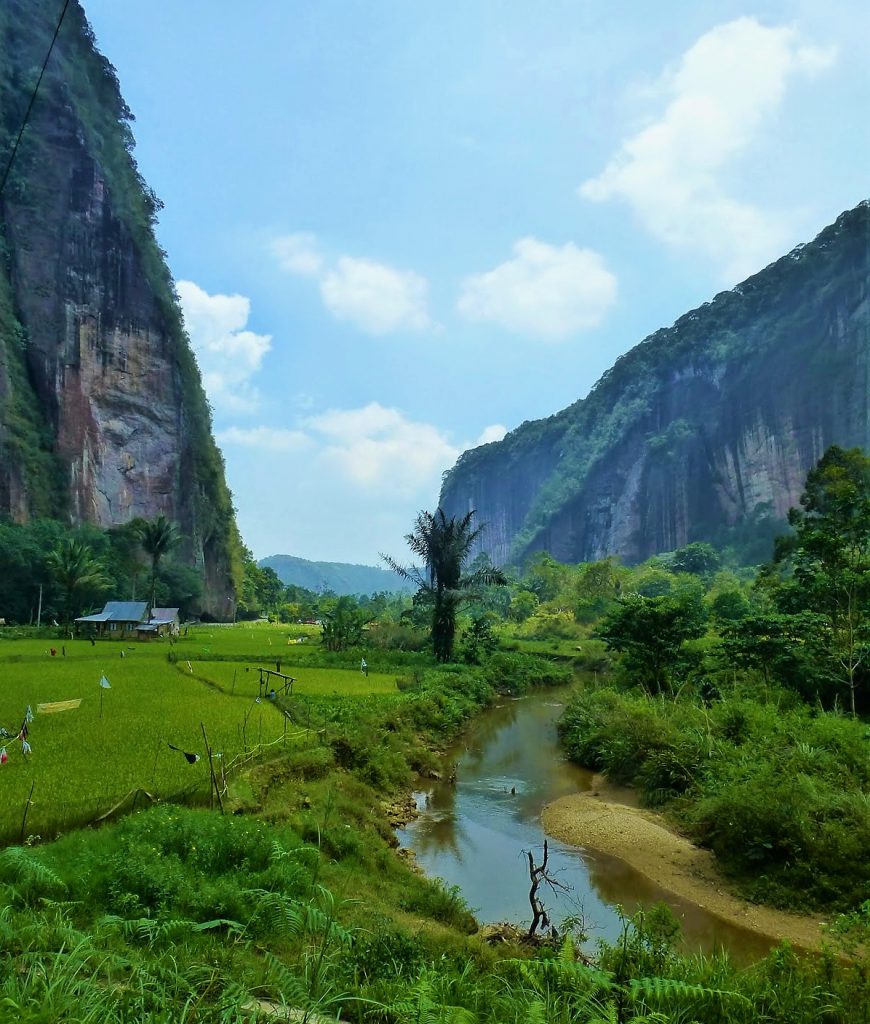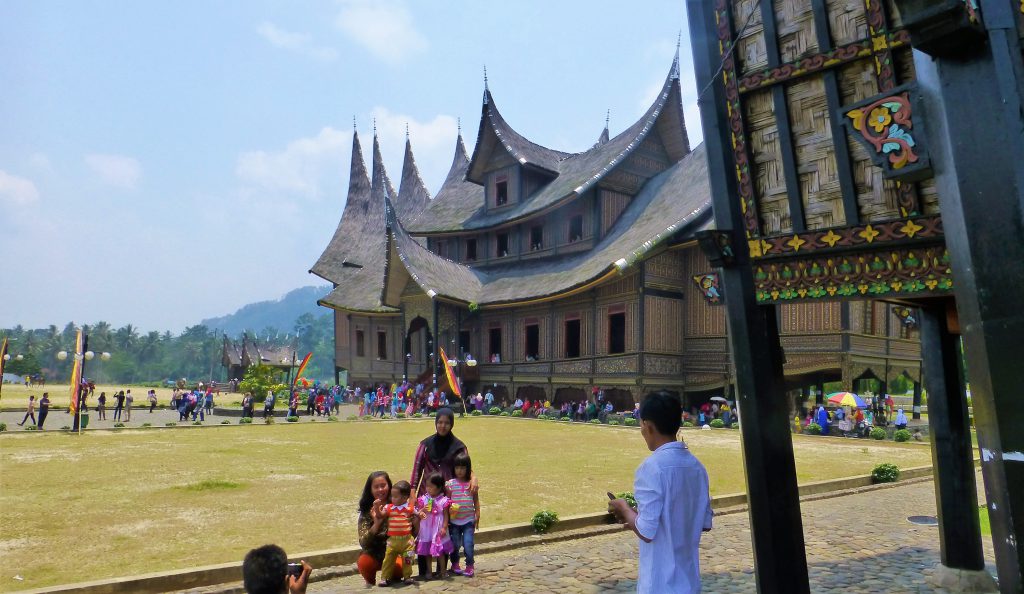 The Lake of Tobais the biggest lake in South East Asia and I really love that place. It was quiet and I had a nice cabin near the lake. As you can see you can swim in the lake and enjoy the wide view!!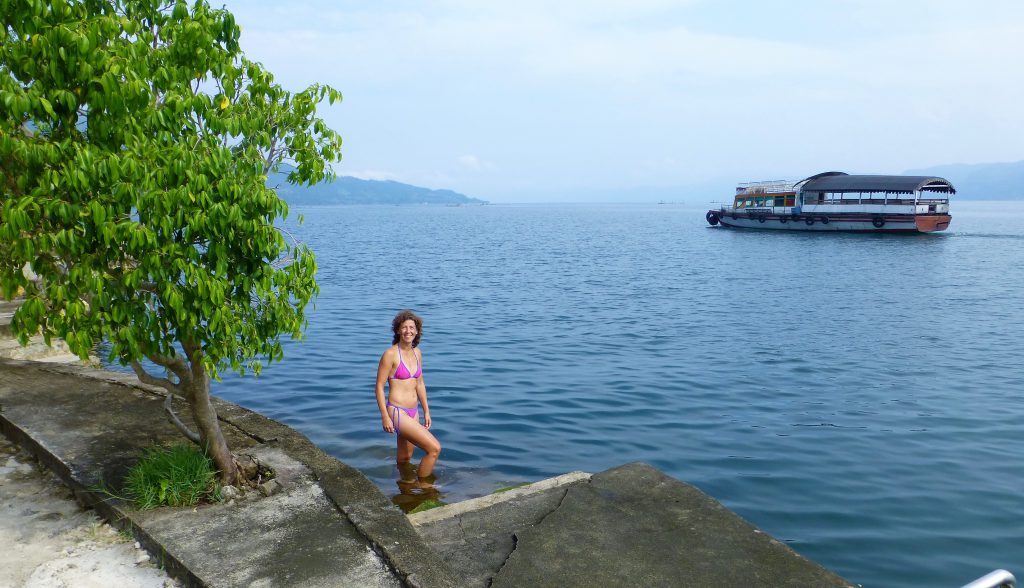 On the island of Samosir in the lake of Toba I rented a scooter to explore the area. I visited the King Siallagan's Stone Chair. They showed how the jurisdiction was in the old days… I liked seeing that but it is closed now if I look online.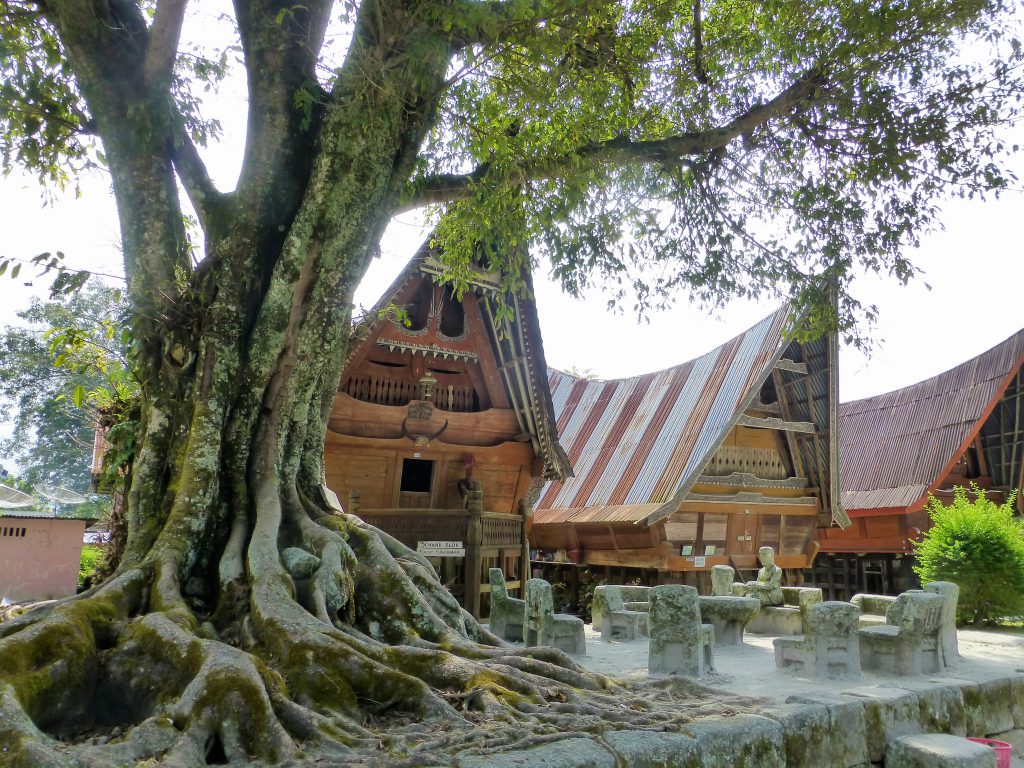 2 week travel itinerary sumatra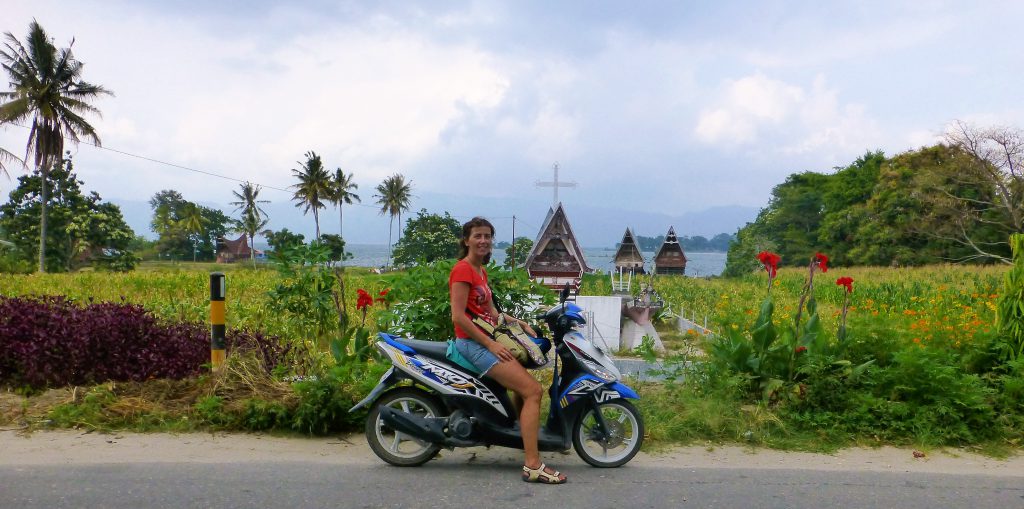 Tip: I took a cooking class at Juwitas Cafe. It is cool to learn some local dishes and see how they work their ingredients. You can take some of those skills with you into your own cooking at home!!
See the Orangutan on a Sumatran orangutan trek into the jungle!!
I booked a trekking of 2 days in to the jungle! I slept on a thin matras under a simple roof and shared my mosquito net with another couple. I loved the eco travel experience! I was only leaving footprints!!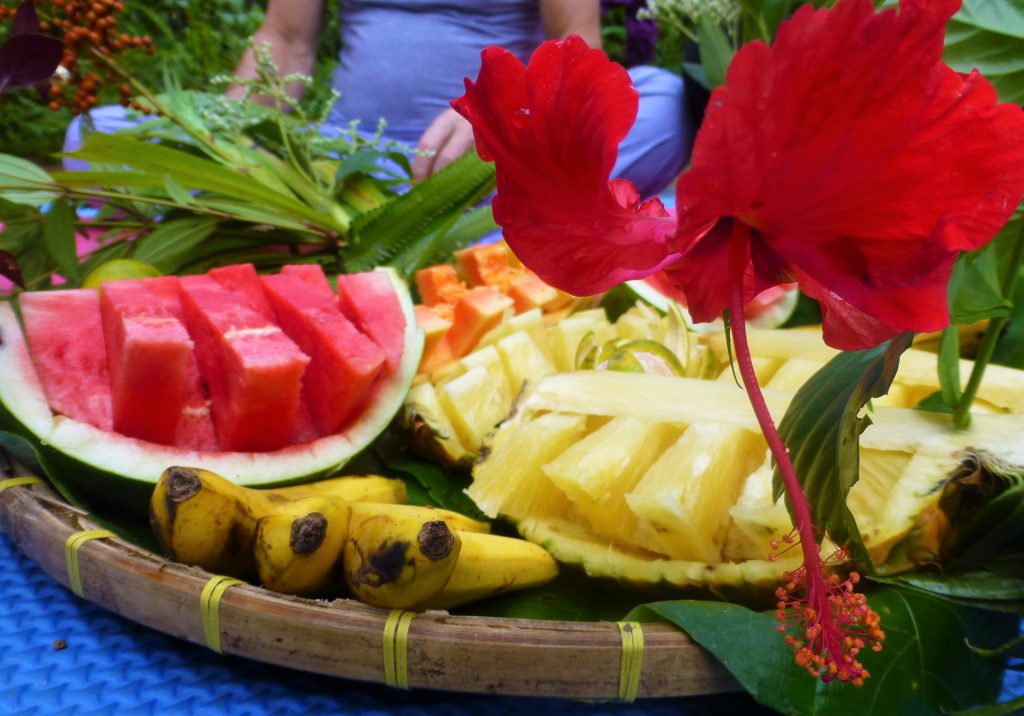 The trekking is in the jungle of the Gunung Leuser NP and you will defenitely meet some Orangutans. They are rehabilitated back into the jungle after a life with humans. That way they are not shy but do have their own life and most of them are selfsupporting again. How great is that?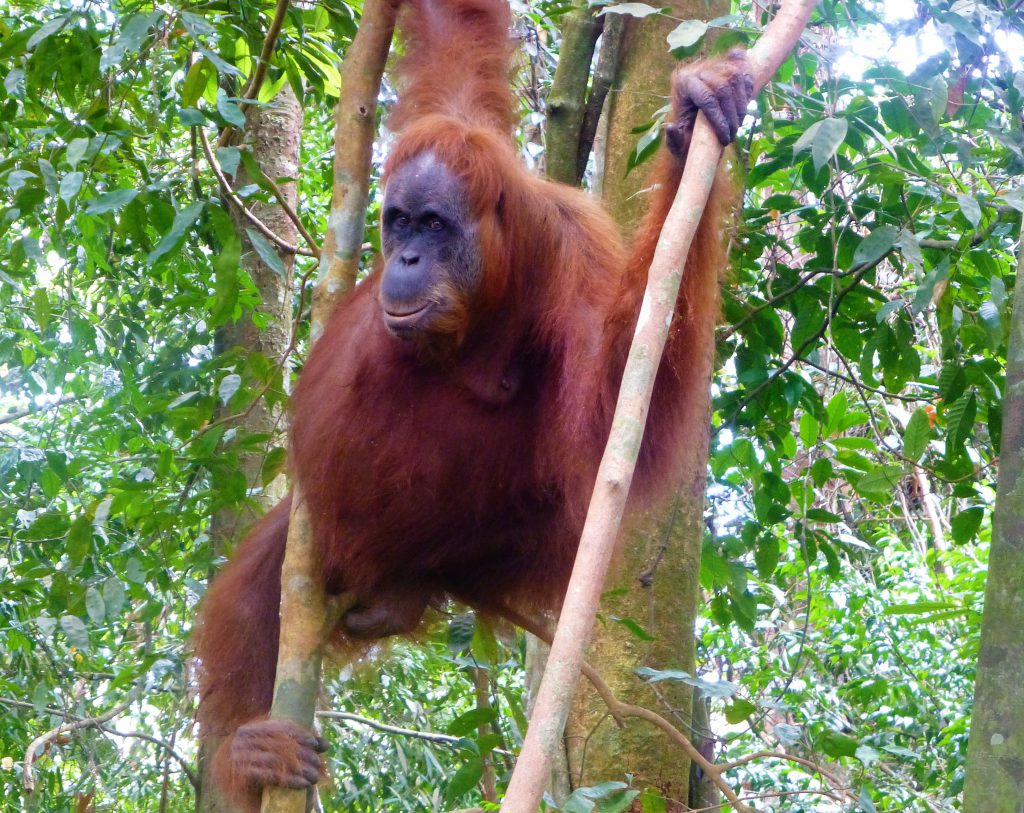 On the day that you are in Bukit Lawang you can maybe plan a trip to the batcave?
And then you go to the last stop before leaving Sumatra. Go from Bukit Lawang to Medan to get your flight to Langkawi
What better way to end a trip that took your from cities into culture and in the deep jungle of the Gunung Leuser NP to this beach with the best sunsets!!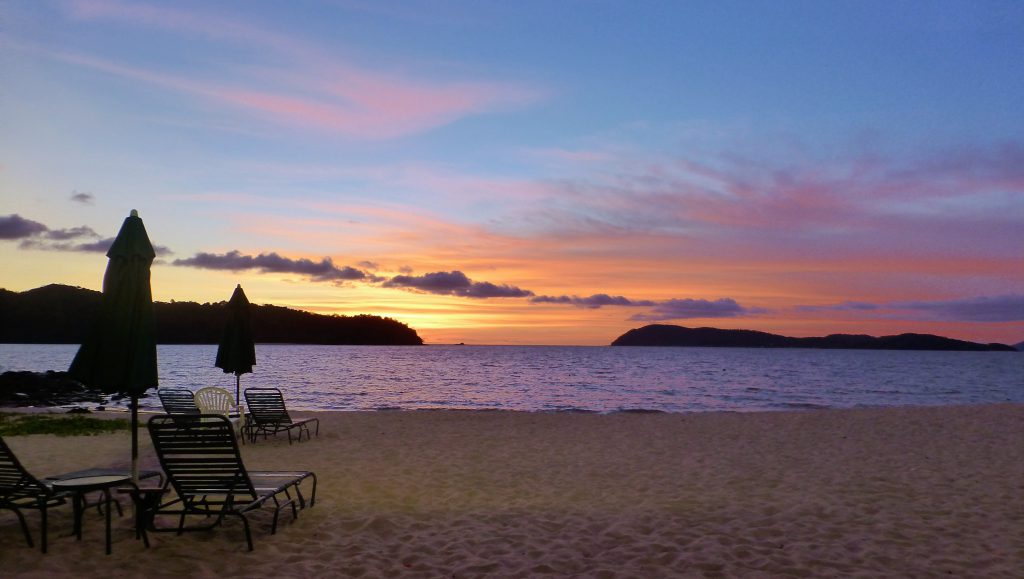 If you feel like an active day you can go to Pulau Payar. It is a small bay and actually very touristic.. They all come there to snorkel with the humongous amounts of colourful fish that swim there. I expected them to be gone with that much tourists .. but no .. Really there were a lot of colourful fish to see!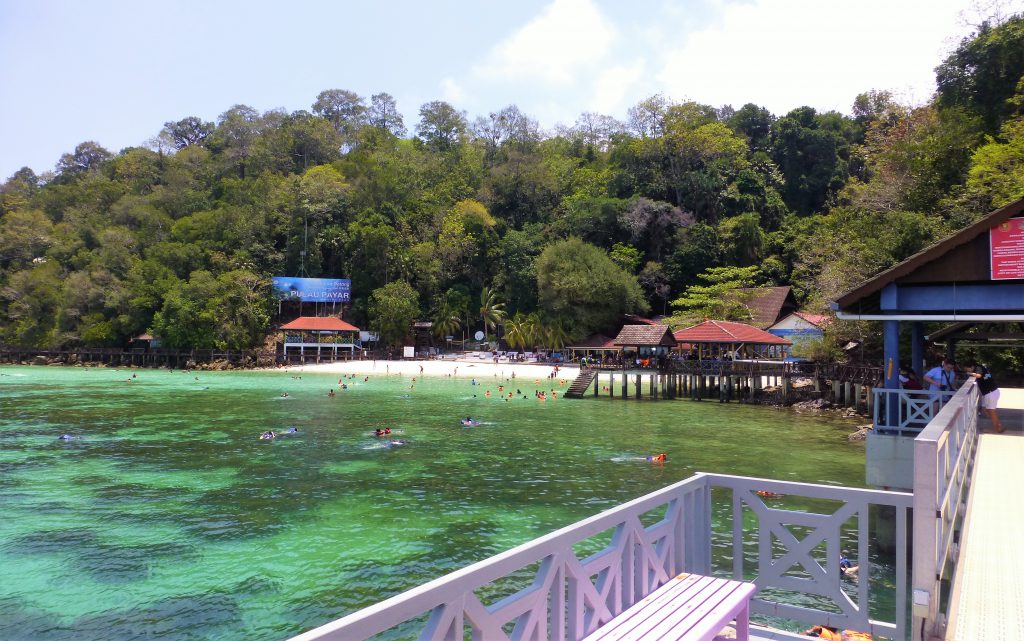 Fly from Kuala Lumpur back to your home to end this great journey!
So to sum up this great trip check this!!

6 impressive places tol visit

Petronas Towers, Minangkabau houses, Vulcanos, Lake of Toba, Orangutan and lots more!!

Visiting Nationaal Park Gunung Leusher


And the tropical island of Langkawi as the best closure to this trip!

Is Sumatra Safe to Travel?
Sumatra felt totally safe. I didn't go into Medan or other big cities. When you act like a tourist and do the tourist kinds of things most of the time you won't see or feel any irraguralities on political matters.
So my overall advice is to be that tourist some people are telling you not to be … Because going off the beaten path is always the best!! So I am telling you to try to go into the local life on a local level, with the locals that just live their life as you do at home. Connect and interact with them and see the life from their perspective.
Naturewise there can be vulcanos that erupt, earthquakes can happen or weather that can be harse. But in the last years it seems that Sumatra is safe in that matter.
People are really friendly and open minded. As in every country there can be petty crimes as pickpocketing or scams. You should be alert for that everywhere. I always feel that when travelling in Asia or Africa countries the locals see me as a bag of money and if you see it from their prospective… I am!
2 week Travel Itinerary Sumatra – Indonesia
How can you book this 2 week travel itinerary?
As I told you before I was backpacking my way through Sumatra and loved it. This was part of my 3 months travel through a part of South East Asia. I met Roni in Bukittingi and booked a couple of trips with him.
I can really recommend booking a trip with him. Booking local is always better then with big companies in western countries. You want your money to go to the local community and not to the western communty, right?
Because of that I can recommend Ronis Travel. He is located in Bukittingi and can arrange trips and travels all through Sumatra and surrounding islands as Java or Bali. Ronis Travel can make your trip just as you like it!
—
Will you share this post with others to inspire them too?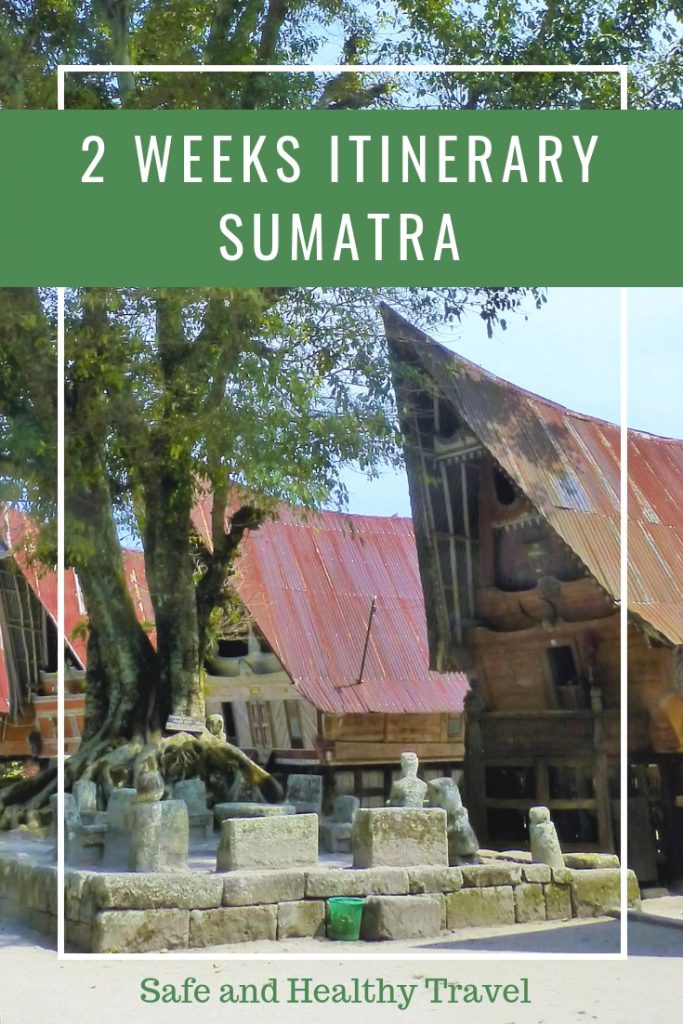 Would you like to see some other travels?
10 days journey through former kingdom Sikkim – India
2 weeks backpacking on the islands of the Philippines
10 days on the clean and green Sri Lanka
Or discover Morocco in 4 days 🙂
I hope you love this world as much as I do!!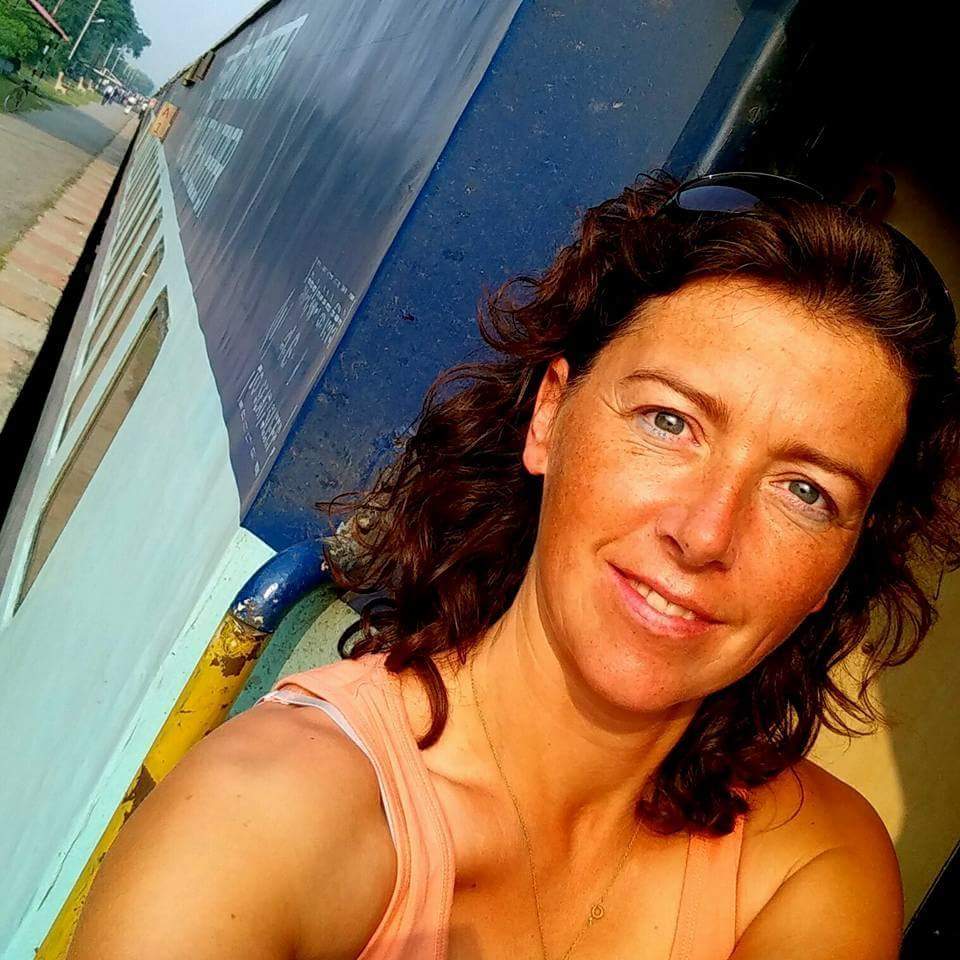 Jacomijn is een politieagent uit Nederland die jou graag laat zien hoe je veilig, actief en gezond de wereld kan over reizen. Safe and Healthy travel is a MUST