Donating to schools in Khajuraho, MP – India
|
While traveling you tend to see schools, little businesses or more of that kind that could need some help or that is supported by other travelers. People that felt connected to it one way or the other, with the place or persons. Donating to such a charity is good and not a big effort for us.
Donating to schools or charity is a small effort
but gives you much love back
In the city Khajuraho, famous of the Kamasutra temples, they asked my father and me inside a primary school. This school was sponsored by people from the Netherlands, nearby where I come from. Well The Netherlands isn't that big…so it is always close 🙂
I was curious about the project and so I entered and got a tour around the school. The school was build and had extended because of the donations.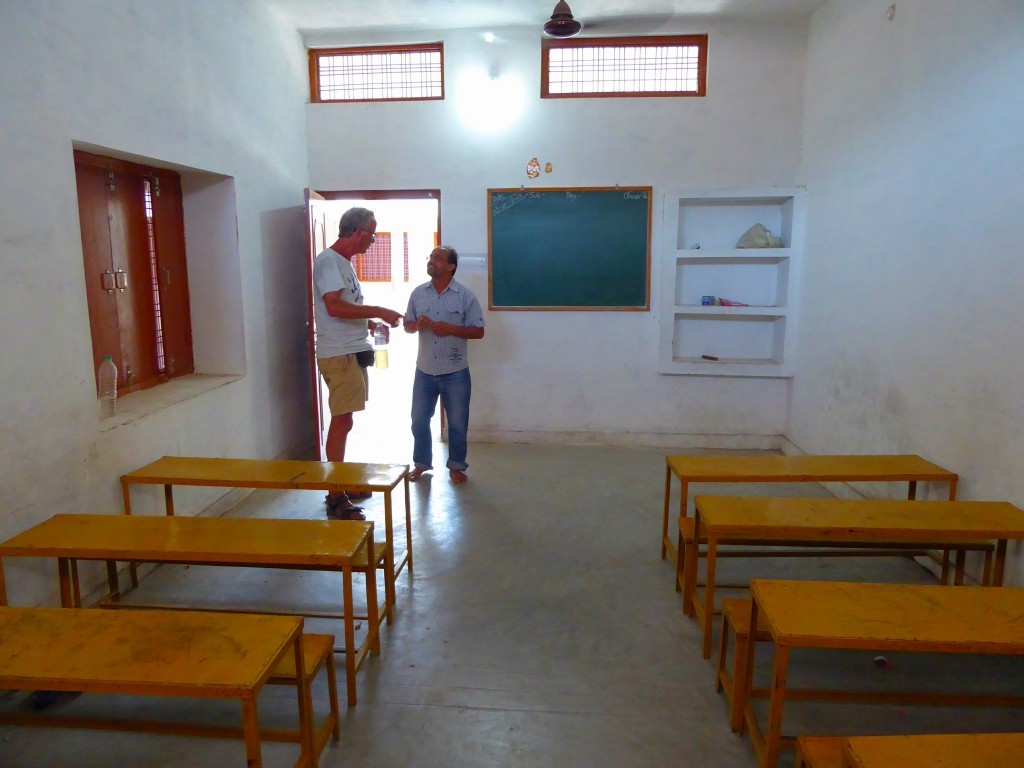 Look at those classrooms, it was interesting to see how the kids get their lessons here. The classrooms were small, the tables were connected to the seats. Those were like that in the days my parents went to primary school. We saw one lost student walking…it was a sunday 🙂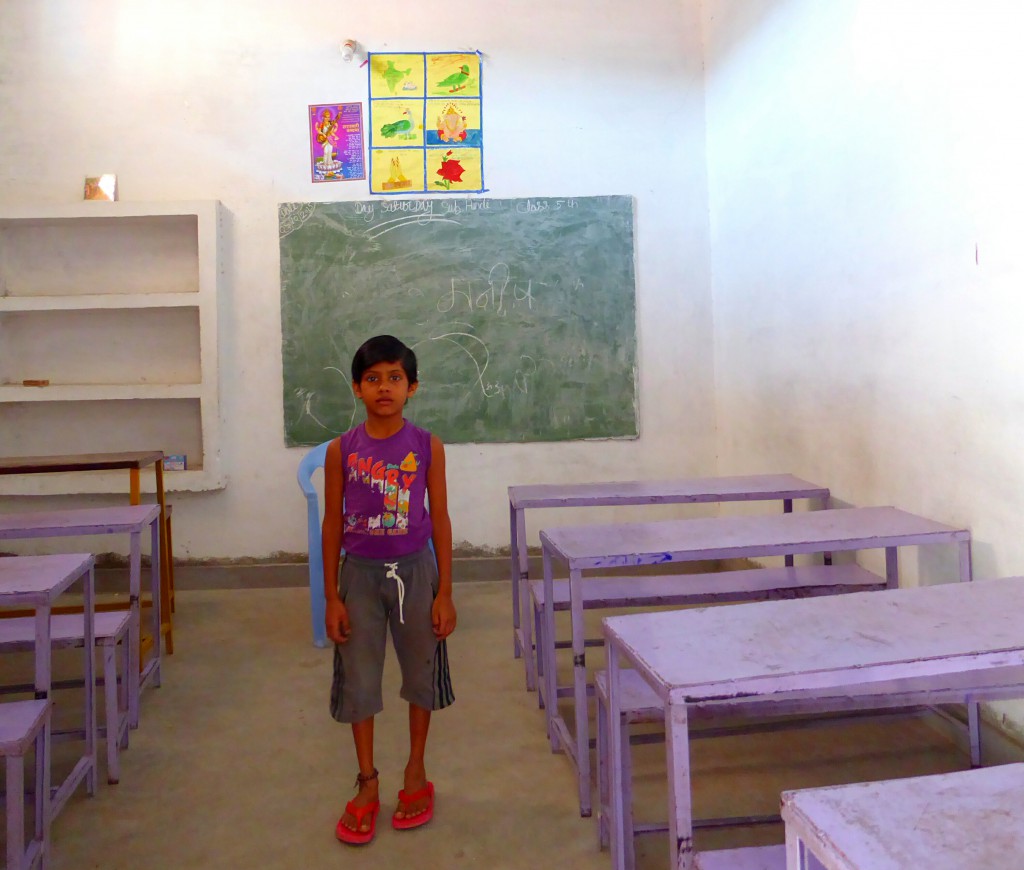 The School is very clean but looks poor – Khajuraho MP India
The headmaster talks with passion about the school and about everything they did managed. About what the children did get by going to this school. He showed us a bicycle that was meant for a child that lived away from the village and that had to walk to school every day.
It was bought with money that was given to them. They had several bicycles already given to other children, he was very proud telling us this.They got a motivating painting from England with the hands of all the children that hoped the best for this school.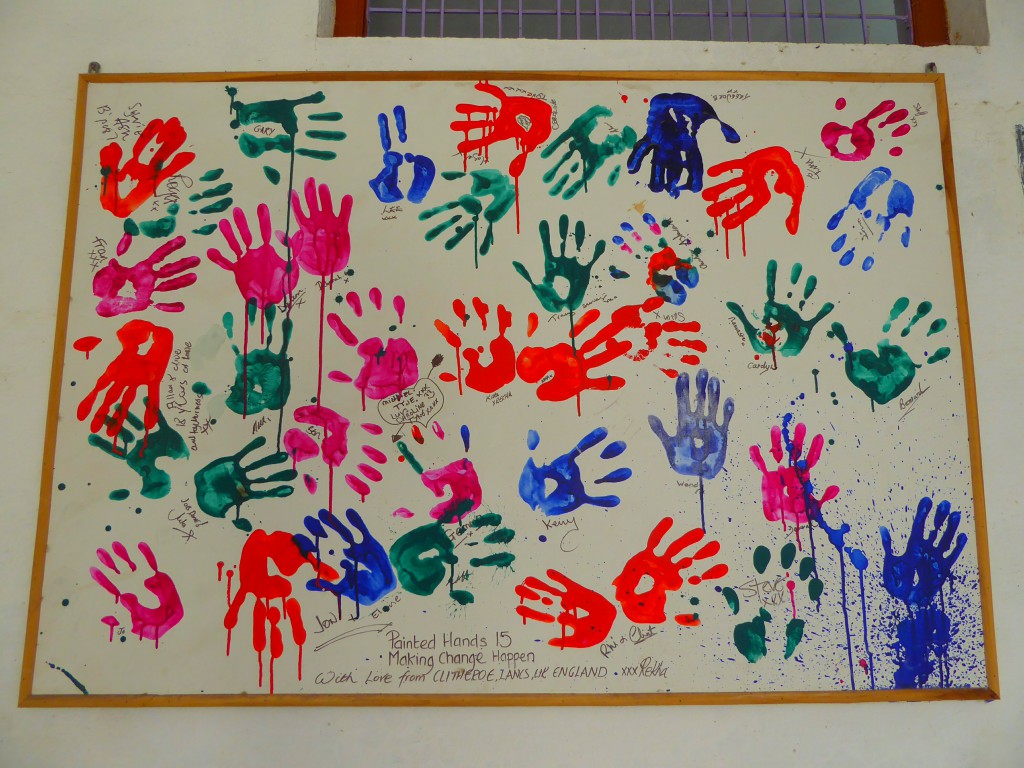 Donating to schools in Khajuraho, MP – India
When we went on we obviously gave some money! The headmaster officially wrote this money into his registre. I got the names of the Dutch couple that helped them. The money that my dad and me donated was meant for the exams, books and penciles. That's what we chose.
Unfortunately I haven't heard anything of it. They would email a picture to me from the exams and by now they have had them. Well…Maybe he didn't got my email right.
That is what I like to think! I like to think the money did go to that charity 🙂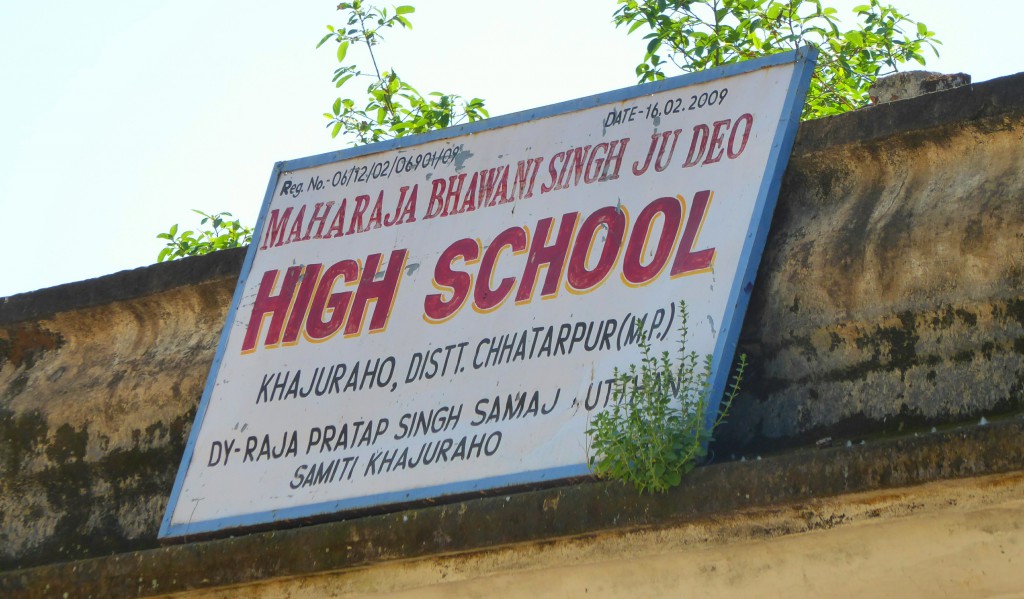 Going to School in an old Temple
Donating to Schools Khajuraho
The next day we were wandering around the village Khajuraho before traveling onwards to our next destination. At some point we entered a courtyard of an old templecomplex. It is situated just in front of the main temple site of Khajuarho, in between the touristic shop there is an entrance. When we got in there we were surprised to see it was turned into a school. Half of the temple was school and the surrounding building were classrooms too. Great!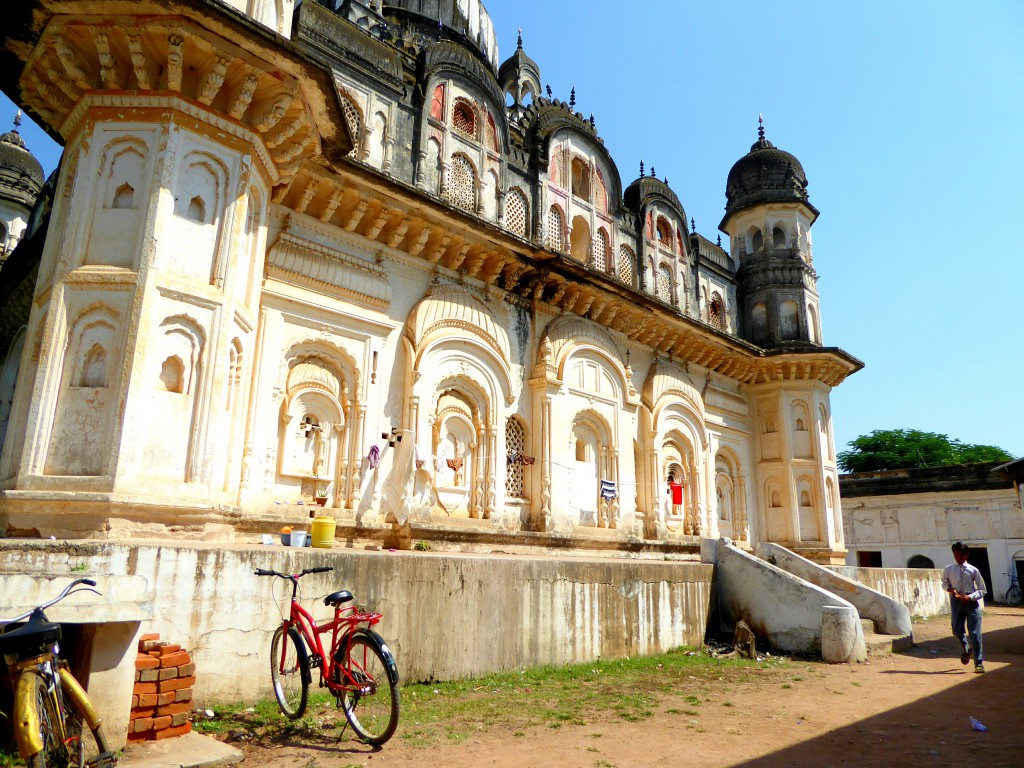 When the headmaster saw us walking he asked us if he could show us around and explained that it was a school for children. The classes were poorly decorated, in most classes there were no chairs or tables. I saw a sling of burlap sack lying on the floor on which the children sat. Then they wouldn't have to sit on the cold concrete floor. How sad is that? Meanwhile it was monday and the normal activities took place, so classes were filled and teachers were trying to get the attention of the children.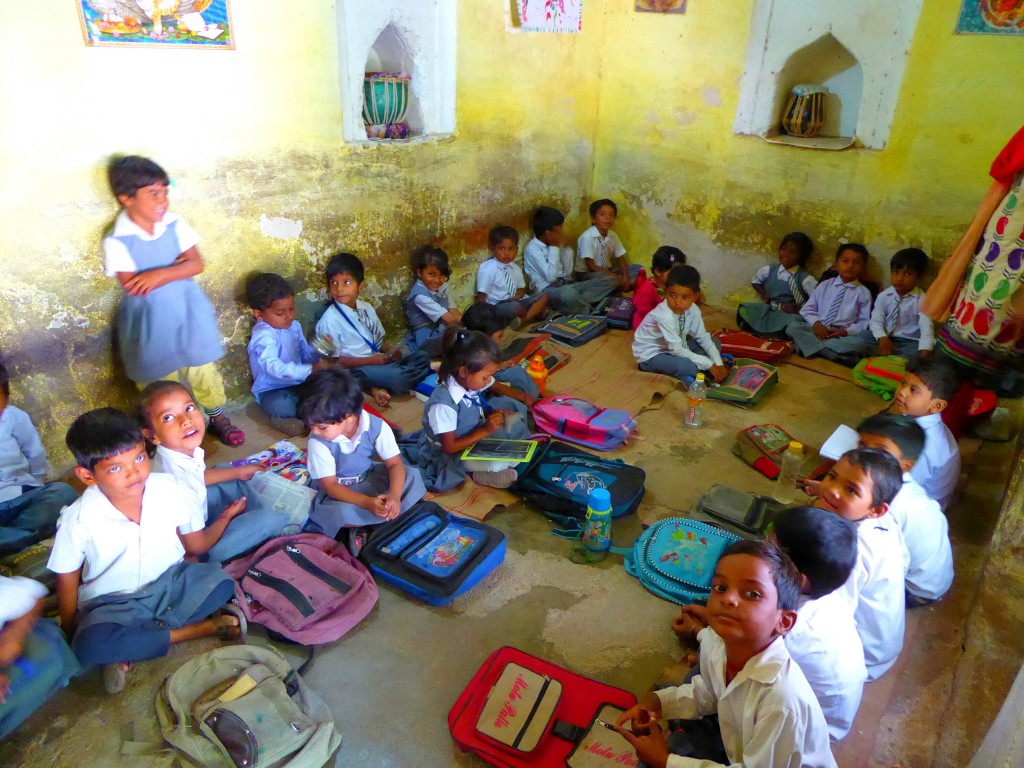 A class in the Templeschool
Sitting on a sling of burlap sacks on the concrete floor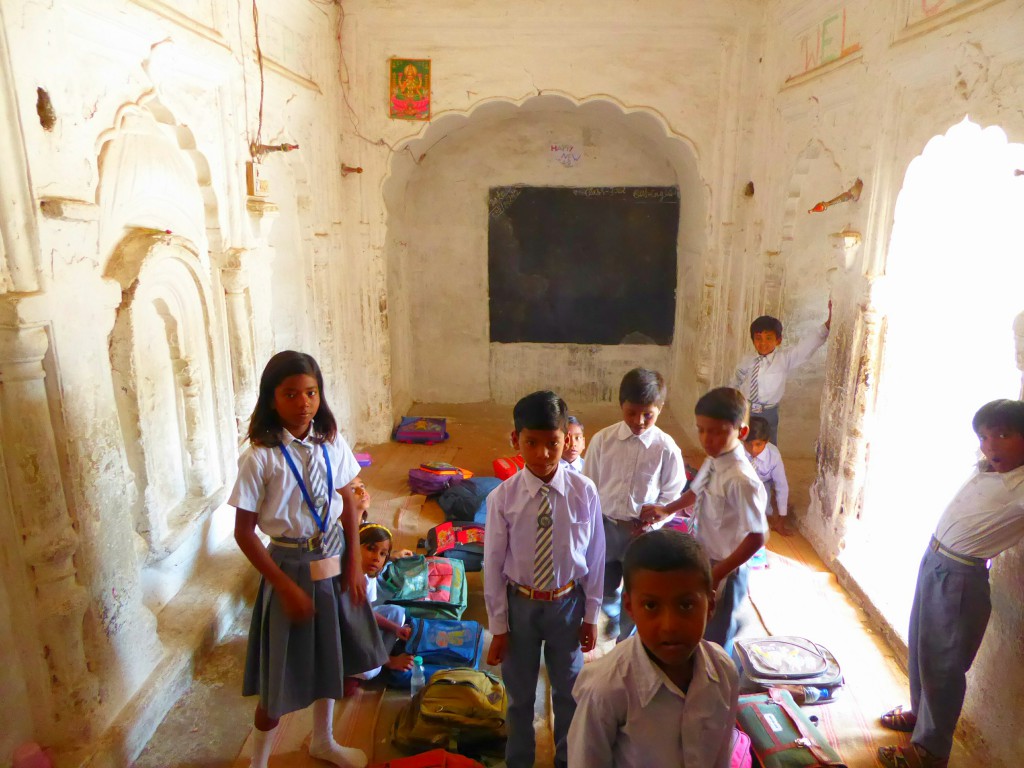 We entered the schoolyard while the kids were having a break so we saw them going back into the class and saw how they would sit and learn. In each classroom they were busy reading out loud, singing or doing maths. I loved seeing that and the kids liked us peaking into their classrooms too. The headmaster was proud and was happy to show us around.
Ofcourse we Donated here too!!
* Donating to Schools in India *

for us it seems such a small gesture, for them it is a big help!!
The temple was such a great buidling, the rooms surrounding it were also filled with classes. The location was great but the resources were poor! We gave a little donation too ofcourse!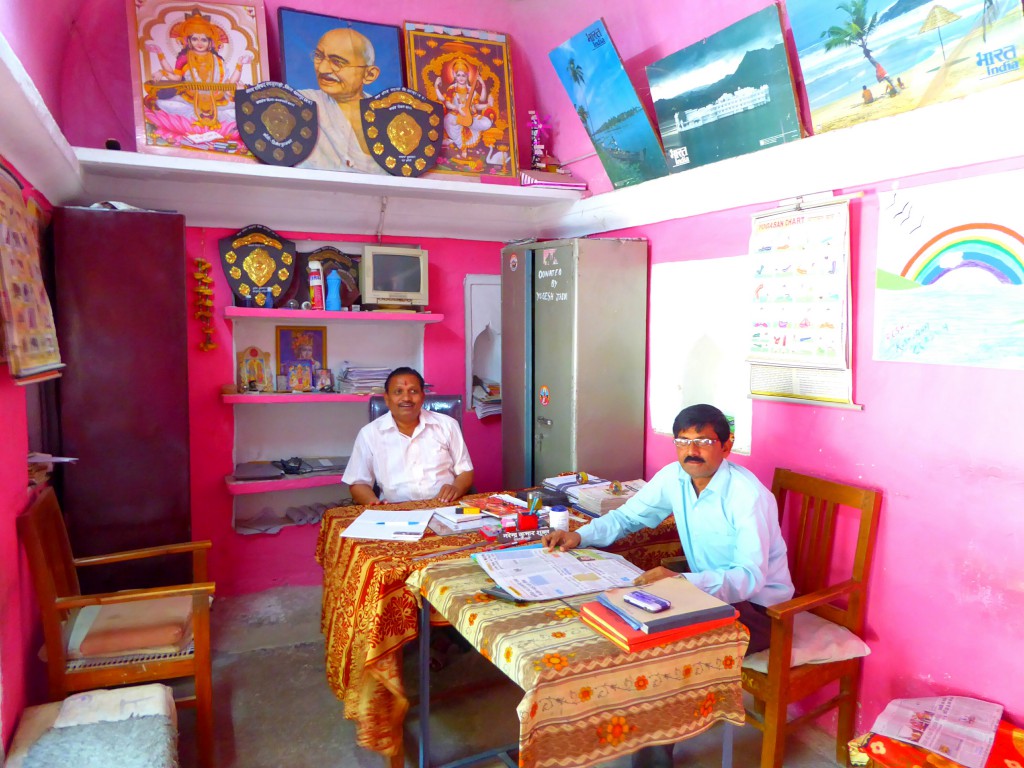 He told us that they were saving for a better water suply. As you can see on the picture below they had a mobile watertank. They give the children water in the breaks, you need to with heat like they have here. They wanted a good one that provided cooled water, that way the water would stay fresh for a longer time too.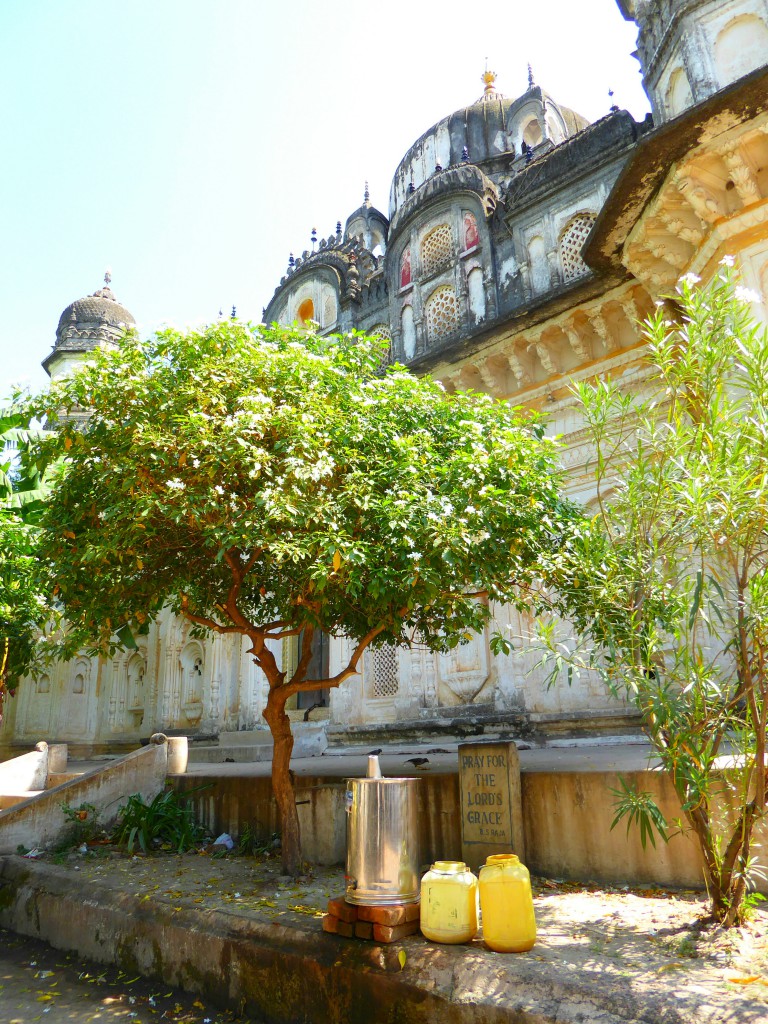 I hope that the money is spend as we donated it and the school will see more tourists like this en will soon get better! The location already is!!
Do you have any experience with donating money while traveling?
Donating to schools in Khajuraho, MP – India
If you liked this story share it for others too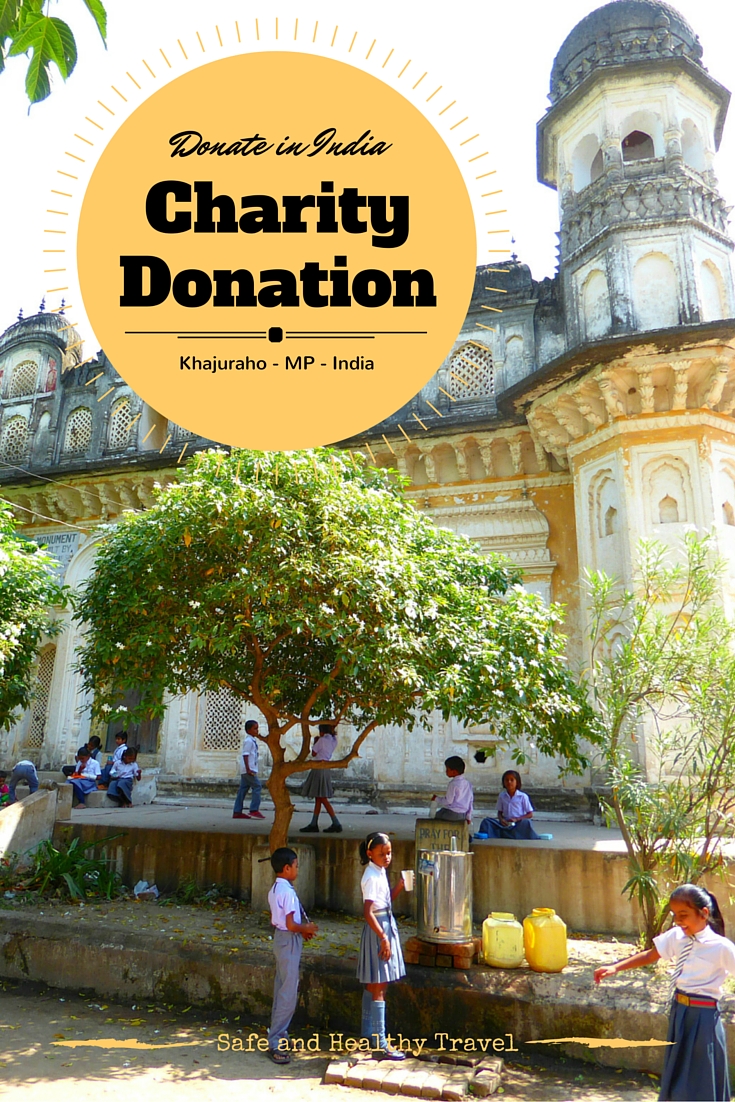 Do you want to read more about my India Adventures?
Dive into the Streetfood Culture of Mumbai
Visiting the Periyar Tiger Reserve – Kerala
Going too Local at a Cookingclass – Varanasi
Sacrificing Sheep at Eid Ul Adha – Kashmir
Kumbhalgarh fort & Jain temple – Ghanerao, Rajasthan
Can I inspire you to go into the jungle?
I hope you love this world as much as I do!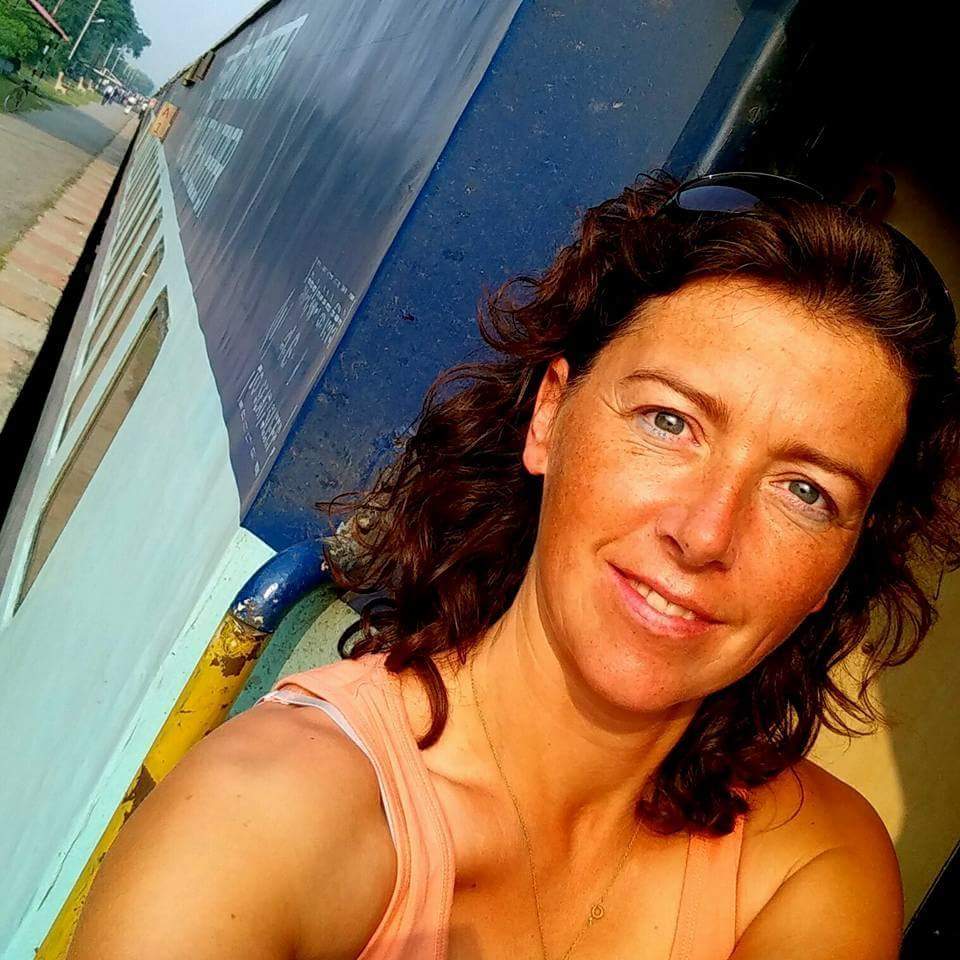 Jacomijn is een politieagent uit Nederland die jou graag laat zien hoe je veilig, actief en gezond de wereld kan over reizen. Safe and Healthy travel is a MUST