Lord Krishna's birthplace – Krishna Janmasthan Temple Complex – Mathura
|
To go from Sawai Madhopur, where I had admired the tiger in the Ranthambore NP and had seen Ranthambore Fortress, to Delhi I made a stopover in Mathura. I made a 3 hour train ride to Mathura and after a day in Mathura an approximately 3 hour taxi ride to Delhi. So spending a day in Mathura to visit the Lord Krishna's birthplace in the Krishna Janmasthan Temple Complex seemed a good idea for a stopover.
It was a tip from a local guide and hotel employee to visit the Lord Krishna's birthplace in Mathura. I thought that would be interesting stopover on my way to New Delhi!
I booked an OYO hotel, you see them all over India. A hotel chain with a wide variety of hotels. From very cheap to luxurious and more expensive. I booked a middle class with 15 euros pn. Don't expect too much of that… The room was fine, the shower had hot water. The hotel offered breakfast, lunch and dinner but you had to eat that in your room because they don't have a restaurant 🙂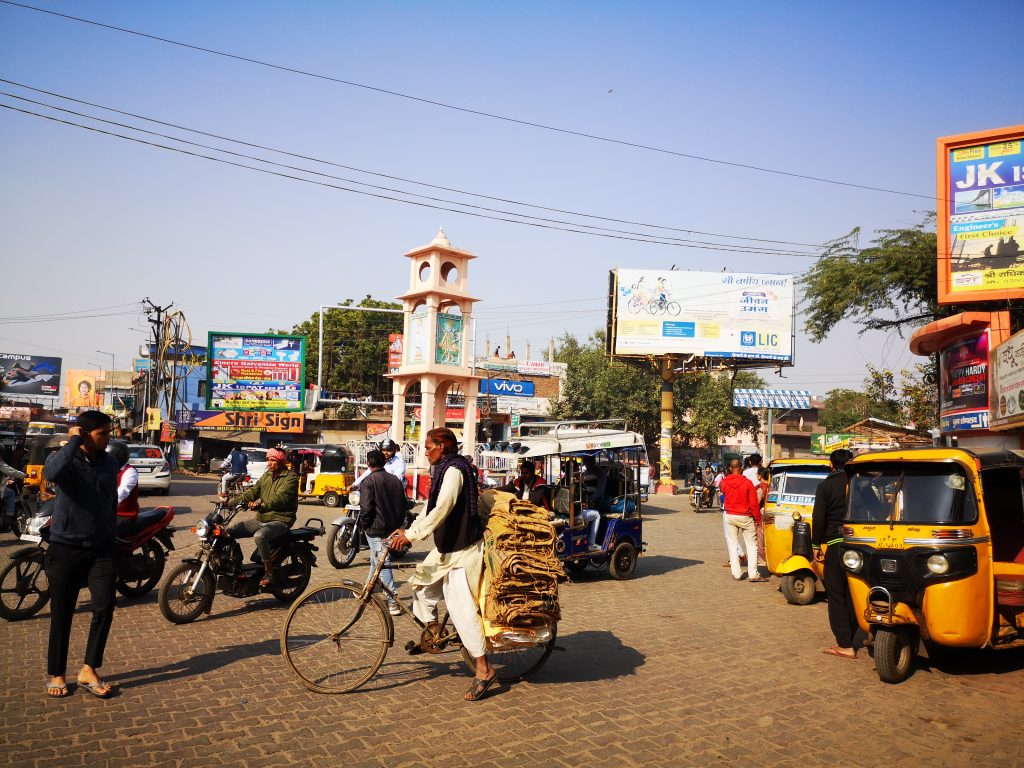 I arrived early in the afternoon and went straight to explore the city. I walked in the direction where they pointed me so that I would find the temple Krishna Janmasthan Temple Complex and thus Lord Krishna's birthplace. They didn't have a folder, 1 example was at the reception and I took a picture of it. On Google maps I could also see that I was walking in the right direction.
Did you know that the Krishna Janmasthan Temple Complex is one of the most visited temples in India?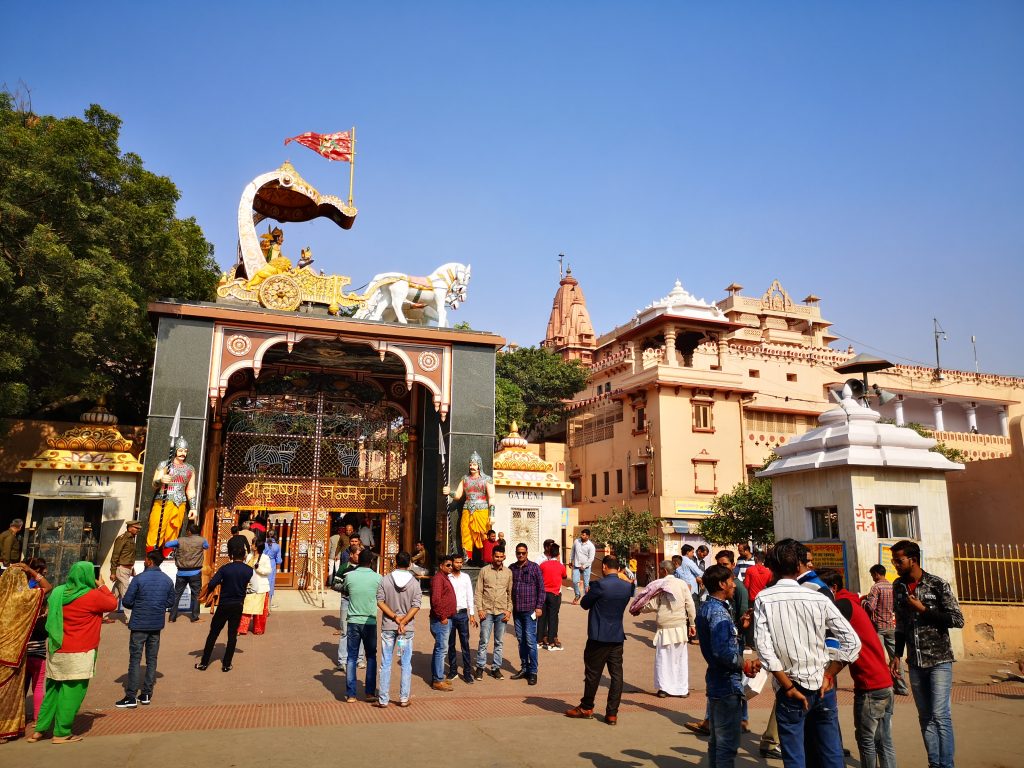 The road in front of the Krishna Janmasthan Temple Complex is closed to traffic so I could walk there without too much traffic around me. The streets in India are busy and I always walk against the direction so I see traffic coming. Along the road in front of the Krishna Janmasthan Temple Complex I saw a lot of shops and a lot of men are walking who are setting themselves up as guides.
I took 1 who wanted to tell me a few things for 100 rupees.
The entrance is free to see Lord Krishna's birthplace but you have to leave your phone and camera if you want to go inside. The places where you will leave your belongings you'll be registered and you get a receipt.
To go inside you will be checked if you do not have your camera with you anymore. I was also frisked before I could continue. After this the guide brought me to a place where I could leave my shoes.
There are several temple buildings in the complex. The most important and therefore the busiest one was where Krishna was born. I joined the queue that stood there to walk through a narrow corridor, I could not see where it ended because he made a faint turn. Suddenly I saw an open space with lots of people and guards, this made sure that the people didn't stay too long. They were standing in front of the platform on which Lord Krishna was born.
Mathura : Lord Krishna's birthplace
Janmasthan Temple Complex – India
This was once a prison cell because Krishna's parents were imprisoned at the time of his birth. This was because it was predicted that the eighth child of Devaki, sister of Kansa who was king of Mathura, would kill the king. If you want to read the whole story I refer you to this site.
The entire Krishna Janmasthan Temple Complex includes a number of buildings with many beautiful statues and great wall and ceiling paintings. Of course also many small shops 🙂 Watch out for the monkeys that walk there as well, so keep your bag in sight and closed!
The Old Gate of Mathura, India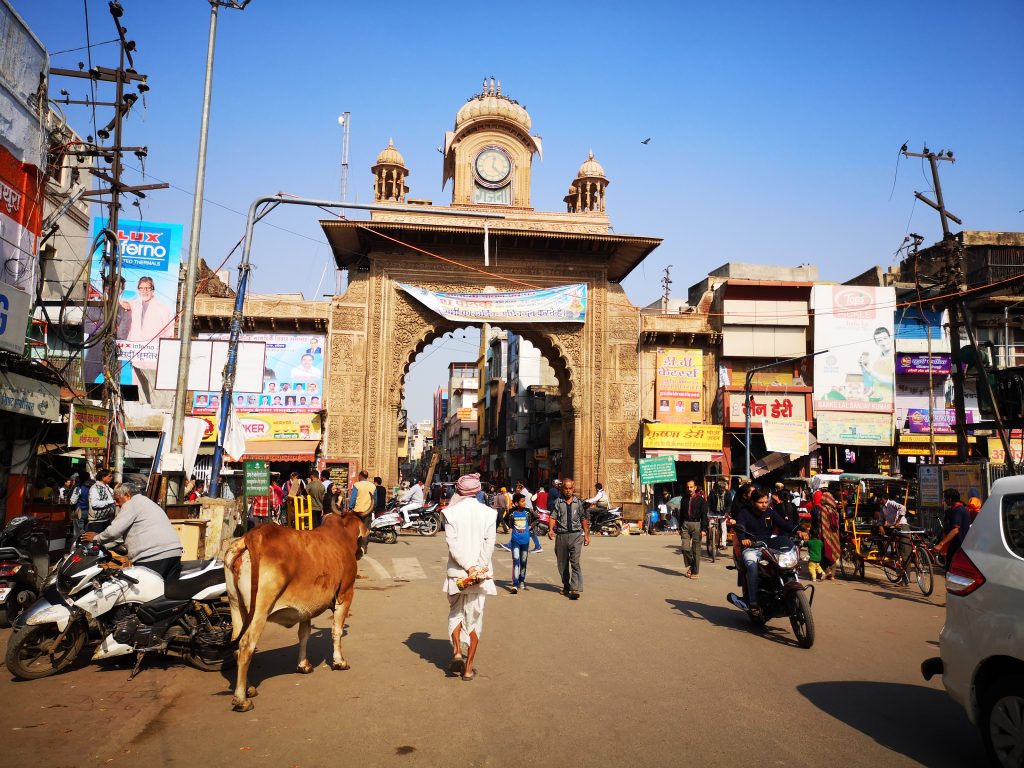 After this visit I went to the old gate I had seen on the map. This is located near the entrance of the shopping street that leads to the Ghat. I bought a kachori there because I was starting to get hungry. This shop was so crowded and so it had to be good… (under the gate and after 50 meters on the right side)
And it was good!
Walking on I ended up at a point that the road curved to the left and I walked into a small street straight ahead. The street got wetter and finally I reached the ghats at the Yamuna river.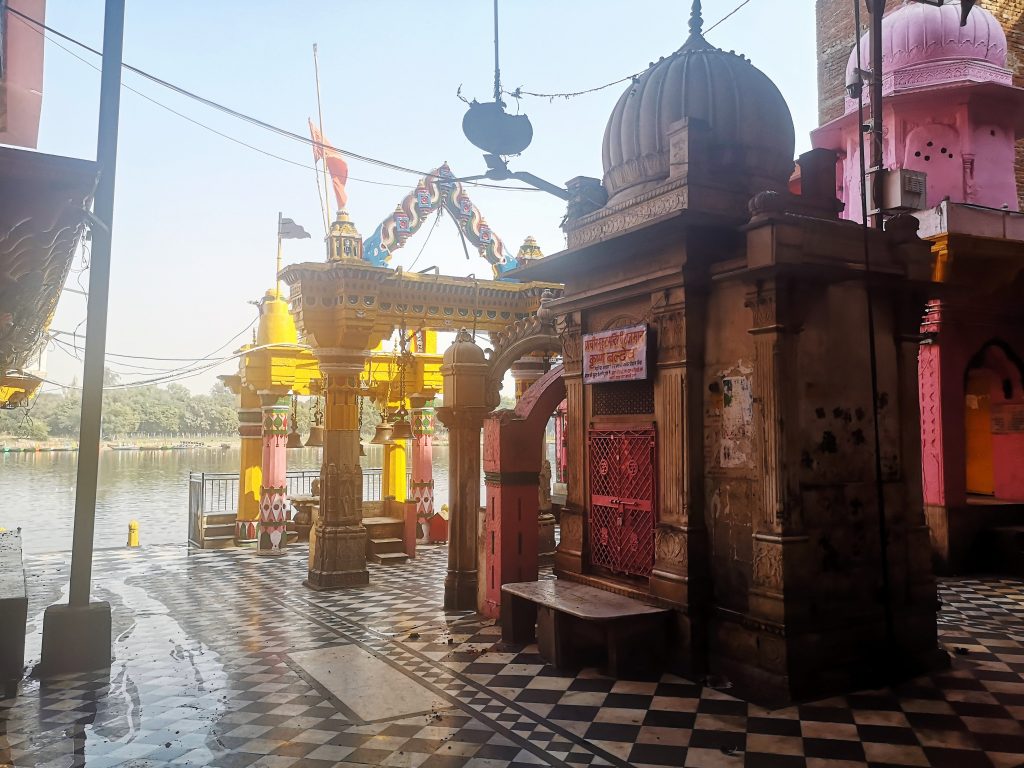 I spoke to a man there, he was wearing a hat but I could already see that all the men he was with had bald heads. His aunt had gone over to the other side and that's why they were all here. I had seen this before in for example Varanasi where along the ghats the deceased are burned all relatives are almost bald as well. Often you still see a small tuft of hair on the back of the head.
Usually I look at everything full of admiration and highlight the beautiful things. I also see that there is suffering, I also see that people and animals are suffering… I don't close my eyes for that but most of the time it doesn't have the upper hand of what I see. That was different this day… I walked in the wrong rhythm… or this town just has it more.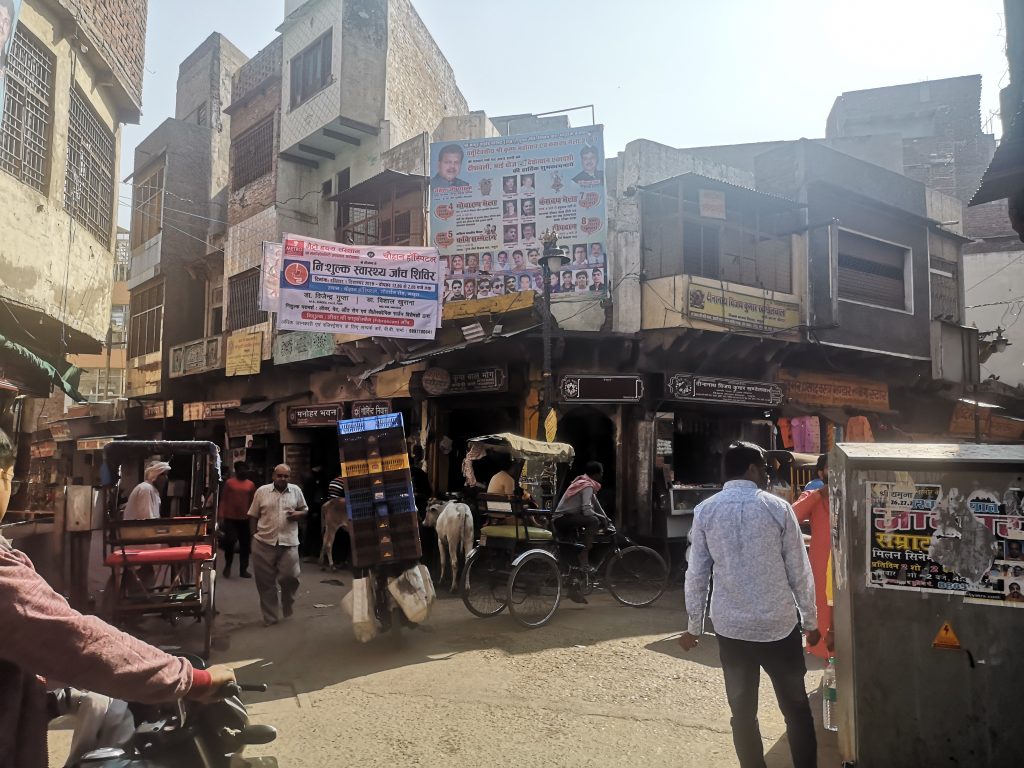 On the ghat I saw a monkey dragging itself, his lower body was paralyzed… I had already seen some dogs that looked miserable before and when I walked on I saw a bull that had a big wound on his back. It looked like hot oil had gone over it and the wound was several days old. It made me feel a little bit sick in my stomach. I hadn't seen that much animal suffering the last few weeks. Also the monkey I saw earlier was chased away and the people I saw in interaction with the animals were not so nice. Sometimes you just see all kinds of things that are not nice… This has been one of those days for me…
Contrary to what I saw and heard in Pushkar. Tikam the priest told me that there is a hospital for animals outside the city. The animals that are in need are taken there and helped and released afterwards. I experienced the opposite here.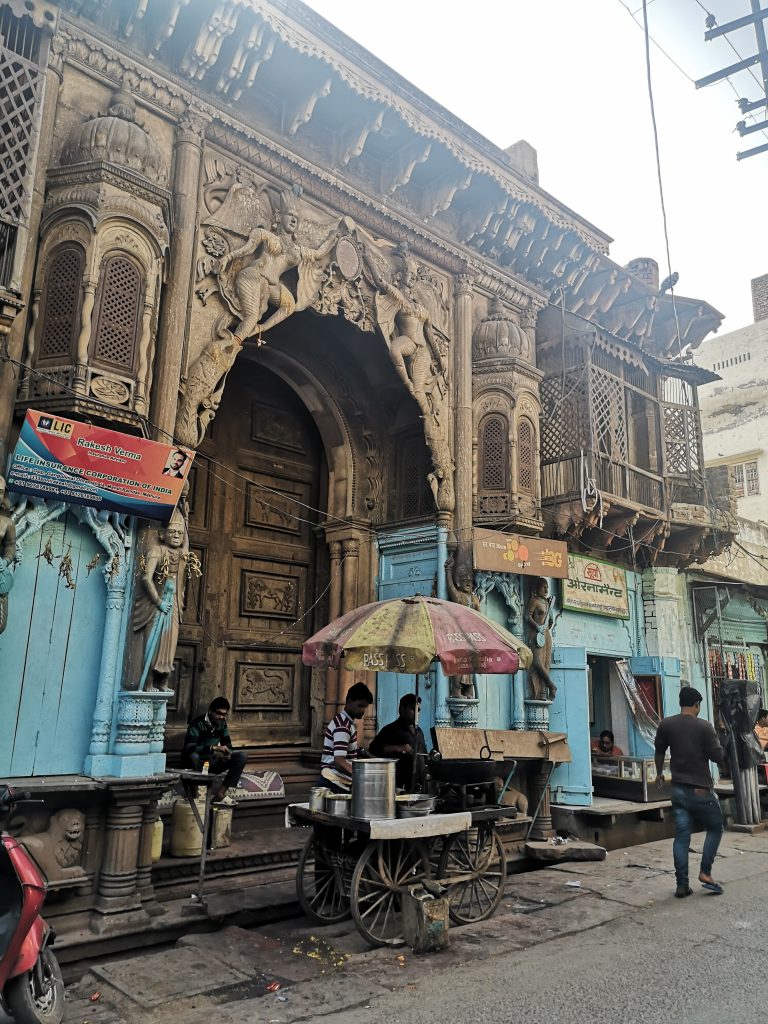 I also visited Ghanerao, Rajasthan to explore Kumbhalgarh Fort Also a place which has hardly any western tourists.
Wherever in India, the colors remain beautiful on the street. The image you see is always full of amazement at what you see in front of you. I keep walking around with my mouth open… Even though it's already the 7th time I've been to India…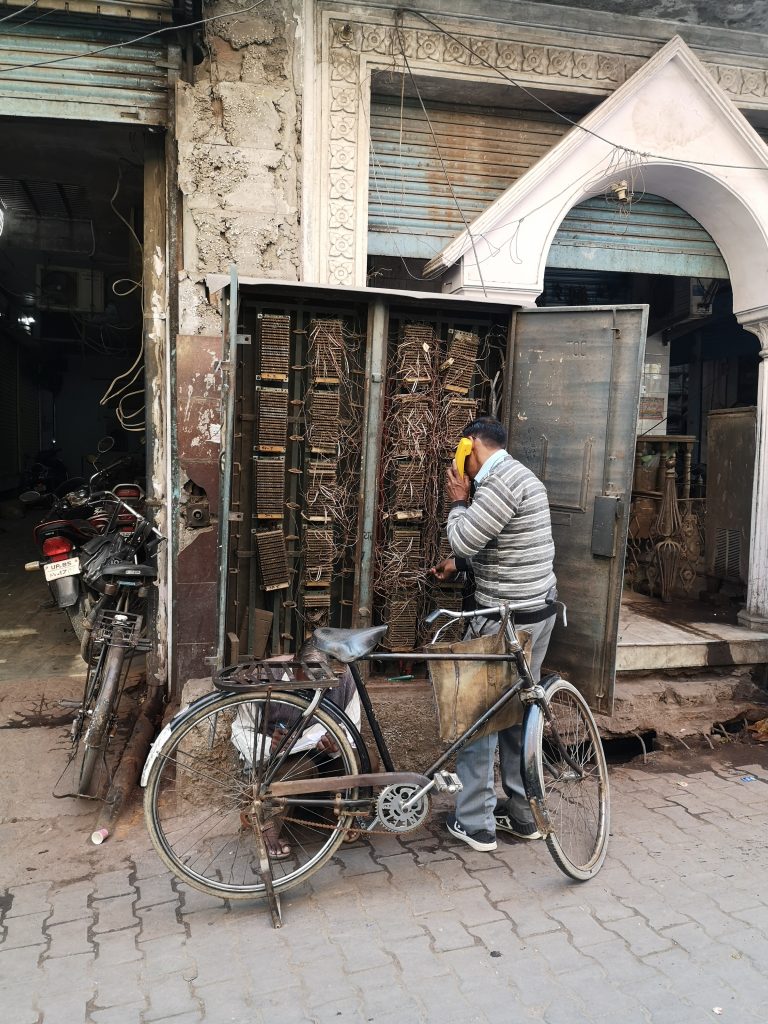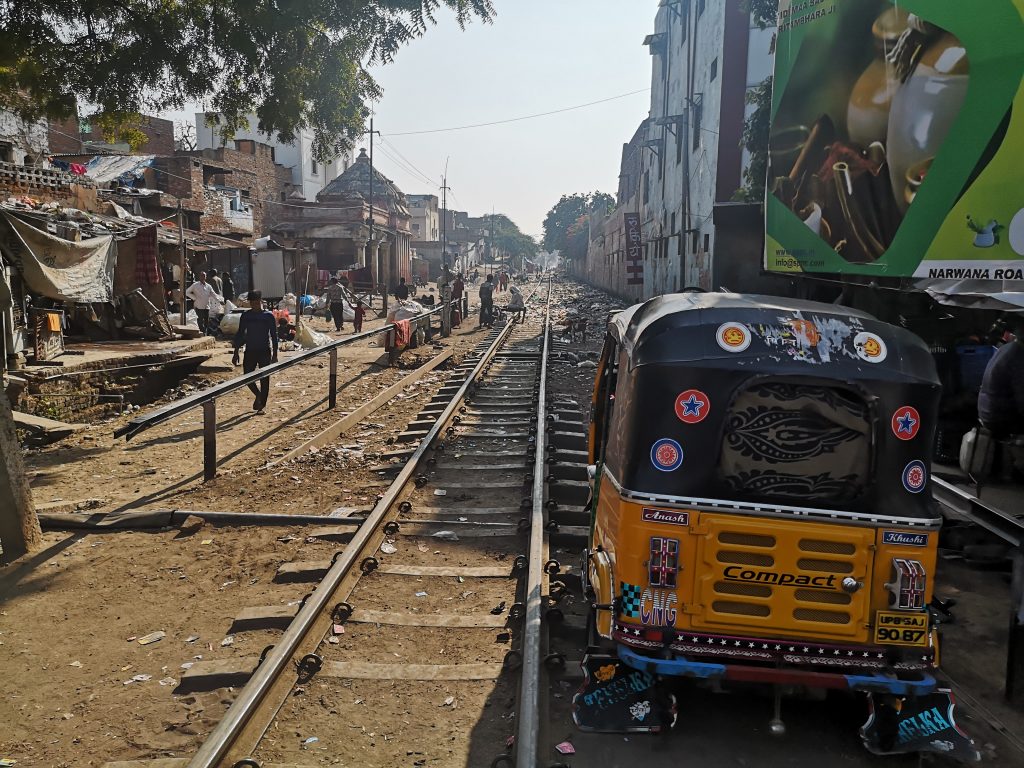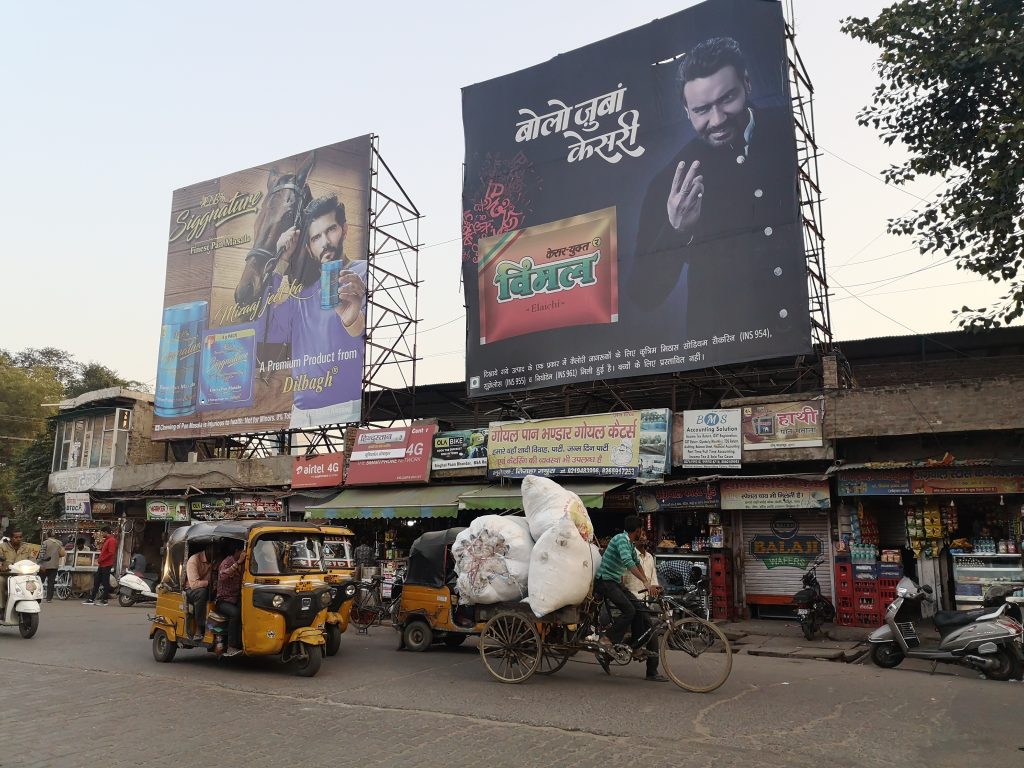 The nasty images of those animals I saw earlier were reason for me to go back to my hotel and not to use the second night I had booked. The next day I took a taxi to Delhi in time to spend my last days of this 2.5 month journey!
I have to honestly say that this is the only day on my 2.5 month trip that I didn't use to the fullest because I didn't like what I saw. The rest of this trip I spent in different countries were super, perfect even!
Well, it's not bad if that is the only day, right?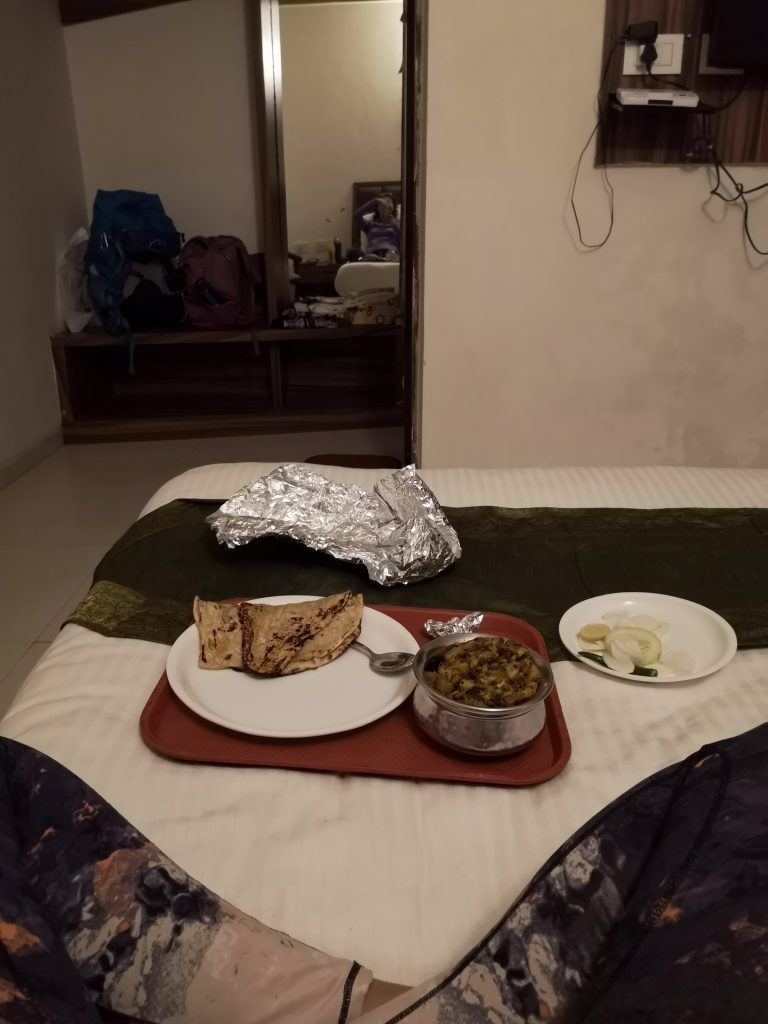 If you are passing through this place it is worthwhile to visit the birthplace of Krishna, but as you probably expect, I will not recommend staying there for an extra day.
If you did have a nice day in Mathura or know what to do in the surrounding area I would love to hear from you!
Sharing this blog? Thank you!!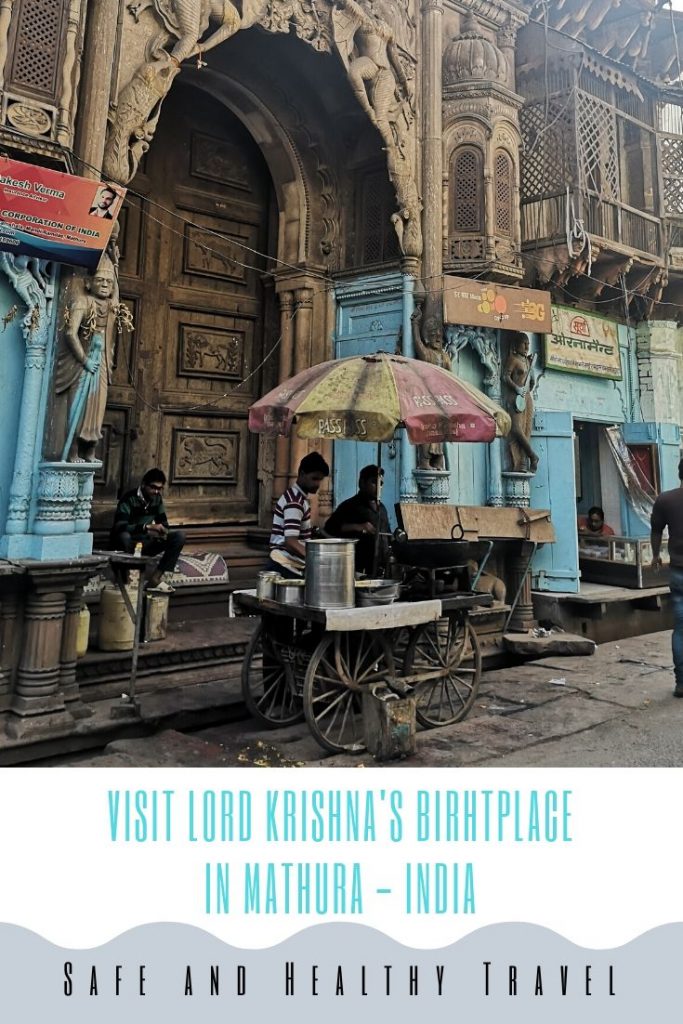 Want to read more about my adventures in India?
Complete Travel Guide to Mumbai
Exciting drive up Kolukkumalai Teaplantation – Kerala
10 days Journey through former Kingdom Sikkim
Searching for the Tiger at Periyar Tiger Reserve – Kerala
Read also my tips for solo female travellers in India!
I hope you love & enjoy this world as much as I do!!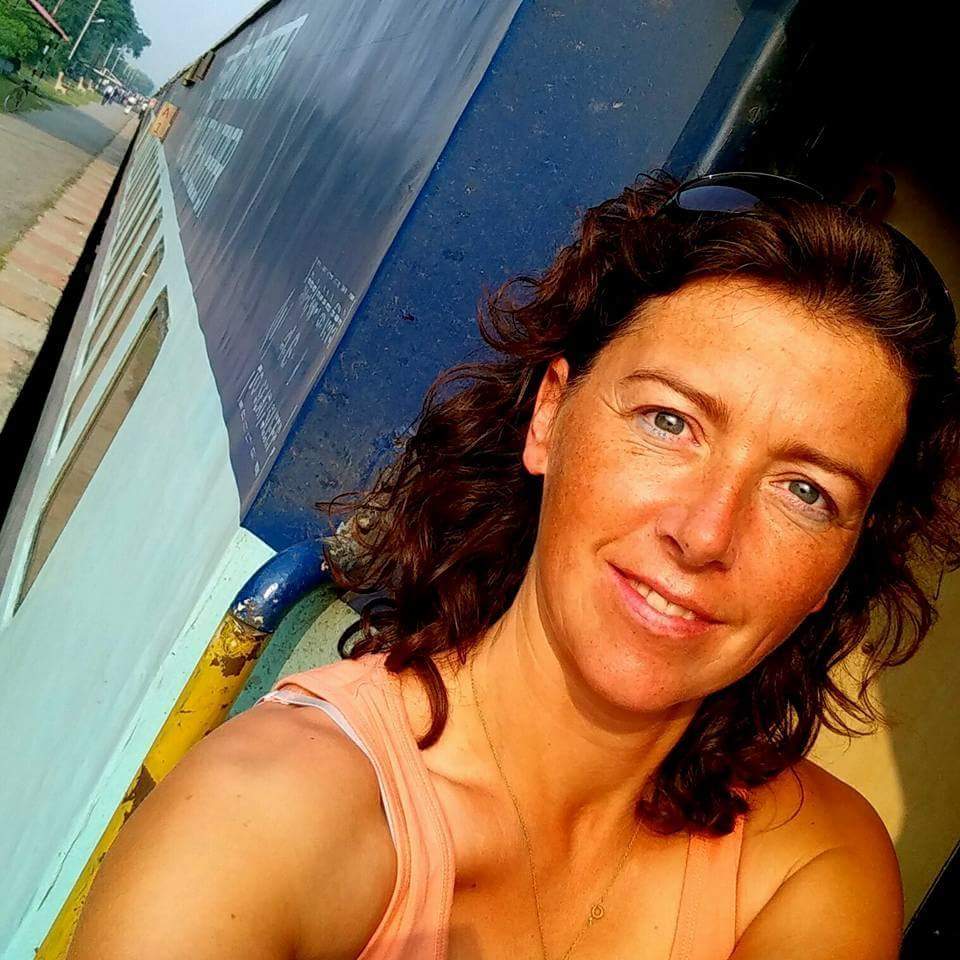 Jacomijn is een politieagent uit Nederland die jou graag laat zien hoe je veilig, actief en gezond de wereld kan over reizen. Safe and Healthy travel is a MUST