Everything you need to know for your visit to Spitzkoppe – Erongo Region, Namibia
|
If you are looking for unique rock formations and beautiful viewpoints on rocks, a visit to Spitzkoppe should not be missed. I even went there twice during my 10-week tour of Namibia. When I passed it again on my way to Skeleton Coast, I decided to stay another night there. Spitzkoppe is also known as the Matterhorn of Namibia …
When you drive up, you can already see the tip of the iconic Spitzkoppe mountain in the distance.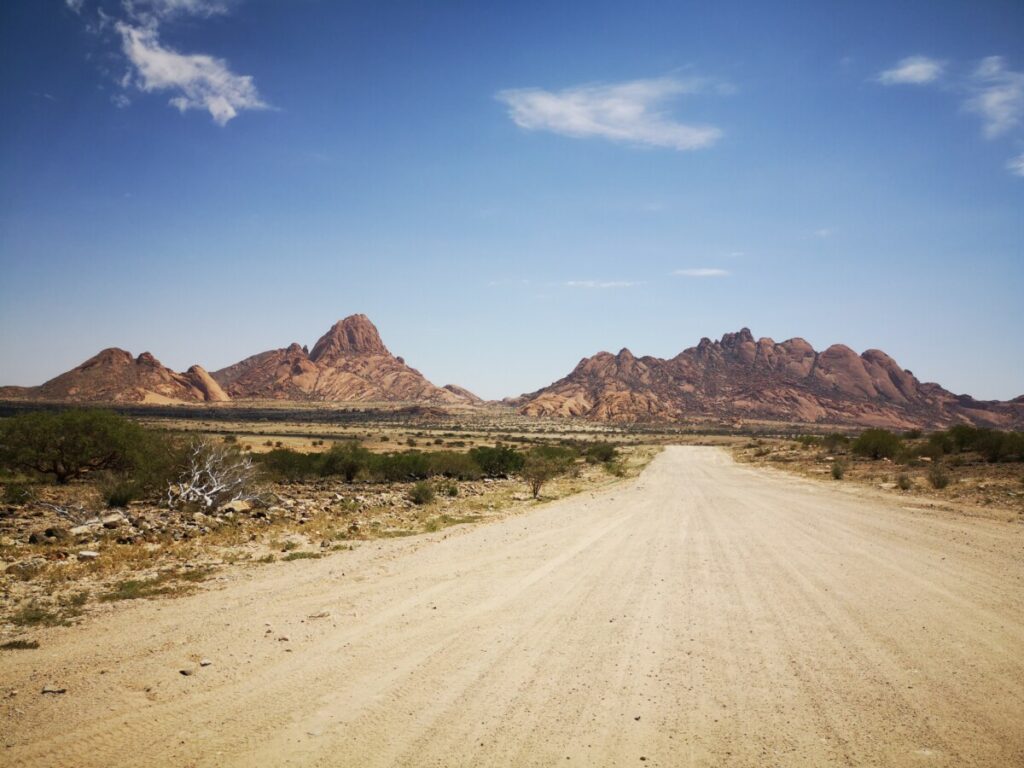 A few times I stopped by the side of the road in the desert landscape to take a picture of Spitzkoppe, not knowing that I was on my way there the first time. I got closer and closer and closer to the pointy Spitzkoppe. Just before I reached it, the pointy mountain disappeared from my sight for a moment and I drove through Spitzkoppe Village. The people on the side of the road asked me for water, wanted to sell me all kinds of small souvenirs and then I realised how badly I had prepared myself for this visit to Spitzkoppe.
I had hardly any cash with me. I did have some water, I could manage, but I had to be very careful about what I spent my water on. In hindsight, this also proves to me that everything just works out!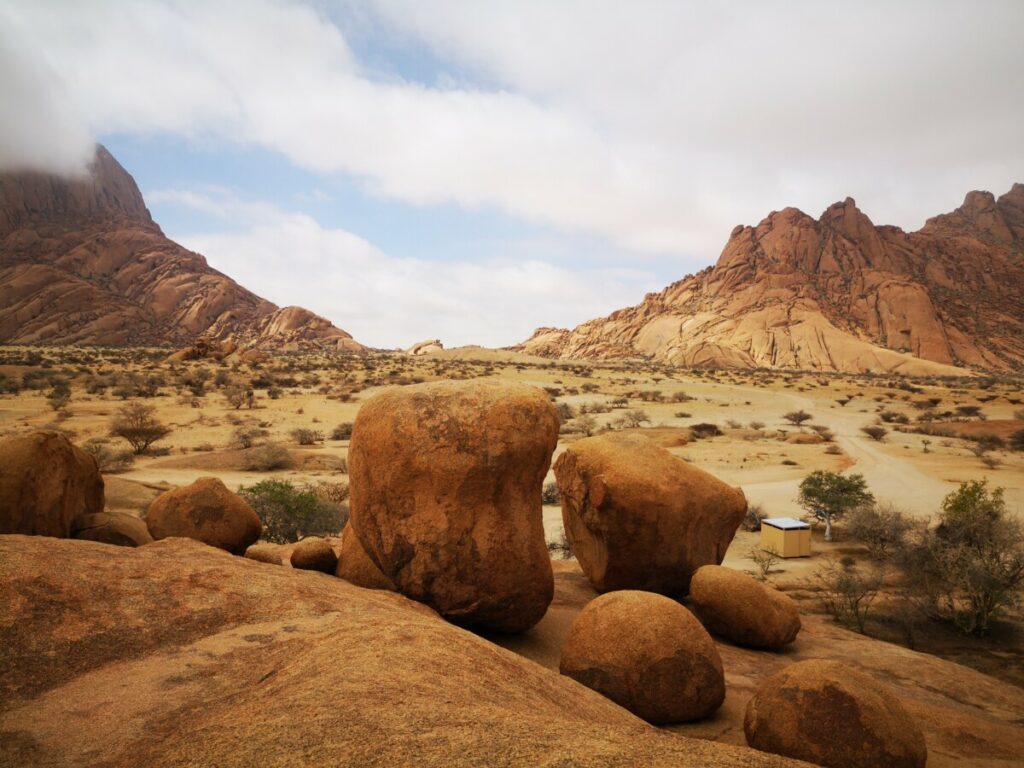 I waved with a friendly smile at the people along the road and drove on. I had received a tip from a friend of mine a little later in the journey: Fill your old bottles with water from the tap here. We don't drink it but the local people do, so you have something to give away and you also make contact easily. Hmm….this tip would have been nice here too. In the middle of the desert, it is not easy for them.
There is a water pipe but it does not always work, I understood on my second visit.
Everything you need to know for your visit to Spitzkoppe
Erongo Region, Namibia
When I arrived at Spitzkoppe, where I would also camp, I checked in. I saw a restaurant a little further on, but I understood that they only served breakfast, lunch or dinner and did not sell bottles of water or other drinks or food unless I wanted a can of cola or something. I asked the employee if she had water for me. Yes, she did and a little later she arrived with a 15 litre jerry can that I could fill with water from the tap. It was very good water, she said, I could certainly drink it. So that day and the next day I used this water to make coffee and to cook my pasta and vegetables.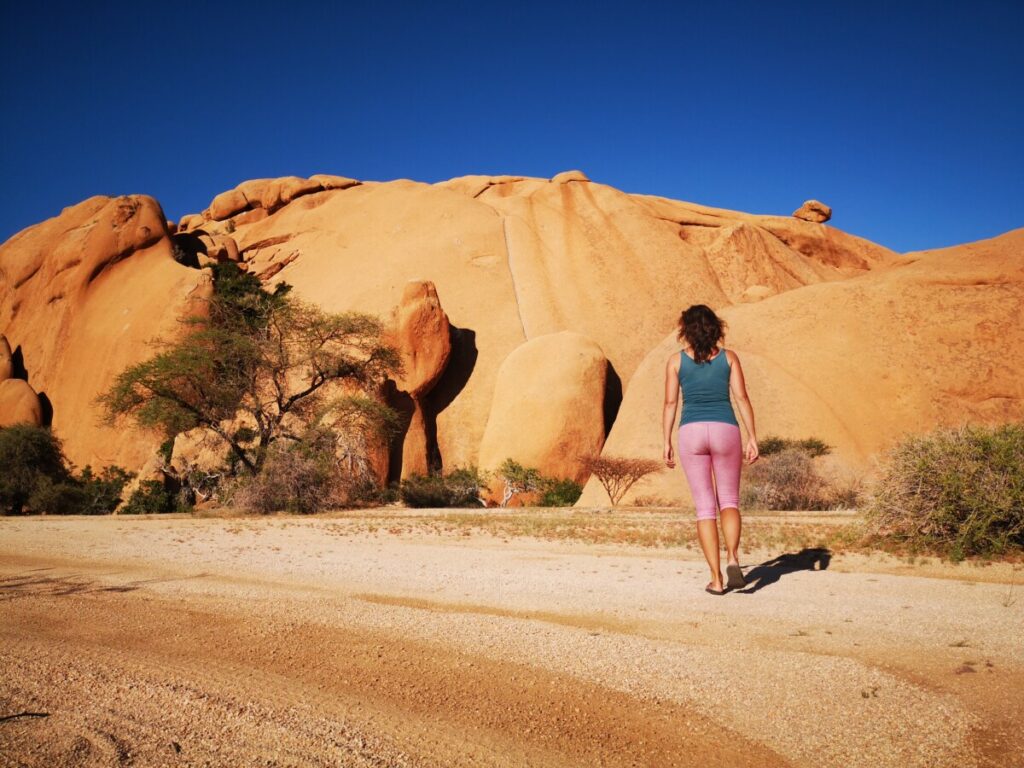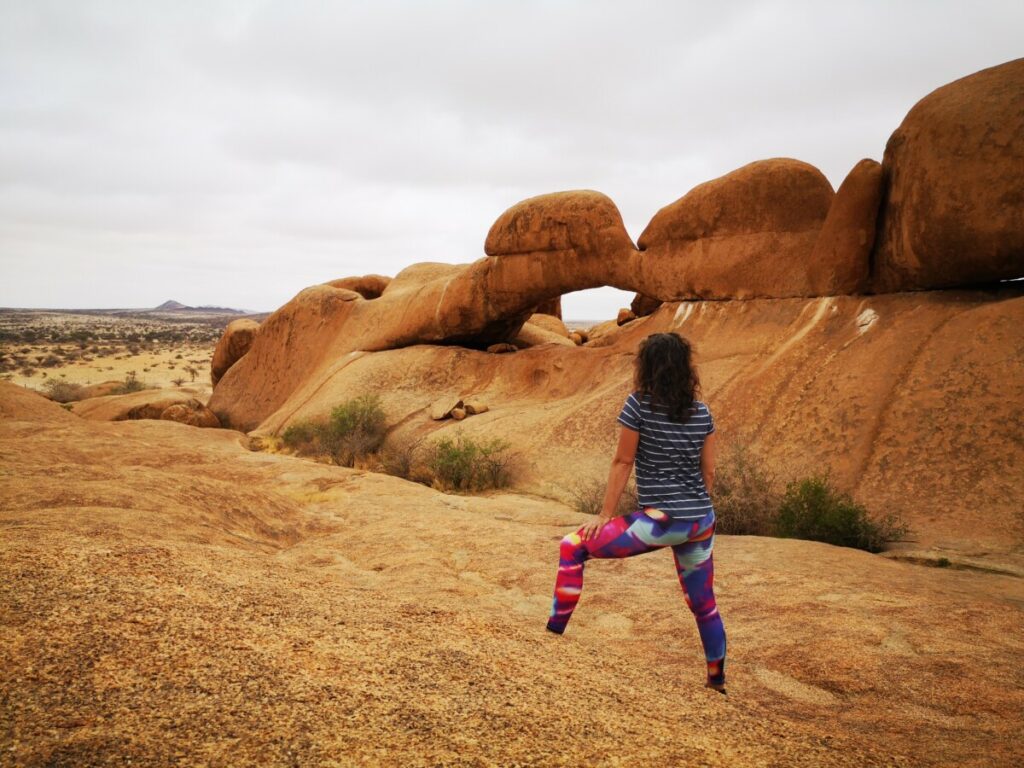 I was given a map and could drive onto the Spitzkoppe terrain. If I kept to the left, I would also reach the places where the Spitzkoppe campsites are situated. I went looking for them. She told me that I could camp near the natural pool and that I was also close to the rock arch. Both beautiful natural phenomena in these beautiful red rocks.
Rock Pool – Your visit to Spitzkoppe
After I parked my car under the spot where the Rock Pool would be, I walked right up to it. I saw a small shallow pool in the rock. It was quite green around the edges and therefore slippery. I sat down and put my legs in it, splashing water over me to cool down and enjoy the surroundings.
Then you sit there, on your own, no one to distract you and no one to disturb the peace…. At moments like that I always come to the conclusion that I am so happy with my life. That I am in such a wonderful place in this world again, which I fully enjoy.
Because I was afraid of burning in the middle of the day, I went down the rocks again. I had to get something to eat ready, so I grabbed my gas bottle and started boiling water to make some noodles. How handy isn't it? That you just have everything with you!
Rock Arch – Your visit to Spitzkoppe
Rock Arch is of course not to be missed during your visit to Spitzkoppe. It is a unique spot and you can easily walk to it from different sides. At first, I took the road through which you get a view of the arch. You just walk up the rock and get a great view of the arch, but if you want to go there, you have to make a nice climb. Not bad at all and I was happy to do so.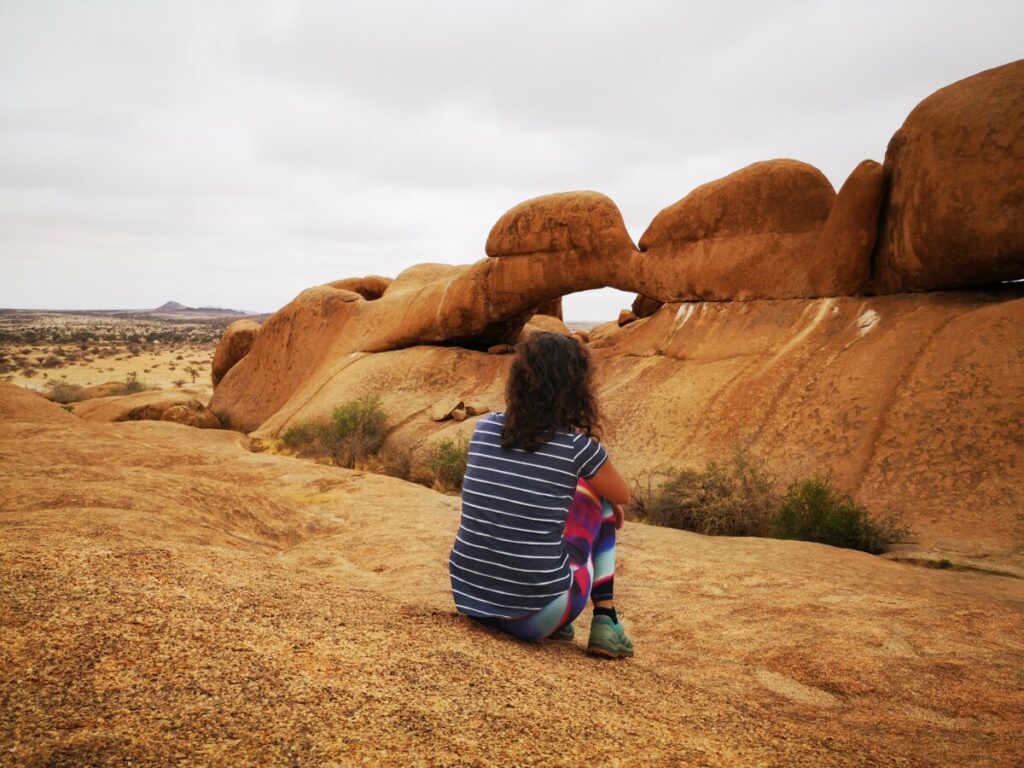 Here I made the climb to get a good view of the Arch. If you walk further, you go down and then you can climb up again to get into the Rock Arch.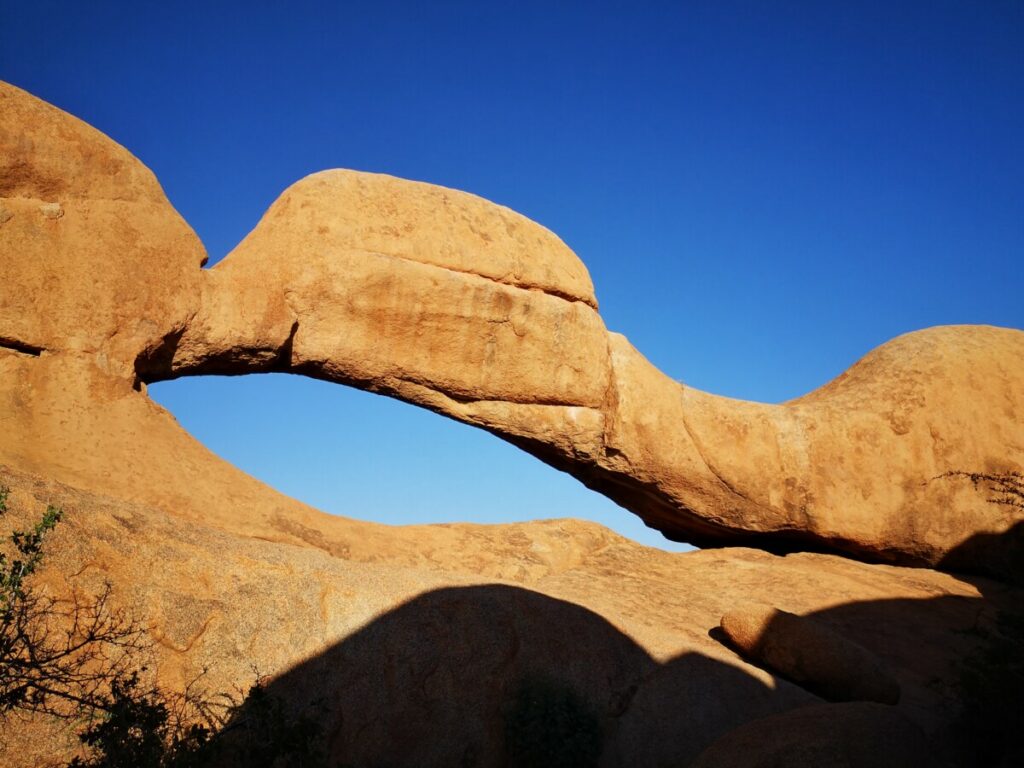 When I was sitting there during my second visit, meditating just out of sight of the people at the back of the rock arch, I realised that more people were coming from that side. There was a guide who told them how they could easily climb up through a narrow corridor and then reach the arch so they could take nice pictures.
Rock Arch – Spitzkoppe
When they had gone, I needed to check out that side too. Then it turned out that I could walk down very easily via a narrow passage between the beautiful brown rocks. There was grass and some other plants and zigzagging between them, I reached a campsite in no time. (There are several campsites situated around the Rock Arch)
The pictures from both sides are beautiful and if you have the time, just go up on both sides. Or go through the arch as I did on my second visit and go up on one side and down on the other.
What I really want to say… take your time and discover this unique place all around 🙂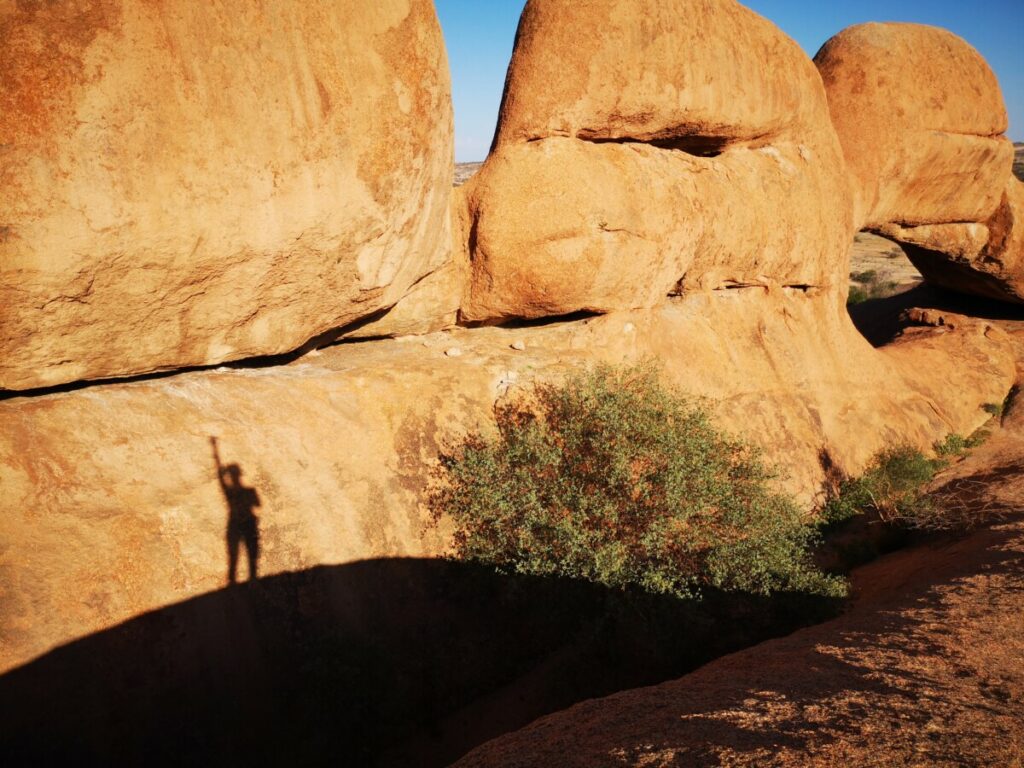 Mountain Climbing – Your visit to Spitzkoppe
There are some places where you can go mountain climbing. There are some guides who sit there all day to take you up the mountain for a tip. They don't ask a fixed price and so you give what you think it's worth. I have not been to a place where these guys are and you really go up the Spitzkoppe. This is a possibility I was told..
So are you looking for a real challenge? Get out early to get to the top before the heat!
Visit the Ancient Old San Murals
I did go up the mountain with a guide at Bushmen's Paradise. This is when you enter the grounds of Spitzkoppe, turn right and then right at the end, past the old grave and fort. You find a small parking place and soon a man comes walking towards you. He started to tell me about the San murals that were still clearly visible on top of the mountain.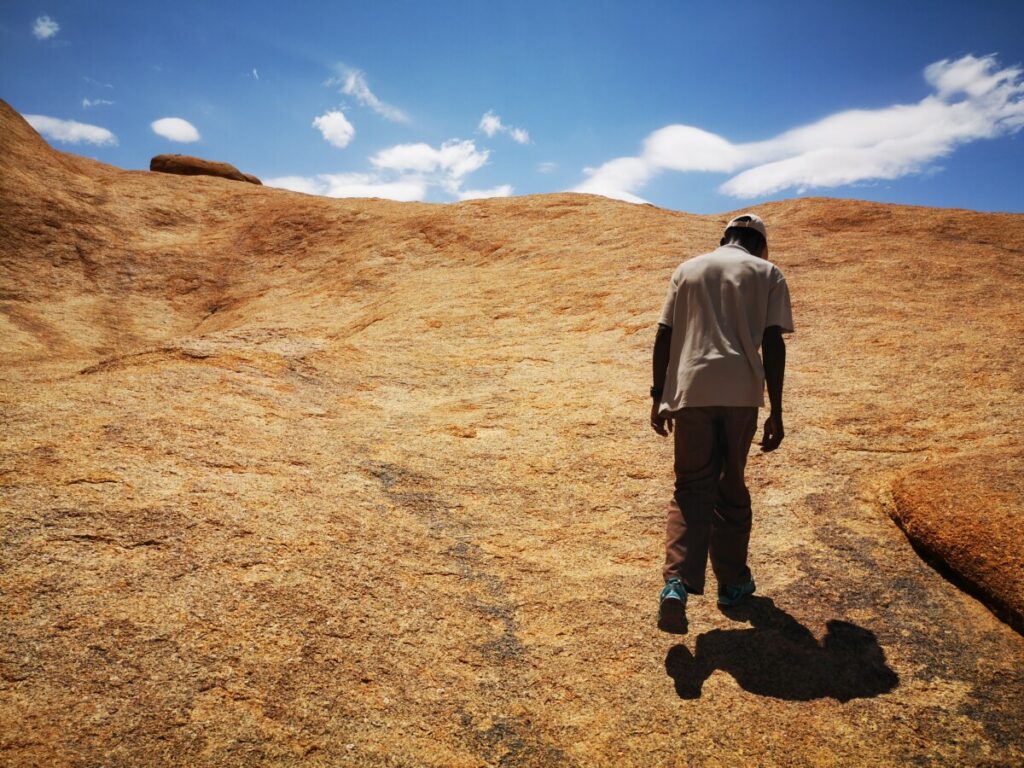 I gladly went up and we slowly started to walk up the round smooth rock. In the beginning, we managed without holding on, but the higher we went, the steeper it got. So at a certain point I grabbed the steel wire to pull myself up. After about 10 to 15 minutes, we reached the top, or at least, we ended up in a kind of courtyard in this big mountain. I saw that there were many bushes and even small trees growing there. On one side there was a kind of natural canopy formed by the rock and the guide took me there.
Because of this natural shelter, the San's wall paintings were well preserved. The San sometimes stayed here for a season, as long as there was water or as long as they could live from the food they could find. Then they would move on. So there seemed to be murals from different times. Super interesting to see and to hear the guide tell about.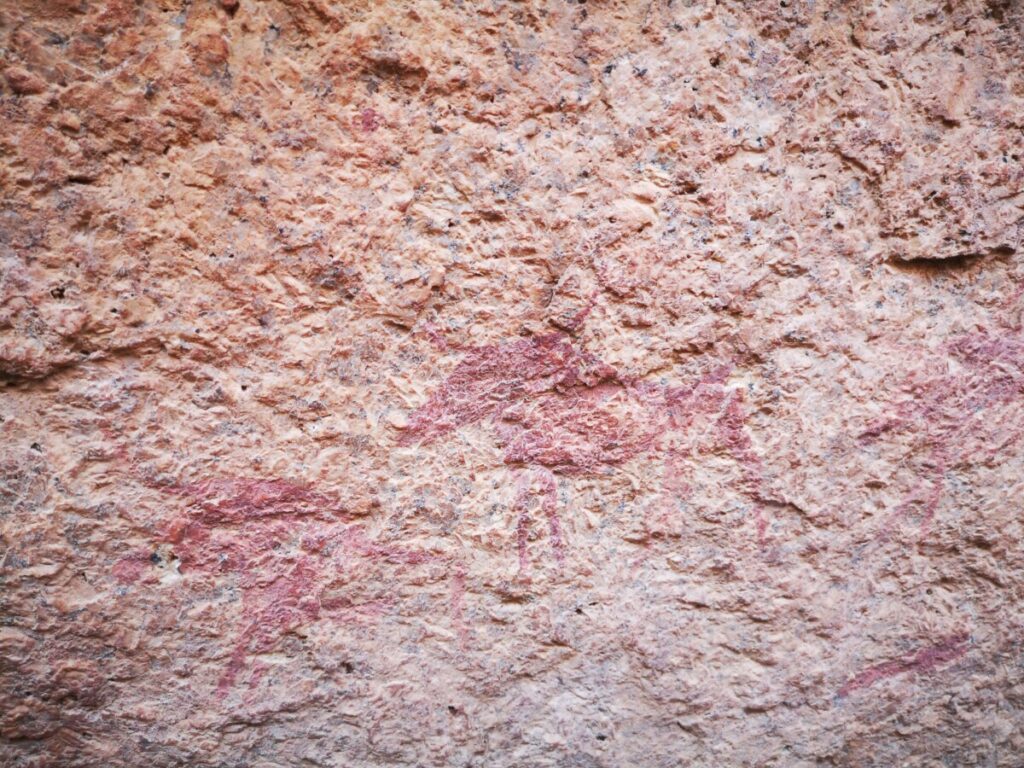 Old grave and the old Fort – Your visit to Spitzkoppe
When I visited Spitzkoppe for the second time, I decided to visit all the places that are on the tourist map that you get when you enter. The first time, I had walked, explored the area on foot, this time I decided to drive around in a 4WD. So I drove right in search of the old remains of the life of the Germans here at Spitzkoppe. They built a fort here once and they also found a grave.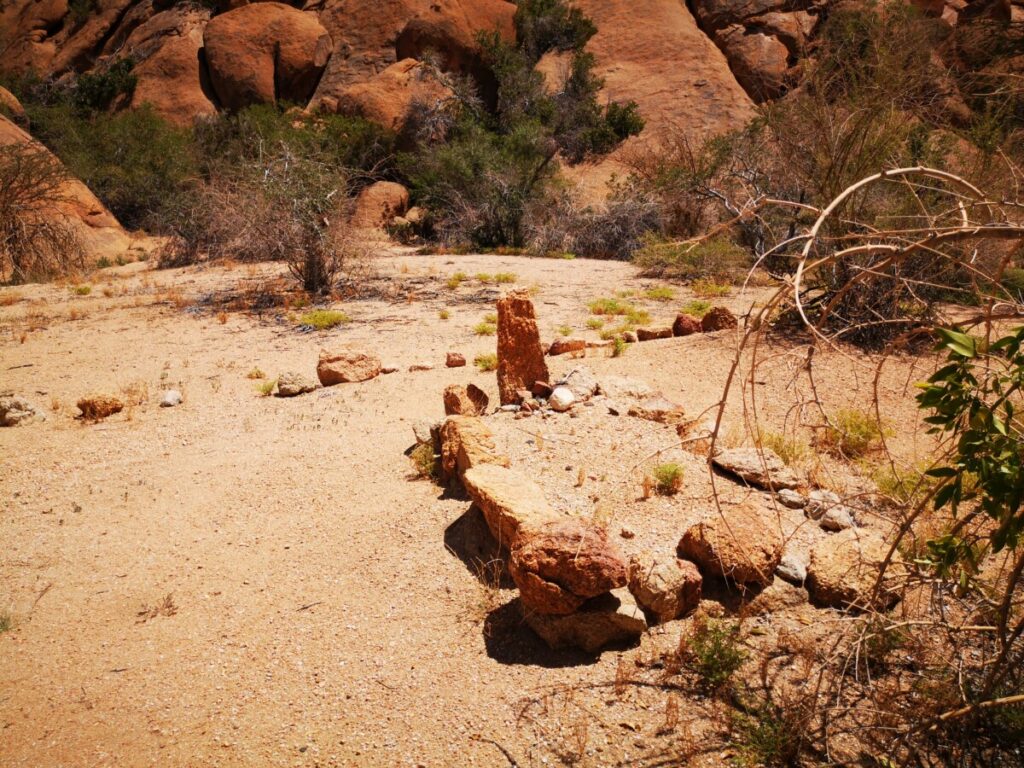 Old Fort Ruins – Your visit to Spitzkoppe
They have not really maintained it very well, it is indicated on the map but there is really nothing left of the fort and they don't really take the trouble to show where it used to be or what it looked like. I think that's a shame, you can still see a sort of step, a part where there must have been an outer wall, but that's it. There is a sign Fort Ruines without a picture so that you could form an image of it. Perhaps in the future this will be extended and given better shape.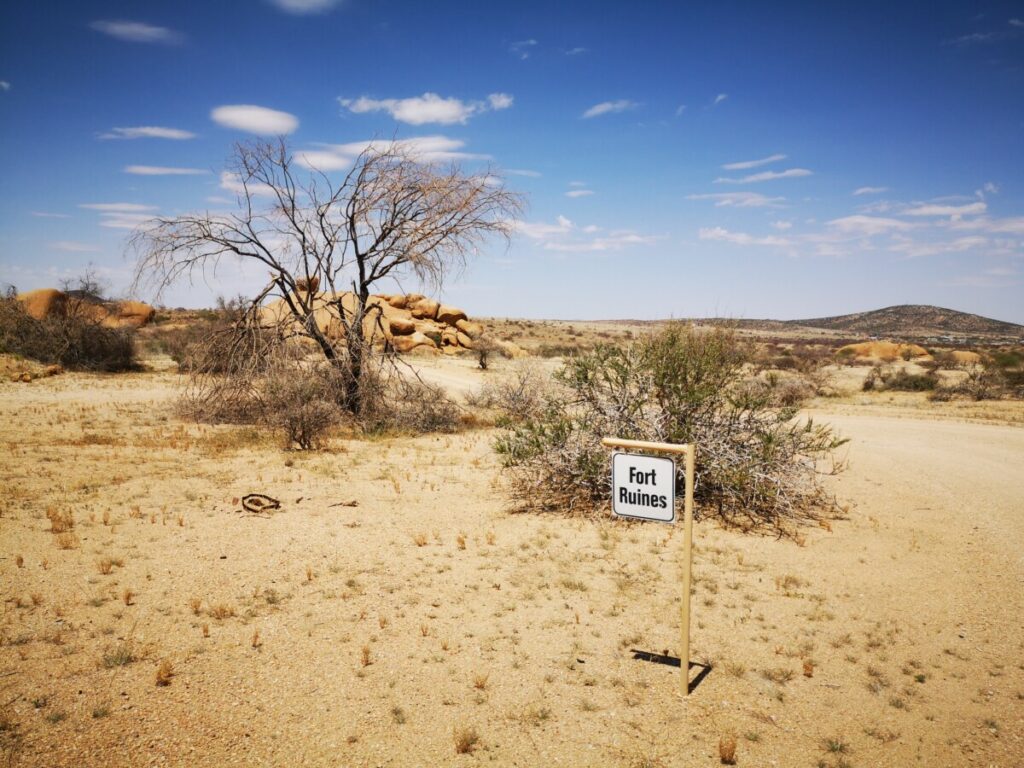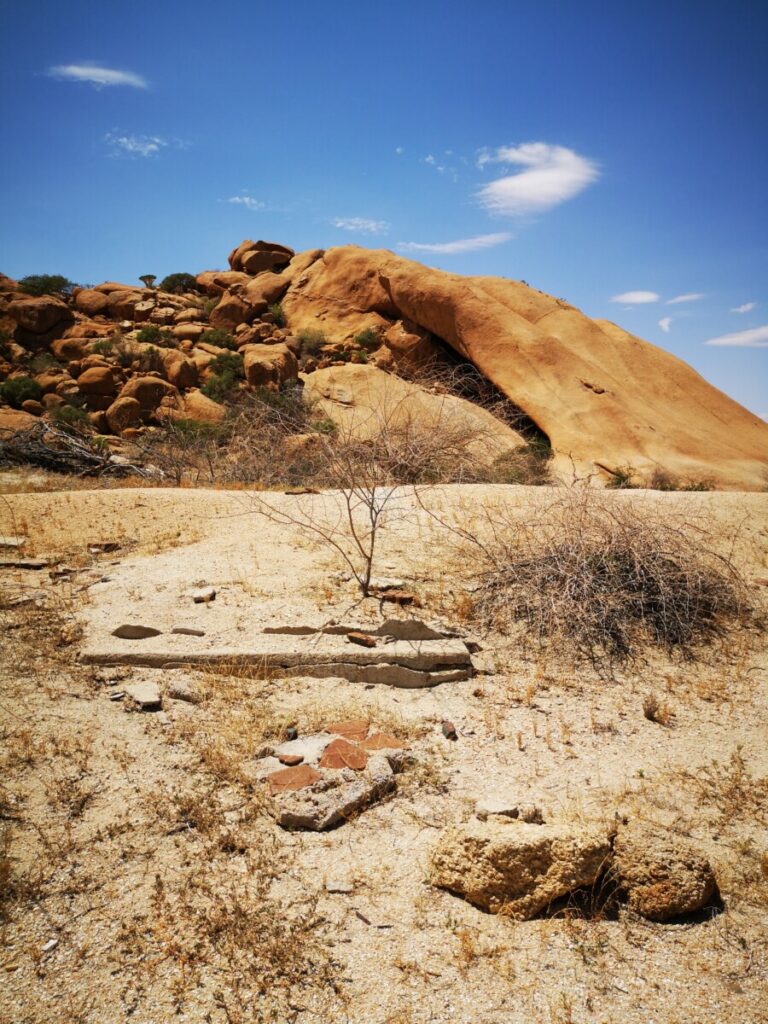 There are also a few campsites in this area.

Hike a lot during your visit to Spitzkoppe
After cooling down at the natural pool with its lovely view during my first visit, I decided to go for a walk. It was still too early to start cooking, so I could go for a nice walk. I walked around for about 2.5 hours, over the rocks and along the long roads. I took my time to absorb the atmosphere. For a long time, I was staring at the vastness of the landscape from a rock, but I also just stood still on one of the roads.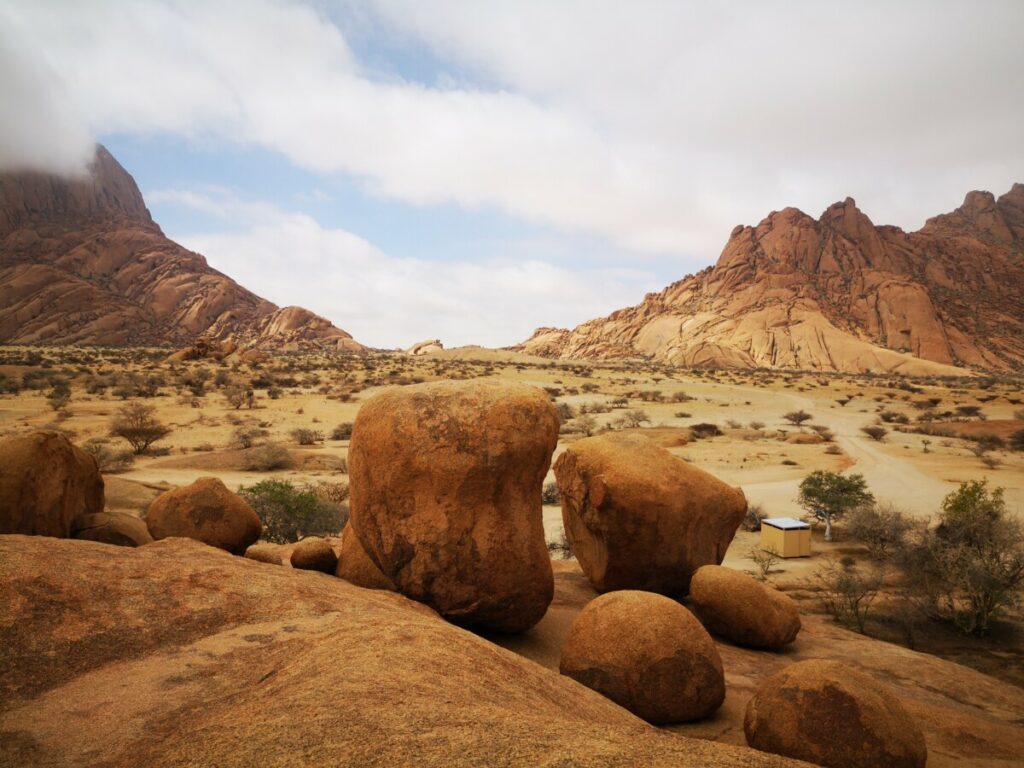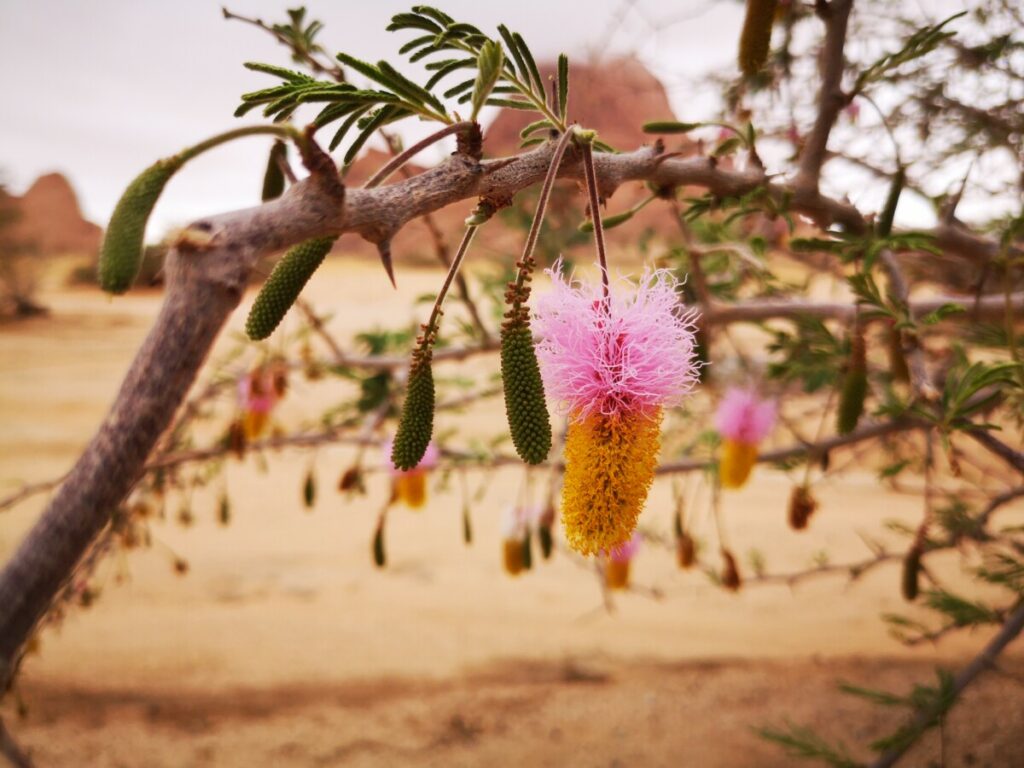 This made me see a huge spider running… He suddenly caught my eye and of course I went after him because I wanted a nice photo 🙂 The spider was quite big and as scared as he seemed to be of me…I was scared of him too. It's always good to realise that we are a bigger threat to animals in general than they are to us. They generally only attack if they feel threatened.
So I came closer but certainly not too close.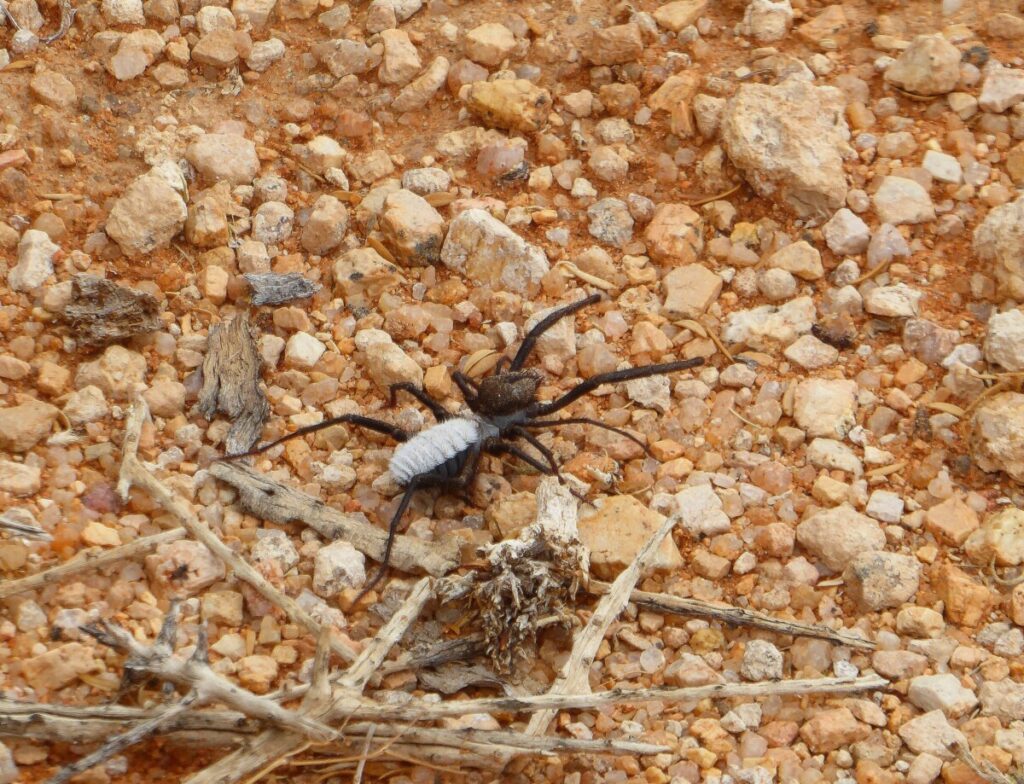 This second spider I saw a little further on dared me to come a little closer. This one was a lot smaller and so I have a sharper photo of it. For your image, the spider above I spotted from a distance of at least 5 metres walking across the road. This is to show how big it was 🙂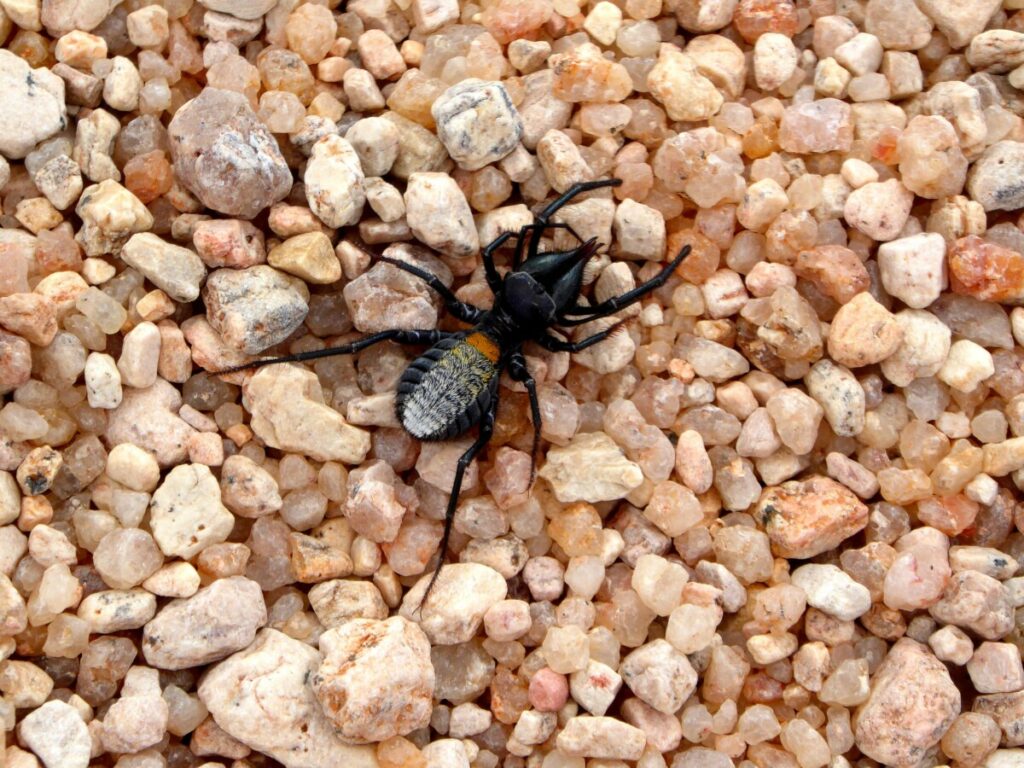 Go Hike during your visit to the unigue Spitzkoppe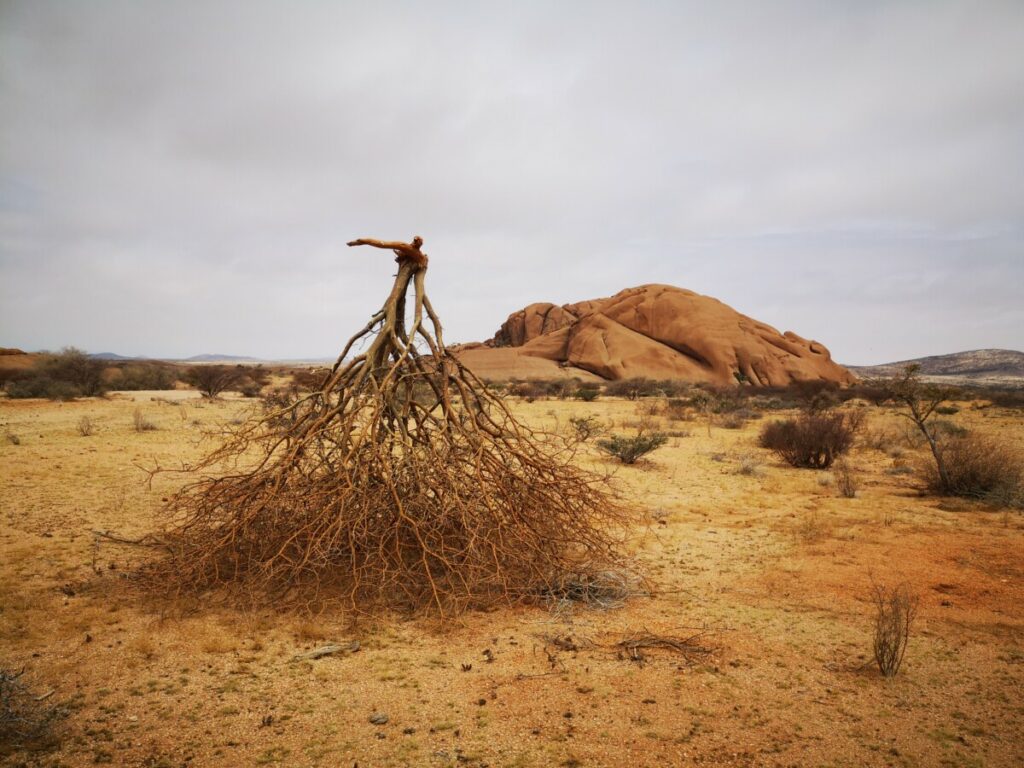 During my visit to Spitzkoppe, I came across a bush that imitated me, haha! #yoga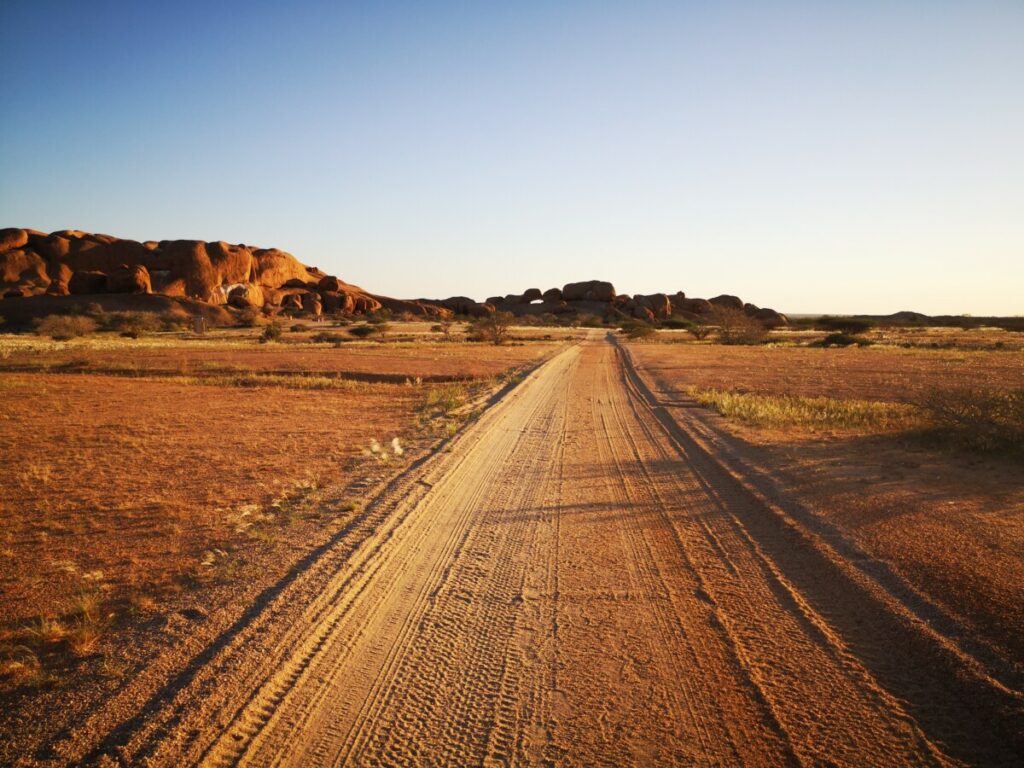 Drive across the property to fully explore Spitzkoppe
During my second visit to Spitzkoppe, I realised that I had only seen a very small part the first time. I decided that, before unfolding my rooftop tent, I would first drive around this unique terrain. I first drove as far as possible into the terrain so that I had several ways to go back. When you drive up Spitzkoppe, I turn left towards the camp sites, then at a certain point you can keep right to drive behind the big mountain and in between Spitzkoppe to the area behind it.
There are also a number of camping places there.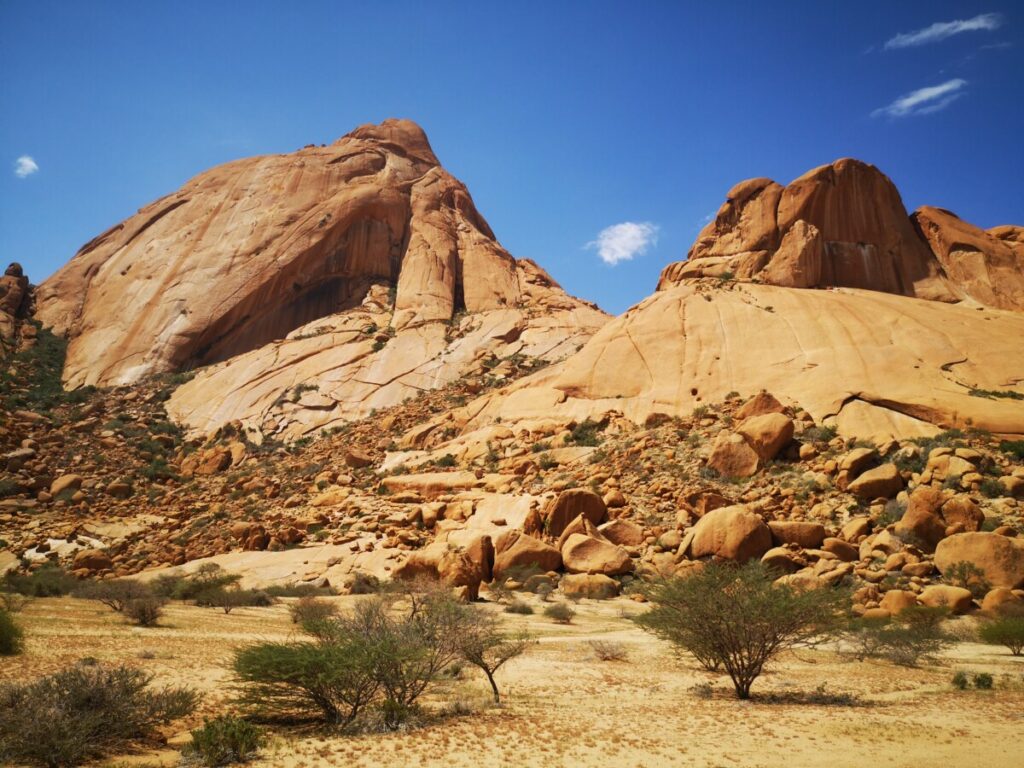 The area is so special, the colour is so beautiful, the stones and the greenery make the whole so peaceful. There is nothing in the area that does not belong and that does not make Spitzkoppe more complete. I found it almost magical. Of course, I was there at a time when it was very quiet. Both times there was only one fellow camper in the whole area.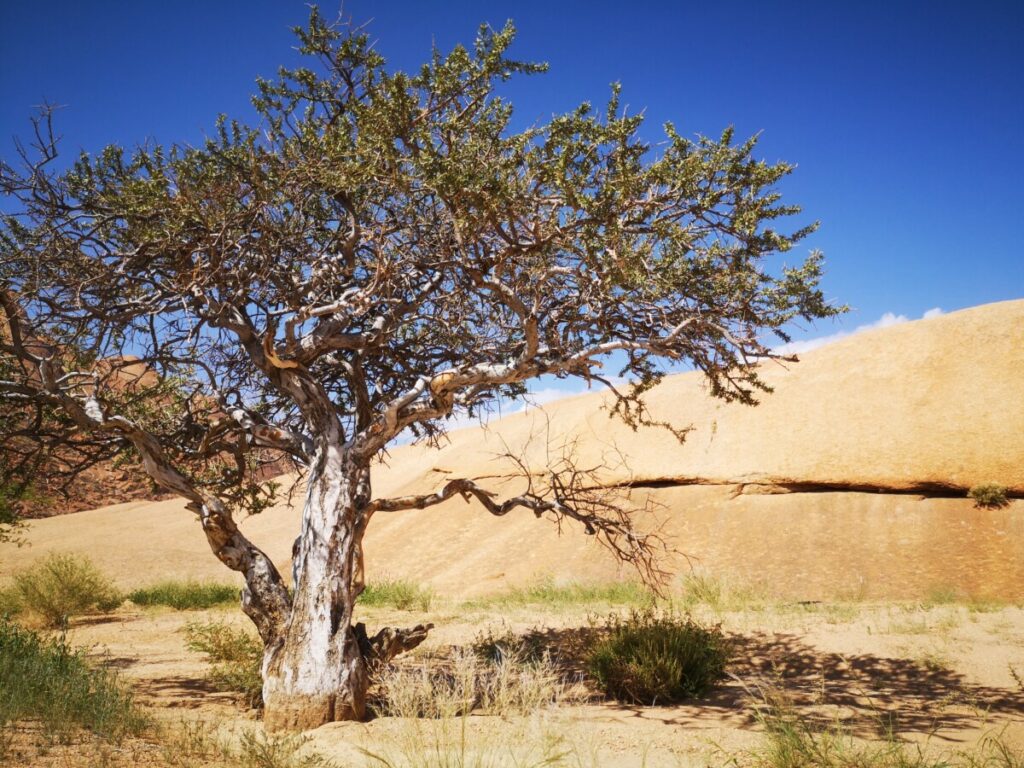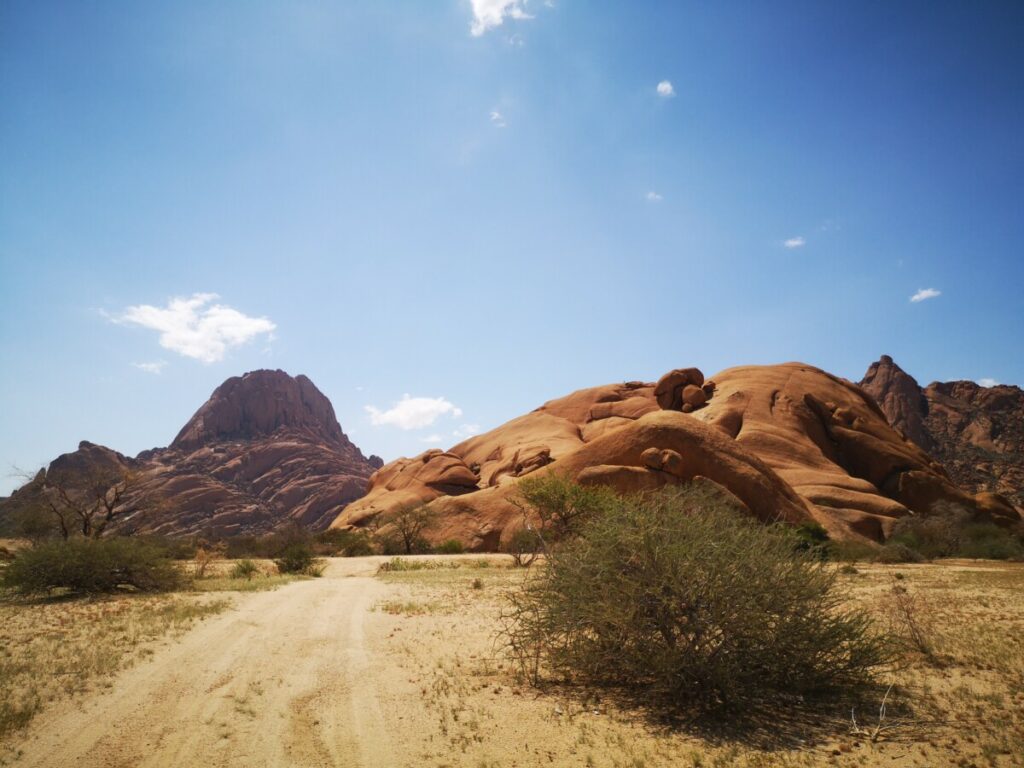 Every bend you pass on your journey gives you new scenic views in this beautiful and unique area of Namibia.
Camping during your visit to Spitzkoppe
There are a great many campsites all over the park. Most of them allow you to experience a unique experience on the edge of high cliffs and beautiful, distant views. Most spots are also such that you don't see or hear your neighbours. I have stood in almost the same spot twice. Close to the Rock Pool and therefore within walking distance of the Rock Arch. I found that just a nice spot with a beautiful view.
The advantage of camping here during your visit to Spitzkoppe is that you can also see this unique area at dusk. With a beautiful sundowner if you are lucky. And if you want to take pictures of the stars at night, that is also possible here. You are in an area where there is no electricity and the only light that can be found after sunset comes from you or your fellow campers.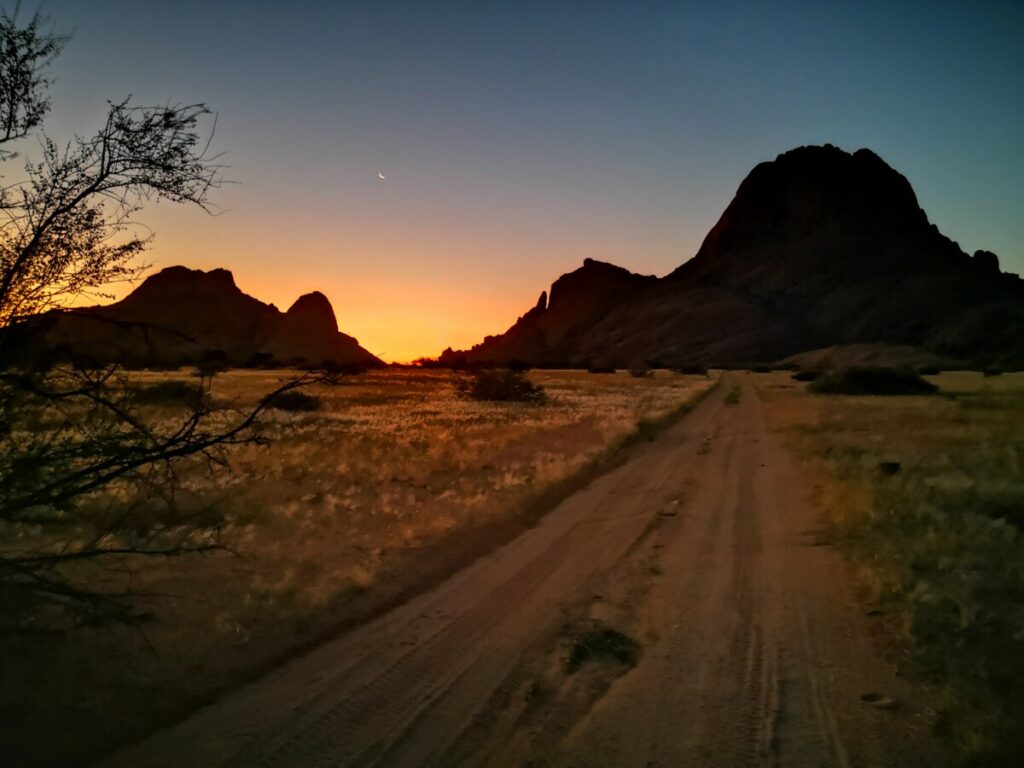 Would you like to read more about camping and what to take along during your trip through Namibia? Check out this packing list.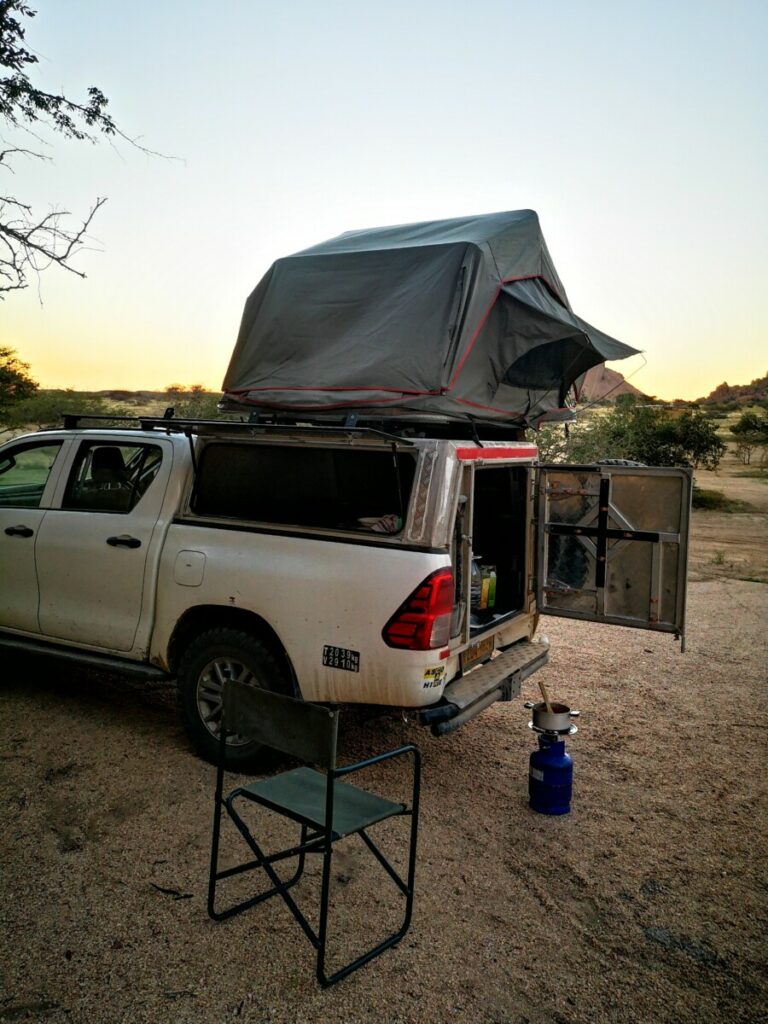 Please note that there is no water or electricity at the campsites.

You need to take this into account before your visit. Make sure you have enough in your fridge and pantry so you can have breakfast, lunch and dinner at your campsite. The toilets at the campsites are a toilet with a deep hole underneath. So it is not very fresh, but for one day, in such a beautiful area… I am willing to squeese my nose!
There is logde but it is on the other side of the area and not easily accessible from the campsite. You can use the restaurant at the beginning of the park. There are also open air showers. Before I left, I used these. They had good hot water and a very good shower. That was really nice!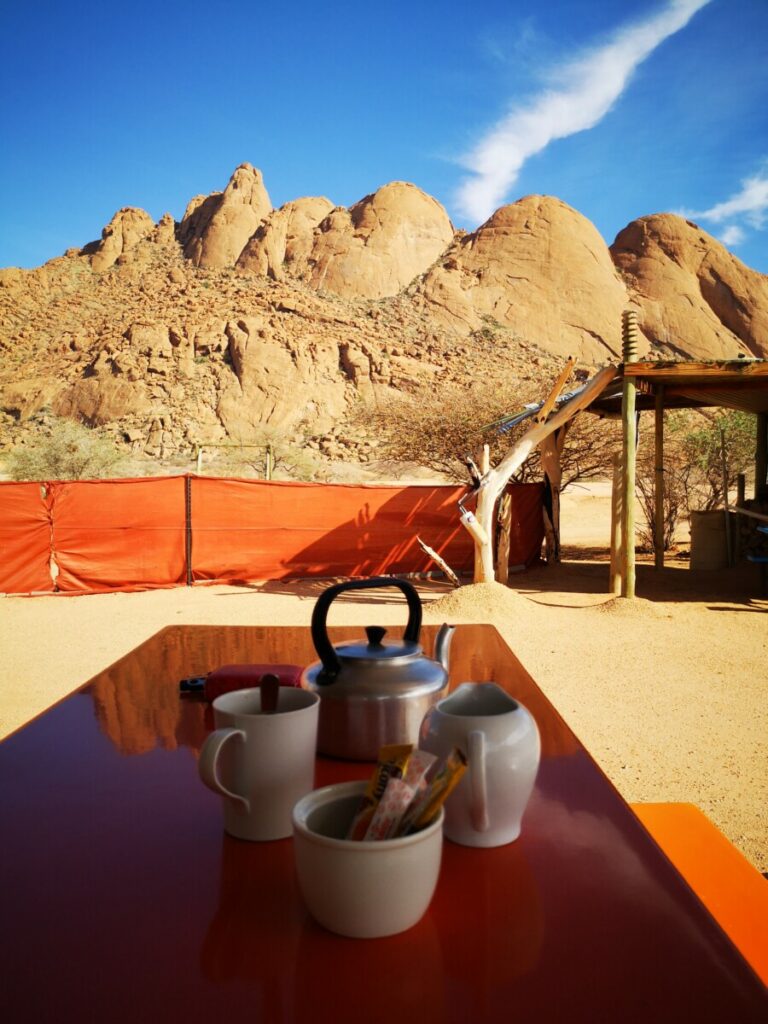 All you need to know for your visit to Spitzkoppe
Coming & Going to Spitzkoppe – Erongo Region
Each tour of Namibia has a different route, each person wanting to visit different highlights of this enormously varied country. That is why you can end up in Spitzkoppe from so many different angles. I have already told you that I have been here twice, so I will give you my routes. Both times I came from Swakopmund for my visit to Spitzkoppe. But I continued my roundtrip to other places. You will see that the distances and the times that you can do it are quite different from each other. Everything, of course, has to do with the roads and the area you drive through.
Visiting Spitzkoppe from Swakopmund.
About 150 km and will take you around 1,5 uur hour
From the town of Swakopmund, where I enjoyed the sea and the delicious Indian restaurant Garnish, I drove to Spitzkoppe in about 3 hours. I always make several stops along the way so it could take you 2,5 hours. Especially at the coast, where there are many fishing spots and where you can see the rough coastline, I found it cool to stop several times.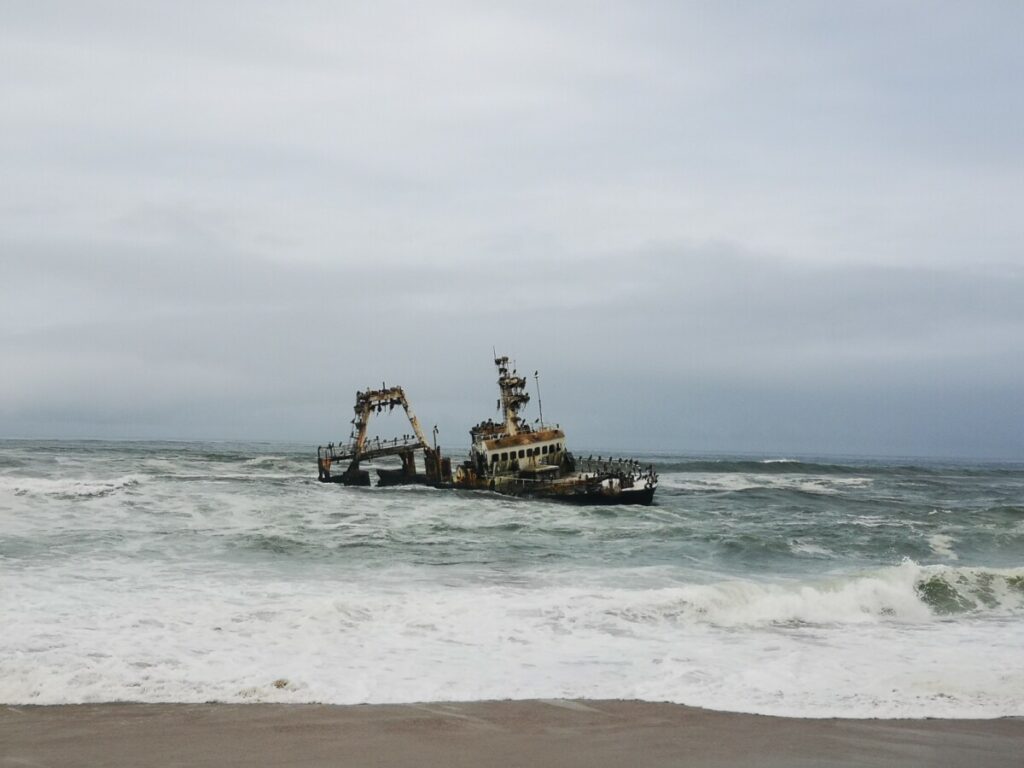 Visiting Spitzkoppe from Windhoek
About 300 km and will take you around 3 uur
There are always several roads you can follow. The scenic route, with beautiful views with gravel roads or the faster asphalt roads. The choice is yours of course. I did not drive from Spitzkoppe to Windhoek in one go. Therefore, I cannot tell you this route from my own experience. I drove back to Windhoek via Donkerhuk West and found the route from there to Windhoek really very cool.
Visiting Spitzkoppe from Brandberg
About 130 km and will take you around 2.5 uur
After my first visit, I drove on to Brandberg. So I went further into Damaraland. I found the desert really impressive. Again, I made several stops along the way and enjoyed the emptiness and heat of this never-ending landscape.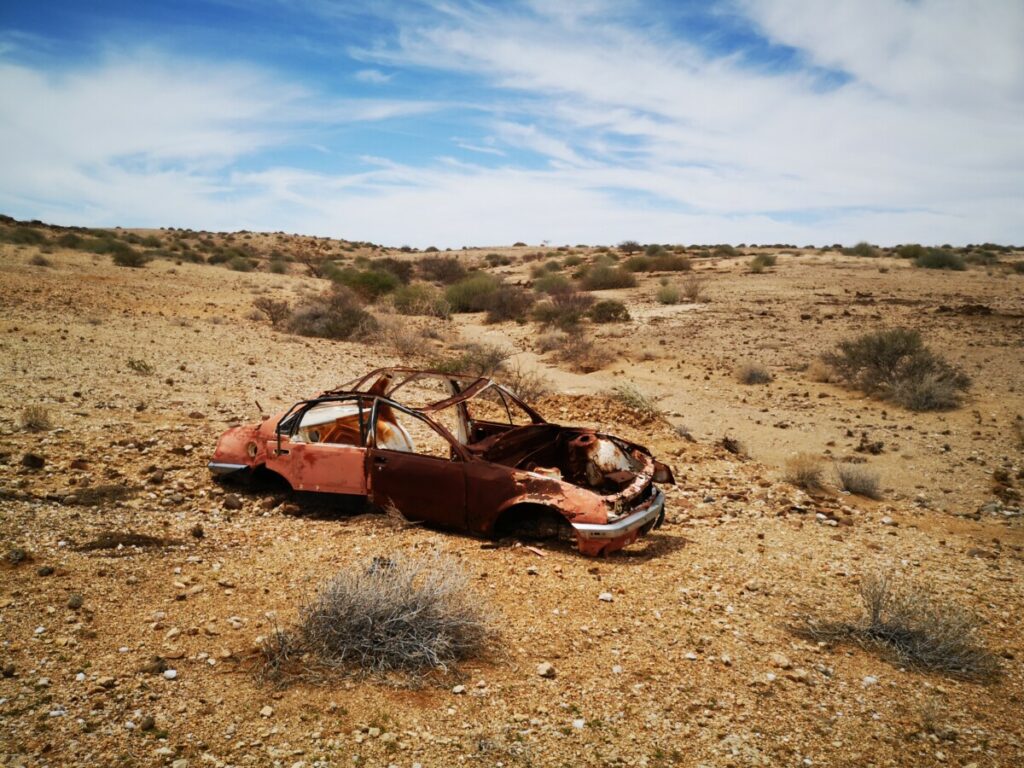 Visiting Spitzkoppe from Donkerhuk West
About 200 km and will take you 2.5 uur
Halfway Swakopmund – Windhoek you'll find this spot. During my last week of my 10-week tour of Namibia, I spent two days here getting used to the idea that it was over. That was very nice and also very confronting. To notice that time had gone by so fast. That I had taken too little time for certain moments in places. Also knowing that you will always have that, no matter how long you are somewhere you are not at home….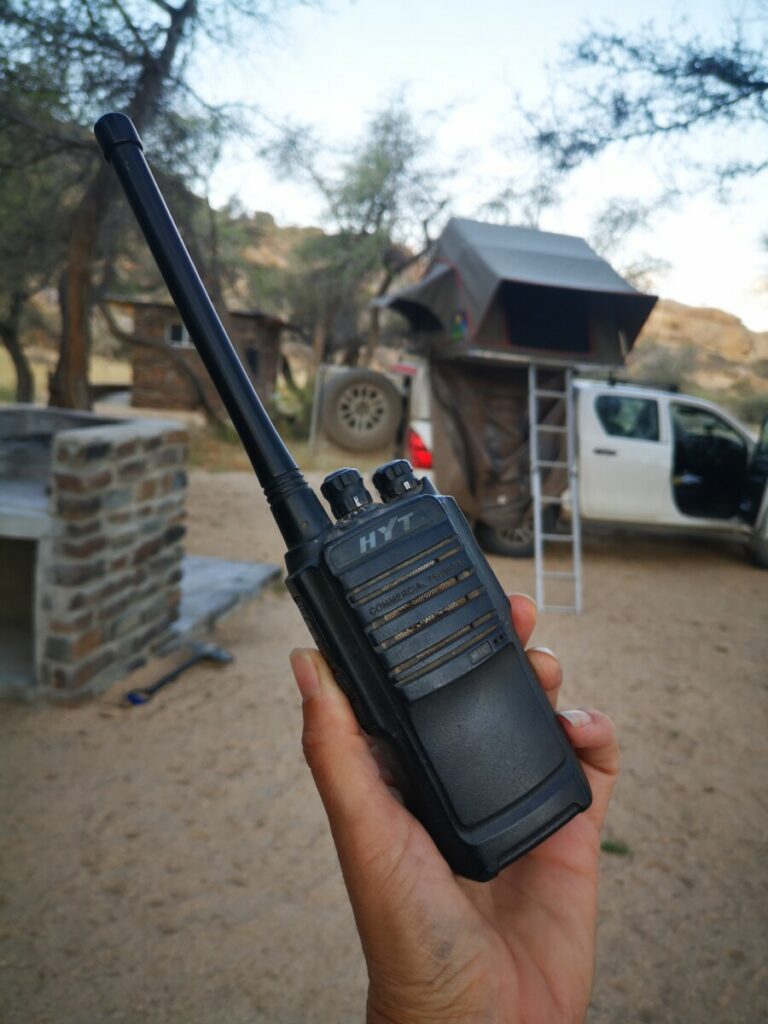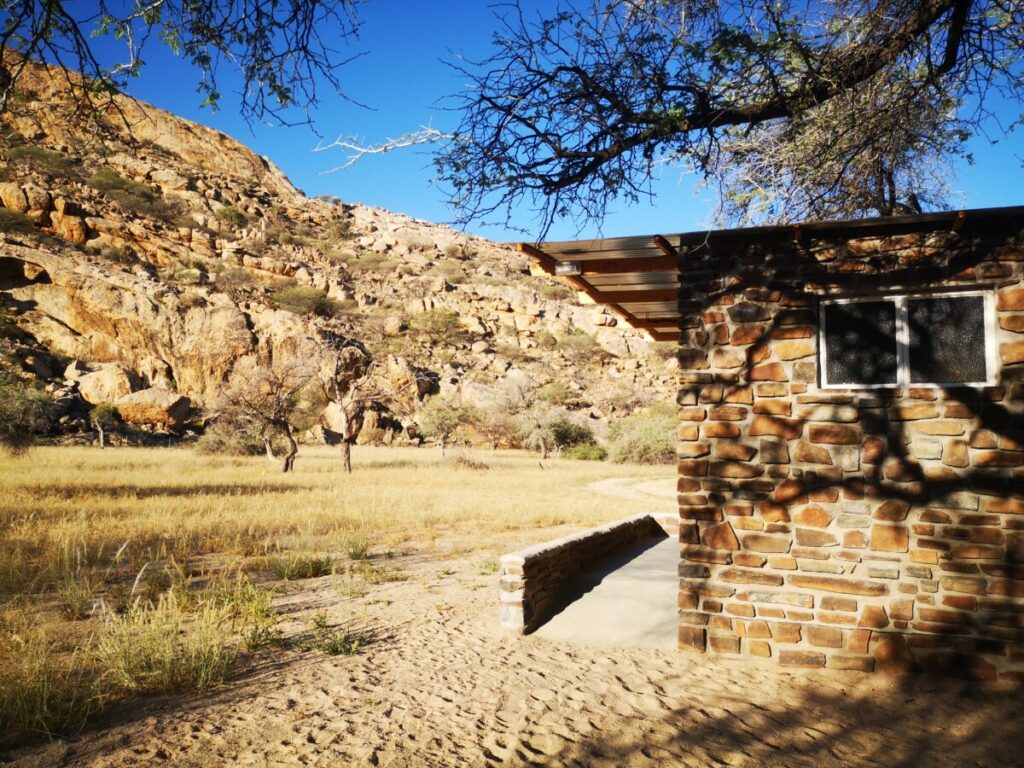 Keep this unique place
Or share it with your friends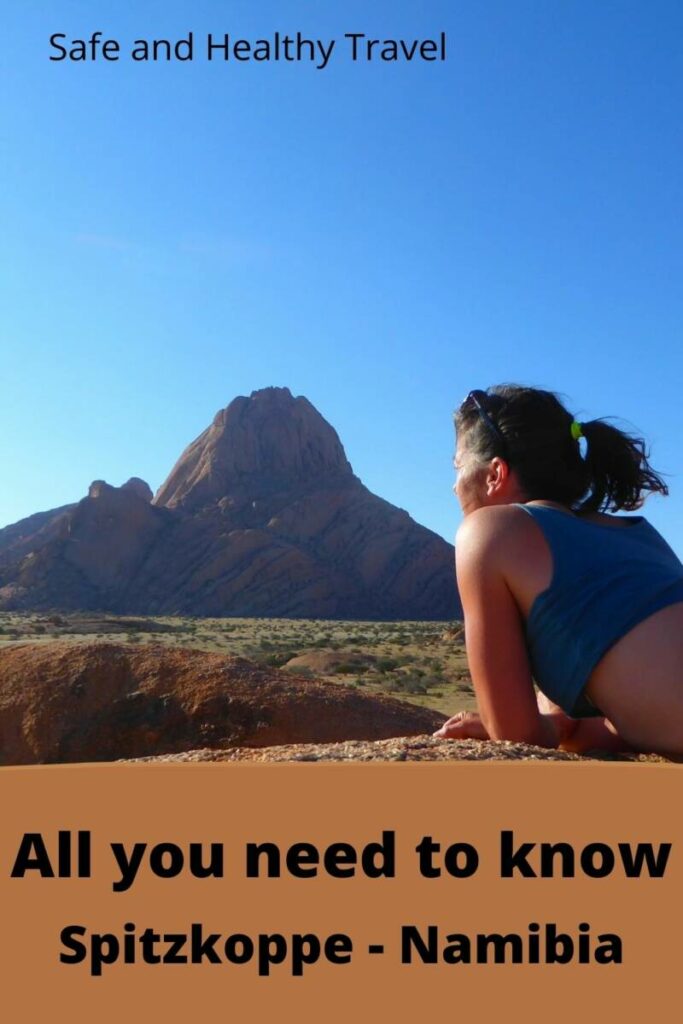 Want to read more about my trip through Namibia?
Highlights Damaraland  – Twyfelfontrein, Palmwag, Skeleton Coast etc
What to do at Waterberg Plateau National Park
Visit the Unique Quivertree Forest near Keetmanshoop
10 Interesting Facts about Namibia
Natural Heritage Namibia – Oldest Spots of Interest
Read about what to pack for a 4WD trip in Namibia
Packing List Camping Namibia – Travel Namibia by 4WD and rooftoptent
I hope you enjoy this beautiful world as much as I do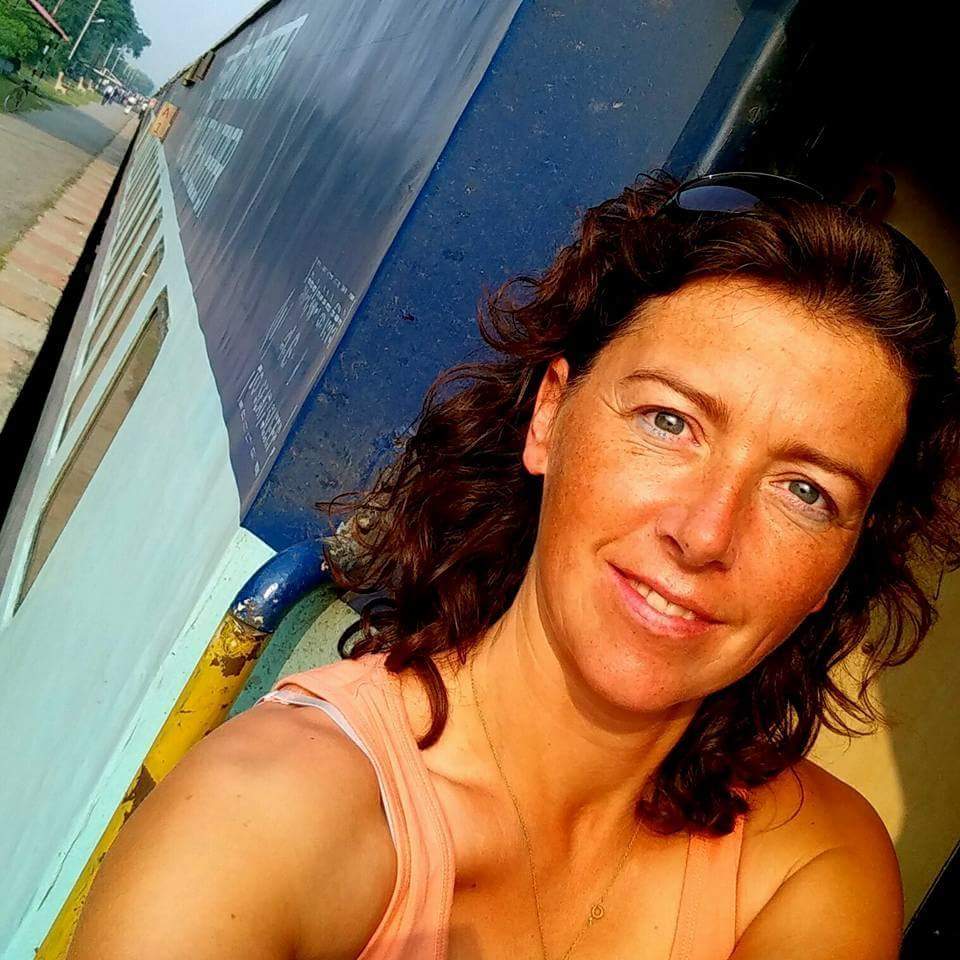 Jacomijn is een politieagent uit Nederland die jou graag laat zien hoe je veilig, actief en gezond de wereld kan over reizen. Safe and Healthy travel is a MUST