Natural Heritage of Namibia – Oldest Spots of Interest to Visit in Namibia
|
Namibia is a country of great extremes. That's one of the many things I was able to establish during my 2-month tour of the amazing country of Namibia! I drove around the country by 4wheel drive with rooftop tent and visited quite a few national parks, places and cities! At one point I again visited a place with ancient history…. It occurred to me that the historical natural heritage of Namibia is enormous and that it is a country in which you can visit the oldest sights you can think of! How about a dinosaur footprint, for example?
Some quick facts about Namibia

Namibia is in second place in the world with the least number of inhabitants, Mongolia is number 1. The Netherlands on the other hand is the most densely populated country I read somewhere! Per M2 The Netherlands has 407 people living and Namibia no less than 3. I also read that Namibia is 20x as big as my little country. Although I must say that I have the feeling that it is bigger! After all those days driving through the desert….

Where better to travel than Namibia during this corona pandemic we are currently living in. With an area of 825,000 m2 and a whopping 2.6 million inhabitants, days can go by in Namibia when you don't see a person!
Natural Heritage of Namibia
If you drive through Namibia you can't escape going into the desert. In fact, a large part of Namibia consists of desert and that is where I start my first oldest sight!
Namib desert
If anything is Namibia's historical natural heritage it is the Namib Desert! It is said to be at least 55 million years old .. and could also be as old as 80 million years! This Namib Desert is a whopping 150 wide, inland and lies 2000 km along the coast of Namibia with the Atlantic Ocean. This fact is also unique to Namibia, the desert in many places disappears right into the sea….  If you have never been to a desert you will probably picture a large empty plain in front of your mind. A place where nothing or no one can live….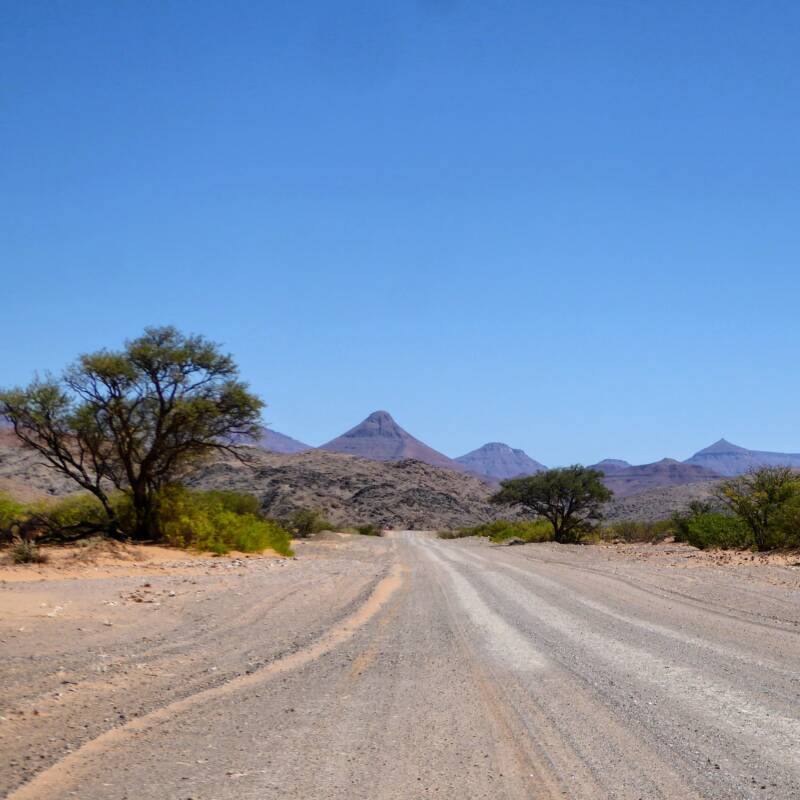 Nothing could be further from the truth. The desert has so many surprises in store for you that you will be amazed looking around. I have driven around in it for hours and have never been bored of the versatility of vistas. But also of the
versatility of just the dunes
…. I took a trip near Swakopmund '
living dunes
' where the guide showed me the little animals that live in and on the dunes. So many and so colorful!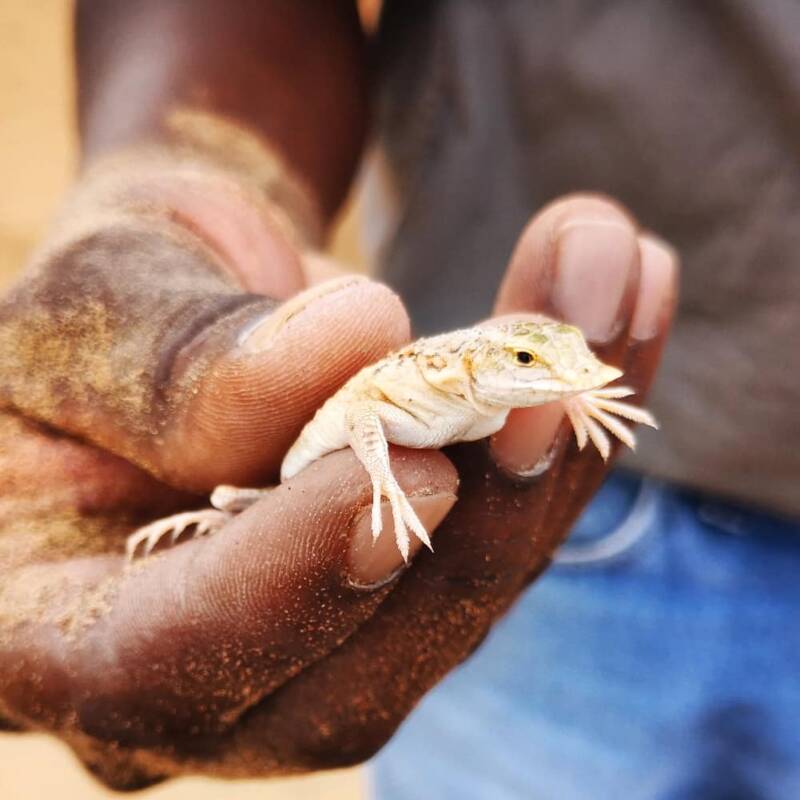 A very impressive part of this desert is Skeleton Coast, there the desert runs right into the ocean and there many ships over the centuries have been stranded off shore, crashed…. Some of them are still there for us to look at. But what is also unique about this piece of desert…. Lions live there! I tried my best to find them but unfortunately I did not succeed! I only managed to capture the footprint.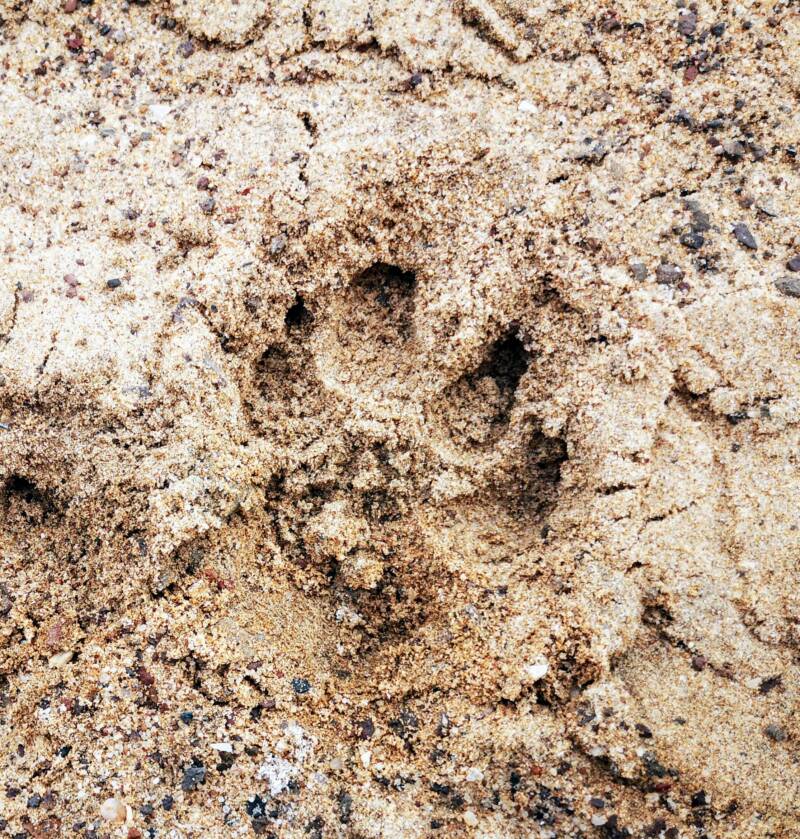 Oldest Spots of Interest to Visit in Namibia
Meteorite Hoba – Otavi / Grootfontein
When I was in Ghaub, of course I could not ignore this largest meteorite in the world. The meteorite came hurling out of the universe about 80,000 years ago and into our world. Miraculously, this meteorite remained intact. Where most meteorites burst apart when entering our atmosphere or hit the ground, this one remained in one piece.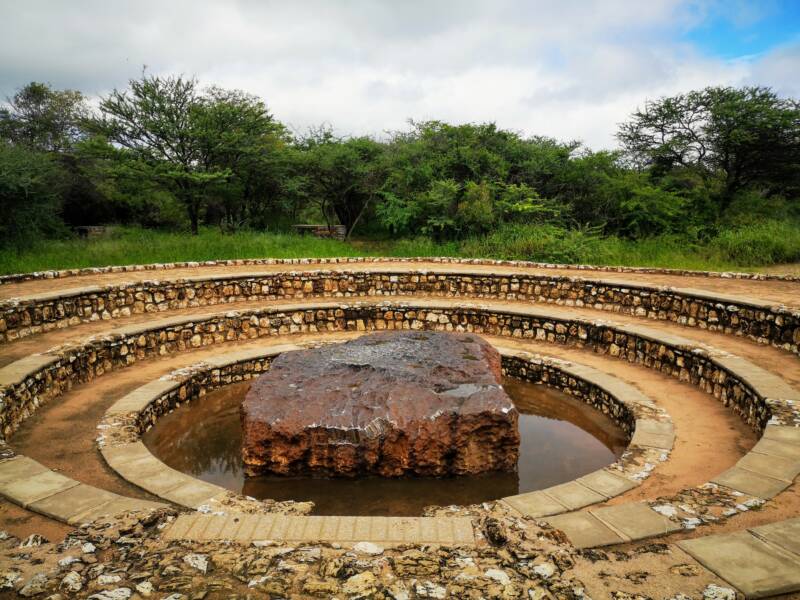 In fact, it's just a big piece of iron measuring 2.70 meters by 2.20 meters. Can you imagine the thing weighing 50 tons? Then to realize that it came from so far away is worth a visit, don't you think?
Petrified forest near Khorixas
If you drive through the desert from Khorixas to e.g. Twyfelfontein or Palmwag you must visit another unique place on this world! It is called petrified forest and so I expected to find a petrified forest … The story is slightly different. You find here a large number of trunks of the pine tree that are petrified. You won't find the pine tree here in the desert… In the time that the plates shifted with the enormous ice layers, these tree trunks ended up in it and came with it to the African continent. They were well preserved in the ice and petrified by the heat and drought in the desert….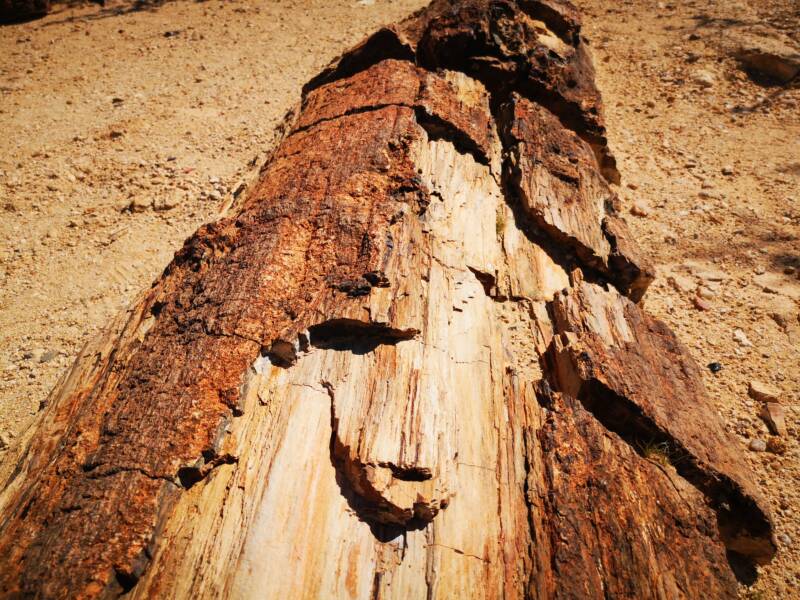 Some tree trunks are still so intact that you can still see the bark….As if you could just pick it off with your finger … if it weren't made of stone! I found it very special to see and was glad that I took the exit when I drove by here for the second time 🙂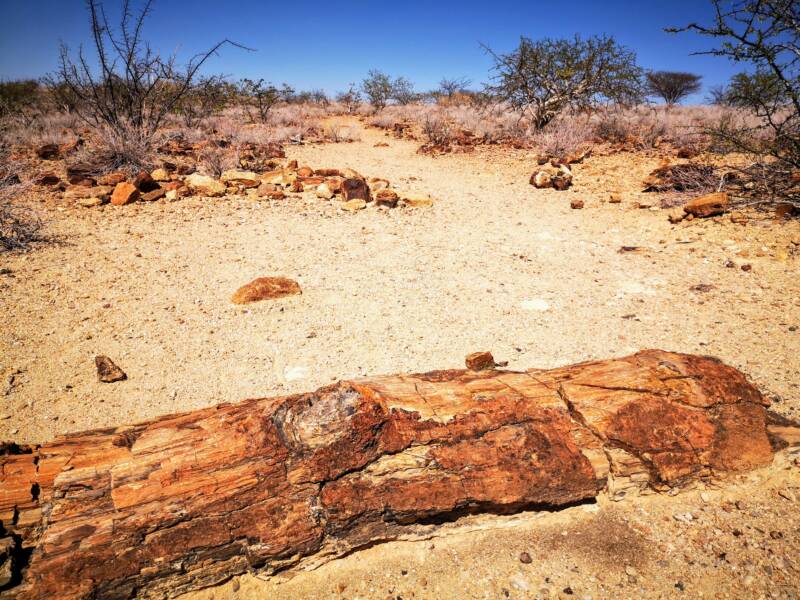 From petrified trees to dinosaur prints
It's all possible in Namibia
Dinosaurus Tracks at Mt Etjo
When I saw the sign that said 'dinasaur tracks' of course I had to go do that hike. I was at the campsite of Mt Etjo where I would spend the night at a great little lake. The hike to the Dinasaur Tracks was only about 6 km in total so a nice hike to do 'for a while'. The dinasaur track first takes you over a mountain and in a higher area you find a number of dinosaur footprints in the rock floor. It took me a while to see it but a casual passerby (with a big bag of flour on his back on his way home) pointed out the best and biggest tracks to me.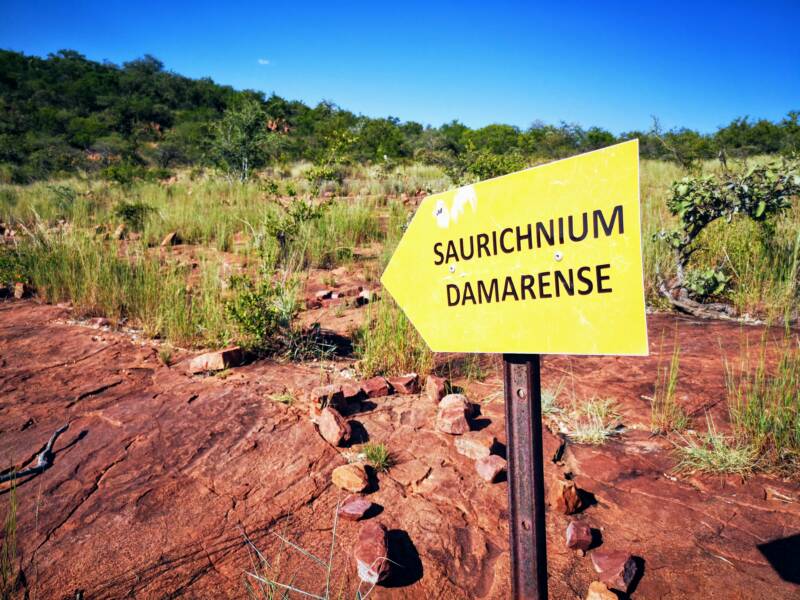 These are several in a row and you can see a kind of imprint what a chicken would also leave behind. 1 toe behind and 3 toes in front.  Only bigger, even bigger than my entire foot! Do you see it? Right at the bottom next to the pole where the sign is attached.
Etosha Pan – Etosha NP
In Etosha you will find a huge natural mineral plain. Because of the sunken location of this area, the water remains. It is thought that this was created some 100 million years ago. The pan is 130 km long and in some places 50 km wide and is the largest salt pan in the world. In Etosha there is a beautiful lookout point so you can drive a little way up the pan and imagine yourself even further away than you already are… Totally in the middle of nowhere!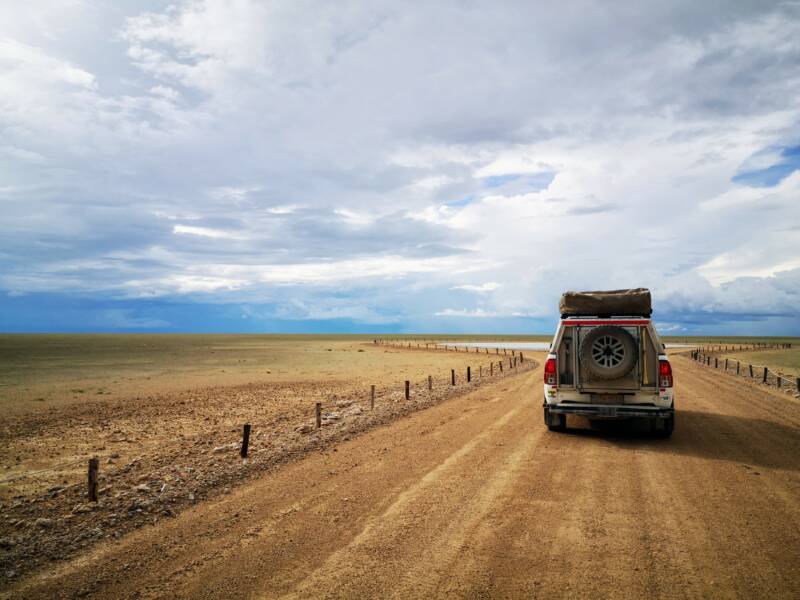 This plain can be seen from space, if you ever go into space I would love to hear from you! There are more and more trips being offered and hotels being built lately it seems. So if you are the lucky one who is going that way soon…share a pic!
The San / Bushmen
One of the oldest populations in the world are the San or Bushmen. The Bushmen of the Kalahari have the oldest genes is shown in a study in which they find that it goes back 20,000 years to the oldest human material in the world. The San are or I should say were hunters and gatherers. They are no longer allowed to hunt because they mostly live in protected animal habitats. However, they are still allowed to collect their food and so they eat a lot from nature. I went on a number of bushwalks and stayed 2 days with the Ju/'Hoansi between Grootfontein and Tsumkwe on the campsite. They have a living museum.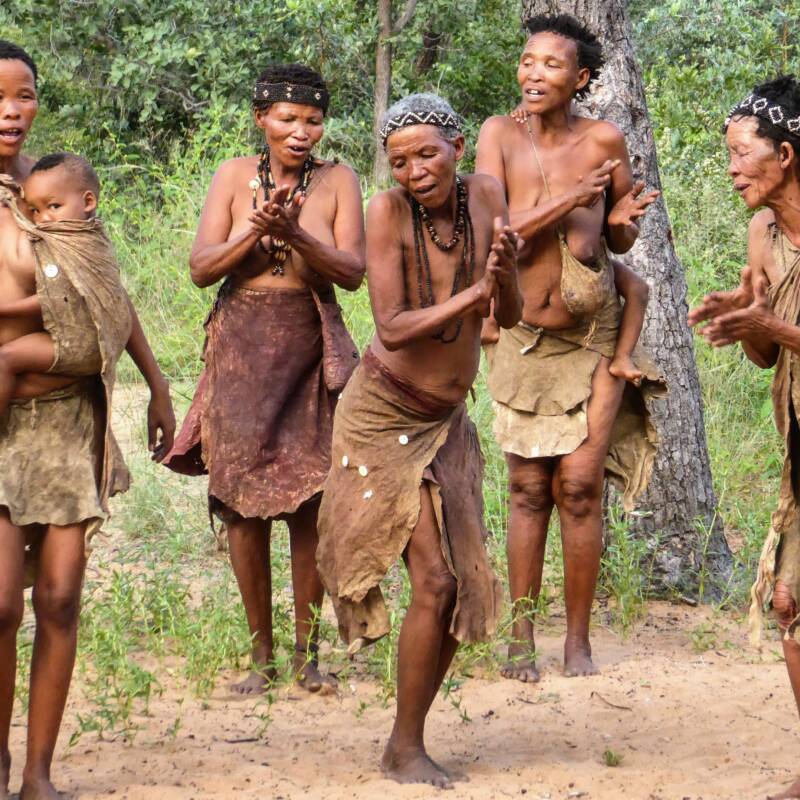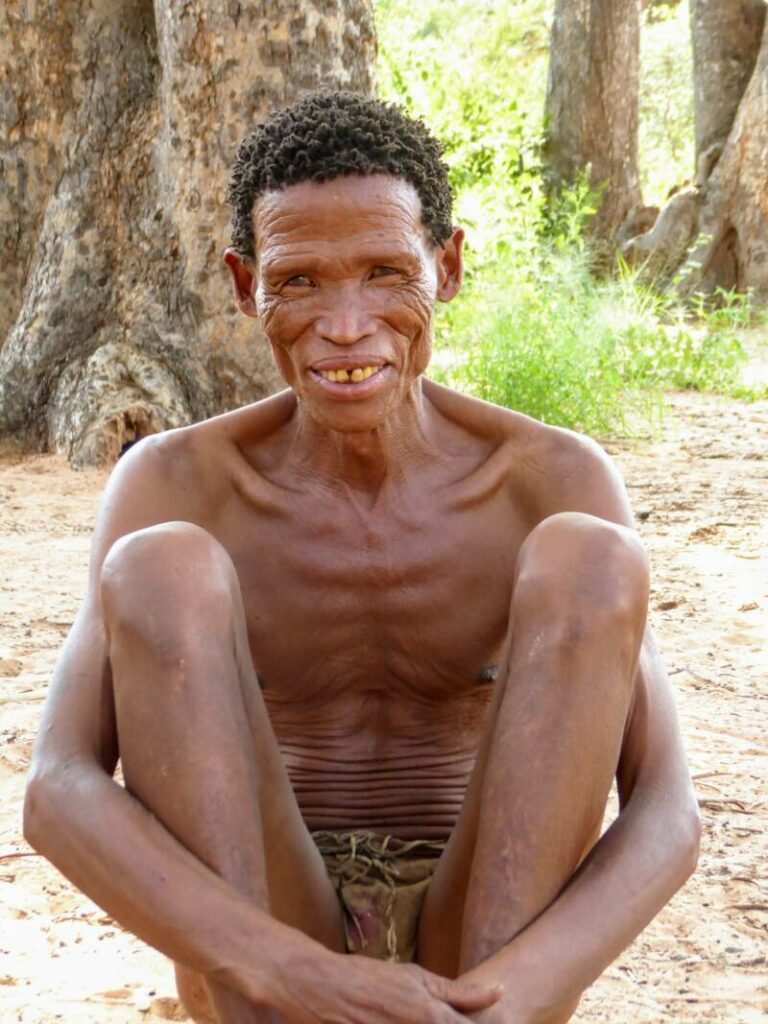 These living museums can be found everywhere in Namibia, this is sponsored by the government to keep the culture and traditions alive. Up in Namibia you can also find living museums of the Himbas. Also highly recommended!
Worlds Oldest Ethnic Group – San / Bushmen
Petroglyphs Twyfelfontein & White Lady – Brandberg
The oldest rock drawings found in the world can be found in Borneo (40,000 years) or Sulawesi with 45,500 years. But the drawings made by the San at Twyfelfontein are also really old and very unique at 5,000 years.
I visited the petroglyphs at Twyfelfontein and got the explanation from the guide that most of the drawings were maps or teaching material to young San hunters. Most drawings consist of maps showing seasonal water sources or bigger water sources. In addition, you see many animals with the footprints of these animals next to them, so a lesson in how to track or find these animals.
I was also in Brandberg but sometimes you just don't feel like visiting anything and so I spent an afternoon there relaxing by the pool 🙂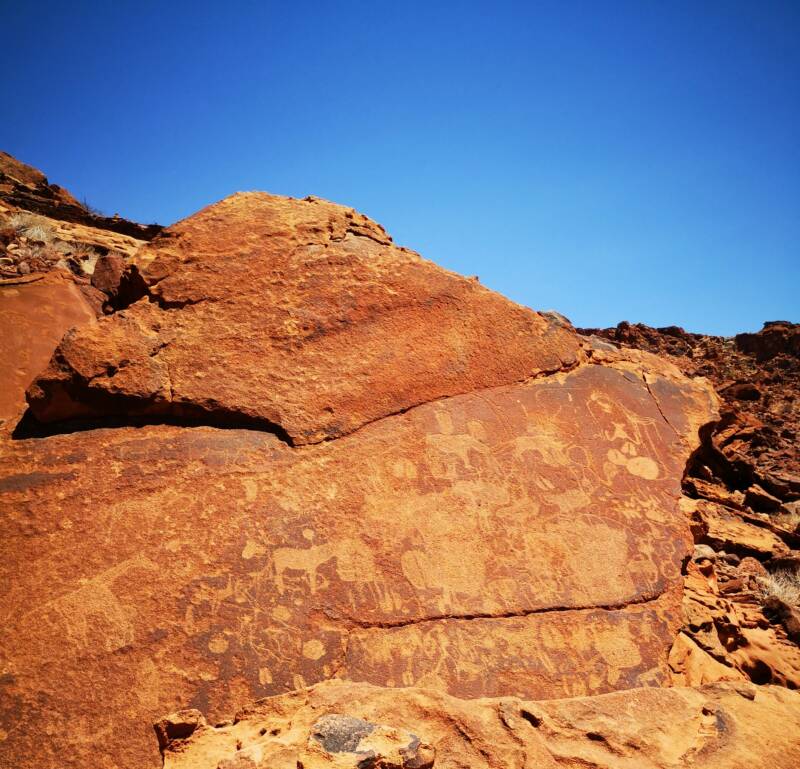 The oldest Flora of Namibia
Welwitchia and Baobab
The Welwitchia is common in the desert in the coastal areas of the Namib Desert and may not miss on this list of natural heritage of Namibia. During a tour I was told that 2 leaves sticking out of the ground (about 15 cm long) were already more than 10 years old. The plant itself only has two leaves that eventually split so that it looks like there are several long leaves on either side of it. The oldest plant found seems to be 2,500 years old!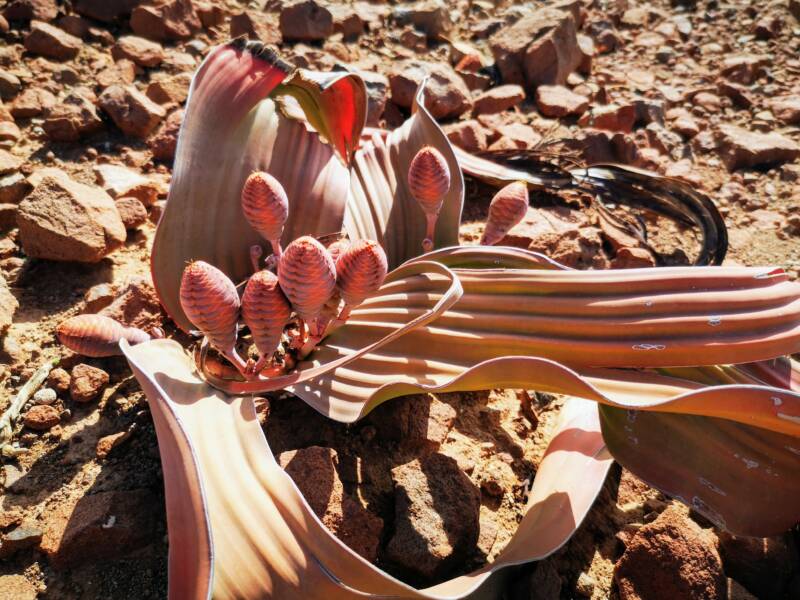 Then you also have that amazing baobab tree that can get even older! I saw many beautiful trees along the road. I heard from an employee at Planet Baobab ( Botswana) that the oldest tree on their property was a whopping 4,000 years old!!!
You can't even imagine all that such a tree or plant has seen, can you?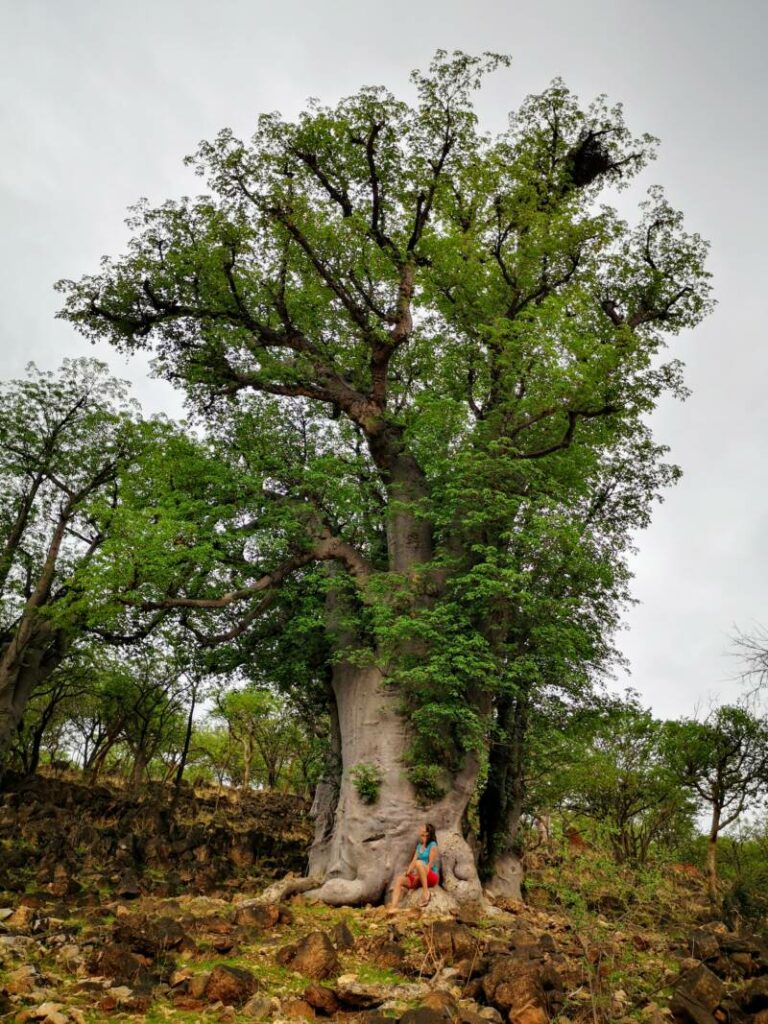 All very impressive and very worth seeing when you go to Namibia. This natural heritage of Namibia surprised me very much, I was not prepared for this diversity. I was also not super prepared for this long tour of Namibia because I only knew 2 weeks in advance where I was going. Namibia has pleasantly surprised me and added a fan!
Imagine, you go from an empty plain into the mountains and then back to a green landscape. But then I needed to adapt to the disctances from large countries! A distance of a few hundred km here and a few hundred km there. What you should know is that sometimes you drive those few hundred km on 1 road without having to take an exit. It is for a Dutchie a new and a surreal experience. Driving in Namibia is mostly easy and safe. As long as you keep driving on the left side of the road because sometimes there is oncoming traffic!
Natural Heritage of Namibia
Soon, of course, I will be sharing more about my 2.5 month journey through Namibia and a very small part of Botswana. I hope you'll come back and read those too. I'll take you through the solo adventure with the 4 wheel drive and rooftop tent. Did that please me? What was it like to build up that tent each time? How did it drive with the 4 wheel drive? Did I have to use that 4WD option often? All questions that I will describe in detail later.
Did you thought this post about natural heritage of Namibia was interesting?
I would love it if you would share it with others!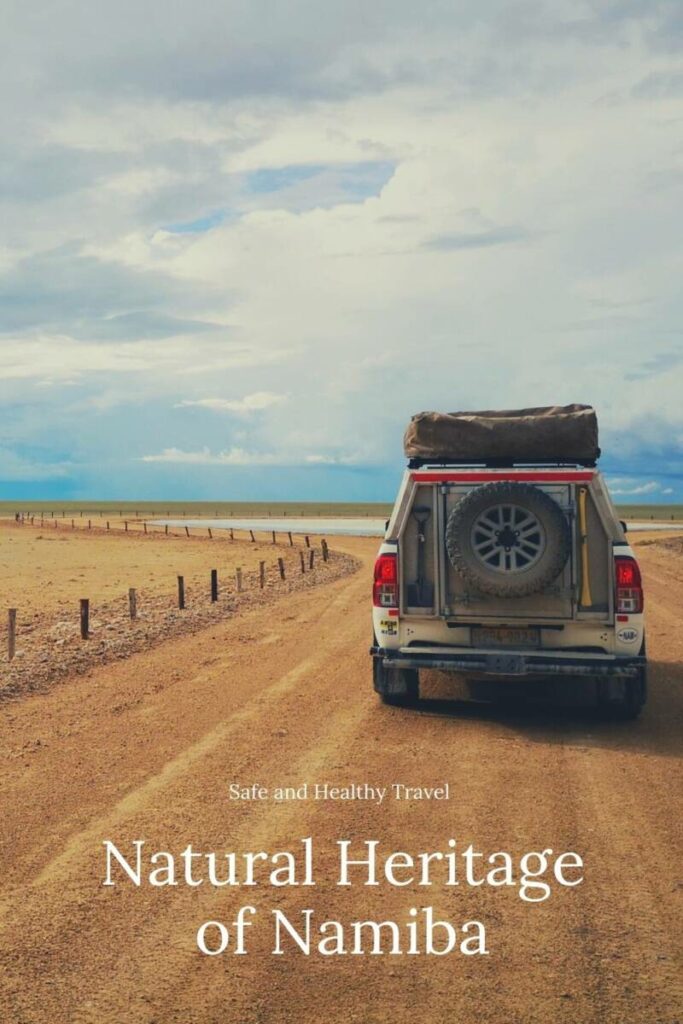 Or check some other Africa Travel Inspiration:
4 day trip African Safari incl NP Kruger from Johannesburg – South Africa
3 day safari Masai Mara – Kenya
Discover Morocco in 4 days / 3 nights
Safe Travel – Why you shouldn't be in the streets when it is dark
Safe contact with the Locals – Do add this extra dimension to your Trip
I hope you enjoy this world as much as I do!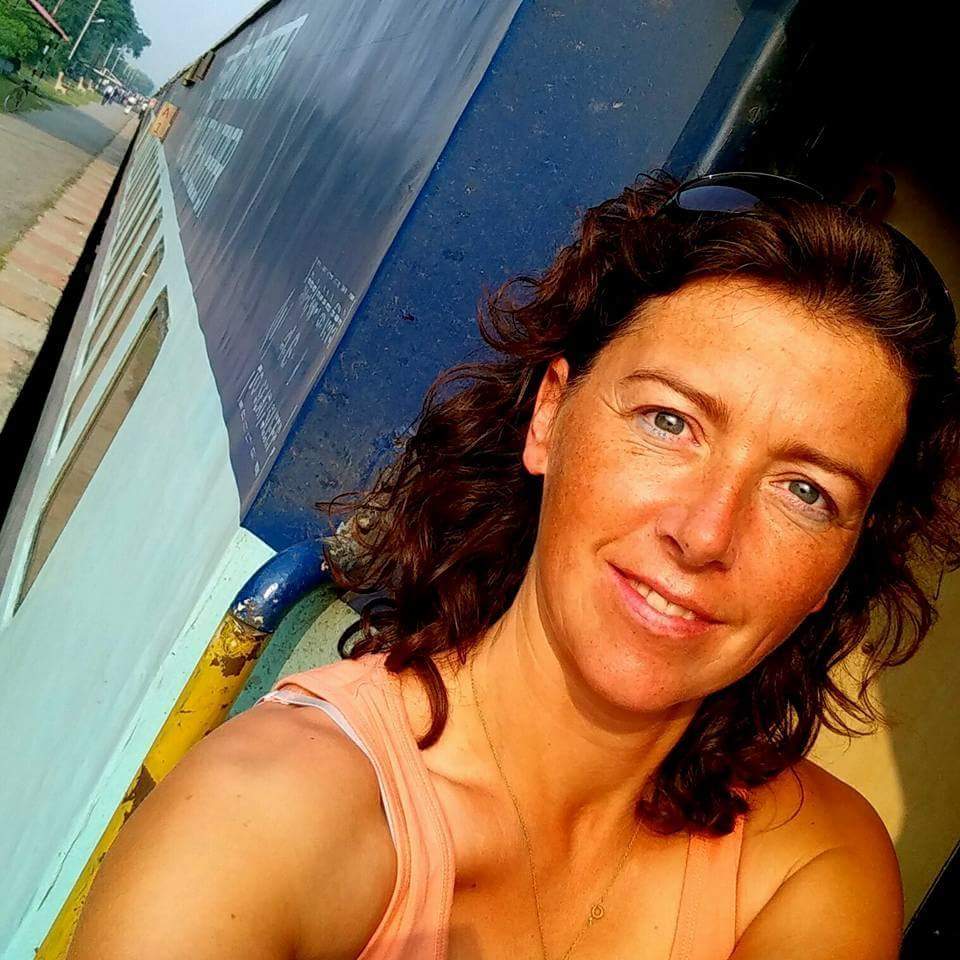 Jacomijn is een politieagent uit Nederland die jou graag laat zien hoe je veilig, actief en gezond de wereld kan over reizen. Safe and Healthy travel is a MUST