Highlights Damaraland – Twyfelfontein, Palmwag and Skeleton Coast etc – Namibia
|
In this blog I will describe the highlights of Damaraland that you should definitely visit during your tour of Namibia. You can't really avoid visiting these highlights of Damaraland and therefore one or more of these places will be included in your tour of Namibia. During my tour in Namibia I visited a number of places in Damaraland. Driving through this area you get the most wonderful views of endless plains containing the most beautiful rock formations. Sometimes you imagine yourself to be in America or in one of the deserts of this world. The versatility of this landscape kept surprising me until the last moment of my visit when I left Damaraland at the Skeleton Coast.
Damarraland is the land where the Damara tribe lived and is therefore not a province or an established area. Damaraland is situated in the Kunene region and can be found roughly between Sesfontein, Brandberg and the impressive coastline.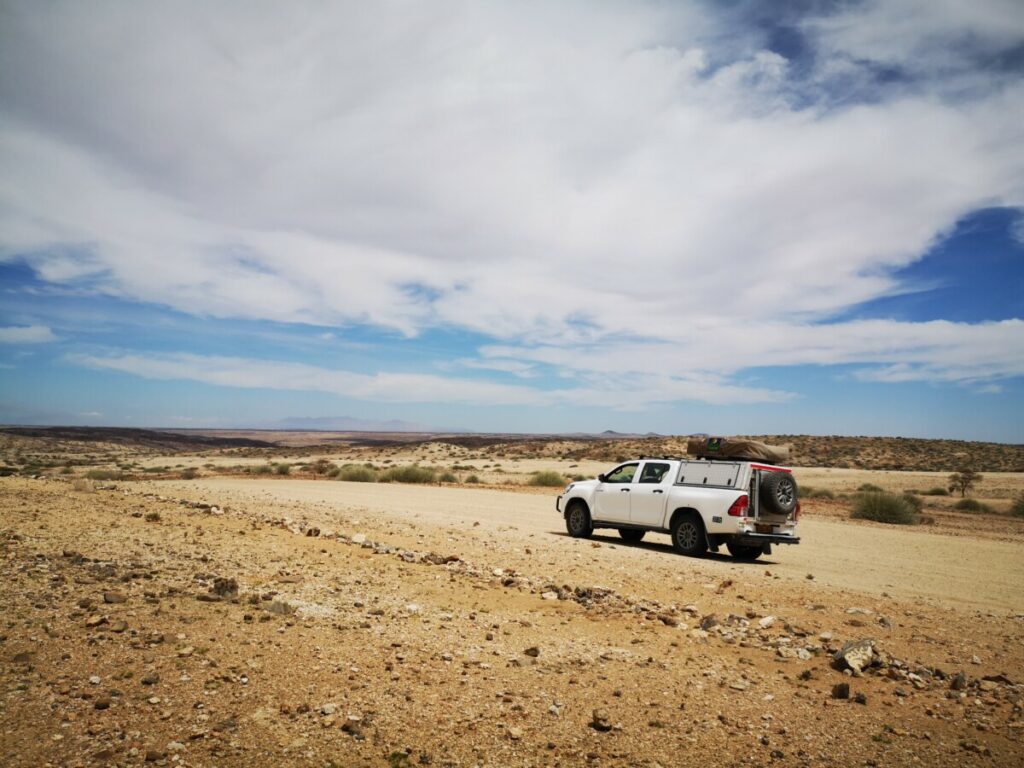 Highlights Damaraland – Namibia
Twyfelfontein, Palmwag and Skeleton Coast etc
Driving in Namibia is great and very doable for us Europeans. You drive on the left side of the road and that takes some getting used to in the beginning. Once you leave a town or village, you will encounter very little traffic. The asphalt and gravel roads are well maintained and give you a good overview. The country is vast and big, so don't be surprised if you have to drive 250 km without taking a turn.
You'll come across a gemsbok or an ostrich, a seemingly lost Namibian walks along the road and then you've had it with the life you encounter. But those views… They never bore you. Every hill, every curve gives you a new beautiful view that you can marvel at while the kilometres fly by under the tyres of your 4WD.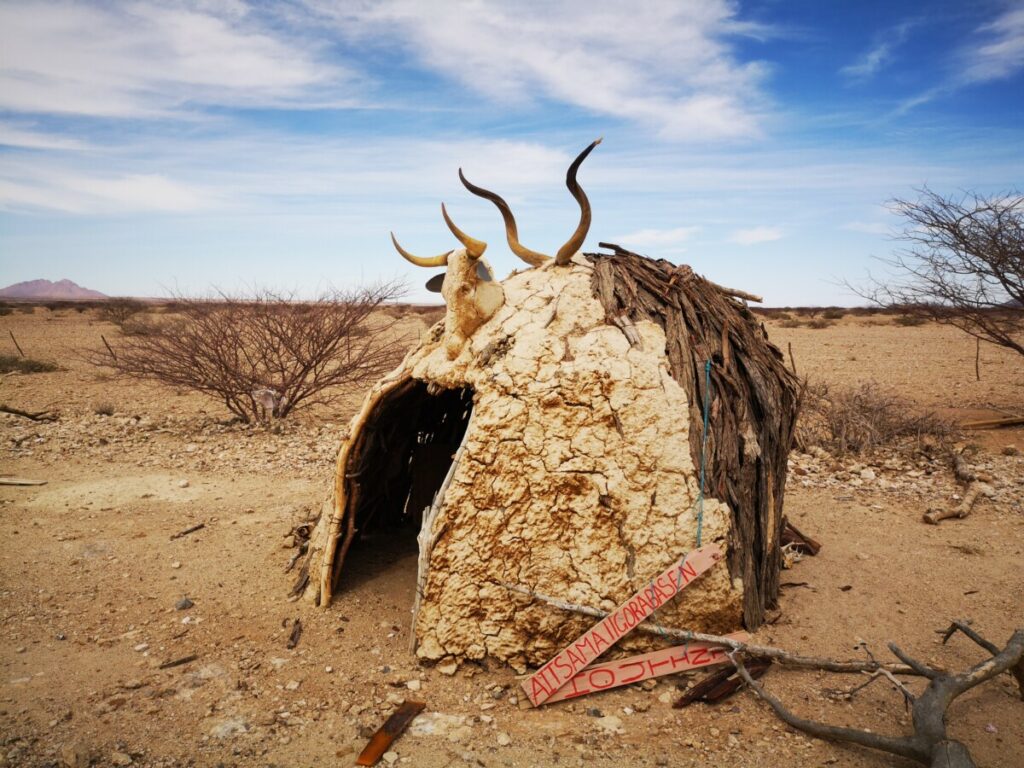 Did you know that I drove 10,776 km in Namibia? And a very small part in Botswana. It took me 10 weeks in Jan/Feb and March of 2021. Read more about my route in Solo Roadtrip Namibia
Visit the Highlights Damaraland in all its splendour
After my first night in the beautiful Spitzkoppe area, I drove on to Brandberg. During this trip, I made several stops to let the area I was driving in sink in. The grandeur of this empty area in which so much diversity can be found. Where there is apparently no water, but where there is still so much greenery growing here and there.
Where many people / tribes still live in a way that was almost the same hundreds of years ago. It is incomprehensible to me that you can survive here at all. Nowhere do I see water, nowhere do I encounter life other than a lost gemsbok or a lonely Namibian walking by the side of the road. You will encounter it all during your visit to the highlights of Damaraland.
Brandberg – Highlights Damaraland
When I arrive in this amazing area I forget what I should visit here: the White Lady rock painting. When I see that the lodge has a lovely swimming pool I decide to spend the afternoon at the pool with a good book. It is very hot and a shady spot under one of the four-poster beds along the pool is my spot for the next few hours.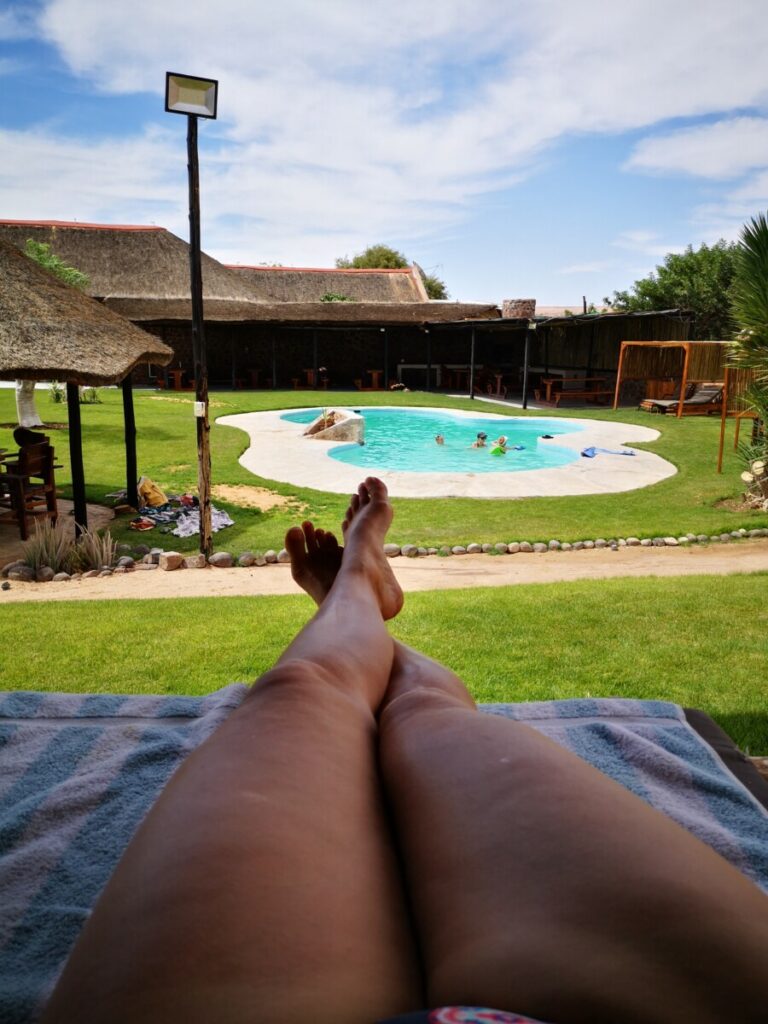 Later that afternoon, I decided to have a look at the campsite and to find a place for my 4WD with rooftop tent. I had found a great spot here and I also read that the most beautiful sunsets could be expected. First I went to explore the campsite, I walked along the outside edge of the park. I saw elephant footprints everywhere. At a certain point, that is a bit frightening as I was walking there on my own and in corona time there are not that many tourists. So I walk back into the camp.
In the meantime, it was already getting towards evening and so I went to prepare my meal. I saw a man coming who was stoking up the fire in the donkey. This is how they heat the water for the shower without electricity. In several places there were toilet or shower buildings. All in the open air, lovely, isn't it?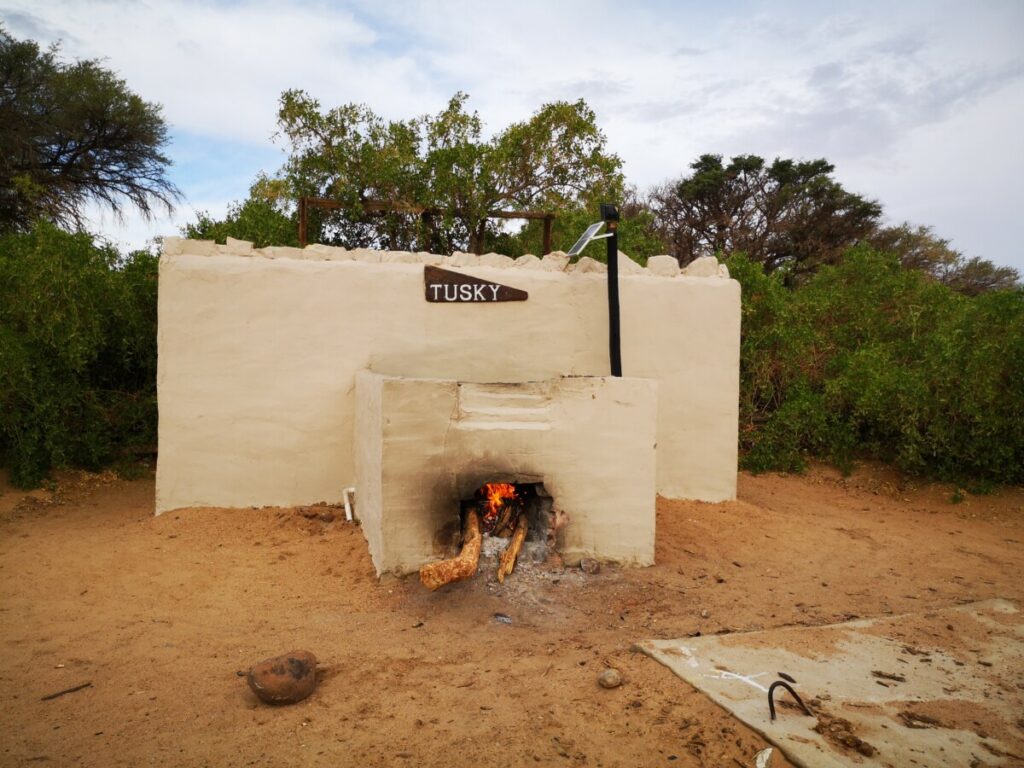 Do you know this? A donkey?
For heating the water for a nice hot shower.
However, I still wonder where the name Donkey comes from. I have asked several people, but nobody has been able to give me an answer. Do you know?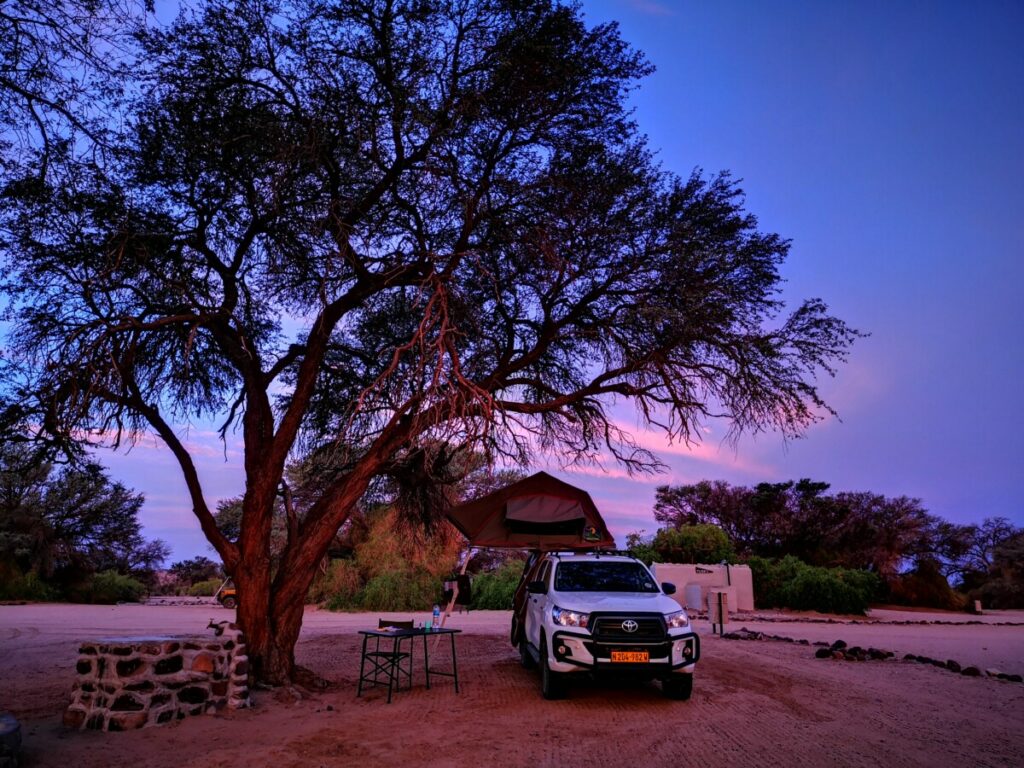 And then enjoy the peace and quiet and ofcourse the view…. How nice?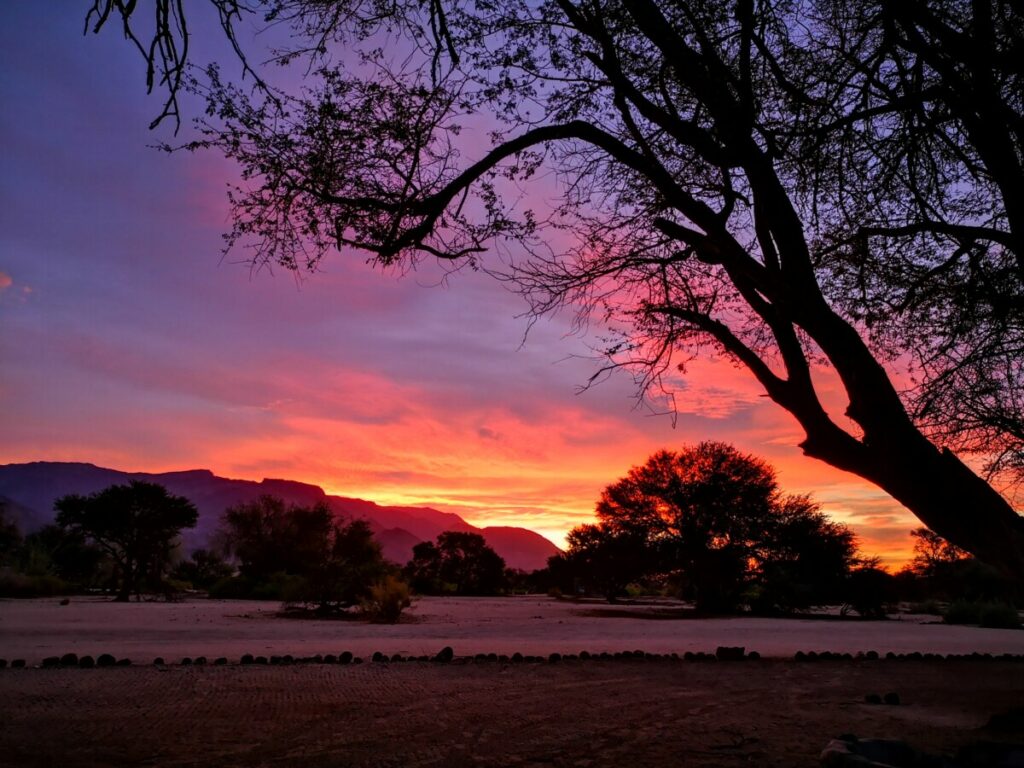 On holiday days, the sunsets are always much more beautiful…or do we have more of an eye for it?
Just tell me

Sundowner in Brandberg
What to do in Brandberg
The White Lady rock painting
Hire a guide to go search for the desert elephant.
Where to stay in Brandberg
Highlights Damaraland
Twyfelfontein, Palmwag & Skeleton Coast and more – Namibië
Twyfelfontein – Highlights Damaraland
The next day, I drove through the amazing Damaraland to the unique place of Twyfelfontein. I had not prepared myself well, because when I arrive at Twyfelfontein it appears that you can only pay in cash, so I drive back to a lodge. How lucky I was to find a nice place to have my lunch with a super view. Paying with my pin and they raise the amount so that they can pay me part of it back in cash. What a nice solution when there is no cash machine in the area, right?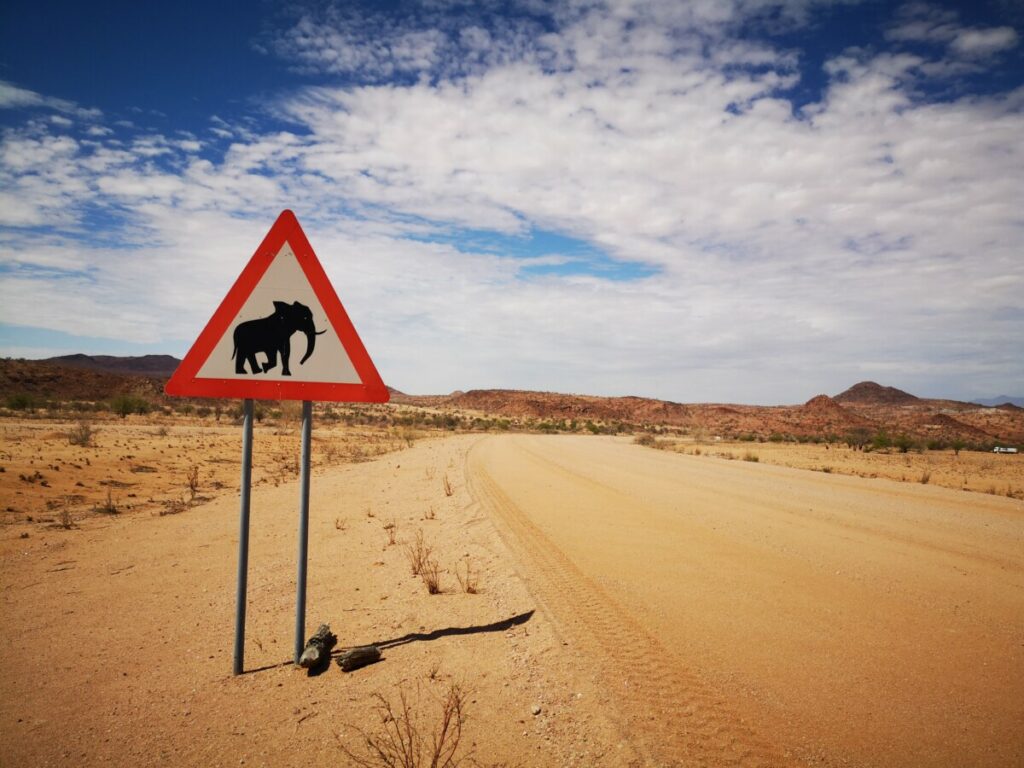 I then drive back to Twyfelfontein and go on a guided tour of the unique area, which is a Unesco World Heritage Site. It is a place with the richest rock art concentrations in Africa. The guide and I soon have a nice conversation, which is not all about the rock formations but also about where he comes from and how he lives now.
The guide tells me that he lives in the area of an old large farm that eventually developed into a real village. There is only nobody who officially lives there and that is now becoming a problem. On paper he is registered in the city with his wife and children, but when he works he lives here in Damaraland near Twyfelfontein. The guide thinks it is a nice place and hopes he can continue to live there. He lives in a house made of clay and wood but has three rooms and a kitchen. He has to laugh when he finds out that his house is bigger than the small house where I will live after this trip. We talk about my motivation to live smaller and about our footprint on this earth.
We sat for a while on a bench in the middle of the ancient rock paintings of Twyfelfontein. It was lovely being in the shade and getting a breath of fresh air every time! I am the only tourist, so we have all the time in the world.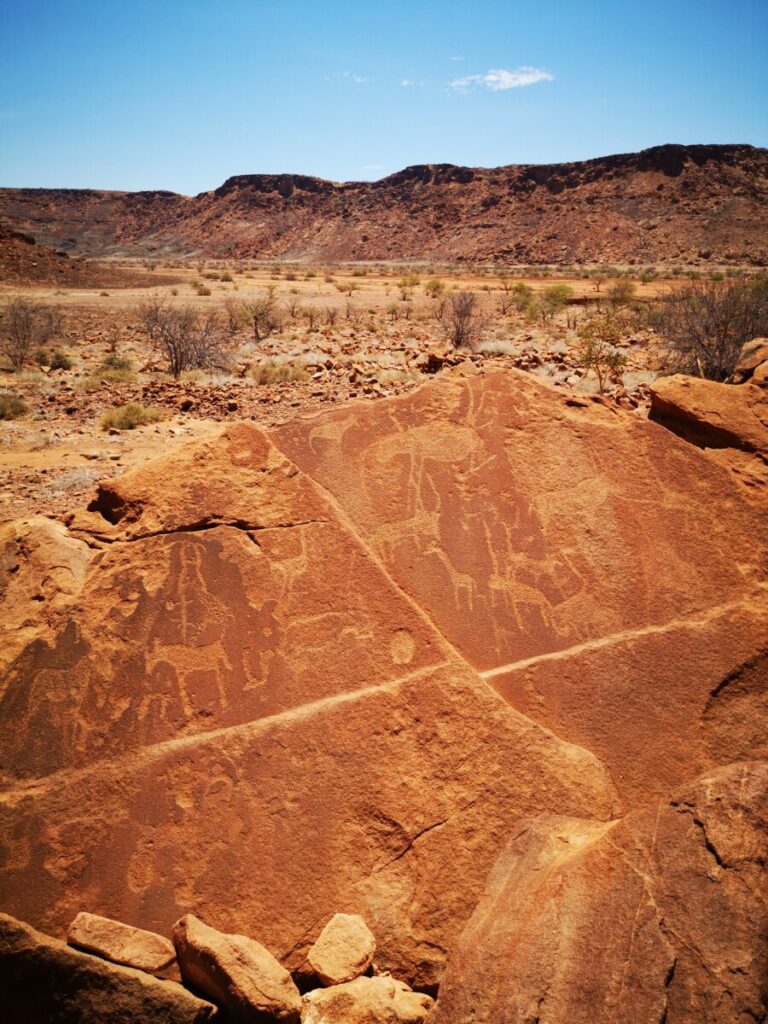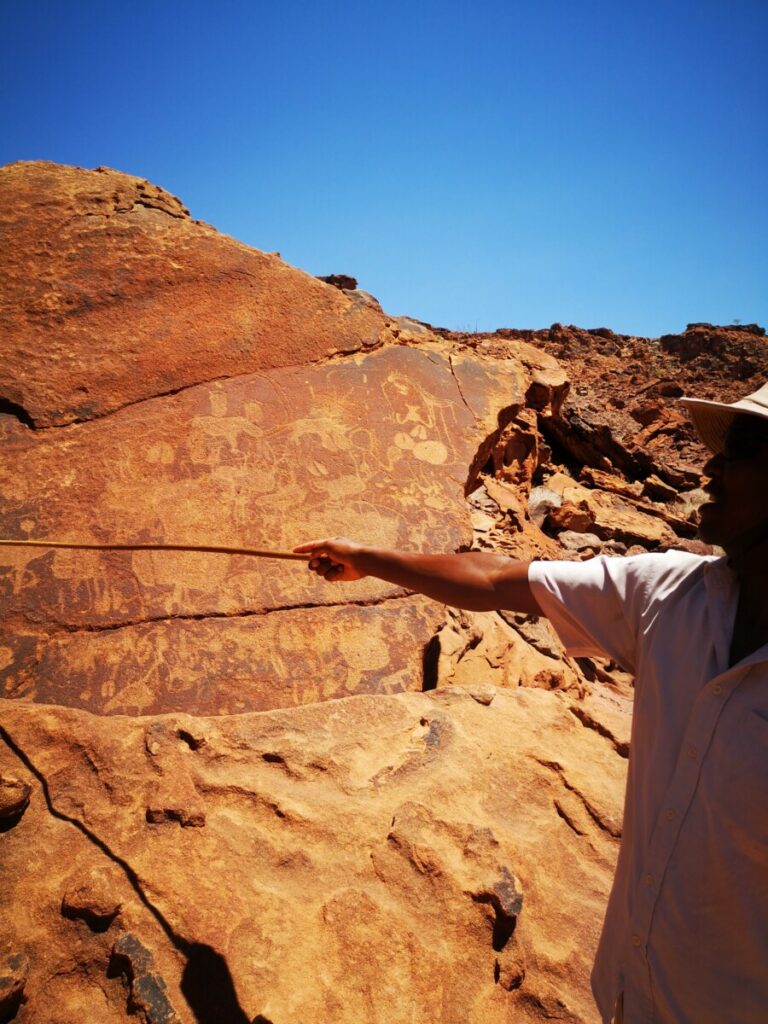 The guide tells me that the drawings were once used to explain to the young warriors / hunters how to recognise the game. So which tracks to follow for which animals. Which footprint belongs to which animal. But also where the water sources are and which ones are there all year round and which ones are there only in the rainy season.
And speaking of water sources… Do you know what twyfelfontein got its name from? A doubtful (twyfel)  fountain. This fountain did not always have water, so it was always a question of whether water came out of the fountain when you went there.
Twyfelfontein – Twyfel means Doubtful
After this visit, I drive back to Mowani Mountain Campsite where I will stay for a few nights. Once I put up my rooftop tent, I did not want to drive to Twyfelfontein but stay at the campsite. I had enough food and drink so I would take a real rest day. At Mowani, you can take a beautiful walk, I had the most beautiful campsite I could think of and I had a far-reaching view of the area. All the ingredients for a great holiday where you don't have to do anything and where everything is allowed.
I had an outdoor kitchen, a picnic table that was covered for shade and a real bathroom in the open air. Really a great place! If you go to Twyfelfontein and are looking for a campsite in the area, you really need to book this one!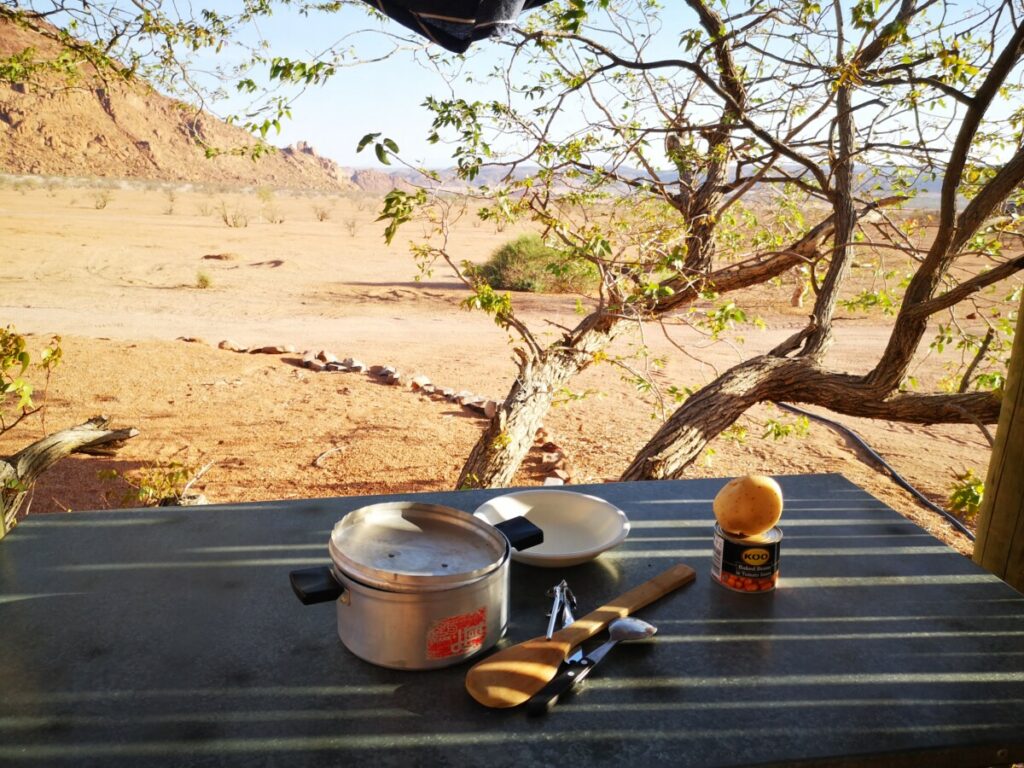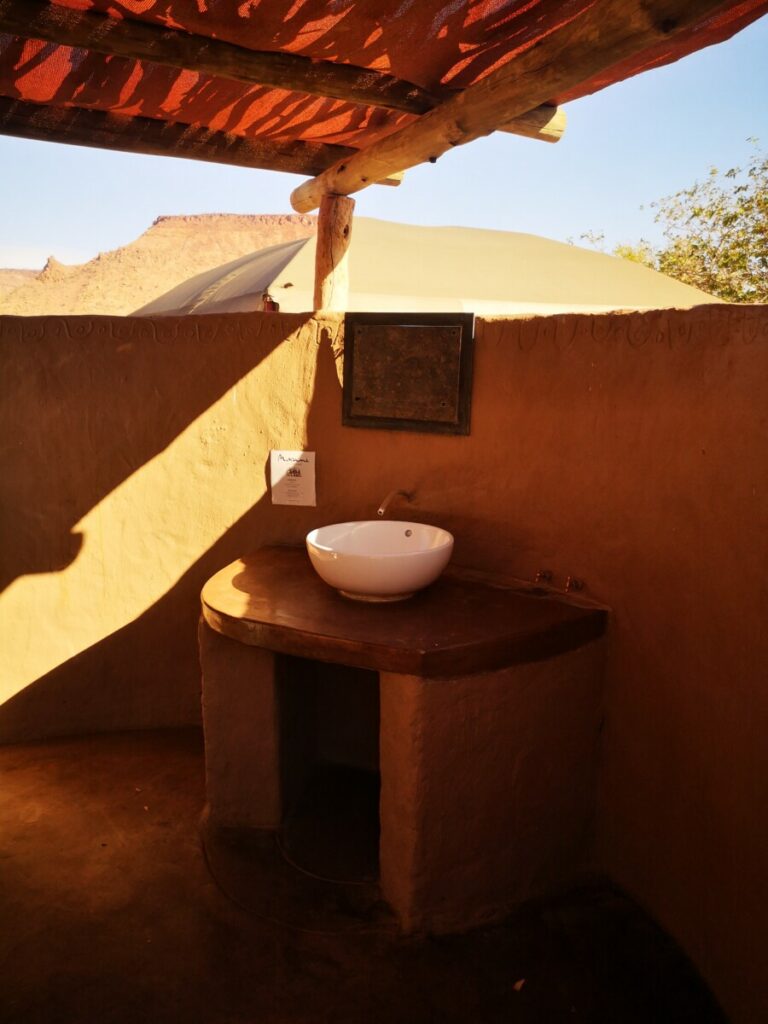 I did go to the Logde to have a nice cup of coffee and make use of their wifi. There was no connection at all on my phone at my campsite. Later I saw that they also had a nice swimming pool … who knows, you may use it if you ask nicely 🙂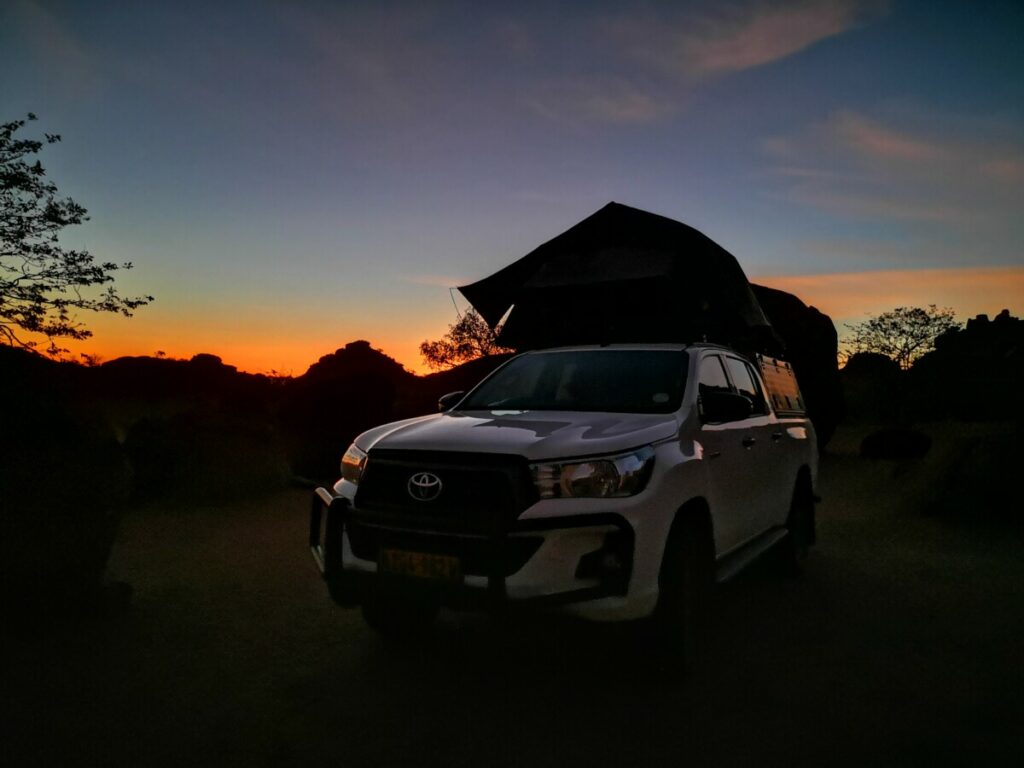 What to do at Twyfelfontein
Visit the Ancient Old Rock Carvings
Hire a guide to search for the unique desert elephant
Where stay at Twyfelfontein
Mowani Mountain Campsite
Twyfelfontein Country Lodge
Palmwag – Highlights Damaraland
During my visit to the highlights Damaraland I also drove to Palmwag. I had already read somewhere that Jimbo the desert elephant was at home here, so I was hoping to finally meet one. When I checked in after a nice trip through yet another amazing Damaraland landscape, they told me that Jimbo had not been seen for quite some time. If I was lucky he would return, but they could not predict that.  That afternoon I relaxed at their swimming pool, they have two and I chose the one closest to the campsite. That evening, I ate my home-cooked meal with a view of the dry riverbed that ran in front of the campsite.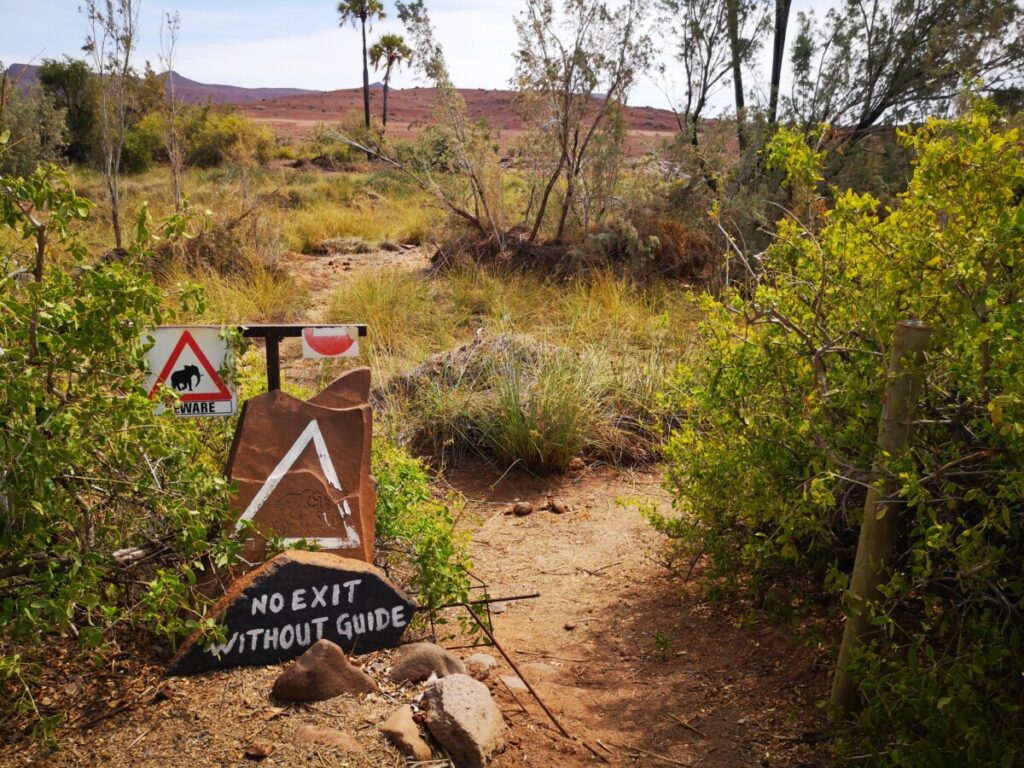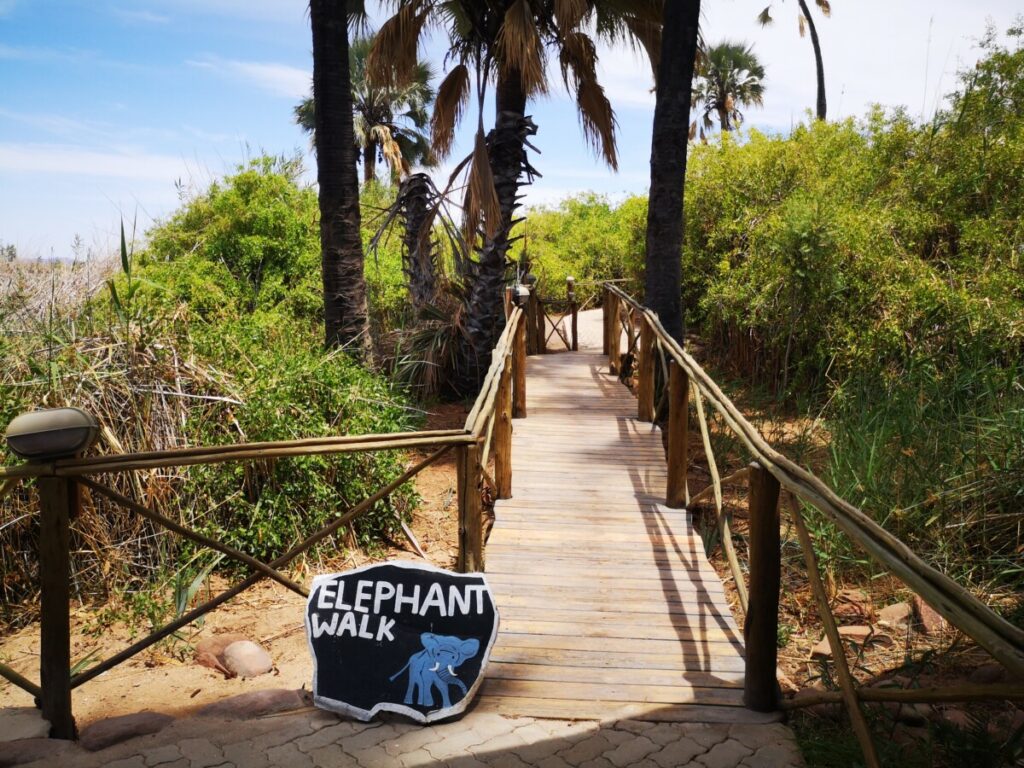 Again, I found this a lovely place. This was one of the first times that I was surrounded by quite a few tourists, so I talked to some fellow travellers during breakfast and at the swimming pool. It is always nice to exchange experiences and to receive tips and tricks for the rooftop tent and for camping in Namibia.
Sometimes is a bit of luxury is nice!
At this campsite, the shower block and toilets were very clean. There was even shampoo and body lotion for us to use. That afternoon, I had taken a nice walk around the camp and past all the cottages, but I was also glad that I had booked a guided walk for the next morning to go and walk in the surrounding area.
Early in the morning, I was welcomed by Hendrik, a small, sturdy Namibian with a contagious smile. He introduced himself as the guide, but also told me that he was the chef. He wanted something different and was now also learning to be a guide on the walks. How nice is that? He had brought us something to drink and in his rucksack he also had a book with all the animals we might meet. We started walking towards the exit over the river behind the campsite. I asked him about Jimbo… No, he hadn't seen Jimbo yet either, but the other staff had said that he had been seen that morning.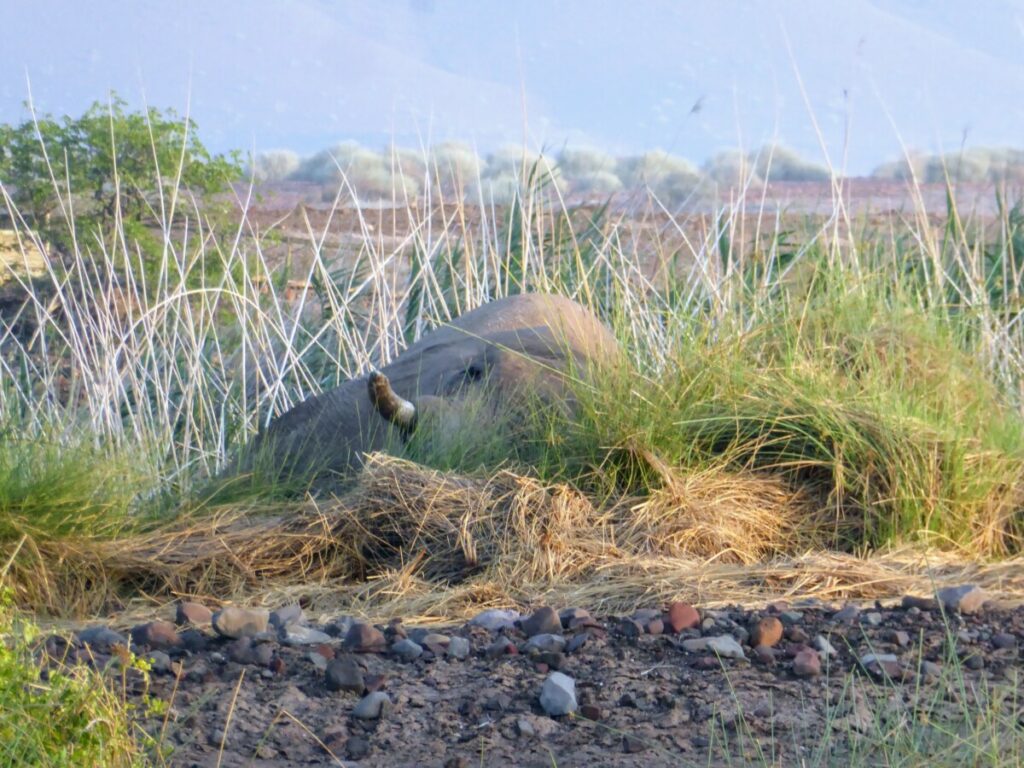 When I looked aside, I saw a tusk sticking out of the grass…  I could hardly believe it and tapped Hendrik on his shoulder and pointed to the spot where I saw the tusk… Doubtingly I saw Hendrik look at me, would Jimbo still be alive? We walked a little further so that we had a better view of the tusk. This is strange, isn't it? Do elephants sleep lying down? Hendrik did not know either so we went back to the staff. Smiling, they told us that Jimbo often slept like this and yes, he looked as if he was dead, but there was nothing wrong with him. When we came back a little later, Jimbo was already standing and had gone for a walk.
I certainly would not have liked to witness the fact that Jimbo, the famous Jimbo of Palmwag, had died.
Jimbo the Desert elephant of Palmwag is still there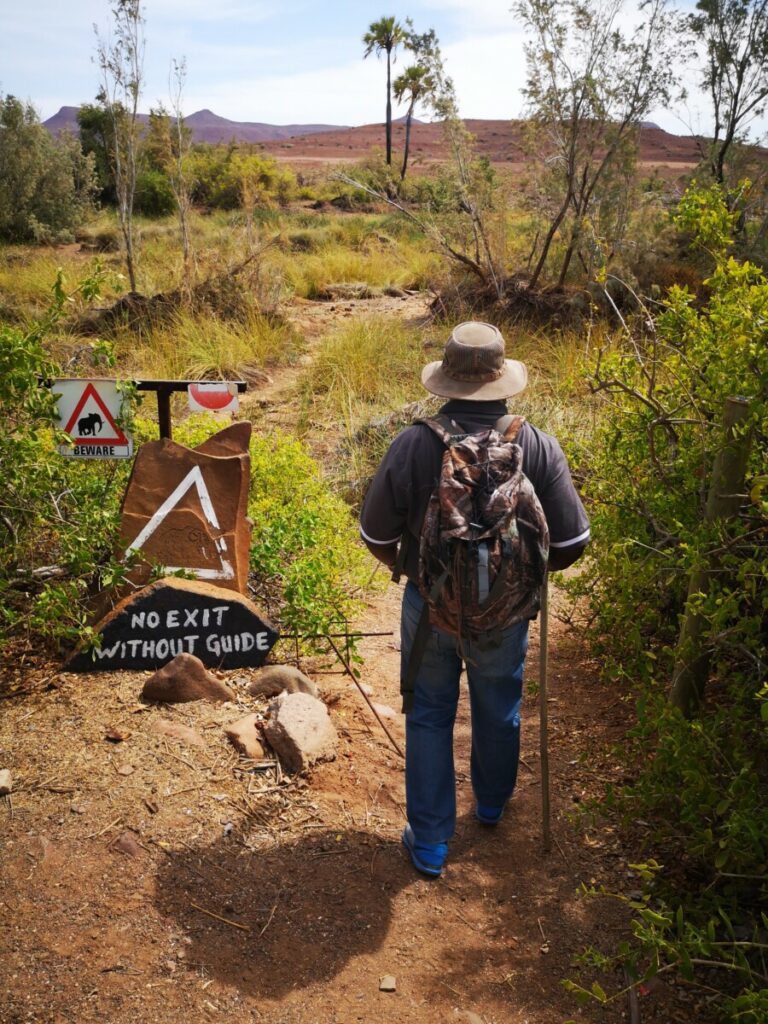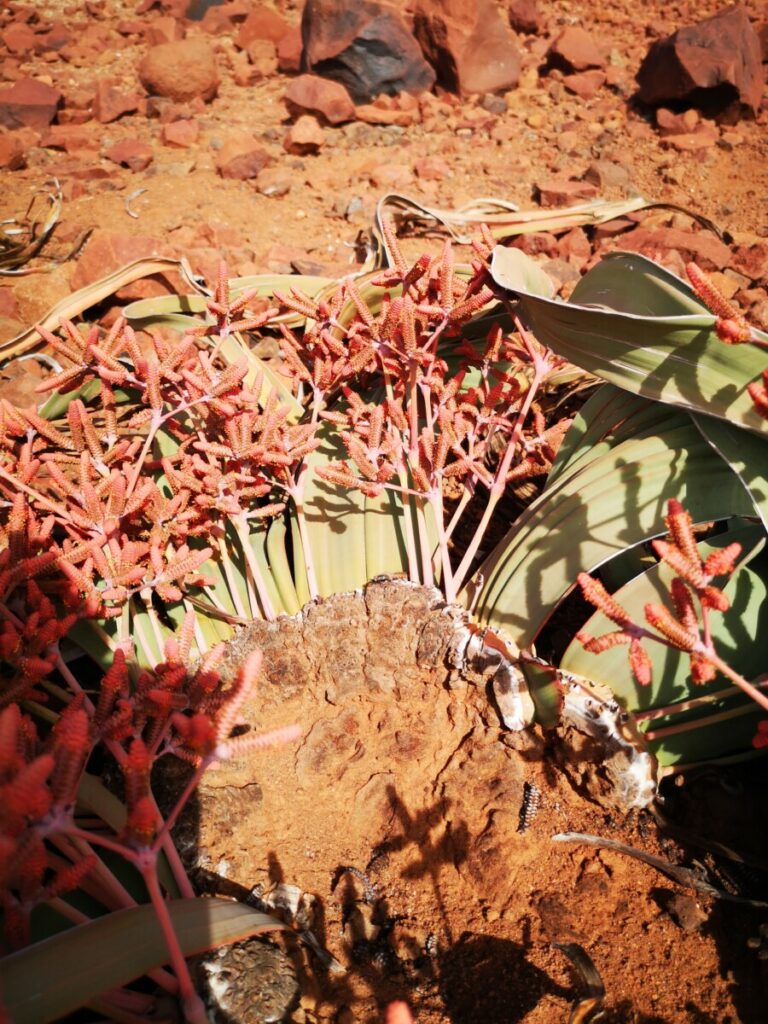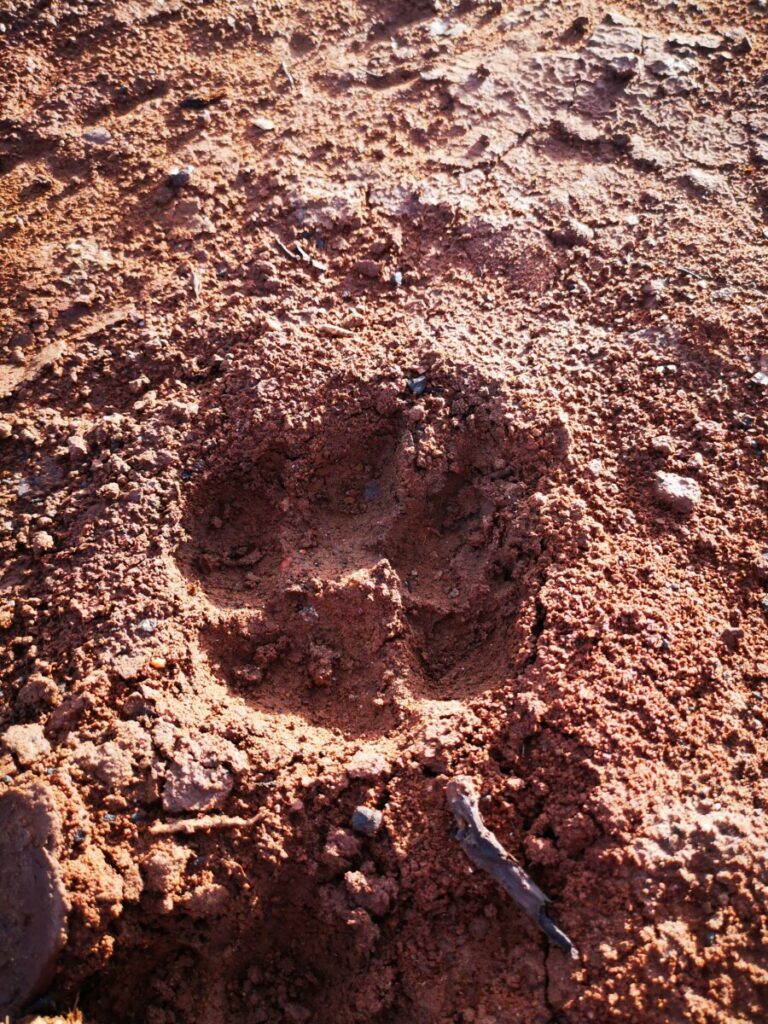 We went through the dry riverbed, a good distance from Jimbo, into the nature reserve behind Palmwag Campsite Gondwana Collection. We walked up a hill to admire the well-known Welwitschia. Hendrik told me that this plant could become a hundred years old. The plant is easy to recognise by its shape, because it only consists of two leaves. These leaves tear in the course of the years, so it looks like several long leaves on either side of the plant. The male and female form is also easily distinguished by the flowers.
We saw an oryx in the distance and when we went to the riverbed we saw some birds. Apart from that, there is not much life at first sight…but appearances are deceptive of course. There is plenty of life that passes before our eyes. When we came back, Jimbo was still there, he even walked across the campsite now.
The sleeper in the camper in the photo didn't notice …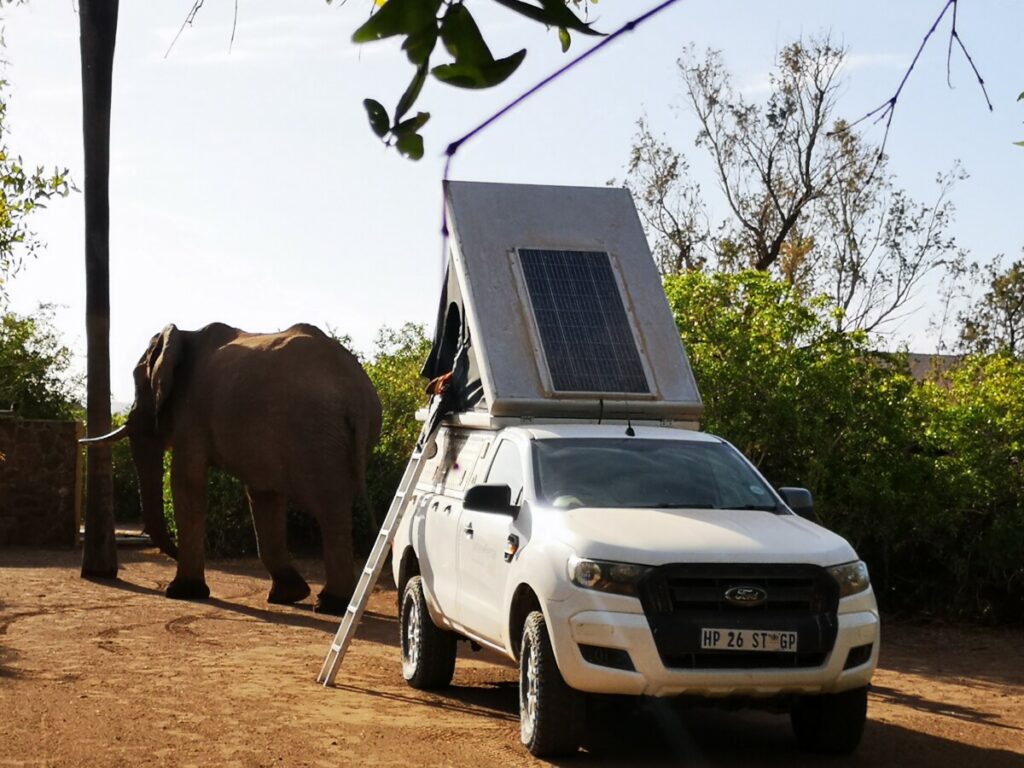 Did you know that there are still black rhinos in this area? Unfortunately, I did not see any.
A couple I spoke to at breakfast, which I enjoyed in the restaurant, had been to the Palmwag Concession the day before. They had driven around for a long time hoping to see something but unfortunately hadn't spotted anything. I was glad that I had been lying by the pool and that I had booked the walk. For that day, I had also planned a lovely relaxing day with the wildlife walking right in front of and in my campsite.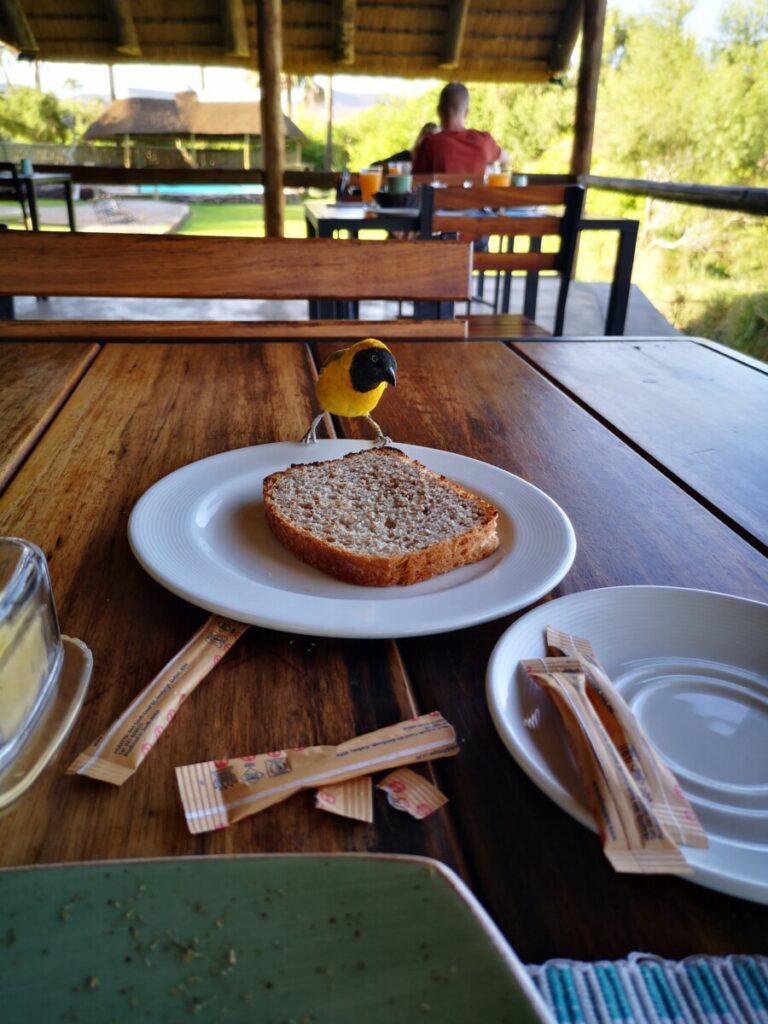 The couple I spoke to only had a short trip and had to make the necessary kilometres that day. For them, there were no rest days during the trip, because they were only 10 days in Namibia and of course they wanted to see as much as possible. Very understandable, but at moments like that, I am so happy with how much time I had in all the places because I had no less than 10 weeks.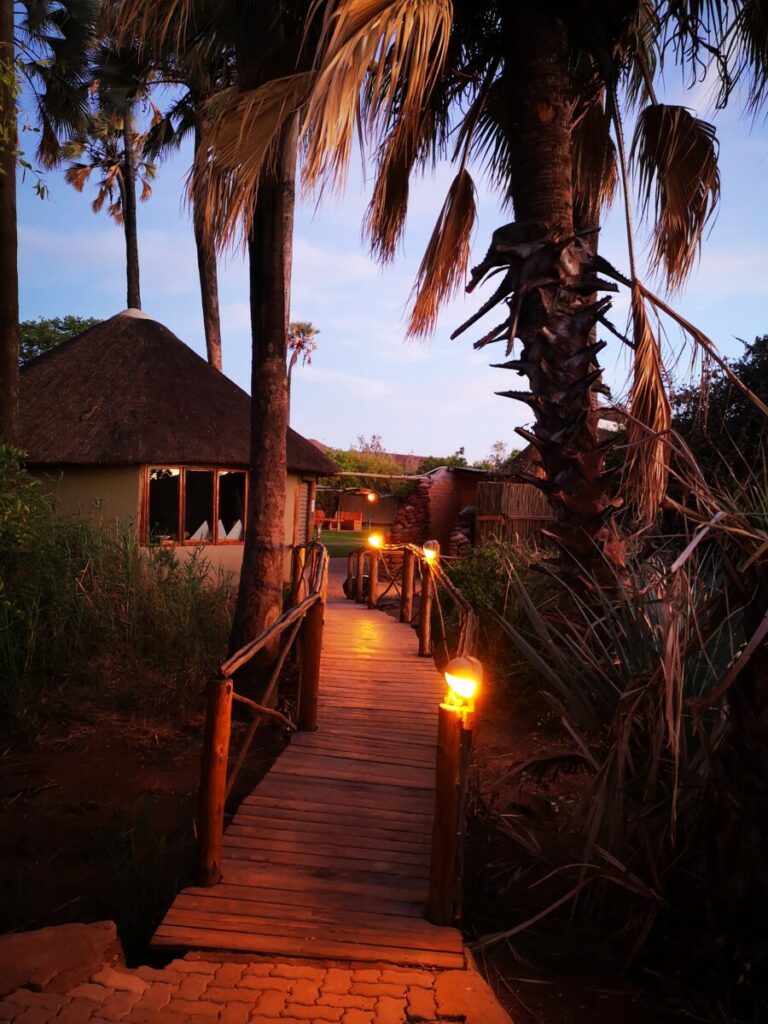 What to do at Palmwag
Do a (morning or afternoon) hike with guide
Book a rhino safari (hike or by vehicle) – very expensive
Go on a safari with guide in Palmwag Concession
Where stay in Palmwag
Palmwag Campsite Gondwana Collection
Did you know that Palmwag used to be a place where the catch was gathered and at the end of the day the proceeds were distributed. The people who were waiting to receive their share were waiting under the palm trees…hence the name Palm Wag (wait).
You can rent a room/ house or ofcourse camp with your own rooftop.
After these places I drove on to Opuwo to visit the Himbas. Later, after a few weeks and having driven many hundreds of kilometres, I returned to Damaraland. I spent one night in Damara Mopana Lodge Gondwana Collection.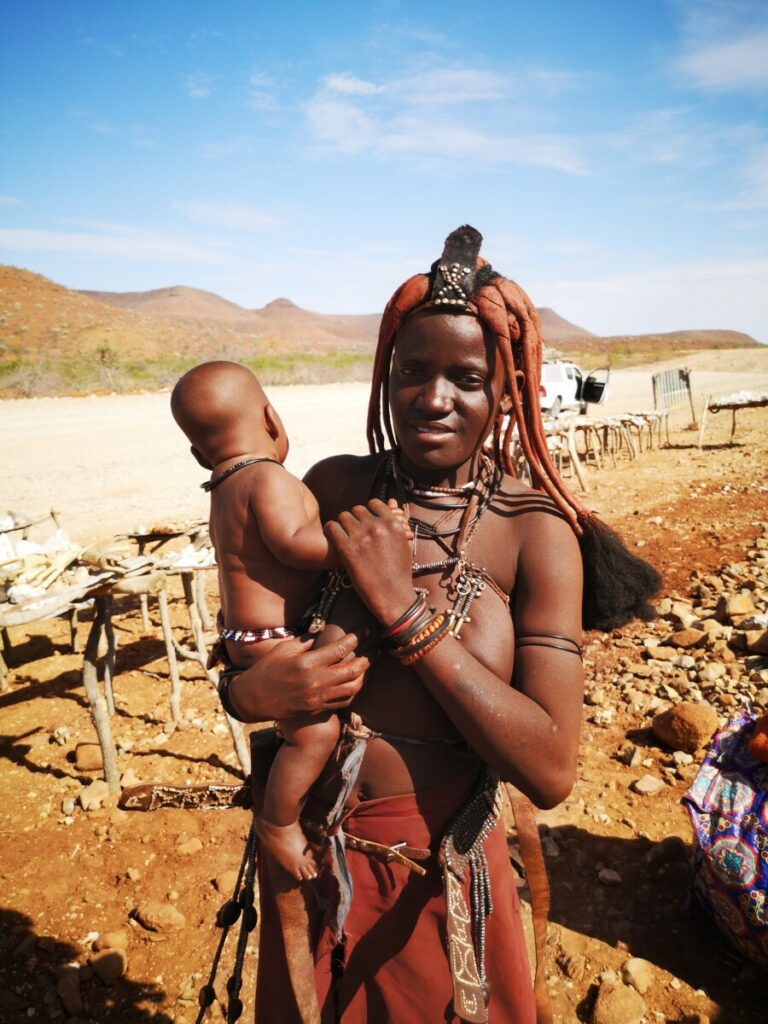 Highlights Damaraland – Namibia
Vingerklip – Highlights Damaraland
I was on my way from Mount Etjo to Ugab Terrace Logde. It turned out that I was going to camp there while I had in mind staying in a hotel room. I really didn't feel like camping after not having a hotel room for a long time. This room was very expensive so I decided to drive on to Damara Mopana Lodge Gondwana Collection.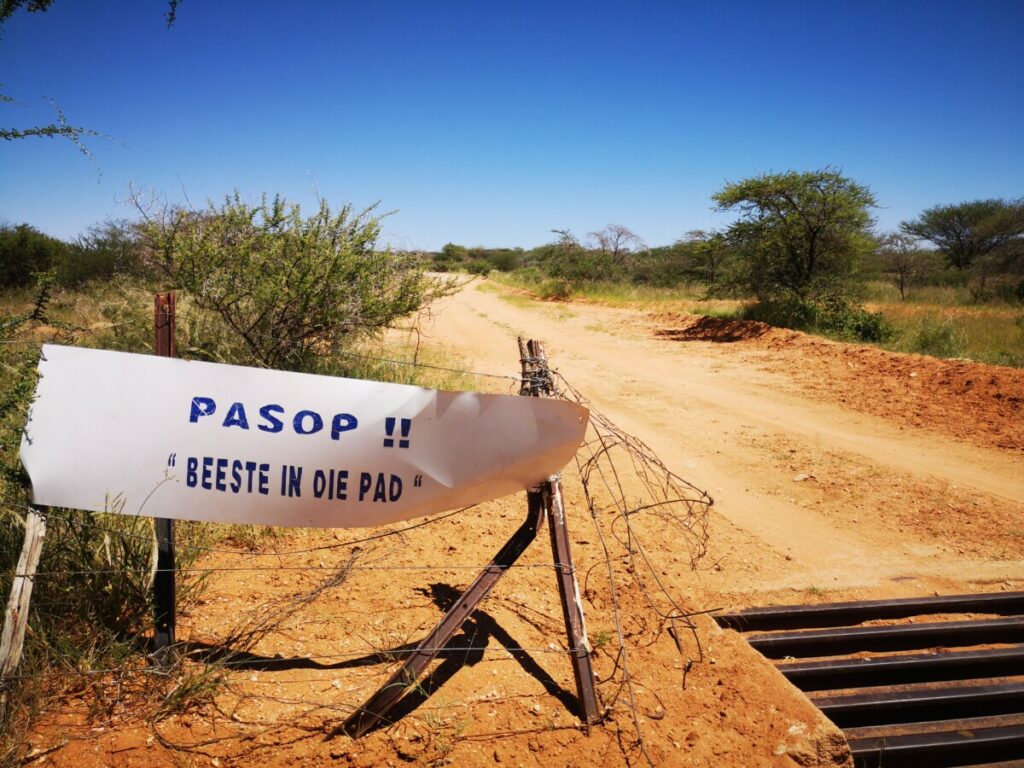 Meanwhile, I had driven past Vingerklip and admired the huge rock from the road. If you are not staying at Vingerklip Logde, you cannot get very close to it. Because I had spent a long day driving through this amazing area with super views and first went to find my hotel room, I don't really have a photo of this unique place.
Sometimes you think afterwards…why didn't I take more time there and try to capture what I did see?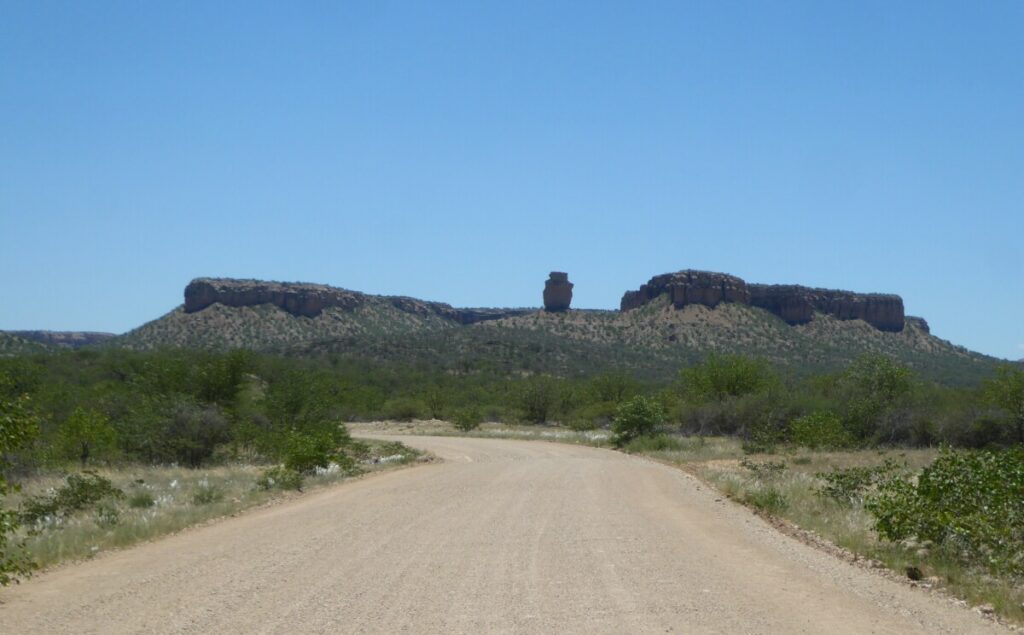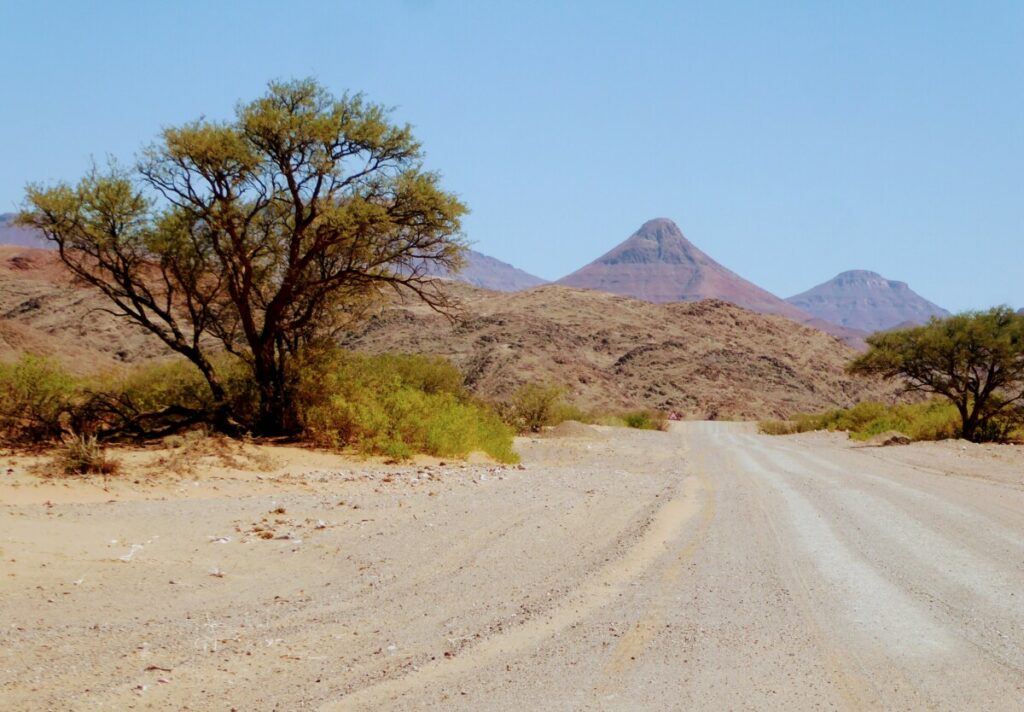 I did get out of the car earlier to photograph the American-looking landscape. I have never been to the National Parks of the USA… Even though I did travel from LA to Miami with the Greyhound bus once (I think it was 1999)… But skipped all the highlights along the way, it was a different time and a different way to travel. Let's leave it at that.
What to do Vingerklip
Where stay at Vingerklip
At Damara Mopana Logde, I walked up the mountain and had a beautiful view of the desert landscape. Of course, I also enjoyed lying by their pool with another good book. I also enjoyed their good cuisine. The food (except for lunch) in this lodge is included in the price because there is no other option in the area. A small vegetable garden was planted next to each room of this logde, so since they have about 50 houses, they can grow anything they need in the kitchen. Super good! So there are people gardening all day long.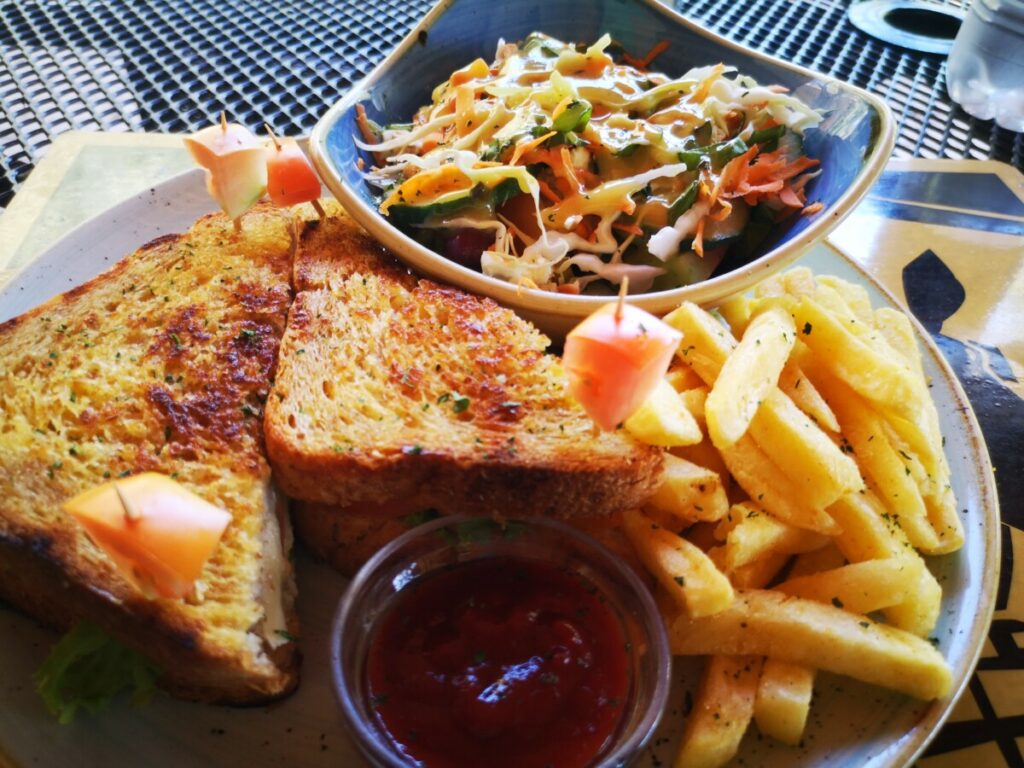 It's also nice not to have to worry about food for a while. Making your own food while camping gives a different dimension to your trip, I have learned to cook conveniently on only 1 gas burner. I had 2 at my disposal but I like one-pot dishes and that worked well. So the change to eat at logdes made it perfect!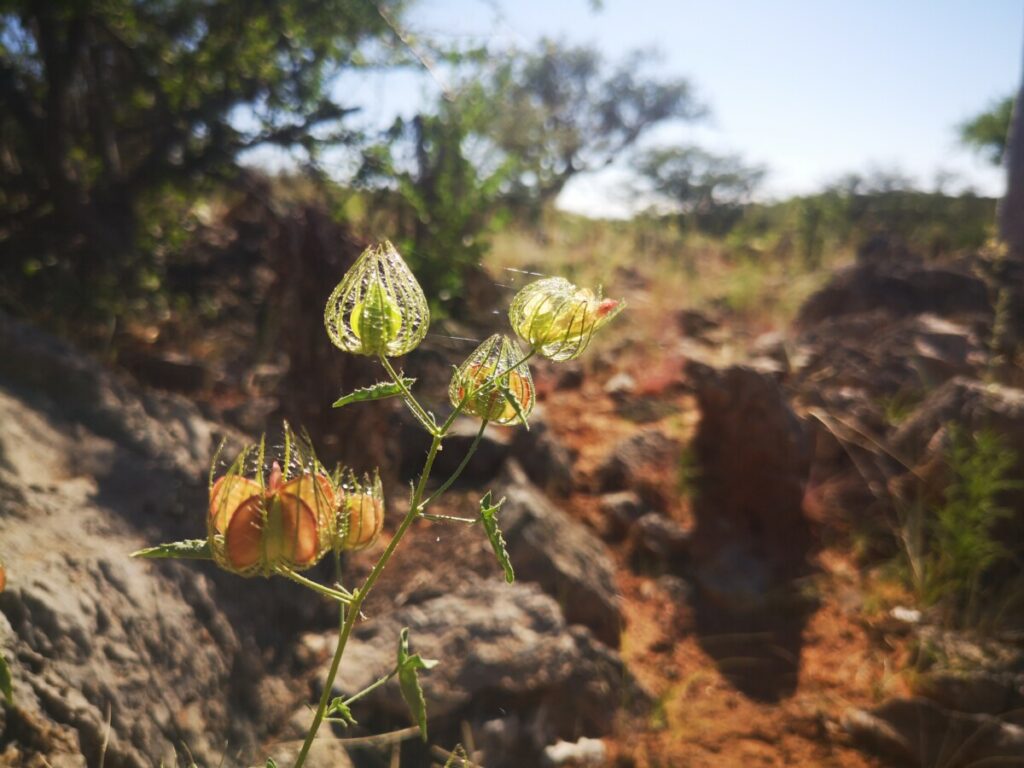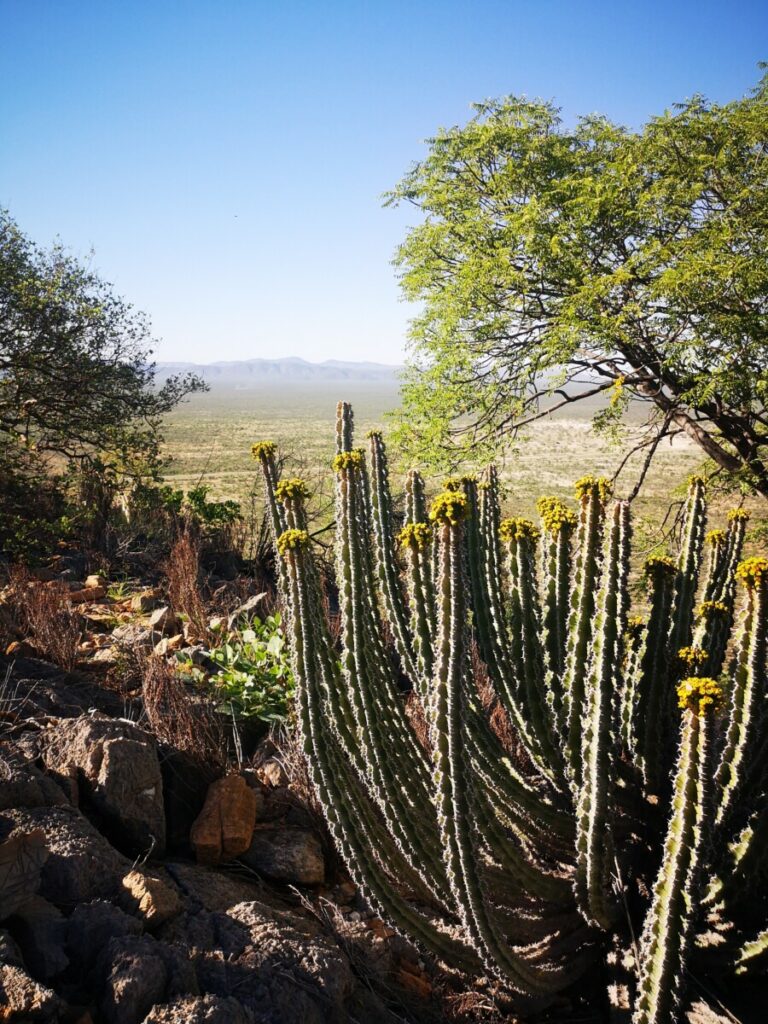 View from the mountain at the logde where the hiking trail passes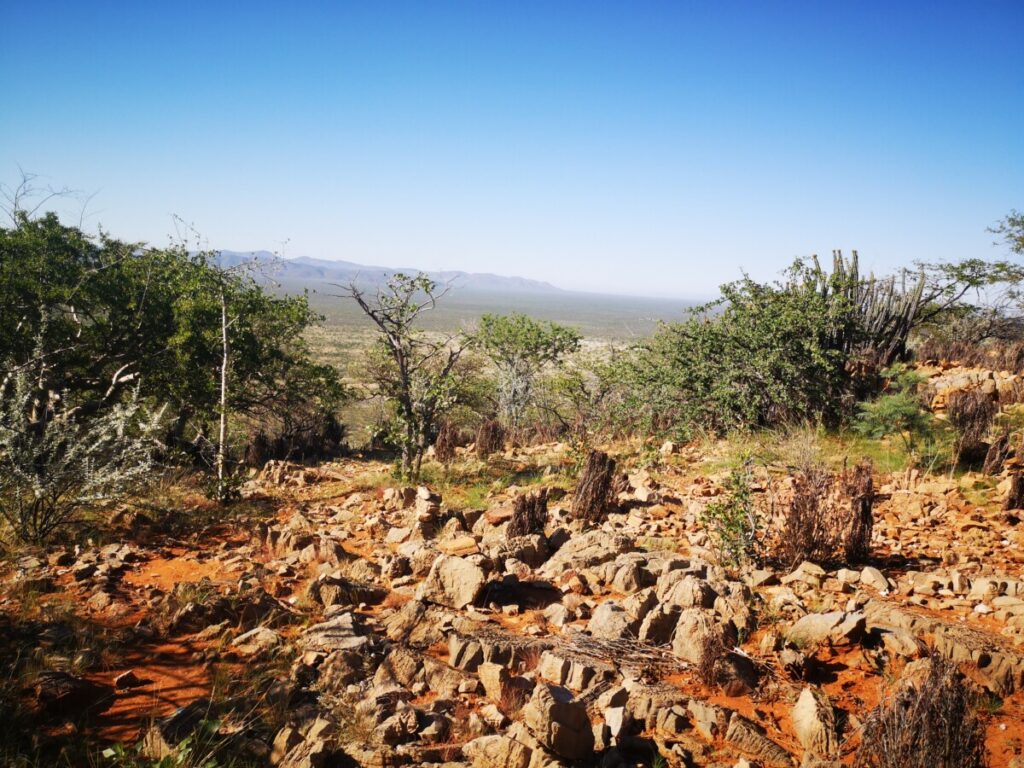 After a wonderfully relaxed stay at Damara Mopana Lodge, I drove to the Skeleton Coast.

Petrified Forest – Highlights Damaraland
On the way to the Skeleton Coast I passed the entrance to the Petrified Forest. Last time I visited Damaraland I had seen these signs too, but I had not visited it. This day I had plenty of time for that. After refuelling in Khorixas I drove further into the desolate landscape of Namibia to plan my first stop at the Petrified Forest.
Petrefied Forest – Visit Damaraland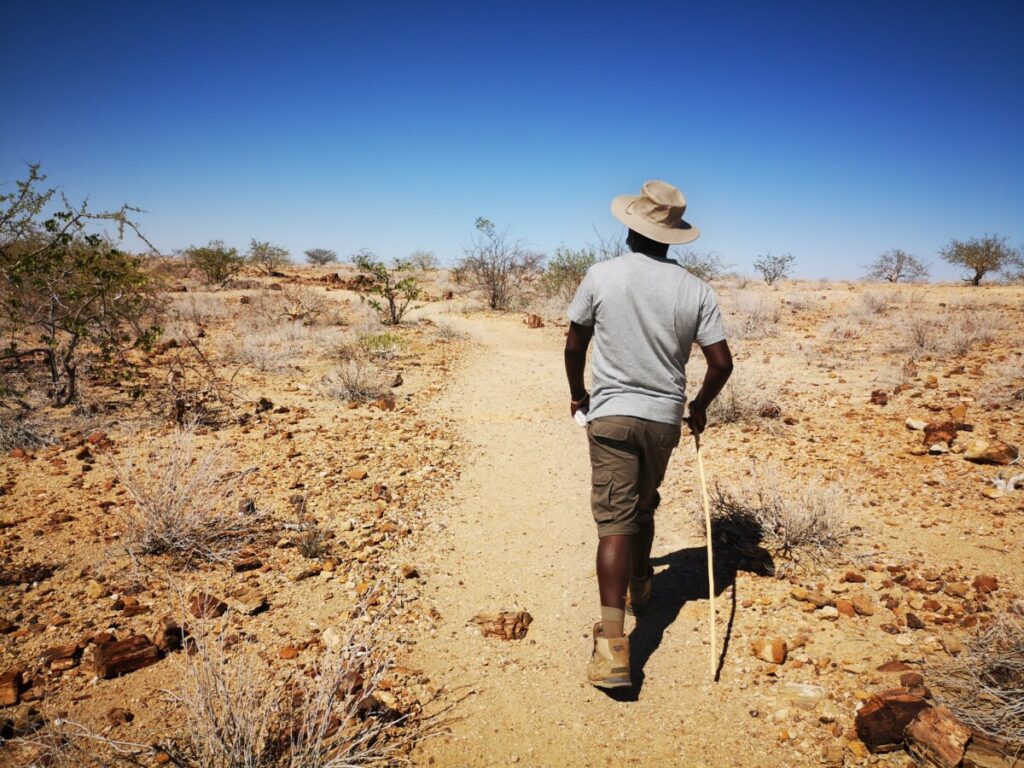 When I parked my car in one of the shaded areas, 10 guides were waiting for me. Fortunately, one of them came up to me and he would show me around after I had paid the entrance fee. It was mid-morning but already very hot. Everyone was sitting in the shade and my guide took a sun hat to protect himself from the bright sun. By now, I had quite a tan and I never wear a cap…so I followed him in my shorts and shirt. 🙂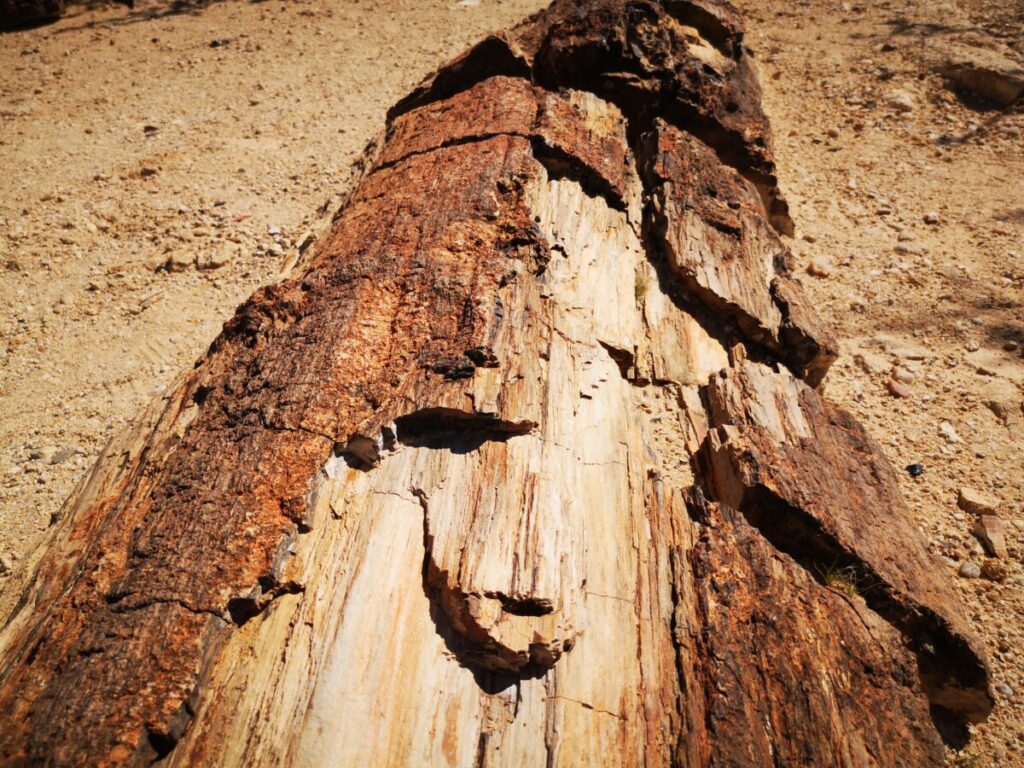 My guide started telling me about the history of this petrified forest. It is rightly one of the highlights of Damaraland. The forest was petrified because centuries ago during the ice age it ended up in the ice cap. When the ice cap moved, it landed on another continent and melted… As a result, there are trees here that are not even found in this area and which have therefore been petrified and can still be admired in all their glory.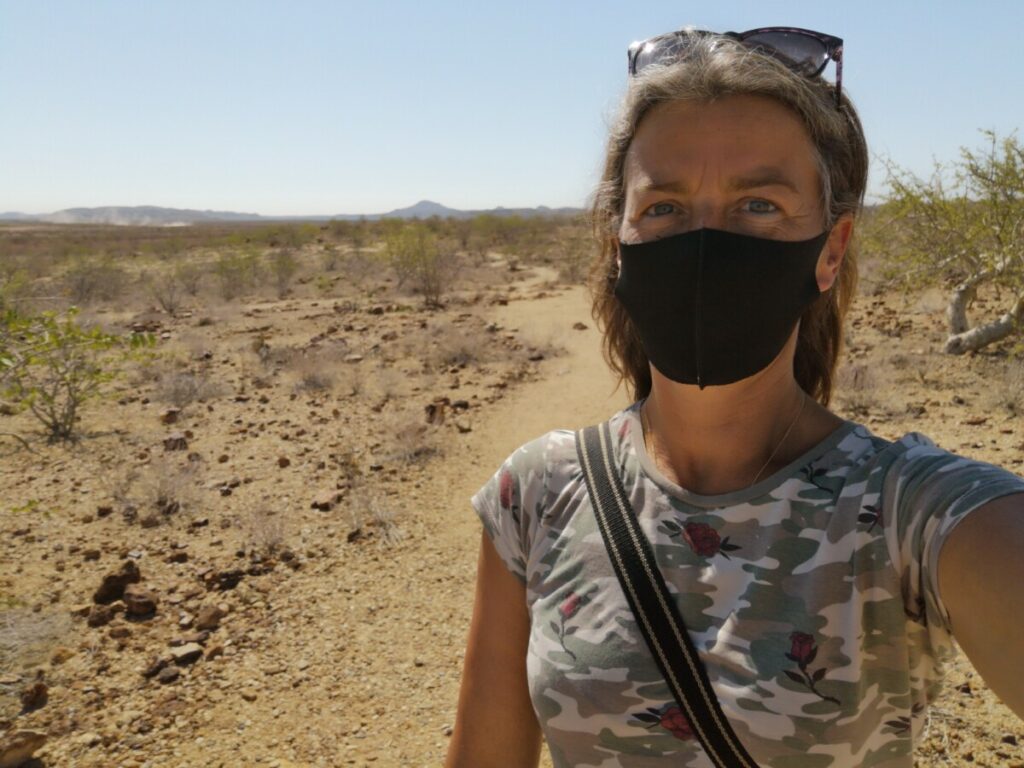 In Namibia it was a rule that whenever you are outside your own house you need to wear a mask.
Where is the Petrified Forest?
Aan de weg C39 – 44km vanaf Khorixas
Then I drove on to the next highlight Damaraland, the unique Skeleton Coast.
Skeleton Coast – Highlights Damaraland
For hours I drove through the desert, the desert that slowly became emptier and emptier. After I had paid the entrance fee at the Skeleton Coast NP the landscape became even emptier. Little or nothing grew anymore and yet I was warned that I could not leave my car because there might be lions walking around. It seemed so strange to me but yes, it is there for a reason and so I did not leave my car.
I hadn't seen many jackals yet but I saw a few in the distance. They obviously hunt the small game here…and in their place they are food for the lions? Later I heard that the fur seals are also food for the lions. The colour of the land slowly changed from the beautiful red-brown to grey/yellow/white. It became cooler and the wind started blowing more. I really came to drive in a different area. At one point, I came to a junction, straight on I would drive straight into the sea but there was no way to get there. I turned left towards Cape Cross and on my right I saw Torra Bay and Terrace Bay indicated. I was on my way to Terrace Bay where I would stay the night.
Lions at de Skeleton Coast – Hoogtepunten Damaraland
I had to drive quite a distance before I got there. The landscape did not change much and I kept my eyes open for the lions. It was windy, cold and everything looked grey. A world of difference from this morning, when I had been very warm. The sky was full of fog and sometimes the sun came through, but for the rest the world looked desolate.
This coast, the Skeleton Coast, is not called the greatest burial ground for ships for nothing. In the past, people simply could not see where the sea ended and the beach began because of this heavy sea fog. Usually after the beach you have trees or other greenery but here the beach….the desert runs at least 40 km inland. So there is nothing to tell you that you are heading towards the coast if you just navigate the old-fashioned way.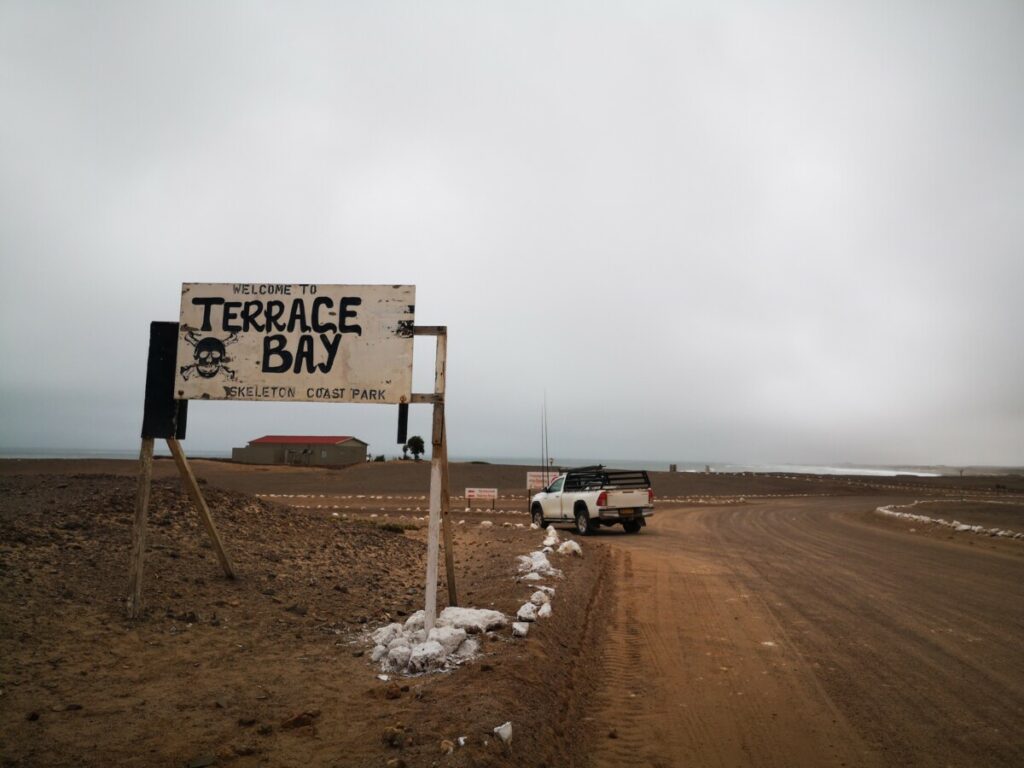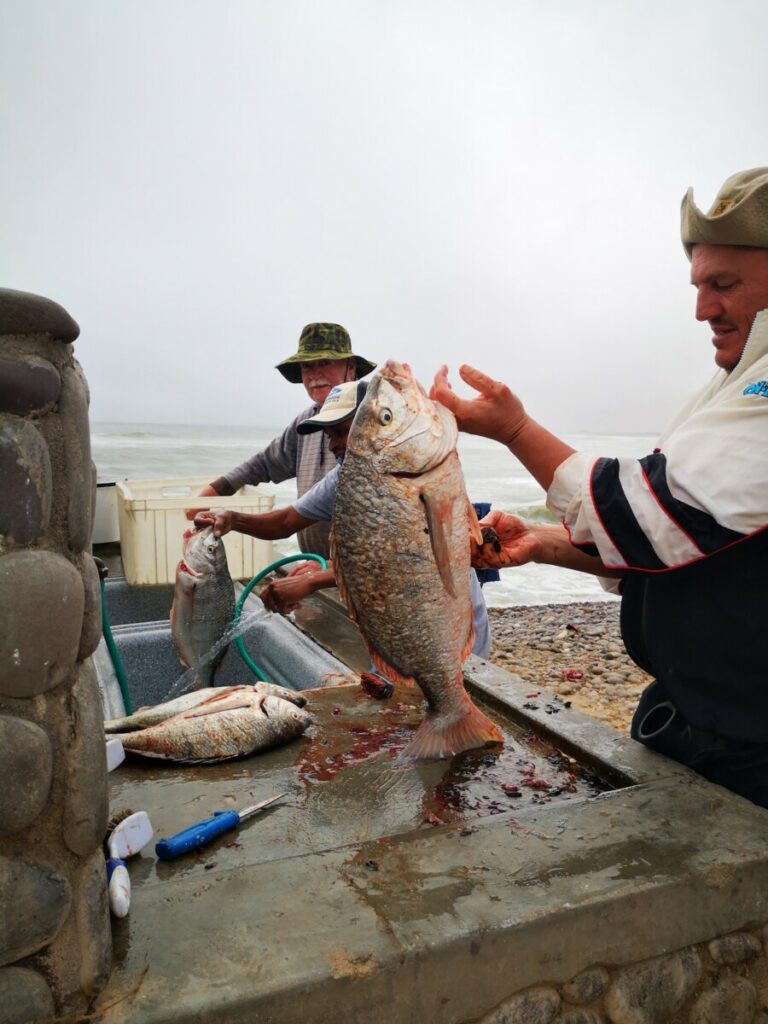 At Terrace Bay, I met fishermen, and along the entire coast I encountered nothing but a few fishing men. I had some nice conversations with them and found it instructive. The group sitting next to me in Terrace Bay were from South Africa, they came here every year to fish. I met them when they were cleaning their catch. They pointed out to me that I might see a footprint of a lion, if I was lucky maybe a lion as well…or would I be unlucky? You are really alone here, nobody can help you, you can't call for help…
So when I did see the lion's footprint later that day, I made sure I parked my car close to it so I wouldn't be far from my car.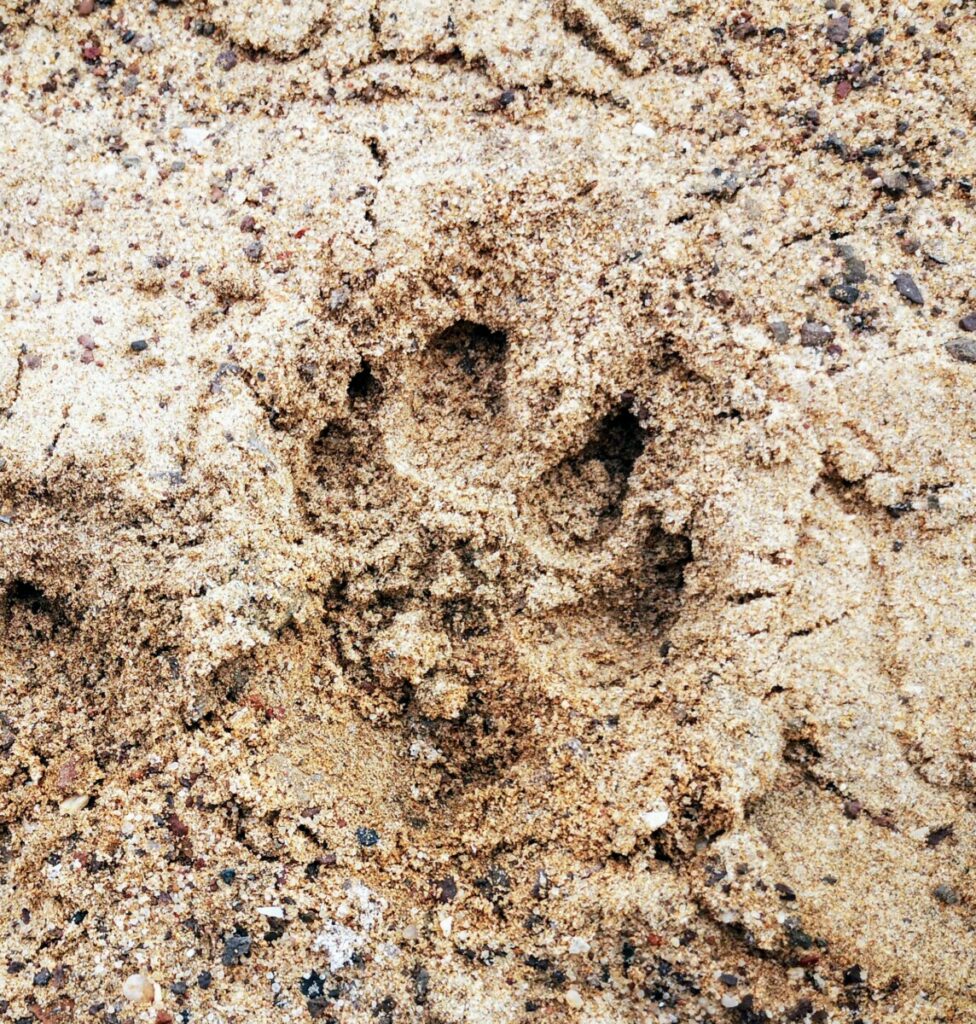 You never know, do you? There is nothing behind which such a huge animal can hide on the plains of a desert but I like to be on the safe side.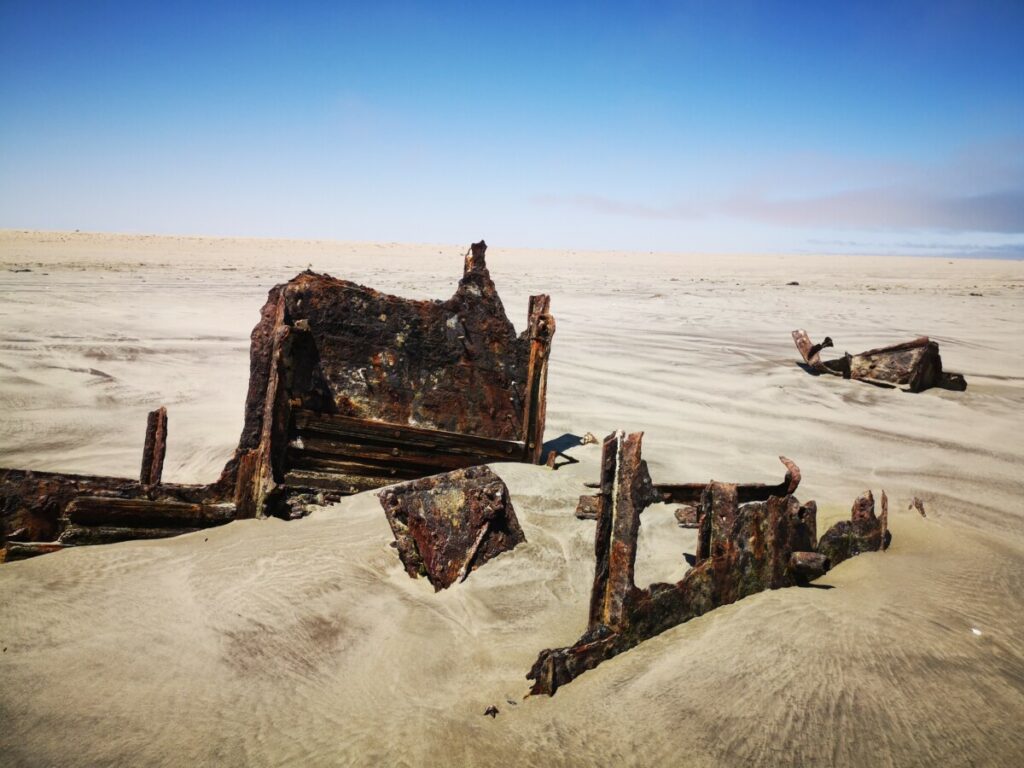 Highlights Daramaland – A Unique area in Namibia
Where to stay at the Skeleton Coast
Torra Bay
Shipwreck Lodge
You have to book a hotel in advance because you have to pay to enter Skeleton Coast NP. You have to indicate where you are going, how many nights you are staying and where you are leaving the NP. All this will be on your permit and can be checked when you leave the NP.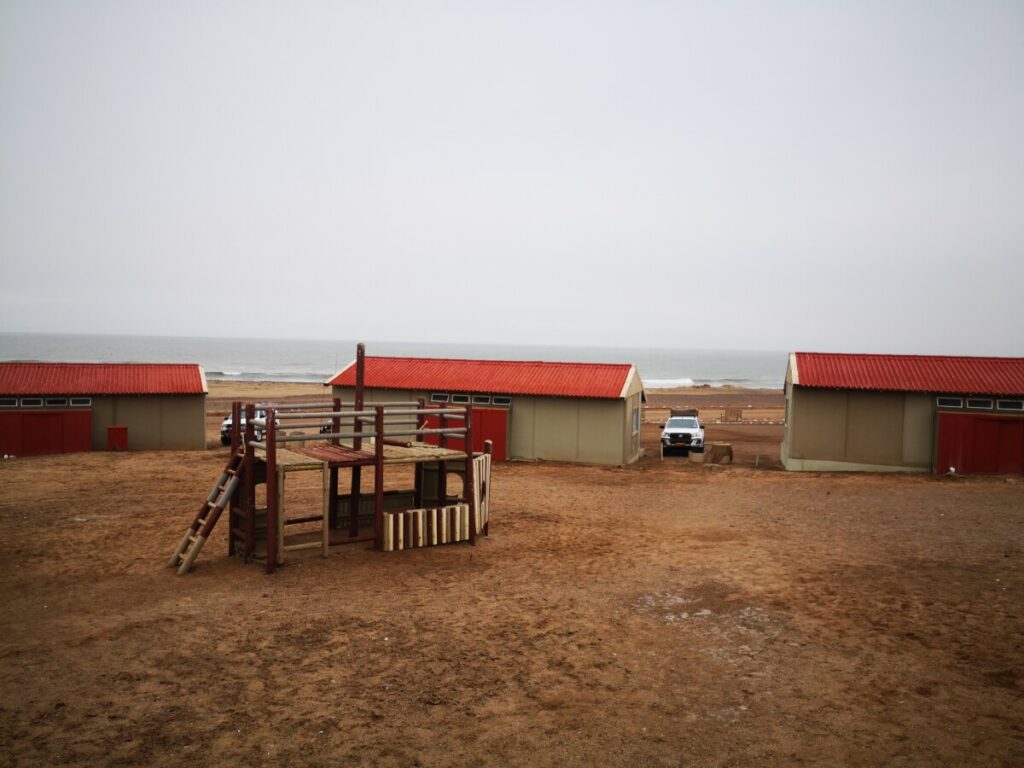 I left the Skeleton Coast to go to Cape Cross. There I stayed one night at the campsite before continuing to Swakopmund. I also visited this town for the second time in my 10-week journey through Namibia.
If you are travelling in Namibia, you should definitely not miss this unique area. I can understand why you don't spend a night there if you don't travel as long as I do… But you really have to experience this enormous emptiness. The fact that the desert disappears into the sea is unique!
Have you been to Namibia? Then you must have visited some of these highlights Damaraland. What did you find the most beautiful spot? Or where did you see the most beautiful sundowner? (As they so beautifully call it in Africa!)
Did you like these tips?
Will you share or save this post?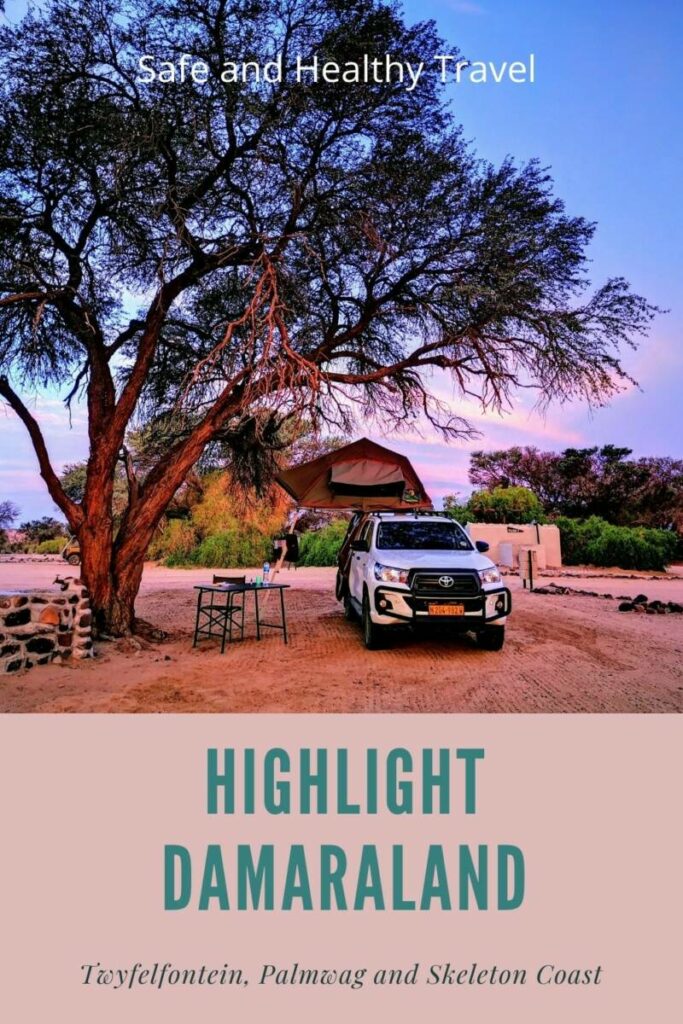 Want to read more about Namibia?
What to do at Waterberg Plateau National Park
Visit the Unique Quiver Tree Forest – Keetmanshoop
10 Interesting Facts of Namibia
Packinglist Camping Namibia by 4WD
But also check out this post!
Nightly Adventures – Why you shouldn't be in the streets when it is dark!
I hope you enjoy this world as much as I do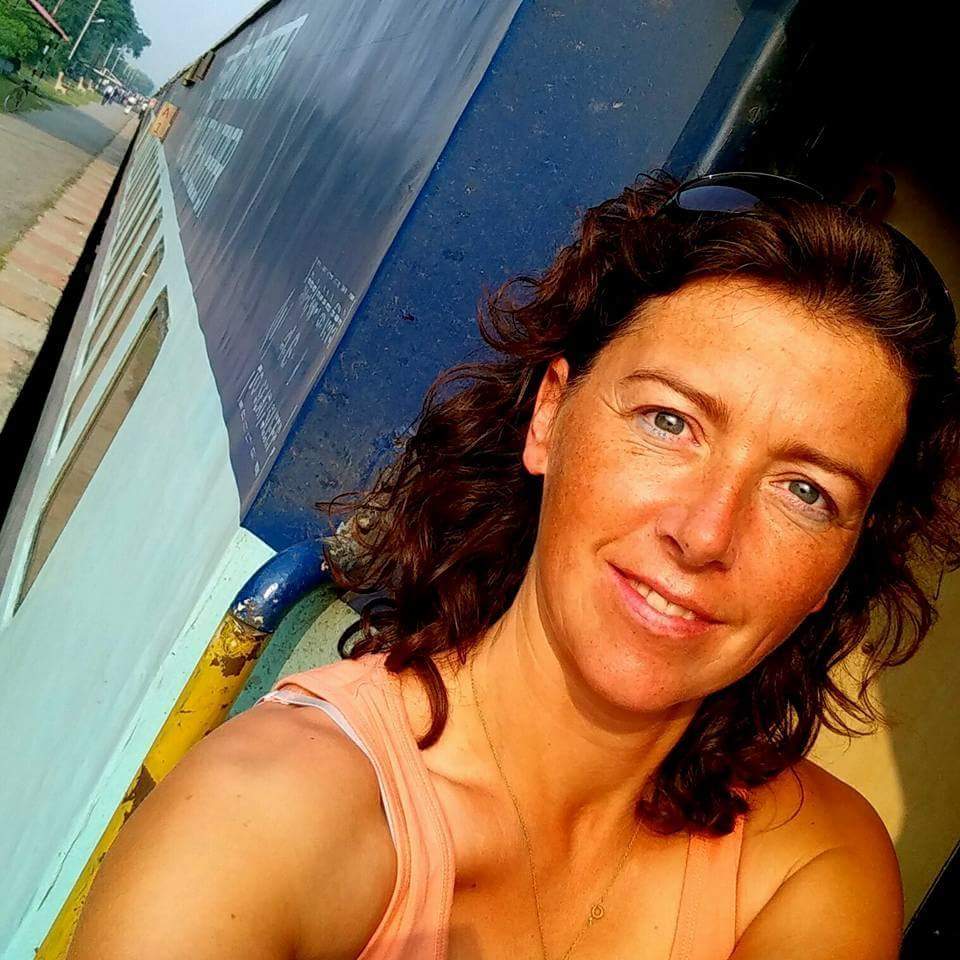 Jacomijn is een politieagent uit Nederland die jou graag laat zien hoe je veilig, actief en gezond de wereld kan over reizen. Safe and Healthy travel is a MUST