10 Interesting Facts about Namibia – Need to Know for your Roadtrip Namibia
|
If you are going to do a roadtrip in Namibia you should definitely have read these 10 interesting facts about Namibia. I decided to go to Namibia without any preparation and afterwards there were some facts I should have known. If it was only because it is common knowledge … Or because it's just handy to know if you're going to do a roadtrip in Namibia. Therefore I share these 10 interesting facts about Namibia with you as preparation for your tour of this amazing versatile country in Southern Africa.
Need to Know for your Roadtrip to Namibia!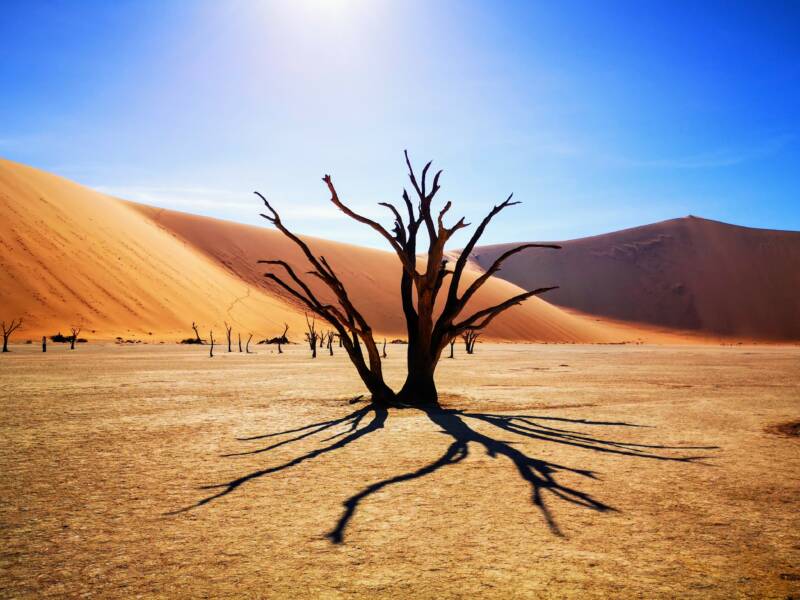 Official language of Namibia
The official language is English, but I can tell you that you hear a lot of German, very often Afrikaans but also the 30 different click languages spoken by the indigenous people. But with English you can manage very well in Namibia and that is very nice!
Population of Namibia
Namibia is home to about 2.5 million inhabitants. There are of course the local tribes which are divided into 13 tribes such as the Damara, Herero, Cavango, Ovambo, Nama, Khoisan, Himba and so on. Then there are the Germans or Europeans. These communities live side by side and because the Germans have such a large community you will hear German in many places. Also on the radio you notice this diversity of language also because National FM is English speaking…in addition you have stations that are in the click language and stations in German or Afrikaans. The same applies to schools…. I even understood that German speaking schools are funded from Germany that are here in Windhoek.
Like everywhere else in the world, what is going on here is that the original population is increasingly turning away from the former colonial population, i.e. the Germans. The fact is that they can't live without them, the economy would collapse, but that they would also rather not live with them. A very tricky deadlock…
About 90% of the population is Christian. Also nice to know is that over 80% of Namibia's population can read and write. That is the highest percentage of the entire continent of Africa!
The San – Bushmen belong to the Khoisan Ethnic Tribe

Money / Currency of Namibië
The official currency is the Namibian Dollar, abbreviated NAD. It was introduced in 1990 when the country became independent. But if you want to pay with the South African Rand you can do so at the same rate. These are exchanged 1 to 1. I had some Rand in my wallet without knowing it.  Right now, March 2021, 1 euro is worth over 17 NAD.
In a blog with useful & interesting facts about Namibia, you should definitely read about money matters. With payments in Namibia with pin I had no problems. In most places you can pay with the debit card of your bank and every now and then I had to use the credit card for it. The same goes for groceries in the supermarket or a cup of coffee somewhere. I always made sure I had a few hundred NAD in my wallet but mostly I made my payments with the bank card.
Having little money with me (in my pocket) for security reasons is a must in my opinion and it worked again this trip. Make sure you always have some euros with you… I have them hidden somewhere in my bags 🙂 Often when I get home I find most of it and I can get on with that… after spending so much money on a trip.
10 interesting facts about Namibia
National Animal / Bird of Namibia
Almost every country has a national animal which is chosen as its symbol. On the coat of arms of Namibia both are visible. It also features the well-known Welwitschia plant and the words Unity – Liberty – Justice.
For Namibia the Oryx is the national animal. You also see them everywhere in the semi-desert areas and I think they look wonderful. They are stately and have big pointy horns! The beautiful oryx are a symbol of the elegance, pride and courage of Namibia.
As their national bird, they have the African Fish Eagle. The fish eagle symbolizes the country's water resources and because it is a powerful bird it symbolizes the future of Namibia.
Traffic in Namibia
If you are going to do a tour in Namibia you really need a 4 wheel drive! At least then you will get everywhere and you can go on all roads!  Because there are a lot of roads you should only enter if you have a 4 wheel drive. E.g. the last part in Sossusvlei… Otherwise you would still have to book a trip because the last piece, which it is ultimately about when you go to Sossusvlei, to be able to see.
Check this clip… My rule is…Everything will be fine!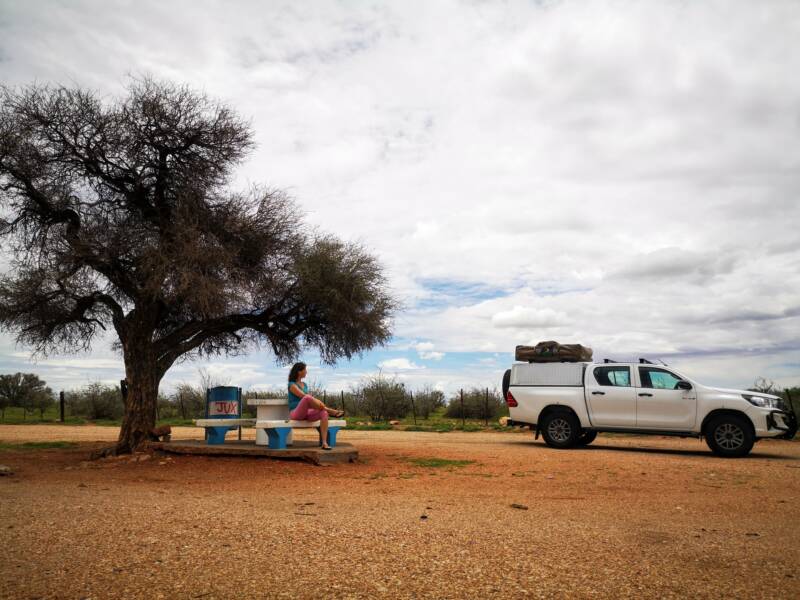 My 4WD for 72 days!!
The first thing to take into account then is that in Namibia you drive on the left and so…your steering wheel is also on the other side of the car. How many times have I been on the wrong side of the car to get in, haha. I have to say that driving on the left side of the road gets used to pretty quickly. I had a rule that I had to sit on the center line of the road. That way, after an exit, I could often estimate where I needed to go… Because here you often choose the side of the road you are used to take.
The infrastructure in Namibia is very good. It is easy to travel hundreds of kilometers to drive from one hotspot to another as a tourist. I haven't had any problems with that at all. Most roads, no matter how small they are, are recognized by google maps and will show you the right way.
What I like about Namibia is the intersection where everyone has a STOP sign. So everyone stops and the first one to get there may pull up and cross or turn off first. So that means everyone has to look carefully and remember the order. Sometimes it's a bit tricky and people honk because it was your turn! I love that! People get gallant about it, it seems….
Best way of Travel in Namibië is by 4wheel drive!
Tapwater in Namibia
In the cities the tap water is not drinkable for us. Also outside, I have always chosen not to use this water uncooked even though everyone on the spot said that this was possible because it was good, clear mountain water or came from a source somewhere deep. I used it to cook or to make my coffee or tea with but not to fill my liter bottle with water. I bought big 5 liter bottles of water in the supermarkets every time.
Cellphone / WiFi internet in Namibia
At the resorts and lodges you can use 300mb for free after that you have to pay. If you buy your own SIM card through MTC which is not expensive at all you can upgrade weekly for 65 NAD (less than 4 euros). You can then use in that week 3 GIG what they call SuperAweh. This is easy to upgrade via a code that you send to *132*longcode#. If you then text SuperAweh to 13400 you are a week long assured of internet in almost all places!
I have to be honest, sometimes I felt like an internet junkie when I entered the code back into my phone and I received the message that I had SuperAweh again 🙂 and the messages poured in from the various social media channels again….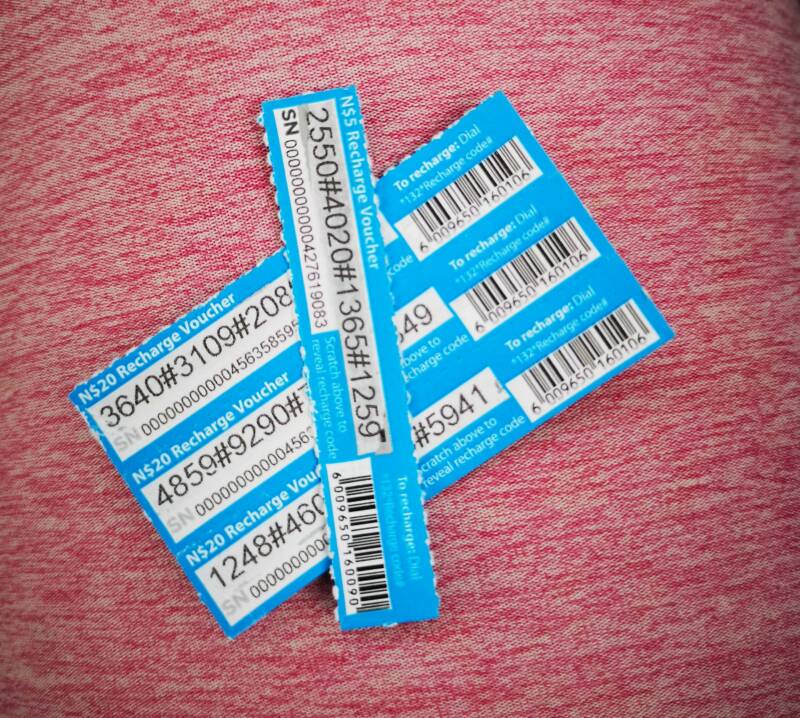 National Parcs of Namibia
There are many parks in Namibia some of which you should definitely visit. There are 20 official national parks of the state, this is 17% of the country area I read on the site of Namibia. I drove through the Namib – Naukluft Park and loved the views and the oryx walking there…. I also drove through the Skeleton Coast Park which borders the Namib. Of course you can't miss the wildlife in Etosha NP and you should definitely spend a few days there! And what about the green Caprivi Area where Bwabwata NP shows you lots of wildlife!
It has surprised me how much nature falls under nature parks and what is therefore protected in Namibia. This has the advantage that much is protected and thus preserved…. as a disadvantage for the local tribes that they are no longer allowed to hunt for their survival. So the culture, lifestyle, as the San have done for hundreds of years has become impossible.
And what about Waterberg Plateau Park? I did a hike there on the plateau and loved the views of the Kalahari!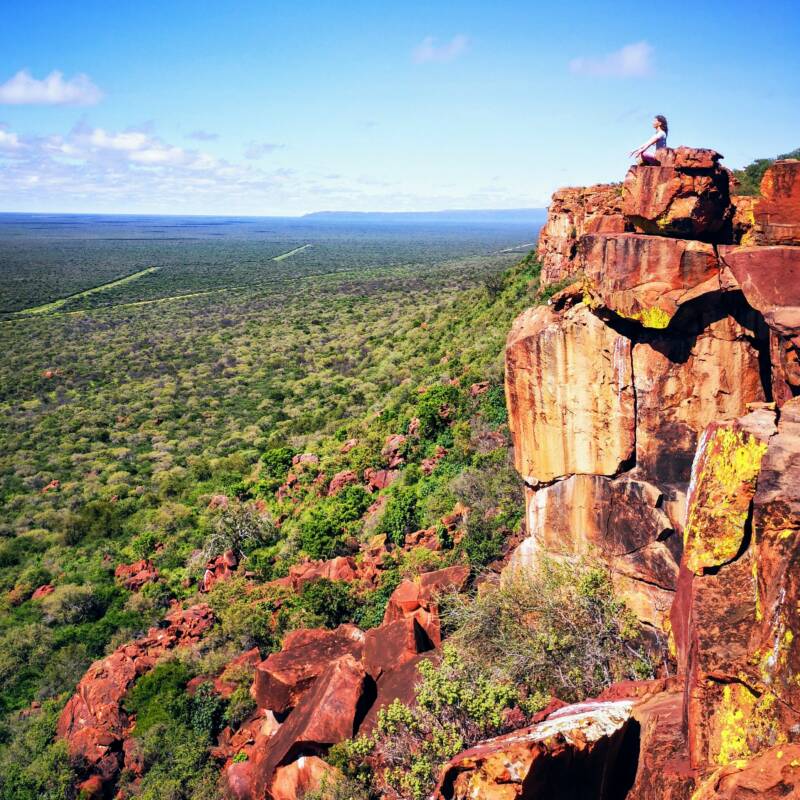 Of course you will go on multiple safaris during your tour of Namibia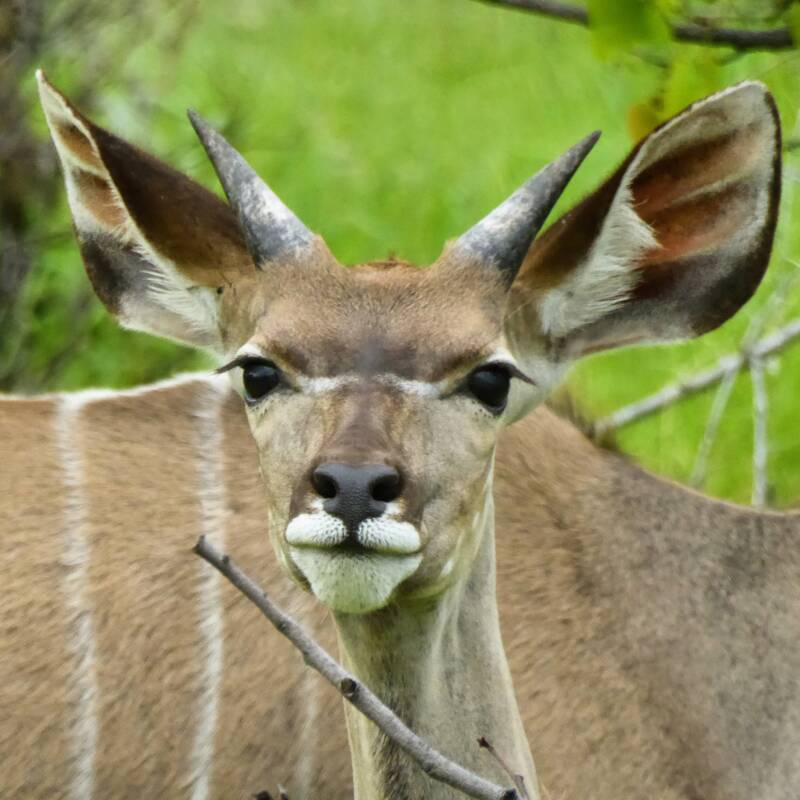 Food in Namibia
I have to be honest and say that this has been quite disappointing for me. Food is an essential part of my travels and I often enjoy it very much. New flavors, beautiful dishes and many vegetables or herbs that I did not know yet. Now you should know that in Namibia largely if not everywhere European cuisine is served.
Local food I have come across almost nowhere. What I have eaten then is Milliepap, a porridge, and meat. It's not a high standard here apparently. The tribes from way back ate mostly meat and milliepap, which is made of flour and milk I understood. A kind of thick mashed potatoes without a distinct flavor.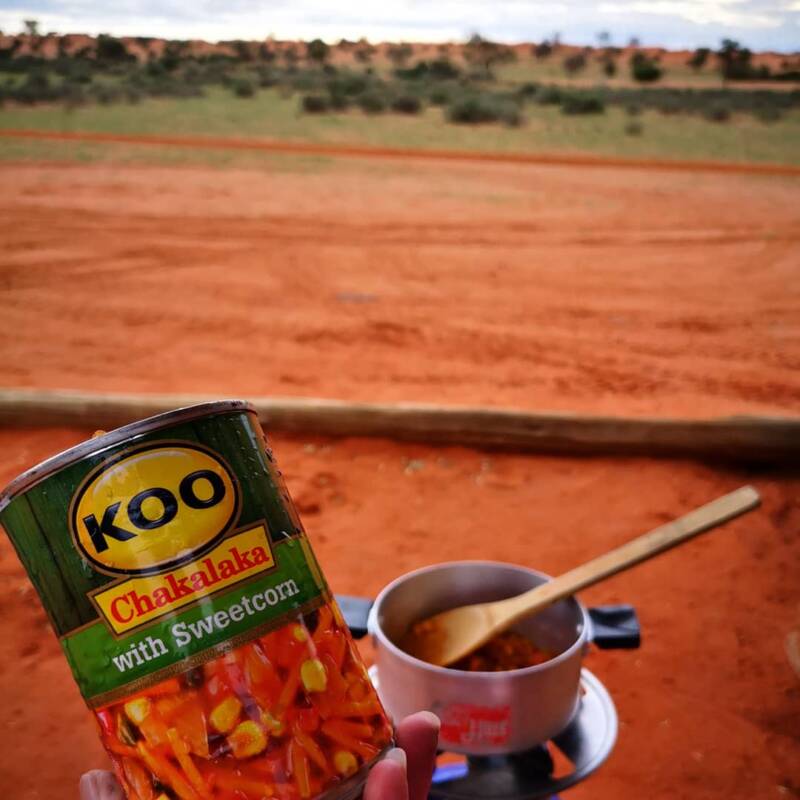 That's what I really missed during this trip, looking forward to a nice meal. I did a lot of cooking myself and I used the mix of Chakalaka to spice up the food and I also liked the sweet corn with a sauce.
Practical facts about Namibia
Practical facts for your Namibia tour
You are required to have a plug in many places, the type D and M, the ones with the 3 round pins. In many places they already have double sockets so you can also use the NL (European) plug. But just to be sure I advise you to take one with you. There is nothing more annoying than an empty battery in my phone!
The Netherlands is in the same time zone (GMT+2) so there is no time difference in the summer. If we have winter time there is still an hour difference because no clock is moved in Namibia, it is then one hour later in Namibia.
The republic of Namibia has as its capital Windhoek, probably the place where your tour of Namibia will start!
Namibia borders South Africa (bottom) Angola (top), Botswana (right) Zambia (top right) and a small tip to Zimbabwe. And that's just where you want to go maybe…. You can easily visit the Victoria Falls in one day from Namibia! Unfortunately this was not possible for me due to the heavy rains of the early 2021 but that gives me a reason to go back here again, right?
Namibia has an average of 300 days of sunshine in the year! So plenty of good weather during your trip through this amazing and diverse country!!!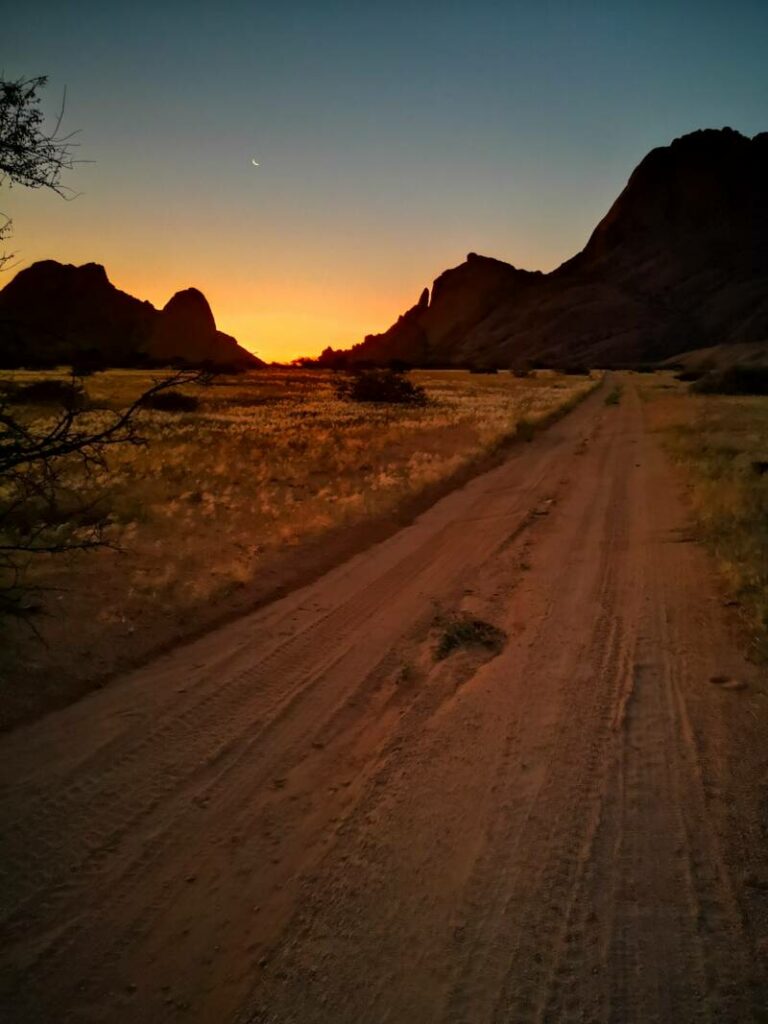 10 interesting facts about Namibia
Have you been to Namibia before and are you missing a tip? I would love to hear it!
If you liked this blog interesting facts about Namibia as a preparation for your trip save it!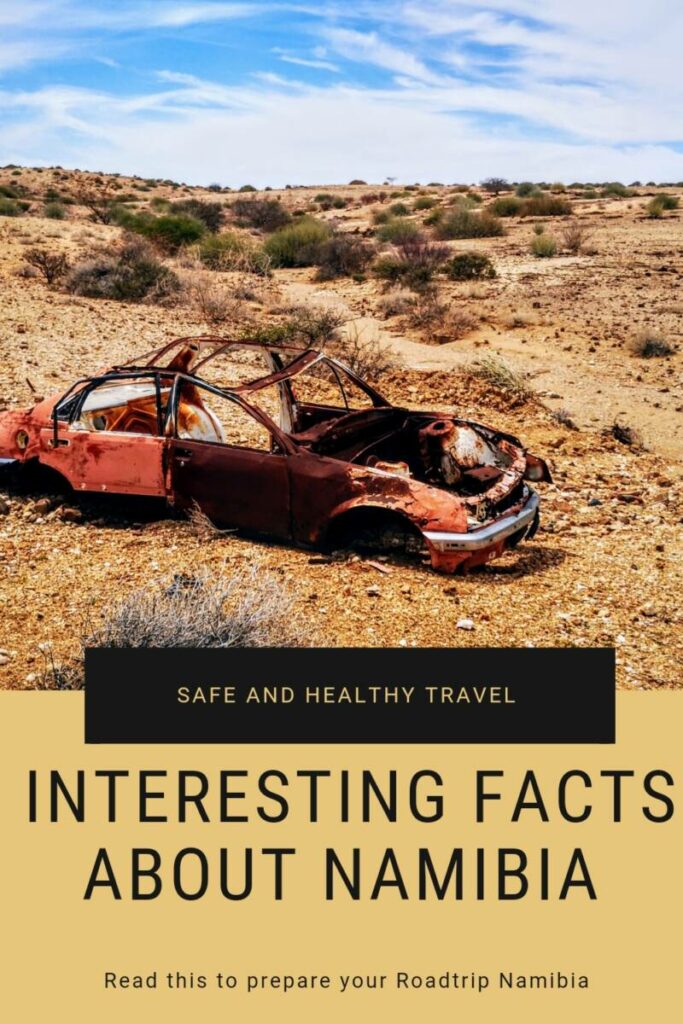 Do make sure to visit these Natural Heritage Sights of Namibia
Want to read more travel inspiration?
Visiting Fort James island – Birthplace of Kunta Kinte – The Gambia
4 day African Safari  NP Kruger from Johannesburg – South Africa
Visiting the Masai Mara – Kenya
Having Dinner with the locals – Resirest – The Gambia
And do read why I do think why you shouldn't be in the streets anymore after dark.
Nightly Adventures – Why you shouldn't be in the streets when it is dark!
I hope you enjoy this worl as much as I do!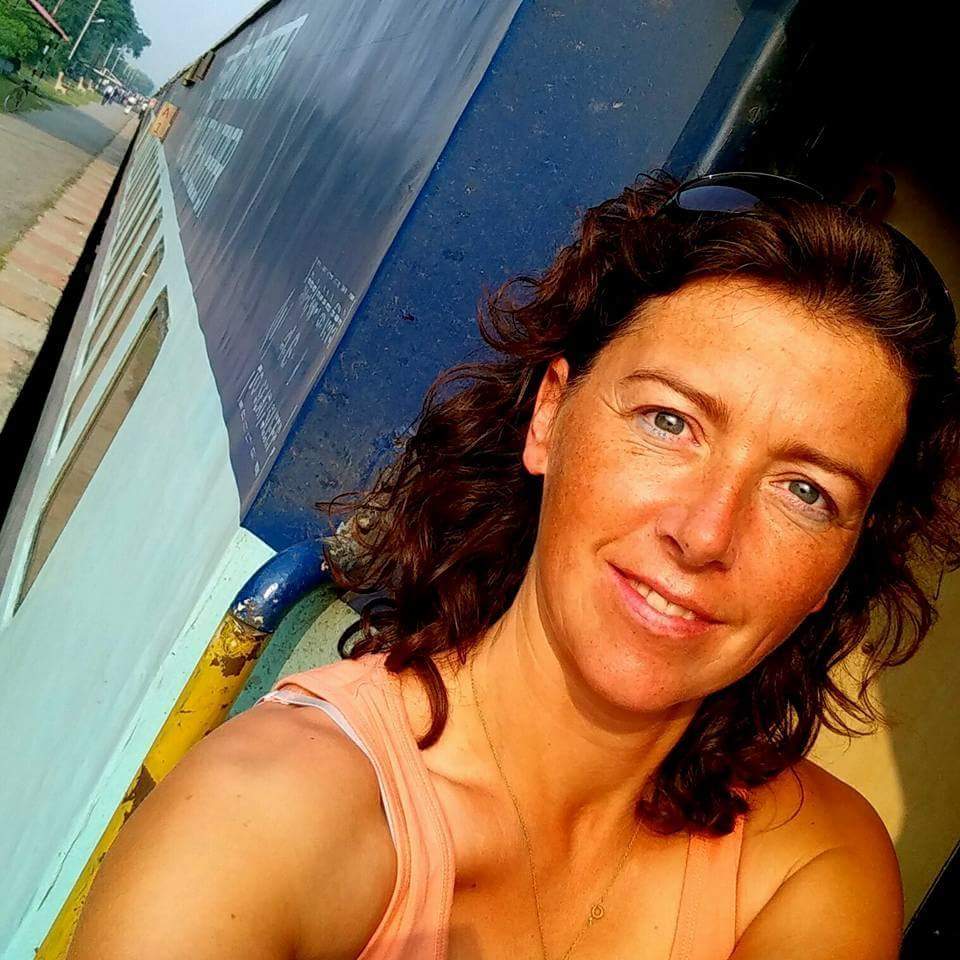 Jacomijn is een politieagent uit Nederland die jou graag laat zien hoe je veilig, actief en gezond de wereld kan over reizen. Safe and Healthy travel is a MUST