Visit the Unique Quivertree Forest and Giant's Playground – Keetmanshoop, Namibia
|
I had only been in Namibia for a few days when I went to visit the unique Quivertree Forest near Keetmanshoop. I was still very impressed by the desert I drove through, by the San with whom I had taken a walk the day before. And now I was standing in a unique forest with Quivertrees that I had never seen before. It looked like a fairy tale!
It was actually too hot that afternoon to go to the unique Quivertree forest but I couldn't resist so I went for a short walk after putting up my rooftop tent. There was not much shade near my car and I still had to get used to the heat, coming from the Netherlands in winter to the heart of Namibia in summer. In this unique quivertree forest, I walked on the paths and over the large stones and saw the quivertree around me. I had the feeling that I was on a kind of moon landscape … in another world … where the trees were kind of similar to ours but not at the same time.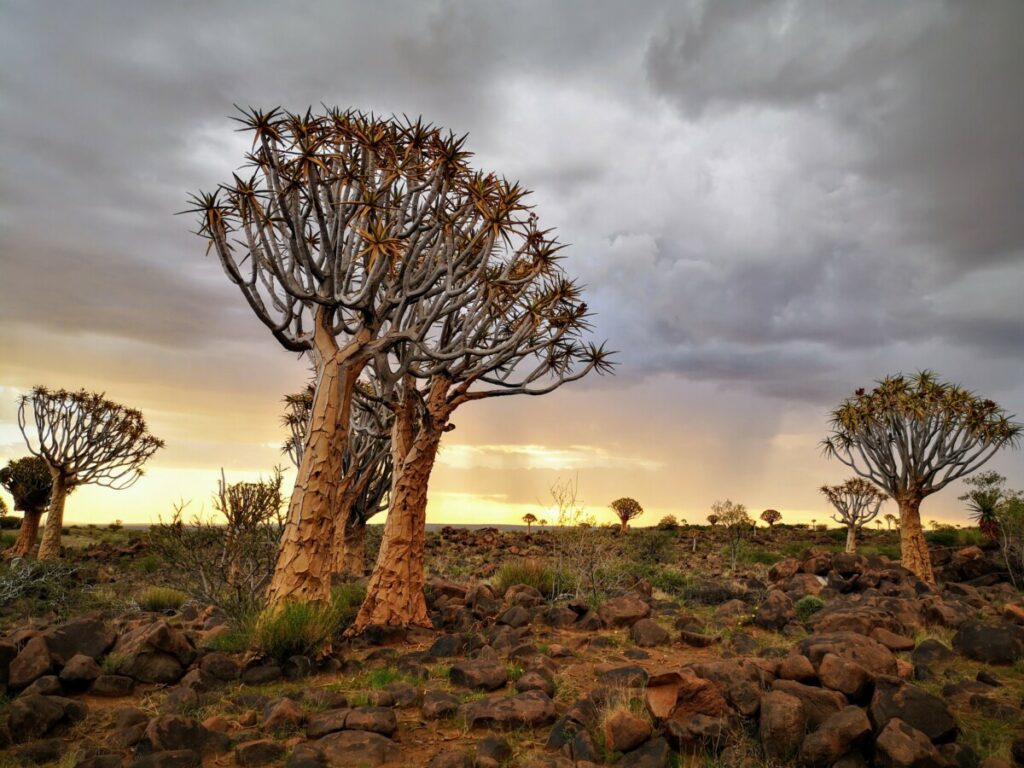 Visit the Unique Quivertree Forest and Giant's Playground
Keetmanshoop, Namibia
Trees in Namibia are special. For example, the Baobab tree, which is also great. It is a huge tree, but you won't find one like it anywhere in the Netherlands. And so is the quivertree, it is unique in shape and appearance.
It was really too hot that afternoon and I went to the swimming pool to lie in the shade. I was at Quiver Tree Forest Rest Camp and I could get something to drink and continue reading my book. Around 5 o'clock in the afternoon the cheetahs were fed. I don't like animals in captivity but I hadn't seen them yet and was curious. The story behind these two cheetahs is that they were orphaned and raised by the two dogs of the couple that lives here. This was clearly noticeable. The dog that acted as their mother got stroked by the cheetah through the thin chicken wire behind which the cheetahs were. They don't let them walk freely because the neighbours would be bothered by it and because they can't take care of themselves. They do have a huge land of many km's on which they can walk around.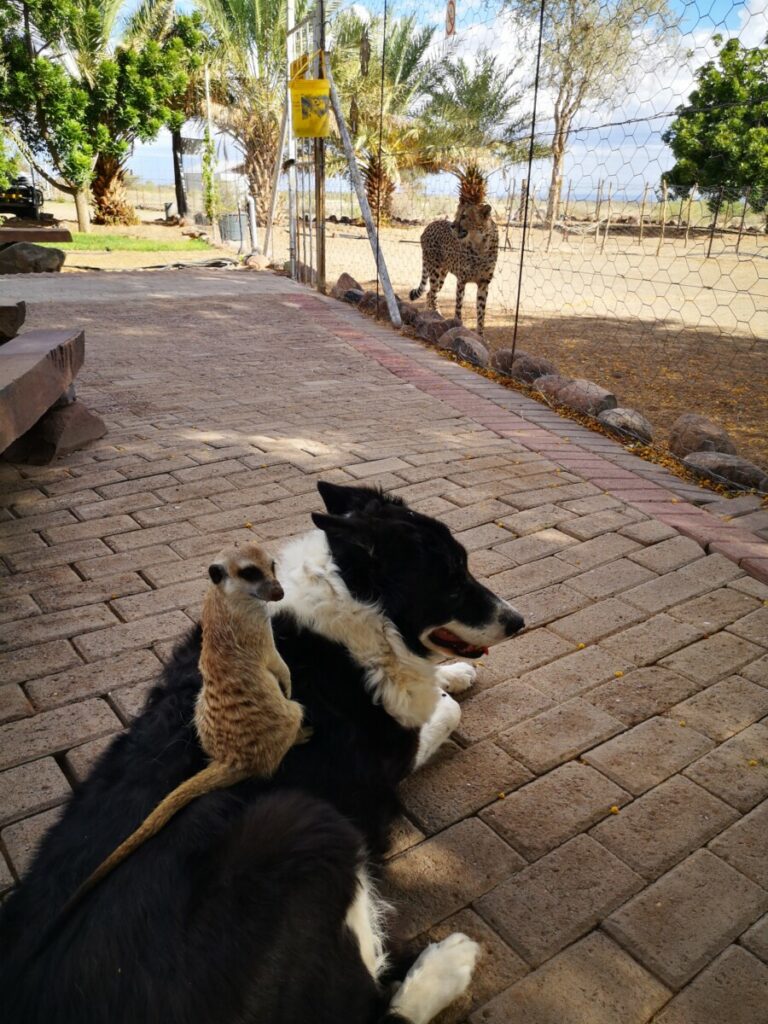 After this, I went to cook my dinner; I still had to get used to living in a rooftop tent and on campsites in Namibia. It was made a little difficult by the wind that picked up, it started to rain… Dark and threatening skies lingered that evening and when I entered the unique tubular forest again.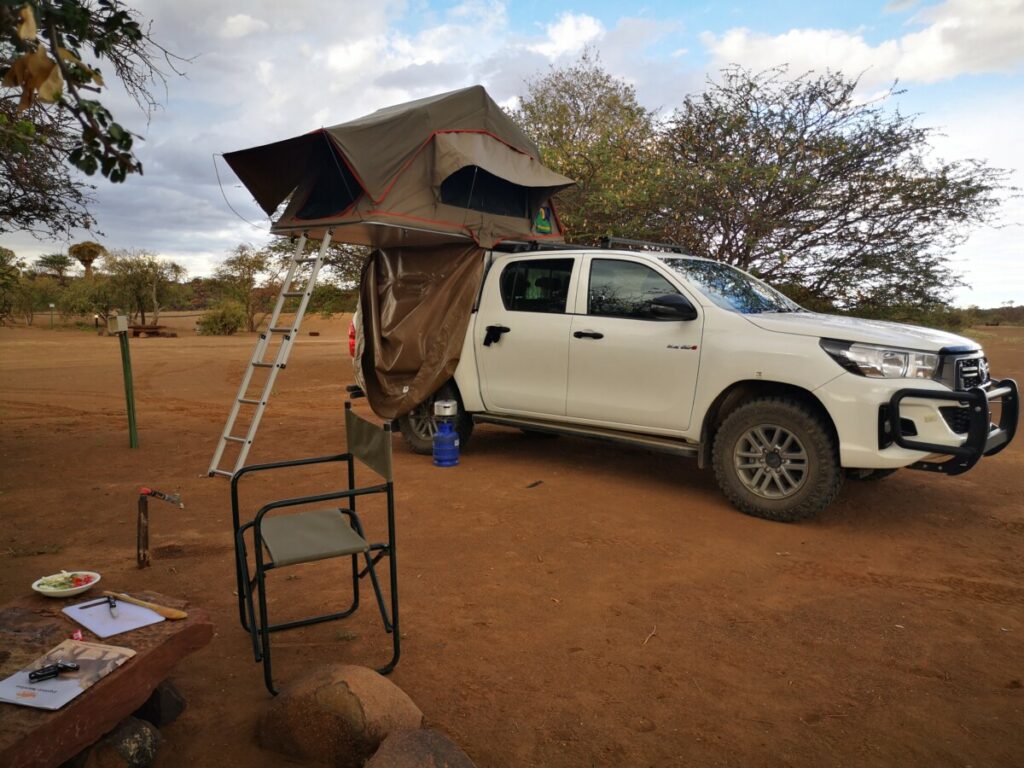 The unique Quivertree Forest of Namibia
The shape of the unique quivertree is really amazing to see. There are about 250 quivertrees in this piece of unique Quivertree forest, the largest of which can be 200 to 300 years old.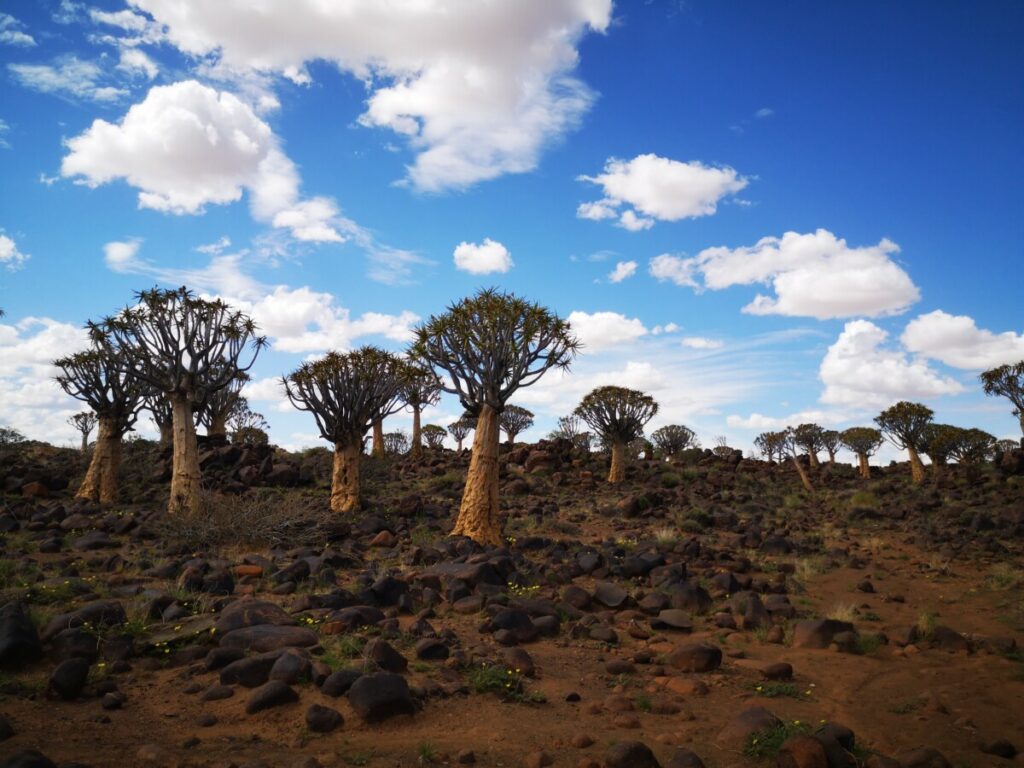 In the afternoon, I saw the unique Quivertree forest like this, beautiful blue sky with white clouds. Just like NL, only with a temperature way above 30. On the plain, stones, it was really too hot. Without a breath of wind.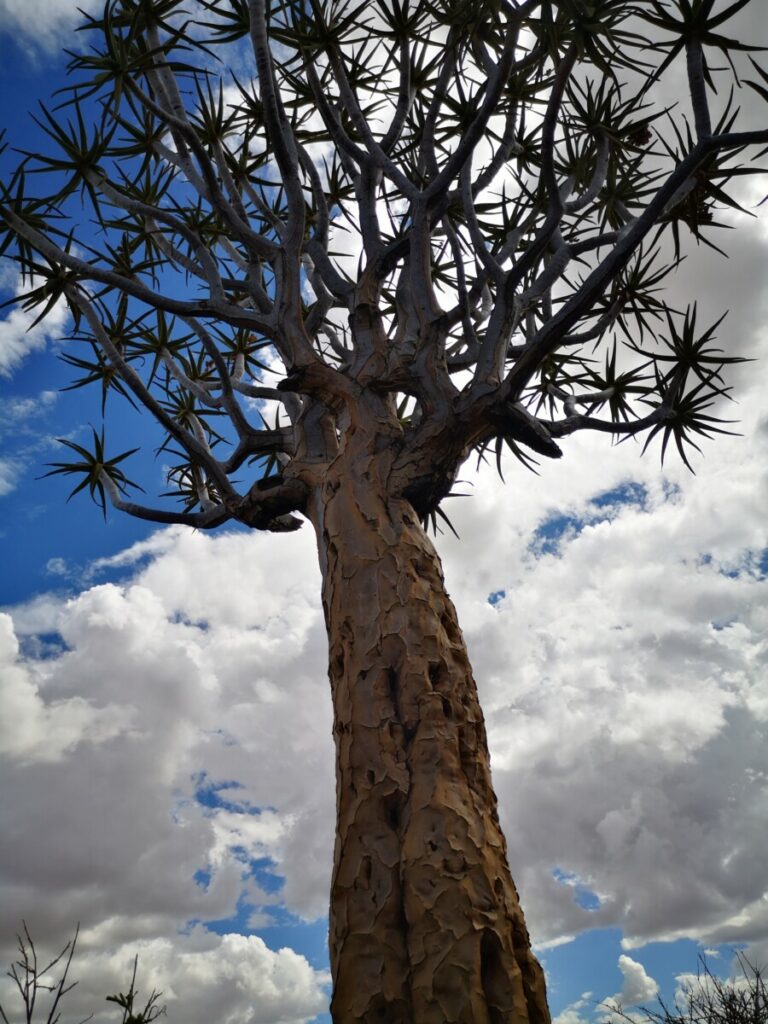 In the evening, the threatening weather gave me beautiful skies over this unique quivertree forest, allowing me to take some great photos. I walked around as long as possible to catch all the colours of this beautiful sunset.
Because the skies became so threatening and it also started to get quite dark, I went back to my 4WD with rooftop tent. Walking over the big stones, along the many quivertrees and leaving the beautiful views behind me, I went back to the Quiver Tree Forest Rest Camp. It was only my first week of 10 weeks travelling through Namibia, but I already loved it!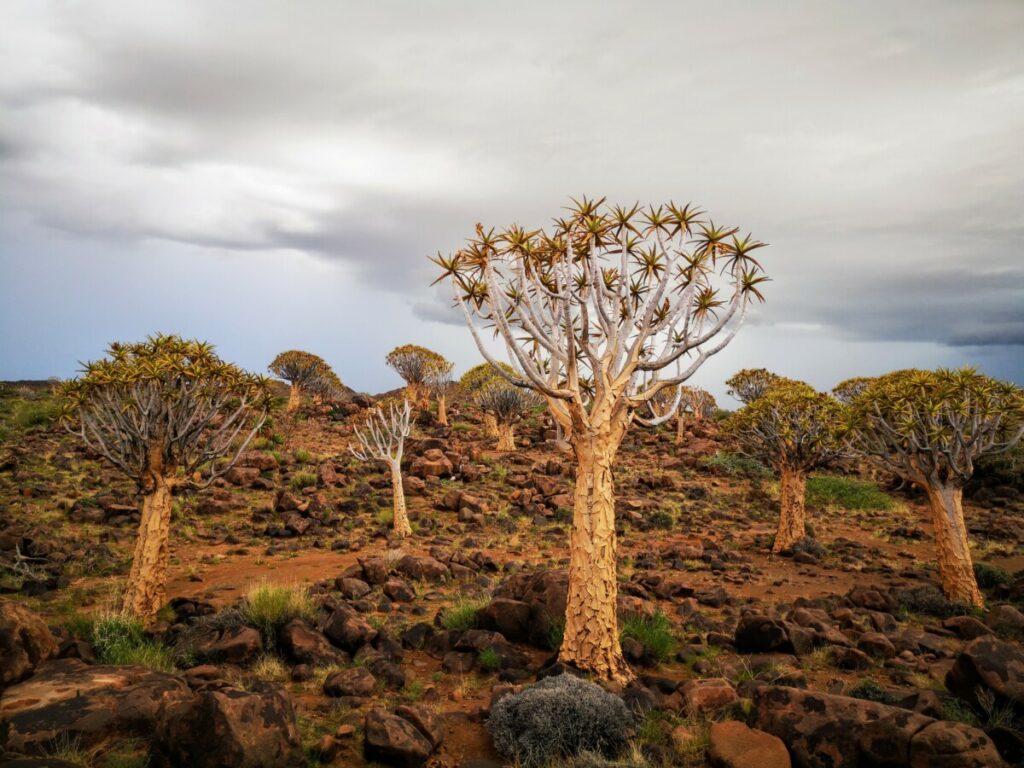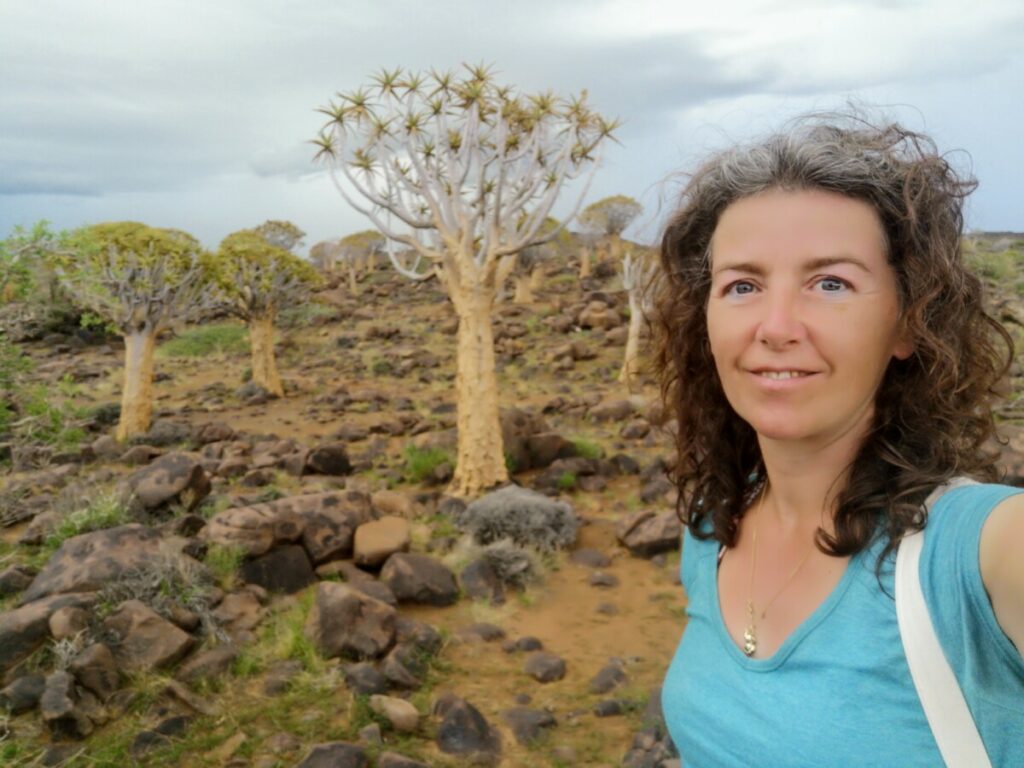 It was difficult for me to say goodbye that evening. Together with some other tourists, I walked around among the unique quivertrees. There were not many tourists in this corona time. Just super to be there at that time and to have the quivertree forest almost for yourself. When the drops started falling, I walked back to my rooftop tent.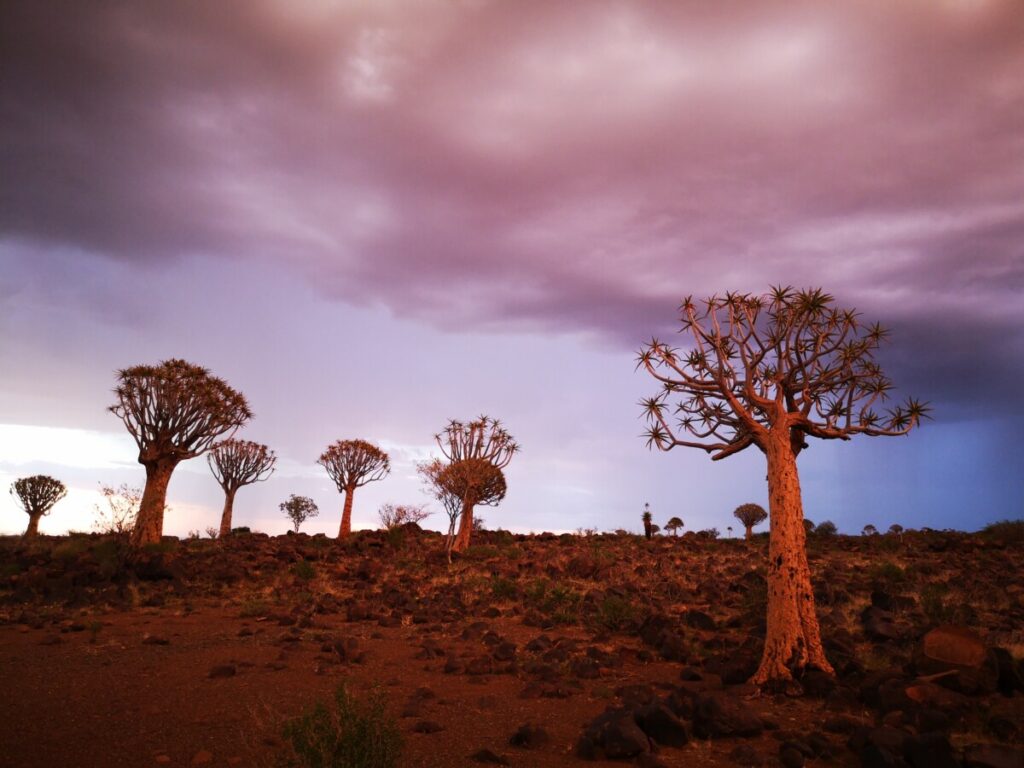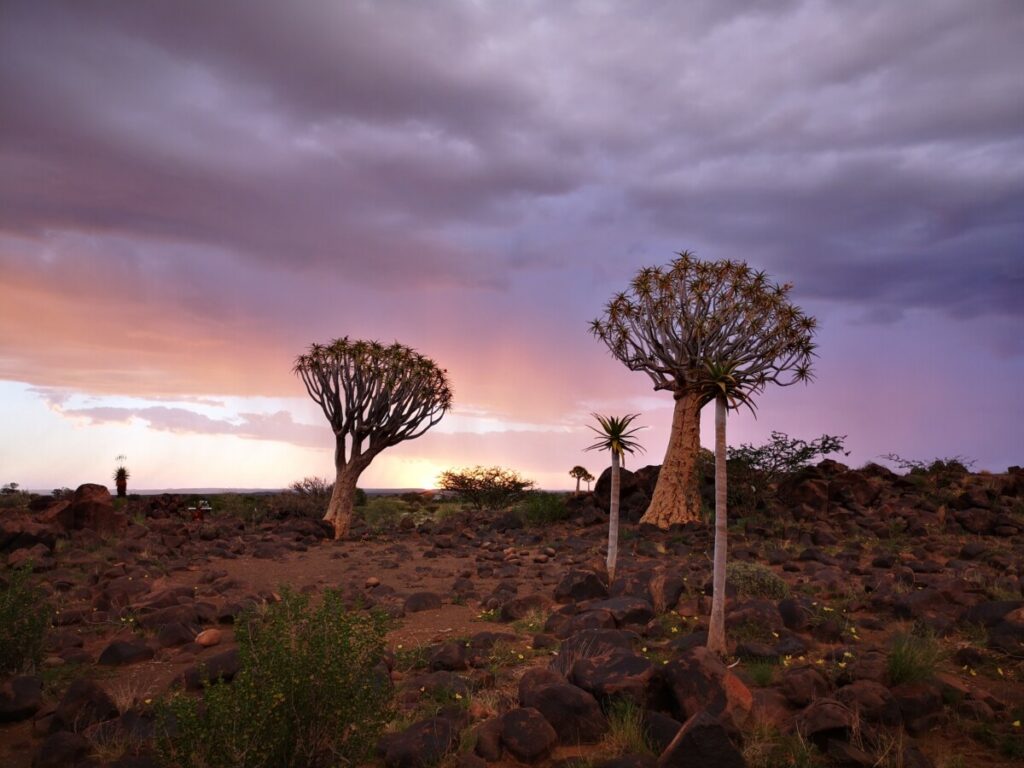 In every country you visit, you find new favourites… I had another favourite!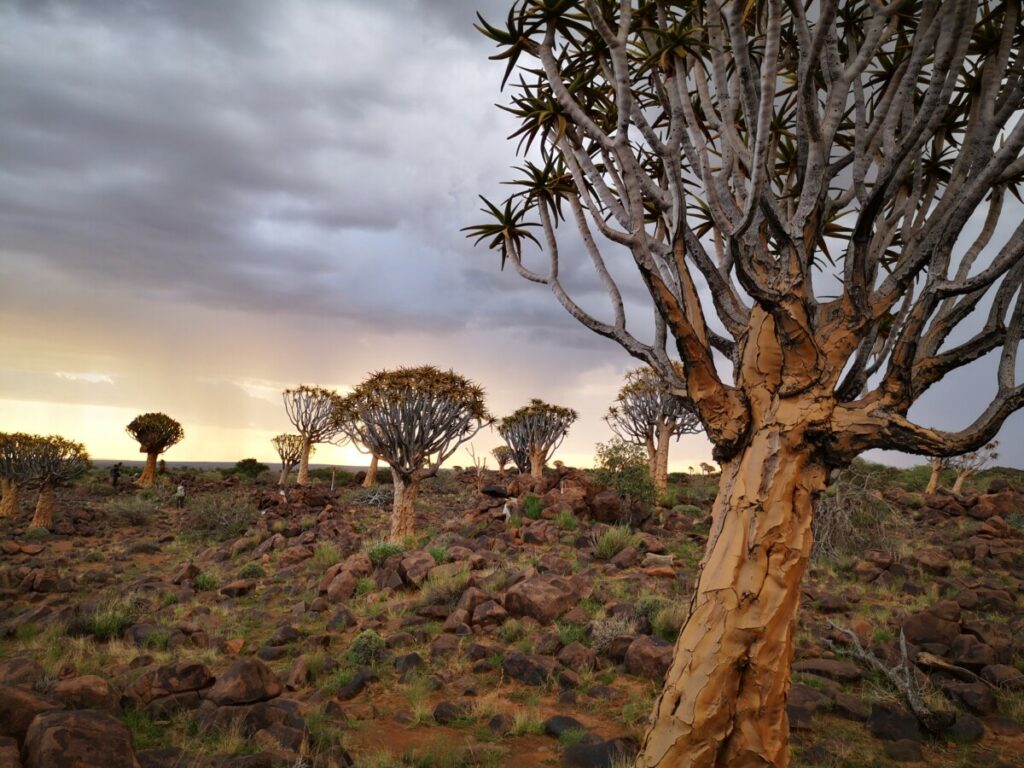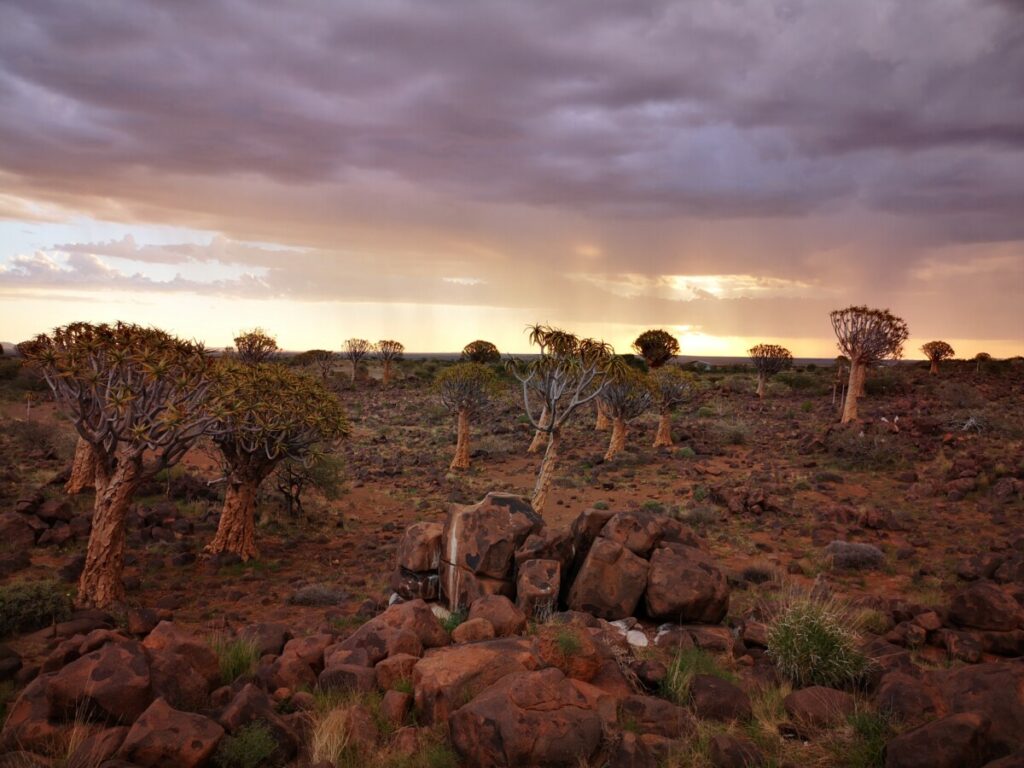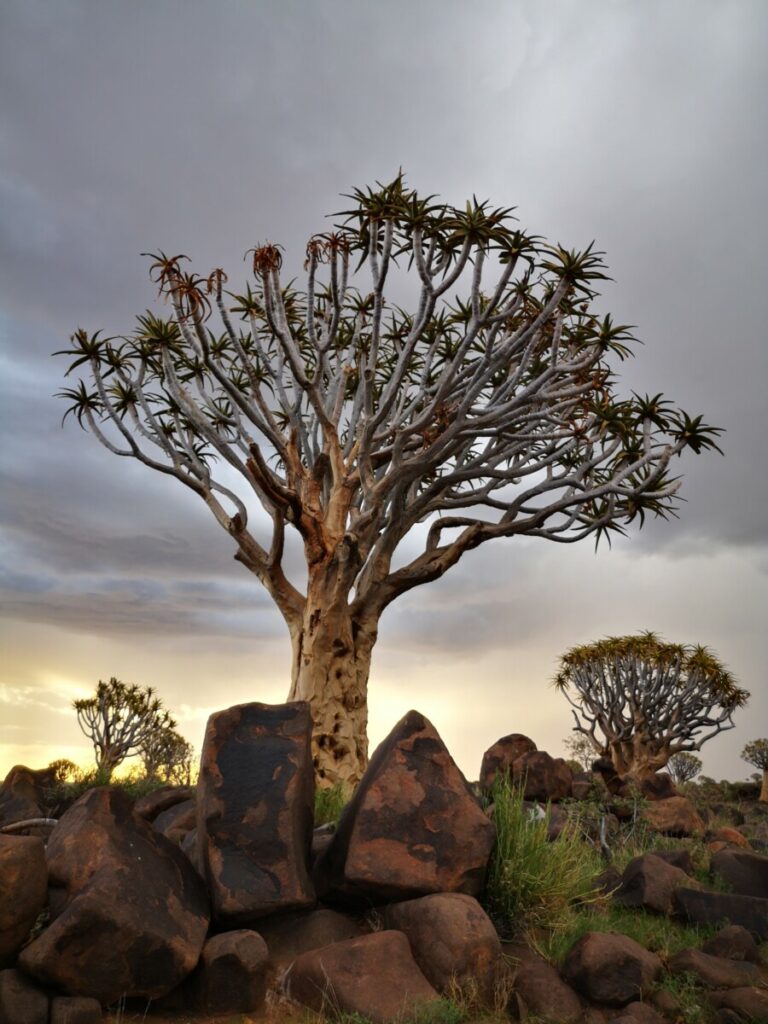 I felt happy and kind of honoured that I can and may witness this. Do you ever have that during a trip? How wonderful it is to realise that! And knowing that I still had a long time ahead of me to discover the country.
Giant's Playground – Keetmanshoop
When I went on the next day, I of course had to visit Giant's Playground. I also see it as God's Playground listed and the Dutch translation is Garden of the Gods. f there were any giant gods playing with a number of dice, it would have been here, that is the story behind it. I took a short walk there and marvelled at the impressive landscape. A desert landscape with piles of stones, boulders…
How interesting is this landscape?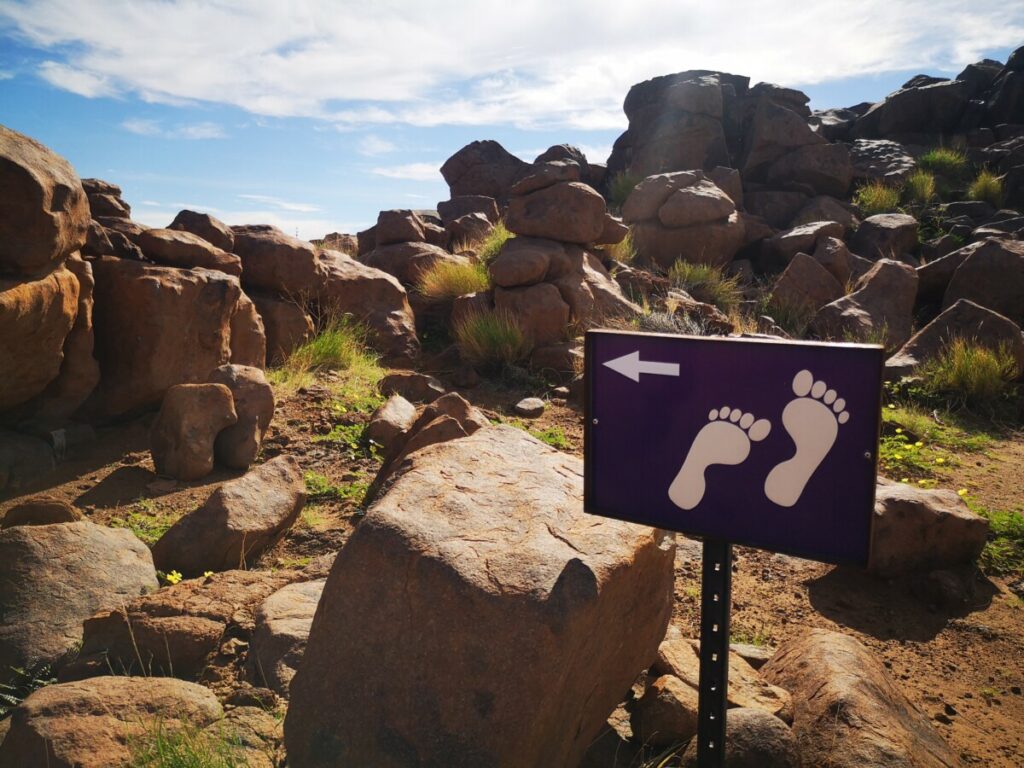 There are several signposted walking paths in the Giant's Playground. If you have the time, and it is not so hot, it is definitely worth taking a walk here!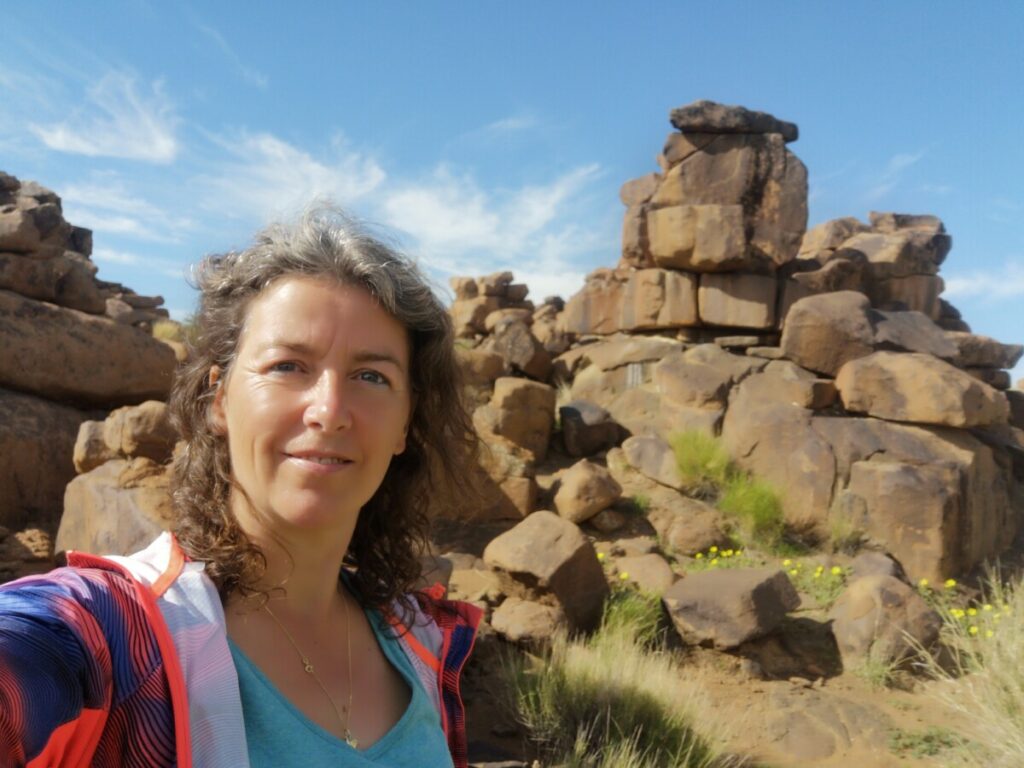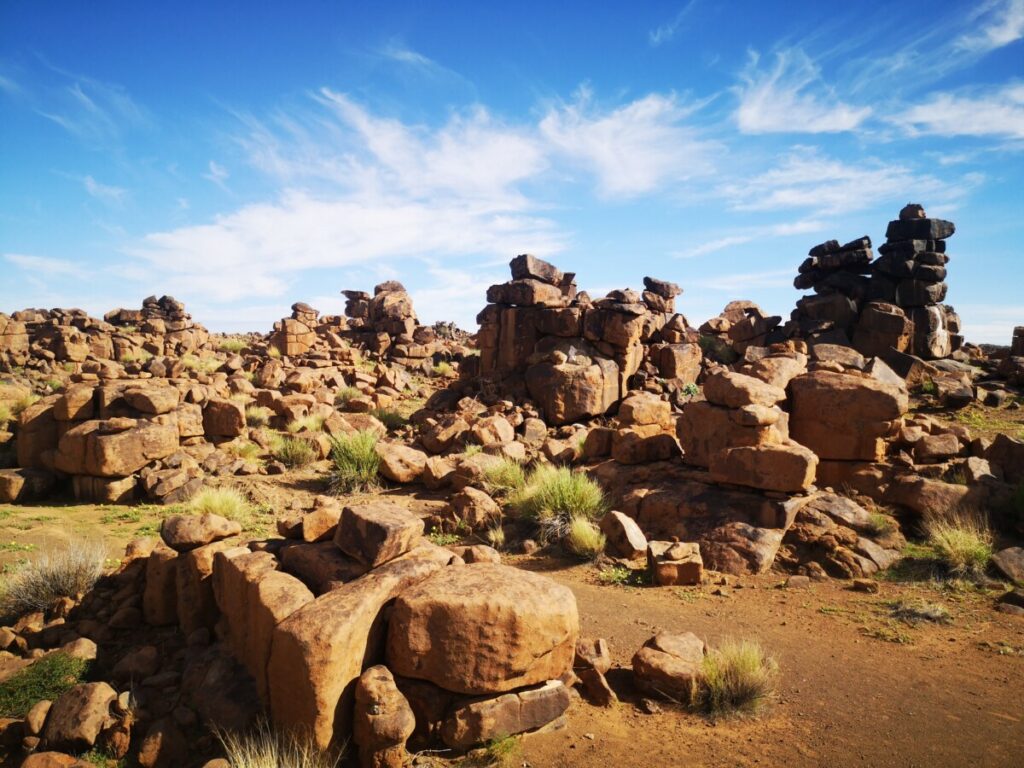 Where to stay?
Near the Unique Quivertree Forest
As I said, I stayed at the Quivertree Forest Rest Camp. From the campsite, you walk straight into the Quivertree Forest. I thought this was a beautiful place, but because of the heat it was almost impossible to stay there in the afternoon. There were not many trees or shaded areas, so the heat really lingers there. On the campsite, there are shared shower and toilet areas. Everything is spacious and every campsite has a place to sit and some sort of shelter in the form of a tree. However, there is a swimming pool and some cool drinks available at the main building, about 10 minutes' walk from the quivertree forest (back of the campsite).
If you would like to see the sunset in the unique Quivertree Forest, Quivertree Forest Rest Camp is highly recommended.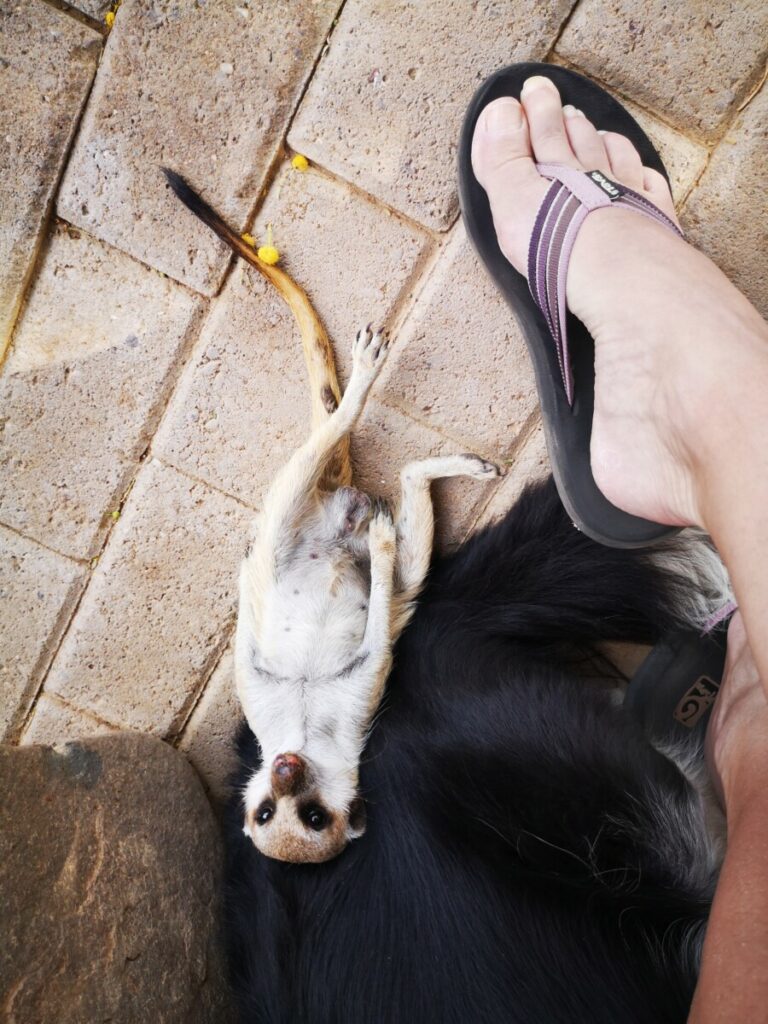 Coming & Going
The unique Quivertree forest is a fifteen-minute (16 km) drive outside Keetmanshoop.

From Windhoek to Quivertree Forest is a 500 km drive. Namibia has good roads and infrastructure so it is very well doable in one day.
If you continue your trip from the unique Quivertree Forest, I can recommend you to visit the Fish River Canyon. This is about 190 km from Quivertree Forest and a 2.5 hour drive. I stayed 3 days at Canyon Roadhouse and again I found it a really great place!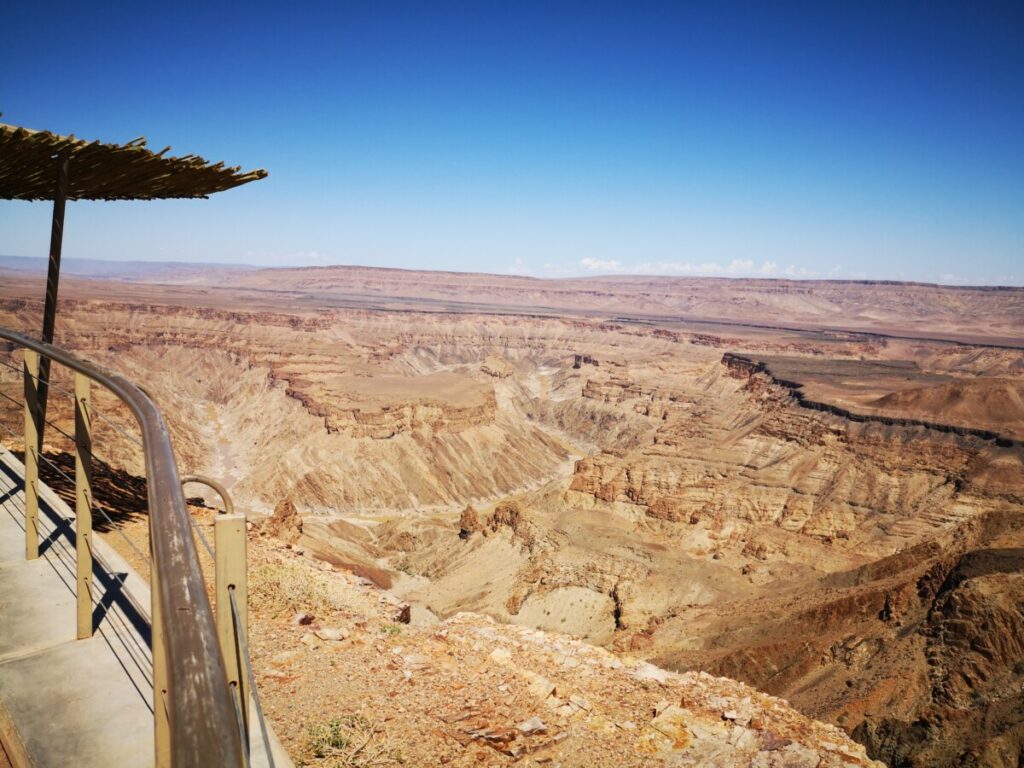 Do you have some more time?

Then, of course, it is more fun to make a stop halfway. As I had plenty of time, I first stayed the night at Bagatelle Kalahari Game Ranch Campsite near Mariental. It was there that I put up my rooftop tent for the first time and discovered what it is like to camp in Namibia. I also had my first bushwalk with the San people. Super interesting and a wonderful start of this journey.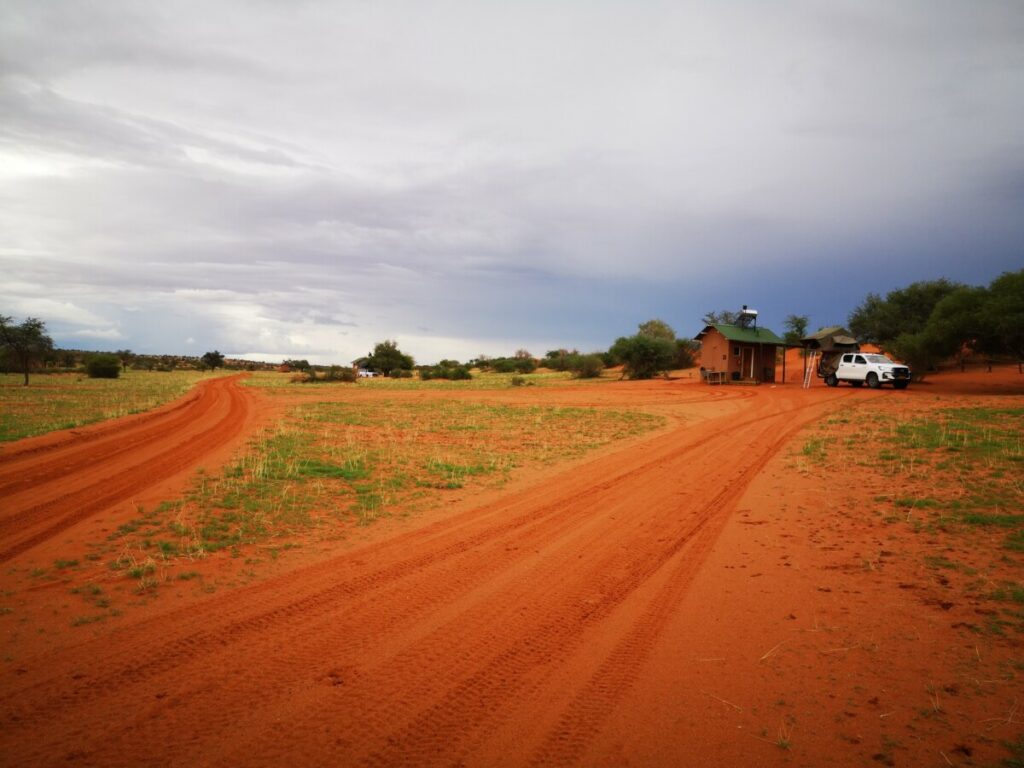 Behind me, I walked up a red sandy hill to get a unique view over this beautiful area.

Can you imagine? This was my first introduction to camping in Namibia… 10 beautiful weeks would follow!
If you found this tip worthwhile, please save it in your favourites.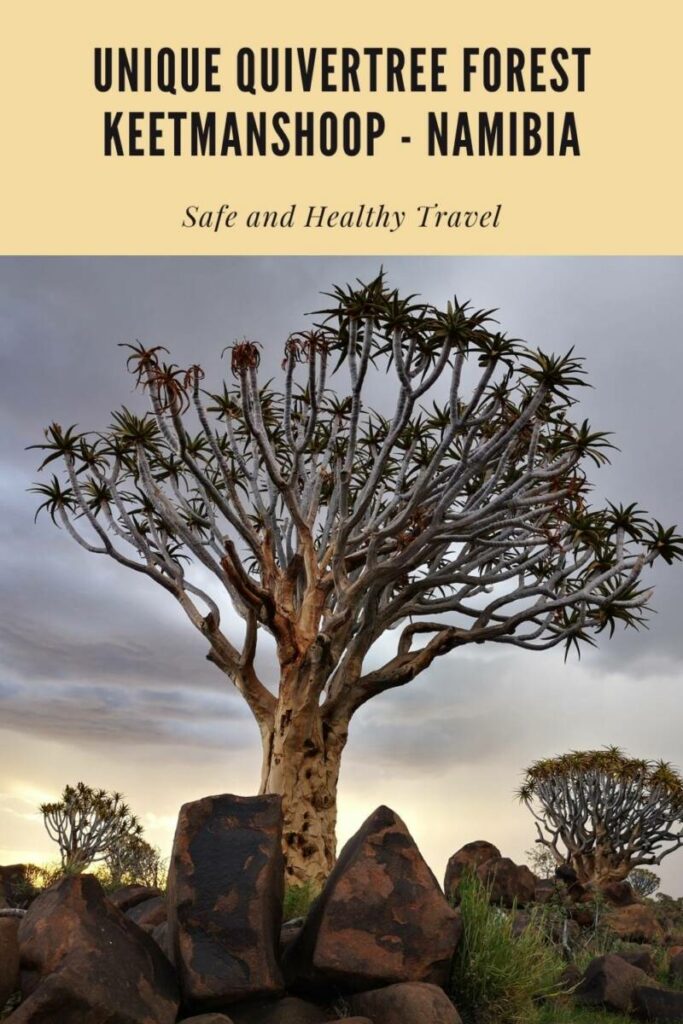 Want to read more about Namibia?
10 interesting facts about Namibia
Packinglist for Camping in Namibia
In the next months more will come
But have you thought about travelling to Morocco?
I hope you enjoy this beautiful world as much as I do.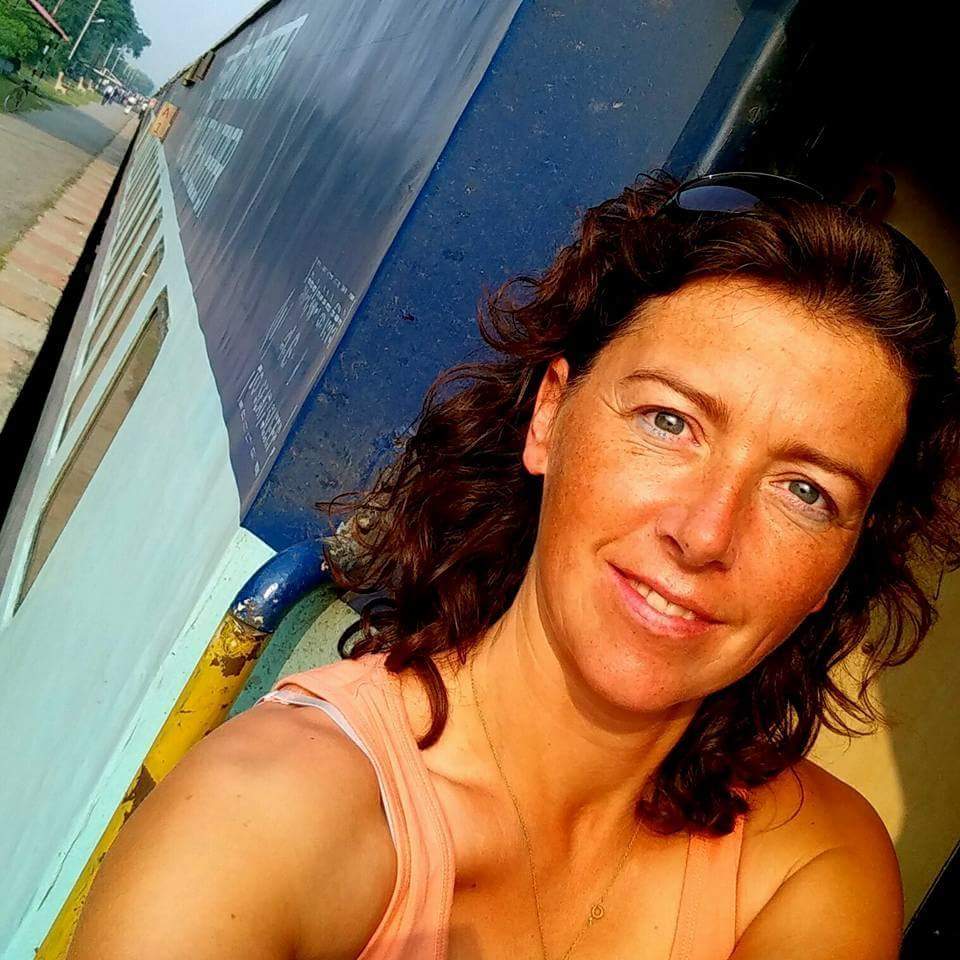 Jacomijn is een politieagent uit Nederland die jou graag laat zien hoe je veilig, actief en gezond de wereld kan over reizen. Safe and Healthy travel is a MUST