Hiking the National Park on Pulau Penang – Malaysia
|
When I was in Georgetown on Pulau Penang I had still one day free and one night I was walking Jalan Penang when I saw two policeofficers sitting under a parasol. They told me to go to the other side of the island, there was a Taman Negara. A National Park, I could go for a hike there and visit a beach or two. They showed me the place on the map and told me to take the bus with number 101, the bus leaves from the station near the big KOMTAR building. It will cost around 1 euro 🙂
So that is what I did, the next day I took the bus to the Taman Negara of Penang Island, it costed almost an hour to get there and costed almost nothing 🙂 Did had some great sightseeing along the way, went all the way along the coast. The driver warned me, he knew when I wanted to get off. I was the last one on the bus, it was the last stop.
Visiting the National Park on Pulau Penang
Malaysia
Just a small walk down the street I already saw the entrance of the park. There were some men standing there who wanted to sell me a boattrip from one beach to the next. I just entered the entrance to know a bit more about it before paying the first men that offers probably the same as a couple of others. And that was the case, inside they gave me a map and showed me the path which I could walk.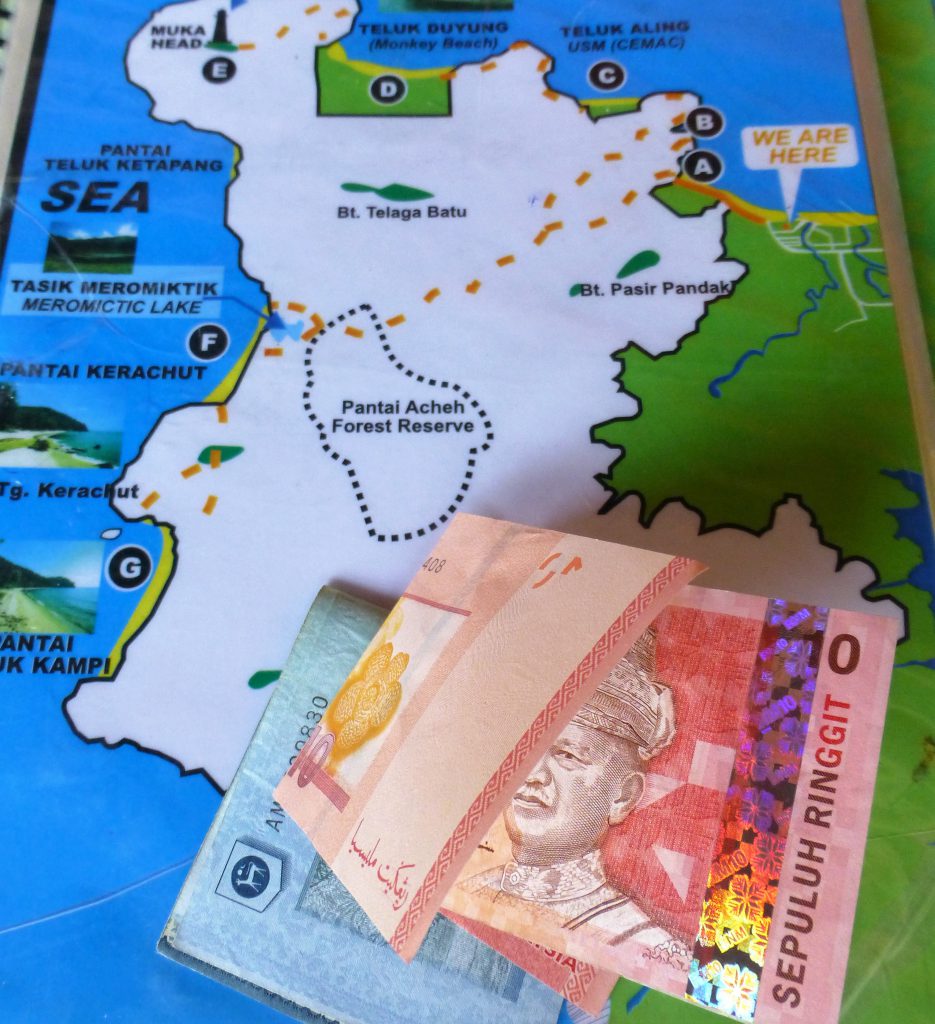 There were a couple and I took the one which would lead me to turtle beach. There I would take a boat to Monkey beach. From Monkey beach I could go walking again to the beginning of the park. This would take me around 3 hours walking in totall, great!!
Looking for tips on where to stay on the island? Check this post with multiple suggestions on Pulau Penang.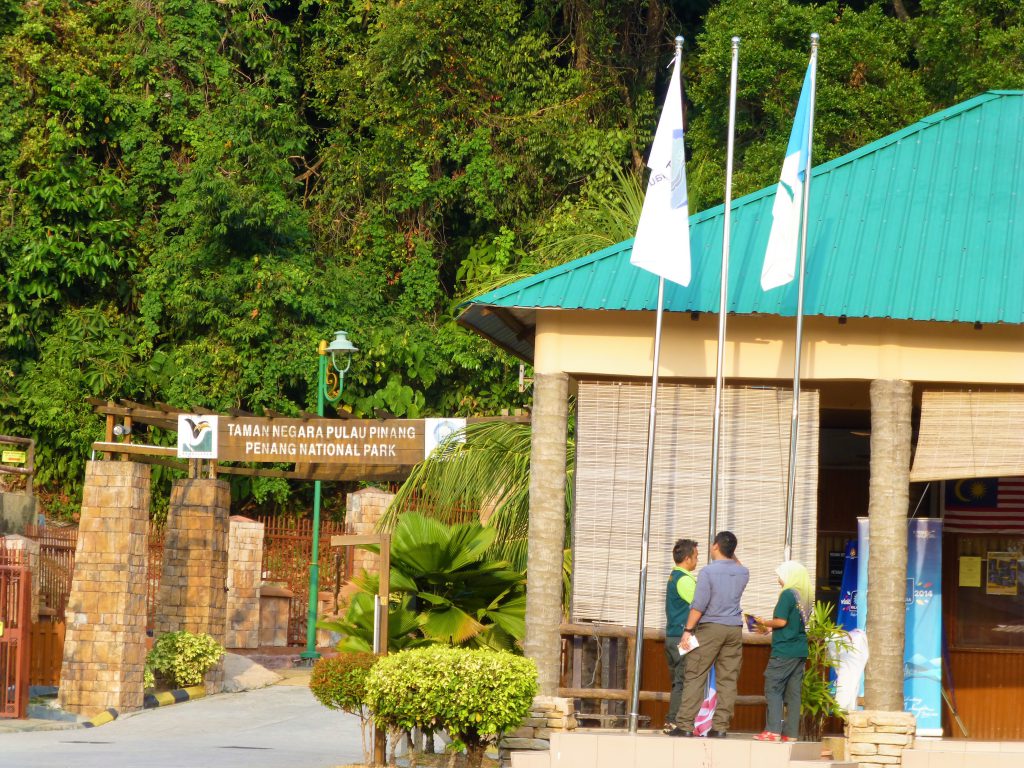 Before you enter the park you have to register, there was no fee. Used the bathroom there before starting. They asked me if I had a good breakfast and enough to drink with me. Both were a yes so I could go on!
Visiting the National Park on Pulau Penang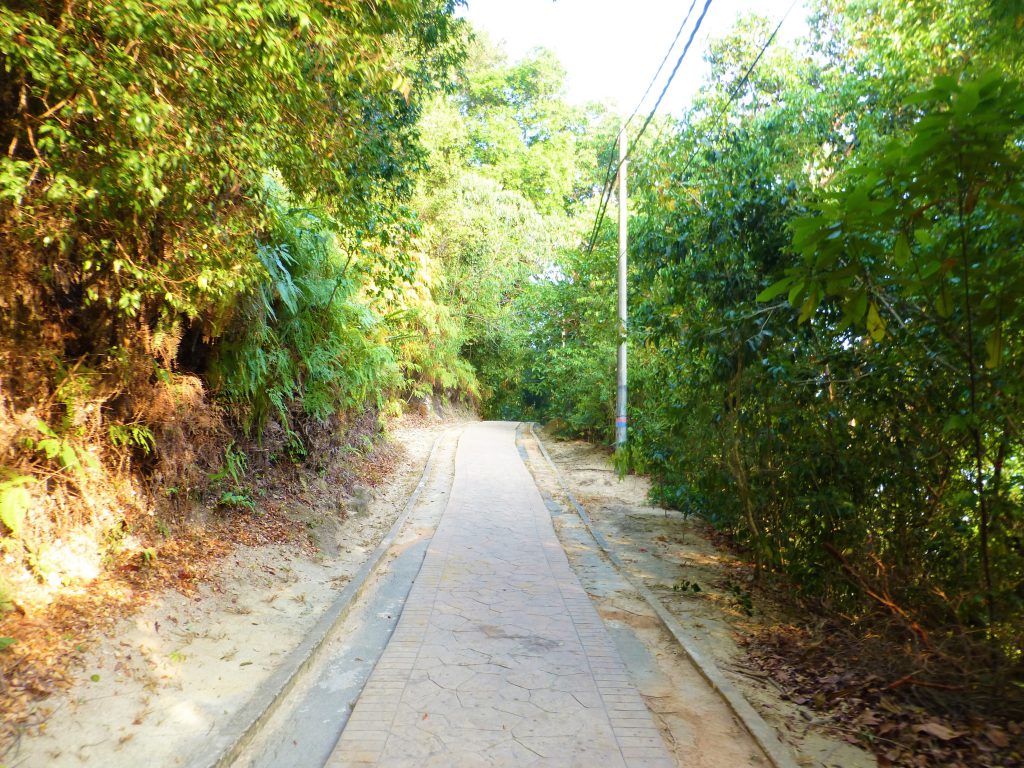 It started with a nice path and after the brigde you entered the park and it was a dirtroad which I followed up. There were al kinds of signs with information, really nice. About the trees, the insects or the wildlife which you probably won't see but only would here 🙂 Also some history about things that had happened in the park.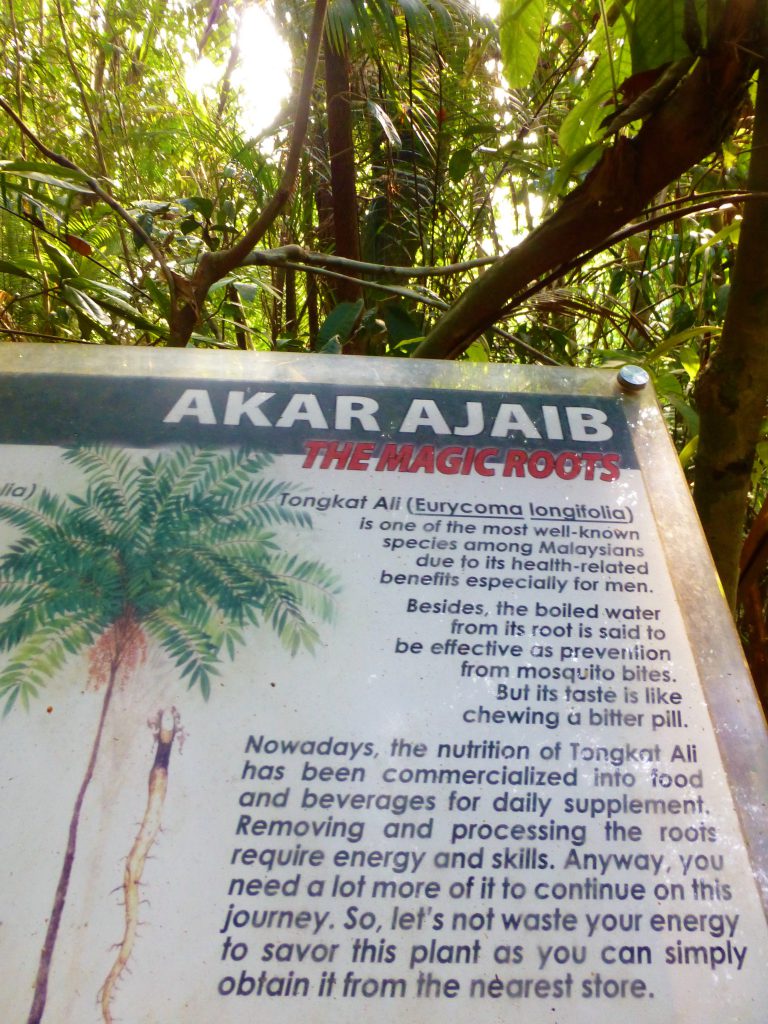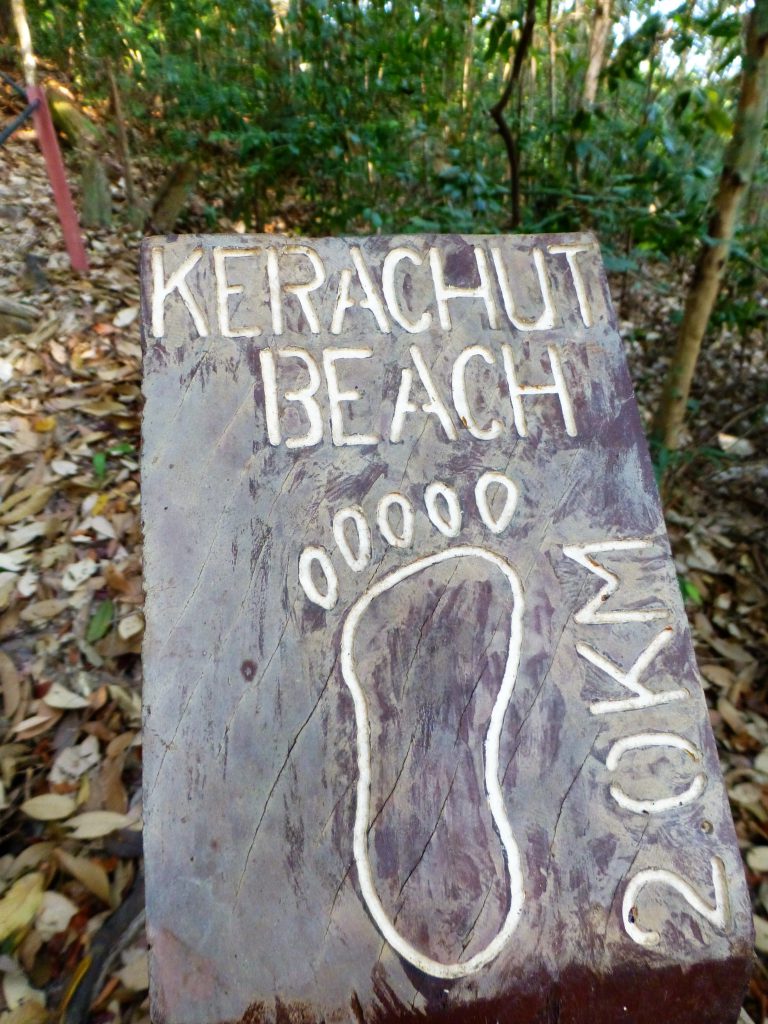 It was getting really hot and after 1,5 hours I got to the beach, turtle beach. Before entering that you can see a meromictic lake, it is appaerently seasonal because when I was there it didn't show. It was not dry but there was not enough water to see the fresh and salt water next to eachother.
The National Park on Pulau Penang – Malaysia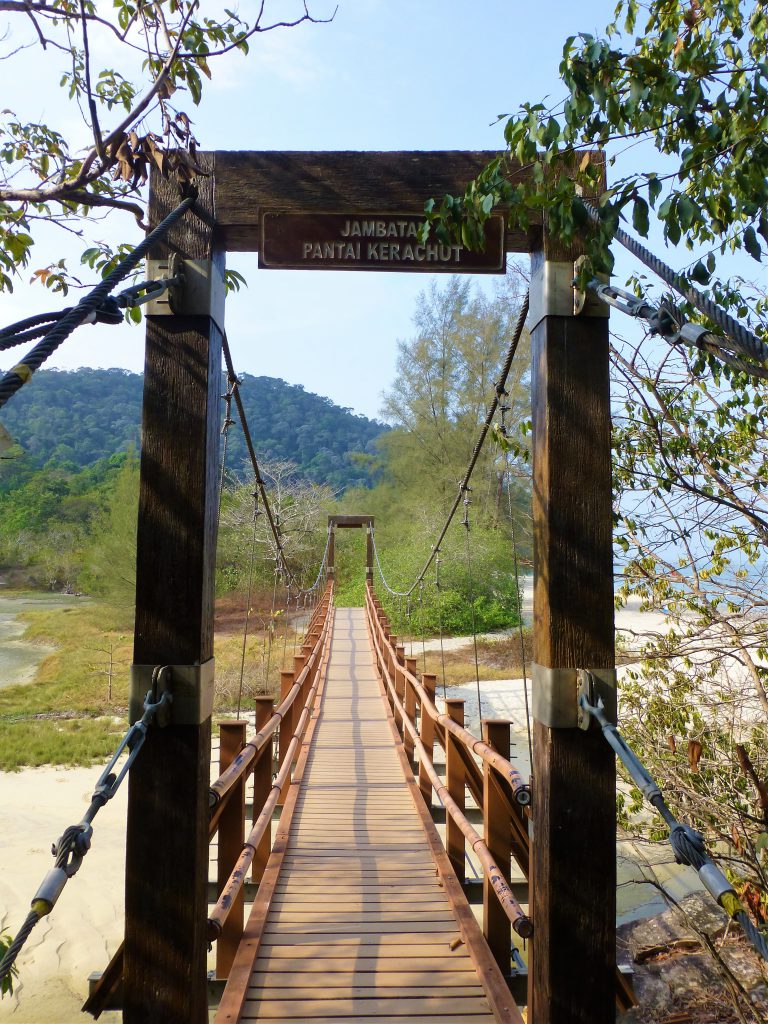 I was very hot from walking and entering the beach I just took of half my clothes and put it to dry in the sun. Did some walking in the sea, I didn't bring a towel and bikini so didn't go swimming unfortunately. I was already there around 10.30 and had to wait there till 13.00 hours. So had loads of time. After cooling down I went searching for the turtle sanctuary. I saw some people on the beach, a couple with a daughter. And there were 2 men and a boy fishing on the jetty, that was all on this beach 🙂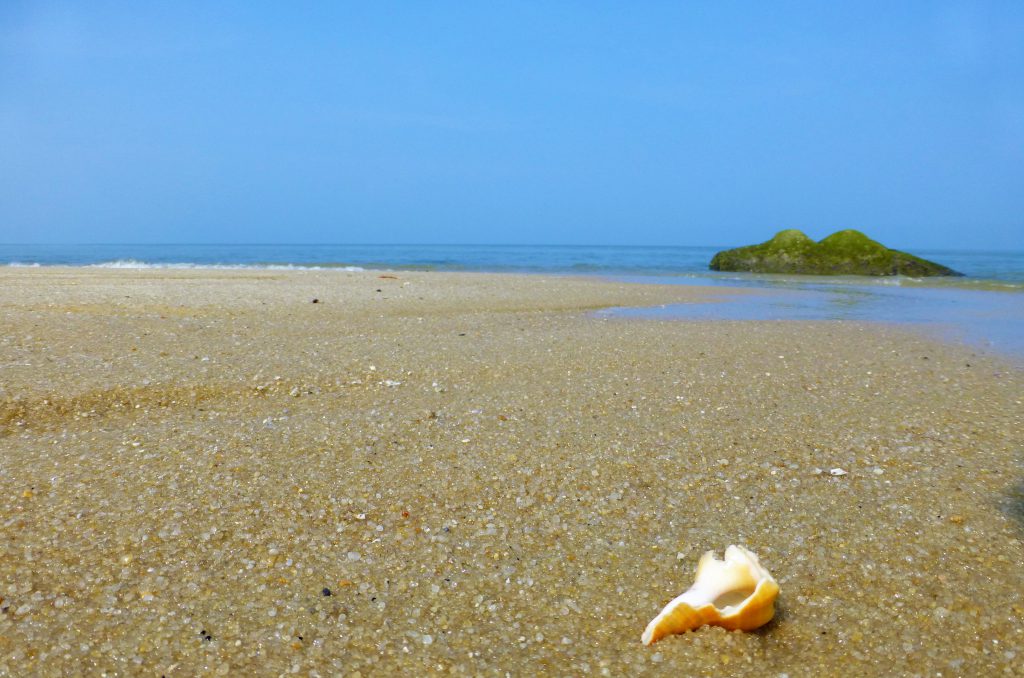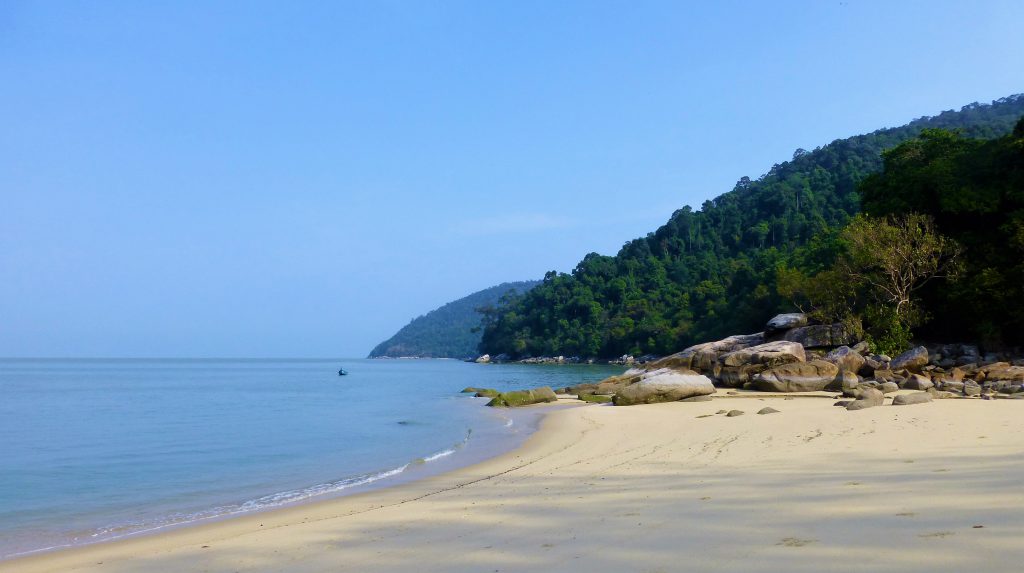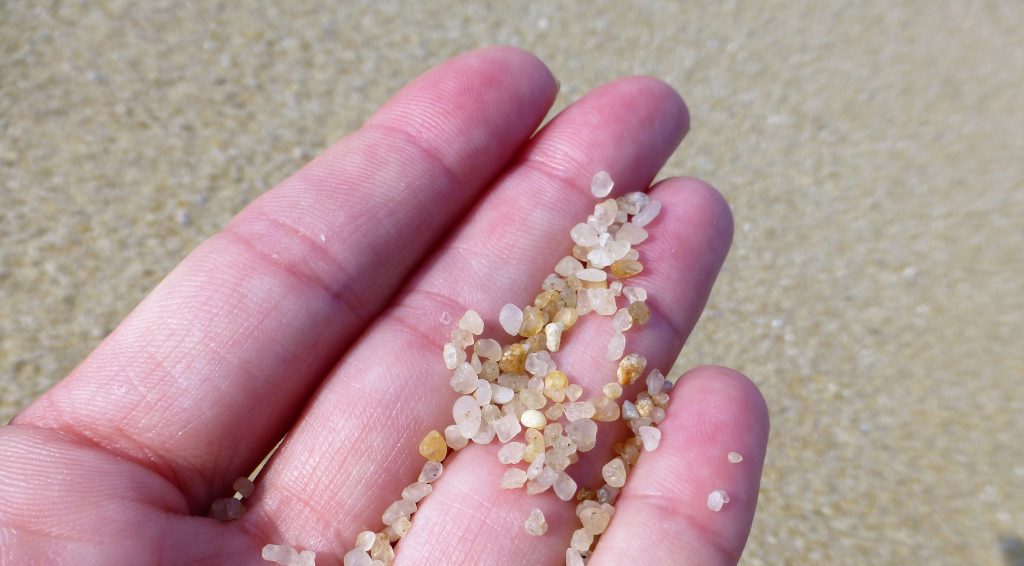 The biggest grains of sand I've ever seen!
I walked around the beach but didn't saw anything that looked like a turtle sanctuary. At some point I saw some locals who were camping there and they told me to walk further and behind the bushes there would be the sanctuary. They were right. At first there was nobody there and I just went in the museum. I also saw the small turtles and a bigger one. Later a man came a he told me the small ones were a week old and the other was two years old. He also told me that every turtle that hatched here they would put a GPS on it and after a week he would go and look were it was. Most of them were already in Borneo, Indonesia at that point so they really swim far and fast also.
The man was really enthousiast and told me a lot. He worked there already for a couple of years. They have shifts of a week being there and a week being at home for a week. He has a colleague where he works with, they had a good band. Well…they are there together for a whole week. No telly, no other people and what so ever. Impressive.
Turtle Hatchery
The National Park on Pulau Penang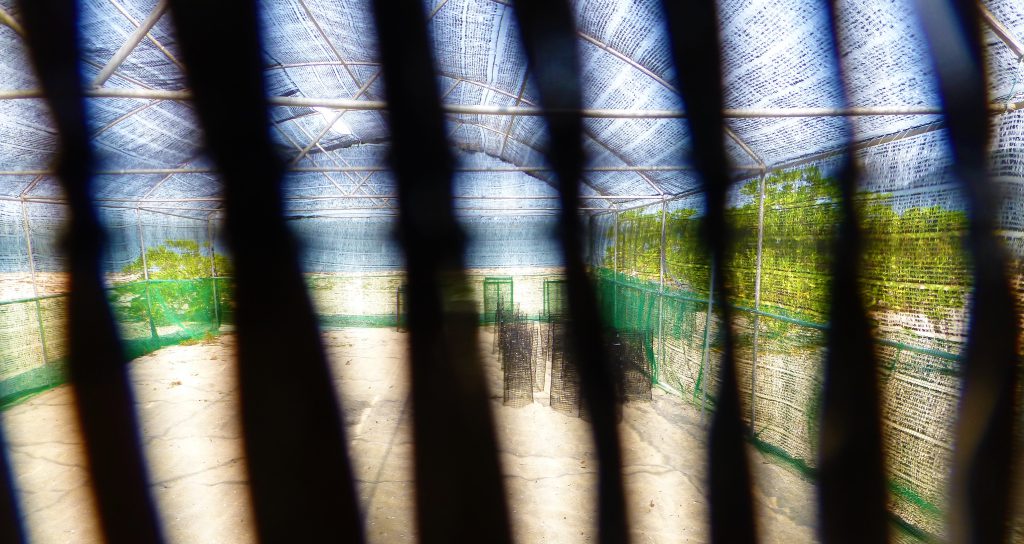 The hatchery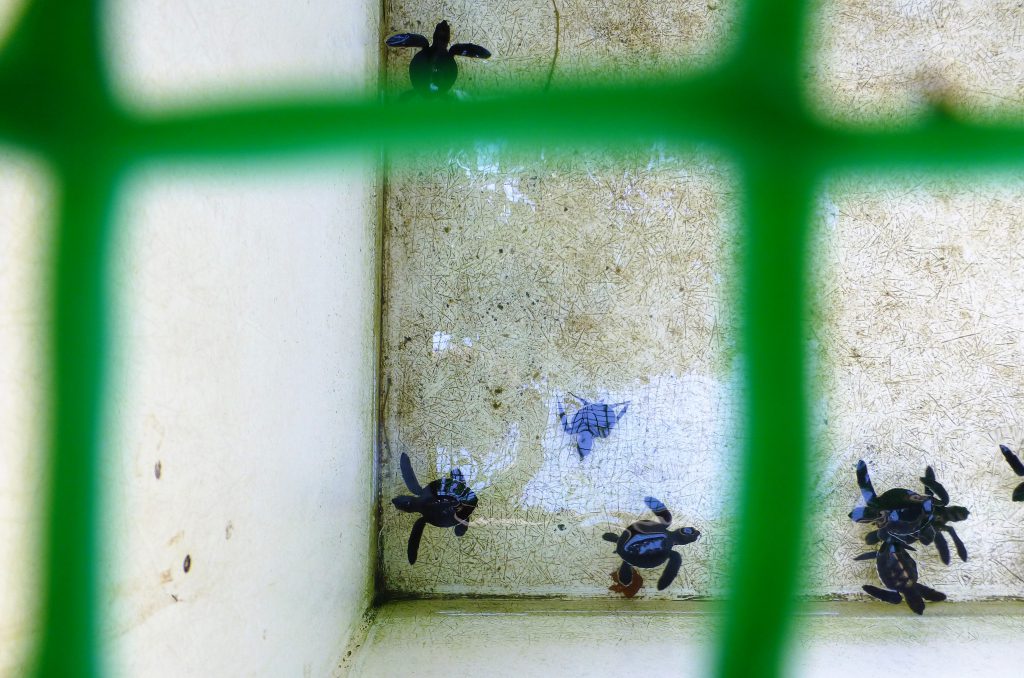 The week old turtles
After this visit I went to the jetty where the man was fishing with a east european tourist and his son. I saw a blowfish they caught and the local told a lot about the fishes and birds on the island. It was very interesting.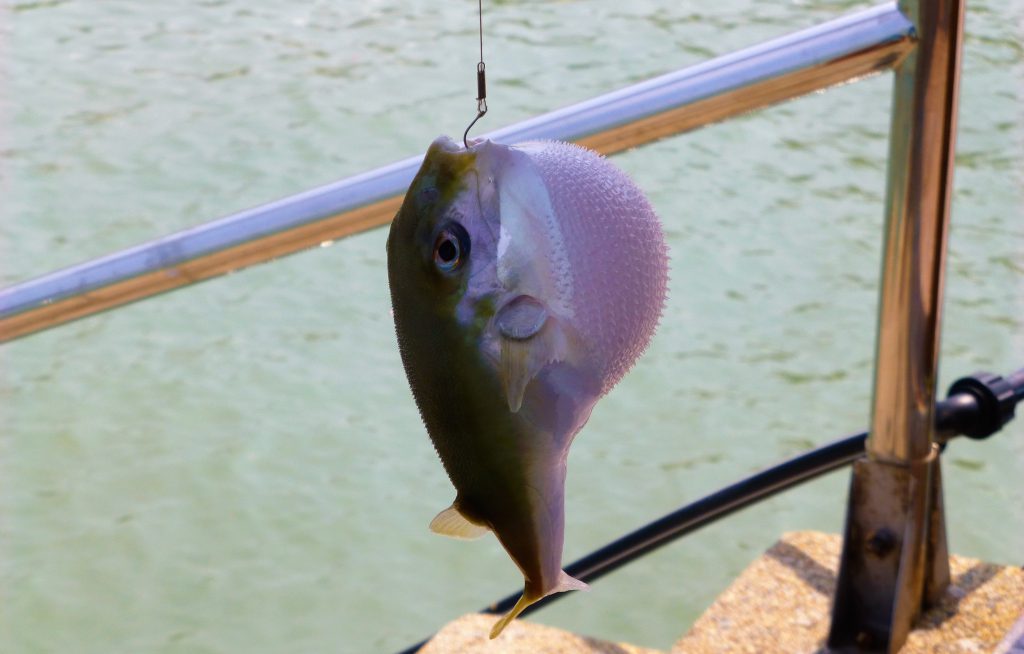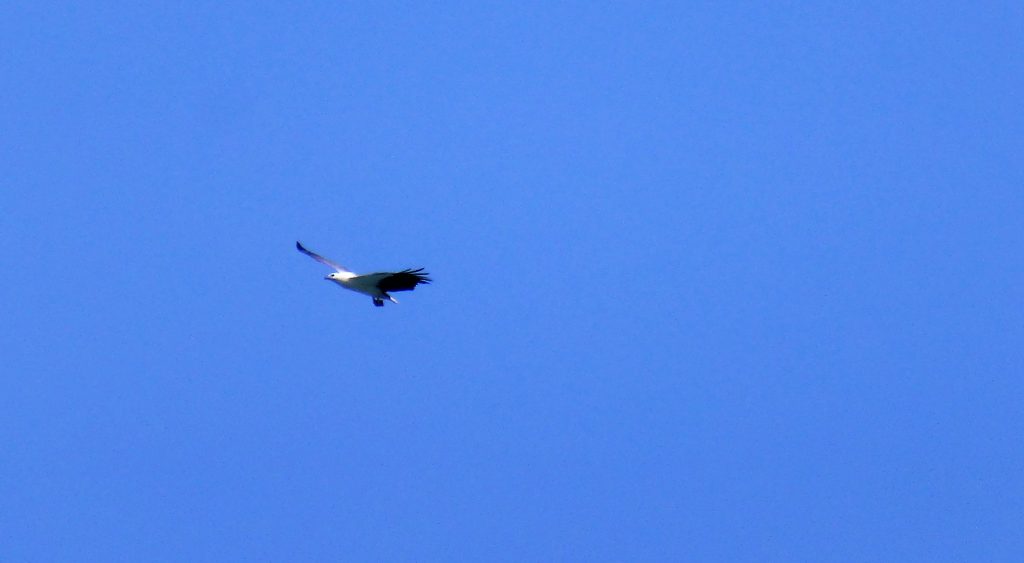 At some point I started to get hungry but I hadn't seen anything where you can buy some food. When I asked the local he said in the whole parc was nothing to buy. No restaurant, no shop, nothing. He thought I should've known that, it was simple. No filthy restaurant or garbage in there. I didn't even thought of that but totally agree with him.
He thought it was kind of sad for me and he gave me a couple of small bananas 🙂 So sweet. I had to walk a long time and he thought I might not make it 🙂 The bananas were really sweet!!
At 13 hours my boat came and I went to the other beach, Monkey beach. When I set foot on ground I already saw some BBQ shops 🙂 I could get something to eat here. Also drinks and tourist items 🙂 So strange, the other man knew I went to this beach. But oke, I just bought some sate and a bottle of water. I was glad for that.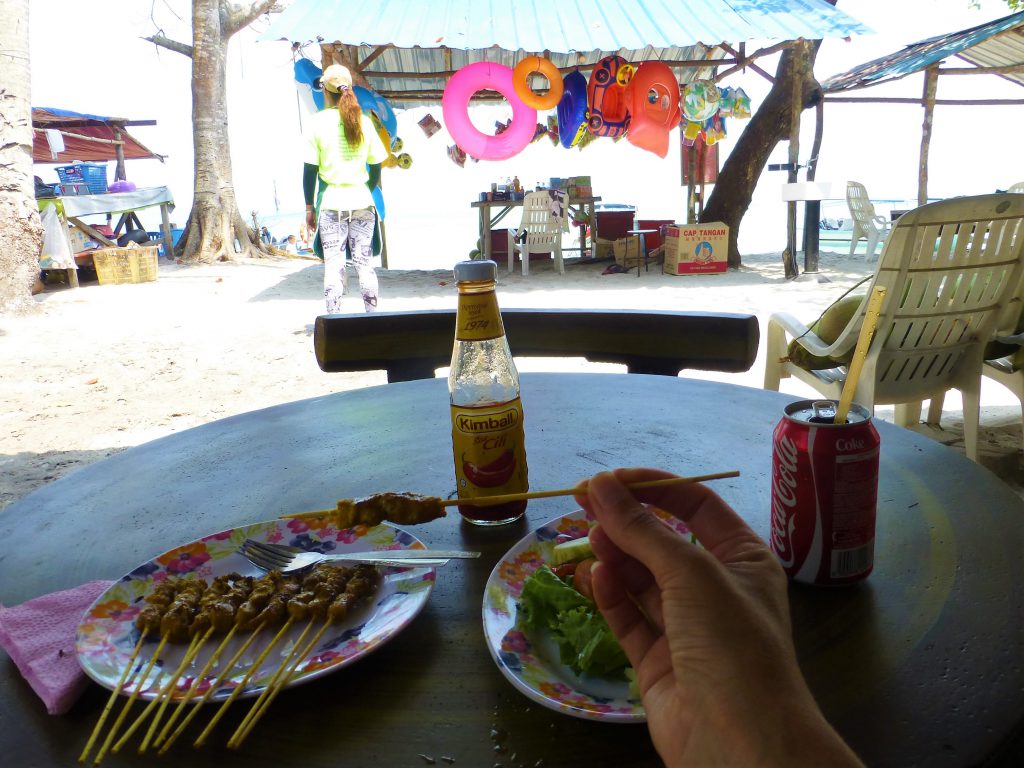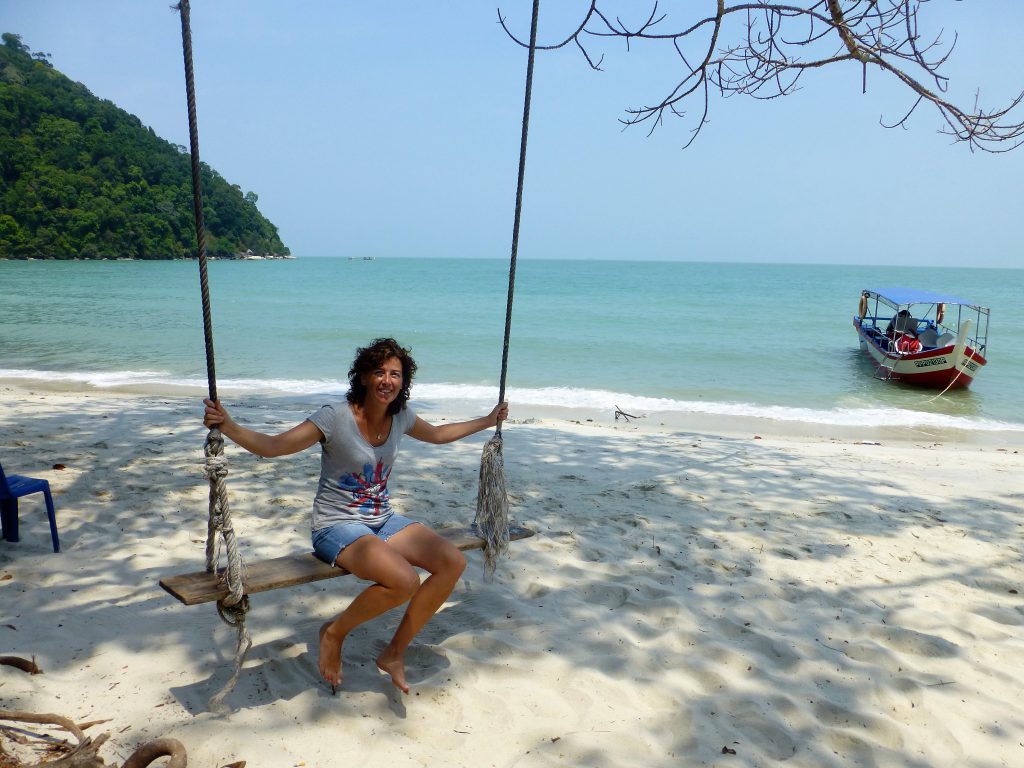 The National Park on Pulau Penang
After drinking and eating I went on walking. I had to walk for 1,5 hour again. I had to go to the end of the beach, the path would start again over there. Before getting there I did see some monkey's.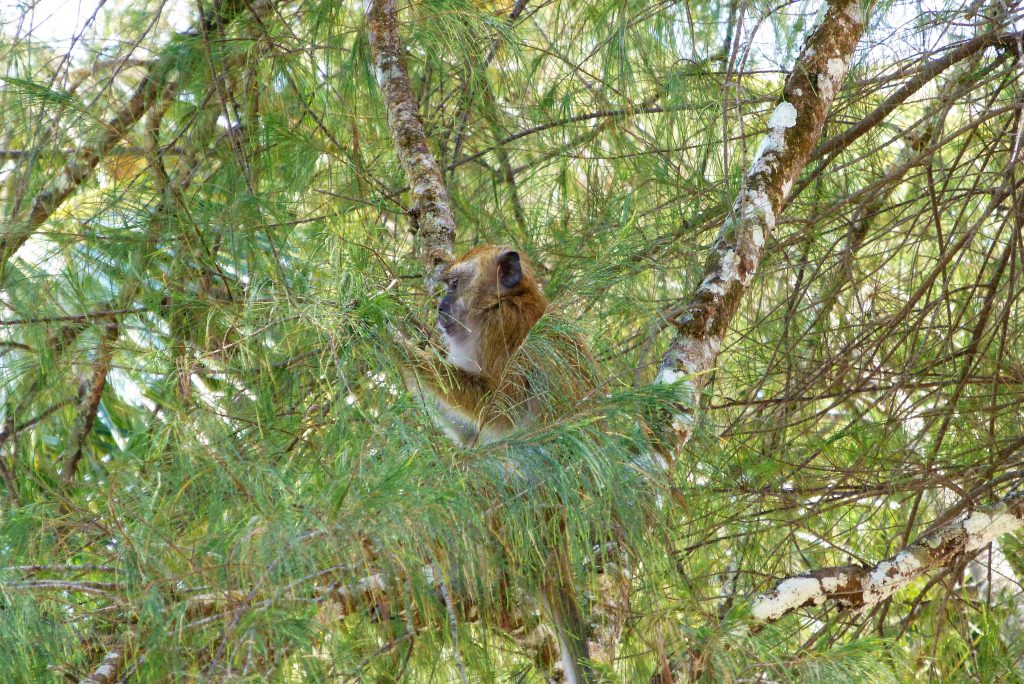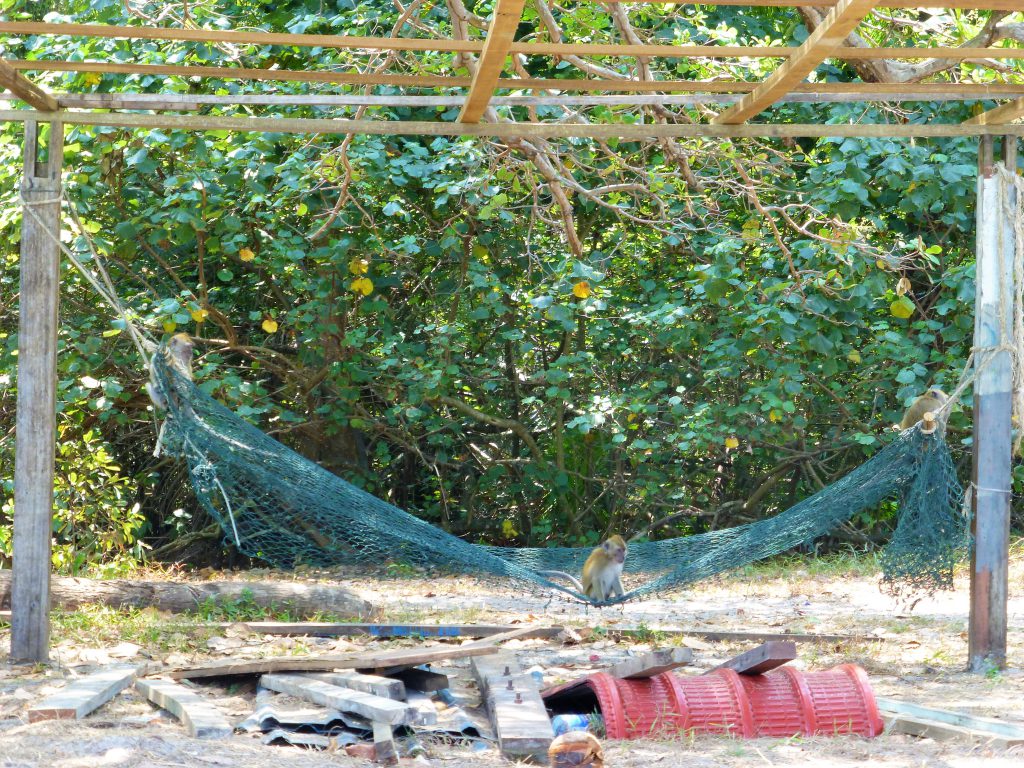 Monkeys in the hammock 🙂
The National Park on Pulau Penang – Malaysia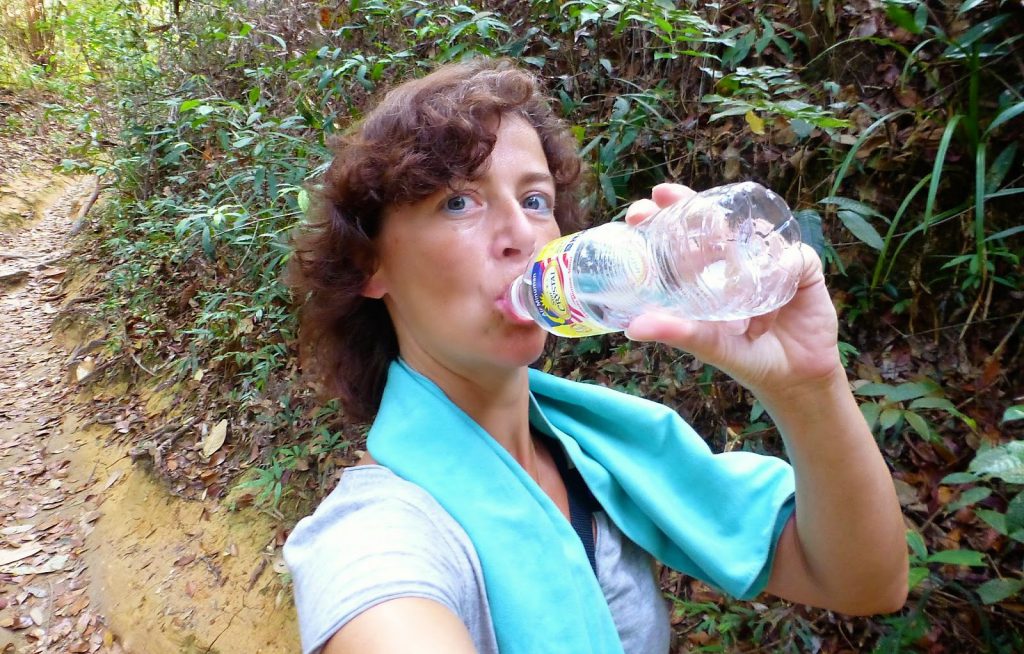 The path went on into the jungle and in a short time it was really hot again. The path is at some point really steep but also not done. They are working hard on getting a good trail through the parc. But it was a great walk.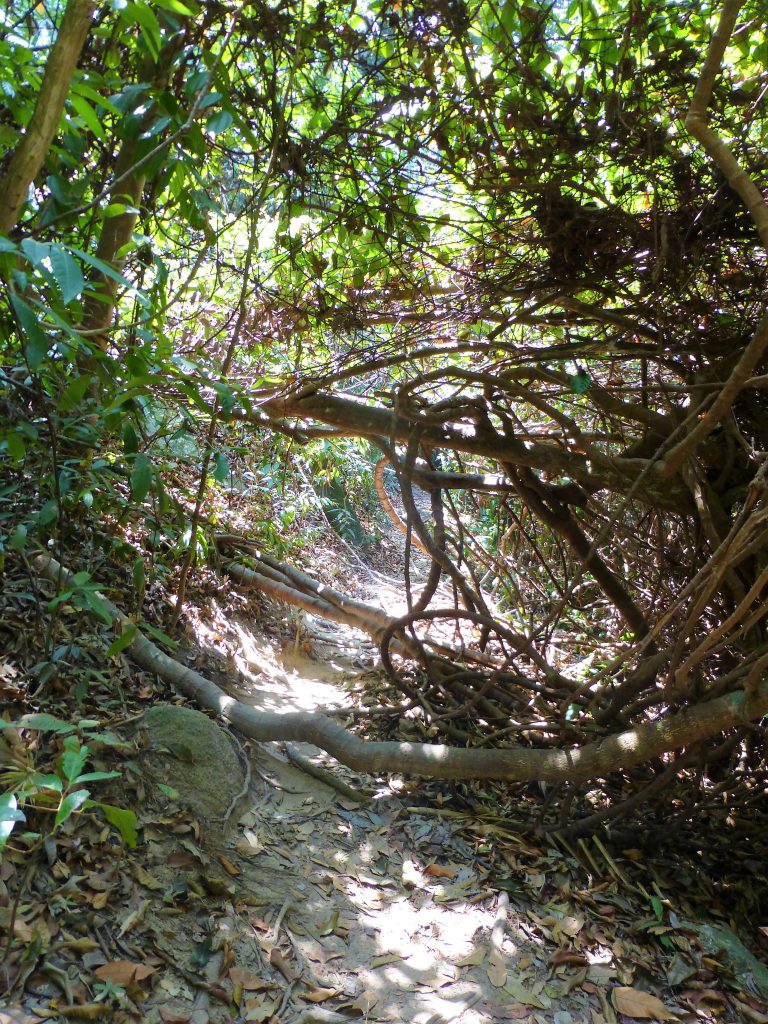 Sometimes you can hardly see where to walk 🙂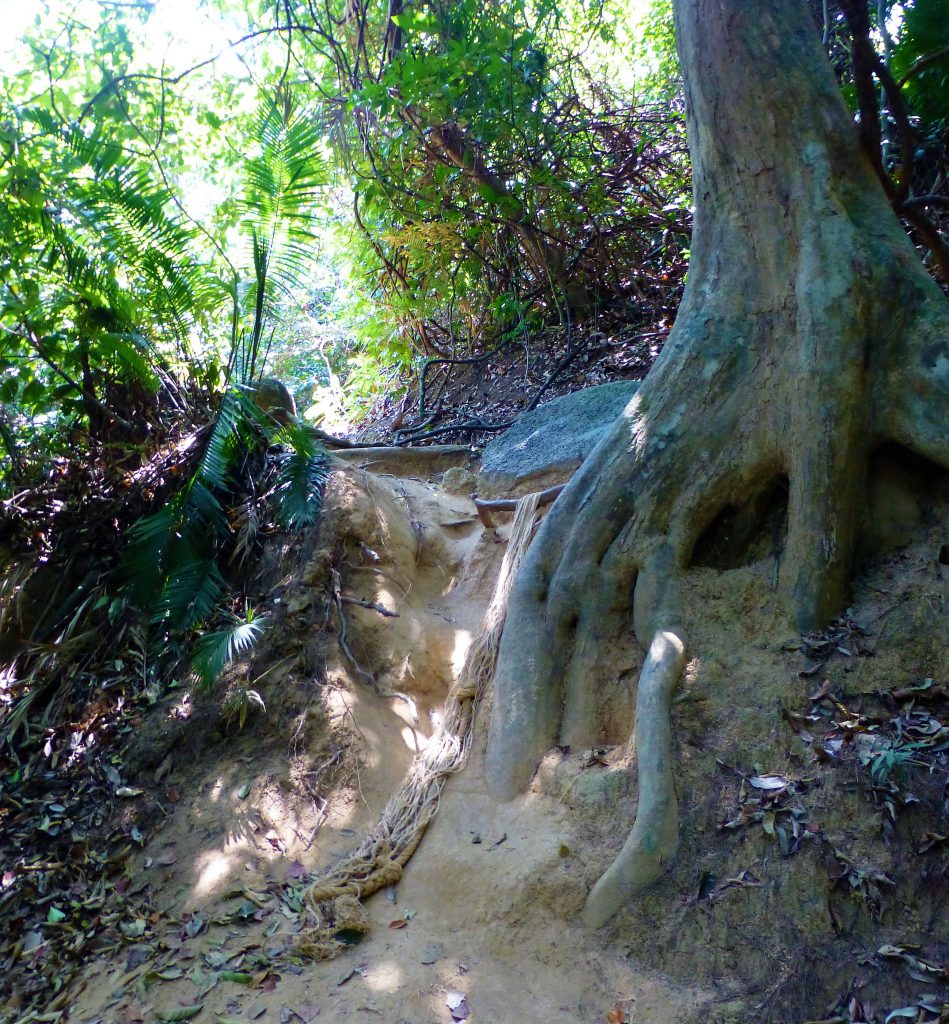 A rope next to the tree to pull yourself up 🙂
At some point I saw a big varana. I just heard it because it ran away from me and stopped where it thought I couldn't see it 🙂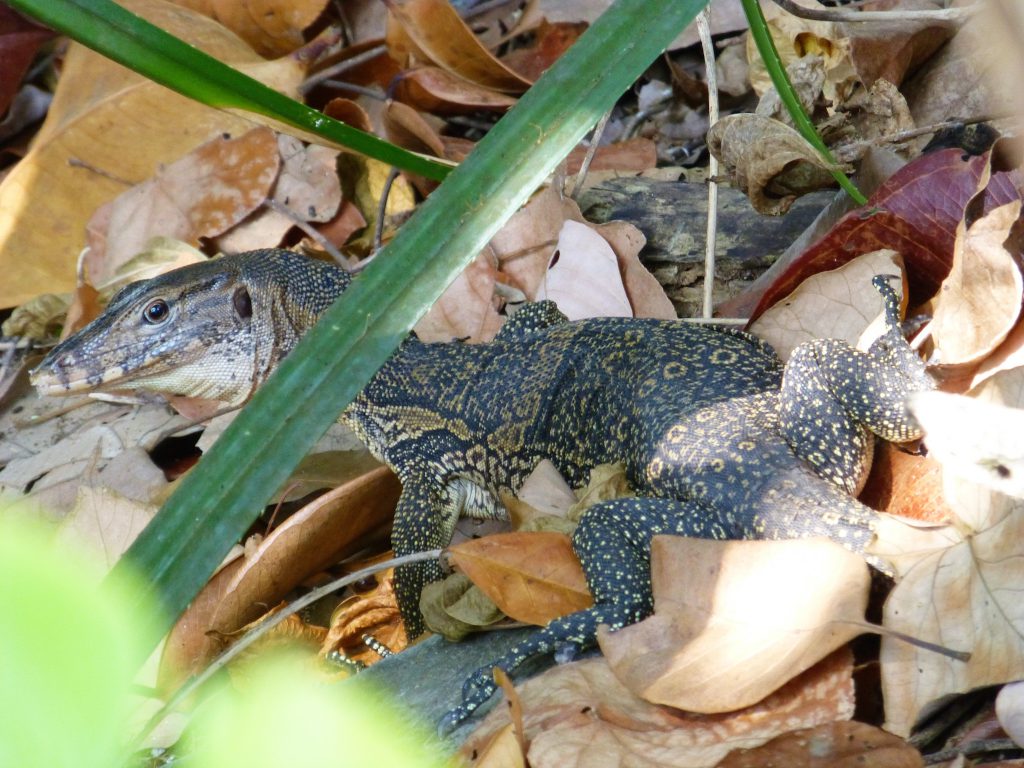 This was a good day spend in the Taman Negara of Pulau Penang of Malaysia.
Want to share this walking tip?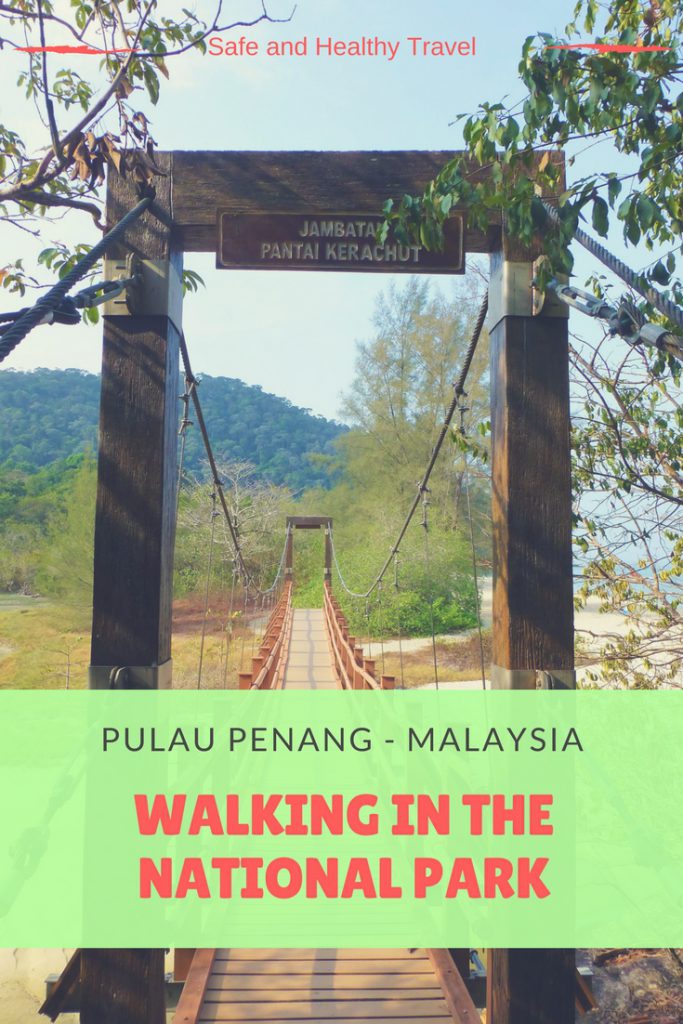 Would you love to explore more of Malaysia?
Cookingclass at Pickles and Spices – Pulau Penang, Malaysia
3 Days in the Jungle of Kota Kinabatangan – Borneo, Malaysia
Diving at Sipadan – Borneo, Malaysia
Haunted Kellie's Castle – Batuh Gaja, Malaysia
Or can I inspire you to have dinner with locals in The Gambia?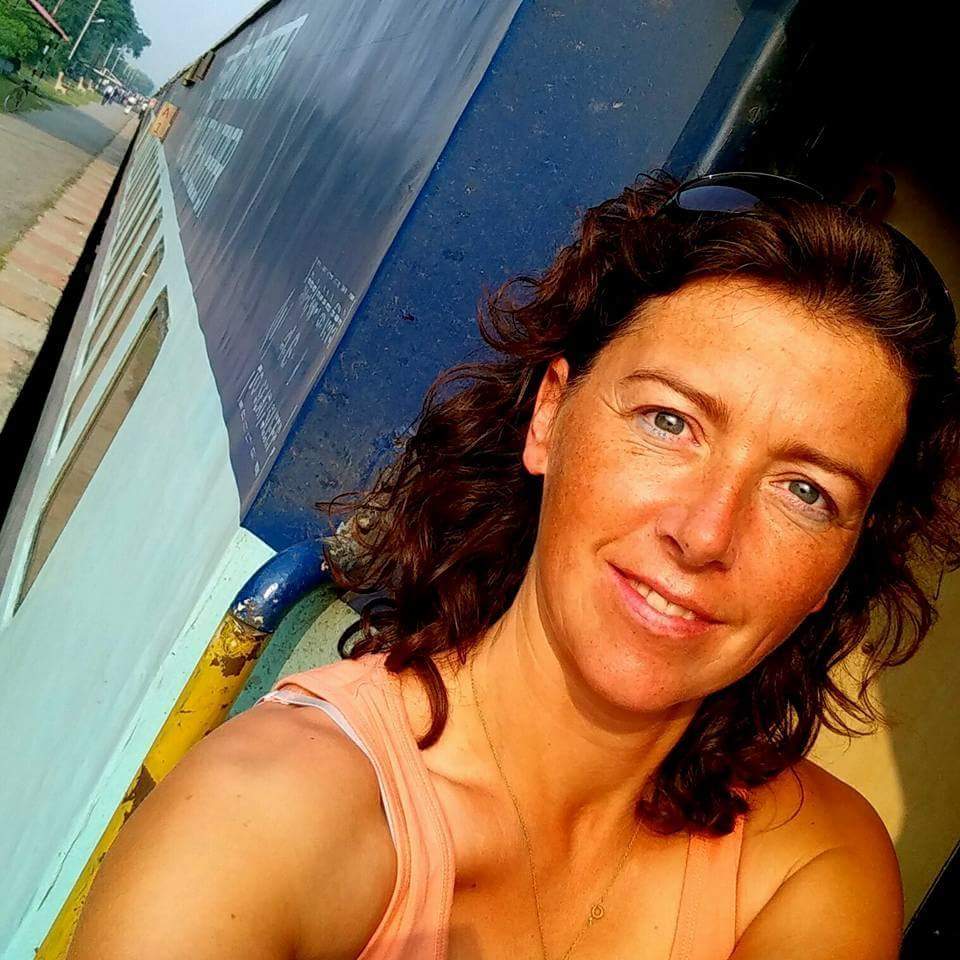 Jacomijn is een politieagent uit Nederland die jou graag laat zien hoe je veilig, actief en gezond de wereld kan over reizen. Safe and Healthy travel is a MUST