Travel Guide Pushkar – Need to see Highlights Pushkar – India
|
Why is Pushkar so famous? Pushkar is the holy city of Rajasthan and every day hundreds of Indian pilgrims walk into the city. They all want to immerse themselves in the holy lake in the old centre of Pushkar. Around such a centuries-old holy lake there is always a lot of activity and of course the many highlights of Pushkar can be found there. Save this Travel Guide Pushkar so you won't miss a thing  on your citytrip!!
A visit to this city you will not easily forget. It is, as in the rest of India, intense. A full travel guide Pushkar with all the highlights is definitely in place for this small town! I visited for almost a month in total because I was an intern in an ashram for 3 weeks and only had the Saturday off…but after the yoga course I stuck around for a few more days! I still had something to do… Priest Tikam helped me a bit.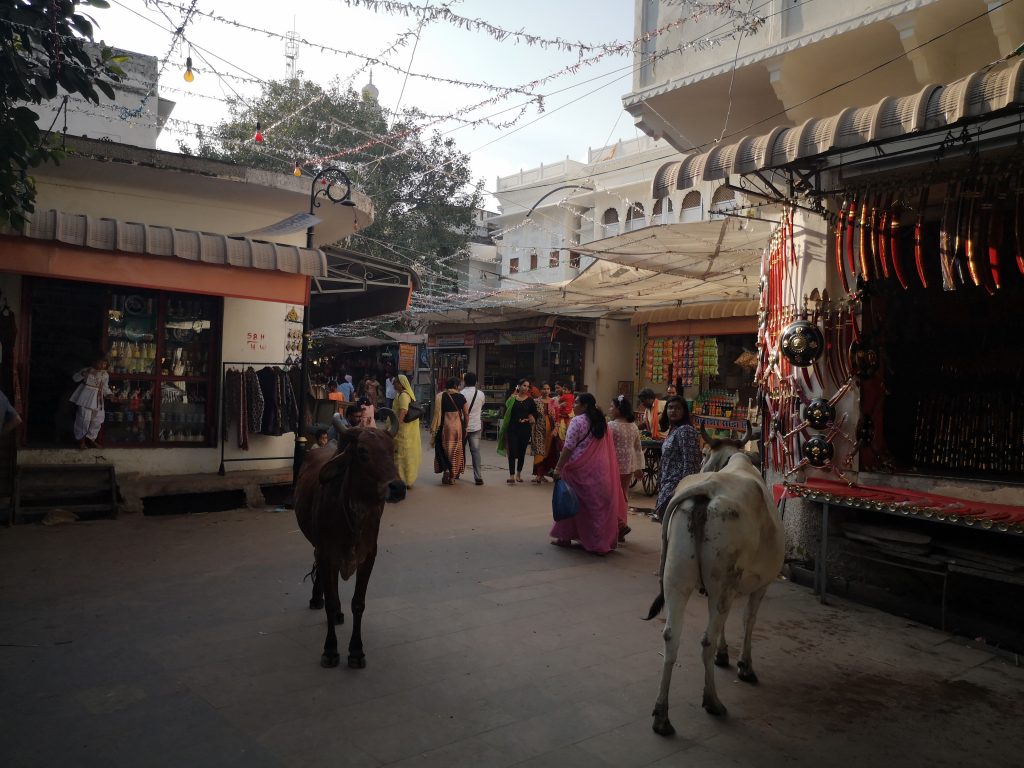 As in all of India, the cows are walking in the streets, the Sacred Cows of course. I must say that they all looked very good and get good food every day from the people but also from the tourists who buy green fodder from the Indian women who earn their day money with it.
Pushkar is very busy every day because it's a place of pilgrimage.
Here is your answer to why Pushkar is so famous? This is because God Brahma was here to get married. He was going to marry Savriti but when that failed because she was not present at the right time, if the planets are in the right position, he then married Gayitri. This of course caused a quarrel and Savriti retreated to the highest mountain where a temple was eventually built for her. The temple Gayitri is built on the other mountain and this mountain is a lot lower.
Savriti has cursed the people of Gayitri. As pilgrims who come to Pushkar for Brahma, they first go to the mountain with the temple of Savriti to get the energy positive.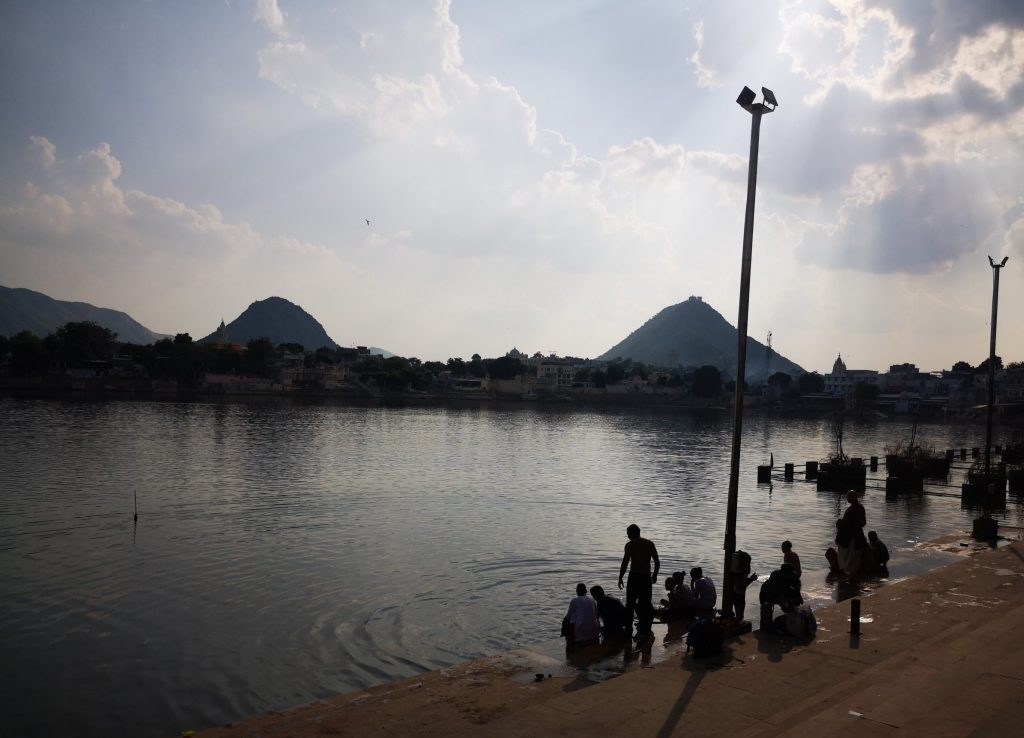 You knew the Hindu was a vegetarian, too?
But did you also know that for them eggs are included?
Because Pushkar is a holy city for the Hindu faith, you cannot get meat, eggs and alcohol within the city limits. When I was teaching my last yoga class for my 200RYT we drove outside the city to a school and saw signs everywhere for places where you can buy alcohol. Another time I went to Aloo Baba with Ram I saw big barns with chickens in them…
Travel Guide Pushkar – India
Did you know that in Pushkar there are 52 ghats on the edge of the holy lake? If you go to Pushkar as an Indian, you usually do so as a pilgrim. You want to be immersed in this holy lake for once in your life. To make the visit a success, you also make a sacrifice (puja).
Tikam, for instance, will lead the puja for you. He makes you say the right things and do it for the right purpose. Tikam is Brahmani priest. There are many tourists who come to Tikam to do the puja. There are also many Indians who come especially to him so that they can be included in the book that his family has been keeping for generations. The people who come to him are mostly from the North of India.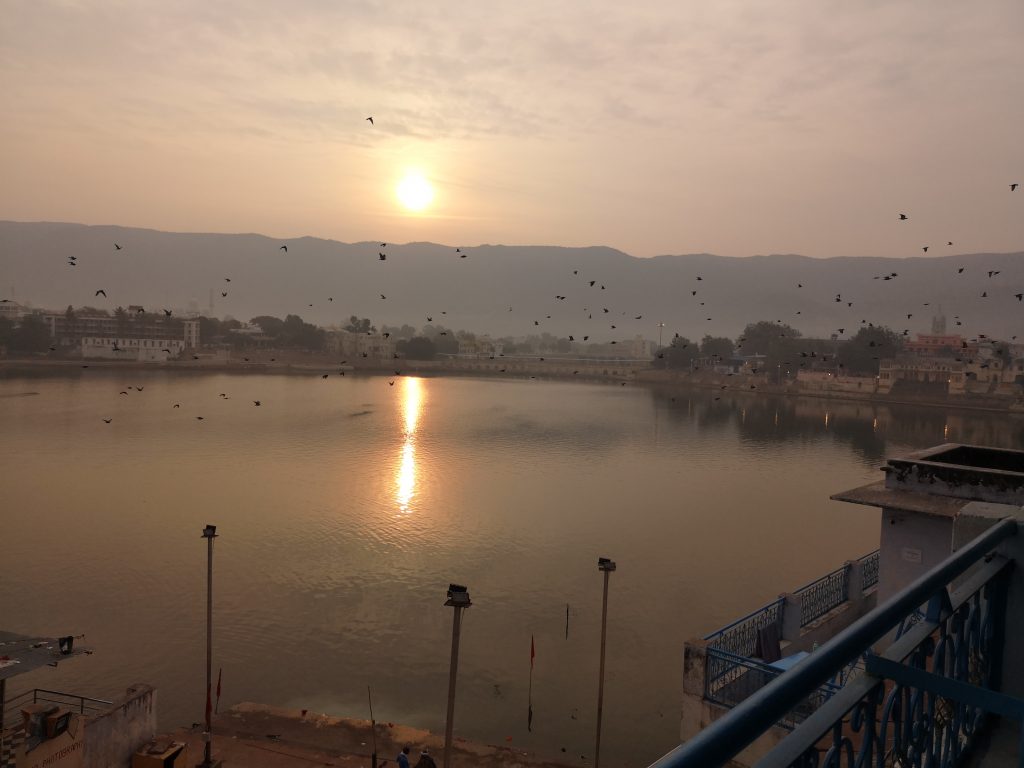 When I walked in the city on my Saturdays off, I always ran into Ram and we had a conversation, drank some chai and said goodbye again. He walked through the center to raise some money for his family. He already told me that he lived in a small village just outside Pushkar. He invited me to come over… Of course I won't turn that down! Read more about my visit to Ram & Sarda just outside Pushkar.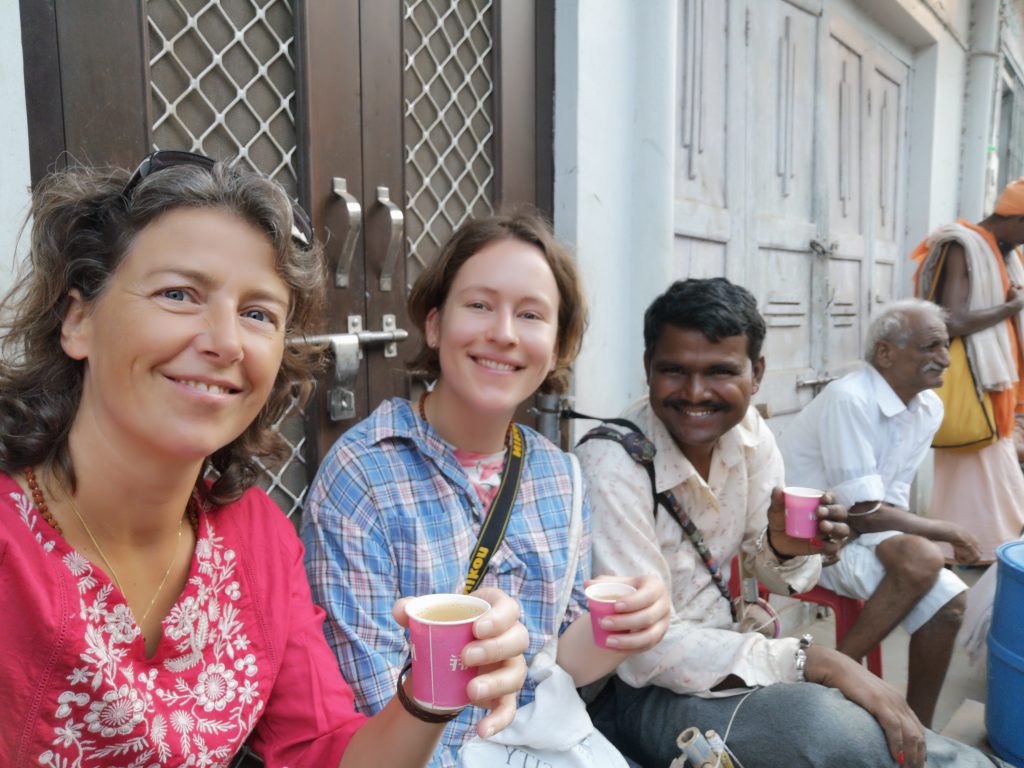 Do you know the story of the creation of the sacred lake of Pushkar?

After Brahma created the world, he was thinking about what he would do with it. While he was contemplating he had a lotus in his hand. When his hand slackened, the lotus fell and landed on the earth. The lotus bounced twice before it came to rest. The places where it touched the earth immerged lakes, the first Sarovar, the second Madhya or Vishnu and the third Rudra or Budha.

Did you know that in ancient Hindi Pushkar means Lotus?
What to do – Holy city Pushkar?
Need to see Hightlights Pushkar – Rajasthan, India
Puja at the Holy Sarovar / Pushkar lake
The evening puja at Sarovar Lake gives the evening a special feeling. The Hindu faith brings a lot of flowers, smells and sounds with it, so maybe you can imagine what it is like at such a holy lake. Everywhere there is something to see, something to experience and something to do!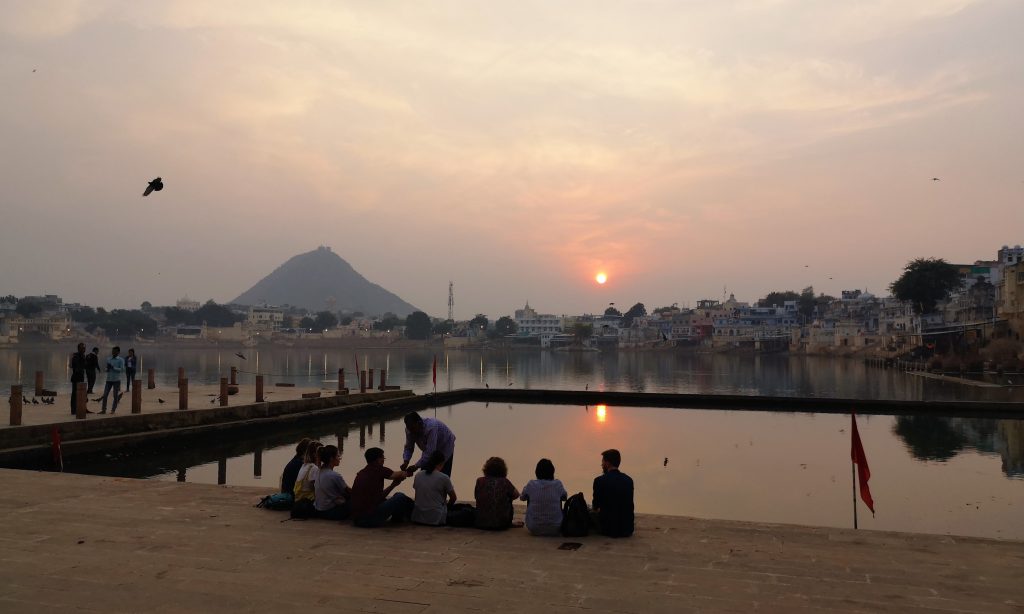 See the sun setting over the holy Sarovar lake with the sound of music and prayer in the background.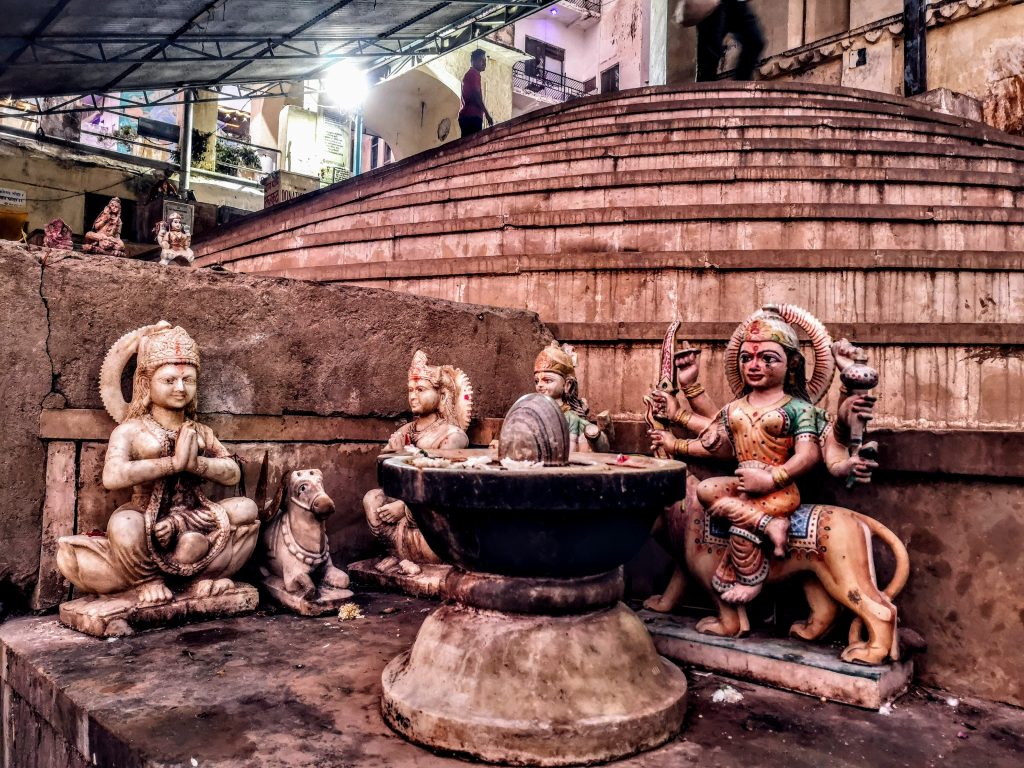 But even more so in the morning or afternoon when everyone comes by to wash themselves.
Cooking class at Cooking art and home stay
Take a cooking class and learn to make the real Indian food yourself! If you take a cooking class you will learn to make some dishes yourself. You will learn how to use the ingredients and see how they are applied to make a real curry! I always find it super instructive and of course delicious because you will eat the dishes afterwards!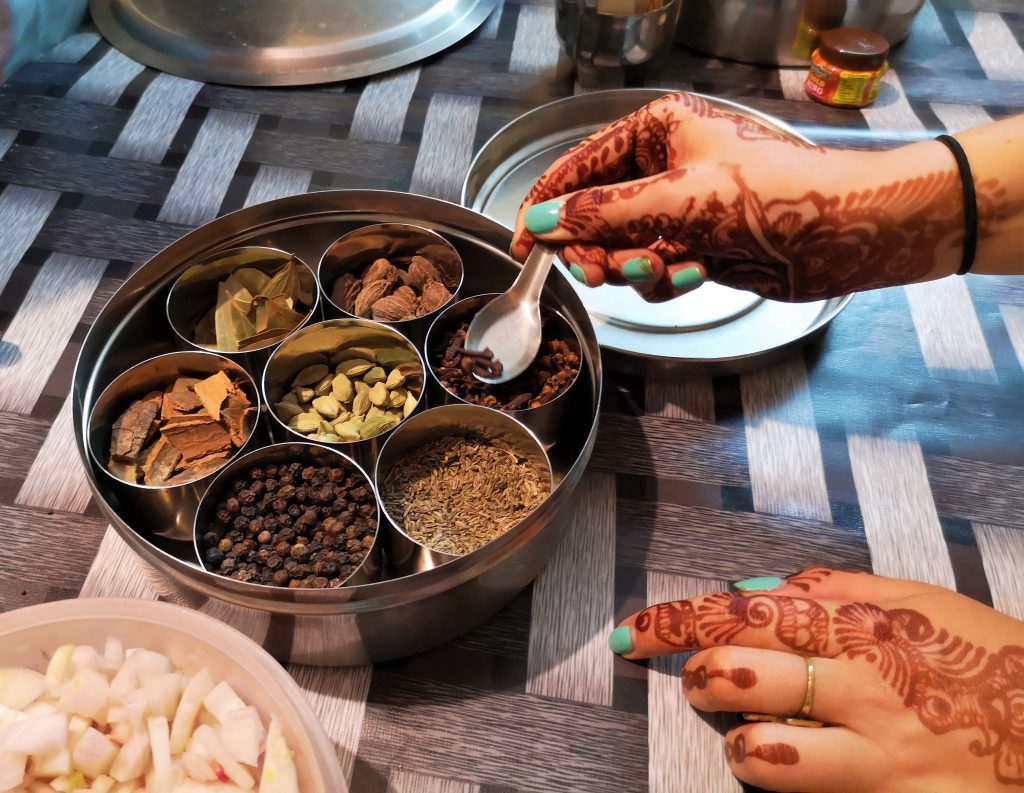 All herbs & spices are of course explained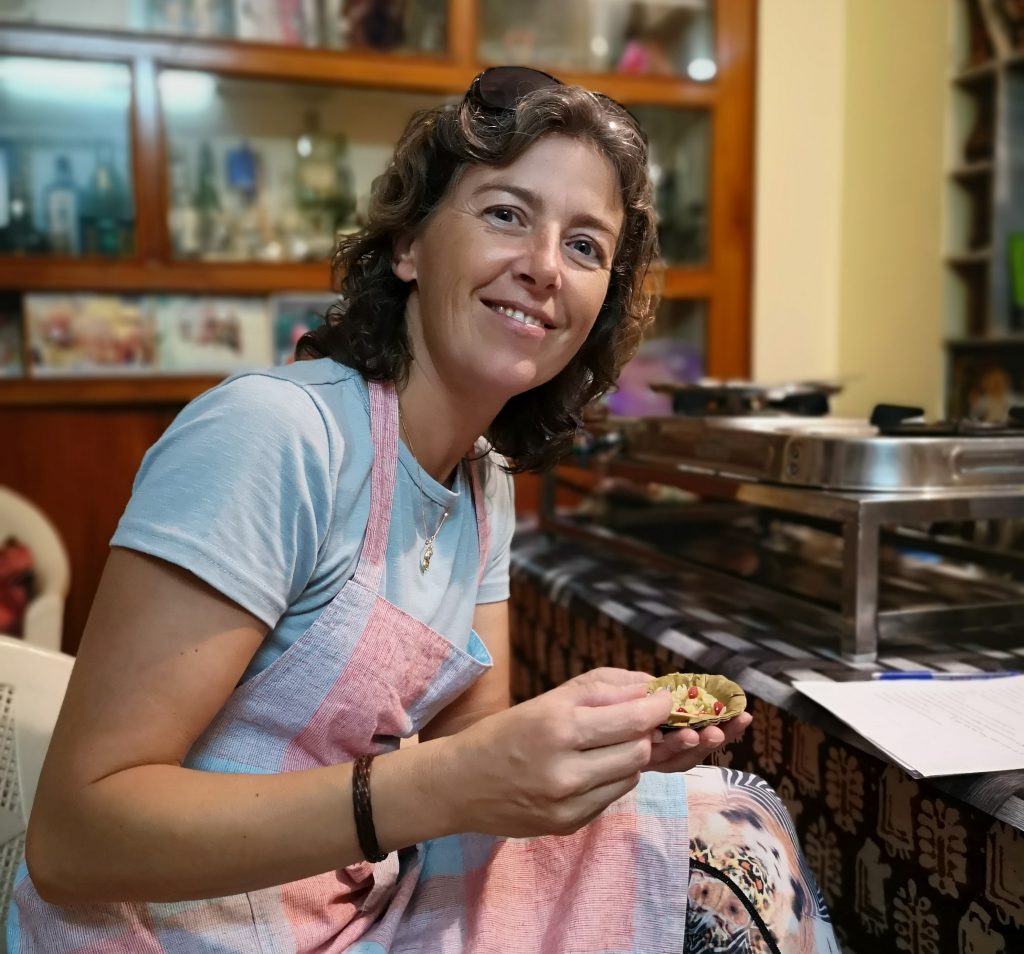 If you also want to book a cooking class, take a look at the site of Pushkar Cooking Art.
Travel Guide Pushkar – India
8 Temples of Pushkar
Pushkar is a holy city so if you type in travel guide Pushkar you'll end up with hundreds of temples. If you walk around the holy lake, which I highly recommend, you will come across many temples. Just enter some of them and experience the variety of the city and the religion experience of the people.
On my last meditation round with Swamiji, during the yoga course, we entered a small temple that was a kind of cave. We sat inside for 10 minutes, meditated and then Swamiji blessed us by touching our foreheads and making a bindi. I don't remember exactly where this temple was but for me it was of course a special visit. In the small underground passage towards the statue in the temple several people were meditating.
Most famous temple in the holy city of Pushkar. The city that contains the only temple dedicated to Brahma. Why is that? Brahma got married and in the hindu faith that happens at the exact moment the planets are right. When Savriti wasn't there yet while the planets were almost right, someone else was chosen to become Brahma's wife.
How Gayitri became worthy to marry Brahma is another great story in the Hindu faith…and that is why she, Gayitri became the goddess of milk. Look that up! But because Savriti got very angry she cursed Brahma and only gave him Pushkar to be honored.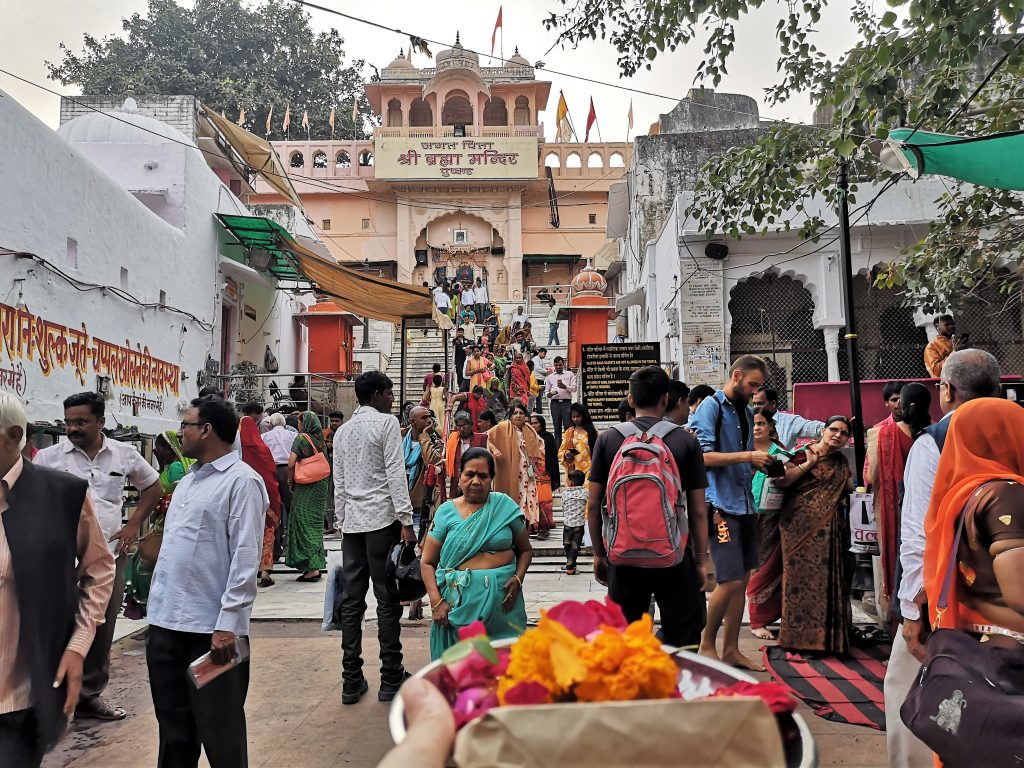 If you go to the Brahmaji temple, you're going to sacrifice flowers. Then you'll get Prasad in exchange. These are rose petals to sacrifice in the lake. Besides, you get some puffed sweet rice to sacrifice or to eat, I gave it to a boy who walked at the lake.
Savriti Mata temple (high mountain)
So this is the temple dedicated to Savriti, she who did not become Brahma's wife, and where according to legend she retreated.
The trip up is half an hour's walk. Of course you can take the gondola, but a walk with a stop every now and then is not a bad idea. In the meantime you can enjoy the wider becoming view over Pushkar. Upstairs the temple is open a few times a day. Sometime in the morning and in the afternoon. While we were there it was around 14.30 hours.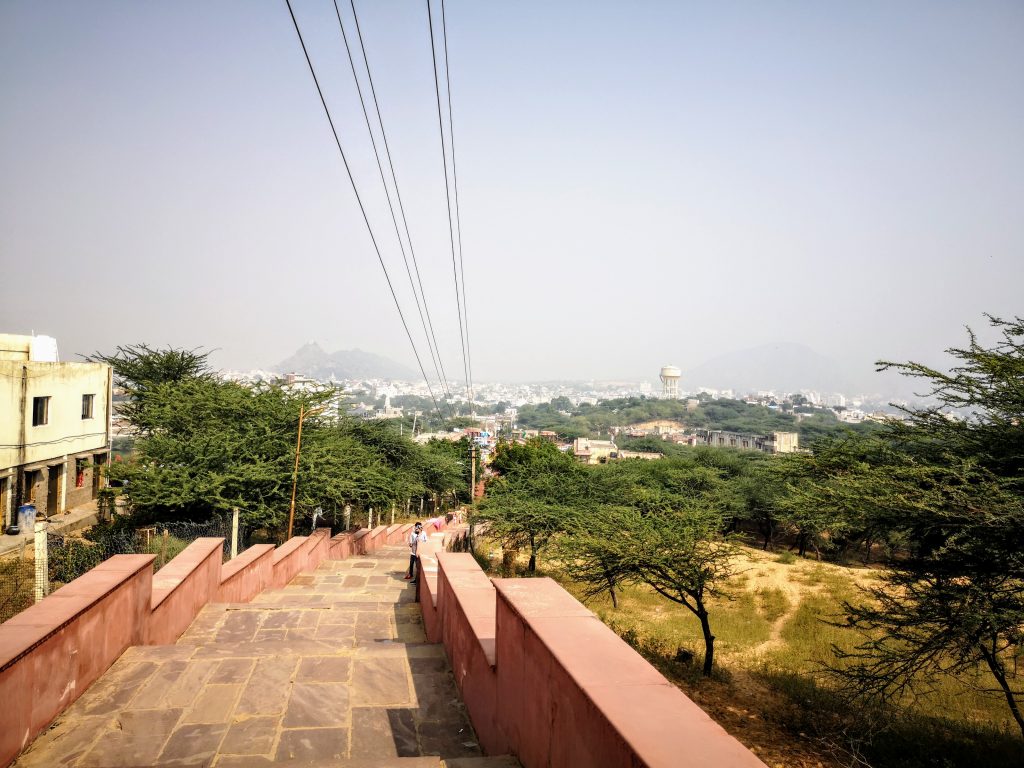 Gayitri temple (small mountain)
On another, slightly lower mountain, also just outside Pushkar is the temple dedicated to Gayitri. Legend has it that she retreated to this mountain. From the Ashram where I stayed for 3 weeks I saw both temples. This smaller one was closer but I never went there. Barbara from my 200RYT group did walk there on a free Saturday.
Sri Panchkund Shiva Temple just outside of Pushkar
I visited this temple with priest Tikam. After I met him one morning at the holy lake he asked me to get out of town. He bought food for the monkeys on the way up and so we had enough attention on the way up.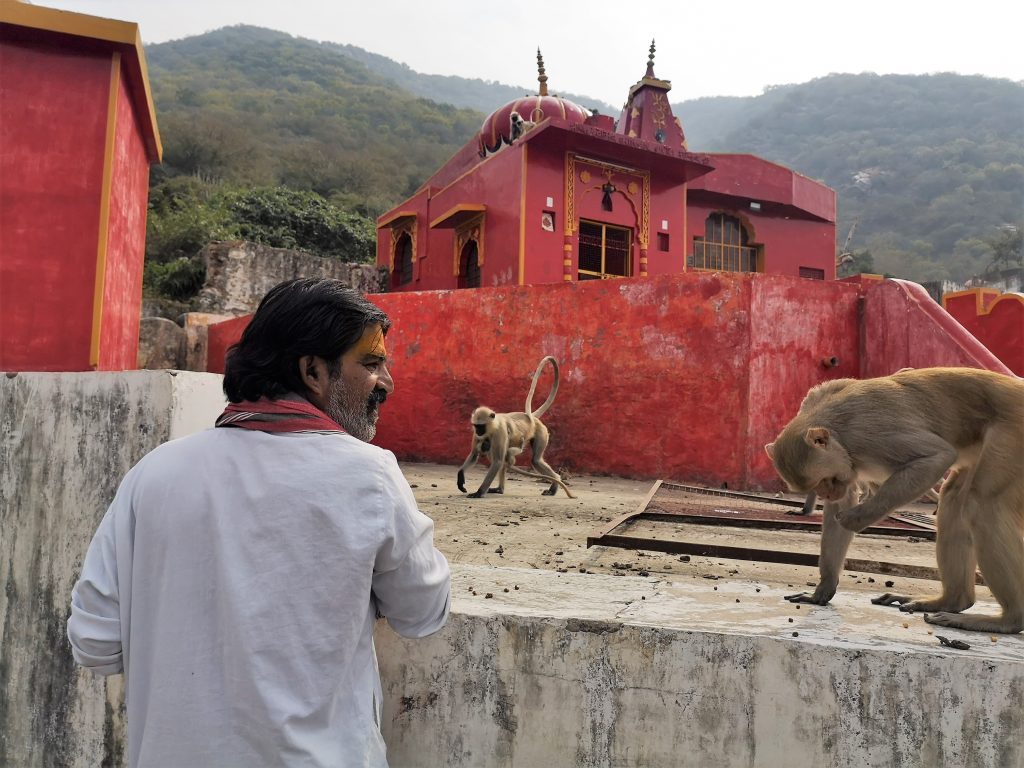 On the way, you'll come across a lot of monkeys. The higher you get, the fewer monkeys you see 🙂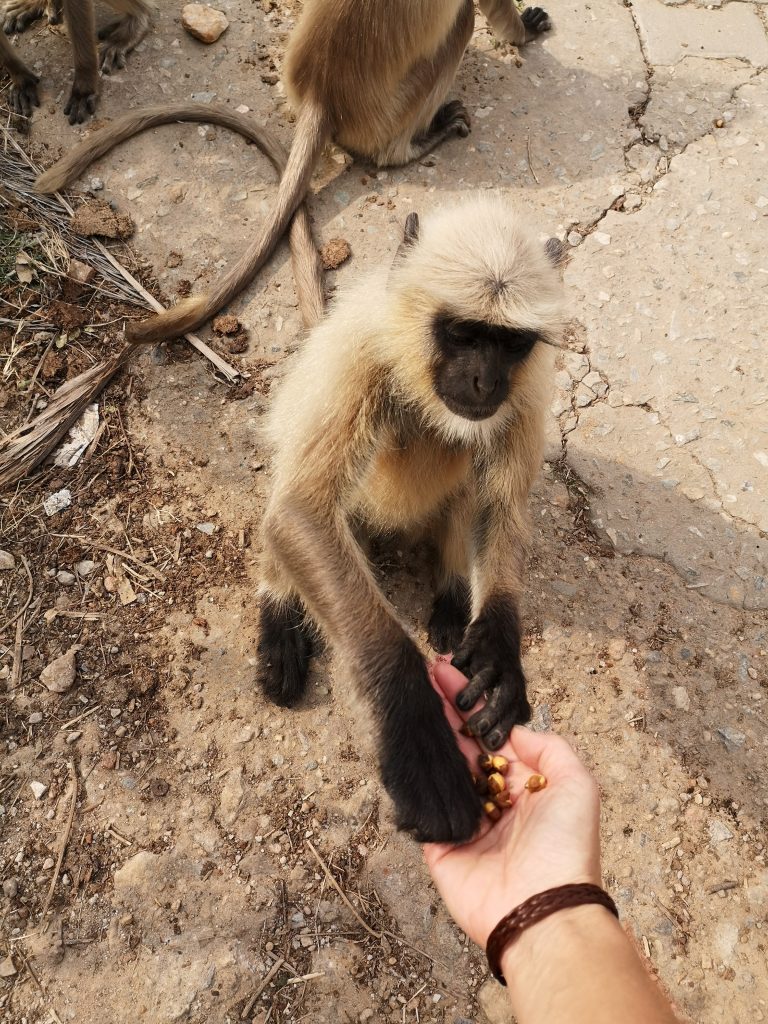 On my daily meditation round of the Yoga course we came here and Swamiji said a small prayer. It is a beautiful temple where around 6.30 / 6.45 a priest comes to do the morning puja. We met him almost every morning. If you are not Hindu you unfortunately can not enter this temple but from the courtyard you can see and of course hear the puja.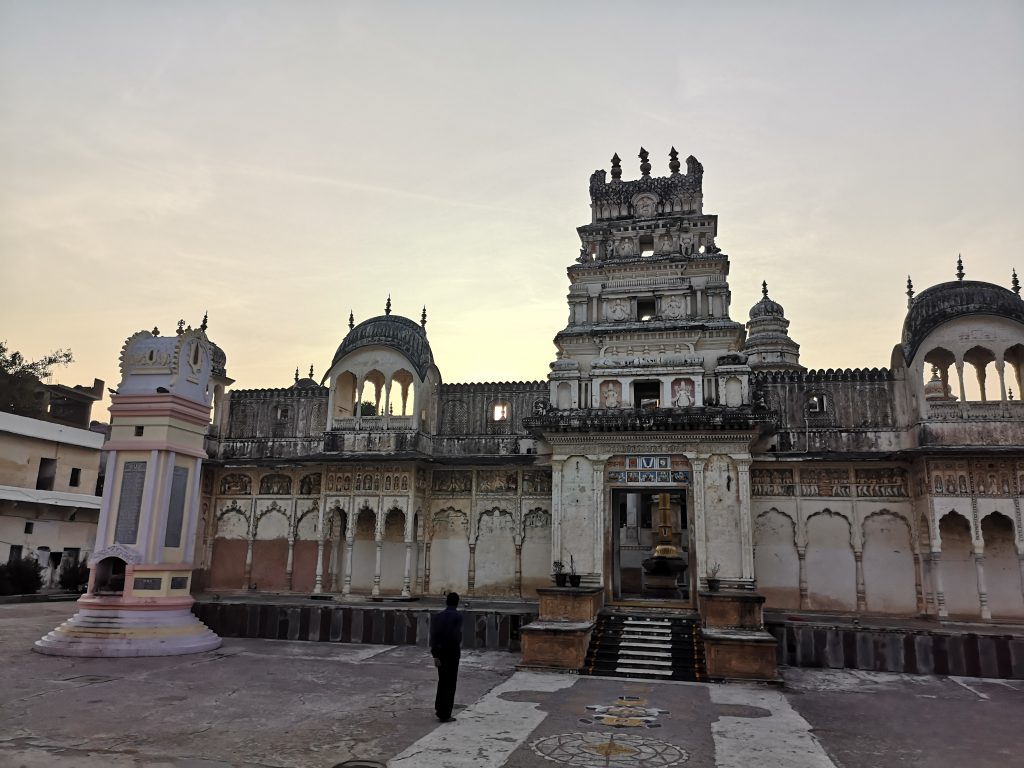 Shri rama Vaikunth Nath Swami Temple
If you walk out of town to go to the cooking class at Cooking Art you will first pass this temple. Unfortunately we as western tourists are not allowed to enter. You can catch a glimpse when you're standing in the gate… The temple is a South Indian model… In Kerala and Tamil Nadu I saw this architecture a lot.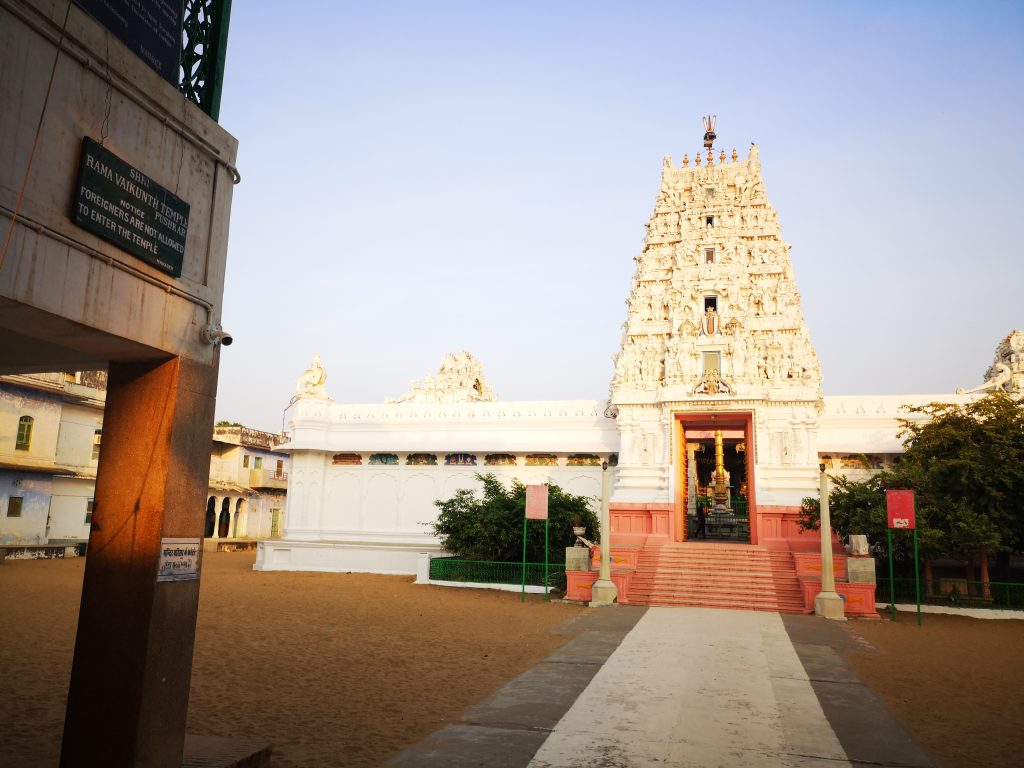 When you walk further the road bends to the left and you'll see a little further on this beautiful large Sikh temple on your right. It is on one of the main arrival roads of Pushkar. Also when I was on my way to the Lord Shiva temple with Tikam we passed this temple. Unfortunately I didn't have time to go inside. The temple is about 10 minutes walk from the center, the lake.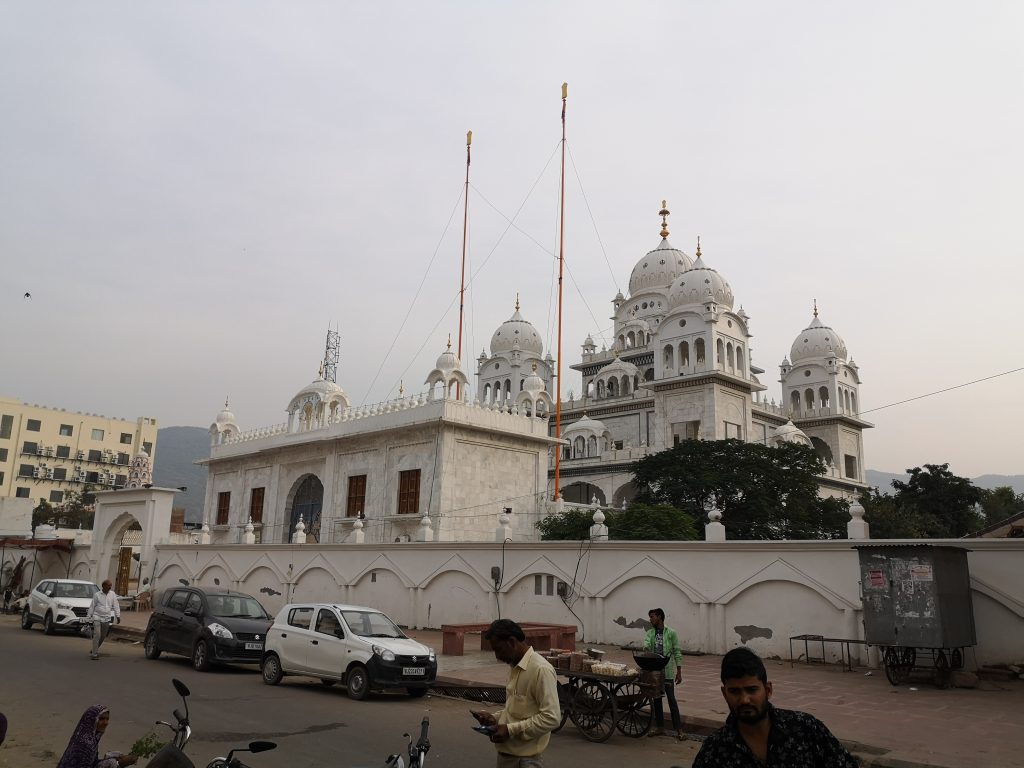 Navkhandiya Balaji Hindoe temple
A little further on in the street you will find this tower which is also a Hindu temple. It stands in the corner of the intersection of ring roads and is not to be missed when you enter Pushkar.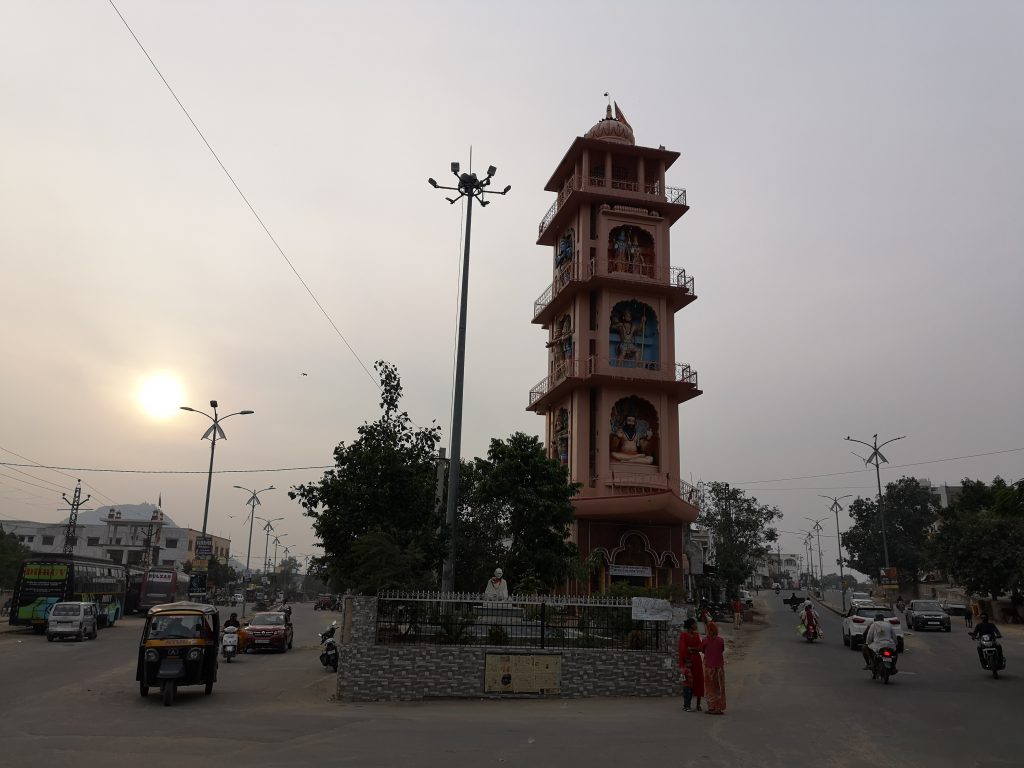 Highlights just outside Pushkar
You're complete Travel Guide Pushkar

Aloo Baba
If you want to get out of the city and see some of the surroundings I can really recommend you to go to Aloo Baba, he lives about 8km outside Pushkar. Everybody knows him and can tell you how to get there.
Aloo Baba told me that he came from Benares (Varanasi) but that he wanted to dedicate his life to religion, so there should be no distractions. That is why he left his family. After wandering around for a long time he arrived in Pushkar and found this rock, the energy felt so good that he stayed here.

The white building you see is the temple, we went for a walk and stood on top of the mountain against which his temple is built.
Aloo Baba started to build a house, a temple and that resulted in a beautiful building where you now even can spend the night as a tourist. When I was there a French couple arrived and wanted to spend the night with Aloo Baba. The sign next to the road also says it's an ashram and that means he likes to share his wisdom with you in the time you spend with him…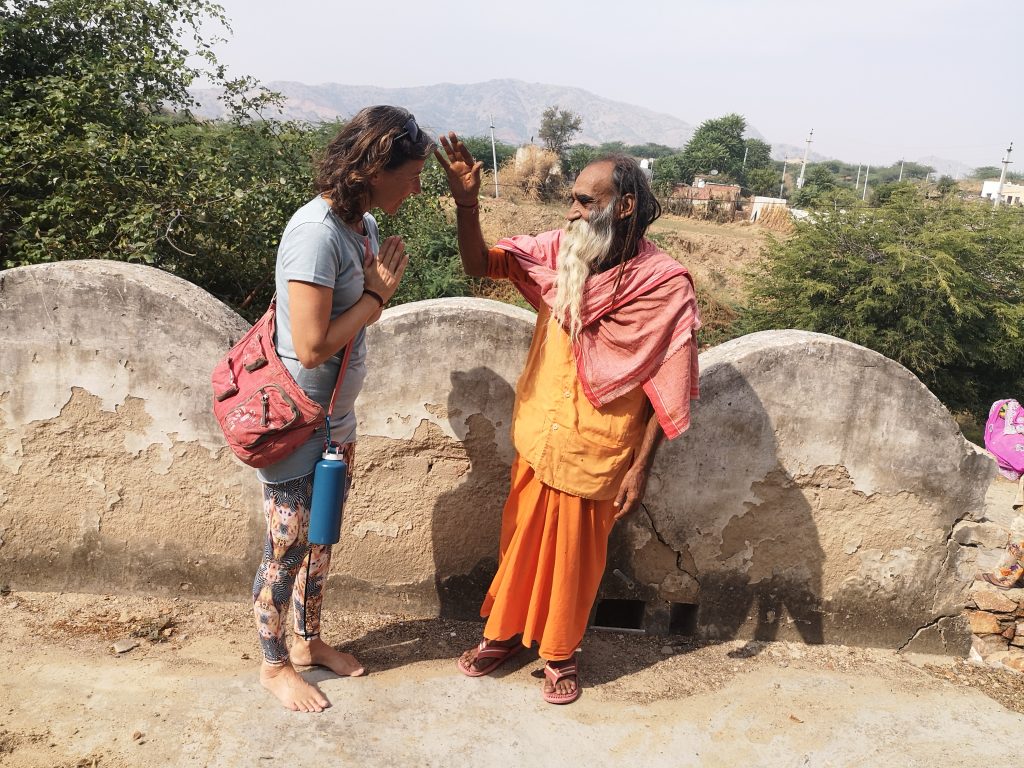 Do you know why his name is Aloo Baba?

He only eats potatoes… Those are aloo 🙂 He does this in order to have as little distractions as possible from his body while it processes the food.
Biggest Camelfair in the world
The biggest camelfair in the world! Of course it would be great if you are in Pushkar just in those annual 2 weeks. I did, but because I was still in the yoga course at that time, we were more bothered by the noise and crowds than I was enjoying it… But on my free Saturday I could visit the camelfair fortunately!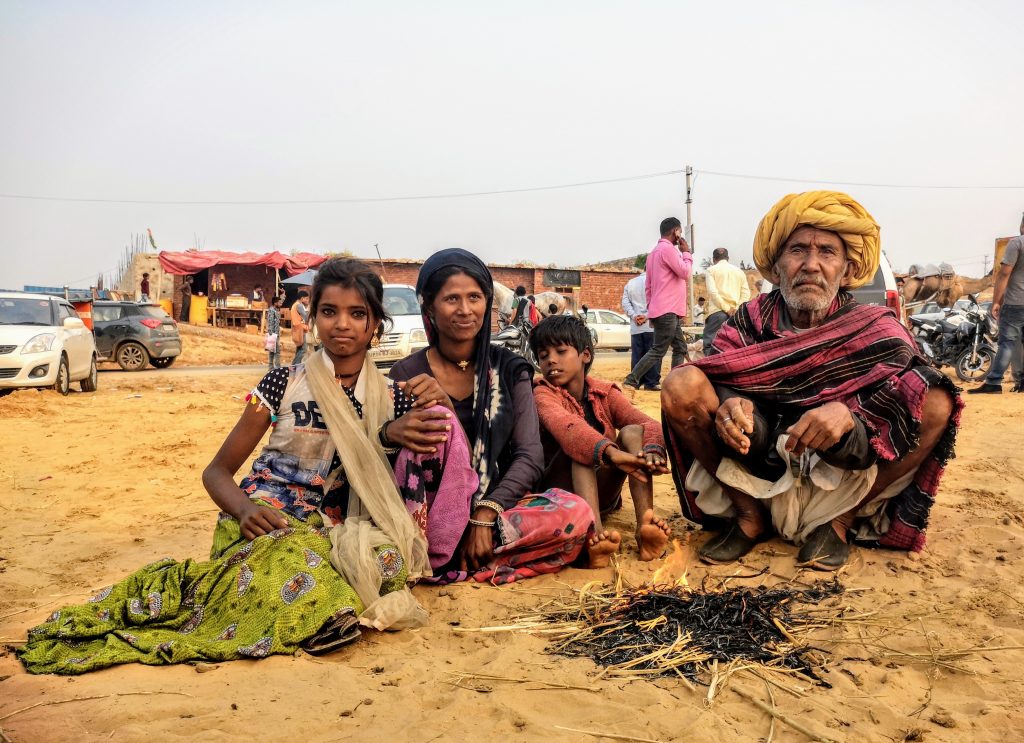 Of course it used to be just a camelfair, but because it attracted so many people from the area, an ordinary market started to emerge. Now that more and more tourists are coming, this market is expanding and because camels are becoming less important, it is getting smaller. So there is a shift going on that not everyone finds positive. Also because the Rajasthan camel is protected and is not allowed out of the state, the trade is cornered… There are all kinds of difficulties that arise for the camel trader but also for the shepherd who keeps camels.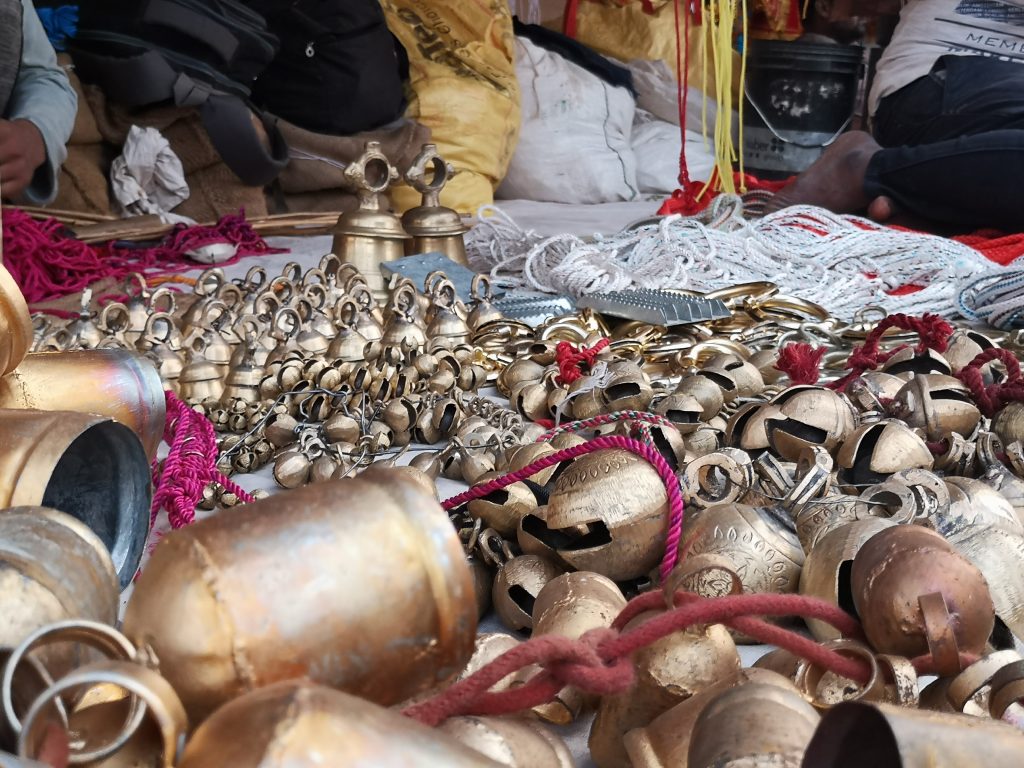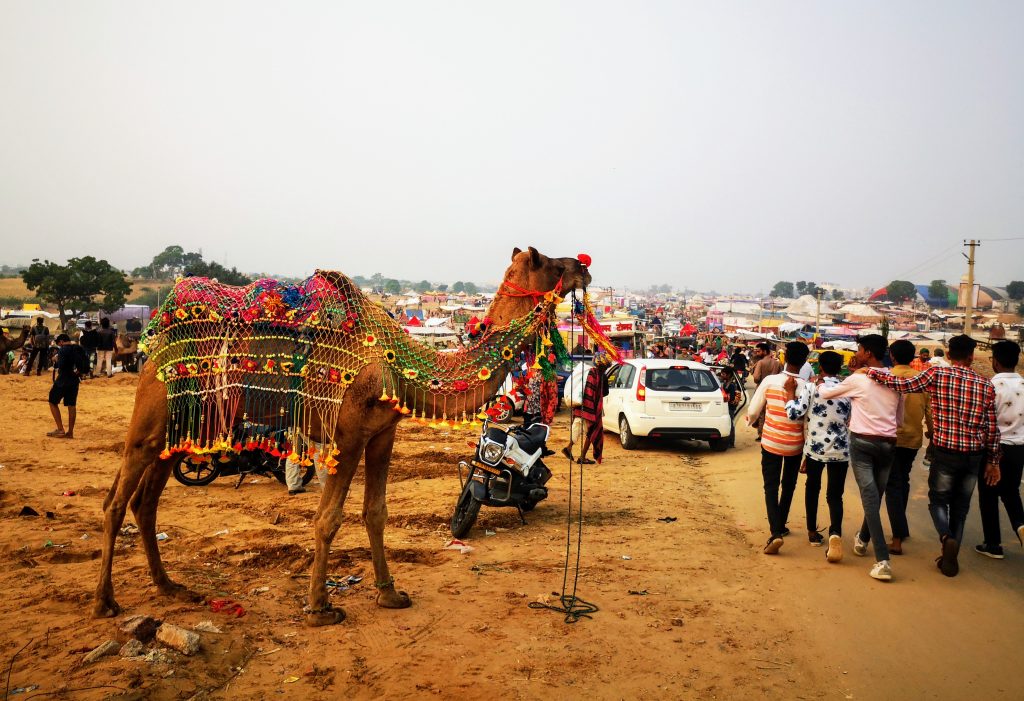 Apart from that, I thought it was great to spend an afternoon strolling around the market.
Where to eat in Pushkar?
These are the tips I got locally but unfortunately I didn't have the time to try it out. I had put them on my list of things to try out… That's why I'm sharing them with you anyway.
If you've been there I'd like to hear if they were worth mentioning!
Where to stay in Pushkar?
Of course I stayed with Swamiji for 3 weeks but to visit the city for the last few days I decided to stay in the heart of the center. With a view over the holy lake from the terrace and… there are a number of rooms where you already have a view of the lake from your room.
The food was good, the shower had hot water and the rooms were clean. I can definitely recommend this one! If you like peace and quiet you should of course not book this because around hotel Bharatpur Palace it is crowded. I loved it!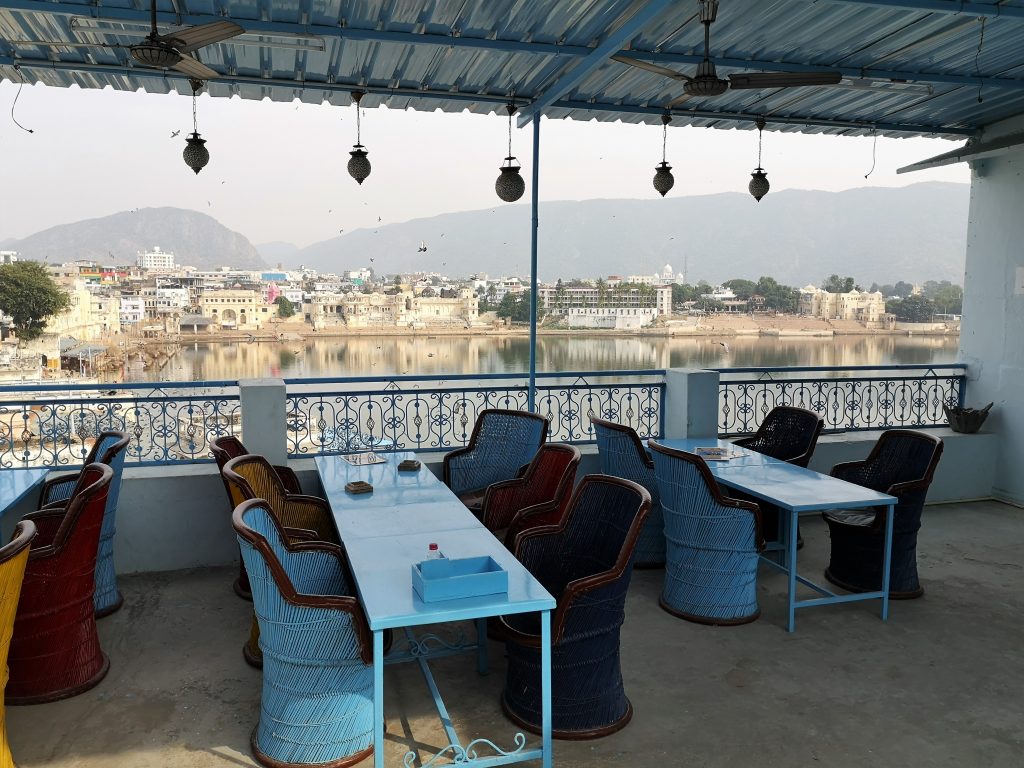 On the other side of the hotel ended up in this little square 🙂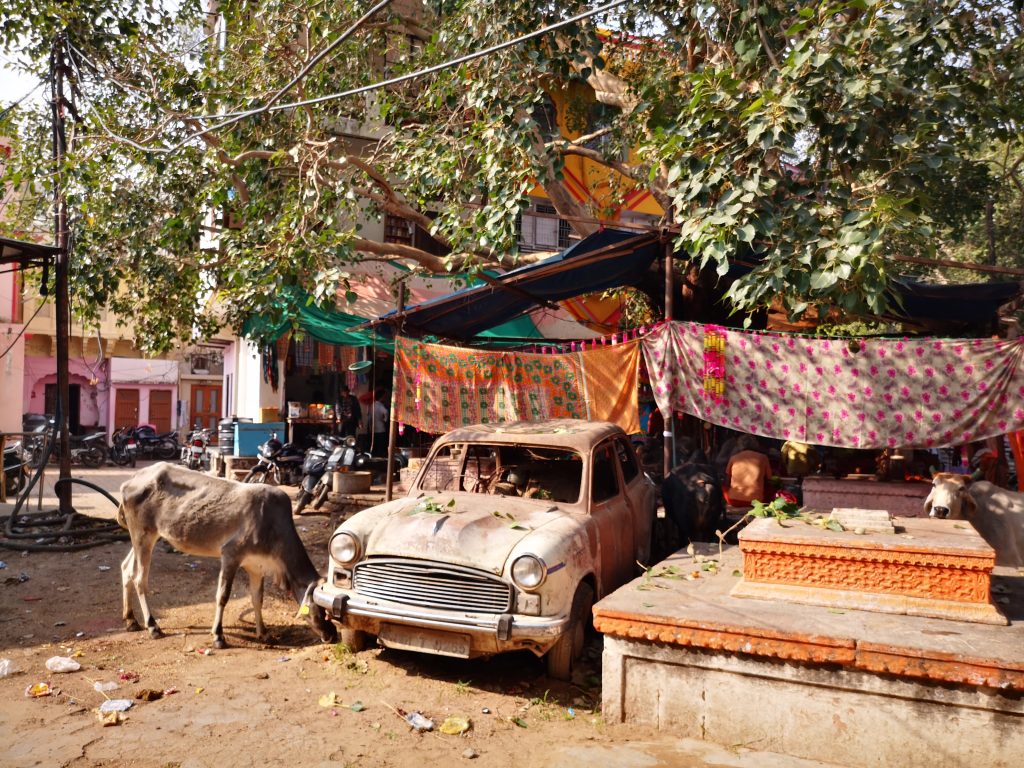 I thought Pushkar was a really nice city to stay in. 
It is a fairly small town and so everything is within walking distance to do and see. The long shopping street, Main Market Road, is really handy if you need anything else during your trip. You can find everything you need from clothing, chemist or your local souvenir.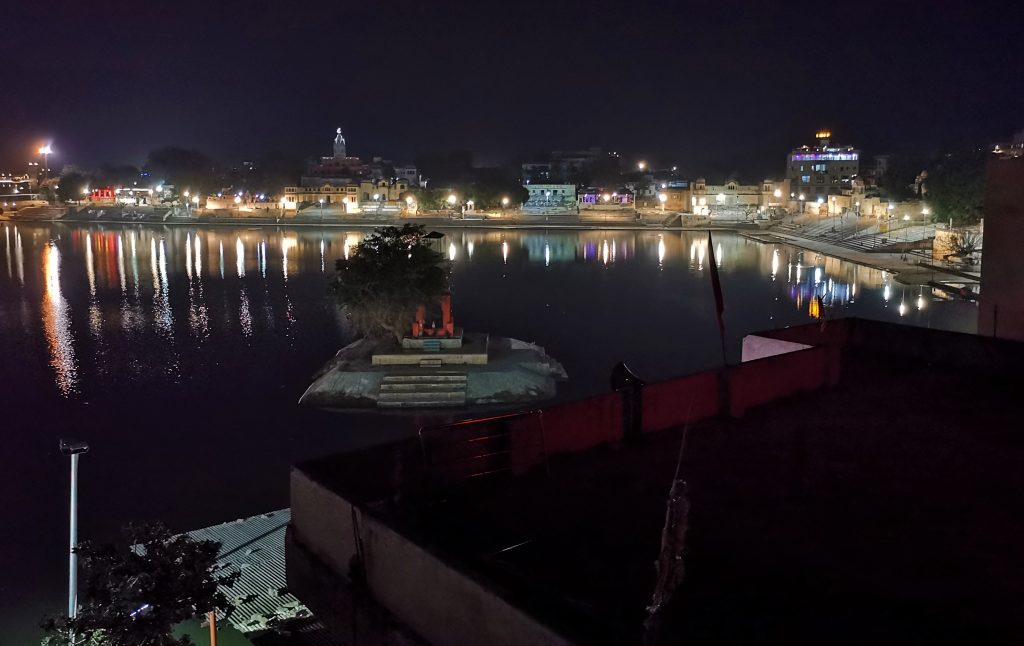 Highlights Pushkar – India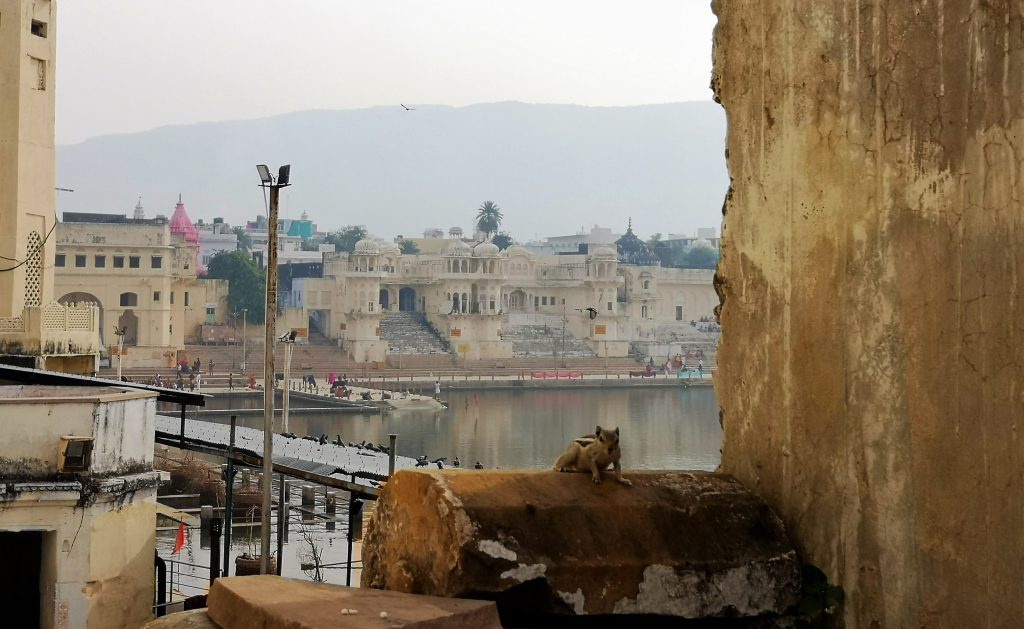 The Holy Center of the city: Sarovar Lake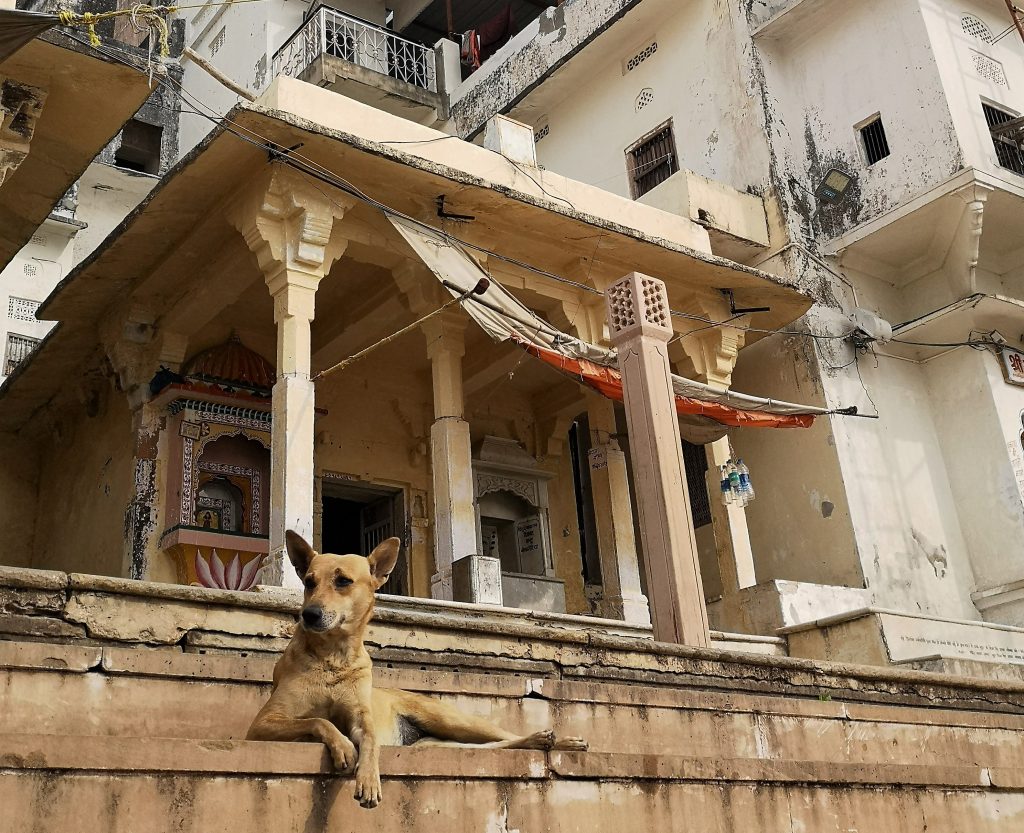 Did you like this travel guide Pushkar?
Then share it or save it for later!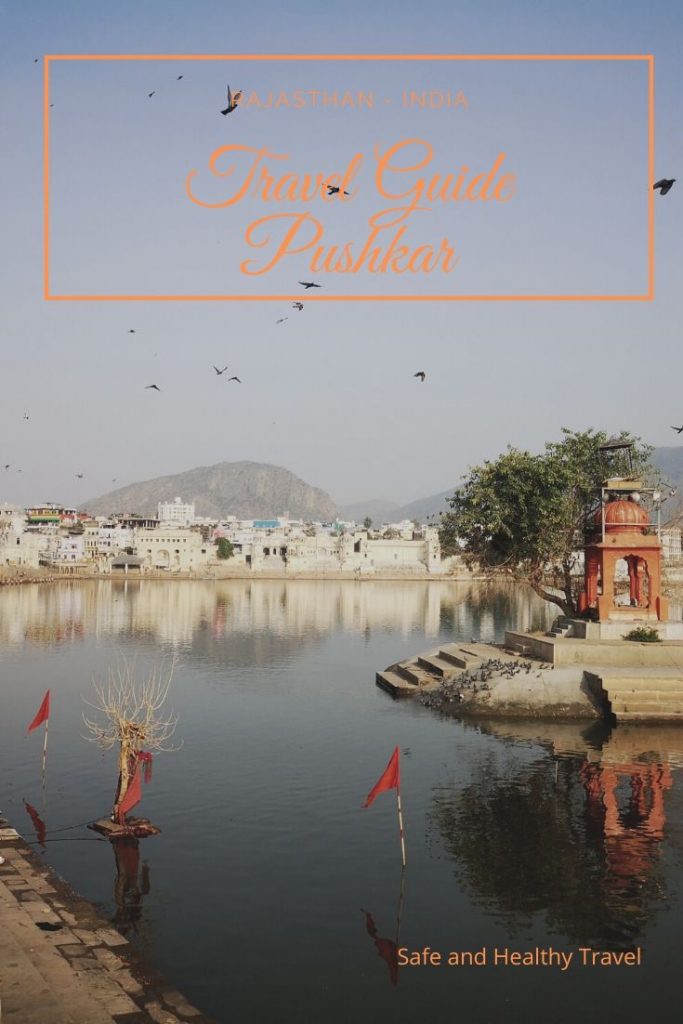 Want to read more about my trips in India?
What to visit on your Kashmir – India
Travel Guide Namchi & surrounding – Sikkim
2 week Travel Itinerary Kerala
Delhi Food Walk – Chandni Chowk
Visit Mathura: Lord Krishna's Birthplace
As a woman, do you travel alone in India?
Read these tips!
I hope you enjoy this world as much as I do!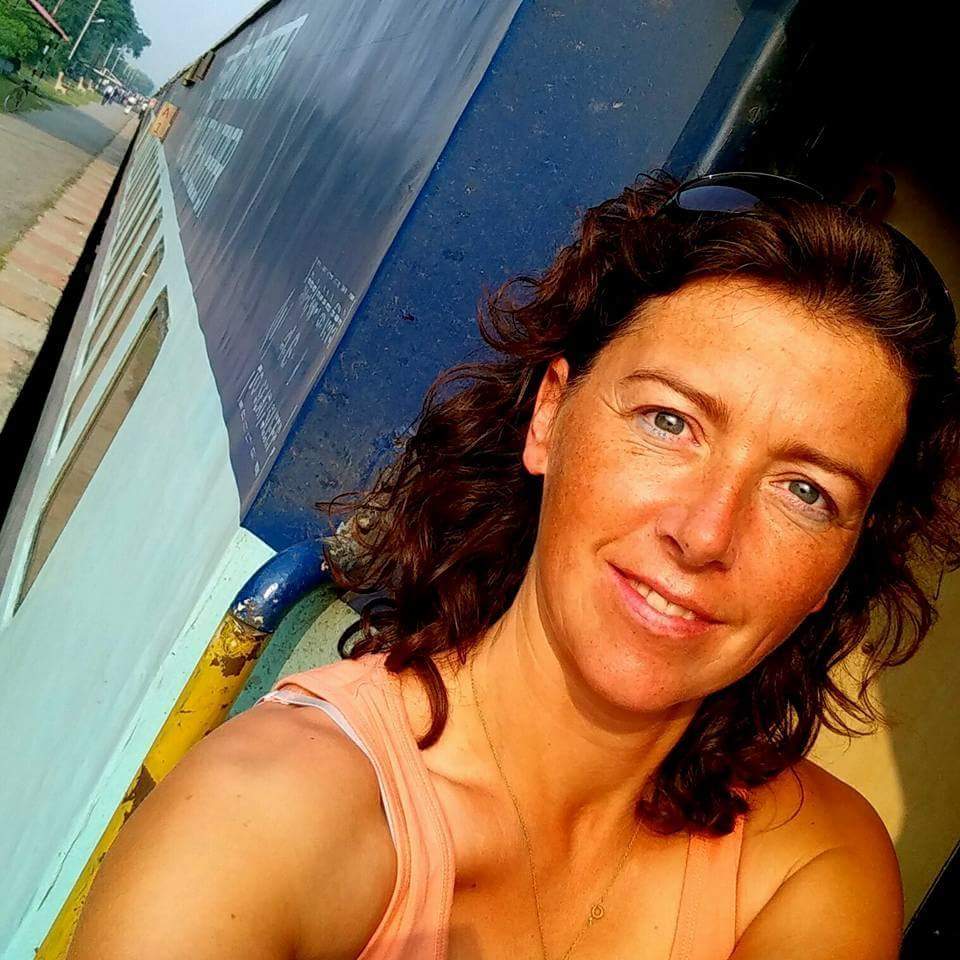 Jacomijn is een politieagent uit Nederland die jou graag laat zien hoe je veilig, actief en gezond de wereld kan over reizen. Safe and Healthy travel is a MUST