Hiking along the Lycian Coast – Stage 2 + 3 – Lycian Way – Turkey
|
Walking in Turkey, I've been doing it for the second year in a row now. I like it very much I must confess. And then this Lycian Way route is a real gem! Although it was made difficult for me at the end of day 2 and beginning of day 3…. read on! I did love hiking along the Lycian Coast.
Hiking along the Lycian Coast – Turkey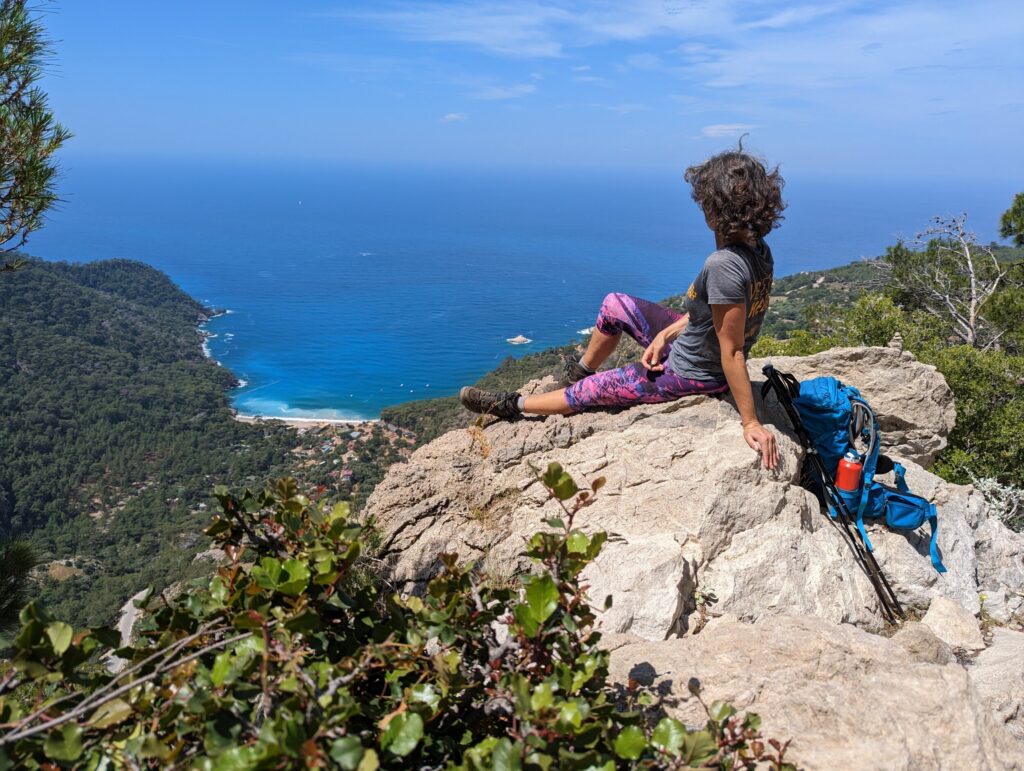 Stage 2 Kabak – Gey
I started the day by going back to Ölüdeniz on the Dolmuş (bus). I went to withdraw money before continuing. Back to Ölüdeniz for 20 Turkish Lira, cup of nice cappuccino for 70 TL and then back again for 20 TL. But a few thousand TL richer. Picked up my backpack again at the lovely Shiva Camp and then straight on my way. Back to the trail, it was a big climb up but the views soon became more beautiful. Looking back over the part of Kabak where I was but also Kabak beach came into view.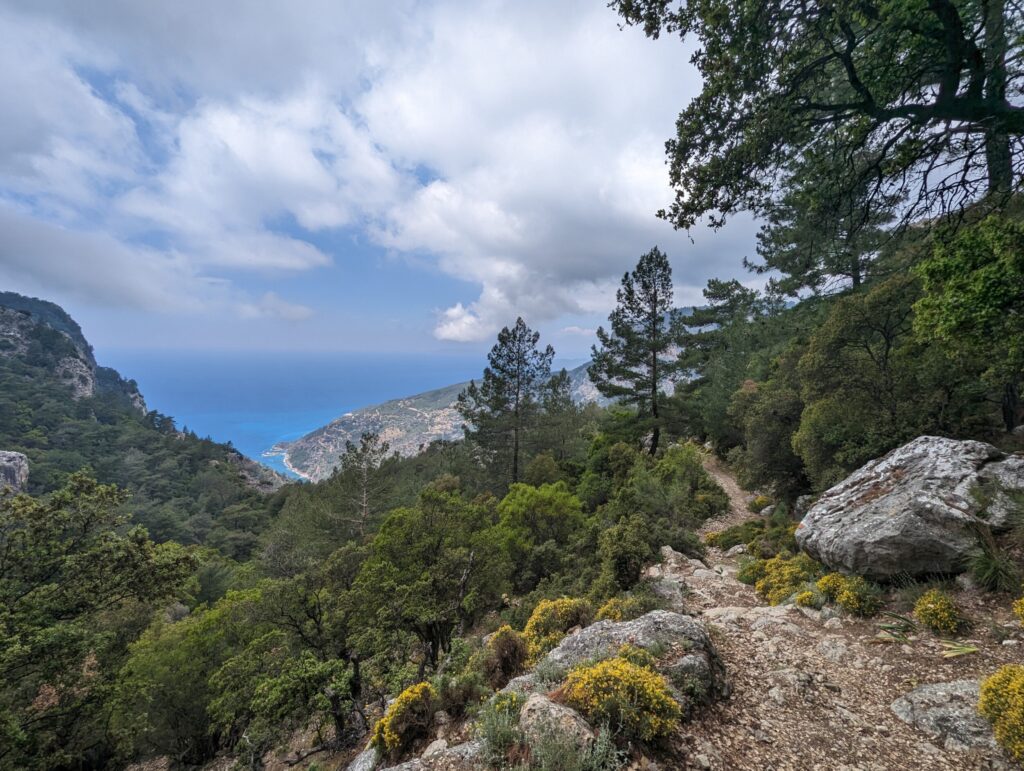 As I was hiking along the Lycian Coast, looking at the great view, I saw something moving in the corner of my eye. When I looked I just saw a big snake making its way out haha. It moved really fast too, the snake came off the ground and before I knew it, it was off the path and out of sight. How cool? He was almost a metre long though and a little greenish colour. I do love encounters like that along the way!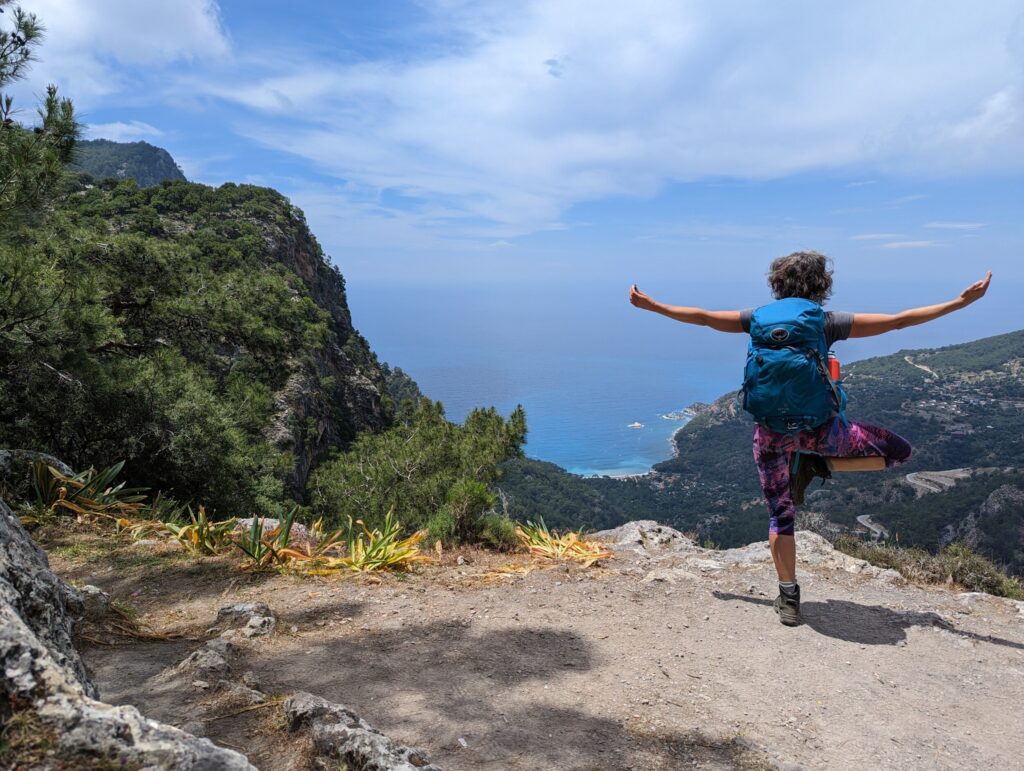 The Lycian coast only got more beautiful, the mountains around me only got higher and more craggy. What a super cool path! On the left and in front of me I saw the mountains and when I looked right I saw the beautiful coastline of Turkey. I was thoroughly enjoying myself and after a while decided to sit down for a short break. Did a yoga pose for the first time and pulled out the selfie stick with remote control.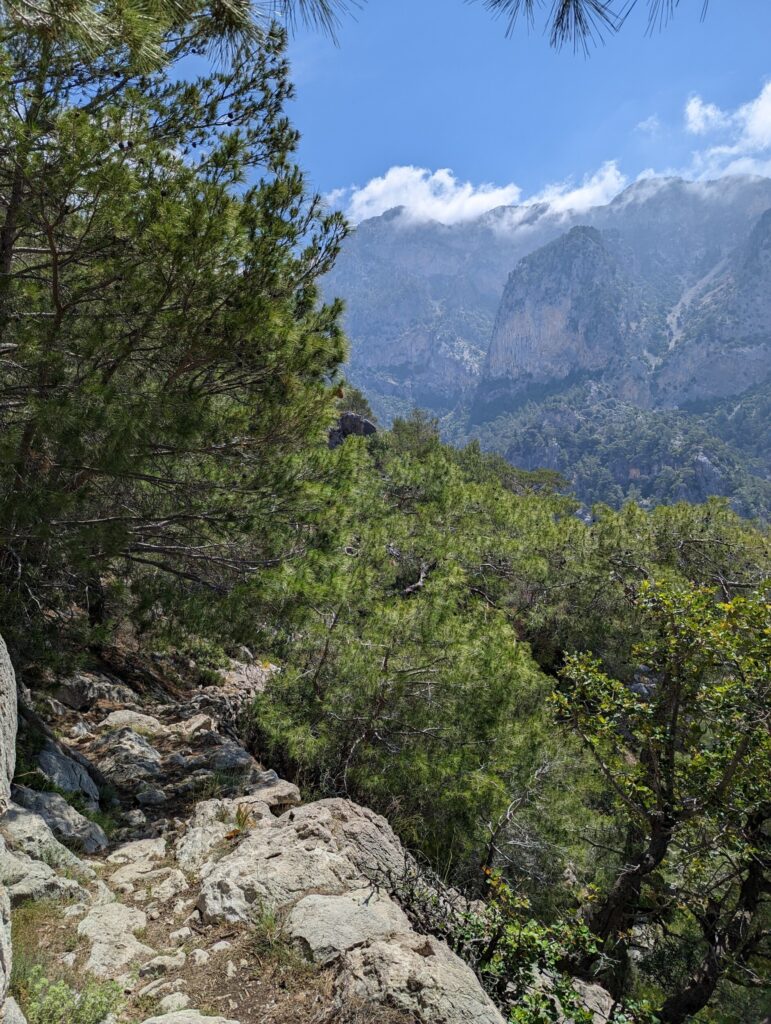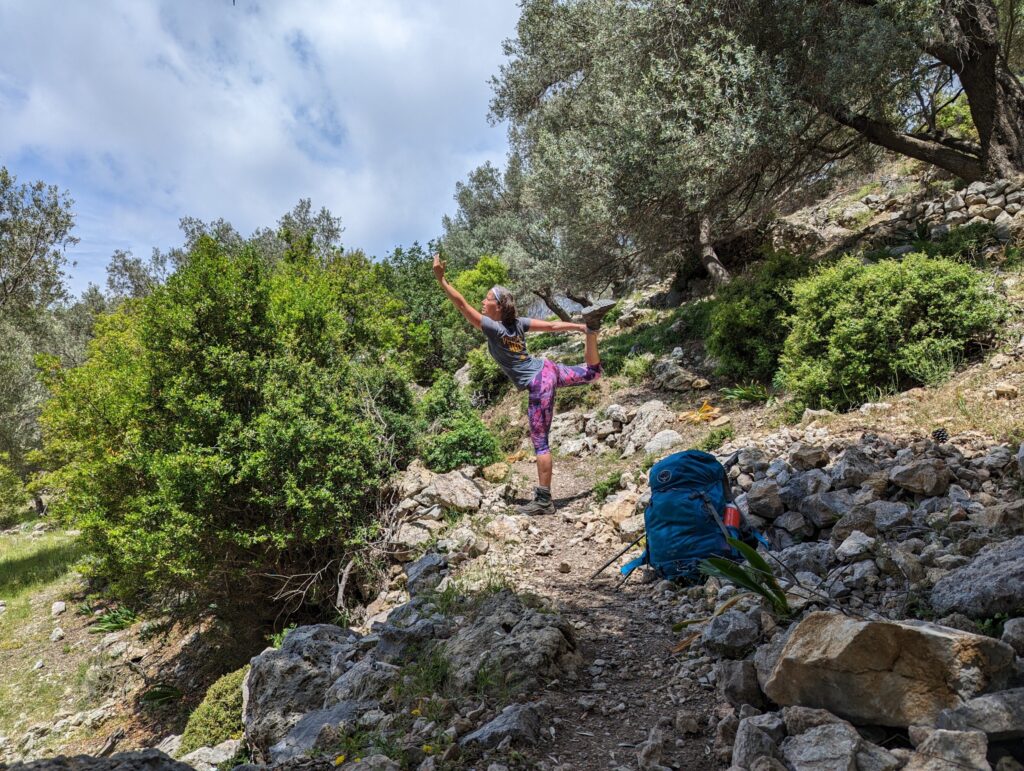 Yoga and Hiking – It is a good fit
When I continued walking a little later, there was an even more beautiful spot! Walking in Turkey never ceases to amaze. I took another photo there too! While I was still sitting there briefly, I met Erdinc. I would meet him a few more times that day. He stayed there for a while and I moved on. Beautiful paths along the mountainside to eventually end up in the small village of Alinca. Right after the forest you can have a drink with an elderly woman, and that's where I saw Erdinc sitting.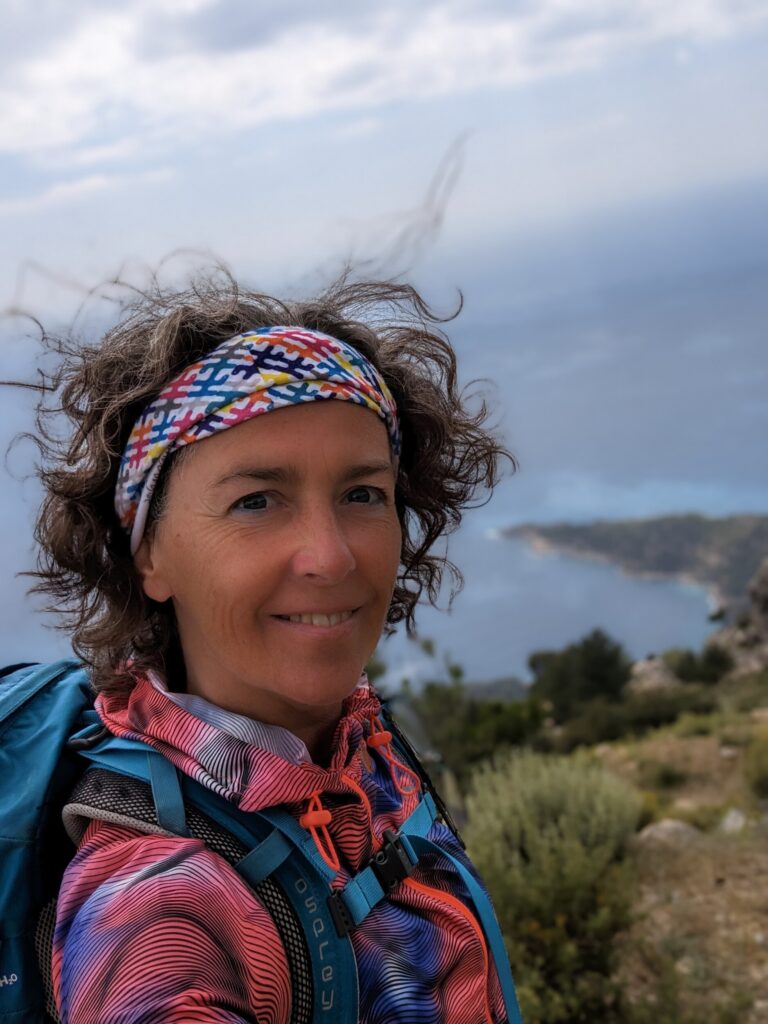 In the village of Alinca, the couple I met yesterday stayed so I thought I might be able to arrange an overnight stay here. I decided to eat something first, it was 1.30pm so still nice and early. There I met a British family, father with son and daughter and another couple. All went on to the next place.
Beautiful views on the Lycian Way
Bayram's house in Gey or also called Yediburunlar was where they were going to stay…. I had definitely seen that name on google maps and so I changed my mind and contacted Bayram. Yes indeed, I could get a room there that night. Super! And so I ate the Gozleme I had ordered and got the backpack back on and still had about 8km to go. And really! The stretch right after Alinca is the most beautiful so far!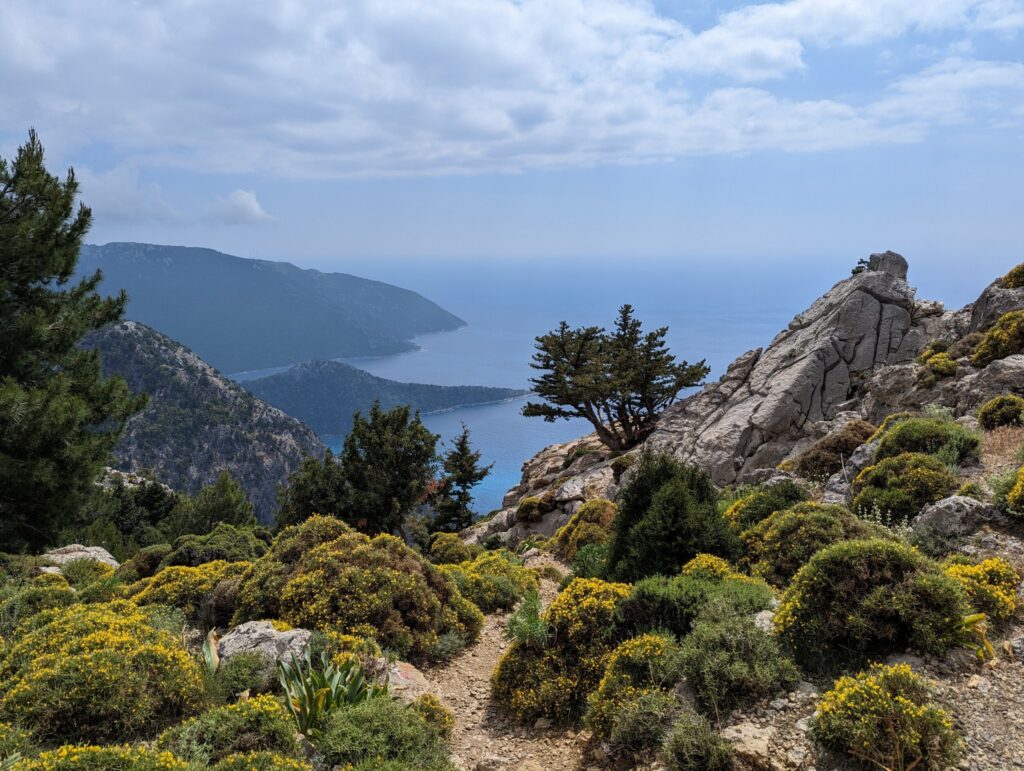 The view from the restaurant was already beautiful but now I was walking straight towards it. It went down steeply and I really got the most amazing views. What an amazing path! After hiking along the Lycian coast for a while more, I went inland and found myself walking along country roads. At one point, I saw a round building standing among the wheat.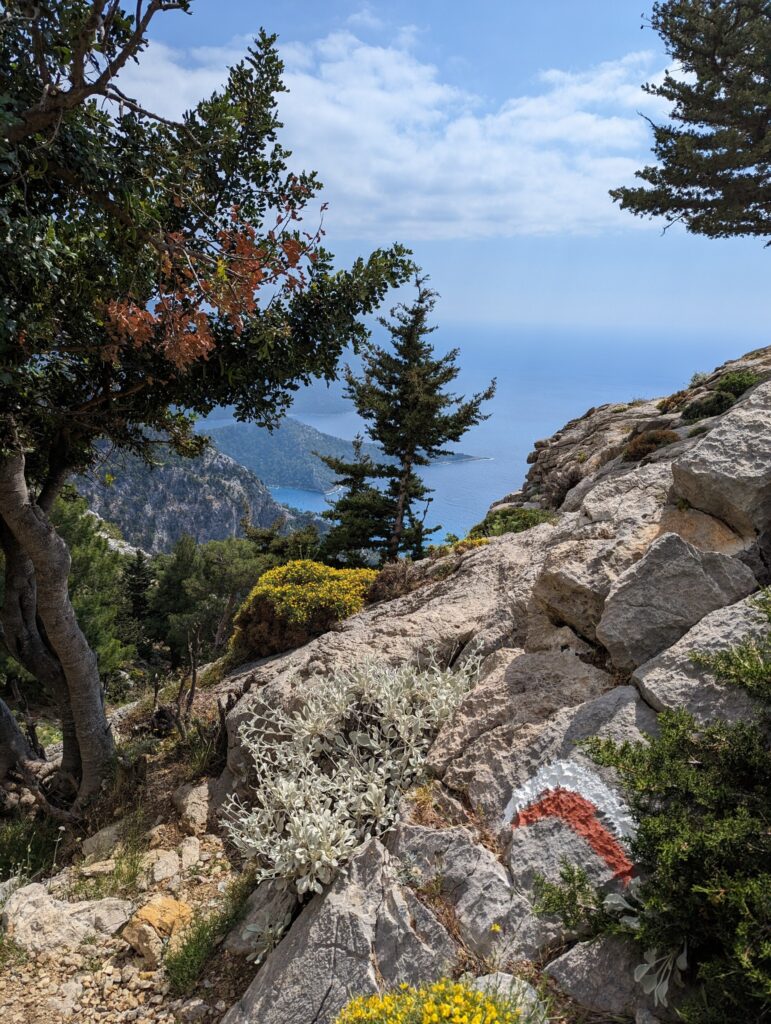 Yes I had seen that on google maps too, Osmanli Sarnici was called it. When I looked into it, I saw that it was deepened and had a layer of clean water in it. What it once served for I don't know. I went in briefly because I shared the place with two Russian girls and their two Dalmatians. So I didn't linger there long and walked on again. A long forest path then took me past some wheat fields and olive groves. After this, it was not long before I walked into the village of Gey. The village which is also called Yediburunlar. So Gey is just really the abbreviation or something.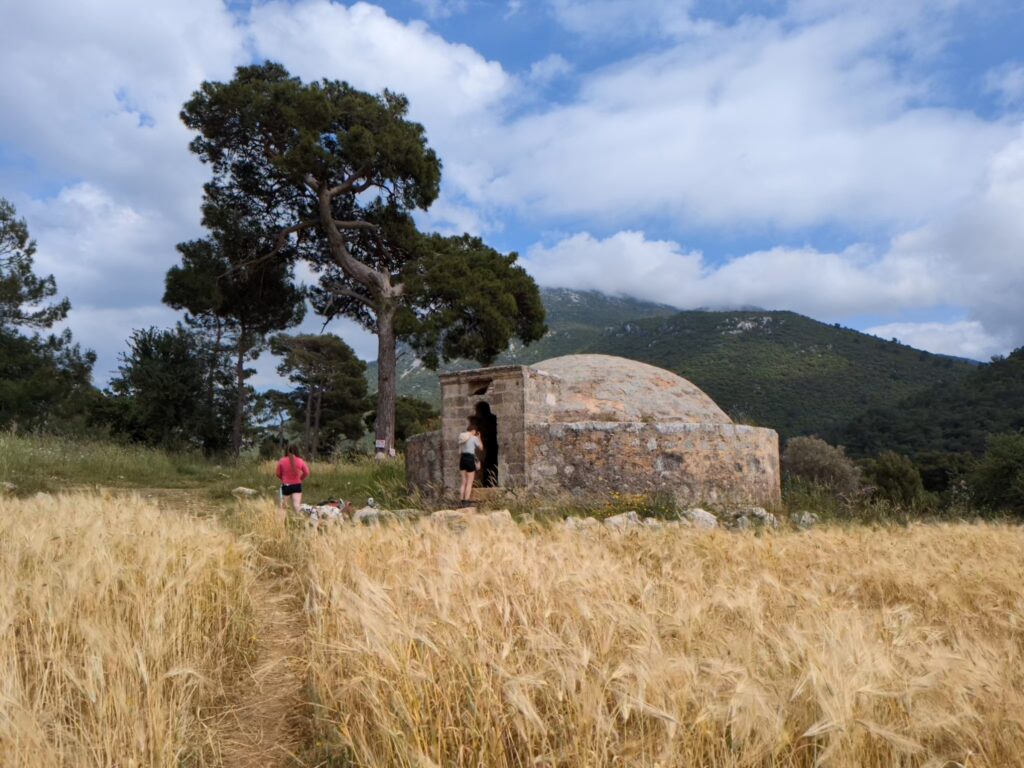 Soon I reported to Bayram and he took me straight to my room. I had a small terrace in front of the room where I could sit comfortably. I had quickly washed my shirt and it was already hanging to dry. Then I went into the shower myself…. A lovely hot shower!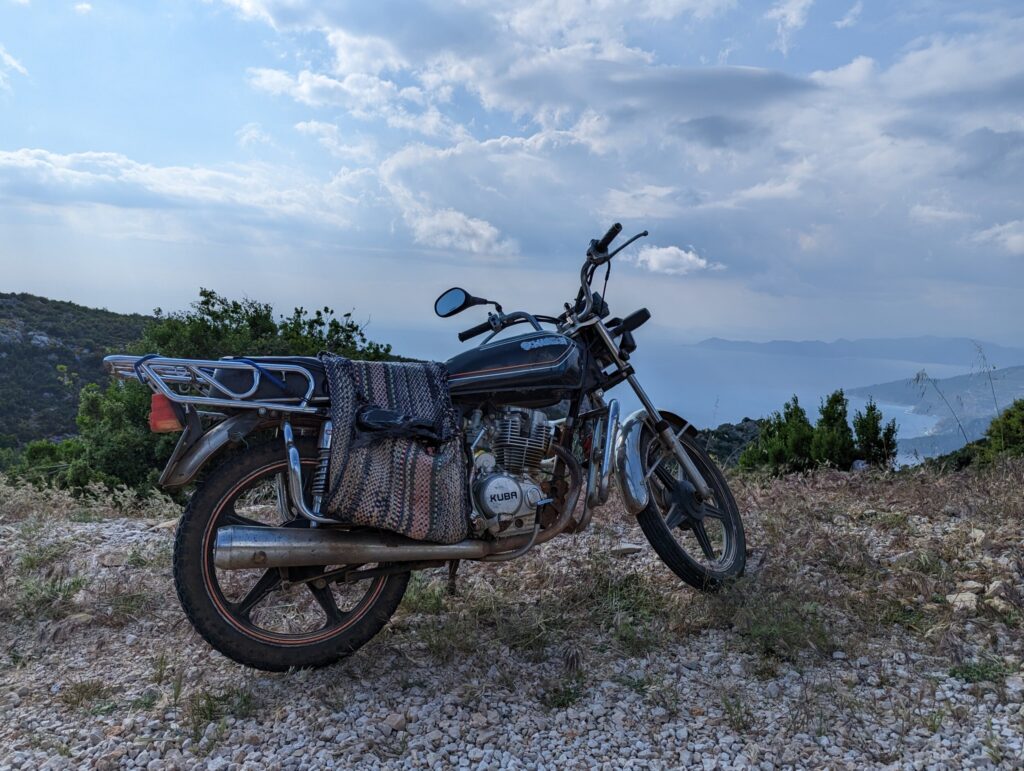 I had dinner together with the Brits and Erdinc who had walked on anyway. So very nice!
Hiking along the Lycian Coast – Lycian Way
Stage 3 Gey – Kinik
After a nice breakfast with the 3 Brits and Erdinc, I went out on my own. Soon I got to know the American couple who had also spent the night at Bayram's house but were a bit aloof. They were on a world trip and now spending 4 days hiking here. Like me, they too had started in Fethiye. Funny how we hadn't seen each other then. At the panorama restaurant, a good kilometre outside Gey, I was able to refill my water supply and the couple walked on.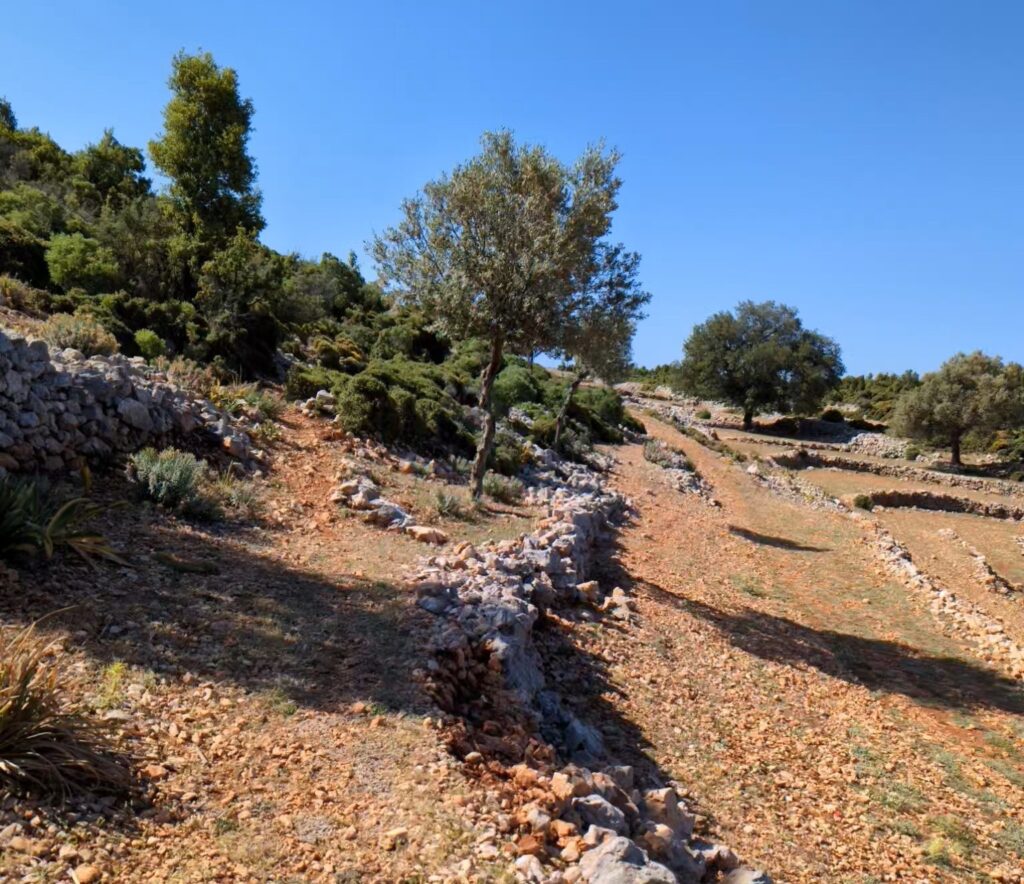 Throughout the day, we would see each other several more times because shortly after this, I caught up with them again. It was a tricky path, along the mountainside with beautiful views of the sea, the bay and thus the mountains. After a challenging walk, we passed through a small village. I took a small cup of tea there and the couple caught up with me again. They walked on. Soon after, I also walked on.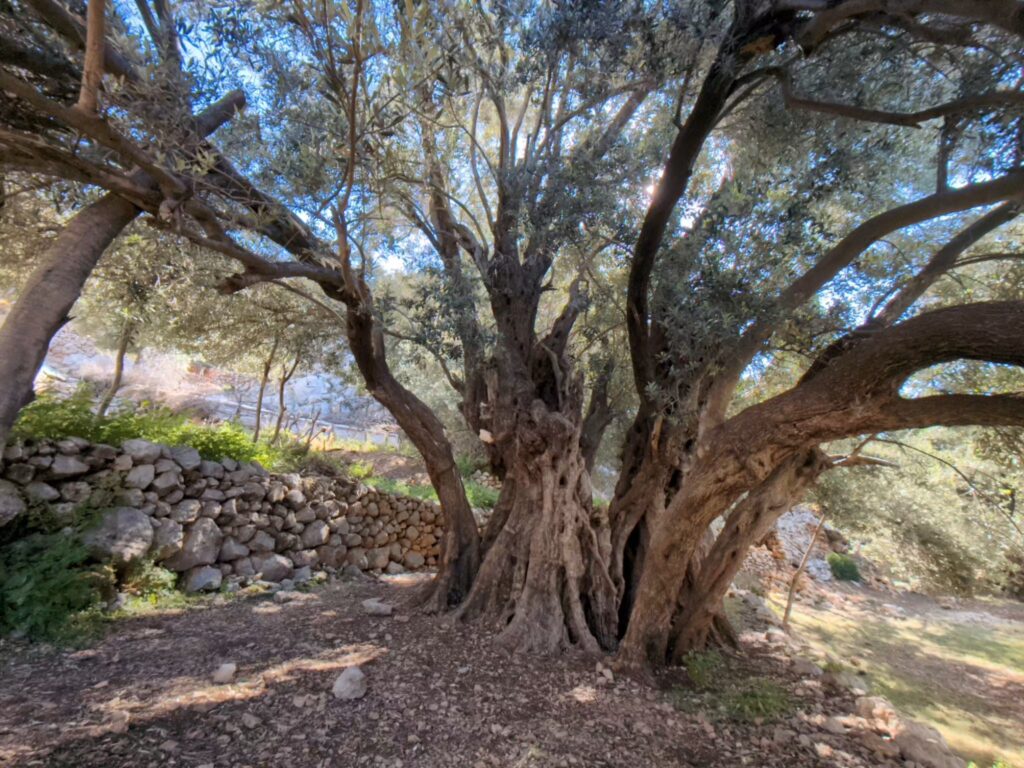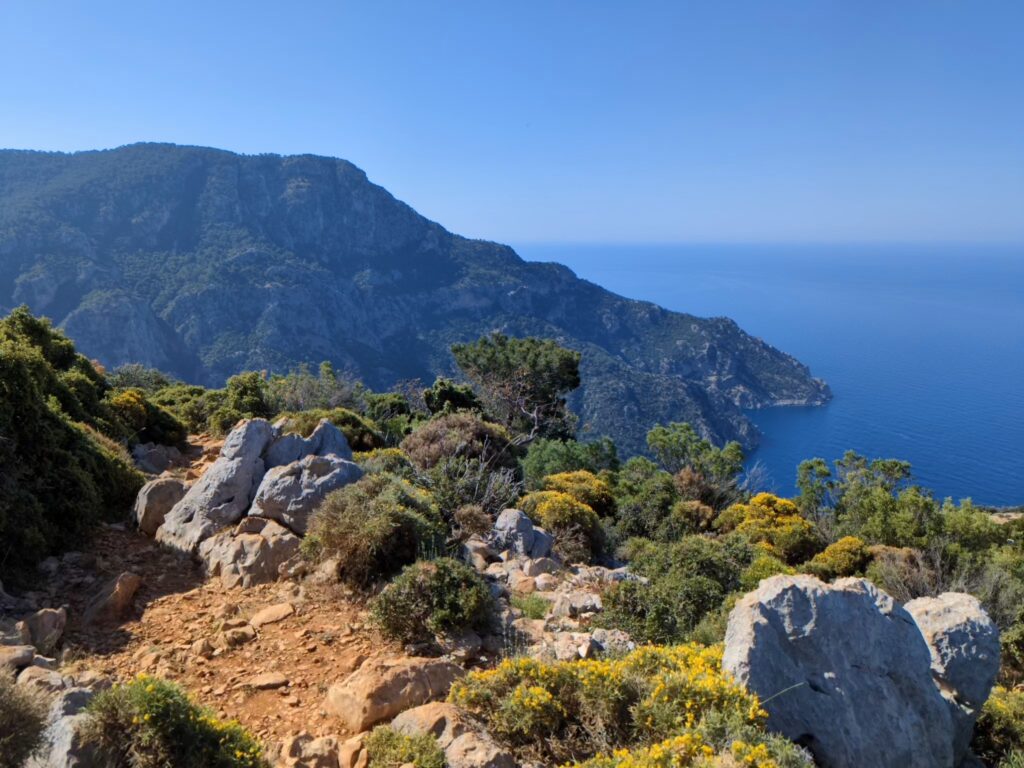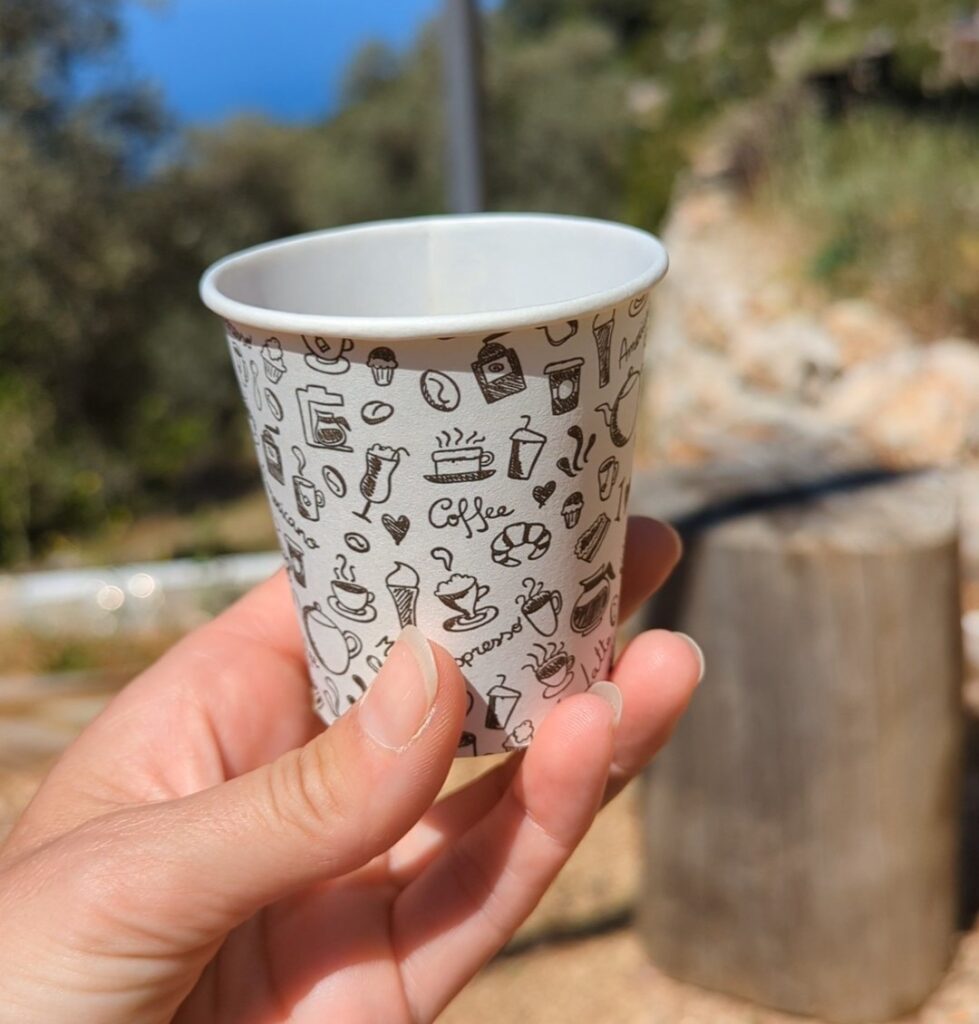 As I was drinking my cup of tea, another old man came along. All ready to go into the field. I saw a big gun hanging on his back, he had a belt on full of ammunition! He was not walking very briskly anymore and even staggered when he took the last step of the stairs…. I wonder if he shoots anything anymore!
After this, I walked along a larger road and through a vast village. Just before re-entering the forest, I caught up with the couple again and passed a house. I had something wrong in my shoe and stood still for a moment. Softly in the background I heard a music playing…. A moment later, a woman came running out of the house…towards a locker which was on a pole in front of the house. She reached into it and started talking…
A homemade phone box? I was almost expecting a big old phone in it but when I asked her that while smiling, she pointed…. I walked over and looked, I saw a mobile phone from the early days of mobile phones hahaa! Great right? That must be the only place where she had good reception!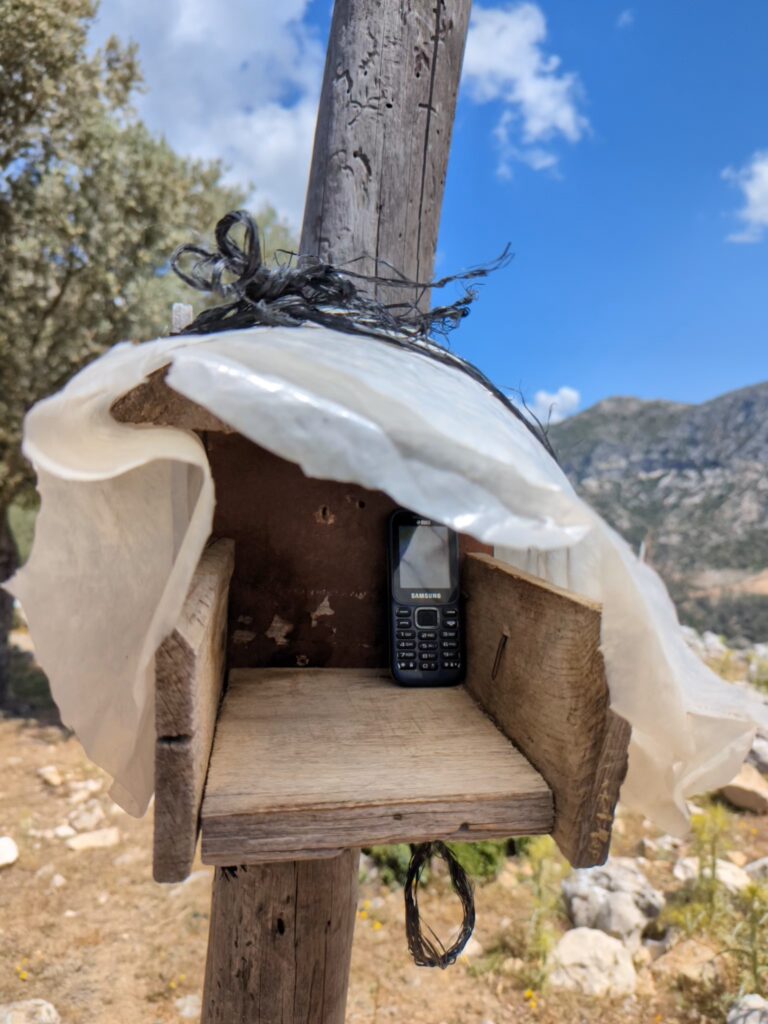 A few kilometres further on, again with the Lycian coast in sight to my right, I was hot and hungry for something to eat and sat down under a tree. I had a super view and enjoyed some liquorice for dessert. Again the couple caught up with me, this was the last time I saw them though.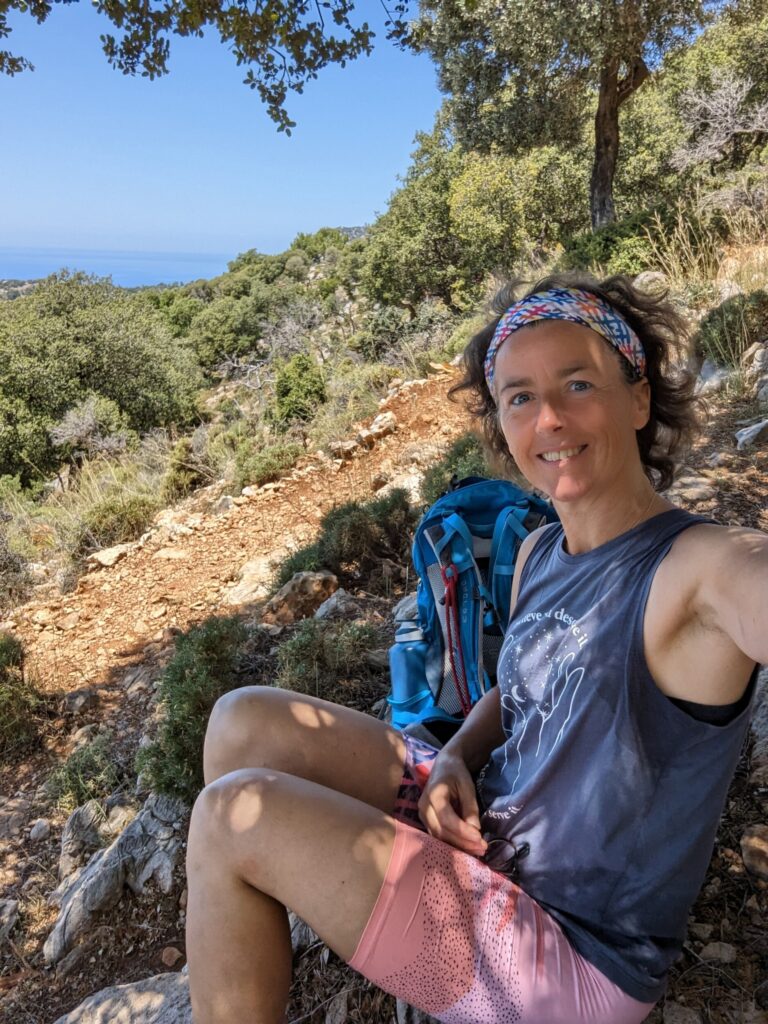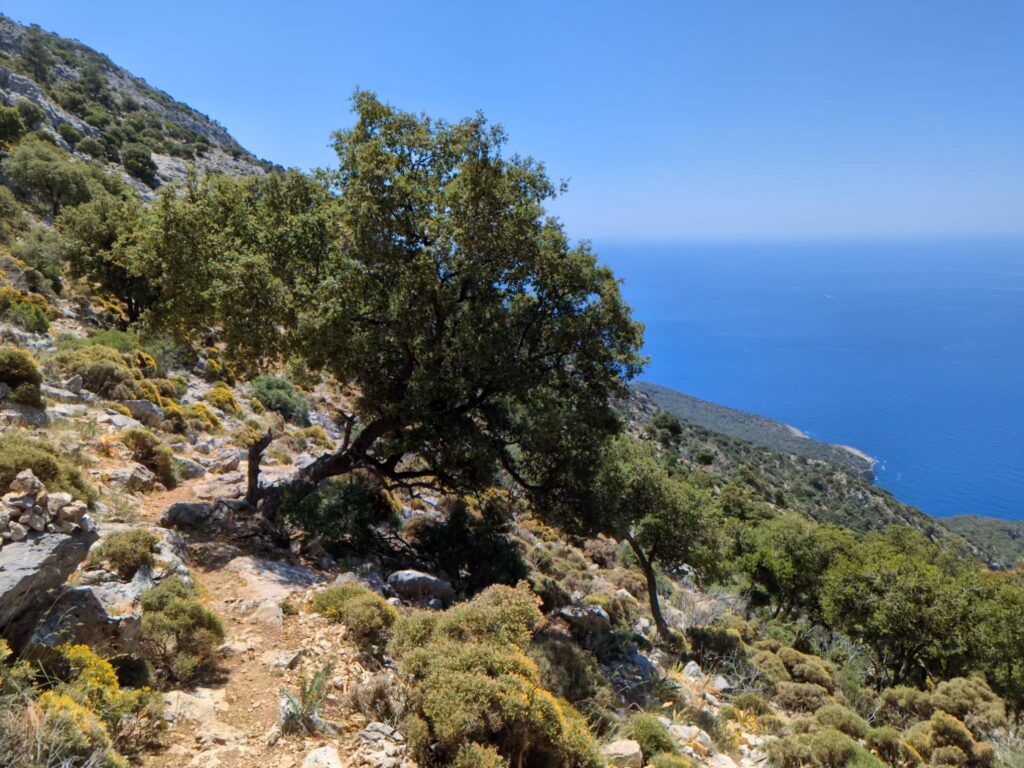 Shortly after this, I wasn't quite paying attention and the path seemed to go downhill. When I had been following this path for quite a while, it occurred to me that I hadn't seen a flag for quite a long time. When I opened the Trail Smart app, I was also a bit off the path. At first I wanted to go straight up, but after a few metres this didn't seem practical. No path and rough rocks. So back again and yes, I had missed a clue!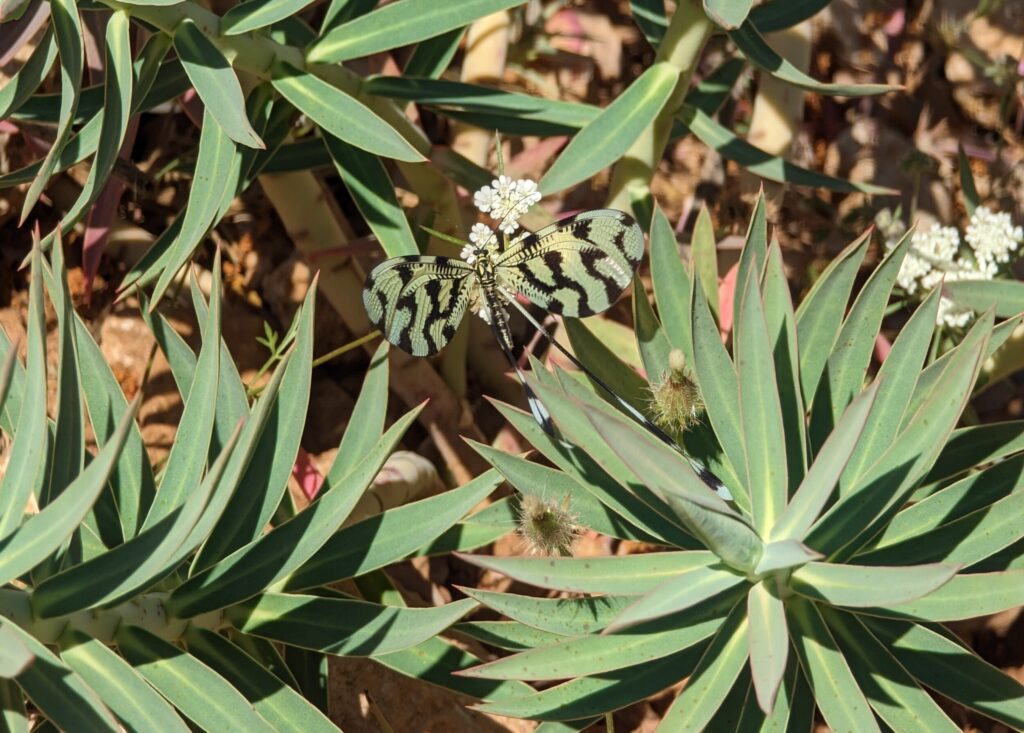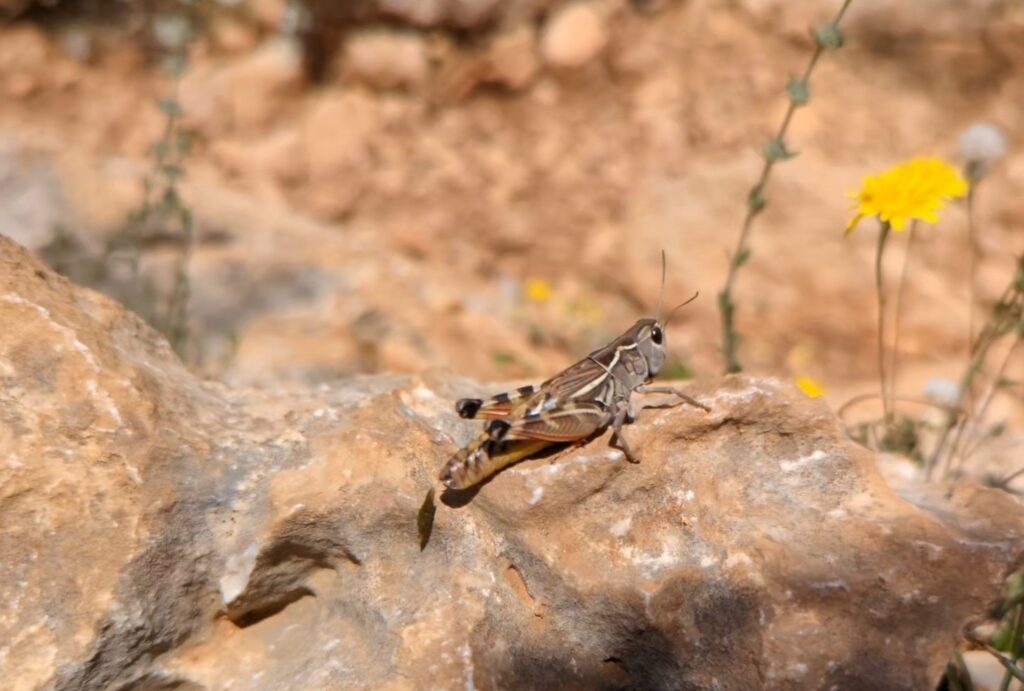 After this beautiful stretch, I slowly but surely got closer to the coast, via a small village I ended up on a paved road. I had still followed the signs well but saw that the route actually went inland. The road was a lot shorter….but full sun. I opted for the latter anyway. Just under an hour later, I was back on the route and had cut quite a bit off. I was already at Patara beach and thought I would have a drink there but unfortunately the accommodation was deserted.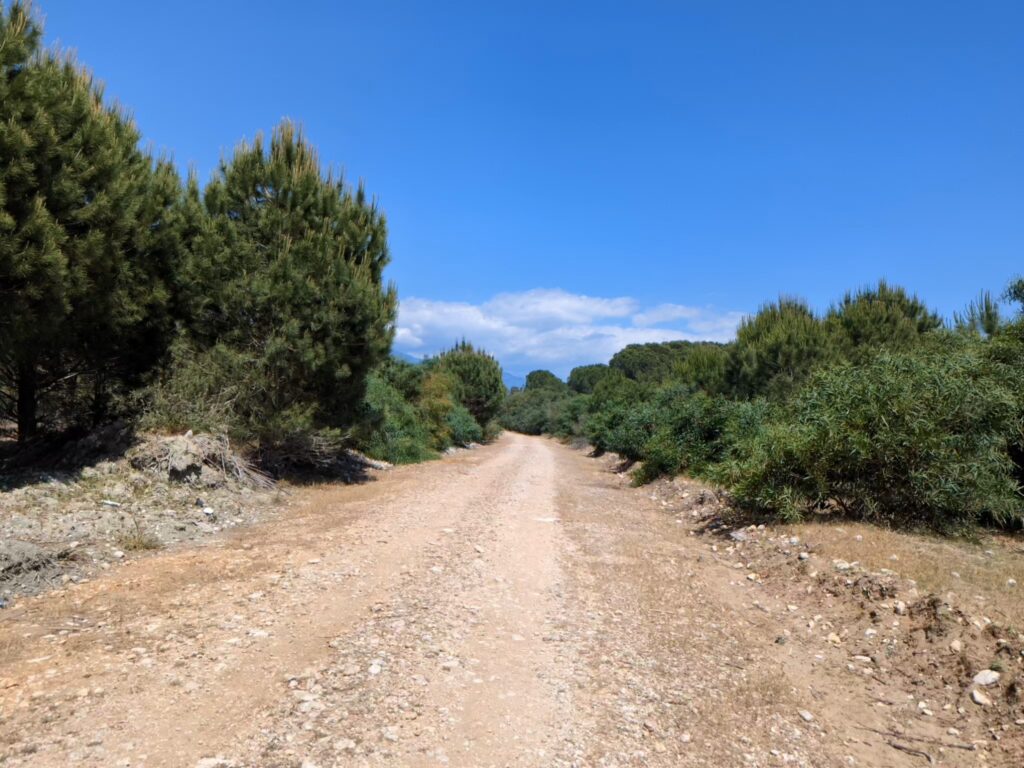 This is also hiking in Turkey – in between the greenhouses of Letoon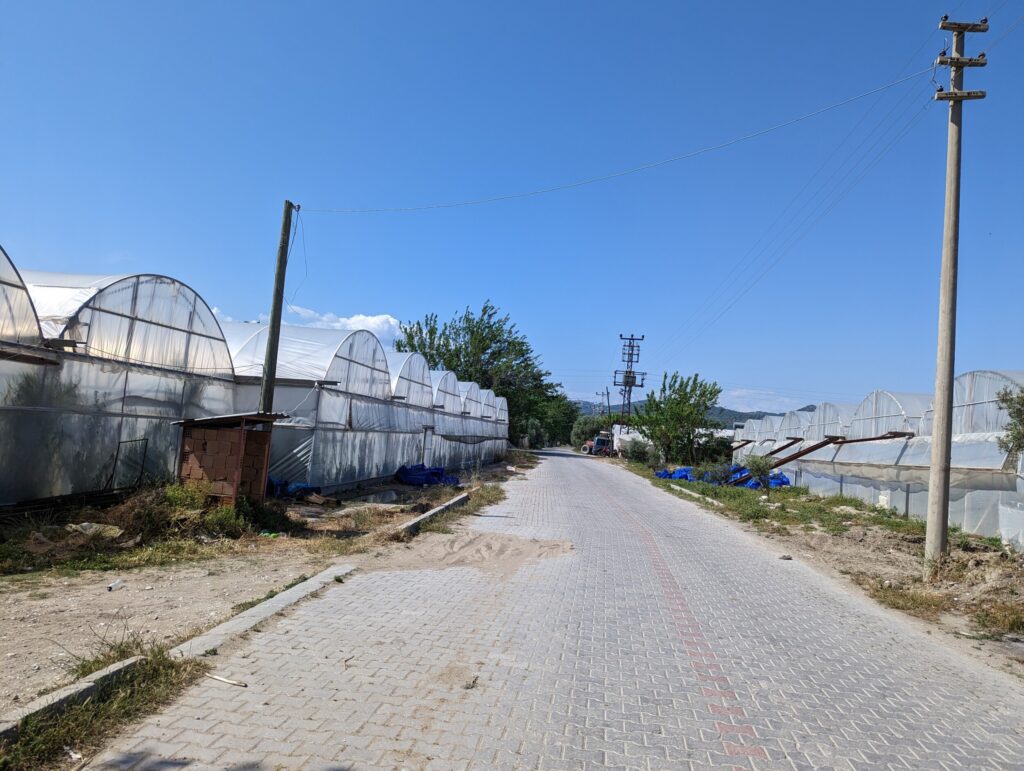 I wanted to go all the way to Kinik so I walked straight on. A long stretch of at least an hour along a road, behind the beach, among bushes, no shade. Slowly but surely, I started to get sunburnt. I had applied a good amount of sunscreen shortly before. When I was through here, I found myself walking among greenhouses for over an hour. Tomatoes were being grown here, what a strange area. Kilometre after kilometre of greenhouses. Between the greenhouses were houses, with old cars next to them…. and some children playing. When I arrived in Letoon, there was a unesco world heritage site there. Excavations, I had heard the father of the British about it. He had become so interested in this route for this culture and background. At this point I could not care less about it, I wasn't going to look here.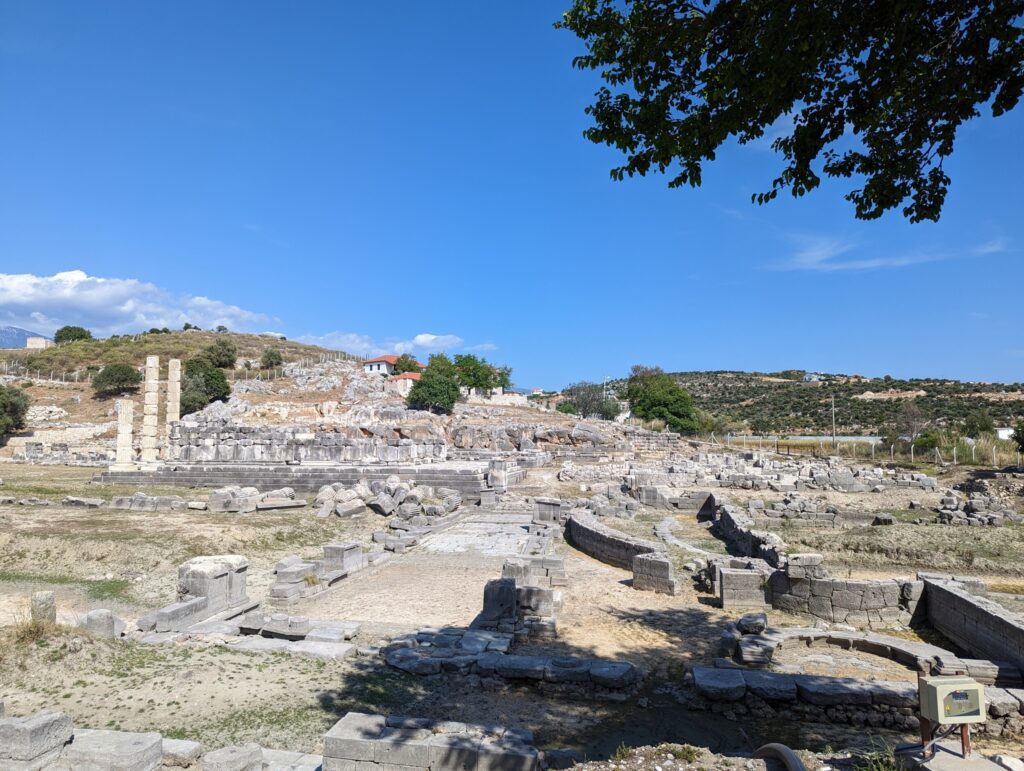 I still had to get to the next town and then another 6 km…. A kilometre further on, fresh pomegranate juice was being sold, here I sat down for a while. An old half-litre bottle was filled with delicious juice. I drank it sitting there in the shade. After this, I put on my windbreaker to protect me from the bright sun, as I still had some way to go!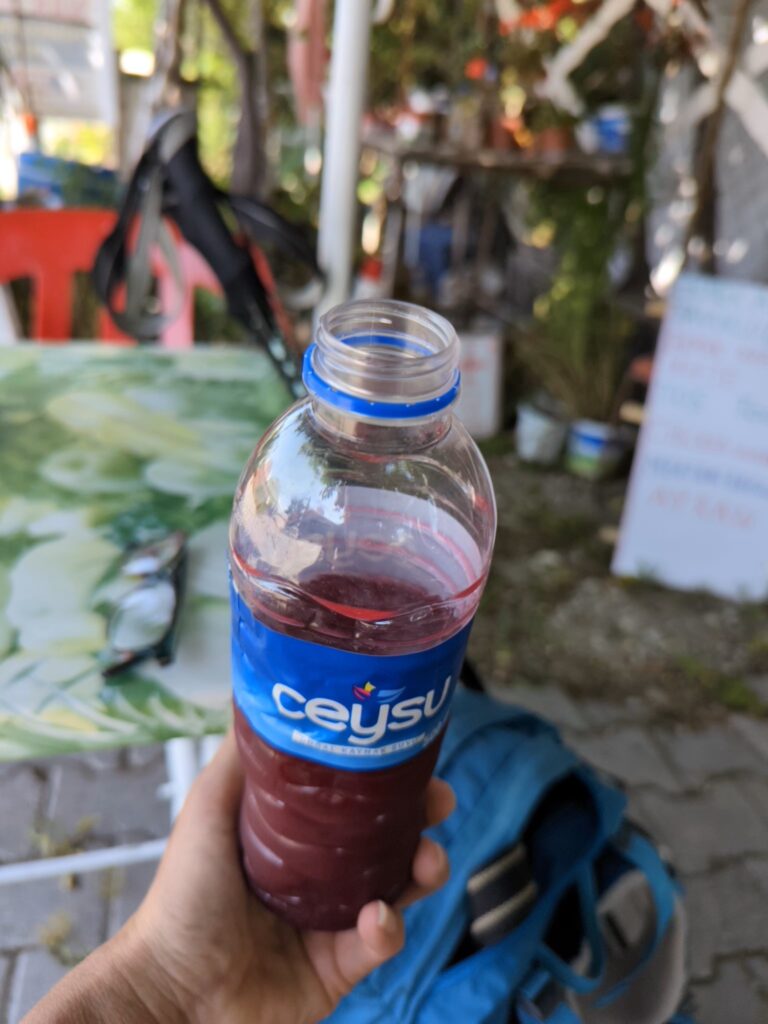 Finally, I was in the town of Kumluova. Somewhere I hoped there would be something where I could spend the night but forget it. Just some supermarkets and many local shops, mostly focused on agriculture. I walked on quickly and as I came out of the area with the greenhouses, more dogs came out onto the street. They were barking aggressively. It really didn't feel nice. Walking in Turkey suddenly didn't feel safe with bare legs….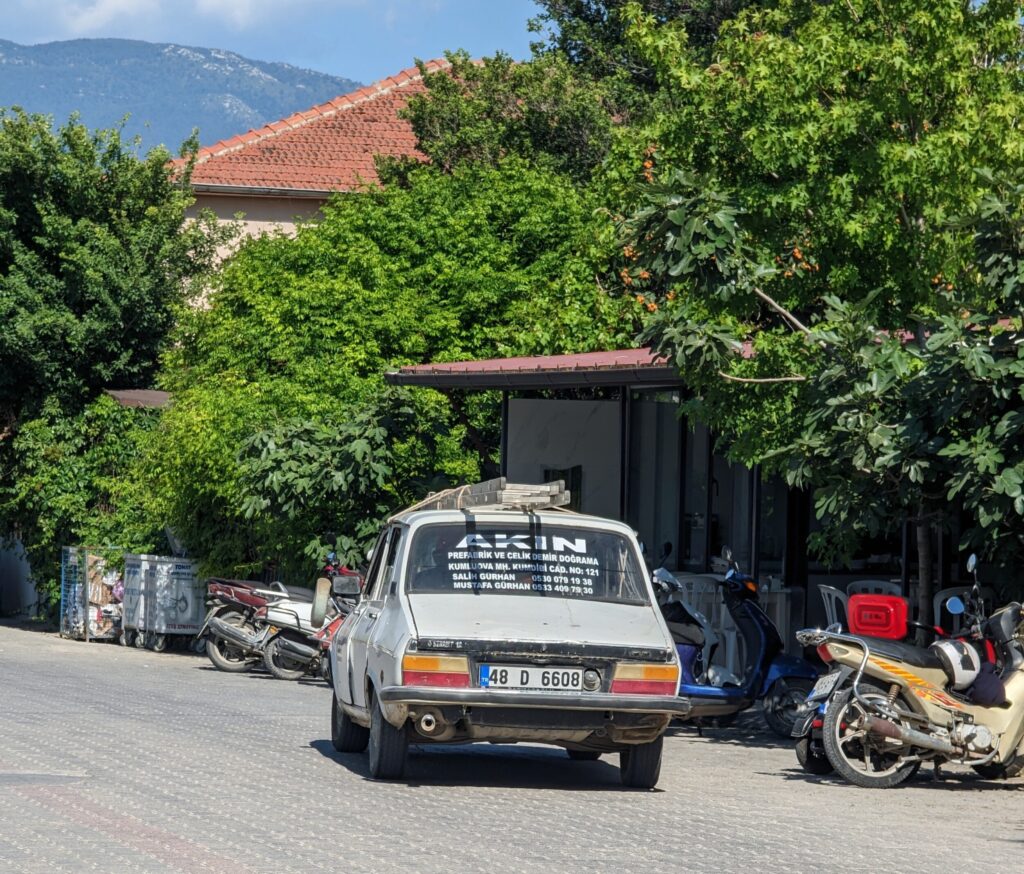 Suddenly a dog ran away from a house barking at me. I said something but he didn't react to it at all…. This was serious… I walked to the other side of the road to indicate, I don't want to come near you. He kept coming closer and at that moment I just thought: Don't keep making eye contact because that also challenges them. Yet he kept coming a little closer, while barking. With my walking sticks I was able to keep him at a distance, he was somewhat respectful of that.
When I thought he was going to give up, suddenly a whole group of dogs came running from the other side. Really, my spirits were sinking. I couldn't handle this…
Meeting dogs during hiking isn't alwasy nice..
How happy I was when a moped arrived with two men on it. I pointed at the dogs and probably looked very scared too. No they won't do anything, they seemed to say. I grabbed the driver by the arm and asked if they would stay with me until I passed them. They wanted to and meanwhile the group of dogs was already behind us. I shielded them with the moped, they walked past to the other side of us and came up behind us. Walked with us, and barking at us. I heard the men on the moped shouting at them every time, they did keep their distance thankfully. I could also see from them that they didn't think this was normal behaviour either….
Aren't those dogs used to walkers? It is the regular route of the Lycian Way after all. I can imagine many people skipping this odd stretch through the greenhouses, though… but still?
I heard from the British the next day that they had also been chased by dogs and had heard that a Frenchman had been bitten. They had now put some stones in their pockets so they could throw them at the dogs. Good idea!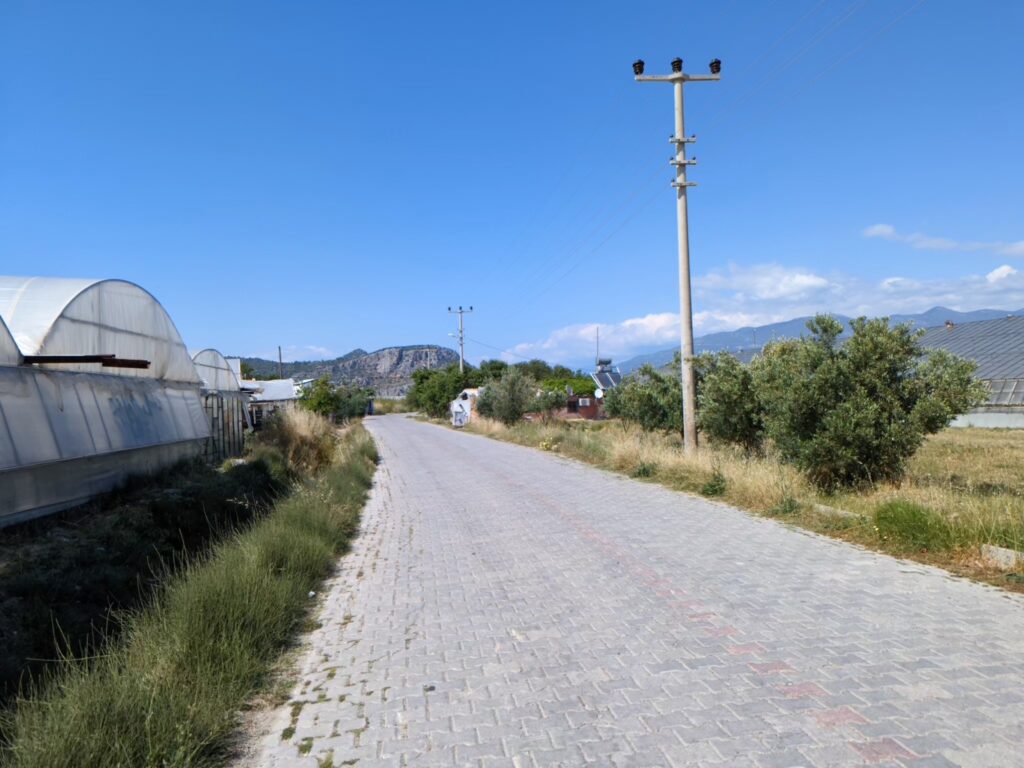 At the end of the road we turned left, the dogs seemed to give up and so the moped continued. I thanked them very much, how happy I was with their help! When I looked into the street I saw two dogs running, in my direction…. I thought, this is not going to happen and immediately raised my thumb. Miraculously, a car also just arrived and stopped and I got in. A young family, two small children next to me in the back seat. Nobody in the seatbelt so I did not even try with my bag still on my back and walking sticks in my hands.
Hitch hiking during hiking in Turkey
I wanted to explain why I was so happy with them but no one could speak a word of English. Kinik, they understood and that's where they were going! Arriving in Kinik, there was also nowhere to stay overnight and I was referred back to Pataya…. That was not going to happen!

I didn't walk those last few hours in the blazing sun for nothing!
That's where I caught the Dolmuş to Kalkan! I booked a fine hotel and ate delicious spaghetti on a busy tourist street that night.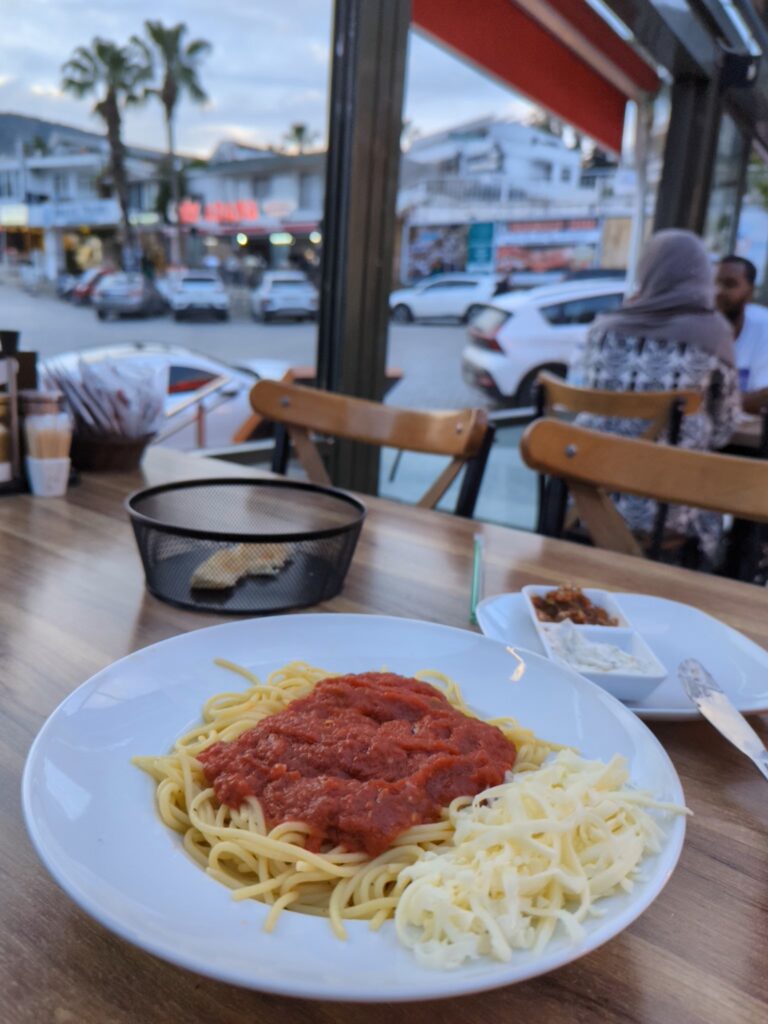 I wasn't done hiking in Turkey yet and continued to Bezirgan the next day. This too was a challenging walk but this time it was not because of aggressive dogs! I will post this walk online later. Right now I'm in Kaş, just hanging out with the tourists.
Do you also love adventure hiking?
Will you share this inspiration?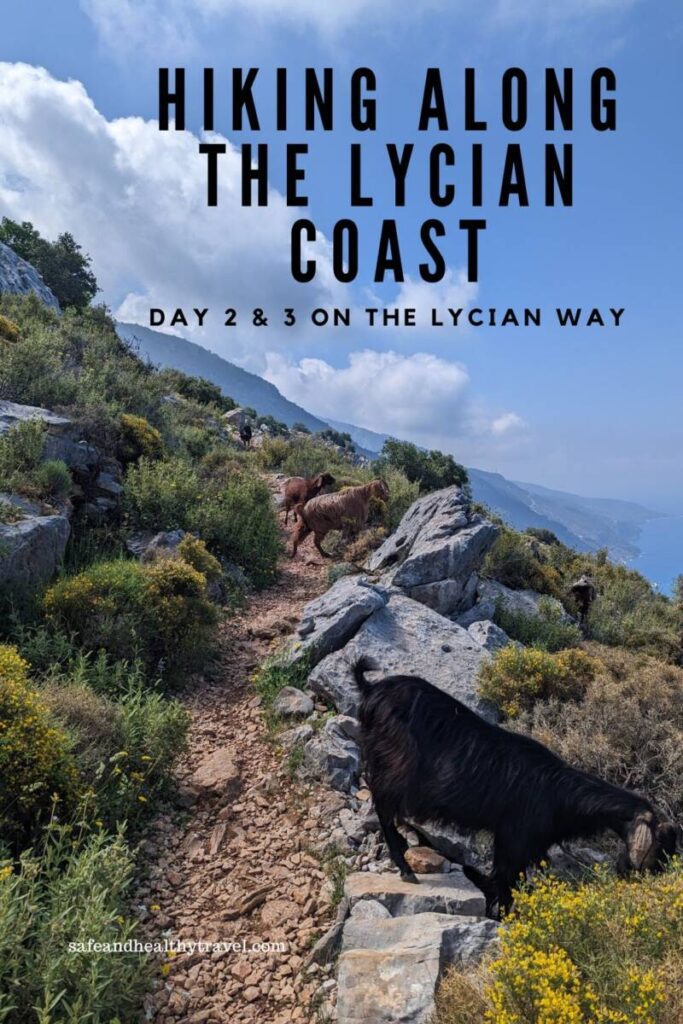 Want to read more hiking inspiration?
Fishermen's Trail – Portugal (Part 2)
Hiking in the Pigeon & Zemi Valley – Cappadocia, Turkey
Visit Jordans Most Beautiful Wadi – Trip into the Wadi Mujib, Jordan
8 days on the Camino Frances – Pamplona to Burgos
Alpe Adria Trail – Stage 1 to 6 – Austria
Or go hike to Machinchang Peak on Langkawi Island of Malaysia
Healthy Travel on Gunung Machinchang Langkawi, Malaysia – 2x Great Views – Hiking on Machinchang Trail or cable car to Skybrigde Langkawi
I hope you enjoy this beautiful world as much as I do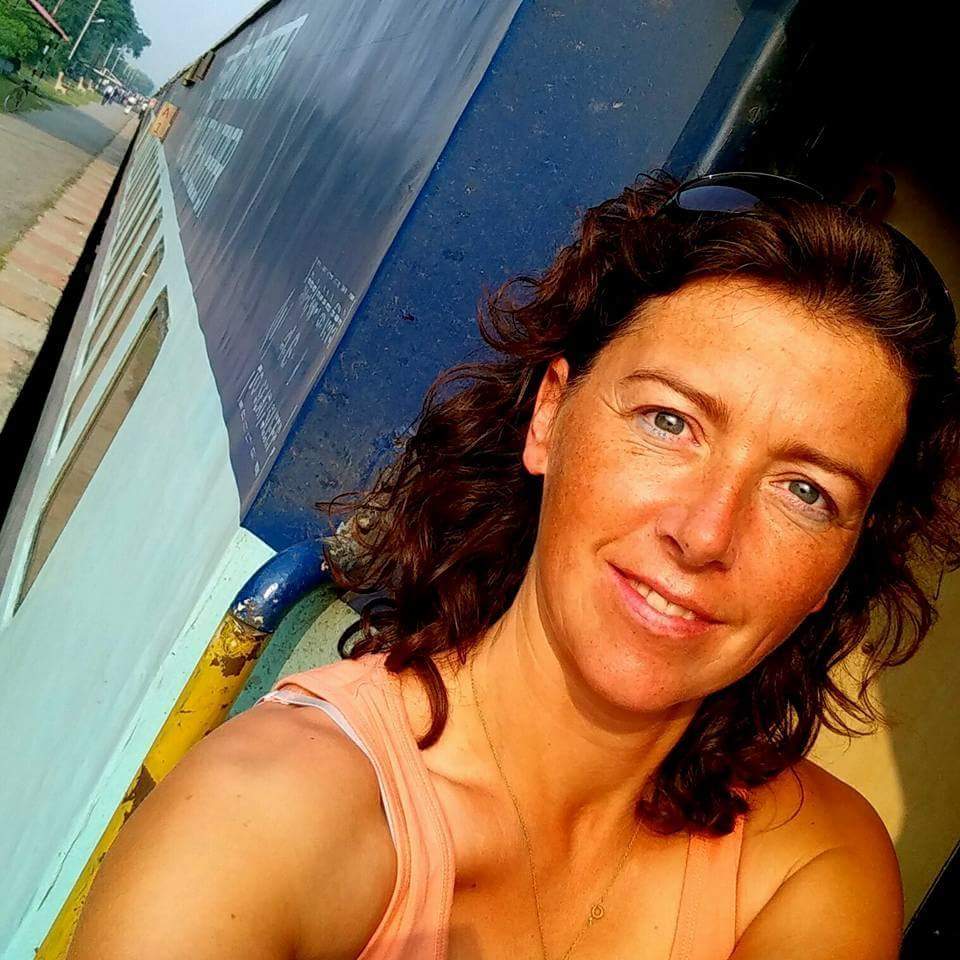 Jacomijn is een politieagent uit Nederland die jou graag laat zien hoe je veilig, actief en gezond de wereld kan over reizen. Safe and Healthy travel is a MUST