Hiking in Cappadocia – Turkey – Hiking in Valleys and ancient cave dwellings
|
Wanting to spend more time at a destination, I booked a ticket to Kayseri in Turkey in early 2022 to go hiking in Cappadocia. From Kayseri, the transfer took me an hour to Göreme. I then planned to stay there for a week. After all, Göreme is in the heart of Cappadocia where I had been once before for a day.  Then I had booked a short tour and did do that famous balloon ride in that one day! So now I'll be in that amazing area for 7 days and will do a lot of hiking in Cappadocia and of course visit some museums. Most tours will allow you 1 day in this super interesting area with ancient history while this area deserves so much more.
Cappadocia can be found in the Turkish regions of Central Anatolia and Eastern Anatolia. Cappadocia is a UNESCO World Heritage Site and is partly protected by the Göreme National Park. The Cappadocia region covers an area of 2,000 km² and consists of tuff and limestone landscape partly created by numerous volcanic eruptions. Over the centuries, villages and churches were built in the limestone caves.

Most people know this area from the beautiful pictures with hundreds of hot-air balloons that take to the air there every morning, taking you over these amazing rock formations.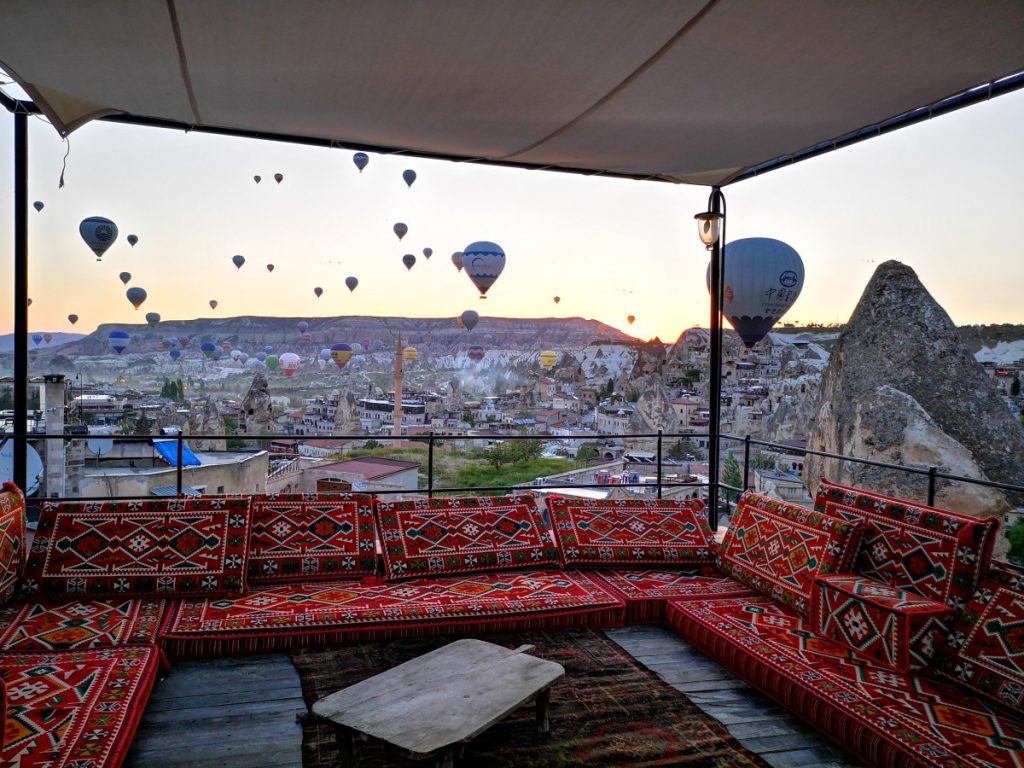 The national park lends itself super to beautiful hikes and when I searched on google for hiking in Cappadocia, I already had a number of beautiful circular hikes that would lead me through the most beautiful areas of Cappadocia. 13 May 2022 was the day and I flew to Kayseri and from there I travelled on to Göreme in an hour. Read more about Cappadocia on the official site.
Hiking in the valleys of Cappadocia – Turkey
Göreme as a basecamp
I spent 8 days in Göreme. As a base for all walks, this place is ideal. You can walk straight into the valleys if you are just outside the town. The town is quite small so from your hotel is at most a 15-minute or half-hour walk before you walk among the beautiful rock formations or have a view over the valley. I've had 4 different hotels in Göreme and can really recommend Milat Cave Hotel and Emit Cave Hotel. They have a great terrace on the hotel so you can watch the hot air balloons in the morning.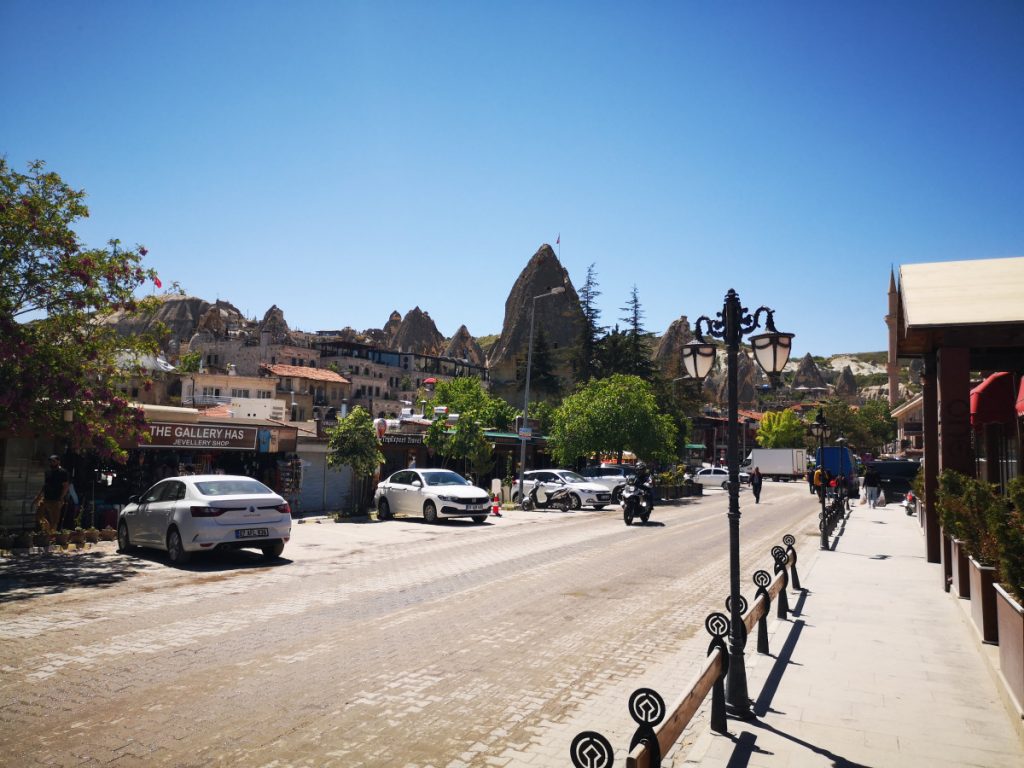 In preparation, I found it difficult to get clear on how best to navigate while hiking in Cappadocia. I did not get clear whether there were marked circular walks or arrowed routes through the valleys of Cappadocia. Some said there are signposts and others said there aren't.
My experience now in retrospect is that although there are signs here and there, what you read on the signs does not really match where you are or where you are being directed.
The best experience, though, is that you can't actually get lost. All paths are worthwhile. The valleys of Cappadocia are not so big and vast that if you hike in the wrong direction for a while, you have to keep walking for lots of kilometres. And best of all, every path has something beautiful to offer you.
In my experience, everyone walks a different path but ends up seeing and visiting the same places too. Everywhere you will come across places where you can buy tea or fresh orange juice.
The app Maps.me did help me a lot with finding certain viewpoints and the collumnaded church. I can recommend this app.
Online in Turkey?
I am Dutch and Turkey is only for Vodafone within Europe but for the other providers it is outside of Europe. So that means if you have a Dutch Vodafone subscription you can just use your bundle for internet in Turkey. I don't have Vodafone so I couldn't use that.
I could buy 500mb for 14.95 and valid for a week. 1000mb for 24.95 and valid for 14 days. Bit weird that there is an end date to it, this goldt T-mobile's Travel & Surf bundles.
I chose to spend a week just using Wi-Fi from the hotels and restaurants. Every restaurant in Göreme has Wi-Fi so that wasn't really a problem. There is also nothing wrong with being offline more than online for once. It also made a huge difference to my phone's battery usage. After a day of hiking, it was still not empty even though I take all the photos with my phone.
Of course, you can also just buy Turkish SIM cards but the ones I was offered in Göreme would have cost me over 30 euros but I had 13 GB to spend. So if you are staying in Turkey for more than a week, this is a good option. Though I'm sure you can get this cheaper from elsewhere.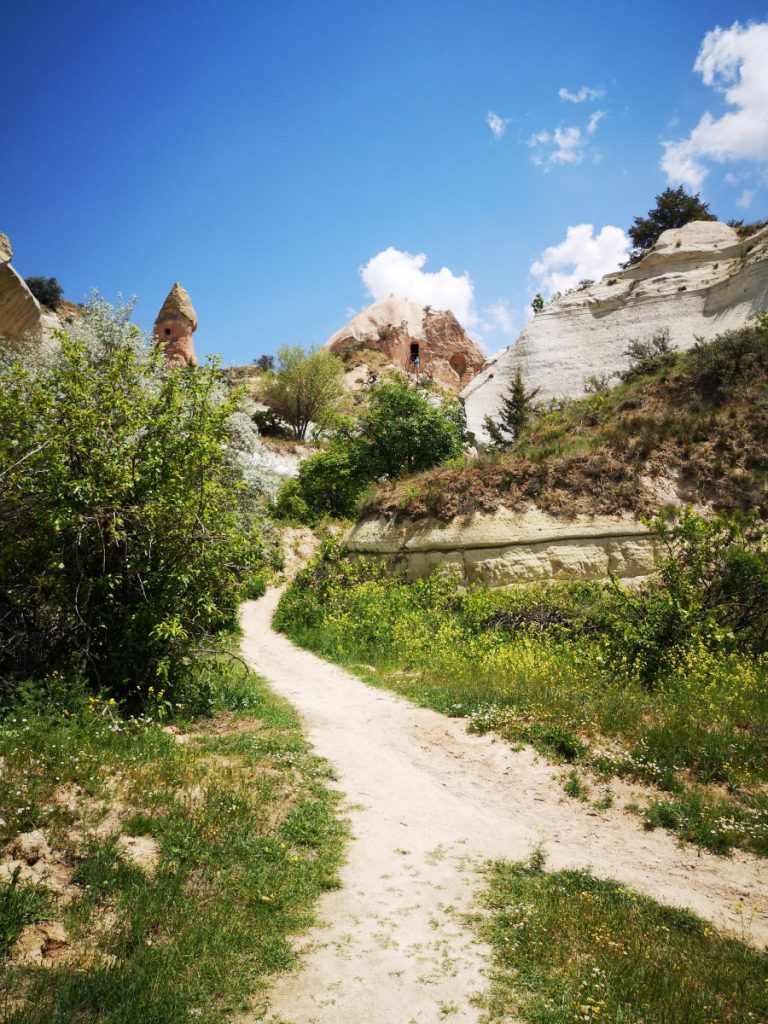 Discovering Cappadocia – Turkey
Pay in Euro or the Turkish Lira Cappadocia
I had brought cash (Euros) and could pay with it almost everywhere here. It is a mix of Euro and Lira everywhere. When I arrived, I paid for my transfer with Euro and got Lira as change. That way I had some money for the first few days to buy orange juice on the walks. At the hotels and restaurants, you can easily pay with your debit or credit card.
The only times I needed cash were the transfers to and from the airport (10 euros) and in the valleys to buy tea/coffee or orange juice.
Hiking in Cappadocia
Starting point for hiking in Cappadocia is Göreme. From here you can start most walks from the front door of your hotel room, so to speak. You are centrally located in the area where the most beautiful valleys of Cappadocia are and therefore where you will do most of your hiking.
The first day I went into the Rose and Red Valley. I chose to enter it via Zindanonu or Kiliclay valley, which is Sword valley as far as I understood. This one is called differently on various maps I got. It is located opposite the Open Air Museum. I walked with the road uphill for a bit and at one point came across a sign indicating that I could go into nature there, into the valley.
Walking here I can imagine that this part is also called Sword Valley. I ended up walking in a gorge that was very narrow and offered me a super fun challenging hike. After this I ended up in the area where I saw the signs Red / Rose Valley everywhere.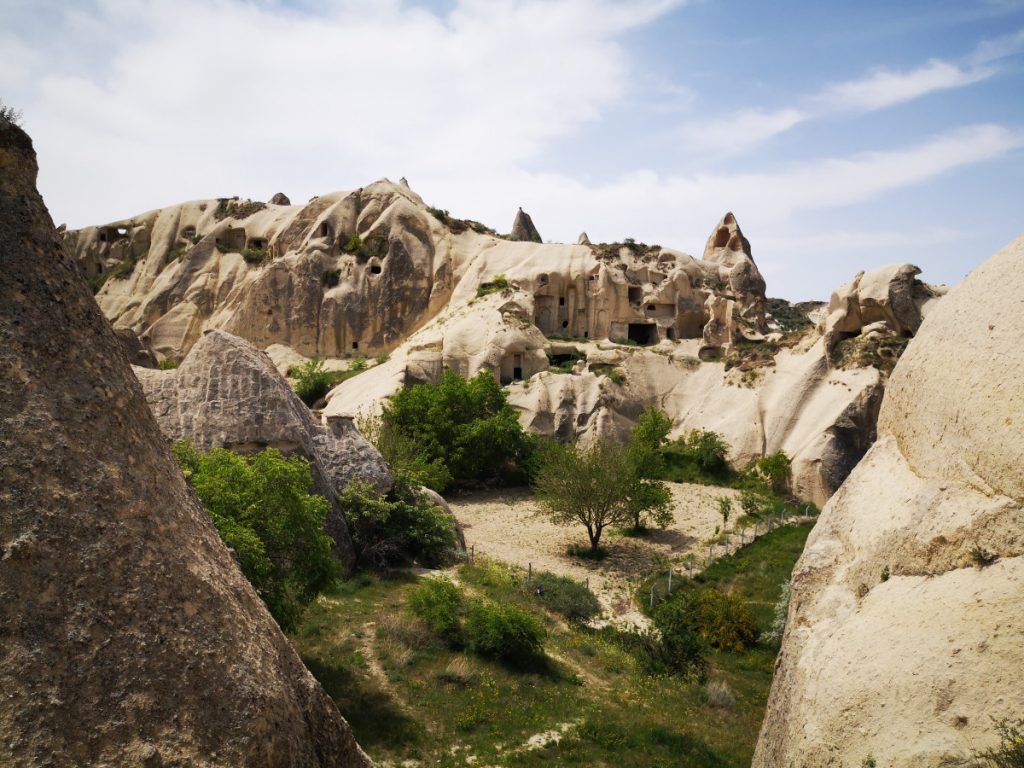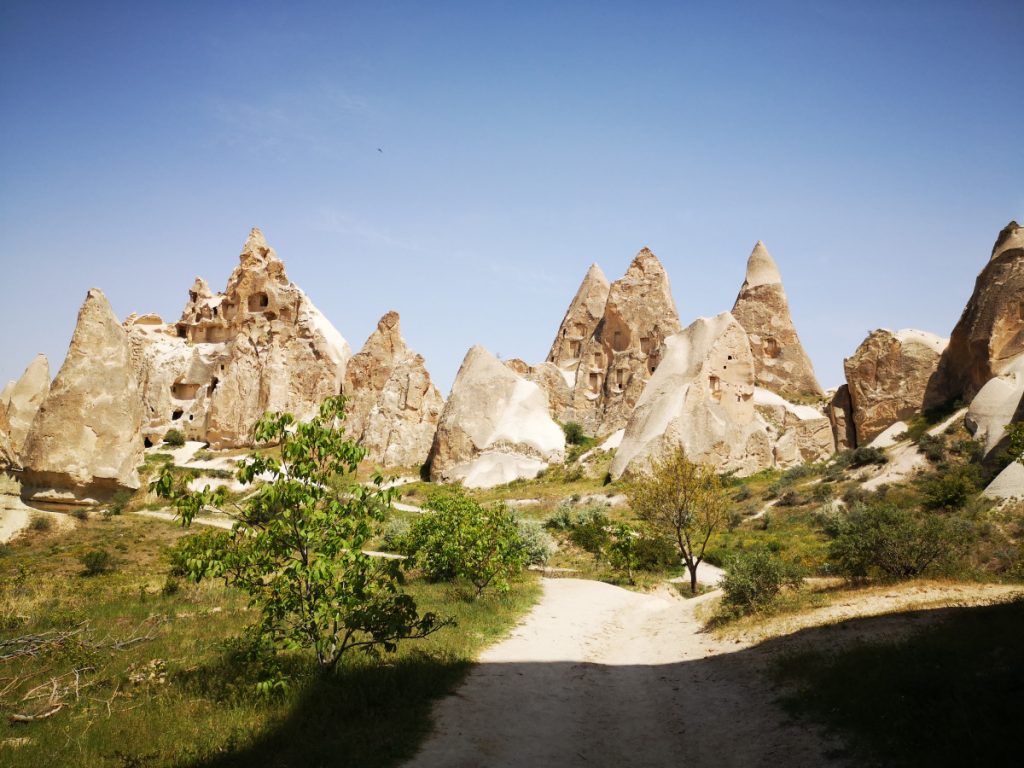 Several paths took me through this area and I enjoyed the various cave houses I came across all along the paths. At the end of this area, I saw views of Göreme on my left each time and so could easily navigate back to the town to have a lovely cup of coffee at one of the many terraces at the end of the afternoon.
Day 2 I checked out of my first hotel and had spent the morning with that. The afternoon I chose to walk anyway and dove into Love Valley. I walked along the main road, a fine pavement, towards Avanos. At a larger left turn (sort of a provincial road), I took it because it brought me to the famous viewpoint this valley.
Every round trip takes you here and I had hoped to descend into the valley from here. This turned out not to be the case. In fact, I should have taken 1 of the side roads along that provincial road. Then I would have walked right into the offshoot of Love Valley. Now I took an adventurous descent into the valley and was also there in no time.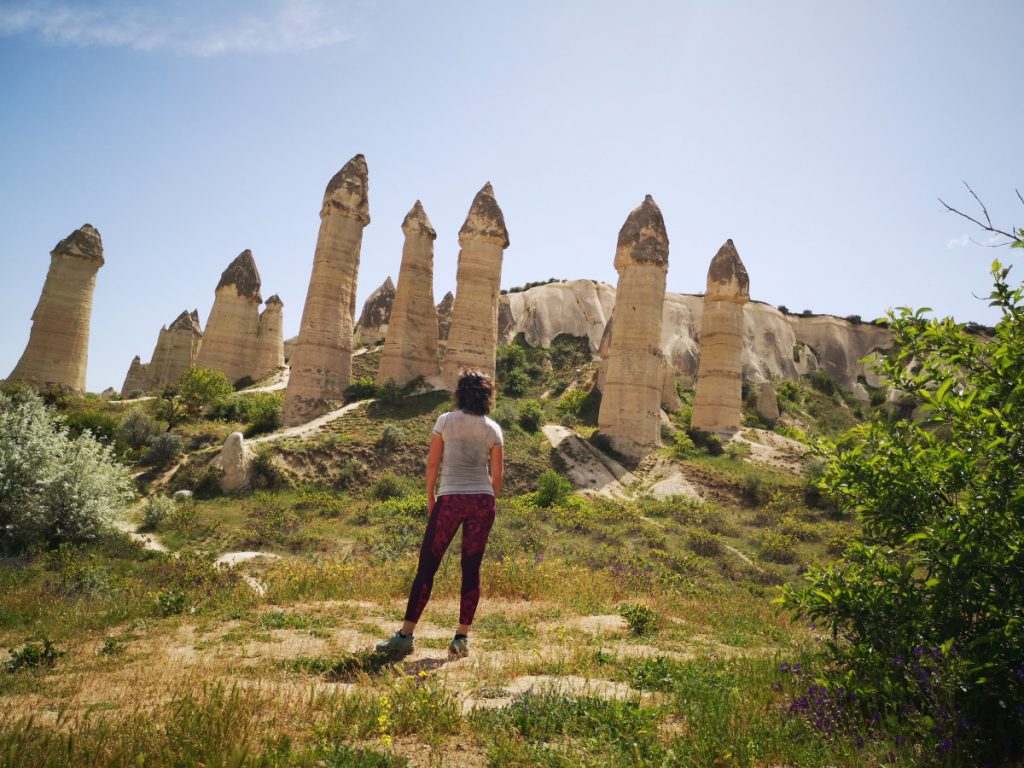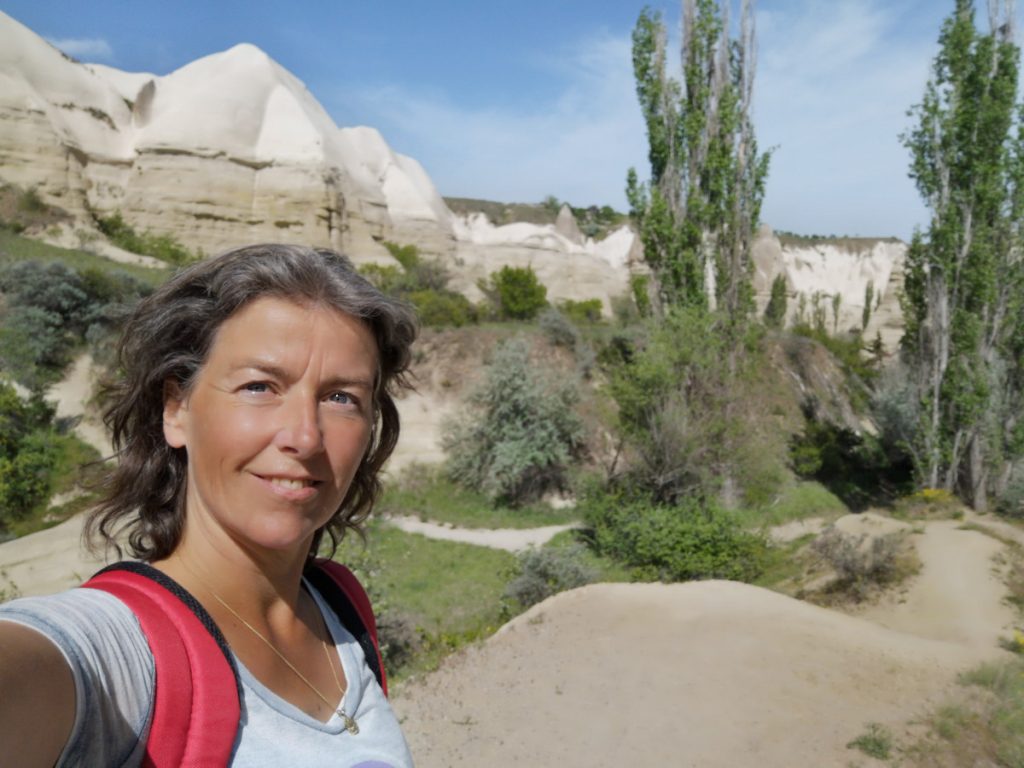 What a great bit this again! The iconic rock formations for this valley are really cool to see though. Of course, there is also a spot nearby where you can buy tea/coffee or orange juice. I walked into the valley and came through the most beautiful bits to hike. Under natural arches / tunnels and on beautiful paths through the greenery.
At one point I saw some cyclists on a higher path, I was walking at the bottom of the valley in a sometimes muddy path. I then decided to take their path and was led out of the valley and ended up at a man selling fresh orange juice. Walking there towards the main road, I ended up at the Onyx factory on the road to Uchisar.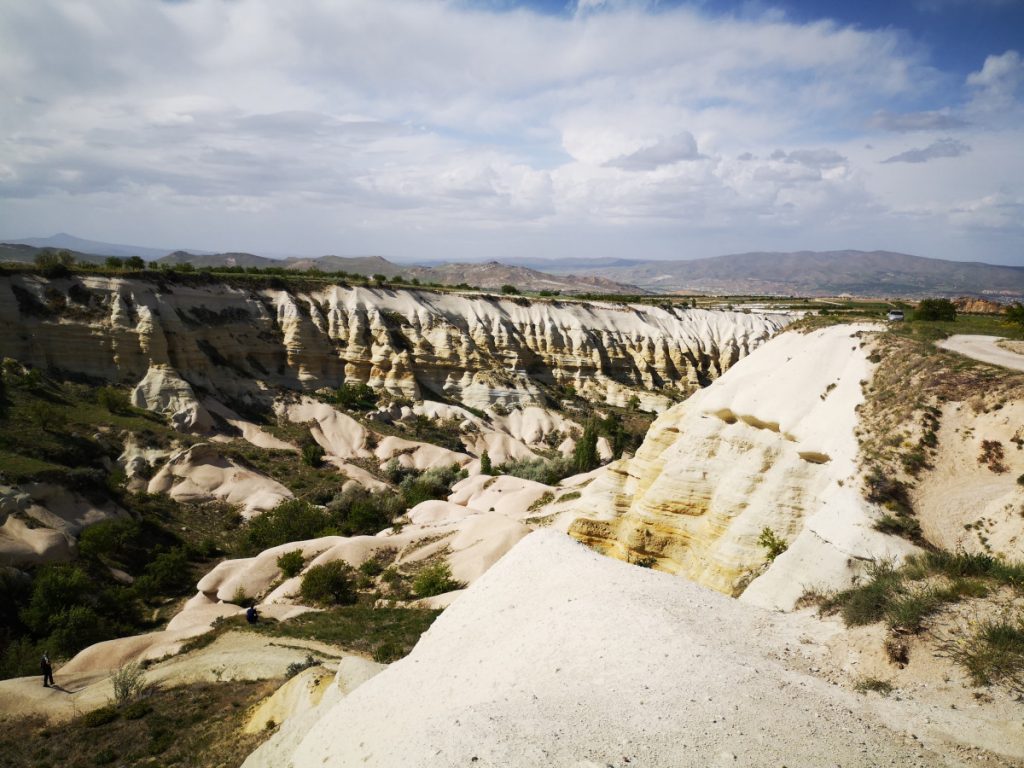 I then walked back to Göreme via the main road. You pass many restaurants that offer nice views of the Pigeon Valley and, in the background, Göreme.

Hiking in the many valleys of Cappadocia
From Göreme, you can walk straight into Pigeon Valley if you navigate to Empire Cave Hotel. After this, you will find a sign indicating that you are entering Pigeon Valley. In Turkish, it is called Güvercinlik Vadisi. There is actually only 1 trail that runs through it. At one point, you can keep walking at the bottom left of the valley after a vacant cafe and you'll end up at the small waterfall.
I walked this trail because I felt that the other trail took me to the through road as it seemed to go all the way up. When I did choose this path after this, it brought me to a nice terrace where I had coffee and then continued walking into the valley. Just after this terrace you can turn left uphill to go back into the valley.
Great views over the valley and gradually I went back down into the valley where I could visit several cave houses/churches.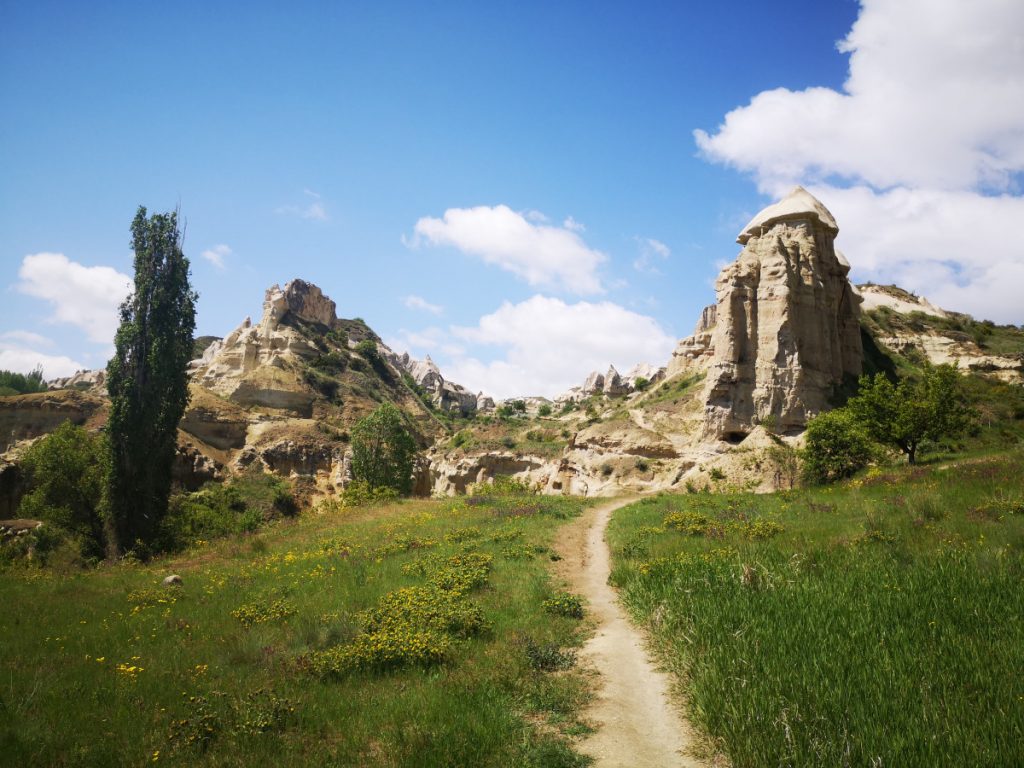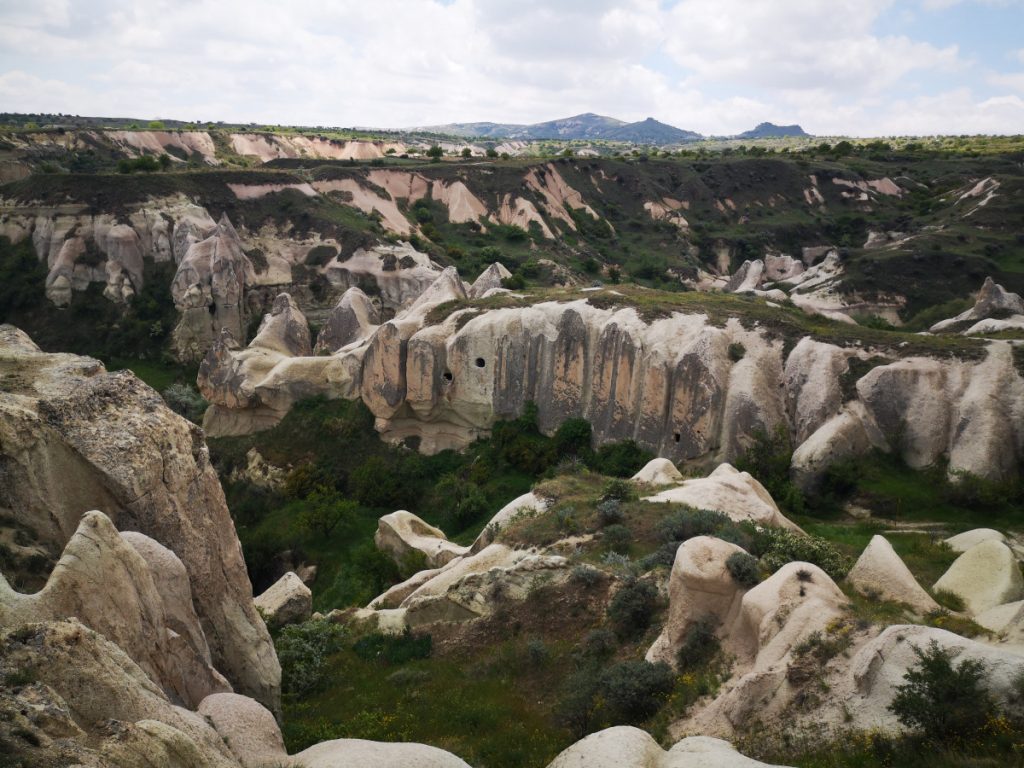 Hiking in Pigeon Valley – Cappadocia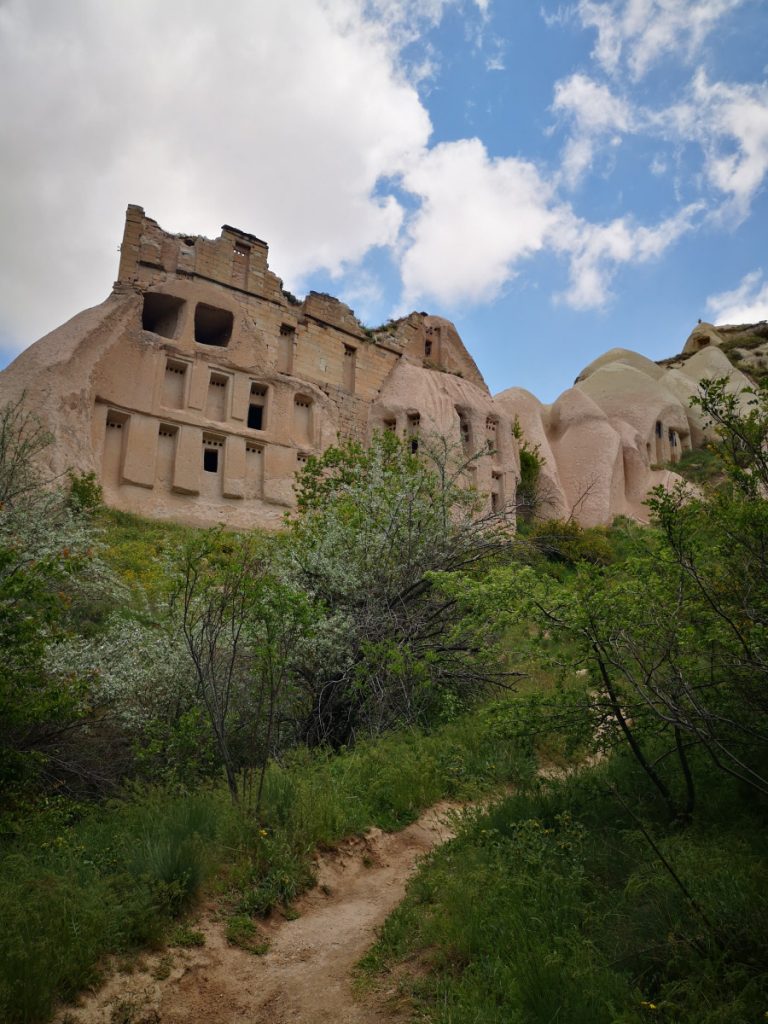 Where the path turns right up to Uchisar, I chose to walk on. You then come across a sign Zemi Valley left after some surprising turns. There you walk on a normal road for a while before arriving at an amazing viewpoint over the Zemi Valley. I found this viewpoint because I had maps.me on to see if I was walking correctly. After this, I walked down the road to enter the valley.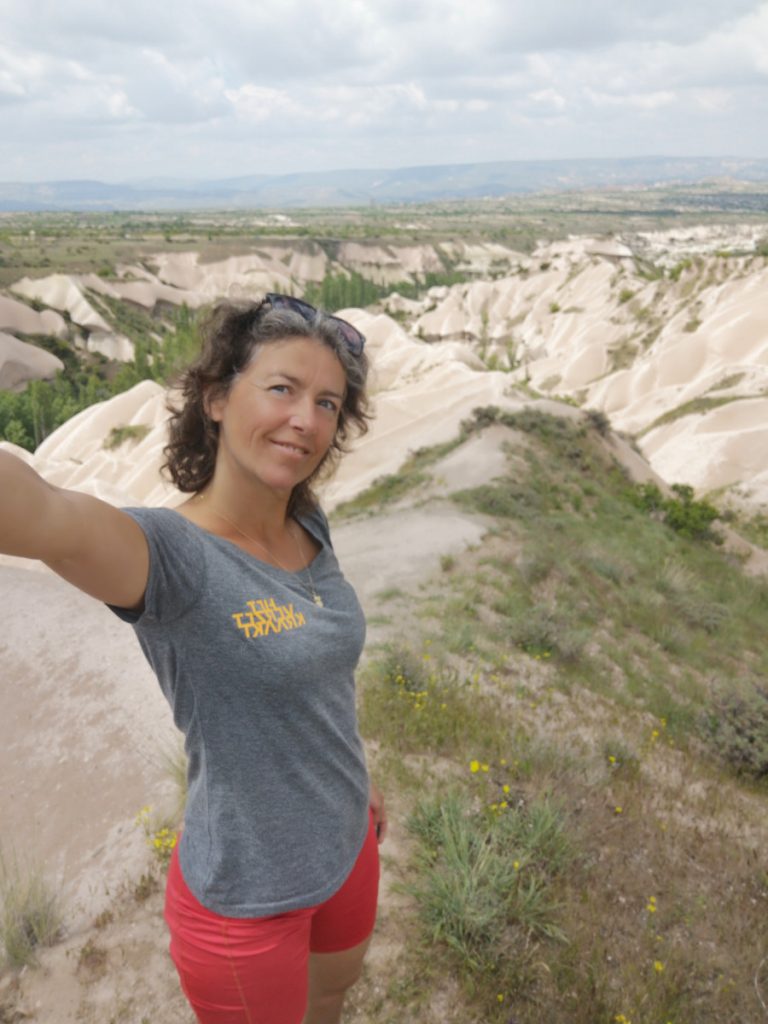 There, after about a kilometre, you get the choice of taking the churches route on the left or the valley route on the right. I chose the churches route and was a bit disappointed to find only signs for it and no really noteworthy churches. However, the view was very nice of course. Taking a road that would take me back to Göreme, I saw a sign for Görkündere and took it as it took me back into the nature reserve.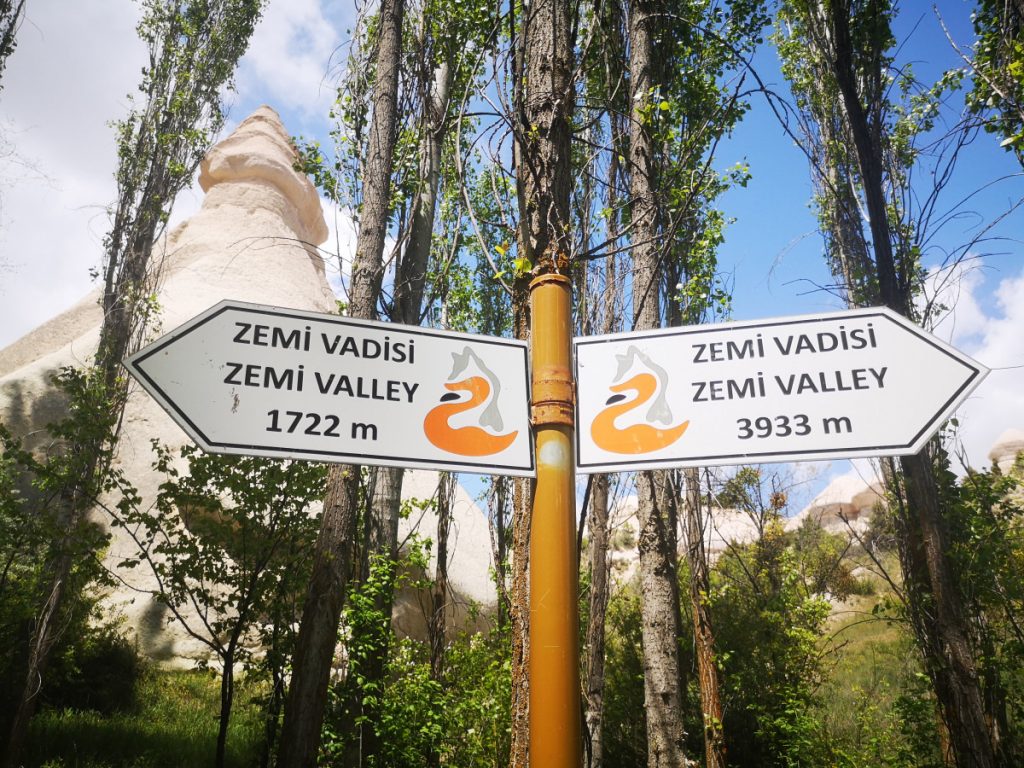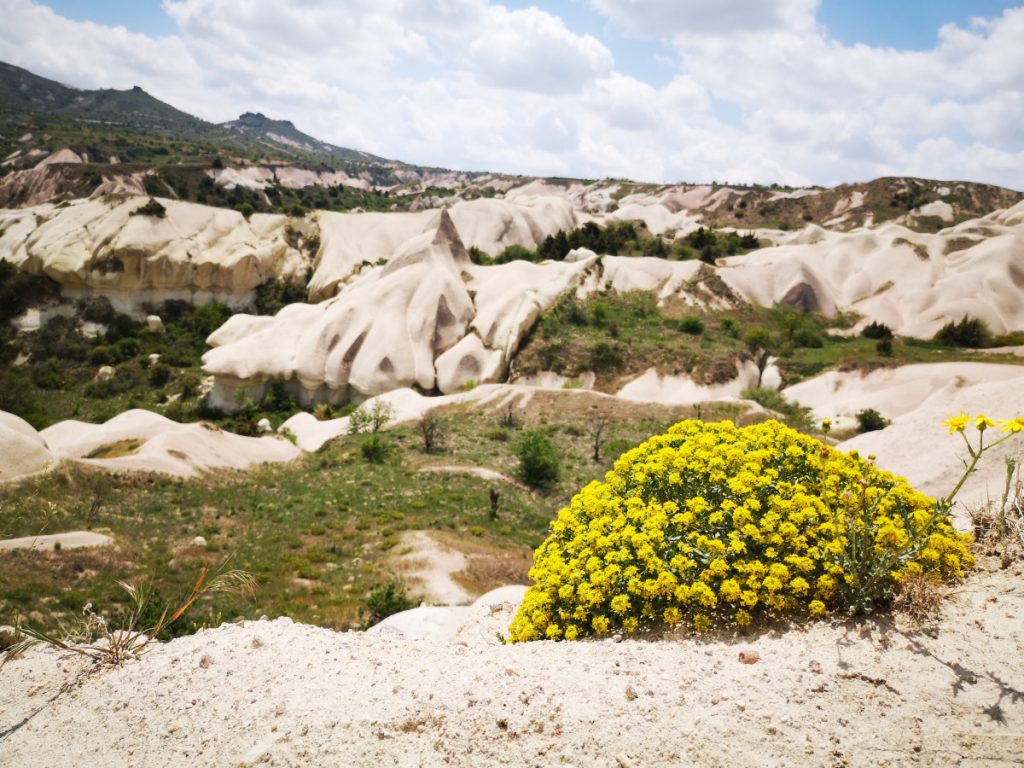 Eventually, I ended up at the görkündere breakfast cafe and then just below the Open Air Museum back on the road to Göreme and walked right back into town in search of a nice terrace to celebrate the end of this beautiful day.
As this valley is a bit too far from Göreme, I visited it by booking the green tour. This costs 45 euros and that includes lunch. I did find this worthwhile.
Then you walk a little bit (5km) through the valley and still get the feel of it. At the bottom of the valley runs a larger river and so it is a very green valley. Also a lot narrower than the other valleys, they also call it the Grand Canyon of Turkey I understood. When we descended into it via a beautiful staircase, I could imagine what it was like.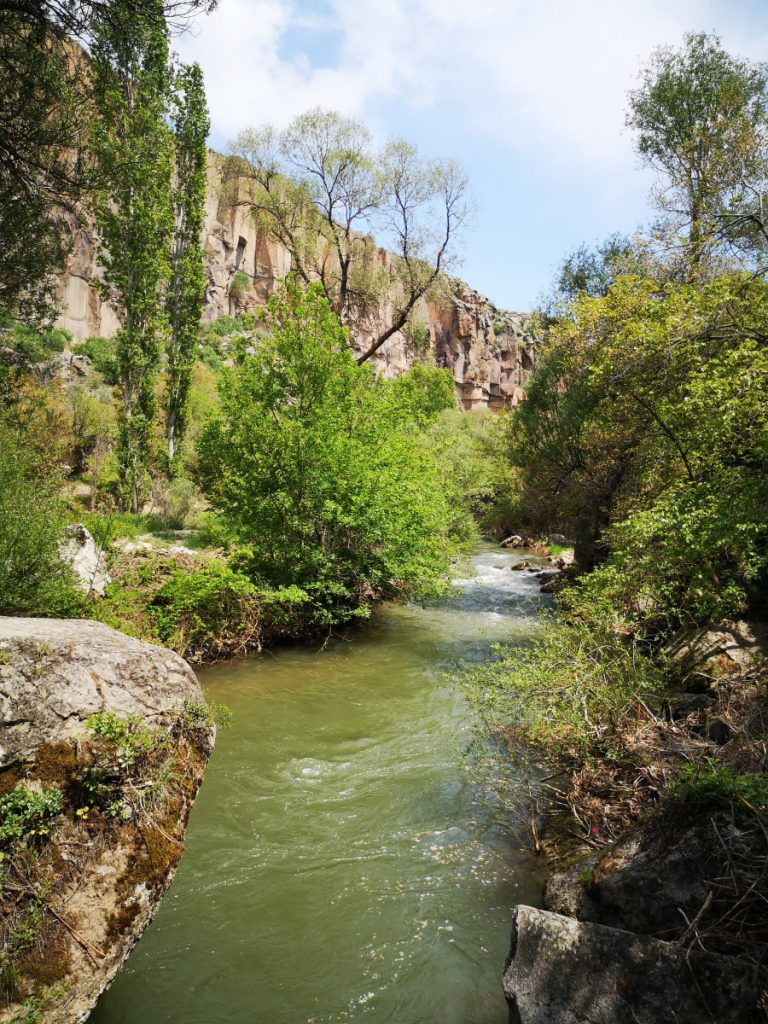 It's about an hour's drive from Göreme and if you have your own car it's obviously easy to get there but I understood that if you want to go by public transport you have to take several buses to get there. The tricky part of course is that once you have walked through it you have to go back to your starting point where your car is.
I found it too much hassle to do and so opted to book the green tour that also led me to the underground city and let me visit Selime Monastery.
Adventurous Travel – Hikig in Cappadocia
Red/Rose Valley and Fairy Chimneys
I went into the Red and Rose Valley area again to look for the Collumnaded Church. A super well-preserved church in which some beautiful arches and pillars can still be seen. It is so odd to notice that there are quite a lot of signs and names indicated but these do not really help us, the tourist, any further.
Many times when I start following signs I end up in very nice places but not in a place I think I would end up. In fact, there is an arrow with Red/Rose Valley one way and so I walk down that path and I get hopelessly entangled in trails that all go up to a wall that can never be climbed. So a dead end against a high wall of rocks.
Still, I think other paths and passages are possible each time. We have had some heavy rain and the sand and rocks are changing as a result. A lot washes away, new paths form and others just wash away. So just walk everywhere and see where there are passages and paths.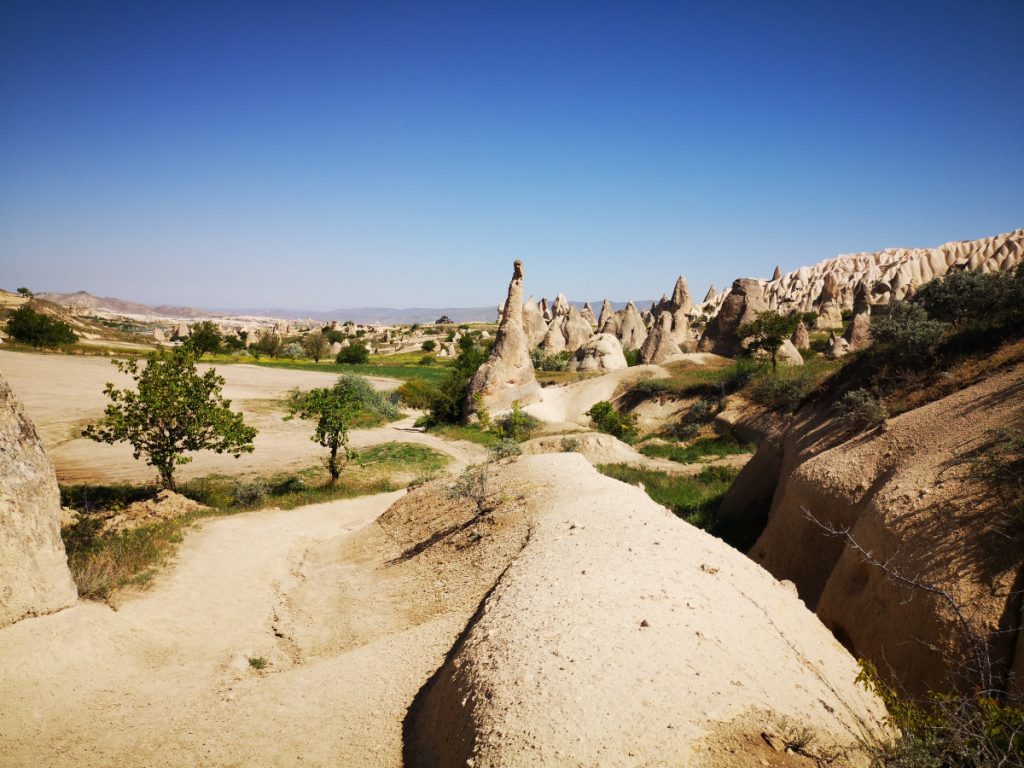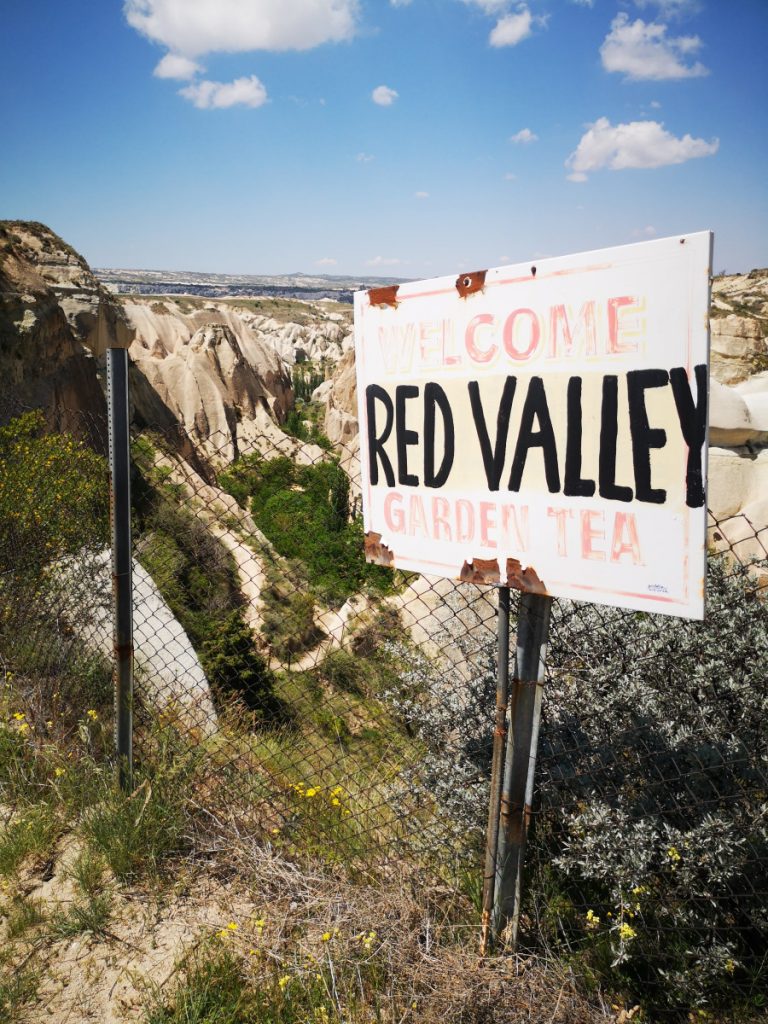 Fortunately, it is often only 10 minutes or 15 minutes back to the path you came from and you can move on but it is strange. For example, several people were looking for the Collumnaded Church. It is indicated on maps.me only problem is that when you are in the vicinity you are between hills and the GPS has a bit of a hard time seeing where you are. It then jumps every time.
Eventually I was a bit higher up and suddenly I saw a bridge going into a rock to my left…. That's where I walked to and yes… After walking into a rock that I thought was nothing more than some dovecotes, there turned out to be another passage deeper into the rock and deflecting to the right… Suddenly I found myself in the church I was looking for and standing between the high arches!
What to see/do in the surroundings of Göreme
As I just mentioned, the Ihlara Valley is something you should plan under this heading. It is at least an hour's drive from Göreme and thus not easily doable if you don't have transport. It doesn't really seem to be convenient by public transport and a taxi for me alone is not an option. So I did this one organised through the green tour.
Underground cities Kaymakli and Derinkuyu
There are two underground cities in the Cappadocia area. Derinkuyu and Kaymakli, both well worth visiting. The green tour includes Kaymakli. It really is a huge structure underground. It consists of several floors and at one point we were just 15 metres underground, about 3 floors…. And then we were definitely not in the deepest part yet.
I was really very impressed with Kaymakli, how old it was and how it still looked. And I can tell you that I was already very impressed by the cave houses I had seen. There, I had also been in a few dwellings that had several floors. Really quite extraordinary to see.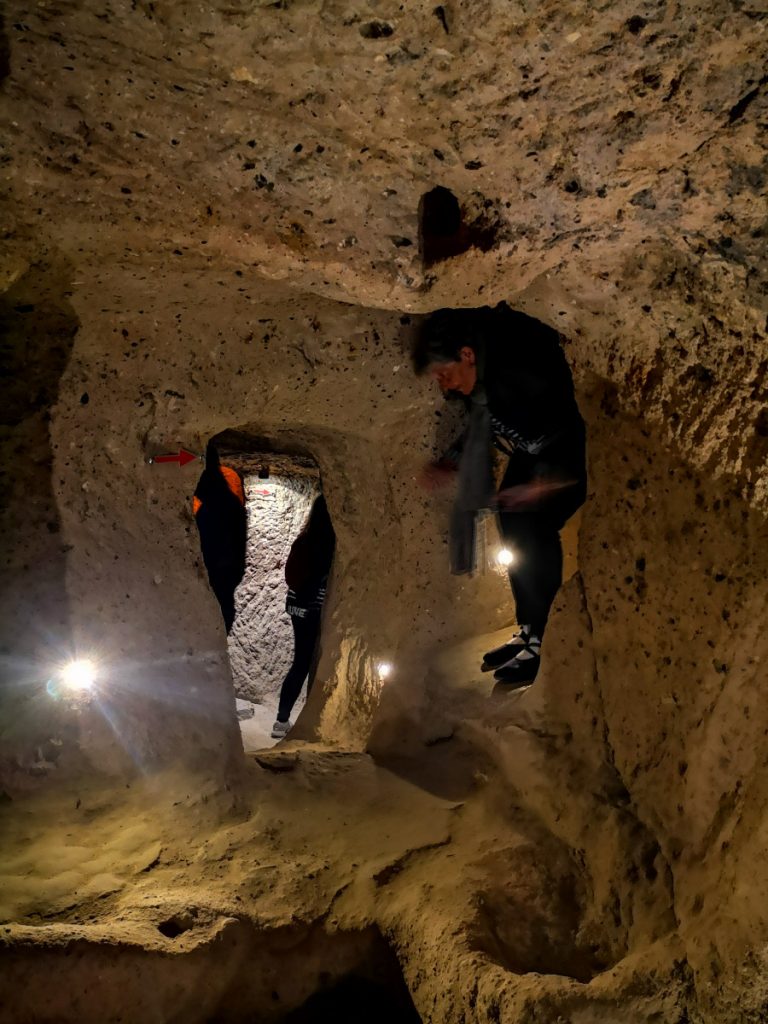 One of these cities is included in the green tour. You can book these and other tours in advance online so you can be sure you can join or, of course, you can go and inquire locally. Most hotels will have addresses for this.
There you can admire St John the Baptist chapel, which was closed when I was there. I could go up the mountain via another route but not through the old houses. I found no church on the mountain itself but only old houses. So I assume the other path would have led me to the chapel.
A very nice town to walk around like this for a while, though. All sorts of antiques are sold among the souvenirs and coffee shops.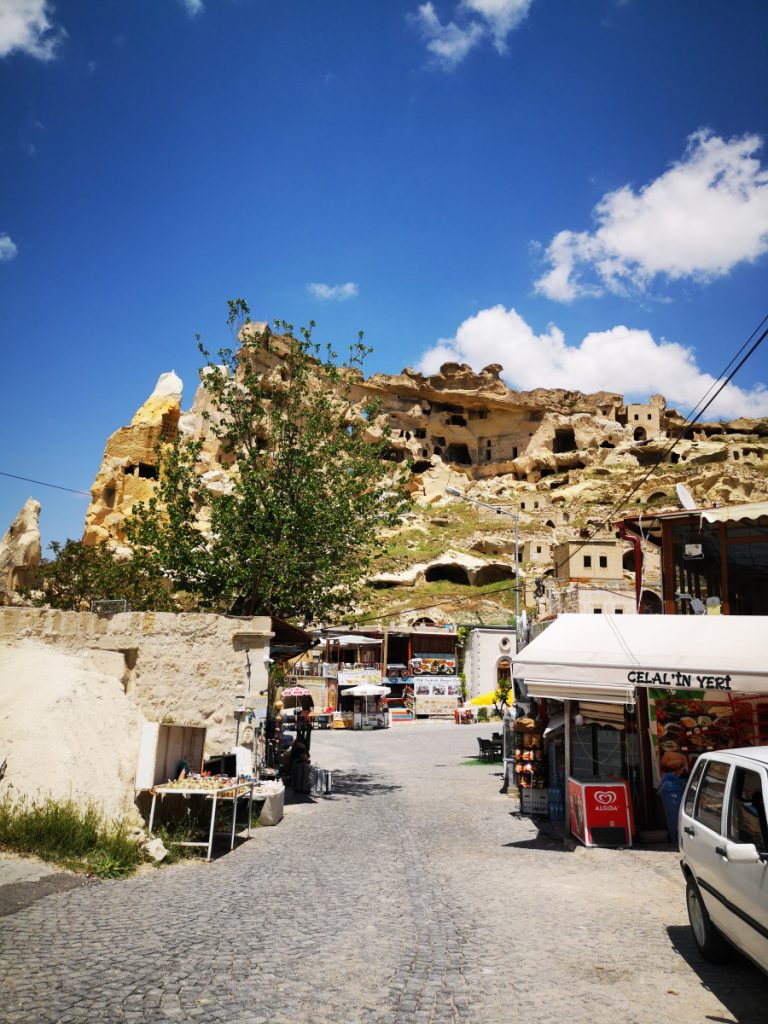 Also at Çavuşin Church, renovations were taking place and it was not safe to enter. I was allowed up 1 flight of stairs after a brief conversation but the main door was closed. The village is about 5 km walking distance and then if you walk just a little further you have some Fairy Chimneys standing.
Everywhere you go you forget to visit places and for this destination that became Uchisar. Every day I saw the mountain and every day I thought I should go there too but somehow it didn't happen. Quite a pity but yes… you have to keep something on the so-called list don't you?
Uchisar is a settlement built around a big mountain that towers high above the area. Cave dwellings all around and many small streets led you up to the old castle.
Where to stay in Cappadocia
Do you also want to go hiking in Cappadocia and are curious which hotels offer you the best views? I stayed in several hotels in Göreme. Partly I booked them in advance and the last nights I chose while I was already in Cappadocia. I have two clear favourites and will start with those!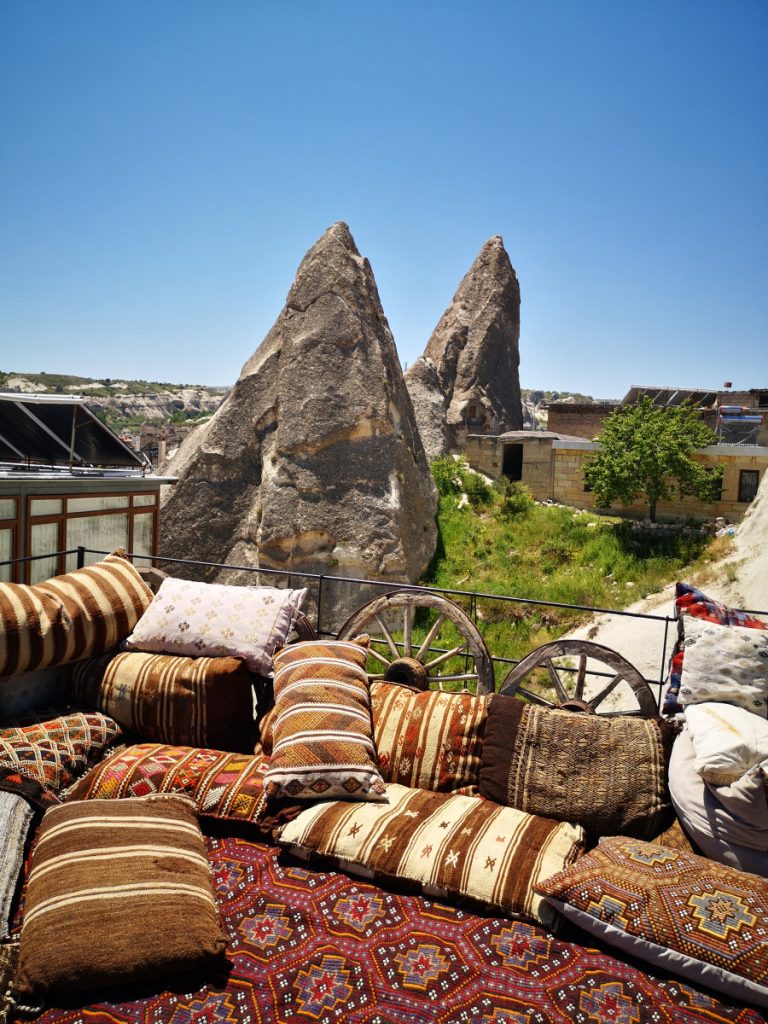 Tip for booking hotels via booking if you are already in Turkey.
Make sure you can go online via a VPN so Turkey allows you on the booking platform. I often get the best deals at hotels via booking anyway and so I installed the app Tunnelbear and browsed when I searched for accommodation via the app from a VPN in the Netherlands.
Where to stay during Hiking in Cappadocia
My first two nights I stayed at this lovely Emit Cave hotel. It is a bit higher up and therefore you have great views over the Red and Rose valleys. From the beautiful roof terraces, I could shoot great pictures of the hot-air balloons passing by in the morning.
I had a room with 3 twin beds and a nice bathroom. In the room was a kettle and there was coffee/tea and bottles of water. I always get happy when this is arranged. Closing out the day with a cup of tea on the roof terrace is super nice of course!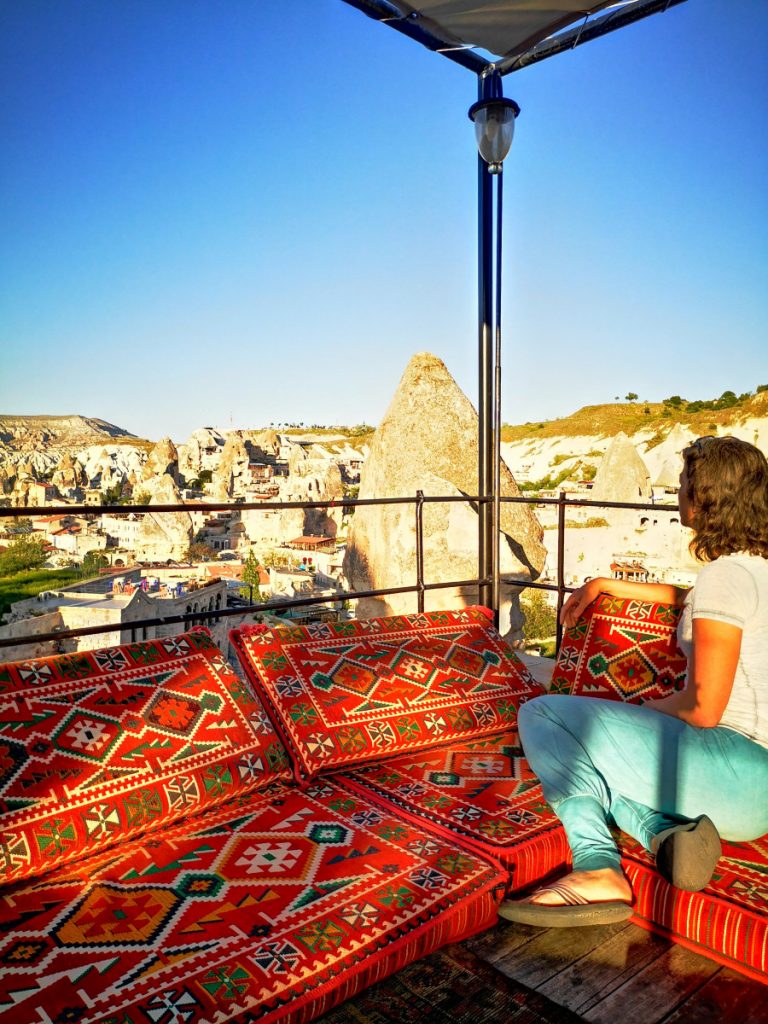 Milat Cave hotel also has super terraces on several sides and different heights. I only saw the very best terrace on the last day because the hotel consists of several buildings and I didn't realise that the back part was also part of it. I went up there and there is a really uber relaxing rooftop terrace!
My room was super clean, I had a nice shower and again there was 1.5-litre water bottle in the room and a water kettle and coffee and tea. This hotel is pretty close to the city centre, within a 5-minute walk to the central bus station.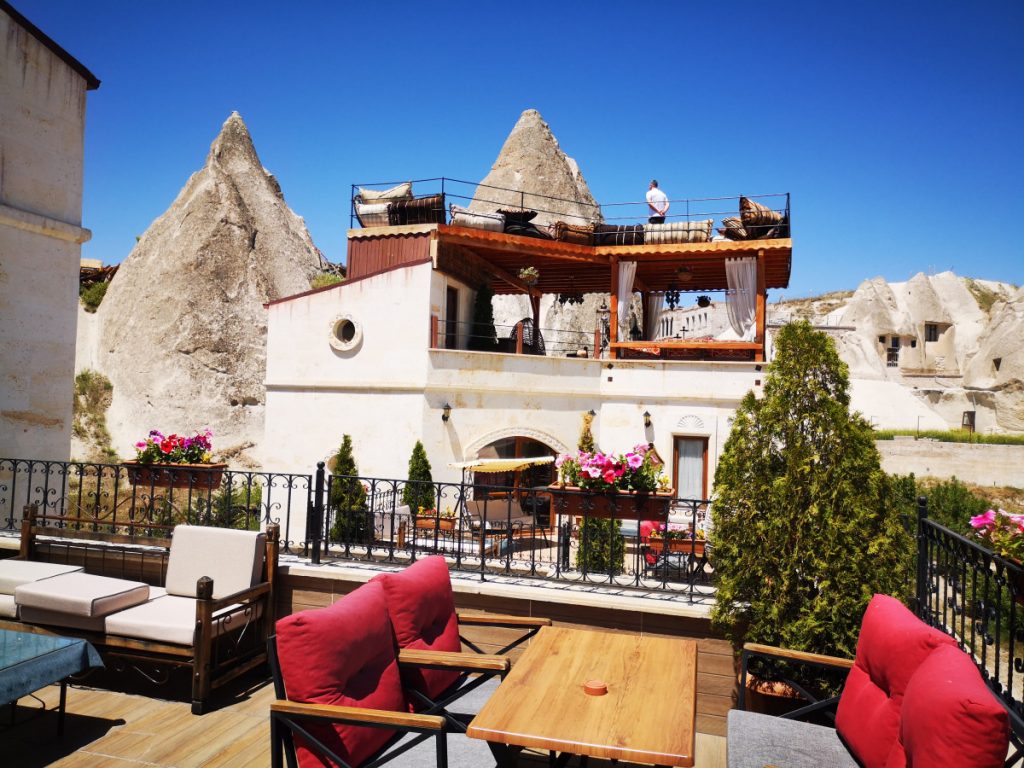 This is the cheapest Seven Rock Cave hotel I had this week but then again, this one had a swimming pool. Here you can rent regular rooms, small cottages and cave rooms. So all kinds of options, I thought I had a cave room but it turned out to be an ordinary room. I was not very keen on it as I only had 1 socket, near the door…. And there was no kettle and no water, coffee or tea. Furthermore, there was no hook anywhere to hang anything.
The garden was lovely to sit in though and the view at breakfast was also really super! And not just the view at breakfast…the breakfast was also delicious. Very extensive and there was an omelette or they had an egg with spinach from the oven. In terms of breakfast and garden, highly recommended!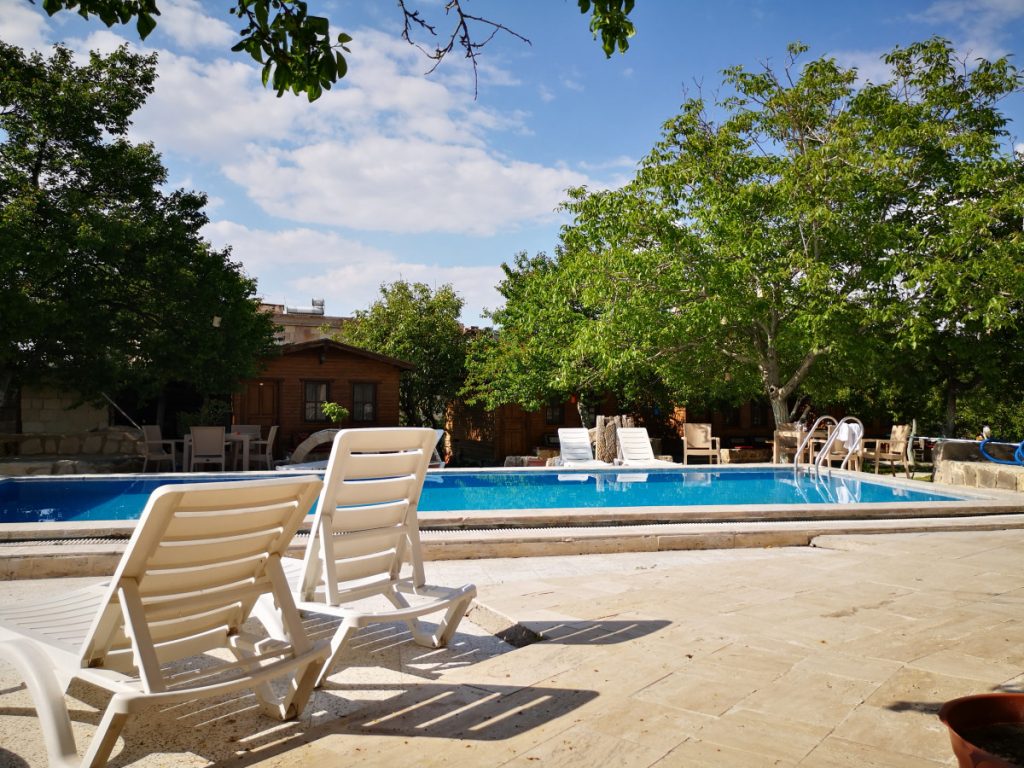 As a starting point to go hiking in Cappadocia, this location was really super because in no time you were at the big junction with the water fountain to walk to the Open Air museum and thus also to go into the Red and Rose Valley area. When I slept here, I also went into Red Valley in the morning to take photos during the sunrise with hot air balloons.
Kayatas Cave Suites was the most expensive option and here I am in a huge cave room. I had another bathroom half a floor below that was also very nice. The downside of cave rooms though is that the ceiling drops grit every so often…or even a whole slab…. So everywhere were grains and bits of stone on the floor. I found this to be a bit of a drawback as this also falls into your bed.
The hotel was really nice though, even in the evening it was beautifully lit. I had a huge terrace in front of my room where I had two sofas and could sit comfortably. Breakfast was reasonable and when I asked for it I got scrambled eggs and a bottle of water. They only had coffee and tea and no water or juice with it. I find that a shame at breakfast anyway.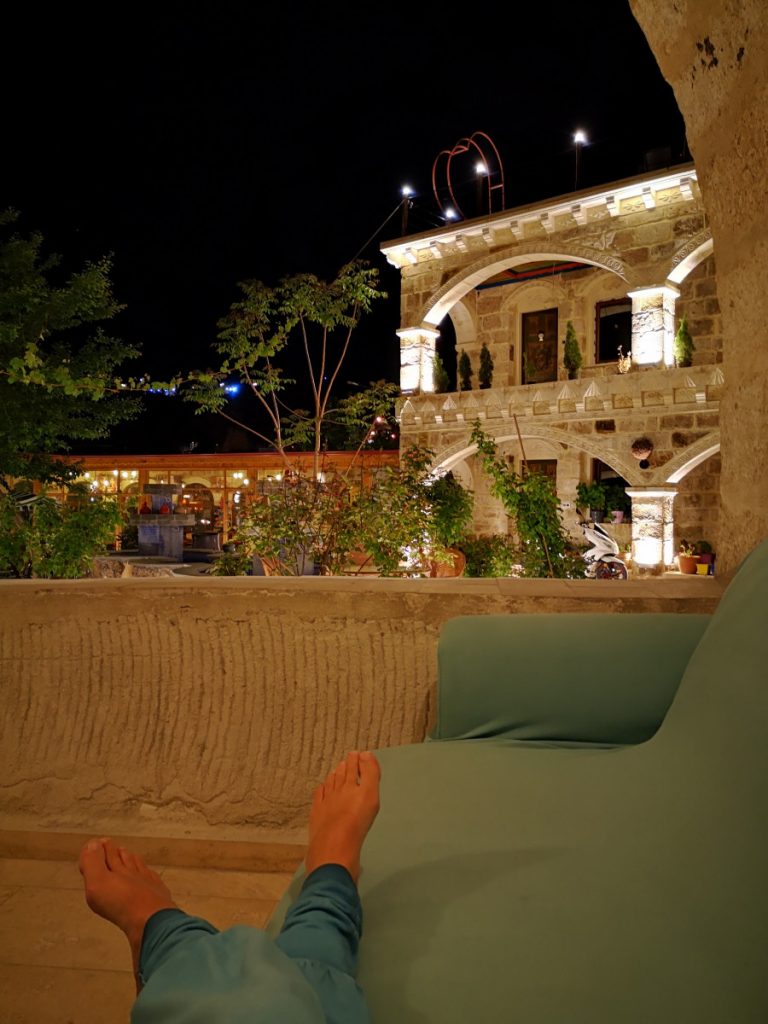 The rooftop terrace is nice for the view but not for taking nice pictures. They didn't have nice cushions etc situated so you can shoot an atmospheric picture in the morning. I think that's a shame because they definitely had room for it!
Hiking in Cappadocia – Turkey
Food & Drinks in Göreme
What I found a super nice place to relax in a nice chair on a nice terrace at the end of the afternoon was Coffeedocia. You can also eat well there but I was really only there for a small bite after walking and a nice cup of cappuccino. It is centrally located in Göreme and from there you can go in all directions to go back to your hotel or as a base for a hike.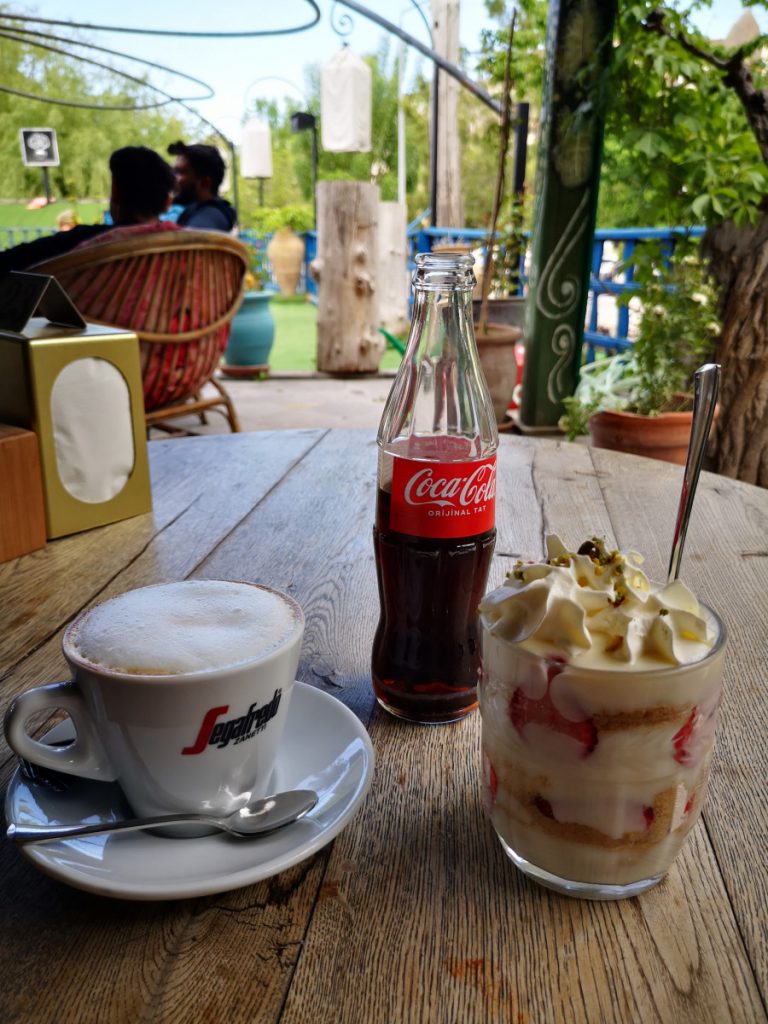 I love Indian food and when I came across restaurant Namaste India at some point, it did become my favourite. Nowhere have I eaten twice but here I did! The naan could be of better quality but the curries are scrumptious!! (120TL)
But of course you have to eat Turkish food when in Göreme and so I mostly did eat in restaurants where they served traditional Turkish food.
I sat here on my first evening in Göreme and enjoyed a clay pot with a vegetarian dish in it. Besides, this restaurant has a super view over the town. The sunset is beautiful to watch from here and you can sit there wonderfully! (130TL)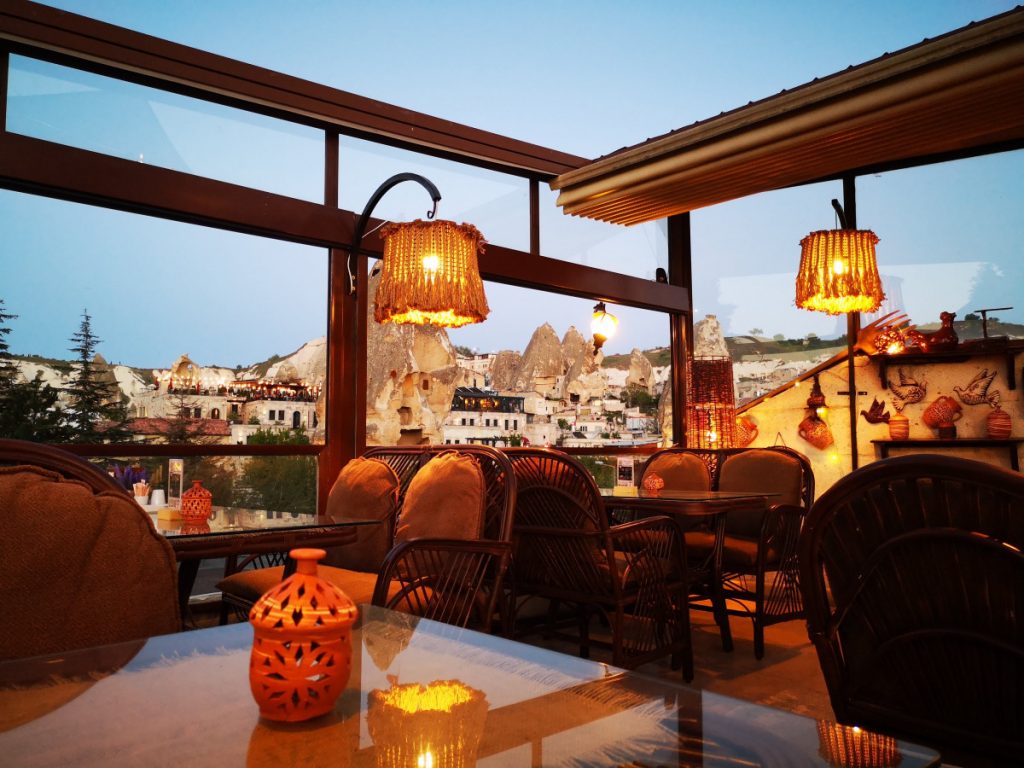 This restaurant is located behind My Mother's and is just a bit higher and thus also has a terrace that is a bit higher. The highest terrace of this restaurant gives you a 360-degree view of the surroundings, so for that reason it is highly recommended. I ordered manti here, a kind of Turkish version of the Italian ravioli. Fine dish but I found it tasty but not very flavourful. I had the vegetarian version and for me it could have done with more herbs and sauce. (70TL)

Also a very nice restaurant. The terrace is lovely to sit on and it gives a view of the other side of Göreme than the other two restaurants. I had non-vegetarian food here, meatballs topped with a sauce and cheese. With this I got rice which was also really tasty in terms of taste. (70TL)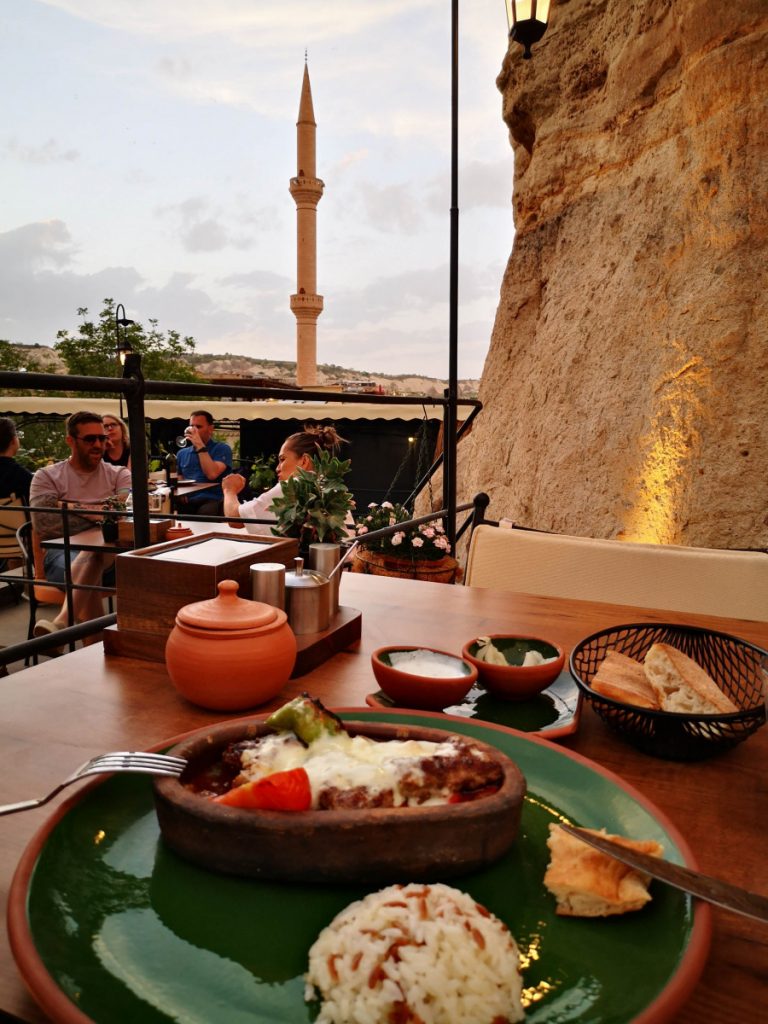 Again, I did not eat vegetarian and ordered Yoghurt Soslu Beyti. I really liked this a lot! Very tasty with different flavours brought together. I can definitely recommend this. The restaurant offers no view and sits on the street with many tourist shops. When I stayed at Seven Rock Cave hotel, this restaurant was nearby.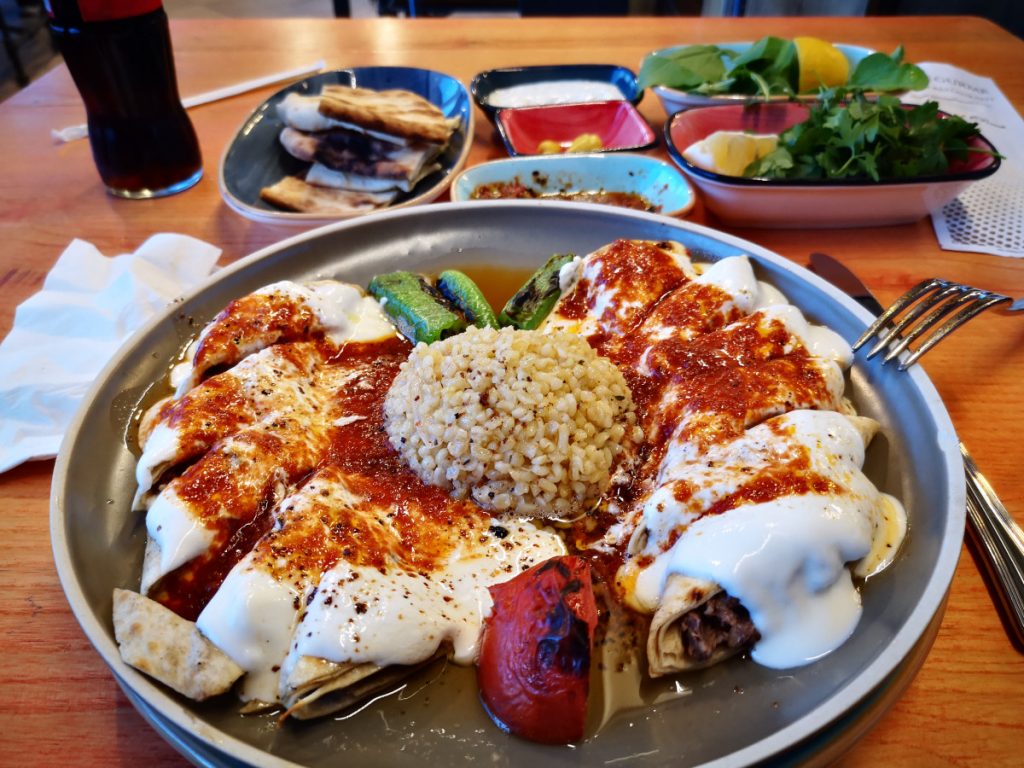 Across the street from Gurme Kebab is Kebapzade. I spent an evening there too, but I cannot recommend it. I found the service very disinterested and I was very surprised to be given full attention during the checkout because they wanted a positive review. In the process, they pressed a business card of theirs into my hand.
I also sat at Kale Terasse, where I ate a clay pot with chicken in it. I didn't find this one very tasty either. It's more about the show and way such a clay pot is served and cracked open on your table than that I find it very tasty. It is something you must have done once but after that you are better off ordering something else.
Sitting on the main street, it has a fairly large terrace and a nice space inside where you can sit. I once ordered a wrap there after walking. It was nicely served and came with chips that tasted really good! A day or two later, it was raining and I went back there to eat a plate of fries with mayo. The service is fun and cheerful and the food there is good!
You can also get a fine western cup of cappuccino Sun Shine cafe and Hopper Coffeee House.
Coming and Going
I flew by plane from Amsterdam directly to Kayseri. Flights to Nevşehir are also offered. Ideal! Within four hours, you are an hour's drive away from the beautiful valleys of Cappadocia.
From Kayseri it's an hour by transfer to Göreme, these cost anywhere from 10 euros. From Nevşehir, it's half an hour to Göreme. I don't know the price of this transfer like this.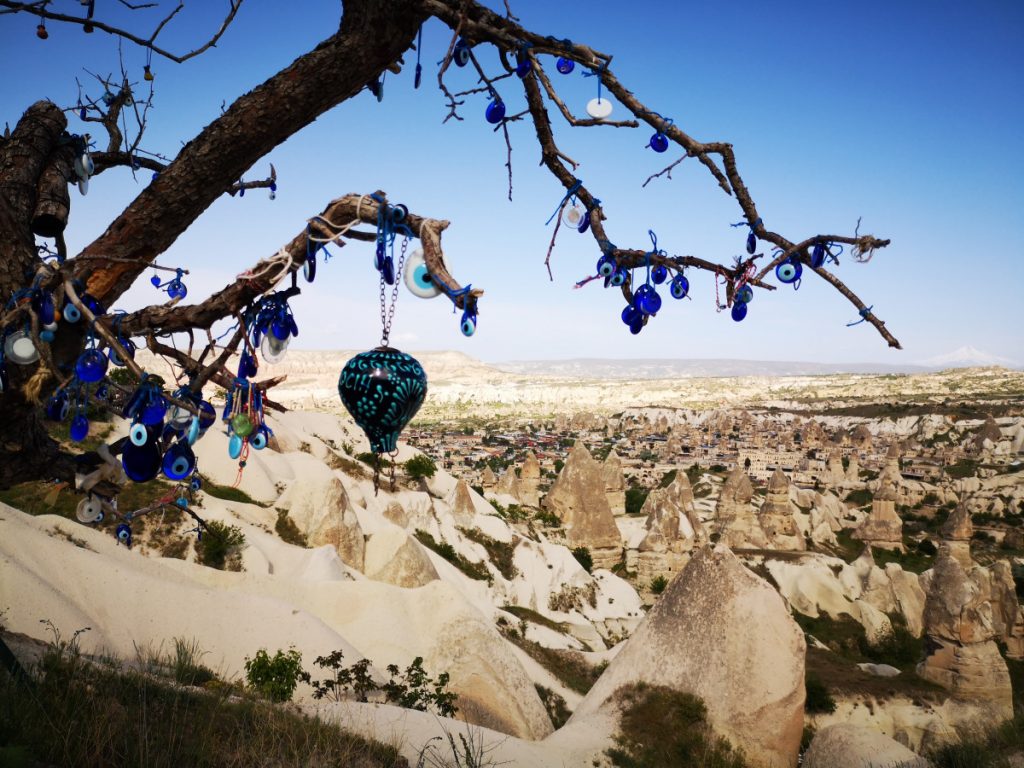 Want to know more about hiking in Cappadocia?
Soon, I will write out some of these valley walks in more detail. For now, hopefully I have already been able to inspire you to go hiking in Cappadocia too. I really think it is a top location to do multiple hikes. You can make the hiking in Cappadocia as long and as adventurous as you want. At all times you can turn around or choose a different route. There are legions of trails in all the valleys and so there is something for everyone!

Did you find these tips useful?
Then share them for someone else and save them in your favourites!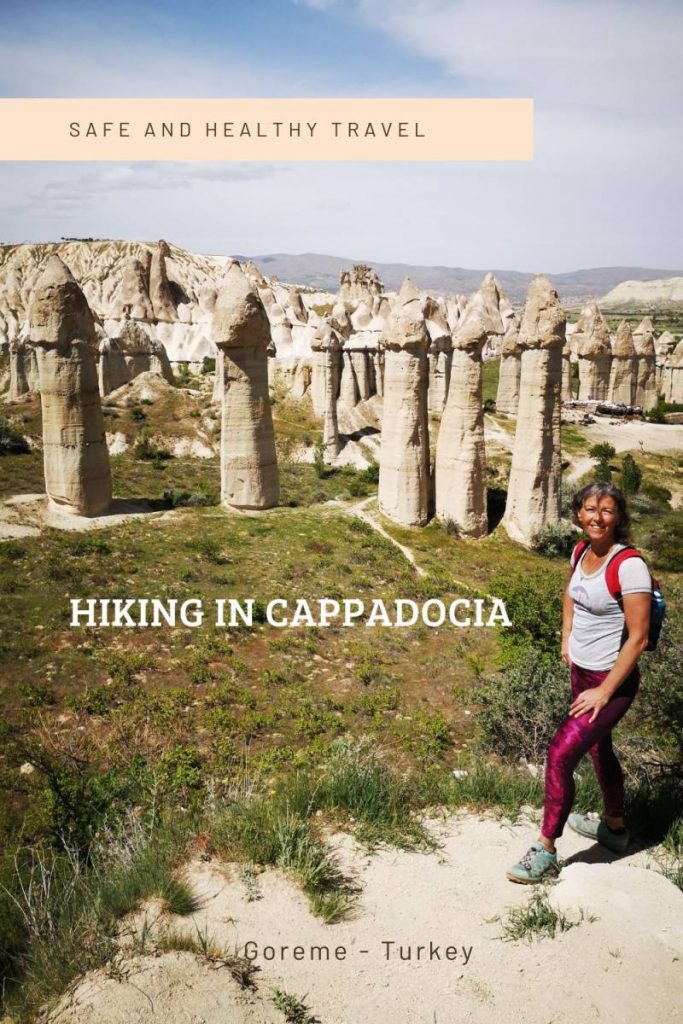 Want to read more hiking inspiration?
Hiking stage 7 to 11 of the Alpe Adria Trail – Austria
Hiking in Dana Biosphere Reserve – Jordan
Budget for your Pilgrimage on the Camino Frances
Hiking in the footsteps of Krishnamurti – The Netherlands
HIking the Dutch Coastal Path in The Netherlands
And do read some more about the most beautiful wadis of Oman & Jordan
Hiking in a Wadi – Oman & Jordan – Adventurous hiking in the Middle-East
I hope you enjoy this world as much as I do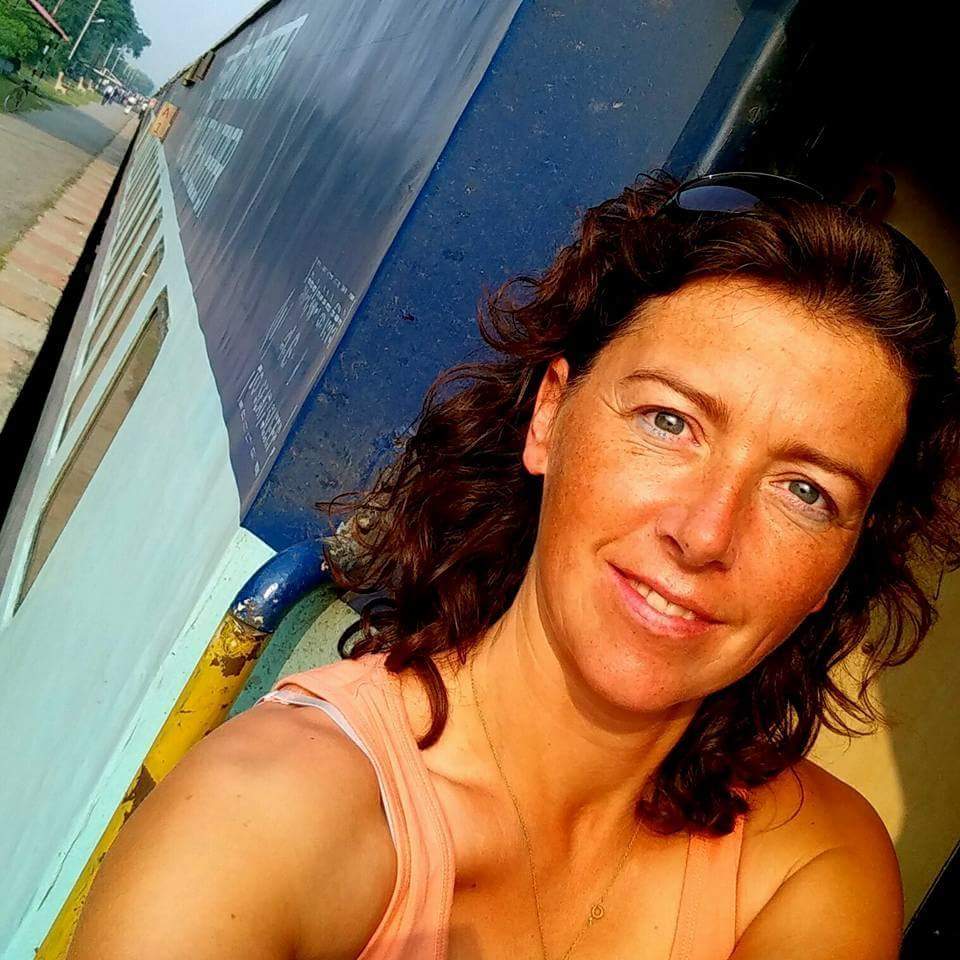 Jacomijn is een politieagent uit Nederland die jou graag laat zien hoe je veilig, actief en gezond de wereld kan over reizen. Safe and Healthy travel is a MUST