Exploring Kaş by foot on the Lycian Coast – Two Different Ways to Explore Kaş – Turkey
|
I had, of course, come to Turkey to go hiking. Once I was in Kaş on the Lycian coast, I decided to stop walking the Lycian Way. Very unfortunate but I found it too difficult to arrange overnight accommodation after each stage. I would then have to take the bus to other places each time for a guesthouse/hotel. This is not my way of doing a walking holiday. Then I prefer to use no motorised traffic for about 2 or 3 weeks.
I had ended up in Kaş on the Lycian coast and stayed at Kayahan Hotel for 3 nights. And that is not a punishment at all, just look at the fine pictures in this update.
Exploring Kaş by Foot on the Lycian Coast of Turkey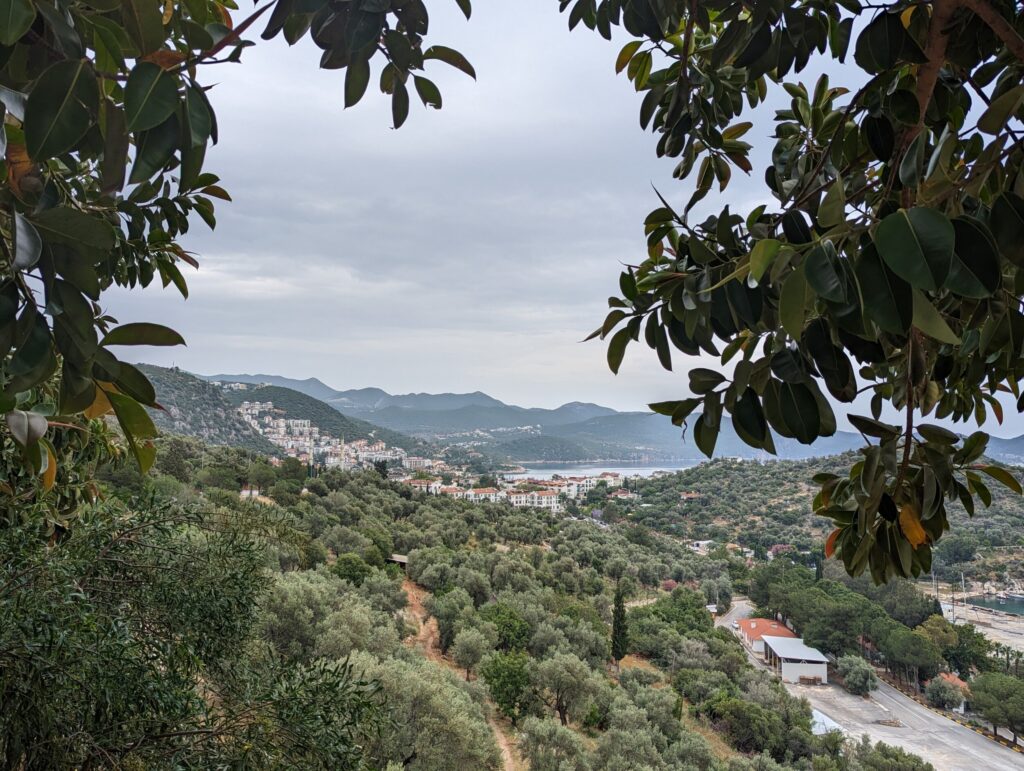 To explore the town of Kaş on the Lycian Coast, it is great to take a walk along some of the beautiful points in the town of Kaş. I found Kaş a very nice town to walk around and explore so I am happy to share these two walks with you.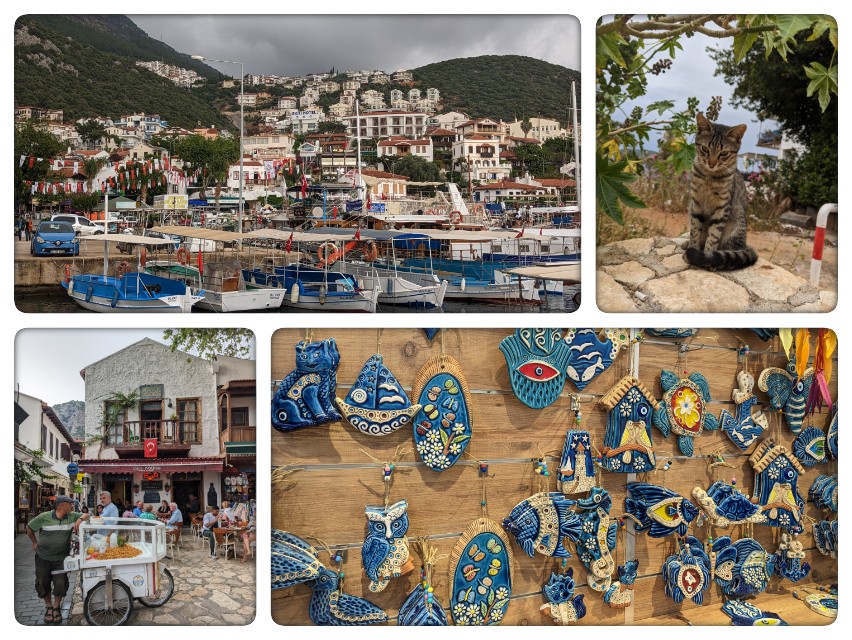 Hike along the highlights of Kaş
Starting point for this walk is the central square where you find the statue of Atatürk. It's a nice square with lots of flags and propaganda… at first I thought for a moment it was for the elections but when I see photos of other people here they hang there too. At this square you will find many restaurants and adjacent nice shopping streets. In itself, you could spend an afternoon in this part of town. The harbour is also on this square with its cute little lighthouse. If you want to book a trip to go kayaking, boating or snorkelling, this is also the right place.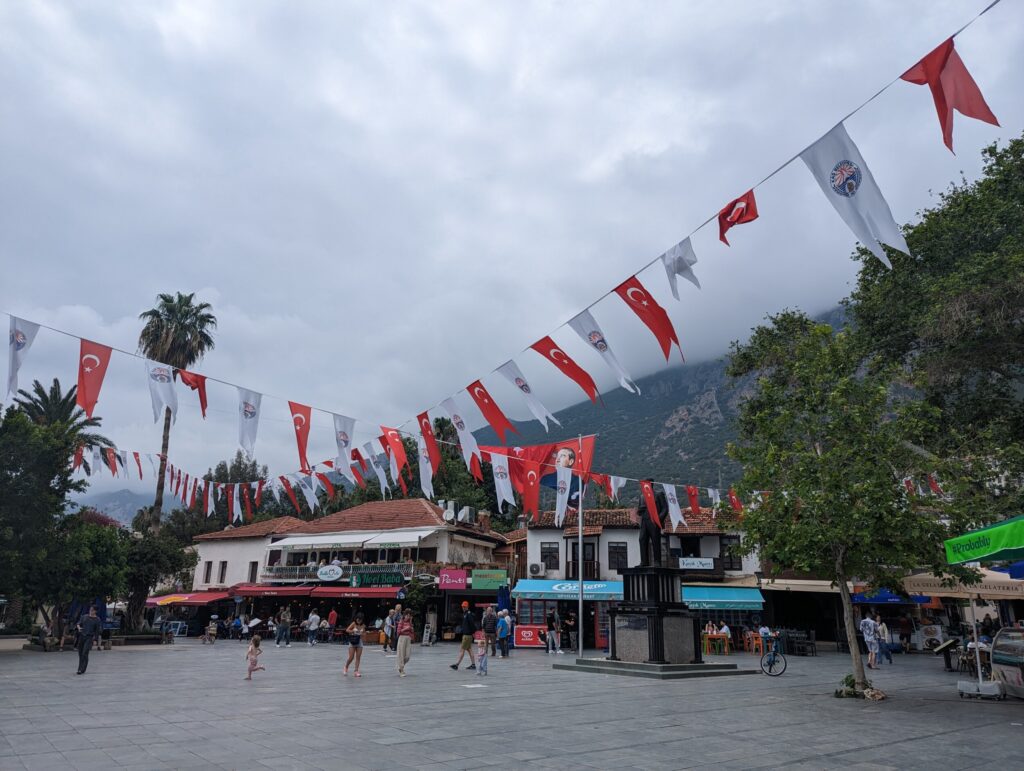 After a nice lunch, I started my walk Kaş on the Lycian Coast. I walked down the square towards … there I turned right to walk up. At one point you have the Kaş Merkez Mosque on your right. At the back is an open space where you can wash before praying in the mosque. I really liked that part in particular!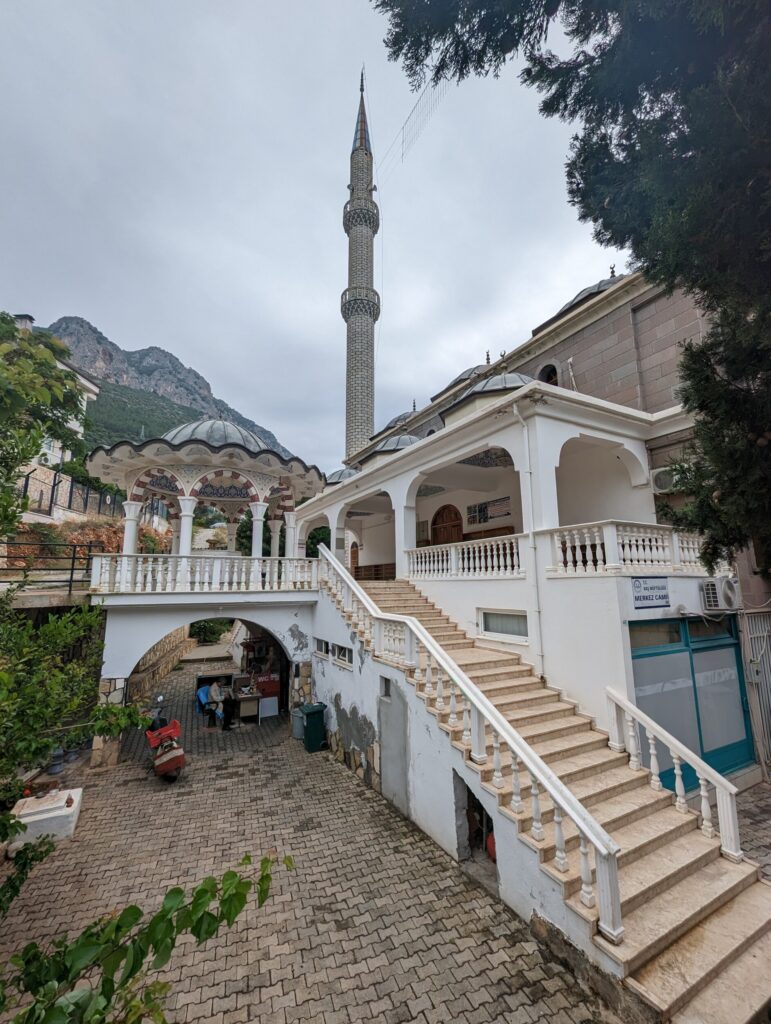 After this, I walked on but above. I came to walk along the big road that passes above the town. The big road I came across when I took the Dolmuş from Kalkan. A bit further down the road you have a nice stretch with benches and space to take nice photos of Kaş. The wind is lovely here and as I had gotten warm I stood here for a while, watching and dreaming.
Ps. Do you know what Dolmuş means? Fully packed bus 🙂 And yes of course they often are!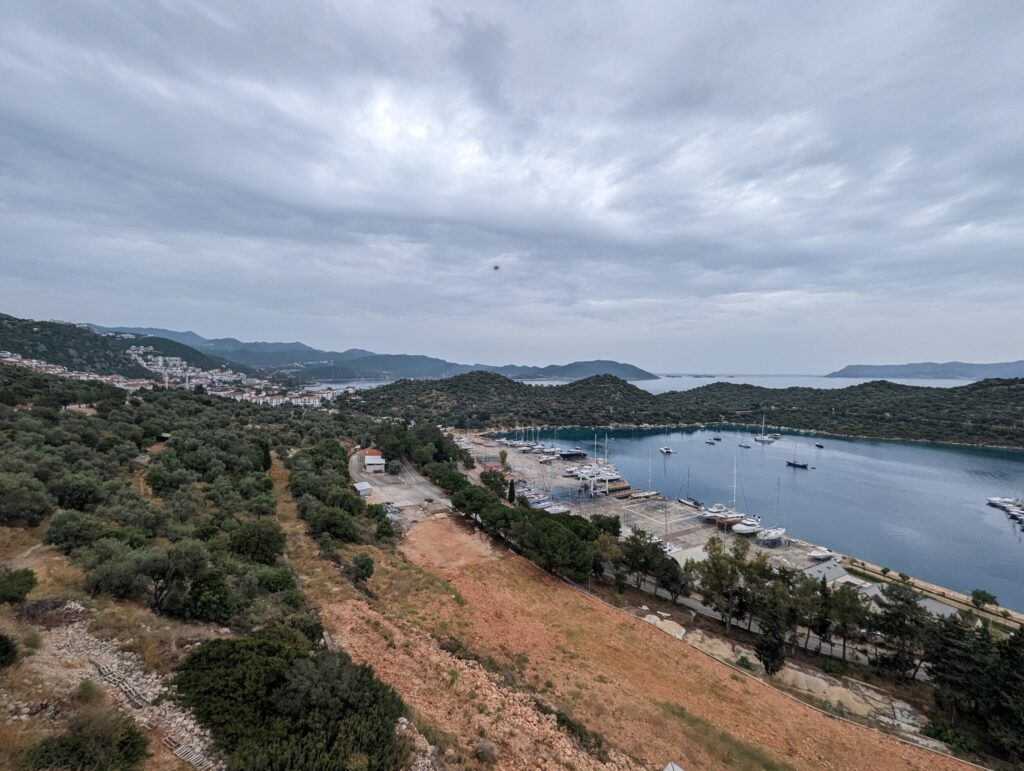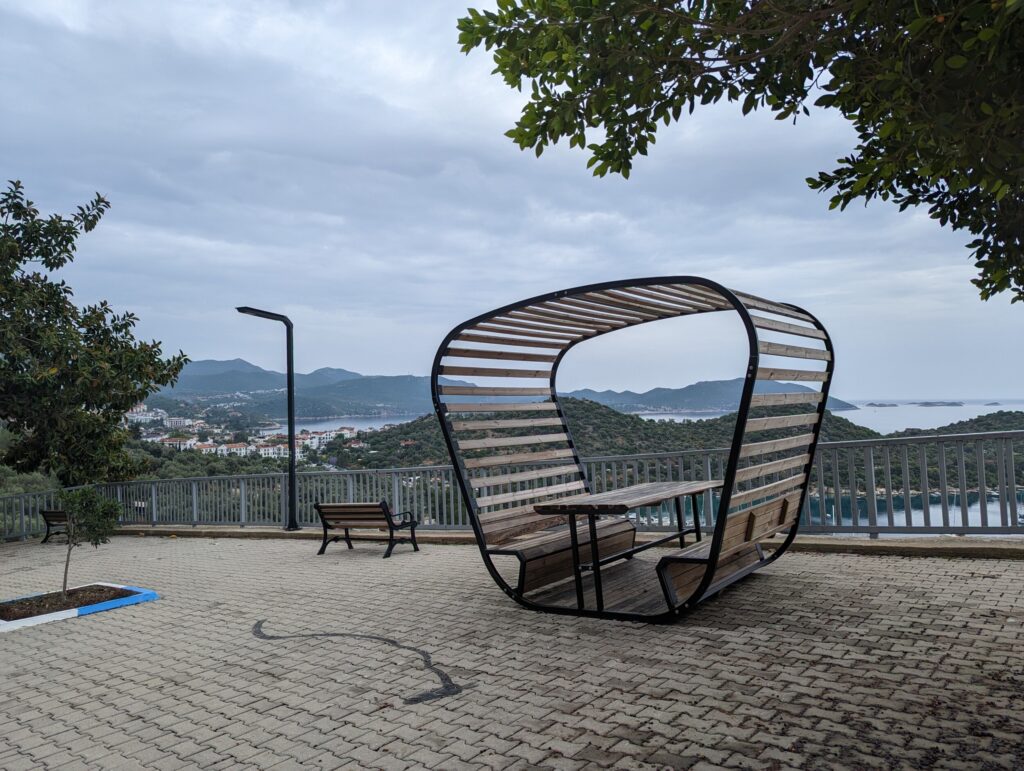 From here, I headed back down again. Just past the otogar, a little past the mosque on the other side of the road, I turned right before walking down a smaller street on the left. If you look to your right after about 40 metres, you'll see a sign. You can follow a path there into the greenery which brings you to the Akdam Doric Tomb. Several ancient remains can be found there and a nice walk up the hill will also give you fine views of Kaş, the sea and the harbour.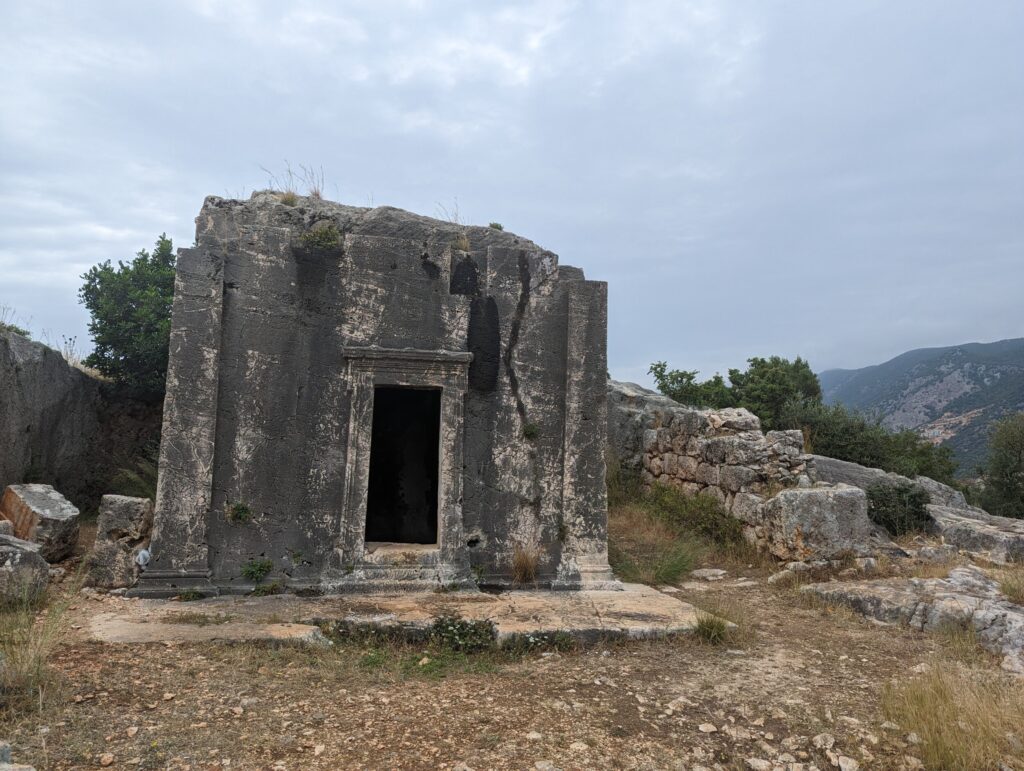 Click for the exact location where you can go up the mountain for Akdam Doric Tomb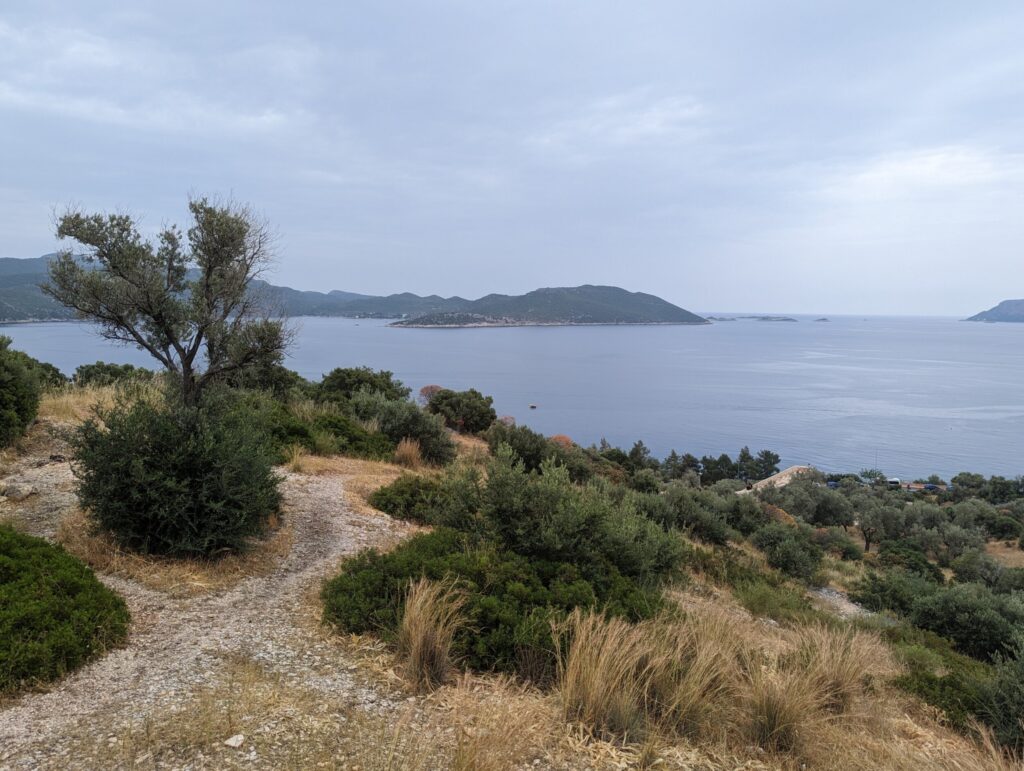 Then make sure you go back down this mountain on the sea side.
You will then arrive at the Antiphellos. If you get here in the late afternoon, it is of course a beautiful place to wait for the sunset. It does not set on the city side unfortunately 😊 When I was there, there were too many clouds for a beautiful orange sky.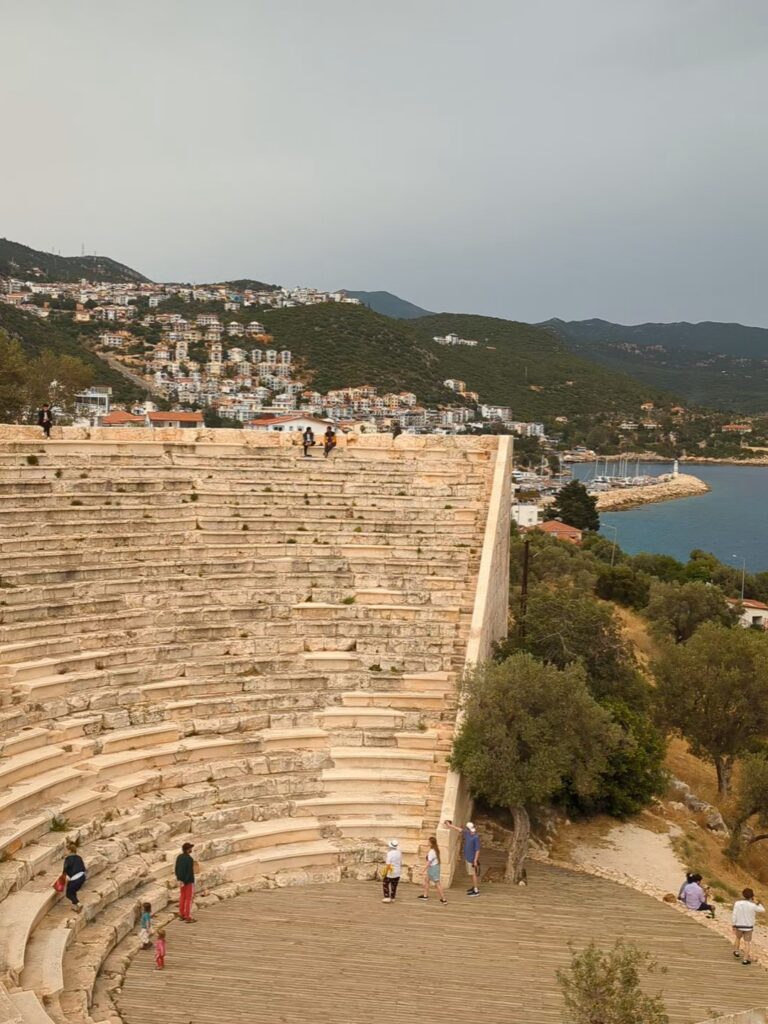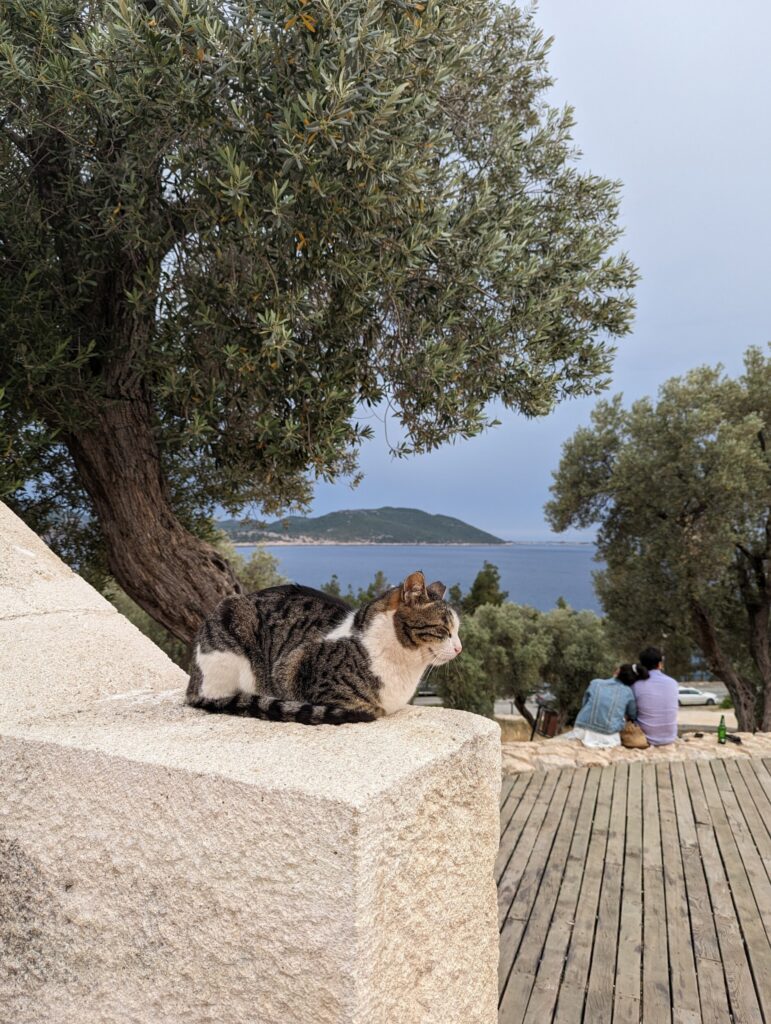 If you then leave Antiphellos on the other side, if you turn left you can re-enter the city. Then watch out on your right. There is space between a couple of restaurants to descend to the sea. As the last stop on this hike, very relaxing though!
Click for the exact location of this beach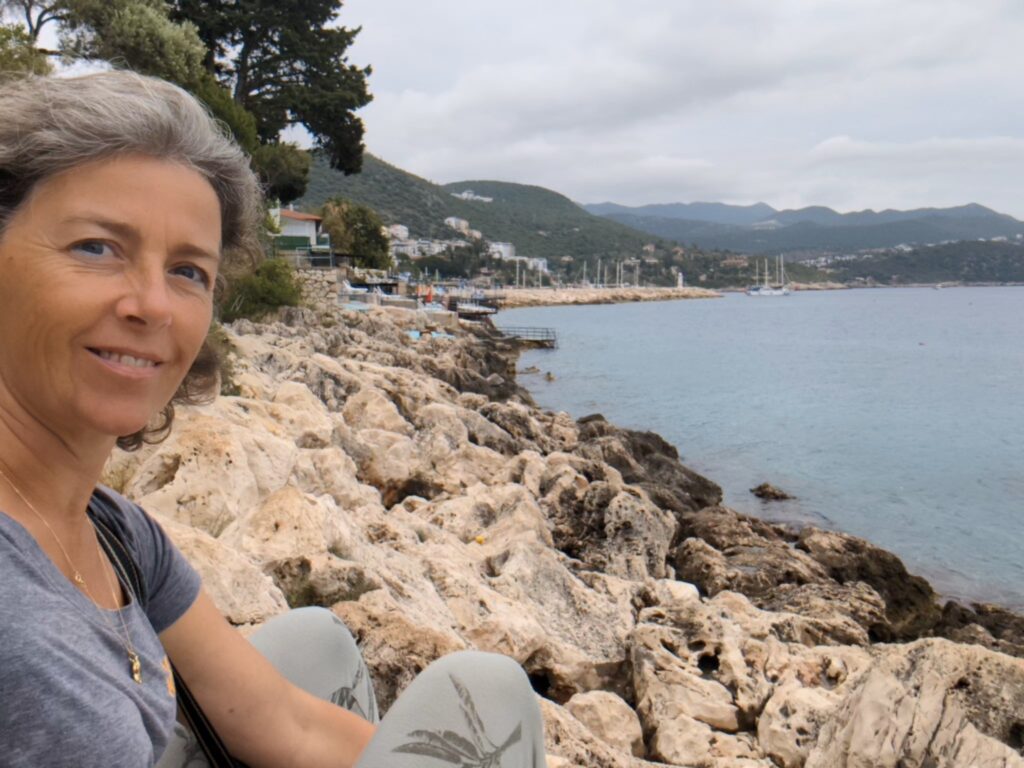 You can go into the sea for a swim… Or just sit back and dream away at the view over Kaş.

Beach tip in Kaş
If you are looking for a nice, fine and small beach to take a swim, sunbathe and relax, I can recommend Cinarlar Plaji!
To the left of Derya Beach is the path to the small beach.

If you walk on after that, there is also a sign for the ruins of a temple. There is really nothing to see there and it is a mess unfortunately. So I walked on towards the harbour and was back at the starting point.
This round trip took me over 2 hours. Of course, it all depends on how much time you take at different places.
Hiking in Kaş along the Lycian Coast – Turkey
Lycian Way – Sleeping Giant Viewpoint over Kaş
In addition, you can walk a nice bit on the Lycian Way by walking to the Sleeping Giant Viewpoint. If you search for this spot on Google Maps, it's called Uyuyan Dev, Kaş. It's an easy walk as in, you don't get lost, but a challenging walk because you do go up several metres in height. Just great fun to do in between relaxing right?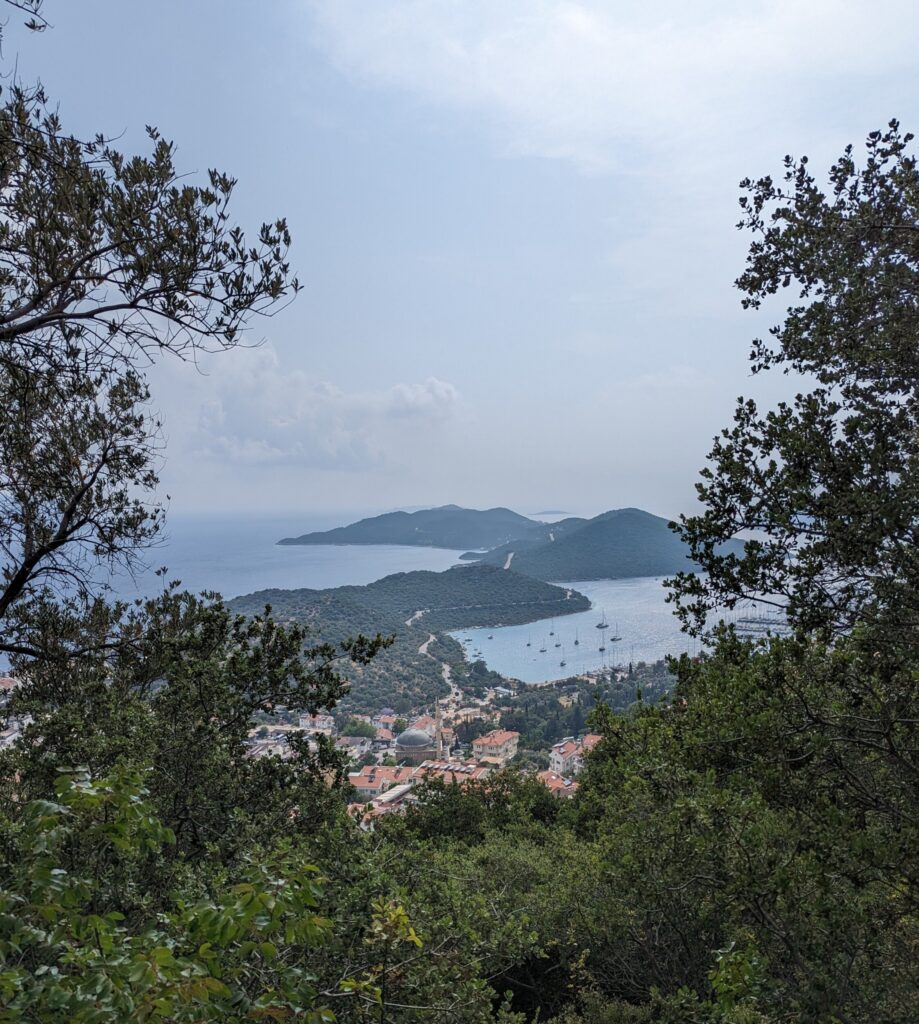 From the centre of Kaş, walk up and cross the main road to find the signs for the Lycian Way.

For the exact location for the start of this walk, click on Lycian Way.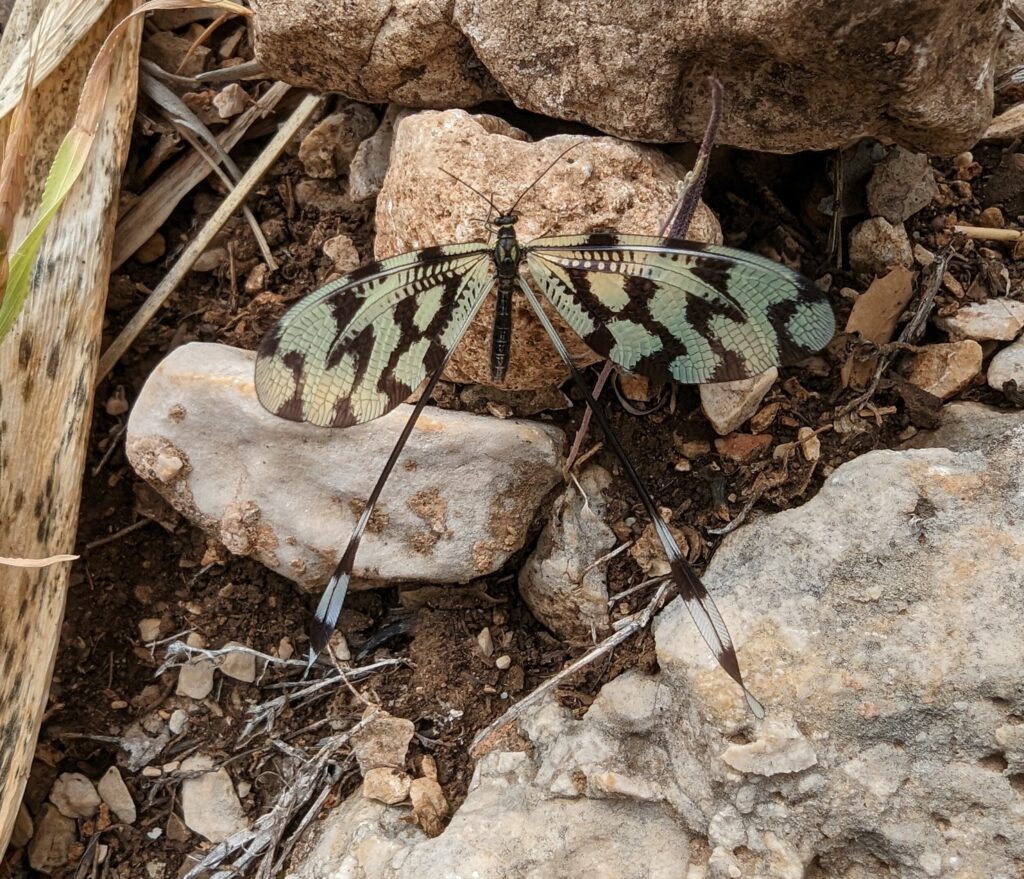 About 5 metres after you enter the path, you can turn left or right. So that's the direction of Fethiye or Antalya. Then choose right. After that it is only 1 path up, marked with the well-known red/white flag for the long distance walk.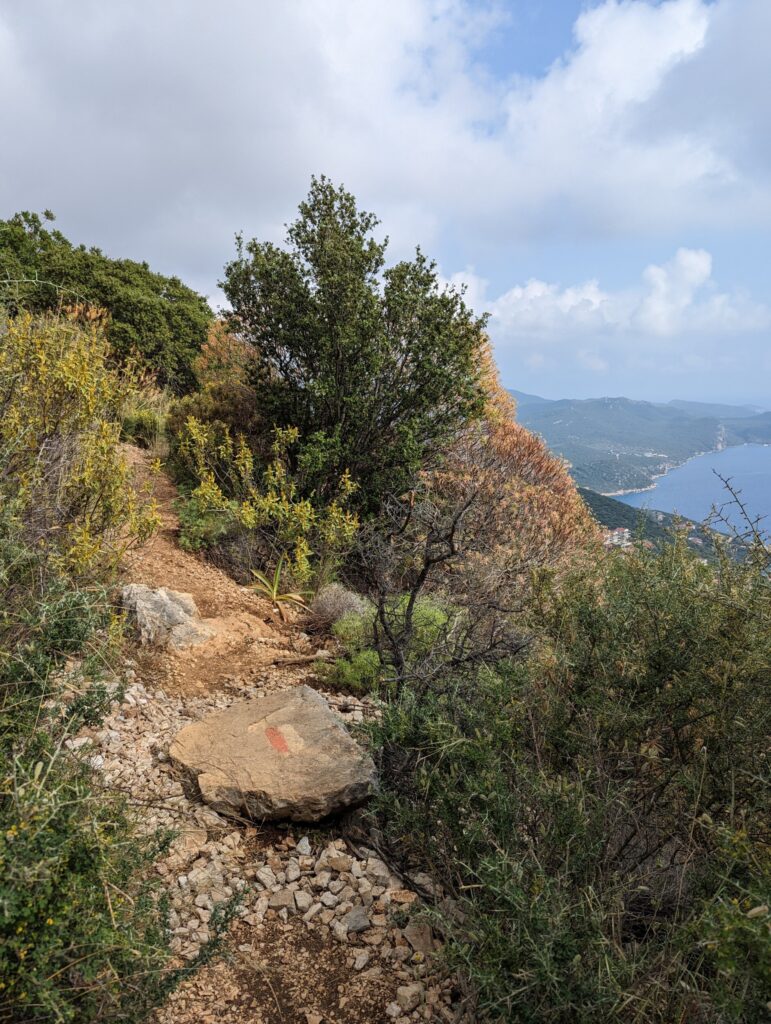 From the city centre to the top, it took me almost 1.5 hours. I walked leisurely, taking my time to take photos and enjoy the view. The way down is, of course, a bit faster. But count on spending around 2.5 to 3 hours for this walk too.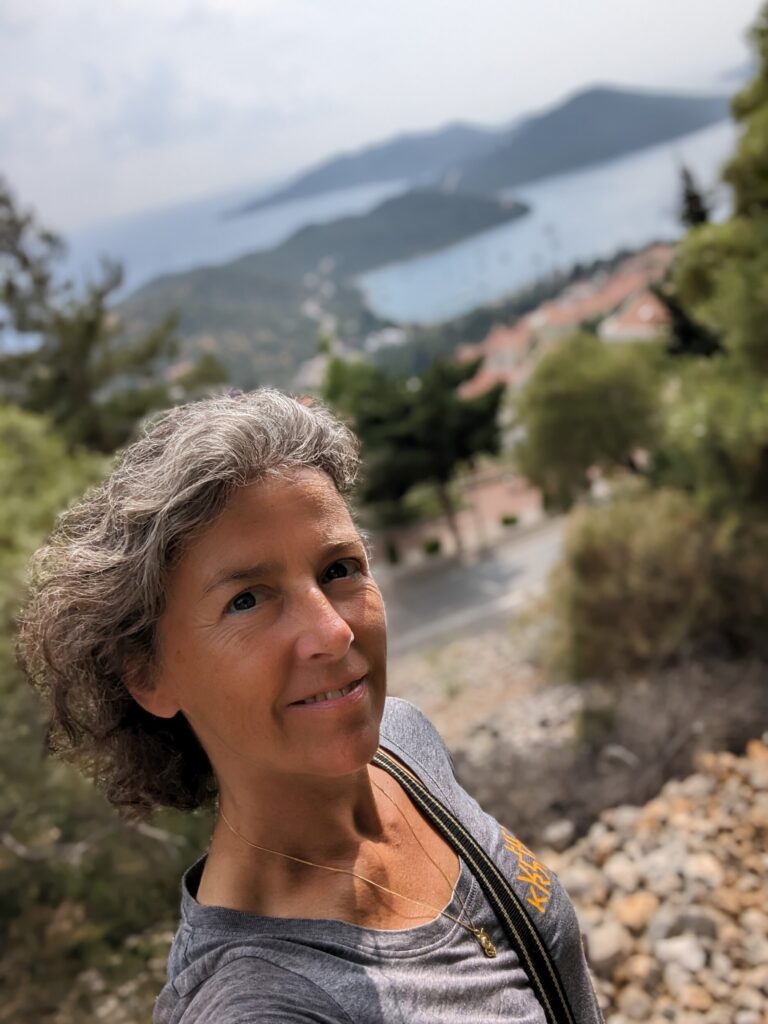 Unfortunately, when I got to the top, it was very cloudy and windy. I was afraid it was going to rain myself so I didn't stand there for long. However, I did meet some Lycian Way walkers there. With one of them I walked down again. Always nice to meet fellow walkers and exchange experiences.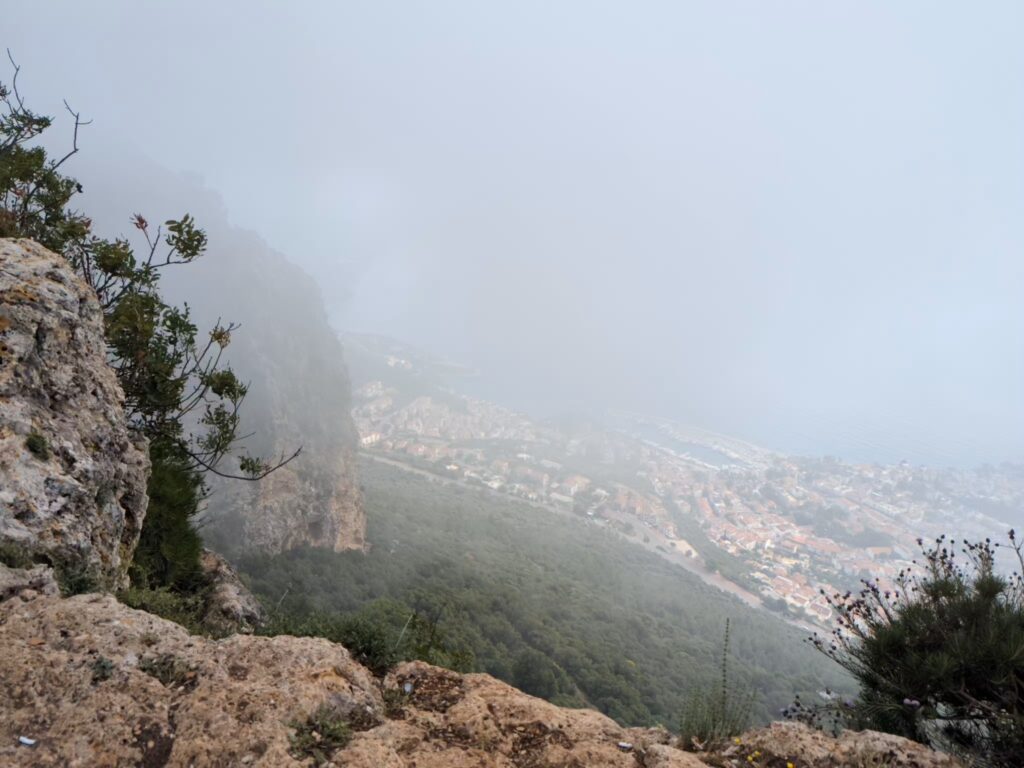 When I came back downstairs after this, the sun was still shining brightly and I did not see a shower. I enjoyed some more sunshine on my balcony. To end with a nice sunny photo anyway 🙂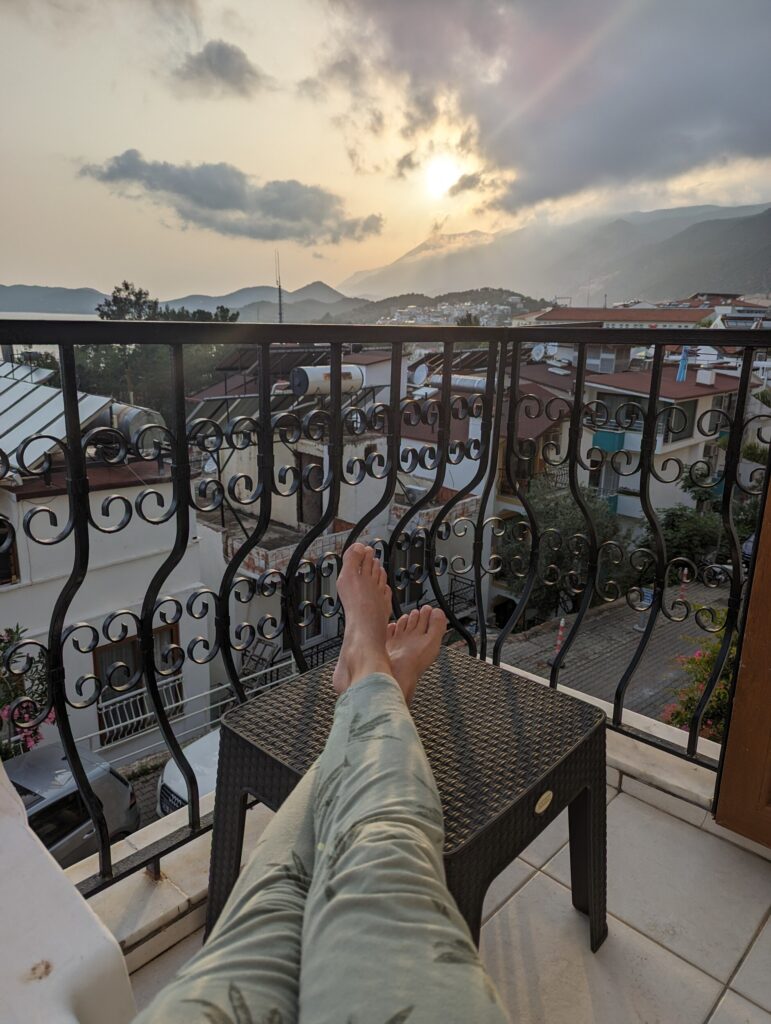 To explore a city, do you take walks?
Do you like this walk through Kaş? Then share them!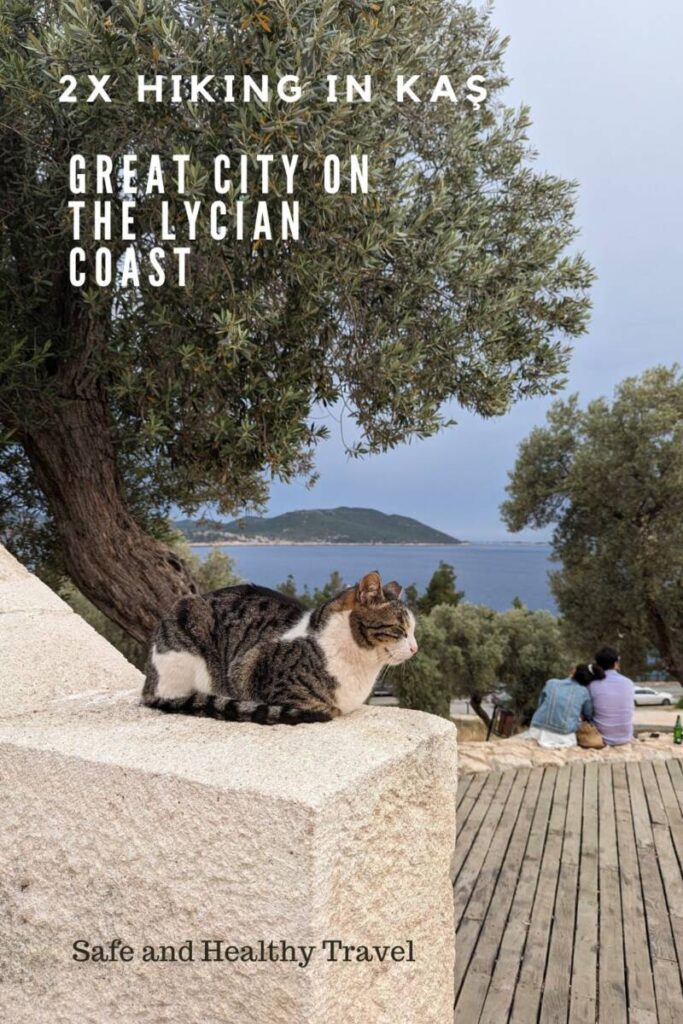 Want to read more about Turkey?
Hiking in Cappadocia – In valleys and ancient cave dwellings
Ballooning over Cappadocia in winter
Stage 1 – Hiking on the Lycian Coast – Oludeniz to Kabak
Hiking in Jordan? Hiking in Dana Biosphere Nature Reserve
Or how about Hiking in a Wadi in Oman or Jordan
Do check this adventurous trip in Oman also
Adventurous Travel in Oman – 100% Adventure, Nature and Culture
I hope you enjoy this beautiful world as much as I do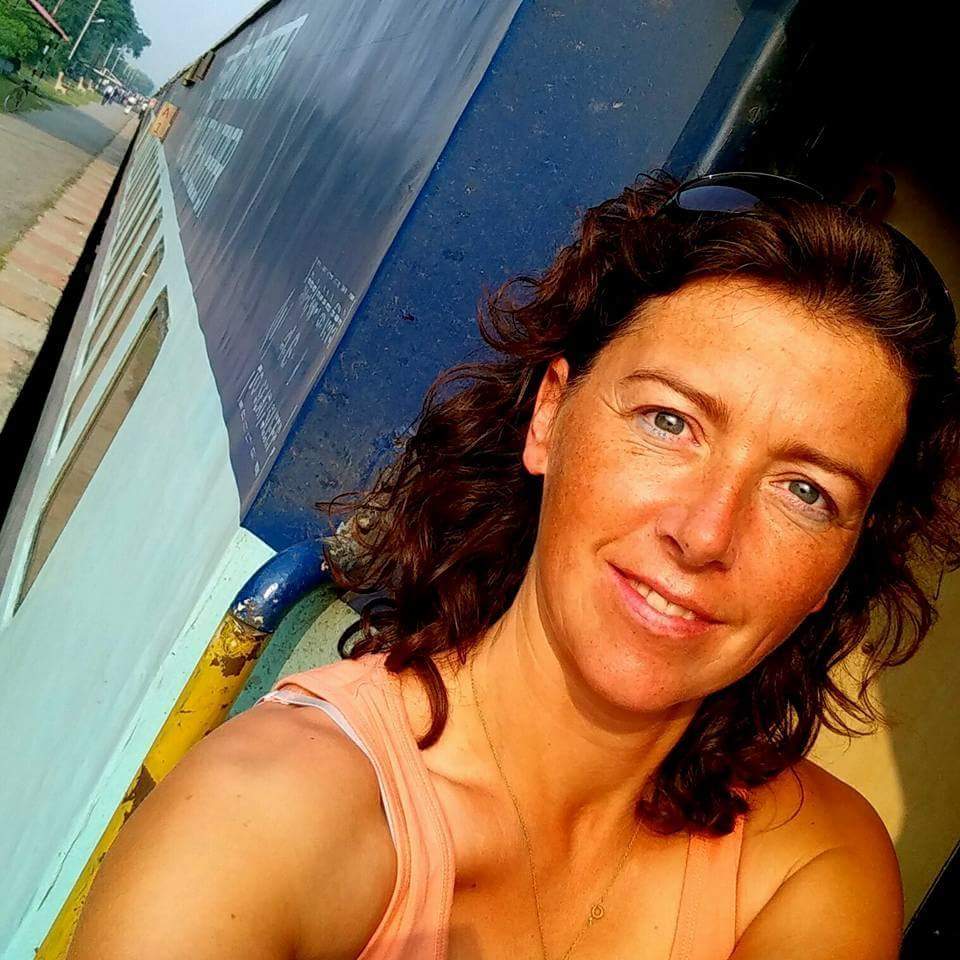 Jacomijn is een politieagent uit Nederland die jou graag laat zien hoe je veilig, actief en gezond de wereld kan over reizen. Safe and Healthy travel is a MUST