Review: Sukhumvit 12 Bangkok Hotel & Suites
|
After traveling for 3 weeks in India without any luxury, it was so nice to arrive at Sukhumvit 12 Bangkok Hotel and Suites, it is the former Ramada Hotel and Suites Bangkok. In 2014 I paid a nice price for this room… Prices has come up quit a bit I see…
My Room on the 7th Floor
I got a room on floor 7 and it was all that I could ask for. The bed was firm and in white, crispy clean covers! It had a big desk where I could do some work. It also had a seat, a relaxing chair from which you can choose to watch television.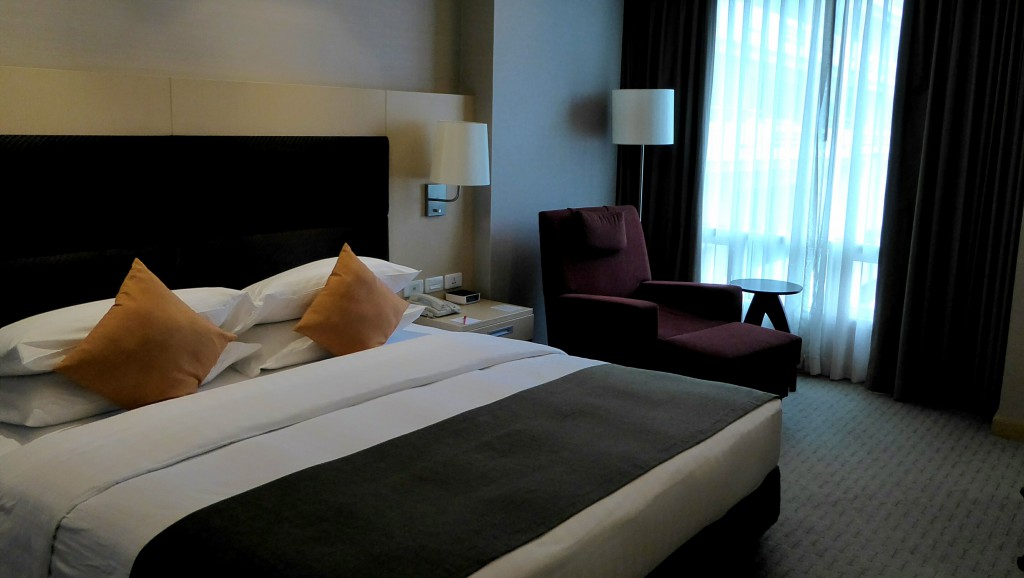 Complimentary
Sukhumvit gave me two entrance cards for the room. One to take with and the other to leave in the room so the electric wouldn't stop. When you need to recharge multiple things that is so easy! As long as you turn if other things like air-conditioning I think it is great! Don't overdue it and keep the environment in your mind!
It has a good filled refrigerator and the items weren't to expensive to buy. They're always more expensive but I thought the price was reasonable. On a daily basis they supplied two bottles of water for free even though I had the room for single use.
Bathroom
The bathroom was really good. The shower had two heads. The first was a normal showerhead and the other was just great! It was the rainshower. I used that one a lot! The small shampoos and lotions were new, good and nicely put.
Sport /Garden /  Swimmingpool
The Sukhumvit room was big enough for me to so my practise also. Some Yoga poses! But for sports activities I could go downstairs also. There was a great sports room with view on the swimming pool.
I didn't had time to use the sports room of Sukhumvit but I did use the swimming pool almost every day. You could use it until 22 o'clock, great time! With ofcourse a towel to use at the pool.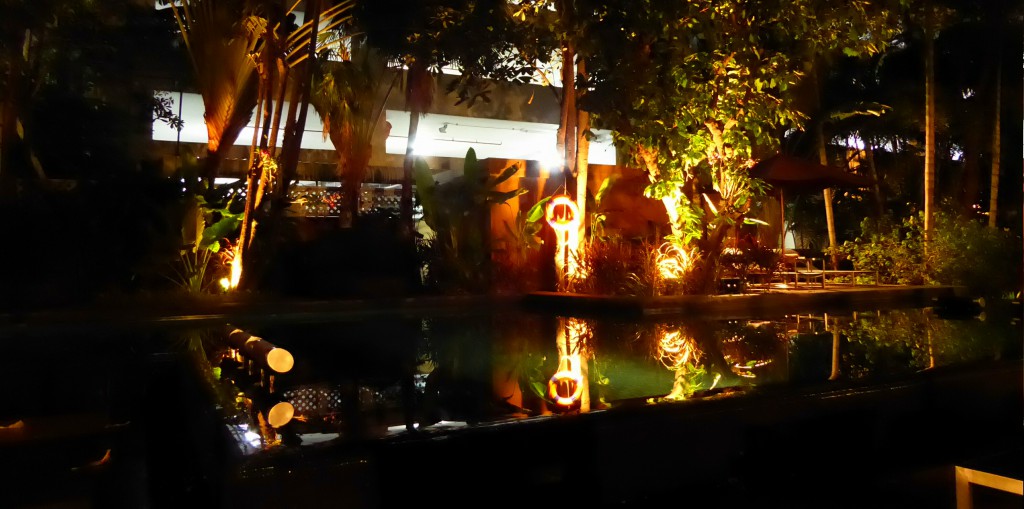 Swimmingpool by night
The garden was especially great! Loved to lie down in the swinging beds! How relaxed is that?
Besides those great beds they have also great lounge chairs next to the swimmingpool, those were great in the morning sun! And they have the normal sunbathing chairs and the terrace just to drink a coffee or fresh juice.
I'm talking Dutch in this video. Telling you how I love this hanging bed in the garden!!
WiFi
The WiFi connection was in the whole Sukhumvit hotel good, something I find very important! In the room, at the pool or while having breakfast. Online all the time, we as bloggers like that a lot!!
Breakfast
The breakfast bar has a view on this great garden. You could choose to sit inside or outside! I loved to sit outside and enjoy the view on the garden and hearing the birds joyfully starting their day too. Unfortunately the breakfast was not included and it cost RP 250 a day if you buy a day up front. The breakfast was good and fresh, but not especially great. It seemed to be the same everyday and I was there for multiple days so I would've liked some different choices.  The service was good, they brought coffee to your table and walked around to check if everything was good.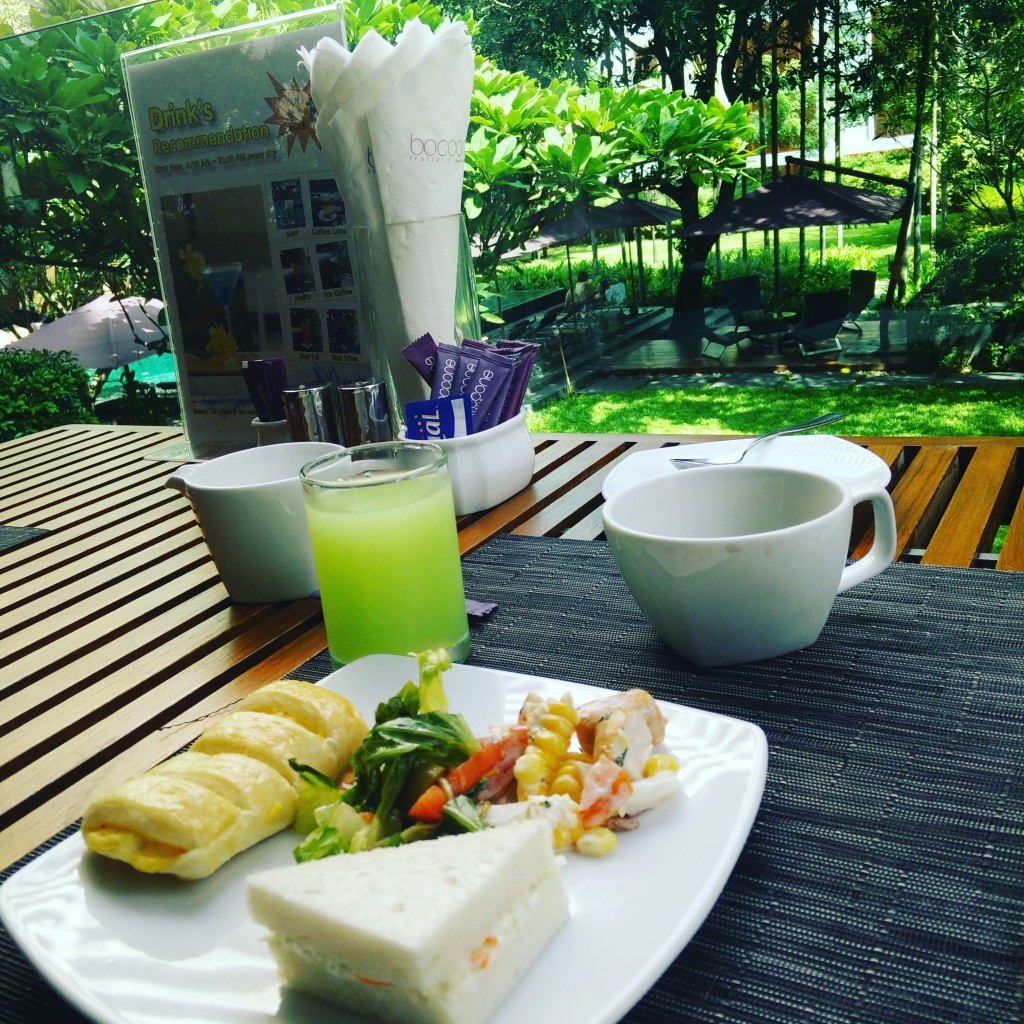 Instagram
Tuktuk service
They had a service of bringing you to the main street, Sukhomvit Road, by tuktuk. Otherwise it would be a 5 min walk. They would also pick you up in the evening time when you call them. I haven't used this service because I love to walk. But for safety, late at night, it is a great service and good idea!
Public Transport
Both the BTS skytrain and the metro (MRT) are about 10 minutes walking from the hotel. Just turn right on Sukhumvit Road. If you use the Tuktuk service it is around 5 minutes. Both stations are nearby which makes this a great starting point to go and explore Bangkok!
I wrote this review without being paid for it…unfortunately…but otherwise it would have been the same review 🙂
Review: Sukhumvit 12 Bangkok Hotel & Suites #Travel #Hotel #Review https://t.co/znzs81HDmy pic.twitter.com/NFMiTDqQEz

— Safe Healthy Travel © (@Safe_H_Travel) November 5, 2015
Want to read more?
Cookingclass at Silom Cookingschool – Bangkok
Getting my Open Water Divingcourse – Koh Tao
Read my tips on safety too!
I hope you enjoy this beautiful world as much as I do!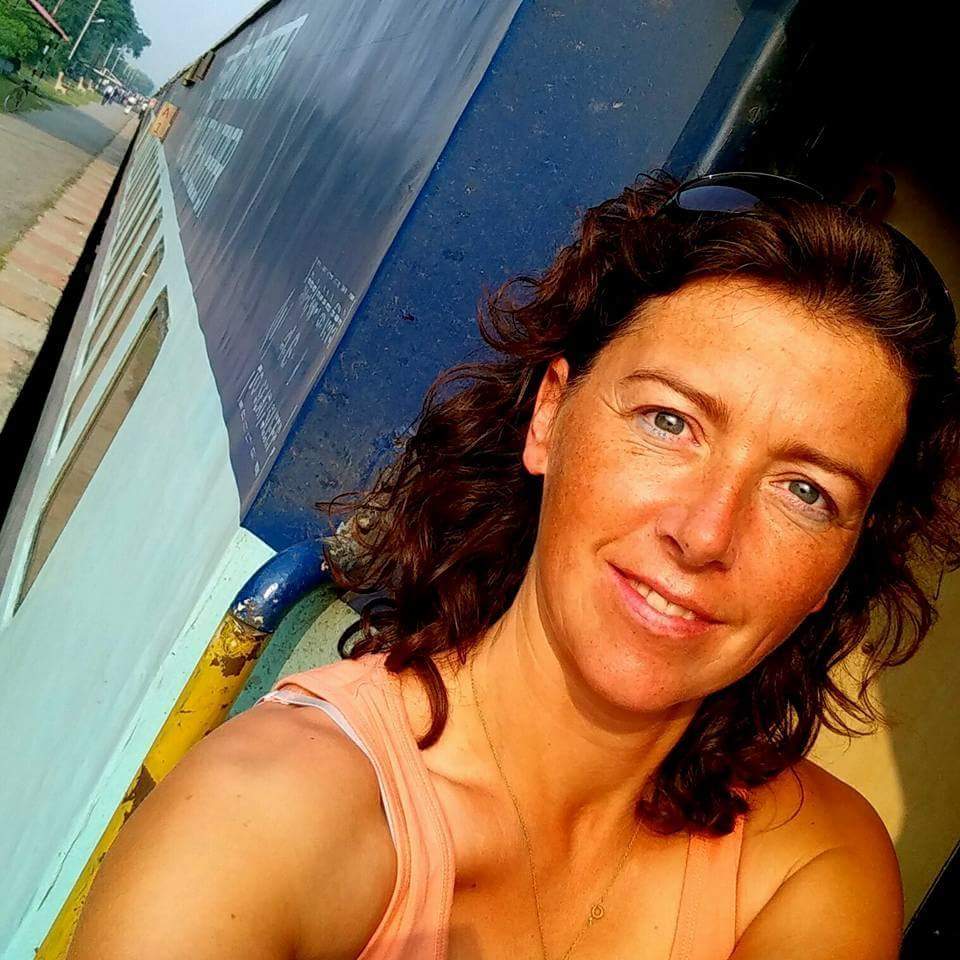 Jacomijn is een politieagent uit Nederland die jou graag laat zien hoe je veilig, actief en gezond de wereld kan over reizen. Safe and Healthy travel is a MUST