Safe Cycling in Sweden – Kattegattleden
|
Yes, I really meant to say Safe Cycling in Sweden! You probably wouldn't thought of that in the first place when you start thinking about a cycling holiday. I'm from The Netherlands and you'll be thinking of course about cycling there. But more and more European countries are getting better and safer to go cycling. A healthy lifestyle is important and the infrastructure is getting better for it! So it is not only walking for traveling but also cycling and… seeing a lot more of the country!
West Sweden's coast is perfect for cycling and so they realised a beautiful route along that coastal line. So while cycling you can enjoy the landscape, the beaches, ocean and several cities and villages along the coast.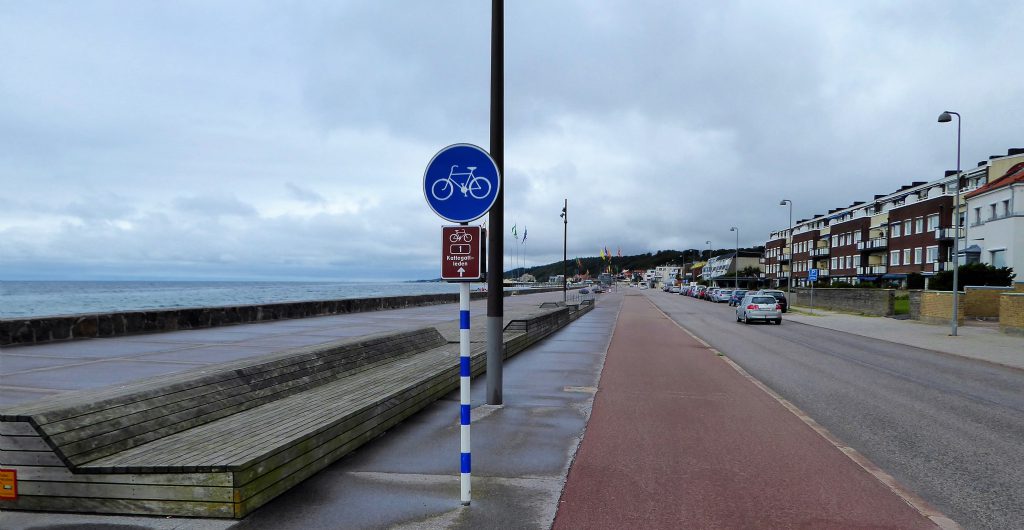 Starting point of the Kattegattleden in Helsingborg – Sweden
The route I cycled is called Kattegattleden and has a length of 372K. It is the first official cycling route of Sweden and opened its path on june the 6th of 2015. The route is called Kattegattleden because all along its path you have wonderful views on the Kattegat, the sea area in between Sweden and Denmark.
Safe Cycling in Sweden #Kattegattleden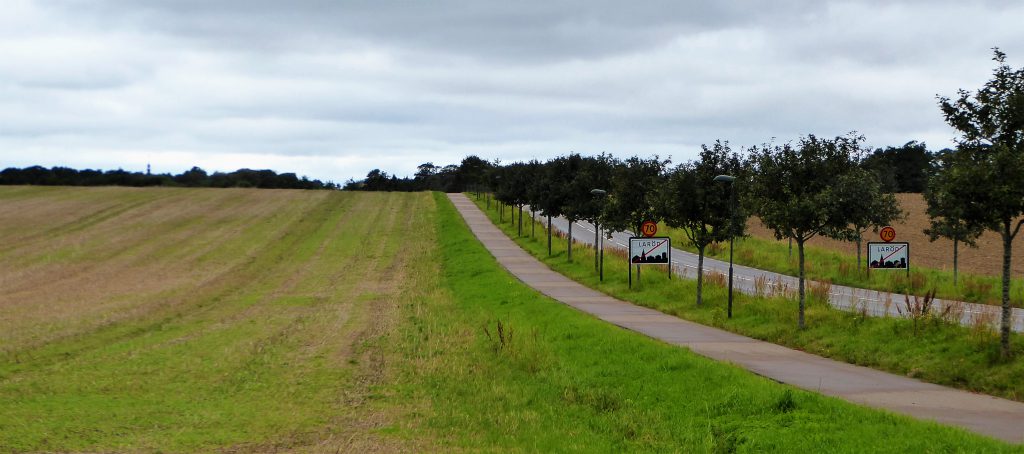 The path is made out of all kinds of roads. Unfortunately they are not all nice and quiet cyclepaths through the forest and along the coast. So you will cycle along roads and sometimes even cycle on roads where the cars can drive up to 70km. I do think that 85% of the route is cycling on quiet roads and real cyclepaths and so it is really safe cycling in Sweden!!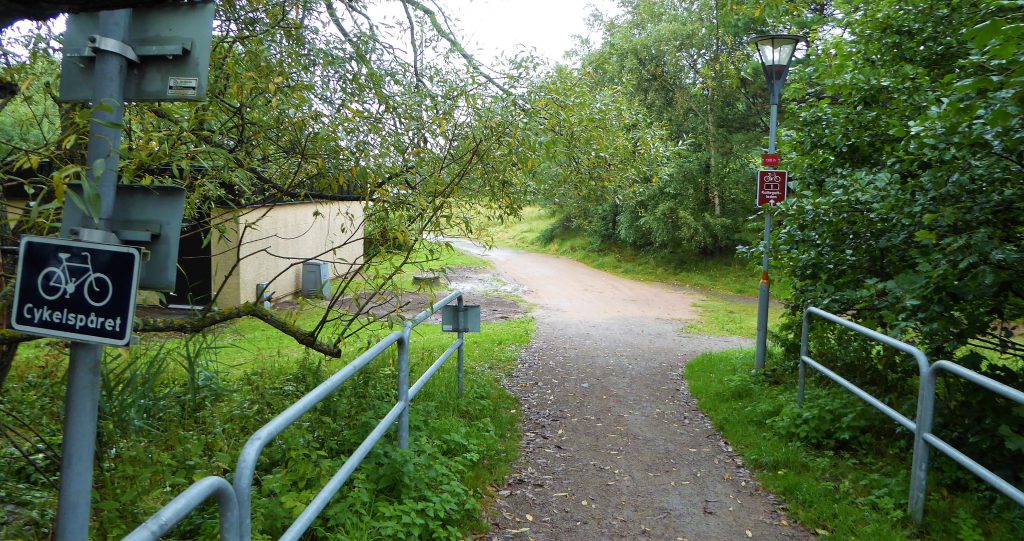 On some parts of the route they placed signs to alert the traffic about the cyclists of the Kattegattleden. On those roads, mostly the 70K roads, was spece next to the line, which indicates in The Netherlands that the road stops. This part was meant for the cyclists. So the road is a bit wider and you can cycle on that part. That part wasn't meant for the other traffic.  Check the picture below, the part next to the yellow line.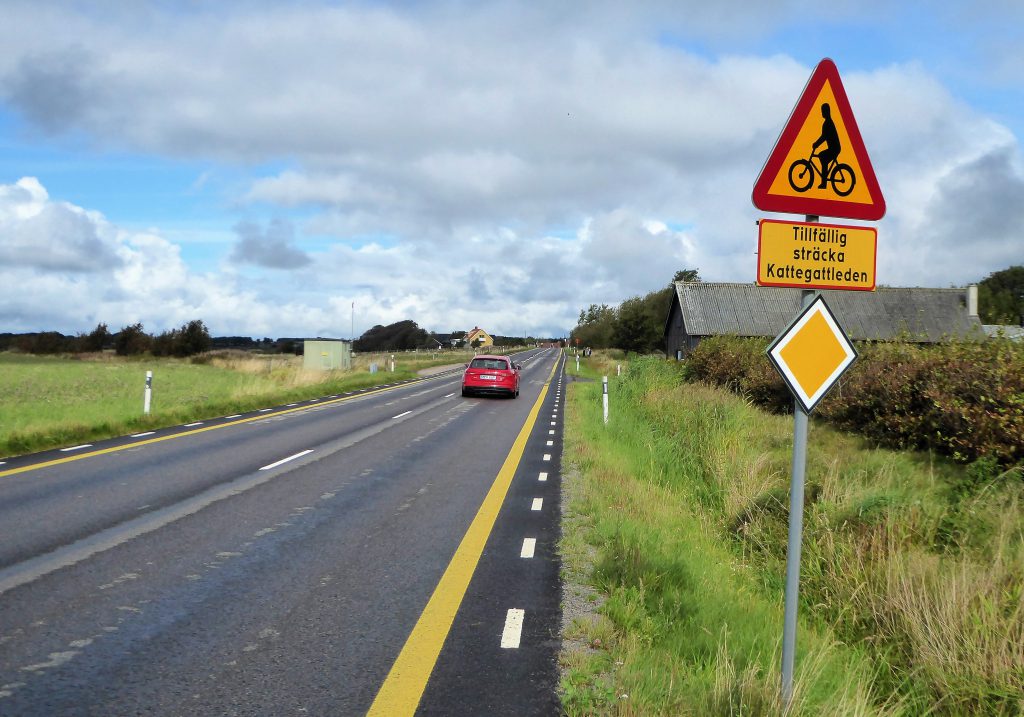 And even a sign to indicate that cyclists of the Kattegattleden can be seen on the road
I did notice that the traffic is really careful with you. They drove around me and gave me enough space to cycle on that road or if necessary they stayed behind me to give space to other traffic to pass. I didn't felt unsafe at all on those 70km roads!!
Safe Cycling in Sweden –  Always Stay Alert
I did look out for myself, so looking back to check if the traffic saw me and luckily they always did. It is important to know that you are seen, this will improve you safety if you check regurarly. This way you can intervene if you think they don't notice you.
I think that the longest part on a 70K road was about 4 or 5 K. Other parts were just shorter or were passing over the road to get to another country road. Those country roads are so calm and quiet that you really have that road to yourself almost the entire time! 
Super relaxed cycling!!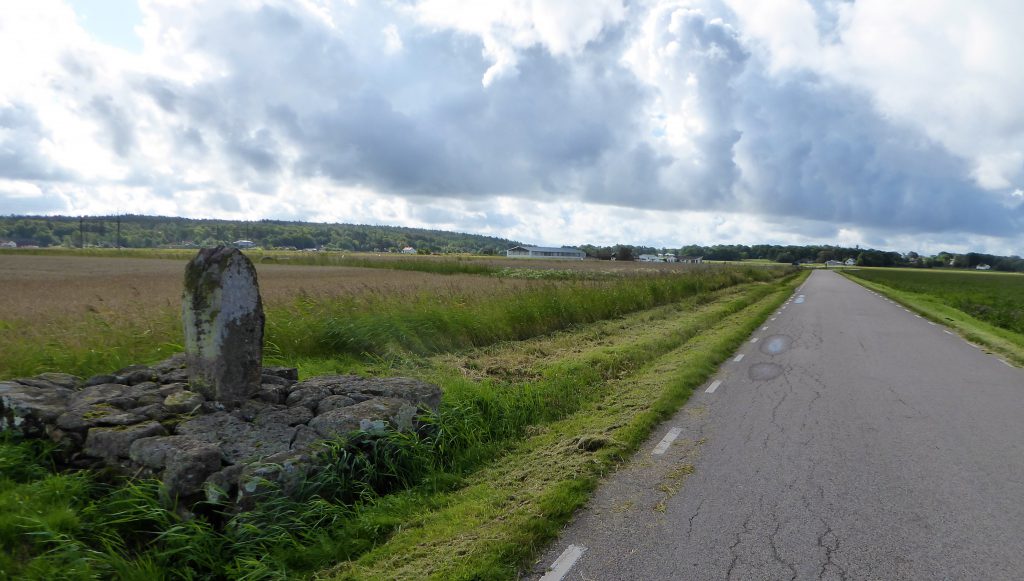 Are there rules?
For Safe Cycling in Sweden?
There are not many rules but if you are traveling on the road there are rules as there are everywhere in western traffic. Stay on the right side of the road for instance. Use the roads that are indicated for your kind. So when there is a cyclepath use it. And there is the law about helmets. Children need to wear a helmet but for adults it is free.
Childeren need to wear a helmet while cycling
They do give the advice that it is better for adults too to wear them too but it is not punishable if you don't wear one. I chose not to wear one, I was cycling/traveling for 8 days and I didn't want to carry it with me all the time when exploring a city or a place.
When there are cyclepaths you need to use it as a cyclist.
There are a lot of cyclepaths. Also on the many boulevards along the coast where the route is situated are a lot of especially designed cyclepaths. Most of them were situated along side the pedestrian path but sometimes they were immerged too. So every now and then you had to share 🙂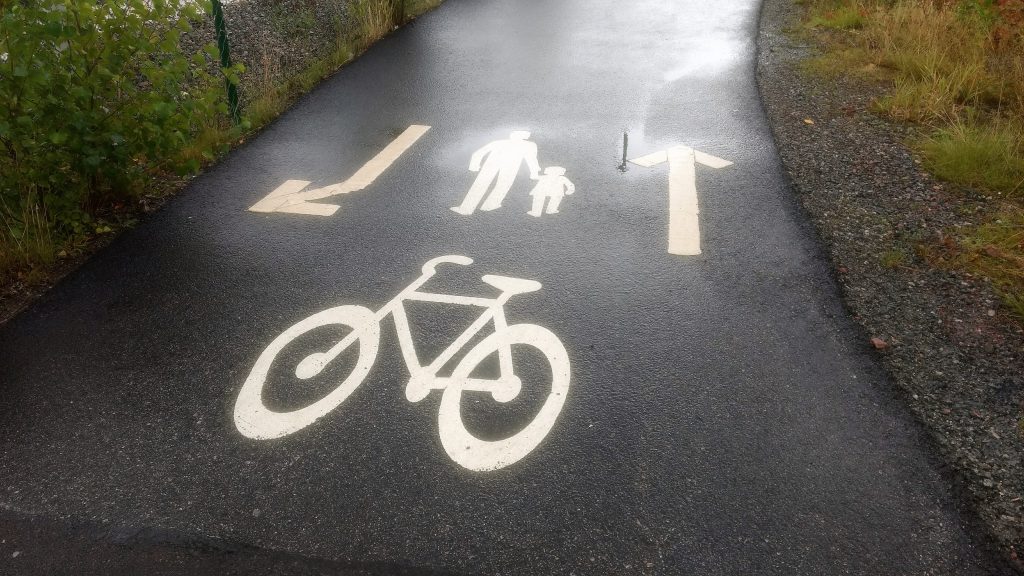 Sometimes in a village or city there is no cyclepath at all and I'm not really sure what is expected of me as a cyclist. One uses the road and the drivers accept you, he waits patiently untill you pass. But also on the pedestrian area you are accepted. So both is accepted and one time the first one seems better and sometimes the second. So you need to do there what is good for you, it doesn't seem a problem.
I do think this is due to the fact that there are less cyclists then we are used to in The Netherlands.

I sometimes think that because we don't have that much space on the road for ourselfs that we don't accept another anymore. I didn't had that feelings once in Sweden. The people give eachother space to move around eachother and it worked perfectly!!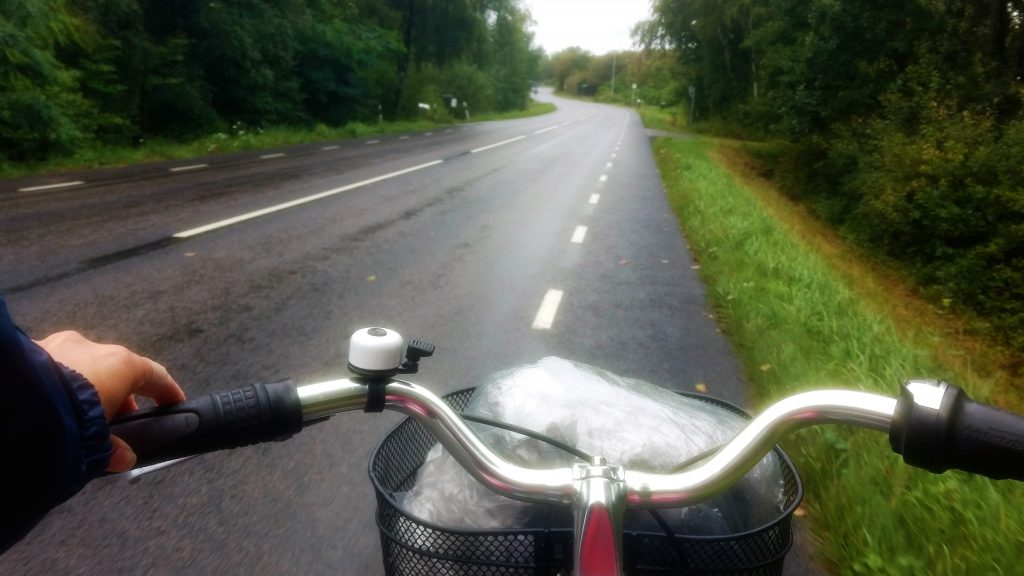 Sometimes in cities and villages the route for cyclist is not completely clear. Cyclepaths stop to exist and sometimes you have to go to the opposite side and cycle on the sidewalk. Especially in the cities it this can be hard to find your place on the road, there are trams and buses.. You need to think logically and find the best spot for you. Sometimes that is to walk a small part 🙂
Safe Cycling in Sweden
Within city limits
I visited Goteborg for 3 days and at some point you know your way and start to cycle quicker because you know where your going. You know some parts doesn't have a cyclepath and you need to go to the other side. You tend to move quicker through the traffic but need to keep in mind that your vulnerable. 
Still my experience is that the motorists gives you space, they stop and give you right of way. It was all along the route the same, village or busy city. I was happily surprised by that! Making eyecontact, made clear that they saw me and they gave me right of way. Well…I know of a lot of different situations where people react in other ways.
Safe Cycling in Sweden
I really can say that my experience is great! I loved the route, the scenery, but also the cycling part was great! I expected more diffuculties with the traffic in parts that lead me along the 70K parts. But maybe because they don't see as much cyclists as we are used to in The Netherlands they give the cyclists more space. We stand out of the crowd .. of traffic 🙂 This is a positive thing for the cyclist.
—
What else did I like about Sweden?
There were lots of public toilets, or Swedisch: toalett..  All along the road I could find them and they are so good when you cycle the whole day. Without them the only toilet I could use would be a restaurant or such. I loved that service of Sweden!!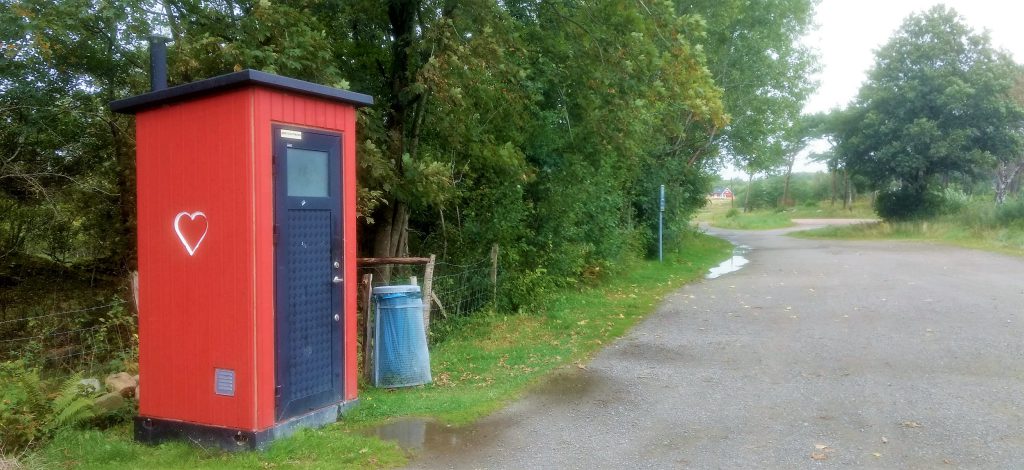 Public Toilets – Safe Cycling in Sweden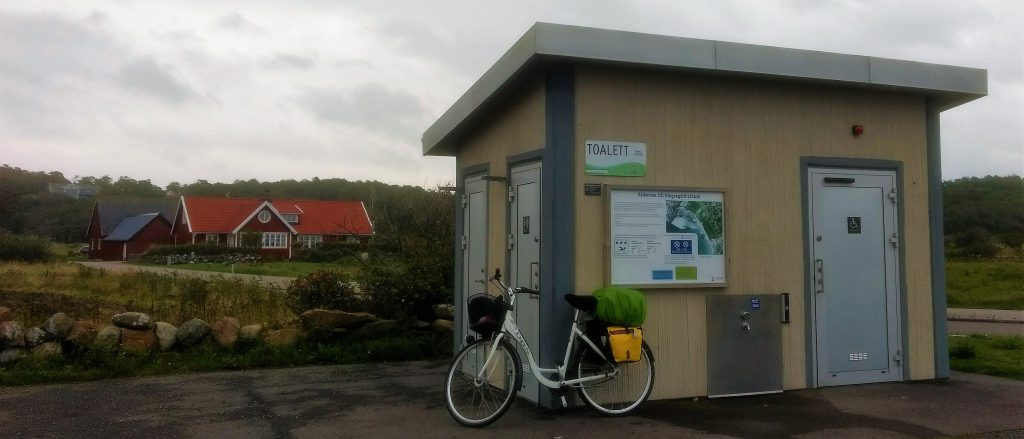 And as you already knew ..I had my share of rain during my Kattegattleden route. But I also had a lot of busstops along the way. And those busstops are small houses where I could sit dowh. Enjoy some drink & food and they gave me shelter against the rain. They were great!!
They kept me out of the wind but in sight of my surroundings!!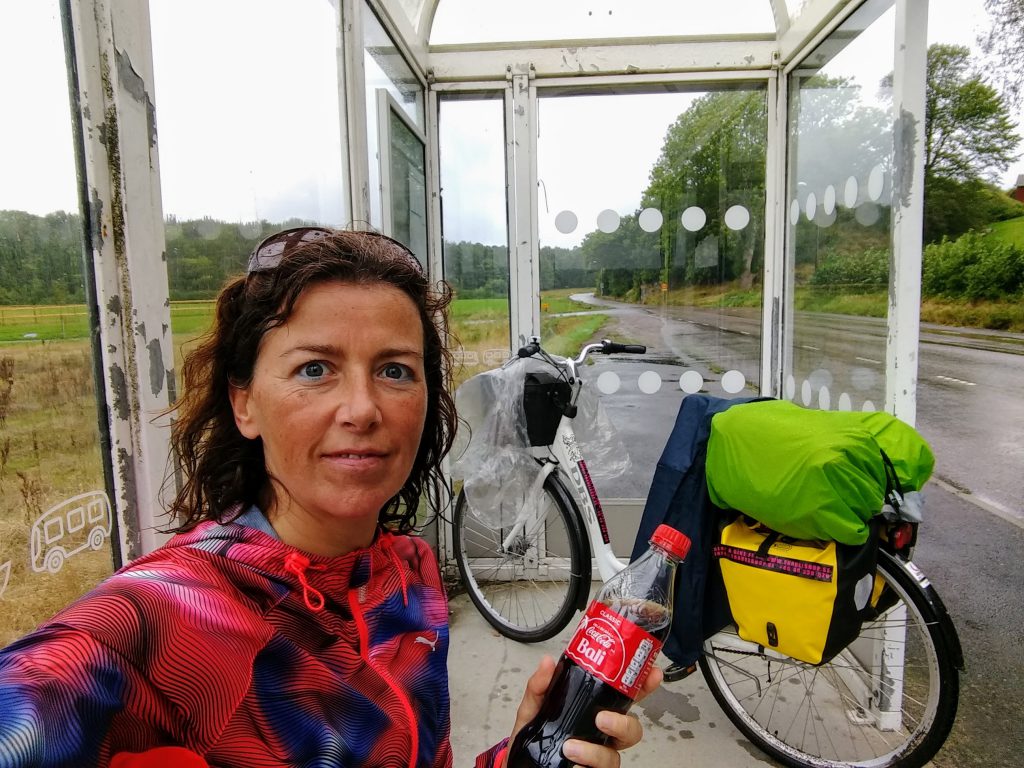 Bus stop Shelter – Safe Cycling in Sweden
The Kattegattleden is been divided in 8 parts and the best periode to cycle this path is between may and august. I cylced in the beginning of september and the temperature was great! Only the rain was bad luck!! I still have great memories of the route and I loved to cycle this part along the west coast of Sweden!!
I still had my dry parts of the day and with great views to enjoy so I stepped of my bicycle and took time to enjoy that!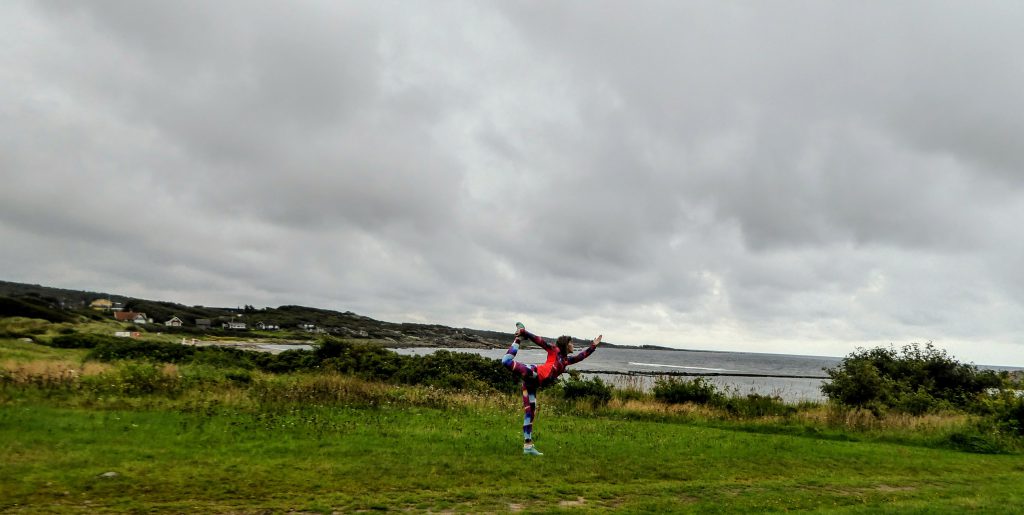 Soon I will share my experience about the whole 8 days on the great route called Kattegattleden. I had great days and experienced great and good things!! So if you are curious come back soon to see that post about the day to day experience on the road!!
Did you know that I brought a tent with me to go camping? In the wild? And…how that worked out with the rain? Read about that too in my next blog.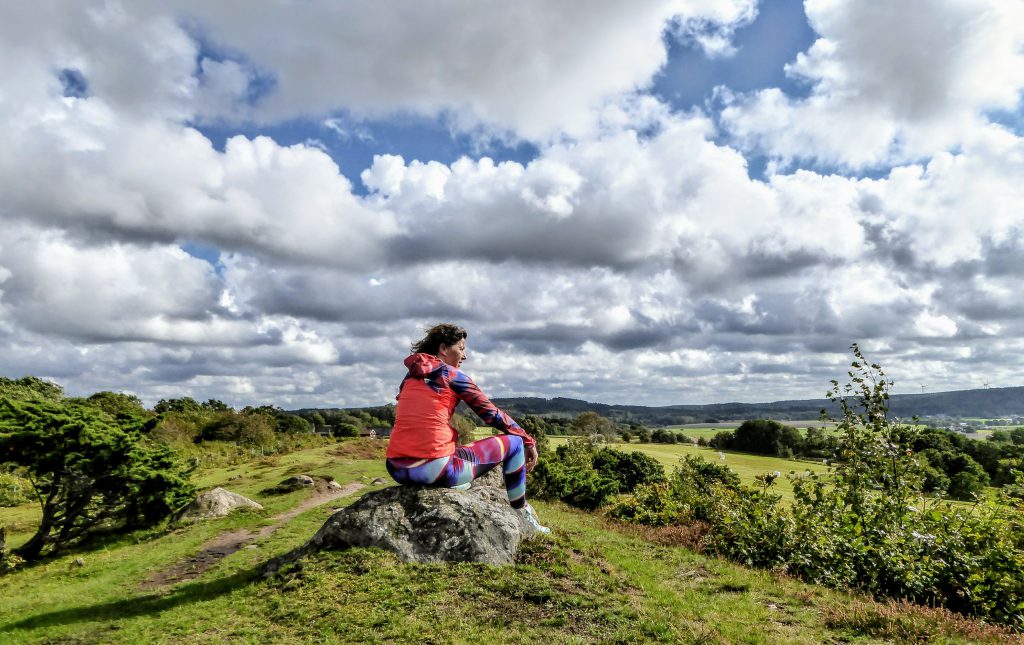 I cycled this great path in cooperation with Visit Sweden. I share my own honoust opinion and my own honoust experience. If you want to see more about cycling the Kattegattleden you can check their page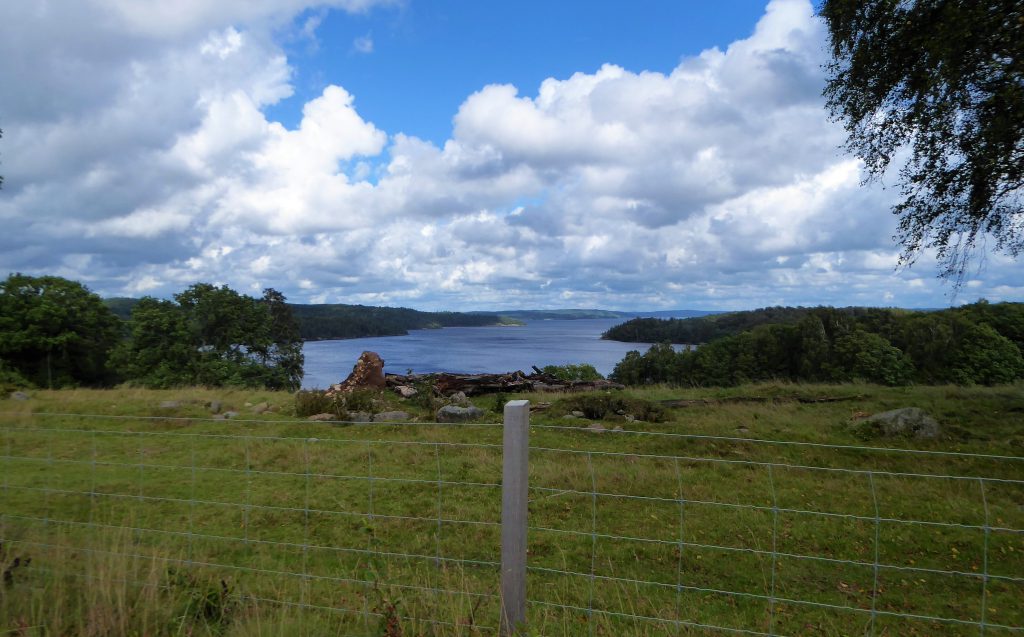 Would you like to safe this page, pin it!!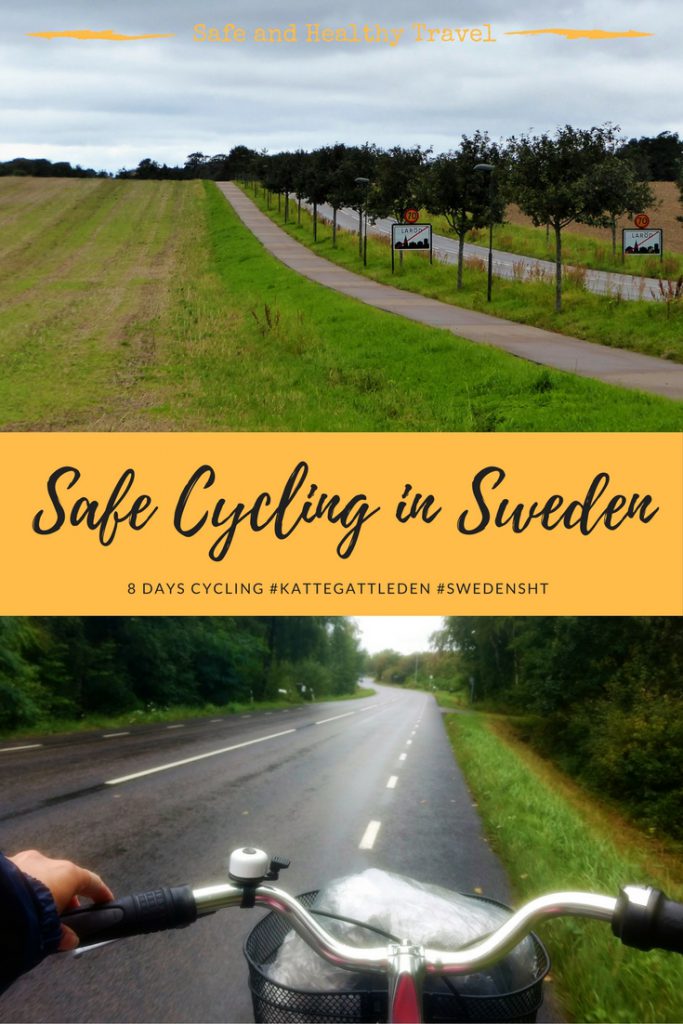 Make me happy and share it on your social media 🙂
More about safety?
Being Scammed Abroad … Or Worse
What to do when you get robbed?
5 Tips to Increase your Safety in the Dark Hours
5 Tips to Protect Yourself Against Pickpockets
Would you like to see some other adventures?
Crossing Around the Sanddunes – UAE
Roadtrip National Park Eifel – Germany
Visiting Roberto Escobar.. Pablo's Brother – Medellin, Colombia
I hope you enjoy this wonderful world as much as I do!!
#Enjoy #Explore #Healthy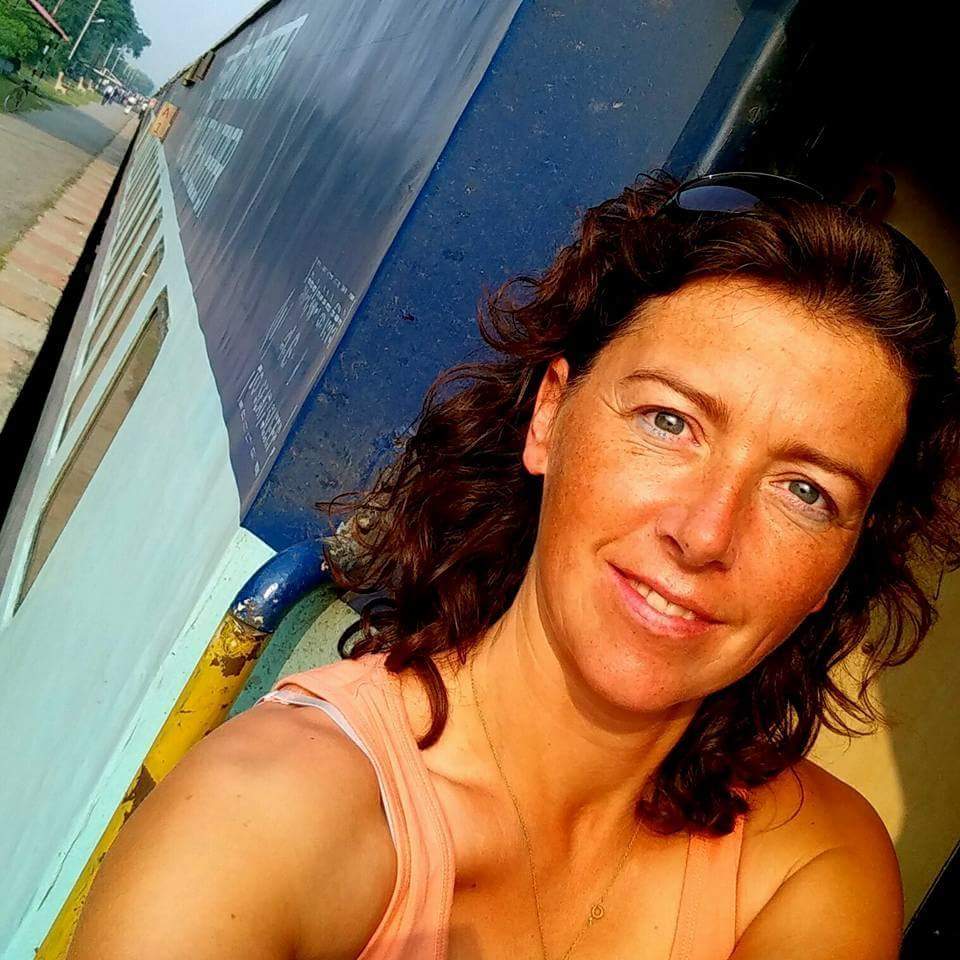 Jacomijn is een politieagent uit Nederland die jou graag laat zien hoe je veilig, actief en gezond de wereld kan over reizen. Safe and Healthy travel is a MUST