Travel Guide Samosir Island – Go Swim in Lake Toba – Sumatra, Indonesia
|
Visit Samosir Island if you're going to Sumatra, Indonesia! I really think you shouldn't miss Samosir Island… and if you take my advice to heart… be sure to take a dip in crater lake Toba! On one of my longer trips I came from Bukittingi, on my way to Bukit Lawang, along crater lake Toba and I couldn't resist visiting Samosir Island by boat. Read this Travel Guide Samosir Island to get the best out of your trip too!!
An ideal start of some of the best days spend on the island of Samosir in the huge crater lake Toba!
Did you know that Lake Toba was created by an eruption of a super volcano about 70 to 75,000 years ago? A caldera, a bowl-shaped crater arose on that spot and over time it filled with water, creating the amazing Lake Toba!

The lake is about 100 km long, at its widest point about 31 km and its deepest point is 505 meters! Lake Toba is the largest lake in South East Asia.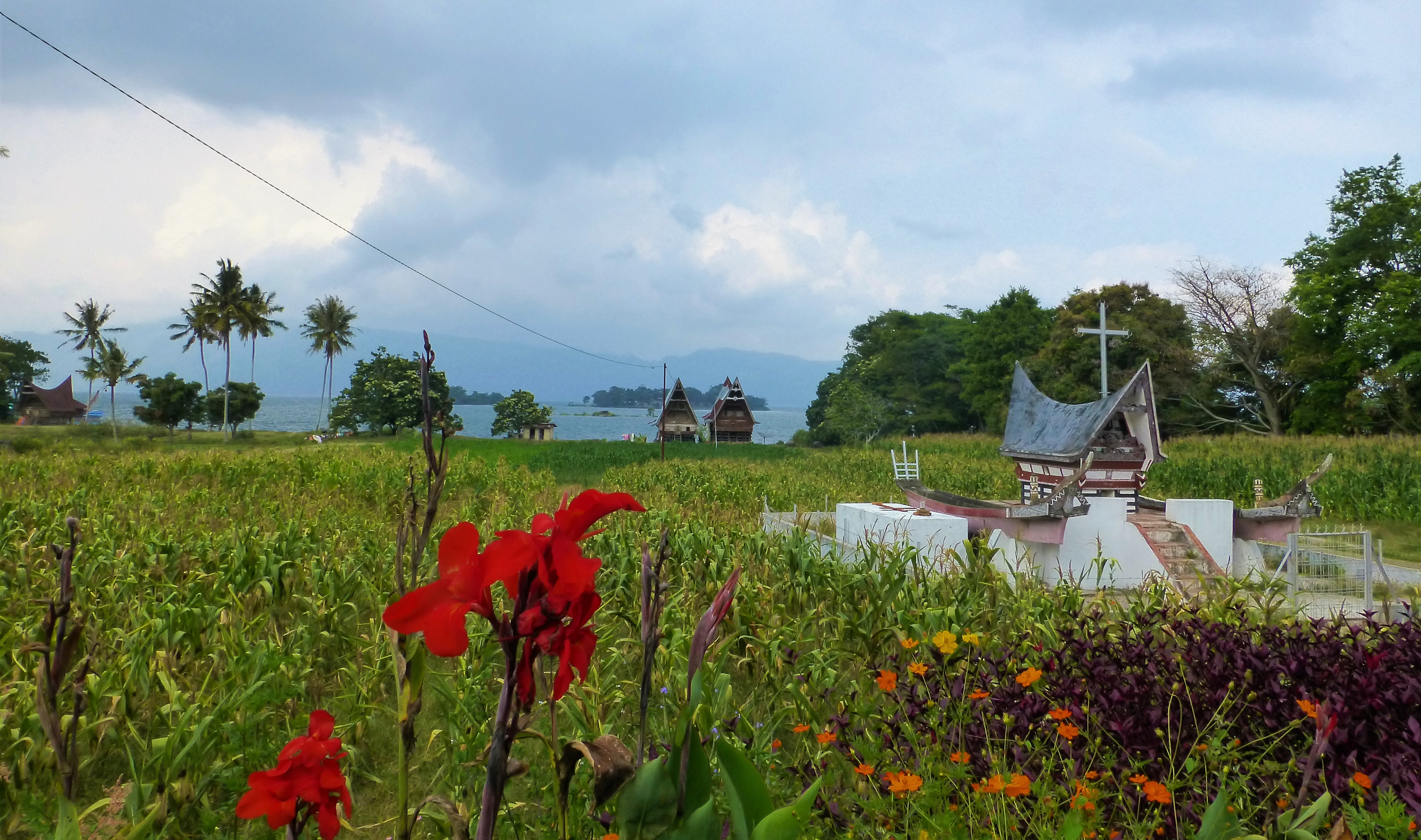 Because I was actually on my way to Bukit Lawang and that this is really too long a trip from Bukittinggi I made a stop here but if I had known in advance that this place had so much to offer I would certainly have stayed longer.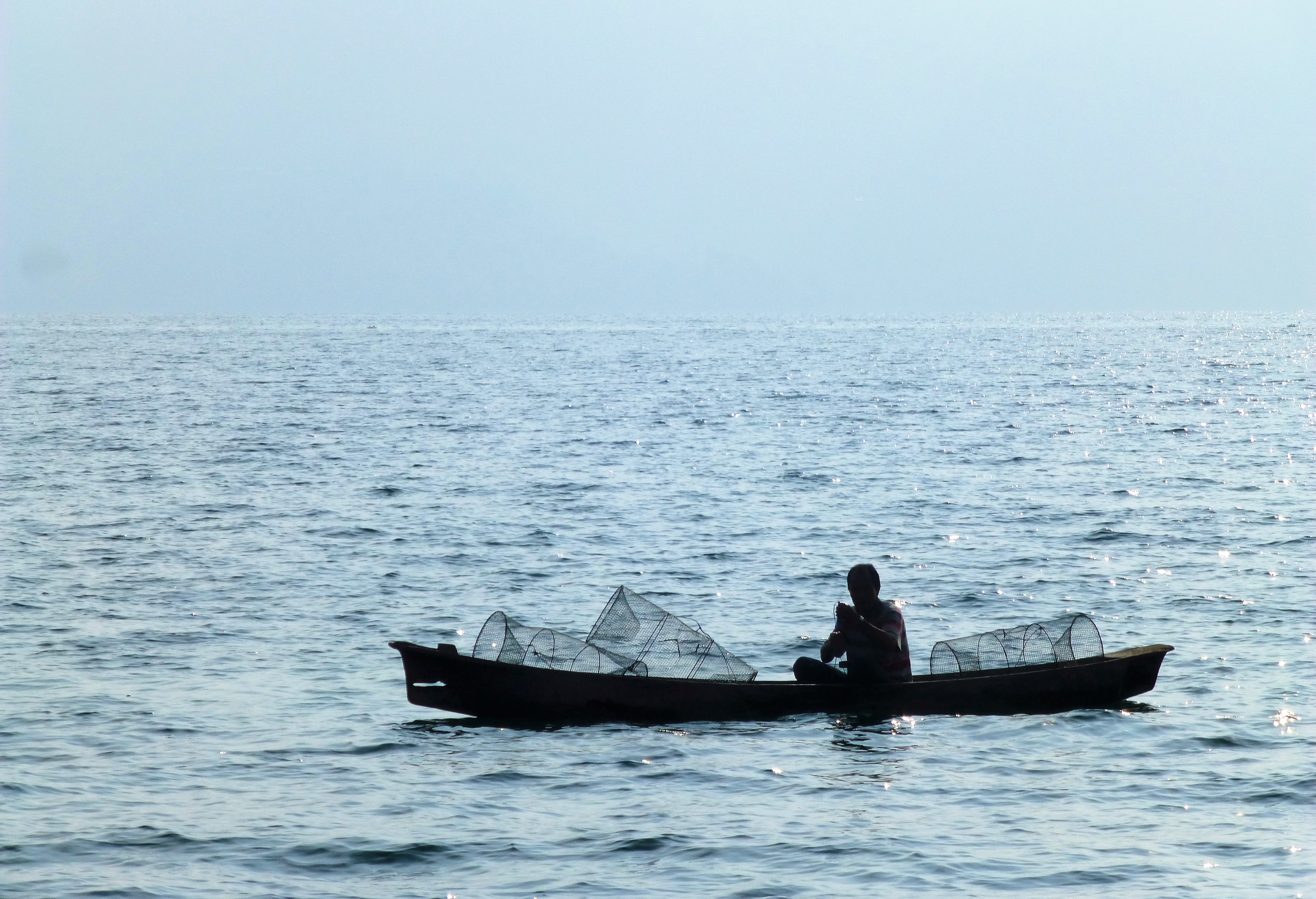 Trekking on Samosir Island
I'm reading about a trekking across the island. Beautiful views from nature over this immense lake! I would have liked to make a one day trekking over Samosir Island. So this one stays on my list and gives me reason to go back to this great place again!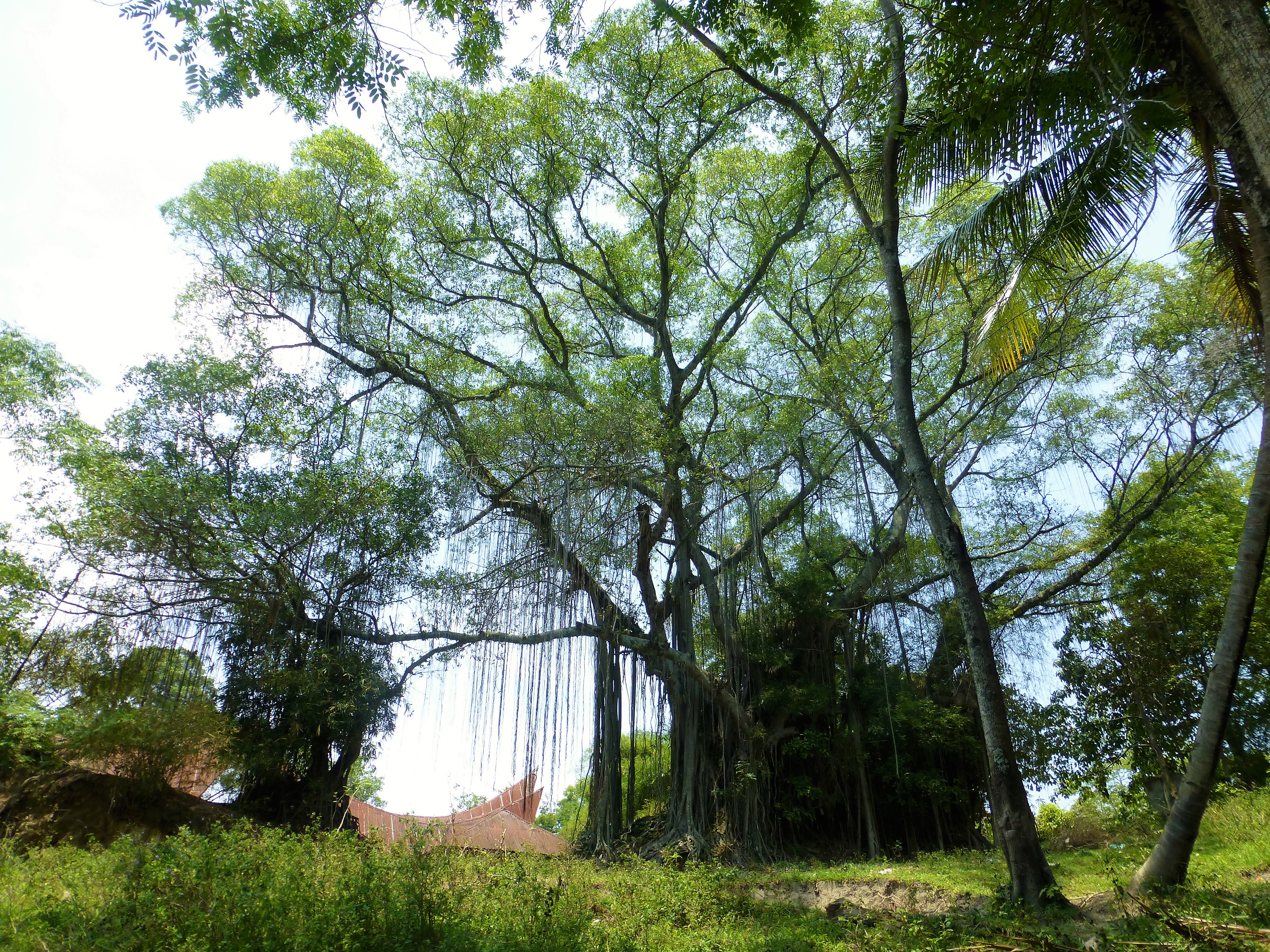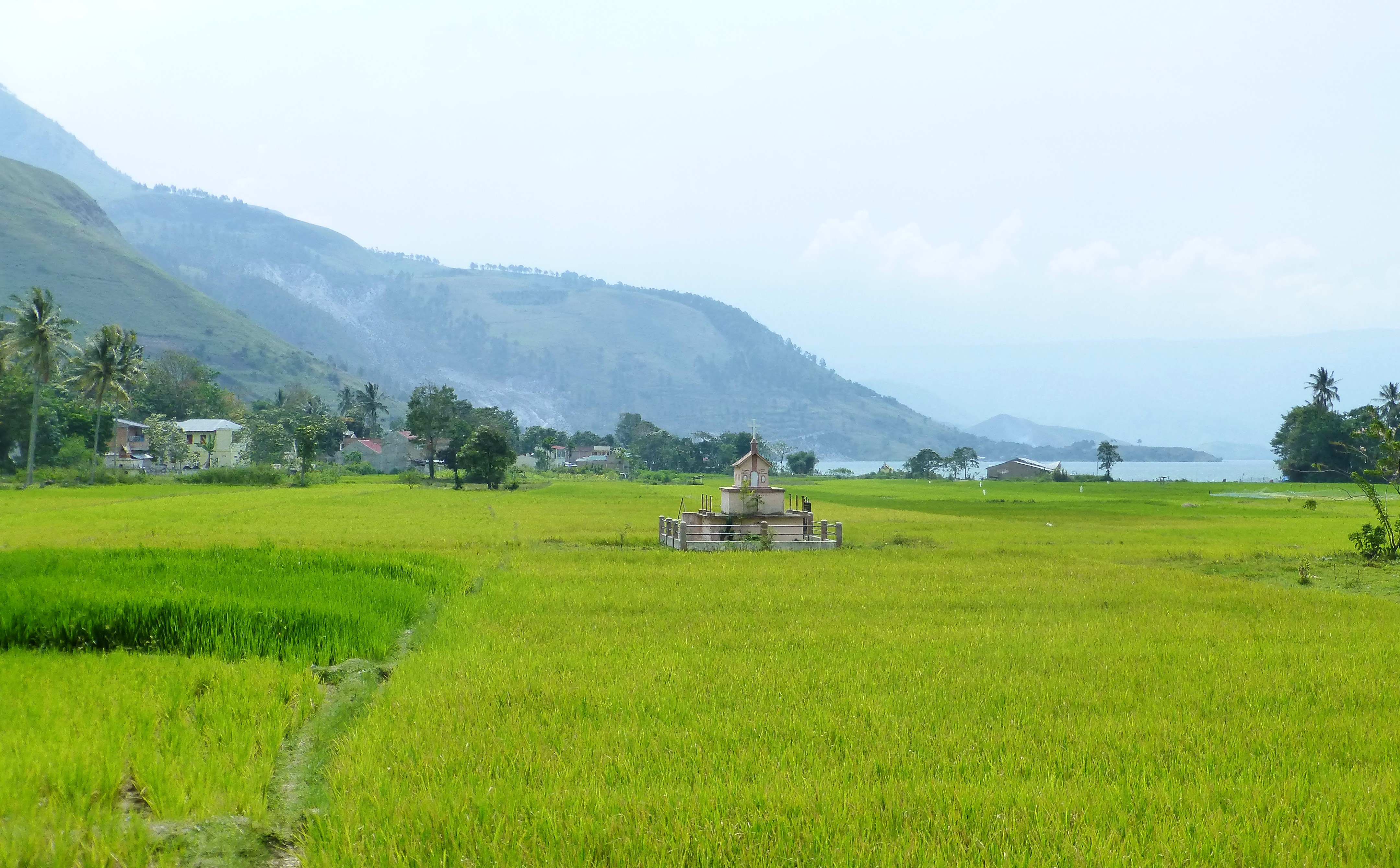 What I did plan for the next day was a cooking class. I had read about it and made sure I got a place for the next evening. When I got there I turned out to be the only one and got a private lesson from Heddy from Juwita's Cafe who liked to put me to work. That's exactly what I think is great and of course that's where you learn the most from. That day I made different dishes and I ate a lot of them too! They were just the best!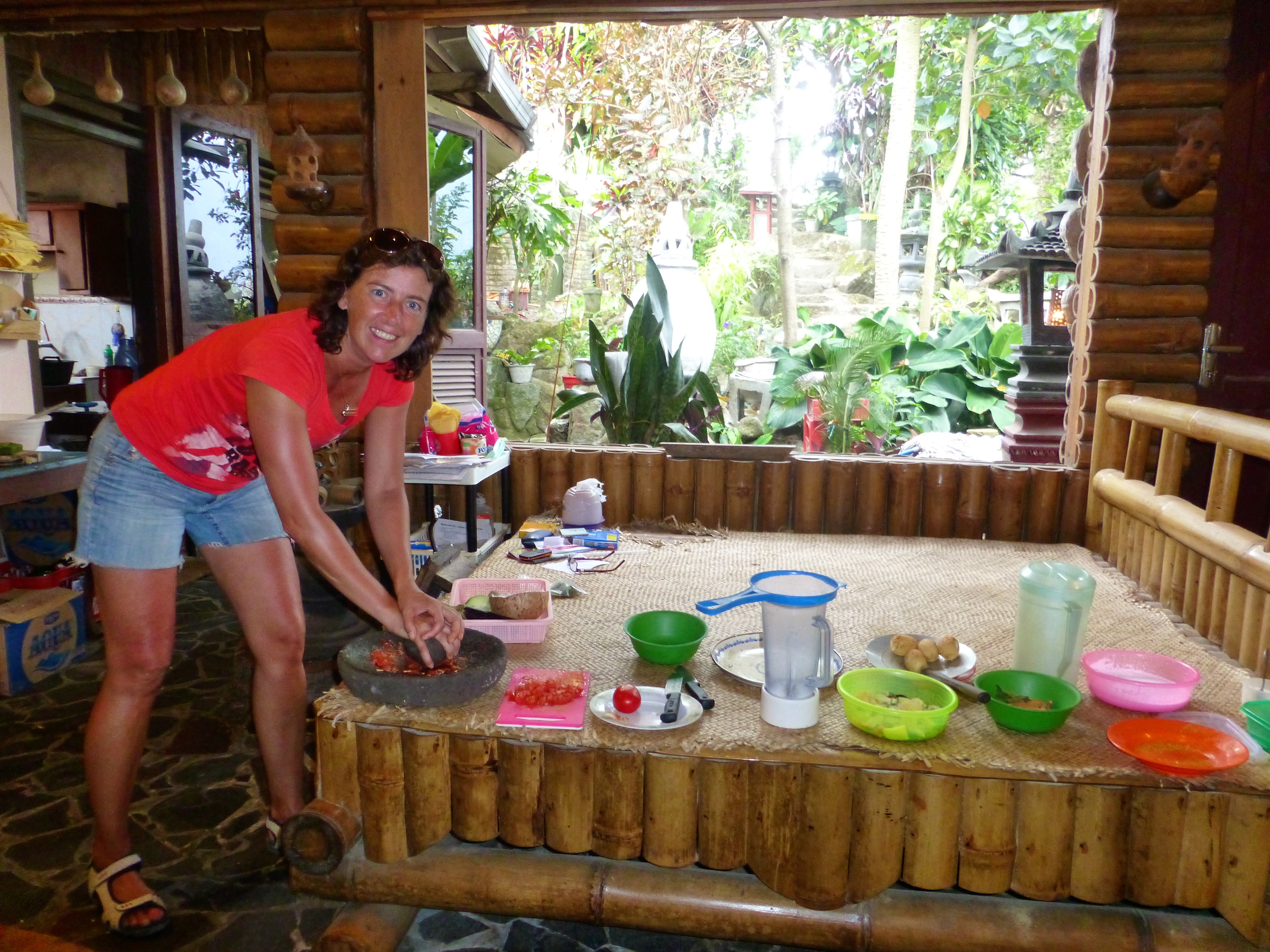 Swimming in Lake Toba
Of course you can't skip swimming in the huge Lake Toba. I just happened to run into an old friend of mine here. I had met Greg from New Zealand in Vietnam two years earlier, but had never kept in touch with him. How big is the surprise then that you bump into him in your hotel lobby. We went out for dinner that first night and the next morning we took a refreshing dip in Lake Toba.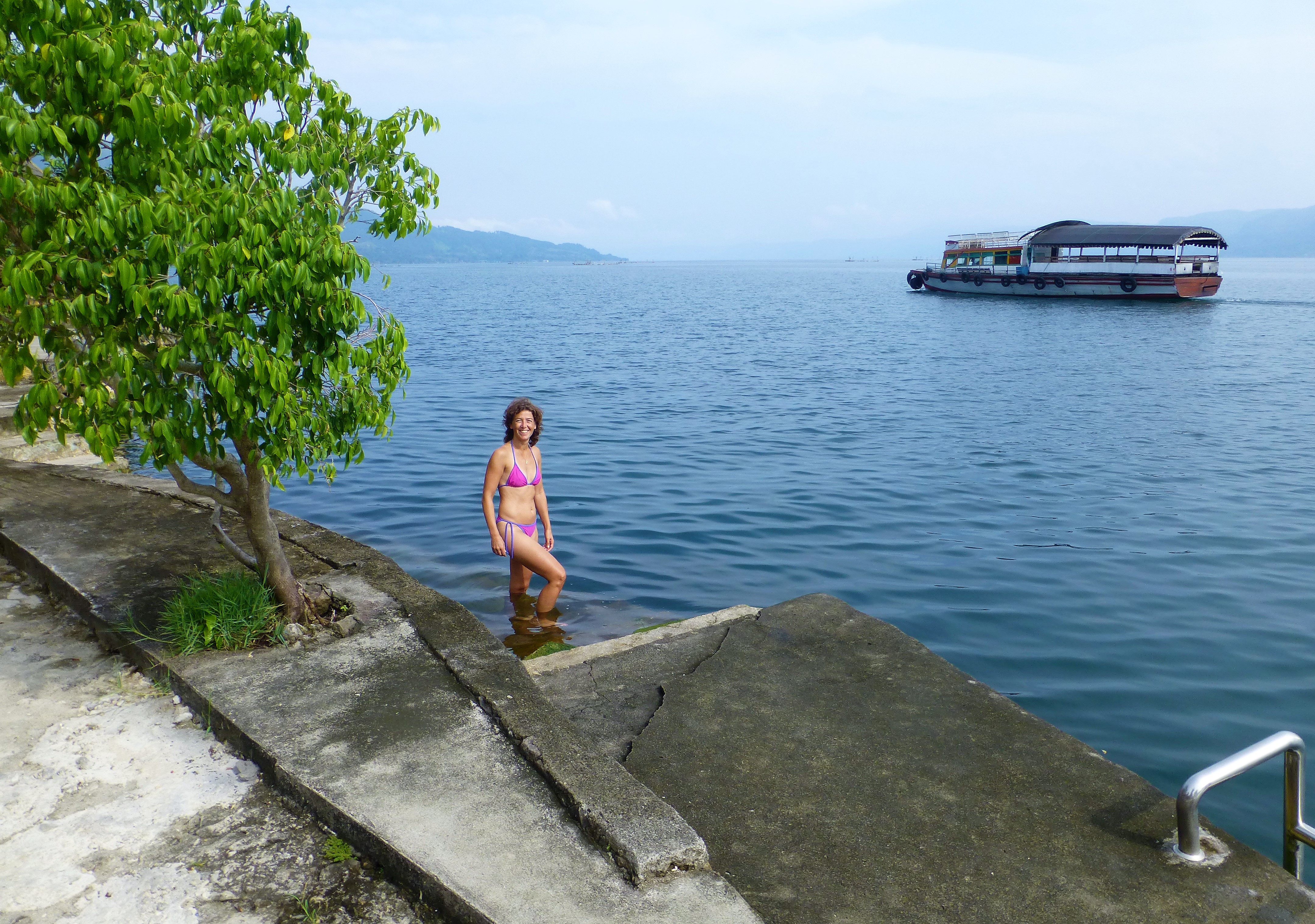 I can assure you this one was certainly refreshing. Lake Toba is, as I said before, enormously deep with over 500 meters and the water doesn't heat up very fast! It is a unique experience: swimming in the crater lake Toba!
Renting a Scooter – Travel Guide Samosir Island
Through the hotel I could rent a scooter from an employee. There are other rental possibilities everywhere in the streets but I gladly gave the small amount of rent to this nice guy. I went out with it for a day and Greg got his bike!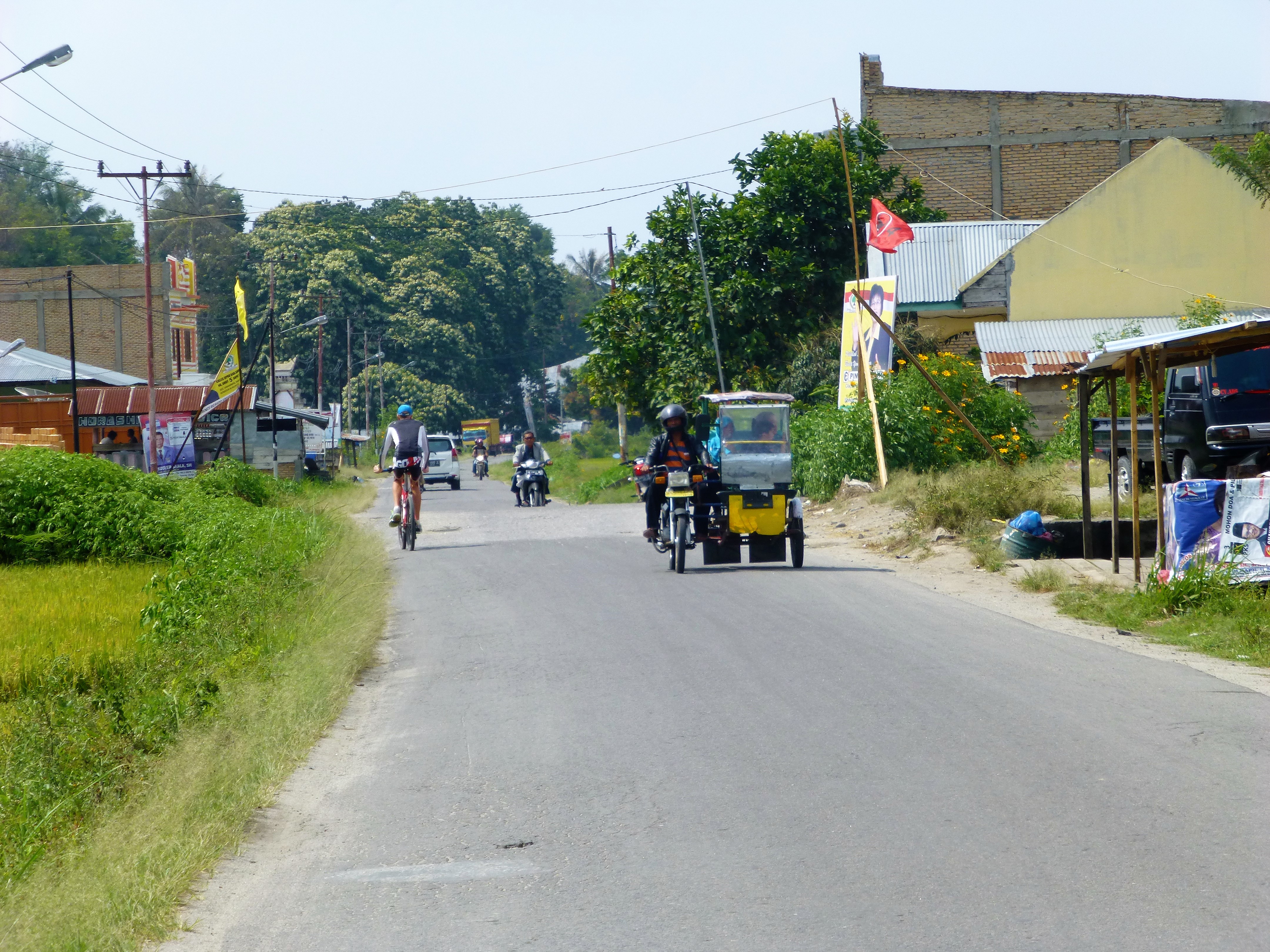 I can certainly recommend a whole day exploring the area in this way. You can make a nice number of kilometers and stop wherever and whenever you want. Ideal to explore Samosir Island!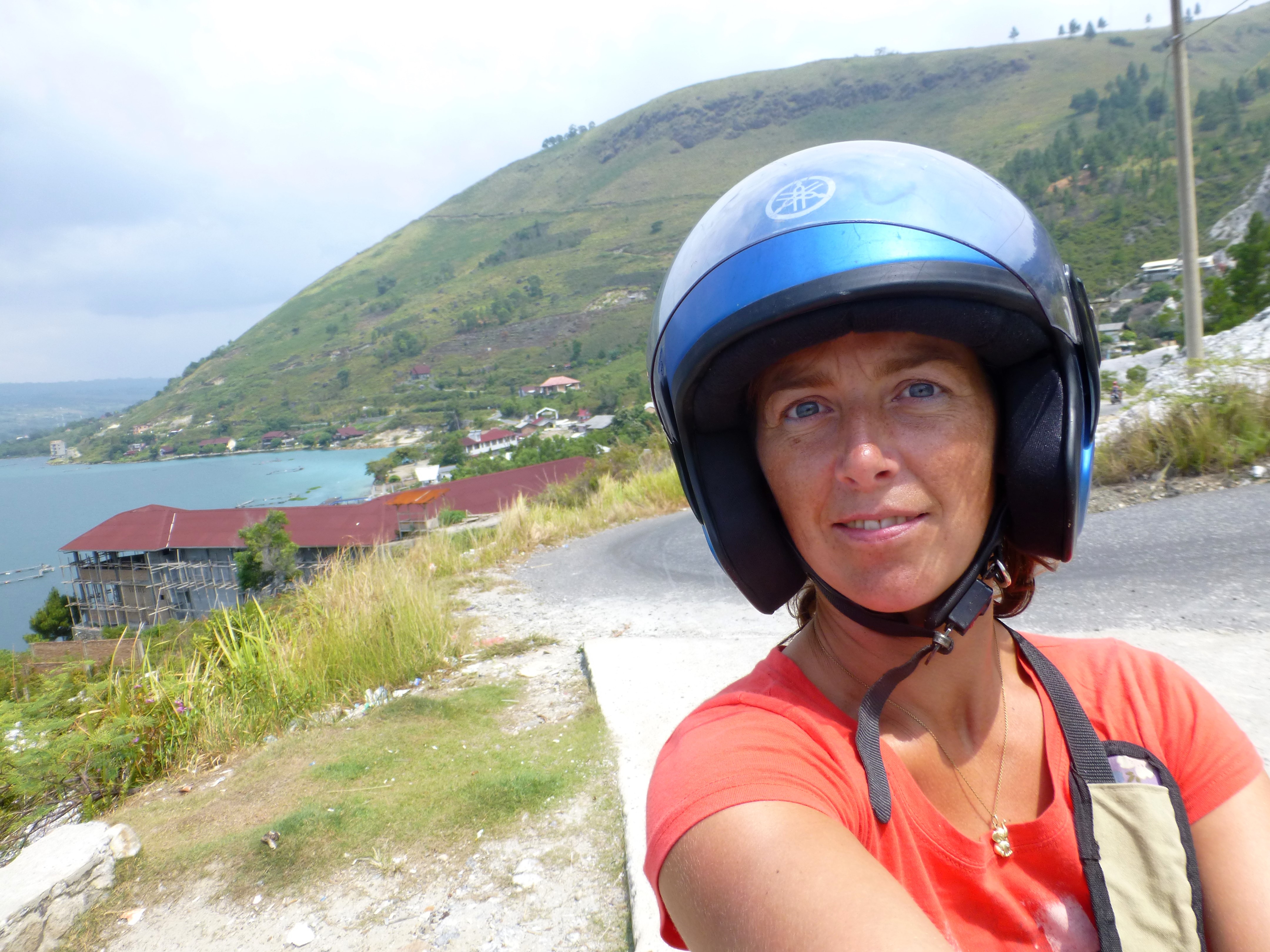 I can really recommend renting a scooter during your visit to Samosir Island!
Stone Chair of King Siallagan – Ambarita
Or in the Bahasa called Batu Kursi Raja Siallagan. This was the first museum I passed: Stone Chair of King Siallagan. What struck me the most were the beautiful Batak houses that were on display. These were inside a stone wall, for protection. I find the houses really great to see. Here I could also take a moment to see how much space there is to live with a whole family, or even several families.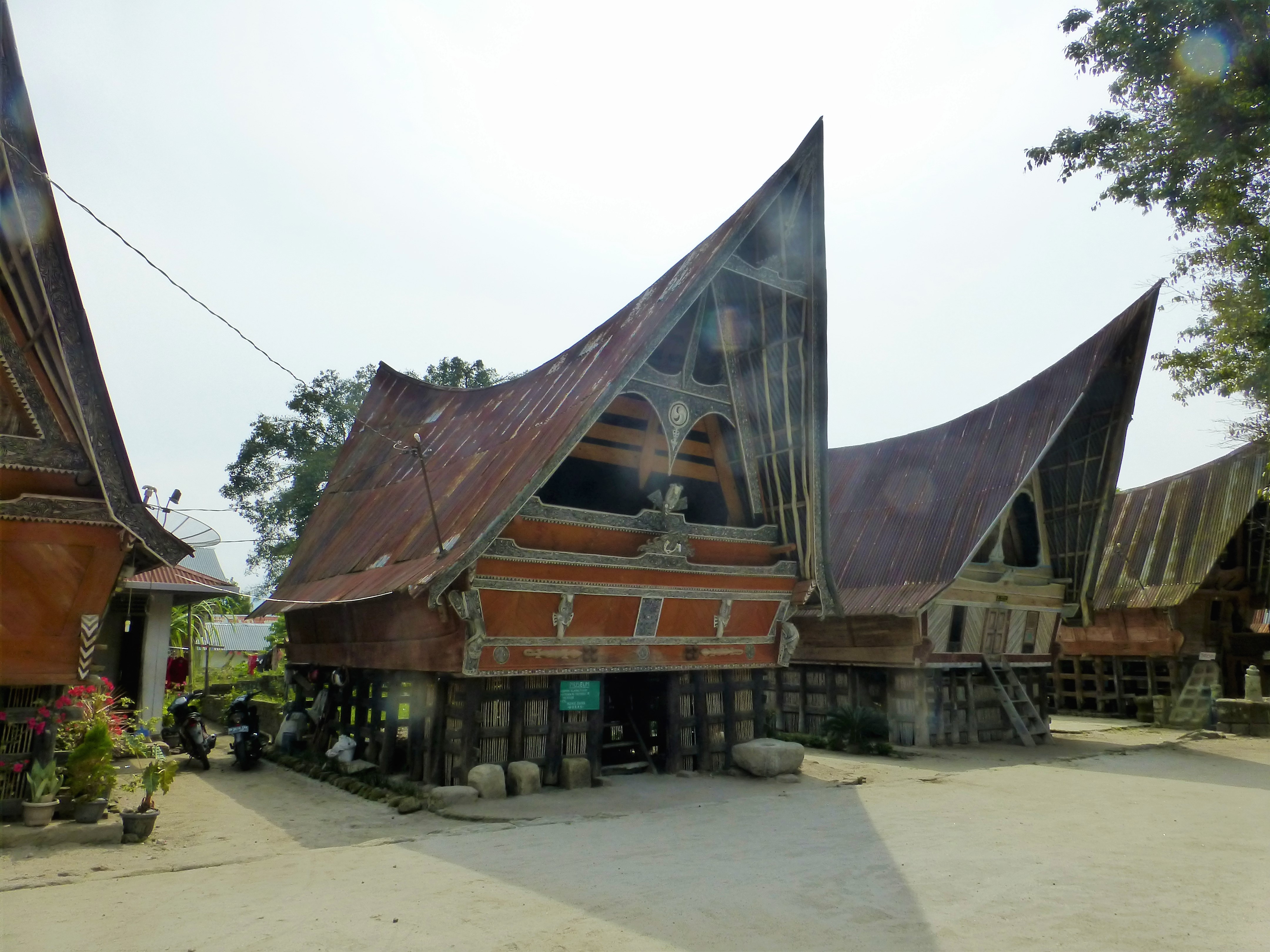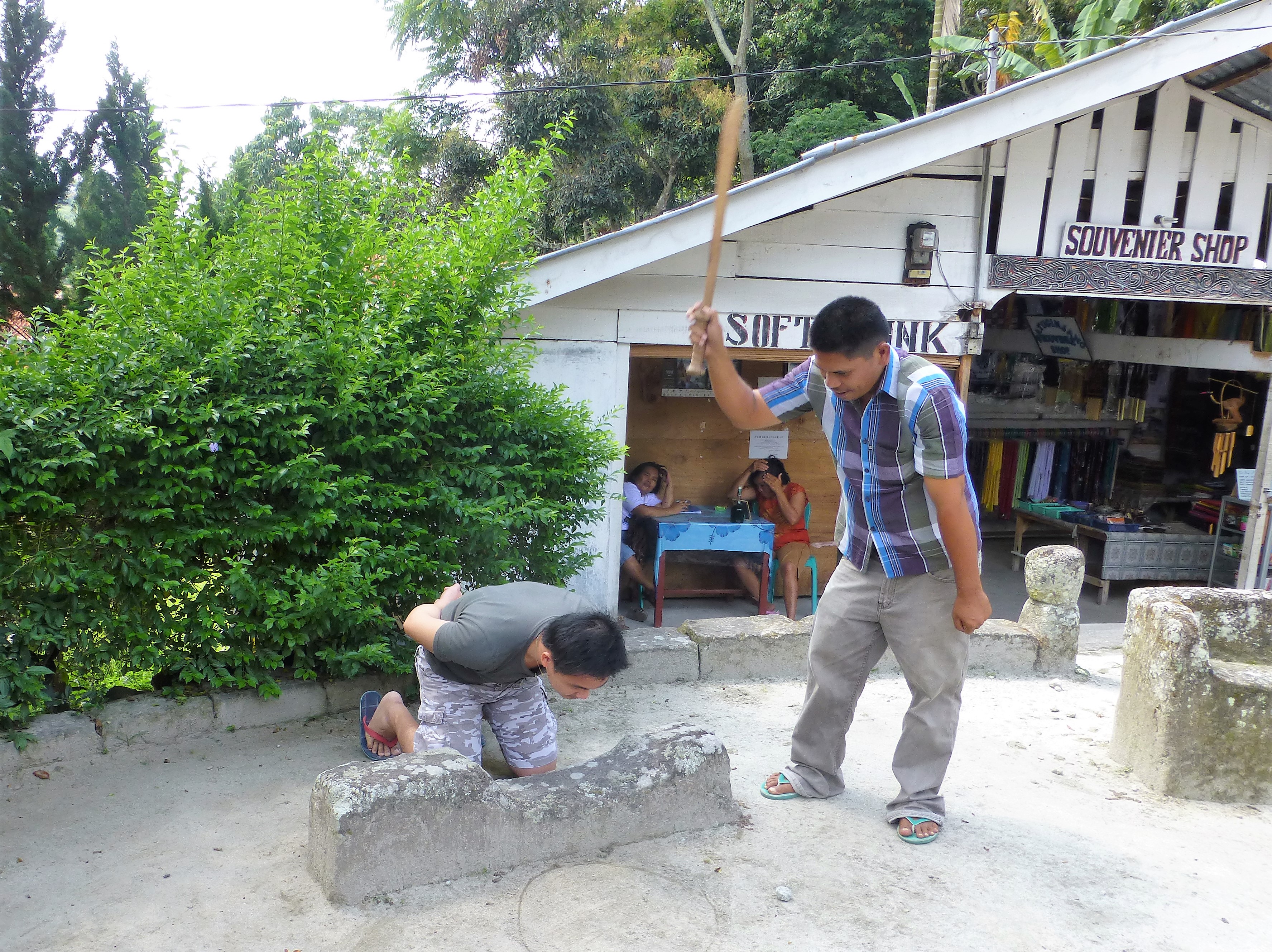 I read some Old Dutch on some of these houses. E.g. Schand Blok...where someone who was convicted was tied up so everyone could see who she / he was and what she / he had done.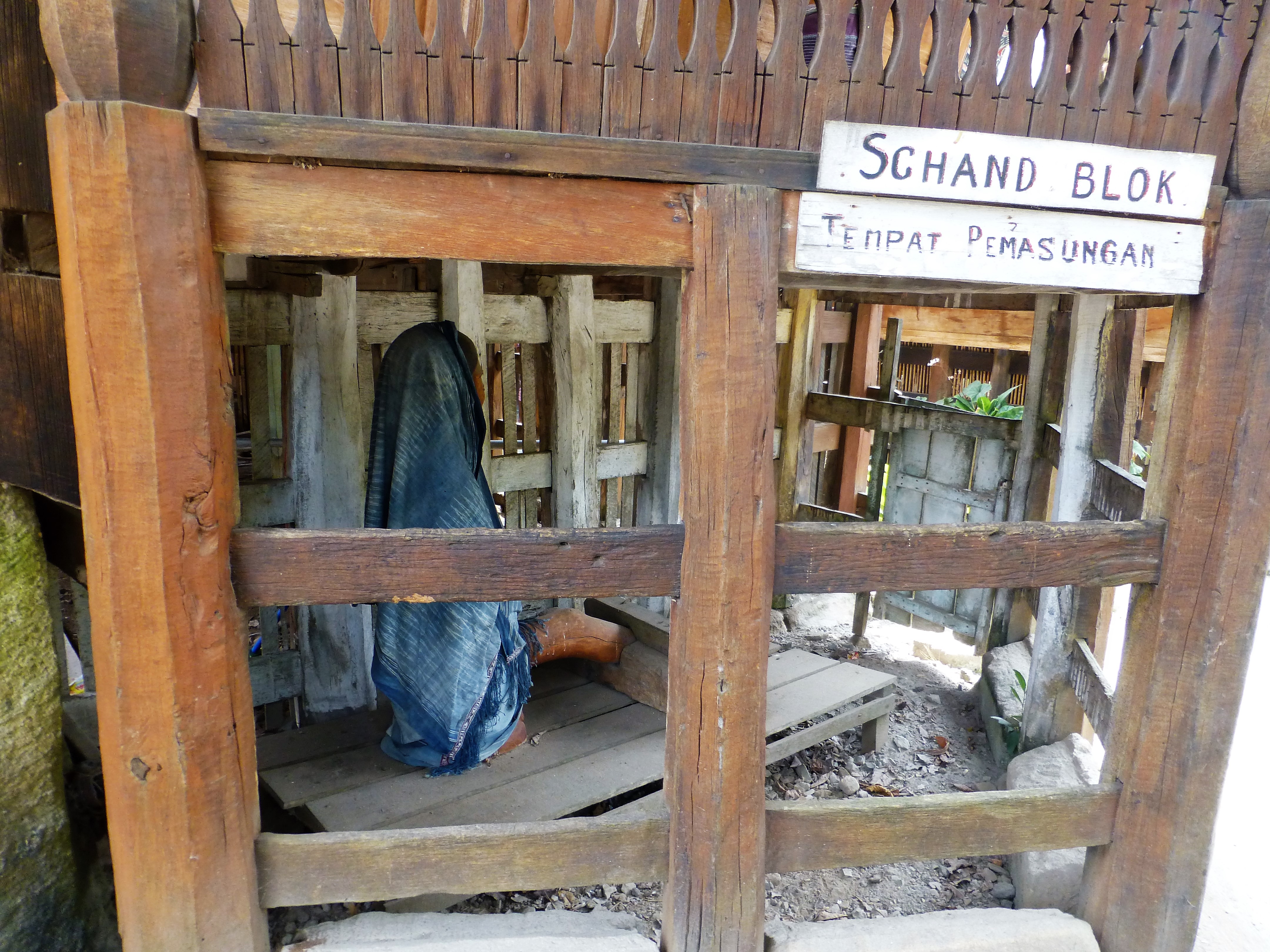 This was close to where the stone table and chairs were. The center of the village under the large Hariara tree. If you are here you should definitely hire a guide so that the background of everything is explained to you.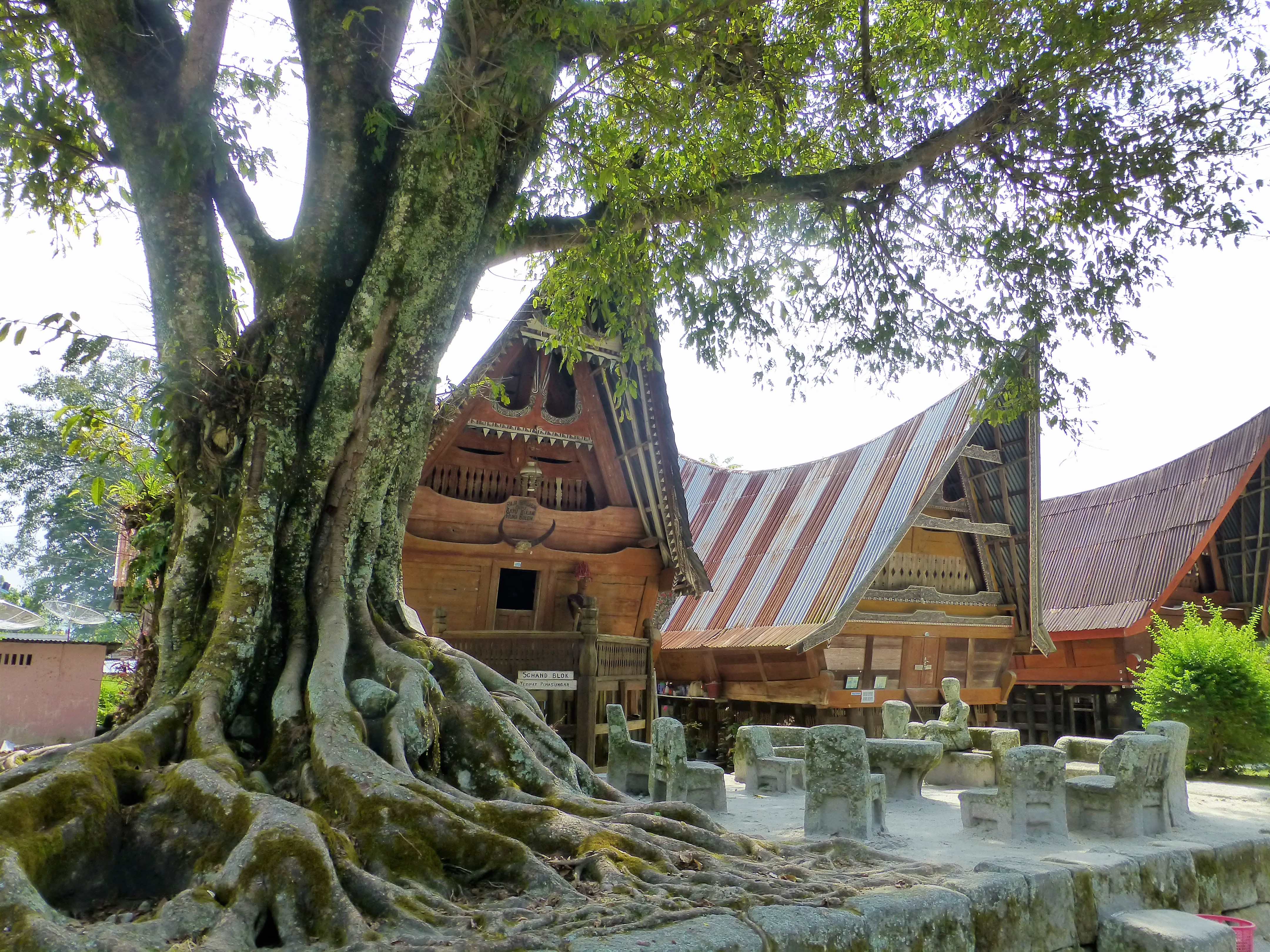 There is also a museum to visit if you decide to drive in the other direction. This one is called Batak Toba in the village of Tomok.
Hot Springs at Pangururan
If you drive the scooter all the way through until you actually drive off this peninsula again you end up at the hot springs of Pangururan. If you look back to the lake from a great height, you will see a beautiful colour of bright blue water disappear into lake Toba. When I was there it turned out to be a kind of swimming pool I didn't really feel like going in but if you want to bathe in the hot spring water this is your chance!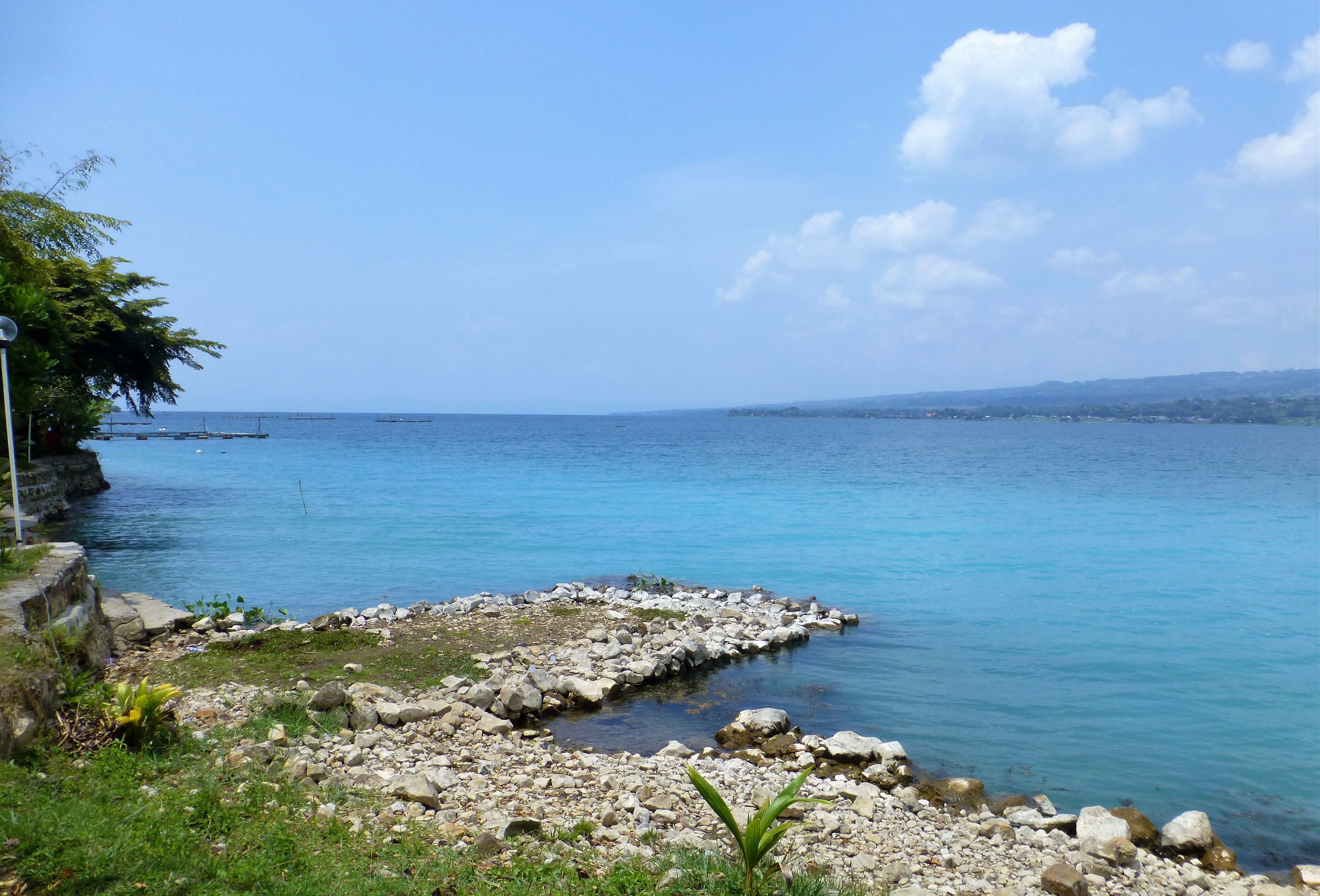 Buddhas Cafe – Vegan
Are you looking for a delicious lunch on the way or just a delicious ice cream in a great garden? Then you should definitely load this place into your google maps. Great garden to relax and unwind. Greg and I were having lunch here when we had planned to buy just an ice cream 🙂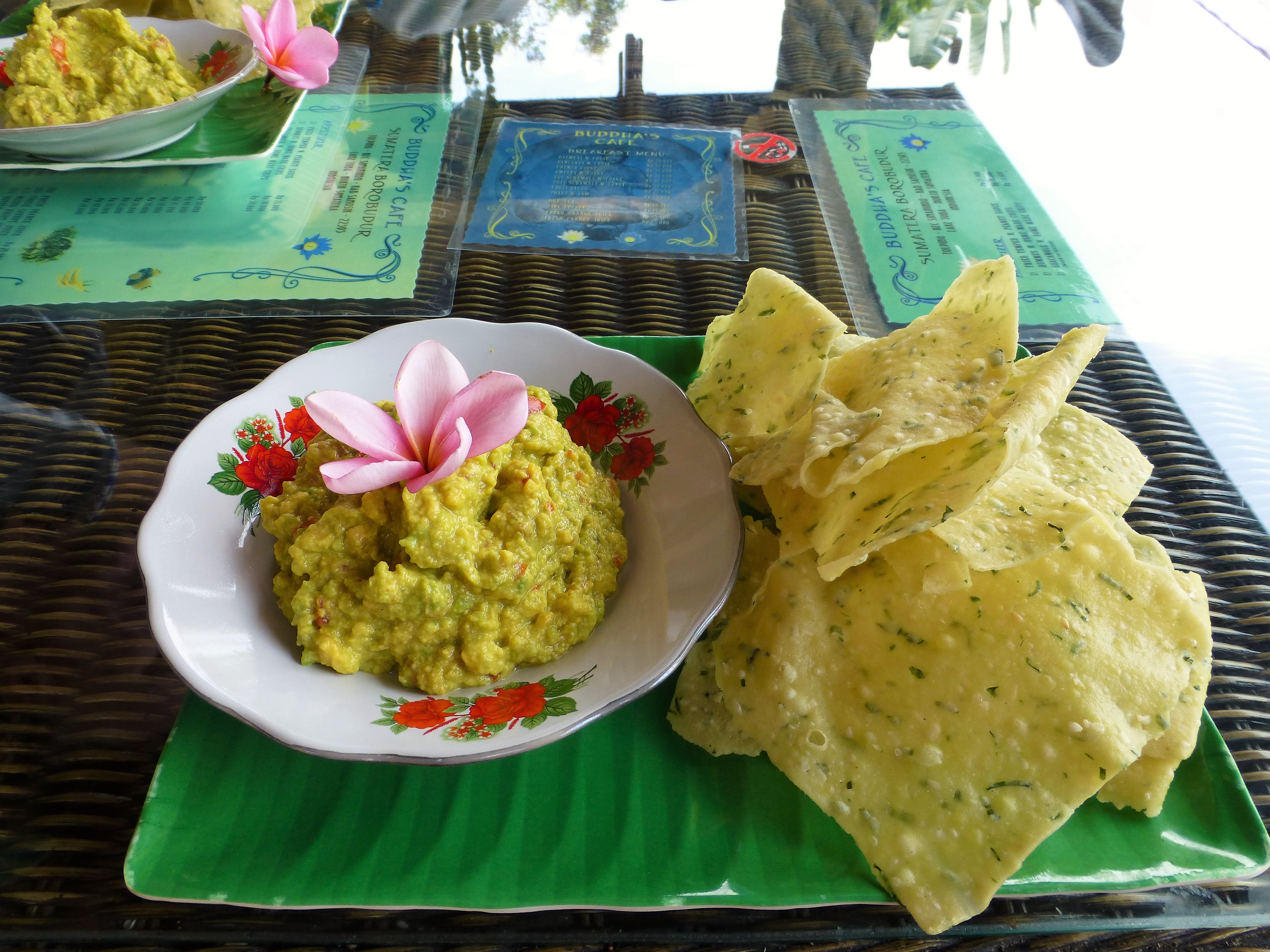 The beautiful statues in the garden giving a view over Lake Toba is great, isn't it?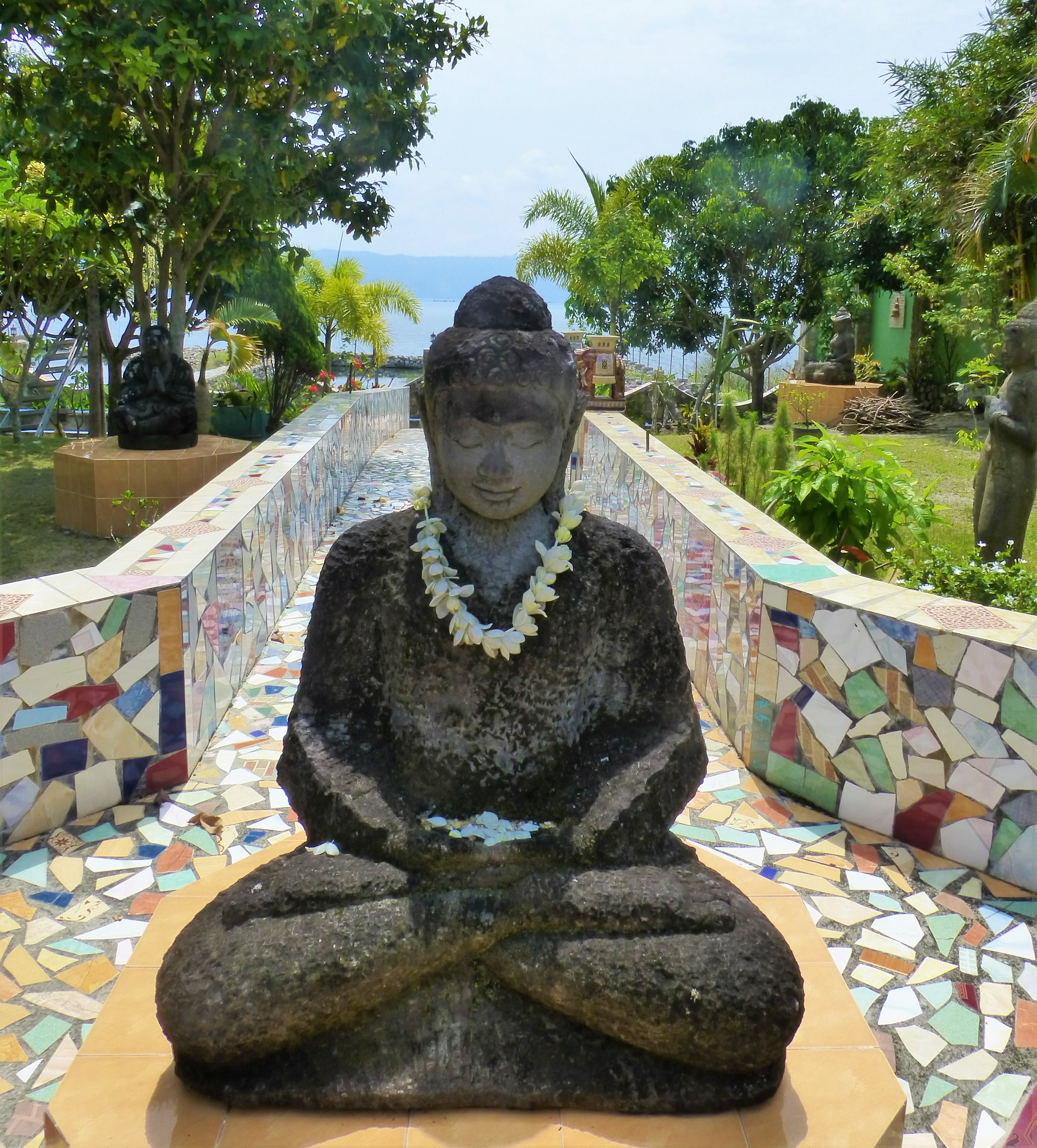 Travel Guide Samosir Island
Go Swim in Lake Toba
Sumatra – Indonesia
Where to stay?
I was staying at Samosir Cottages. The first night I had a cottage right by the water, I must say it was quite windy and so the night after I asked for a room, a little cheaper, a little higher. But then no view of the great Lake Toba.
Samosir Cottages didn't have a swimming pool back then, but I was allowed to use the swimming pool in Samosir Resort. And of course I did 🙂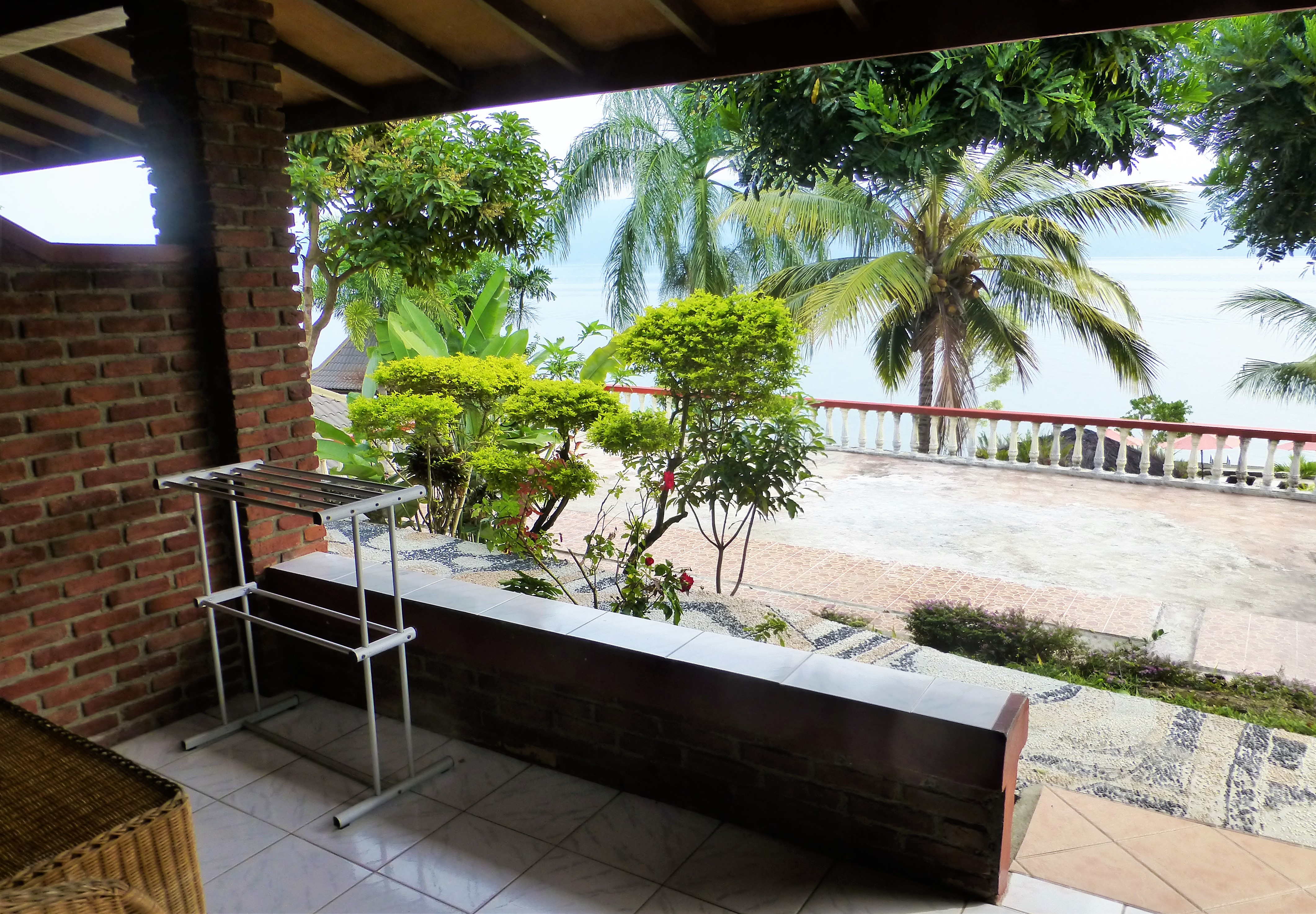 When I look online now I see that Samosir Cottages has been refurbished and also has its own swimming pool. I do recognize the room as mine was. With me the toilet was broken I read in an old report … I'm sure it must have been made already, hahaa!
Travel Guide Samosir Island – Sumatra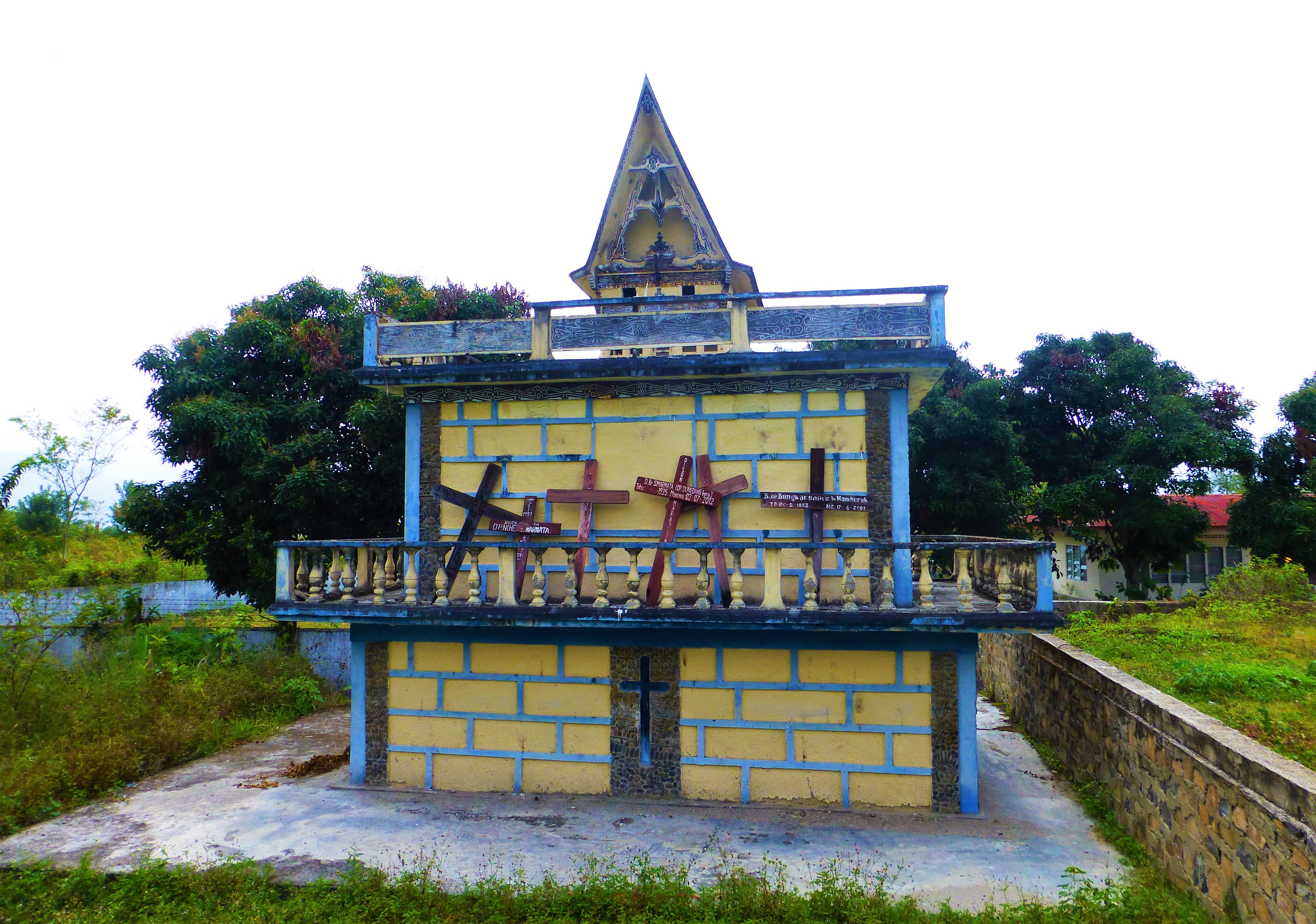 Coming & Going
From Bukittinggi
After a few days in the surroundings of Bukittinggi I went with a small van for about 6 persons from Bukittinggi to Parapat to get on the boat to the island. It is not a short trip and it'll cost you a day. But yes…if you are travelling around and you want to go places then there is no other option. If you are traveling with a guide you will probably make some nice stops along the way. With the local transport I use that is often not the case.
I left Bukittinggi around 6 in the evening and I was in Parapat the next morning around 11.30 a.m..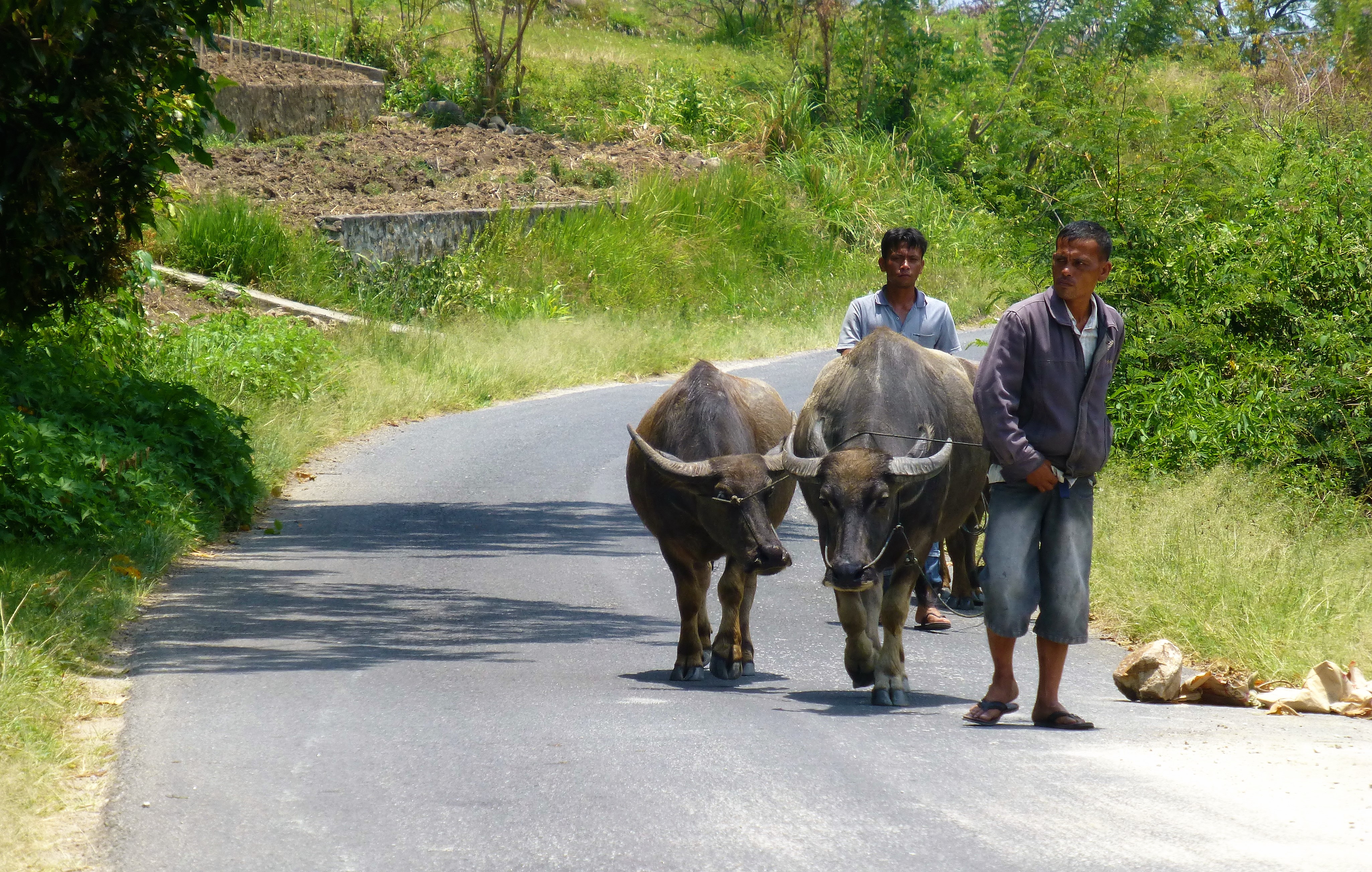 Go take a Dive in Lake Toba
Fom Bukit Lawang
When you have spent a few days in the jungle you drive for hours through the palm oil plantations. I was so taken with it… thinking this was all jungle once where the animals had their habitat. And now there were no more trees but hundreds of miles of palm oil palms. Really sad and every day there's more coming and so less left for Sumatra's wildlife…
I was on the bus for about 8 hours, so a whole day again.
I now hear that there is a new route that goes via Mount Sinabung and that is about a 5 to 6 hour drive. Yay, yay, yay! There's no bus here yet, so you'll have to take a taxi.
The bus will cost you about 30 euros and the taxi double. So do you have time or do you have money?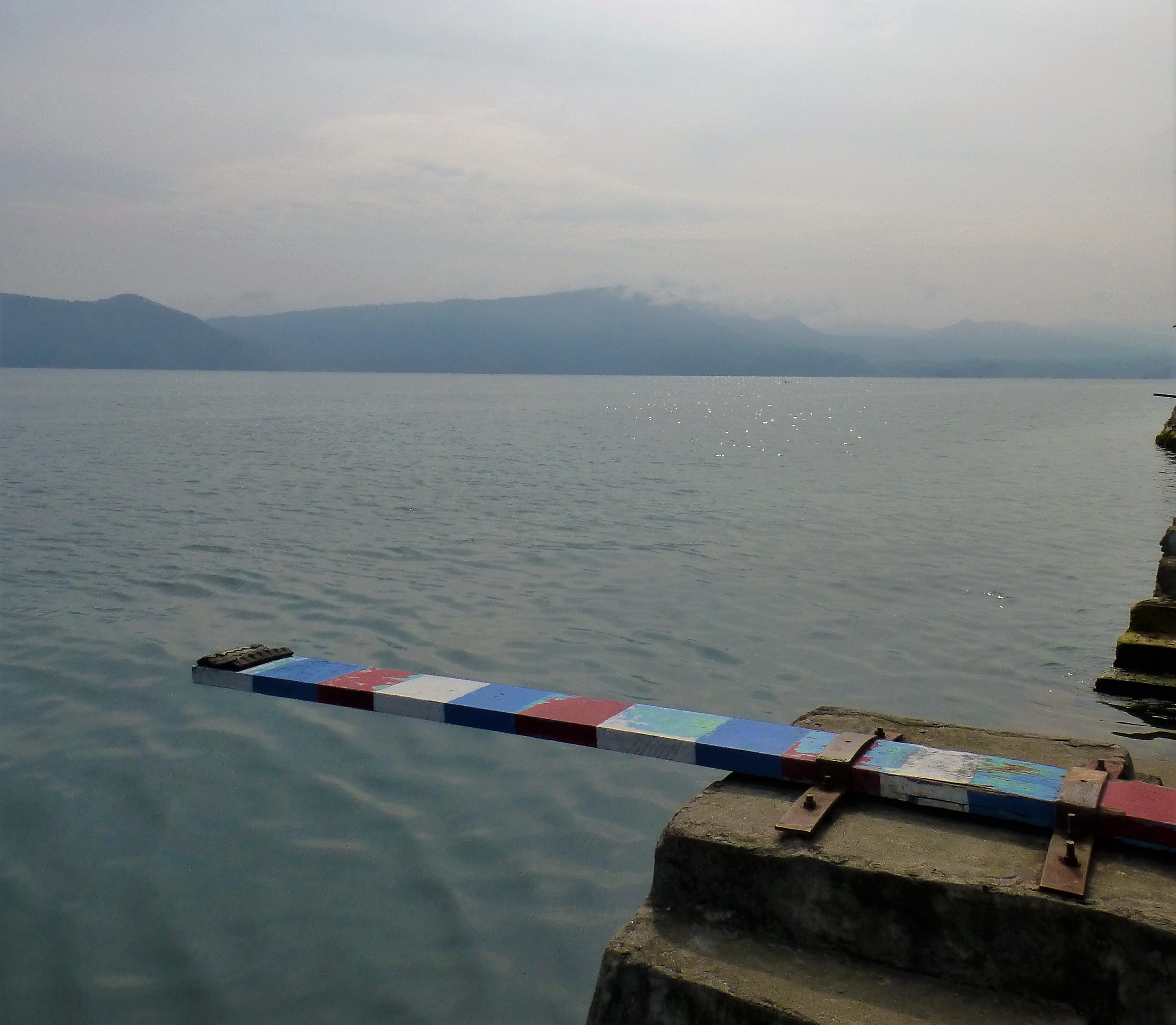 And are you ready?
Are you taking a dip in the crater lake of Toba, too?
—
Did you like this tip?
Then share it on your social channels!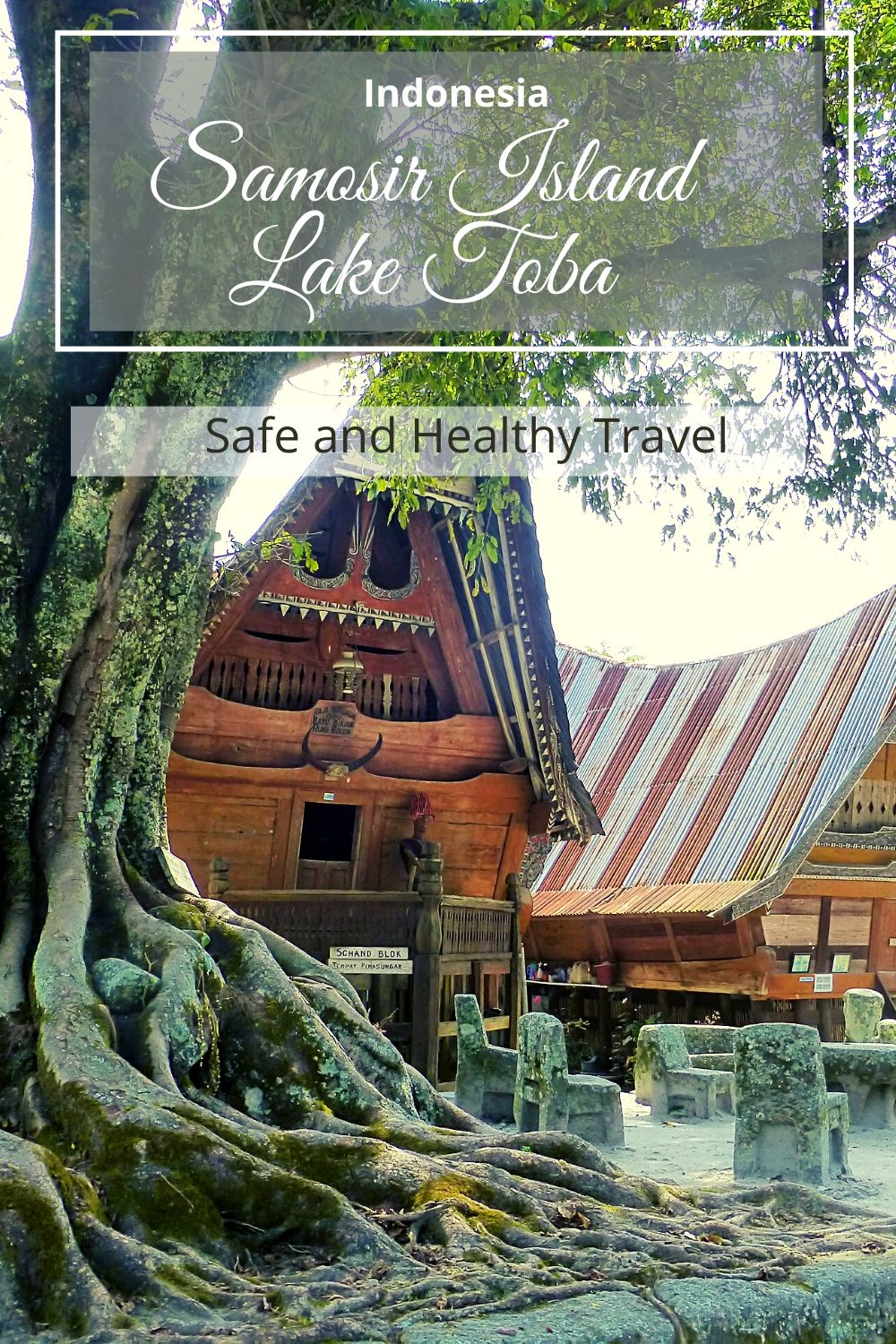 Want to read more about Indonesia?
Visiting the Shaman on the Mentawai Islands
Adventurous Travel: Sleeping in a Cave – Harau Valley
And how do you do that if you're gonna walk longer then an hour? Where do you Pee?
I hope you enjoy this world as much as I do!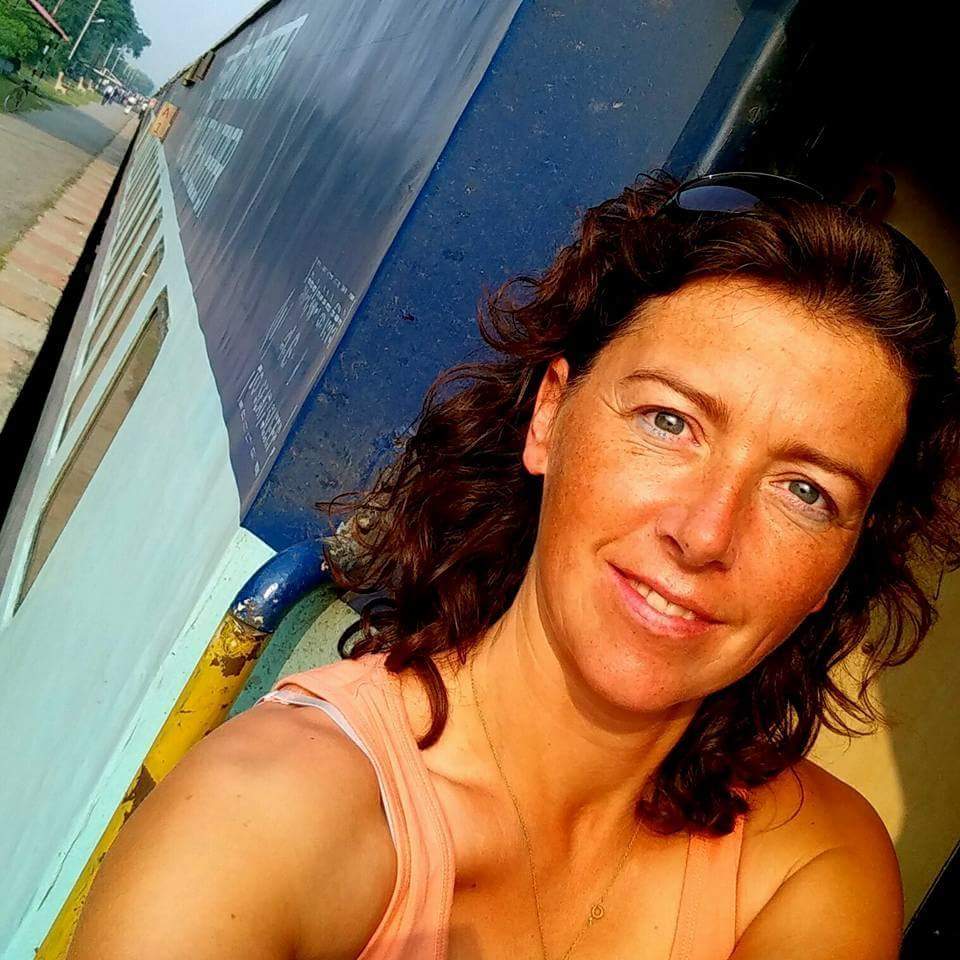 Jacomijn is een politieagent uit Nederland die jou graag laat zien hoe je veilig, actief en gezond de wereld kan over reizen. Safe and Healthy travel is a MUST