Sunrise at the Taj Mahal – Agra, India
|
I had visited the great Taj Mahal before and so when I visited again I wanted to go for the sunrise at the Taj Mahal!! I really think it is a great structure and the white marble would be wonderful at sunrise I heard. So this time with my dad we went early morning.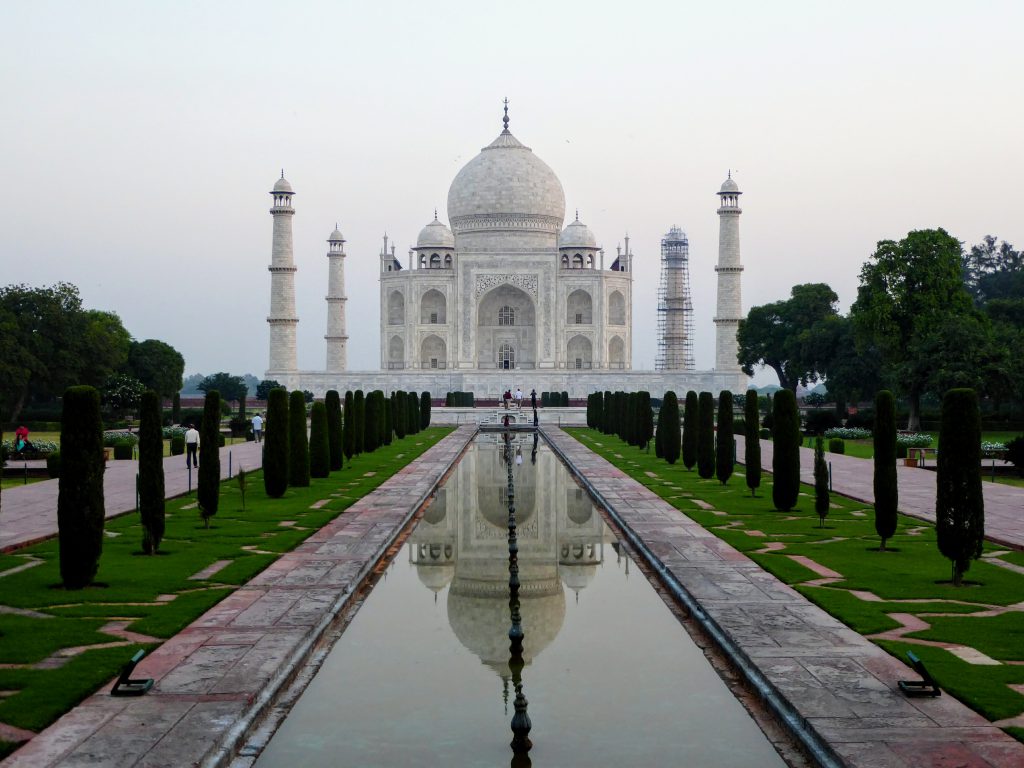 I don't think you are surprised that India is included in this list of 8 Cultural Destinations in the World
The Taj Mahal is a tombe.
I always thought it was a temple of some kind but it's not. Did you know that this great wonderful white building of marble is a tombe for just one grave. The grave was meant for Mumtaz, the wife of the 5th ruler of the Mugal empire, Shah Jahan. This tombe is 58 metres high and 56 metres wide.
I was standing in front of it and looked up with awe…it was so much bigger then I expected. I now fully understood how it got its place on the list of the seven wonders of the world.
Voor de Nederlandse versie van Taj Mahal bij zonsopgang – India
Sunrise at the Taj Mahal – Agra
Early morning we got in the car of our driver and we went to the entrance of the Taj Mahal. It was still dark and I was excited to go for that sunrise at the Taj Mahal!! I had this great image in my mind of the sun rising behind the great white building and I hardly couldn't wait to go and really see it! We got in line and soon the line got bigger…and it started to get light too.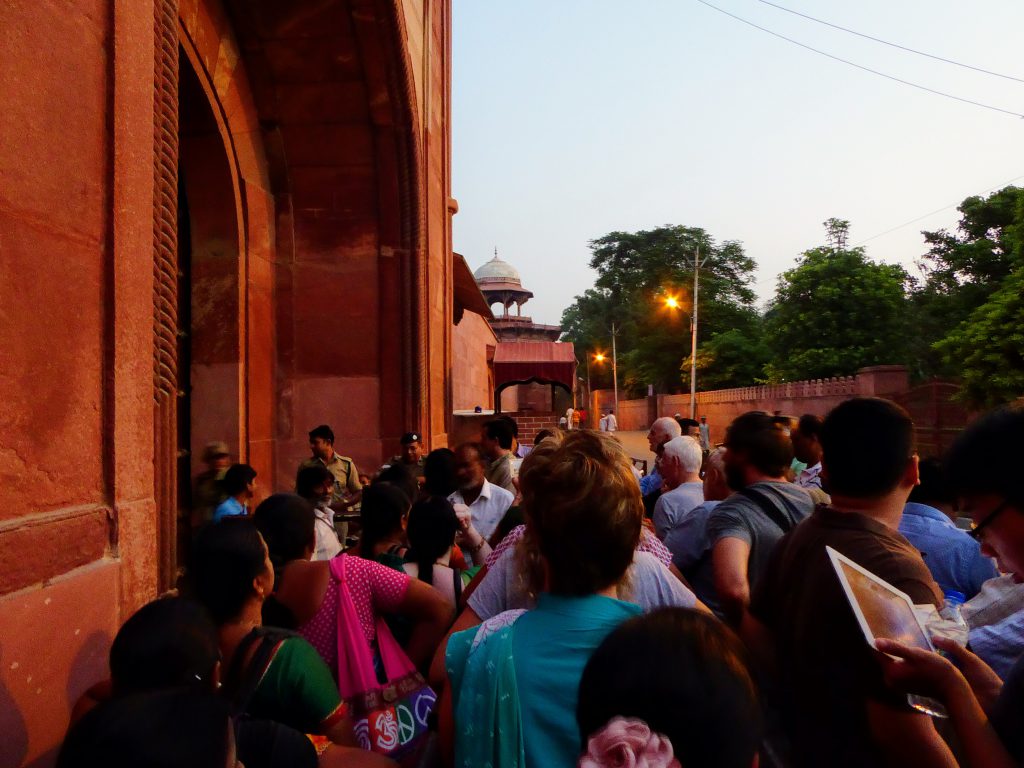 The sun was already starting to rise and I was still standing in line at the cash registers.. The line was getting long and I started to worry!! It was light…it seemed light…was the sun already up?
Did I miss it already??
Was this one of those things that they say you need to go and then you can not…because they don't match sunrise with the time of opening??
India can be strange, right?
But all of a sudden the registers opened and because we already bought a ticket earlier my dad and I could enter quickly to enter a security check. I needed to empty my bag and show it all…it was light…but also very cloudy, misty or was it smog?
Would there be a sunrise to see for me??
I didn't see a sun, it was way too cloudy. I didn't enter the garden yet where I could see the Taj but I couldn't imagine of seeing a beautiful sunrise at this time.
When I walked throught the gate that lead to the garden I got to see that beautiful white marble graftombe in all its charm. It was huge..it was beautiful… as white as can be!! An ancient old building  still as beautiful as it was in the beginning….I think 🙂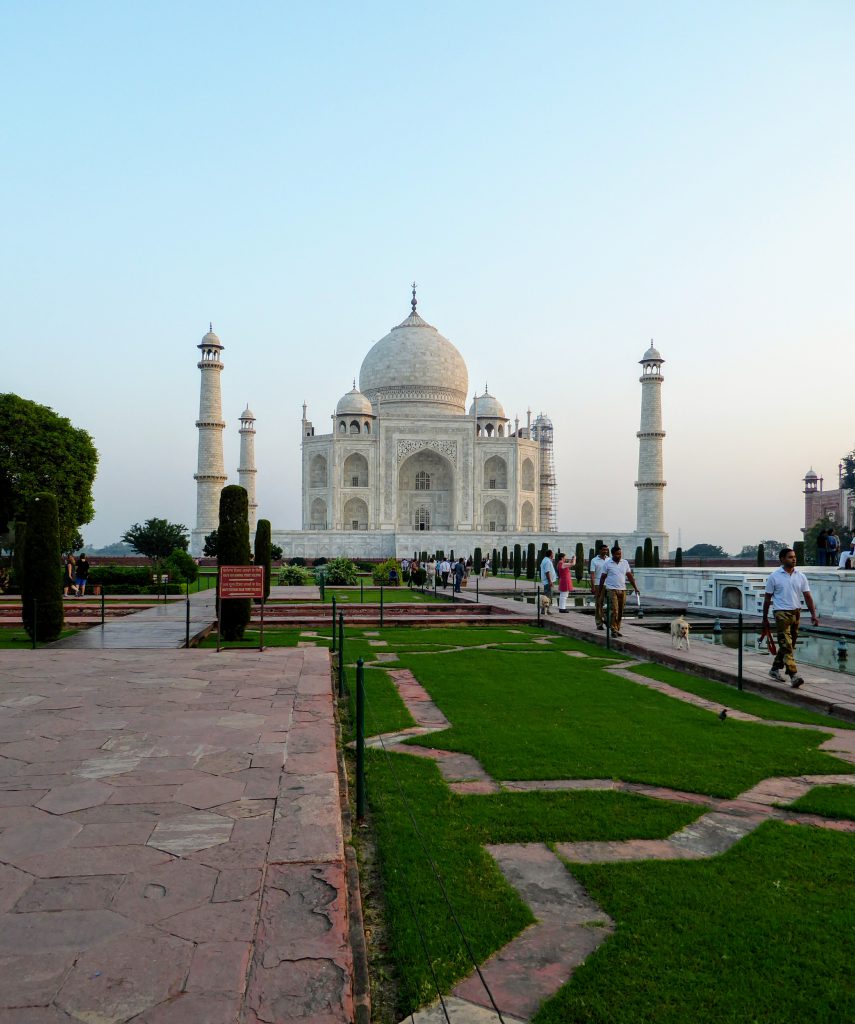 There were some people already in the garden but it was quiet and peaceful. We had all the time to make pictures and to enjoy this moment. When you enter later on the day you are immediatly in a crowd and if you want to make a picture on that famous spot you're in line. Slowly we walked in the garden and up to this gracefully white huge buidling…the graftombe. I still didn't see any sign of the sun.. let alone see some rays that could shine onto the white tombe..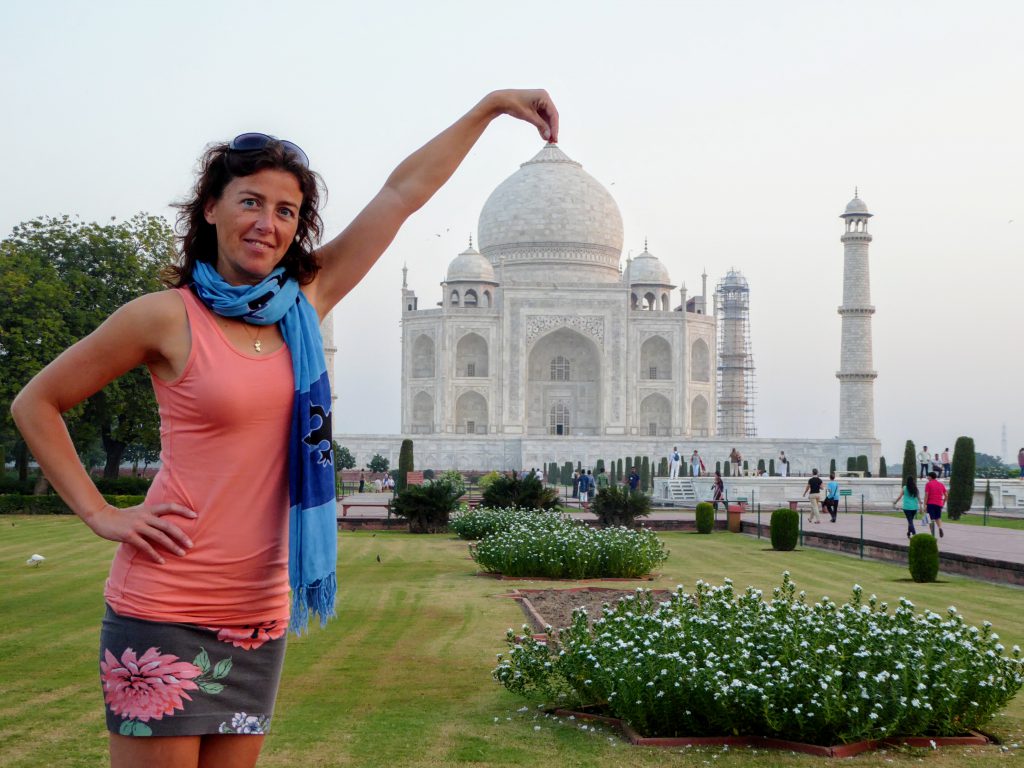 Ofcourse we took some time to take that picture!

Why not,…when you're there? My dad preferred to sit at the bench that is situated there for this purpose…as it seems 🙂
What kind of pose would you love to do here?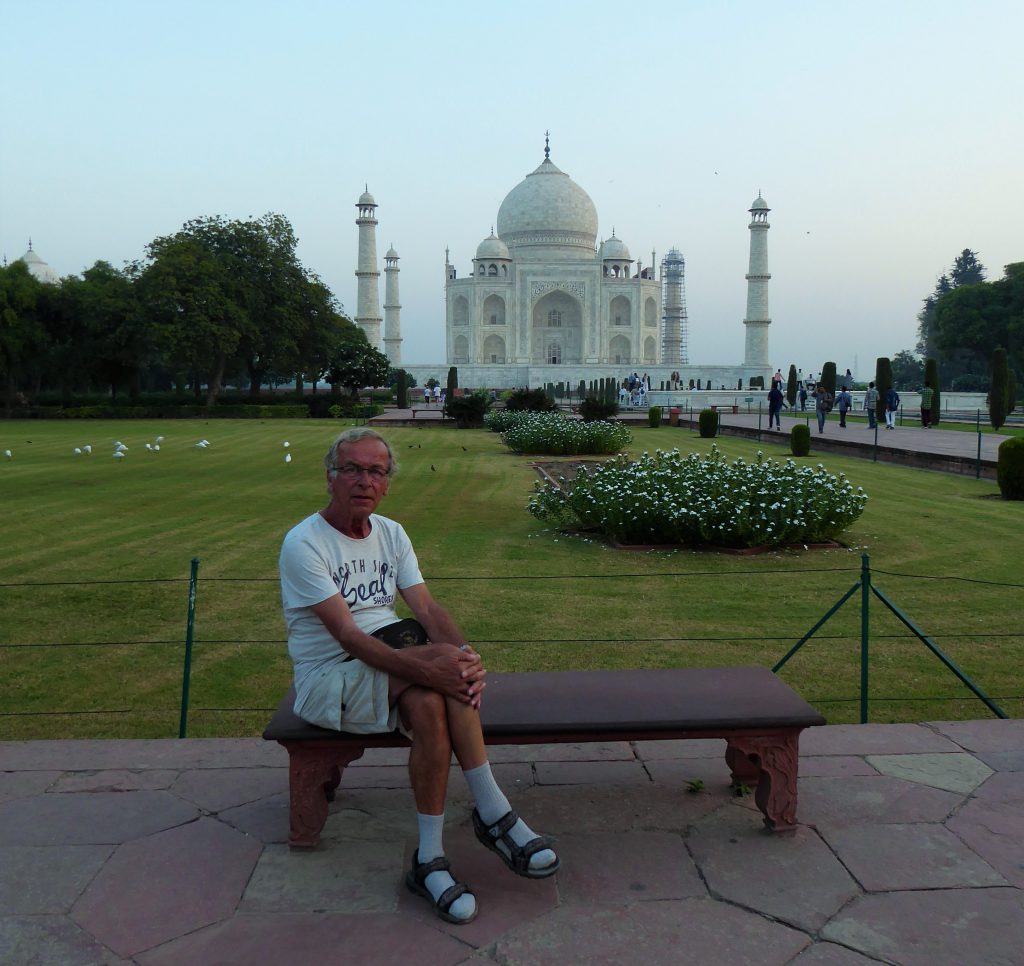 Sunrise at the Taj Mahal – Agra
And then… I was sooo amazed when I did see the sky turning from that grey dcolour into a beautiful orange glow. It was not behind the Taj but on the right side. I hurried to the left side to get some pictures of the Taj with that sunrise!!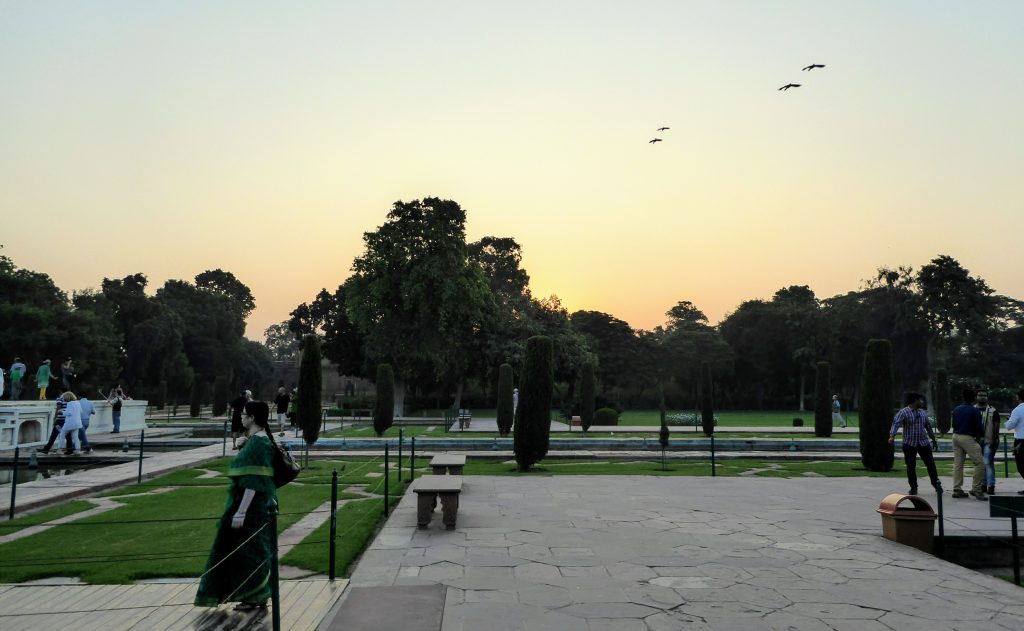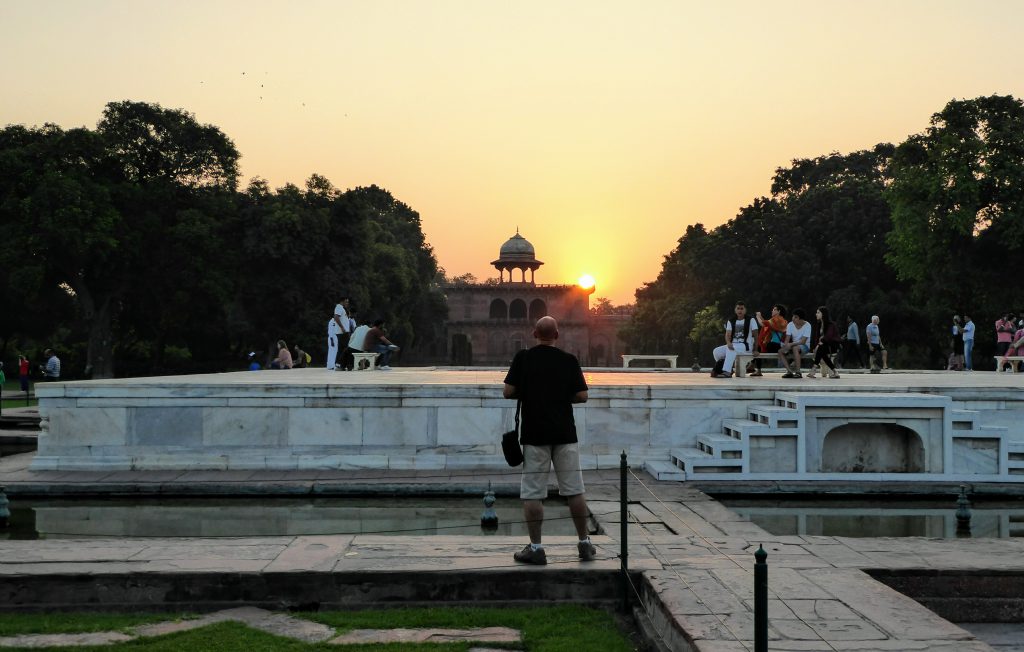 I felt so lucky!
Sunrise at the Taj Mahal!!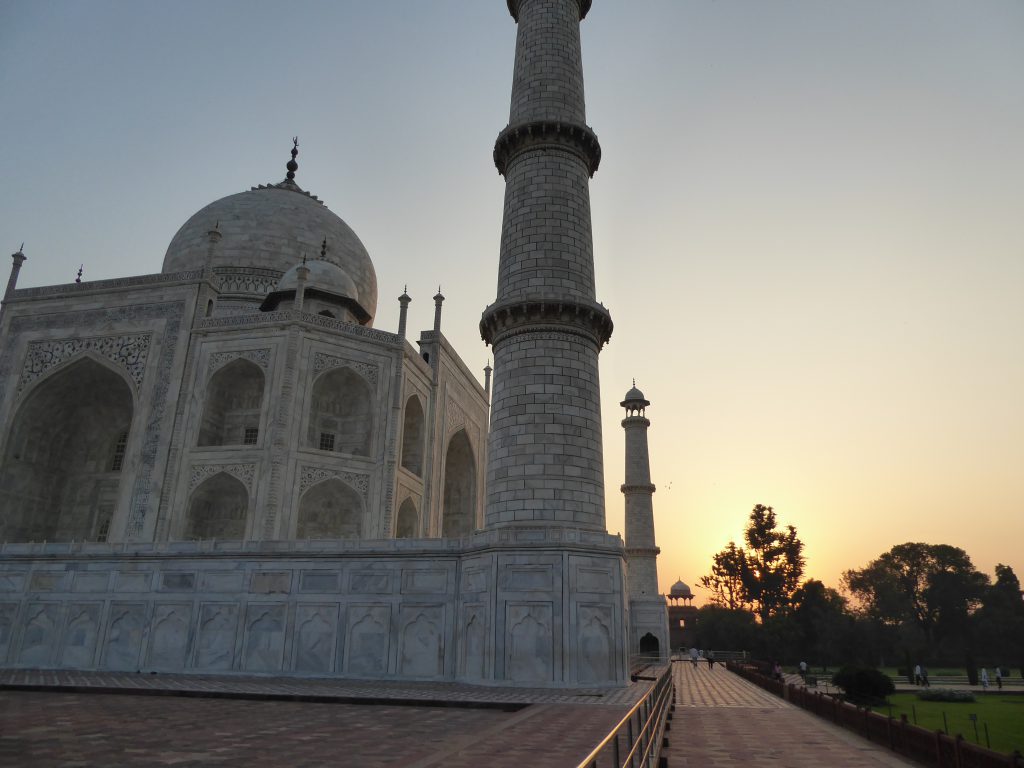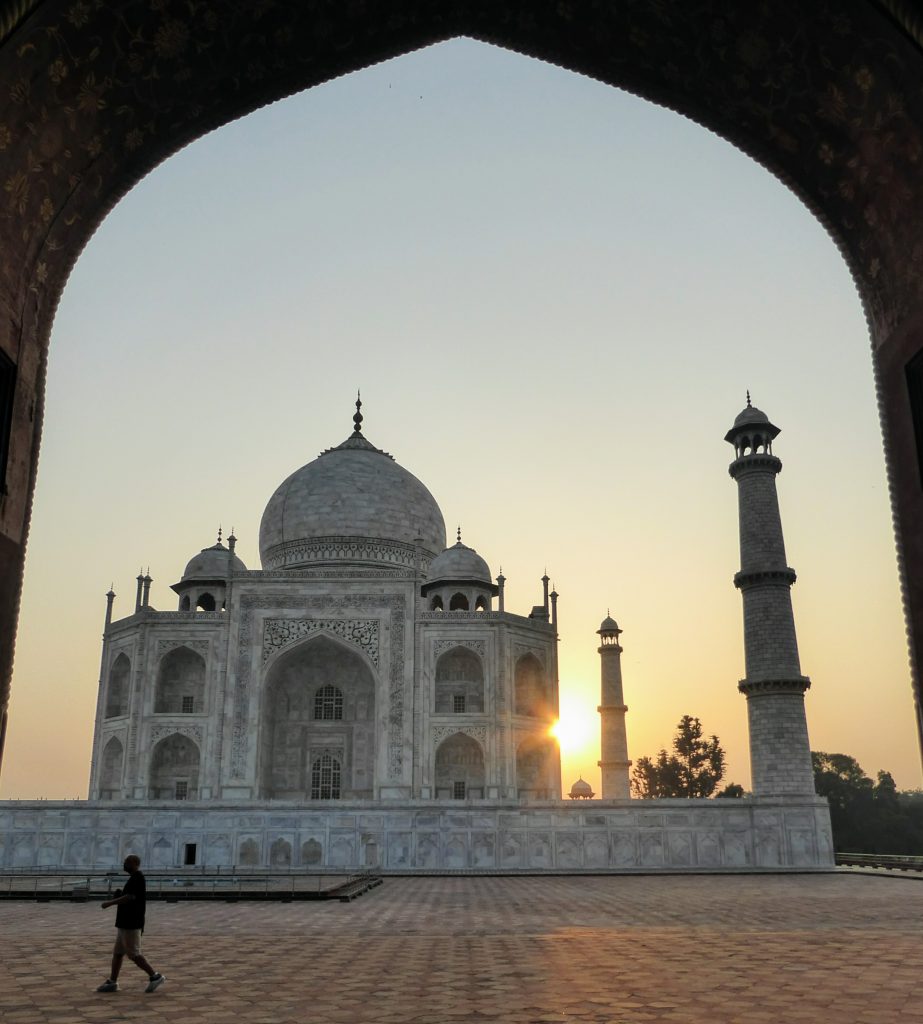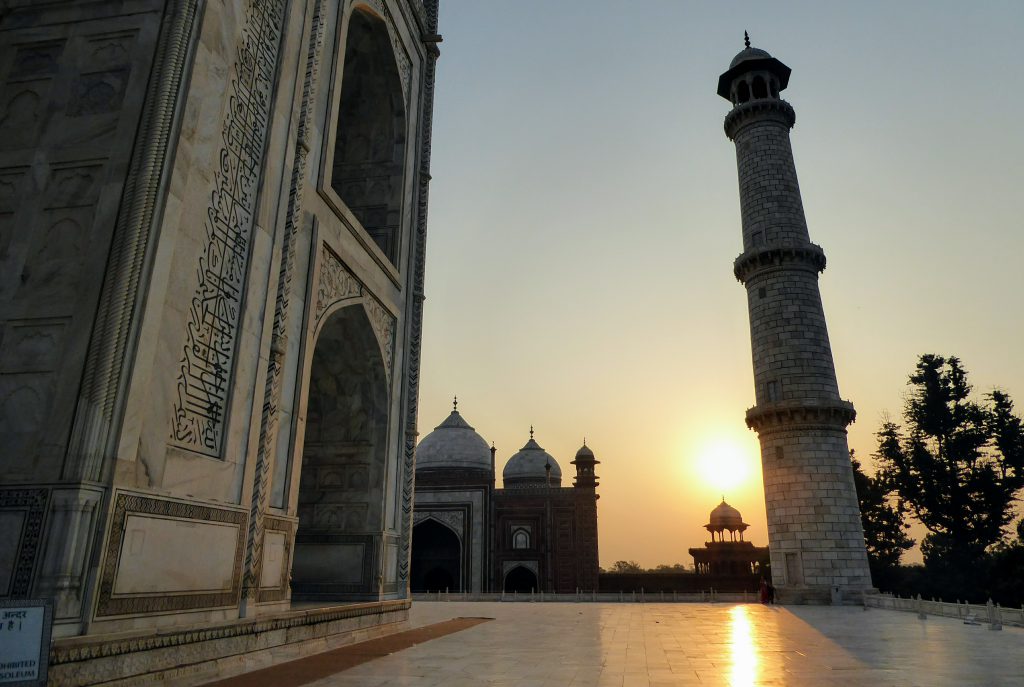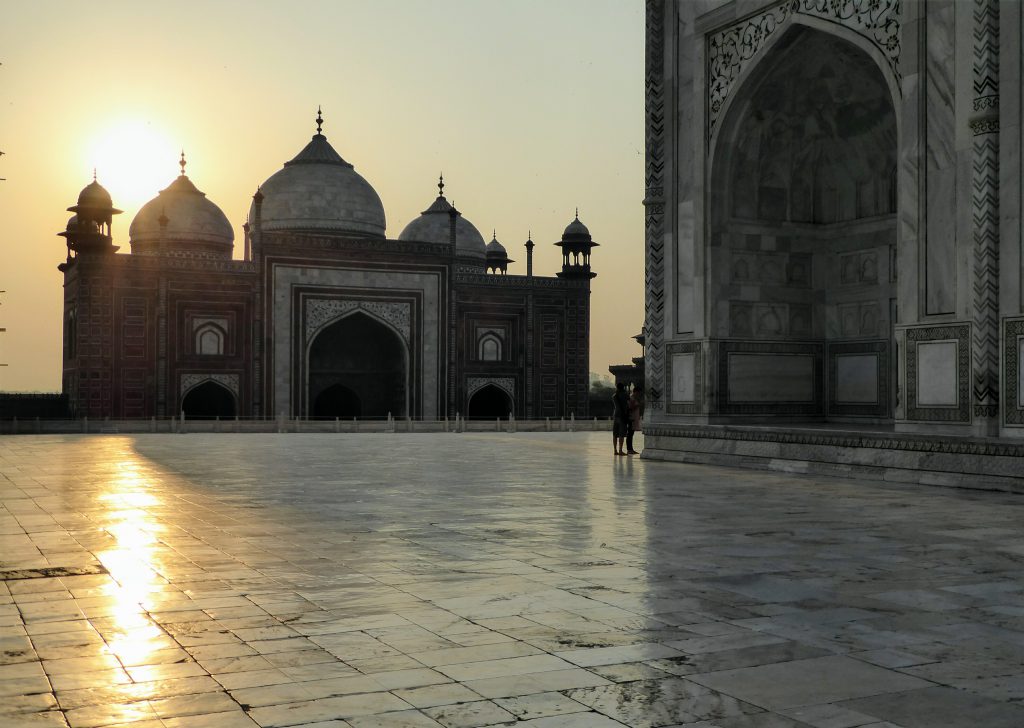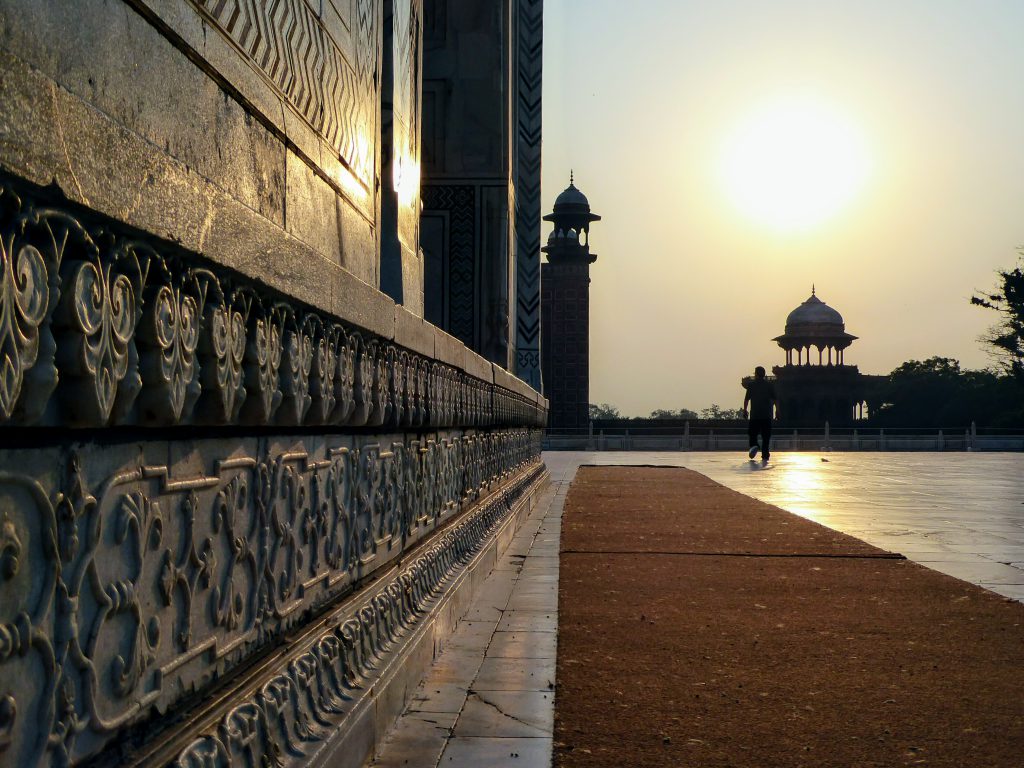 This is so worth the early awakening!!
Sunrise at the Taj Mahal – Agra, India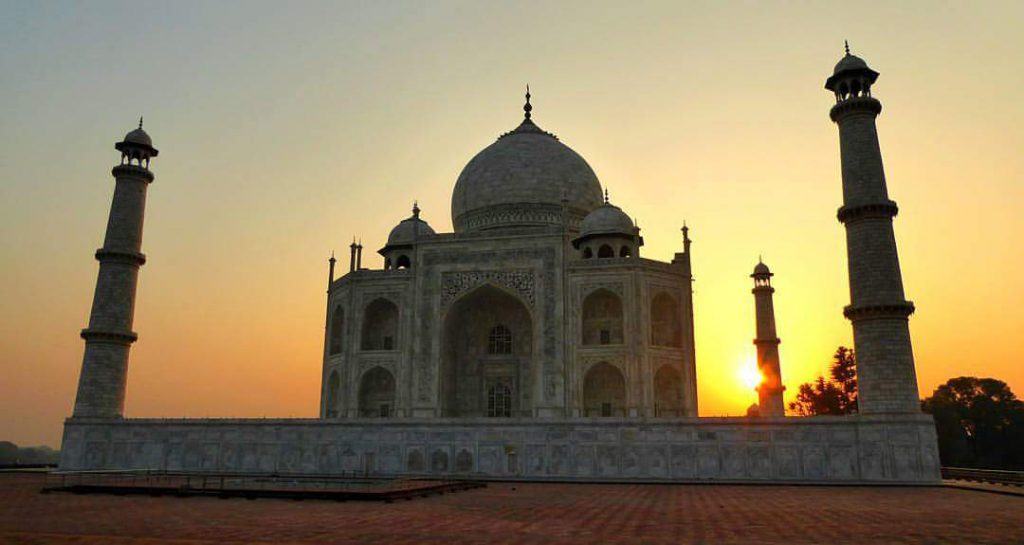 I was so happy that I did go for this early trip!!
It was soo worth it!!
—   Sunrise   —
What else can you do on the day you visit the great Taj Mahal?
See the Taj from over the Yamuna river
If you haven't had enough of the Taj Mahal after sunrise, try to grab a nice view from the other side of the Yamuna River! During my first trip in 2009 I was brought here by a local tuktuk driver. After a nice chai we walked into a path and ended up at the river and had a view on the backside of the Taj Mahal.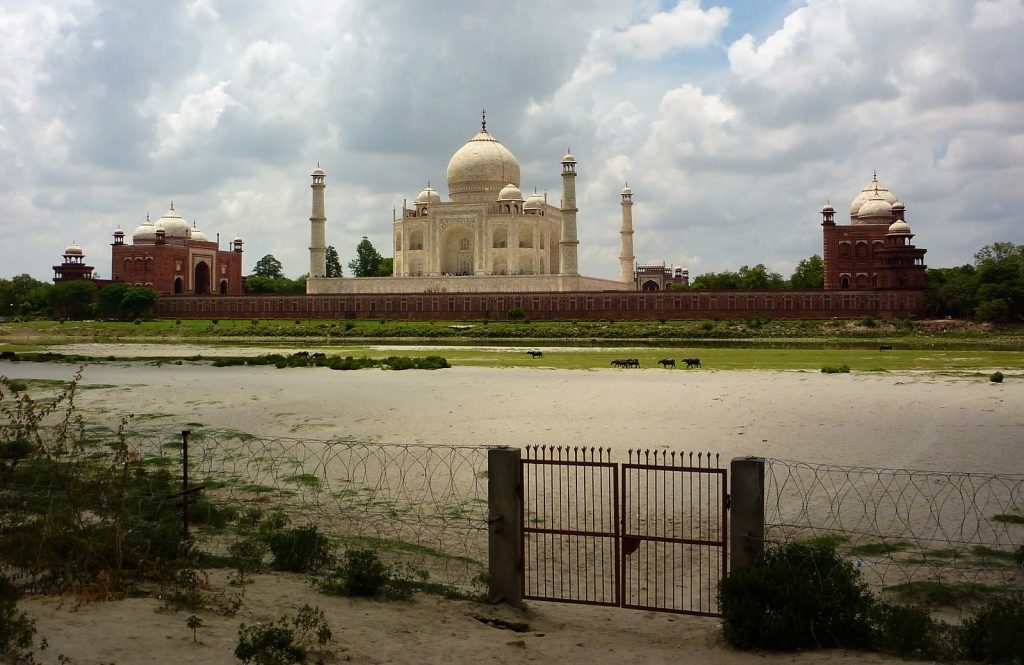 Also visit the Baby Taj Mahal
And did you know there's another baby Taj in the area? The building has the same structure as the big Taj Mahal, only it's a lot smaller. It's a lot calmer too and you can walk around it for a while.
We were also brought here during my first visit!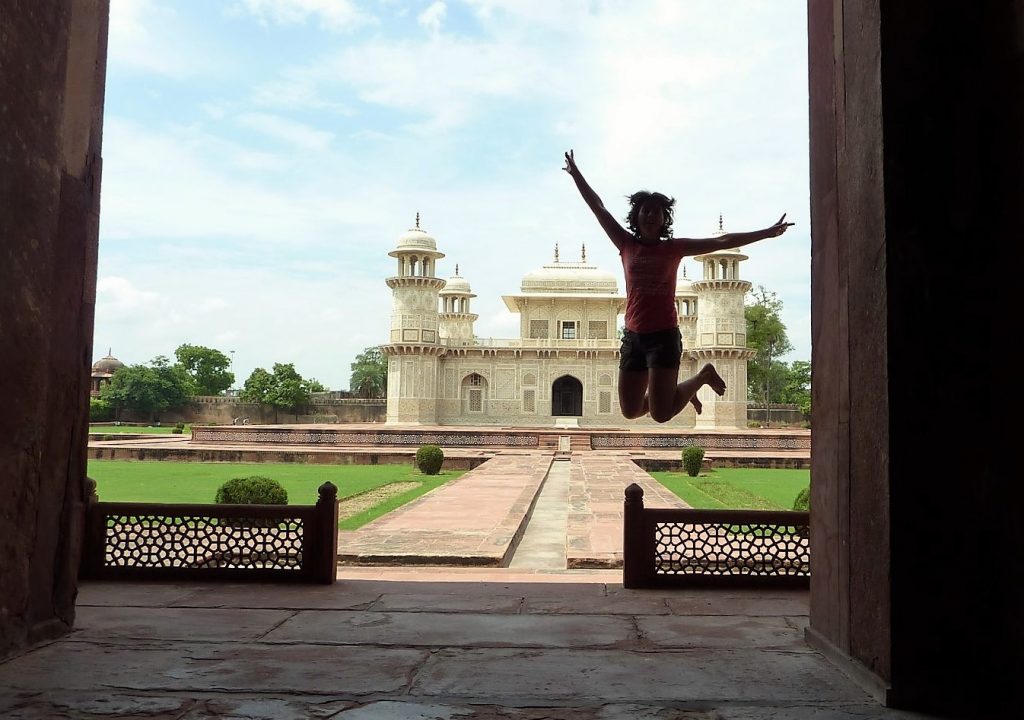 Visit ghost town Fatehpur Sikri
You can also choose to make a trip to Fatehpur Sikri. Translated, this means City of Victory. In the Mogul Empire it was the capital from 1571 to 1585. You will often hear the name Akbar the Great when you travel in this part of India, he was also the one who had this city built. Due to a shortage of drinking water the city became empty after 10 years and became a ghost town.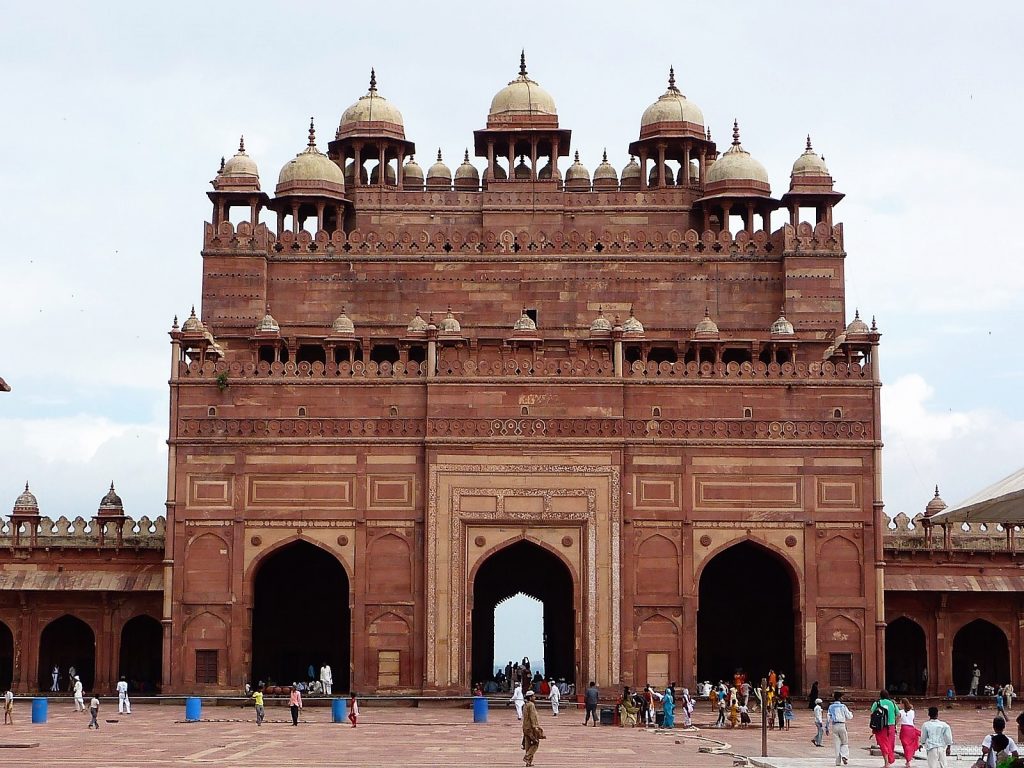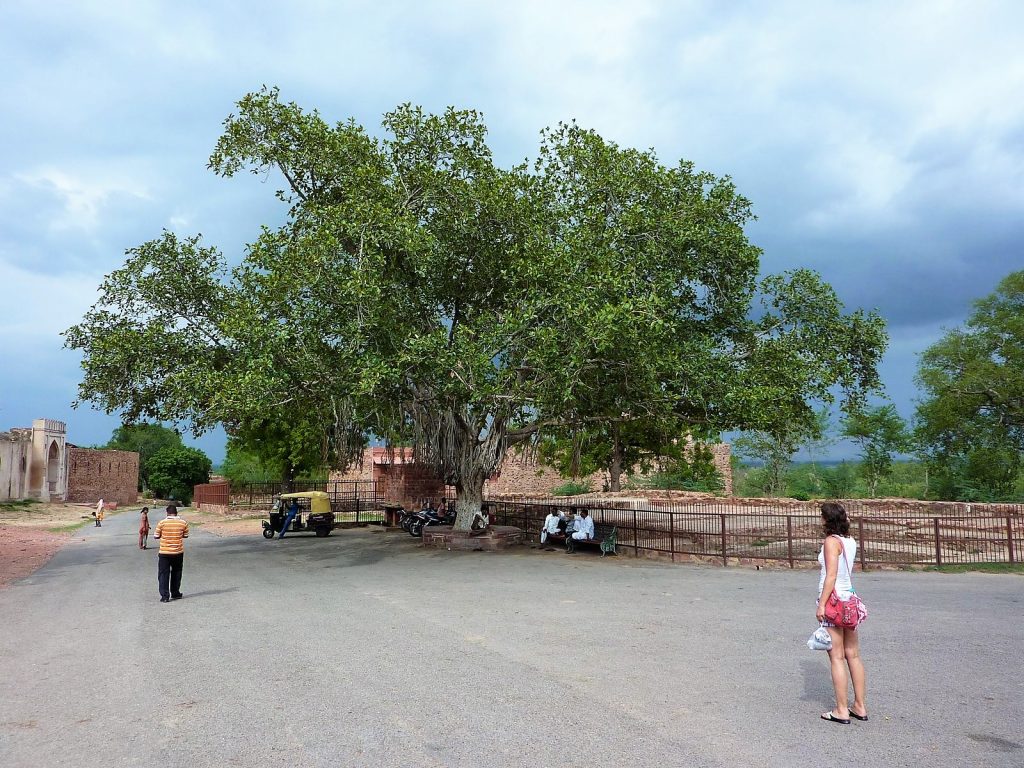 If you liked this sunrise too would you share for others too?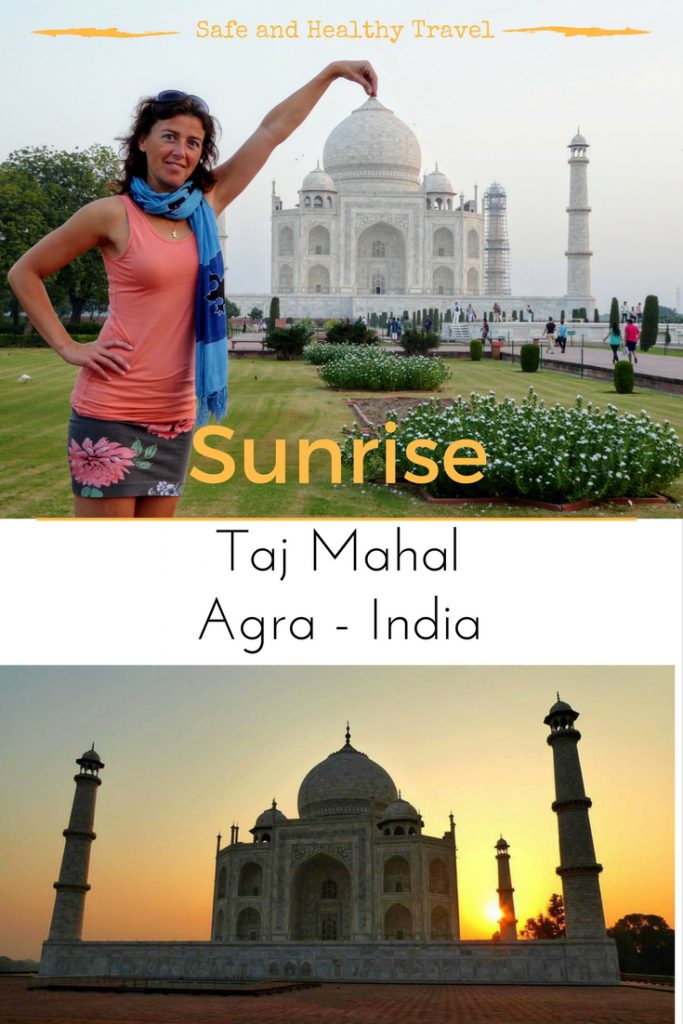 Do you want to read more about my adventures in India?
Read about my Streetfood tour in Mumbai
In Search for that Tiger! Periyar Tiger Reserve – Thekkady, Kerala
Srinagar and its gorgeous Dal Lake – Kashmir, India
The 5 Highlights of Jaipur – Rajasthan
5 Tip to increase your safety – dark hours – Delhi –  India
—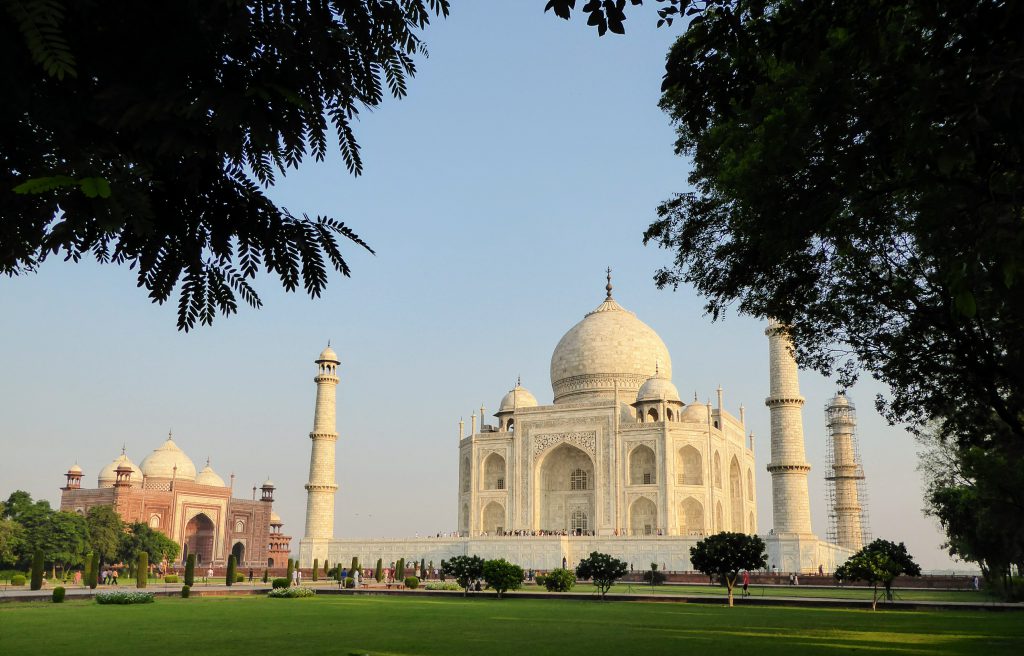 and turning around for a last time…
What a great sight!
—
Can I inspire you to go diving too?
I hope you love this world as much as I do!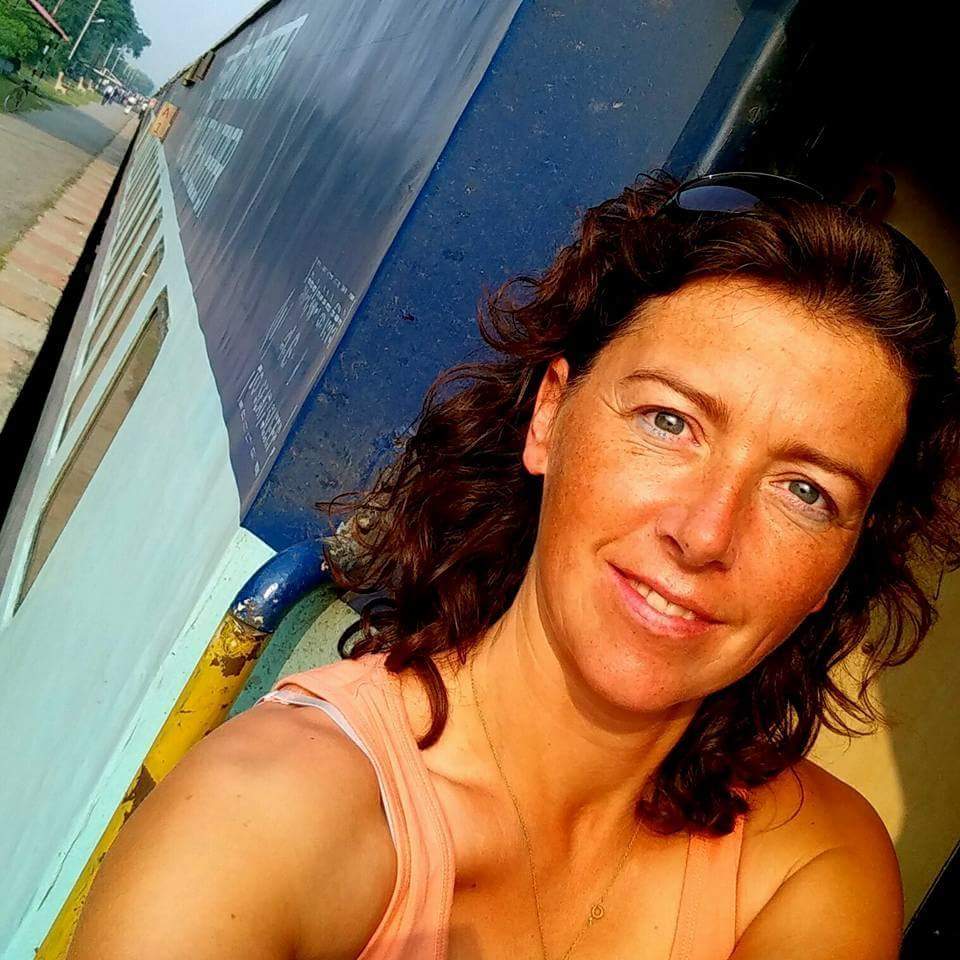 Jacomijn is een politieagent uit Nederland die jou graag laat zien hoe je veilig, actief en gezond de wereld kan over reizen. Safe and Healthy travel is a MUST