Visiting the Shaman – Mentawai Islands – Indonesia
|
Visiting a shaman on the Mentawai Islands of the coast of Sumatra – Indonesia. That almost sounds like a tv reality show in which you are not starring, right? Or at least as an expedition where we as 'normal tourists' don't come because it takes you weeks to get there? Travelling becomes easier and far away, foreign cultures come closer! And so I went to the Mentawai Islands – Indonesia for 4 days to stay with the shaman!
In the beginning of my travels I traveled purely the tourist spots, these travels are easier because you are always close to tourism. As I have more experience in traveling I also long for more remote places and therefore more authentic experiences. I had already seen several times that you could spend the night with the shaman on the Mentawai islands near Sumatra, Indonesia and of course that seemed very interesting to me! Just meeting a shaman was something that appealed to my imagination and then the whole journey towards it, a long way into the jungle and far away from civilization, staying at their home for a few days.
Visiting the Shaman!
Mentawai Islands – Sumatra, Indonesia
When I contacted Roni's Tours where I booked already a couple of trips in 2014 it turned out that he could arrange this for me. So in my 2.5 month trip at the end of 2019 I planned some time on Sumatra so this wish could come true!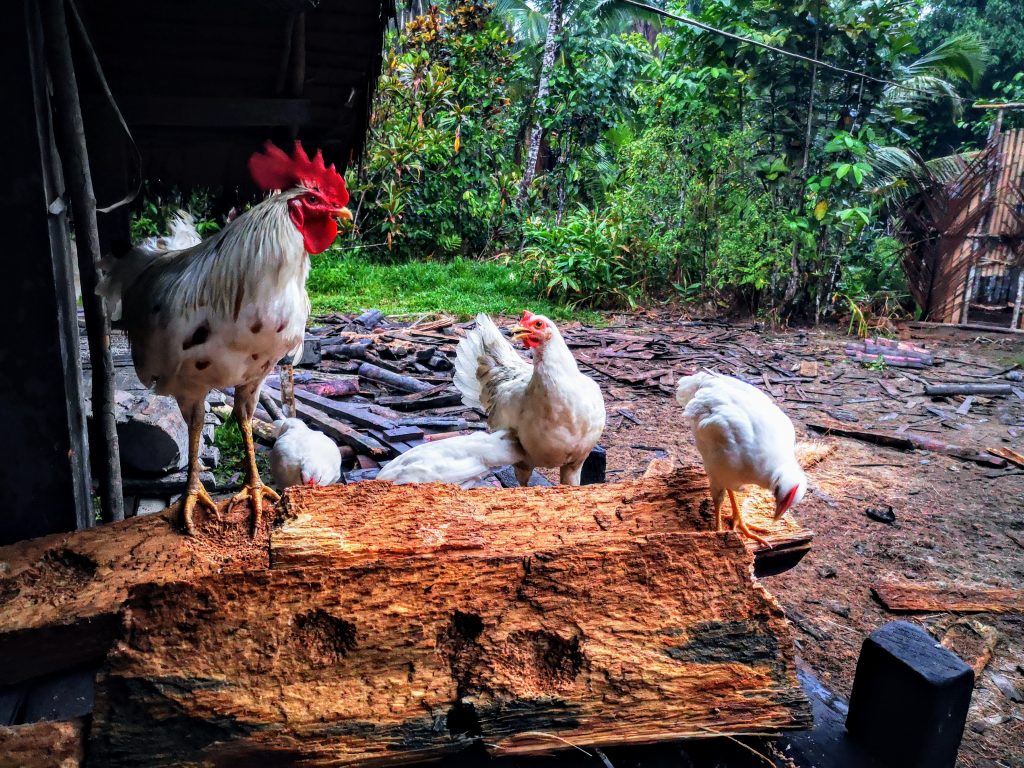 I was on the island of Sumatra and before I went to the Mentawai islands I first slept in a cave in the Harau Valley and spent a night on the volcano Marapi hoping to see a beautiful sunrise the next morning.
 Visiting the shaman – Mentawai Islands
And then it was time for me to go to the Mentawai Islands!
I was going to stay a few days with a shaman in the jungle! In the middle of the night I took a taxi from Bukittinggi to Padang on the west coast of Sumatra to take the fast ferry to the Mentawai Islands early in the morning. Oncy Oni from Mentawai Experience picked me up and introduced himself. We went to his father Aman Gresik, he is the shaman where I was going to stay the next few days. The first part to Siberut was 3.5 hours sailing (Sikabaluan). There we stopped for a while and had lunch to then continue to the end point called Maileppet.
The total trip took us 5 hrs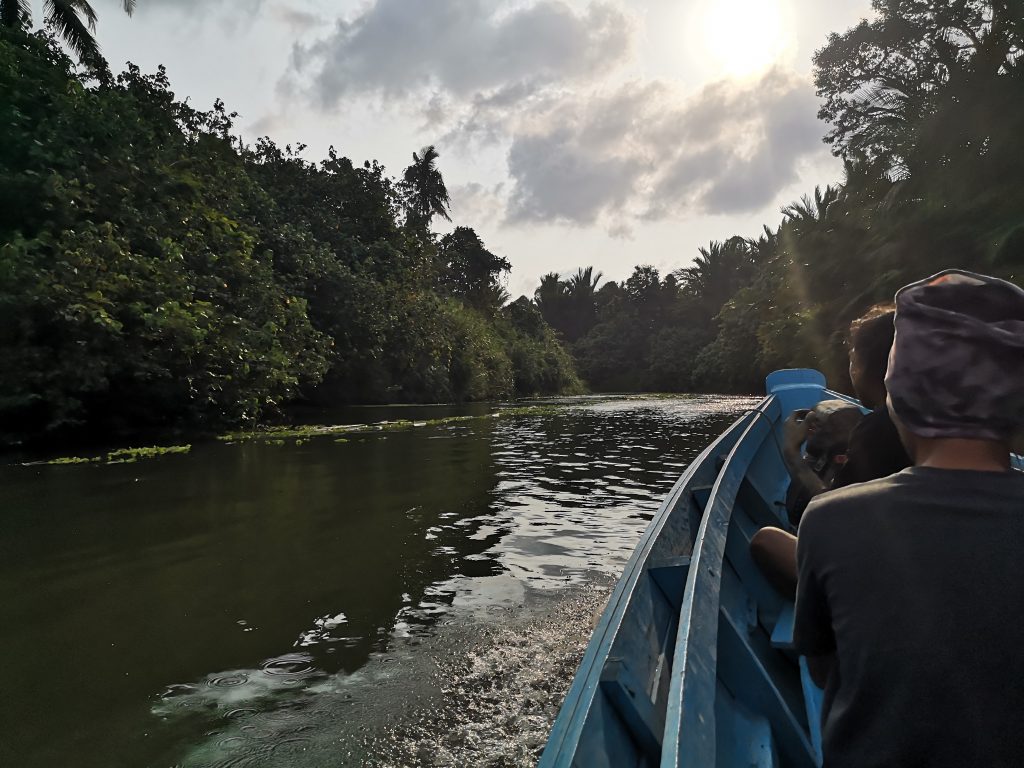 Mentawai Islands are known for their good surf beaches.

The first stop was at the town of Sikabaluan and many people, obviously surf dudes and surfgirls, left the boat to go to their destination. There are a lot of nice resorts, hotels and places for them to have a good time with the beautiful waves they can catch here!
Day 1: Padang – Batosap
On the island of Siberut of the Mentawai Islands we got off the boat at Maileppet. Here we were met by a number of family and friends of Oncy and we went on scooters to the home of family in Muntai Village. Here we got some tea and sat down to relax and recover from the boat trip. We were reported to the local police and when that was all right we continued with the boat into the jungle.
We still weren't where we were going!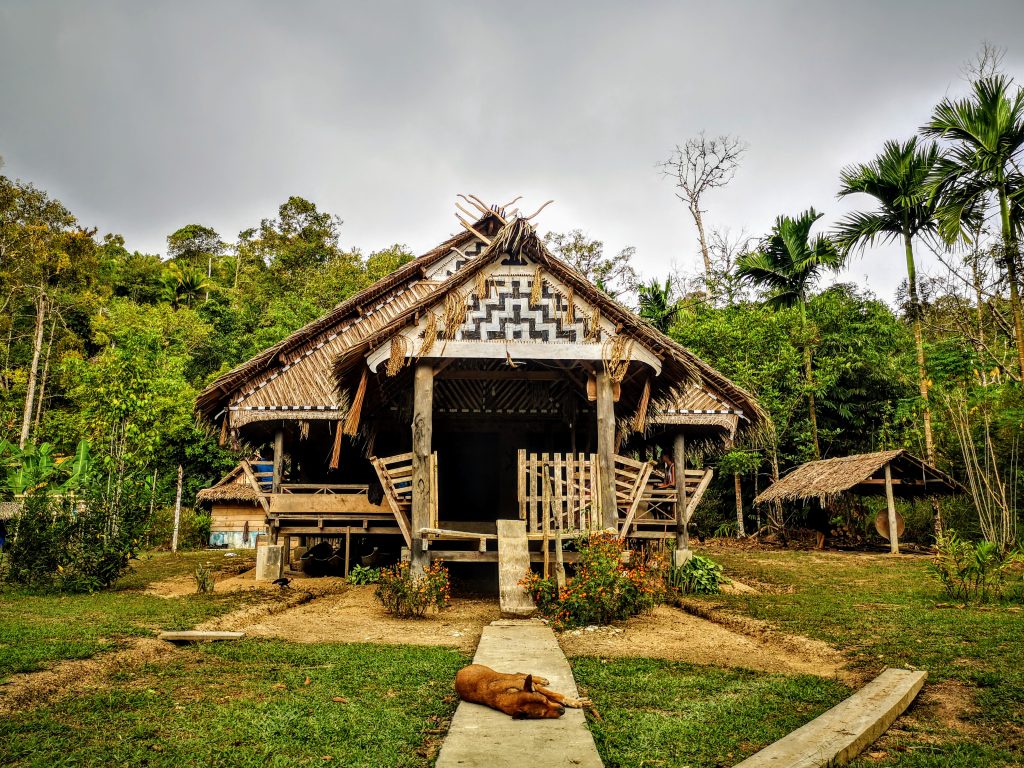 With a boat we started a trip of at least 2 hours and was complicated because the water level was too low. We walked pieces and pulled the boat along… At one point we decided to continue walking and to spend the night with another family member. Also a shaman on the Mentawai Islands!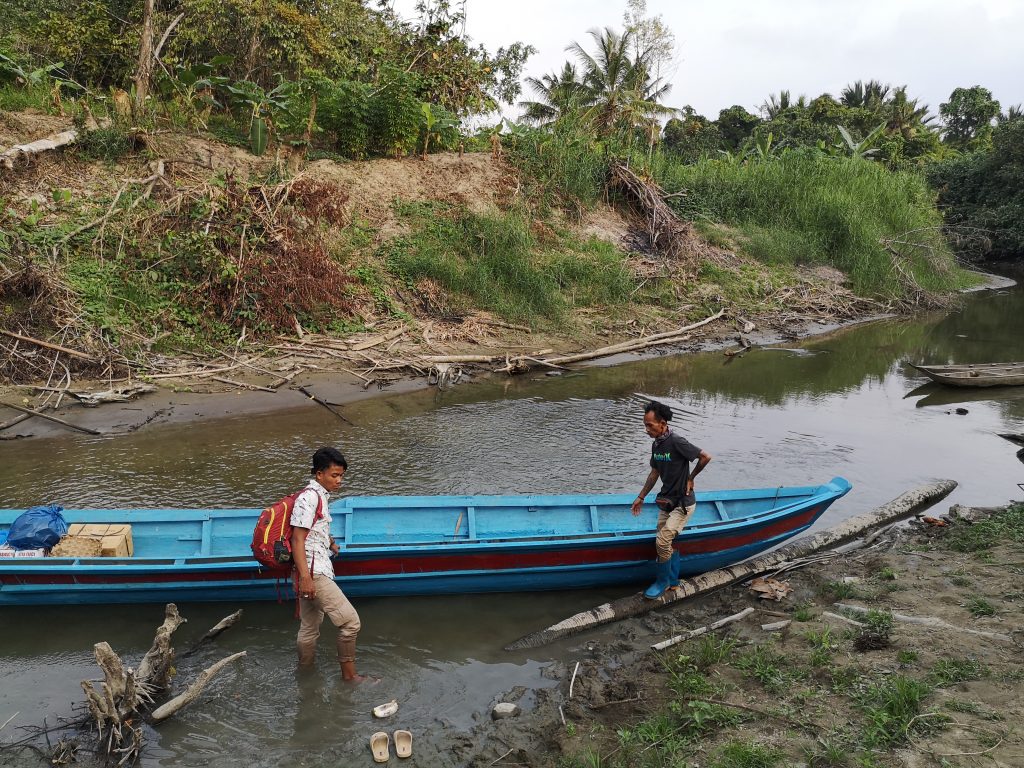 After a trip of about 45 minutes we arrived at Pange in Batosap. Pange lives here with his wife. They are already at age but he is very cheerful and loves to joke. Oncy, Depat and Pange get along really well. I don't understand anything about it but I see that it happens with respect but that there is no distance between them. Nice to see you.
Visiting Mentawai Islands – Indonesia
In the back of the house there was an old woman on the floor. She was sitting in front of a fire and was preparing food. They explained to us what this was. I saw that she put bamboo sticks diagonally above the fire and it was explained that there was sago in here. Sago is a palm tree where they take the inside out of the trunk, process it and make some kind of bread from it. With every meal this is the basis of what they eat.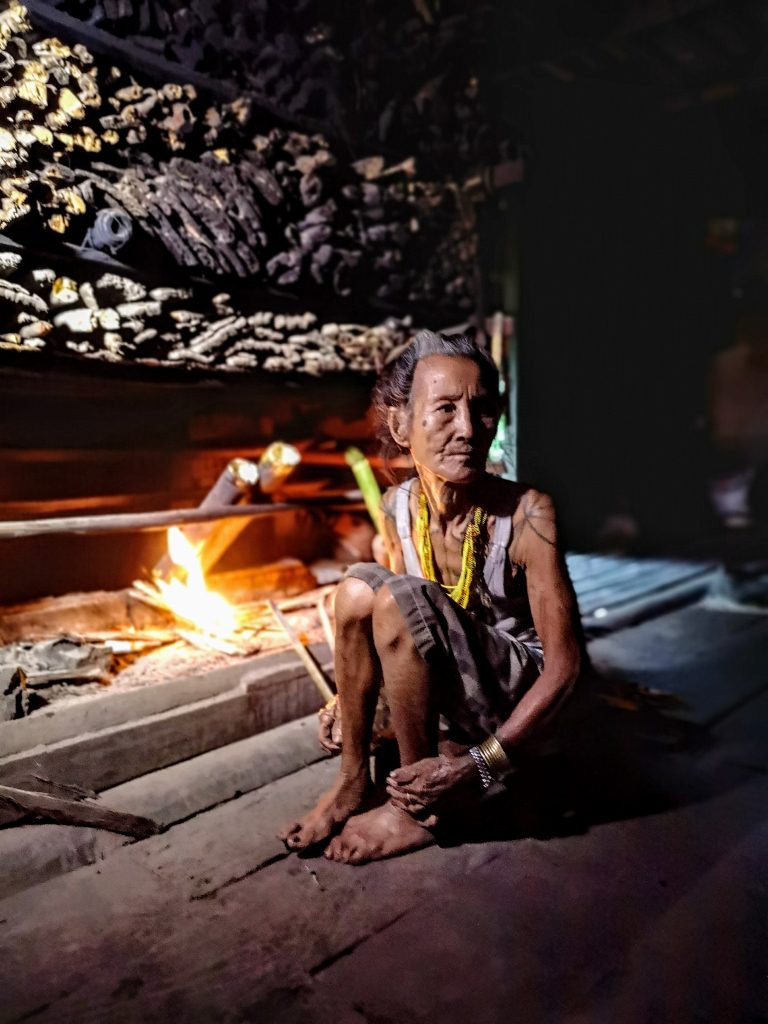 The house they live in is quite big, it has 2 parts. A large open front part which has long benches on the sides. The rest is free and one sits a lot on the ground or on the benches. On one side was a kind of outdoor kitchen. There was a fire made and our dinner was prepared. When it was ready I too sat down on the floor and we ate the freshly prepared food.
To complete the picture there was a lantern hanging from the ceiling which provided us with atmospheric light.
Of course, they don't have electricity here. I also saw on my phone that no signal was coming through. Isolated from the outside world we were sitting here with the seven of us in the jungle eating delicious food.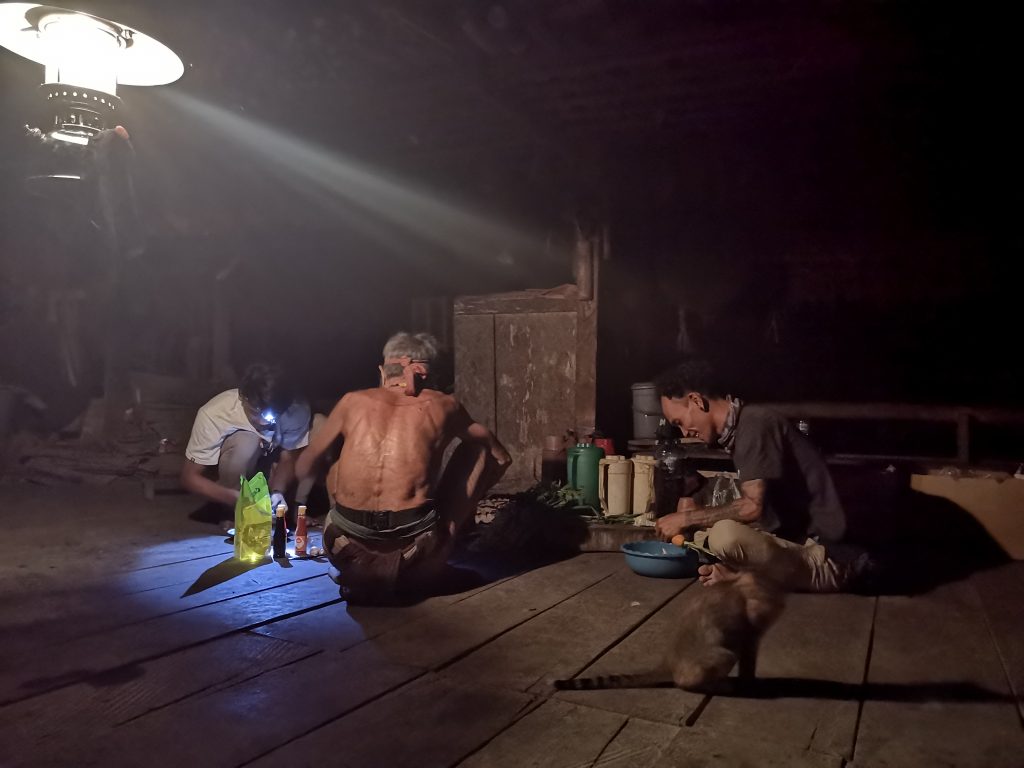 After dinner we got ready for the night, a couple of mosquito nets were hung up and a blanket on the ground. I must say it was somewhat on the hard side but I enjoyed all the sounds of the jungle and the outside air in which we slept.
Sleeping at a shaman on the Mentawai Islands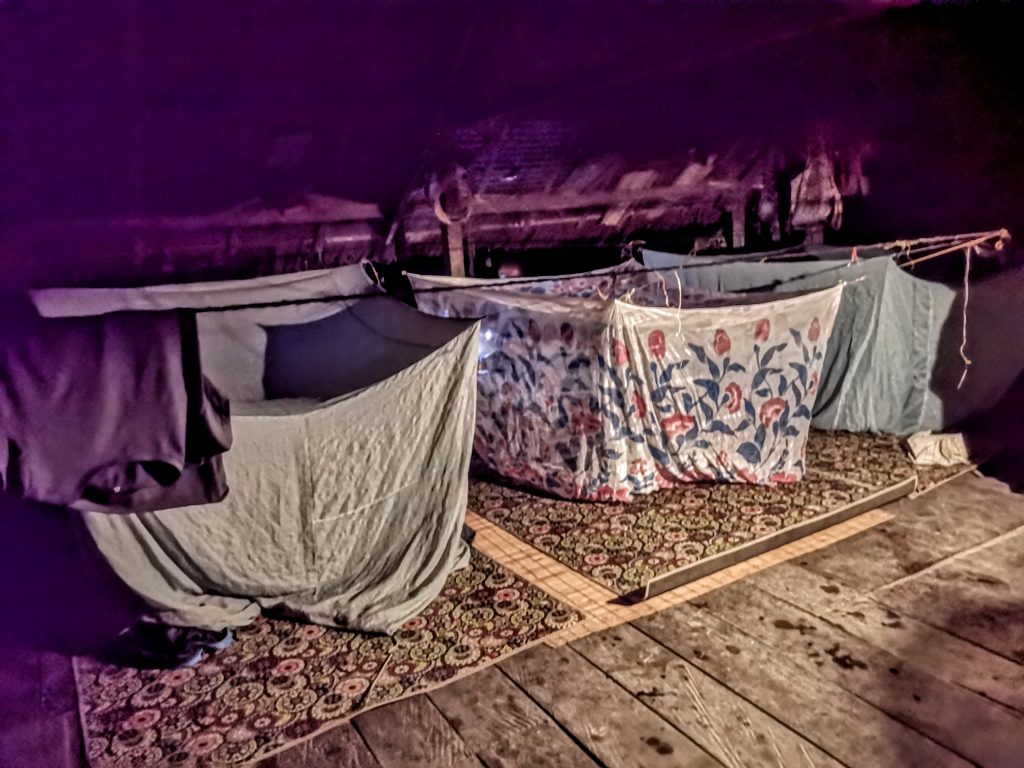 In the morning we had a delicious breakfast and packed everything back in to go further into the jungle. We went to Batnobay where Oncy's father lives. We said goodbye to Pange and his wife but not before Pange had opened a coconut for us so we could drink the fresh water from it.
Delicous!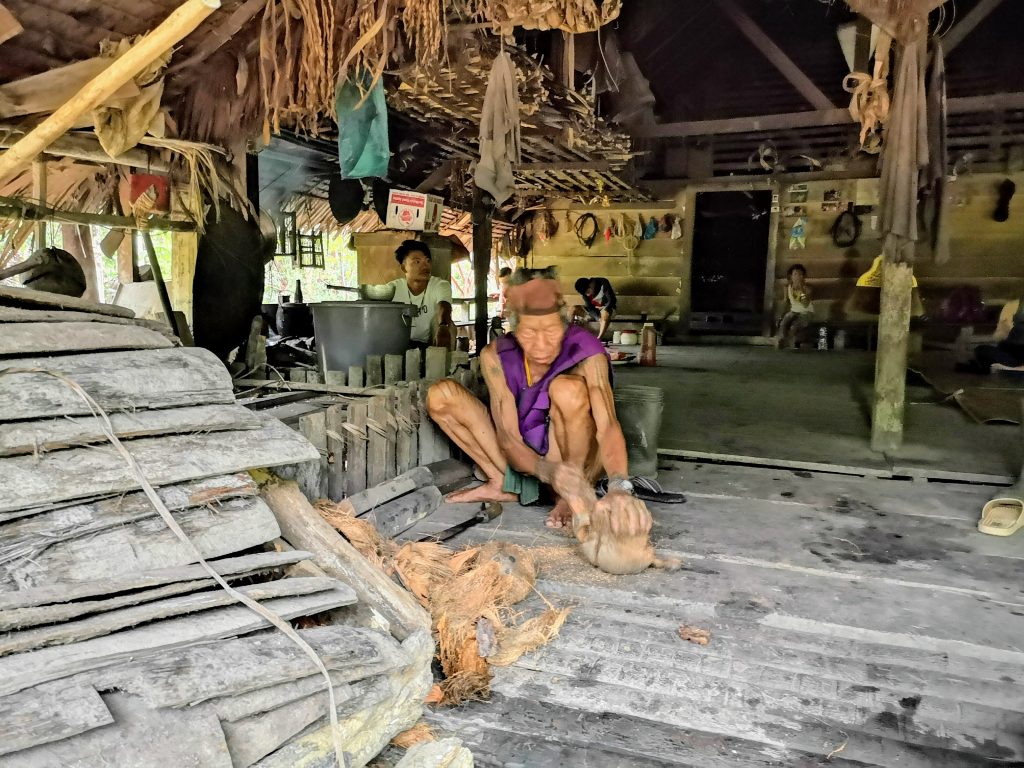 Day 2: Batosap – Batnobay
We made another nice trek through the jungle on our boots. No matter how dry it was in the river…it's still so wet in the jungle. Luckily! The humidity is high enough for the plants and the jungle to survive even though there hasn't been a good rain shower for years according to Oncy.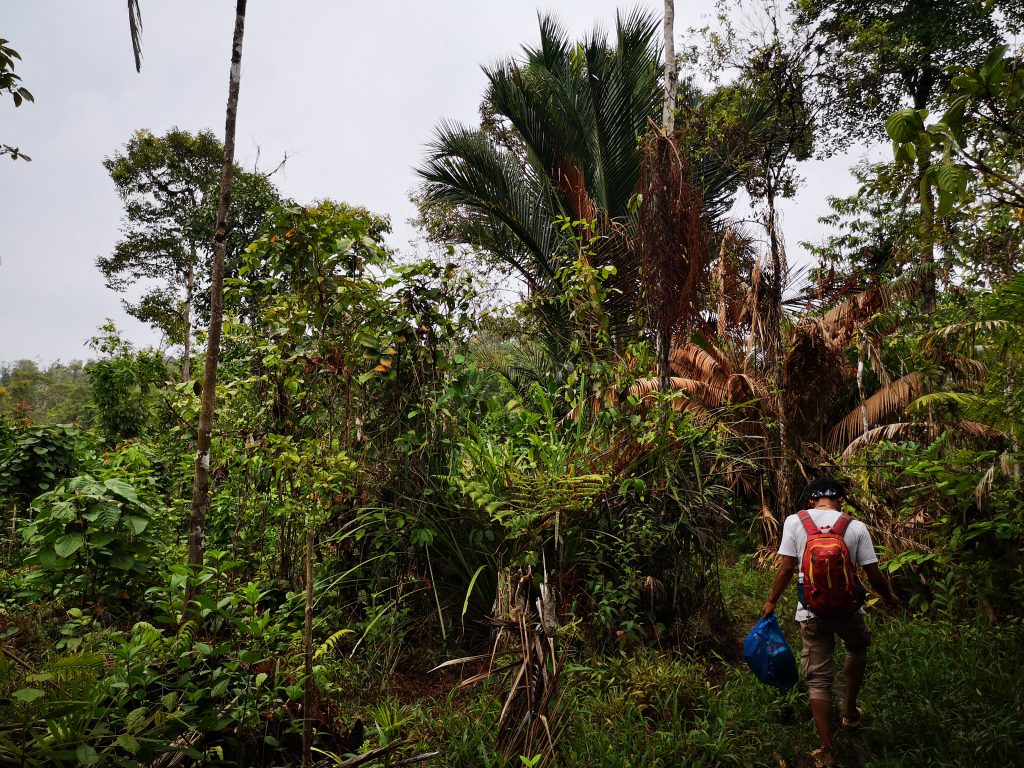 On the paths we walk there are many tree trunks so we can stay out of the puddles… Although it is quite difficult to keep your balance on them 🙂
After a short break in an empty, old house we walk on. We have walked for about 3 hours when we arrive at shaman Aman Gresik, the father of Onci. He welcomes us to his house!
Our house for the upcoming days!
It's a similar house on stilts to what we saw at Pange, only it's bigger. After the first open part where we can all sit on benches on the sides you can go inside where a large cooking island … only then it's a fire on the ground. On the walls there are cupboards and you can see everything like a bow and arrow and all kinds of skeletons. When I walk further I enter the back part of the house, the 'bedroom' where there is another fire on the ground. I think this is where the sago is made and all supplies for cooking are, but I also see drums to make music.
This rear part is easiest to close off completely and therefore safe against all kinds of animals. In the next few days I would also see several animals walking in and then being chased away again.

But they don't close it off properly here… The game goes on every day, sometimes an animal wins but most of the time man wins.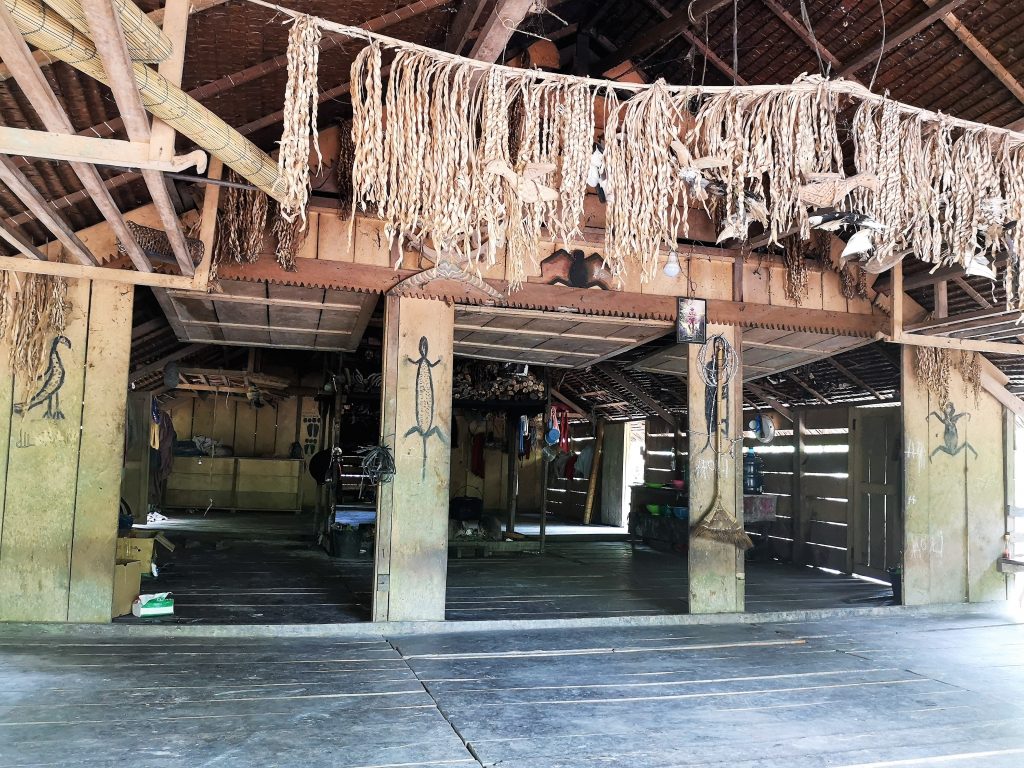 We'll get tea and biscuits and we can sit down… I'm amazed by the men sitting there. It's Gresik's brother and a neighbour visiting. They are all as tattooed as I see at Pange and now at Gresik. They are traditional tattoos and they are based on nature. Only if you are a shaman you can wear these tattoos. These tattoos are put all at once and there's a whole ceremony involved… After that you are a shaman and you are allowed to help / heal people…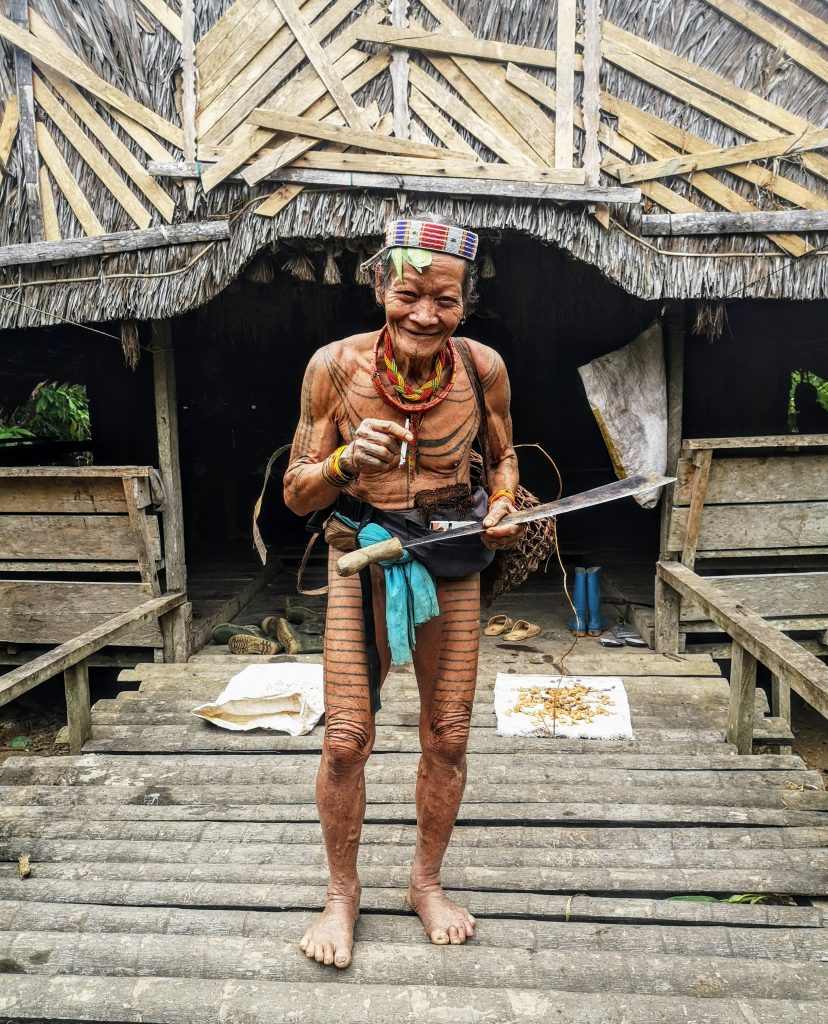 Gresik says he was sick for a few days after the tattoos were set…

The body has to process it all of course! The ceremony but even more so all the poison in your body from the ink. This is made from soot and cane sugar water…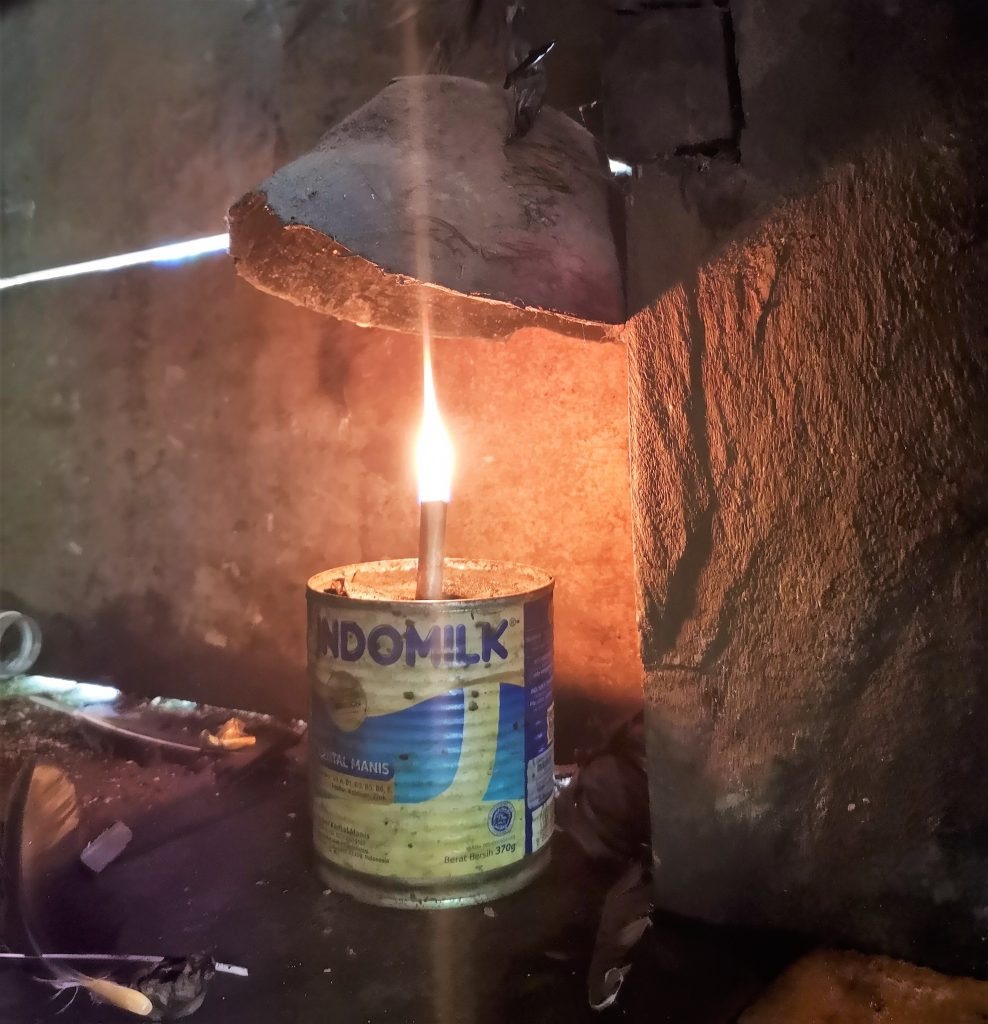 When I think of what a shaman will do, I think of being sick, physically…but I understood that he also helps people who have lost their souls…are not in the right place…. That night, Gresik sang a beautiful song for us. It gives us all goose bumps…
This song was for a soul what he saw in the jungle and what he wanted to convince to go back to the body it had left…
Visiting the Shaman – Mentawai Islands – Indonesia
Day 3: Batosap – culture
I wake up again by the jungle sounds as it slowly becomes light. Just like on day 1 and 2 I slowly realize where I am. I am sleeping in the house of a shaman on the Mentawai Islands…
That really sounds like a dream… a movie… a documentary…
We sleep on a thin mattresses and of course under mosquito nets, I'm used to it already. The sounds of the night are wonderful! The outside air in which we find ourselves 24 hours a day is clean and good for you!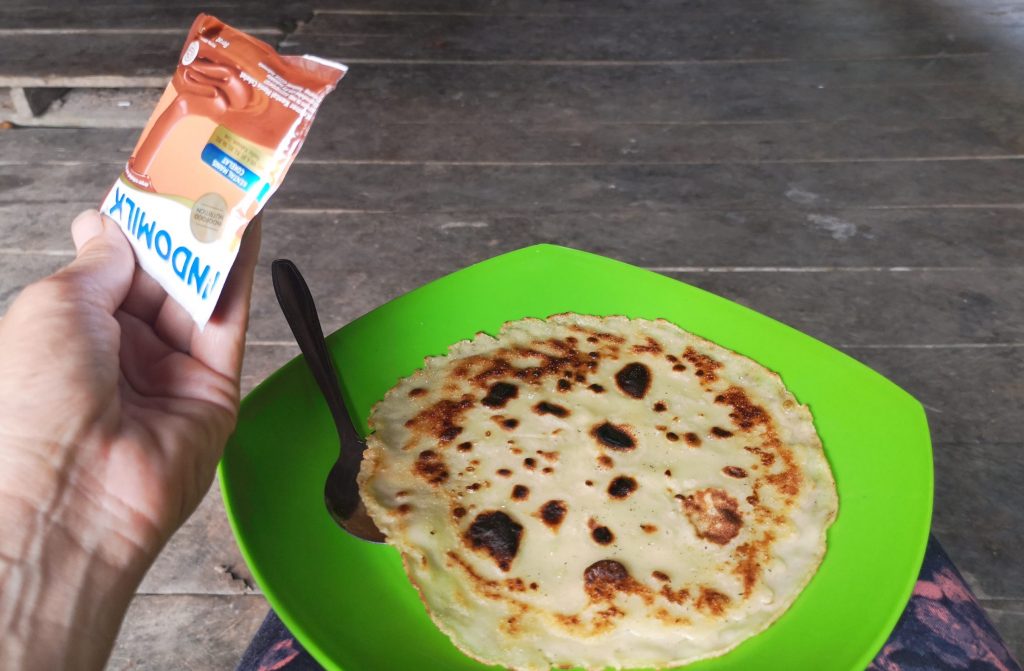 Every morning we get a delicious pancake with tea or coffee.
I find out that they also have sachets for cappuccino 🙂
This day was dominated by everyday activities of the past... …and actually still today, because this is still how they live. There's no electricity and the supermarket isn't just around the corner… Of course there are a lot of things that make life easier and that they do have from modern society, but in essence life here is as it was 100 years ago.
There are chickens around the house, there are some pigs… Vegetables are being grown and the sago palm tree is everywhere and it provides the basis for food for humans and animals.
Thick white worms as a delicacy
We started this day by cutting down a dead sago palm tree. There are delicious worms in there. I don't want to think about it but yes… it's a delicacy here I understood. After a walk we found the jungle in a dead sago tree and Aman and Pitiri started chopping it down to get it.
In the upper part of the tree the worms are eating the tree. So when the tree fell over they went straight to the top of the tree and started chopping it. I soon saw them: the big fat white worms…
Really! Some of them are huge.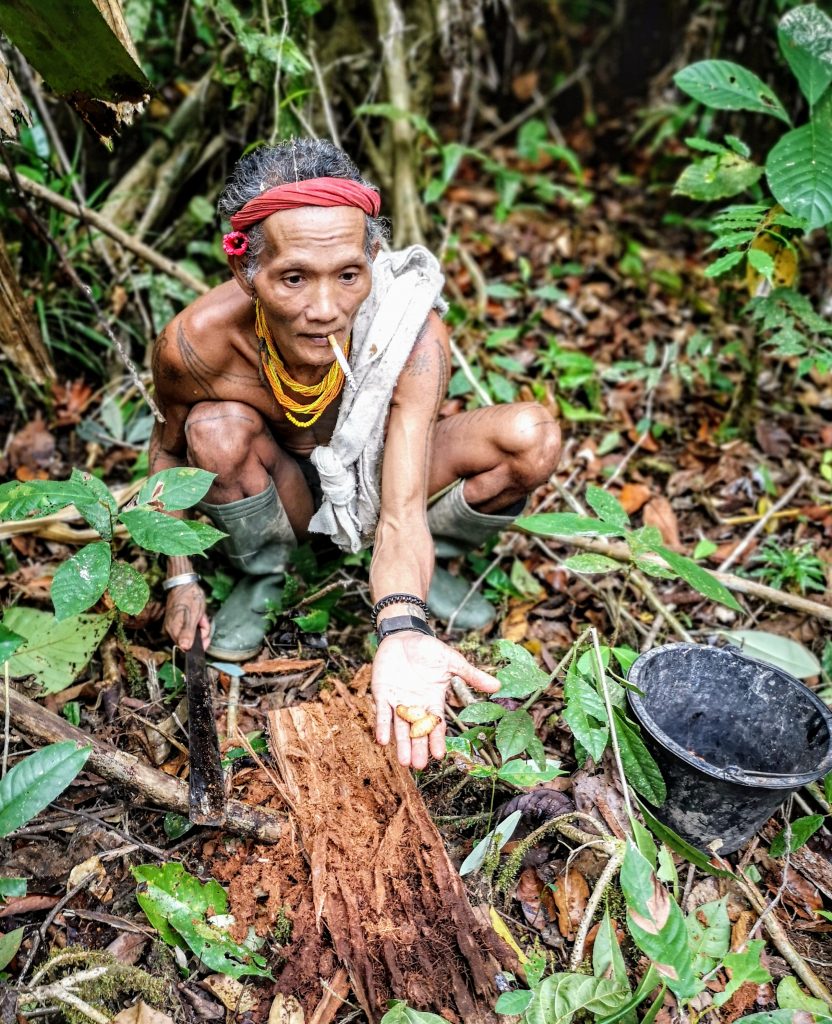 Would you eat them? Living worms?
Apparently they are so tasty that they couldn't wait because they started eating right away, they went in alive! I don't want to think about it. I'm really like that I take on challenges in a lot of areas that others find scary or too much … but when it comes to food I'm not like that at all.
When we came back they had gathered a big layer of worms in a bucket. They were impaled alive and then held over the fire… I didn't want to see it and left. I understand that this is how they've always done it… but I still think: Kill them now before you hold them over the fire…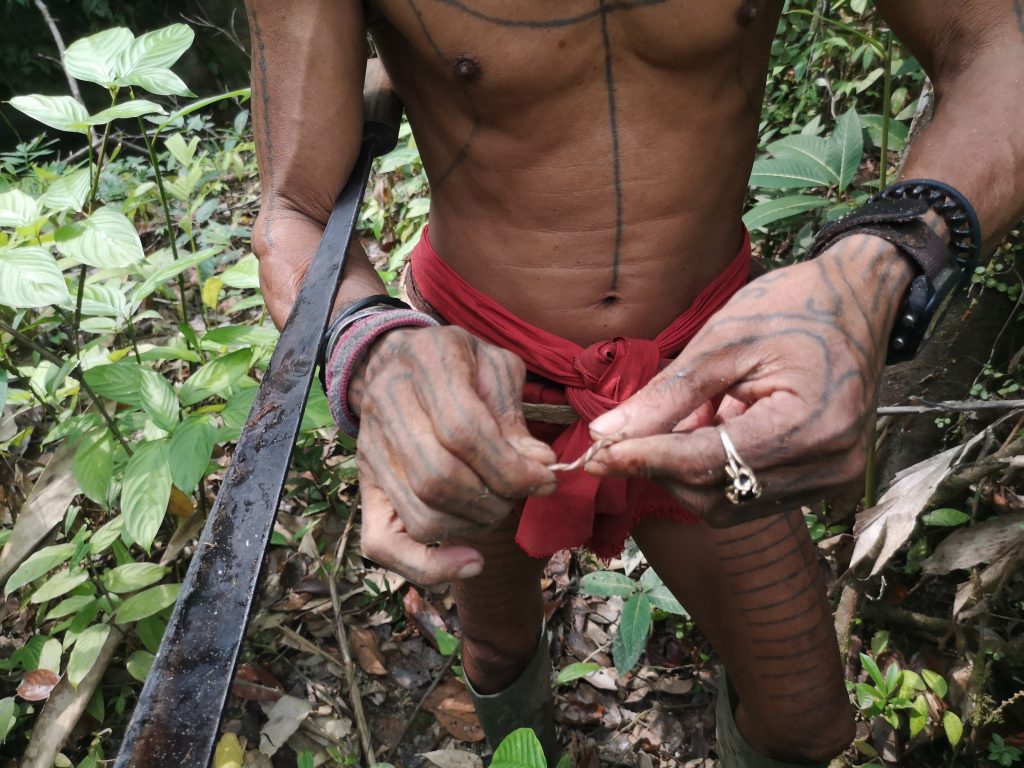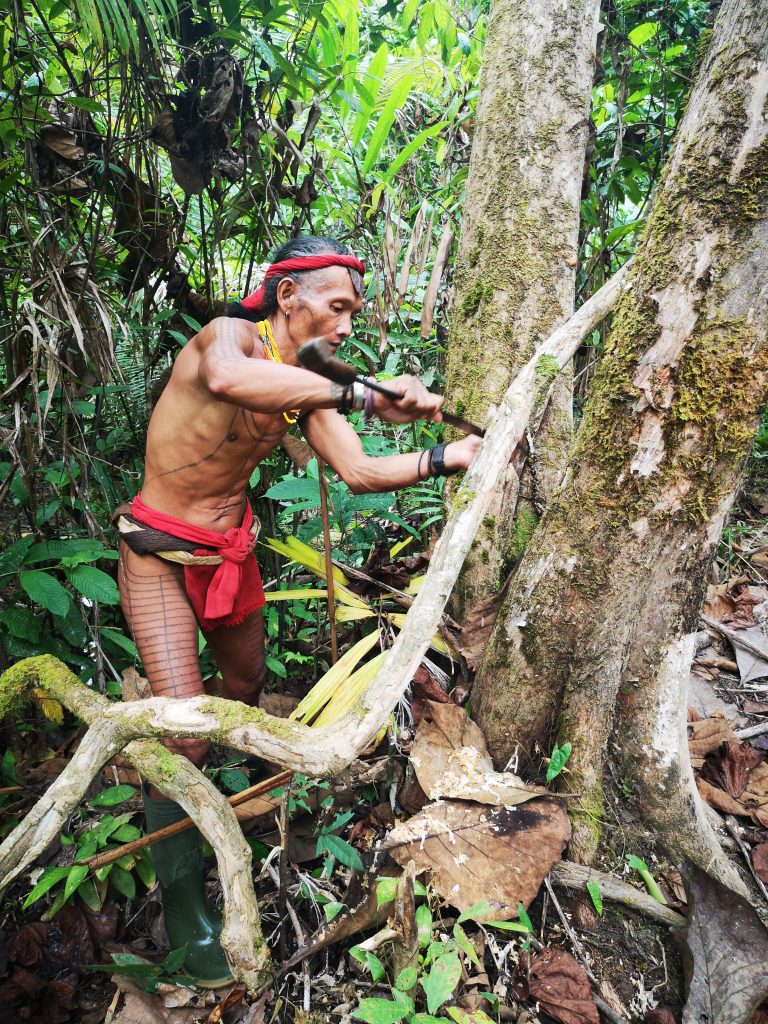 We went back into the jungle. We went to get poison to dip the arrowpoints in. Of course, if there's hunting, it's with bows and arrows. Lethal poison is smeared on the arrow. Gresik got some bark from a specific tree. He also took a small piece of root of a plant out of the ground and that's all he needed to make the deadly poison.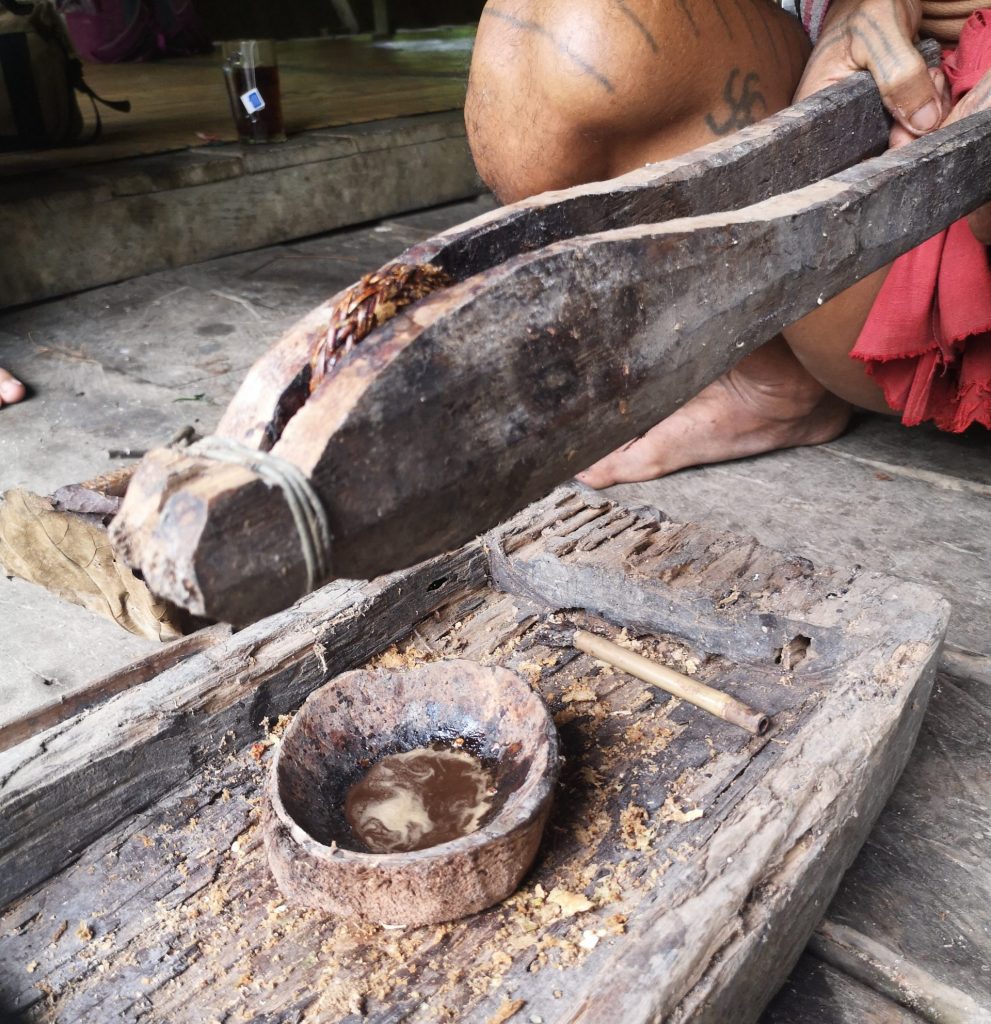 When we got home, he started to process it. The juice of the root was mixed with scrapings of the bark. He added some red pepper and when it was all mixed well he squeezed the juice out and this went on the tip of the arrow. The arrowhead was dried over the fire and poison went on it again. The arrows remain poisonous for weeks, so there is no need to do this on the day you go hunting.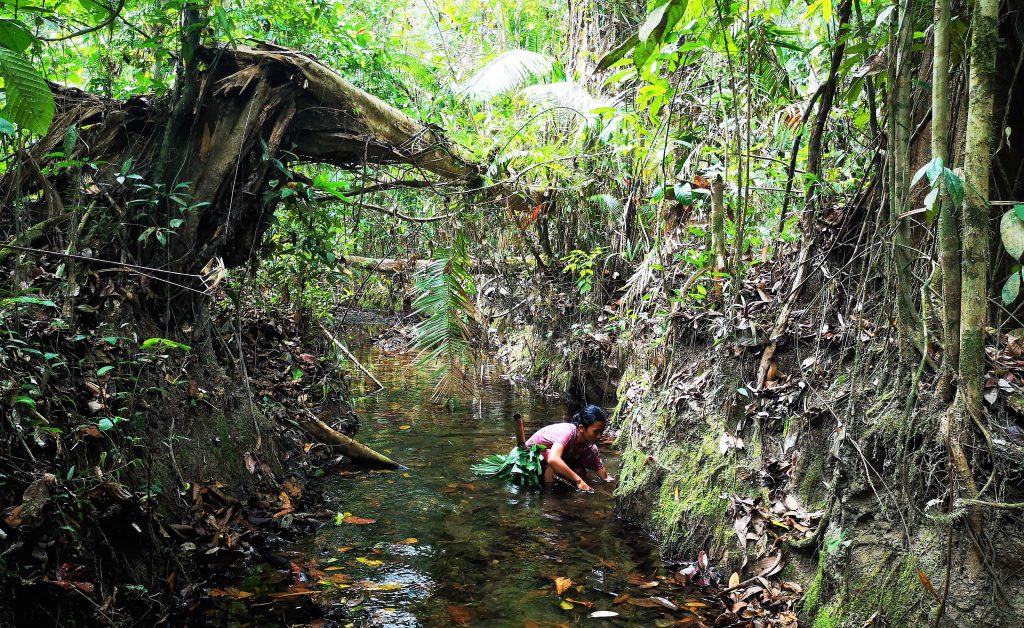 And when the men are hunting for meat, the women also make themselves useful by looking for fish in the river. So we were going to do that in the way they always have done and of course still do. The water was low and we waded through the river and got our nets through the water in search of fish. We caught some small fish and some shrimps. And so for dinner, for the carnivores, there was something extra to eat!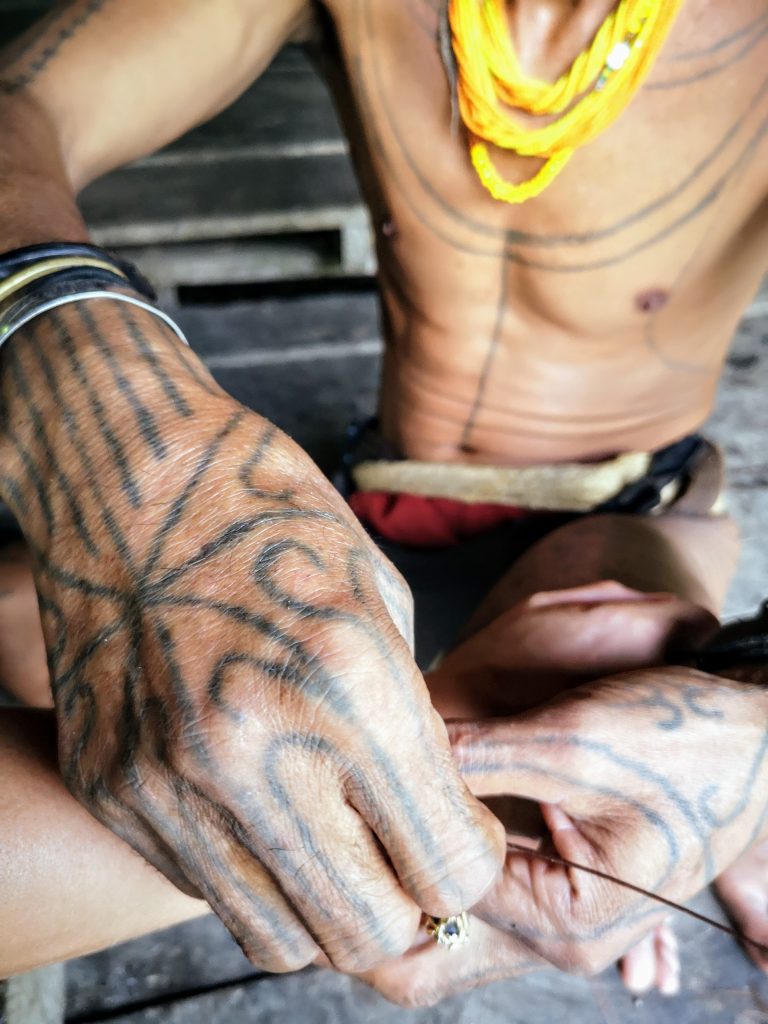 This afternoon we also got a bracelet from Gresik. He made it from an aerial root of rattan. I had seen him before with those thin twigs, they hung on the wall of the house. He had already passed them several times with a sharp knife to get the edges perfectly smooth. He asked me with him and wanted me to stick out an arm. Then he started to handwork, 3 times he put the root around my wrist and then he started to weave it through. He kept repeating this until he ran out of the meter long root.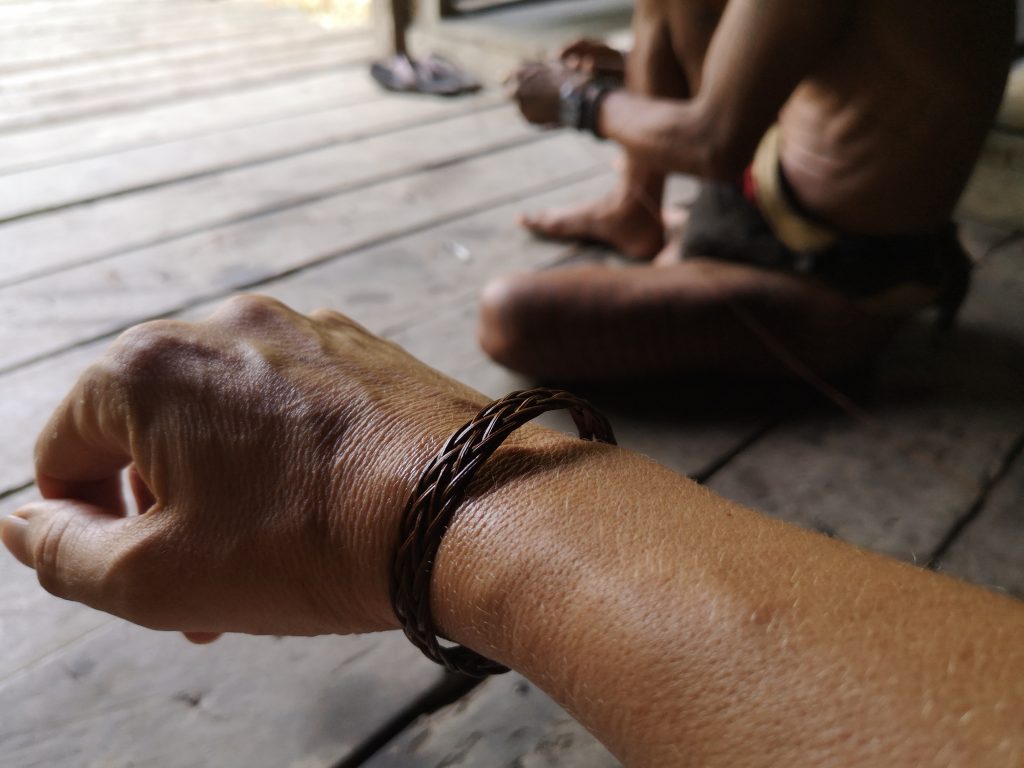 I've worn this bracelet for more than 2 months and when I went back to work I kept sticking behind stuff that I have on my safety vest and unfortunately it started to break down.
Day 4: Batosap – Journey back to Padang
The last day we said goodbye to Gresik. We had fun, Gresik likes to joke! I had to promise that I showed my police colleagues a picture that I had a Mentawai friend! Police always makes an impression and so they made jokes about it every day when they did something they thought it's forbidden by the police 🙂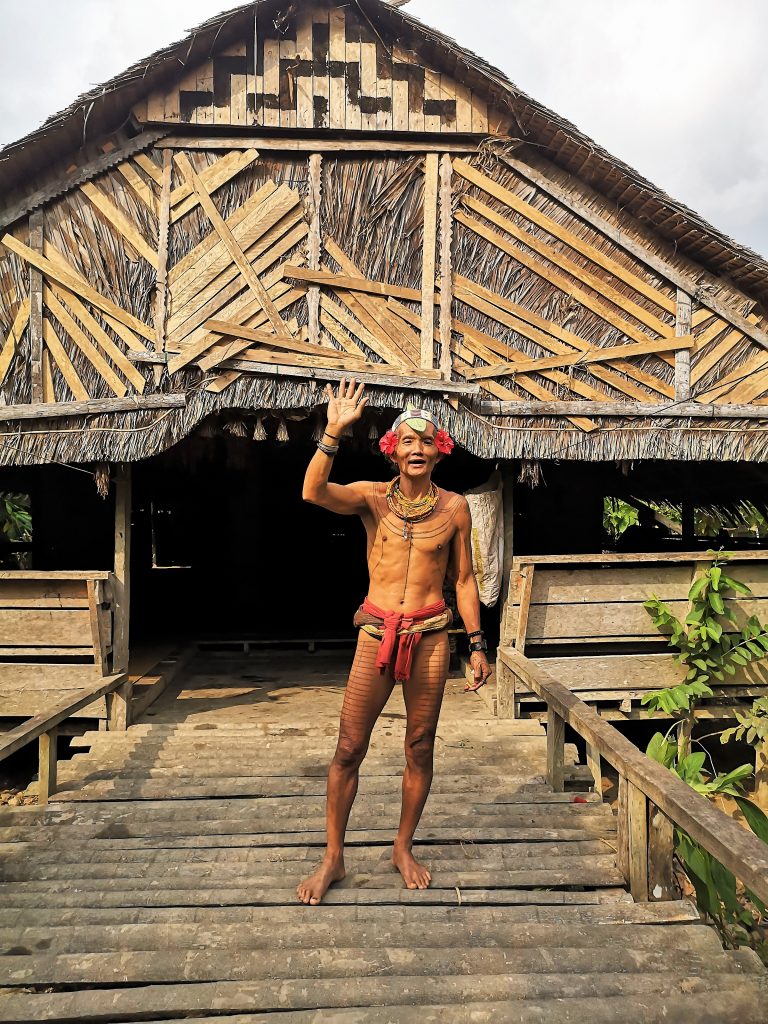 Fotosession Mentawai
Because Oncy also loves photography he added a photosession to the trip. He also likes to visualize his culture and wants to capture it. One afternoon two nephews arrived who (I'm sure they got something for 🙂 ) dressed up for us in traditional clothing and posed for us. Oncy took some cardboard to burn for that extra smoky effect and we went into the jungle to find the most beautiful spots.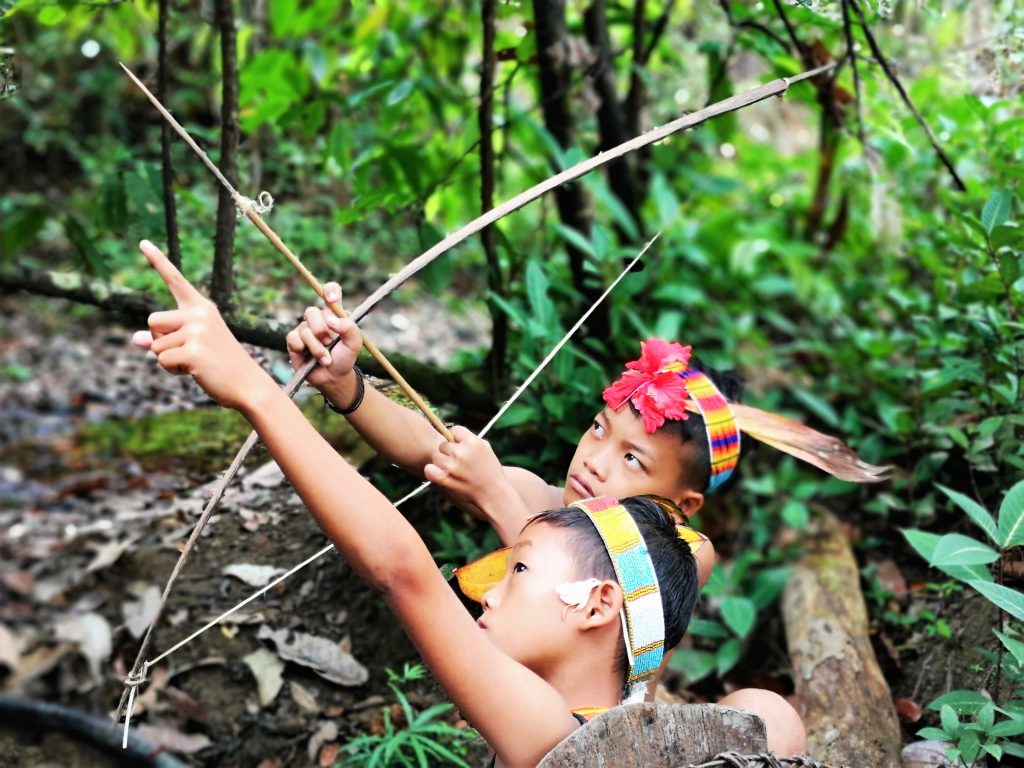 Do you think photography is cool and is that partly what you travel for? Then you should definitely book your trip with Oncy Oni from Mentawai Experience!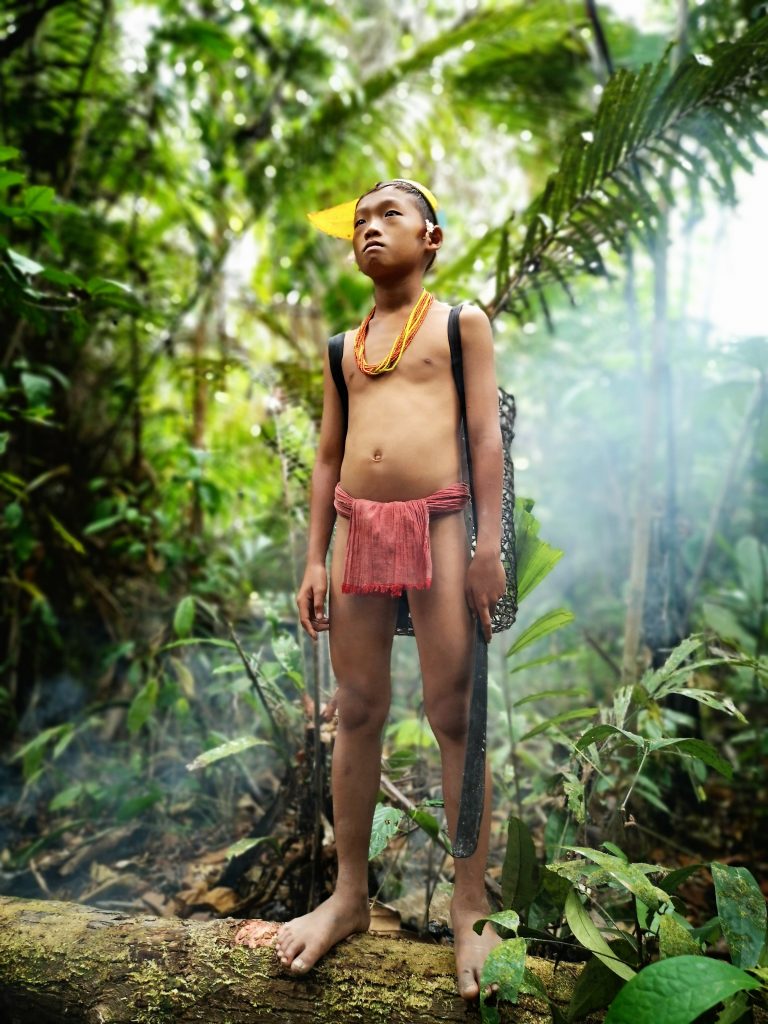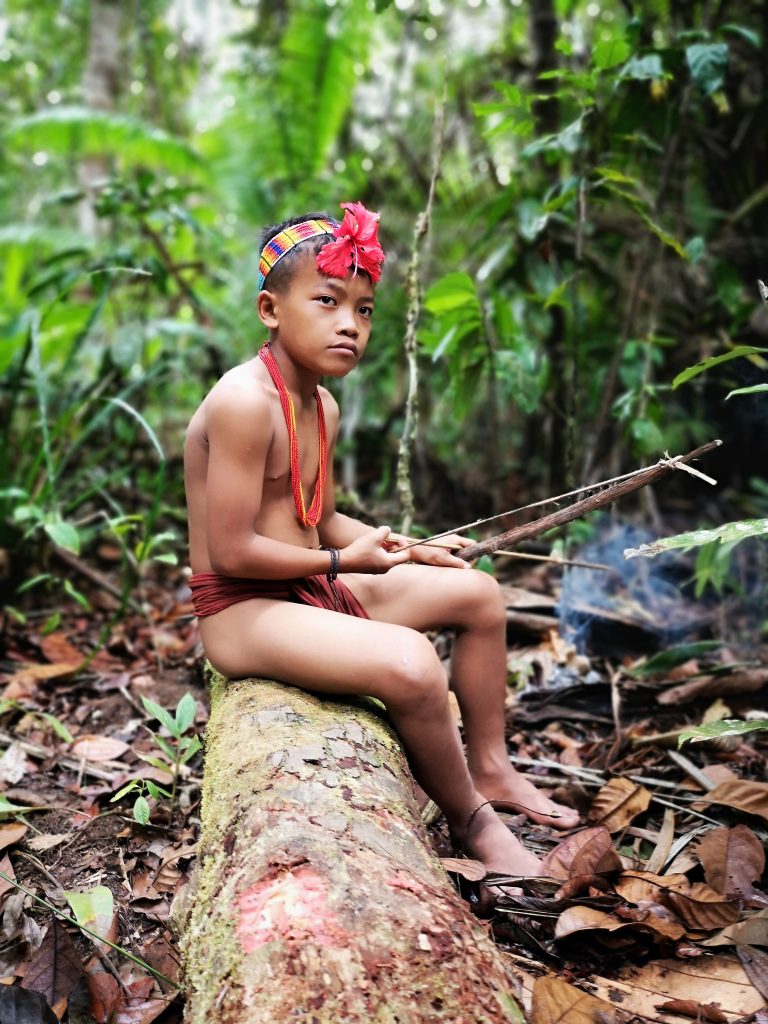 Visiting the shaman – Mentawai Islands
Sumatra, Indonesia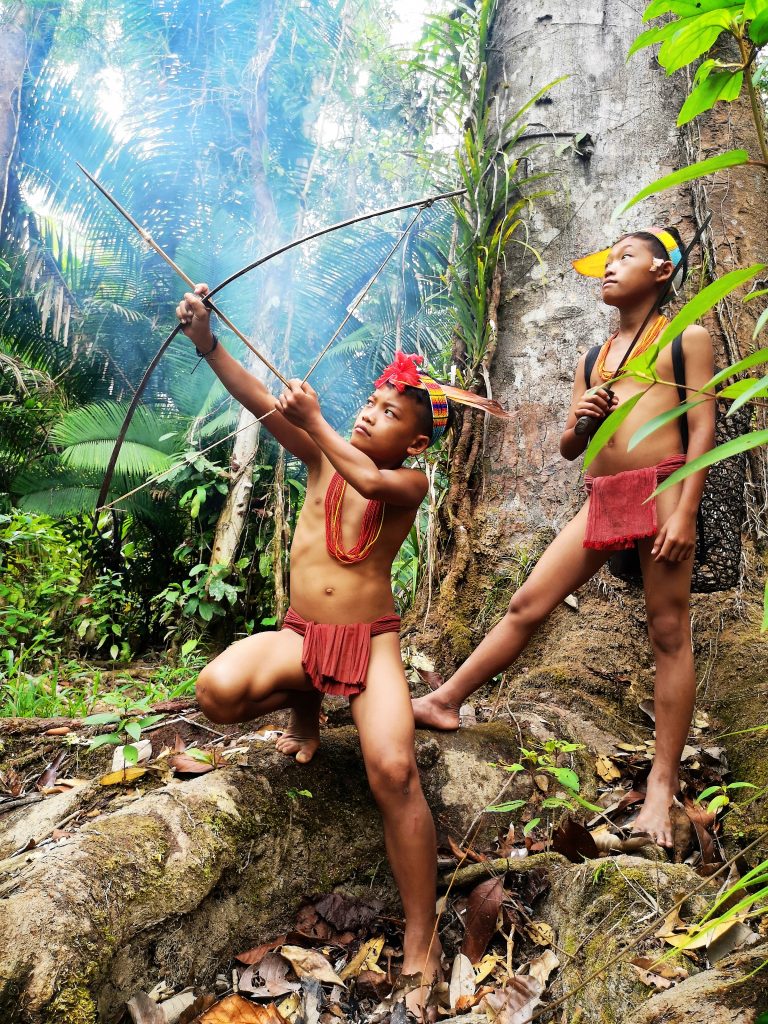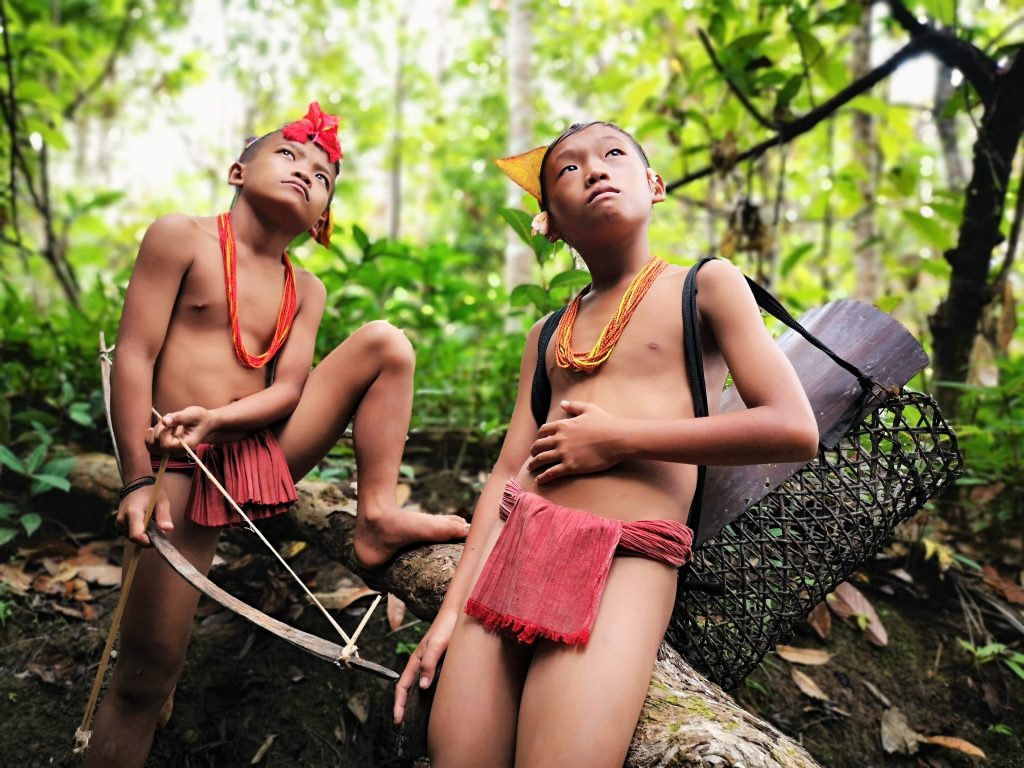 I've had some great days in the jungle. I learned a lot about the lifestyle of the shaman on the Mentawai Islands and how they still live to this day. Of course many people have moved to Muntai Village where there is electricity, shops and a school has been built. Yet there are still plenty of people living the way they always did.
And they live in the jungle and with the jungle … in balance!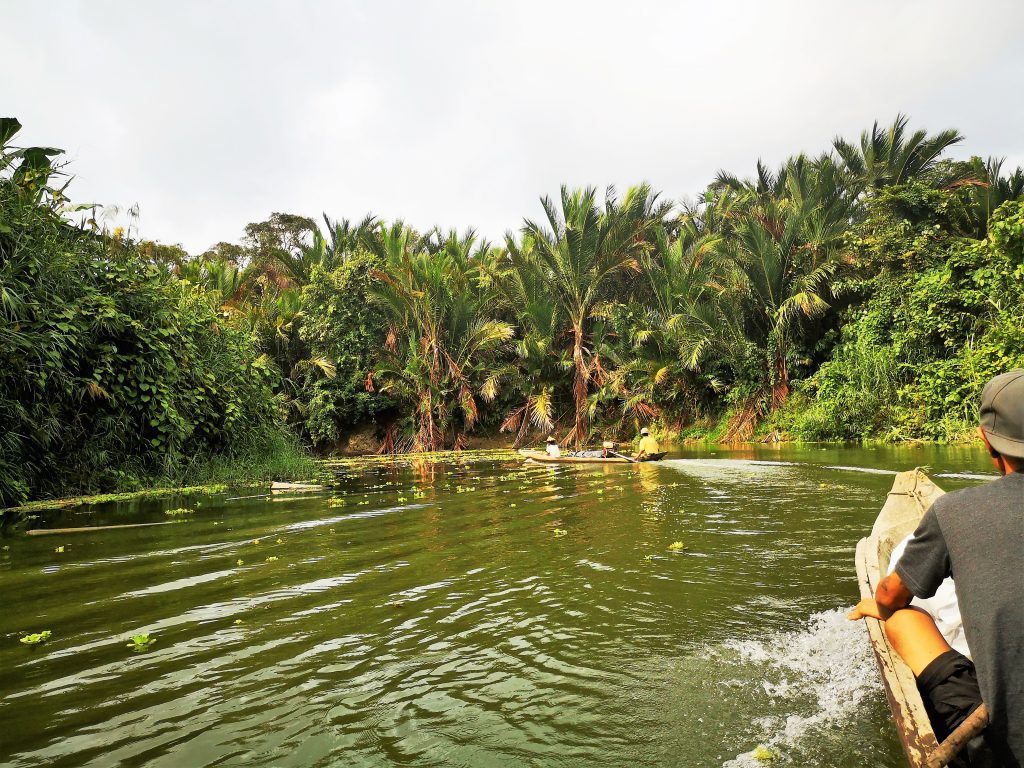 Take on this adventure too!!
You can book your visit to the shaman
Would you like to book this trip as well? I can really recommend it! It is a unique and authentic experience! I booked it through Ronis Tours but you can also book it directly with Oncy Oni (FB) through his website Mentawai Experience.
Will you share or pin this blog? You'll make me happy!!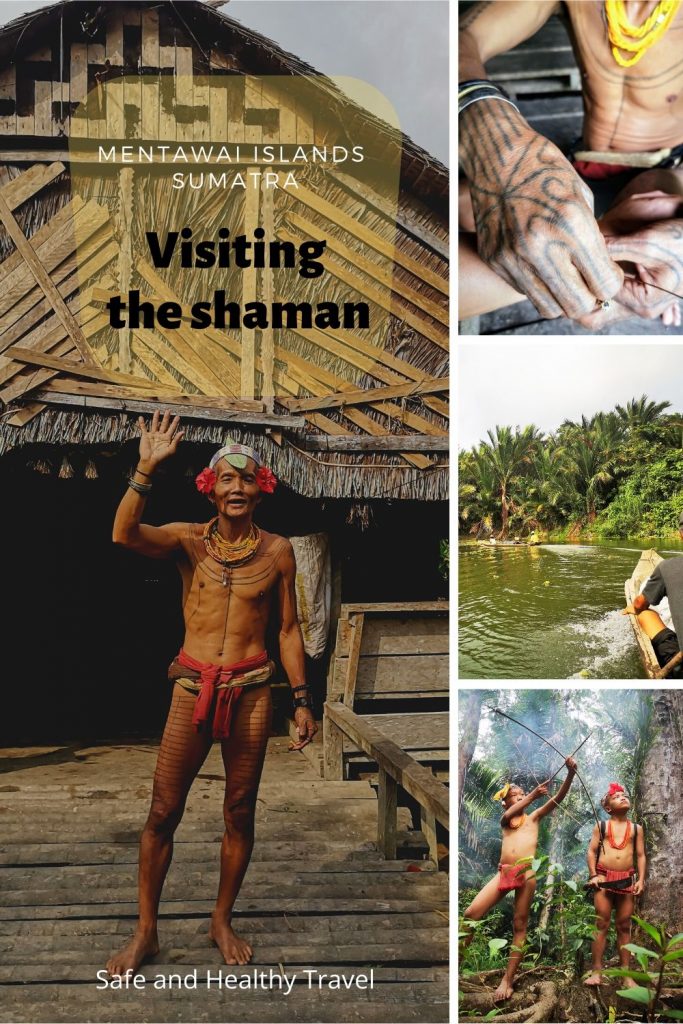 Do you have any plans for a trip to Indonesia?
Then make sure Sumatra is part of your trip!
Check my Sumatra inspiration!
Sleeping in a cave – Harau Valley – Sumatra
Seeing the Orangutan in the rainforest of Bukit Lawang
Camping on Gunung Marapi – Sumatra
Cookingclass at Juwita's Cafe – Samosir Island
2 week Travel Itinerary Sumatra – Indonesia
And during your travels, make sure you get in touch with the locals!
I hope you enjoy this world as much as I do!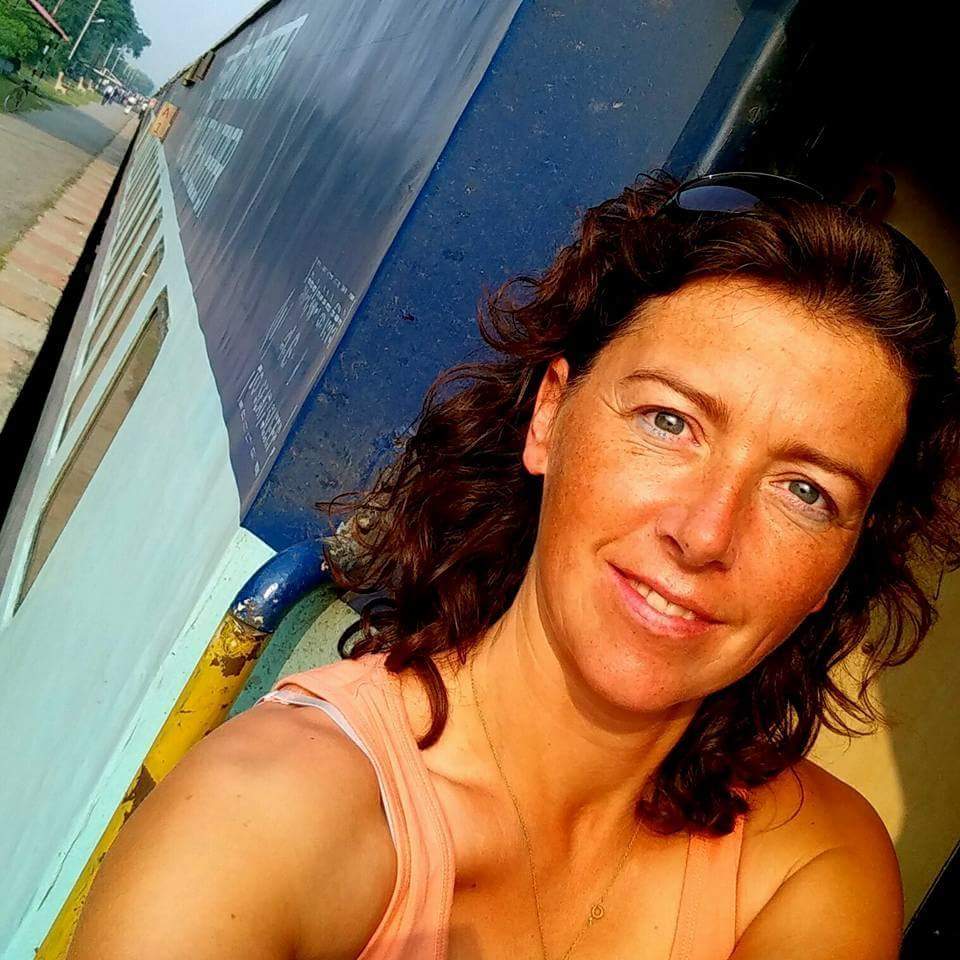 Jacomijn is een politieagent uit Nederland die jou graag laat zien hoe je veilig, actief en gezond de wereld kan over reizen. Safe and Healthy travel is a MUST