3 weeks in a Yoga ashram – 200 RYT course in Pushkar, India
|
It had been on that so-called list of things I really wanted to do. Of experiences I wanted to have! Staying in an ashram and the 200 RYT course were on the list of activities for abroad because if you are going to do it then you have to do it in the country of origin as well… Or at least as close to it as possible, is my belief.
I also understand that people do a yoga course in their land of origin, but I'm a bit more extreme in a number of things… The 200 RYT is for instructor but that wasn't my goal, I just want to know more about it. I want to learn the background of these movements and the theory behind them. What better way to do that than to go where, in many places, it's still being taught in the original way?
When I searched the internet and asked the question online who had tips for me I got a tip from a colleague to take a look at the site of Swamiji who gave the 200 RYT course in Pushkar, Rajasthan – India.
It appealed to me right away.
A small school, a small group at a time, almost 1 on 1 lesson, so to speak. There was also a lot of emphasis on meditating and chanting, you don't really see this in many schools to that extent anymore. This school was not commercial at all. You are interested in the real yoga and you are going to do a course like this or you want to do the yoga poses and of course you want to be well and consciously working on and with your body while becoming flexible and learning to make beautiful poses.
3 weeks in a yoga ashram
200 RYT course in Pushkar, India
I've been working on the latter long enough, nice poses and getting flexible. Besides that of course  I also did the meditation at a Vipassana centre. I wanted to go deeper into it, learn the real yoga. To integrate those two. At the beginning of the year 2019 I enrolled, in May I paid the course in 1 x and then it was clear. In November 2019 I was going to do the 200 RYT course in Pushkar.
Read more about my Vipassana experience: Impressive 10 days of noble silence and Vipassana 2.0

I was going to do 200 hours of yoga class, so that's 3 weeks of class. At Swamiji you have a day off every Saturday, but all other days you are in rope from 6.30am to 9pm. It includes a bit of self-study and if you want to process everything properly you will definitely need it.
Then you are actually studying these hours yourself.
I came by plane from the Mentawai Islands, Sumatra and flew to Jaipur. There I had an overnight stay and then I took a taxi to Pushkar.
I registered on Thursday, the last day of October 2019, so I was present on Friday November 1st 2019 for the start of the 200 RYT course in Pushkar.
When I registered in the afternoon there was a Dutch couple present and a British woman, they welcomed me together with Santosh. Santosh would also be there every day for the next few weeks to prepare breakfast for us and make tea etc.. Later that day Barbara also came to register and then our group was complete. The 200RYT November Batch…
I found out that I hadn't prepared myself very well… You were expected to be dressed in white. When I travel.. well, at home, too… I never wear white. Preferably as many colours as possible 🙂 So I went exploring with Iona, the British, Pushkar to buy some white. It turned out that I wasn't the only one who had overlooked this!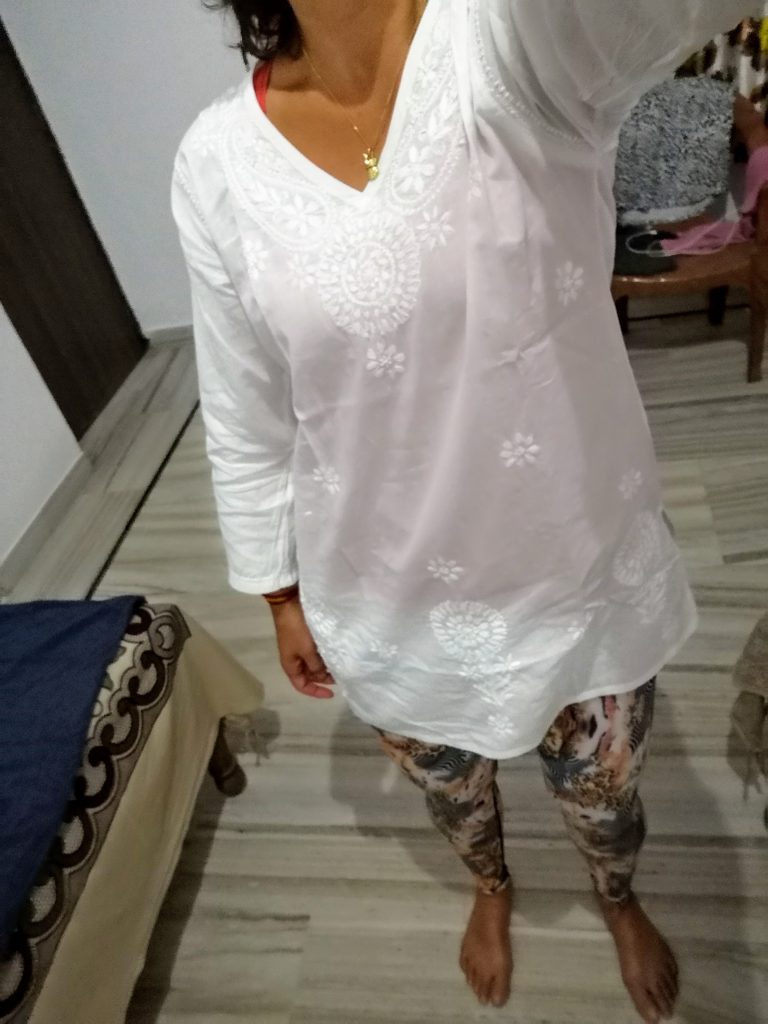 Swamiji had not yet arrived because of the Holi Festival he celebrated in Mumbai. Only the next morning before our meditative morning walk I was greeted by him with a goooodmorning and a friendly hug.  Swamiji looked at me while he was still holding me by my shoulders. I immediately felt that he was a kind, open and non-judgmental man. You feel something like that and that's nice!
Swamiji is a man who hasn't practiced yoga all his life to this extend. He's also been in business and lived in America. He knows the crazy mill of western life and so he knows what can pull you away from your practise when you are back home.

Swamiji has been growing his hair for years… It's gray and he ties his long dreads on top of his head so they don't get in the way. They fall off every now and then when he talks too fanatically and wants to explain what he means 🙂  Of course Swamiji only wears white clothes and when we go out he always takes his walking stick with him which he got from his teacher. It is as if he has his master with him, he once told us.
Meditative morning walk along the Holy Lake
The 200 RYT course in Pushkar starts each day with a one-hour meditative morning walk. Normally this walk takes us to the holy lake of Pushkar. We walk around the lake and pass all kinds of holy places where Swamiji bends and prays. In the beginning we stood there and watched… But after Swamiji told us not to stand next to him 'as sticks', we also bow and touch the old trees we pass on our way around the lake.
Because the first two weeks of November also the world's largest camel market is organized we walk outside the city for two weeks. It's just too busy and hectic in the city. The biggest camel market in the world and then it coincided with a full moon so many pilgrims come to bathe in Sarovar, the holy lake of Pushkar.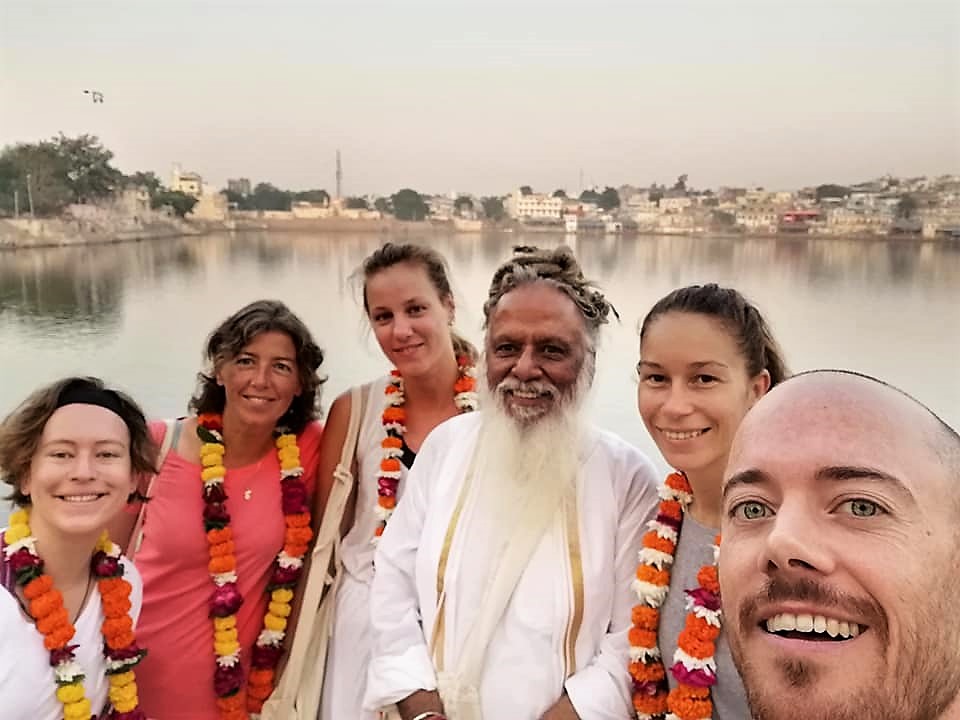 Normally after the morning walk in the meditation temple of Pushkar we would have the morning yoga class. So we only had this on the first day and not after that because it was too busy. The Meditation Temple is in the heart of Pushkar and when you stand on the roofterrace you overlook the Holy Lake of Pushkar.
That morning class is also there for free walk-in of tourists or Indian people who want to take yoga classes. For 500INR you can join those 2 hours.
What is a yoga class like that Swamiji teaches us?
Because our classes are two hours we have a little more time for all the steps… Most classes here are one hour of course.
We start with meditation for a half an hour. Swamiji leads this meditation by telling us how to sit in a soft voice. Upright in the lotus position. With a straight back so that the energy can flow properly. Your head slightly bent so that when you open your eyes you'll see the tip of your nose. Make a closed circuit of your body so that no energy flows out of you. Because of the lotus position you have done this with your legs, but then put your hands on your knees. The best thing is then that your palm points upwards, your index finger and thumb touch each other and the remaining fingers point forward, slightly downwards. This is called Chin Mudra and causes the energy fire (thumb) and air (index finger) to stimulate each other and give energy to our meditation.
Then Swamiji continues that we need to focus our concentration on breathing. The exhalation should be longer than the inhalation. Stay upright so that the energy flow in your body can flow without physical obstacles.
Go with your consciousness to your root chakra, the Muladhara. Wonder who you are. Realize that you are not your body but realize that you are more than this body.
After this we chant OHM 9 times with our hands in Namaste position.

Chant OHM out loud and as long as possible on your exhalation. Between the chants there is a full in and out exhalation. The first 3 times Swamiji leads us and the last 6 times we do it ourselves and at our own rhythm. Afterwards it turned out that Swamiji studied us during these sessions and saw our auras growing and colouring.
Because what happens when you chant 9 x OHM? The yogis of long ago have experienced that when you mimic the sound of creation, of the big bang, it causes a vibration in your body, in your aura, in your being. That vibration causes your aura to recover. And if you do this 9 times then your aura fully recovers.
After chanting 9 x OHM we put our hands back on our knees in Chin Mudra and Swamiji tells us that we have to go slowly with our chin to our chest. Keep your back straight. Feel with your heart chakra (Anahat) the energy around you and slowly open your eyes. Do not look but only feel, stay with your attention inside you. Then slowly go back up with your head and stare in front of you. Don't look but feel, feel the energy flowing up. Slowly close your eyes and "look" at your aura with your third eye (Ajna).
Concentrate on your aura, try to see the colours with your third eye. How surprising it is when you actually seem to see colors from the beginning. From white spots with colors around them. Every day those colors were different and the spots were different.
Then we ended this first part of the lesson by moving your thumb over your other fingertips. Feeling your body again instead of not feeling your body but focusing your energy. You feel yourself coming back into your body when you were fully in your meditation and you feel that your attention shifts completely again from inside to outside.
200 RYT course in Pushkar, India
Because we sat in the lotus position (or at least the cross-legged postition) for half an hour it was good to stretch your legs, let blood get back into your legs and then move on to the second part of this lesson.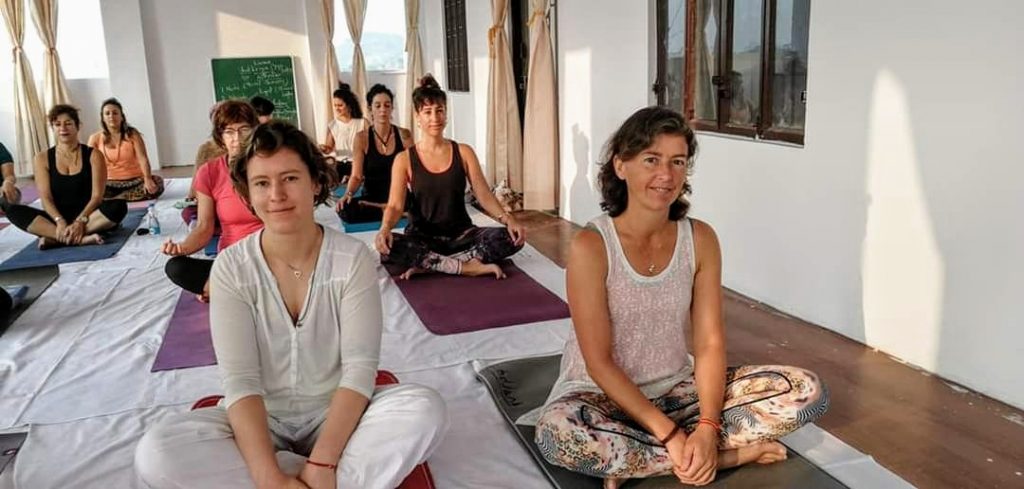 In the western worlsd this is the most famous part of yoga. Of course I also worked very hard on it by only showing Asanas on pictures I share 🙂

Still I realize that with the other part, being one (1) with everything and realize that you are not only your body but more…, I already started that when I was about 25 years old. That's when I started meditating and investigating, understanding and applying different ways of living in my own way of thinking and living. The first time I felt the vibrations / universal energy of our existence, the realization that your body is not bounded but that you are whole with everything, I had when I was about 26 years old.
In the yoga sessions during the 200 RYT course in Pushkar of Swamiji we got 2x 2 hours a day there was one hour at a time for asanas. We practiced all kinds of different asanas. The difference with how I did it before and how Swamiji taught us is the way of breathing and how you focus your attention.
I have been in asanas a lot by breathing and relaxing my body and becoming more flexible that way. That way I got to know my body better and in the meantime I learned beautiful poses 🙂
I love doing beautiful and challenging poses!
This is another form of yoga (Yin Yoga) and also a very good one!
What we learned at Swamiji during the 200 RYT course in Pushkar was really only focused on becoming one with the universal energy and so Swamiji did not want us to be in the body. We were going to do the asanas on breathing. So when we breathed in, we'd go into the asana, then we'd hold the asana for a while… But only as long as you hold your breath (khumbak), then you let go of your breath and also let go of your pose and slowly go back to the starting position on breathing.
Where did we get our attention during the asana?
The moment we start the exercise (asana) we go with our attention to a chakra. To an energy center (wheel) that belongs to that particular exercise. There we will feel what this exercise does to us the energy. So we are not in our body but in the energy. The energy that is in our body but that is part of the universal energy.
That is where my challenge is…
Once (about 30 years ago) I cut myself off from the emotional outside world. I kept that (far too) long and that became a kind of survival mechanism for me. For years that has been my way of life. Of course that can't be good but it is how it was for me. At a certain point you really don't remember why you do something…where something comes from and why sometimes things get stuck. You're going to end up with physical problems and so my neck got stuck… …and that's why I slowly came to realize other processes that were going on.
In the western world we don't look at the background of a problem in all sorts of areas and really look for where something comes from… so I got some medication and some treatments from the manual therapist. It got better but not for long. This must have been around 2008/2009 and that's the period that I discovered yoga and that this workout could keep my neck free from getting stuck again.

That's why I stand on my head so often 🙂 It sounds contradictory but that's not what it is. Opposite movements… Tightening also makes you discover / know the other side…so relax…. And that's exactly what you learn with Yoga!
Before I figured out where it got stuck with me… …I had been looking for a long time to find out why certain things go the way they do. Eventually I also meditated for 10 days according to the Vipassana method. I learned so much there, in so many ways! I did this for the first time in 2016… So that was 7/8 years later.
My Vipassana experience: Impressive 10 days of Noble Silence and Vipassana 2.0. Or take a look at the site of Dhamma where they explain what Vipassana is.
And again, I got stuck in that part. In the emotional part where you feel energies, where you come into contact with yourself, your inner self and the universal energy. That wall was starting to break down … but inside me was still huge!
Why I had to choose this course
Why exactly I chose this 200 RYT course in Pushkar I didn't know beforehand. I had looked at several 200 RYT courses but this one appealed to me for authenticity… Now I also understand that it was because I had to continue with this process.
In total I was there for 3 weeks and after 2 weeks I had reached my lowest point. I didn't understand anything anymore. Everything I heard and learned came to lie on a big pile of information in my brain that I could not connect.  I didn't have an overview, I didn't saw the big picture anymore.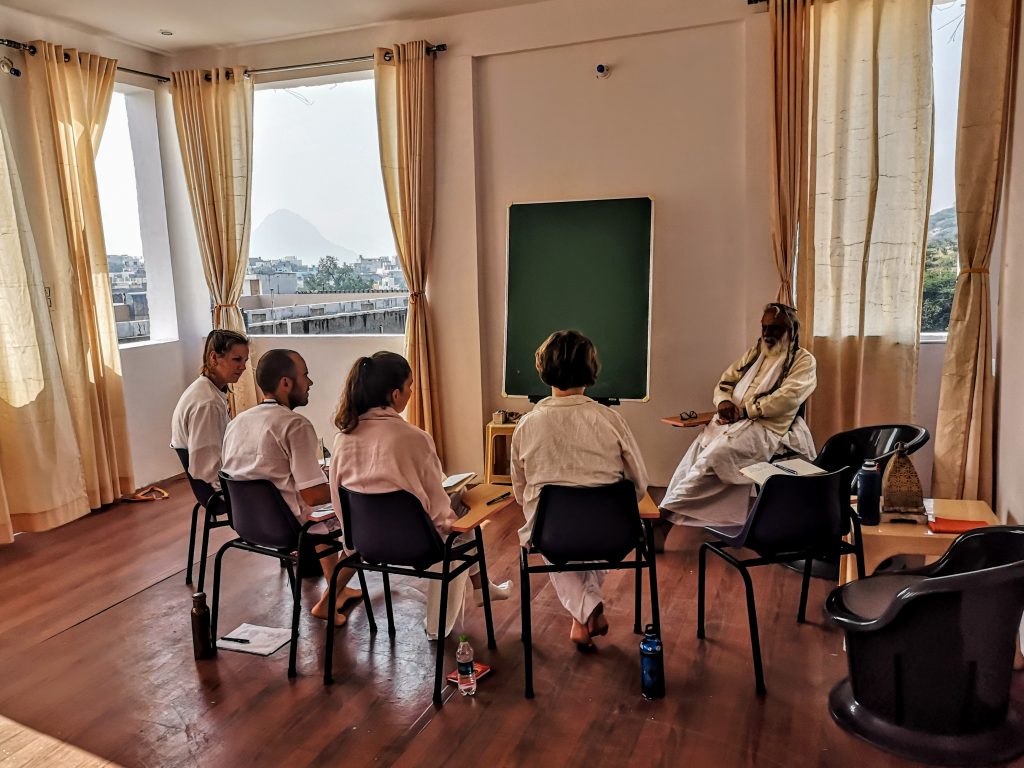 Every afternoon in the study hours we had time to talk to each other or to talk to Swamiji. I started to share what I ran into. Then it turned out that I wasn't the only one but I was the one who had the hardest time with it. Also I wasn't the only one who didn't get in touch with the chakras but I was the only one who had a hard time with them. I think that's also because I was the only one who had been meditating for much longer and had had certain insights at an earlier stage. Somewhere in there I did feel the energies but I also felt that there was a block. The others didn't feel that there was a block, if there was one at all, and so they had a positive outlook where I looked at that wall.
I had the feeling that no matter how good I was in the meditation, I was in the pose and my attention seemed to be 100% there I still didn't feel the chakra and the energy.
And how does that work with attention and distraction? I had already learned that during the first days of my Vipassana time. When you get irritated your attention goes to that energy and your brain just loves it a lot more. Negative thinking and putting the blame elsewhere and not working on renewal / improvement and thus progress. For the brain progress means further away from the brain and more in the energy and your body. The brain wants to keep that control…
I figured it out, but I couldn't break it. I kept seeing that wall as an insurmountable thing because I couldn't figure out where it came from… …essentially.
Because I started to share with the group I finally got to the core. At least, to a core of which I feel that that was the start of the construction of that emotional wall that I built as protection.
The last few days I have dedicated my meditation to paving a path in my brain to a new way of thinking / feeling about my past. What happened to me… How I have reacted to it and what do I think of myself now. I came to the insight that I could forgive myself on how I had reacted as a teenager, no matter how wrong that turned out to be. I am happy with who I have become now, what I am doing now and what my life looks like.
If I hadn't done what I did then
I wouldn't be who I am now!
Until now, I was stuck in what someone else had done. Something that I have had no influence on, that I can't change and in the end has been done from a good heart. I also found out that I can't forgive that for now, but that I certainly understand that. Not then, I was a child/teener (14-15)… but now I can. I understand why certain things went the way they did.
Read here how I sad goodbye to this ceremoniously, on Swamiji's advice 🙂
Living in a Yoga Ashram in India for 3 weeks

The 200 RYT course in Pushkar, India
Now that I've learned to do the asanas this way I like it a lot better. Of course I still do poses in which I stay longer and they just serve a completely different purpose now. Then I am working on maintaining my body, staying flexible and becoming more agile. But if you want to work on the internal human being…and I don't mean to eat a bite 🙂 then you do the asanas on breathing, going in the asana breathing in, hold on and breathe out while going back to the starting position.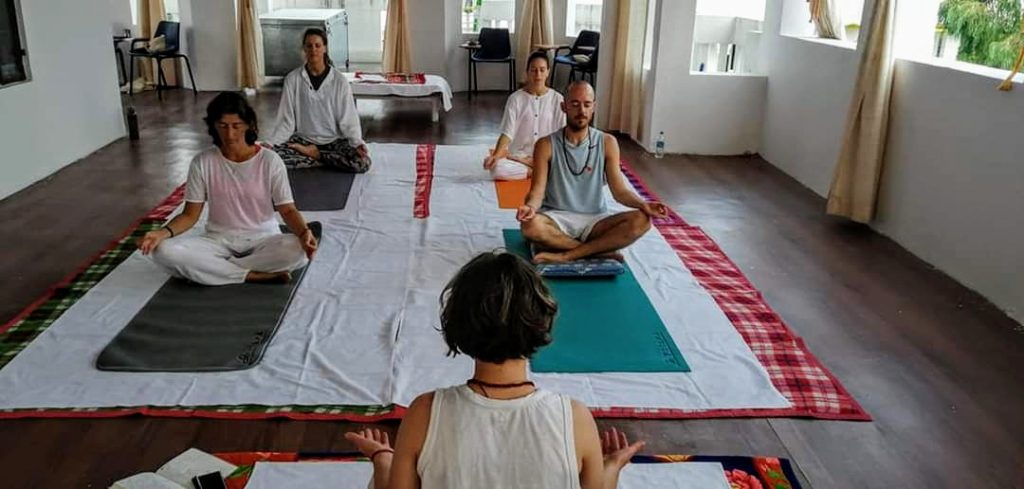 Another important part of this 200 RYT course in Pushkar is the evening sessions Satsang. An hour of chanting, also very meditative! Before dinner we sat down in a circle on the floor and in the middle a candle.
We started chanting and sang the different mantras in front of the different gods. A lot of them I recognized by my many temple visits… Because of the mantras you repeat the same sentence or word many times. You can get into a kind of meditation state and I must honestly say that this has happened a number of times. Besides that I couldn't remember the text very well and the order in which we sang it… That kept me busy because you were expected to learn it of course and to start chanting certain parts yourself… I didn't really succeed 🙂 My brain wouldn't let me remember it.
I do see the plus side of this chanting.
It's good for your breathing because you do everything on exhale of course. Breathing through your nose between sometimes rather long sentences… And there it is again, you breathe out longer than you breathe in! So you clean your body while chanting of waste products and you are very conscious of that because you are concentrated on your breathing and chanting.
It is also good for your voice. You train your voice in all kinds of pitches of course. Some chants and mantras were very challenging 🙂
Food during the 200 RYT course

The food was made by a neighbor who cooked delicious and varied. Of course the food is vegetarian but no eggs were used. I can't say vegan because we did get chai.
Also no onion and garlic were used so as not to burden the body. These herbs / spices are Tamsik. This means that they don't give energy but they will take energy from you.  Too much salt, pepper and other spices in the food draw energy from your body and will therefore work against you in your yoga. Your attention is drawn to your body, it makes you lazy and it is a negative energy. 
If you want to know more about this then google on the 3 Gunas (properties of nature) And those 3 are : Satwa – Rajas and Tamas. Tamsik falls under the last Guna : Tamas.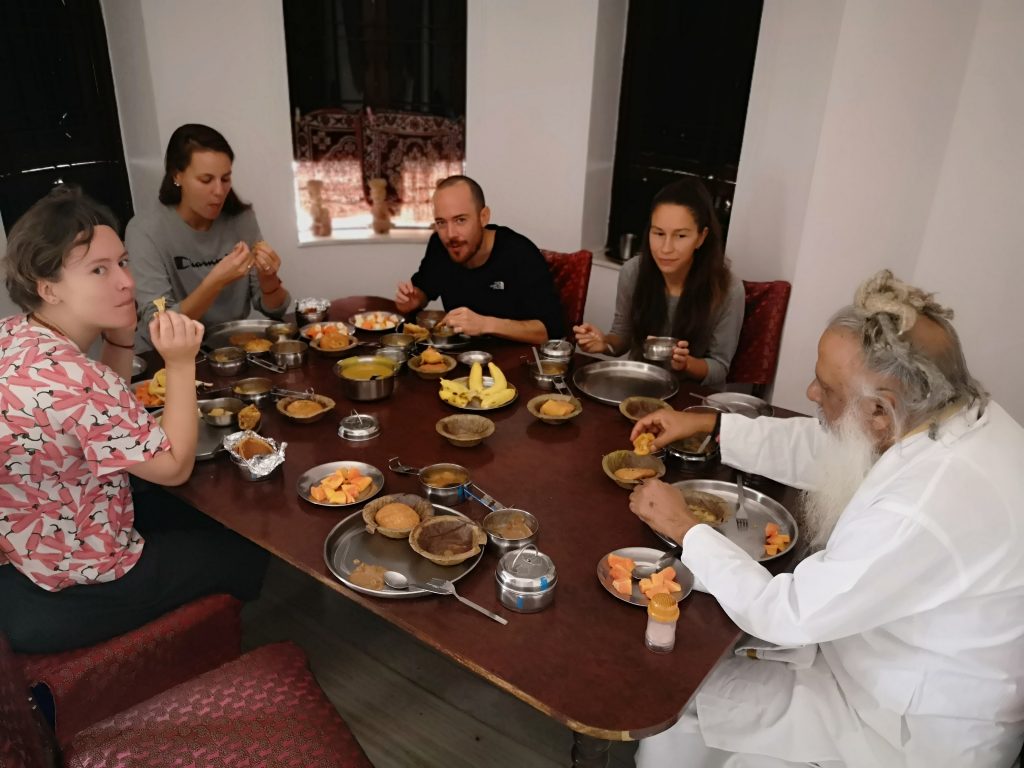 Swamiji took into account the times of eating with the times of the yoga exercises. It's better not to work on a full stomach… Preferably on an empty stomach. The body gets distracted when the food is processed. Also in the Vipassana it was advised not to eat full but to always leave it at 80% full. In addition, you didn't get a lot of dinner when you came for the first time and if you'd been there before (old students) they only got lemon water and some sugar / honey for dinner.
Swamiji, Iona and I too, like some sweetness and when Swamiji found out about it, he occasionally got some delicacies in Pushkar. For dessert or as a snack we got some very sweet Indian local delicacies. Very nice!
Living in the ashram of Swamiji
We each had our own room. That's very nice. There are 2 beds in the room so you could share it with someone else if necessary. Swamij prefers to have only 4 or 6 students. He also told us that he would rather not have couples because this could lead to tensions. And then more between the couple itself… Sometimes it's quite heavy and things go pretty deep in what you go through. Not everyone can or wants to share equally. And if you really want to learn and improve, you really have to show yourself without any restrictions.
I liked that I had a second bed. This was the place I sat on in the afternoon to learn. I had all the notebooks and papers in front of me and I could work out my notes that way.
I spent many hours on it!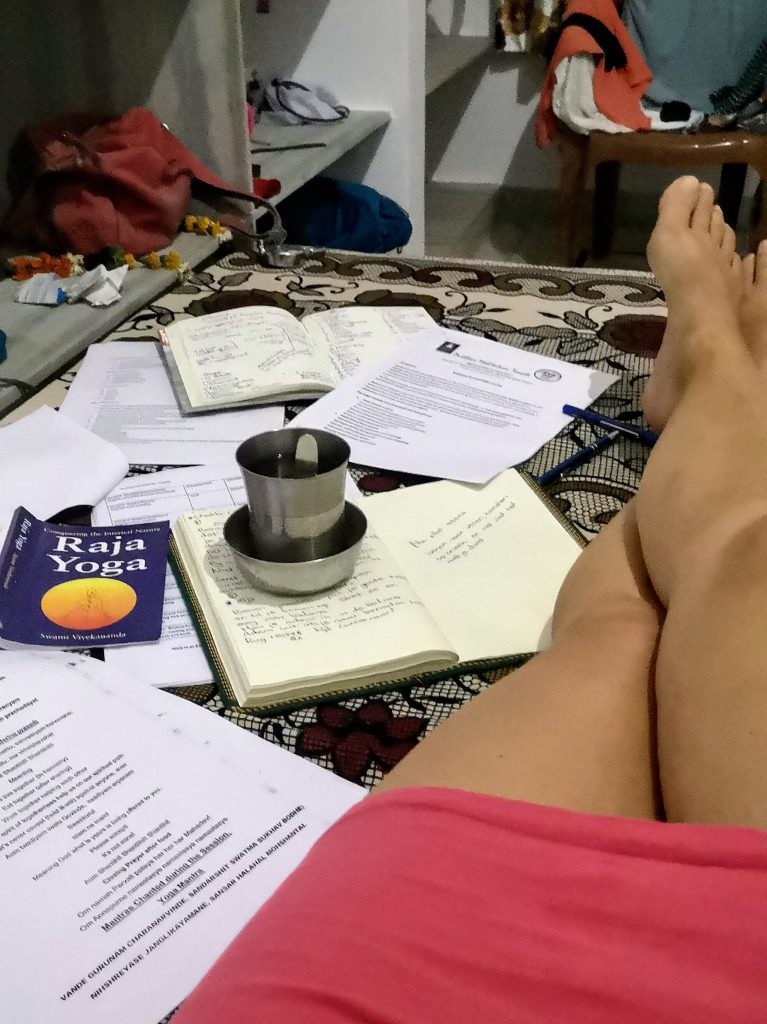 Each room also has a small bathroom. I had a shower, if you turned on the boiler 5 minutes before shower time I had hot water. A toilet and a sink. In my shower there was a door to the outside, second floor, so I could open it and ventilate my room and bathroom.
Pranayamas as a closier of the lesson
At the end of a lesson we did a two or three pranayamas. Prana means vital energy and yama is control. So the control of your vital energy. We are not always aware of it anymore but breathing consists of 4 parts en Puyak – inhaling, Kumbhak – holding the inhalation, Rechak – exhaling and Bahir Kumbhak – holding the exhaled breath.
( I copied them from the sign at Swamiji, when I search online I come across other terms like: Puraka, Antara Kumbhaka, Rechaka, Bahya Kumbhaka)
So these are breathing exercises that also let you concentrate on your breathing and let you be ultimate in the here and now. Your body needs oxygen and we don't always do that properly. We do not breathe deeply enough or keep it in for long enough so that the exchange of substances can also be optimal. By doing these exercises we become aware of our breathing again and can get it under control again.
Teacher of Raja/Ashtanga Yoga
Yes, after these 3 weeks I can call myself Yoga Teacher.
The text on my Certificate of Completion is the following:
This is to certify that (mijn volledige naam) has succesfully completed 200 hours of training in our RYS200 Yoga Teacher Training and Certification Course and is nog qualified to be a RYT200 Teacher of Raja / Ashtanga Yoga in the tradition of Patanjali's classical eight limb appraoch based on Yoga Sutra and can fulfull duties and responsibilities associated with the achievement including teaching of yoga as a spiritual discipline.

21 november 2019 – Pushkar – Rajasthan, India
Of course you have to meet some standards during the course, so halfway through the course we gave each other a lesson for an hour and we were judged by each other and Swamiji. We also did a written test.
You had to prepare for the lesson and give a good explanation of the different asanas. For what purpose you do the exercise for, where do you focus your attention on and what is your concentration during breathing.
At the beginning of the lesson you are in meditation and your physical attention is on your breathing and your spiritual attention is on the muladhara, the rootchakra. This meditation is lead by you in text and time. We also sang the universal prayer each time to give the exercise its spiritual character.
This meditation is you also led by you in text on which the student had to focus the attention/concentration. With the asanas you feel the energy in the chakra belonging to the asana of the pose, and your concentration is on your breathing and feeling what it does to your body in a certain place, corresponding to the chakra belonging to the asana.
After each asana you take time to feel your body, feel the difference between before and after and experience what it did to your body and soul. You do this in the shavasana, or dead corpse pose. Lying on your back with your palms pointing to heaven. You don't want to talk too much and make the student feel for themselves, but you do want to lead the student in the meditation that follows: the sinking into your body.
After the asanas Swamiji put us in the flapping fish pose (Matsya kridasana) and recapped the session so far. What did we do and what was it for? In this pose it is important that you keep the (energy) circulation and so do not pull your leg up so much that your foot loses contact with your leg. Keep your foot in the hollow of your knee.
In this way the yoga class is a spiritual discipline that brings you in contact with yourself and your higher self.
You are working with yourself on a different level and that feels very good but also intense. You also do the physical exercise and that feels good of course but you go deeper and do more. It requires full attention from you and you can't have a conversation in the meantime. You are busy with your body and with your full attention present.
At the end of this impressive 3 weeks (the 200 RYT yoga course in Pushkar) we, as a group, gave a class to school children a lesson. We went outside the city, half an hour drive, to a school where a class of children was waiting for us to teach yoga. How nice it is when you ask them to sit down or do certain actions that were new to us that they know them and are part of their upbringing.
There were breathing exercises they knew, the Universal Prayer they know of course and so there were some exercises that we didn't have to explain but did because we were leading the class :).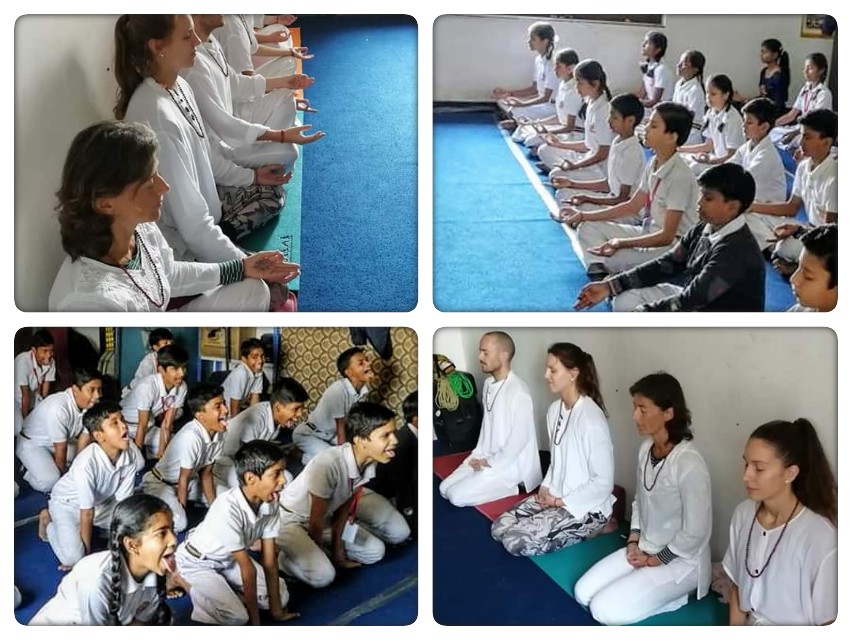 We've done some exuberant asanas like laughing hyena and roaring lion. Super fun for the kids of course! And therefore very nice for us as well!
Ceremonial conclusion 200 RYT Yoga course
The last day of the 200 RYT Yoga course in Pushkar was of course reserved for the final ceremony. And as befits India, they lasted all morning! We sat on the ground for 3 hours and performed rituals. 3 hours of praying, chanting and playing with fire…
There were prayers for us, with us and prayed by us.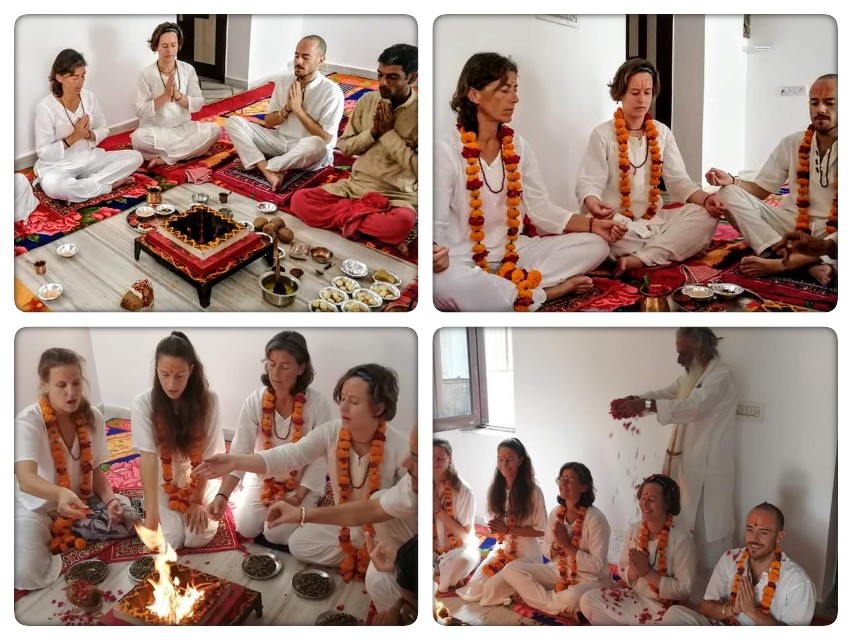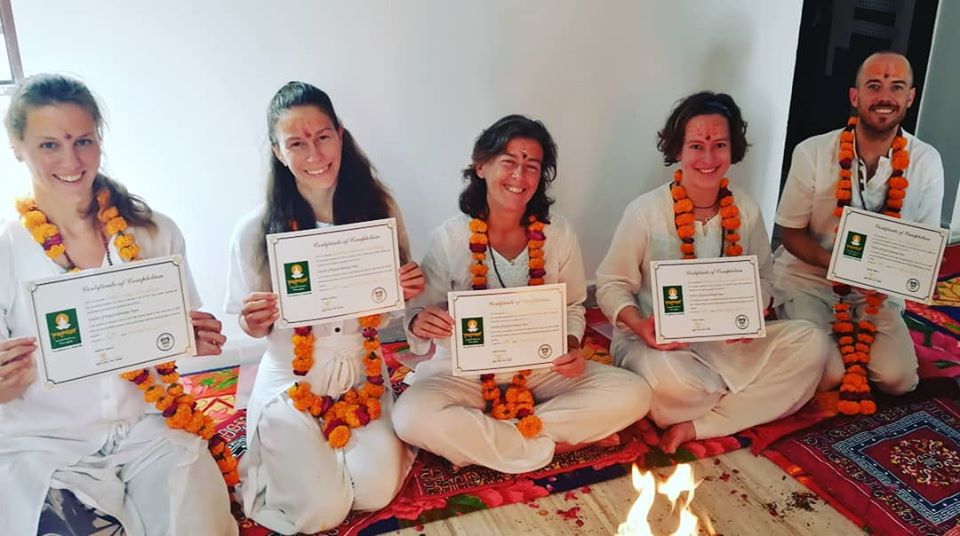 And then we had earned our certificate!!
What great weeks these have been!
How much blood, sweat and tears this had cost me…
…and how nice it was to end this like this!
I'd made it, I'd done everything that was expected of me and I'd learned a lot. Now, of course, the trick is to make it my own. This is going to take a lifetime of work 🙂 Maintain it, keep practicing and share it!
I have the knowledge somewhere and I have to put it into practice to really learn it.
To really make it my own and to be able to share it with someone else. I hope to make a start soon by sharing it with some of my colleagues. How much fun is that? To practice and learn yoga together in a safe environment!
I am really looking forward to it and because of that I have been able to complete this blog too 🙂 Finally the inspiration again to dive in and really look back in detail!
If you are still here and reading… Respect! 🙂 It turned out to be a huge blog! And if you're still here, then you're hooked on yoga or now you're inspired to start practicing yoga too! Take a look at Swamiji's site to see if it's also something for you to go for the 200 RYT yoga course in Pushkar – India.
And then you want to share this post with others to inspire them!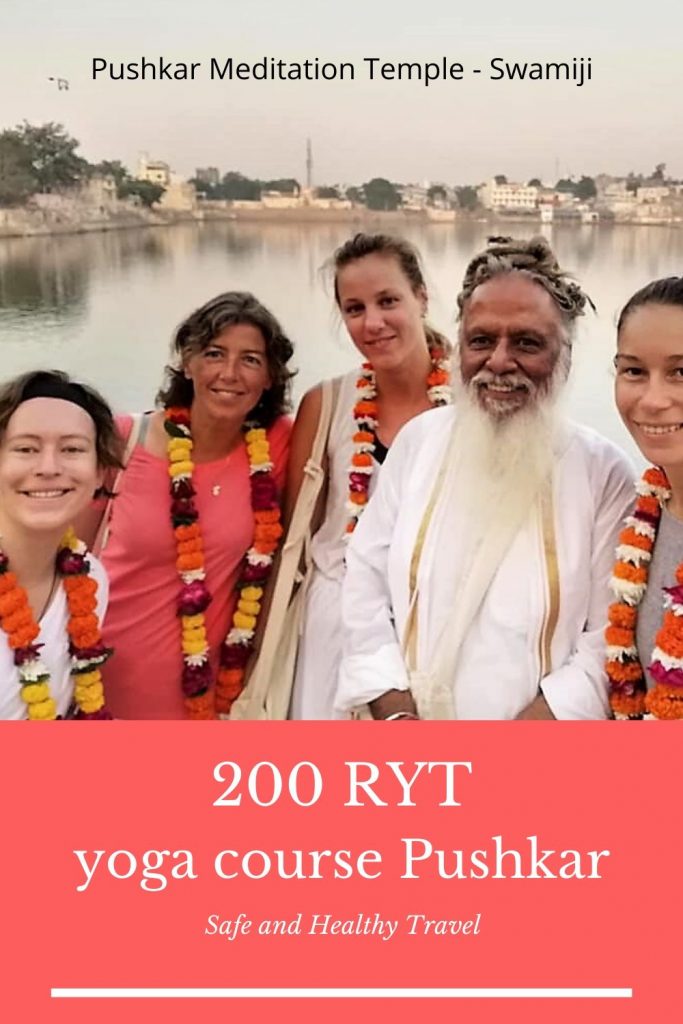 Oh and what I completely forget to share in this blog is the ritual cleansing we did on the first Saturday. I'll tell you about that in another blog soon… I can tell you that everyone but me was completely drained! Um, yeah… literally drained… above the toilet… except for me, huh? What is that all about?
Want to read more inspiration?
Pranayama – How should we correctly breath?
Enjoy this moment.. Path to Happiness!!
In 2017 I felt Lost in this Beautiful World
After these 3 weeks I stayed a few more days in Pushkar and what Swamiji advised me to do I was going to do. I was going to say goodbye to the sadness within me which stopped me… Read about that:
I hope you enjoy this world as much as I do!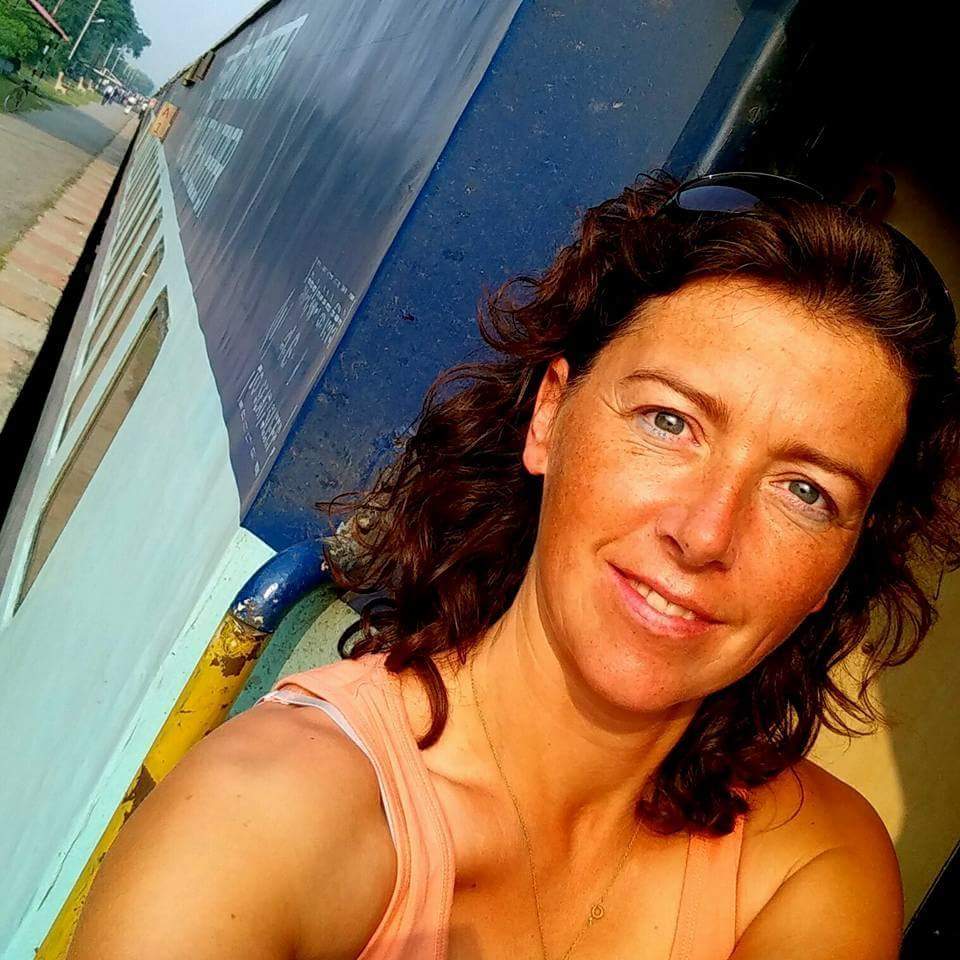 Jacomijn is een politieagent uit Nederland die jou graag laat zien hoe je veilig, actief en gezond de wereld kan over reizen. Safe and Healthy travel is a MUST