Going too Local at a Cookingclass, Varanasi – India
|
I was in Varanasi, also called Benares, India. This wonderful place is situated along the holy river Ganges. Every day a lot of Hindu people are enjoying a bath full of rituals, along the many Ghats the Ganges has.
When I visited this time I was guided by a local to my hotel and he just stuck at me for a couple of days. I mentioned that I wanted to take a cookingclass and he said he could arrange that. Great! He had an adress where I could get a great local class, Of course I wanted that!! The next day it was arranged and I would meet my teacher at the Ghats. At the Dashashwamedh Ghat.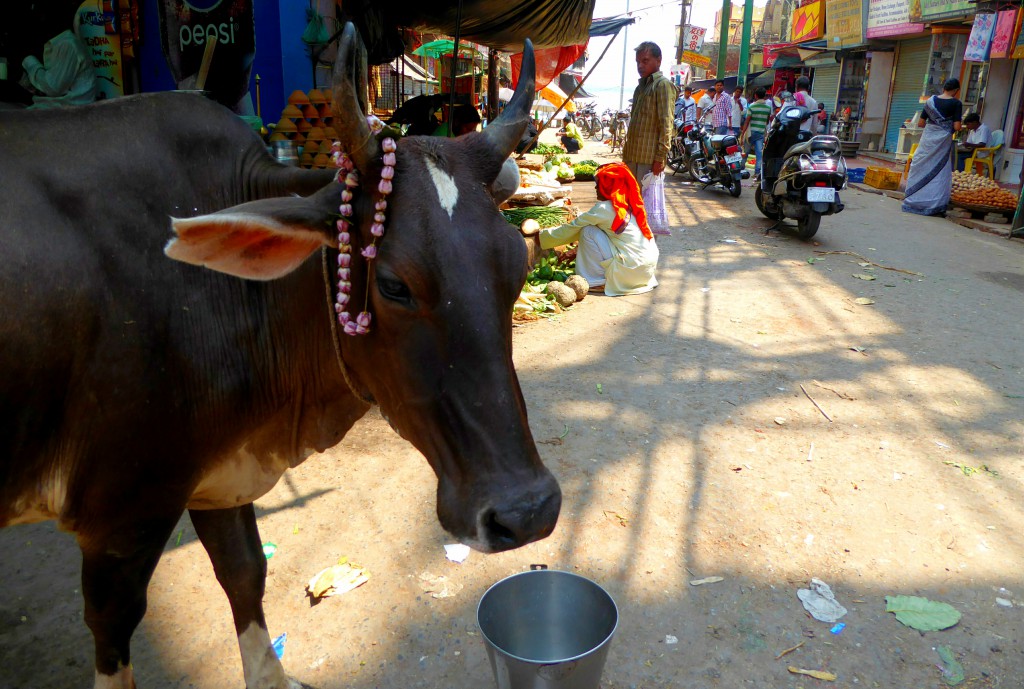 Cookingclass, Varanasi right next to Dashashwamed Ghat!!
Well, that is the main Ghat. All the way in the very city centre of Varanasi. Every night there is a touristic ode to the Godess of the Ganges..well.. that is the Ghat. I got picked up and we went back in the street to shop at the local market. We bought some vegetables like carrot, cauliflower and parwel or parval. This is a small green vegetable which is similar to cucumber.
We went back to the Ghat and just before we got there we turned right and walked in a small path. It lead us up to a small yard with a stairs leading up to some appartments. At the first floor was a small yard again with three openings on each side. When I looked inside I saw some kind of livingroom. We went up one floor and got in such same kind of area. We went in and I saw a livingroom but at the same time it was the bedroom. I saw a woman sitting on the floor. I was introduced to her, she would give me the cookingclass.
Local Cookingclass, Varanasi
Because she couldn't understand anything I was saying her daughter was here to help translate. She was also sitting on the floor. I did see some plastic chairs against a wonderful blue wall. If I wanted a chair? No, I wanted to sit on the floor just like them but before I could sit down they lay down a rug. I had to sit on that even though they were sitting on the bare concrete floor, which was of course cool in these temperatures!!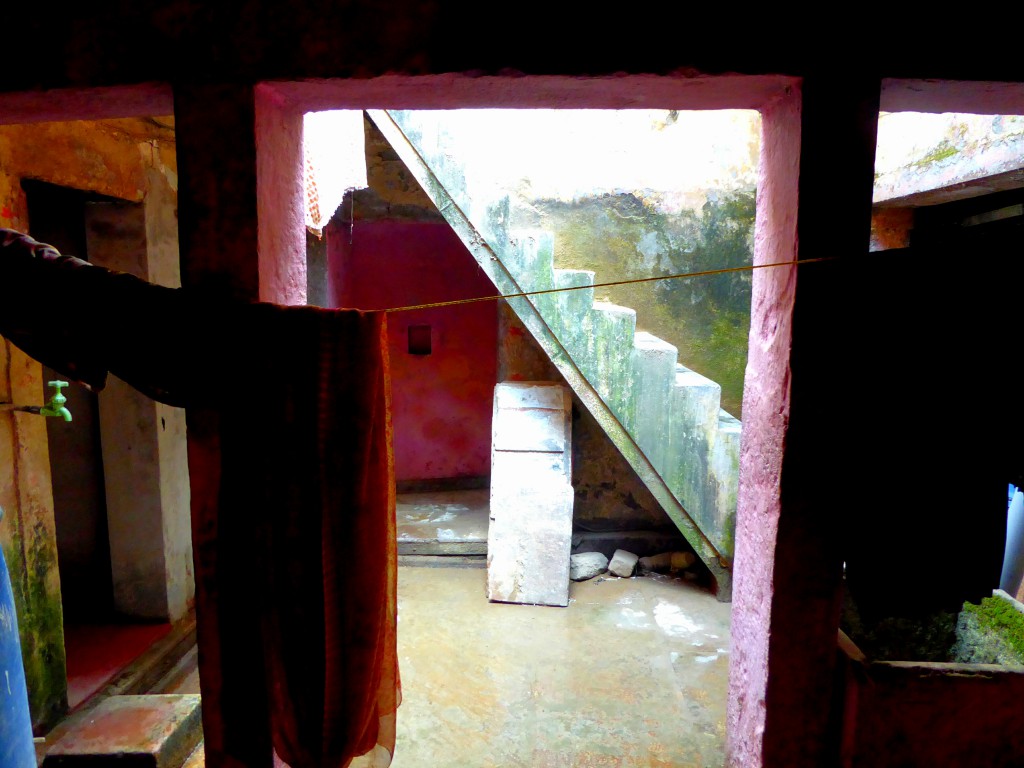 The man that had picked me up appeared to be the son. He also lived in this small house, with yet another son. Looking around me I saw a small room with a big bed for two. Next to it was a closet with a television on top of it. Ofcourse it was running a bollywood movie. On the other side of the room I saw a altar, mother made that and was really proud of it. They lived here with 4 persons….I looked again, I only saw one bed.
Cutting vegetables on the floor! Cookingclass, Varanasi
Meanwhile some knives and bowles were put in front of me and we started to cut the vegetables. And we were talking about their house and about who I was. Everybody is interested in the fact that I'm a policeofficer and travel solo but I wanted to know more about them!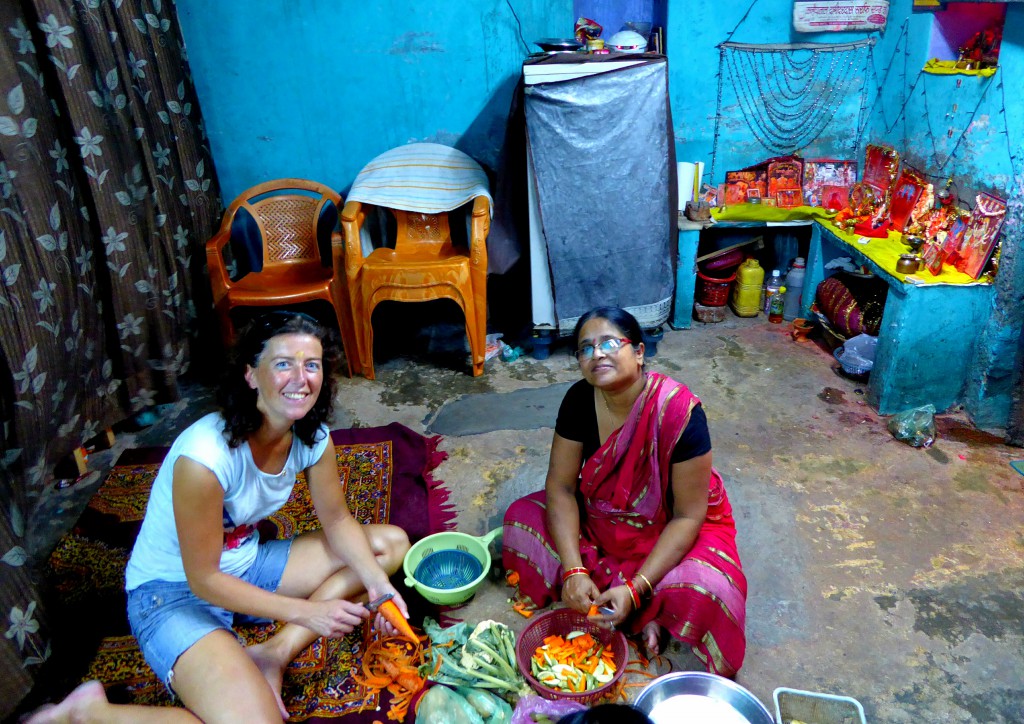 They told me that the men were sleeping in the big bed and the ladies were sleeping on the ground. On the cold concrete.. They were used to that and even liked it. Mother told me that she couldn't sleep in the bed and went back to the floor again. There were two other rooms that were connected to the yard. That was the kitchen and a small bathroom. Unfortunately I haven't seen that one from the inside. They also had a small storage room that connected to the yard. Other then that there was no room. The livingroom we were in was the bedroom to all four of them. You can hardly believe that, comparing that to our way of living. We have a single room for everything we do. Totally the other way around..
The Local Kitchen      Cookingclass, Varanasi
After cutting the vegetables we went into the kitchen. We were standing there with three, mother daughter and me, it was too small for all of us. The kitchen was so small.. I saw a gas stove on the kitchen counter. And where was the watertap? They didn't have one! There was a bucket full of fresh water that was covered. That was the water and they assured me that it was good water, also for me as a tourist. With that water we cleaned the freshly cut vegetables. We did that a couple of times, on the ground near the drain. I really thought it couldn't be washed enough thinking about where I bought the vegetables. It was nearly 200 metres away from the Ganges, The Ganges!! I had read somewhere that the Ganges is the number 5 dirtiest river of the world!!
We started to cook and mother told her daughter what she did and I wrote it all down. I didn't had the illussion that I would get a book with all the recipes written down.
We started with a Dal. You get this with most Indian dishes. When you order a thali there is always a Dal included. The lentils were put in a pressure cooker. When that was cooked some spices were added to get the flavour and then it was already done. We cooked the rice. And many spices were added in the wok and then the vegetables were added and then she added a prepacked spice combination. The herbs and spices for the massala were prepacked…just like we get things in the supermarket, haha! She gave me one also 🙂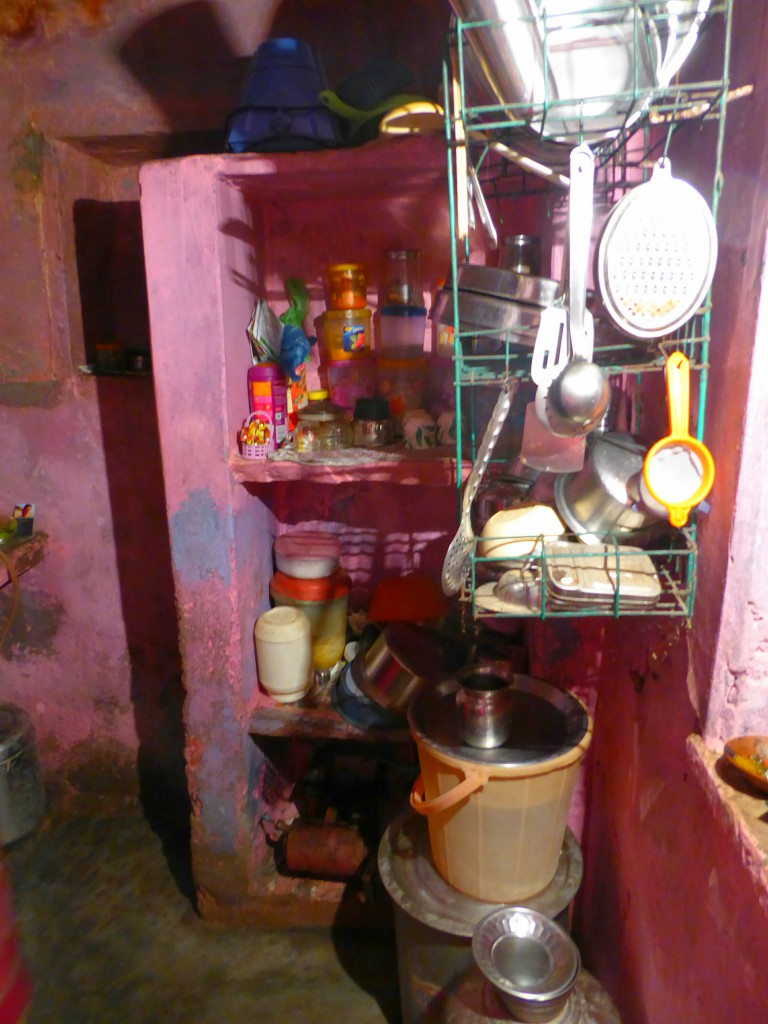 It was getting really hot in that small kitchen. There was only one door and no window. Outside it was at least 35 degrees.. The buidling was made out of thick concrete and nothing was painted….next to that great blue wall in the mainroom. But it was cool on your feet, that was nice.
I think that we have been busy for an hour in the kitchen and we went back into the main room. Mother lay down on the ground and watched some tv. I got someting to drink and started watching tv also. Still a bollywood movie with lots of noise and busy little men 🙂 And then there was a powercut, it happens a lot in India, we sat for a while talking in the dark. With a little bit of light coming in from the yard.
A Thali, I Love That!!
  Cookingclass, Varanasi
And then diner was served. We got a Thali. I love thali's!! I would like to have such wonderful plates at home too! A big silver plate with all kinds of small dishes served in different bowles. These were filled with the dal, a raita and the vegetable mix we made. The rice was next to it with a paratha and a papadam.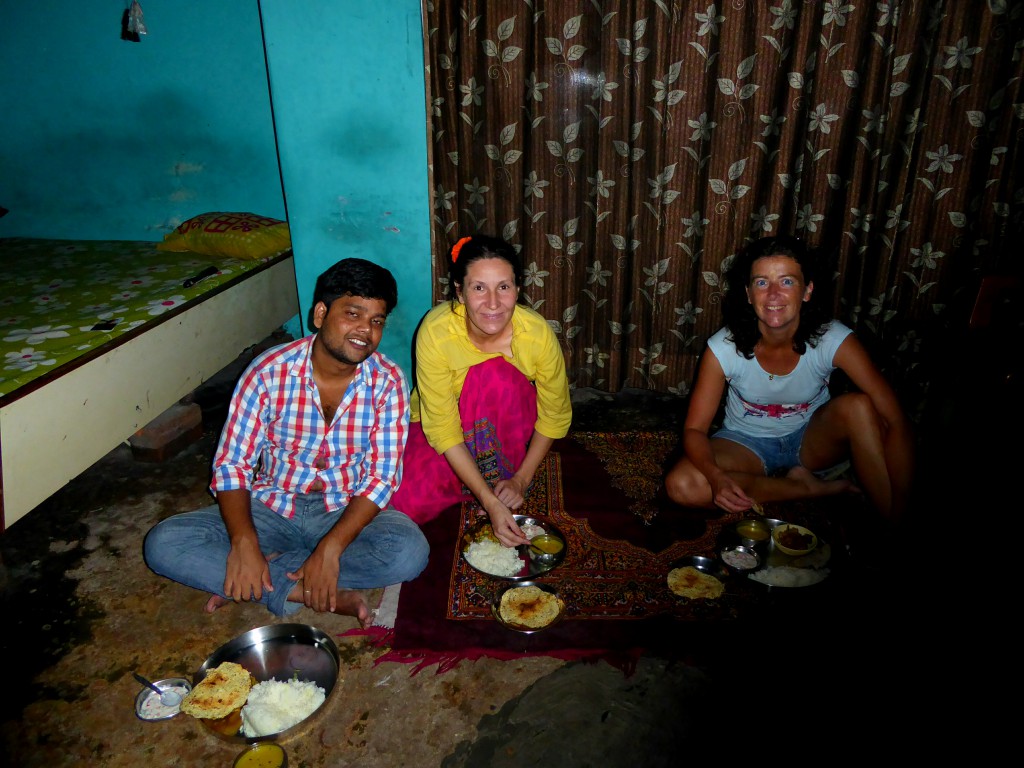 I did hesitated if I should eat this. It was cooked for a long time…so it was hot for a long time.. I started to eat.
It was delicious! Mother filled my plate again, yes please! I almost finished the second plate, I really liked it!

Going too Local @ Cookingclass, Varanasi
That night I woke up. I didn't feel well. I didn't know for sure but I thought it was my stomach. And then I coughed…hmm…I needed to go to the toilet immediatly. I started to vomit and it emptied in a couple of seconds. I felt horrible!! Shaking from the experience and with tears in my eyes I went back into the hotelbed. I lay down with the lights on.. I think it took about ten minutes but I had to go back…now I did sit on the toilet and my stomach emptied on the other side…
I got sick of this Cookingclass, Varanasi
Me and the toilets were best friends that night… This definitely was caused by the cookingclass!
Going local is great but this time it was too local …
The next day I lay in my bed whole day hoping on getting better. I drank some tea and eat some cookies.. Luckely I got a bit better because that same night I was in the nighttrain to Khujaraho, Madhya Pradesh.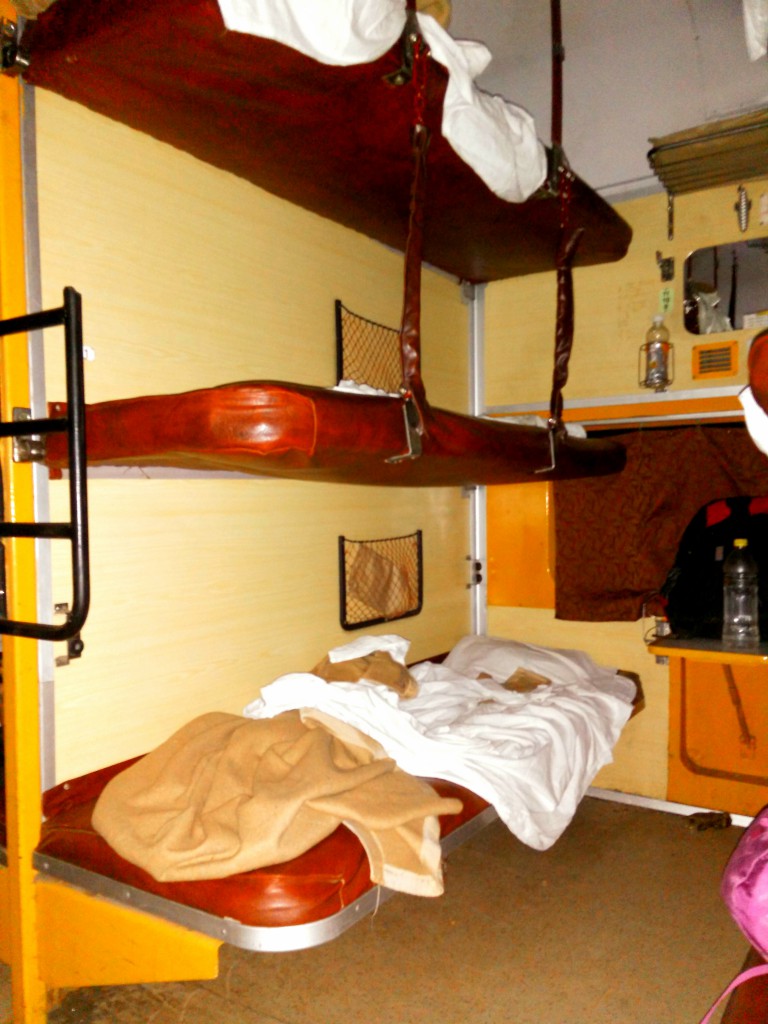 My bunk bed in the nighttrain  Varanasi – Khujaraho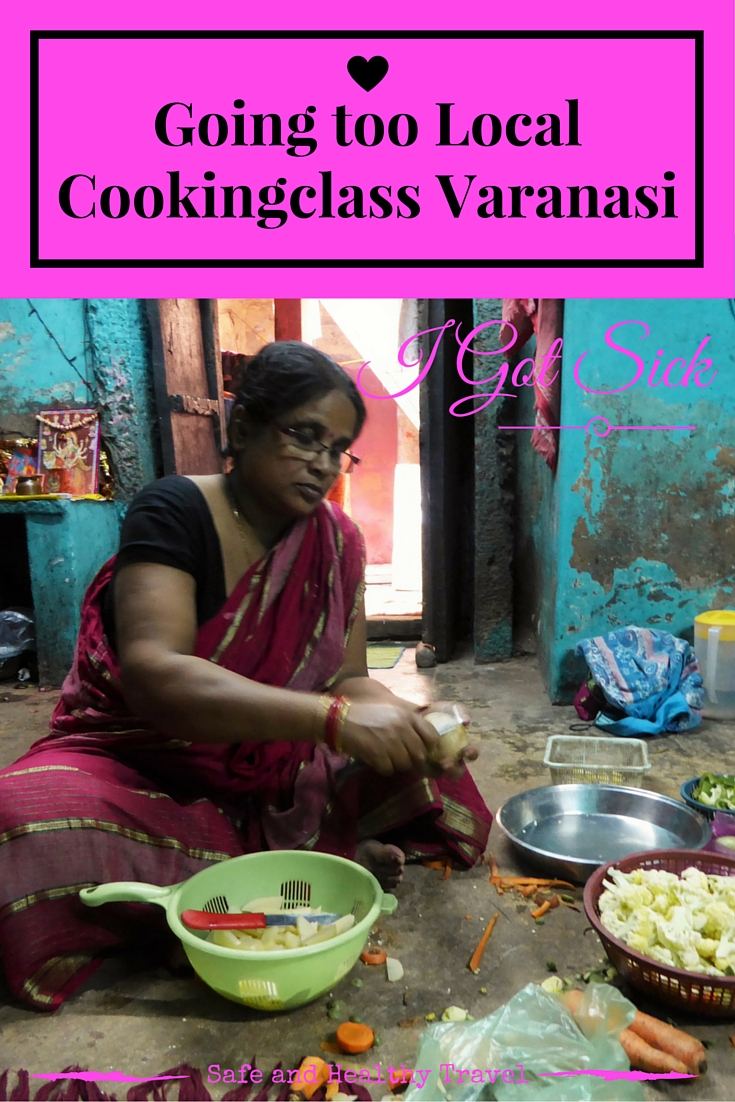 Do you like to take cookingclasses too? But not too local 😉
Check this out!!
Cookingclass at Silom Cookingschool – Bangkok, Thailand
Cookingclass at Juwanita's Cafe – Indonesia
Cookingclass at Pickles & Spices – Penang, Malaysia
Cookingclass at Spice Paradise – Jodhpur, India
Cookingclass at the Red Brigde in Hoi An – Vietnam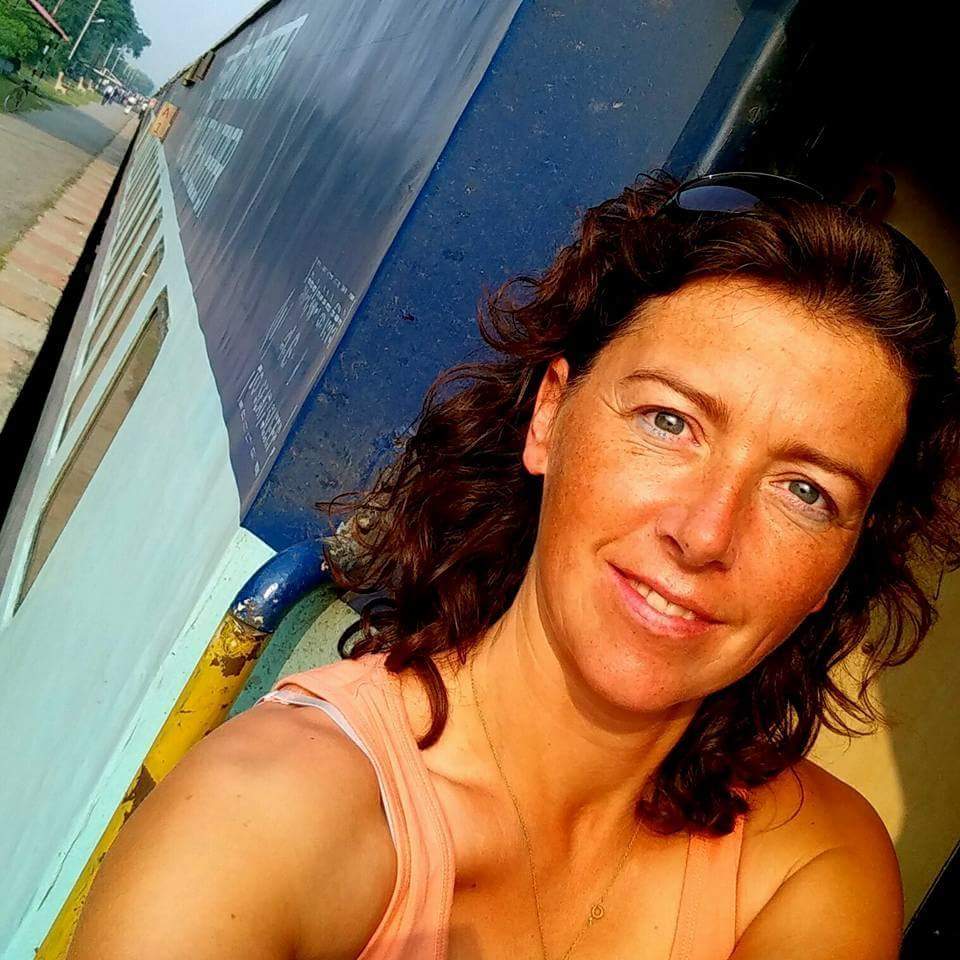 Jacomijn is een politieagent uit Nederland die jou graag laat zien hoe je veilig, actief en gezond de wereld kan over reizen. Safe and Healthy travel is a MUST