Hiking on the Lycian Way – Stage 1 Ölüdeniz to Kabak – Lycian Coast, Turkey
|
Last year, I also went hiking in Turkey and liked it! I had the Lycian Way on a list of walks I would like to do again for a while. So. I started walking along the Lycian Coast in Turkey. The month of May is already lovely and warm but certainly not too hot yet so a perfect time to go hiking on the Lycian Way in Turkey.
The Lycian Way is a walking trail along the South Aegean Coast, also called the Lycian Coast. Kate Clow plotted and designed this walk in 1999. Together with volunteers, she also marked the route completely and thus the walk has been nicely put on the map. In Turkish, the Lycian Way is called Likya Yolu. Hiking on the Lycian Way you start in Ölüdeniz and will eventually bring you to Antalya after some 520 km.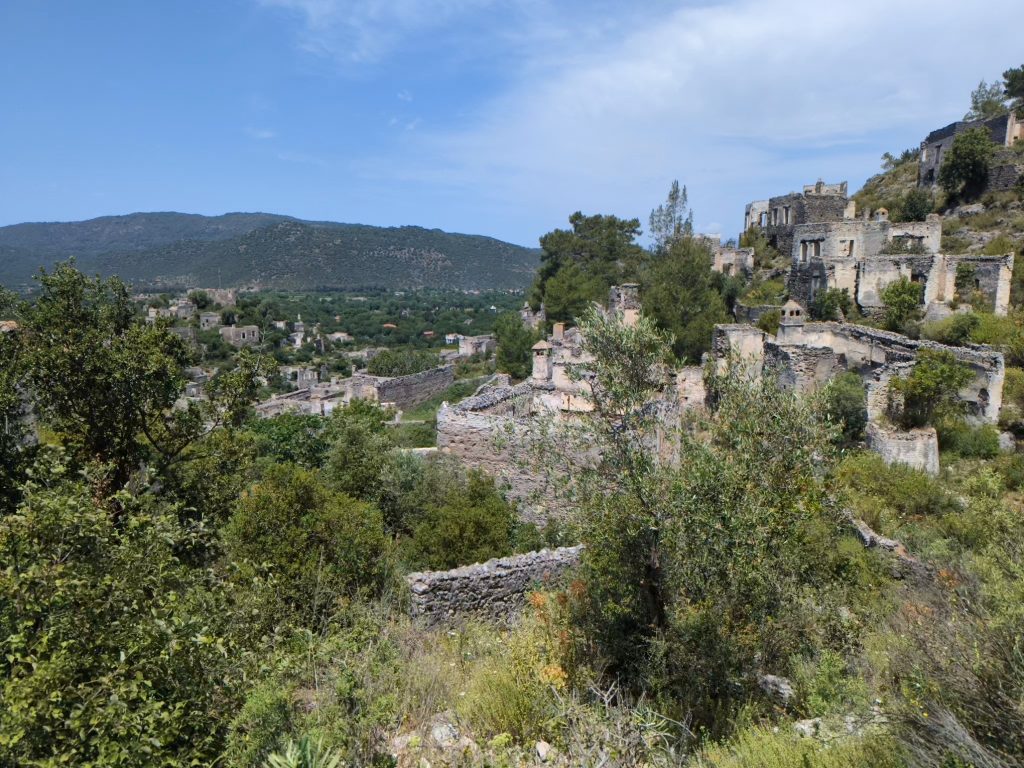 I started hiking in Fethiye…. That's a day hike before the real starting point. Just for the sake of it, so to speak. I walked a nice route with halfway somewhere the deserted village of Kayakoy which the route then just runs through. Even this part is already well marked with red/white markings.
Hiking on the Lycian Way in Turkey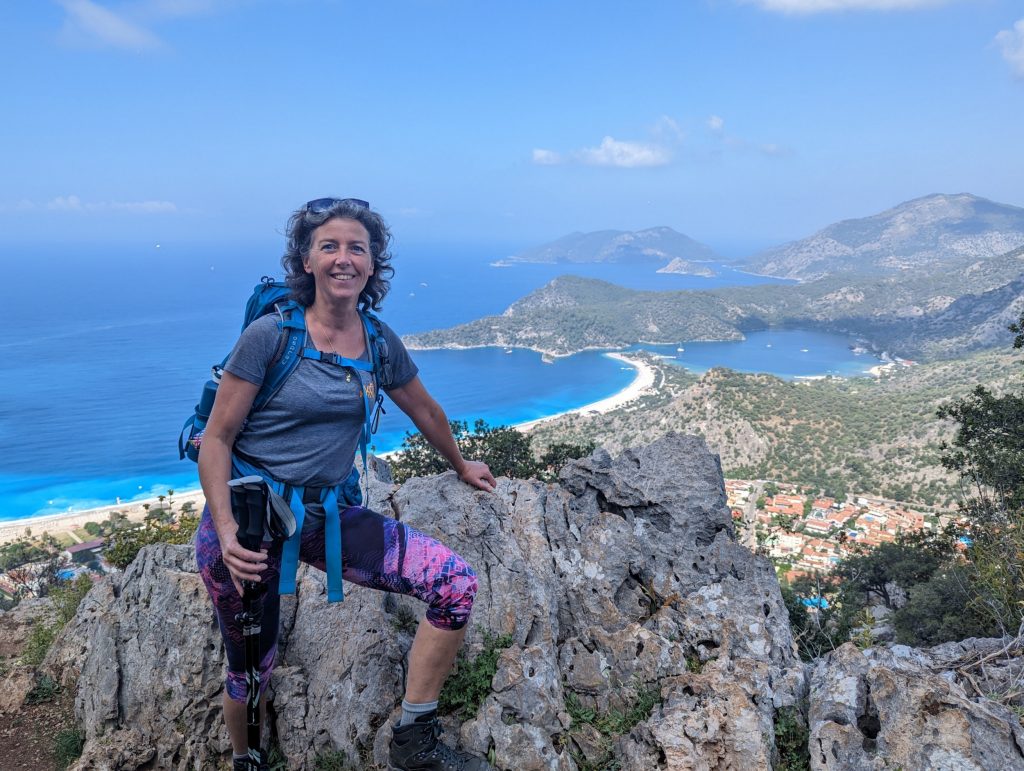 So after a fine night in Ölüdeniz and visiting the beach there, I went out this morning. You walk straight up and keep going up for an hour or 1.5. The view became more and more beautiful and wider. It was chilly at first but soon I got warm and loved the fresh breeze. At several viewpoints, I paused with open mouths to look at the beautiful view of Ölüdeniz.
I saw that Fethiye and Ölüdeniz were all offering trips to visit the 12 islands. Looking at Ölüdeniz from above like that, I can understand why a day on the water is very appealing.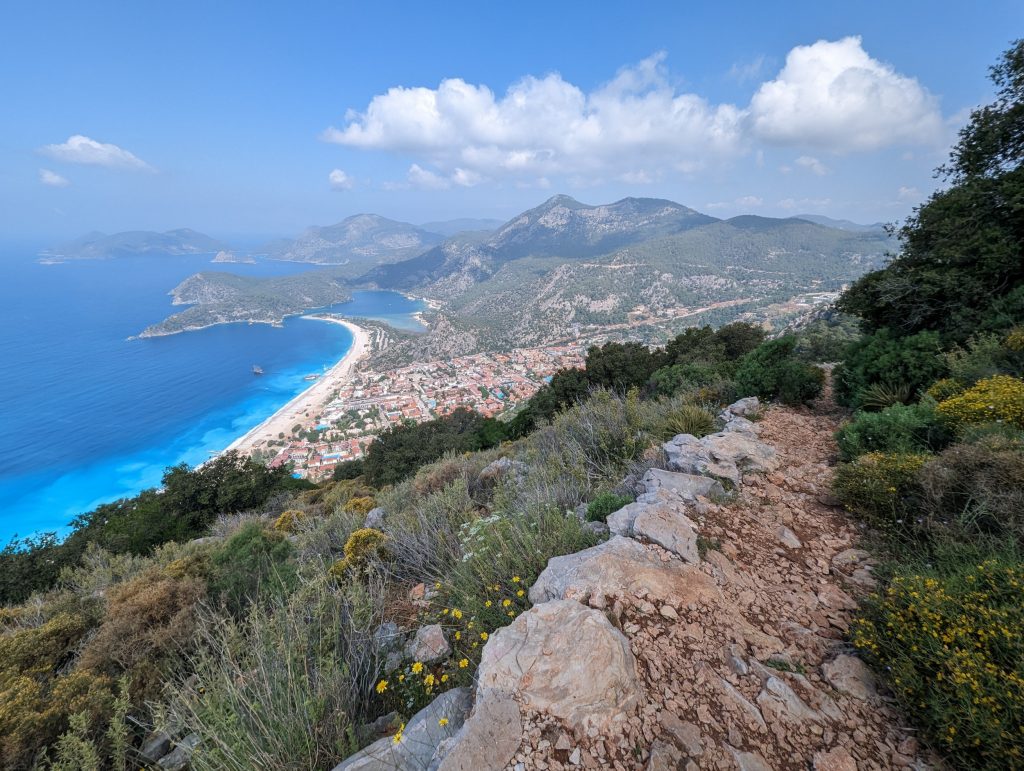 Stage 1 – Ölüdeniz to Kabak, Turkey
Once at the top, I lost sight of the beautiful bay of Ölüdeniz and slowly walked back down a little too. It is sometimes good to pay attention to the red/white markings. I still have to get very used to how they stand and how they are meant. After a while I ended up at a restaurant and there were a lot of hikers sitting there. I joined them and ordered a coke and coffee. I was not hungry yet but afterwards I should have just bought one of those nice fresh Gözleme what they were baking. Looked good too! I'm sure I'll get the chance to do that again.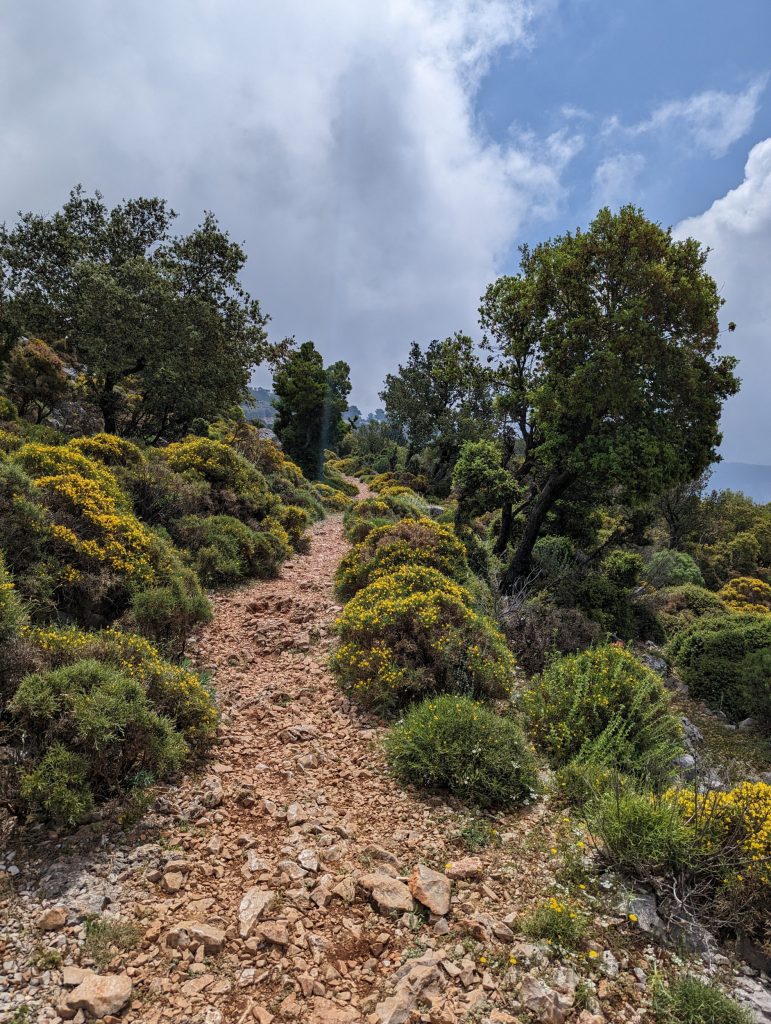 One group was from Ireland and the other I couldn't quite get clear, sounded Italian. The older German couple I saw earlier also arrived shortly after me and joined me. They are also real hikers I understood. I heard they booked the Lycian Way through a travel agency and thus had a day's description with them. This first day they were walking up to Faralya today and that would bring their counter to 12.5.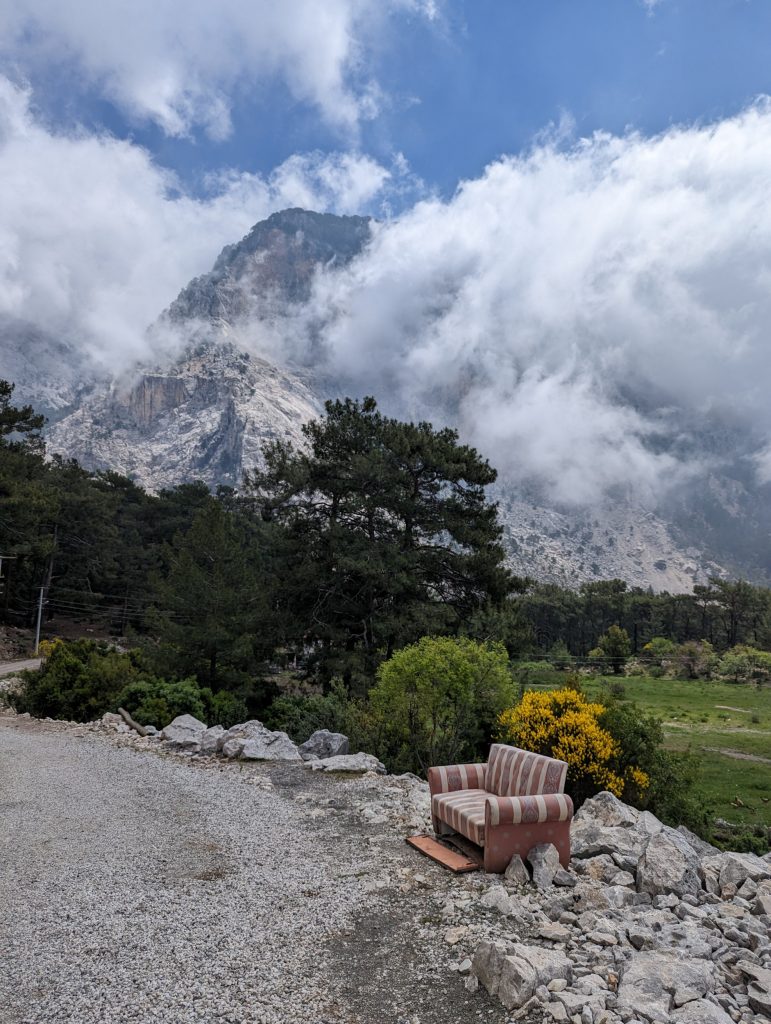 I was planning to go to Kabak. That would be about 20 km for me. I had not yet arranged an overnight stay and started to have doubts when I reached Faralya after walking through the most beautiful area for a few more hours. A beautiful bay again, too; I had had nice views of it several times. It was already 2.30pm when I got there and so I was a bit done with it too.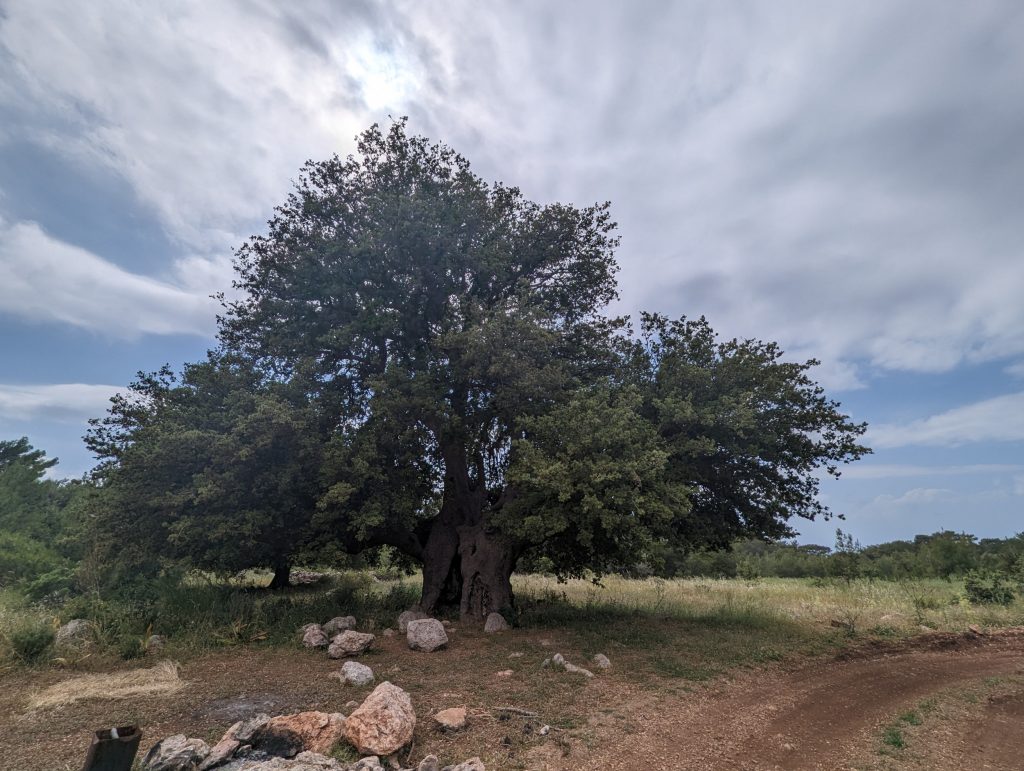 VPN on and looked at booking. Well, in Turkey you cannot use the website booking, it is blocked. Everything seemed expensive and few places… so didn't stop too long and walked straight on. It was another 8 km ahead of me. Once again, I was going for a climb. It was warm and I put on some music, lovely 80s music.
Hiking along the Lycian Coast in Turkey
They were beautiful trails through a wooded area, narrow paths and some quite steep up or down. I was also pretty much done with it when I suddenly stepped out of the forest and turned out to be right at the edge of Kabak. On the phone, I turned on the VPN for a second and saw Shiva Camp…. I walked there and for about 50 euros I was allowed to take a bungalow. How nice.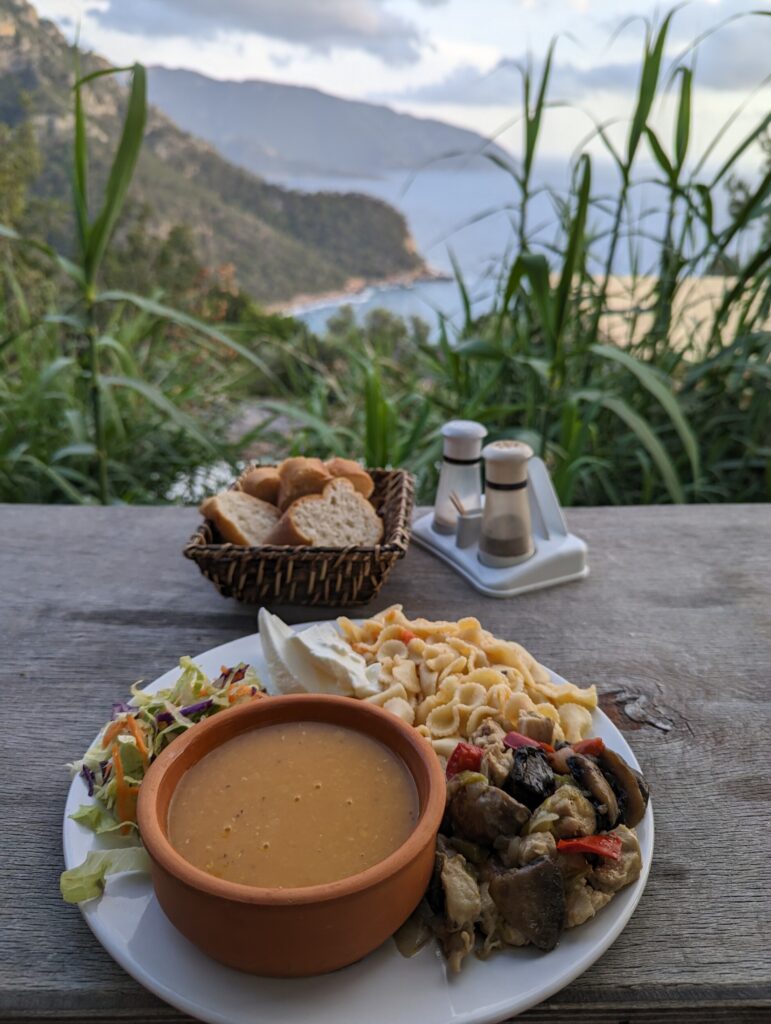 At Shiva Camp, I paid half in Turkish Lira and half in euros. I am super prepared again *cynical voice on….. I am now broke hahaaha! There's a minibus going back to Ölüdeniz tomorrow, so I'll have to do that back and forth. Very unfortunate that I could find so little online and just wasn't aware that the villages here are sooo small. So I can only be back here at 10.30 and then I'll go straight out. But let's see where I will end up tomorrow….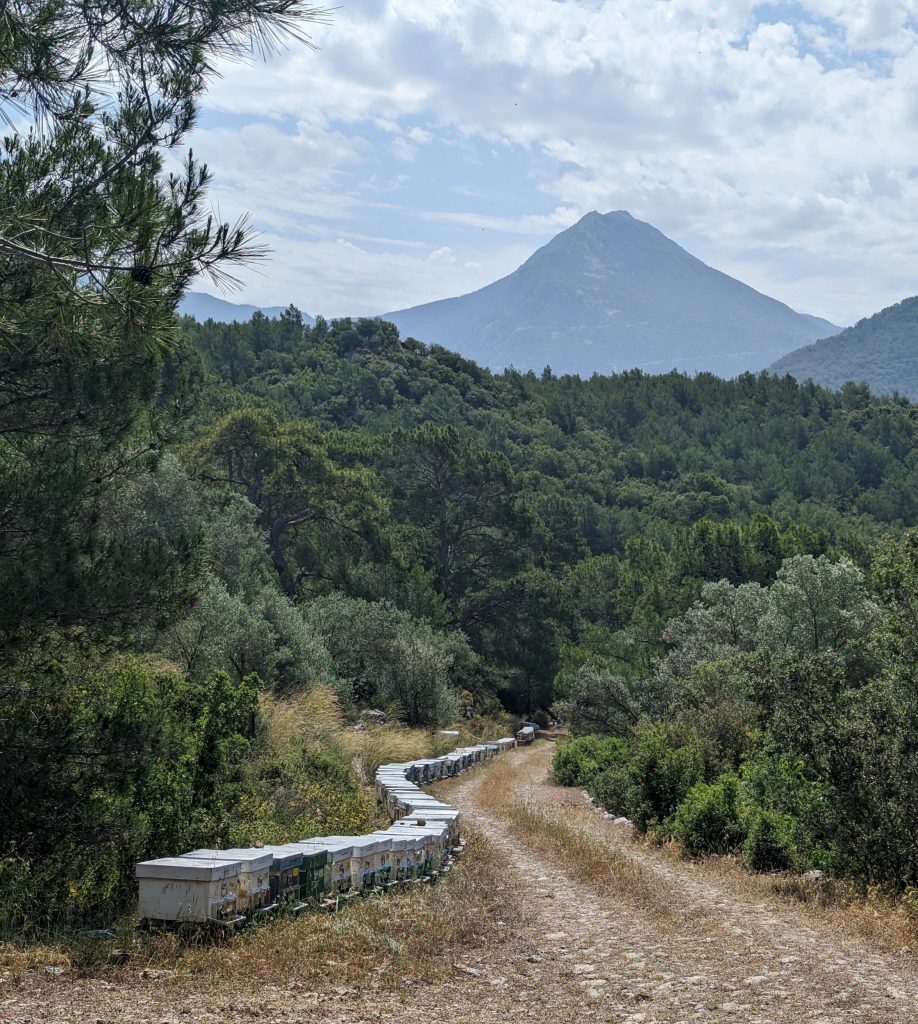 And oh yes, did you catch that I got poked 3 times yesterday? I was walking past several rows of hives and at the last row things went wrong. I got a bee in my hair and it panicked. Then I got stung 2x in my leg and 2x in my head, there I thought 1x. So in the end 4x hit… Only this morning I noticed that I had been stung twice in my head…and also saw the lump on my knee. And now it turns out a bump on my hip too 😱 Hopefully the itching will be over soon.
Hiking on the Lycian Way – Turkey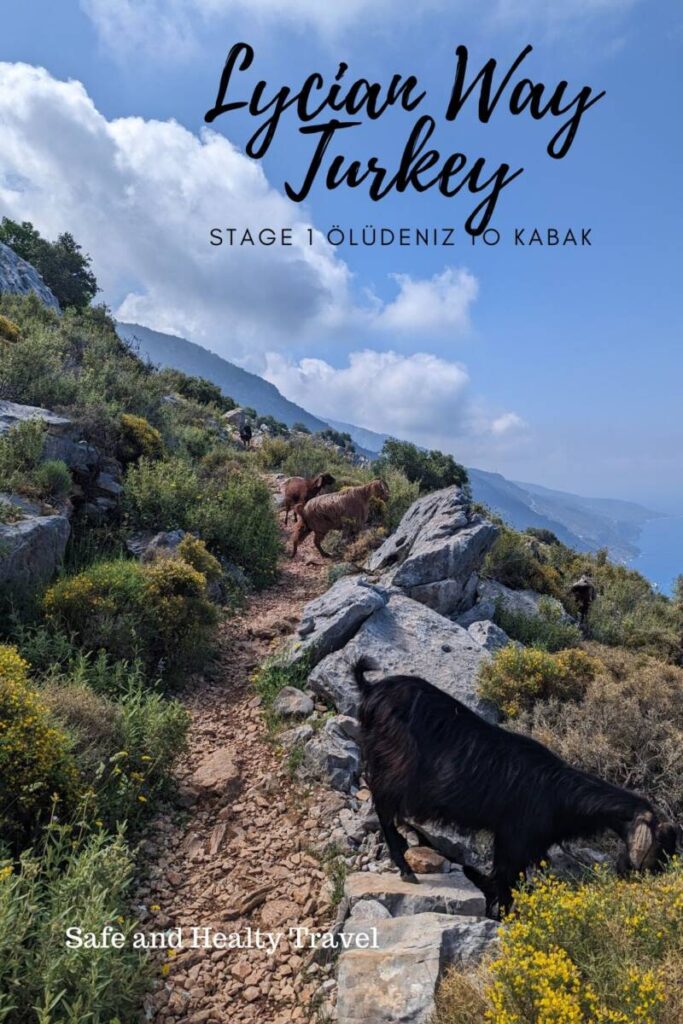 Want to read more about hiking?
Hiking on the Fishermen's Trail in Portugal
Walking the Alpe Adria Trail – Stage 7 to 11 – Austria
Hiking a pilgrimage -Pros and Cons for Summer and Winter – Spain
Active travel in the Sword, Red & Rose Valley – Cappadocia, Turkey
Or how about hiking in a wadi?
Hiking in a Wadi – Oman & Jordan – Adventurous hiking in the Middle-East
I hope you enjoy this beautiful world as much as I do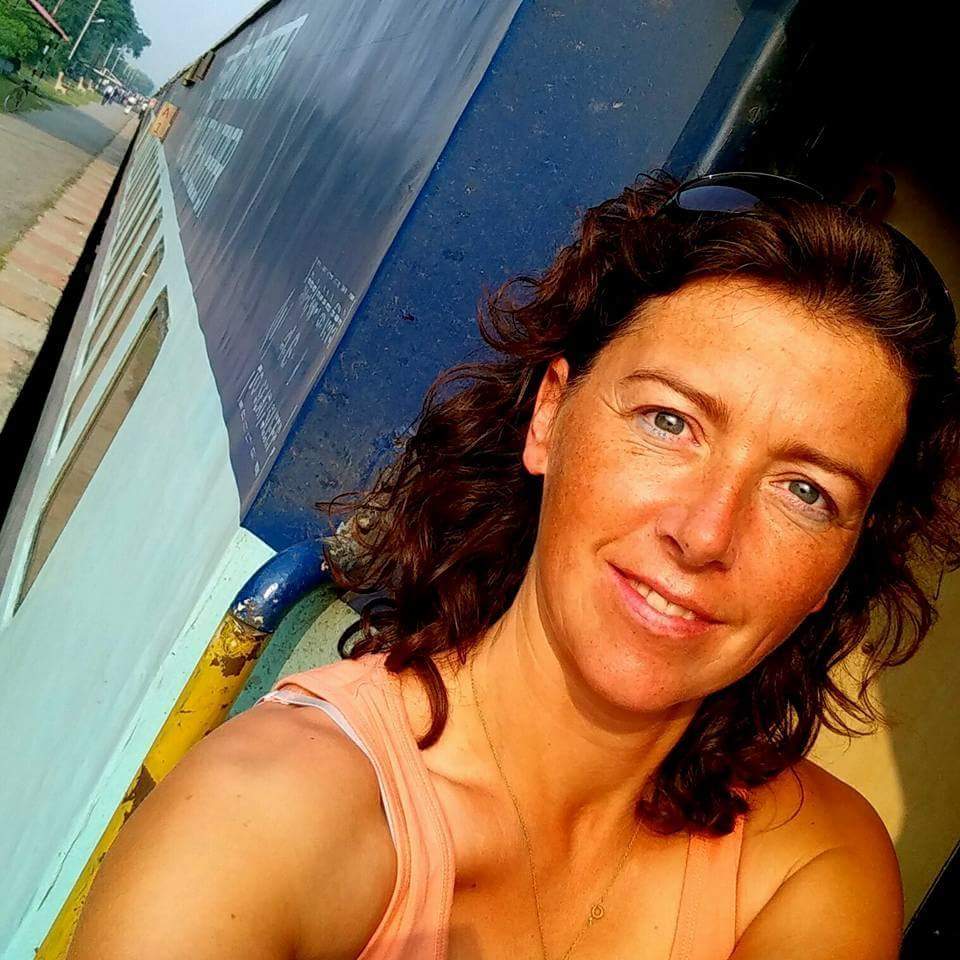 Jacomijn is een politieagent uit Nederland die jou graag laat zien hoe je veilig, actief en gezond de wereld kan over reizen. Safe and Healthy travel is a MUST