Hiking Luxembourg Lee Trail – Escapardenne Lee Trail
|
Have you ever heard of the Escapardenne Lee Trail? It's a hiking trail in Luxembourg that leads you through the Sure valley of the Ardennes of Luxembourg in 53K. I was searching for a short hikingtrip for a weekend to spend with fellow travelblogger Antonette of we12travel. Looking for hiking suggestions Luxembourg the Lee Trail was the perfect fit for an extended weekend. But that the last weekend of june would be have heat wave wasn't planned. I am lucky to love the sun and temperatures and did walk the entire Lee Trail feeling happy!
The Luxembourg Lee Trail is a hikingtrail rated from moderate to expert in the small European country of Luxembrug. It is ideal for a short hiking holiday in Europe. The trail is 53K long and I advise you to do it in 3 days. This hiking adventure is mostly in natural trails and make sure to bring enough water and food along for the day as there is not much to buy once on the trail.
If you get to the site of Escapardenne you'll find the Lee Trail goes from Ettelbruck to Kautenbach mostly. As the trail is signed for both ways we decided to do it the other way around. The last day was the longest and we wanted to do it on the first as that would be the coolest day with temperatures just below 30 degrees. The other days would go over and would be less heavy if we took it like this. I have read that hikers did the hiking trip in 2 days but for us it was the best to do the Lee Trail in 3 days.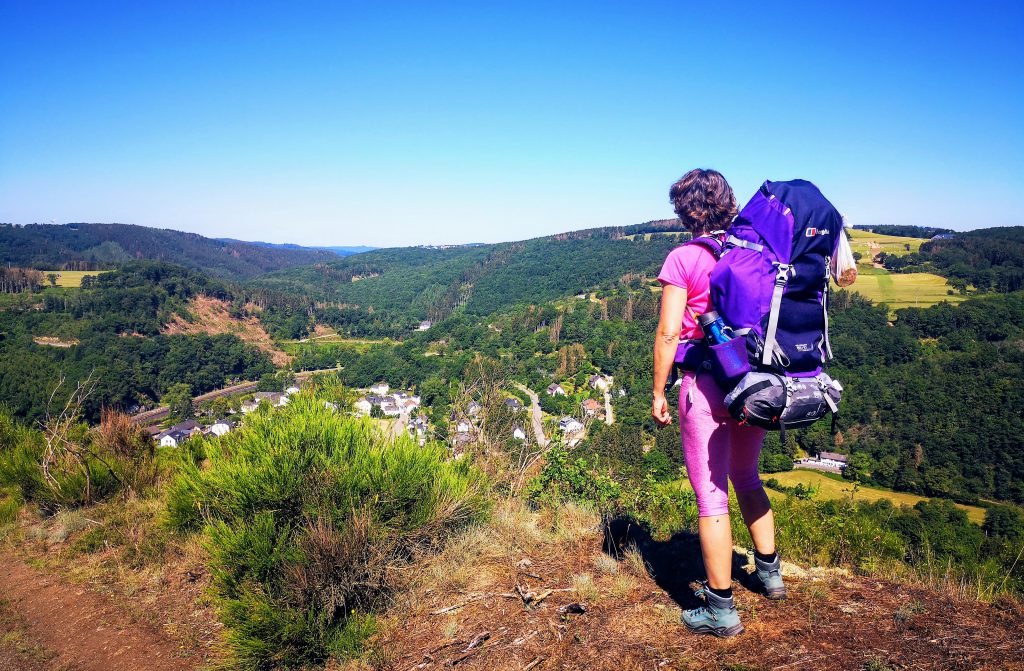 Visit Luxembourg –  Go Hike the Lee Trail
Preparing the Lee Trail
We decided to go camping to I took my tent, sleepingbag and sleeping mat with me. I needed to take my 60+10 lt backpack with me to get it all in. It was not ideal but I don't have everything in ultralight for an ultralight trekking adventure as this was my first camping trip while hiking. I took also some energy bars with muesli, nuts and fruit. 2 big bottles for water on both sides of my bag. And the minimum needed clothes and toiletry was added.
I did take my percolator to make some coffee…and so I also took some creamer and sugar. Antonette took a small camping stove so we had a fresh cup of coffee each morning before taking off on the Lee Trail!
It is not allowed to camp in the nature in Luxembourg, you can get a fine of €140. We did see some spots that were perfect for camping along the trail and it seemed to be used that way also…
Our first night was in Ettelbruck. If you start this hike in Kautenbach as we did I would advise to take the train the first evening and sleep in Kautenbach but we arrived later in the evening and didn't feel like traveling anymore. But otherwise we could have started earlier the next morning on the Lee Trail.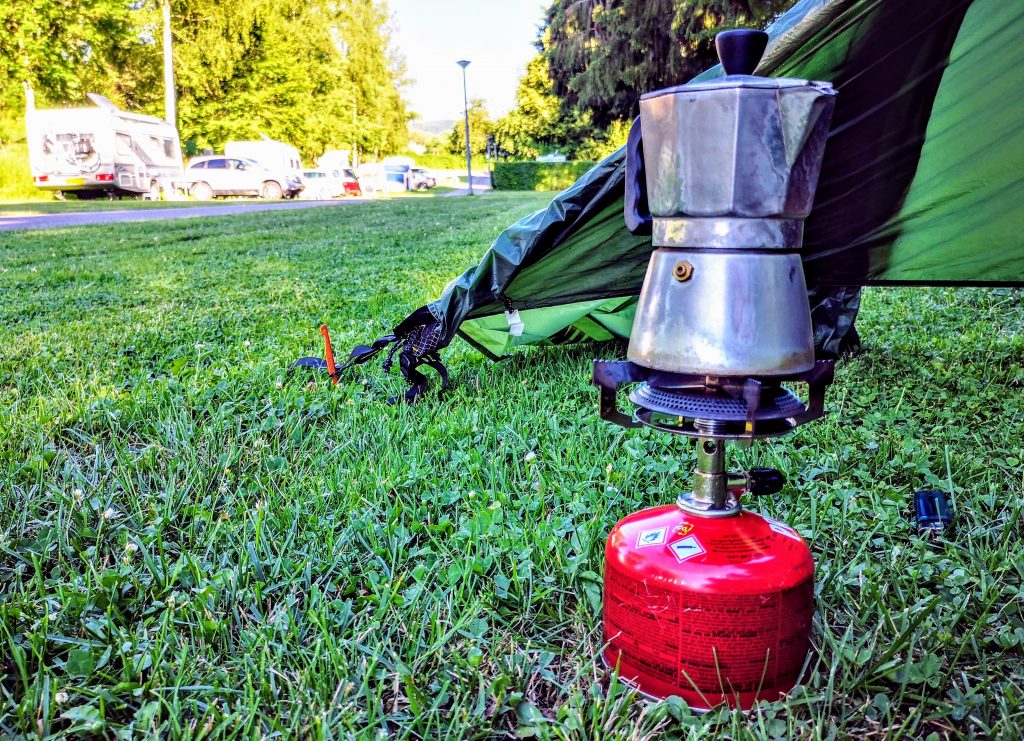 You can easily park your car at the trainstation. It is free parking at the P&R parkinglots. It is for both the same, Kautenbach and Ettelbruck. The trains are only one per hour and so we were around 10.30 in Kautenbach to start our hiking Luxembourg Lee Trail!! The train was really cheap though…and I heard that they want to make it a free service later on.
There is also the Eisleck Trail, you can do that one in 5 stages as it is 106K. This multi day hiking trip starts in Kautenbach and ends in La Roche-en-Ardenne. I really feel the challenge to do this trail somewhere next year!

And if you want to explore Luxembourg more afterwards there is the Mullerthal Trail that takes you into the area also called little Switzerland for 112 K!
Lee Trail accommodations: That first night we stayed at camping Ettelbruck for €22 a night per person with each a tent.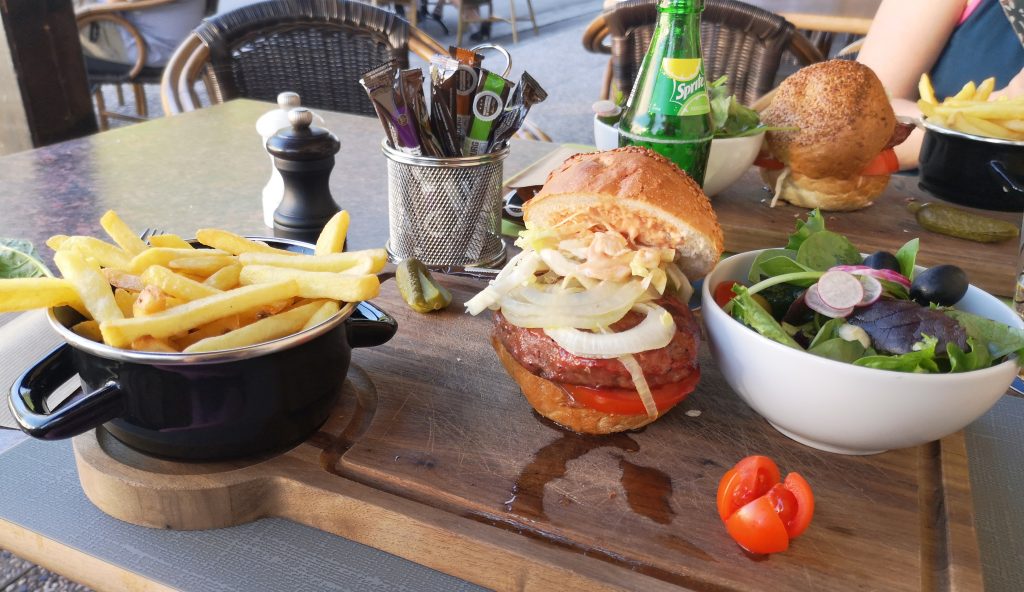 They do serve a great dinner, they have a nice restaurant and a bakery service in the morning. I have to say that the camping is situated along a bigger road and the whole night we heard traffic passing by.
Hiking Luxembourg Lee Trail
Day 1 Lee Trail * Kautenbach – Goebelsmuhle 22K
That first day we did some shopping in Ettelbruck and got the train around 10.15 and started around 1.0.30 our trail. At the P&R (Parking and Travel) area are signs with explanation and such to help you along the way.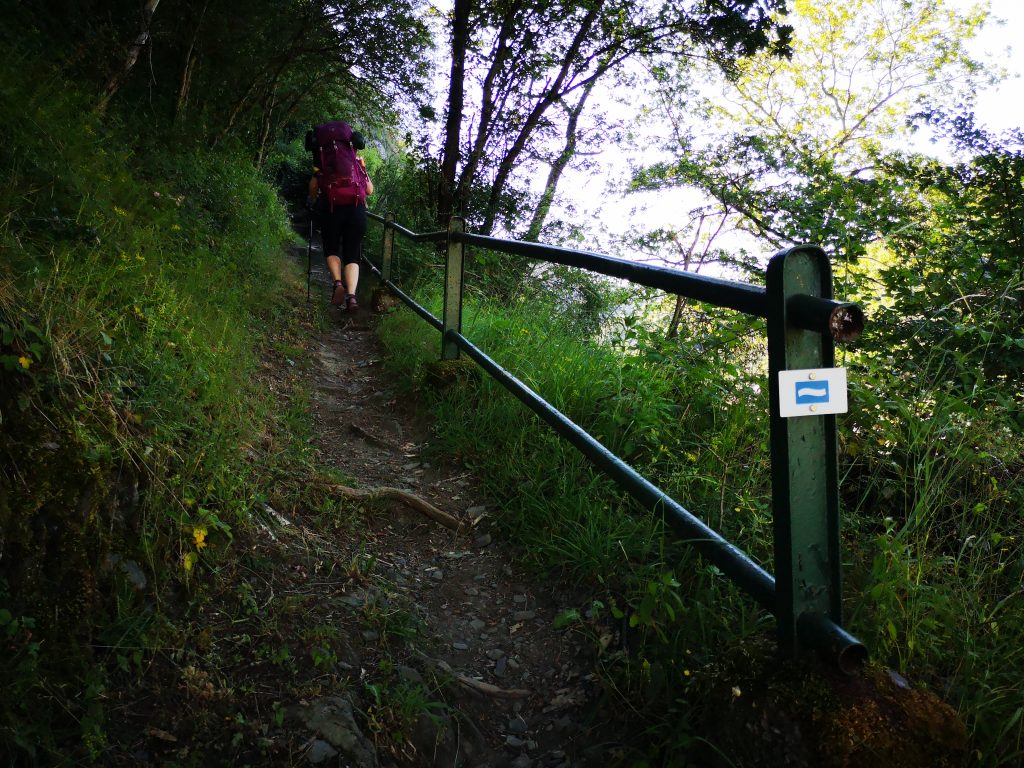 Prepare yourself for a steep climb because we were climbing immediatly to get some great views over the landscape of Luxembourg. After a climb that warmed up our muscles, directly in the sun, we came to a part that gave us some more shade and a bit of wind to cool us down.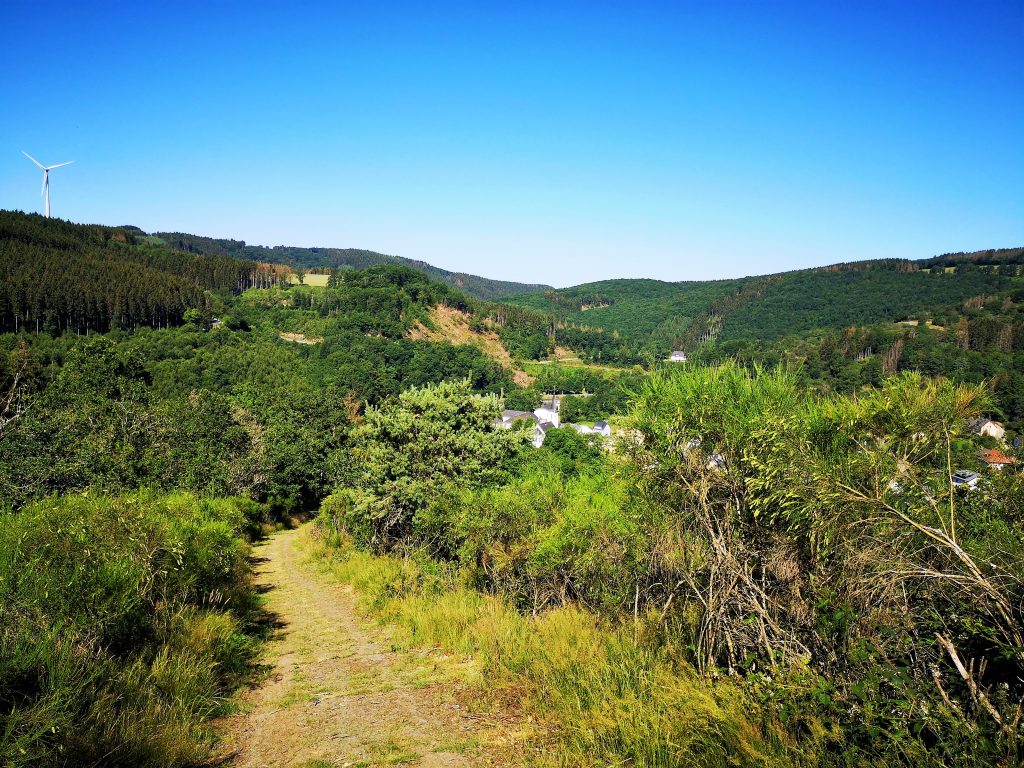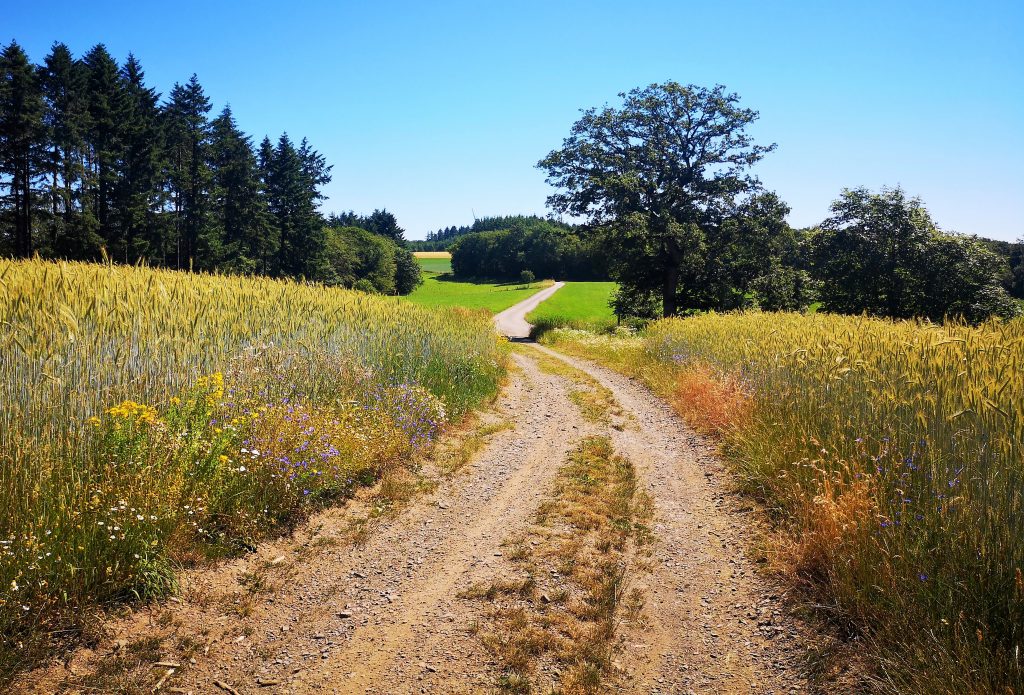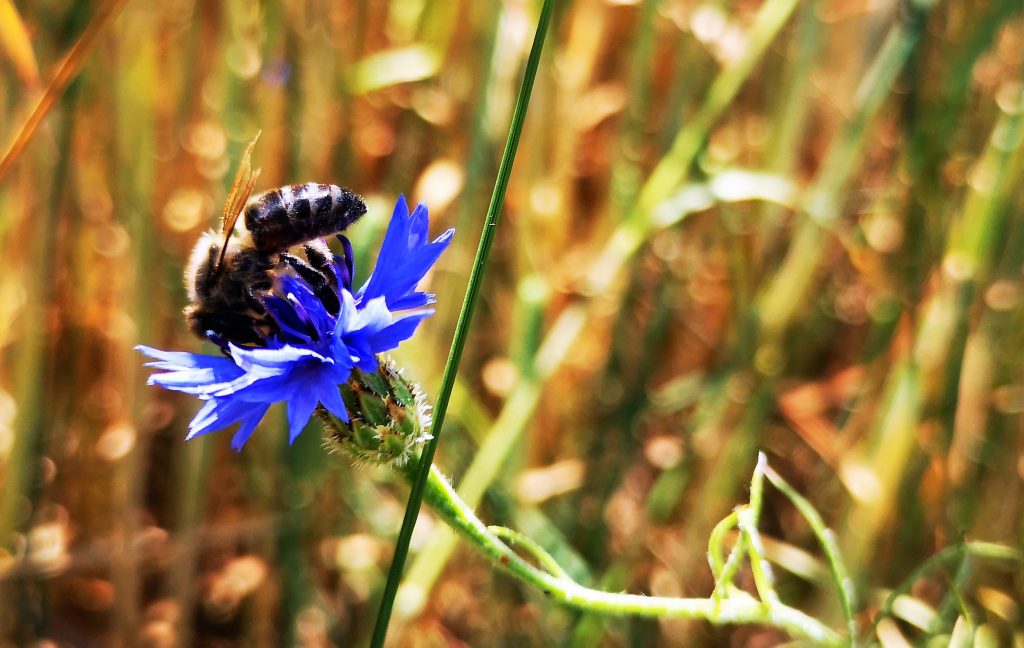 Just before the village of Hoscheid I was surprised to see a small white church. It is in the middle of nowhere and looks really sweet standing there on a small elevated area. Inside are some benches and an altar with a statue of Maria and Jesus.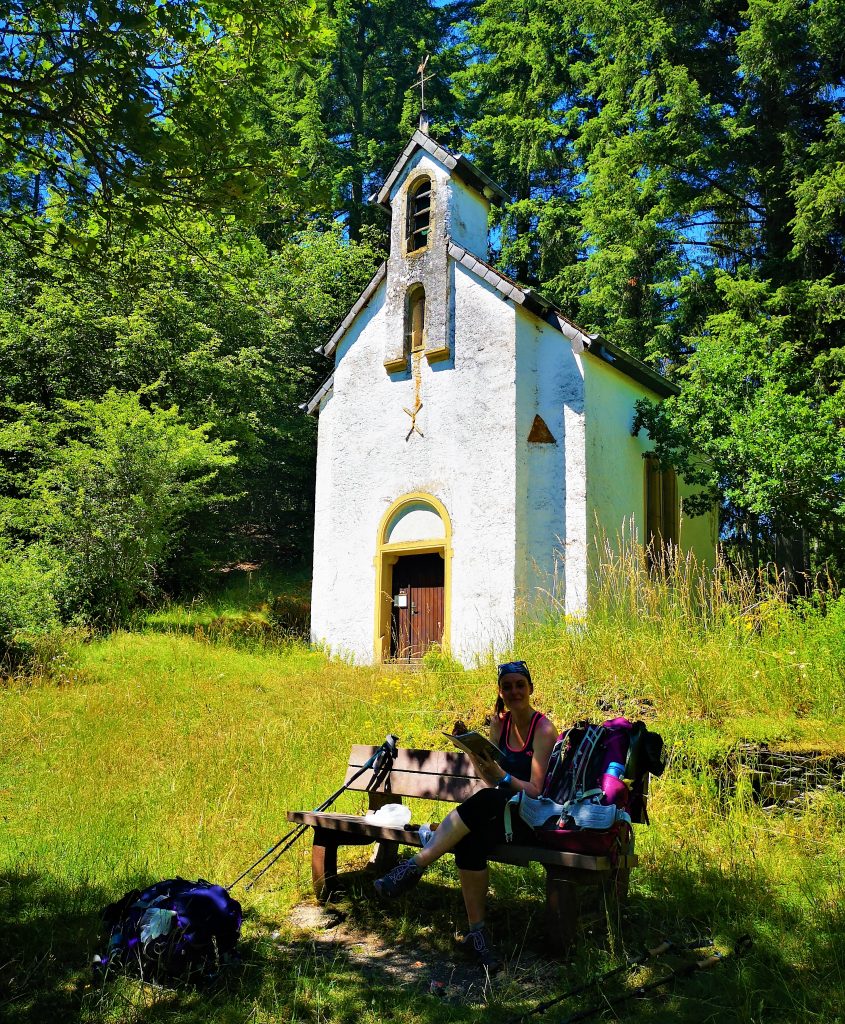 Arriving in Hoscheid we took a break we really needed! It was hot and we needed some refreshing sodas. We sat down and I took off my shoes to cool and dry my feet. We ordered a soup to get some salt in our body as we were sweating a lot in this heat. We needed to hike for another 6K because in Hoscheid is a hotel but not a camping.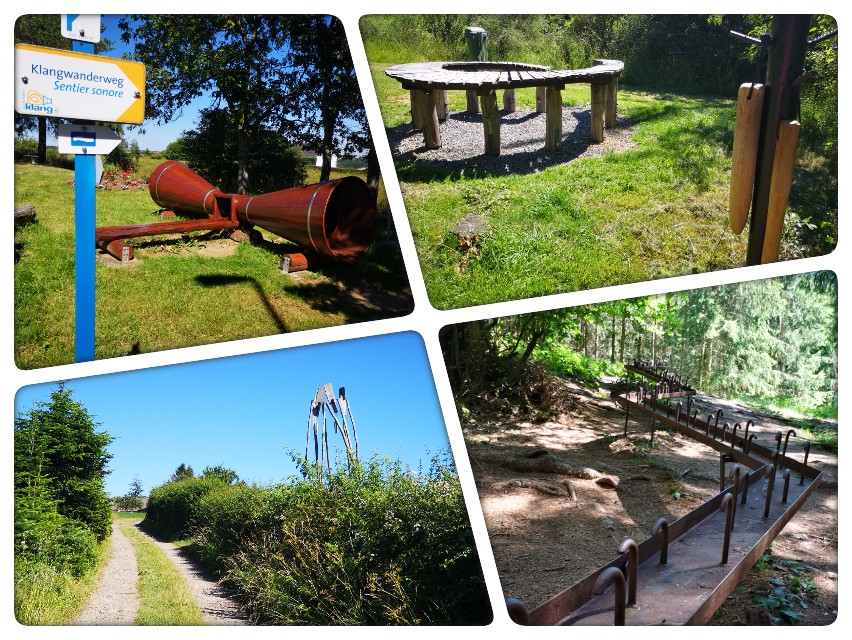 In those last 6 K on this day I was so happily surprised with this last piece!! All of a sudden we were hiking on a mountain ridge. I loved it!! I think it was the best part to hike on of the whole trail!! On day 3 was also a highlight…but this was really impressive!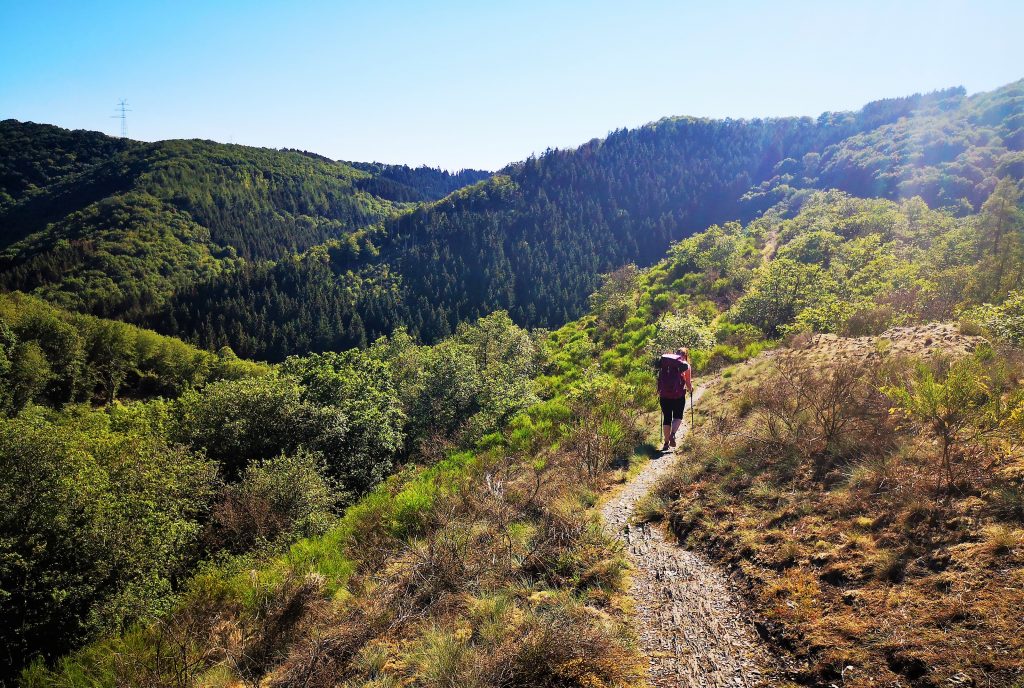 Did you know that Lee is translated in Mountain Ridge from the Luxembourg language? So the route is named after this part of the route and I do get why it has earned it!! I really loved this amazing part of the Lee Trail!!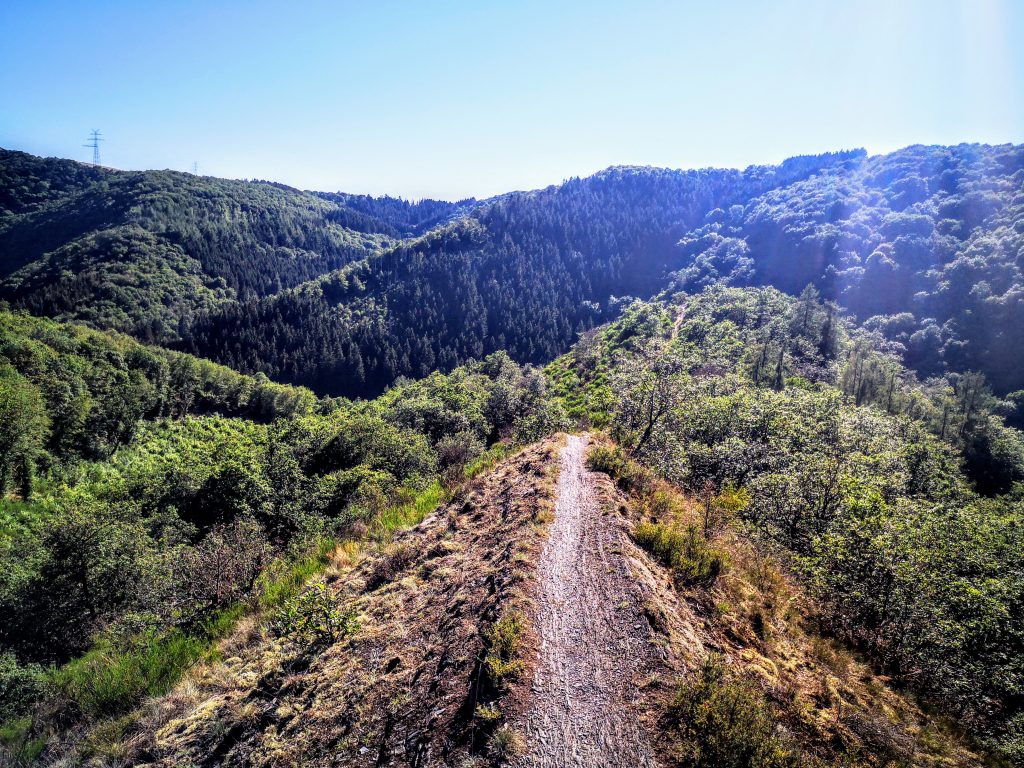 And that last part of the trail was quite long. It turned out to be 19.30 in the evening when we got to our camping spot for that night. We were heading towards a well deserved night rest in the tent 🙂 I slept like a baby that night on my thin sleeping mat and in my thick sleeping bag.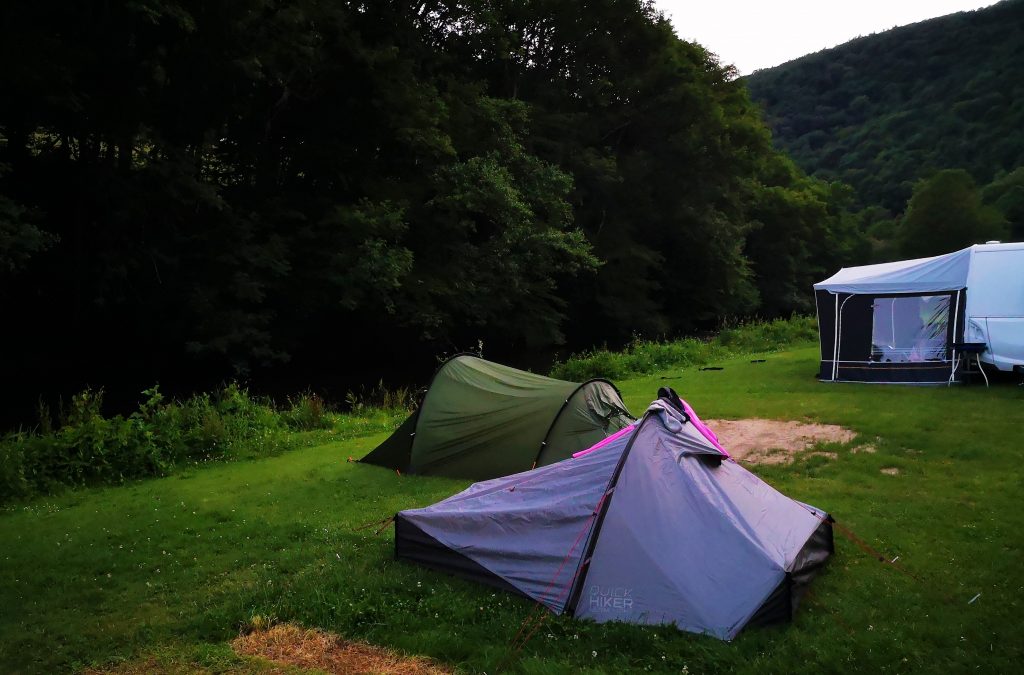 Lee Trail accommodation: We were at Camping Du Nord just passed Goebelsmuhle. The route goes along the entrance of this camping. In summertime they have a snack car and so you can buy some food in the evening. I paid per person with tent €11!
We were putting up our tents and a Dutch couple came to us to offer us food! How sweet is that? They had their last day and went home early next morning. They offered us their last food, some leftover dinner and a tomato and olives!

That tasted just great!!
Day 2 Lee Trail * Goebelsmuhle – Bourscheid du Moulin 13K
The next morning we tried to head out a bit earlier because of the upcoming heat. Still it was 8.30 before we left Goebelsmuhle and went on the Lee Trail for day 2. The first climb was exactly opposite the camping and took us immediatly up for some good views.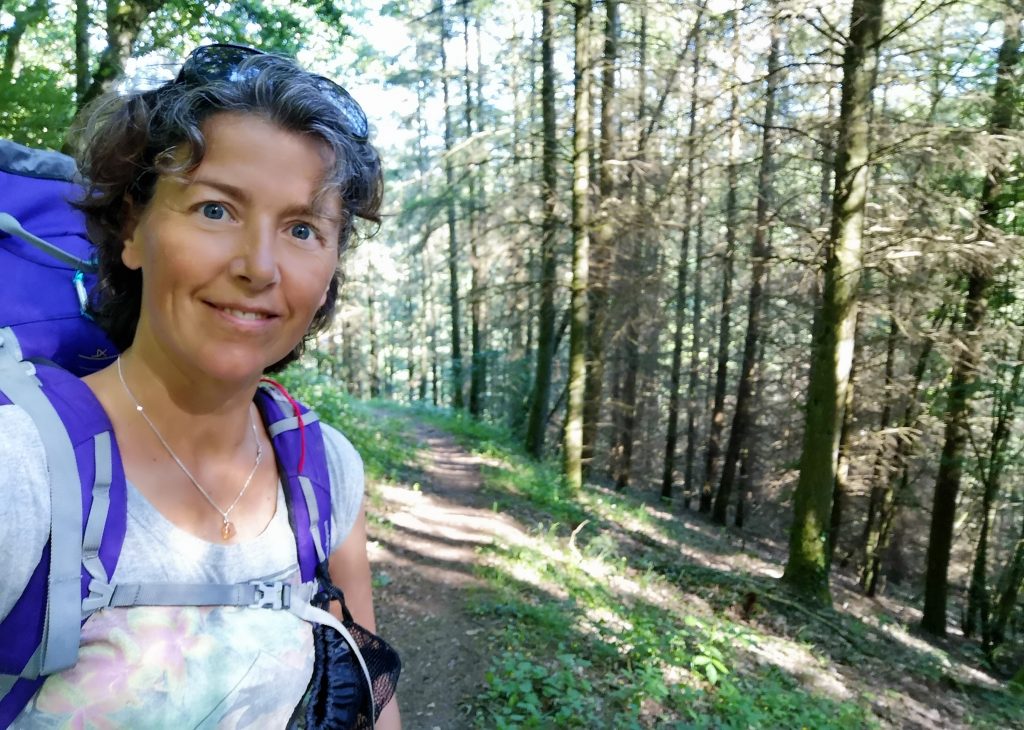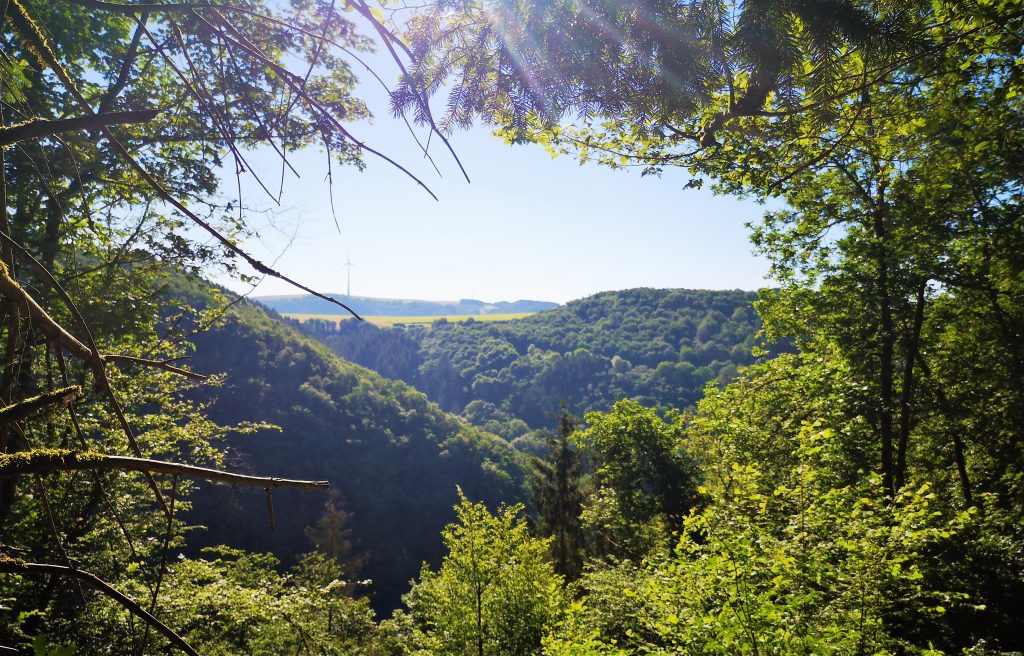 We came along a deserted hotel and some houses and went up to Gods Finger. You only see the Finger when you are in front of it. It is a big, huge rock that points to the sky, like Gods Finger. I couldn't get a good picture of it unfortunately. When you are standing in front of it you're too close and afterwards we didn't got a see it again. It would be like seeing a huge mohawk sticking out of the forest with one really high one (Finger of God).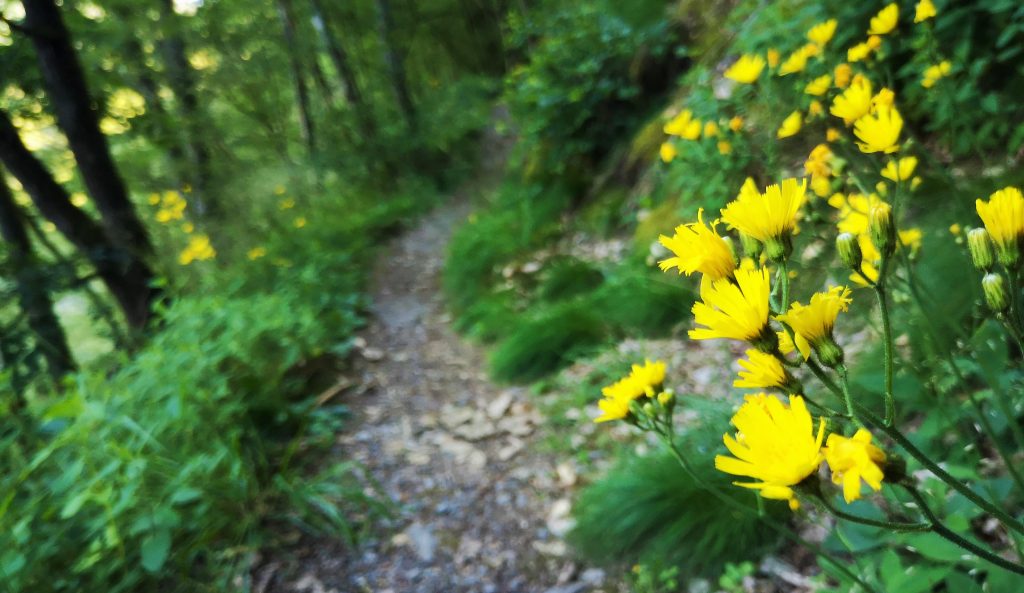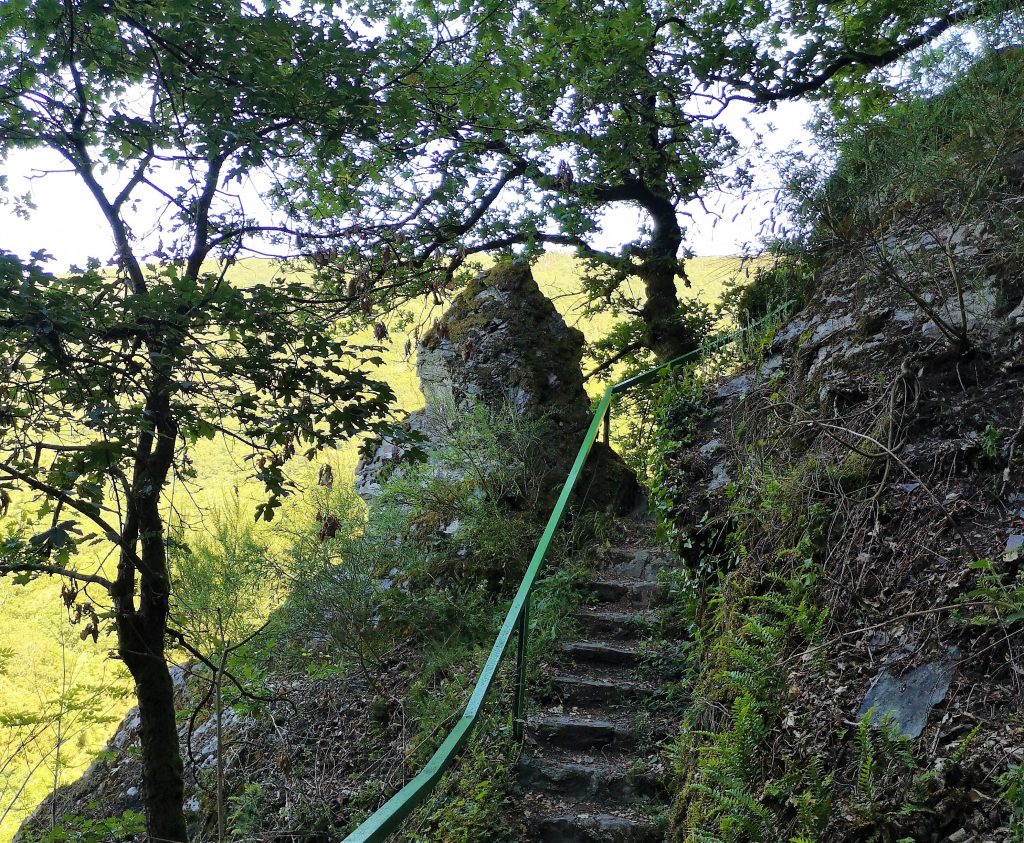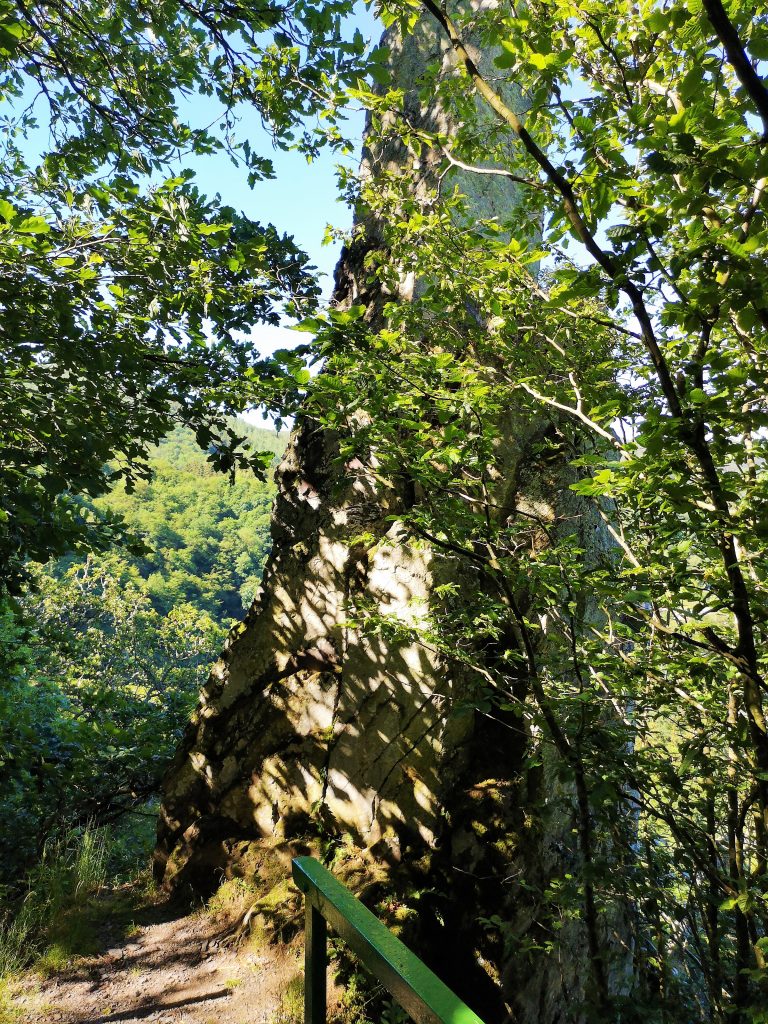 The path that lead us to the Finger was great. It goes along the mountain and you'll be protected by a iron fence not to fall down. If you get out of the forest it is a couple of minutes along the road to go back into the forest. There I came upon a viewingpoing called Rouschtert and I hoped on getting a view on Gods Finger… But no…It gave me another great view over the landscape of Luxembourg.
It was a good place to sit down and drink some water!!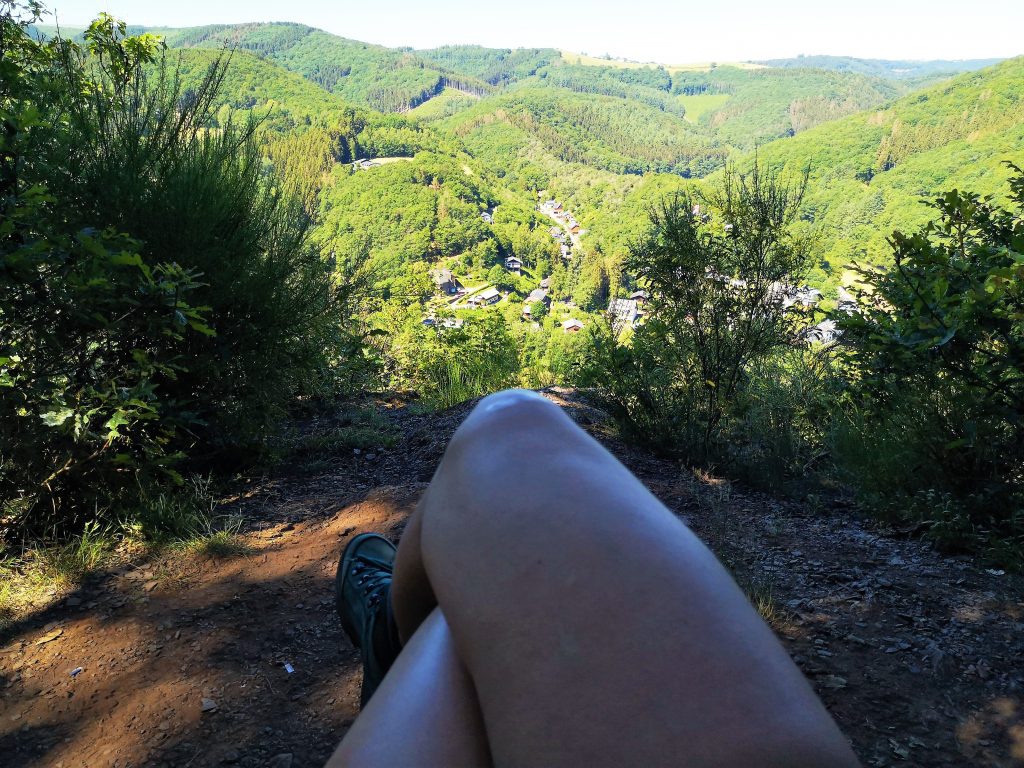 The highest spot of this trek was yet to come, it is the Napoleonsknappchen. This spot is on an altitude of 505 meters and is situated on a plain. There is a viewingpoint and a tree which was planted in honour of the son of Napoleon, this is not the real tree anymore…that one was cut down by Germans in WWII.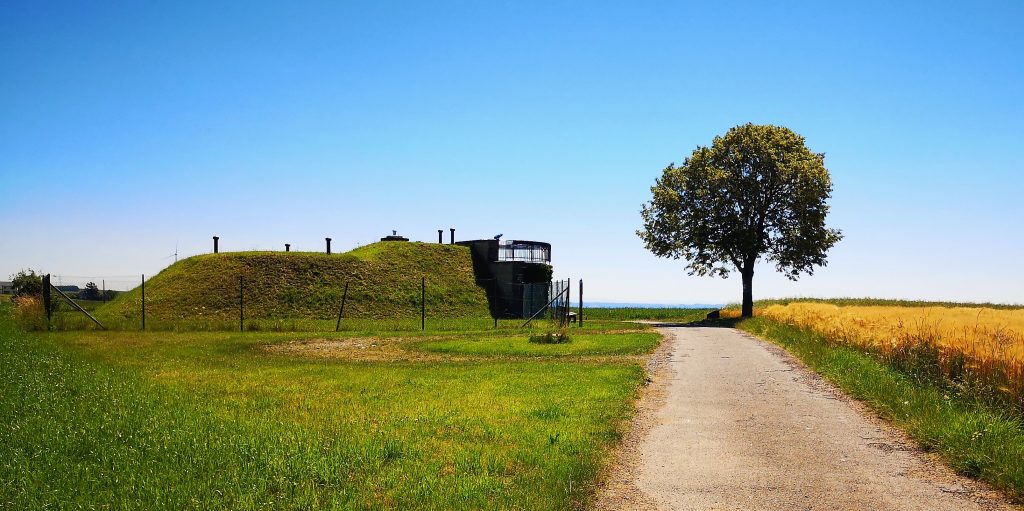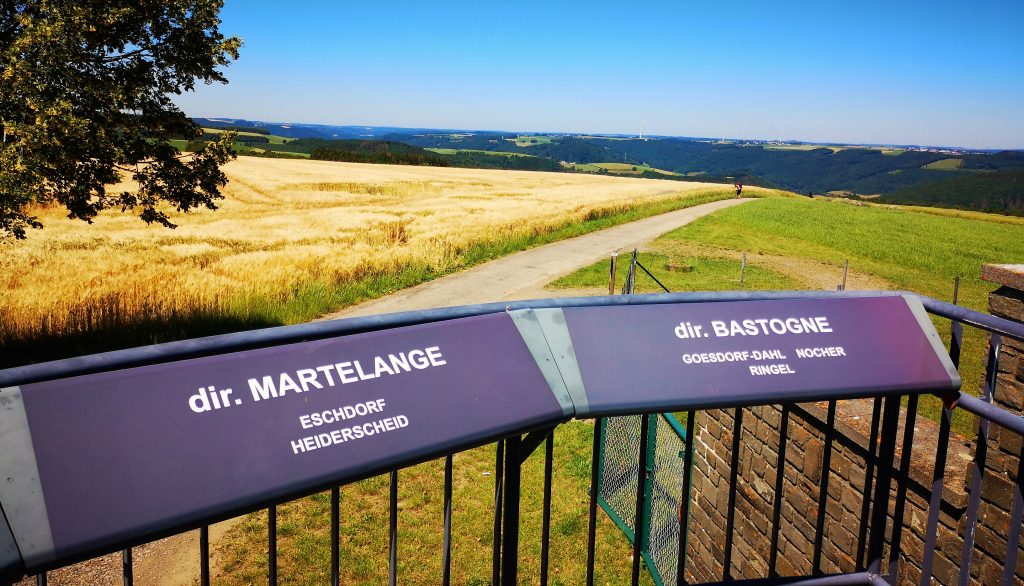 Lee Trail accommodation: Camping du Moulin. It was a really nice camping along the river Sauer. In Bourscheid we had a great dinner at the Brasserie du Vieux Moulin "Am Keller" and at the camping itself is a small supermarket where you can buy some food and drinks. The camping was per person with tent €5.50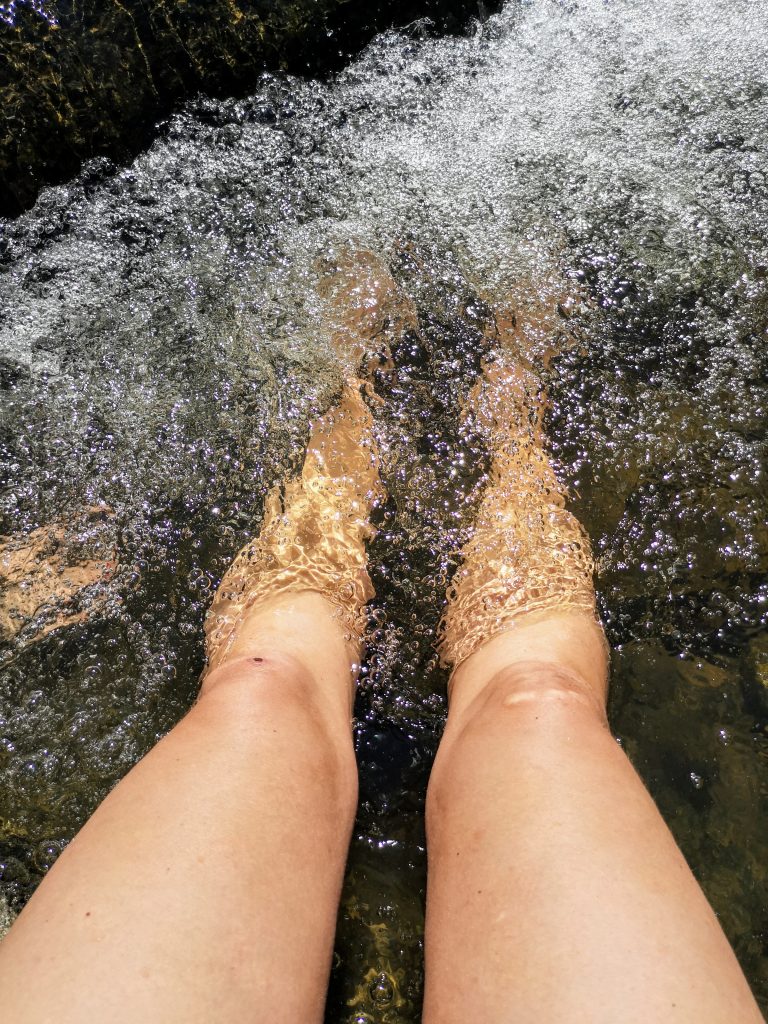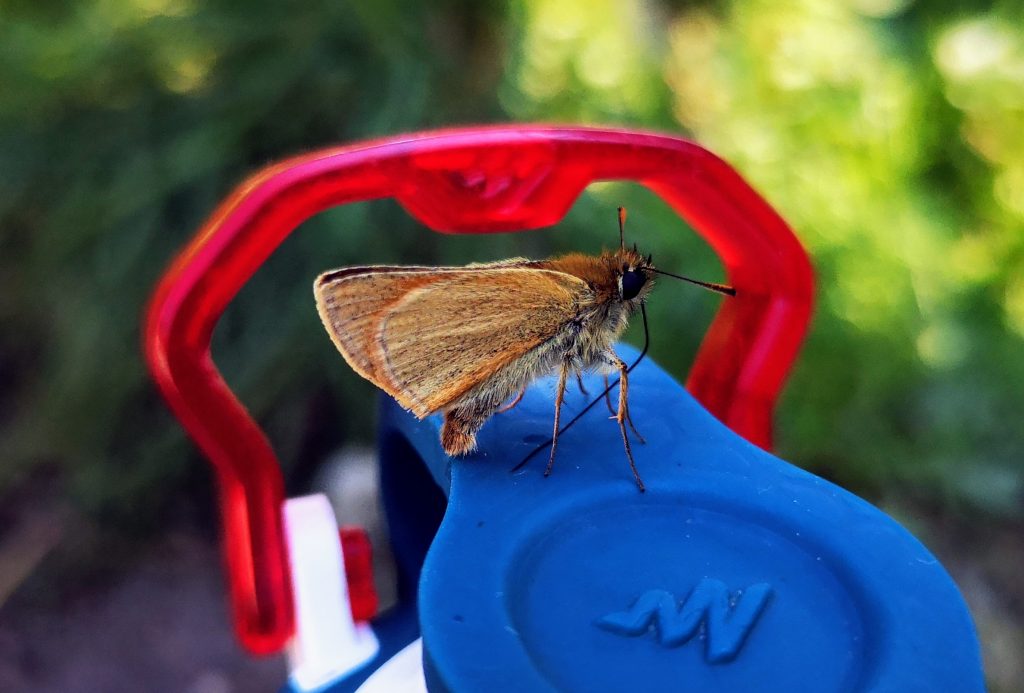 Day 3 Lee Trail * Boursheid du Moulin – Ettelbruck 18K
The Lee Trail is along this camping so we could hike on the next morning. Just after the brigde in Bourscheid du Moulin we crossed the street and headed into the forest to climb up to a great viewingpoint. In a short while we ascended around 240 meters.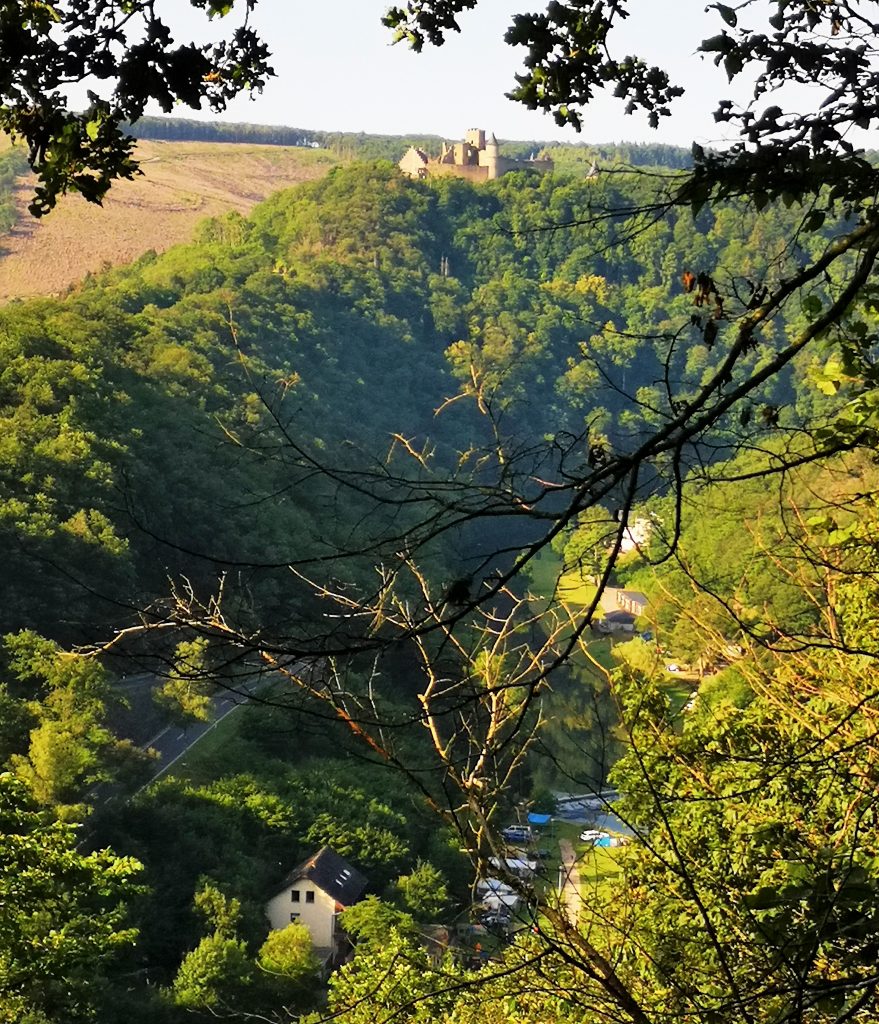 The view on the meandering river Sauer through the Luxembourg landscape! I really get why they got this viewingpoint here to sit down and to enjoy the view to its fullest!
As on other spots we saw you can go paragliden here too. That would be so great!! Just a while ago I did that for the first time in Nepal!! See my clip on paragliden…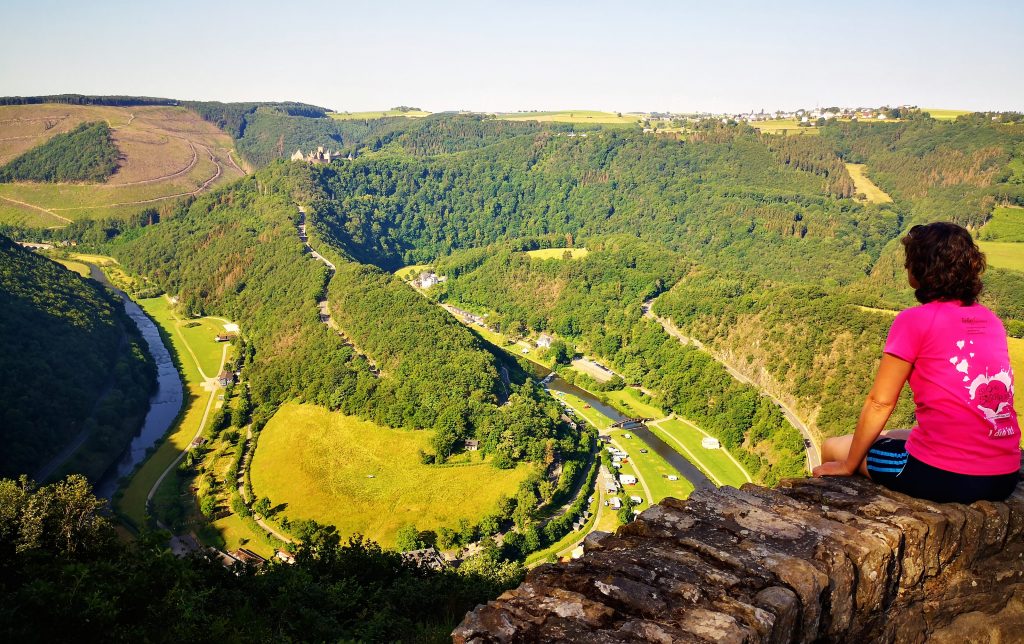 My hiking companion had a really tough time, mostly because of the weather. I do love the warmth and summer but she didn't. On top of that she had troubles with grass as she has a grass allergy. The paths weren't really wide and so the grass was constantly scratching her legs. You could see them turning more red and irritated by the day. After the climb to Gringlee viewingpoint it was too much for her, after a couple of K's to Michelau she got the train for the last part. It was still 10K to go for me…
For her it was the best thing to do, it took some courage to take the Safe and Healthy way!!

I respect that deeply!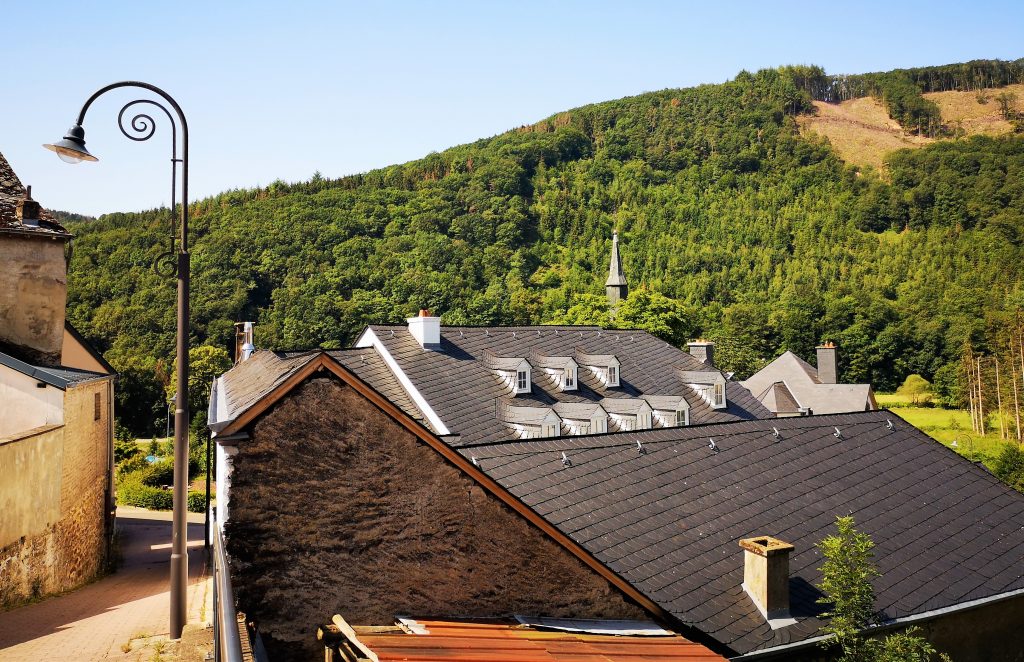 Her train took her in 3 minutes to Ettelbruck as for me it would take me hiking for another 3 to 4 hours. The paths were great but it was really hot with temperatures over 30 degrees. I went up after Michelau and got to hike a forest where I had a steep descent to a viewingpiont Predigtstuhl. I was really curious about it, it sounded like that great spot in Norway 🙂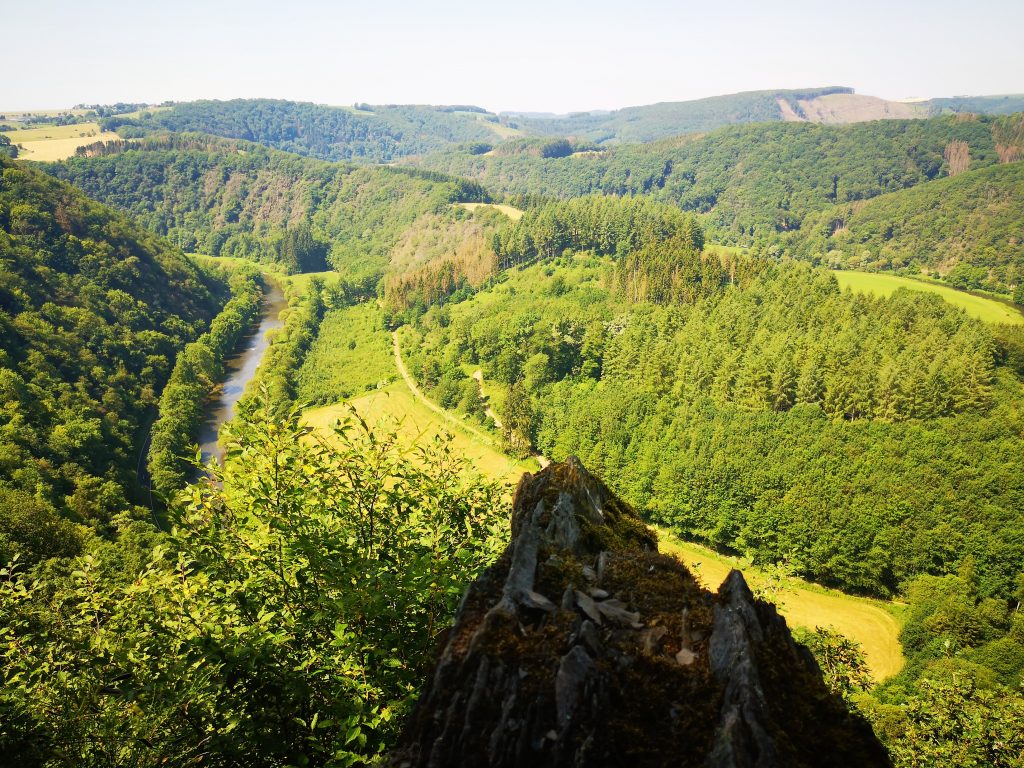 I climb up here… There is a fench and ofcourse I stayed behind that one. I sat down for a while and let the wind cool me down a bit. I loved the view I was getting there!!
I was around noon at Predigthstuhl and walked again for another 2.5 hours to finally get to Ettelbruck totally sweaty but really happy to have finished the hike. If the path spits you out of nature you are just behind the trainstation and there I parked my car. When I got there Antonette came to me with a cool bottle of water and a can of Fanta.. Those were gone in 5 minutes!!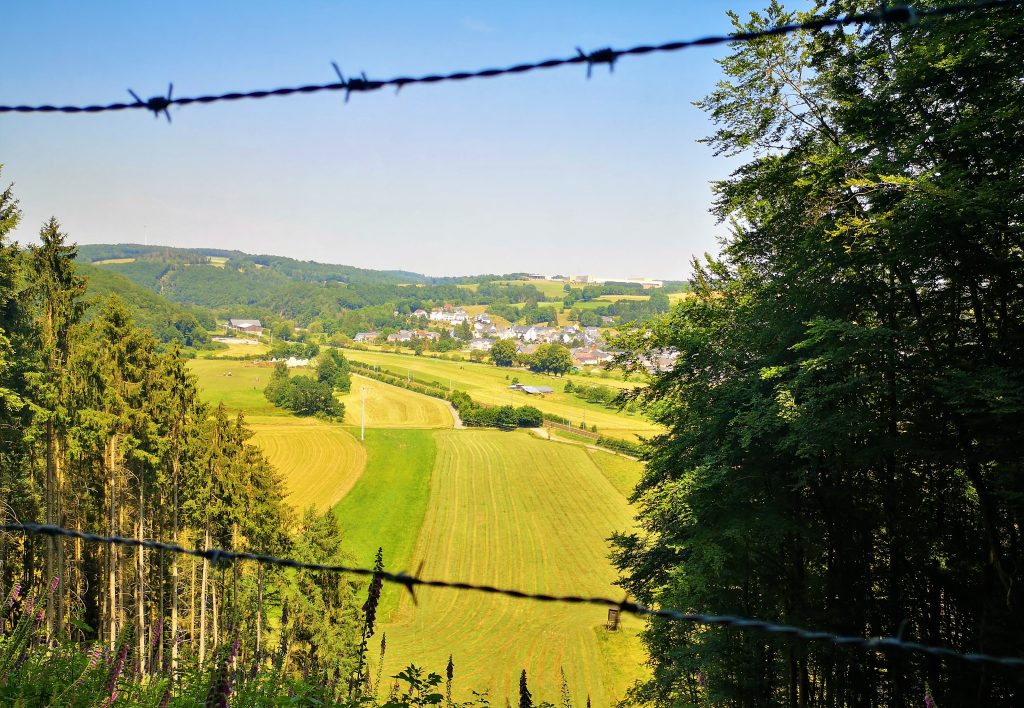 Hiking in Luxembourg
Go hike the Lee Trail
The Trail in figures :
2000m of elevation gain
More than 60% natural trail
Less than 20% with an asphalted surface
16 natural sites crossed or followed
32 outstanding views
1 town and 10 villages or hamlets crossed.
Want to read more about the Lee Trail and the other hiking trails of Luxembourg? Check the site of Escapardenne that has all the info and maps you need.
I do place short clips on YouTube from travels and hikes. Would love it if you go and check those out! Sharing the Lee Trail here for you!
Lee Trail on YouTube
Retrospect hiking Luxembourg Lee Trail
I loved my 3 days on the Lee Trail in the Luxembourg Ardennes. I really loved the challenge it gave me to hike 53K with a backpack of over 11K. It is scaled into moderate to expert difficulty and because of the steep ascending and descending parts and hardly any stops, villages or benches I think it is a pretty tough hike.
I did love the panoramas the trail gave us at different parts! To be rewarded with such a great view after a steep climb is just the best!! I loved that!
The hiking paths were really narrow at times. Also because it is early summer nature is overgrowing quickly by grass, nettle and blackberry bushes. That turned out to be desastrous for my hiking buddy because of an allergy.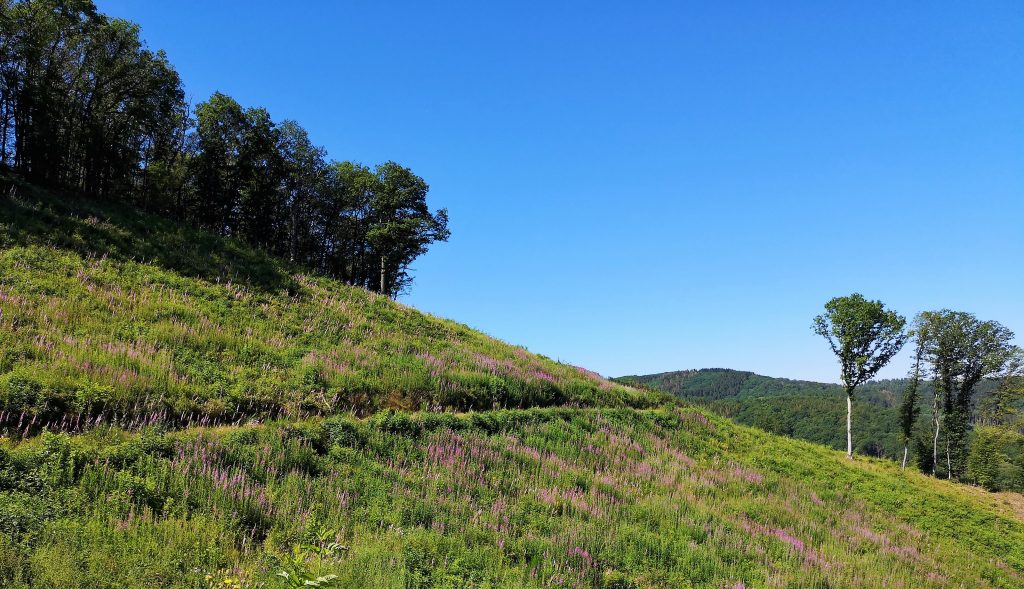 Lee Trail – 3 dagen – Practical
I hiked with my hikingpoles these days again. They really came in handy to make way on the paths that were overgrown, also to beat the nettles so they don't irritate anymore. But at the steep parts of the route it is good to have the hikingpoles for extra stability and for extra support. Next to that, I hike faster and with less effort on the plain areas with my hikingpoles. So it saves me energy too!!
Read more about More Safety with Trekkingpoles
We both had a backpack of around 11K on our back. We took our own tent with us and if necessary we could make our own dinner. But they do have a bagage transfer if you don't want to carry much on the route. You can have it brought to your next overnight stay by car. Don't let this stop you from going on a hiking holiday in Luxembourg and go hike the great Lee Trail in 3 days!!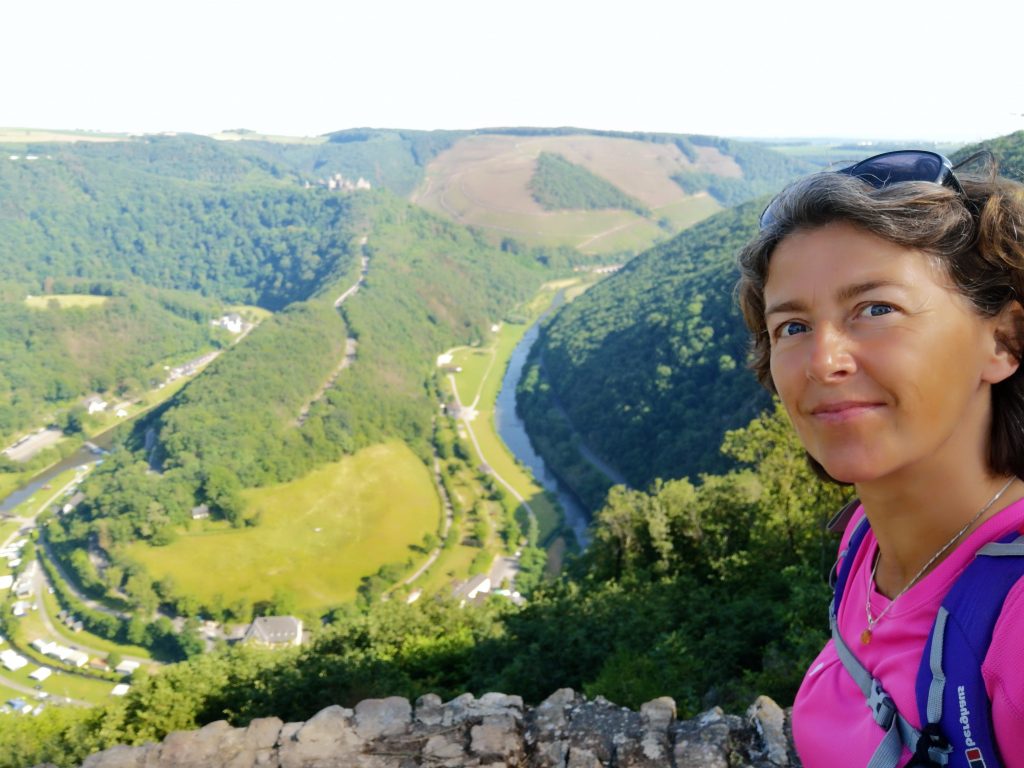 Packinglist Lee Trail with tent
I took my 60 + 10 lt backpack with me because I was carrying a big sleepingbag. I can't get it smaller then the 35 cm length in a 25cm volume pressure bag. I did sleep really good in it!! Most important ofcourse.
My backpack is the Berghaus Rigdeway 60+10
The sleepingbag is Camp Gear: Sleeping bag Comfort Deluxe XXL (it weighs 2.2 K)
My sleepingmat is the Bo-Camp Mummy 3.0 (it weighs 620 gr. and is 16 with 26 cm when packed)
My tent is the Qeuchua Quickhiker Ultralight ( it weighs just over 2K and when packed the volume is 40-15-15 )
Because I really like my  cup of coffee in the morning…I have to admit that I am that kind of cop 🙂 I did take my percolator with me for a fresh cup of coffee in the morning. I also took some milk and sugar. My travelcompagnon Anto took a gas burner for camping use.
For clothes I just took the necessary underwear, two shirts and two tanktops, a halflong yogapants and a short one. I took 4 pair of socks and my flipflops for the evenings. I did took my bikini..just in case. Unfortunately I didn't use it…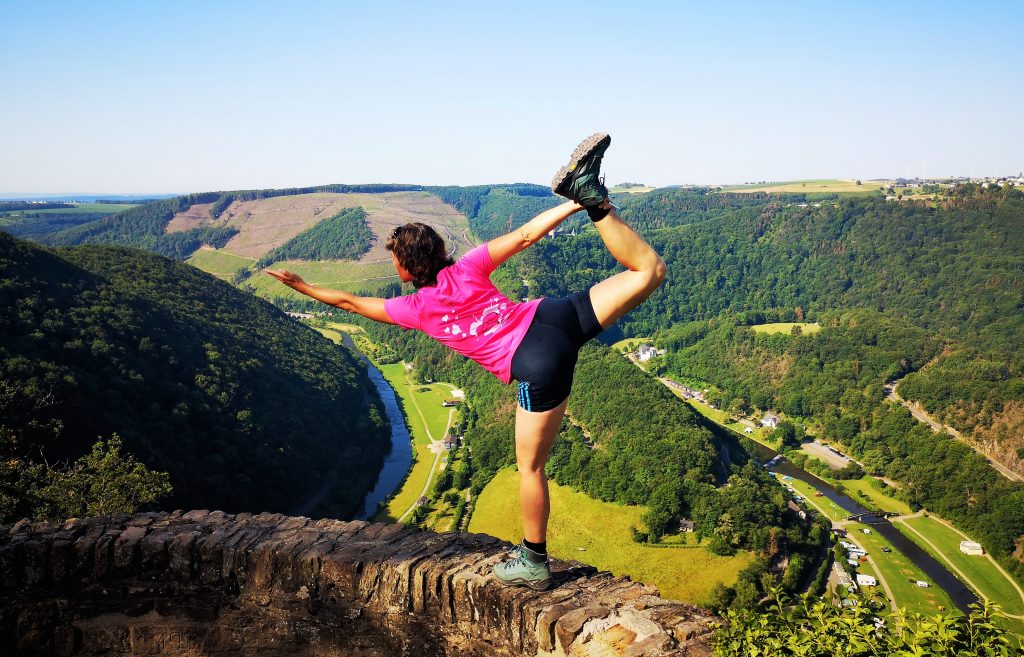 What did I take in my beauty case? I had a small toothpaste and my toothbrush. I had a small bottle of shampoo, bodylotion and some facial sunblock. Those were around 100 a 150ml. Also a small deodorant. I took some tape against blisters and some blisterbandage. A quick drying towel and a roll of toiletpaper….Just in case…
Muesly-, fruit- and nutbars as food along the way. A liter bottle for water and my lifestraw (750ml) where always with me. It was hot this weekend and we needed more in fact.
I didn't took my compact camera but only my smartphone so all the pictures you see are made with the Huawei P20. I did took a small tripod with me.
A small First Aid Kit is always in my backpack.
Before leaving I weigh myself and the back and it was around 10K. So on the Lee Trail with my water it was around 11K.

Hiking Luxembourg Lee Trail also a Challenge for you?
Save this blog or Share it for others!!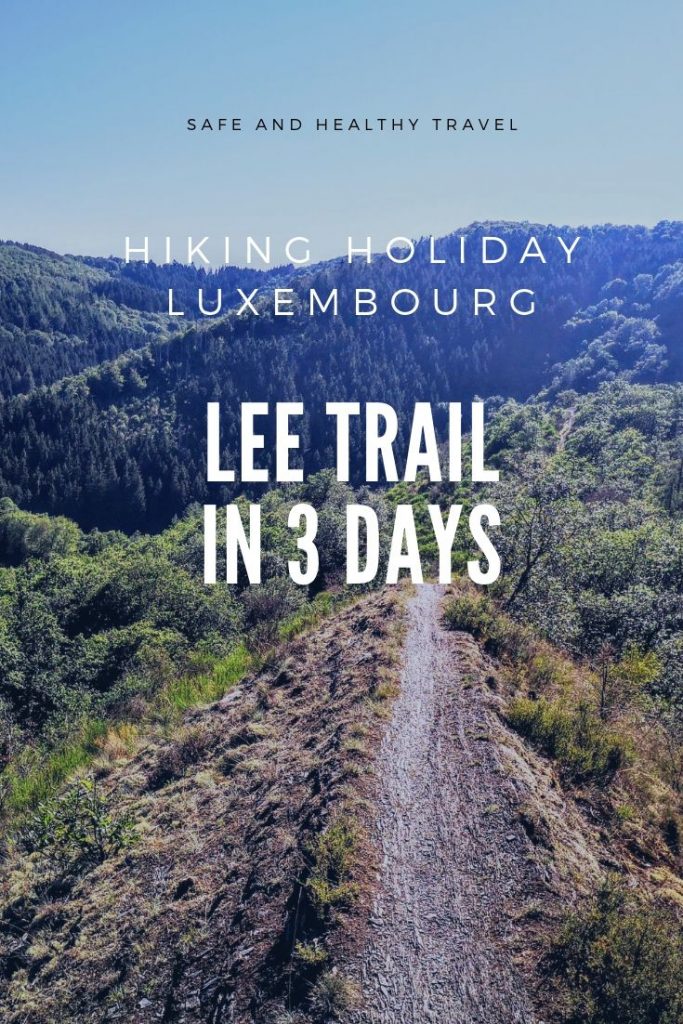 Want some more inspiration?
Hiking in Germany – The Hermannshoehen Hiking Trail
Hiking the Rheinsteig – Germany
Hiking the N70 Rijk van Nijmegen – The Netherlands
Hiking Tips for Women – Safe Solo Hiking
Hiking the first 200K of the Camino Frances – Spain
Or do you go to Nepal?
I hope you love this world as much as I do!!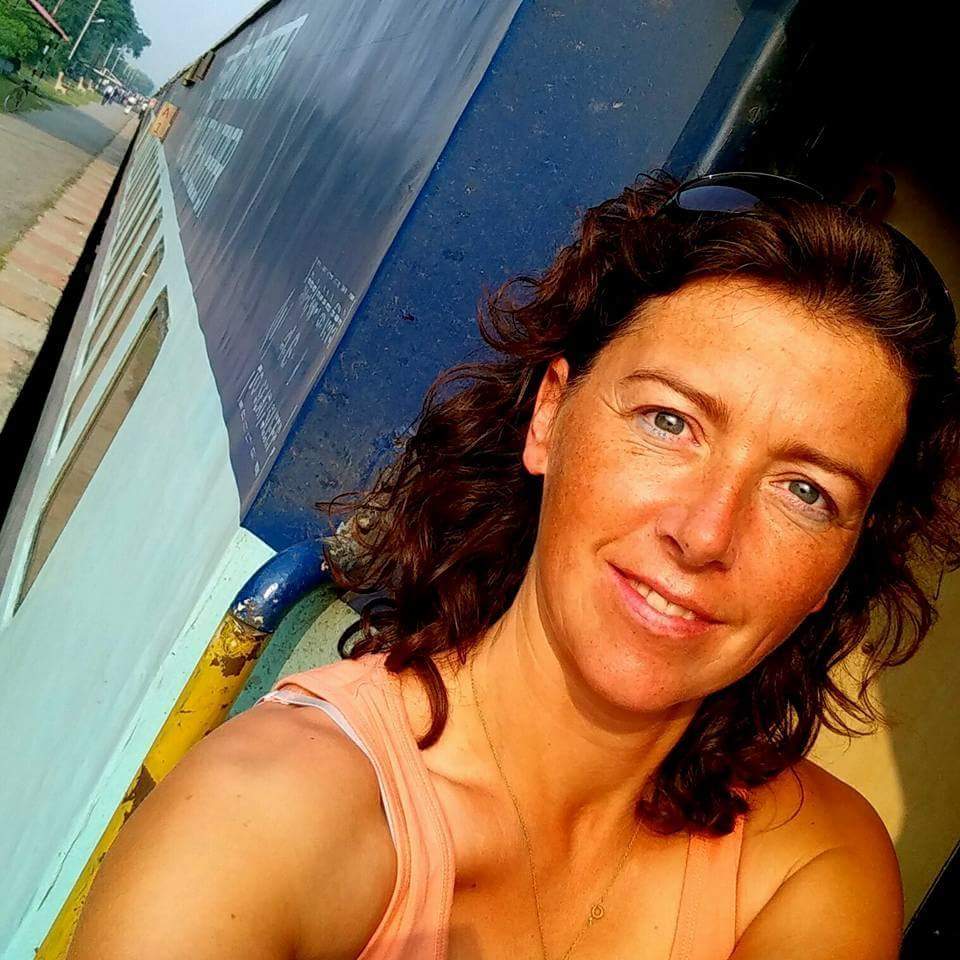 Jacomijn is een politieagent uit Nederland die jou graag laat zien hoe je veilig, actief en gezond de wereld kan over reizen. Safe and Healthy travel is a MUST