Fish River Canyon – World's seconds largest Canyon – Namibia
|
One of the highlights of Namibia is the Fish River Canyon, or Visrivier Gorge in Afrikaans. On most Namibian tours, you will come across this site and that is certainly not without reason. The Fish River Canyon is the second longest Canyon in the world. The Grand Canyon is number one, but with an impressive second place for the Fish River Canyon, you can prepare yourself for quite a natural spectacle.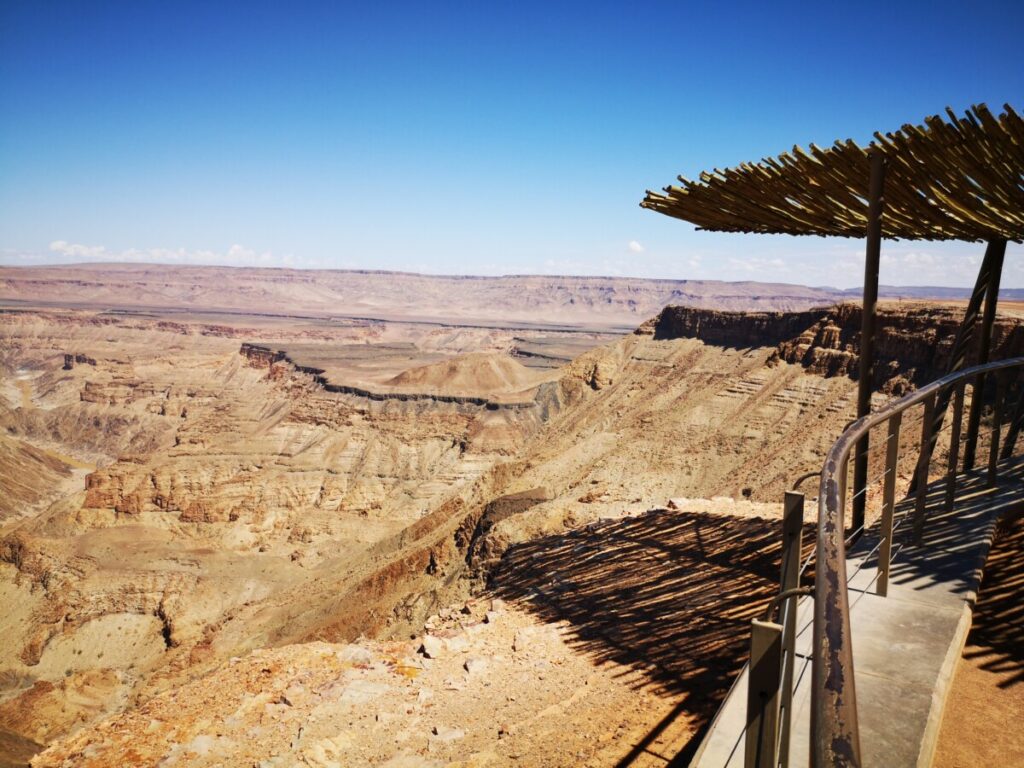 The expression deafening silence had no meaning to me until this visit to the Fish River Canyon. When I stood there in front of that immense canyon and heard the swirling Fish River in the background, it was almost deafening… It is quiet, you may hear a bird or two, but in the enormous space in front of you, everything seems to be reflected and multiplied tenfold.
Fish River Canyon – World's seconds largest Canyon – Namibia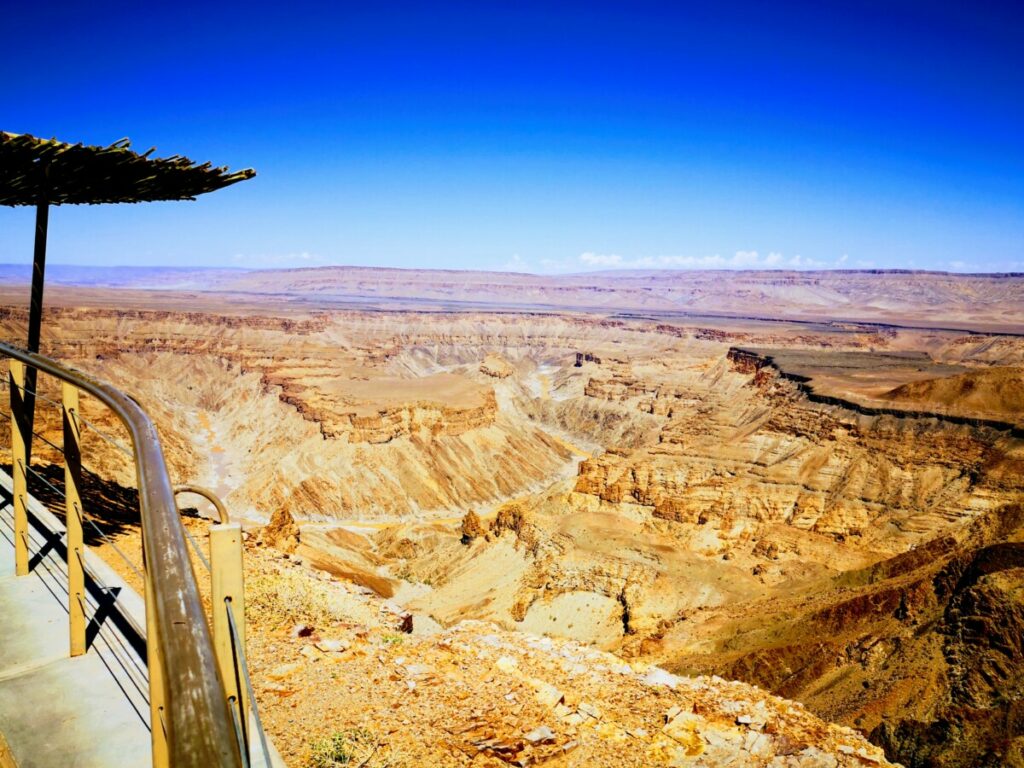 The origin of the Fish River Canyon goes back 1800 million years according to geologists. It originates when lava, shale and sandstone attach themselves to the flanks of the canyon. The enormous heat caused the rock to harden into granite, while the cooling caused it to crack at a later stage, resulting in a deep canyon.
During my 10-week tour of Namibia, I had three nights at Canyon Roadhouse on my programme. I can also warmly recommend that place. It really is a roadhouse and everywhere around the hotel you see old American cars (wrecks). In the evening, some of them are lit up, which gives the whole thing a great look. I walked around a few times to take pictures. It looked great!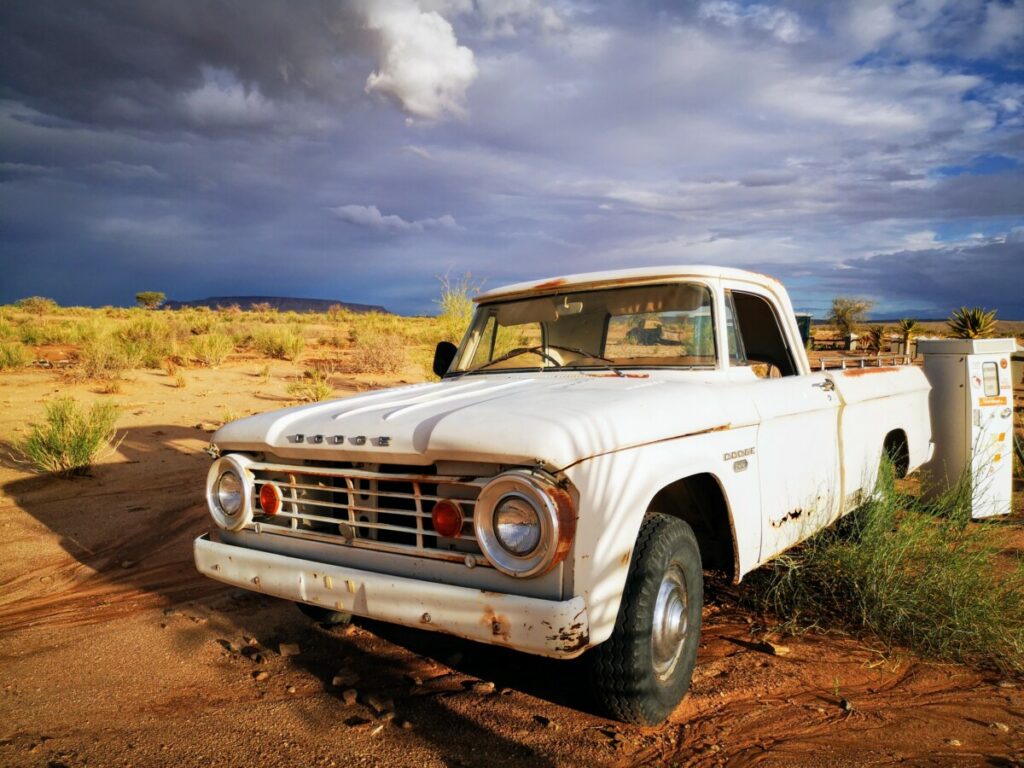 After breakfast on my first full day there, I got into my car to explore the Fish River Canyon. I drove out of Canyon Roadhouse and turned right, just keep going straight and you'll come across the signs. On the way, I made a few stops, hoping to see an Oryx or Giraffe of course. When I arrived at the entrance of Fish River Canyon, I paid the entrance fee, got a map of the viewpoints and a short explanation of how to drive. Actually, it is just a long road with at the end the main viewpoint over the Fish River Canyon.
The Fish River Canyon gorge is 161 km long, 27 km wide and 550 metres deep (at its deepest point).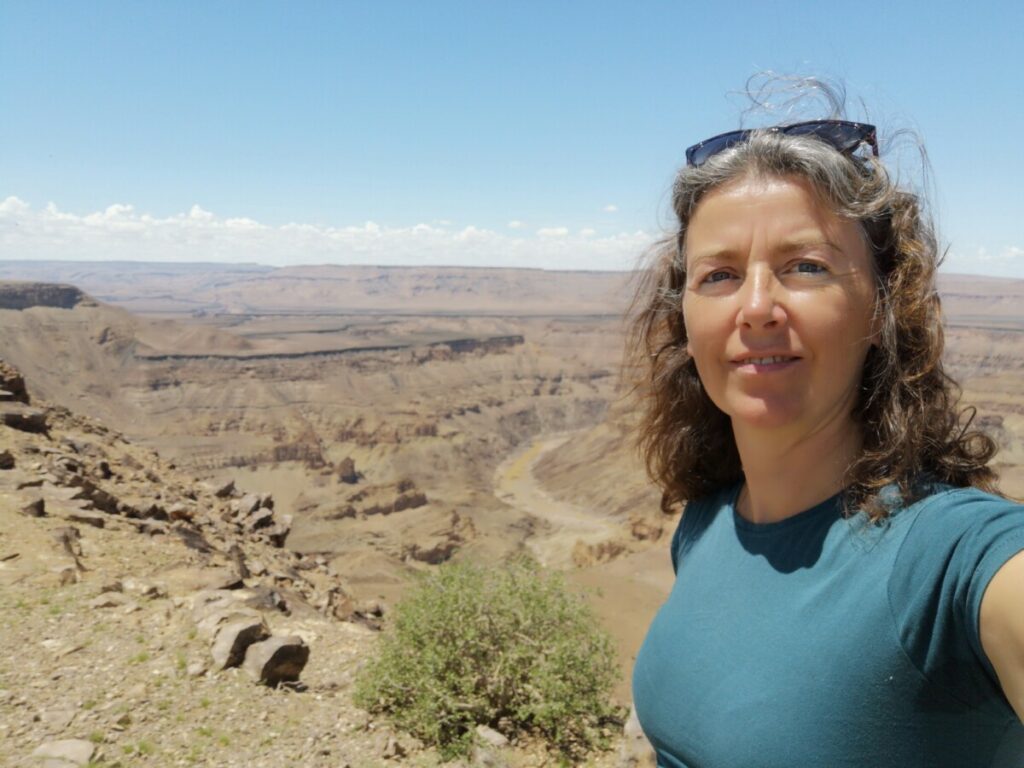 There are many information boards at the main viewing point about the historical background of this canyon and its surroundings. In the early 1900s, the indigenous peoples fought here against the settlers / colonisers coming from Germany. This resulted in the grave of Lt. Thilo von Throta who was buried here by his friend Cornelius Frederick in June 1905. These two men worked for a reconnaissance unit from Germany until 1904. It is very difficult to get the history clear. Different people have different readings.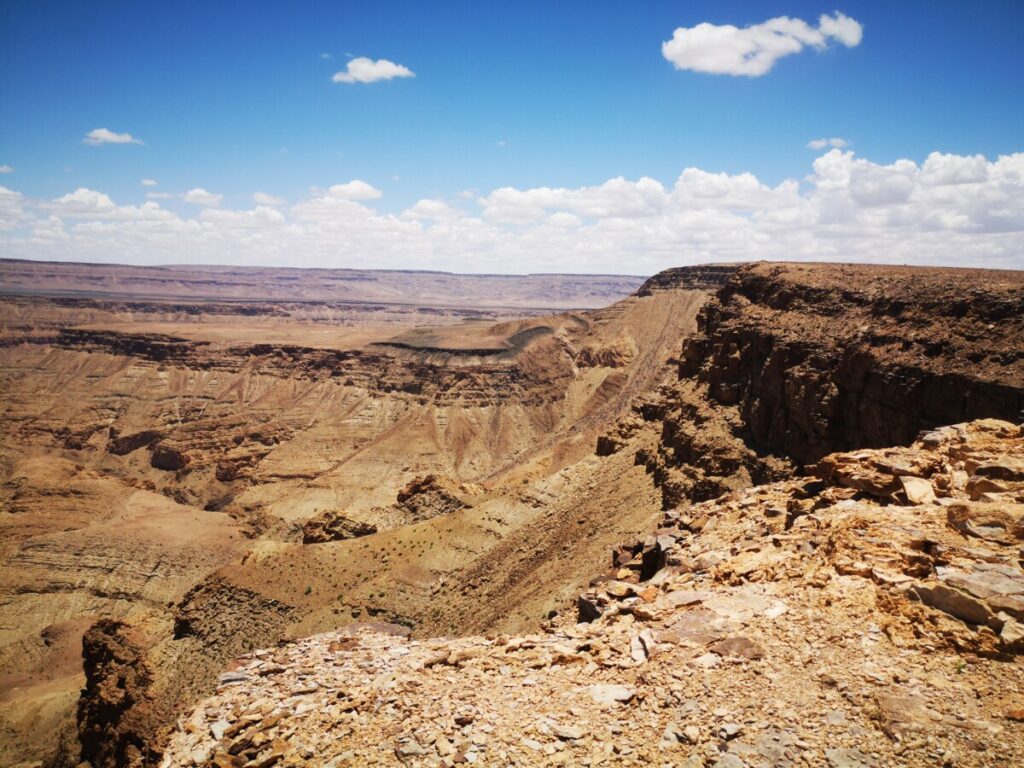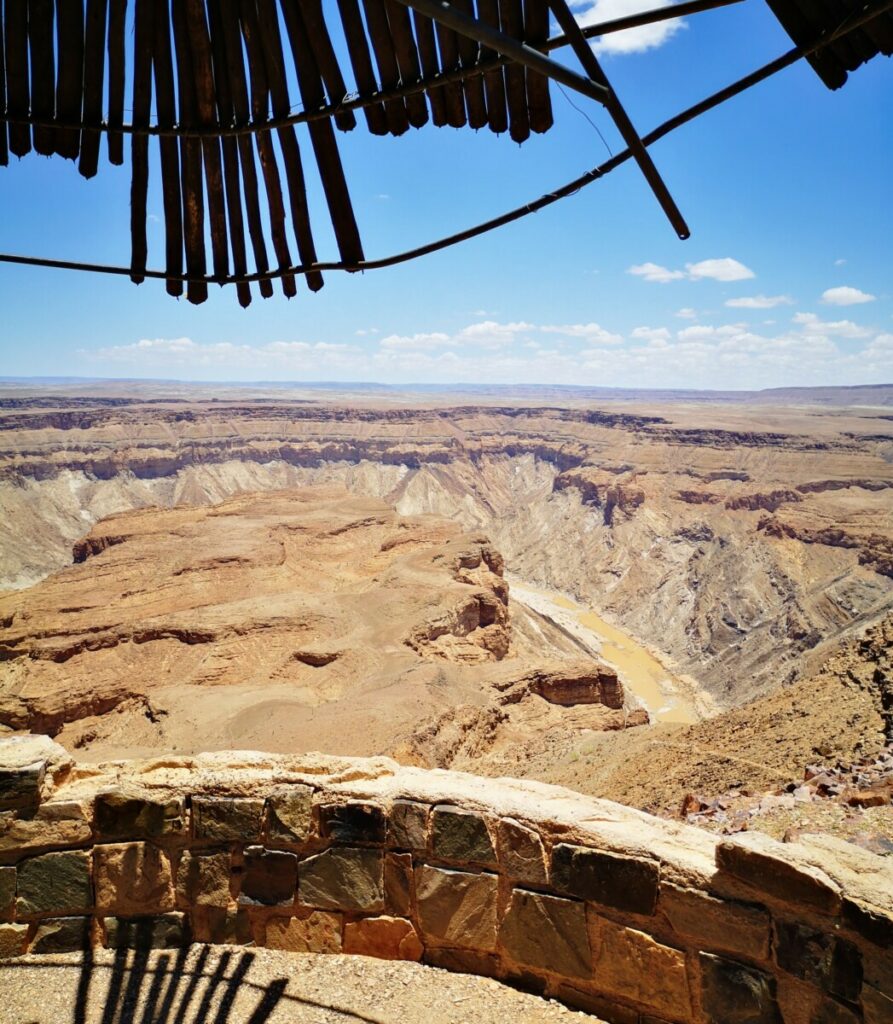 The unique Fish River Canyon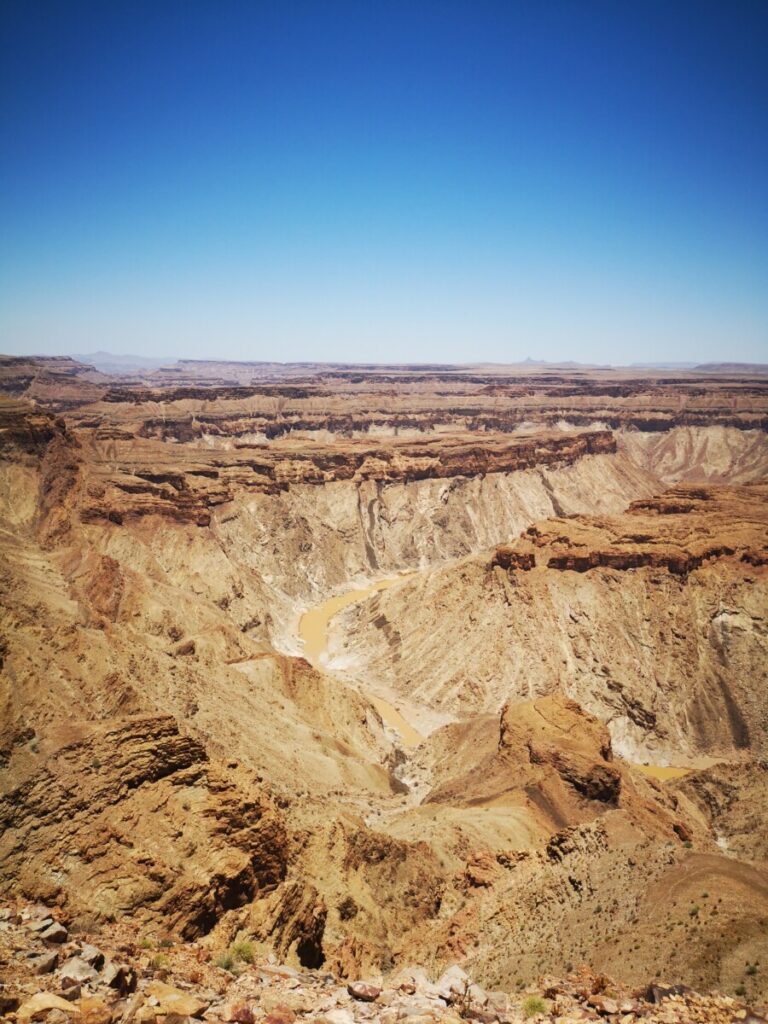 The churning river at the bottom of the Fish River Canyon.
It looks like there is very little water in it, but believe me, I could hear the water flowing violently underneath me. There was a lot of water in it at the time I was there, considering it's generally almost empty…yet it didn't look like a swirling river from that distance.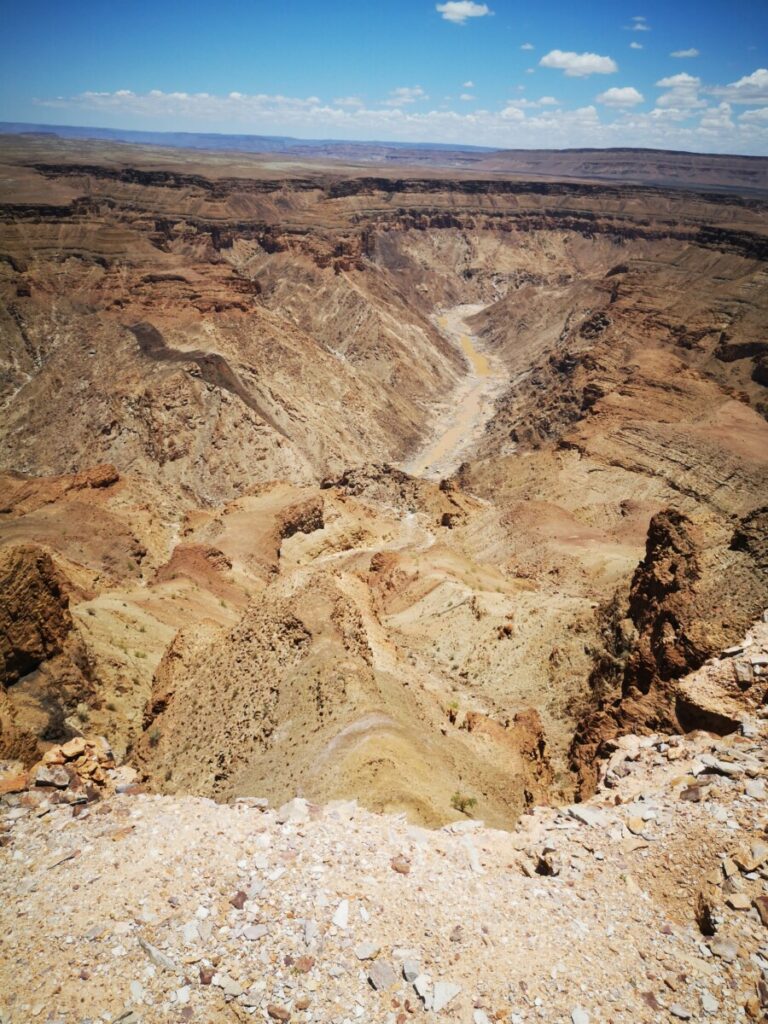 The Fish River Canyon is also one of those places that you simply cannot miss during your tour of Namibia. It is enormous and the concept of silence really takes on a new meaning here… There is so much nothing…so much space where it is quiet…. I found it very impressive and sat there for at least an hour. Just on the bench at the first viewpoint but also at Hiker's Viewpoint I just sat there staring into the distance.
Hiker's Viewpoint – Fish River Canyon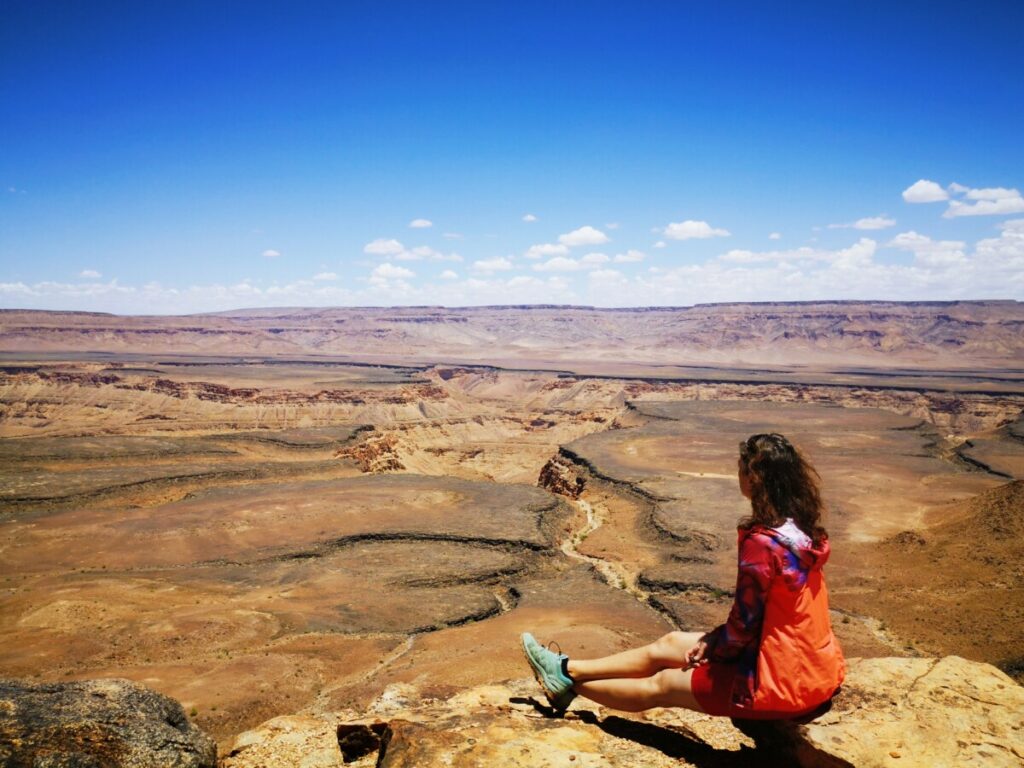 Did you know that from Fish River Canyon there is an 80 km long hiking trail through the gorge? This trail may only be walked under supervision as you are entering a dry and inhospitable area. You can do it in 5 days and 4 nights. The trail ends at Ai-Ais Hot Spring where you can relax your body!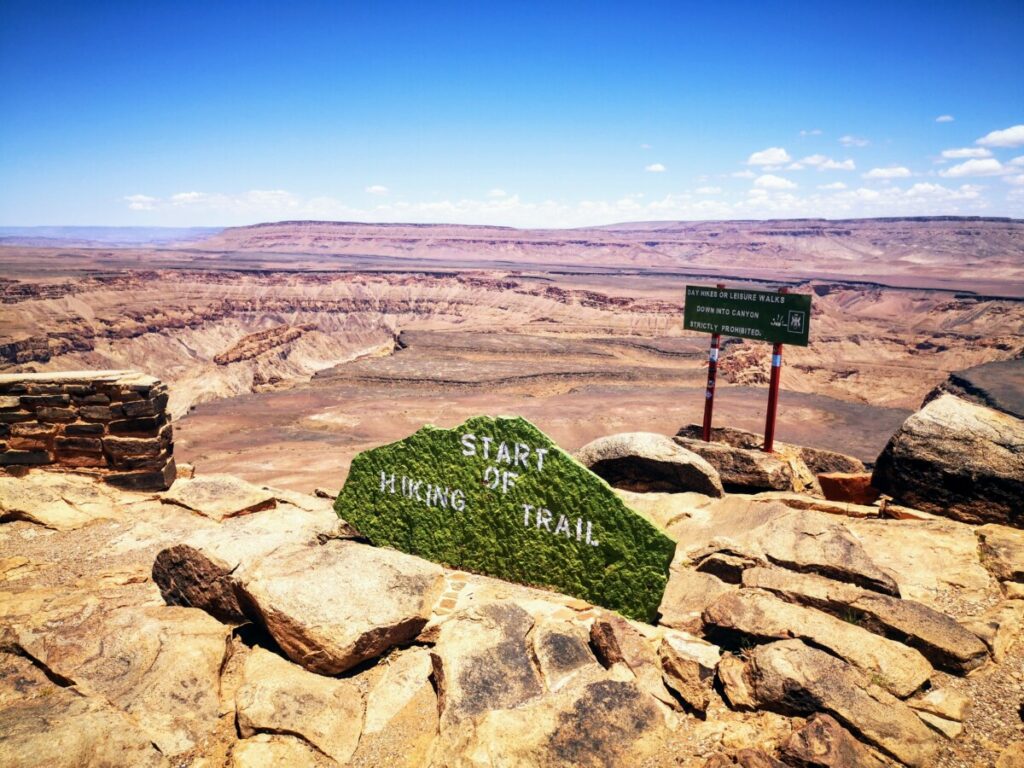 Visit Fish River Canyon from Canyon Roadhouse – Namibia
At Canyon Roadhouse, there is a lovely swimming pool where I enjoyed myself a couple of times. It's also just holiday when you're exploring a new country, isn't it?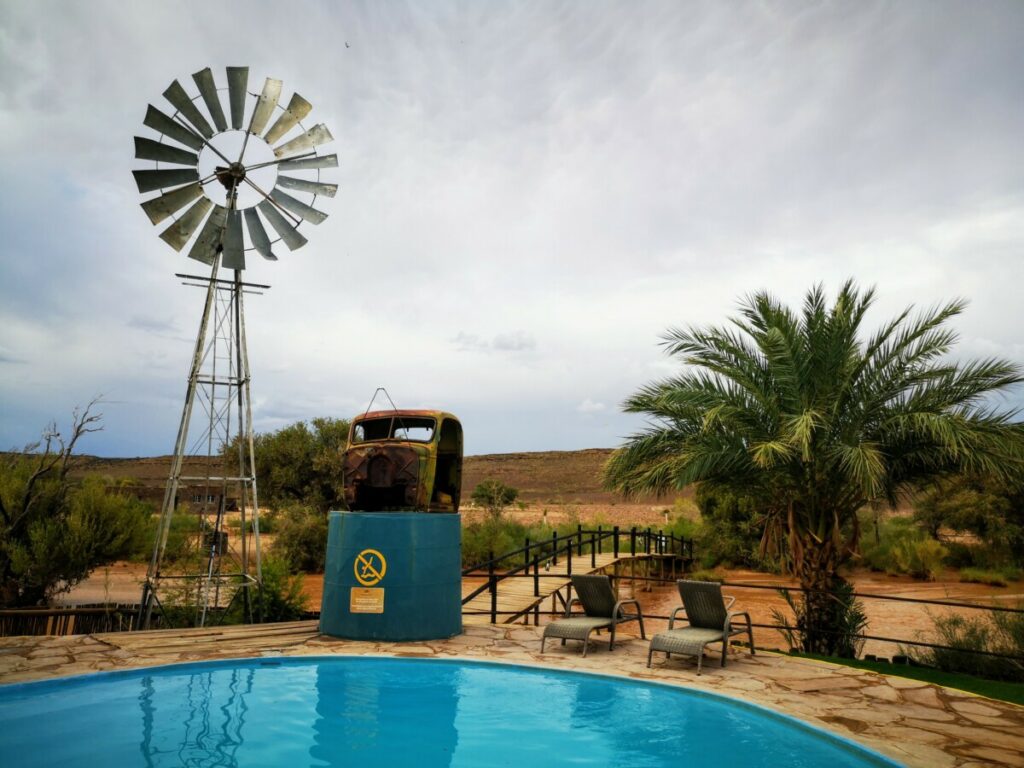 When I almost arrived at Canyon Roadhouse that first day, I saw a couple of giraffes at the side of the road, how cute? Later that day, when I went up the mountain for a nice walk, I saw them again. On top I hoped to see some other wildlife but other than some birds in the distance I did not get to see them.
Canyon Roadhouse – American cars
I had quite a bit of rain in the days I was at Canyon Roadhouse and that gave me the most dramatic skies, especially beautiful with stunning sunset of course!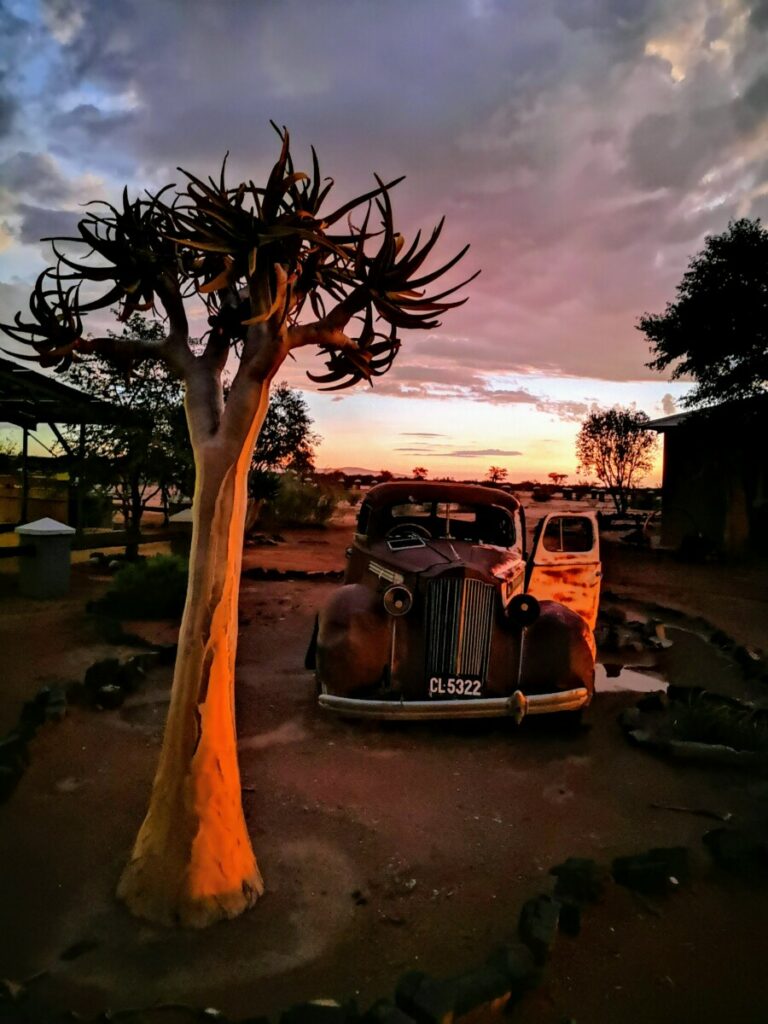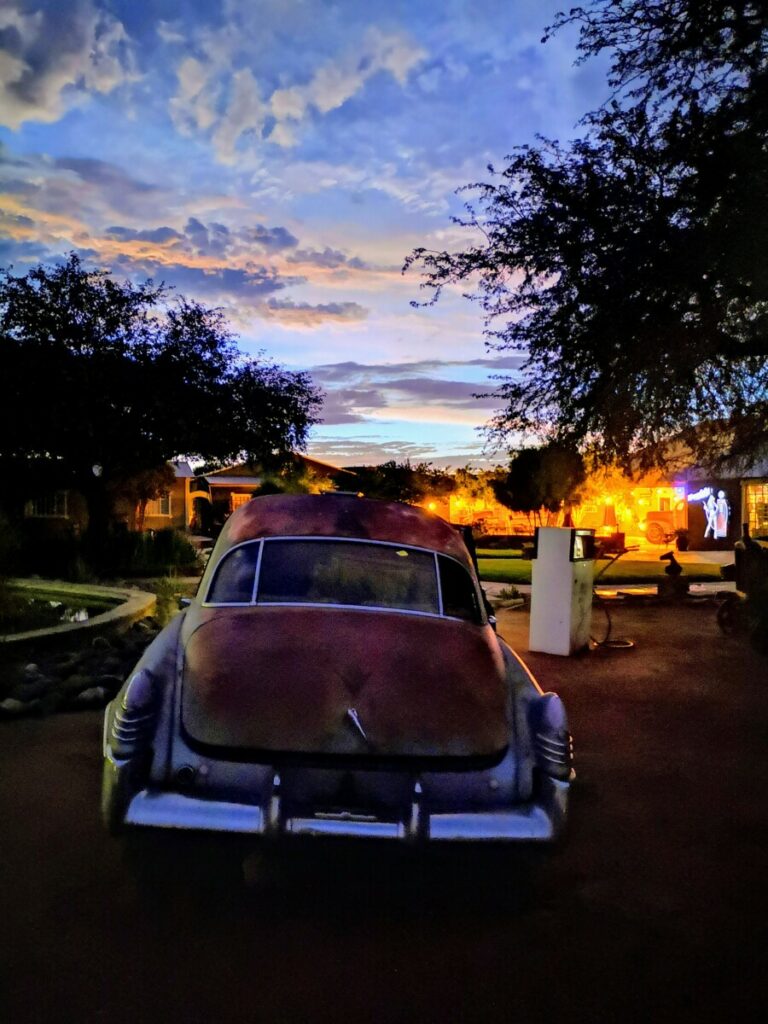 If you have a better camera, you can make super cool posters of the pictures you can shoot here.
What a cool place!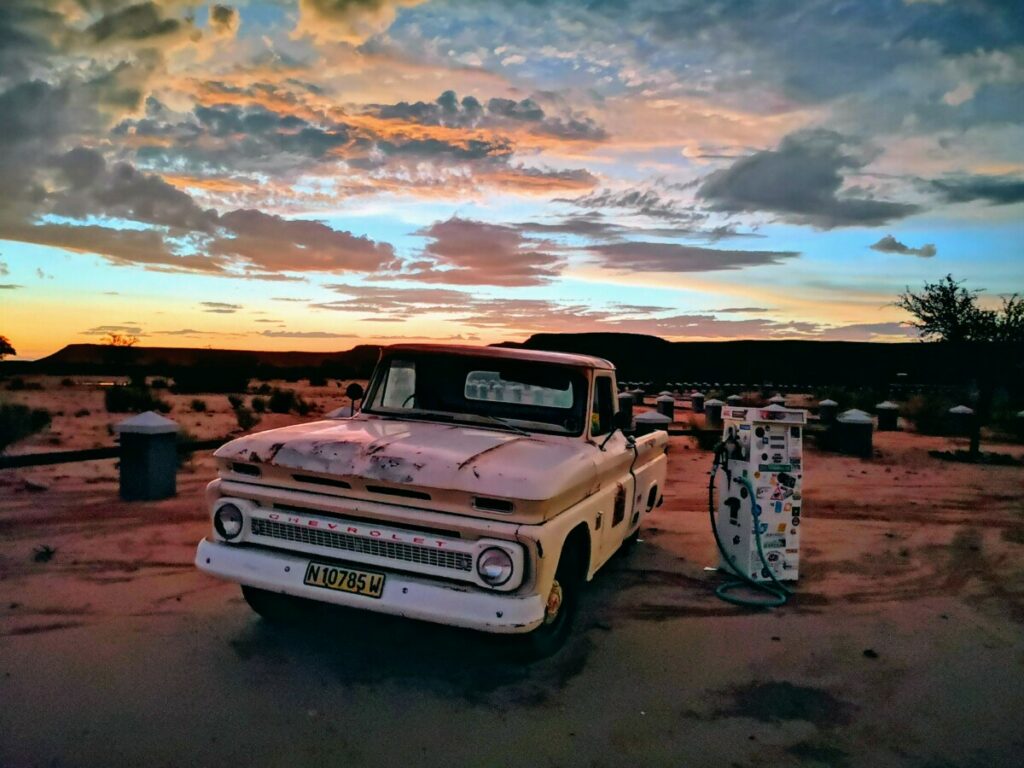 Surrealistic photographs at Canyon Roadhouse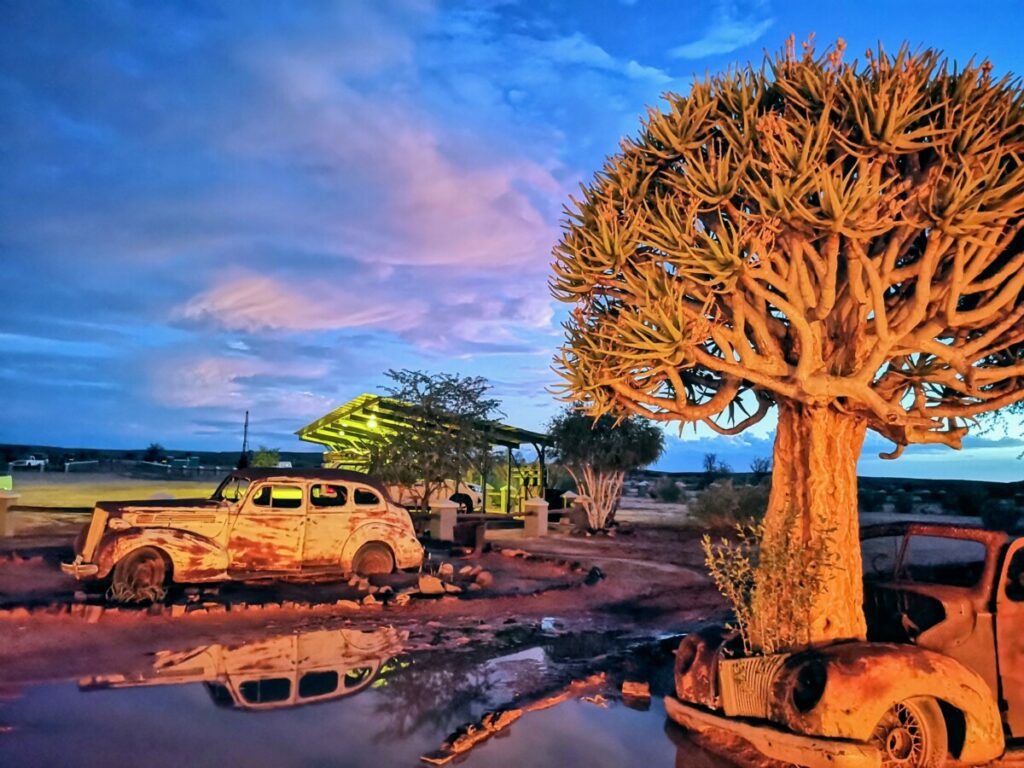 Churning river at Canyon Roadhouse after heavy rainfall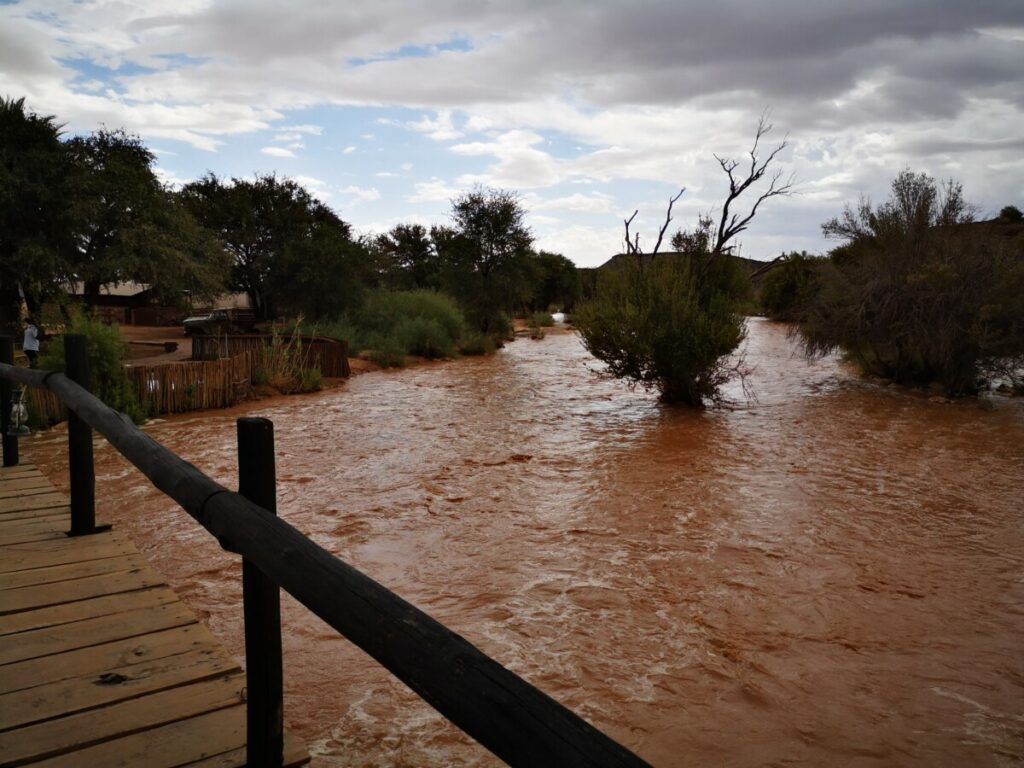 I can tell you that as quickly as the river was full of fast-flowing water… That quickly the river was empty again. The water sinks through the soft loose sand into the ground. It is unbelievable how quickly this is gone. One minute you look and the river above flows and an hour later it is a dry riverbed again.
Campsite Canyon Roadhouse
When you cross the bridge, you first pass the Canyon Roadhouse campsite. When you camp here you can use the swimming pool and of course the restaurant. What I really liked about Canyon Roadhouse is that they also had a little shop where they sold all kinds of things. I bought my sunglasses there, I had forgotten to bring them from The Netherlands and I also bought salt with herbs. I used this for the rest of the trip to spice up my food. It was salt with turmeric among other spices, it was called Funky Ouma.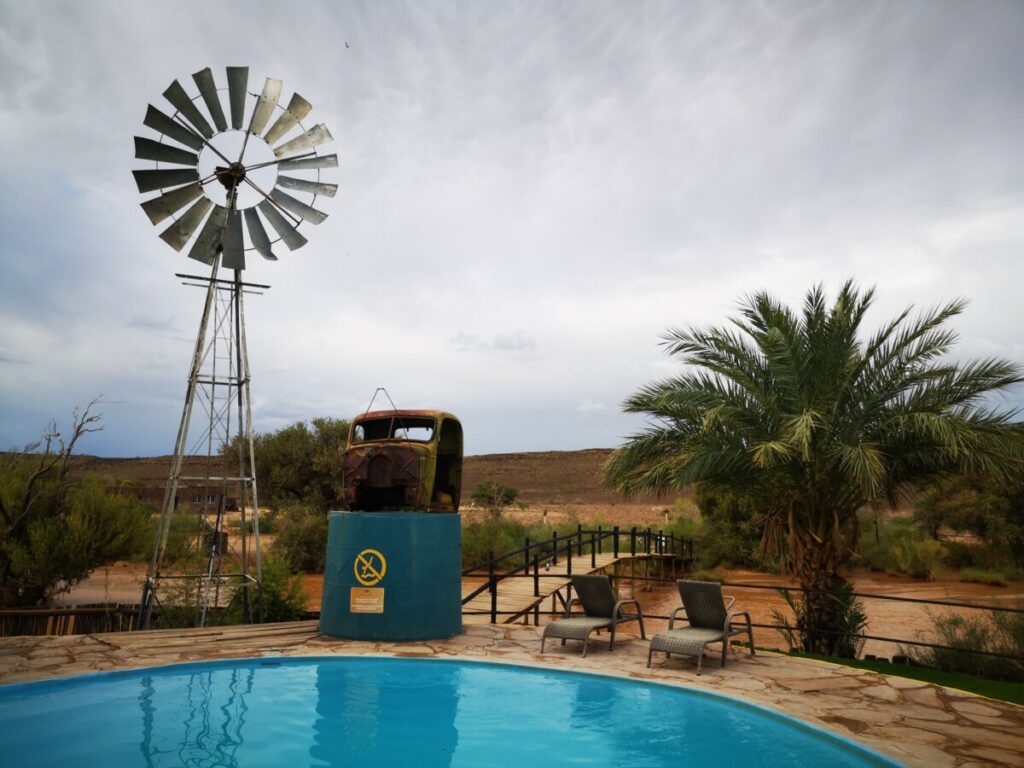 Hiking near Canyon Roadhouse
Near Canyon Roadhouse, there are several hikes, so you can easily spend a day around the hotel. I went for a walk early in the morning. I spent the afternoon lying by the pool and at the end of the day, when the weather became a little less warm, I wanted to start another hike. Unfortunately, it started to rain and thunder, so I couldn't do the second walk.
When you cross the bridge to the campsite, you soon come across signs for a walk. The first walk I took took me to the top where I went for a walk. The next day, I went in a circular motion to the same mountain, only on the backside. Each time, you have different views of the surroundings. You will not get bored with this view!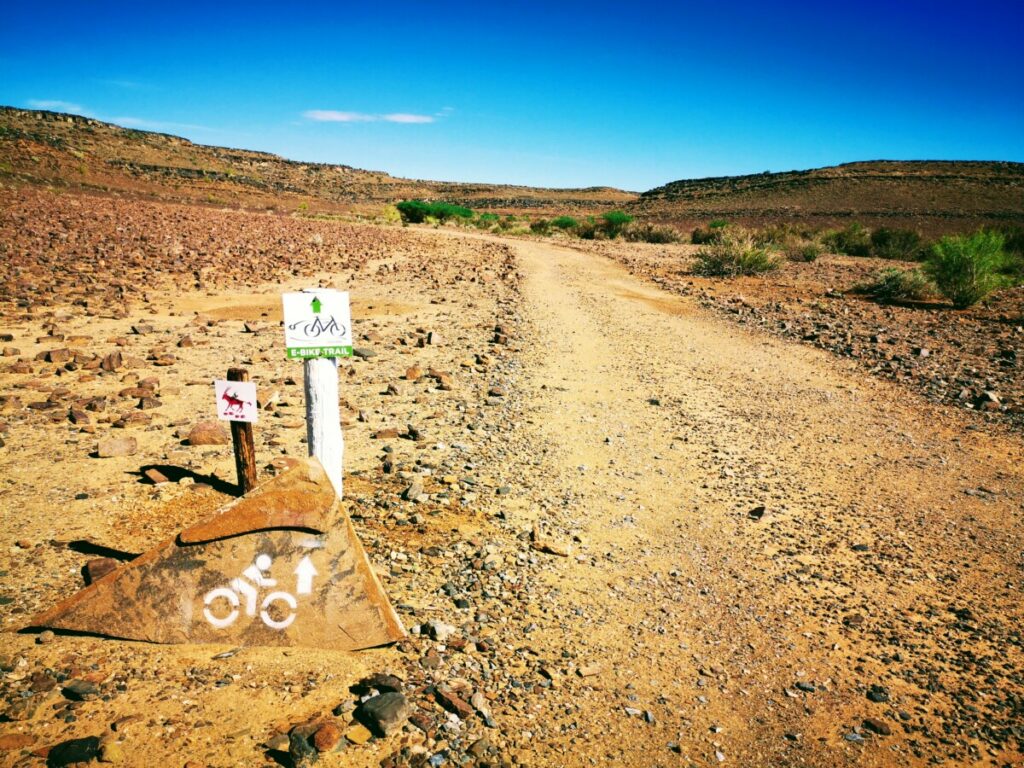 If you go for a walk, take enough water with you. It gets hot quickly and there is no shade to be found. And that's why my second tip is this: Apply sunscreen to protect yourself from the sun.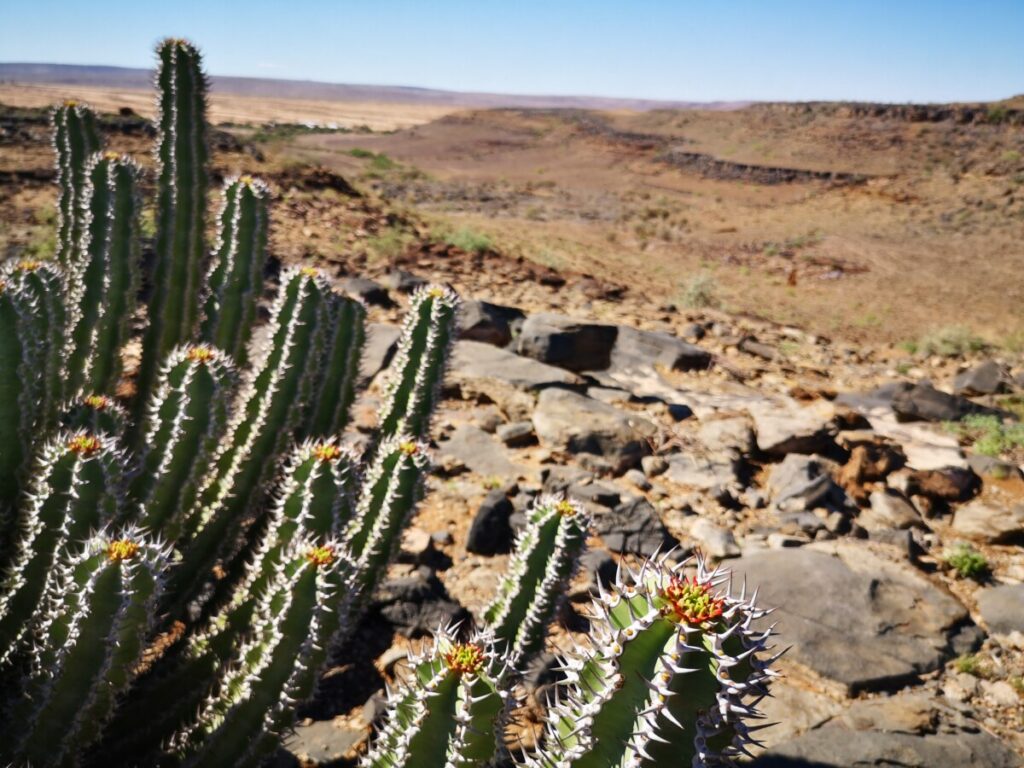 Yoga
On the mountain at Canyon Roadhouse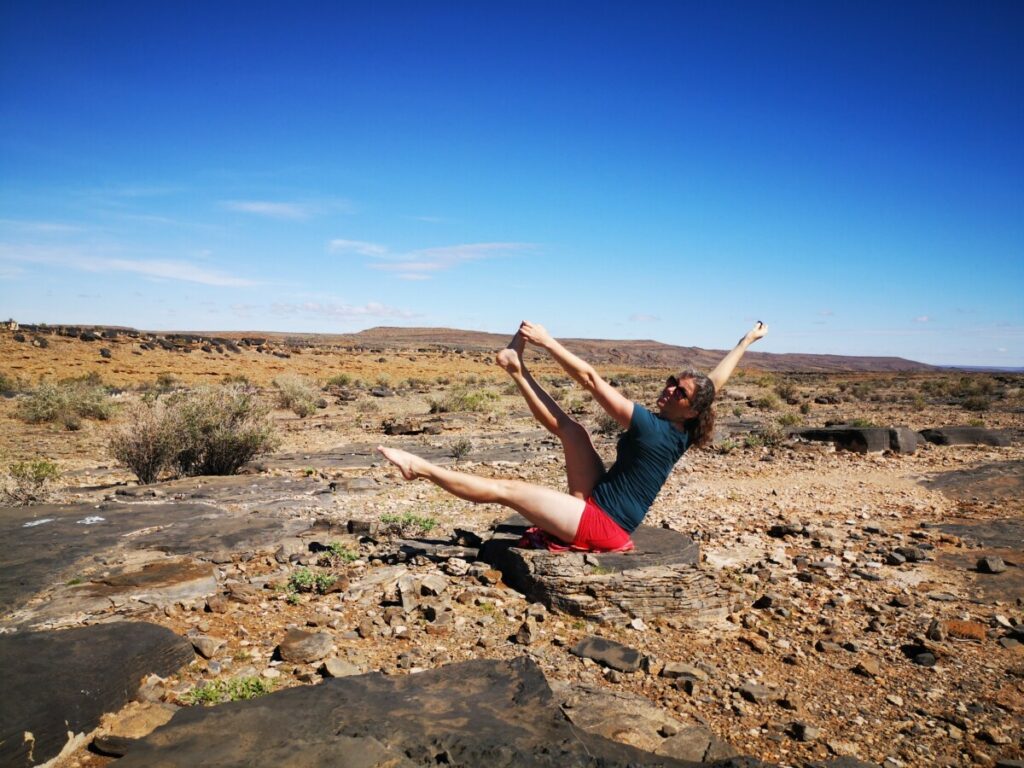 I can't help but be delighted by moments and surroundings like this.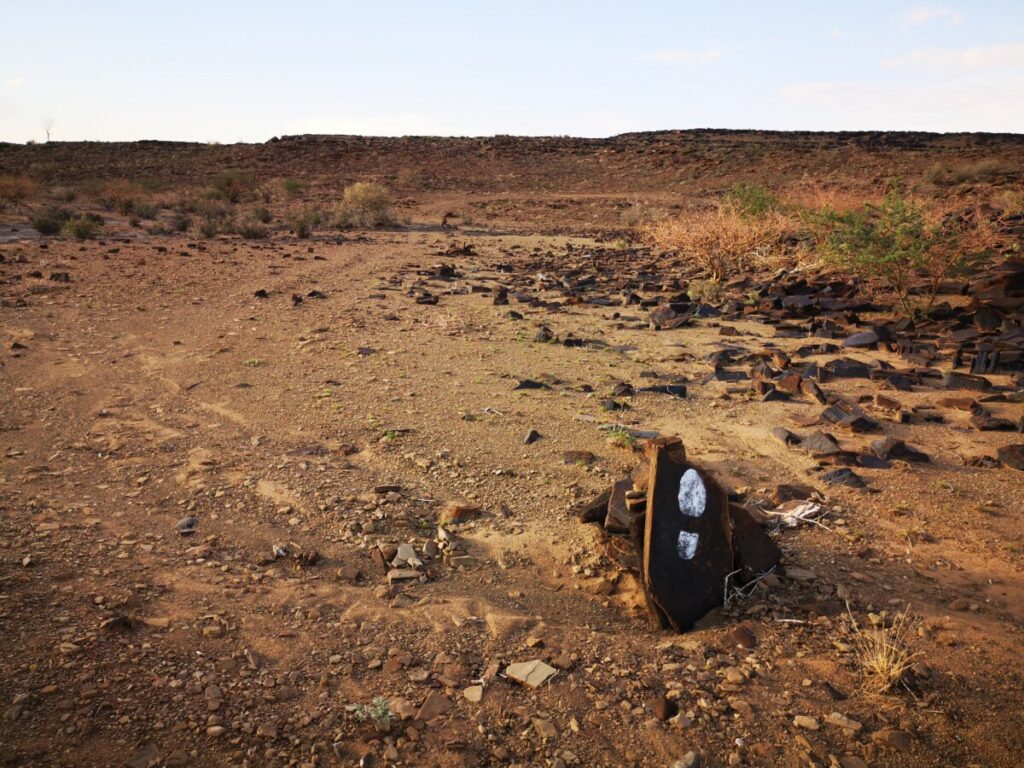 If you are lucky, you will also see some wildlife.
I only saw some giraffes at the bottom of the mountain, near the main road.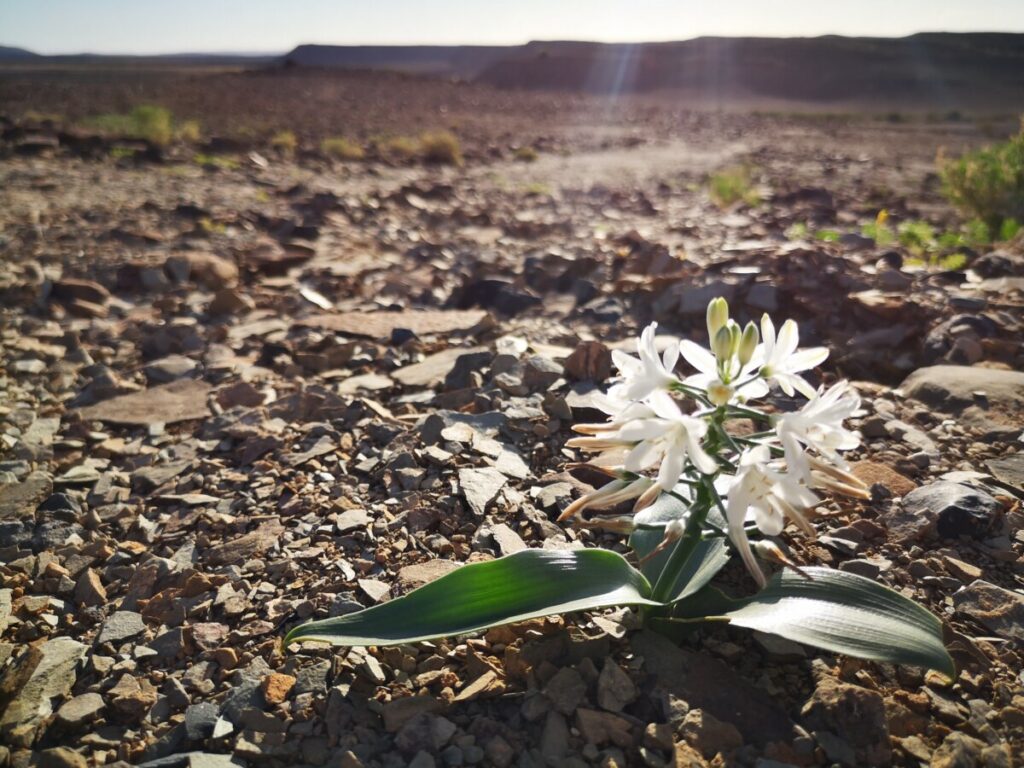 I thoroughly enjoyed my 3-day stay at Canyon Roadhouse near Fish River Canyon. So happy when it turned out that I could fill up at the super old sixties gas station of Canyon Roadhouse. There had been a diversion when I drove to the Canyon and I was well into my second tank. Totally super!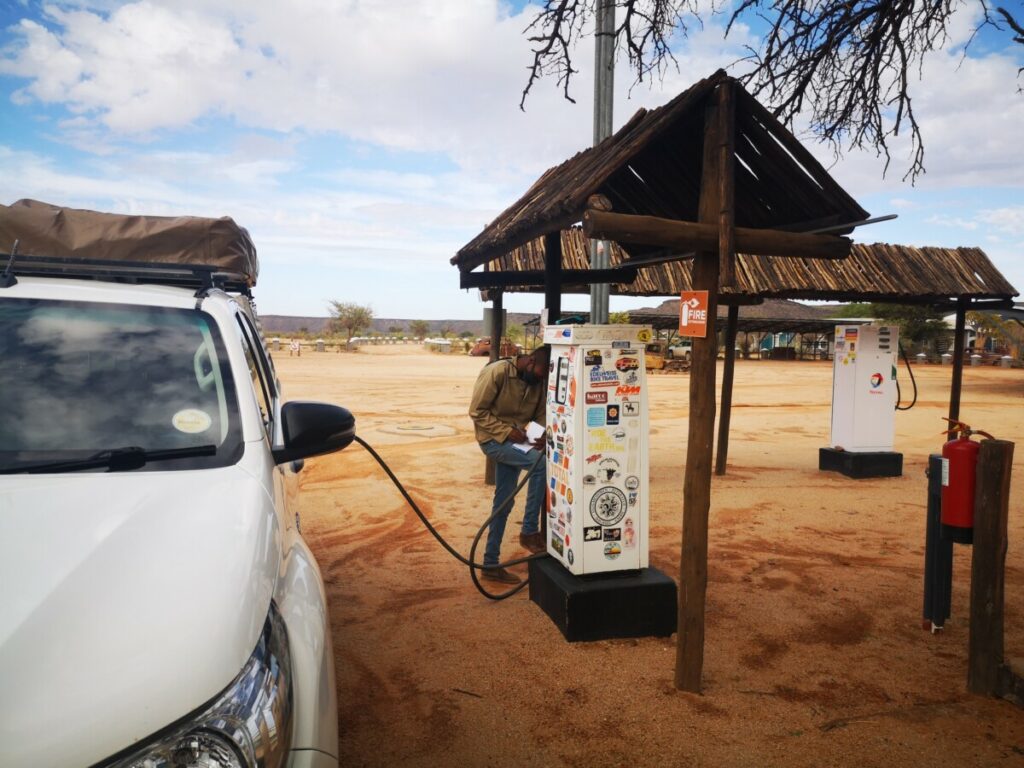 Filling up in style of Canyon Roadhouse!
The following activities can be booked at Canyon Roadhouse:
Excursion to Fish River Canyon, morning walk, walk from nearby village to the lodge, Canyon Drive, several sundowner drives and a sundowner walk. I did my excursions on my own.

Did you love this spot?
Save or share this blog for others to enjoy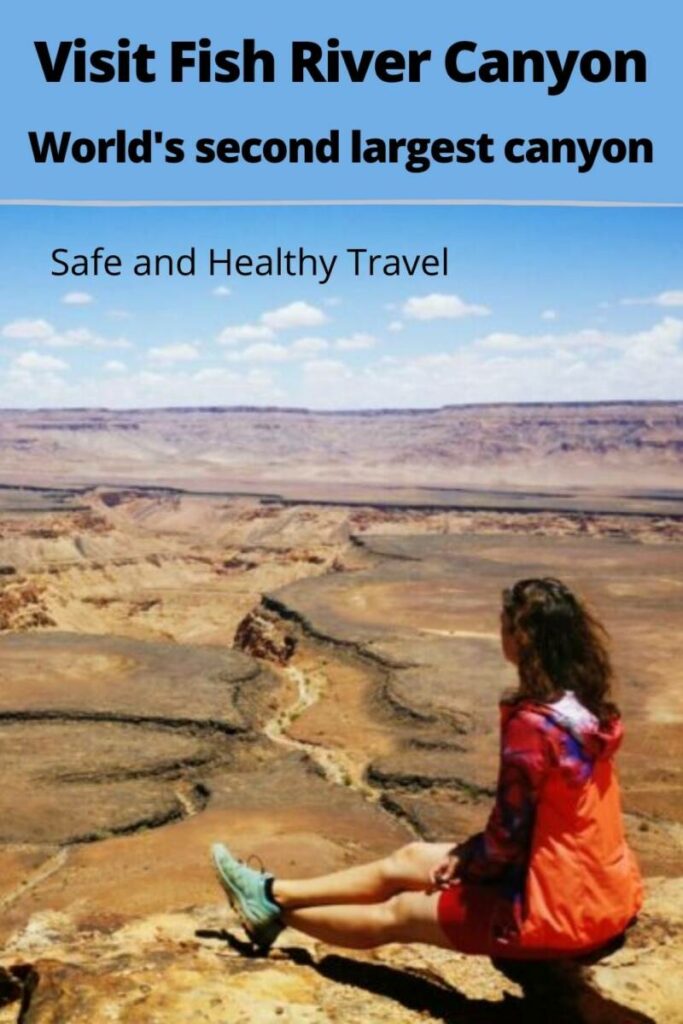 Want to read more about my Namibia trip?
What to do at Waterberg Plateau National Park 
Visit the Unique Quivertree Forest an the Giant's Playground – Keetmanshoop
10 Interesting facts for your visit to Namibia
Natural Heritage Sites of Namibia
Packinglist camping for Namibia by 4WD
And also read these tips
Nightly Adventures – Why you shouldn't be in the streets when it is dark!
I hope you also enjoy this beautiful world as much as I do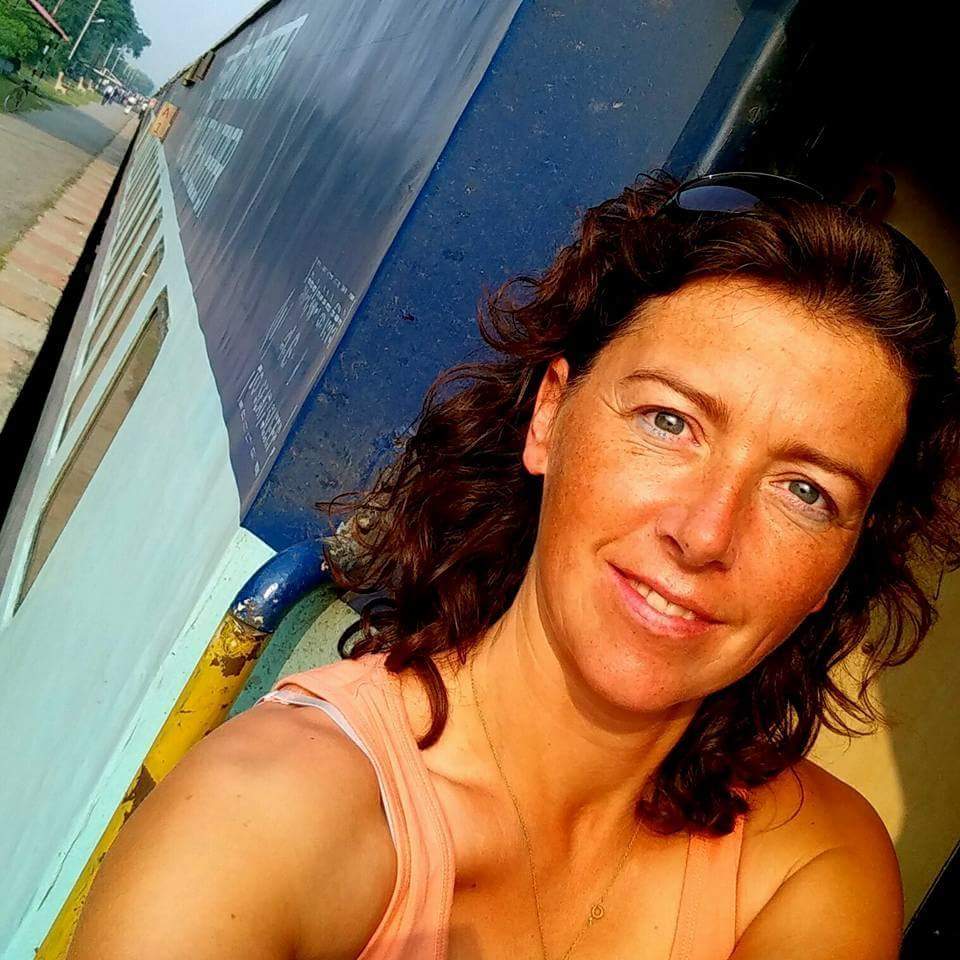 Jacomijn is een politieagent uit Nederland die jou graag laat zien hoe je veilig, actief en gezond de wereld kan over reizen. Safe and Healthy travel is a MUST