Stage 16 & 17 Alpe Adria Trail – Austria
|
This summer I didn't go far away… Corona right? But I could visit Austria for the first time in my life and I really loved it! I chose to hike the Alpe Adria Trail in Austria for a week. I booked a ready-made trip of 5 days but once I was there I booked another 3 days on it. Stage 16 is the last of my pre-booked trip and hence a lovely hotel with swimming pool on this day.
If you want to read the previous reports, start with this one: Hiking in Austria – Alpe Adria Trail
Stage 16 Alpe Adria Trail
Falkerthaus – Bad Kleinkirchheim Austria
19 km or 8 hours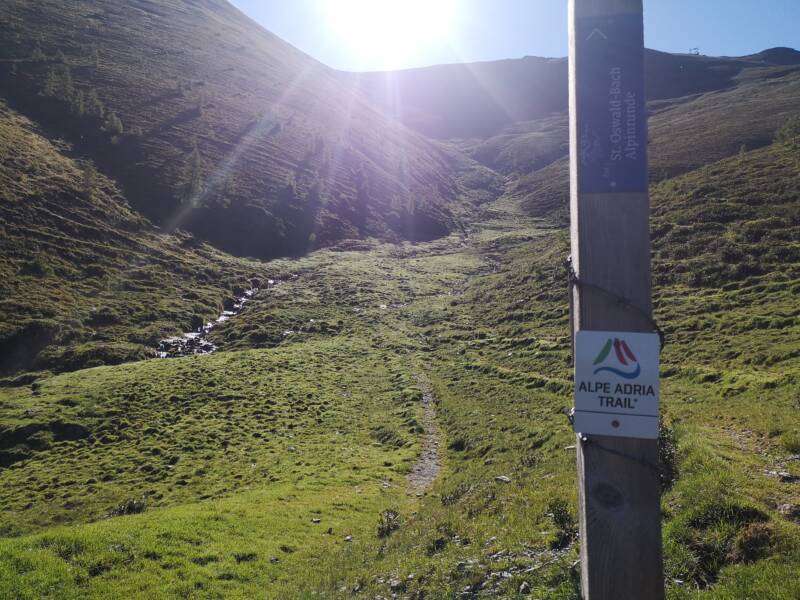 After a good night in Falkerthaus and a nice breakfast I started that morning again in good spirits. I first walked downhill where I saw the information signs of the Alpe Adria Trail again and then went up almost the same way with a sharp turn. A little later I passed a mountain hut where the German couple had slept, I didn't see them.
My Summerholiday 2020 in Austria
When I got a little higher and came out of between the trees I saw the Austrian walking in front of me. We came to walk on a mountain slope and because it was quite steep uphill we both didn't pay attention to the signs anymore. She walked in front of me and every now and then I looked up to where she was… This wasn't very sensible because at one point there was really no path anymore.
We walked on the terraces against the mountain which is handy for the cows. So we had to take big steps to climb up and I already got the idea that we weren't really on the path anymore. Once on top we had to go under the wire of the fence and we were close to the path….but we had cut off a piece of the original path.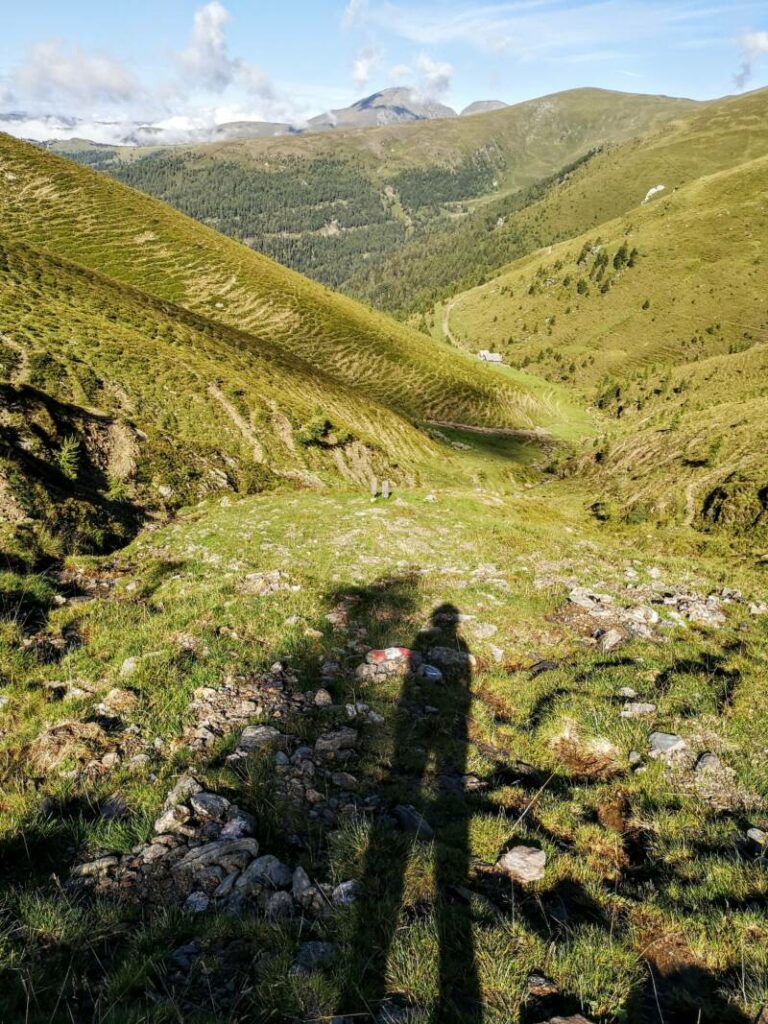 Look at the Austrian Alps view!!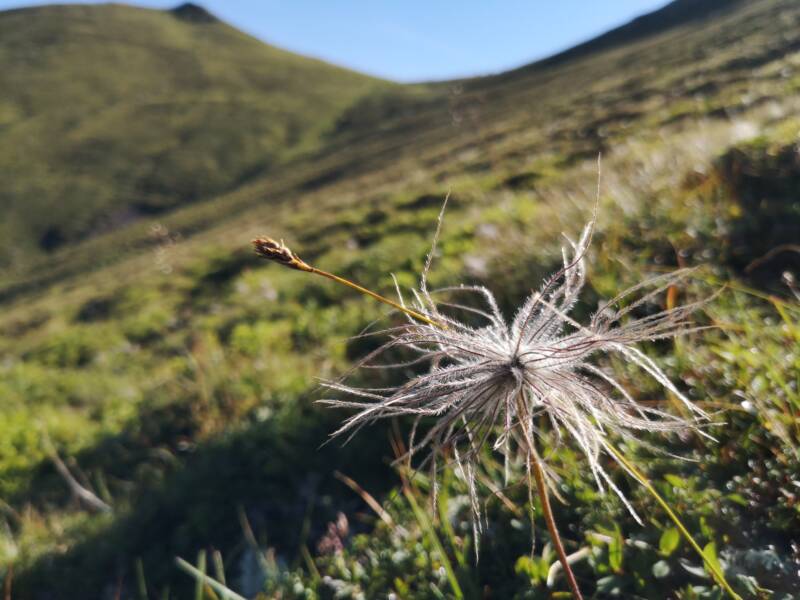 Well, yeah… Better that than the other way around, I thought! I had already gotten pretty hot from the climb and I turned right to get to the path as fast as possible. The Austrian lady wanted to go to the top of a mountain where we were now close to. So again I chose the shorter, less challenging route so as not to strain my knee. We were just an hour away and had to go all day!
A bit further on I came to walk on a mountain top. It was fresh, it was cloudy and there were some people hoping that it would clear up and that they would get a nice view. I walked on so as not to get too cold. And then I came to walk over a lovely mountain meadow. The sun came through and the wind went down a bit.
What a great path to hike on!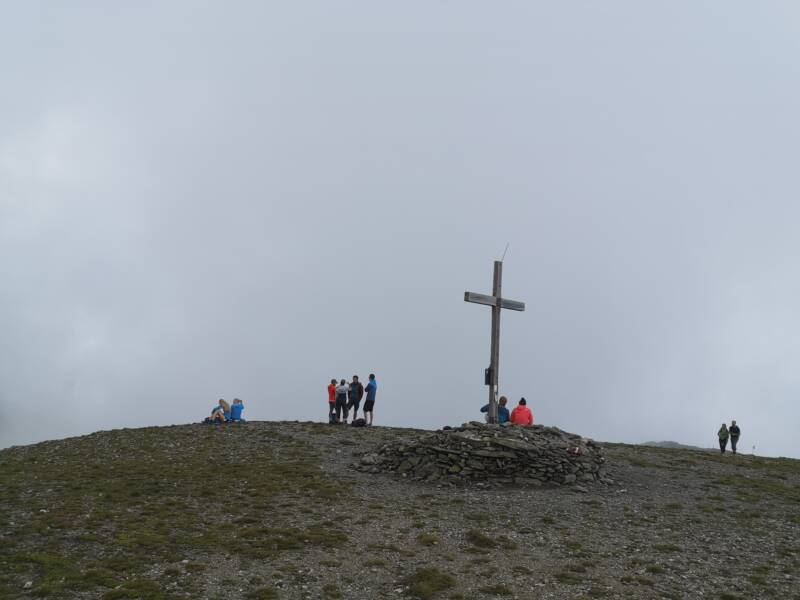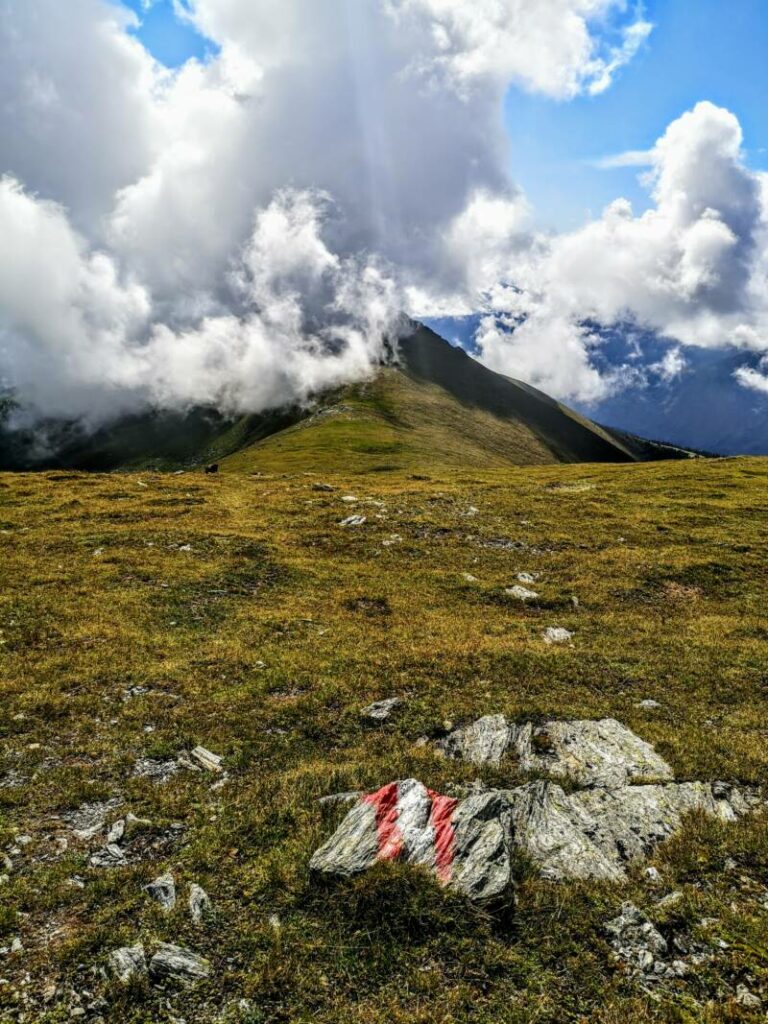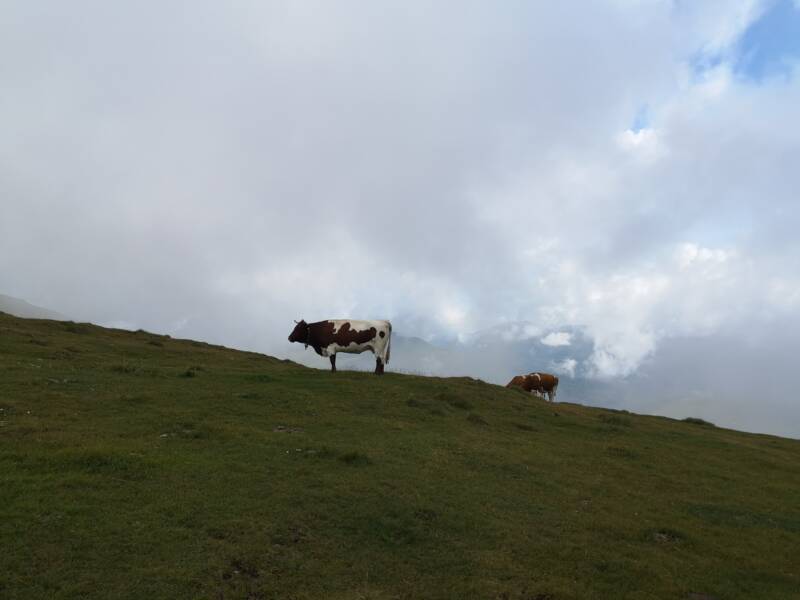 Shortly after I arrived at such a beautiful round plateau where I could sit on for a while. The sun was shining and it was a good spot for a break!
And while I was sitting there I couldn't resist to do a headstand 🙂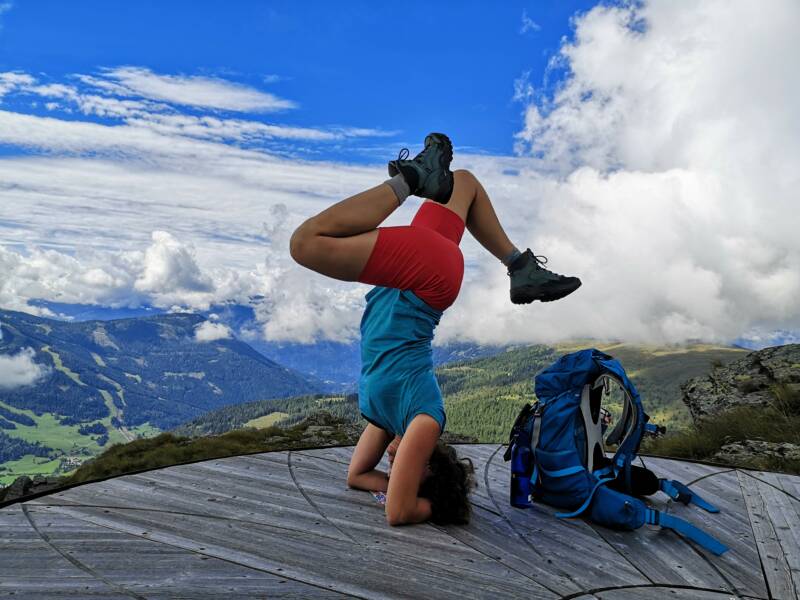 Yoga in Austria
After this, the long descent down began. Moments later I had a view of several villages and I also walked through the villages. Over the country roads and with lovely views over valleys and villages. I love walking completely in nature but if you can see everyday life then I enjoy it to the fullest!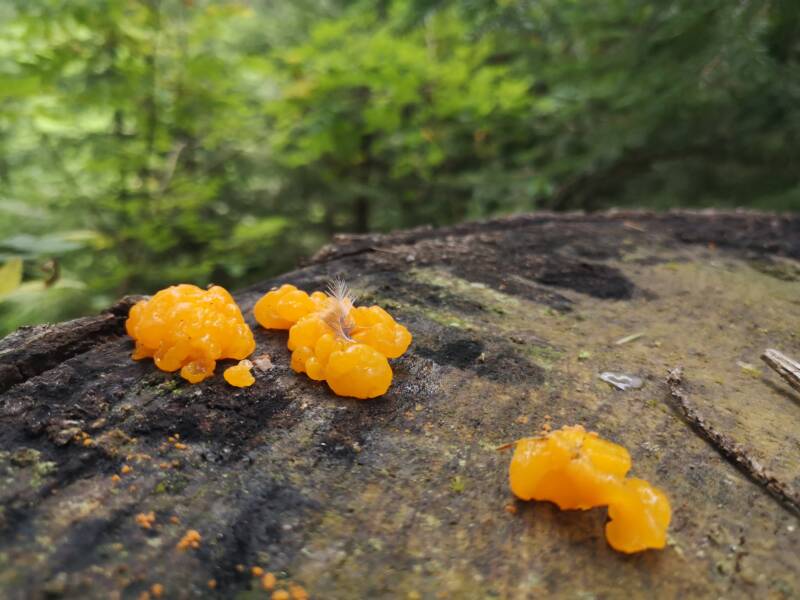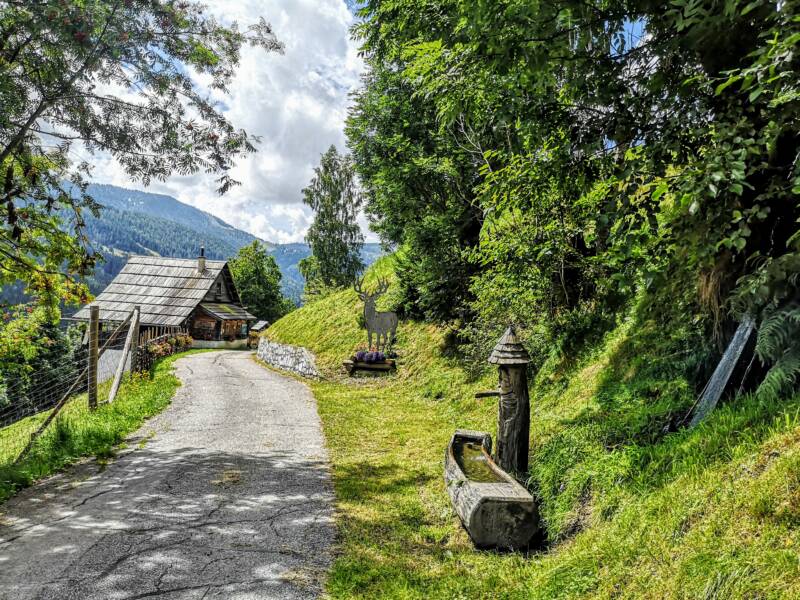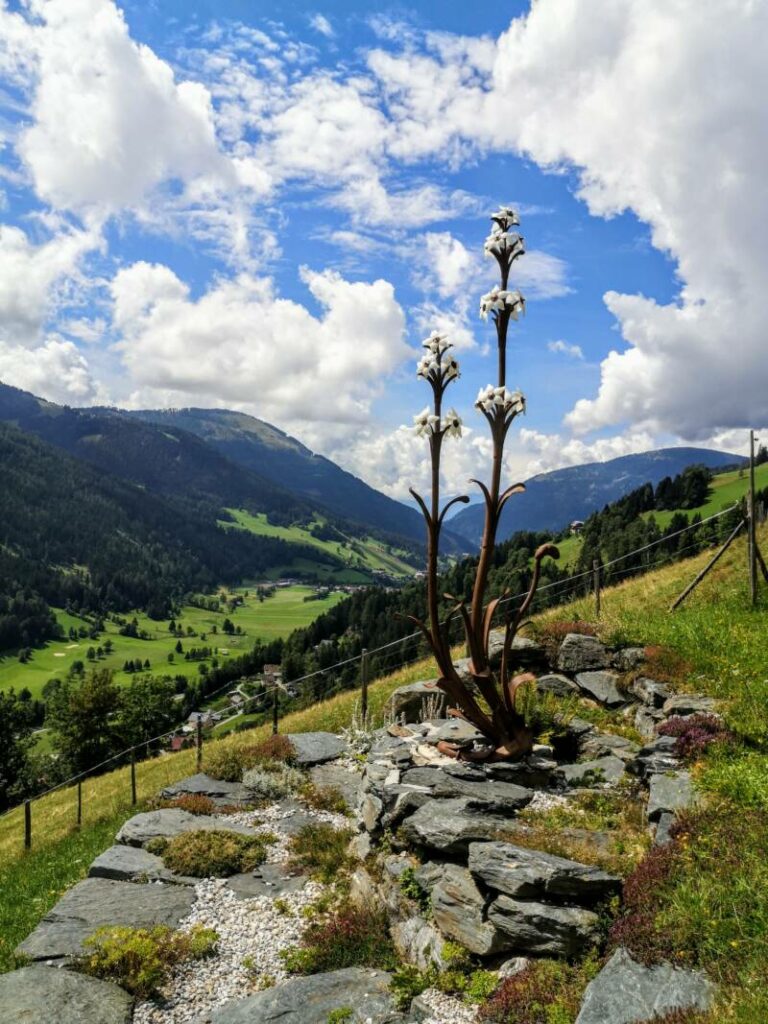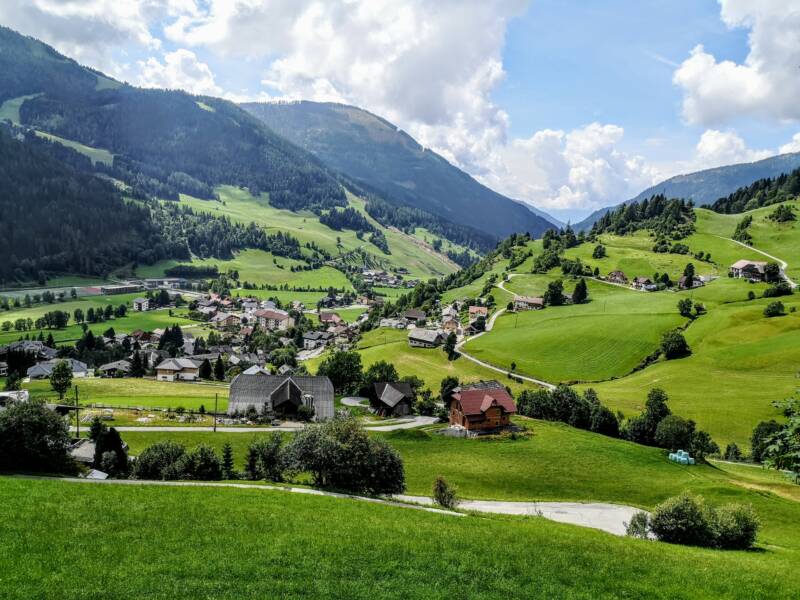 View from the Austrian Alps
At a certain point it started to become time to get something to eat. When I was already in Bad Kleinkirchheim but also saw that the route would lead me up a bit, I decided to descend a bit when I saw a restaurant in the corner of my eye. It was restaurant Adriana where I ordered a delicious salad and pasta.
Shoes off and legs high on the chair opposite to me, enjoying my lunch!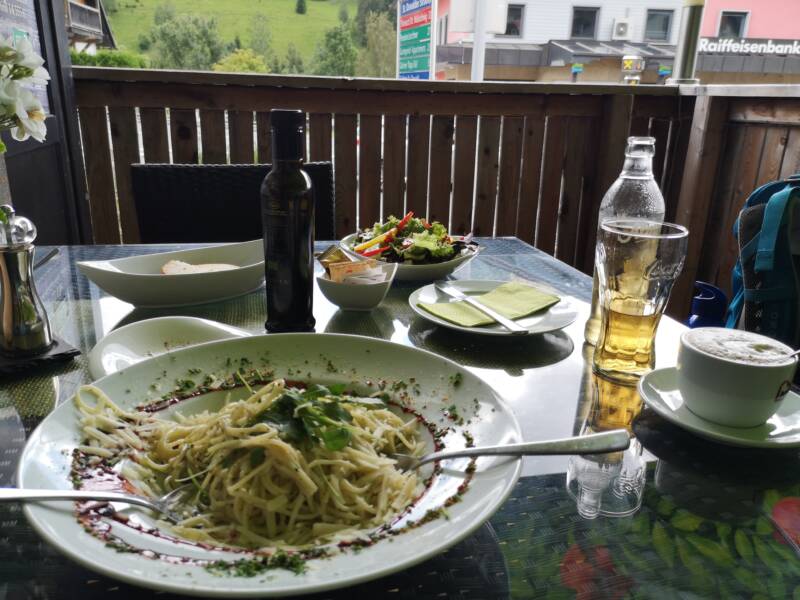 When I walked on, I passed a very nice old wooden church. Here and there are still some very old buildings, all made of wood and painted black. That gives a wonderful atmosphere to the surroundings, I love it!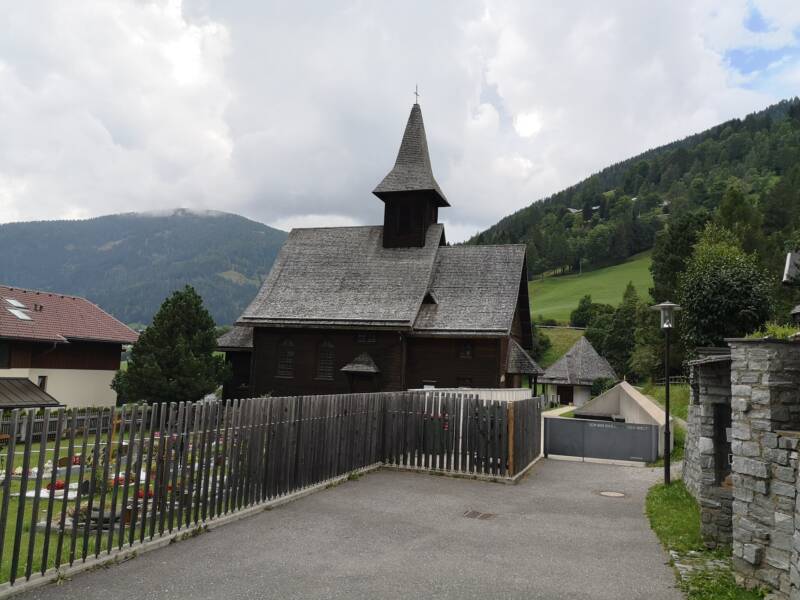 Again I walked out of the city to go a bit higher, which in turn offered the beautiful views, I ended up at an even more beautiful church on the outskirts of Bad Kleinkirchheim. I briefly went inside… It seemed to be a place of prayer. A cave-like place where just in front of me a woman walked in and said a prayer and disappeared just as quickly as she came in.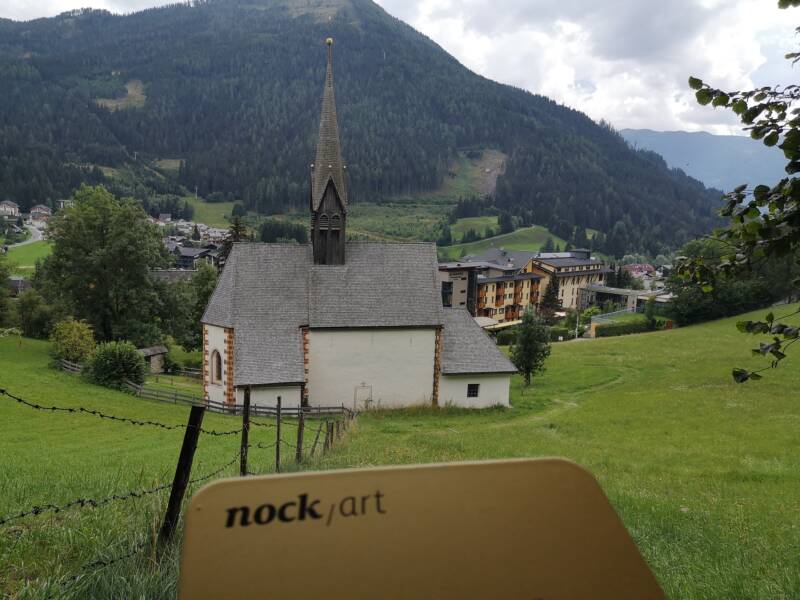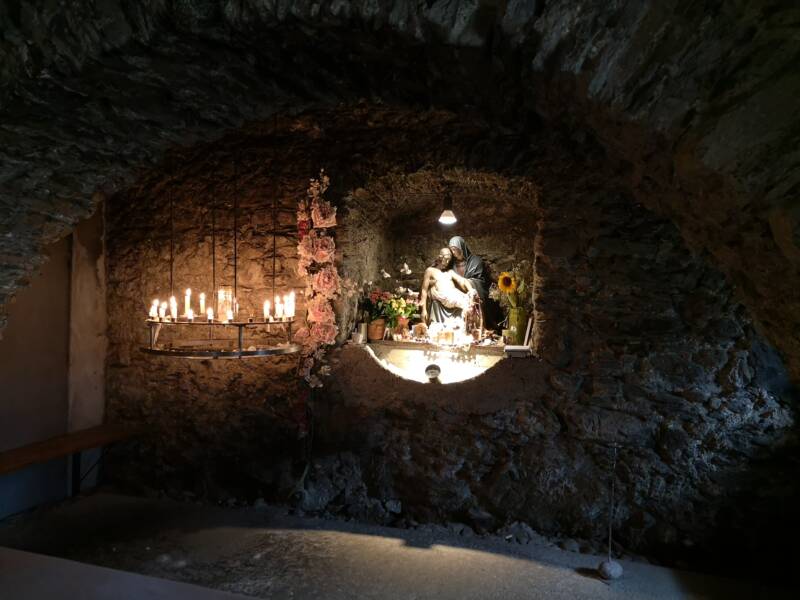 Hiking towards my first luxurious night
When I walked further down I was in the heart of the center and it was another 5 minutes walk to my luxury overnight stay with pool! I got a room for 1 person and could use the pool and spa. Unfortunately it was a bit rainy but I did enjoy the sunbed by the pool for a while.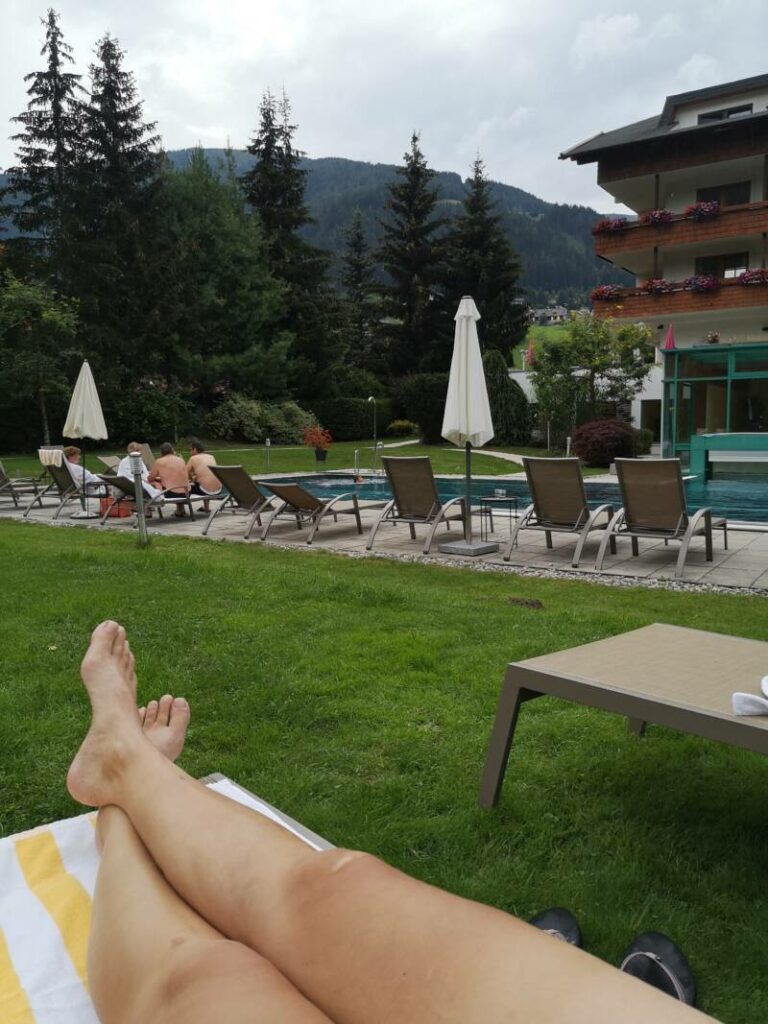 Drinking and reading near the pool was super relaxed.
Very nice after 19 km hiking in the Alps of Austria!
Dinner and breakfast at the Kolmhof was tightly arranged. You are assigned a table and it is yours for as long as you stay there. The dinner was partly buffet (salad in advance) and the rest was served. So also for breakfast, the coffee is brought and the rest you can get from the buffet. I found it all a bit stiff, the staff was dressed in costumes and behaved like they were from the 50's… Too formal, so to speak. I didn't feel very comfortable but everything tasted fine and the hotel looked great.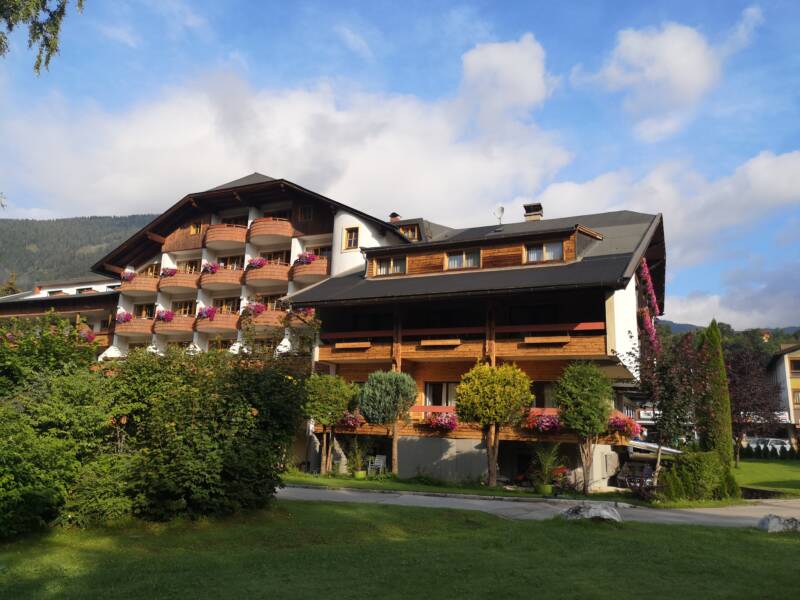 Stage 17 Alpe Adria Trail
Bad Kleinkirchheim – Arriach Austria
18.1 km or 7 hours
The next day I continued to Arriach. The start of the hike went through a small park and then a country road into the woods. Once in the woods the path went almost straight up.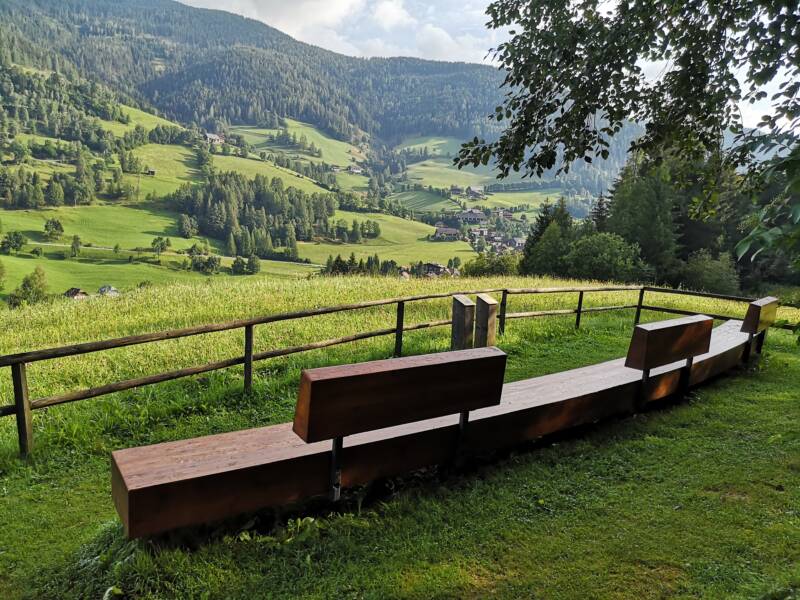 After a decent climb of at least an hour and already quite sweaty, I arrived in a kind of ski area. I had seen the ski elevator pass a couple of times along the way with people in it. So I expected it to be busier upstairs.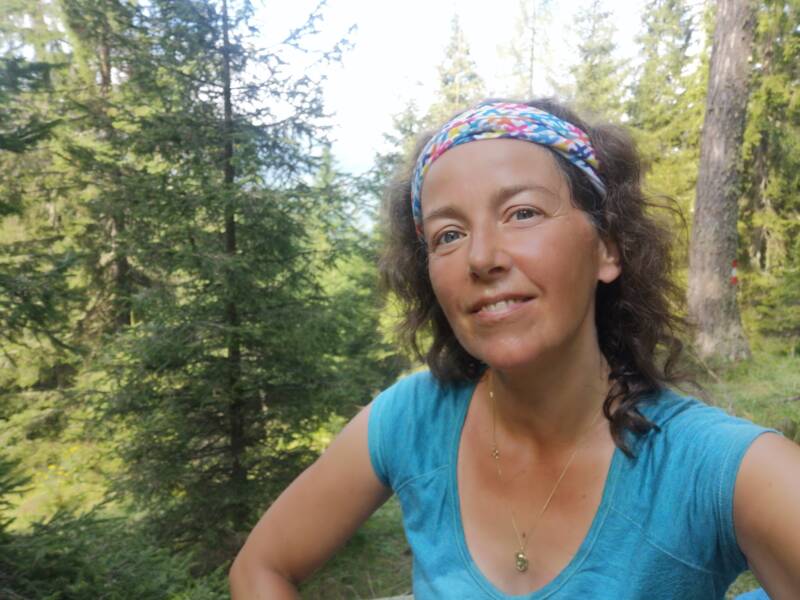 Here and there I saw paths/roads that are used as ski slopes in winter and there were a number of restaurants. The first one was closed but I needed to pause for a while and sat down in the sun and out of the wind. Also not knowing if the next one was open of course.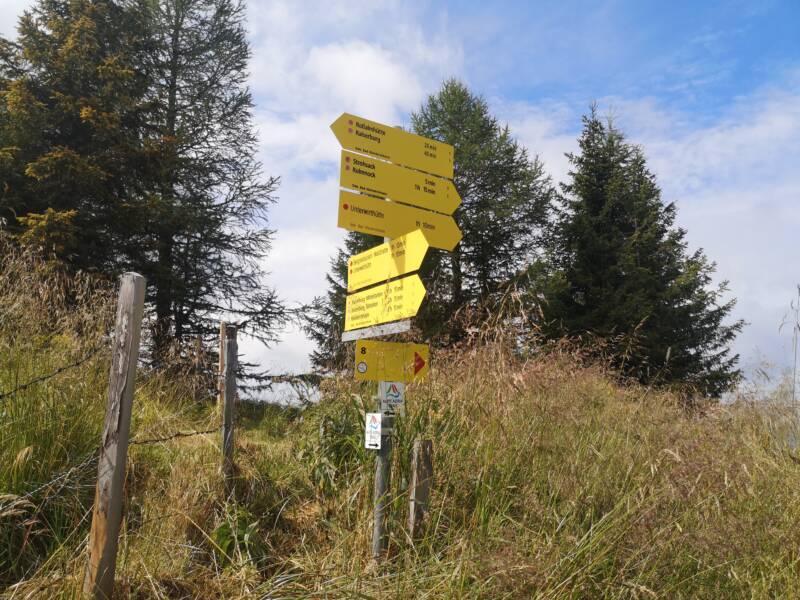 The next part was again a big climb up but I met a lot of people who started their descent. They had gone up with the elevators. Some went up to the cross and others already started the trip back to Zirkitzen / Bad Kleinkirchheim. Up there it was nice to see that the restaurant was open and I could take my early lunch.
Hiking the slopes of Austria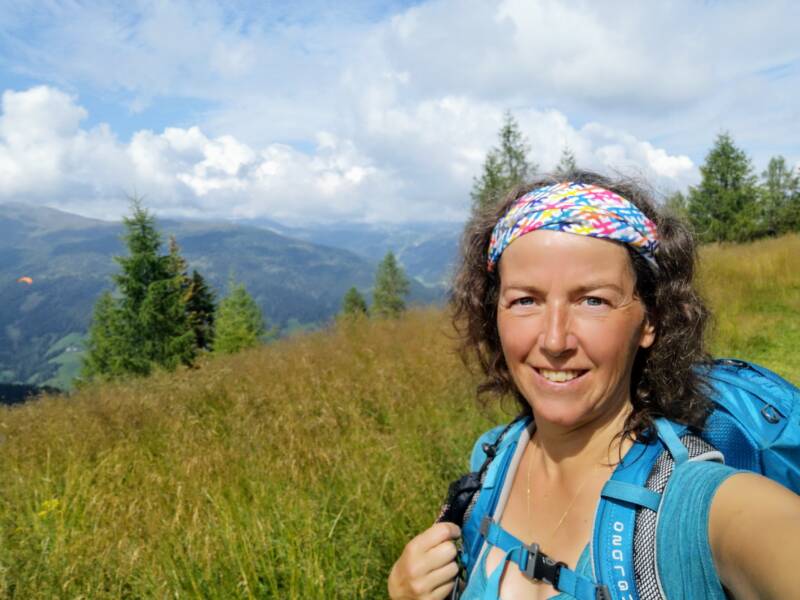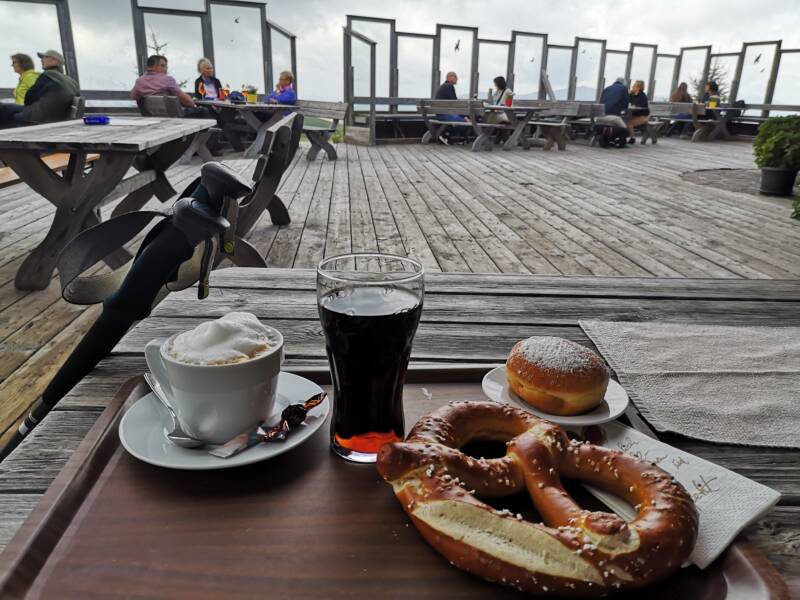 I took a cappucino and a large glass of cola with a Berliner ball and a salty pretzel. The berlin ball was a bit disappointing but the pretzel was delicious! I took half of it with me in my bag and enjoyed the view and the bench. I took off my shoes for a while and after that pause I was ready to hike on again.
Hike & Relax = Good combination
After this I started the climb up and it got fresher and fresher. I had already put on the coat when I went off the terrace but now I put on my buffy. It was foggy, it was windy and I just wanted to go down more and more to find the sun again. I walked around briefly on this summit: The Wöllaner Nock at an altitude of 2145 meters.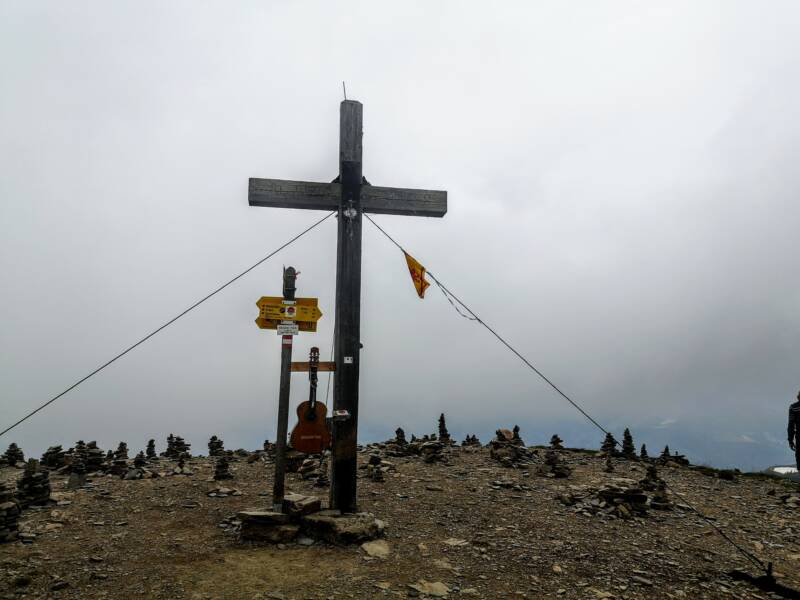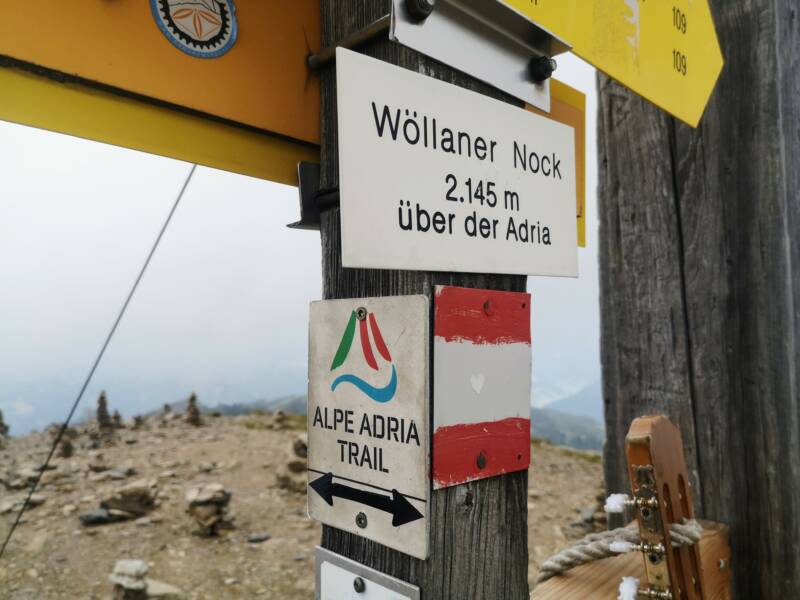 A little lower the sun was shining again and I was out of most of the wind. I got warm again and I walked slowly down the Austrian Alps. I came through meadows and past cows to walk into the forest again. The road slowly circled down and every now and then I was treated to the most beautiful views. I saw villages and wondered which one would be Arriach, where I had booked a B&B for the night.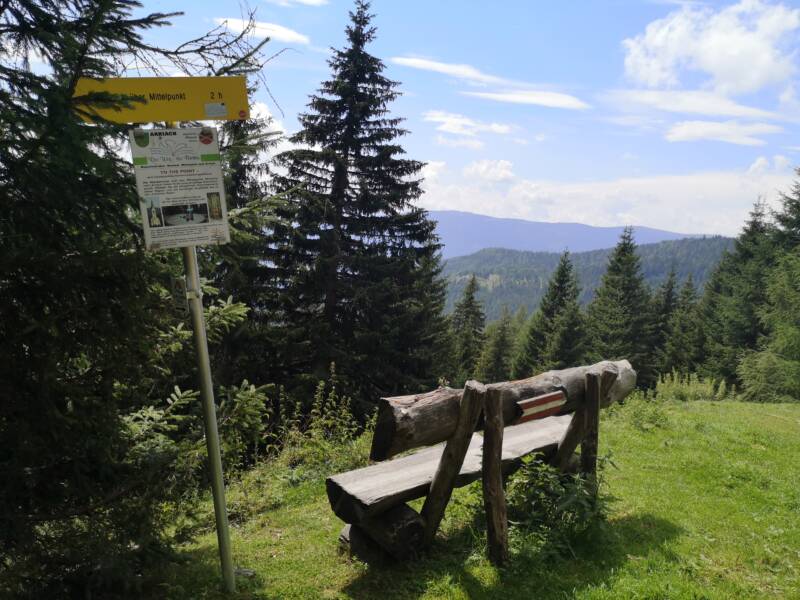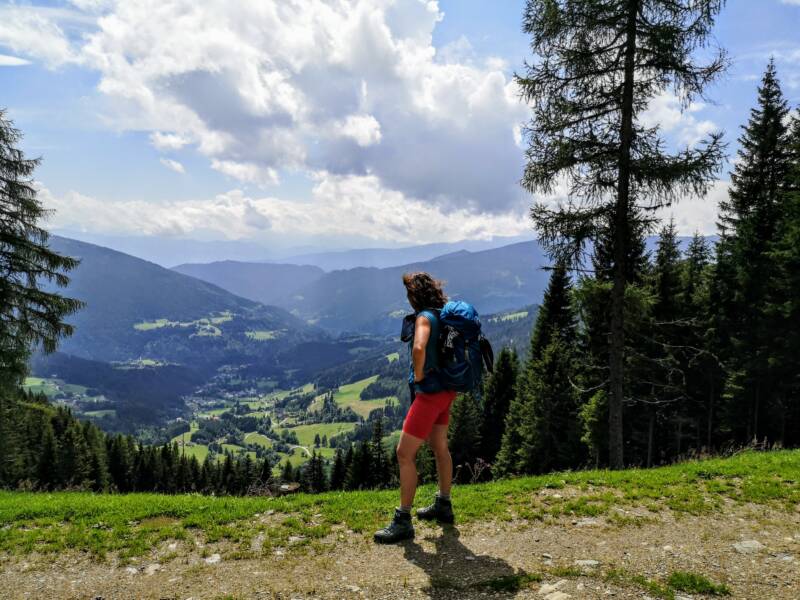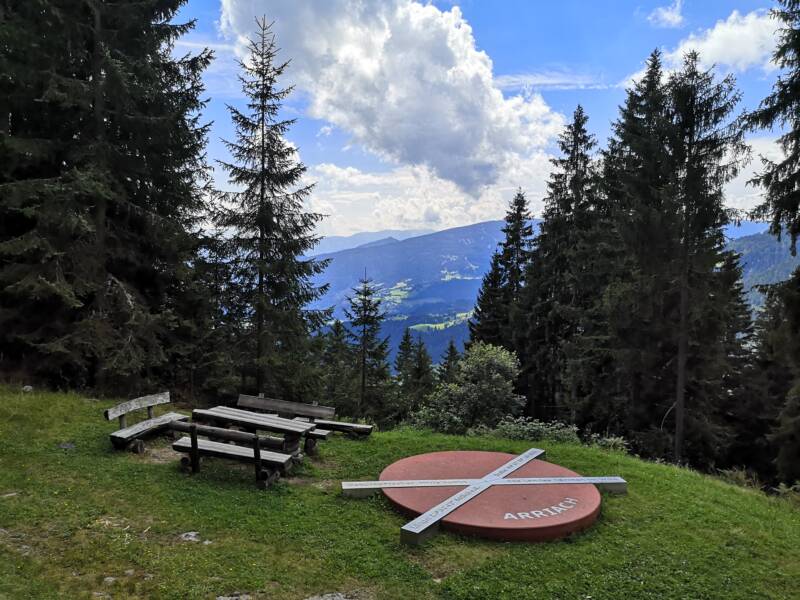 When I came out of the forest and walked into the valley I was led right while Arriach on the map would be in the other direction. I walked along the route and came through several small villages and along beautiful views and houses along the route. Only … I was done with it for today and just wanted to sit on the terrace of my Bed & Breakfast to enjoy the sun.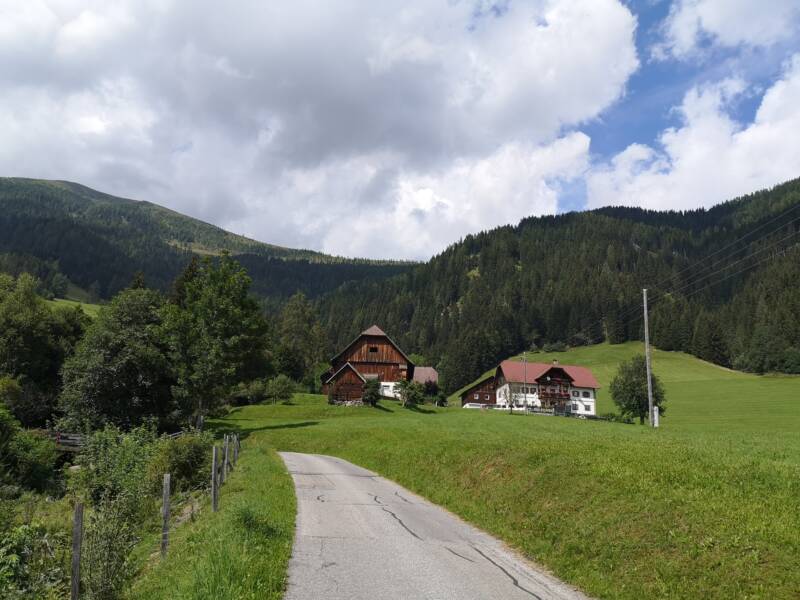 Hiking in Austria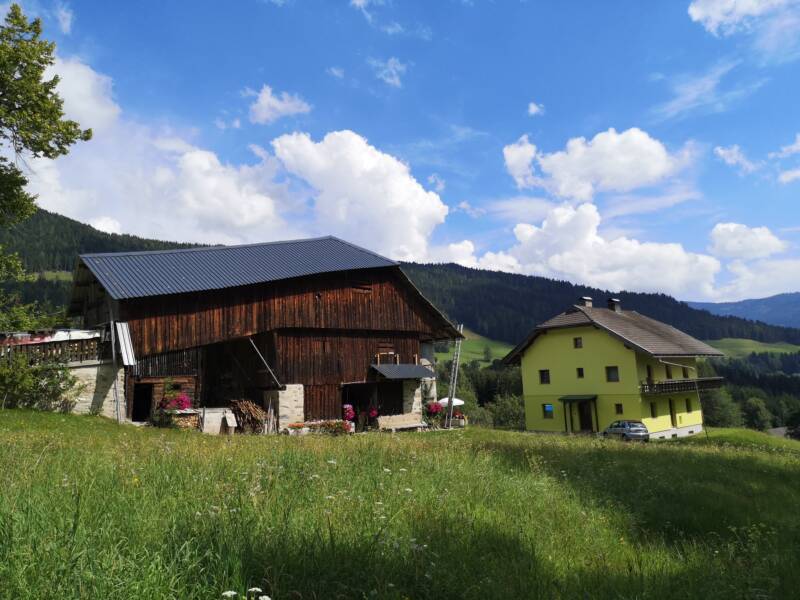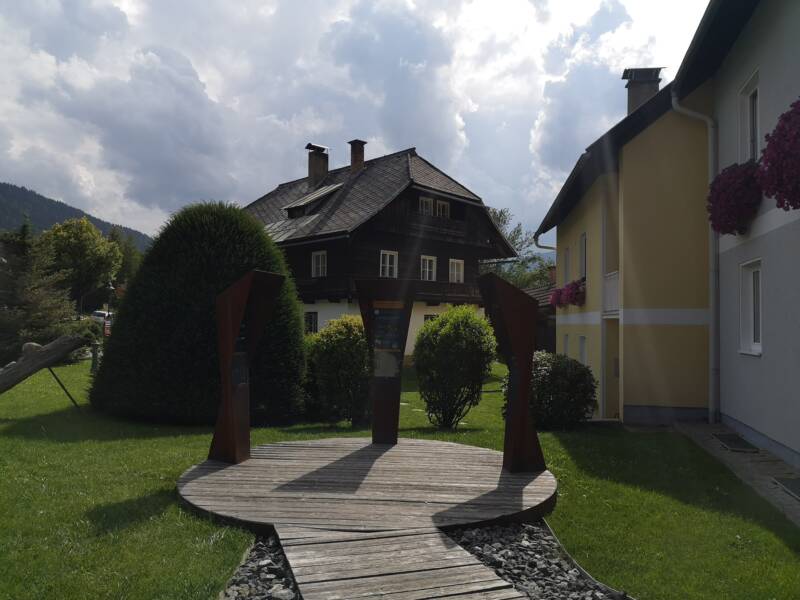 I quickly walked the last kilometers of this day. Around 16.00 hours I was sitting on the terrace of Gasthof Arriach after I took a lovely shower I drank a homemade elderberry blossom sirup.
I enjoyed the weather and the peace that reigns there.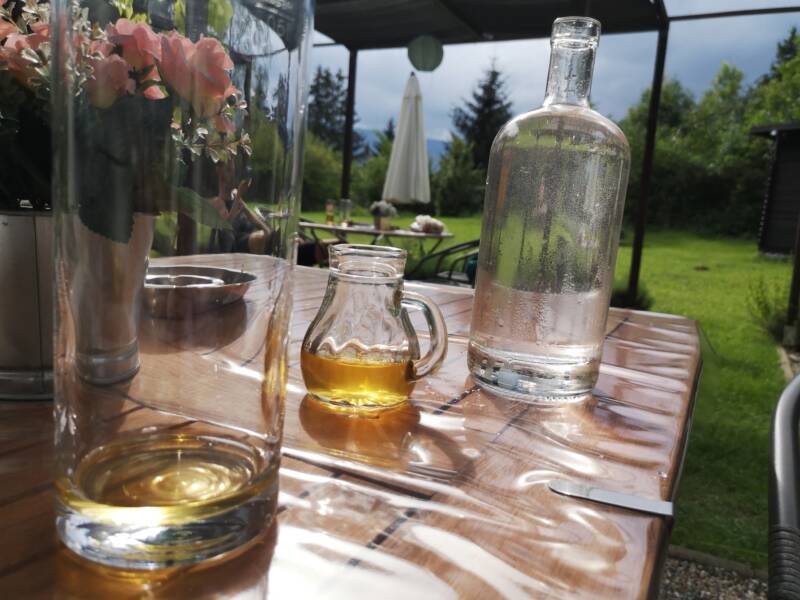 Gasthof Arriach is located just outside the village and exactly on the route of the Alpe Adria Trail. Very nice! I've been walking the Alpe Adria Trail in Austria for 6 days now and already felt like an experienced alpine hiker 🙂
I have arranged another night for the next day in Gerlitzen and thought I would walk another stage that day. Then I could take the train back to Salzburg where I would be able to explore the city for a few more days. The end of this great hike was getting near… I felt sad about it!
Do you think this walk is cool too?
Then share it or save it on your Pinterest!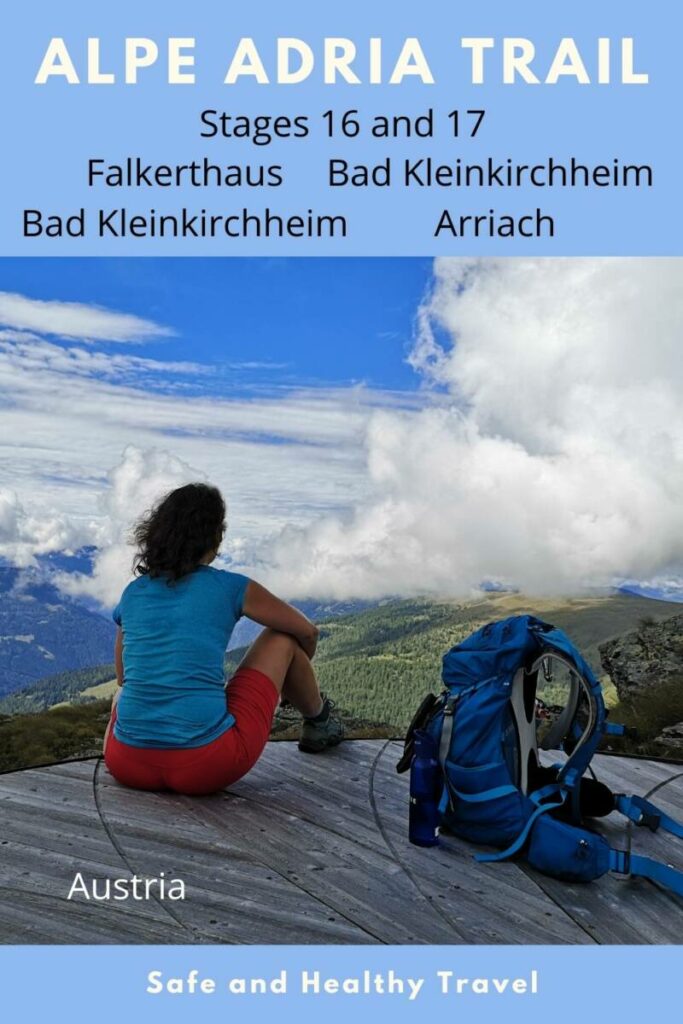 Looking for more hiking inspiration?
Hiking in the footsteps of Krishnamurti Ommen – 13 km
Hiking the Dutch Coastal Path – Part 2
Lee Trail in 3 days – Luxembourg
Hiking the Hanzestedenpad – SP11 – Hiking along the river IJssel
Or go to the Himalaya!
I hope you enjoy this beautiful world as much as I do!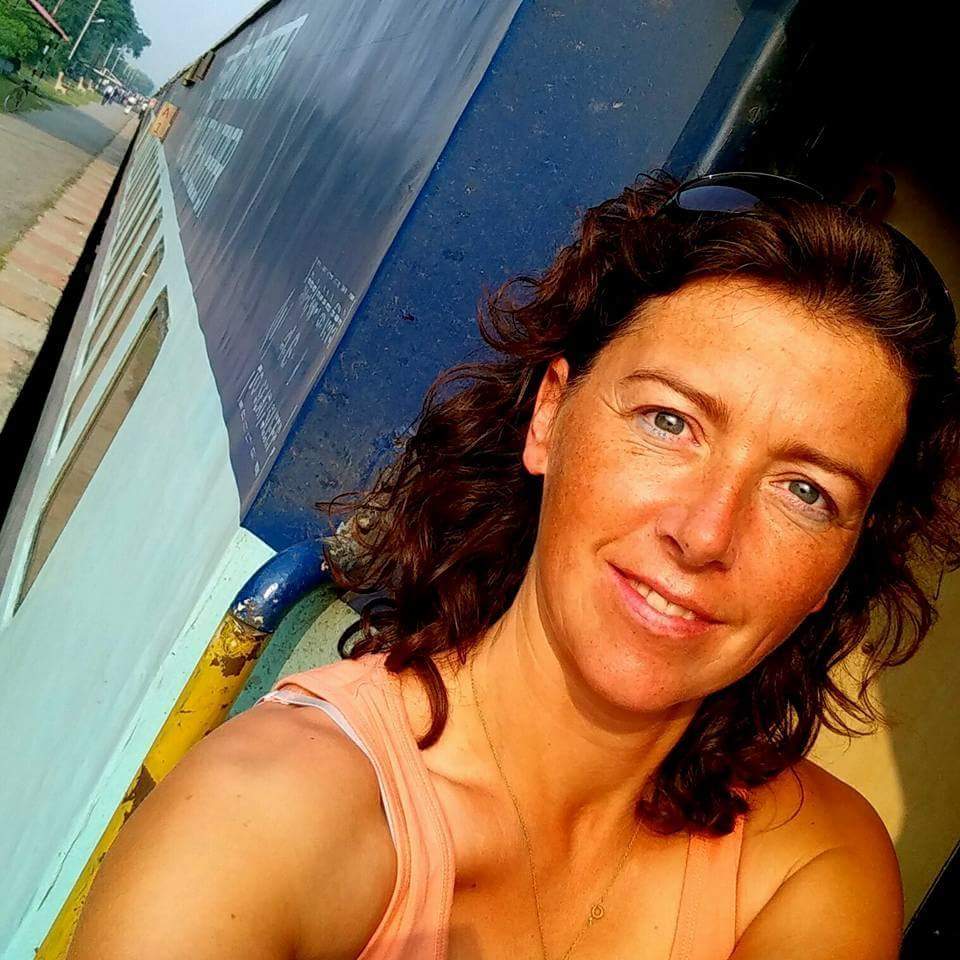 Jacomijn is een politieagent uit Nederland die jou graag laat zien hoe je veilig, actief en gezond de wereld kan over reizen. Safe and Healthy travel is a MUST