Yoga class at Khaosok Yoga in Khao Sok National Park – Thailand
|
When I was in Thailand in March 2023, I also visited the amazing Khao Sok National Park. I had been traveling for a while, I was in Koh Lipe, among other places, and really just really needed some yoga, some meditation and some rest. So when I was walking around the village near the entrance of Khao Sok National Park and saw advertisements for Khaosok Yoga, the choice was quickly made. I contacted them via whatsapp and booked a sunset yoga class at Khaosok Yoga for the next day.
Yoga Class at Khaosok Yoga in Khao Sok National Park
Have you ever taken a yoga class somewhere in a beautiful location in the world? I participated in the 200RYT in 2019 in Pushkar, also a super life experience! There I was interned with my teacher for 3 weeks but taking a class somewhere like that is also really recommended. But I took a class in other places as well. Now that I think about that, this is the first time I am sharing something about it 🙂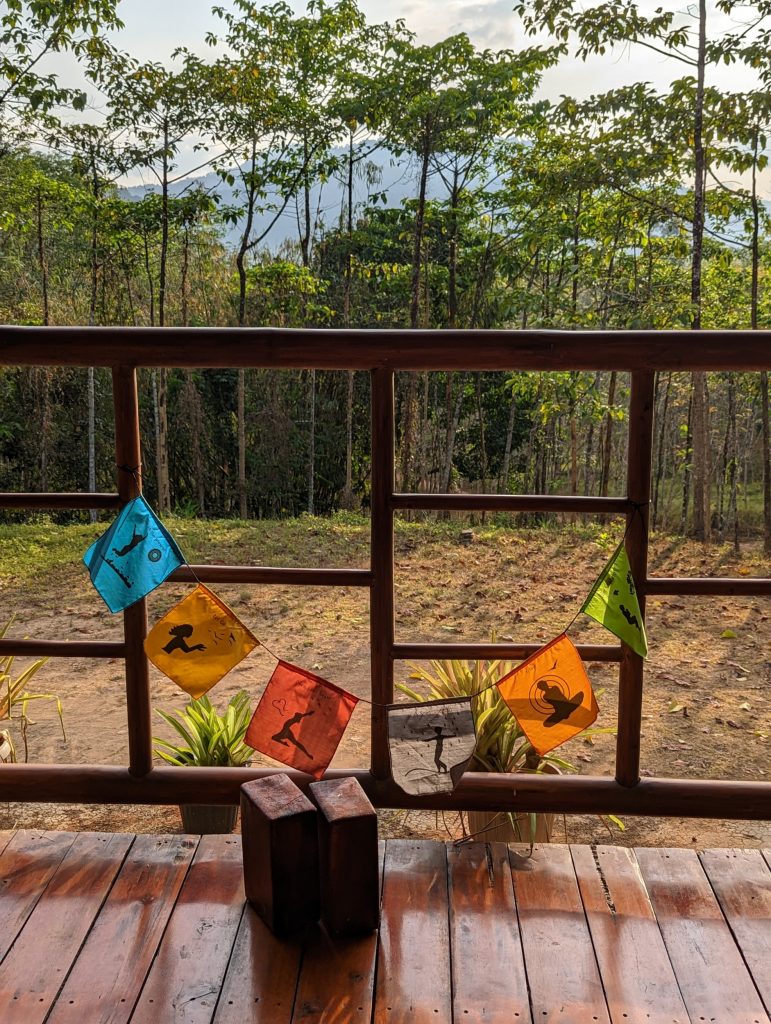 The next day I got to come and take the sunset class. How cool? Taking a yoga class in the middle of the Thai jungle? On an elevated terrace with the sunset visible over the jungle that you then overlook.
Who wouldn't want that? Yoga class at Khao Sok NP
About 4:15 p.m. that next day, I walked away from the town and followed my google maps directions.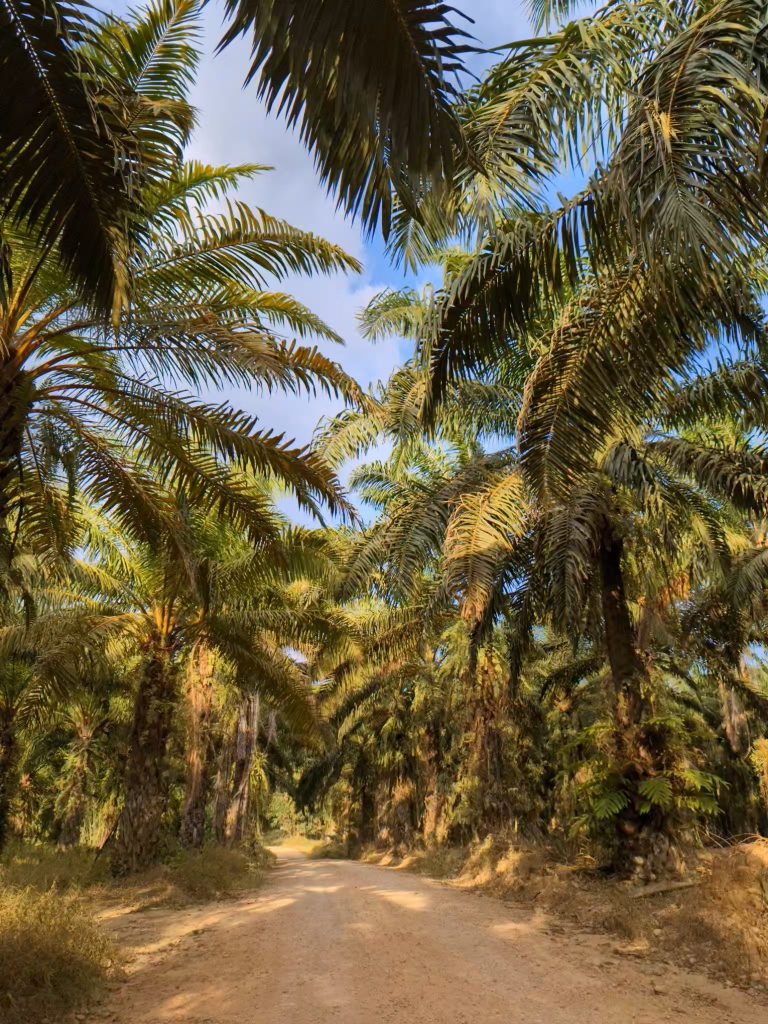 Actually, there is only 1 real exit and once you are on the country road you can't go wrong. Also on the only real exit in the village is a sign advertising the yoga class. Again, I found it odd to hear from several other people who had not seen a single sign advertising Yoga class at Khaosok Yoga while I saw those signs everywhere.
What you give your attention grows?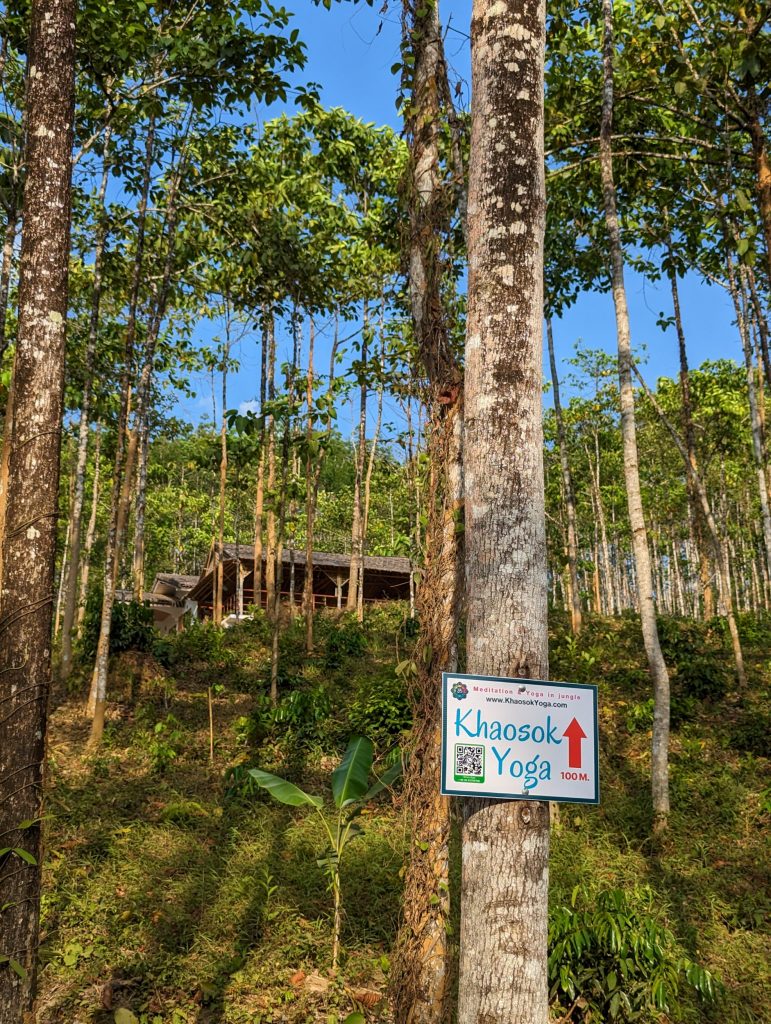 I enjoyed the walk and arrived at Rossi's home and the yoga school well ahead of time. There was still someone in the yoga room with a cloth over his eyes and singing bowls on his body so I sat quietly. Enjoying the warmth, the birds chirping, the jungle sounds…. Wonderful right!
It was not long before Rossi arrived with a woman who had been picked up, and shortly after, another woman arrived. The class was complete. Meanwhile, the man had also woken up again; he had fallen asleep. Ultimate relaxation, then 🙂
Yoga class in Khao Sok NP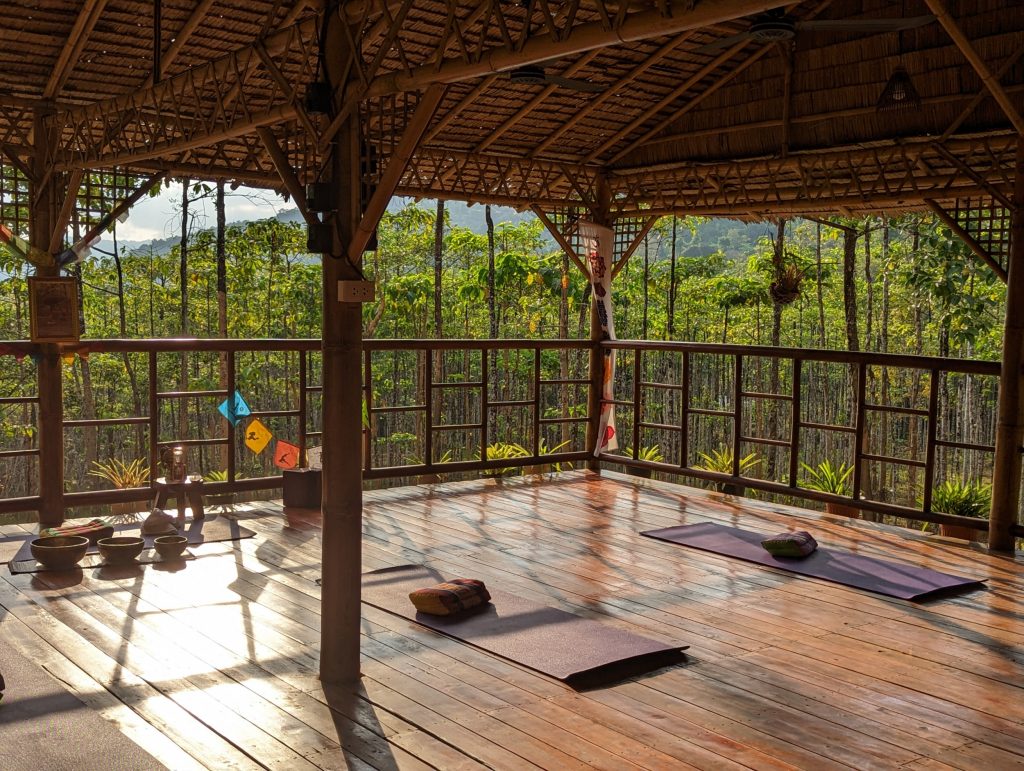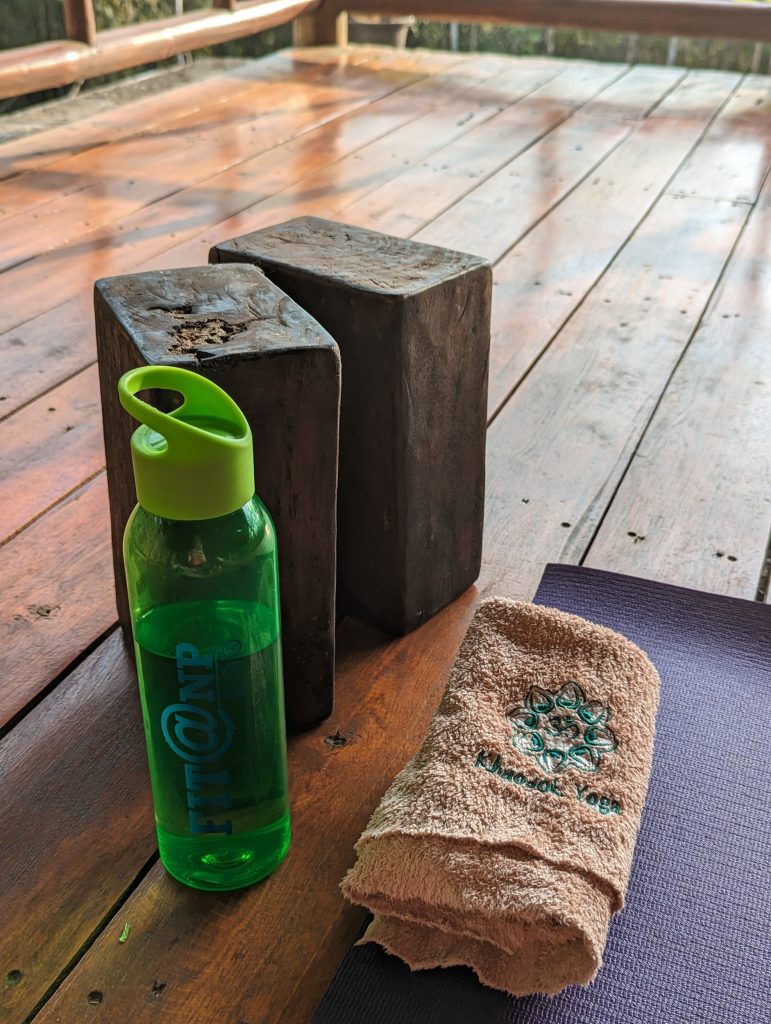 We had a wonderful lesson from Rossi. First a short meditation where she used her singing bowls. Wonderful relaxation! Then the lower back was stretched a bit through the Half God of Pisces (Ardha Matsyendrasana). How nice I found that! This is also a pose I often do myself to stretch my lower back.

I had a fine bed that night but still I woke up in the morning with a huge backache. I hadn't had that the whole trip. It should have been like that so to speak. Then we did the Sun Salutation (Surya Namaskar B). How appropriate. The sun was just now beginning to set….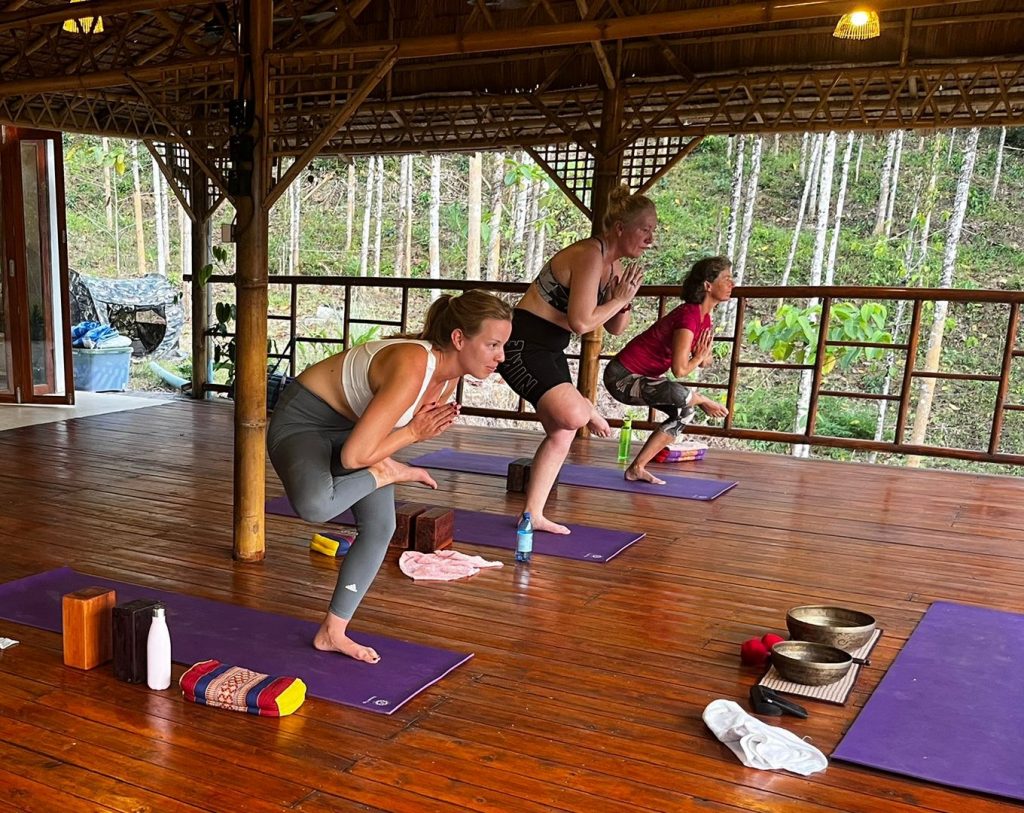 And which I also always really like. She had us do some balance exercises, we did the tree pose, vrkasana, but also the toe balance in half lotus ( Padangustha Padma Utkatasana) only not to the toe balance but to the chair pose. And the shoulder pose (Sarvangasana) with continuing to the plow (Halasana).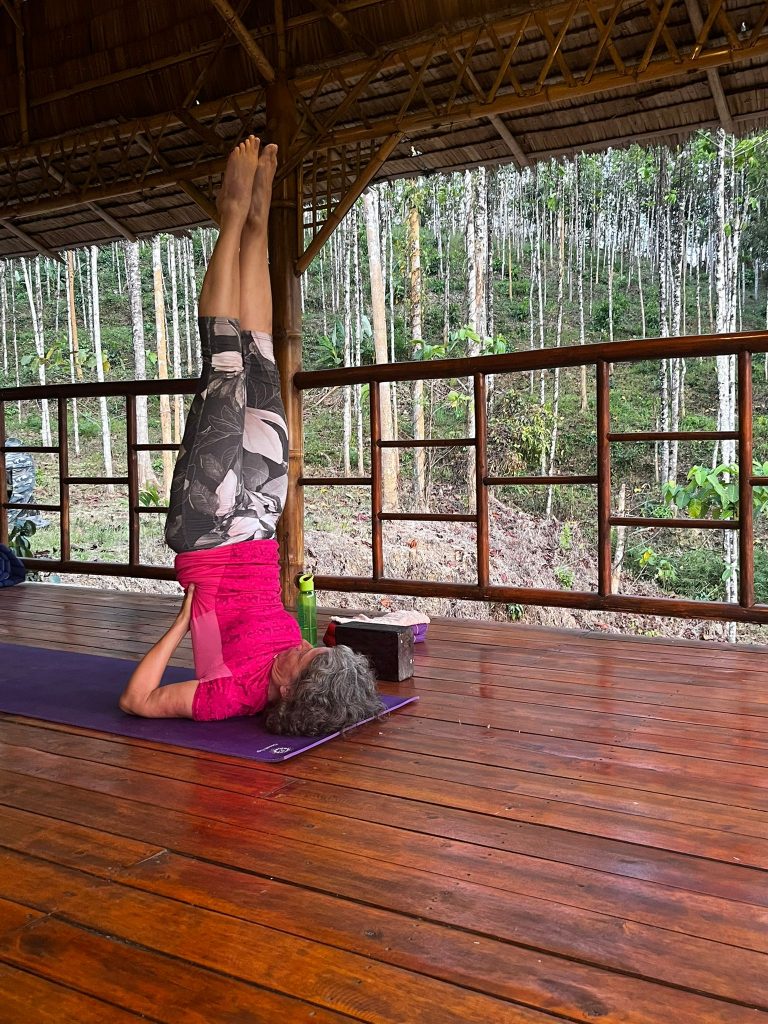 And finally of course the savasana where she played the singing bowls again and allowed the vibration to pass through us beautifully. I thought it was a wonderful class. By now the sun had really set and it was starting to get a little cooler. Still not so that you need a blanket so you can lie there wonderfully on the mat.
I loved taking a class. Just not following my own routine but doing what someone else says but also how she recommends it and what she emphasizes. I was in Melaka for a month in Feb 2023 and did almost the same routine every morning there. That did me very well for my lower back, which was stuck…. On multiple levels…. I'm not done with it yet and still feel a lot of it is stuck. I am a stubborn one…. On many facets 🙂
Yogales at Rossi from Khaosok Yoga
Khaosok Yoga has several yoga classes you can take. At 7 a.m. Morning Mist Yoga, at 11 a.m. Midday Yoga and at 5:30 p.m. the Sunset Yoga.
Rossi is a fun, cheerful and active woman. Also an international woman since she has lived in Norway! Now she is a full-time yoga teacher in a super cool national park in Thailand.
What does a yoga class cost?
The classes cost 500 Thai Baht if you are in Khao Sok itself but you can also take them online. That will be over 13 euros for an hour and 15 minutes of classes. Then you pay 350 Thai Baht, which is over 9 euros.
Where is Khaosok Yoga located?
You'll find the location about 3 km outside the town near the entrance to Khao Sok NP itself. I loved walking there but did have myself brought back. If I would have taken a morning class I would have been picked up too…. But the 11 a.m. class, I probably would have walked back and forth. But Rossi offers to pick you up and drop you off. This costs 50 Baht for a one-way trip.
The adress is 329 Moo 6 Khaosok KlongSok Phanom สุราษฎร์ธานี Thailand
Do you like this tip?
Then share it with friends or save it to your favorites!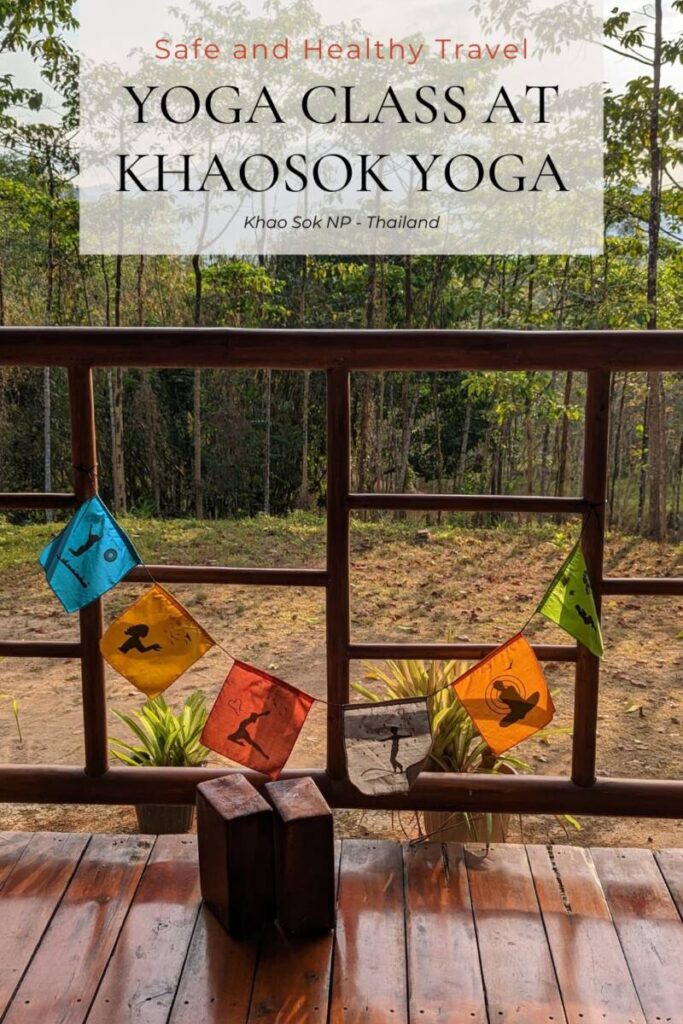 Read more about the benefits of yoga?
The handstand is a Must – All you need to know about Adho Mukha Vrksasana
Pranayama – How should we breath correctly?
Where I get my yoga inspiration
10 days meditation in noble silence – Vipassana
And do read this meaningful inspiration
I hope you enjoy this beautiful world as much as I do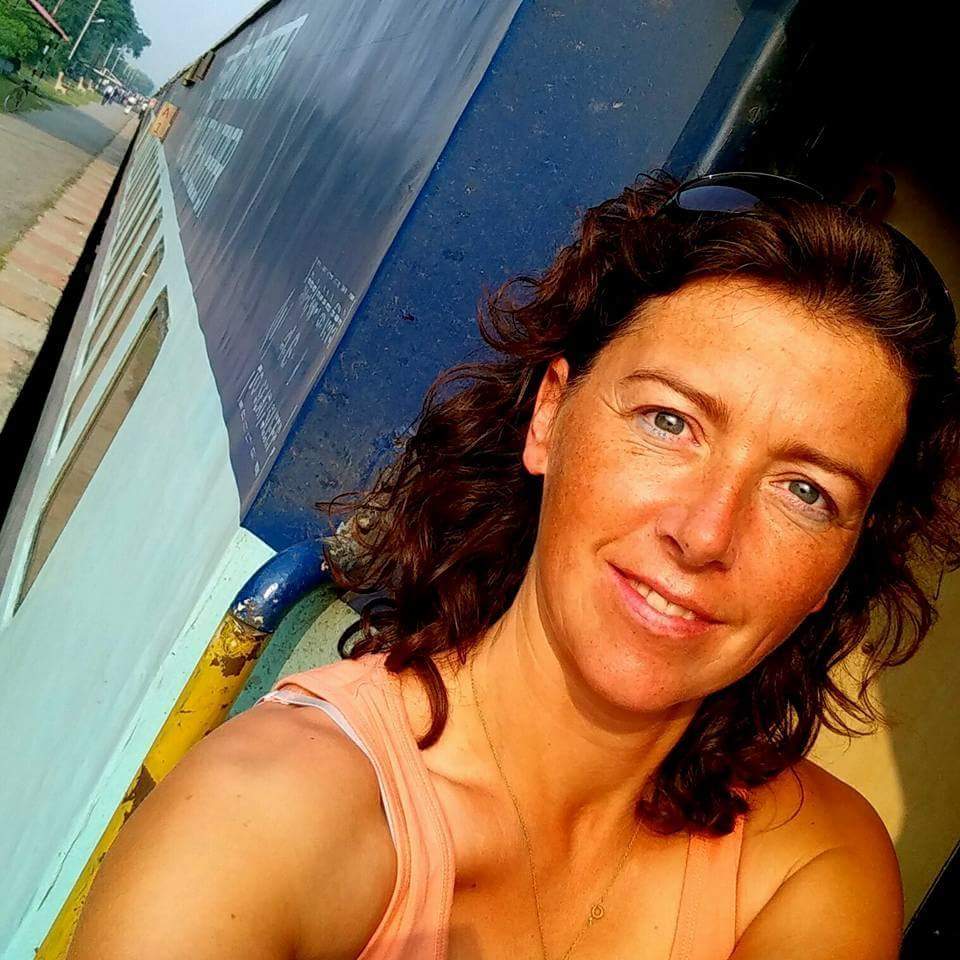 Jacomijn is een politieagent uit Nederland die jou graag laat zien hoe je veilig, actief en gezond de wereld kan over reizen. Safe and Healthy travel is a MUST