Visiting the Authentic Tribe Himba – Opuwo – Kunene Region – Namibia
|
Of course, I also went to visit the Himba! During my roadtrip through Namibia, I was in the north-west of Namibia at the end of January and visited the city of Opuwo. Opuwo is the capital of the Kunene Region from where you can make some great trips. When you are there, you are of course going to visit the authentic tribe Himba. Many of my Dutch readers will recognise these impressive people from the Dutch programme "Groetjes uit de Rimboe". This was already in 2005 and in it a Dutch family was put with the authentic tribe Himba for a while to experience their life. In 2006 the programme 'Greetings back' was recorded in which the Himba came to the Netherlands to experience life here.
Authentic Tribe Himba – Namibia
There are still about 50,000 Himba (Ovahimba) who live in the northwest of Namibia. The region where the authentic tribe Himba live is called Kunene Region (formerly Kaokoveld), which is an inhospitable area. The Himbas are a nomadic people that migrate with their cattle from place to place to get water.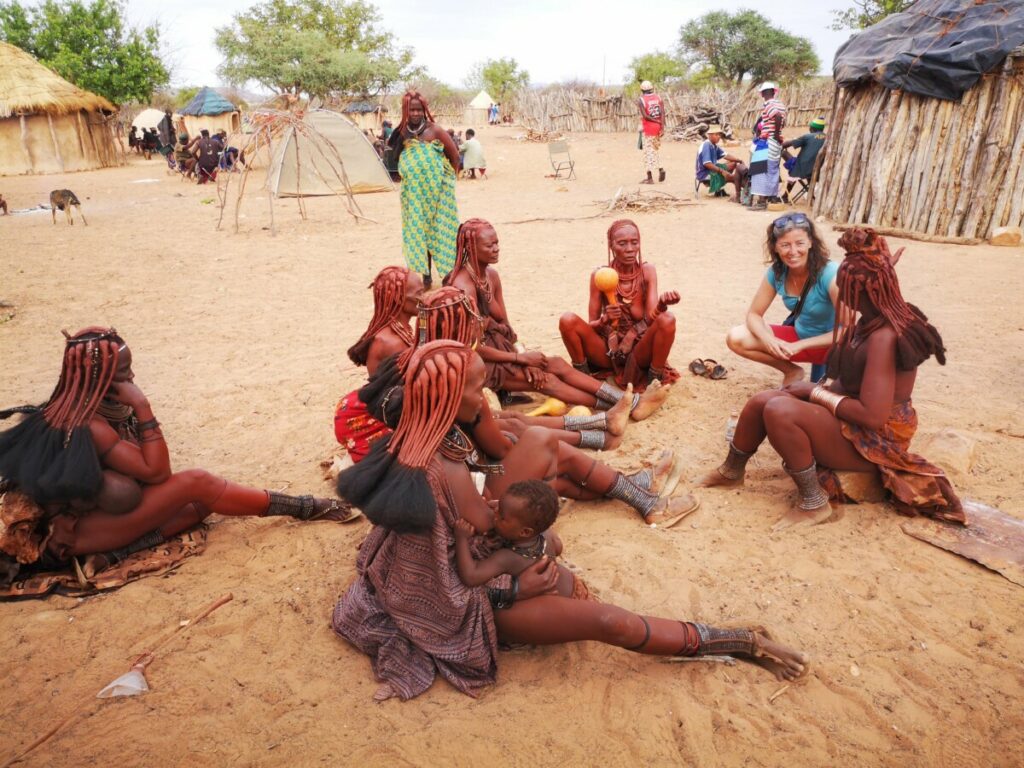 I could book a trip with a local guide at ABBA guesthouse where I was staying. We would leave for the village early in the morning so that I could experience the day's start-up. The women take care of their skin with fat from the goat, herbs and ochre. I read that they never wash themselves and protect themselves with this fat against dirt and vermin. That made me very curious about this ritual. And I also find the women's hair very impressive. It is a world so far away from us and that is why it attracts me so much.
When I was driving from Palmwag to Opuwo, I met this girl by the side of the road, she was selling beautiful stones. She sold beautiful stones. She didn't sell me anything but I gave her my fresh vegetables that I still had in my fridge. In exchange, I asked if I could take a photo of her.
Visiting the Authentic Tribe Himba – Opuwo
When we drive off that morning, I have a big bag of flour in the car and some other things like sugar and corn porridge which are very much appreciated. We drive out of town and stay on the road for about an hour after which, once it has become light, we turn right into a very small road. When we get a bit closer to the round village, we see many himba around the village with tents and a lot of cars. After a short conversation of my guide with one of the men, it appears that a woman had died and was buried yesterday. I remember afterwards that I don't know how or where that burial takes place. We were welcome to come and have a look in the Himba village.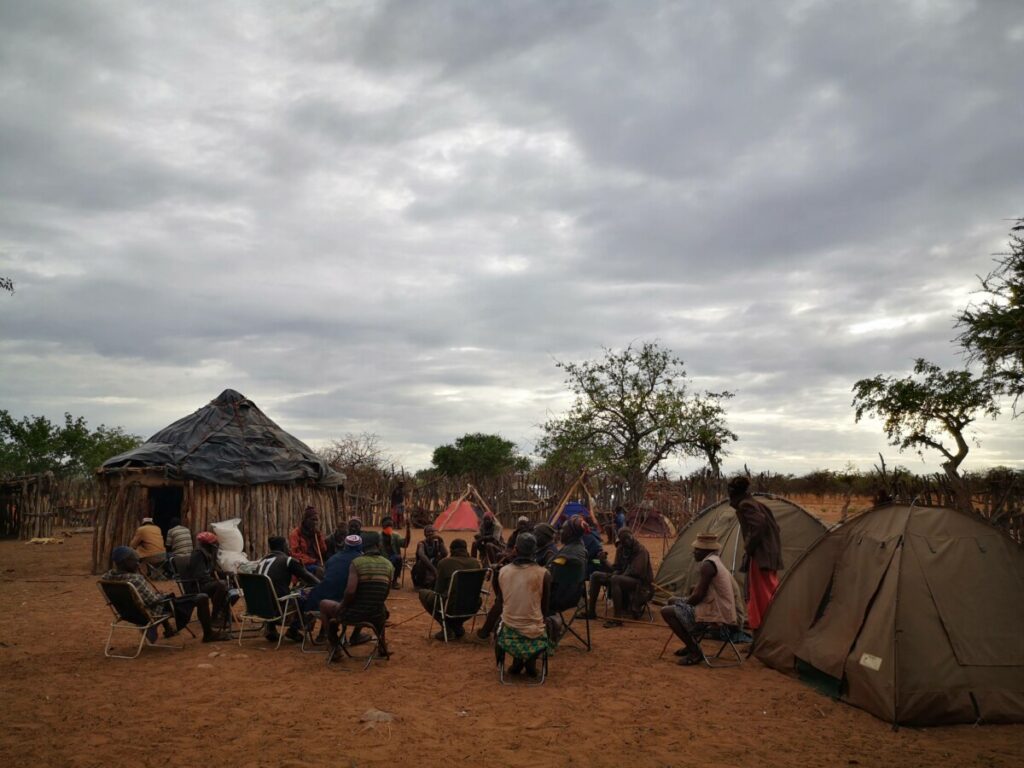 I follow my guide into the Himba village. We stand outside the kraal (fence of the round Himba village) talking to some men. Slowly we move inside and I see my guide walk to the group of men and finally speak to a man. This is the tribal elder and he too gives us permission to visit the Himba village.
My guide starts explaining what a village consists of, who the inhabitants are. An authentic tribe Himba village consists of one family. The man who is the elder here has a number of wives. A new village starts with a man and a woman, the man then asks his first wife if another woman can join. When wife 1 agrees, they look for a good woman who fits them. This second wife gets a second hut, is there a third wife? Then she also gets her own hut. So in this way there will be several huts in the corral. If there are children old enough, they may also get their own hut.
Visiting the Authentic Tribe Himba – Opuwo – Kunene Region – Namibia
The kraal and huts of the Himba
I was delighted to see that there are doors and locks in the larger huts where people live. My guide jokingly said that this was to keep the children out every now and then. I saw in one of these larger huts that they even had an upper floor. This is where the precious and valuable things were stored.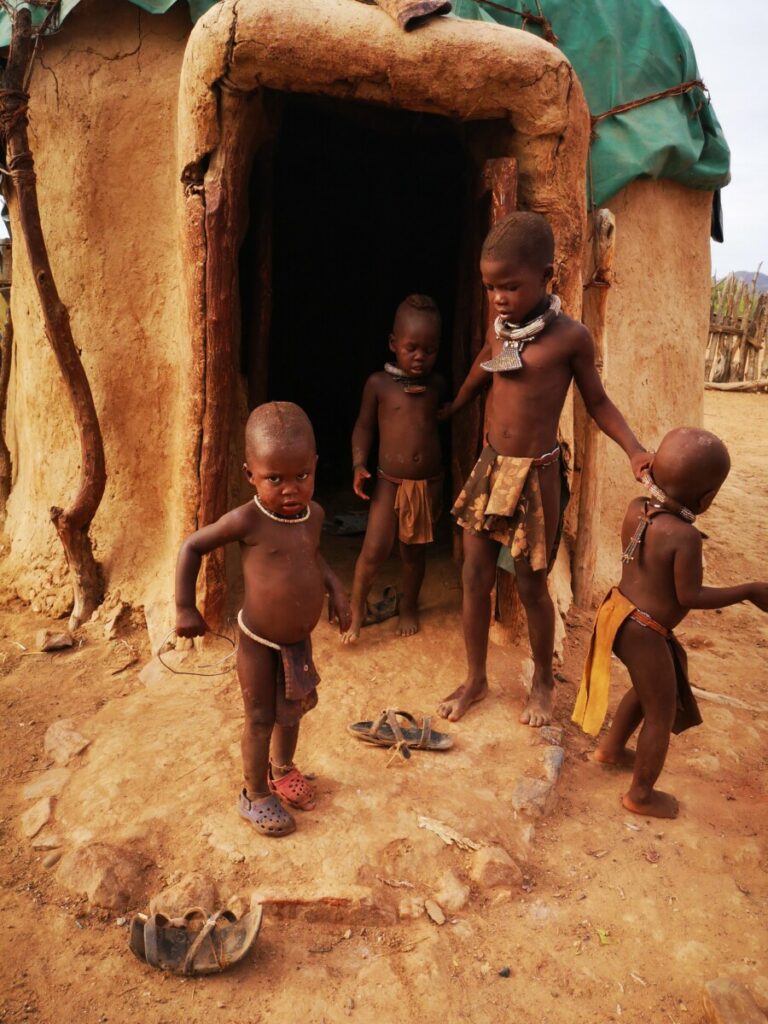 Apart from the beautiful huts where people sleep and live, there are huts for food, which are placed on an elevation, but also huts for resting during the hot hours of the day. Food is also dried in these huts because the wind can blow through it. In the kraal, I think it is a bit of a mess on the ground, this is because during the night the animals also walk in the kraal. They eat all the leftovers that are there and I also see animal remains here and there, bones and the like, which dogs also play with or fight over.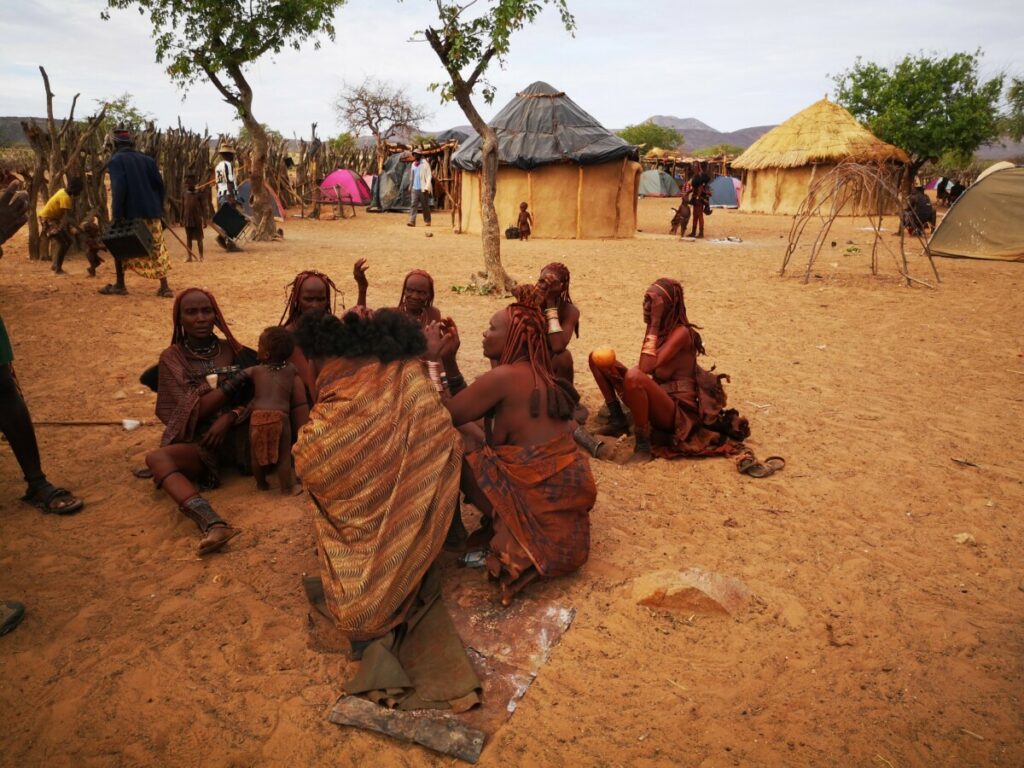 Visiting the Authentic Tribe Himba – Opuwo
In the middle of the kraal is a smaller kraal where the cattle are housed at night to protect them from the wild animals that naturally roam freely around here. You can meet lions, leopards or cheetahs here, there's all sorts of game in the area.  I understood that the hut of the tribal elder is right in front of this and that behind it is the entrance to the kraal. The weakest point in the kraal is of course when it is closed. But even if something happens, the elder can keep an eye on the cattle.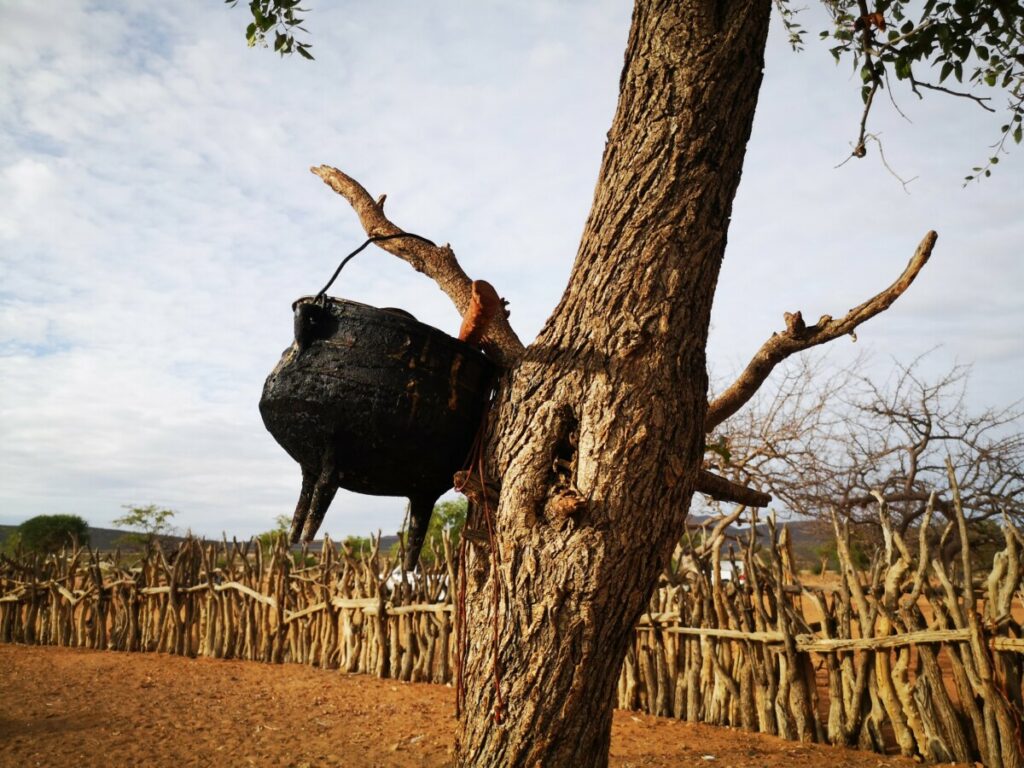 Himba Women
At the second hut where we arrive, I see a number of women sitting inside. They are preparing themselves for the day, putting on sun cream and I think exchanging the latest news. It looks cosy, children are walking in and out and I slowly walk in on the advice of my guide. At first, they ignore me and only when I ask them in English if I can take a picture do they look at me. I point at my phone and ask again if I can take a picture and I see that they nod. Immediately they continue with rubbing themselves with the product and the conversation they were having.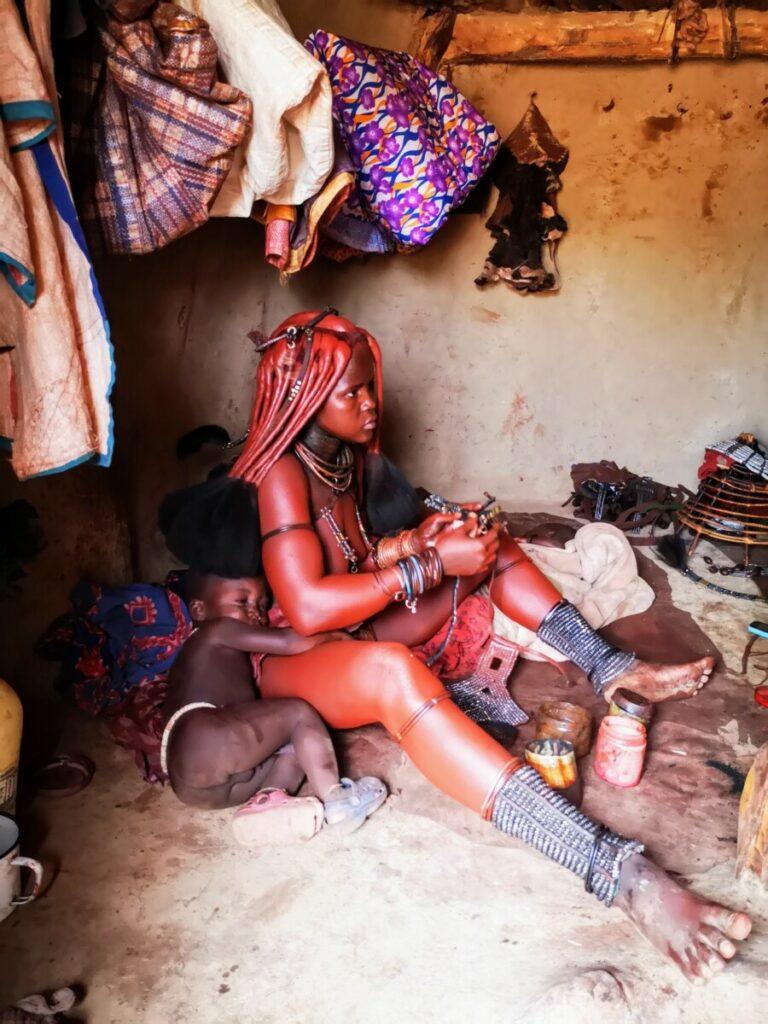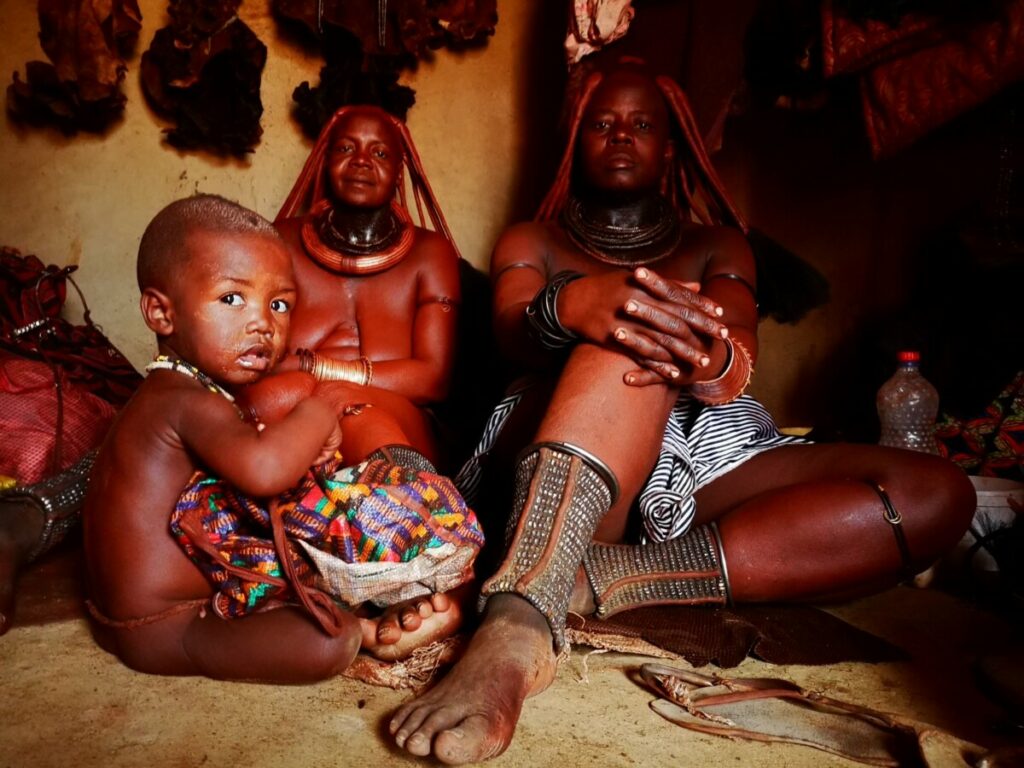 I try to take some photos in the dark hut. Of course I try to get a good picture of them, the complete picture. I see some clothes hanging on the wall. This is all made of skins. It strikes me that the women are still dressed entirely as their tradition dictates, but many of the men are wearing football shirts or military clothing.
Morning ritual Himba Women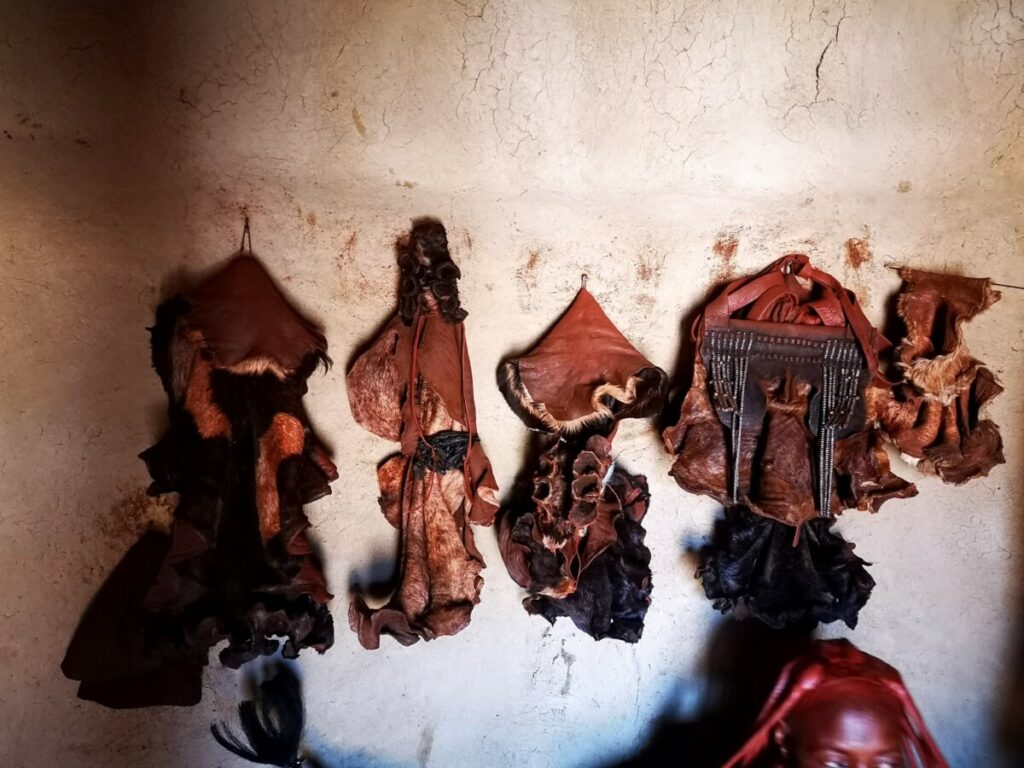 I find the women really impressive, imposing too! Sometimes they really look like warriors as they wear their jewellery, their leather skirts and have a kind of crown on their heads. The women who wear this crown are married.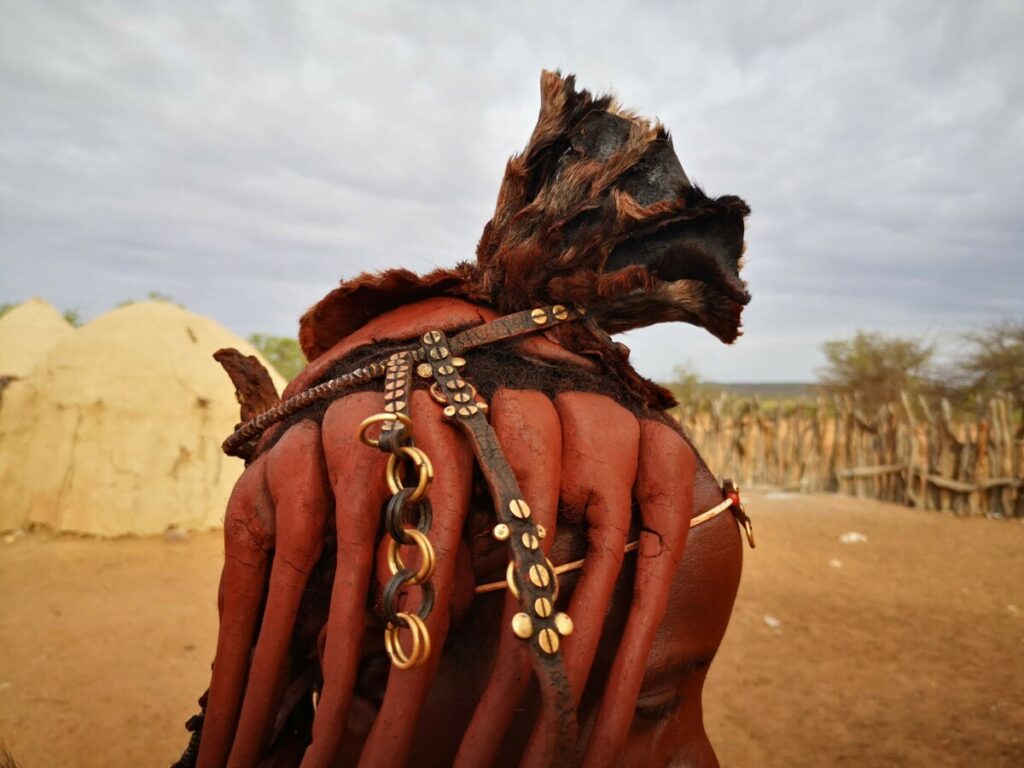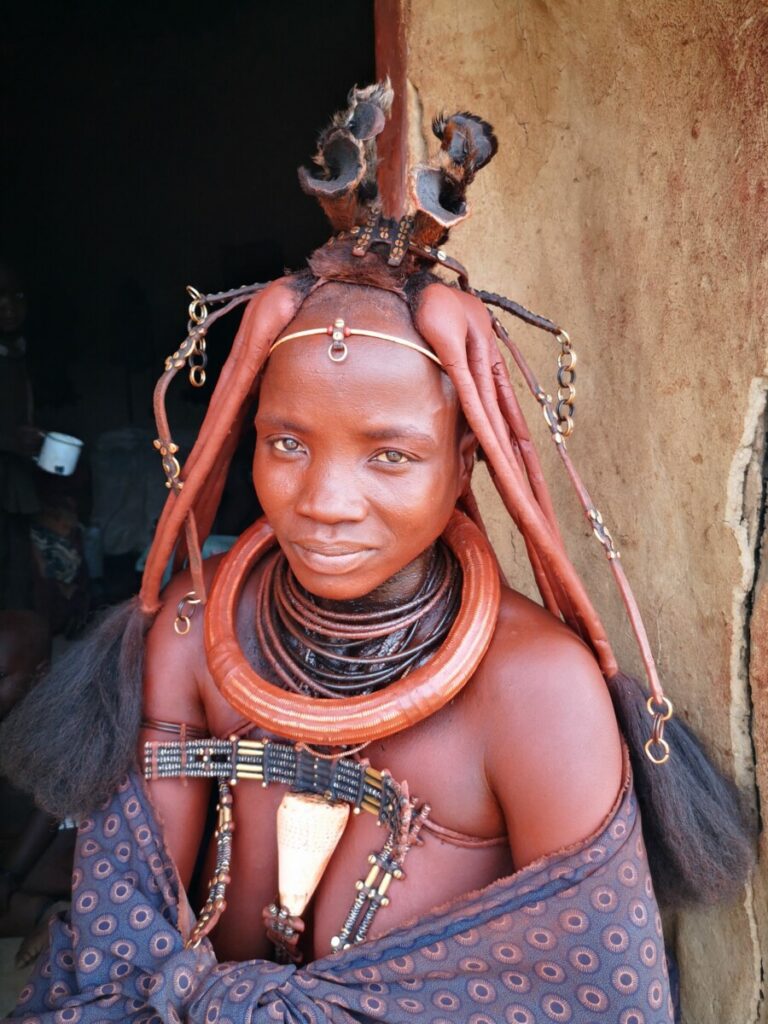 Beautiful Woman of the Authentic Tribe Himba – Namibia
I am talking to a woman who is busy crushing ochre on a stone so that it can pass through the grease. She asks me if I am married and how many children I have. She only had two children, which she finds very unfortunate. When I tell her that I live alone, have a fulltime job but also travel a lot and don't mind having no husband and no children, she understands me. Still, she wishes me a few more children. It is so nice to notice that we are curious about each other. I don't know their way of life and she doesn't know mine. We are only a few years apart in age.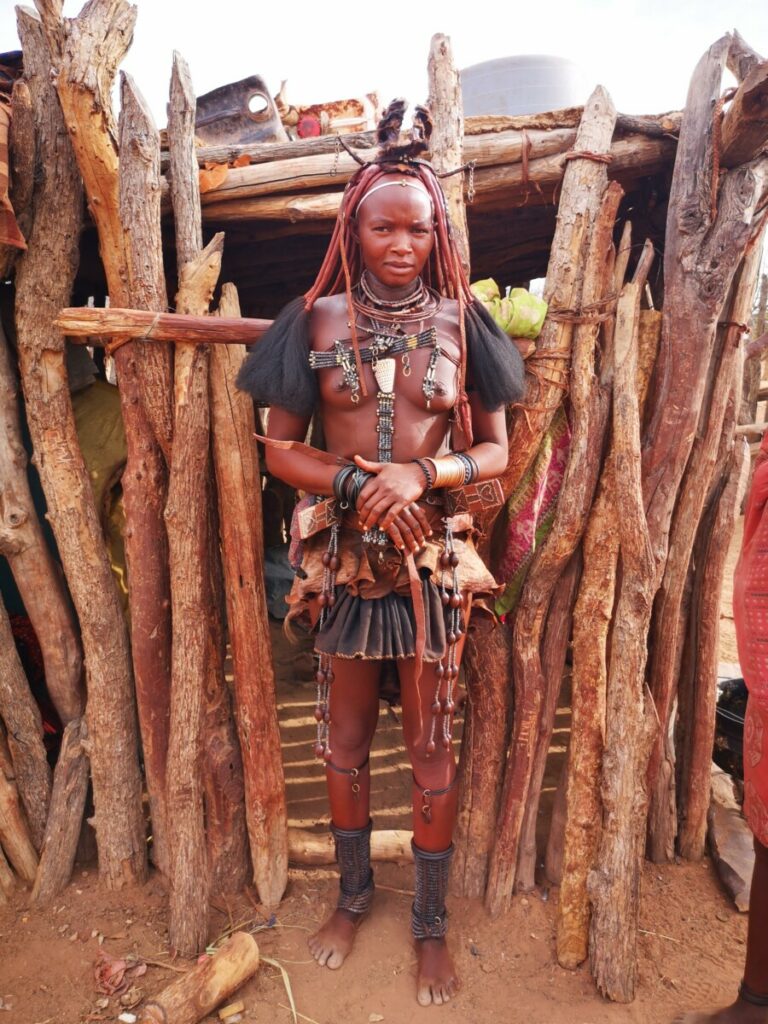 A little later, her 22-year-old daughter comes into the hut and I think she is so beautiful that I ask her if I can take pictures of her. I still have the above photo as a background on my phone. That one is really great! What a warrior!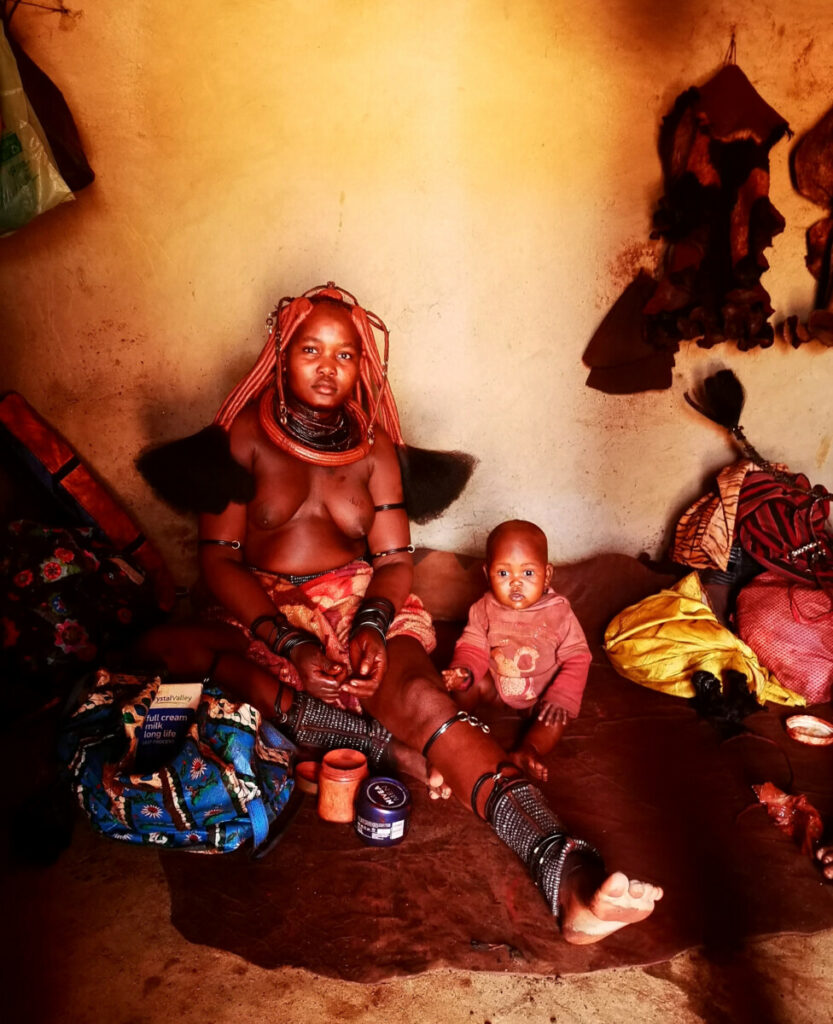 Himba men
As mentioned earlier, the Himba men are allowed to have several wives. That certainly does not mean that they all do. When you have several wives, you are responsible for the village, for the children and for everything that happens. You have to have some insight for that, if there is no food or if there are other problems, they come to you for advice. So there are plenty of men who either have only one wife and live close to another kraal.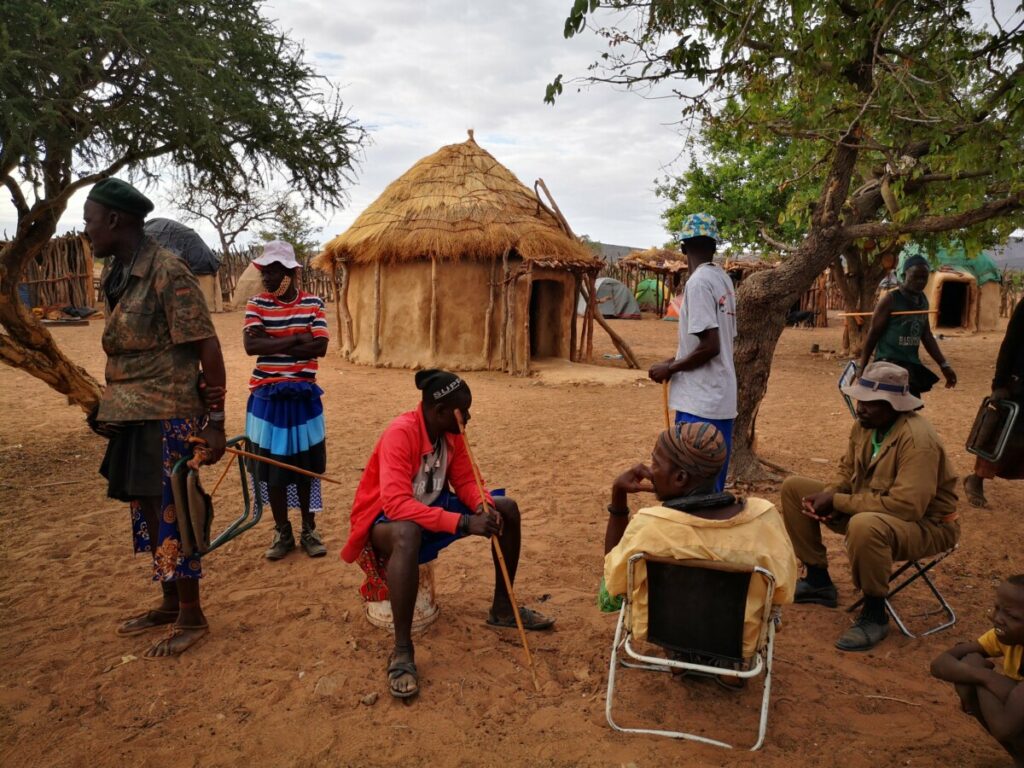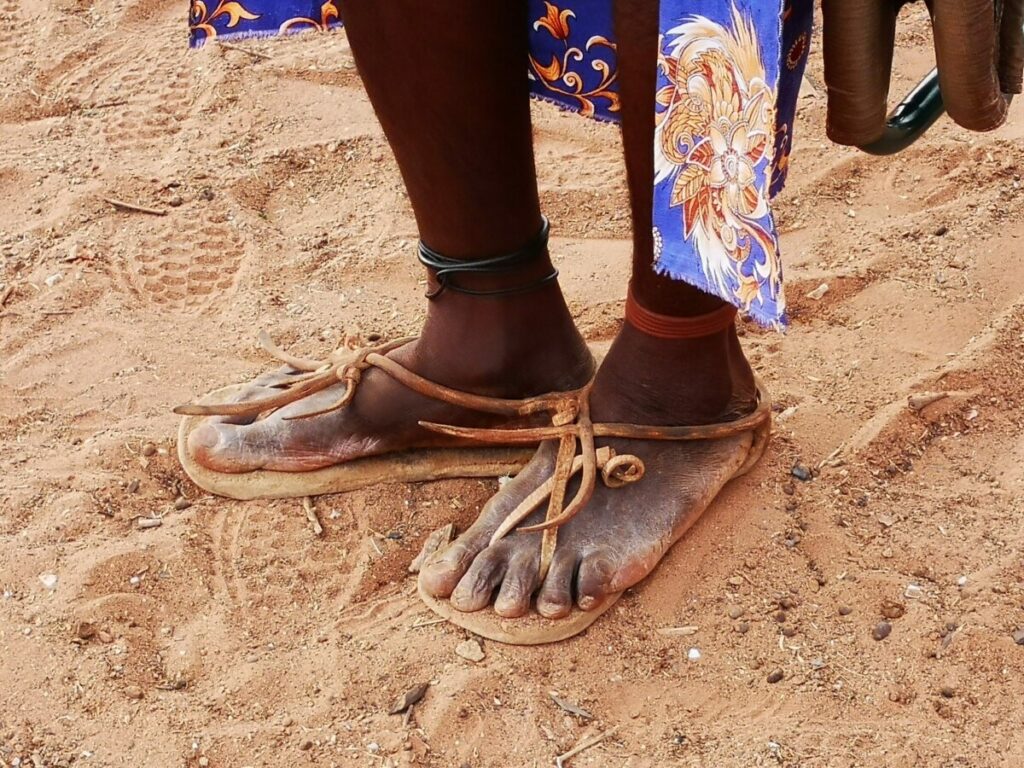 Himba men dress very western lately. I saw some men with traditional hairstyles. One of them was still looking for a woman and so he was introduced to me. Very nice and I felt flattered but no thanks 🙂 I was allowed to take a picture of his hairstyle. Here you can see the hairstyle that the young girls wear as well. Only this man has a tail to the back and the girls have two tails to the front.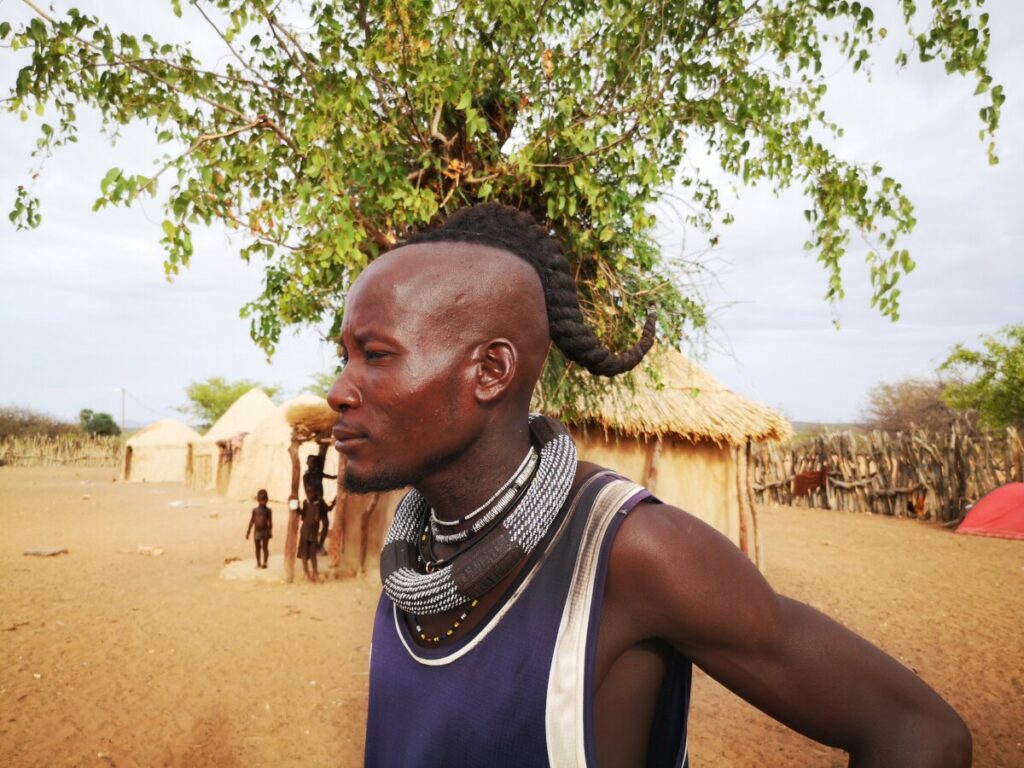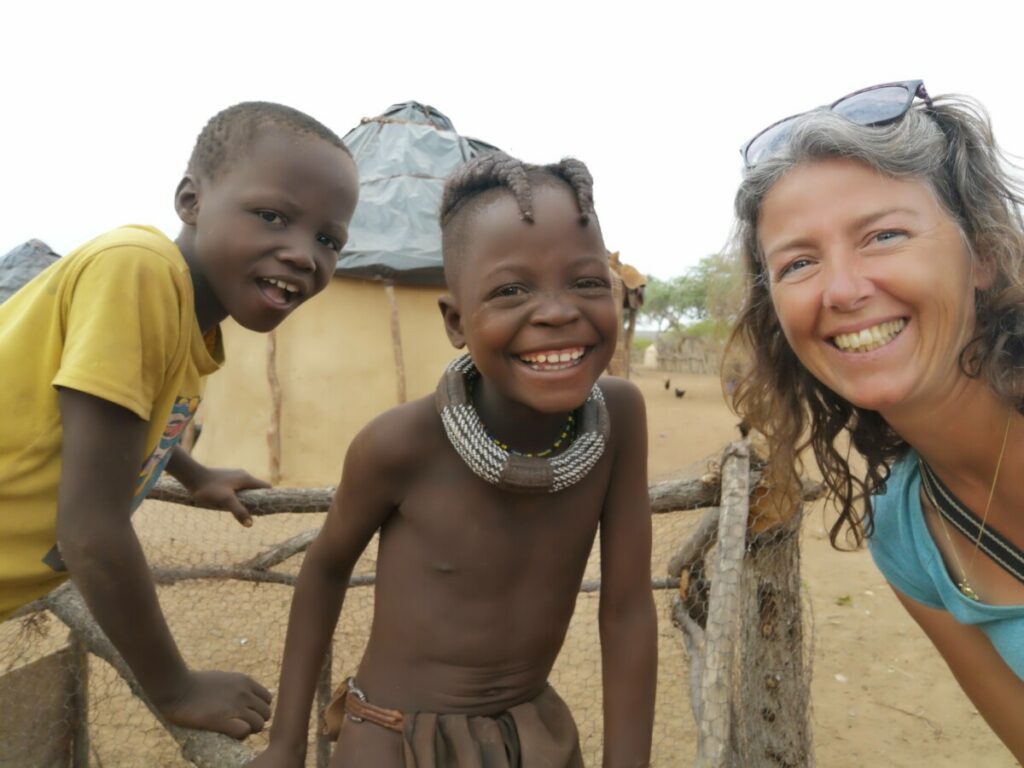 Having fun with the Himba kids
Himba habits
Me as a Dutch, are often quite straightforward, but that really doesn't work here. Even when you go to a village, you make sure you wait at a distance. That way you announce your arrival so that people can get used to your presence. Then slowly you can approach the kraal and finally start the conversation. We had been standing on the outside of the kraal for a while and I thought, shall we go in? My guide kept talking for a while and seemed to be stalling for time…. So he did, but for a very different reason than I could think of.
Women never make contact on their own. They walk in a train of 3 or 4 women towards the group of men. I saw it happen and was able to take a picture of it in time. After this, they sat down at the edge of the group and did not say anything. Shortly afterwards, they stood up and approached the elder and spoke briefly. The women who were walking along made, I think, only brief eye contact and then walked away again after the first woman. How unusual?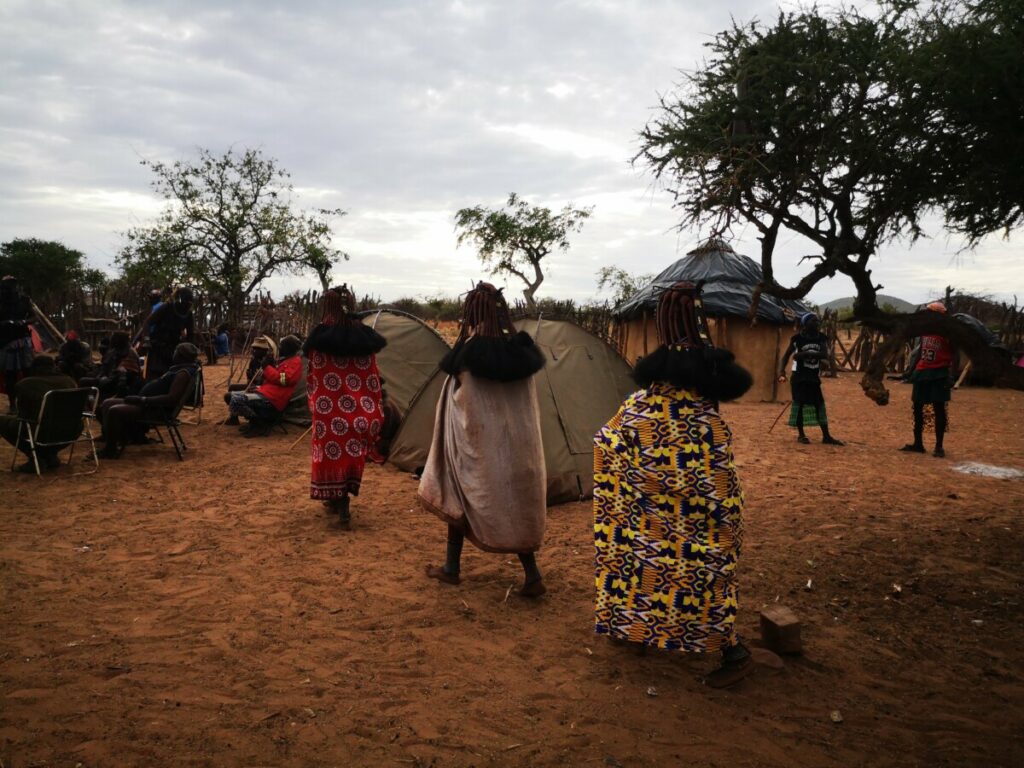 I saw jars hanging in trees at various places. Water or food was kept in them. It is of course safe from predators but also a little less hot than bright sunshine.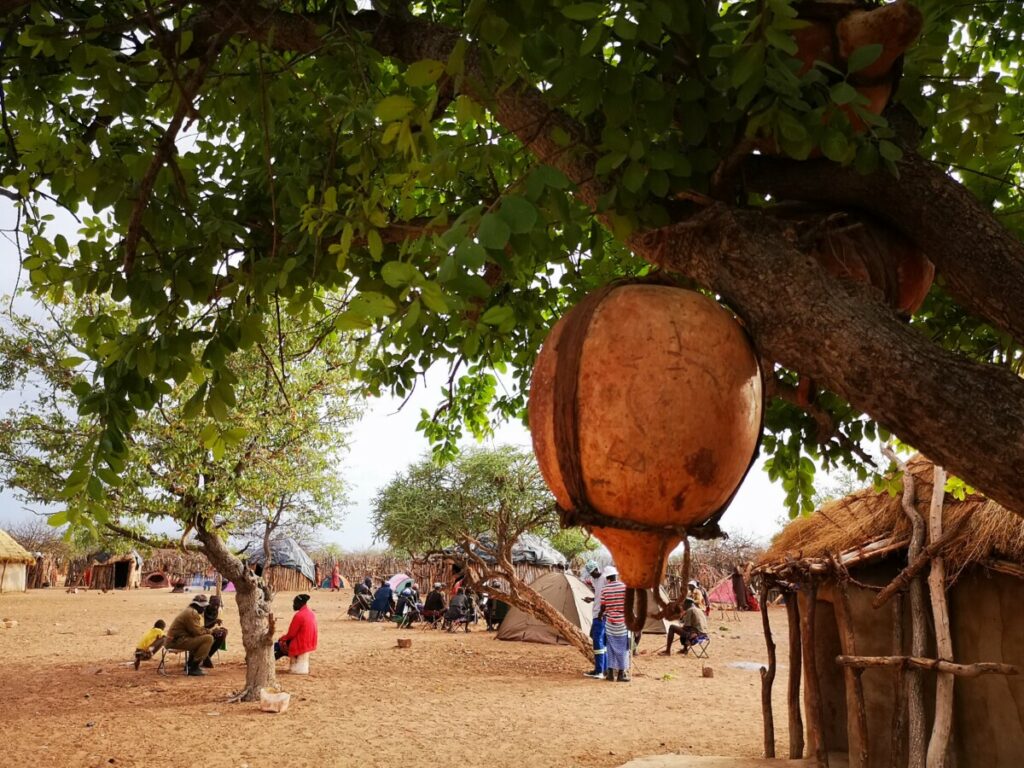 Talking to the men and women I learned a lot about the Himba
Cooking food for the whole village and that whole village is of course your family. They don't eat very varied food either. They eat meat when an animal is slaughtered and that is not very often of course. And when that happens they eat all the meat of the animal and the rest is used for clothing or other purposes like tendons to make wire. And they eat porridge because they have milk from their cattle.
The skins dry in the hut where they also rest or hang other food to dry. That is the hut where the wind can blow through. Unfortunately, I only made a film of it and no photograph. When I was inside I saw a skin hanging there that was still fresh, probably from a goat. Of course, I also saw all the urns/ jars that contained food.
Nowhere do you see a chair. Everyone has his own chair and takes it to the place where he sits. So when the men were moving, I saw them walking with a chair or something on which they can sit. Everyone has their own version of a portable seat.
When children are 10 years old, two teeth are knocked out of the lower jaw. The front teeth are also ground down. Of course, it is a very special sight when we see this. For them, this is the most normal thing in the world…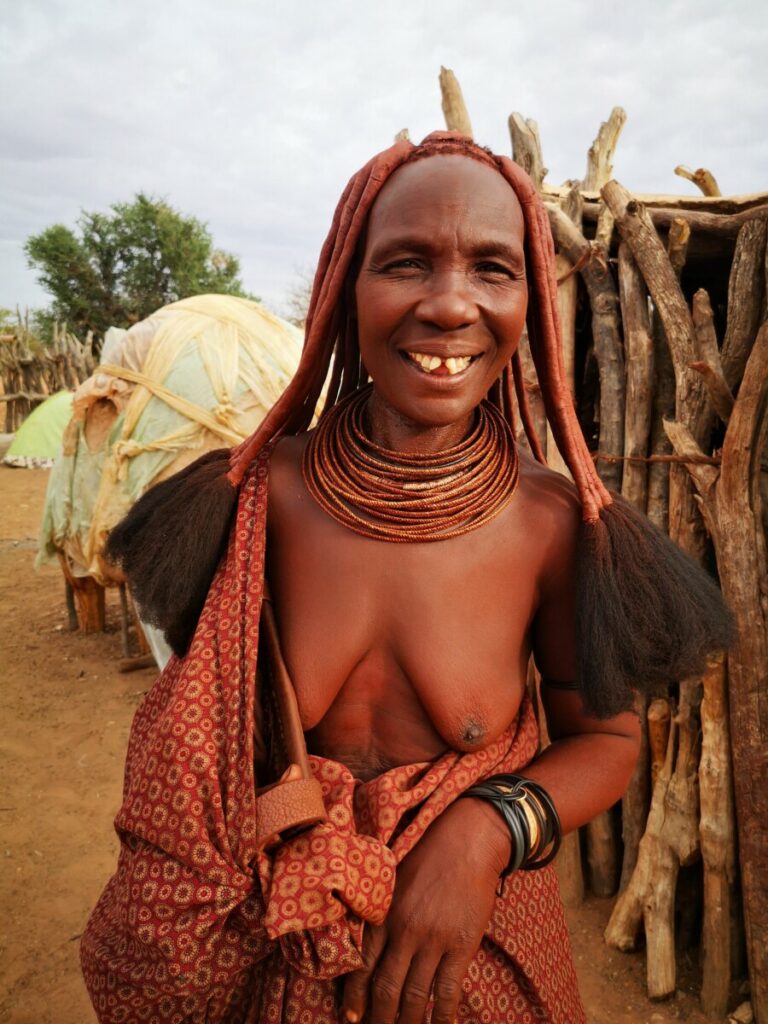 Also visit the Himba?
Try to book a trip with a local guide. You will then have the best chance of an authentic experience. I found it super to be the only white person walking around in the village. I felt very welcome and it was super to notice that they were also curious about me. Of course, I hope that you will also have a great experience when you go on a tour in Namibia and visit the Himba.
Stay in Opuwo
Lovely guesthouse on the edge of the centre. A short 10 minute walk and you are at restaurant Kaokaland where you can drink a nice cup of coffee. It is basic but with all modern conveniences.
Country Hotel just outside Opuwo
Luxury hotel with all amenities. It is half an hour's walk from the centre so you would be better off with your car. It has a lovely swimming pool with a great view of the surroundings.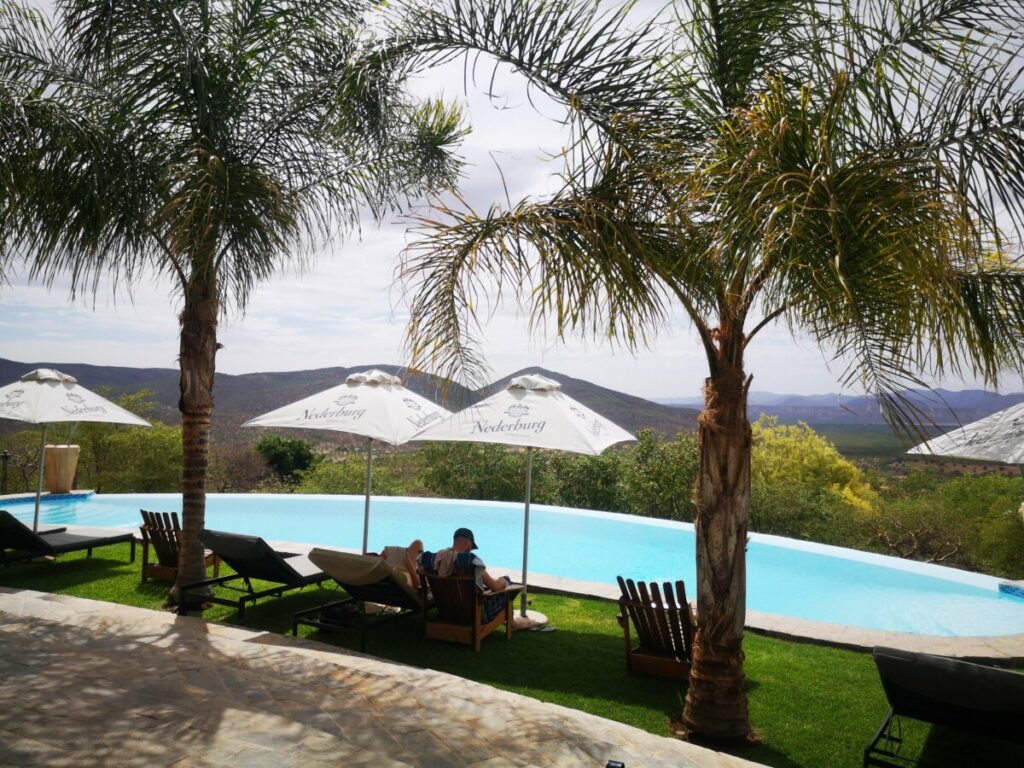 Coming & Going
Palmwag – 3,5 hr drive. 233 km
I was driving from Palmwag when I came here. It's easy to do and of course, you get to drive through a great area on the way. I stayed in Palmwag for a few days and did a nice walk in the countryside.

Epupa Falls – 2.5 hr drive 178 km
Epupa Falls is also a place you should have seen. You will find yourself on the border of Angola and Namibia. The natural force of water there shows you once again what it is capable of.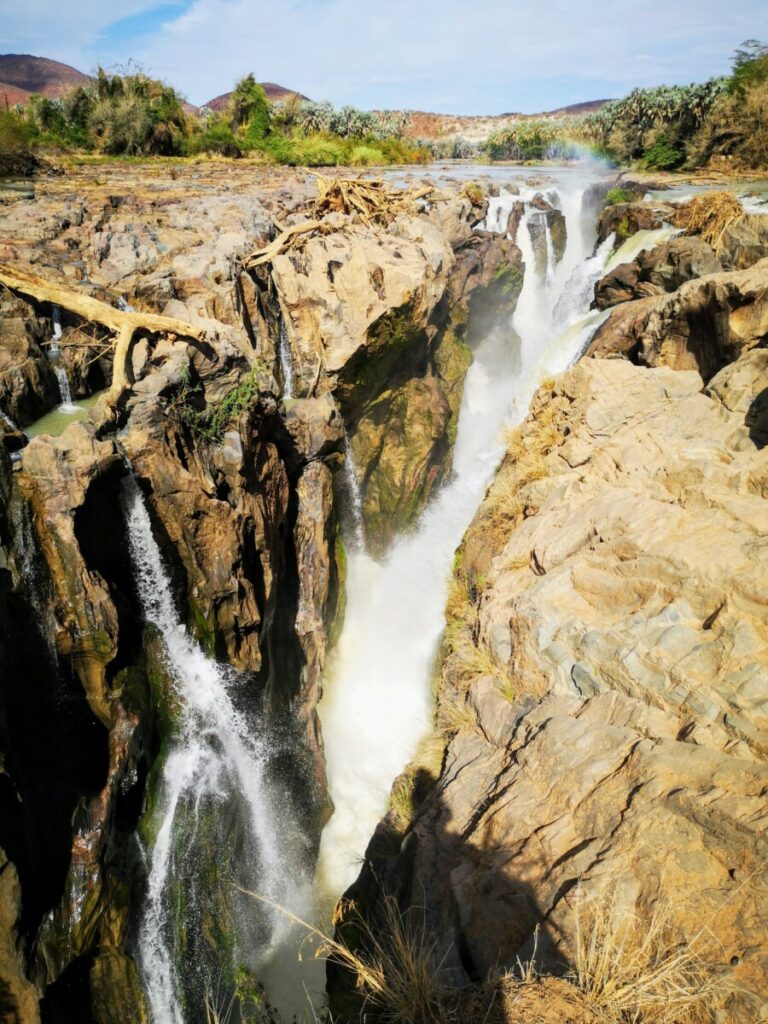 Will you share this inspiration?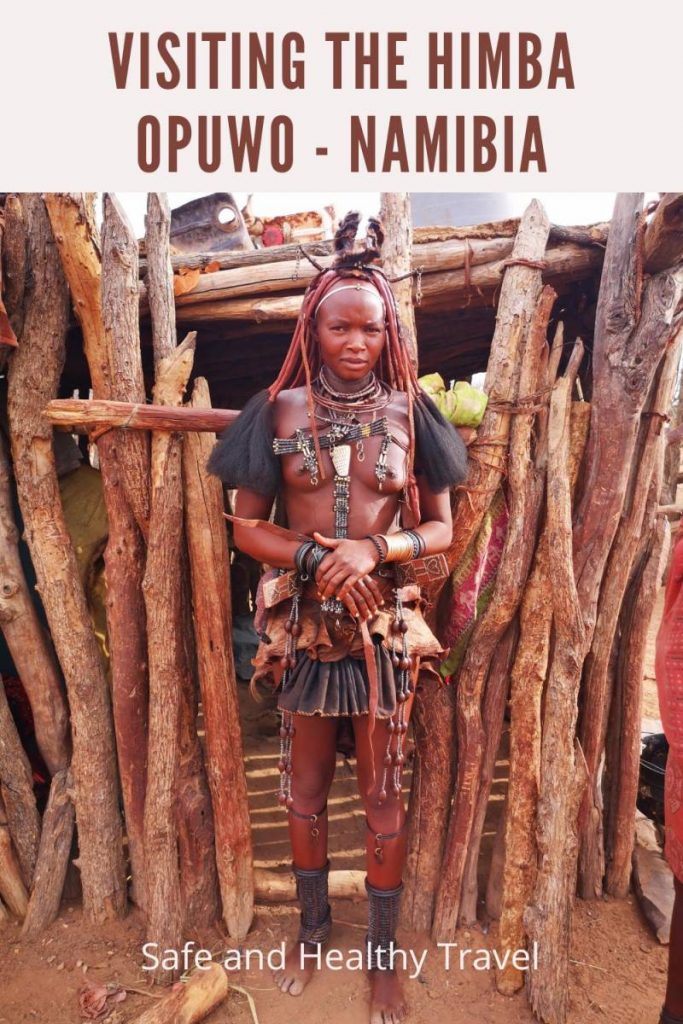 Want to read more about Namibia?
Namibia's Most Iconic Spot – Deadvlei
Visit the Ghosttown Kolmanskop and Luderitz – Aus
Fish River Canyon – World's second largest Canyon
Everything you need to know for your visit to Spitzkoppe
What to do at Waterberg Plateau NP
Read all about my trip through Namibia
Solo Travel Namibia by 4WD – 10.000 km Travelling Solo in Namibia
I hope that you enjoy this world as much as I do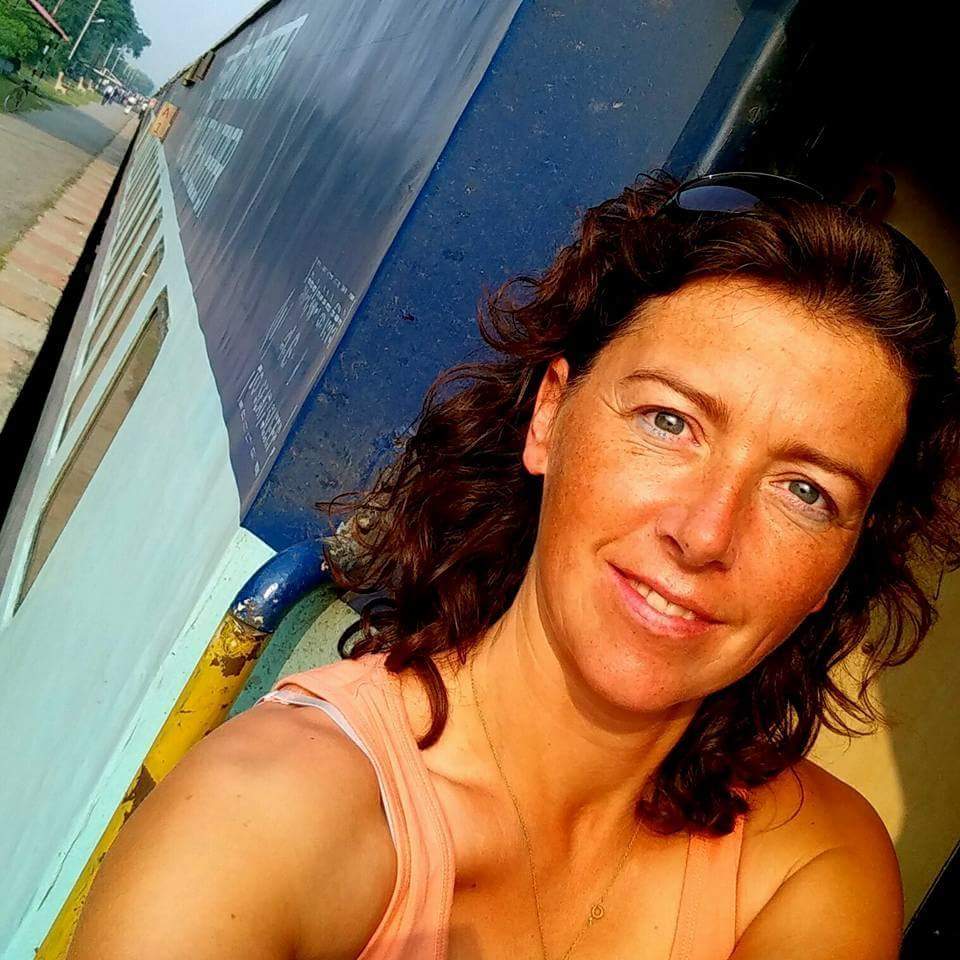 Jacomijn is een politieagent uit Nederland die jou graag laat zien hoe je veilig, actief en gezond de wereld kan over reizen. Safe and Healthy travel is a MUST