Top Things to do in Trondheim – Citytrip Trondheim, Norway
|
Looking for a citytrip? A break from your day to day life? Book a ticket to Trondheim – Norway and go for the Top Things to do in Trondheim! The city has it all, from deep history to high mountains and a great shoreline. So there is your question answered, citytrip Trondheim is really worth your time!! You can fly here on a daily bases with great times to arrive in the day. I flew away at 2.30pm and arrived just in time to order my dinner on a terrace in the citycentre. From The Netherlands it's only a 2 hour flight!
I did it differently because I went for a hike before starting on this citytrip Trondheim. I got the train to start my hike in Stiklestad. I did a small part of the St. Olav Way that originally will let you start in Selanger – Sweden. It is a pilgrimage of 580K and ends at the Nidaros Cathedral in the centre of Trondheim. This Cathedral needs to be in your list of Top Things to do in Trondheim.
Let me first tell you some some Trondheim facts:
Did you know that Trondheim with 193.000 citizins is the second biggest city of Norway? All the students that live in the city are mostly responsible for that, estimated around 30.000. The city has been here for ages which originates from the story that Harald I Haarfaagre was crowned king at the Nidelva near the shore. The river Nidelva crosses the city and will brings you to the second highlight of the city: Gamle Bybro.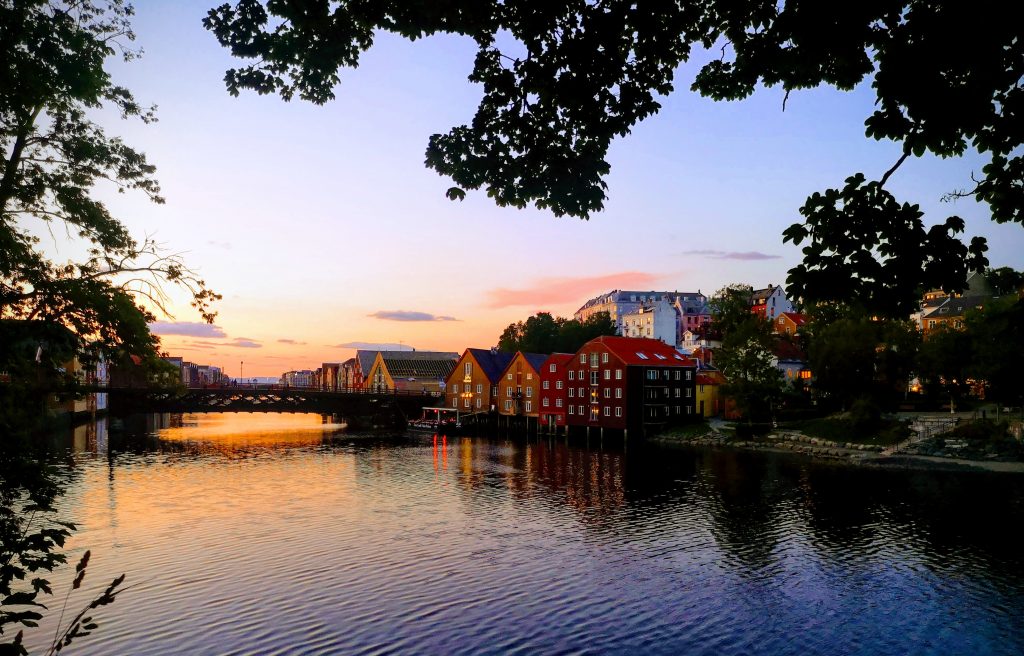 At the invitation of the Trondelag region, in which Trondheim (Norway) lies, I was allowed to take this city trip. How nice is that !! This makes all the hard work worthwhile!
The old inner city is just the best to wander around. I can recommend you to take a citytour on your first day in order to learn more about the heritage in this old part of Trondheim. You'll learn some more interesting Trondheim facts like these: The old inner city was totally build from wood. Muyst have looked great though!! But not safe ofcourse if you think about how they needed to heat everything.  At some point there was another fire but this one of big! It destroyed a mayor part of the old city of Trondheim. This fire is named Hornemann fire as they citizins blamed that family. It has never been determined that it was really their business where the fire started.
After this fire wooden houses were banned from the old city. Because of this ban you'll see old wooden houses in between all the new stone buildings. The Hornemann building/company was housed on the central square Trondheim Torg (Torvet).
The Citytour I did during my citytrip Trondheim ended in the most beautiful area of Trondheim: Bakklandet.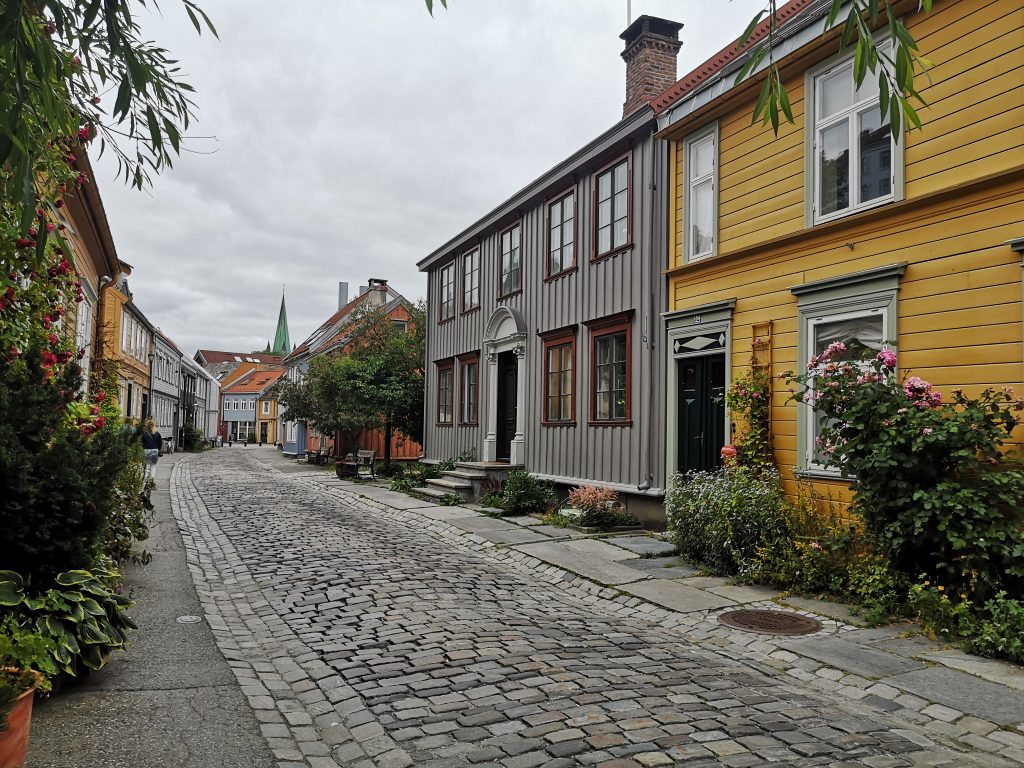 Did you know that you can easily see which are the old streets? When a streetname ends with Vei or Veita it is an old one. After the big Hornemann fire the streets were made bigger and from then they were also called Gata. I do think that most of the streets are recognizable because of the stones and their warn tracking caused by the horse and carriage of that time.
Oldest street of Trondheim
Jorgensveita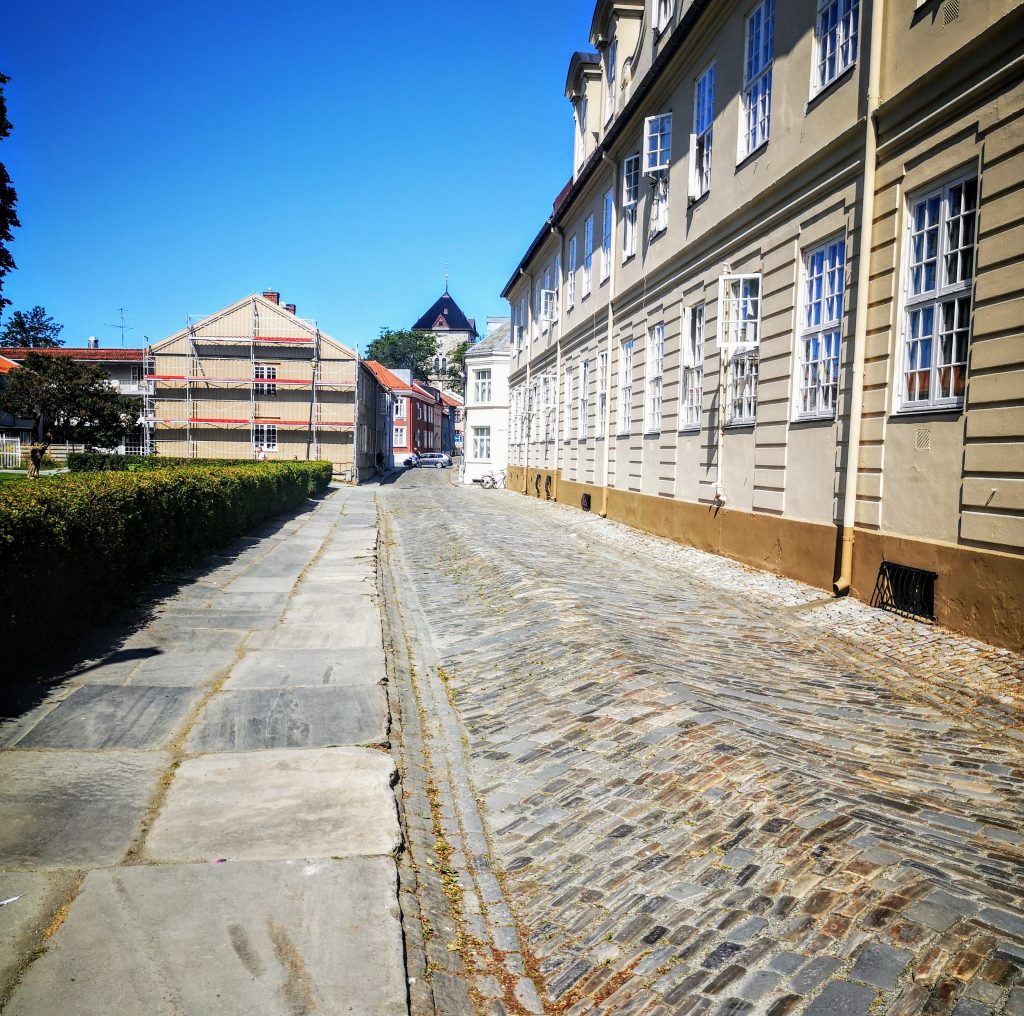 This street is right next to the old widow house of Angel, you see this house on the left in the photo. Thomas Angel is a rich benefactor of the city. Much has been named after him and as he left his wealth to the city a lot of buildings are there because of him. He also left a list in which he described what he wanted the money to be used for. Opposite the widow house is a large statue of the benefactor Thomas Angel.
This is really the top attraction of Trondheim! You really have to walk through this and get a hold of the streets around it. I also had a nice cappuccino there. On the 3 days I was in Trondheim I could be found there every time again.
What a photogenic piece of town!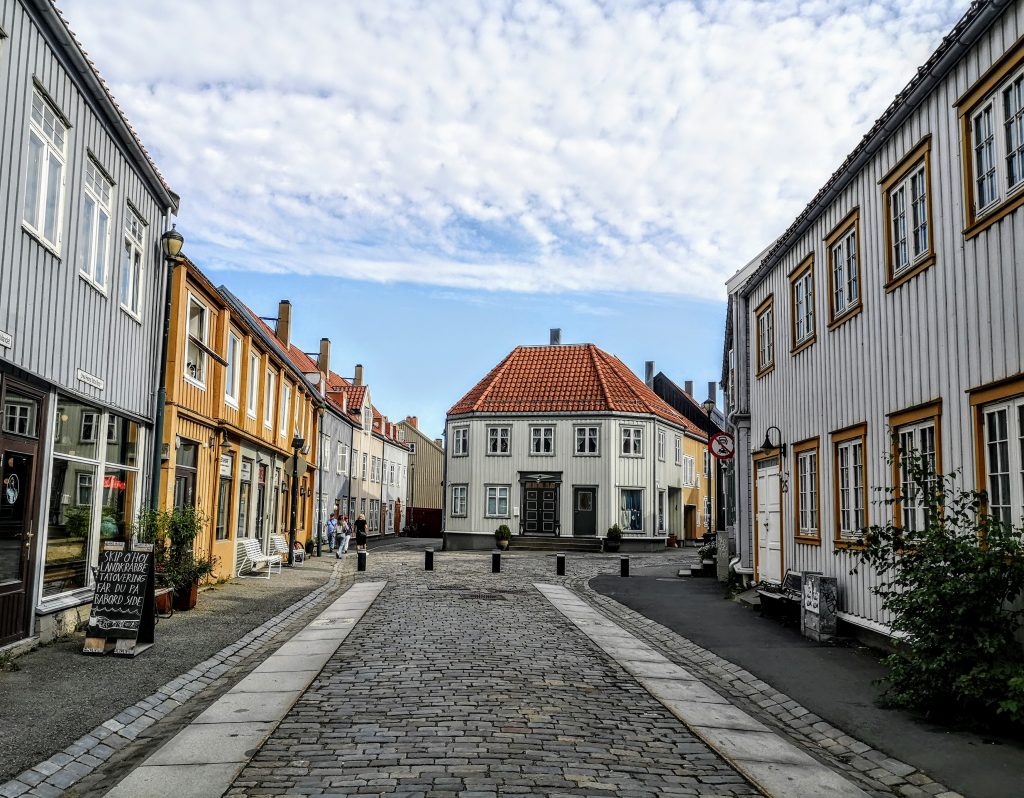 In the streets all the houses have super colors that really make it picture perfect. They are all perfectly maintained and all seem to date from the same old days. This place together with the Gamle Bybro was really my favorite place.
Tip: If you cant't find it easily just look in Google Maps for the streets Nedre Bakklandet or Nygata!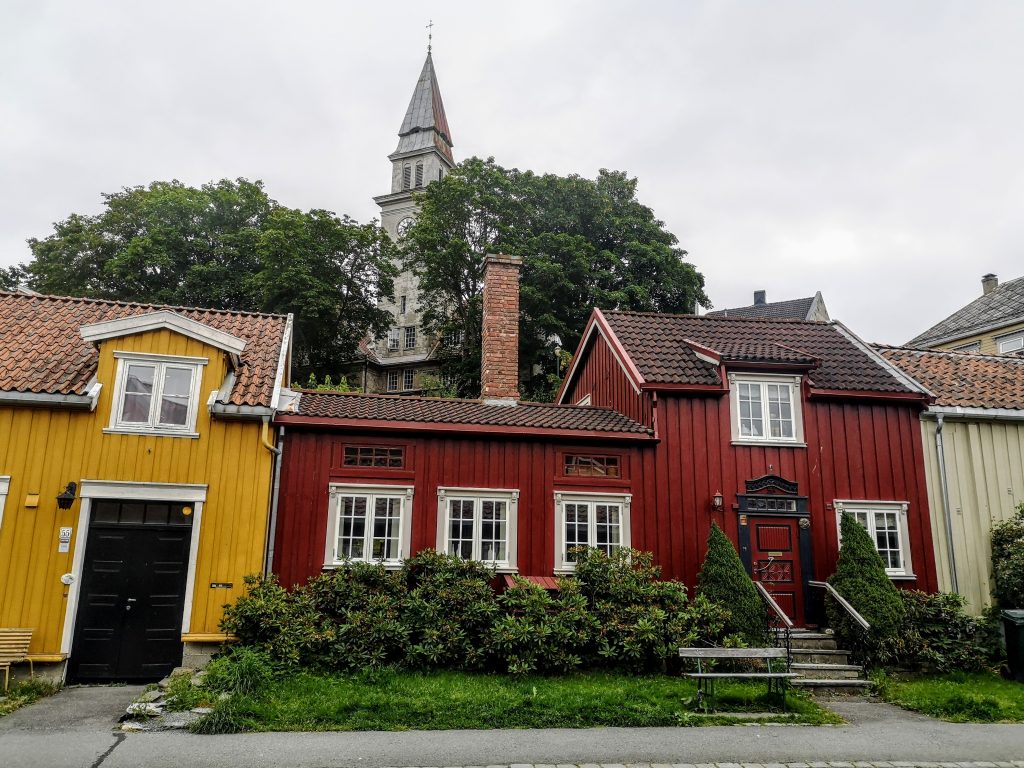 When I walked the last minutes of my pilgrimage, I also entered the city over this bridge. You are immediately enchanted by the beautiful cast-iron arch and when you stand still there your eye quickly falls on the next highlight …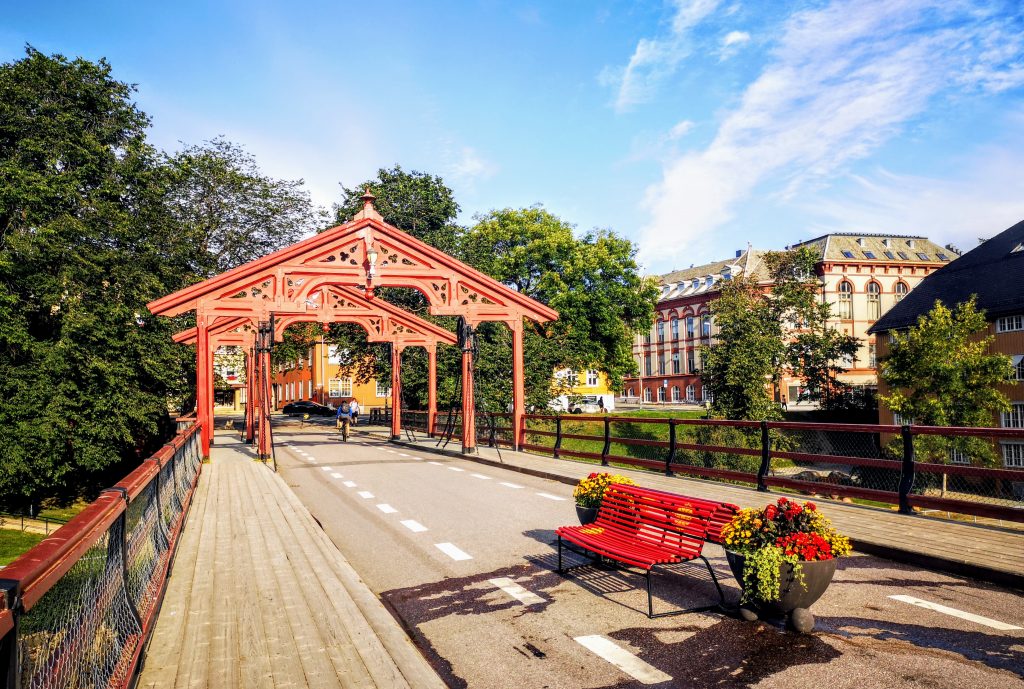 Ancient Old History
Citytrip Trondheim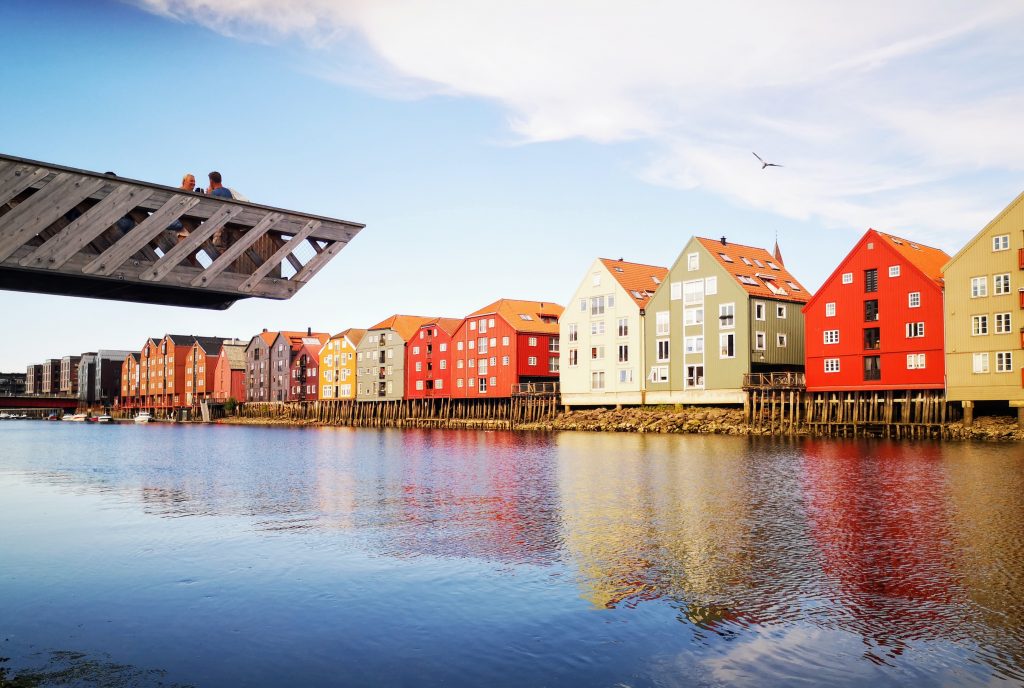 On both sides of the Nidelva river, the old buildings can still be viewed in reasonably good condition. These hang partly above the river and stand on centuries-old piles. Of course you can admire it from the bridge.
Tip: If you want to see the historic wharves from a front view, you can. Benches have been placed everywhere along the river so that you can sit for a while with that fantastic view onto those houses.
The great thing is that all those houses are all still in use. Because of the city tour I know that you are not allowed to live on the city side .. This is because of the fire I mentioned earlier and they were afraid that a fire would start if they were also sleeping. Companies can house there such as restaurants or other businesses.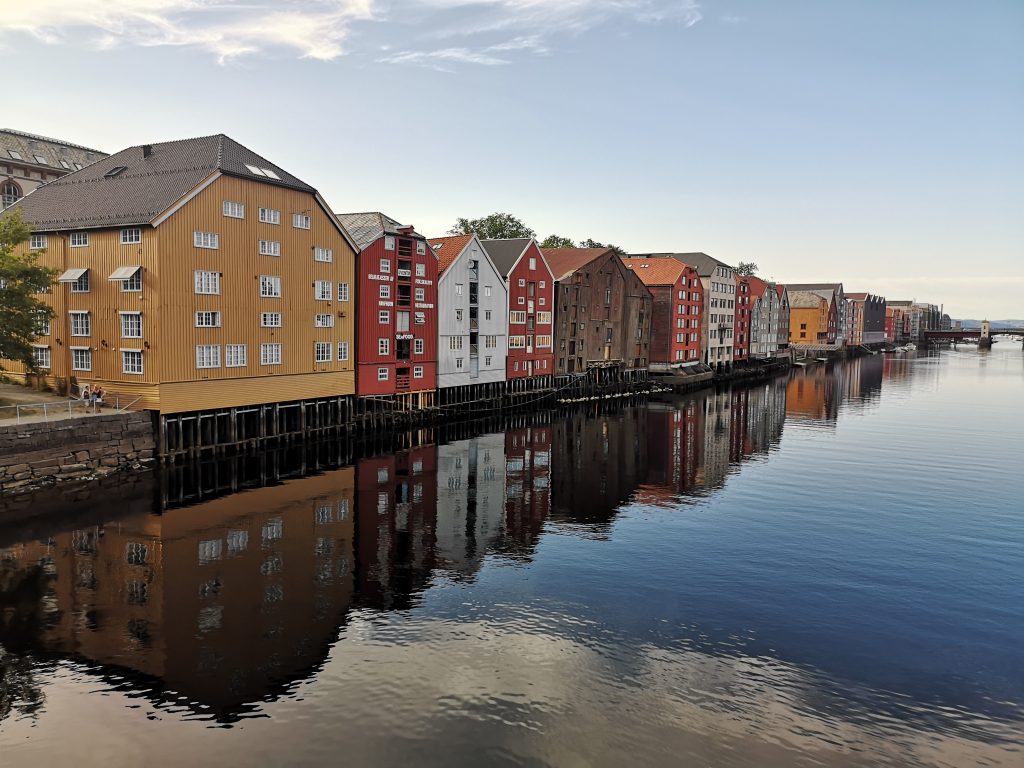 On the other side, the poor side in the past, they didn't care for it as much as so they didn't mind if a fire would burn the place down. They would lose more on the inner side …. with the poor they are less careful the guide told me .. And so it is allowed to sleep there and therefore to live there. Those rules still apply today. That means that this has become a super expensive part of Trondheim because it is of course a unique part to live in. This is the Bakklandet street!
Did you know that the police in Norway, like England, Ireland and Australia are not armed? There do have weapons but they are kept in a safe depository and can be carried if necessary.
Did you know that cycling is very stimulated in the city? Because the city is partly on a hill, a real bicycle lift has been made. I thought it was really great to see, but I also saw that many people didn't get the hang of it right away.
The trick is that you lean well forward with your body weight and let yourself be pushed with one foot. It will be pretty tough, but it will save you quite a bit of cycling uphill!
Nice to know that it is the only bicycle lift in the world !!
If you go up this hill you will come to a park where you must follow the path to the top and you will arrive at the great Kristiansen Fort.
I was here early in the morning and had a great view of the city. After I sat there it became a little busier and the fort opened. You have free access to take a look in the old house. There is a presentation about the background of the city and its defense manner. I thought it was great to walk around here for an hour in total and to sit on the benches to enjoy the view and the tranquility.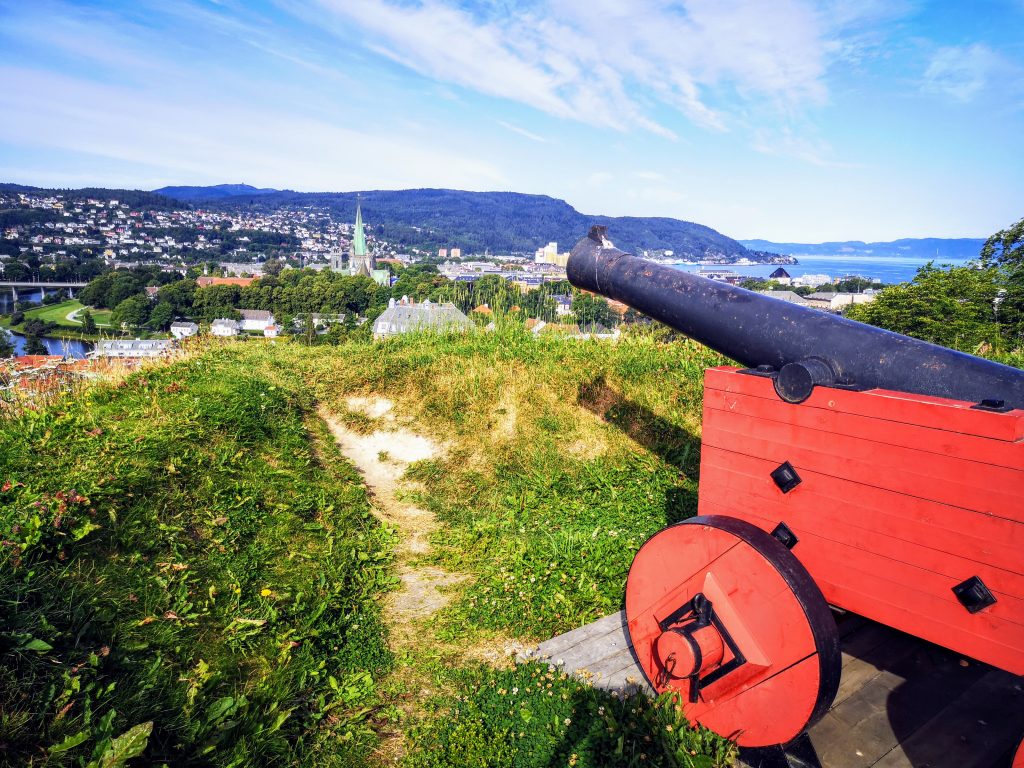 If you walk back to the center of the city of Trondheim via the other side, you will pass the university. This is also popularly called Hogwarts. This is of course the Harry Porter school and yes … you certainly see some similarity …
Norwegian University of Science and Technology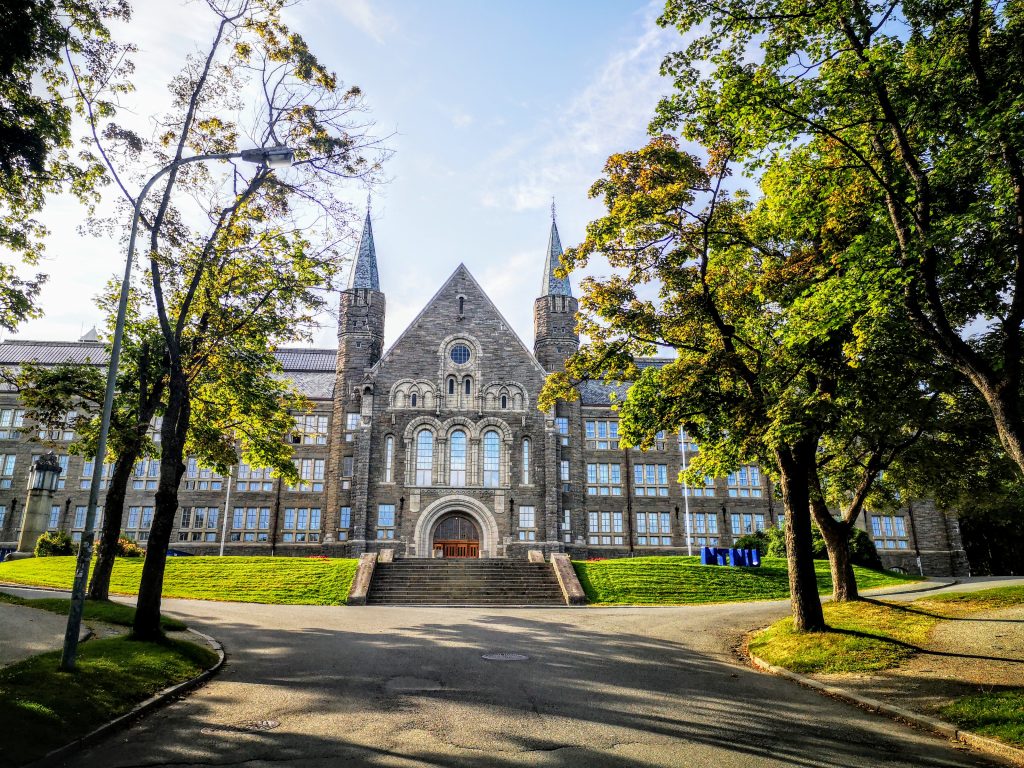 If you follow the road down, you will arrive again at the Nidelva river and if you cross the bridge there, keep to the right and you will arrive at the next attraction of Trondheim. Just to give you a picture of how far we have been away: this is at most a fifteen minute walk. So it is not far from the center, but it wil lead you through a local part of Trondheim, just outside the tourist area.
Top Things to do in Trondheim – Norway
The cathedral is one of the most historic places in the city. Of course Sint Olav is buried here after he was declared a saint when it turned out that he was still fresh and fruity after he had been buried in Stiklestad for a year.
Do read some more about the story of St. Olav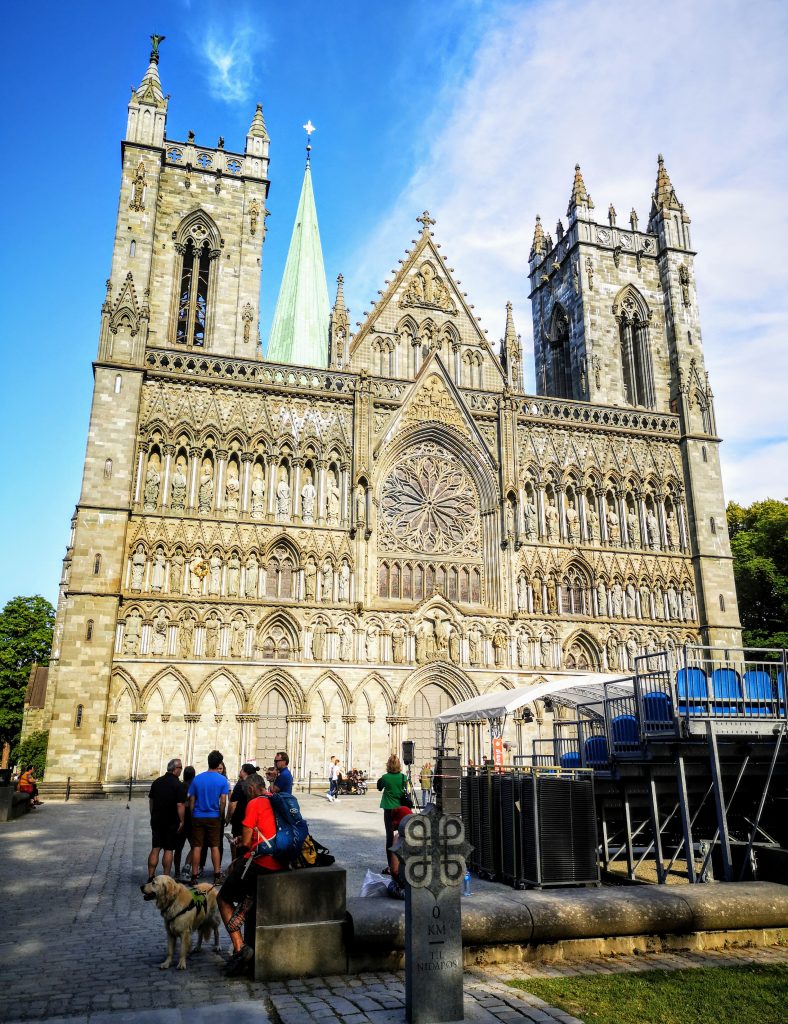 Of course I have looked in the cathedral itself, this is no longer free but I thought it was really worth the effort. There is a very beautiful light in the cathedral through the stained glass windows. There are also various exhibitions that you can view. The church that is on the left on the side is the church where I experienced the pilgrim service. If you walk in to Trondheim as a pilgrim, you should definitely attend a service!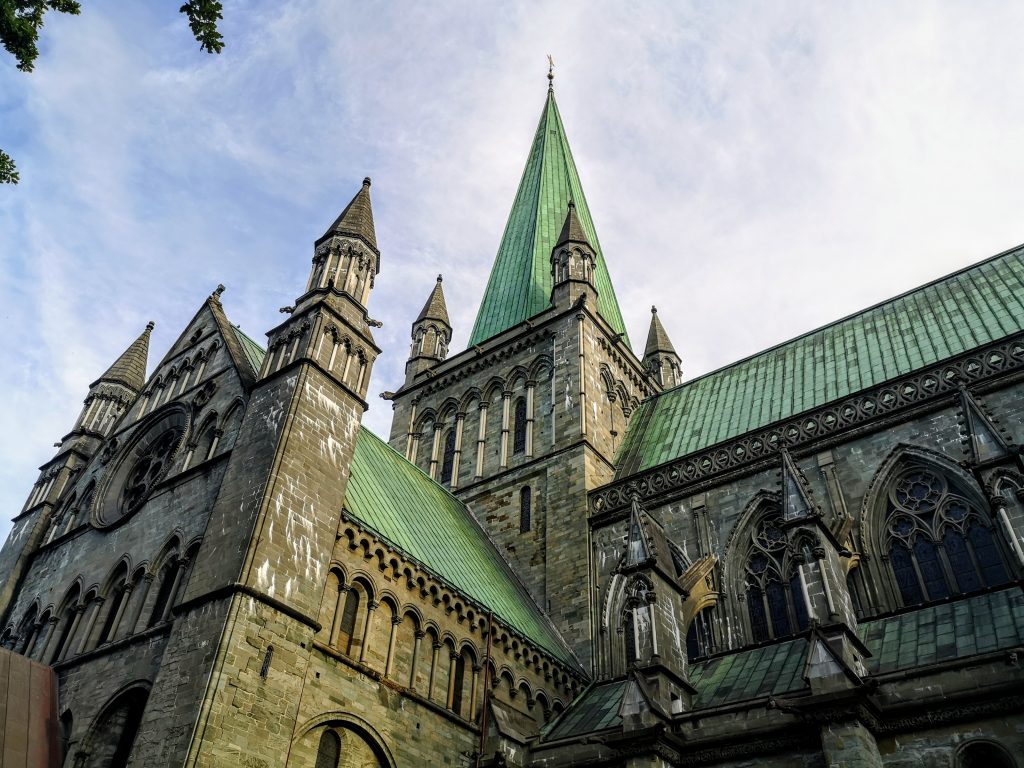 St olavskilden ( St. Olavs well)
If you have been a pilgrim for a few days or weeks and arrive at the end point, you must of course also pass by the source from which holy water flows. This started at the tomb of St. Olav in the Nidaros cathedral and they have now reduced the water to this point. A nice spot has been created so that you can sit there. The watertap is made so that you can easily drink something from it.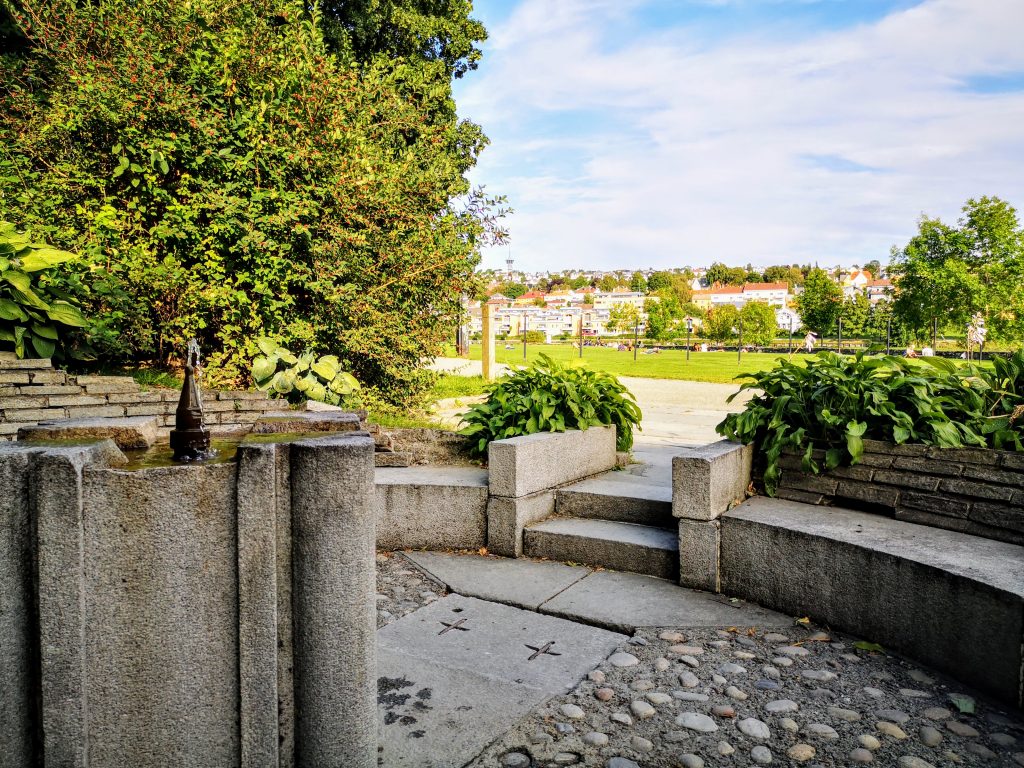 An afternoon out on the sea is never a bad idea! So go out of town during your citytrip Trondheim. The Munkholmen Fort which you can see off the coast offers you the perfect opportunity to look up the 360 degree panoramic view of the sea.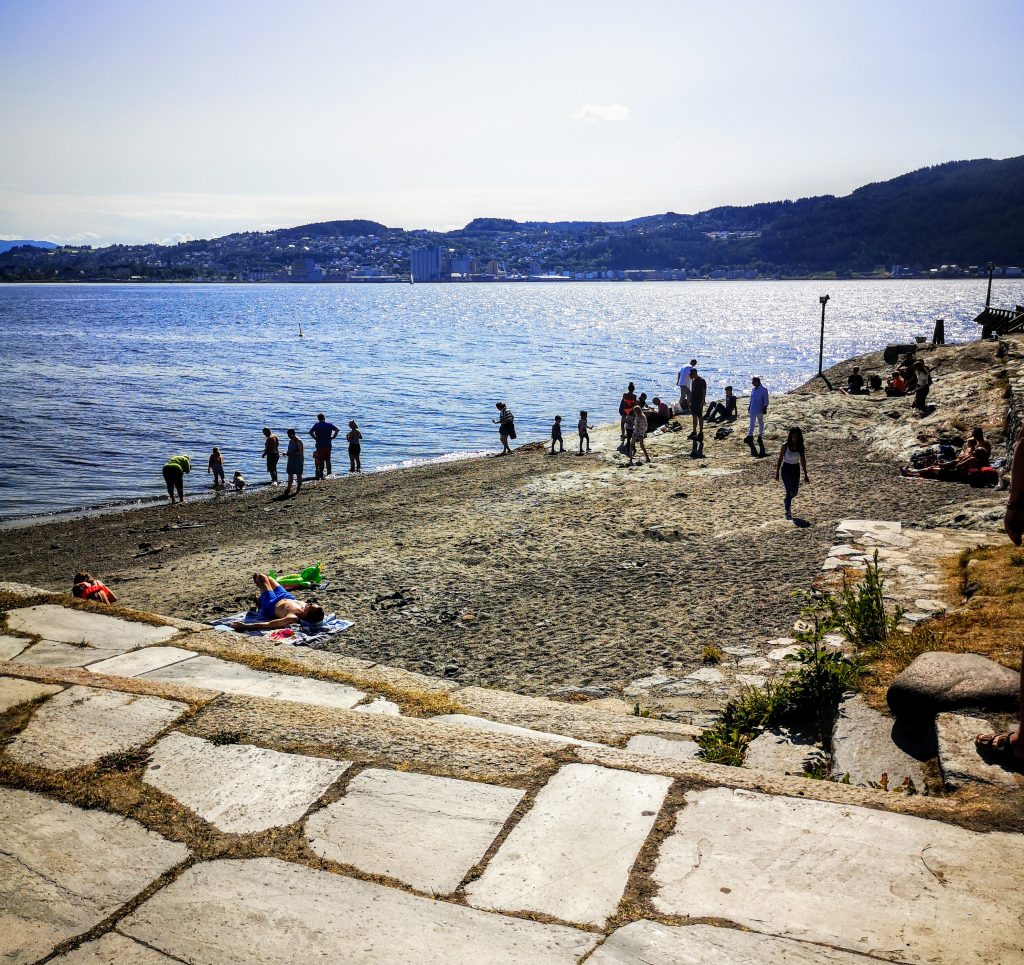 I also took a tour in the Munkholmen fort. If you do not book it, you will not enter the fort and you will miss the essence of this island. If you don't feel like it, you can always enjoy sunbathing and some swimming. Many Norwegians only come here for that and I can well imagine why. The island is privately owned and therefore does not yet have the character of a monument .. apart from the fort which is therefore no longer freely accessible.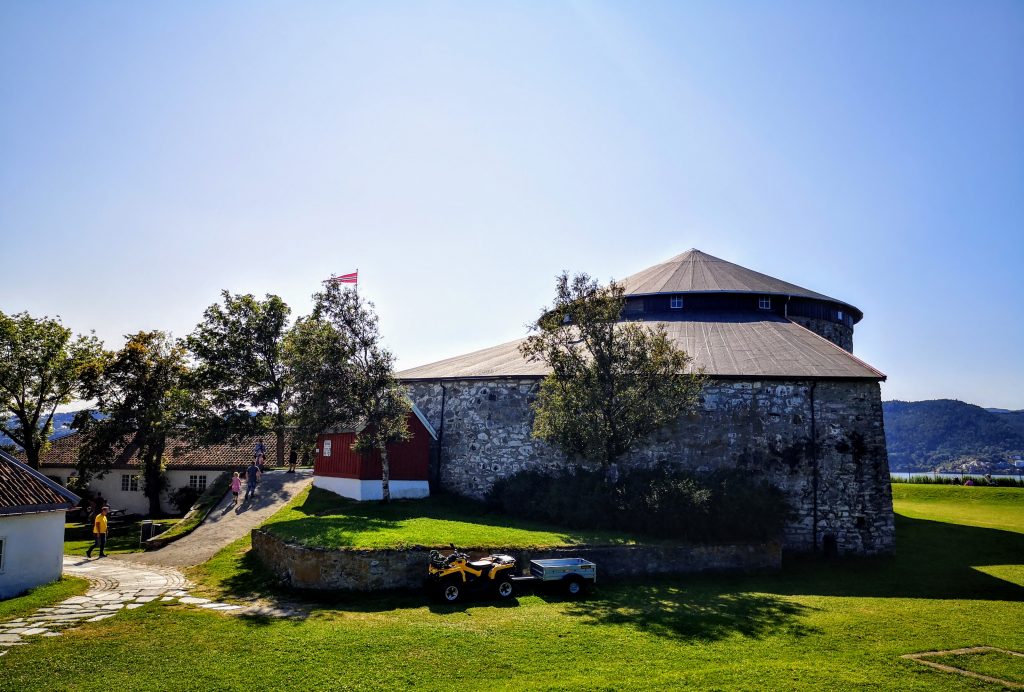 See how the Norwegians, eh .. the Vikings used to live! A large number of old churches, houses and other buildings have been brought over and rebuilt as they were in their original state. This gives you a good idea of how it was once in different parts of Norway. Really worth the effort to go here and walk around during your citytrip Trondheim.
The museum is on a mountain and when you walk all the way up you get a nice view of the surroundings from a former fortress where only some thick old walls have survived time.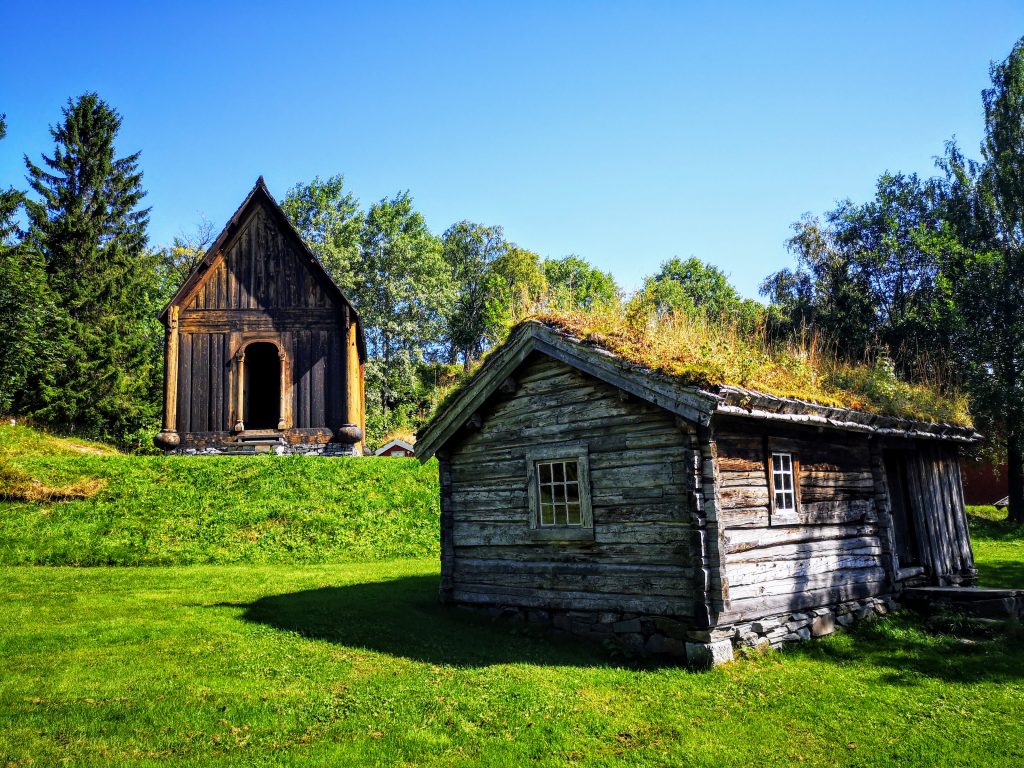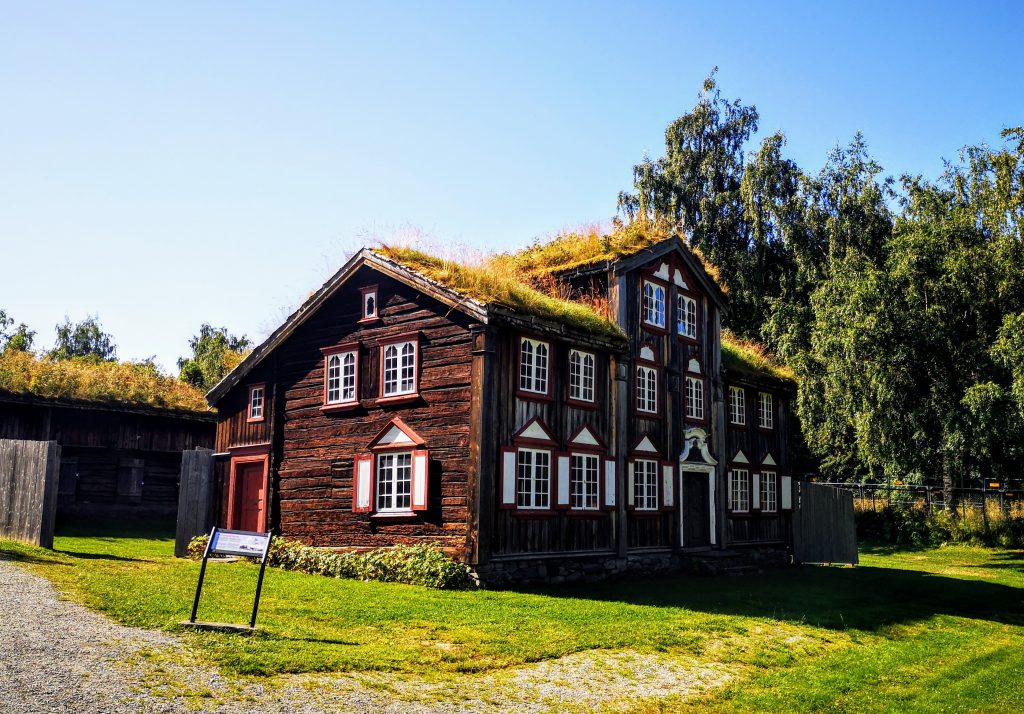 Do also take some Day Trips From Trondheim
You can easily combine this museum with the next walking tour!
Trondheim Hiking
Lian – Trondheim: St Olavsleden
A day in nature is always a good idea! What do you think of the last stage of the St Olavs Way. This day I walked with Mattias from the organization of the St. Olav Way. He took me on the last stage of the Olavsleden that originates from Olso. There are several St Olav Ways and this one came in to Trondheim from another side.
We went with the GråkallBanen tram to the Lian terminus to go start our hike from there. The trail is easy to do in an afternoon. It was about 8 km descending slowly to the coast.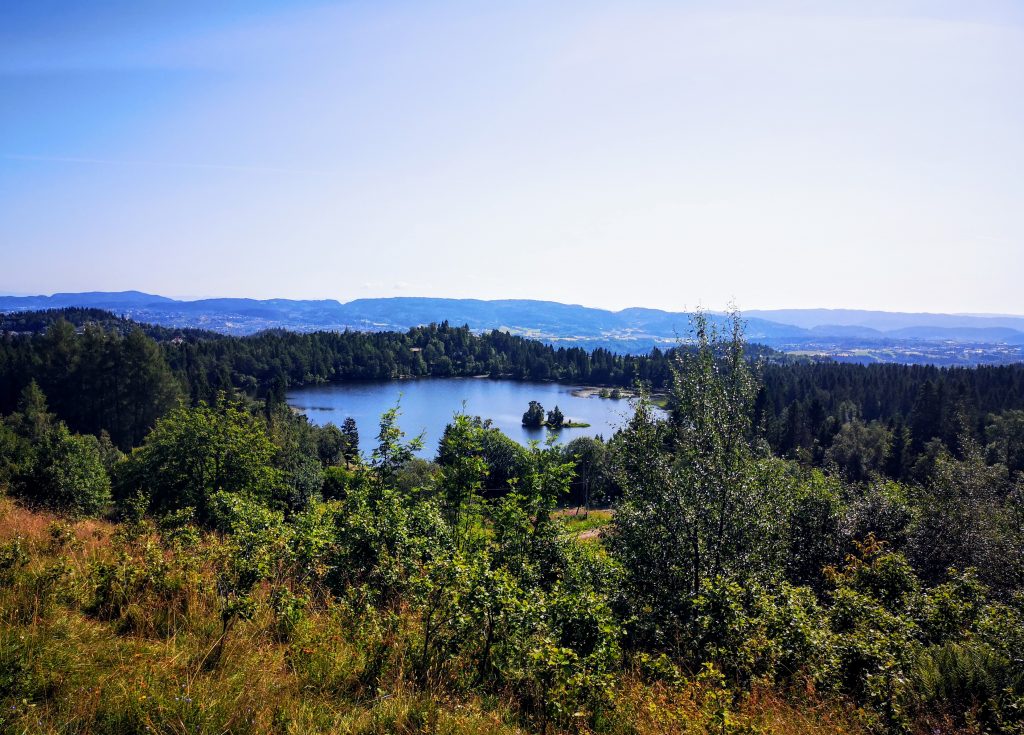 This Lade Trail is 14K along the coast with great views over the fjords and along wonderful beaches to relax. It walks a long way with the last leg of the St Olavs Way I walked.
Tip: If you see a beach that seems nice and where you can lie and relax, do it. There are many parts along the coast where this is not possible. Before you know it you will also be back in town and you have had your chances 🙂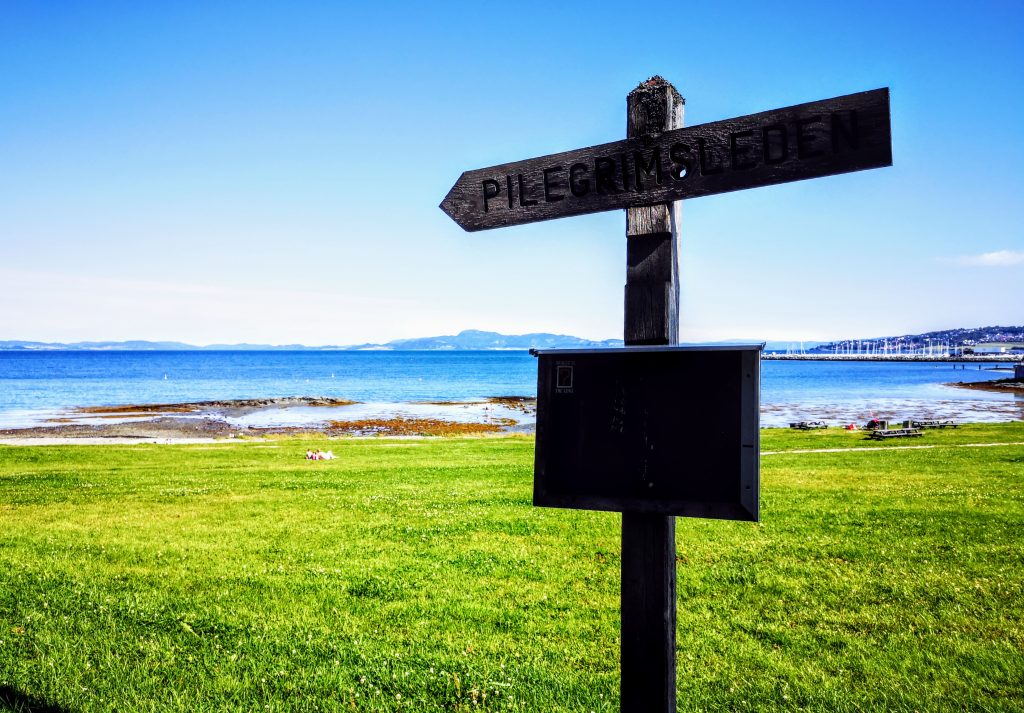 Do you want to go shopping during your citytrip to Trondheim? Then go to the following streets: Olav Tryggvasonsgate and Sondre Gate.
These are long and wide streets where the big chains are all represented. You can score (brand) clothing, outdoor items and all your souvenirs!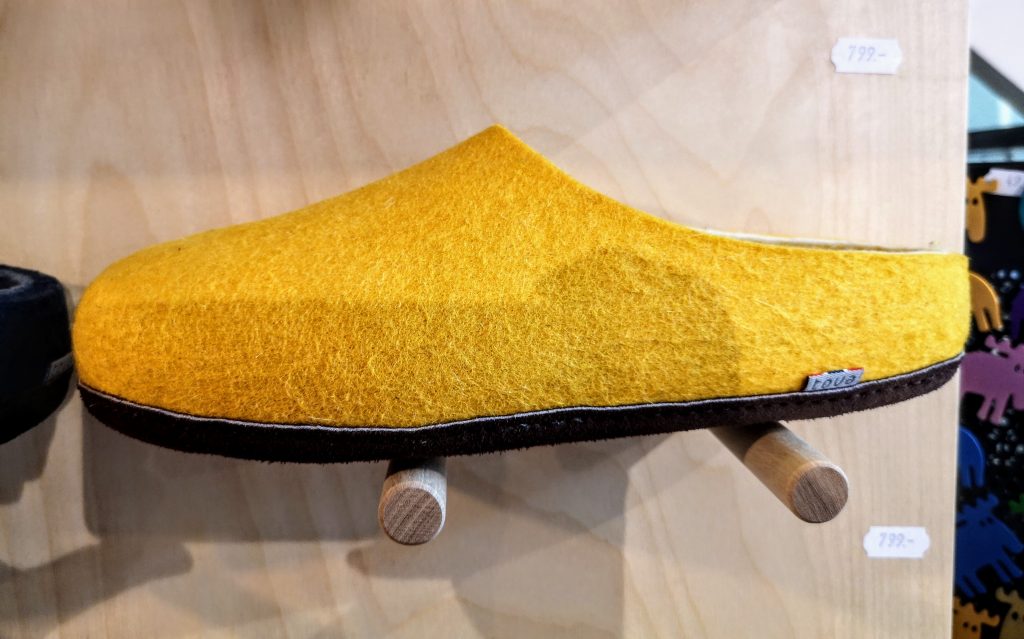 It is slightly out of the city of Trondheim but gives you a good reason to have a look. The sign of this station is world famous for its text!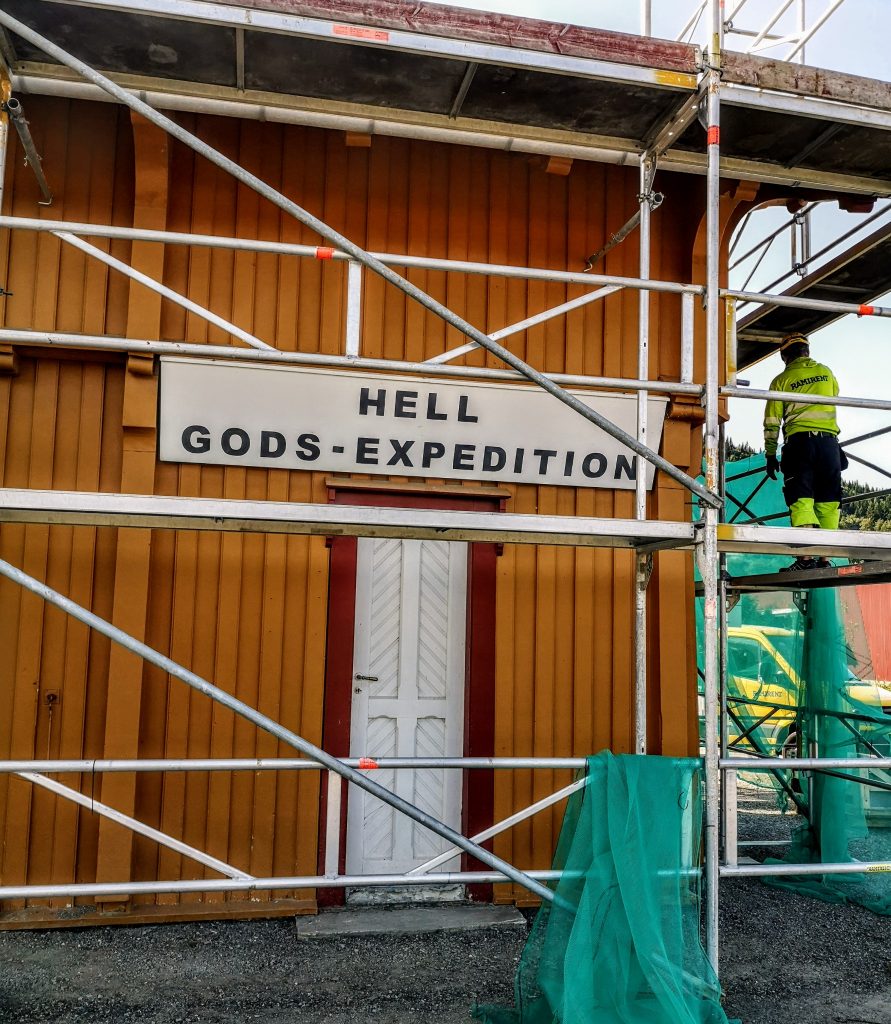 Like I said before, a day out of town during your citytrip Trondheim is not at all wrong. Take the train and enjoy the many fjords and enjoy the wonderful views. You can always get off at another stop to walk along the coast, for example from Vikhammer. The last leg of the St Olavleden is from there.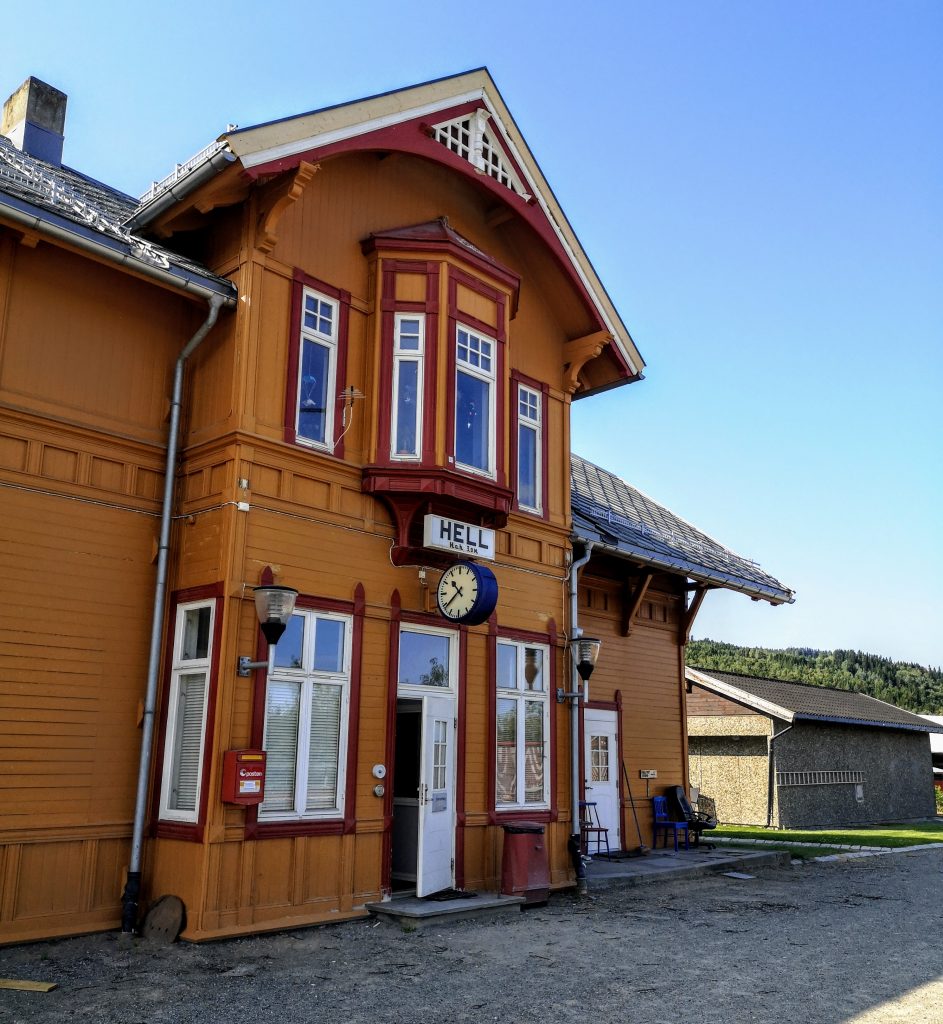 Food during your citytrip Trondheim
During your city trip you must also look for good food of course. You don't go into the same restaurant every night, do you? Well I don't do that!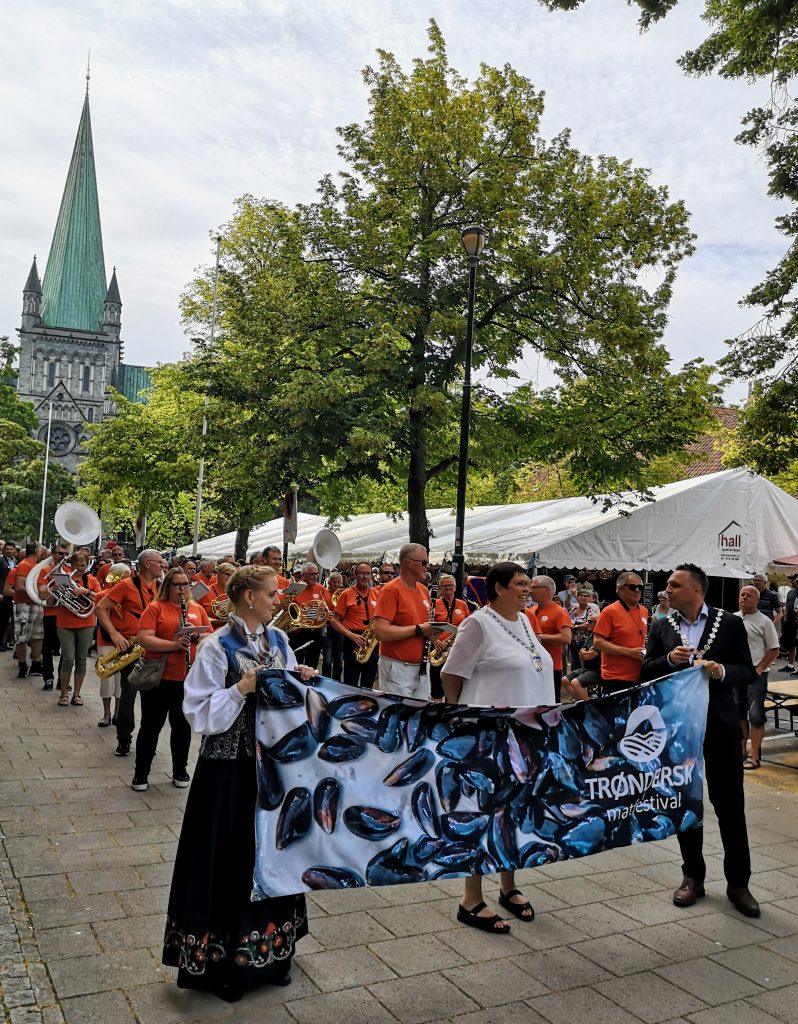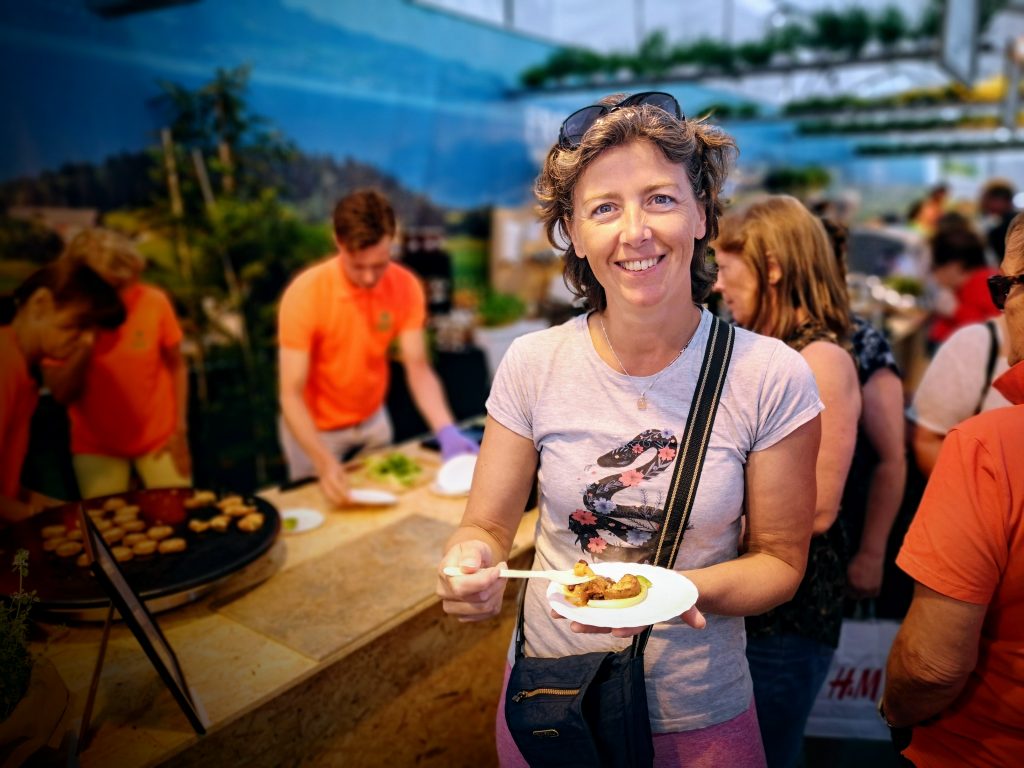 I was lucky because I was there during the Sint Olavs Festival. This means that there were tents throughout the city center that offered local food from the entire Trondelag region.
Every year at the end of July, the city is transformed into a major Food Festival. You can get the most delicious dishes there and I have done some nice tastings 🙂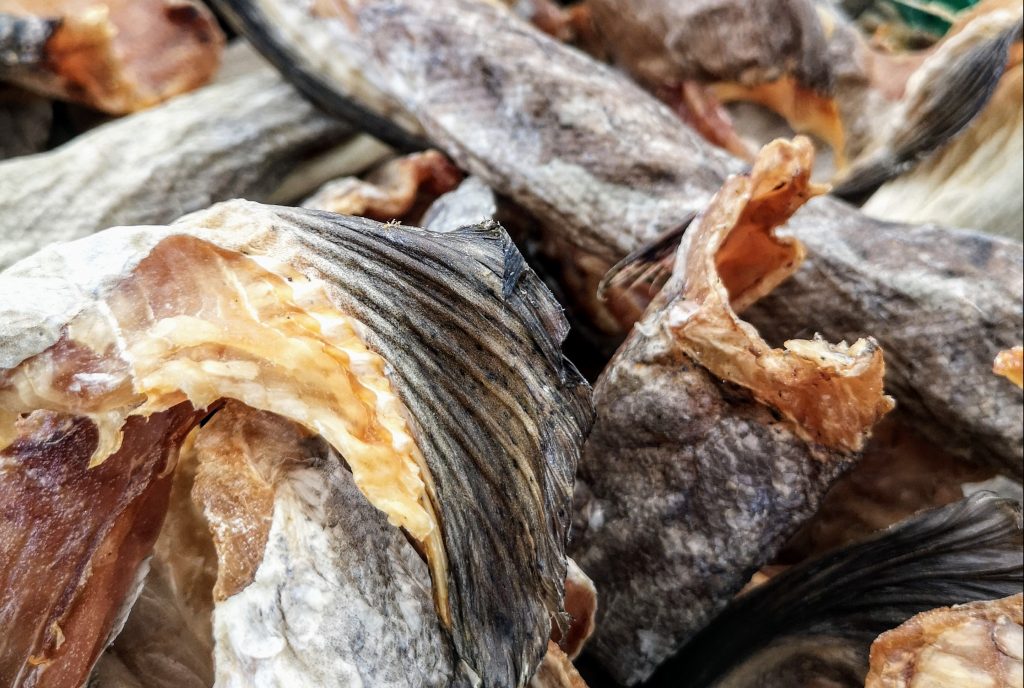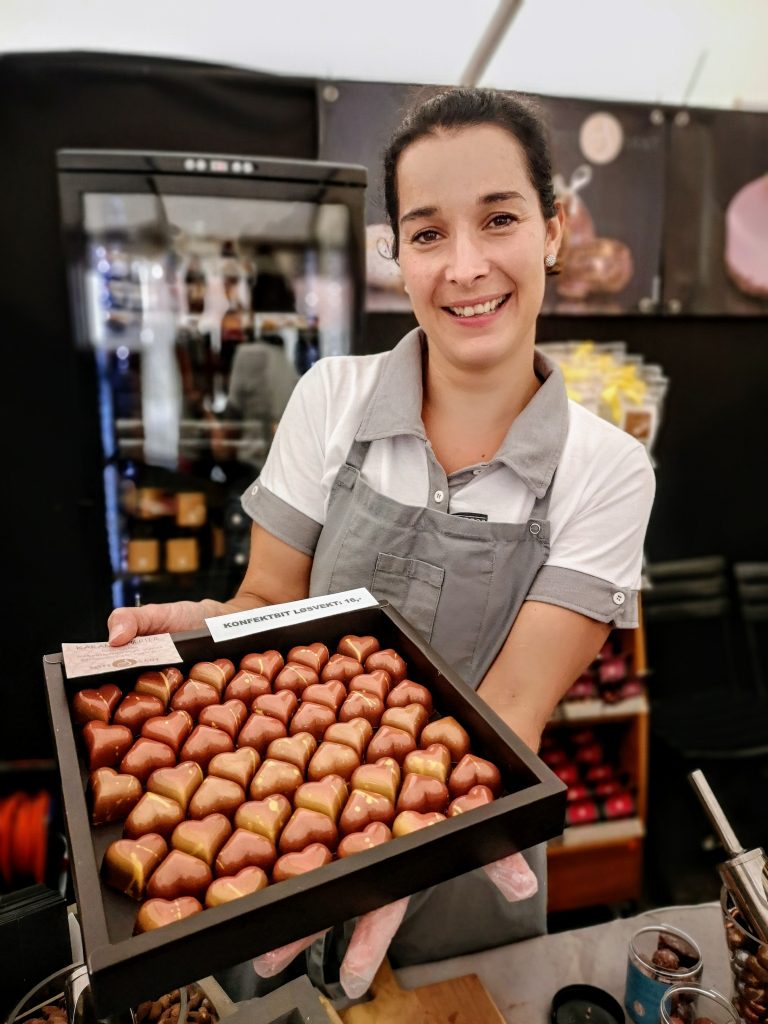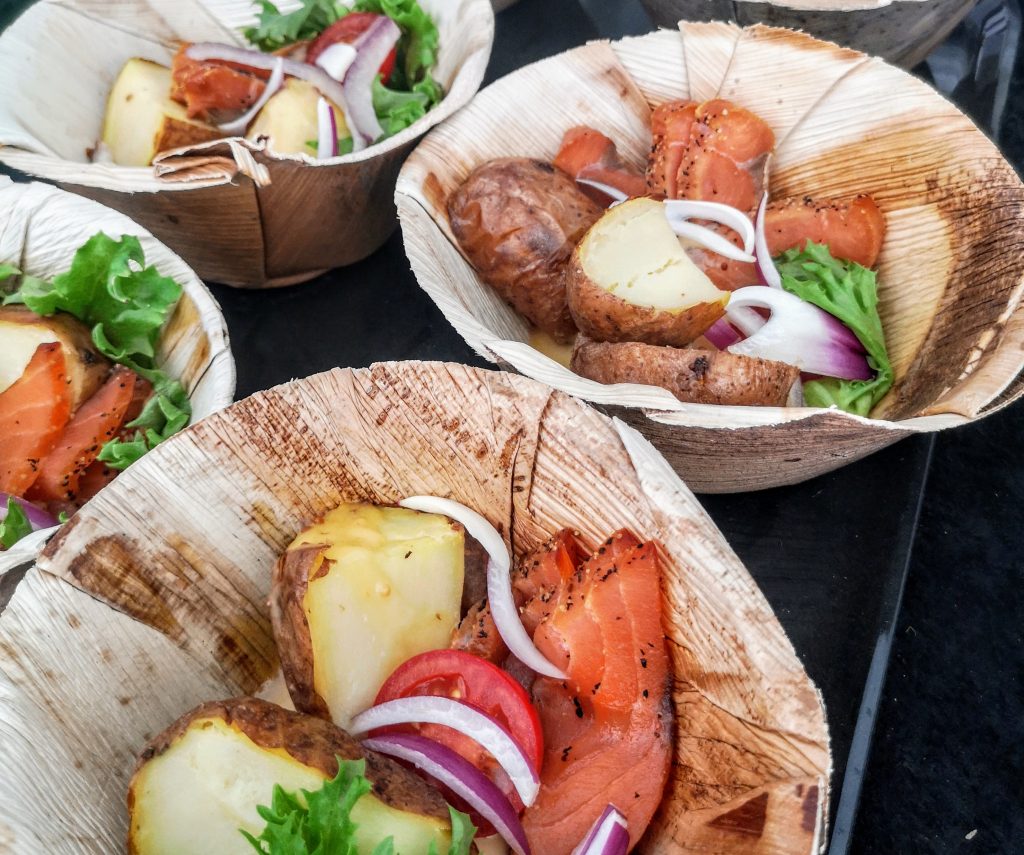 I had dinner by invitation at Bula Bistro and that was certainly the most wonderful experience you can have in a restaurant in Trondheim!
The chef is Reneé Fagerhøi and she has won the Norway's Top Chef program! I completely understand why she won that. The food is amazing and she has a super personality! After the program, she opened her own restaurant. It is a super nice, positive girl who prepares great food for you with her team of young enthusiasts.
She loves authentic and good, local food with a twist: Delicious !!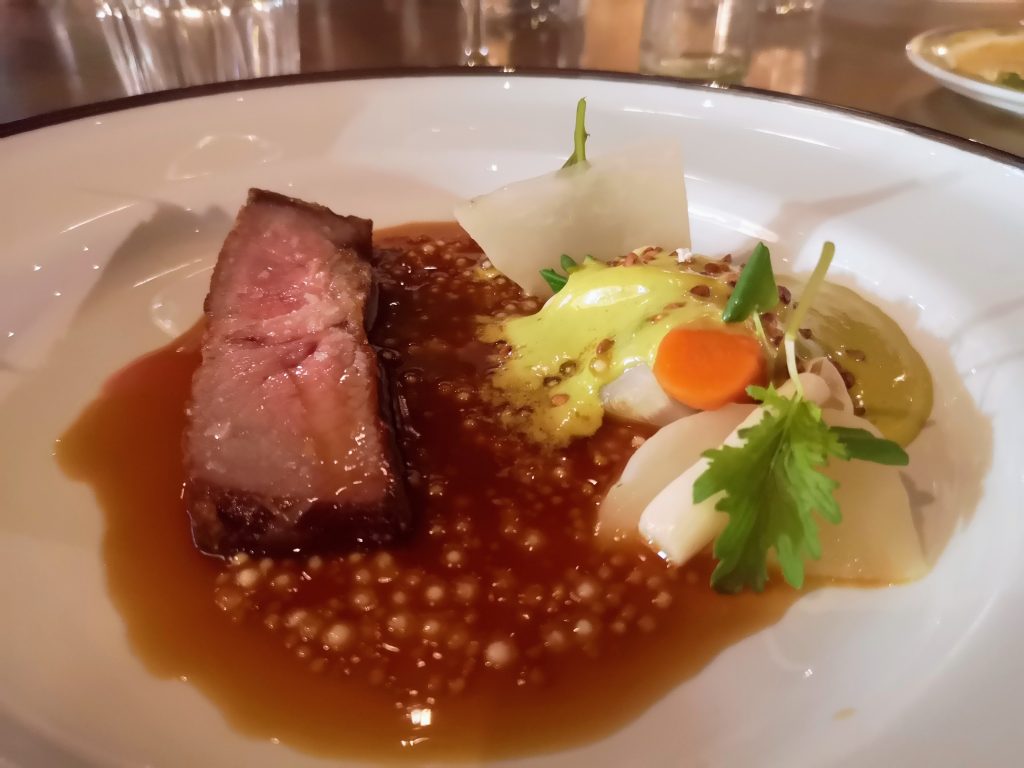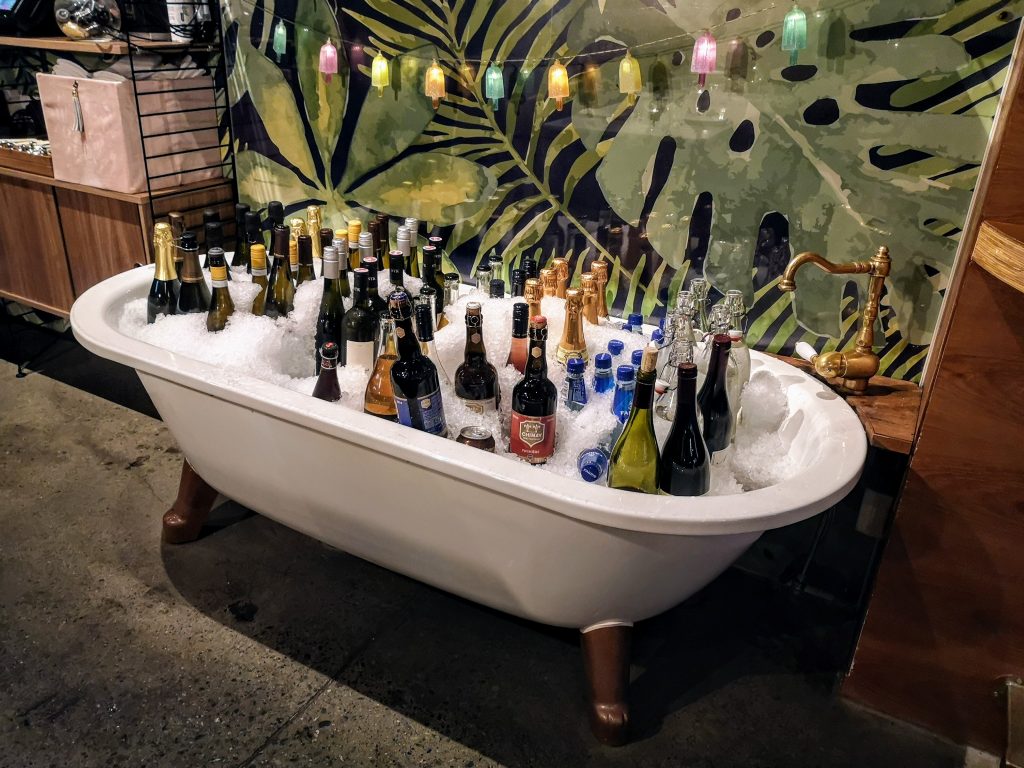 She has a unique concept.You can choose from 5 courses or more but not from which dishes. She prepares what she has for products and she does it in a very contemporary way while preserving all the good things from the past. You will certainly not be disappointed. The only thing you can indicate is what you would rather not eat and she will take that into account.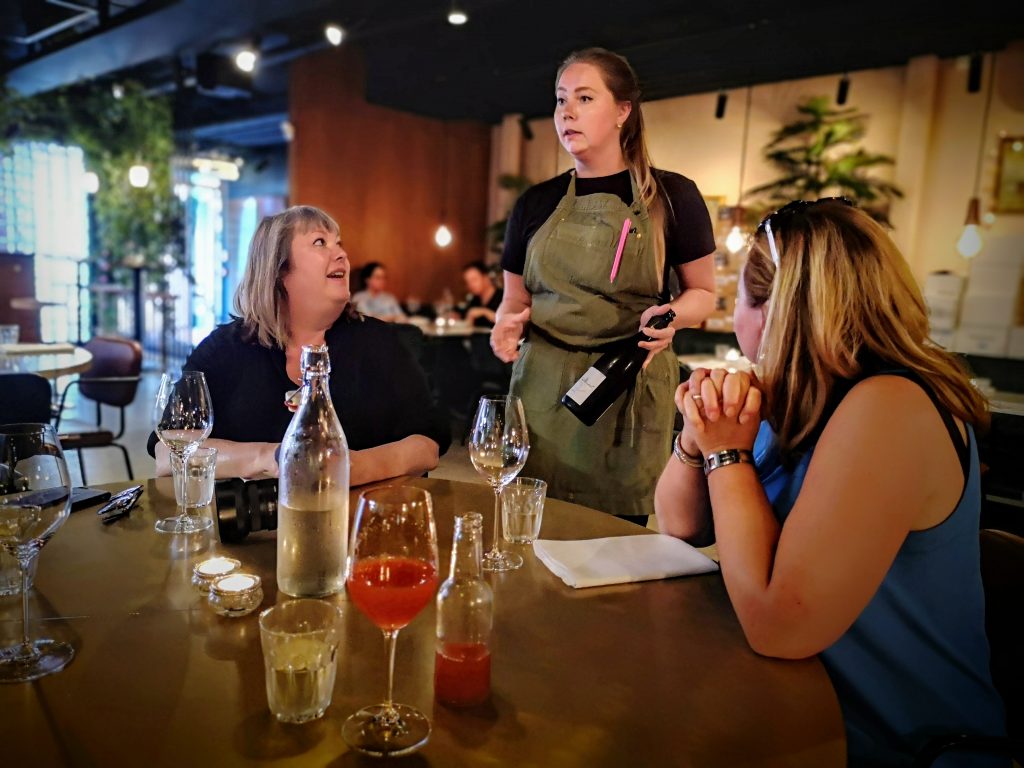 I don't like wine and so they had the most delicious juices for me. With each dish I almost got a different flavor that went well with the course. The wines were adapted to almost every dish and well explained in terms of taste and background.
Nice restaurant with a great spot near the river Nidelva as this restaurant is located next to the Bakke Bru bridge. That is the bridge you see from the old bridge (Gamle Bybro) when you look at the seaside. You can relax on the terrace and lounge in their couches. I sat here in the afternoon and had a cappuccino. The atmosphere I found delicious near the water.
Tip: If you eat somewhere it is normal that you go inside to place your order. You pay immediately and provide your table number. The food and drinks that you have ordered will be brought to you by the staff!
This restaurant has several locations in the city. You can always make me happy with tapas and so I spent an evening here. I was sitting on their terrace on a sheepskin and I enjoyed a couple of dishes.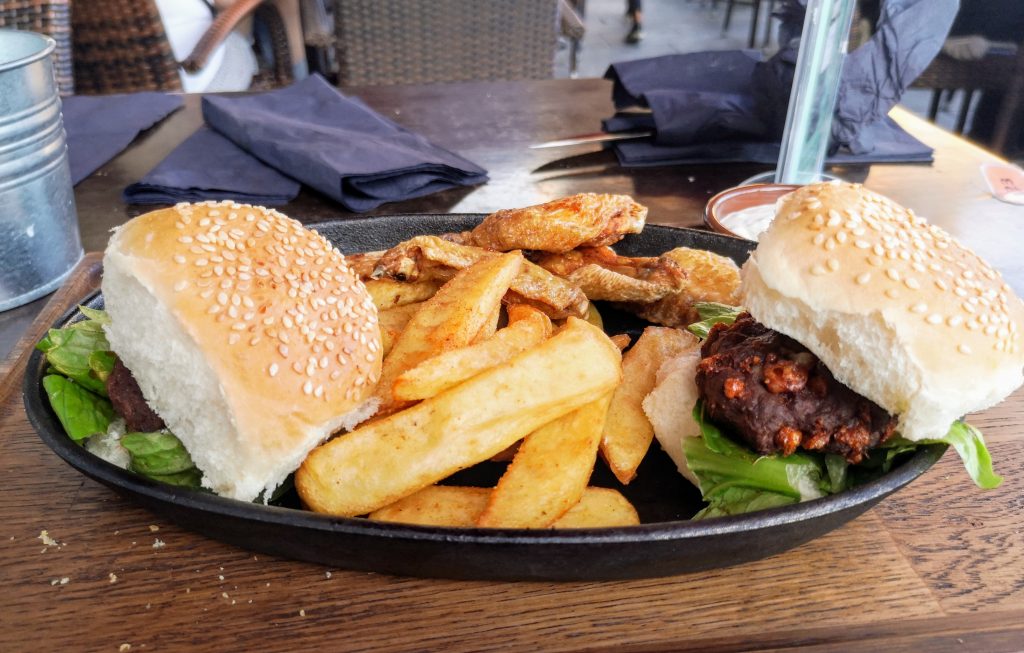 You will find this restaurant close to Torg square. You can buy delicious burgers if I have to believe everyone. This restaurant is known for it. When I walked by a couple of evenings it was always packed.
A popular payment method in Norway is VIPPS. This way you can pay securely through an app at most stores and restaurants. It is handy that you don't even have to have your debit card with you. It is an app and is comparable to what we use in the Netherlands as Tikkie, but you don't even need each other's mobile number, you enter a code that you get and agree to the amount in the app. I read that you do need a Norwegian bankaccount for this…
Egon – Kongens Gate / Prinsens Gate
This chain has different restaurants throughout the city. Here I have also eaten a delicious dinner and sat on a sheepskin on the terrace and just enjoyed the passing audience and a relaxed evening.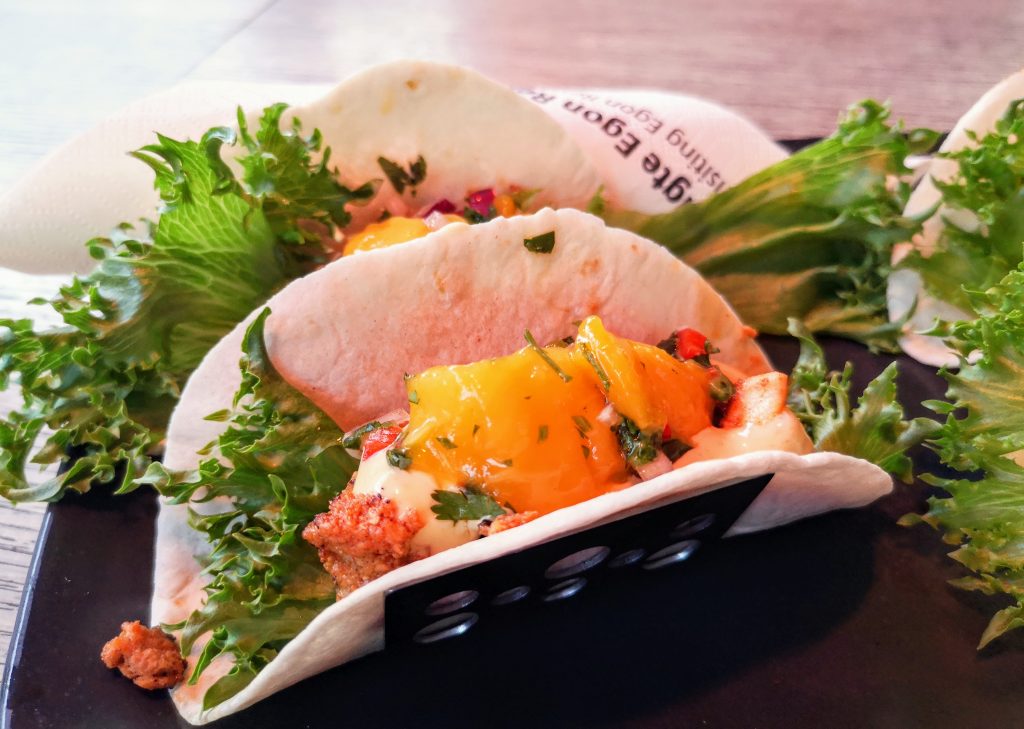 And where are you going to sleep during your citytrip Trondheim
As a pilgrim you naturally sleep here. So I also spent my nights here. Very good hotel, I had my own room but you can of course also go to a dormitory as is usual during a pilgrimage.
The breakfast is extensive enough that there is something for everyone. You can make a cup of coffee or tea at any time in the arrival hall.
The place is also strategically great for exploring the city. You are just behind the cathedral, on the Nidelva river side. If you walk outside and look over the water you will see the old Gamle Bybro where you walk into the fantastic Bakklandet on the other side. (Check the first picture in this blog)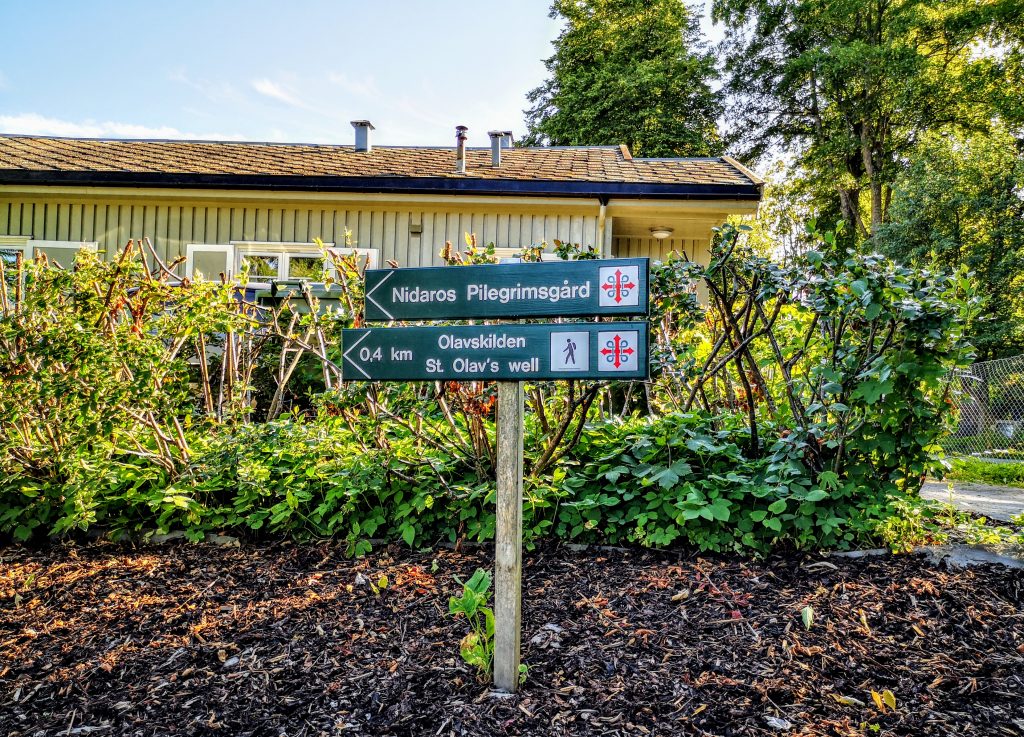 An Air B&B is almost never a good option for me. The only time I was in an Air B&B was with a colleague and her family in KL. If you are alone and still have to pay for the entire location, it is not practical, but if you are traveling with two or more, I can really recommend this place. Colleague Marjon and her husband Piet were just in the middle of the fantastic area of Bakklandet with a view of the Bicycle Lift.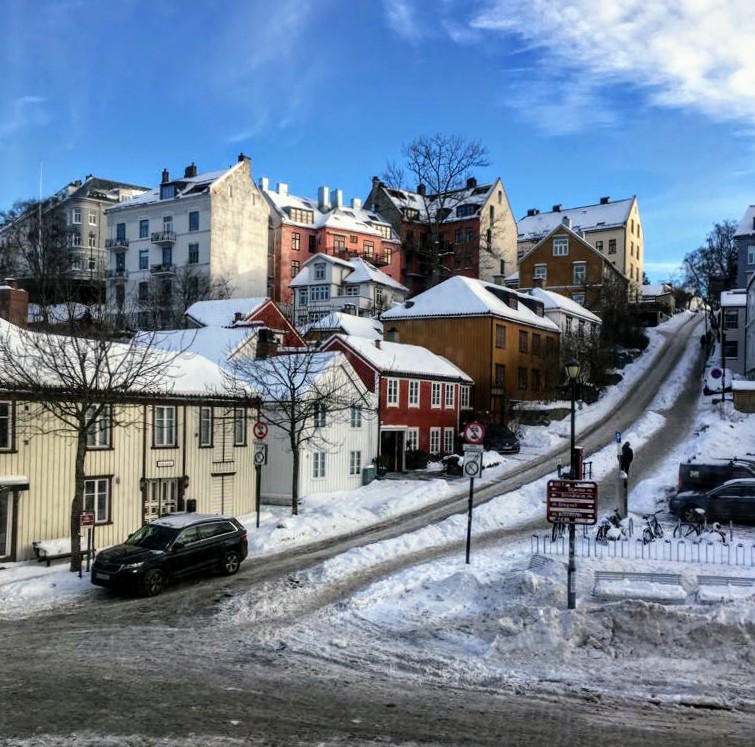 How great is this view?

A citytrip Trondheim
Also in winter really a good plan as you see!
Are you more into the big hotels, everything arranged, nice and anonymous? Then take one of the larger chains available in the city. I saw a large number of hotels around the station. I saw the Scandic chain in several places and it had nice locations. I saw one at the other Bakke Bru bridge over the Nidelva, close to Cowsea. If you walk a bit further and go to the other side of the Nidelva there was also one.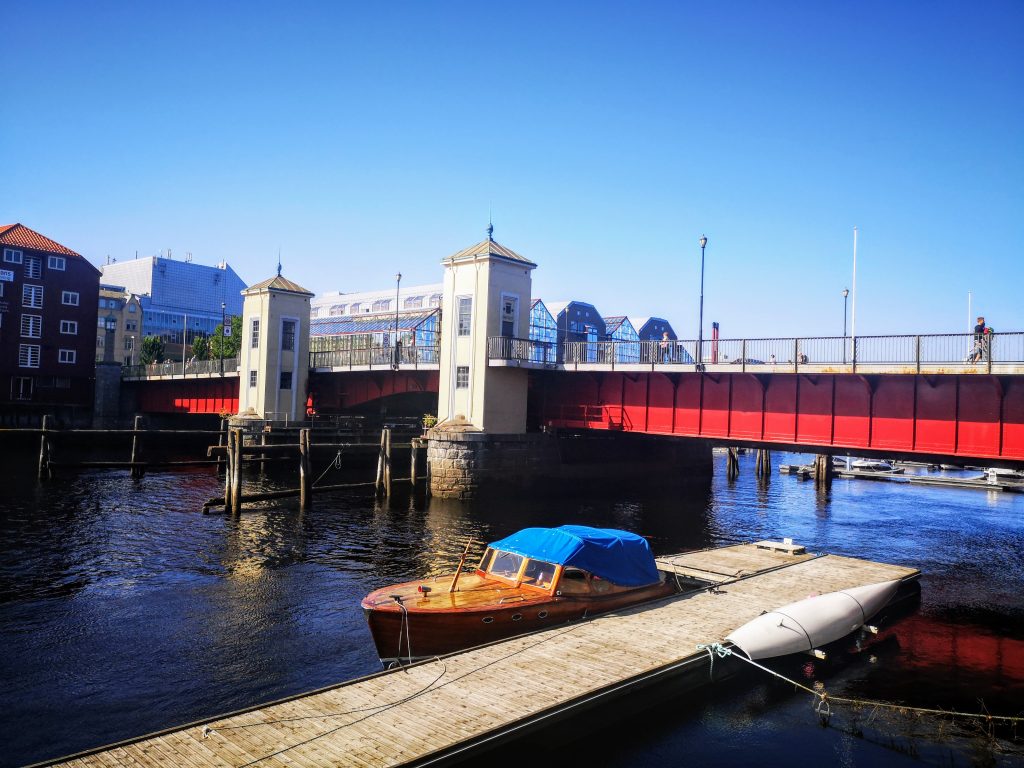 This is the view you see from the dining room and various other rooms at Scandic Bakklandet.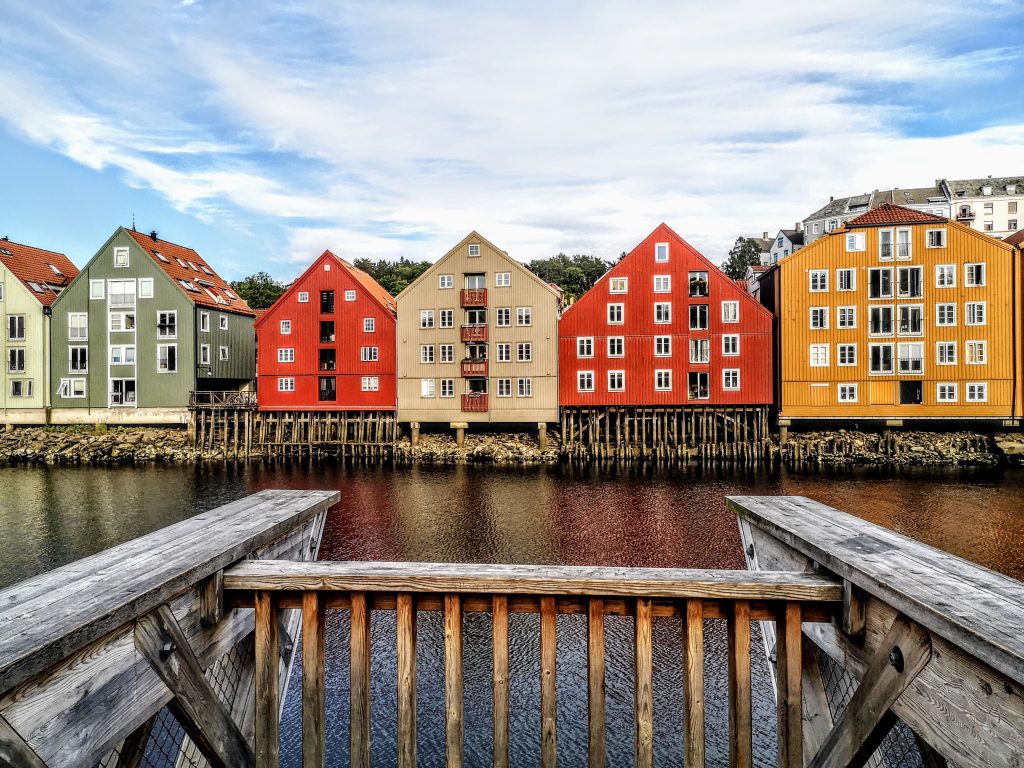 Extra tip for your Citytrip Trondheim.
Elektric steps
This year for the first time there were a lot of electric steps in the city. It is a new phenomenon and there is no regulation yet. Whether they are still available this way next year is of course the question but now I came across them everywhere. Local citizens used them a lot. The city is a bicycle-friendly city and therefore you can also navigate through the traffic with the steps. I did not try them myself, but I understood that you can easily use this means of transport with an app. Everywhere you see them standing along the road 🙂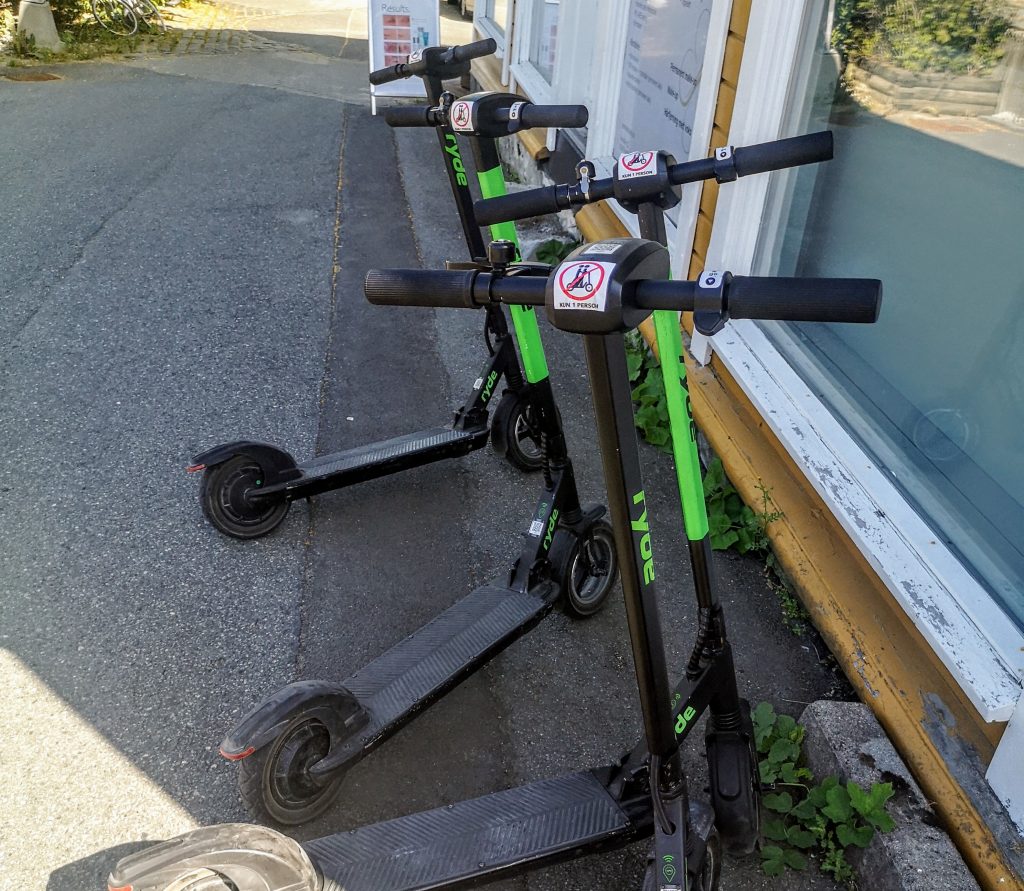 The ordinary bicycle

The normal bicycle is of course always a good option during your Trondheim city trip. As I mentioned several times before, you can navigate through the city very well by bike. There are also enough bikes available for you and they are easy to use. Maybe you can try the bicycle lift and tell me if you succeeded!!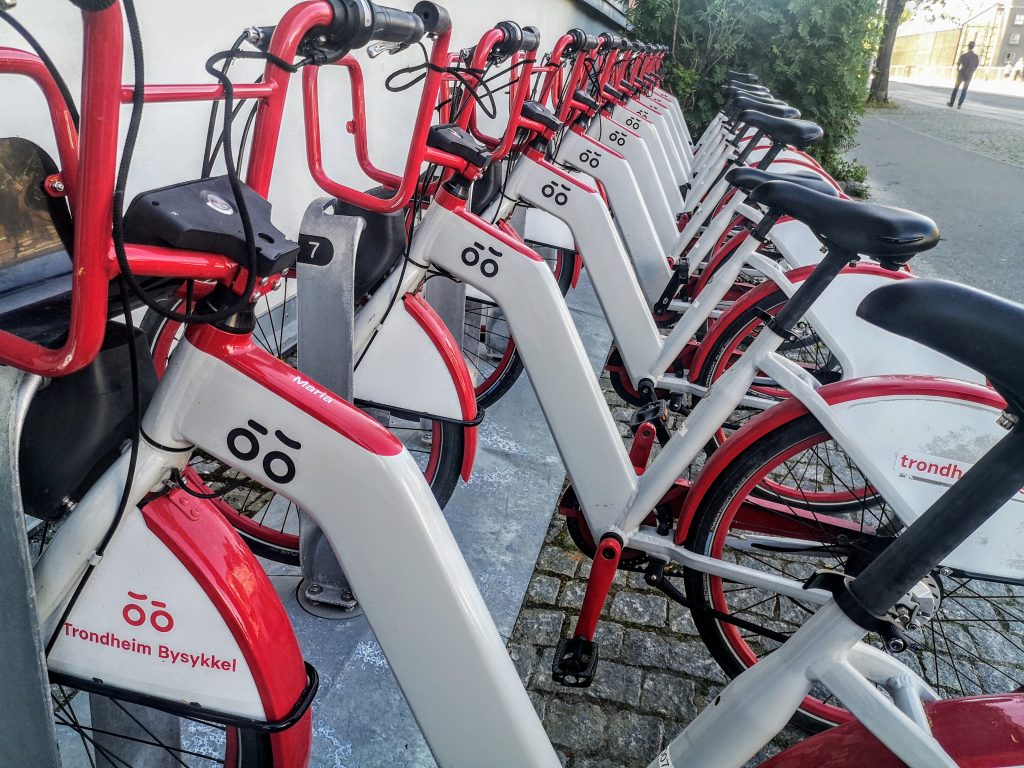 In fact, I almost feel that I don't have to comment on this. I think it's one of the safest countries in the world and you don't have to take anything into account, apart from the standard things. Just enjoy the city and the history that it brings!
I will discuss this in more detail later in another blog.
Did you find this citytrip Trondheim interesting and do you like the tips?
Then share it with others !!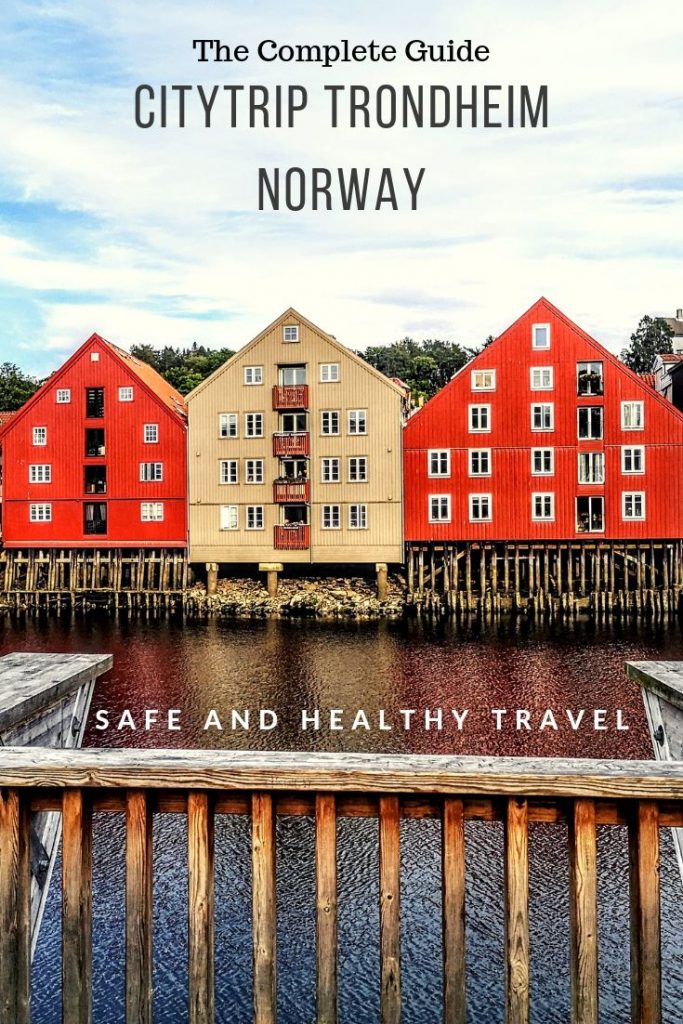 Check out some other Scandinavian adventures:
Explore Goteborg by GOcard – Sweden
How about Camping in Sweden?
Wellness: Sauna above Sea, Bastad – Sweden
7 Times must see Stockholm – Sweden
Or check this packinglist for your pilgrimage
Can I give you some tips?
I hope you love this world as much as I do!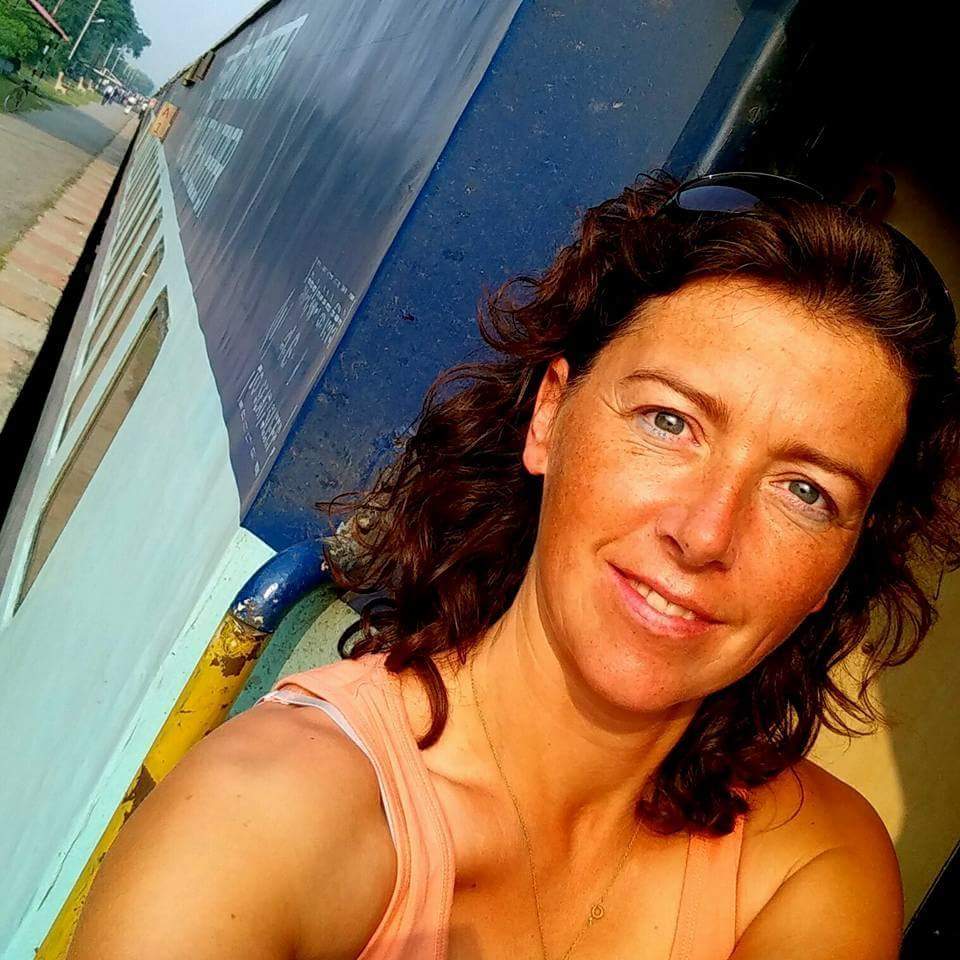 Jacomijn is een politieagent uit Nederland die jou graag laat zien hoe je veilig, actief en gezond de wereld kan over reizen. Safe and Healthy travel is a MUST