Travel Guide Udaipur – Things to do in Udaipur, Rajasthan – India
Be sure to visit romantic Udaipur on your tour of Rajasthan, India. A complete Travel Guide Udaipur is right at your fingertips for this amazing city. I've been in what they call the City of Lakes twice now and honestly? I can't get enough! Dining with the view over the beautifully lit Pichola Lake and wandering the lovely streets of this city.
Udaipur has a unique ambiance because it attracts a lot of artists and therefore has a fine atmosphere that permeates everything. Because I have already spent quite a few hours here I can show you a complete travel guide with all the highlights for Udaipur … but still… I still haven't visited everything and I'd like to go back again 🙂
First some facts in this Travel Guide Udaipur:

In 2011 they counted for the last time how many people live in Udaipur and if the growth would have continued the same way it now has about 566.000 inhabitants.

In the 15th century, when Maharana Udai Singh was on his way to hunt near Lake Pichola, a saga told him to build a palace in this lake because it would be a safe place for him. Did you know that this palace is now named as the most romantic hotel in the world en Lake Palace of Jag Niwas hotel of the Taj Hotels.

And did you know that the black panther Bagheera from The Jungle Book came from Udaipur? written as Oodeypore. If you pronounce it with an Indian accent, you'll notice it's the same city.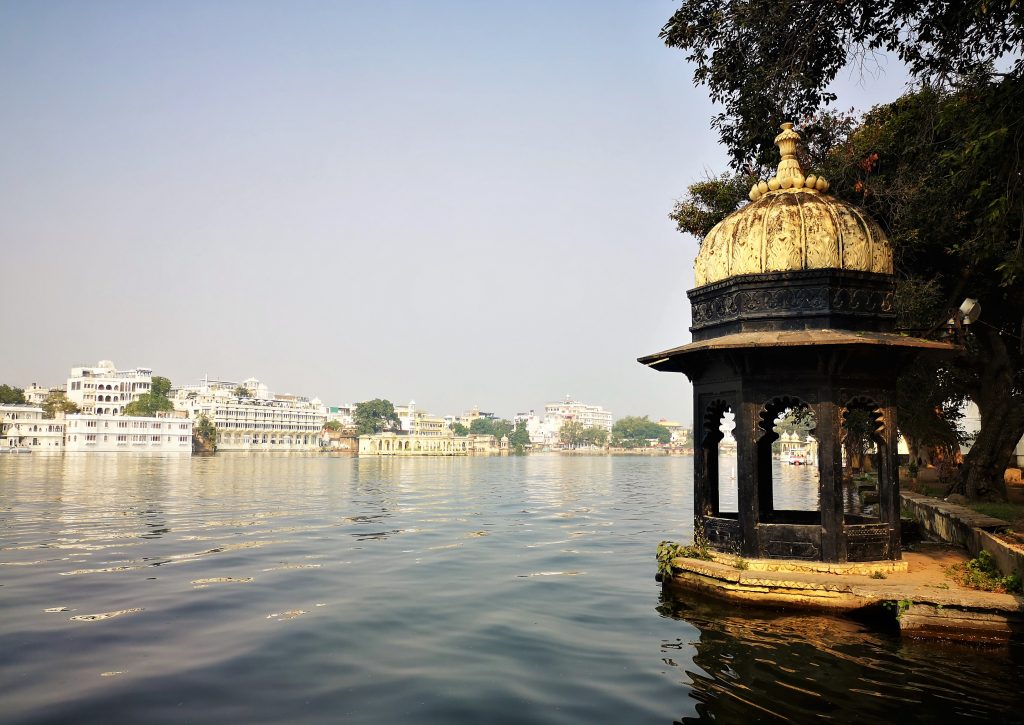 City Guide Udaipur
Things to do in Udaipur – Rajasthan, India
Udaipur is surrounded by three lakes which of course explains the name City of Lakes. The first and largest lake is Lake Pichola. Then there is Lake Fateh Sagar and Lake Swaroop Sagar.
Lakes of Udaipur
Pichola Lake

What is most striking about Udaipur is of course the large Pichola lake which is located in the middle of the city. Both times I visited Udaipur I had a hotel with a view over this great lake. I also spent a couple of hours at the edge of the lake but what I didn't do yet was a boat trip on the lake.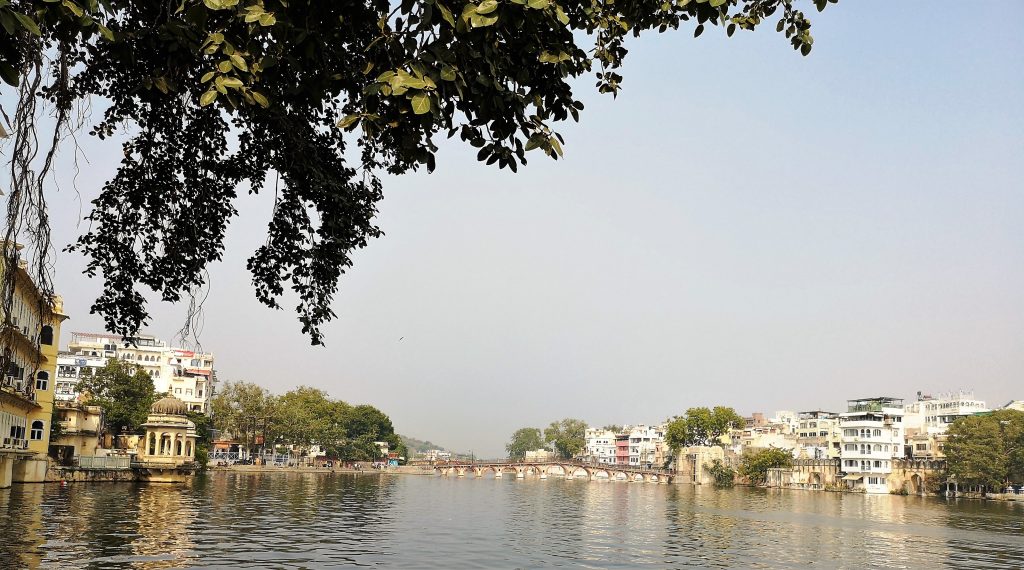 Would you do that for a boat trip on Lake Pichola?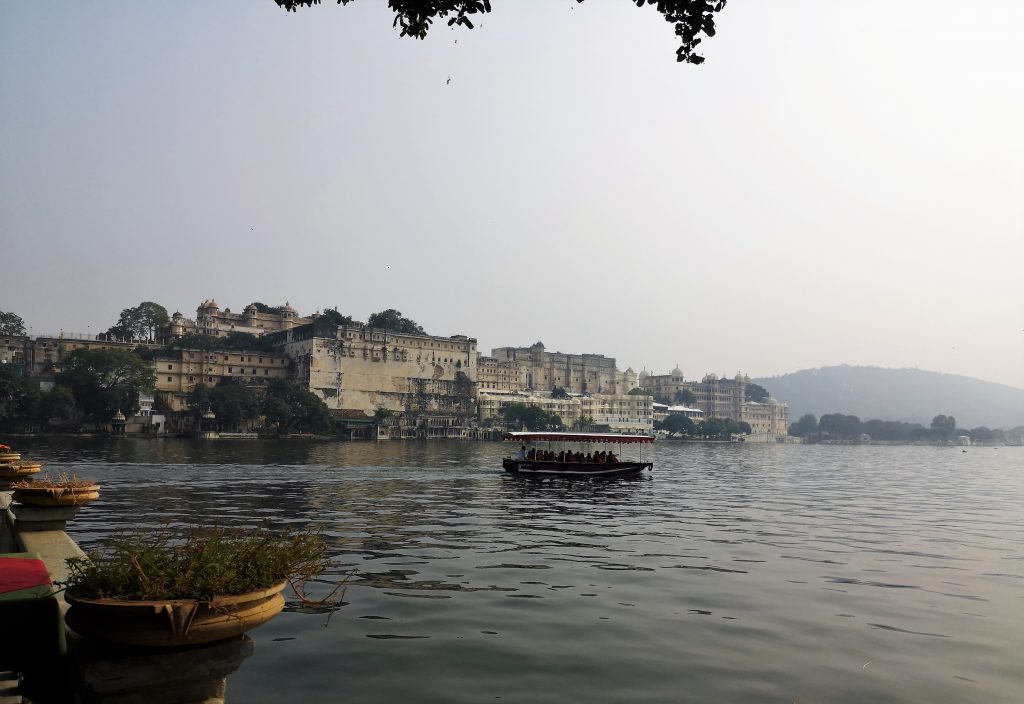 Lake Fateh Sagar

This is the second largest lake in the city of Udaipur. And in this big lake you can visit Nehru park. Both highly recommended for my next visit 🙂
Badi Lake
Want to go out of the city and into the area? Then be sure to go by Badi Lake. It is about 30 minutes out of town and you will get a good feeling of the surroundings, the foothills of the Aravalli Mountains. There is of course a viewpoint which is indicated everywhere and here you get a great view over the lake! And also this place I saved for my 3rd visit! You see? … I definitely had to go back to Udaipur again!
Ghats around Lake Pichola
Ambrai Ghat / Manji Raj Ka Ghat
This ghat is accessible via a small path at the entrance of Ambrai Hotel / Restaurant. You will then walk into a beautiful park with at the end this temple, Hanuman Mandir. Many tourists and locals come here to bathe and pray.
Always an impressive sight!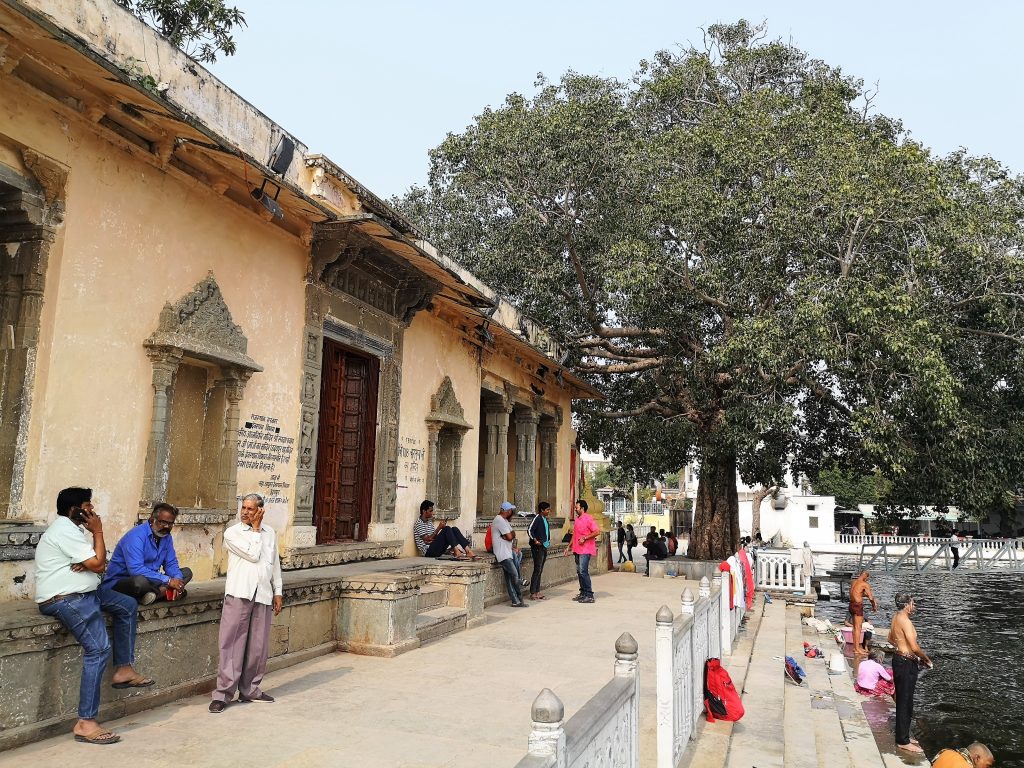 Tip: If you are here … take a nice cup of Indian chai at Ambrai restaurant 🙂
Gangaur ghat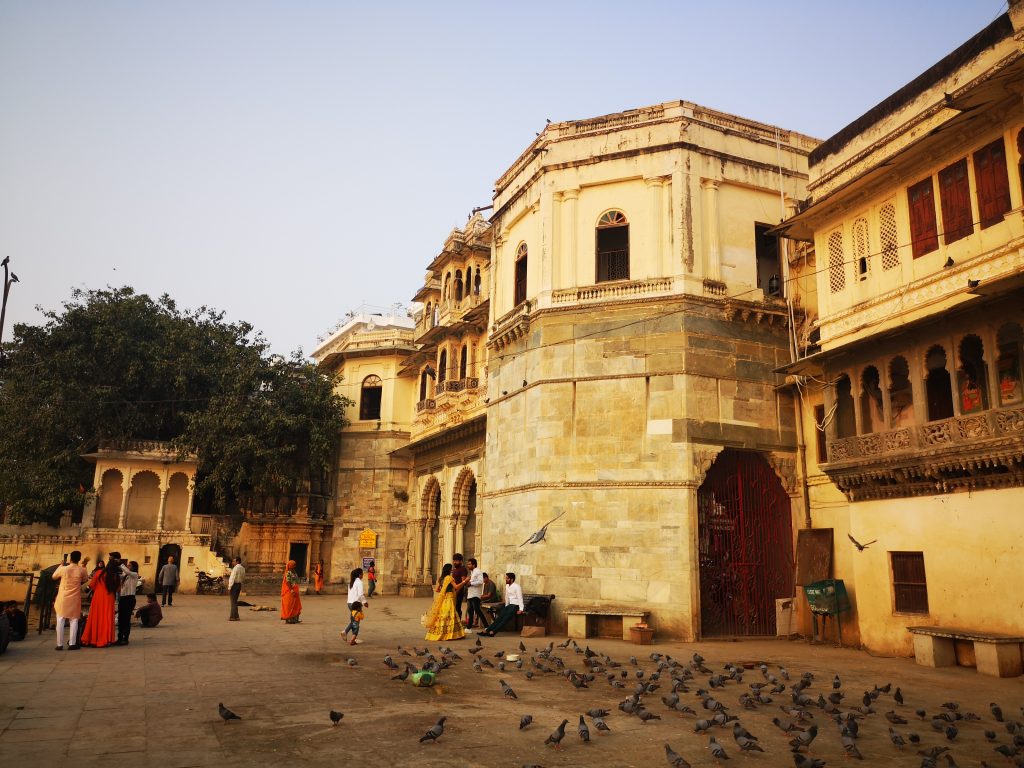 The ghats along Lake Pichola are of course also a good place to see the sunset. Gangaur Ghat is crowded and easy to find from the busy street close to my hotel. This ghat is a lot busier than the other one mentioned here.
Enjoy the view in the setting sun for a while
and the cool breeze 🙂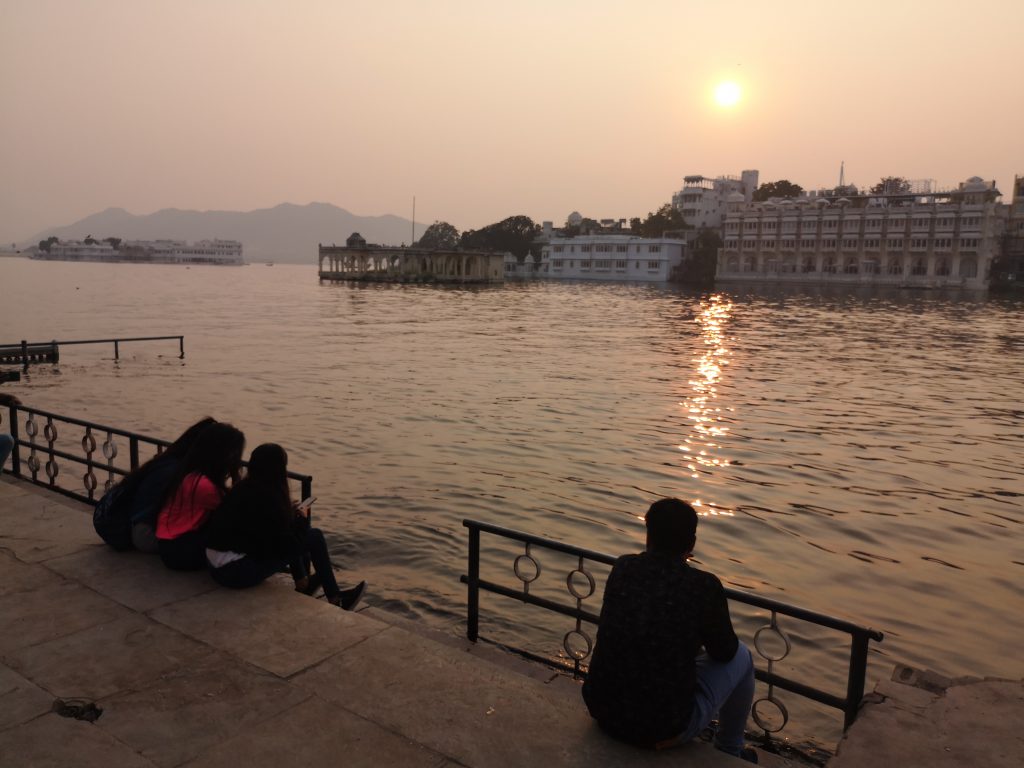 Palaces of Udaipur
City Palace, Udaipur
The travel guide Udaipur wouldn't be complete if it didn't include the City Palace! I was here during my first visit to Udaipur and walked around for at least 2,5 hours. It is the largest palace complex in Rajasthan! There are incredibly many rooms, terraces and parks to visit in this large palace complex. The start of the construction of this great palace was in 1558 and was only finished in the 18th century. As a result, it has also become a mix of medieval European and Chinese architectural styles.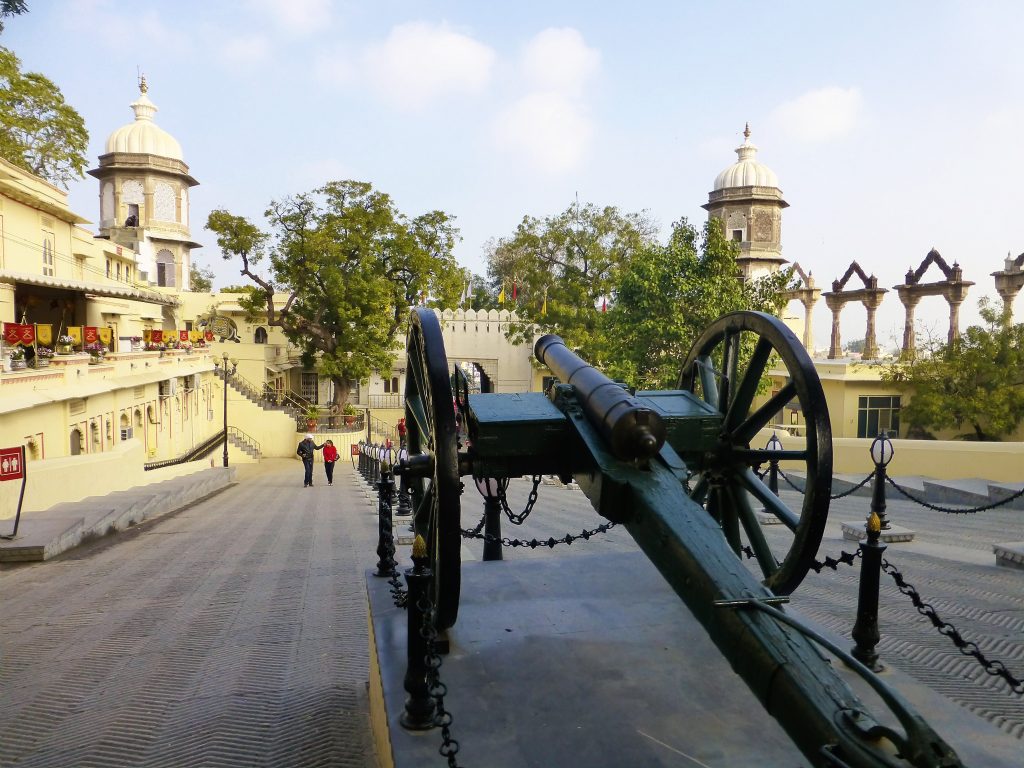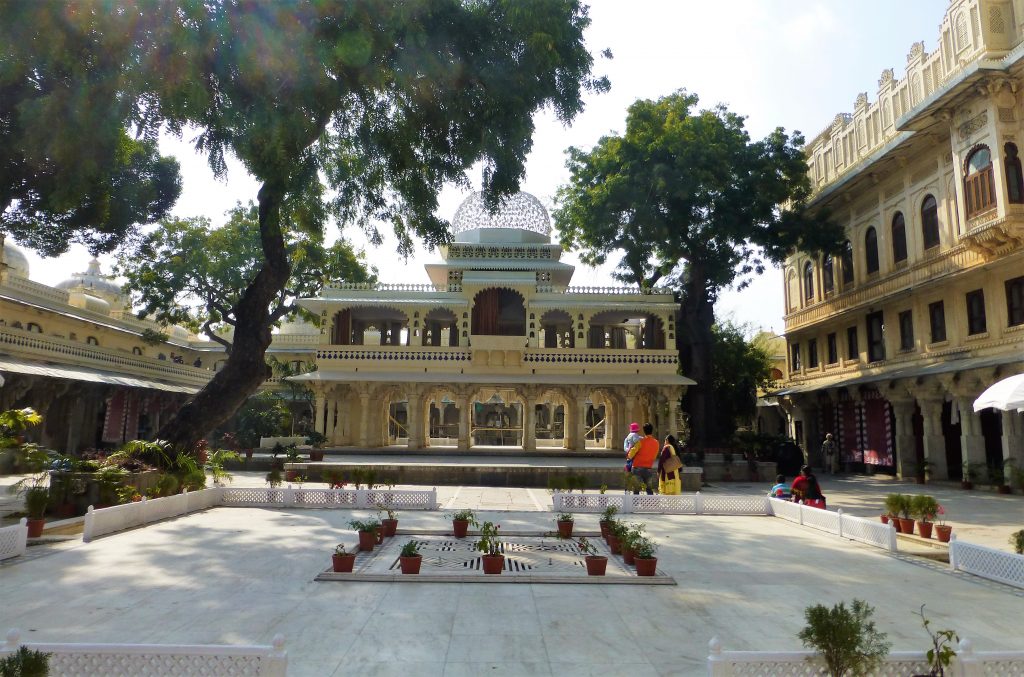 Taj Lake Palace
This is the palace where everything started like I said before, also called Jag Niwas hotel. Maharana Udai Singh started this construction to create a safe place. This palace is now known as the most romantic hotel in the world! In the middle of Lake Pichola… I can imagine!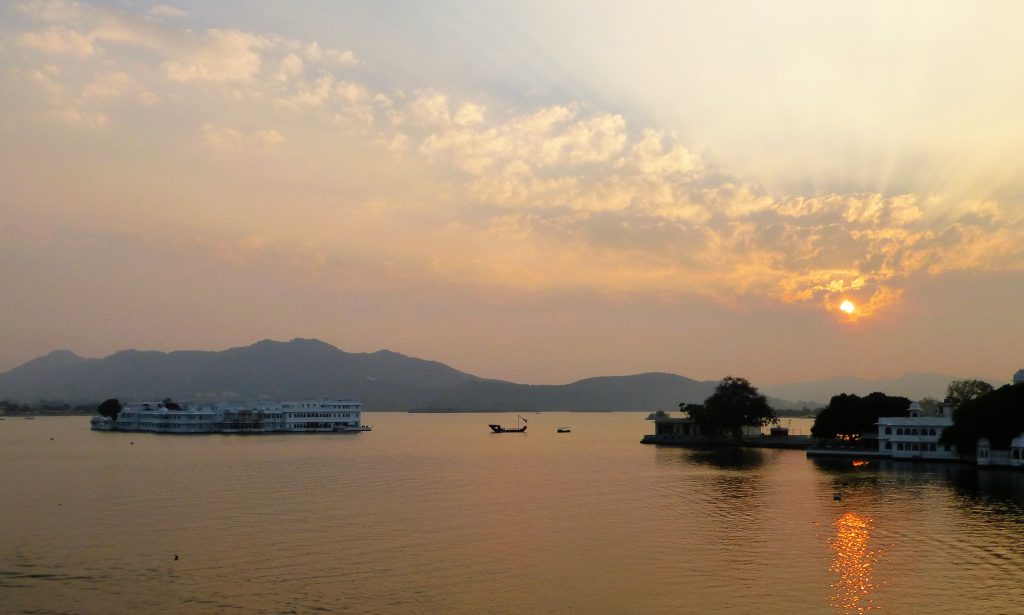 And no… I haven't been to this hotel either… Who ever knows?
Jag Mandir Palace
If you take the gondola, the ropeway up to Karni Mata Temple you'll get a nice view of this palace. This picture of my visit in 2015 (January) is a bit less because it was quite foggy at that time.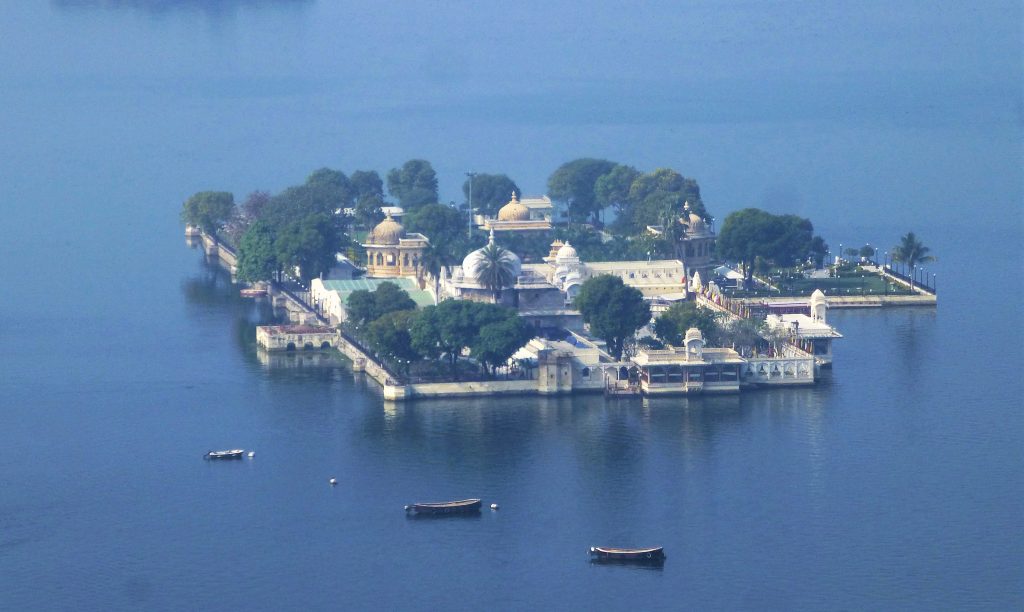 Monsoon Palace
This palace is visible on top of the mountain what you can see in the views with Lake Pichola. Aslo in the evening you can see this palace. I haven't visited this palace myself yet.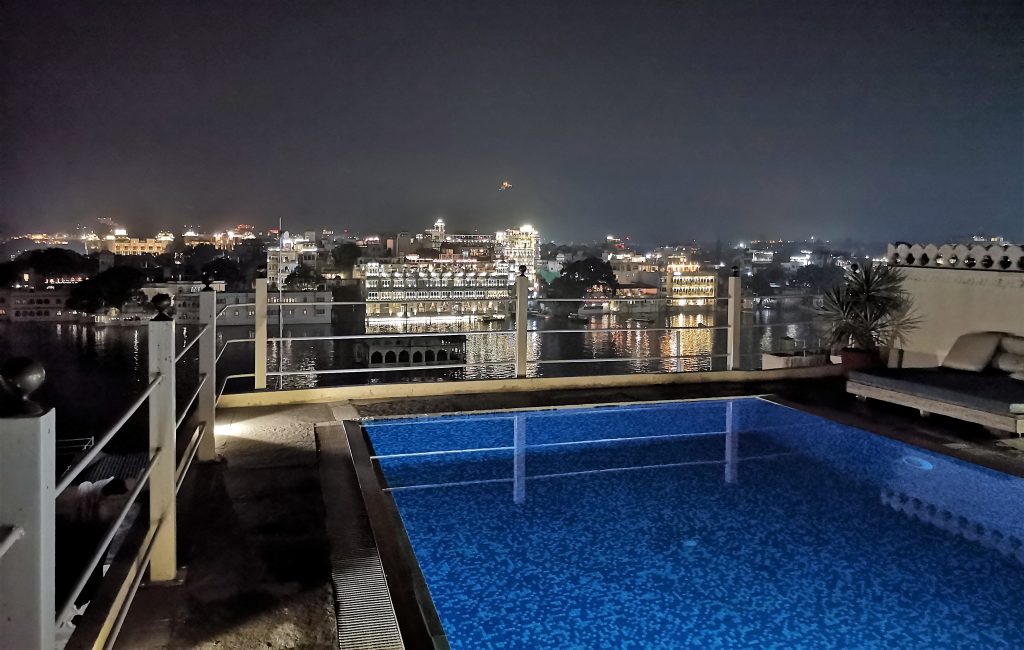 Do you see the light in the sky?
That's where the Monsoon Palace is.
Ahar Cenotaphs
Where there is a long history with royal families you also have a cemetery of these royals. I walked between these tombs and admired them while I heard a little later that I shouldn't have walked between them. I did see that at the moment I walked there a cremation took place…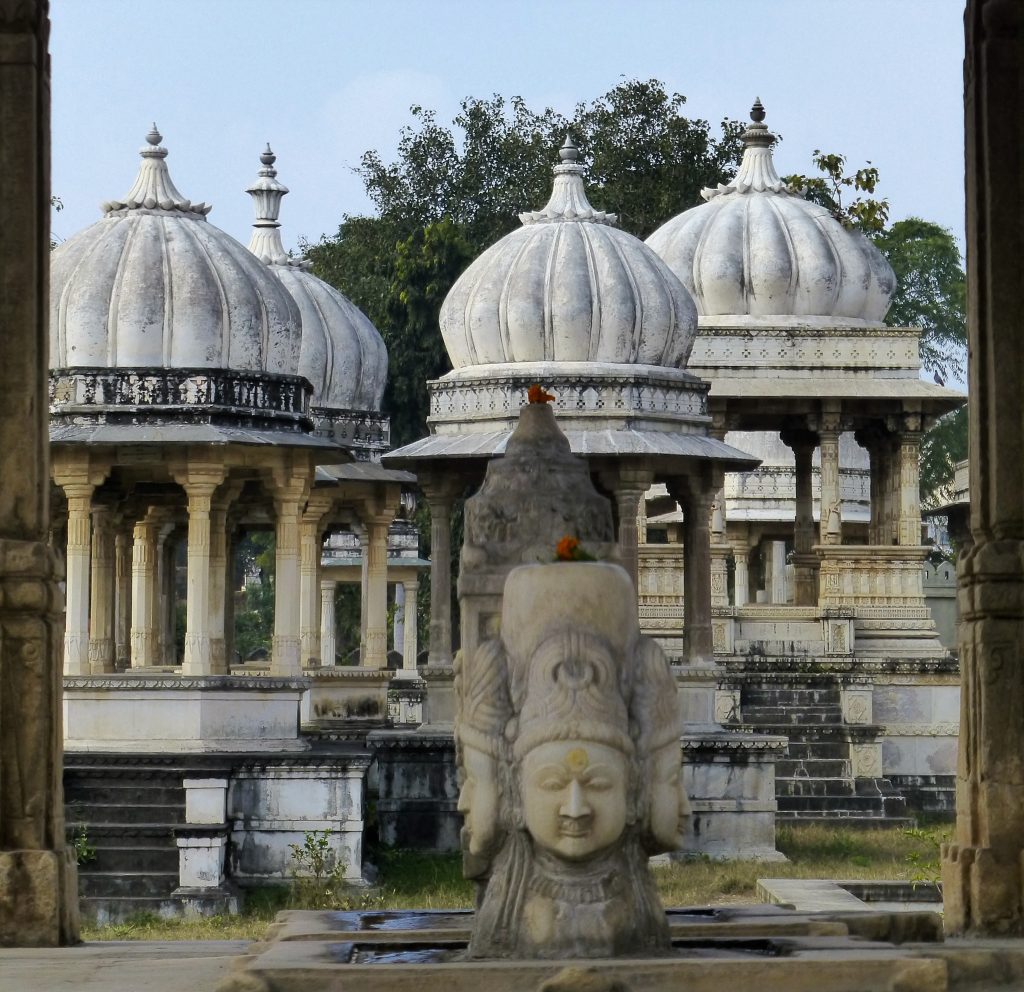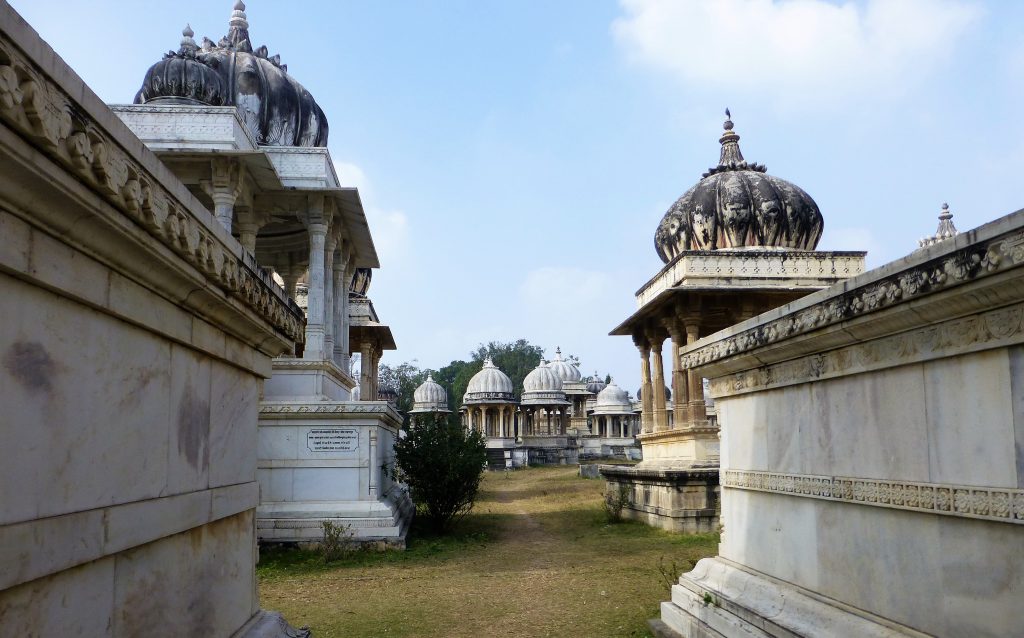 Temples of Udaipur
Of course there are many temples to visit like it is everywhere else in India. In this travel guide Udaipur I highlight 2 Hindu temples that are definitely worth a visit. This first temple you will probably come across when you walk around in the beautiful streets of Udaipur!
Jagdish Temple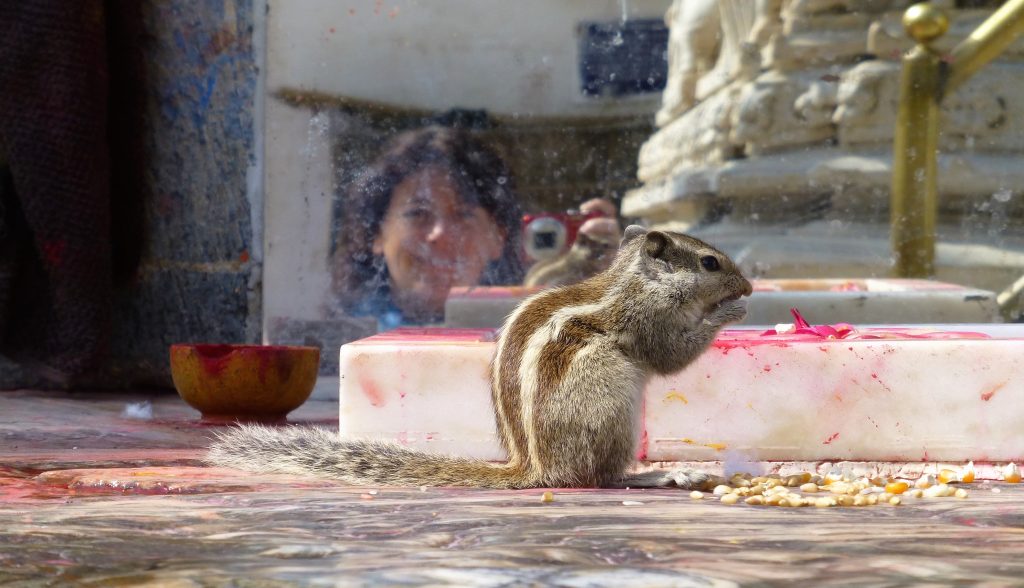 This temple is in the immediate vicinity of both hotels I recommend later on in this blog. It is a temple complex where food is served every day for the homeless. I walked into it at the back and then you come through this part first. If you take the front entrance, the large staircase near a large crossing you come right at the bottom of the high temple.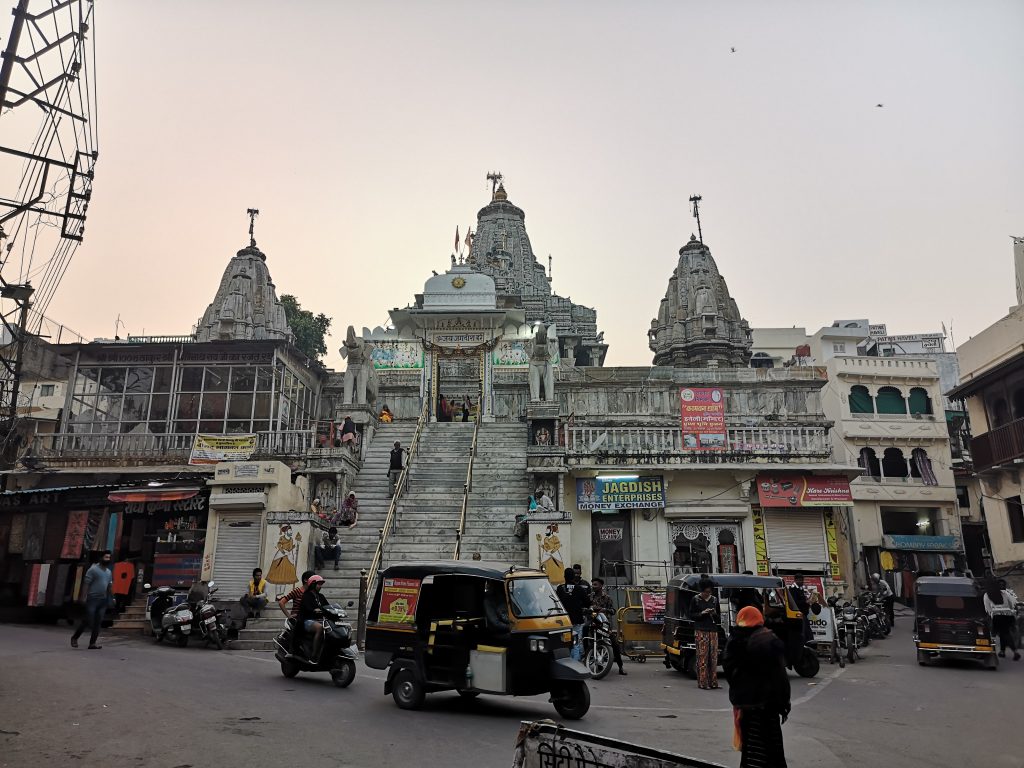 Eklingji Temple
24 km outside Udaipur is this beautiful temple complex. I will put it on my list for the next time I come back to this beautiful area!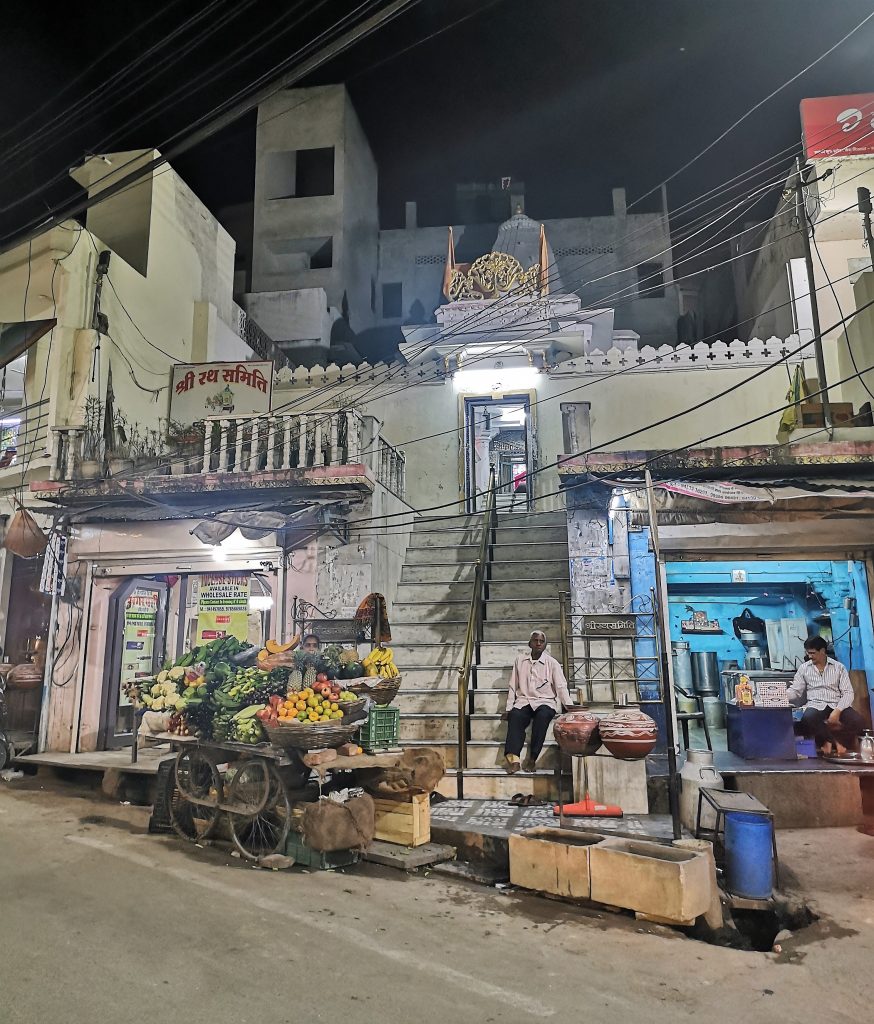 But of course you can find temples of all shapes and sizes in the streets of India!
Mansapurna Karni Mata Ropeway
From the out of the box on the cable you immediately get beautiful views over Udaipur with of course the beautiful Pichola lake, Fateh Sagar lake and the city palace. But if you look the other way you get a view on the landscape of the Aravalli mountains.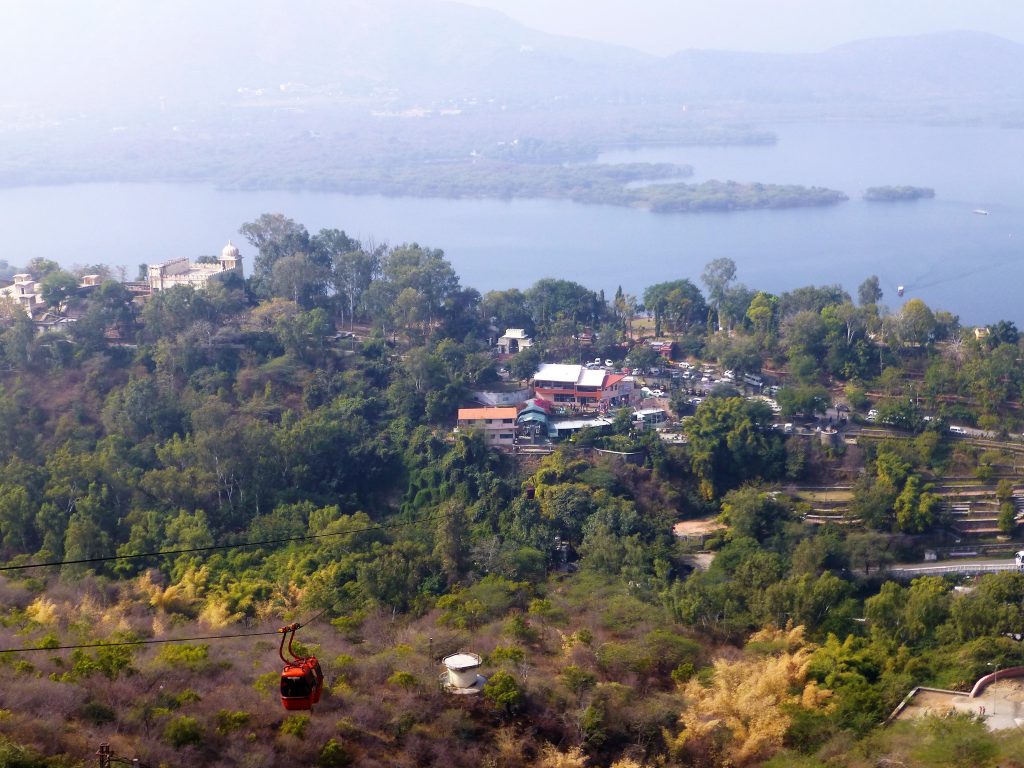 Travel Guide Udaipur – Rajasthan, India
Karni Mata Temple
Once upstairs you arrive at the Karni Mata temple with the often named sunset point. I wasn't there during the sunset but I can imagine that you can experience a great sunset here around the time of the evening.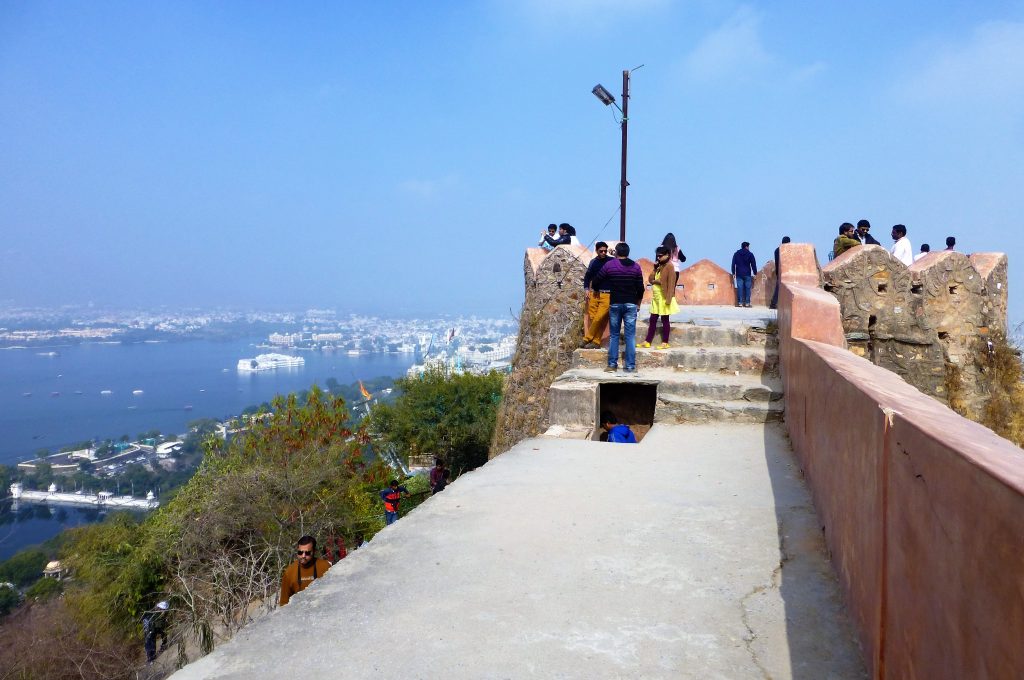 Dudh Talai Lake
When you're downstairs again you'll have another view of Lake Dudh Talai. Also at this lake you have a ghat and a quiet road where you can sit and relax for a while.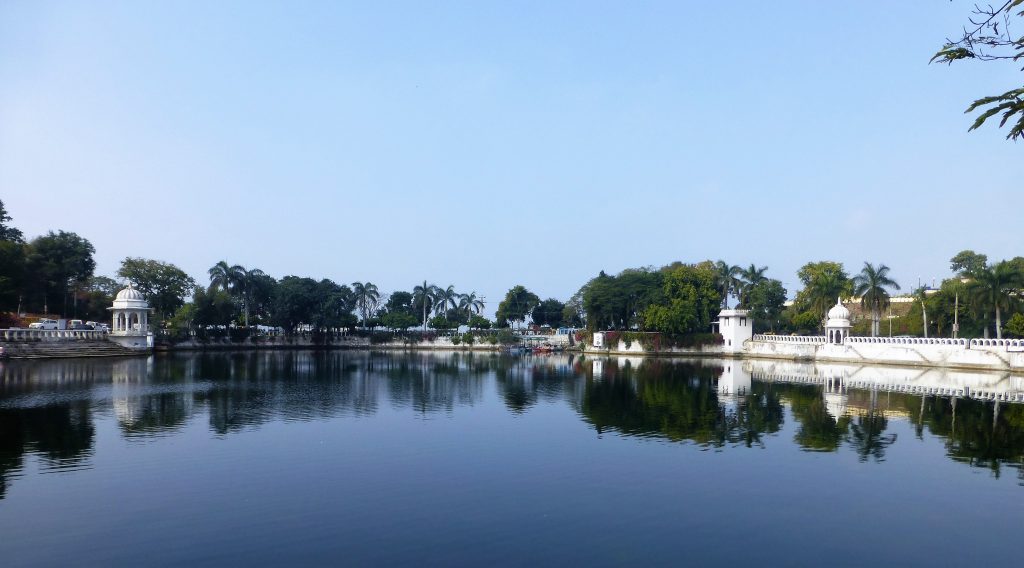 Maharana Pratap Smarak

This memorial park is located about 5 km from the city centre. There is a memorial statue of Maharana Pratap Singh on his royal horse. Maharana Pratap was the thirteenth king (1572 – 1597) of Mewar.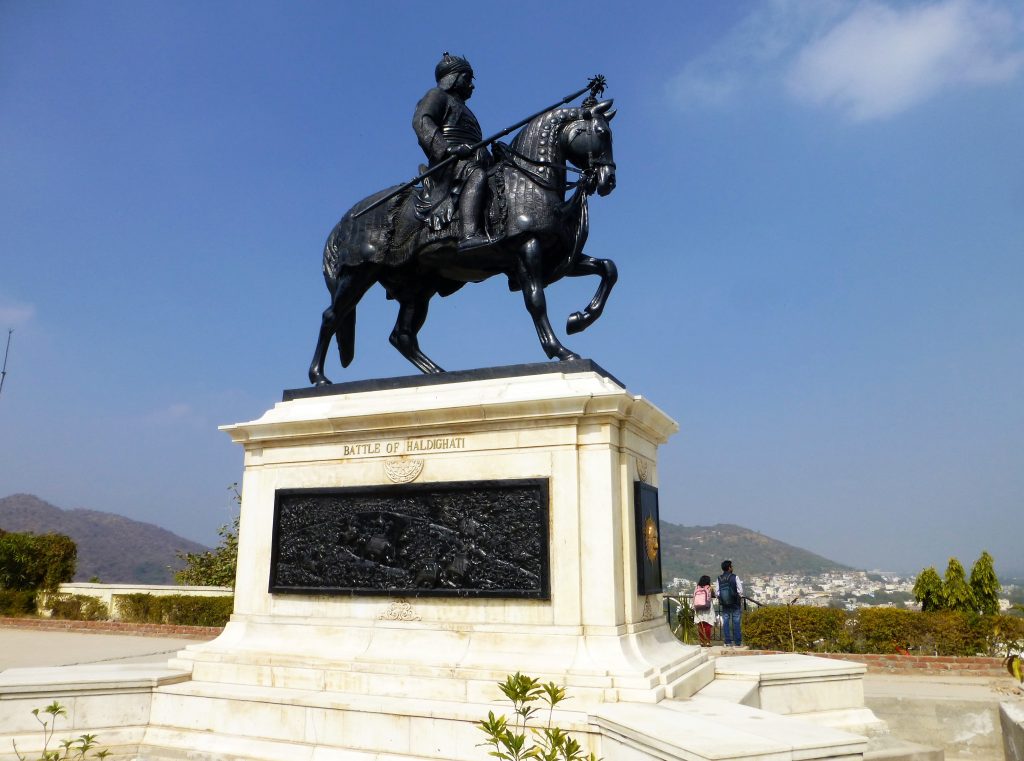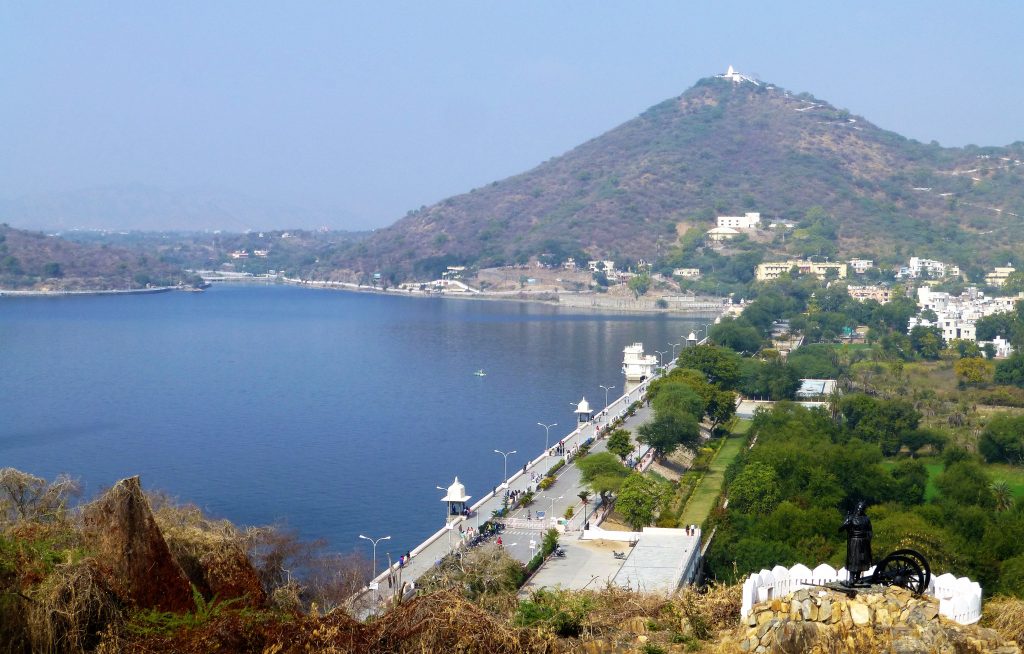 Saheliyon Ki Bari
This beautiful garden is translated into English: Garden of Maids. The story goes that King Maharana Sangram Singh had this garden built for his wife in the 18th century. When he married his wife, she was accompanied by 48 maids, so these women needed a place to enjoy themselves 🙂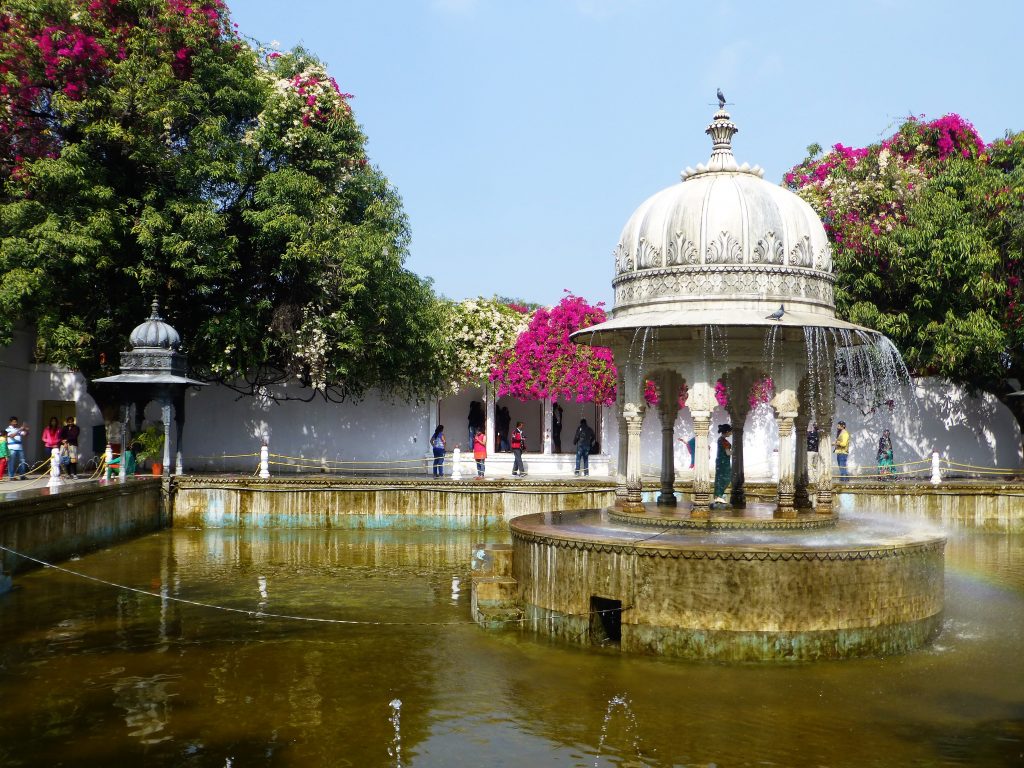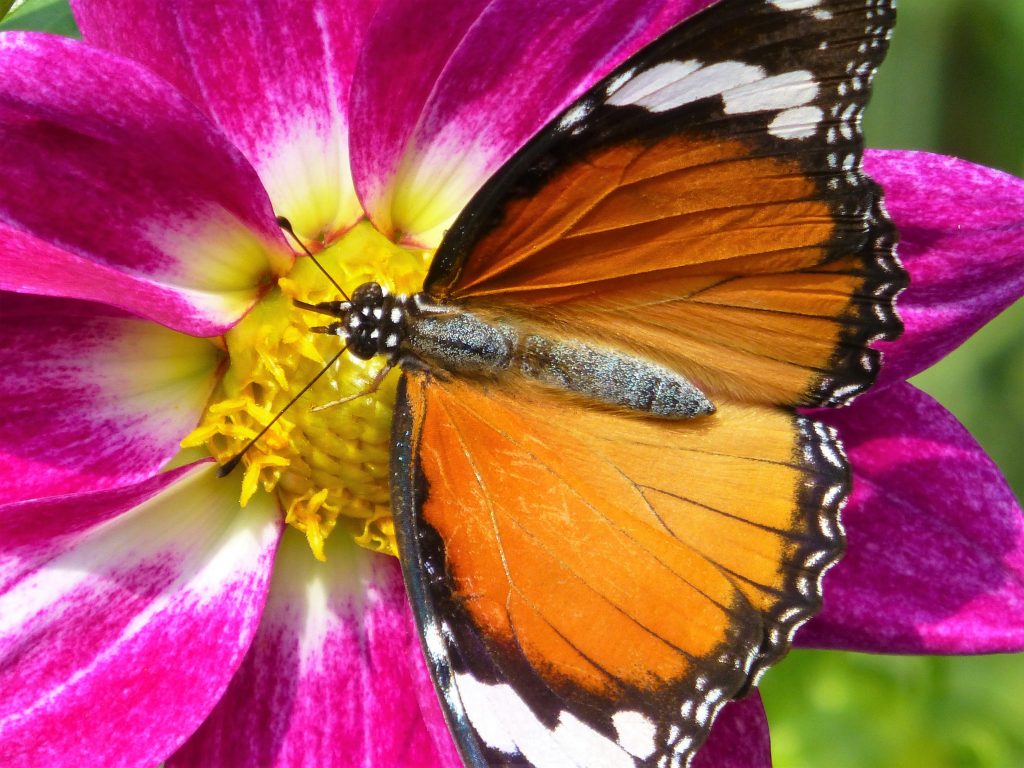 Streets of Udaipur
Like everywhere else, I recommend that you just walk a lot. Go out and walk as many streets as you can. See the people, talk to them and get fun conversations everywhere! They are just as curious about you as you are about them. Once you realize that, it's no art to get fun conversations here and there!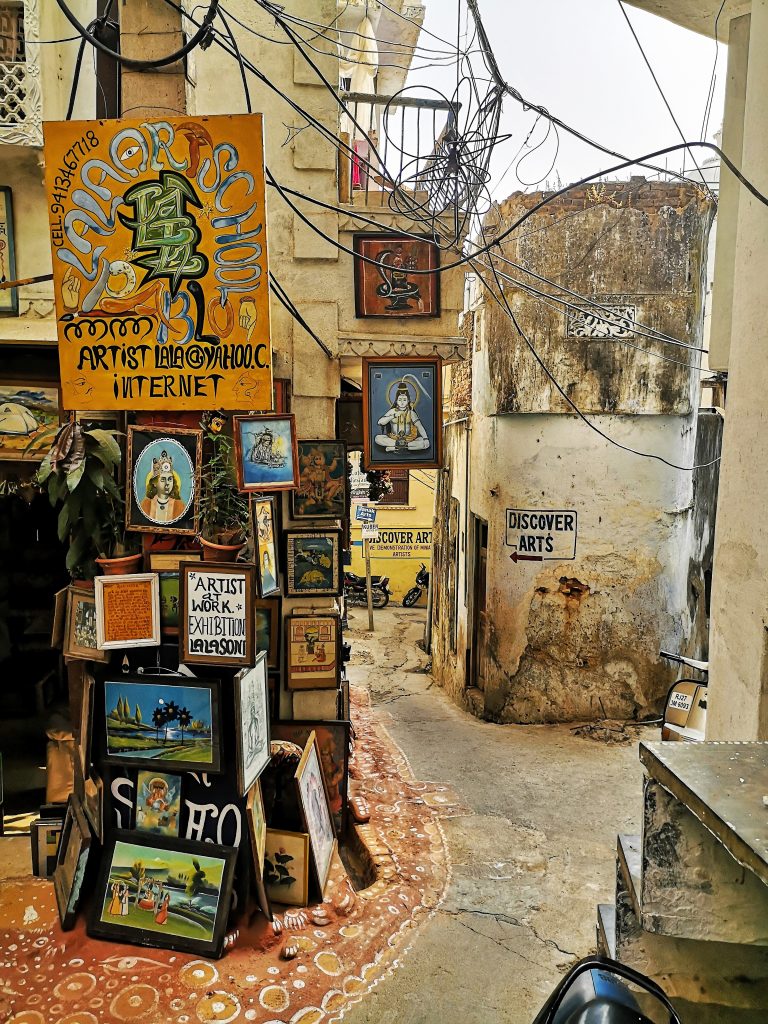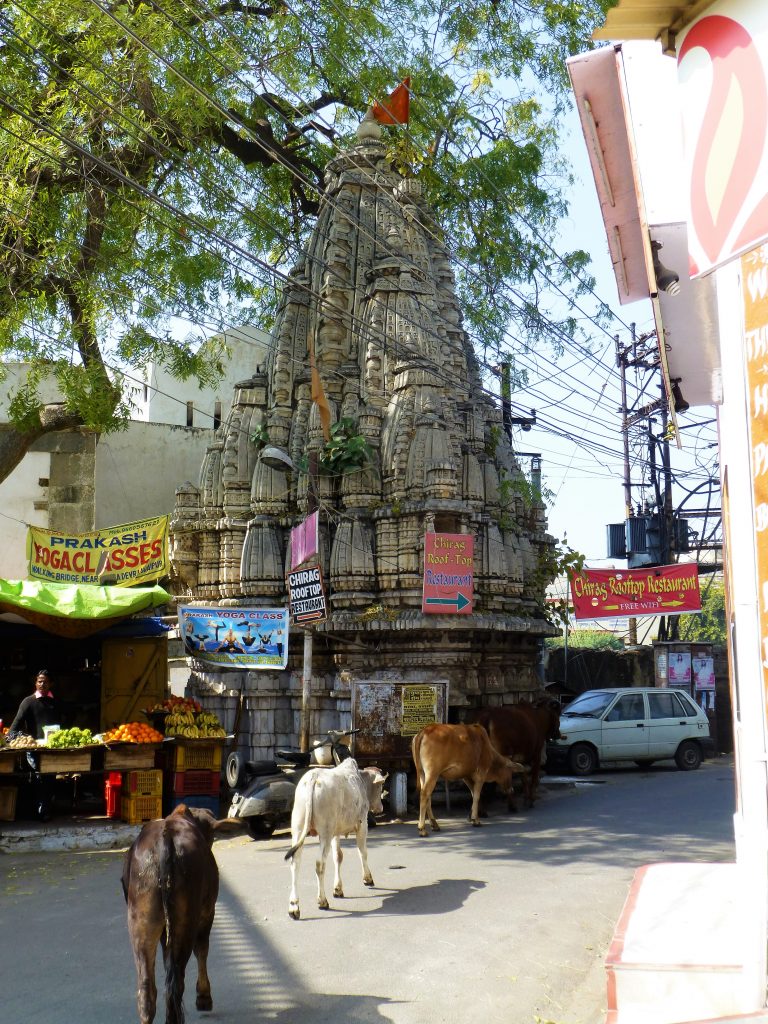 Things to do in Udaipur – Rajasthan, India
Where to stay in Udaipur
In the travel guide Udaipur there are of course a few hotels. I have been there twice and did not use different hotels during that period. Which means that I can recommend you 2 and not more. Sometimes I want to change hotels to get to know another part of the city better. I didn't do that this time…I even went to the same part during my second visit only with swimming pool 🙂
Hotel Udaigarh 25 – 30 euro pn
If you know the movie The Best Exotic Marigold Hotel you might recognize this hotel. One of the scenes was shot on this terrace.
Apart from that, it is a nice hotel which is in a nice spot in Udaipur.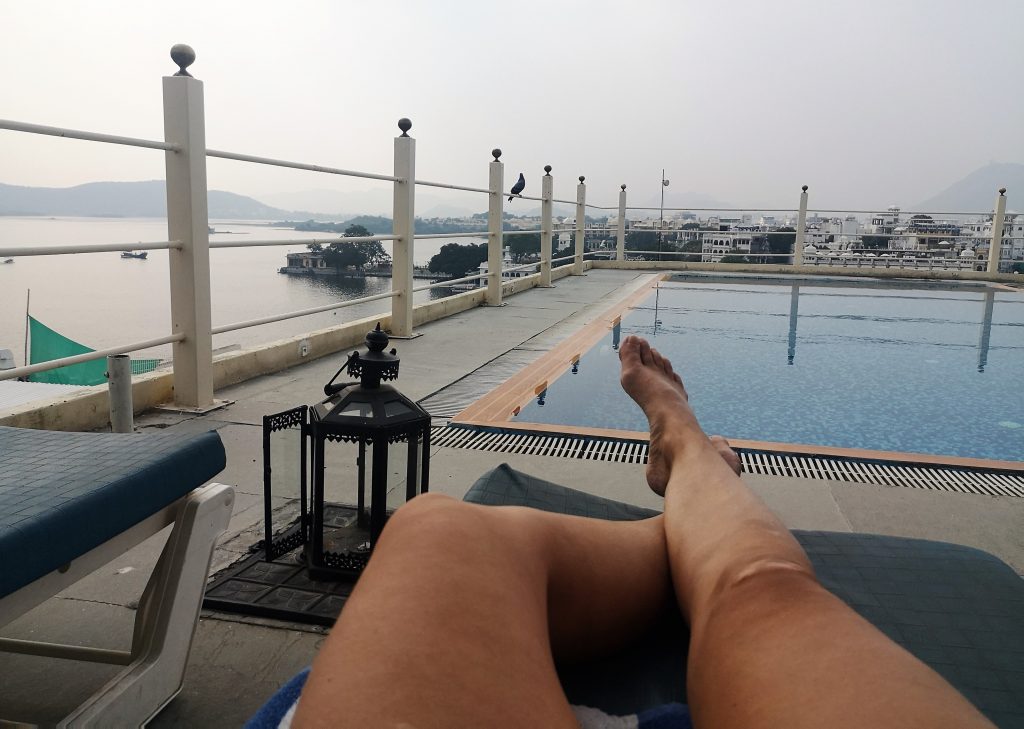 When I arrived in Udaipur in 2019, I was not quite well. I took a double course of antibiotics to feel better and so I looked for a relaxed place to get better in two days. I really liked this hotel! Almost the same spot in Udaipur as the next option (my previous hotel in 2015). Only a big advantage of this hotel is that they have a swimming pool! How nice is that!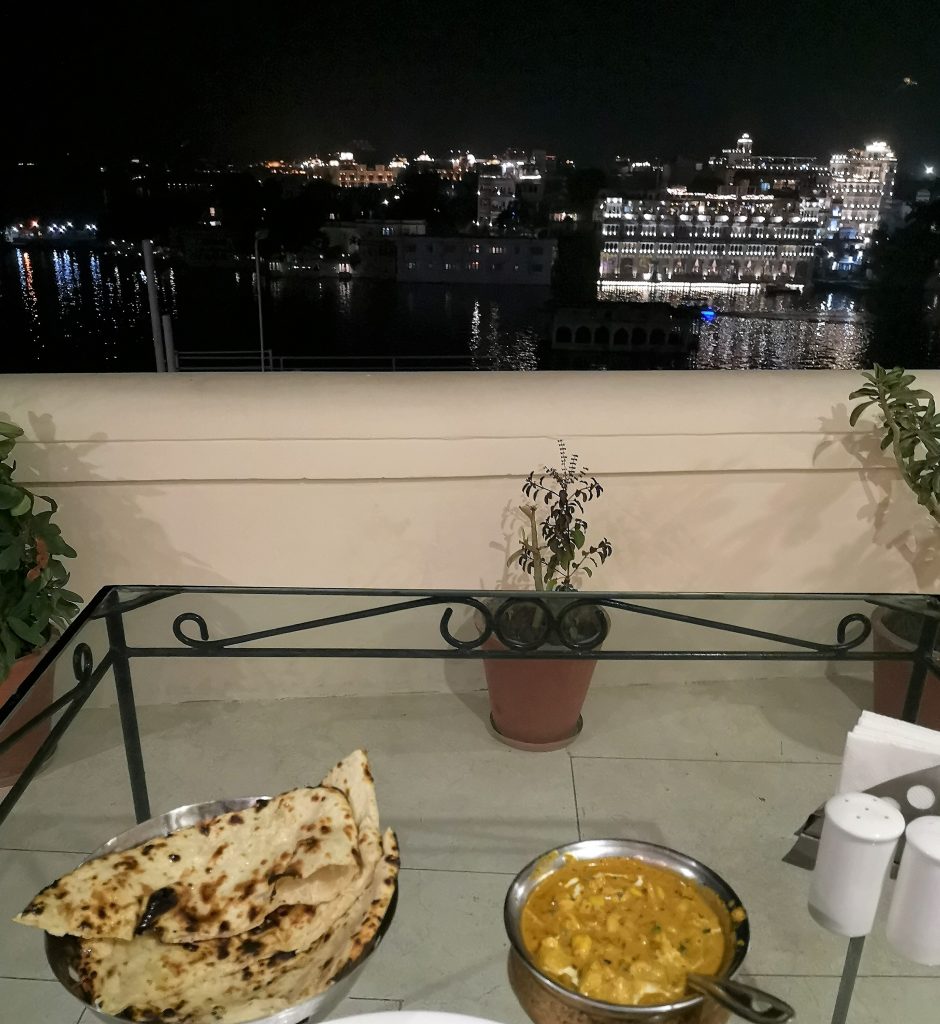 Hotel Devraj Niwas 25-30 euro pn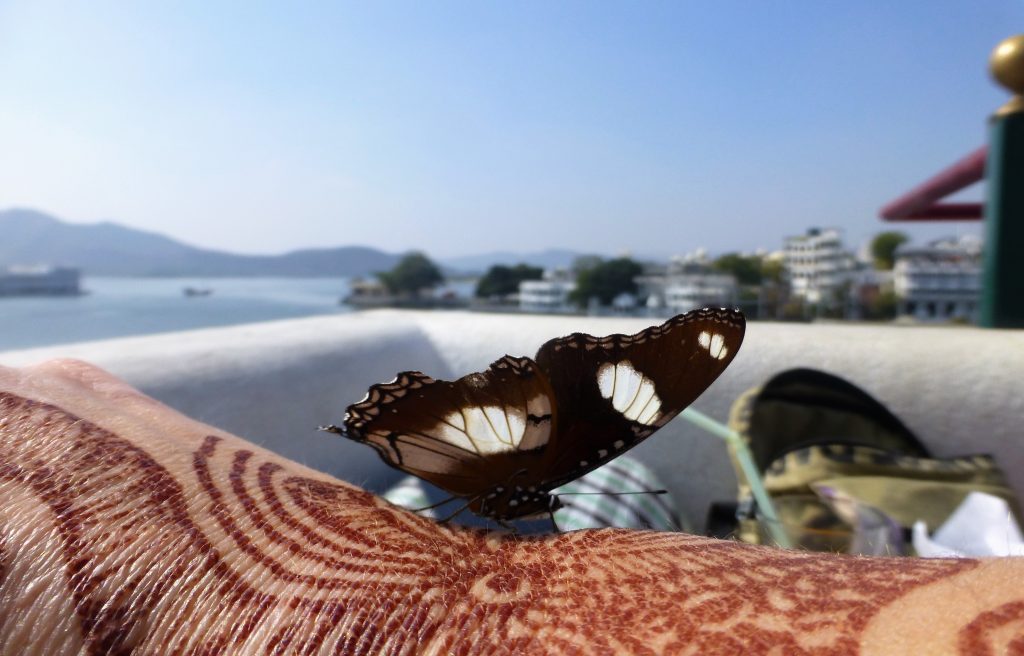 This was my hotel in 2015. Super nice authentic building! It is in fact an old haveli with many floors and beautiful decoration, which keeps the old style alive. I found it a lovely spot to look over the lake and start and end the day with.
I fully enjoyed the food on the roof terrace.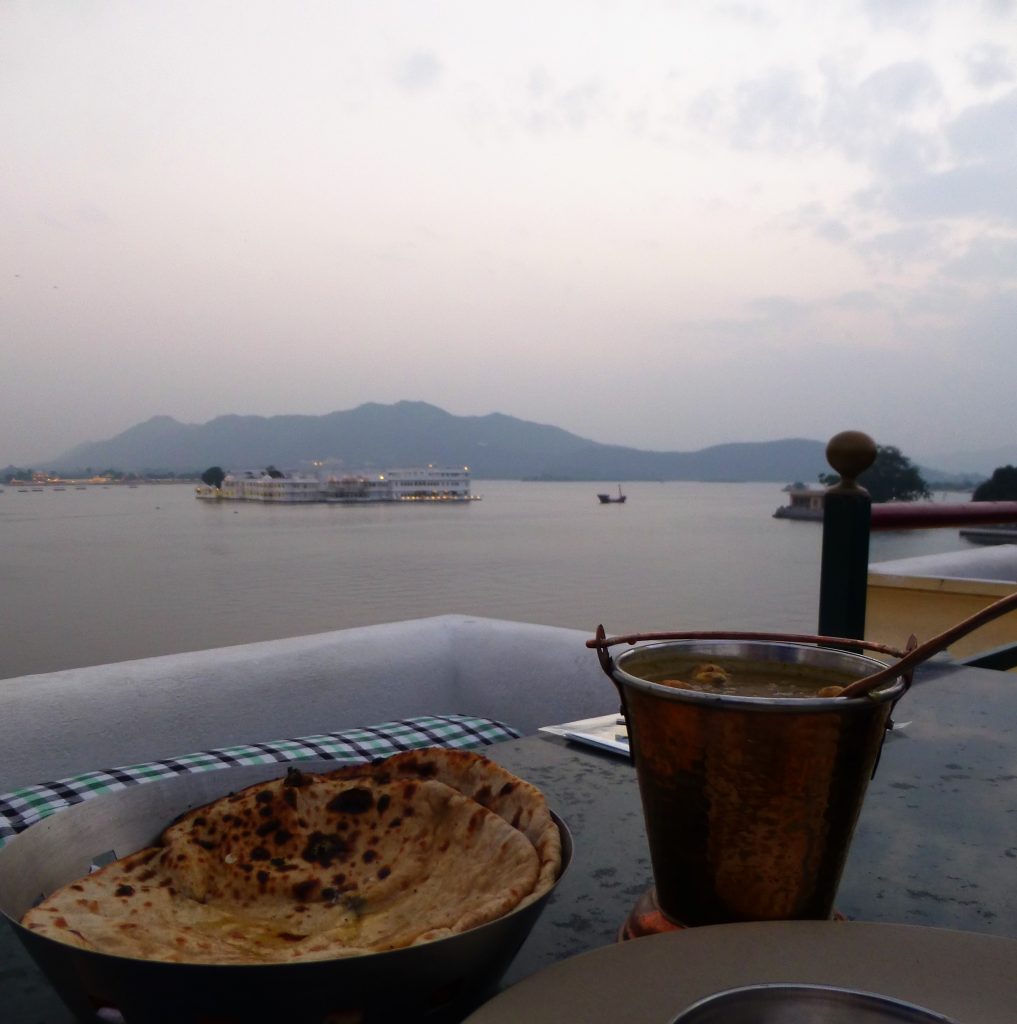 Daytrips from Udaipur
If you want to make excursions in the area you can go to Khumbalgarh Fort and Ranakpur Temple. I can recommend you to stay there for a night but if you don't have the time you can drive back and forth.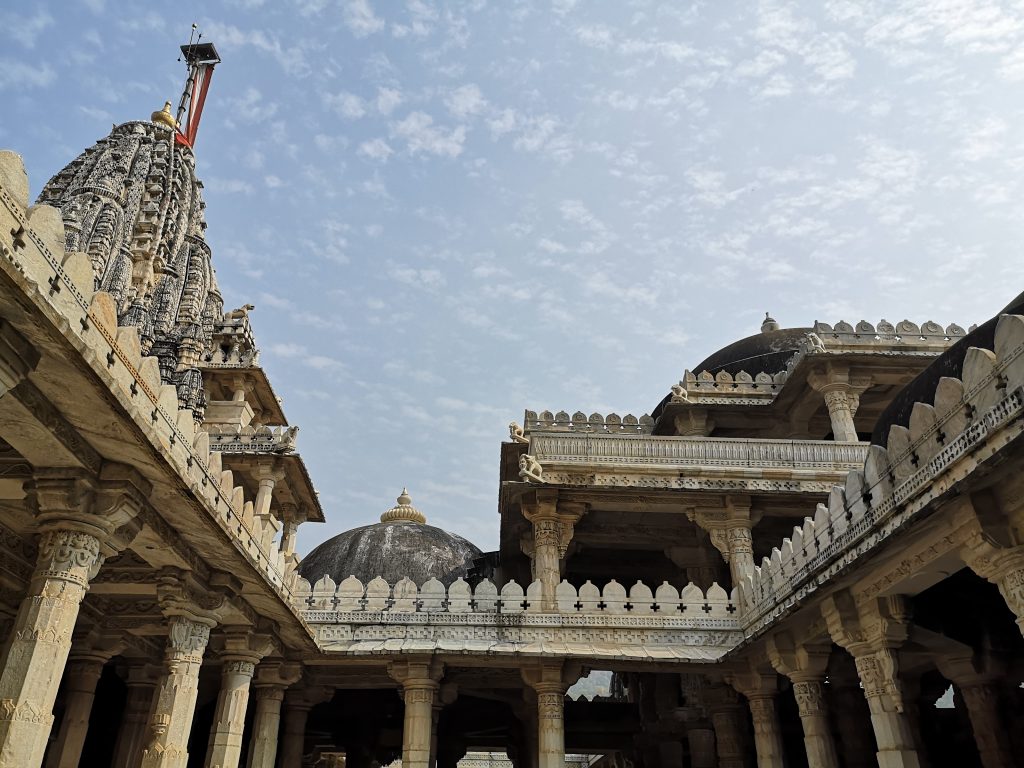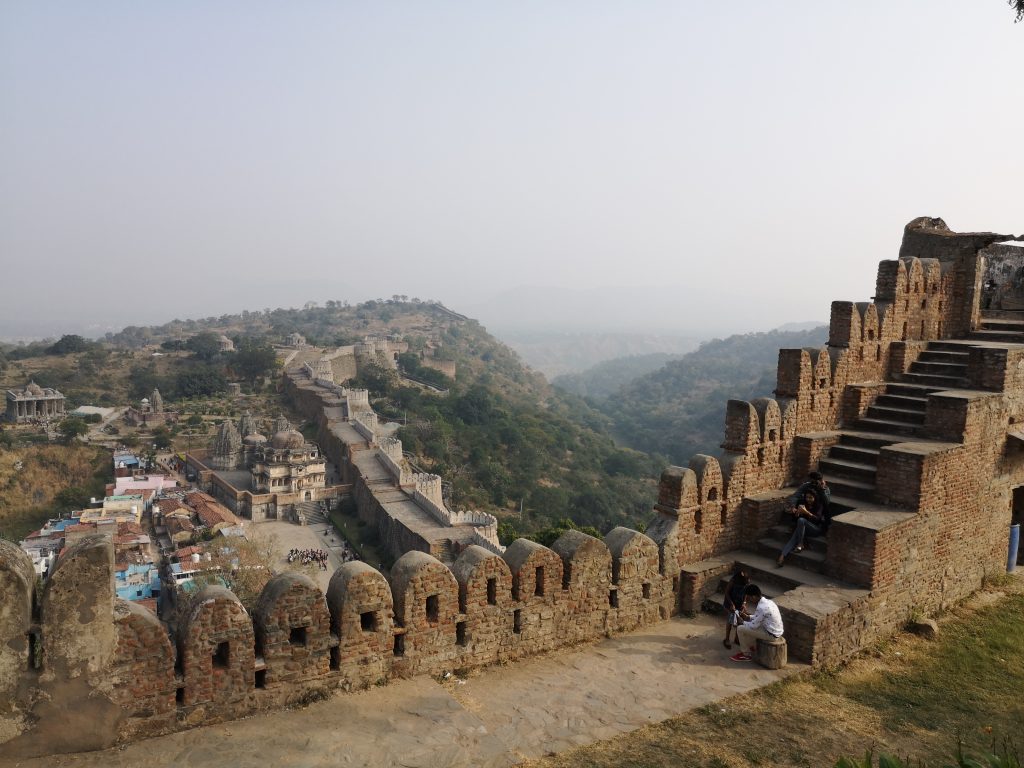 Chittorgarh Fort
This UNESCO world heritage site is one of the largest forts in the world and unfortunately one of the places I didn't visit either. You always have to make choices during your trip and this fortress fell off mine.
Mt Abu
I would have liked to do a trek in this area but it was a bit off route. I read that from Udaipur you can easily go that way but it was exactly the other way from which I had to go because of the end of my trip and a return flight I had booked from Delhi… If I had chosen Mumbai I would definitely have gone here.
Mt Abu is a hill station in the Aravalli Mountains and I would have liked to have spent a few days there.
Travel Guide Udaipur – Rajasthan, India
Coming & Going
Ranakpur – Udaipur 95 K

When I came from Ranakpur and went to Udaipur in 2019 I took a taxi. This because the bus was not nice for me at that time as I needed a double antibiotic to get better. I was then about 3.5 hours on the road to travel the 95 K.
Udaipur – Jodhpur 250 K

When I arrived in 2015 I did so with a sleeper bus. I came from Jodhpur, that's about 250 km and 5 and a half hours. I never forget that the bus broke down along the way and another bus came to rescue us… But I didn't expect that this bus was full of people and we were allowed to 'get in'! I was offered a seat by a young man!
Udaipur – Jaipur 390 K

This is best done by train or bus. I would recommend a night train as it is quite a few hours!
Udaipur – Sawai Madhopur 360 K

I did this part with an evening train, only a few trains a week are going this way. The fact was that I arrived in Sawai Madhopur in the middle of the night. Luckily I had booked a nice place and I let myself be taken there. In the next few days I visited Ranthambore Park and saw the tiger!
Things to do in Udaipur – Rajasthan, India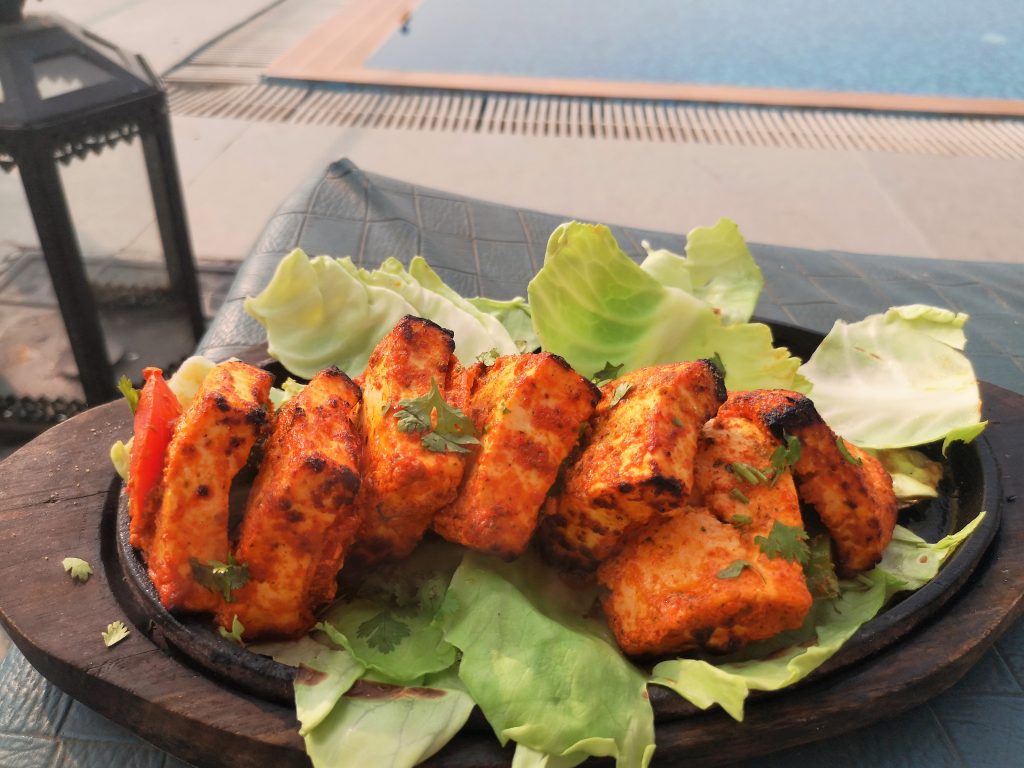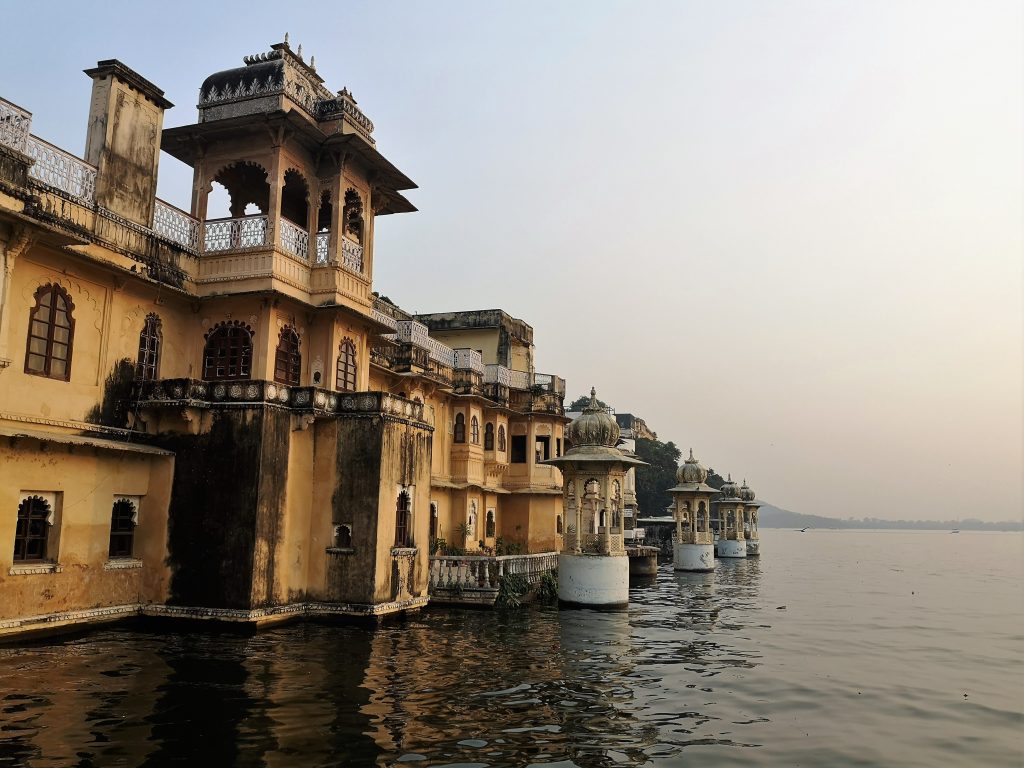 Did you like this travel guide Udaipur?
Then keep it or share it!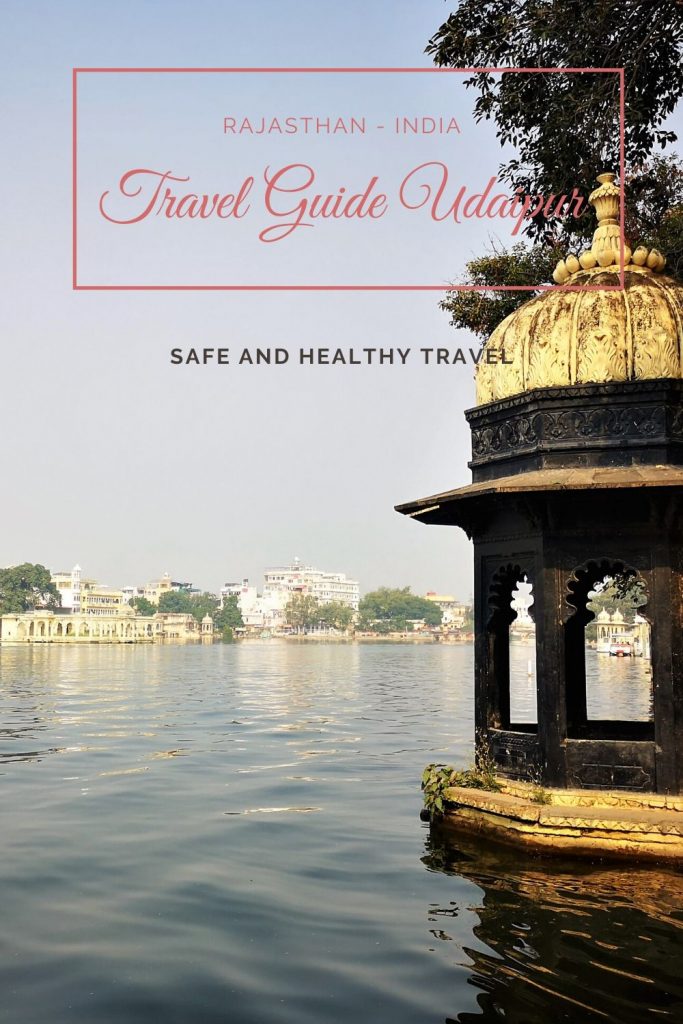 Want to read more inspiration about India?
Delhi Food Walk – Chandni Chowk, Delhi
Travel Guide Pushkar – Rajasthan, India
Exciting Drive up Kolukkumalai Teaplantation
Travel Guide Namchi & surrounding – Sikkim, India
Because lots of people say a lot about traveling alone as a woman… and especially in India I've shared some tips especially for women who want to travel alone in India.
I hope you enjoy this world as much as I do!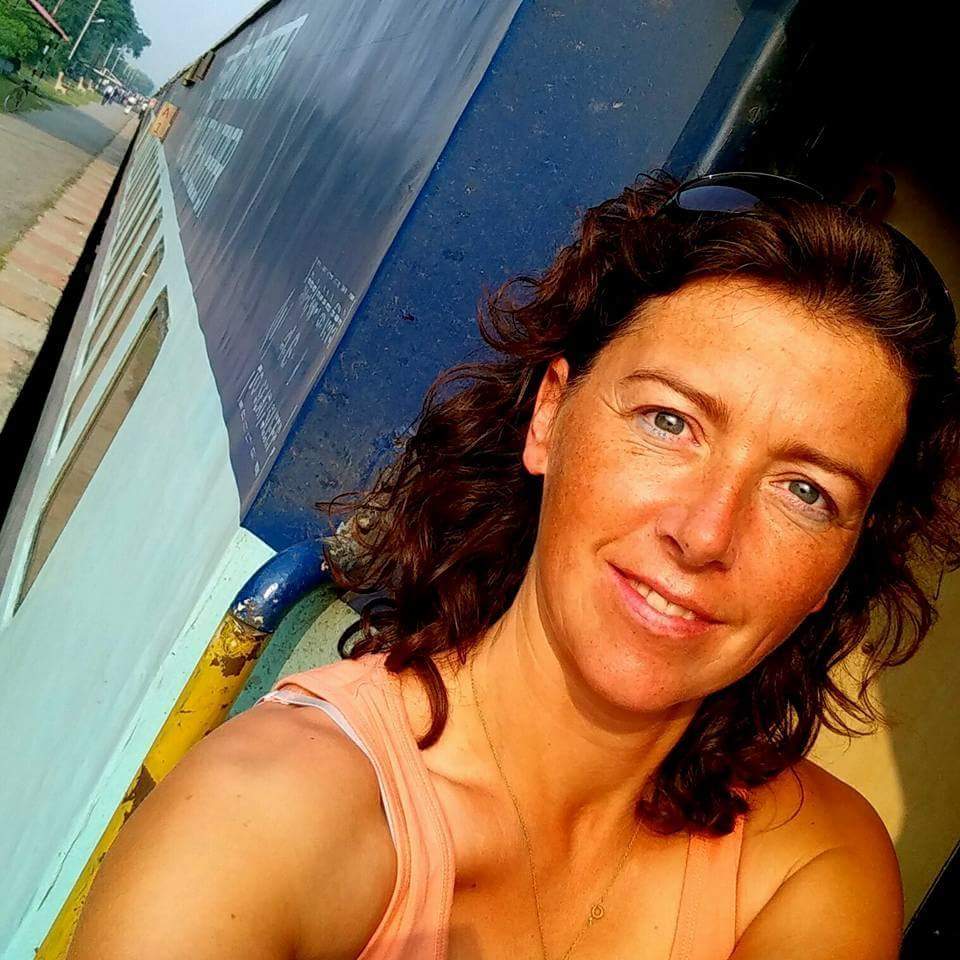 Jacomijn is een politieagent uit Nederland die jou graag laat zien hoe je veilig, actief en gezond de wereld kan over reizen. Safe and Healthy travel is a MUST