Travel Guide Amman – Everything you need to know for your visit to Amman – Jordan
|
Your visit to Jordan will begin or end with a visit to Amman. My tour of Jordan started with two days in the capital and ended again with a two-day city trip in Amman. So I can share with you a Travel Guide Amman. Immersing yourself in the background of a country you are about to visit is obviously a very good thing to do. What can you expect from Amman and what would you like to visit in Jordan's capital city?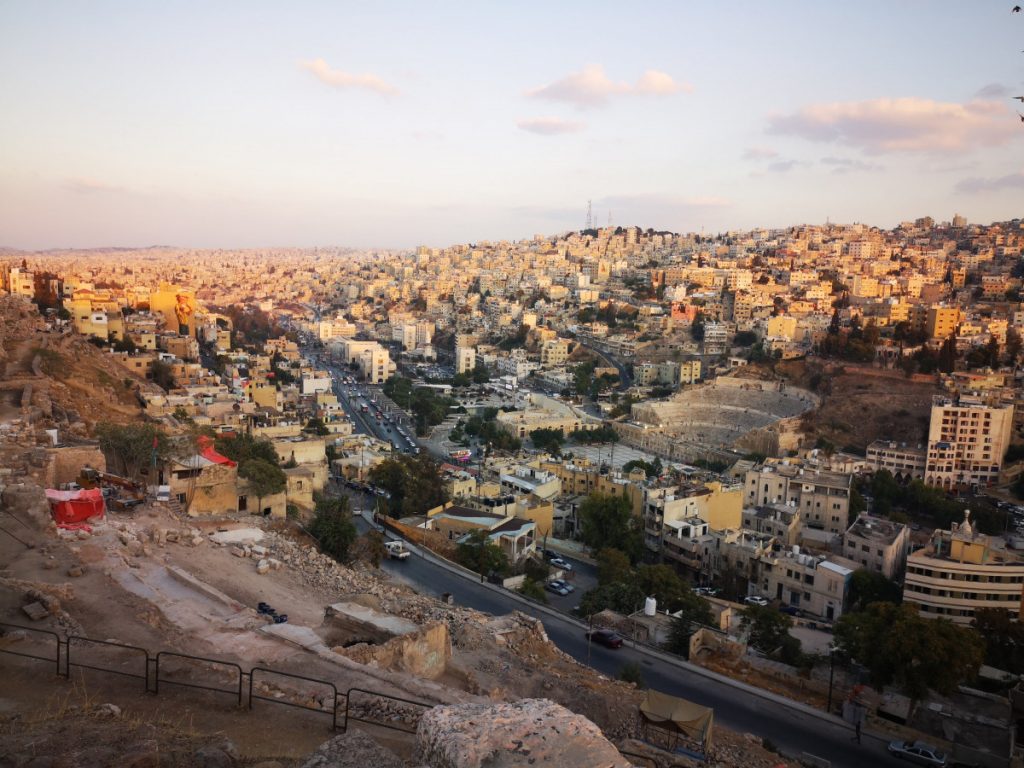 Travel Guide Amman – Jordanië
Amman is a relatively new city and the 2015 census found it to have over 4 million inhabitants. Largely dating from the 20th century, the city has few archaeologically interesting buildings. However, you will find the Roman theatre in the city and the archaeological Citadel on the mountain in the city. It really is a lovely city to spend a few days at the beginning or end of your trip. To get into the Middle East atmosphere and get used to the culture in which you will be travelling in the near future.
Capital Amman has a bustling centre with new fancy shops with smaller alleys in between that can give you the feel of an old souk. There are fine restaurants where you can eat delicious food for lunch or in the evening. And I found the streets and many staircases really super to walk around. Because Amman is in a hilly area, you have beautiful views of the city every time.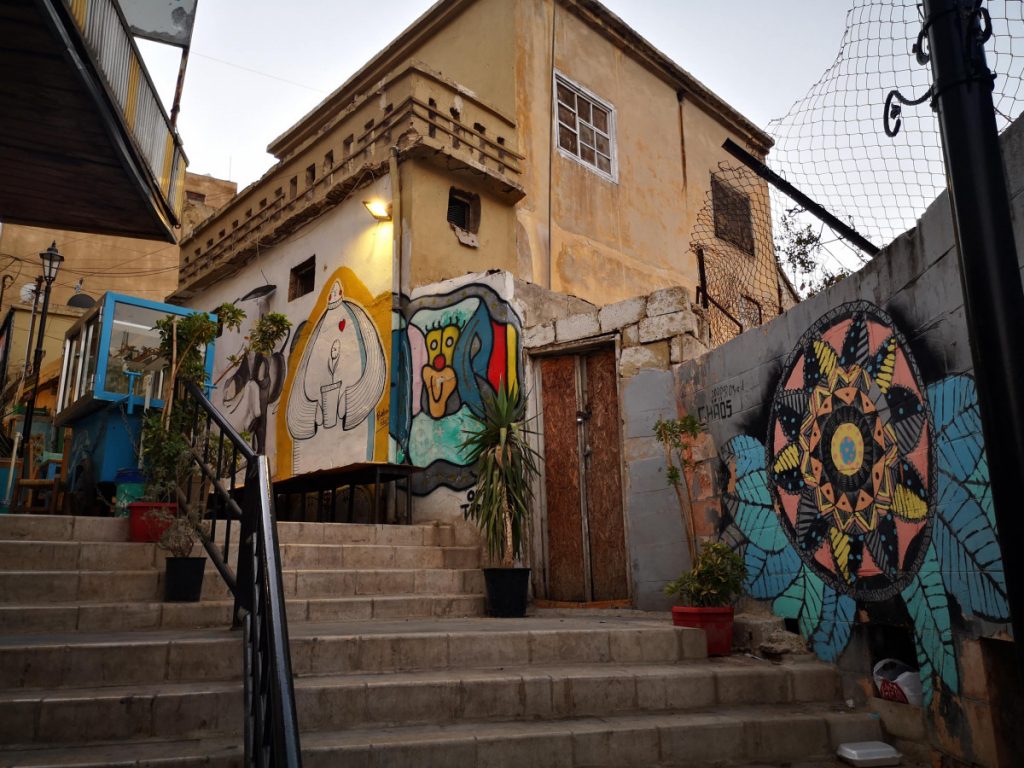 Jordan Museum
So I started my visit Amman at the Jordan museum. Immediately learn more about this country and its culture and people. I found it a nice and beautifully set-up museum. You are guided through the history with nice animations and stories and get a good idea about the history of the country and its people. PS. You are not allowed to take photos inside.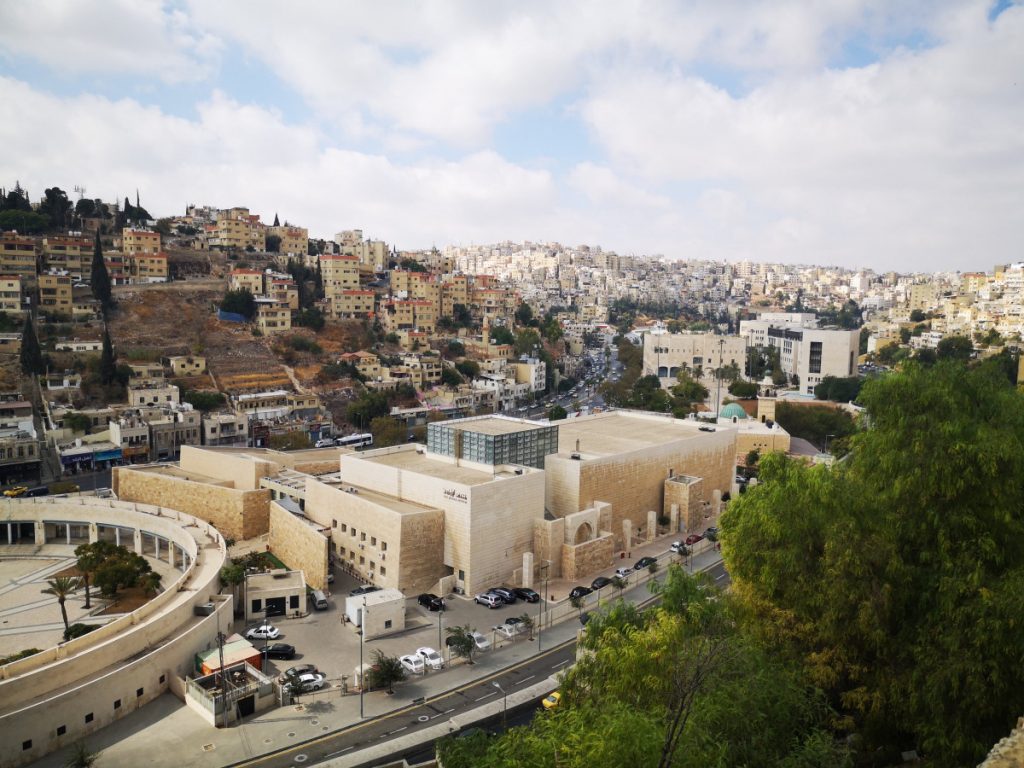 Jordan museum seen from above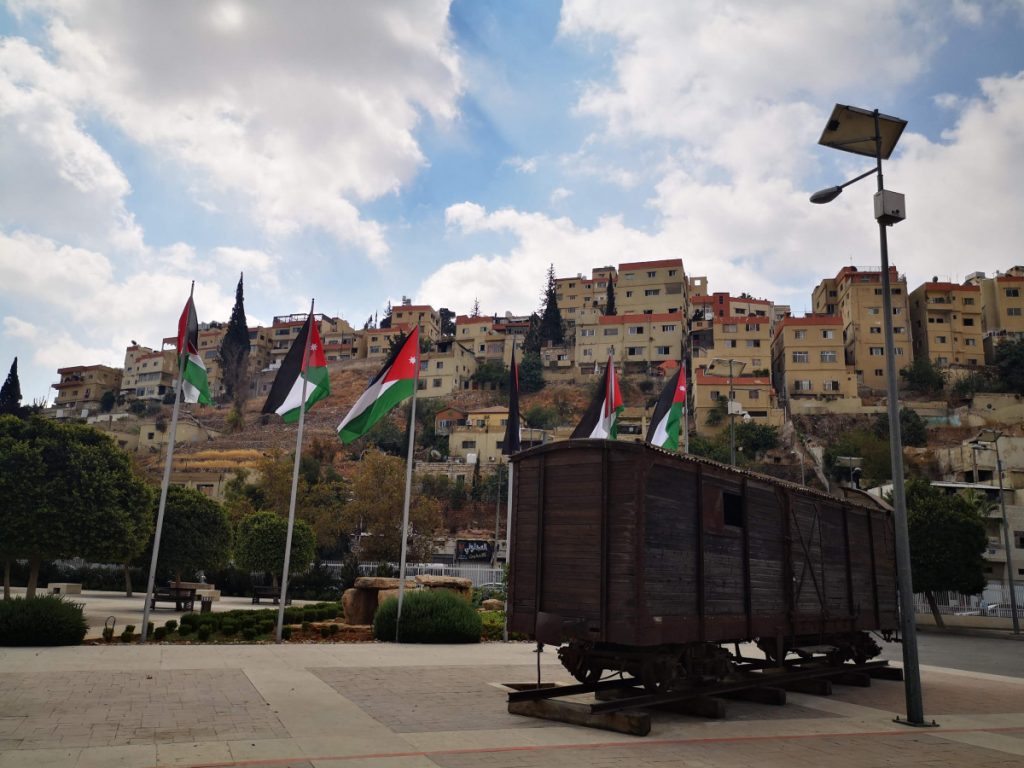 I found it very educational to be here at the beginning of my trip. I learnt a lot about the people, the makeup of the country and also how liberal and free people are brought up here. Very nice to see!

Souks of Amman
After this, I walked on and found myself walking in Amman's souks. All sorts of things are sold here from alleys, little shops and also from the ground, an old-fashioned second-hand clothes market. Super fun to hang around and look around for a while.
SAFETY TIP: Do watch out for people/men paying attention to you. I had a man hanging around me for a while and when I started behaving unpredictably for him (suddenly turning around and/or standing still in the middle of a path), it did turn out that he was following me and waiting for his chance. I did not see him after that.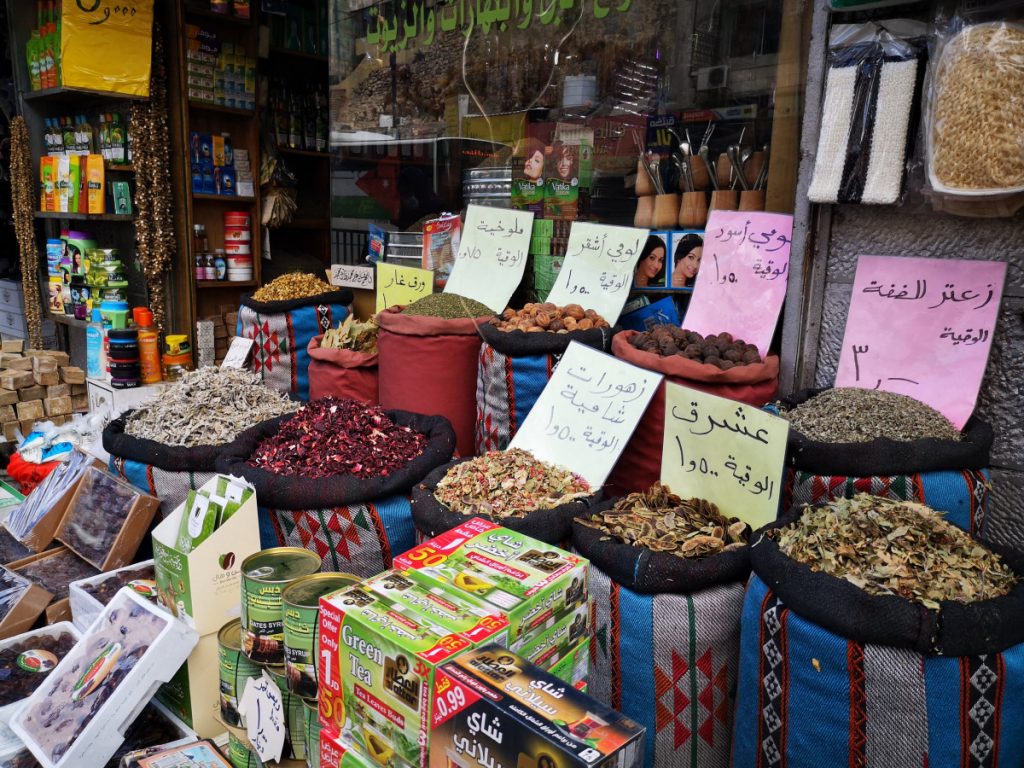 Al Husseiny / Grand Husseini Mosque
After this, I soon spotted the minaret of Al Husseiny Mosque. I see different spellings of this mosque, Al Husseiny / Grand Husseini, both referring to the same mosque. The place was quite crowded and people had just been called for prayers. I hung around in the square in front of the mosque for a while. It is a beautiful square and very spacious.
Still, it was quite crowded and I didn't manage to take a photo to share here. A nice place to stand for a while, though, if you have just before walked through the small streets of the souks. I was reading a bit in my Lonely Planet and saw that I was very close to the shopping street where the famous Hashem Restaurant was also located.
I decided I was going to take a walk down the shopping street and specifically look for the Hashem Restaurant to have lunch there.
All you need to know for your visit to Amman – Jordan
Shoppingstreet Amman
The street names of these larger shopping streets are K. Faisal sQ and K. Hussein St, Sha'aban 9 St. They are several larger/wider streets with shops everywhere, small vendors on the street selling clothes or toys. You will also find several restaurants on upper floors of shops here. If you look around carefully, there is something here for everyone's taste. The place is busy with tourists but also definitely with locals looking for a new piece of clothing or a nice fragrance.

Al Kalha Stairs
If you dive into the small side streets you can end up at the Gold Souk on one side and on the other side I walked up a staircase where there were also all kinds of cute shops and where I had a delicious cappuccino, twice! This stretch is called Al Kalha Stairs and I found it super relaxing. I walked through it several times and can definitely recommend taking a break here too. Right in the middle of the busy city but lovely and quiet.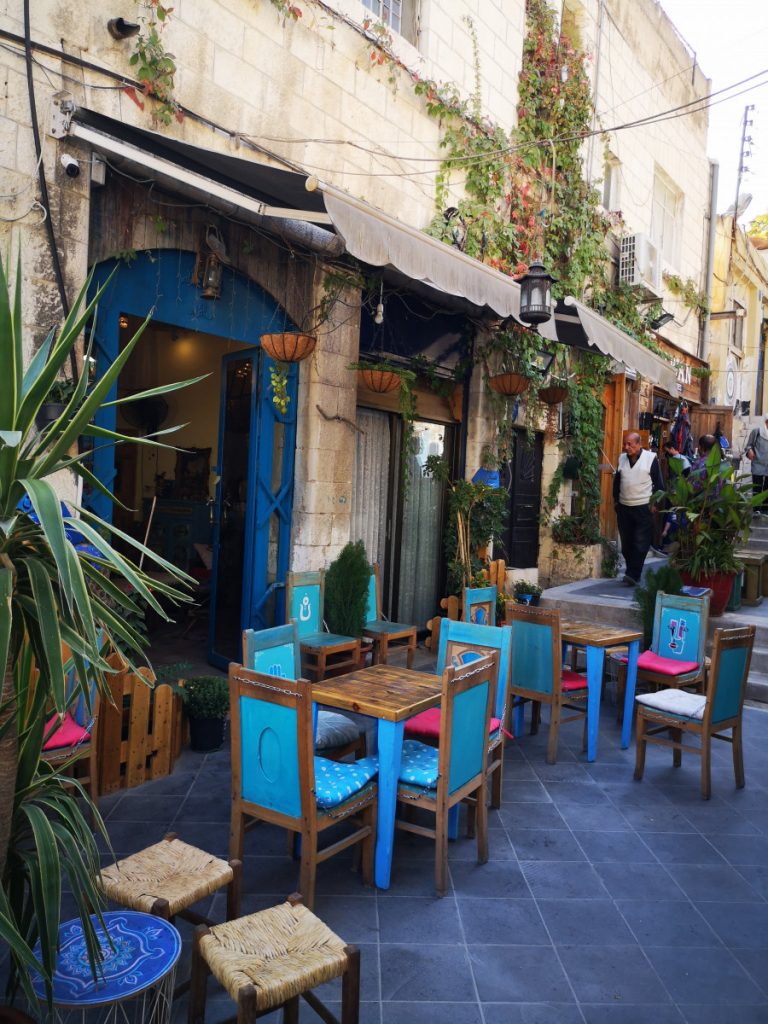 You can sit there and further down the street is a nice bookstore.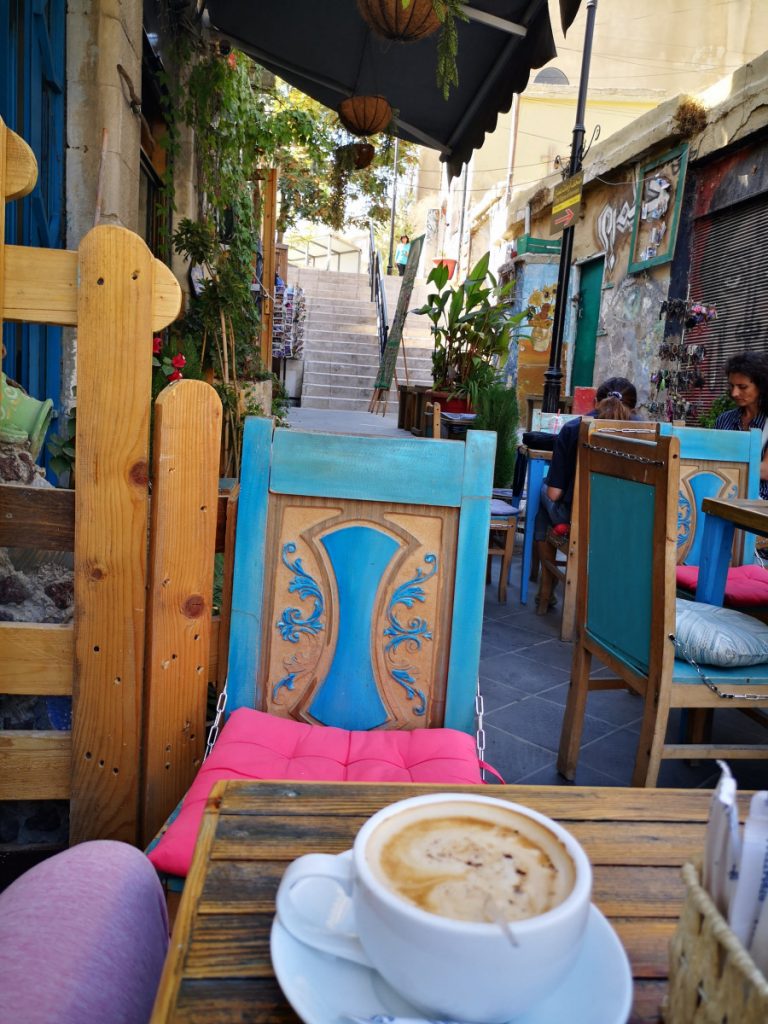 Hashem Restaurant
Very well-known restaurant and, of course, very busy for that reason. Falafel is fried on the conveyor belt and so if you are afraid to eat something like this somewhere you can't go wrong here. The food here never sits for long. I ate the famous falafel with hummus there, of course. You can sit outside in the narrow street or in various small/large spaces on the side or upstairs.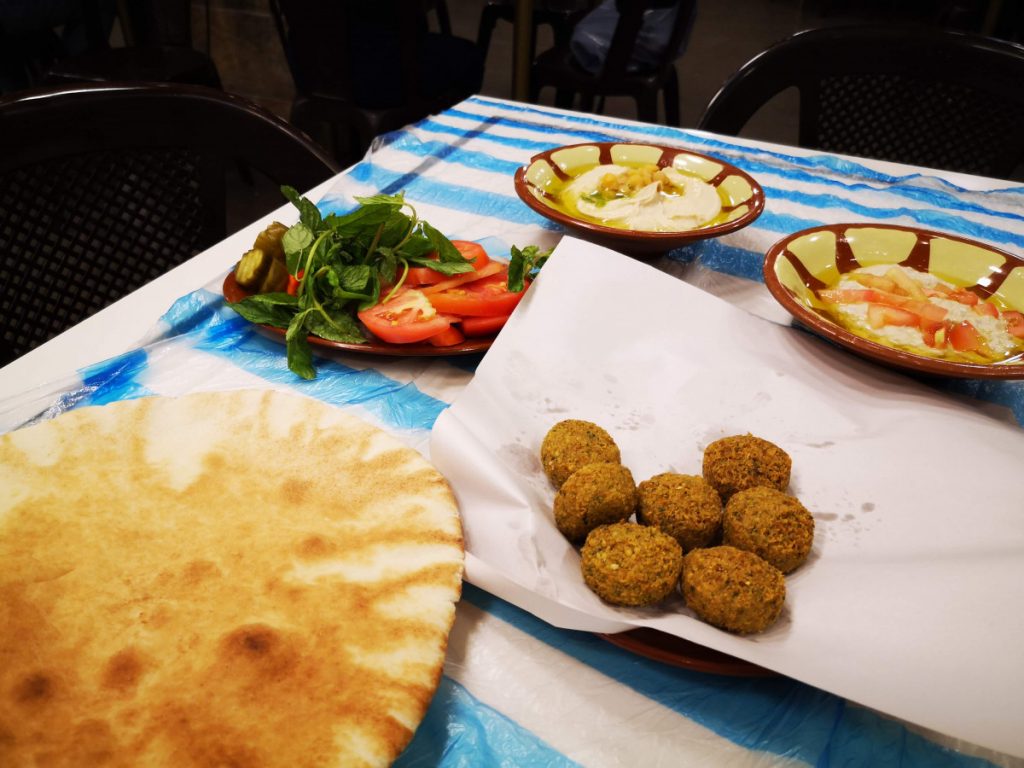 Rainbow Street
From the first hotel I was in, I walked into town to visit the museum and came walking down this street. It is a hip part of the city, nice coffee shops and restaurants here and there along the street. A more modern part of the city and definitely fun to check out. Totally different from the dusty old part so to speak.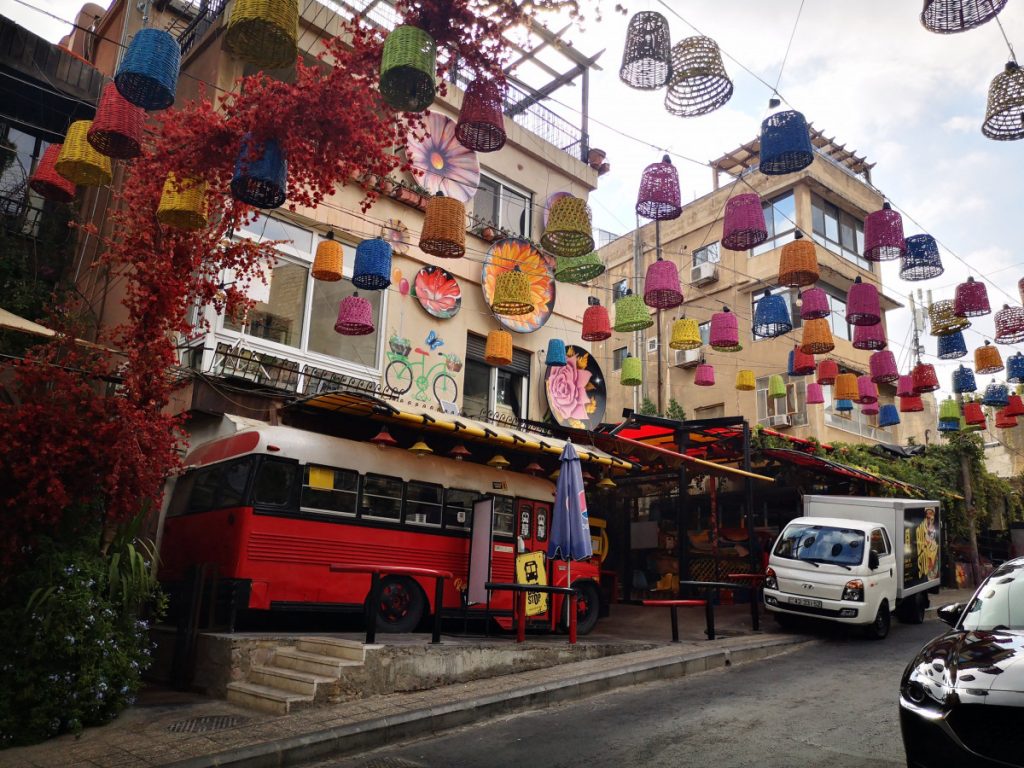 Paris Square
Another hip part of Amman is the area near Paris Square. I was here during my second time in Amman. Very nice streets and close to the back of Al Kalha stairs which puts you in the main shopping area afterwards. In the side streets of Paris Square, you can find delicious food from all cultures and after a few weeks in Jordan, I was in the mood for Indian and Sushi 🙂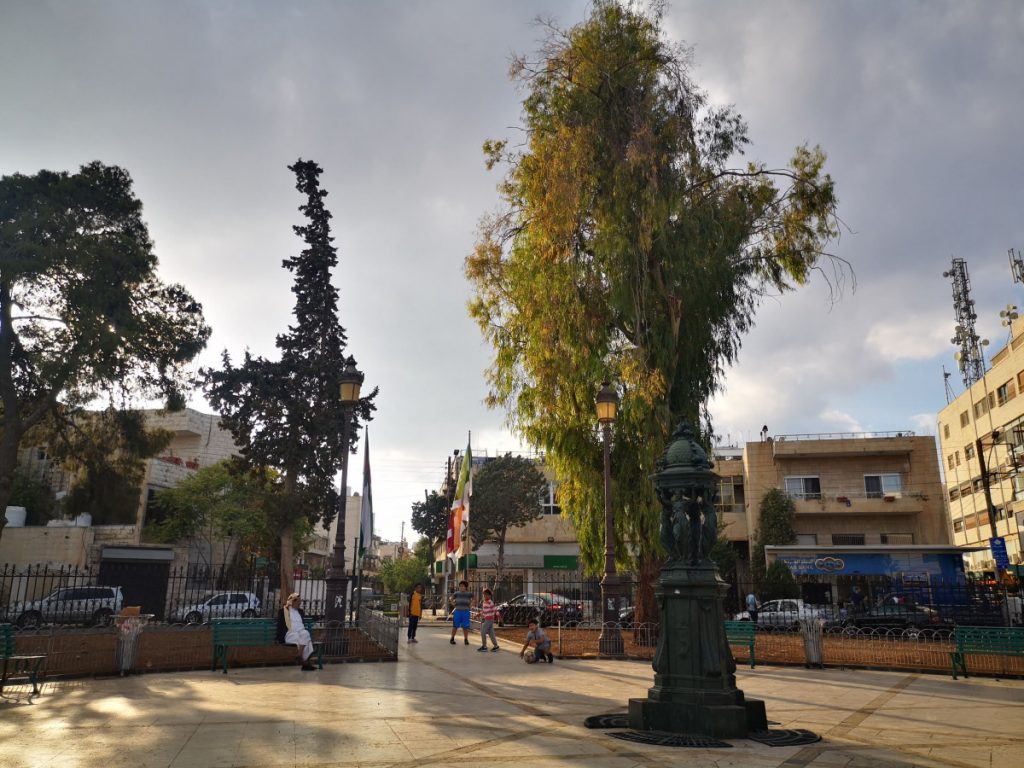 Do you want some Asian food too? Go to Xian!
Travel Guide Amman – Jordan
Roman Theatre
From the citadel, I had already spotted the Roman Theatre. It is located in the middle of the city and so somewhere on one of the busy streets you walk onto a large square and find yourself at the Roman Theatre. The theatre dates back to the 2nd century AD.
Did you know that the city of Amman used to be called Philadelphia? This was before the era began. That was how the ruler, at that time that was, Philadelphus had named the city. As you read, he had named it after himself 🙂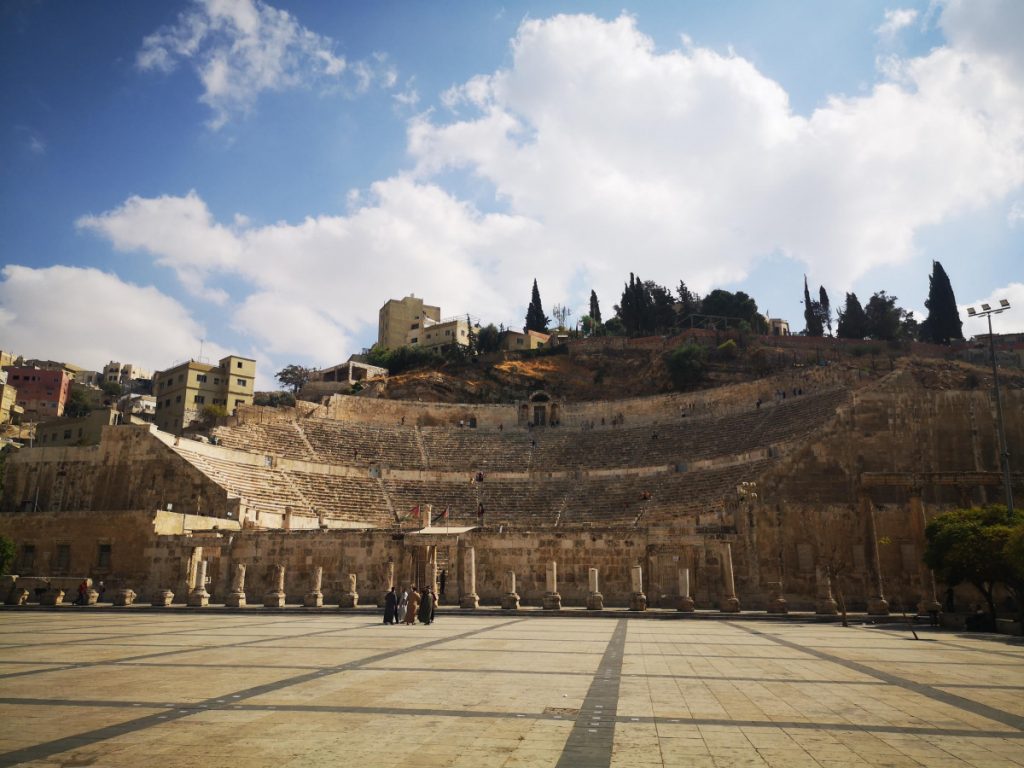 Philadelphia translates into : City of Brotherly love
Citadel
At the end of an afternoon spent in Amman, I walked to the Citadel. I wanted to stay there until the sun went down. This is because you have a great view of the city from all sides. I walked around for a couple of hours and you can definitely spend that time there if you want to visit the entire museum. There are remnants of buildings aar there are also half buildings still clearly visible. So you can also see the 'sewers' well and visit an old mosque.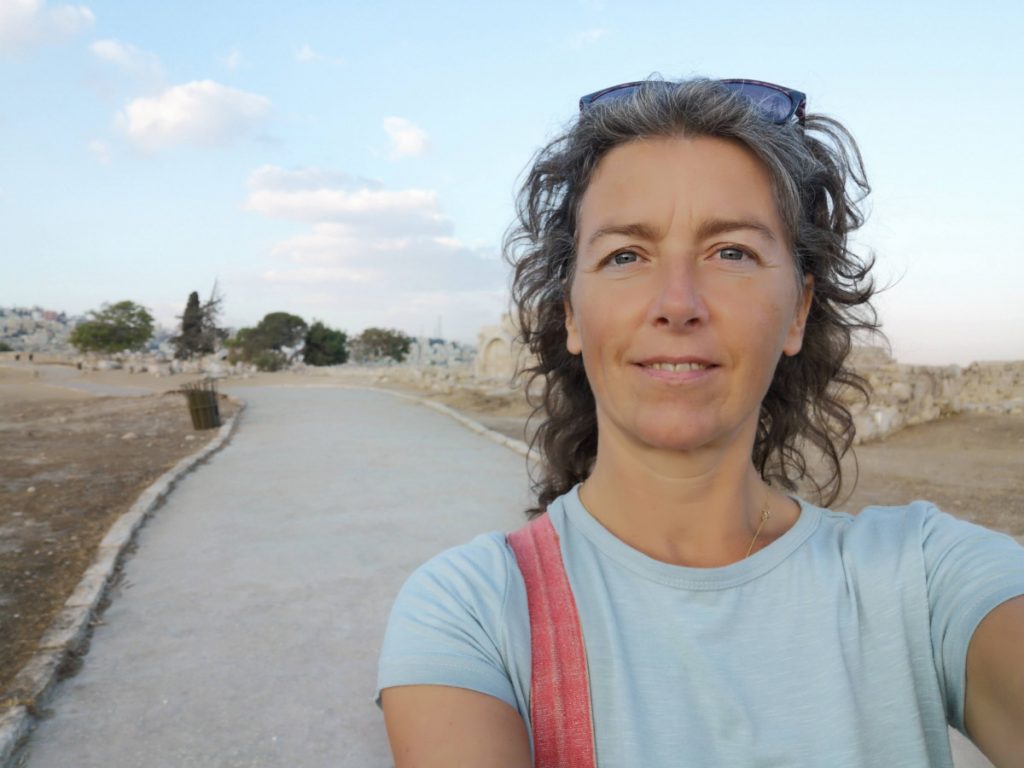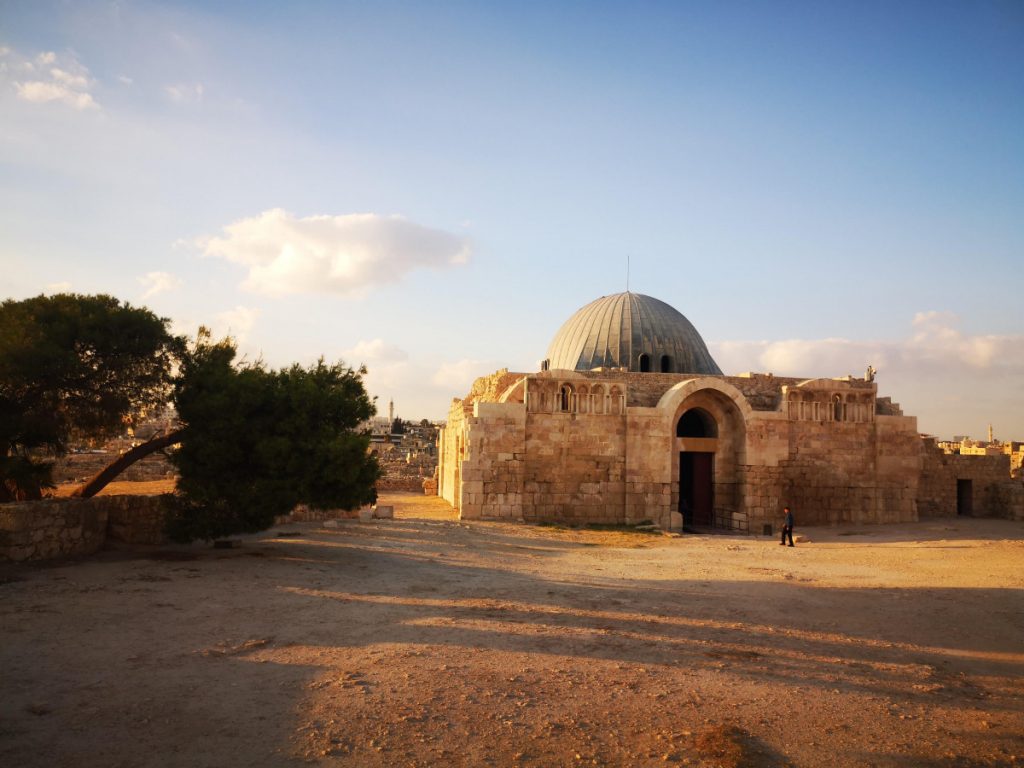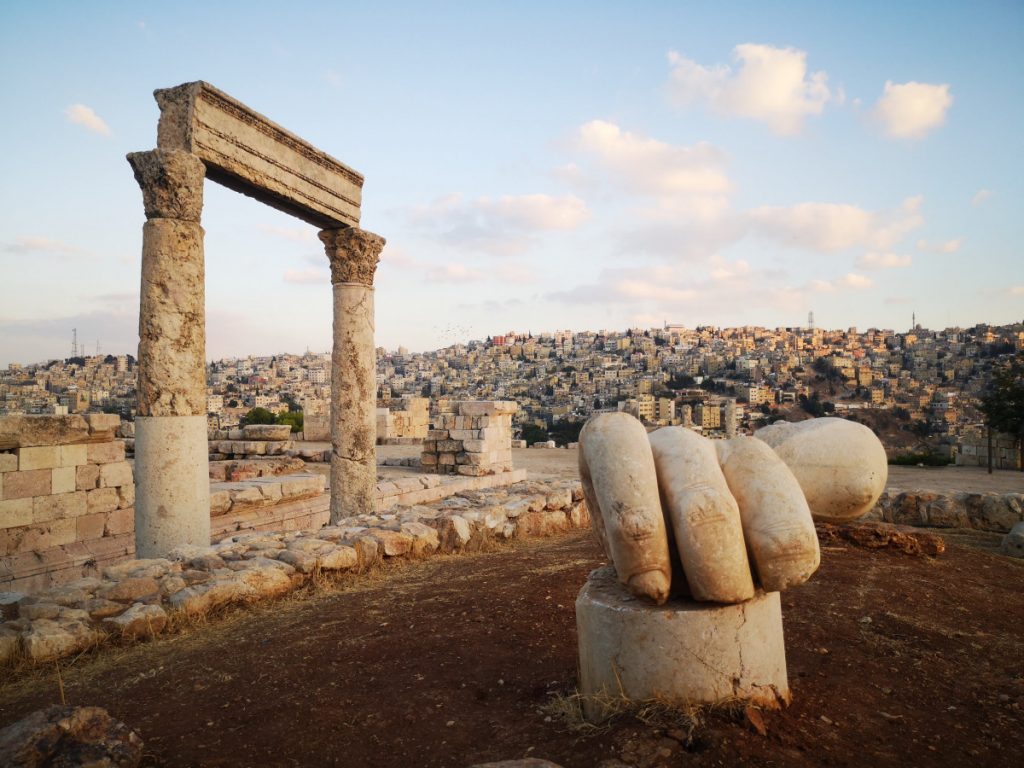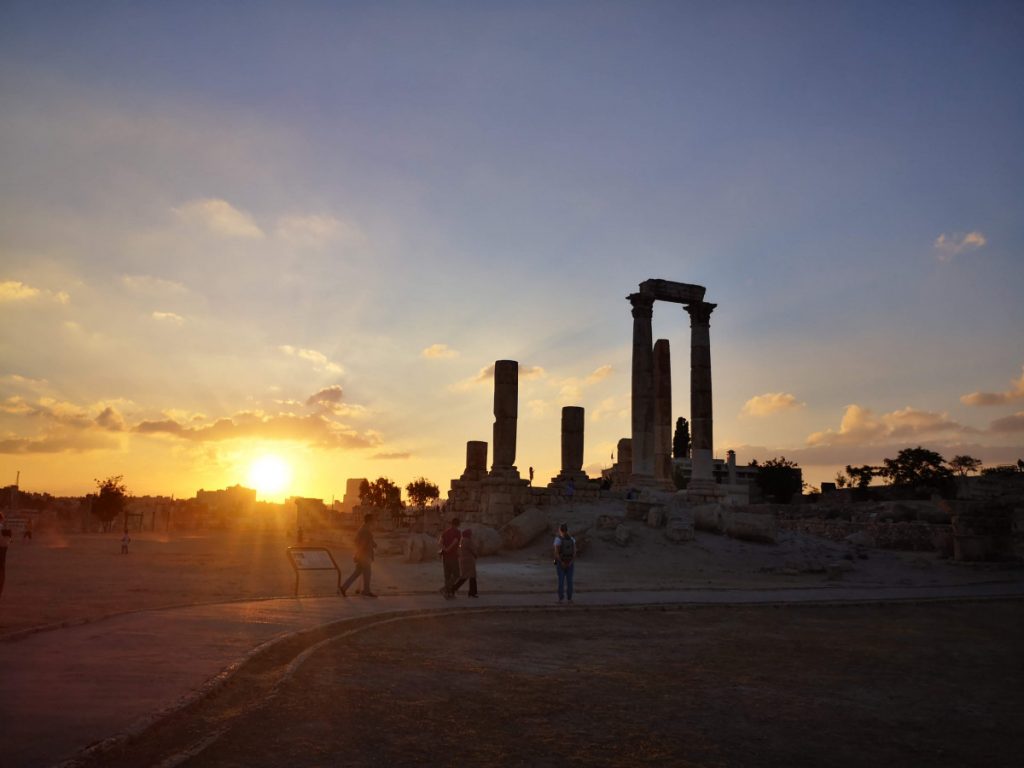 Where to stay – Travel Guide Amman
The first 2 nights I stayed at New Merryland hotel. It is a fine hotel with a nice breakfast. Especially the staff are very nice and want to arrange everything for you. The first night I arrived late and hadn't eaten anything. The staff member then arranged a nice delivery meal for me! This hotel is close to Rainbow street and from there you can easily explore the city. The hotel is decent but I can't recommend it very much right away.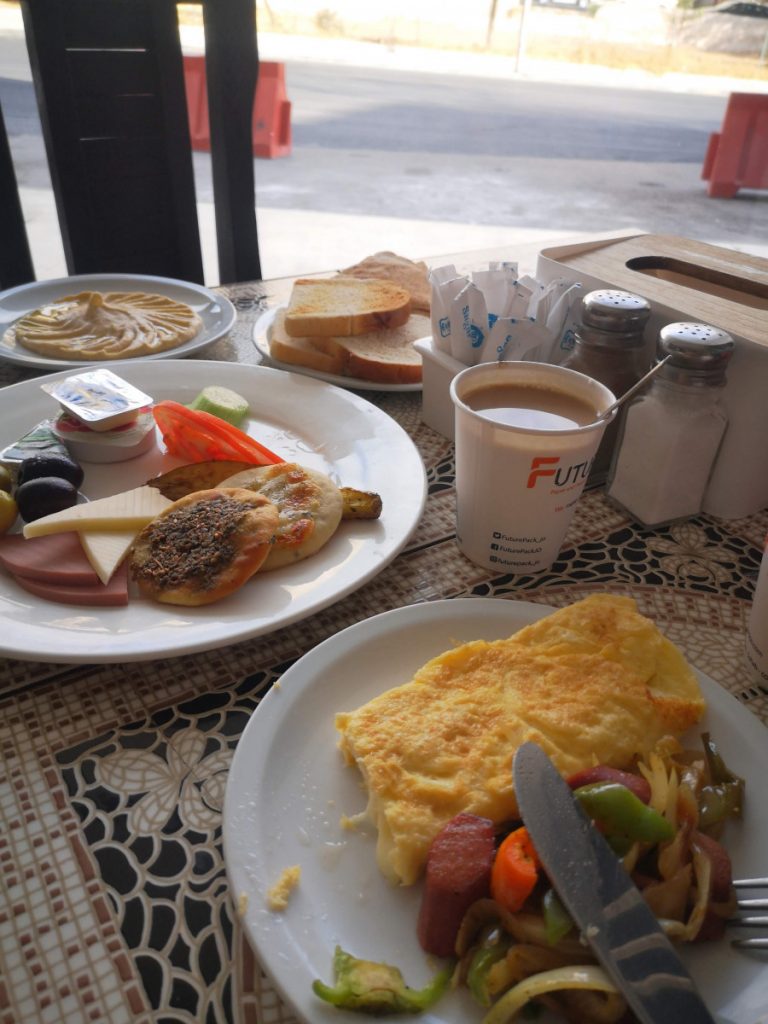 I stayed at the Dali House for the second time. They are sort of flats where you can therefore use a kitchen, have your own room and a shared bathroom. I found it very clean and was fine with having a shared shower these last few days. The bathroom was very small I have to be honest but the shower was great. That always makes up for a lot with me.
In particular, I loved the location of Dali House. In a side street of Paris Square and thus a lively part of the city. Especially in the evening, with the many restaurants in the area, this is a great place to be.
All you need to know – Travel Guide Amman, Jordan
Coming and Going Travel Guide Amman
Jordan is only a small country and the Ammen area can be well explored by car in a few days. You'll soon learn that if you start driving around on your own. Most of the places, especially at the top of Jordan that you should visit are a short distance from each other. I started my trip here and took my time. The Amman city guide is not complete without linking all these places together.

Queen Alia International Airport – 35 km
From the city of Amman, you quickly reach Amman airport. It took me over half an hour because you are soon on the motorway and drive straight into the city.
Even to Jerash is only a short stretch. It's about 50 kilometres that will take you an hour. So you could plan it as a day trip from Amman if you are short on time. I stayed in Jerash at a very nice homestay after visiting the impressive ancient Roman city.
Ajloun from Amman is an hour and 15 minutes' drive through a beautiful area! The distance is 68 km and that too is fine if you have few days as a day trip from Amman. I stayed near Aljoun in a super nice hotel and took a nice walk in the area of Ajloun Forest Reserve. Which will take you an hour. So you could plan it as a day trip from Amman if you are short on time. I stayed in Jerash at a very nice homestay after visiting the impressive ancient Roman city.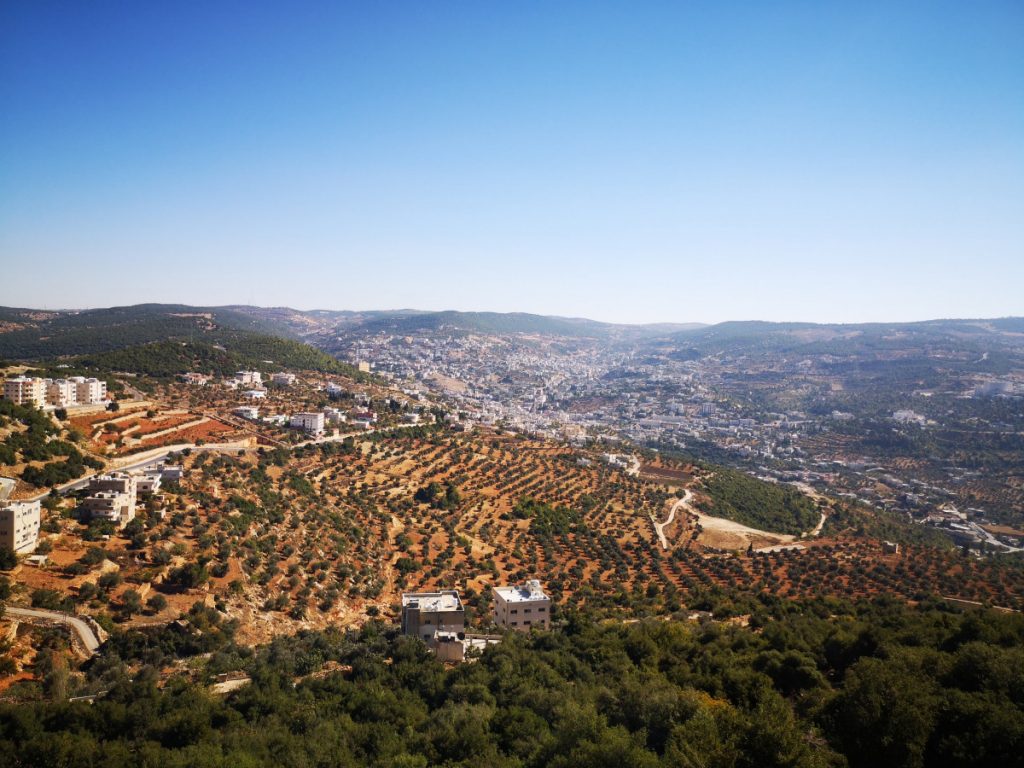 It is also quite doable to go to As-Salt from Amman for a day trip. It is almost 30 km from Amman and will take you about 40 minutes. I found it a nice little town to do a city tour. The centre offers you lots of nice places and you can also have a nice lunch or coffee at 1 of the terraces.
Madaba is also a stone's throw from the capital Amman. Again, it will take you about 40 minutes to get here from Amman, it is 39 km away. I found a lovely place to stay at Tell Madaba. You can compare it more to an extended homestay. You stay in the house on the upper floors while they live on the ground floor.
The city of Madaba is also one to stay longer and explore its surroundings. You are right by the Dead Sea and also by all the previous places like As-Salt, Ajloun or Jerash.
The Dead Sea is also within easy reach if you depart from Amman. Within an hour, you can be floating in the Dead Sea. It is about 50 kilometres. I took the upper end of the Dead Sea to arrive at this distance. I stayed at the Ramada Resort by Wyndham on the Dead Sea. They have a private beach there where you can rub yourself with Dead Sea mud.…

A must if you ask me…. My skin was soft as a baby the days after 🙂
If you want to go to Wadi Mujib, it will take you a bit longer. This one can be found 83 km away and it will take you 1.15 hours. Definitely worth it and if you only have a day to spare I think it's a good plan!

I drove through Jordan with my own rental car but if you don't want to do this, you can of course book complete trips to get to these most beautiful places of Jordan during your trip. Take a look at all the possibilities for Jordan.

Would you also like to discover Jordan by rental car? I can definitely recommend that too.
Don't miss a thing during your Amman city break!
Bookmark the complete city guide Amman in your favourites.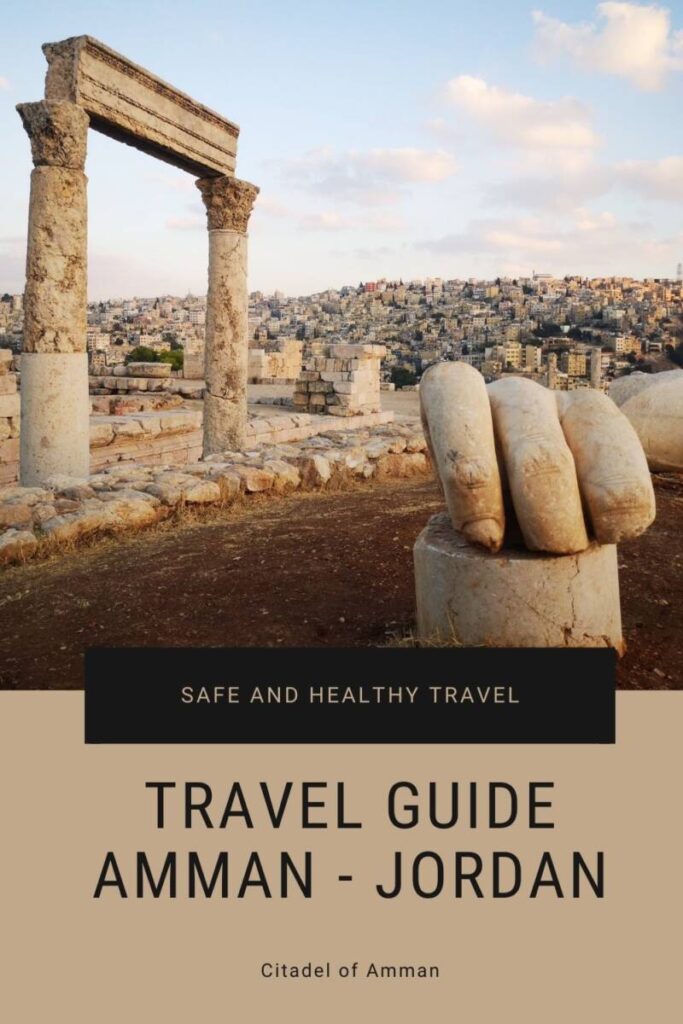 Want to read more about my tour of Jordan?
Hiking in Dana Biosphere Reserve
Visiting the magical Wadi Rum – See the Most Beautiful spots!
Visit the historical city Petra – 2 day itinerary
Once a Prosperous Roman City – Visit Jerash
I also visited several wadis in Oman. In the following blog, I compared them

Hiking in a Wadi – Oman & Jordan – Adventurous hiking in the Middle-East
I hope you enjoy this beautiful world as much as I do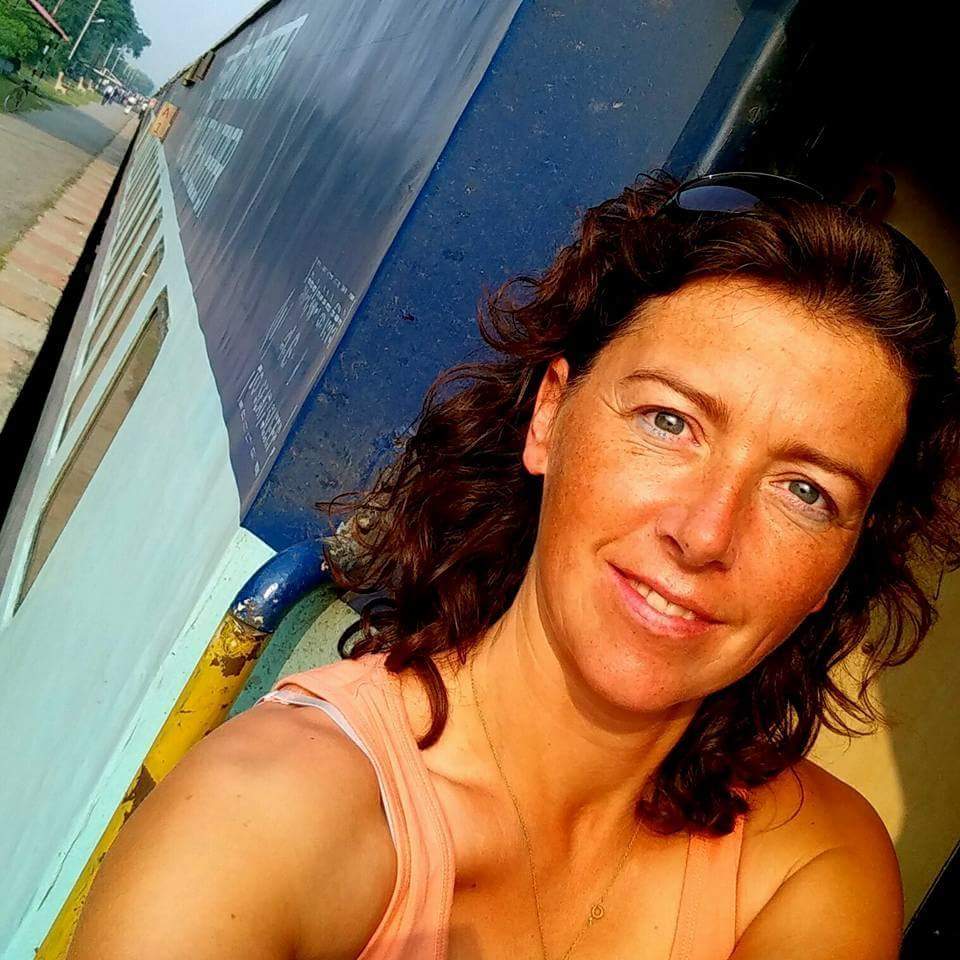 Jacomijn is een politieagent uit Nederland die jou graag laat zien hoe je veilig, actief en gezond de wereld kan over reizen. Safe and Healthy travel is a MUST