My first night in a sleeperbus in Vietnam – From Hanoi to Hue
|
In my blog about my first trip on my solo travel, the
trip to Halong Bay and Cat Ba Island
, I wrote about going in a sleeperbus. In Vietnam I used several times this Sleeperbus and I really liked it!
I had never seen such a bus before, I did not even knew they exist! I was waiting for the bus, not knowing how to sleep or what to expect.  Somebody picked me up with a jeep. We went to the busstation. After driving a couple of streets the jeep pulled over and I saw the couple from Canada standing there. I met them on the boat in Halong Bay. They went to Hoi An, that could've been my next stop in Vietnam too but I choose Hue first.
It is such a small travelersworld 🙂
We were dropped at the busstation. This was along a busy road but my sleeperbus was allready standing there and I could get in immediatly. In the bus were only tourist, no locals. Most of them looked, just like me, traveling around like backpackers.
My first night in a sleeperbus in Vietnam
In the bus there is not really space for your rucksack, that is not so great. I had a bottombed so I could lay it next to me in the isle. If you have a topbed you need to keep your rucksack on your bed. At your feet is a small space but that is to hold your drinks or some food not big enough for a whole rucksack.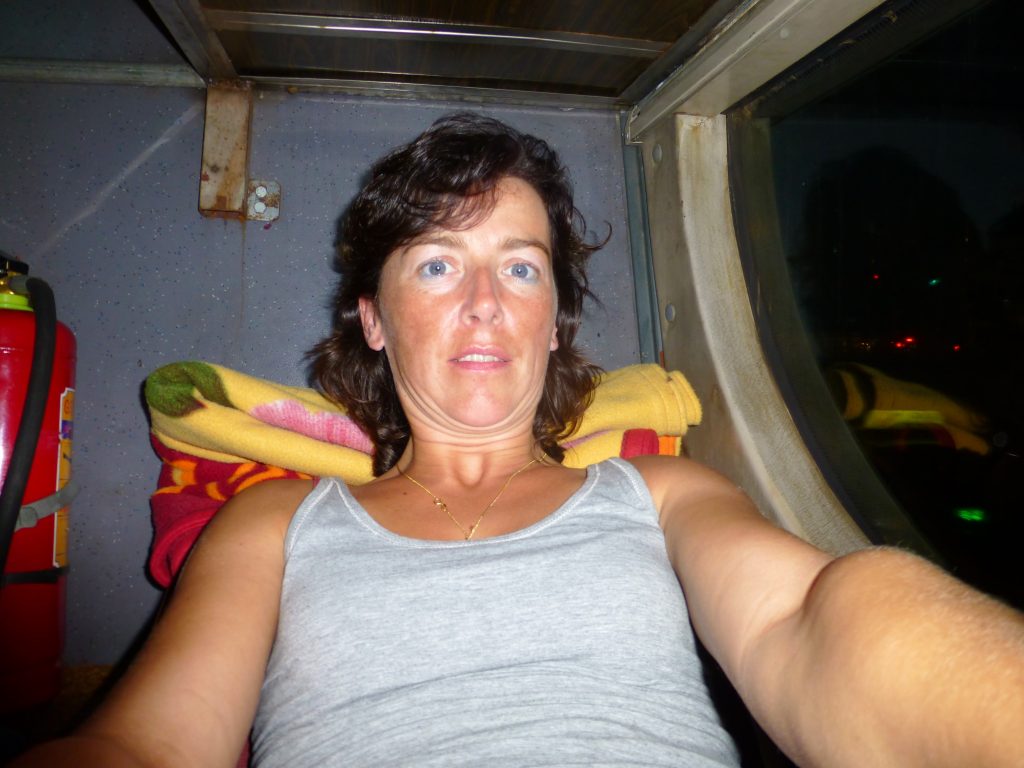 My backpack was put in the bagageroom from the bus. So you don't have to worry about that. I knotted my rucksack on a steel of my bed so it couldn't slight away by slowing down or turning the bus. The bus was fully packed when we hit the road. There was a German lady in front of me. I had the last bed so had nobody behind me. Next to the German Lady was a girl, she was reading a book. She had a lamp with her that she had pinned to the book and shined on her page.
She had tought about that! I was learning how to make your travel more easy!!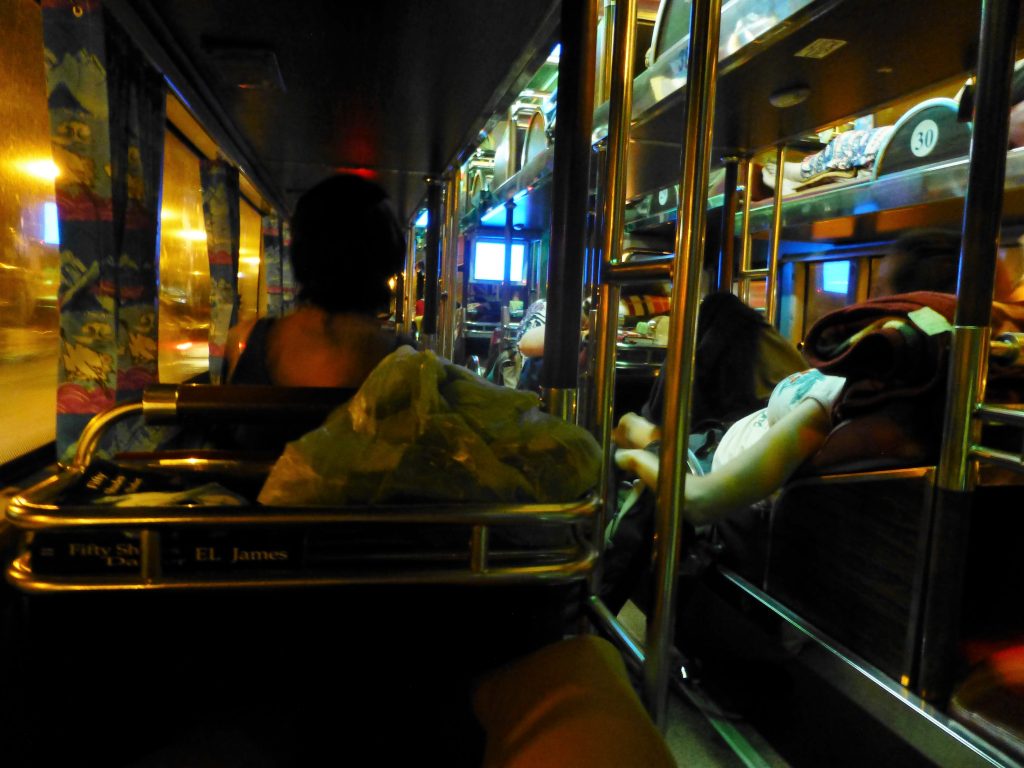 After a while we had a short stop. You could buy something along the road but I didn't see any shops or anything so I stayed in the bus. The German Lady did go outside. I saw her walking along the bus and back up the road. After a while she came back and had a fresh cut whole pineaple with her. She gave the girl next to her a piece, the woman in front of her and I got a piece too! It was great. It was so sweet and so juicy! I thanked her a lot and ate the 2 pieces with gratitude. I didn't had anything with me to eat. Wasn't prepared at all for a long trip 🙂
We were allready driving for a while when the lights went out.
Time to go to sleep.
In every bed was a blanket. I used it to lay on. It wasn't cold but i had shorts on so my towel went over my legs. The inflateble cushion was super, because of that I could lay on my side, for a while. The bed won't go flat all the way, it just stays up a bit. So you can not lay on your side which I usely do at home or in a bed.
My first night in a sleeperbus in Vietnam
From Hanoi to Hue
When everybody was quiet and seems to be sleeping or at least resting I heard someone coming from upfront. He opened a valve what was in the aisle of the bus. When it was open we heard the roaring of the bus and the wind because of the speed of the bus. We were still driving as hard as ever.
The man who did this stepped in to this hole and turned around a climbed away. He was hanging underneath the bus!!! He had to fix something…I think. When the man returned in the bus he just laughed at us and closed the valve again. After that he went back to the front of the bus. We all looked at eachother with great wonder in our eyes!!
I unfortunately wasn't quick enough to get my camera otherwise I would have taken a picture!!!
Early in the morning, at sunrise I woke up.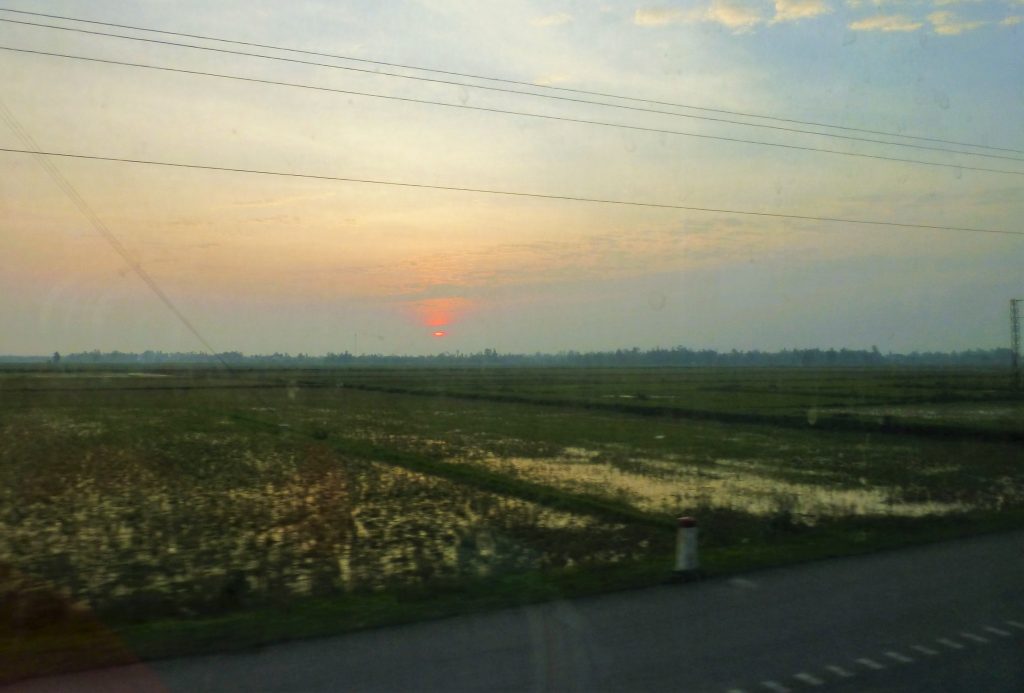 It didn't took long before we were in Hue.
I survived my first night in a sleeperbus in Vietnam!!
How does the sleeperbus in Vietnam work?
You can book an open bus ticket with different stops that you specify in advance. I ended up booking stops in Hoi An, Dalat, Nha Trang and Mui Ne. If you indicate one day in advance that you want to travel further, they will look for you when there is bed free in the bus. Since the bus passes 3 times a day there is every chance that you can get on to continue to your next destination. I thought it was a nice way to travel because I wanted to stay a bit longer at a destination one time and the next time I wanted to go straight on. Everything is possible with this open bus ticket.
I used the sleeperbus in Vietnam from Hanh Cafe. There are several companies like The Sinh Tourist that can also arrange open bus tickets for your transport through Vietnam during your tour.
Tips for the upcoming nights in the sleeperbus bus in Vietnam
Always have something to eat and drink with you
You sit and read the evening and do nothing. A nibble or something else tasty is not a bad idea. It's also nice that you can hand out something if you have a nice German like me in front of you handing out as well!
It's not cold but I would have liked it a lot better if I hadn't had bare legs. Luckily I had a towel with me but it is of course nicer if you are covered and the airco or other fresh air doesn't blow along your bare legs. Besides that I also missed a pair of socks… You put your feet in those holes of which you don't know what's lying there. It feels more safe and nicer to have socks on!
Read here more tips about Travelling Safely in Bus or Train
Want to see what I did in Hue?
Want to read more about Vietnam?
And… do make sure to get in contact with the local community!
I hope you love this world as much as I do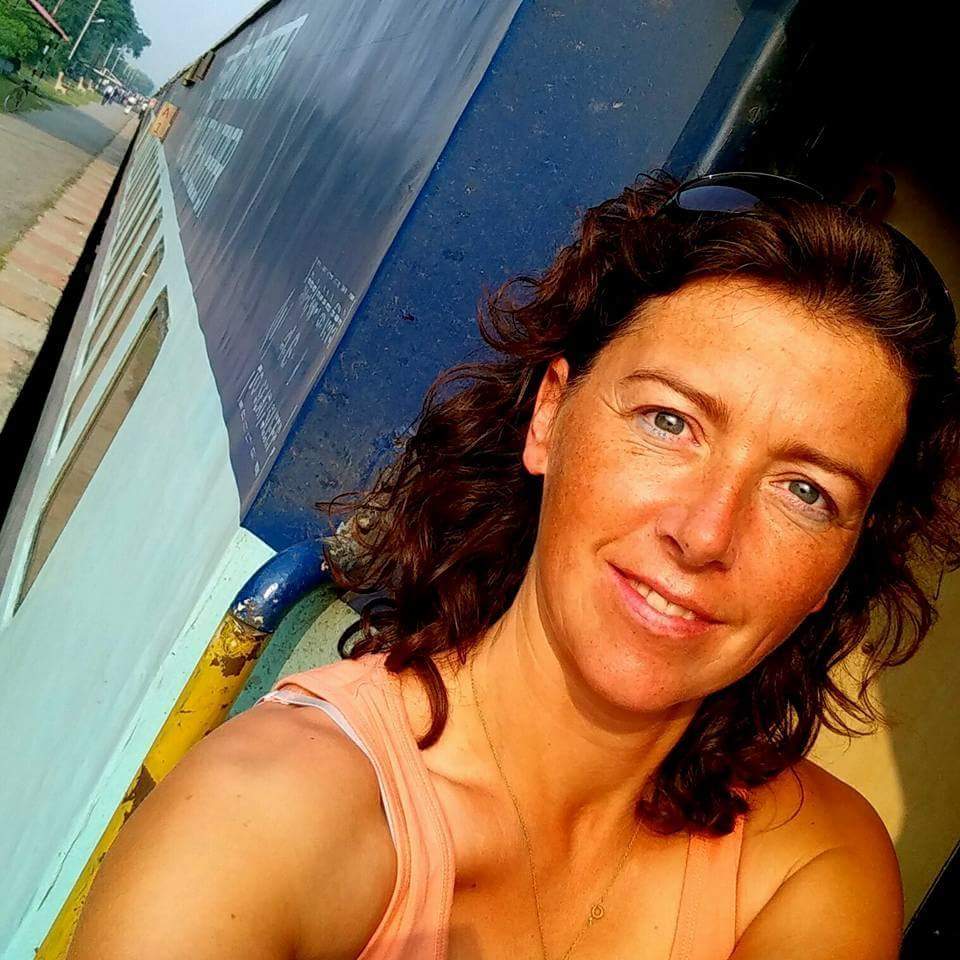 Jacomijn is een politieagent uit Nederland die jou graag laat zien hoe je veilig, actief en gezond de wereld kan over reizen. Safe and Healthy travel is a MUST