My first night in a sleeperbus. From Hanoi to Hue, Vietnam.
|
I had never seen such a bus before. I was waiting for the bus, not knowing how to sleep or what to expect.  Somebody picked me up with a jeep. We were brought to the busstation I was told. So my packpack in the back of the car and of we go. After a couple of streets the jeep pulled over and I saw the couple from Canada standing there. I met them on the boat in Halong Bay. They went to Hoi An, that could've been my next stop in Vietnam.  It is such a small travelersworld 🙂
We were dropped at the busstation. This was along a busy road but my bus was allready standing there and I could get in immediatly. In the bus were only tourist, no locals. Most of them looked, just like me, traveling around like backpackers. 
In the bus there is not really space for your rucksack, that is not so great. I had a bottombed so I could lay it next to me in the isle. If you have a topbed you need to keep your rucksack on your bed. At your feet is a small space but that is to hold your drinks or some food not big enough for a whole rucksack.
My backpack was put in the bagageroom from the bus. So you don't have to worry about that. I knotted my rucksack on a steel of my bed so it couldn't slight away by slowing down or turning the bus. The bus was fully packed when we hit the road. There was a German lady in front of me. I had the last bed so had nobody behind me. Next to the German Lady was a girl, she was reading a book. She had a lamp with her that she had pinned to the book and shined on her page. Real handy!!
After a while we had a short stop. You could buy something along the road but I didn't see any shops or anything so I stayed in the bus. The German Lady did go outside. I saw her walking along the bus and back up the road. After a while she came back and had a fresh cut whole pineaple with her. She gave the girl next to her a piece, the woman in front of her and I got a piece too! It was great. It was so sweet and so juicy! I thanked her a lot and ate the 2 pieces with gratitude. I didn't had anything with me to eat. Wasn't prepared at all for a long trip 🙂
We were allready driving for a while when the lights went out. Time to go to sleep.
In every bed was a blanket. I used it to lay on. It wasn't cold but i had shorts on so my towel went over my legs. The inflateble cushion was super, because of that I could lay on my side, for a while. The bed won't go flat all the way, it just stays up a bit. So you can not lay on your side which I usely do at home or in a bed.
When everybody was quiet and seems to be sleeping or at least resting I heard someone coming from upfront. He opened a valve what was in the aisle of the bus. When it was open we heard the roaring of the bus and the wind because of the speed of the bus. We were still driving as hard as ever.
The man who did this stepped in to this hole and turned around a climbed away. He was hanging underneath the bus!!! He had to fix something…I think. When the man returned in the bus he just laughed at us and closed the valve again. After that he went back to the front of the bus. We all looked at eachother with great wonder in our eyes!!
I unfortunately wasn't quick enough to get my camera otherwise I would have taken a picture!!!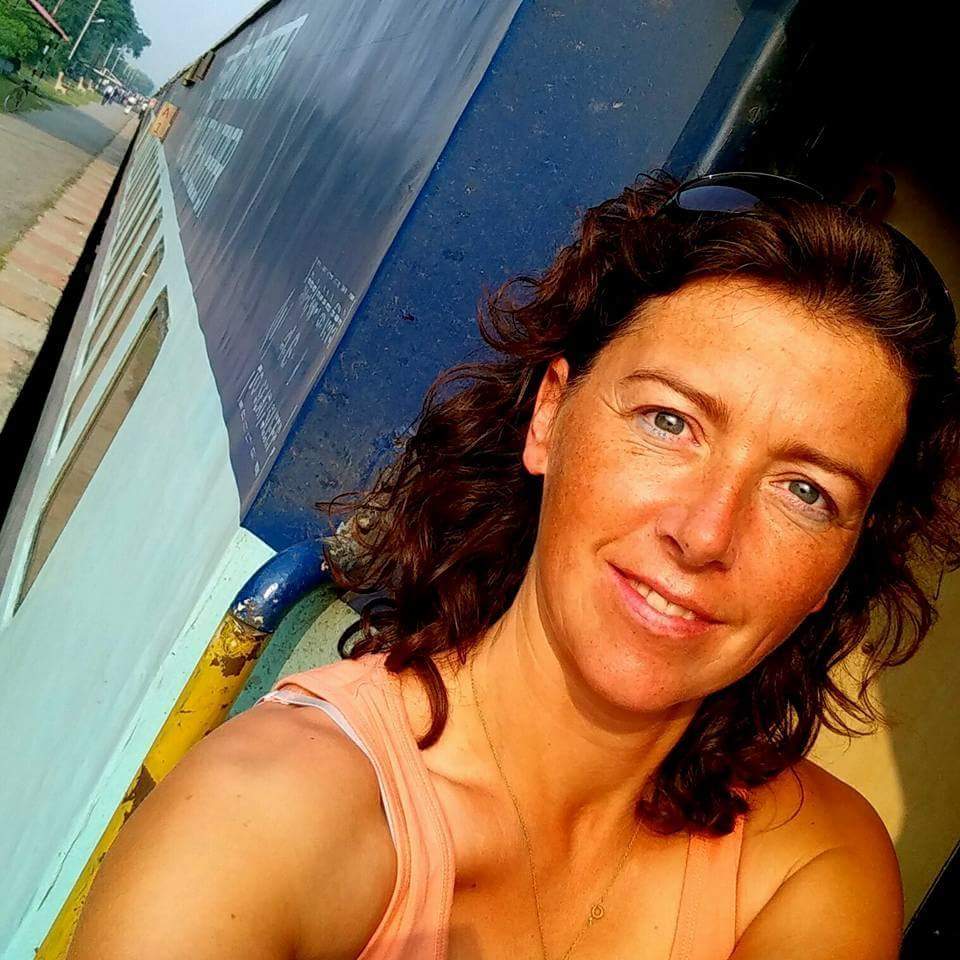 Jacomijn is a police officer from The Netherlands who loves to show you how to travel the world Safe, Healthy and Active!! Safe and Healthy Travel is a MUST!