The Best Place for Tiger Spotting in India – Ranthambore NP
Perhaps the best place for tiger spotting in India is Ranthambore NP. The park is home to no less than 70 tigers. In recent years the population has been doing well and tigers are also exported to Sariska NP and other parks in India. Because it was already a few years high on my list that I wanted to see the tiger in the wild I booked a trip to this National Park.
The first time I went tiger spotting in India I had too little time and so I didn't succeed. This was in the Periyar Tiger Reserve in Kerala.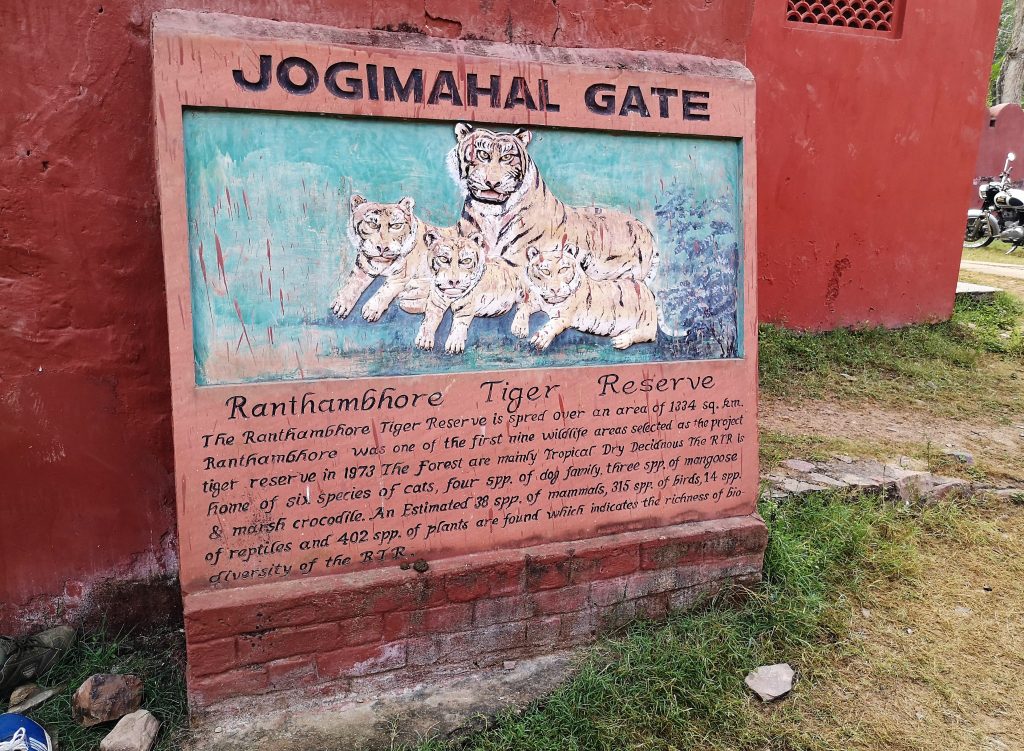 Rathambore NP
Ranthambore National Park officially became a national park in the 80's with a protective status for Wildlife and thus a great place for tiger spotting in India. The park is located around the Ranthambore Fort which is hundreds of years old. This fort was owned by the maharajah of Jaipur in the early 1900s.
The Maharajah came here with friends to shoot tigers. A hobby that unfortunately led to disastrous consequences. Royal visitors and other rich people came here to hunt. Many pictures show that several tigers were shot at such a hunting party.
Tiger hunting is of course forbidden in India, but unfortunately it still happens sometimes. The park is also situated, without fence, next to many villages and cities. The tigers sometimes want to go into the area and even though the indians have a lot of respect for animals and they often live peacefully together… This sometimes costs the life of a tiger. Fair is fair, the other way around it sometimes costs the life of a human/child.
Documentary Tip:

If you are going to watch the documentary about the tiger Broken Tail you will see that this tiger traveled 200 miles outside the Ranthambore NP. Eventually he died in a train crash and the documentary maker decided to reconstruct his way. He talked to some people who had an encounter with Broken Tail. Nice docu and definitely worth a look!
The Best Place for Tiger Spotting in India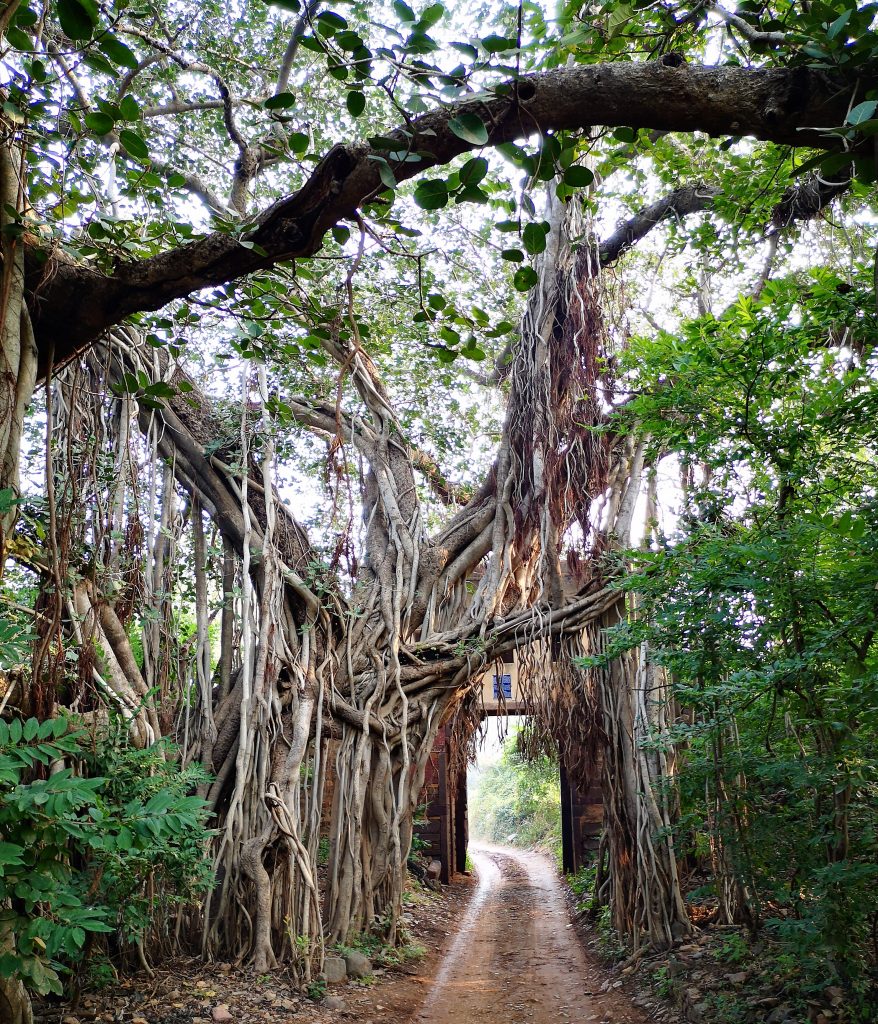 Before this visit I spend some days in Ghanerao, Rajasthan to explore Kumbhalgarh Fort
Sawai Madhopur – Ranthambore NP
Yet most people let the animal walk and give it the place it needs. If you are going to watch the documentary you will hear that. Occasionally it was reported that a tiger was spotted close to a place where people live and where shepherds let their flock walk. In the documentary they talk with a woman who saw Broken Tail as the very last one… She stood face to face with the mighty beast!
I always love to see how nature and the course of nature has its own right on certain points … In The Netherlands we have to have everything under control and if that is not the case then we are going to make sure that we get it back… Where that ever ends I don't know…
But okay…enough about that…

The area around Ranthambore Fort became Ranthambore National Park, hunting was banned and tourism for tiger spotting and other wildlife was launched.
Sawai Madhopur
If you want to go to Rathambore NP for tiger spotting in India you travel to the place Sawai Madhopur and book a hotel there. There are choices from all price ranges and there is always a place somewhere. In the village / town itself you can book cheaper hotels or hostels. At the hotel, on the street and at the many travel agencies focused on the safaris there is always plenty to book. The village lives from the safaris! There are so many canters (large open buses) that you can always get a spot.
So I decided to go there from Ghanerao after my visit to Ghambalghar Fort. Because it was quite a distance and not quite logical I first stayed 2 nights in Udaipur. Definitely not a bad idea! Very nice and relaxed city where I was in 2015 for a few days too.
I booked my nights at Abrar Palace & Jungle Camps and arrived there in the middle of the night by train. I was soon assigned a nice tent and the next morning we discussed the possibilities for safaris.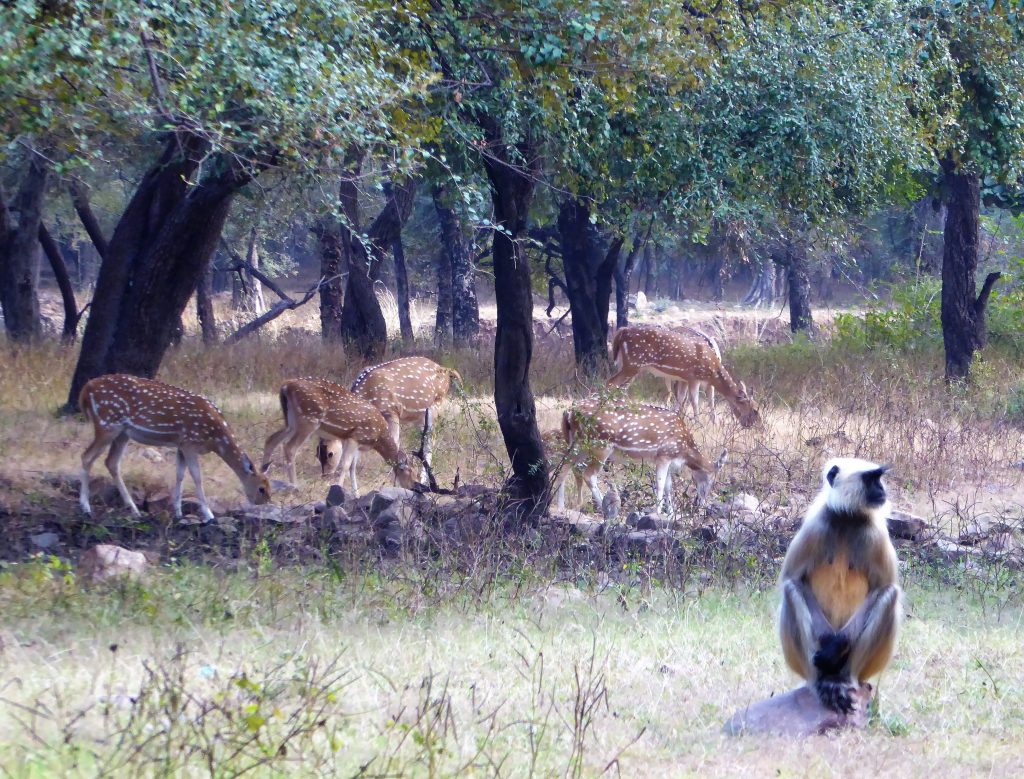 Safari with a canter
I booked 3 safaris, 2 in the afternoon and 2 in the morning. In order to increase the chance of spotting the tiger, I opted for different parts of the day. The advantage of the afternoon is that if they have seen a tiger in the morning they often walk around that spot or lie somewhere. The advantage of the morning is that you see the sunrise… And that you still see morning dew/mist… On the other hand, during the afternoon safari you are probably still there when the sun goes down …
Do you really want to go on safari? A whole day out and take time to see multiple animals in the Ranthambore National Park then you will have to rent a private jeep. The canter costs 1800 rupee for a non-Indian. The jeep will cost more than ten times that amount.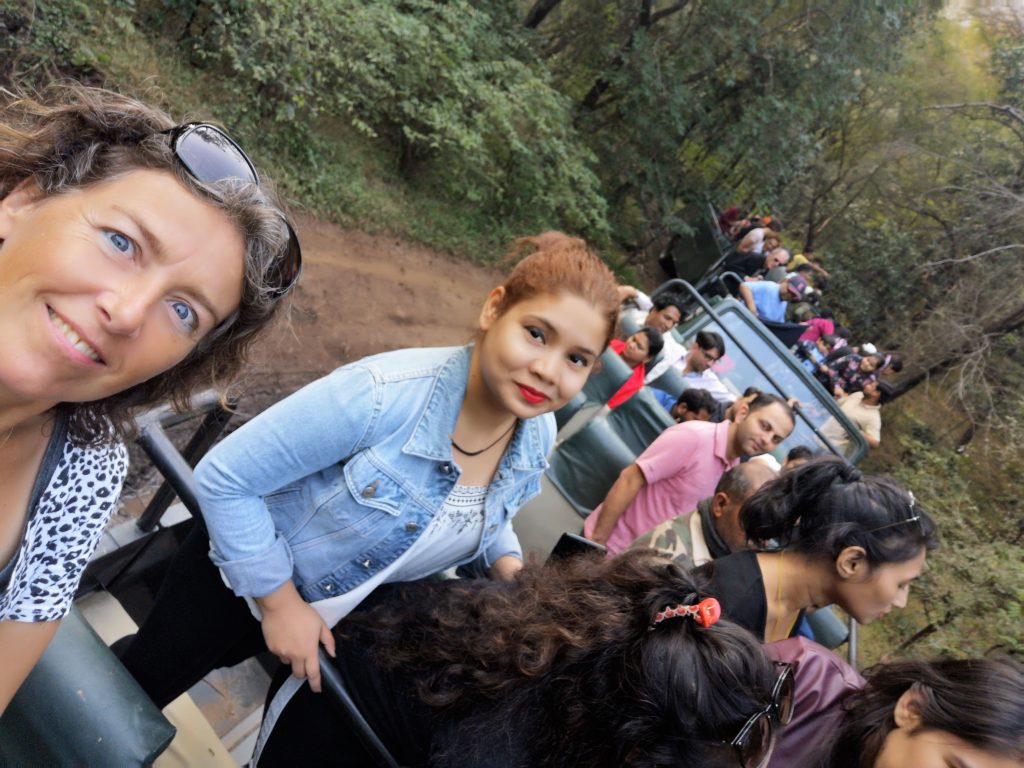 Tiger Spotting in India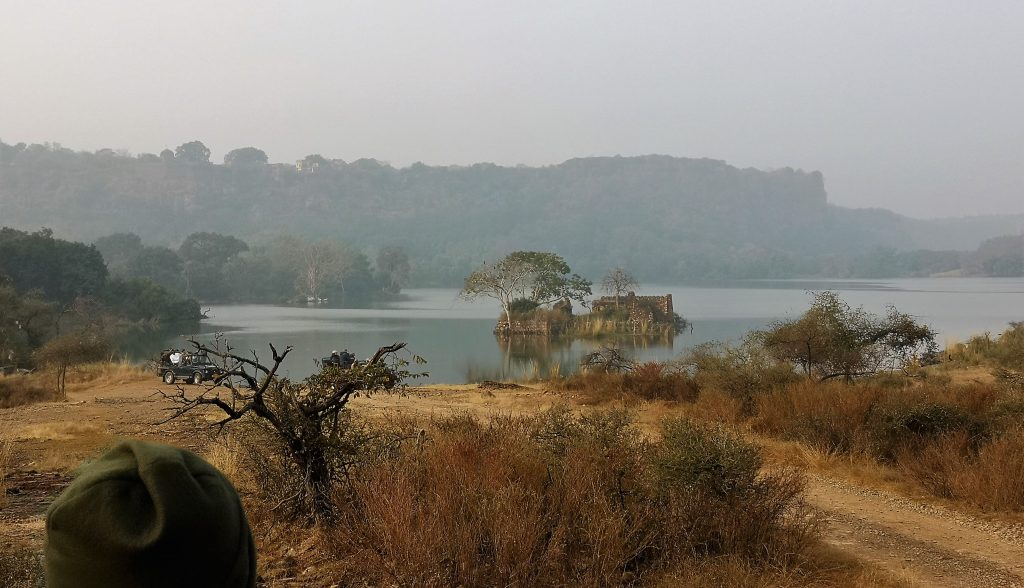 Zone 6 Ranthambore NP
I was picked up from Abrar Palace & Jungle camps at 1:30 pm for my first afternoon safari. We drove in half an hour via a number of other jungle camps and hotels to Ranthambore National Park and took the entrance for zone 6.
The Park is divided into 10 zones. Each zone has its own charms and inhabitants!
I would have the most chance to spot a tiger in zone 6 because a tiger was spotted that morning. We drove around for a while and saw an owl, many deer and sambars. The sambar is the tiger's favorite food I was told.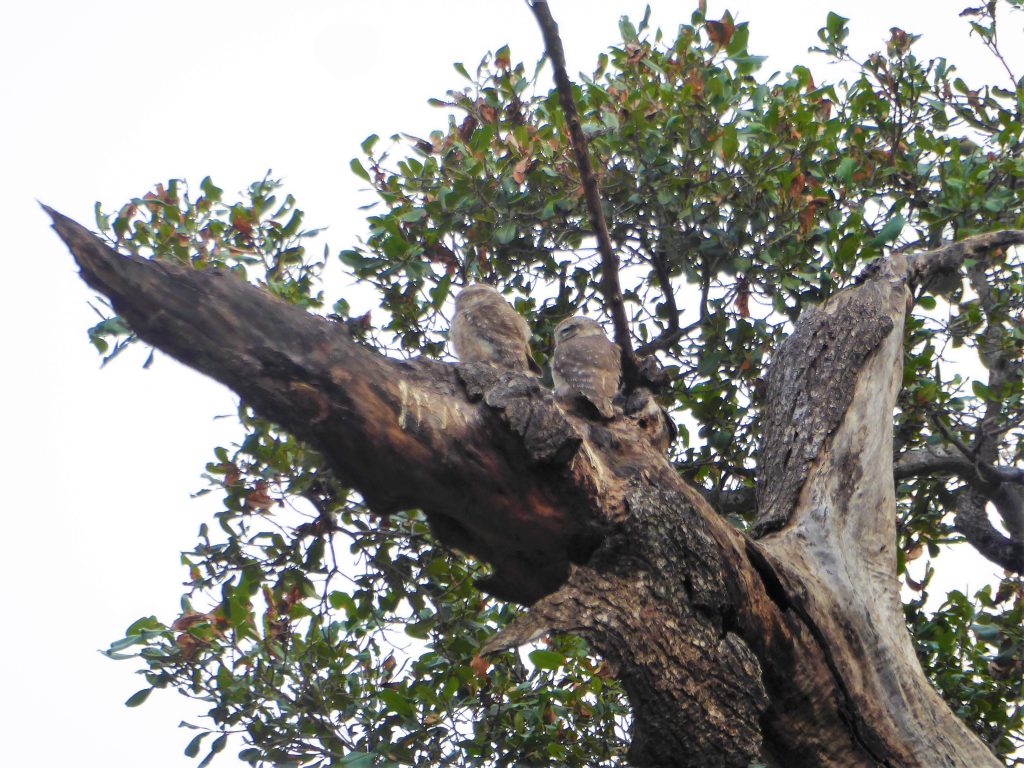 At one point we saw a jeep standing still in the middle of a bridge. They were pointing in one direction and I immediately got a good feeling about it. The canter drove up the bridge and stopped there too. We all looked expectantly into the jungle and then suddenly I saw her.
In the distance, between the green, I saw the yellow colour of the tiger. She was about 300 meters away from us. The guide told us that this was the female called Noor, numbered T39.
She got up, looked around and walked a little bit to lie down again. Now I could see her just a little better.
How lucky!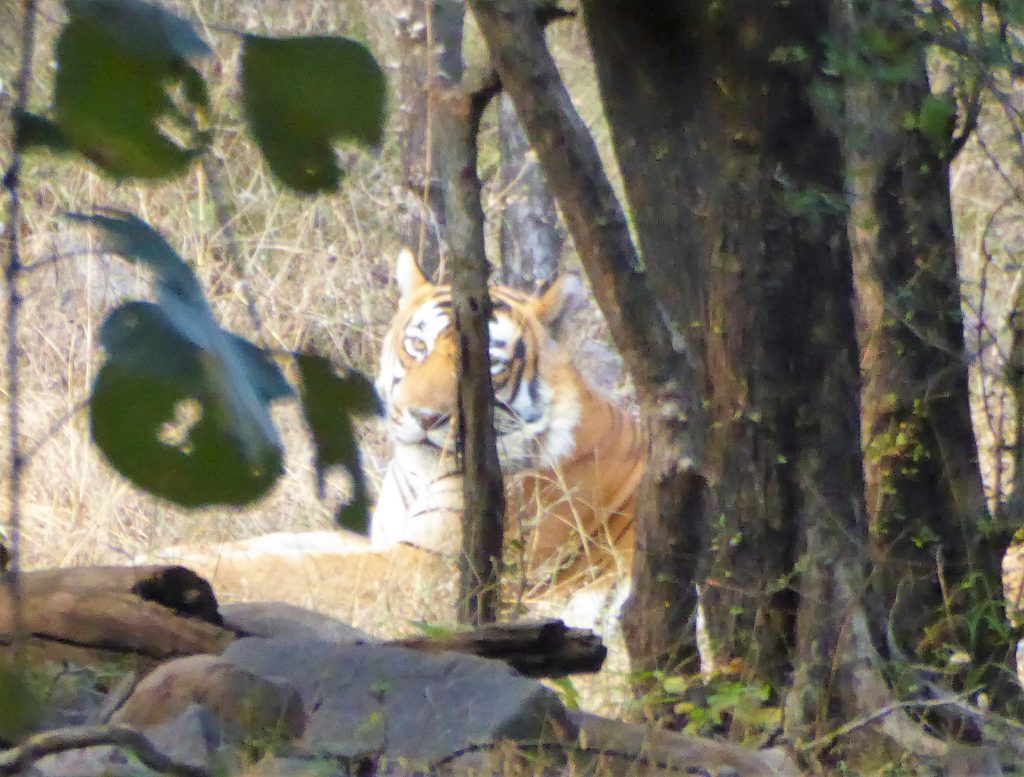 With my camera I could zoom in so far that I could see her head and expression. What a mighty animal! I've been looking forward to this moment for so long! I noticed that I held my breath and was looking at the animal with my mouth open through my camera.
I even heard that all the Indian in the canter were silent! That means something! 🙂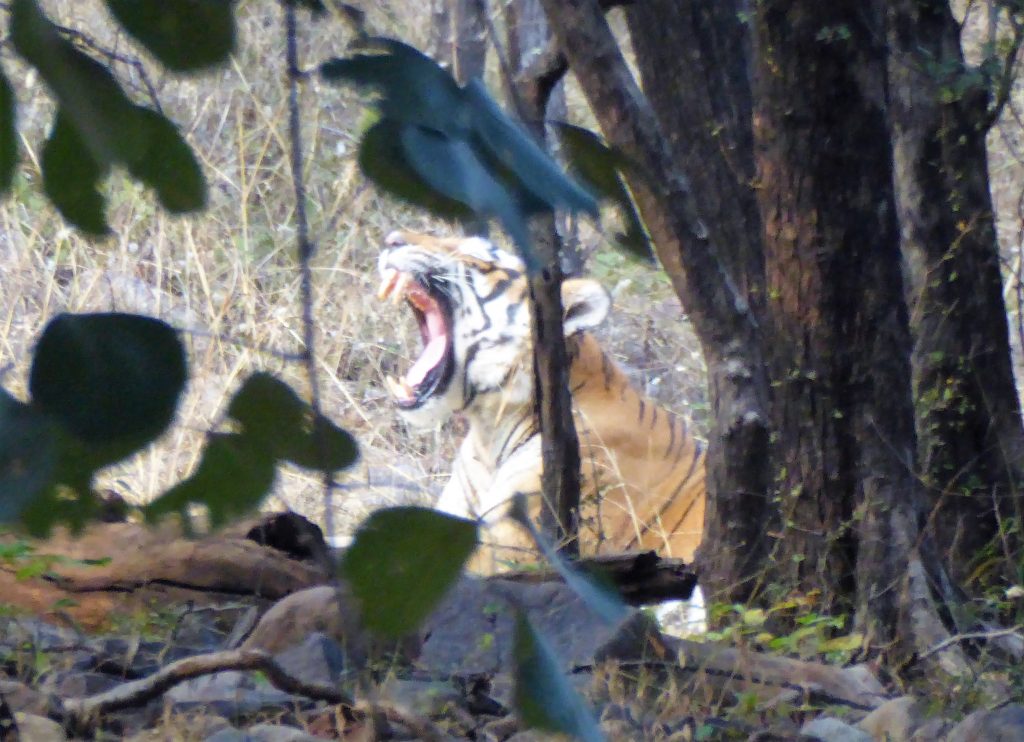 After about 10 minutes the tiger got up and started walking. Slowly she came closer. She walked parallel to the road with us and slowly came closer. At one point she just crossed over… between the different canters… They are used to it, just like on safaris in Africa, that all those cars are there and that it is not a threat. They just ignore it.
As if nothing was going on there.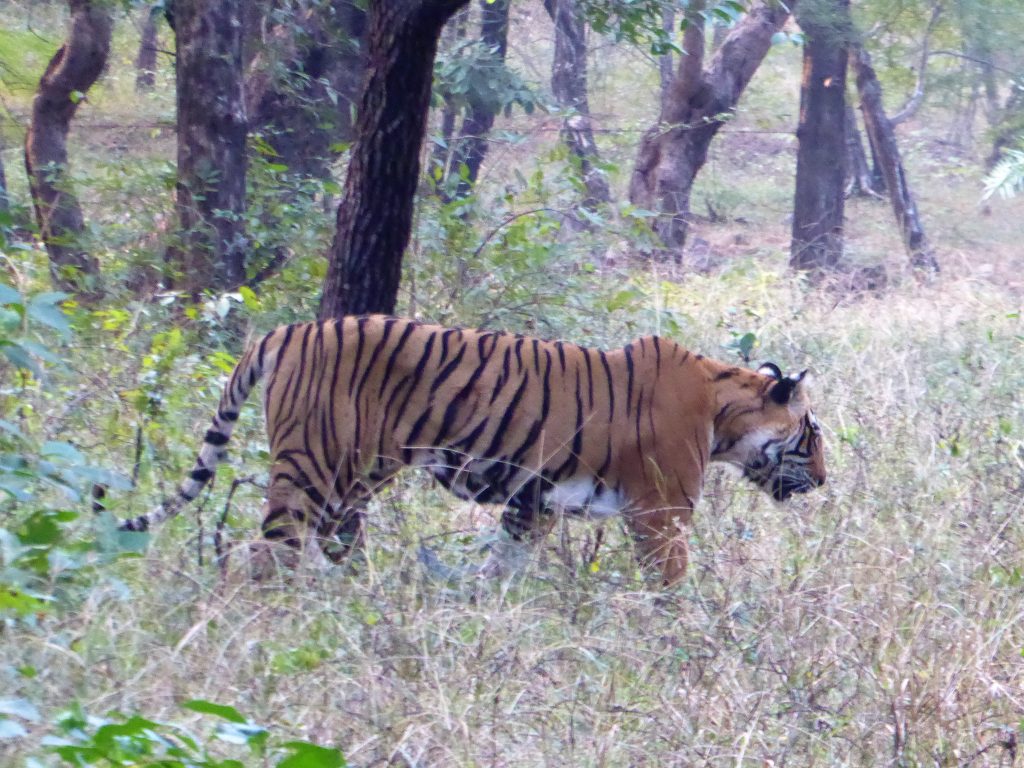 What a great moment!
After she disappeared on the other side in the jungle we unfortunately didn't see her again…
After this sighting, the canter turned around and went back. The canters ride purely for tiger spotting. If you encounter something else on the way they will stop for a while but they won't look for it. In this first canter was a man who already started whining when we stopped at an owl. He came for the tiger, not an owl. The man was very troublesome and demanded a lot of attention, very annoying.
Did you know that males have at least 30 to 45 square miles of territory? Females don't go more than 15 to 25 km. Males certainly go along the edges of their territory every month to demarcate it again.
But my day couldn't be any better!
I was happy and super happy with my first safari!
I didn't know that I wouldn't see another tiger in the following days 🙂
Zone 3 Ranthambore NP
I went on a morning safari in zone 3 the next day. In terms of scenery I thought this was the most beautiful zone to drive around in. It's right opposite Ranthambore Fort and has some nice lakes. In the early morning with the sunrays over the lakes and if there is still a fog it gives great pictures too!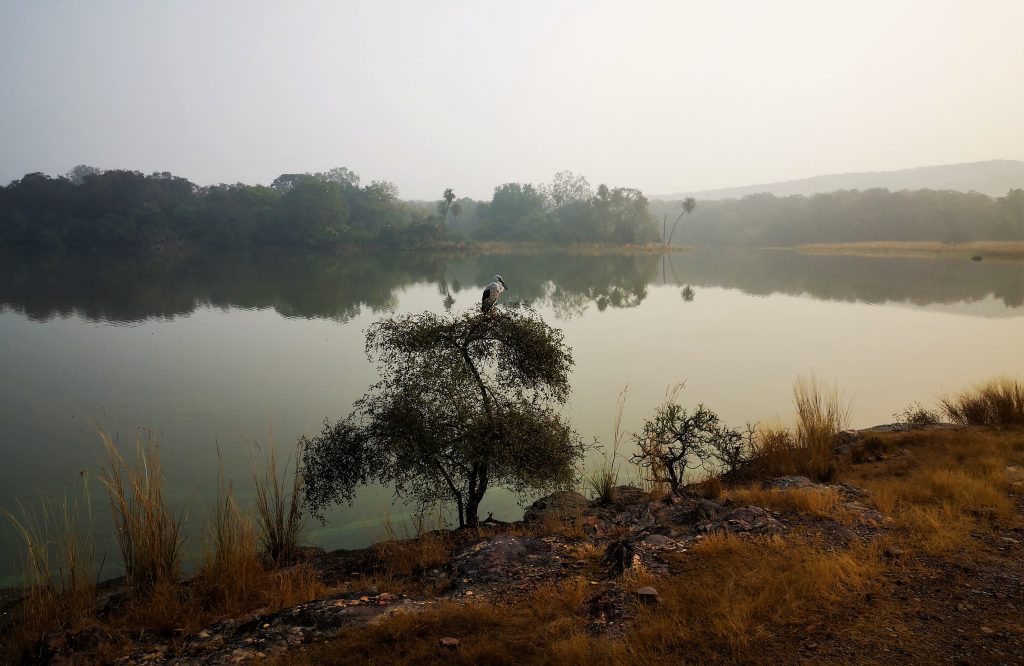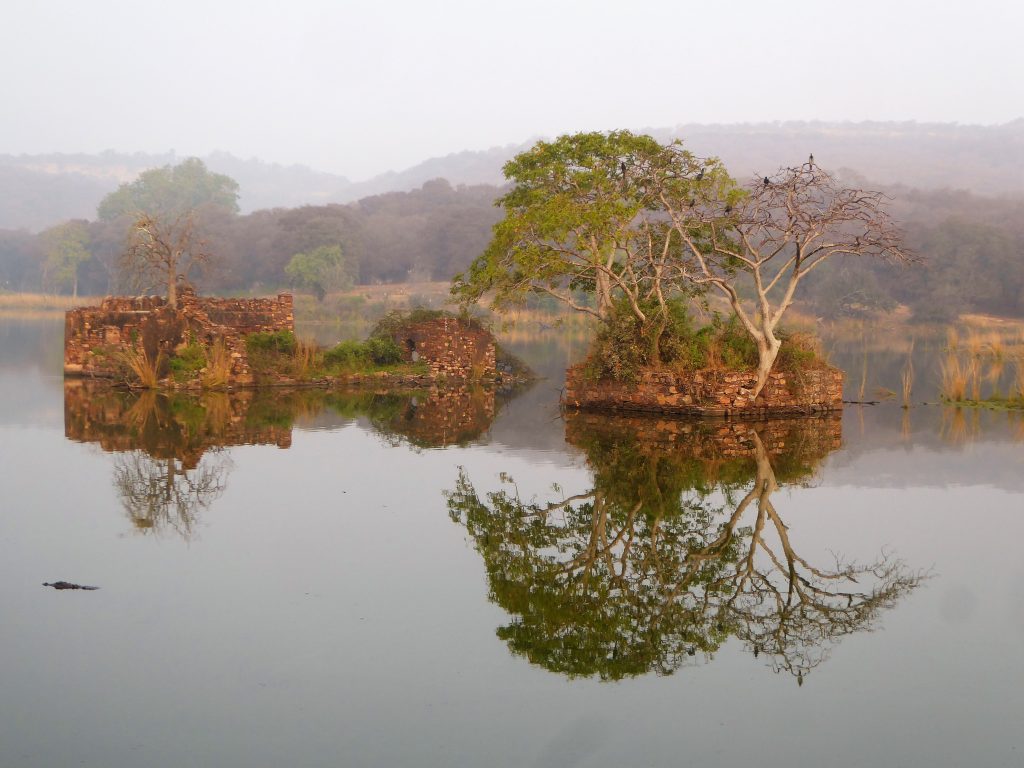 Unfortunately, we didn't see a tiger and also not many other animals either. Still it was a relaxed morning but yes… you come for the tiger …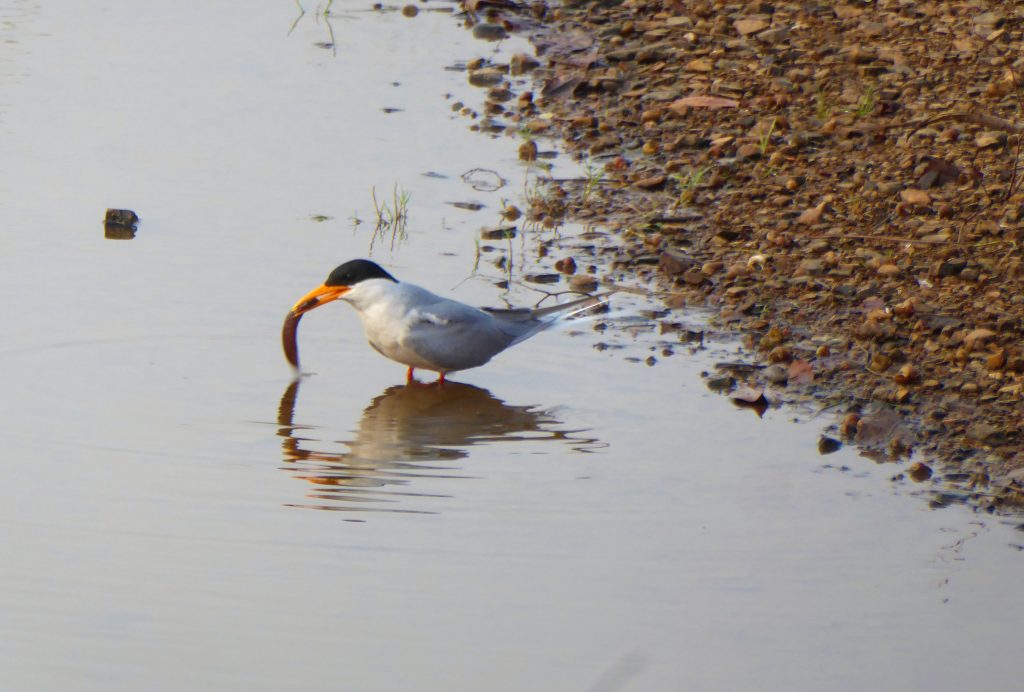 But we did see a lot of birds!
Like the kingfisher, the white vulture, green parakeet, pheasants and storks.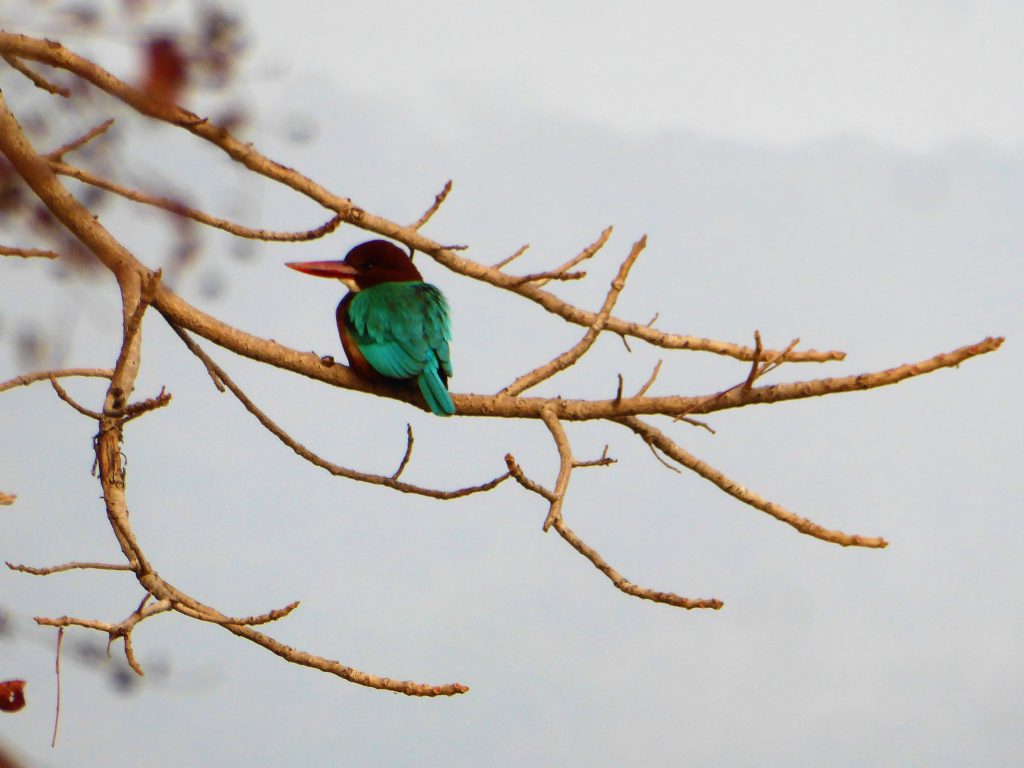 Zone 1 Ranthambore NP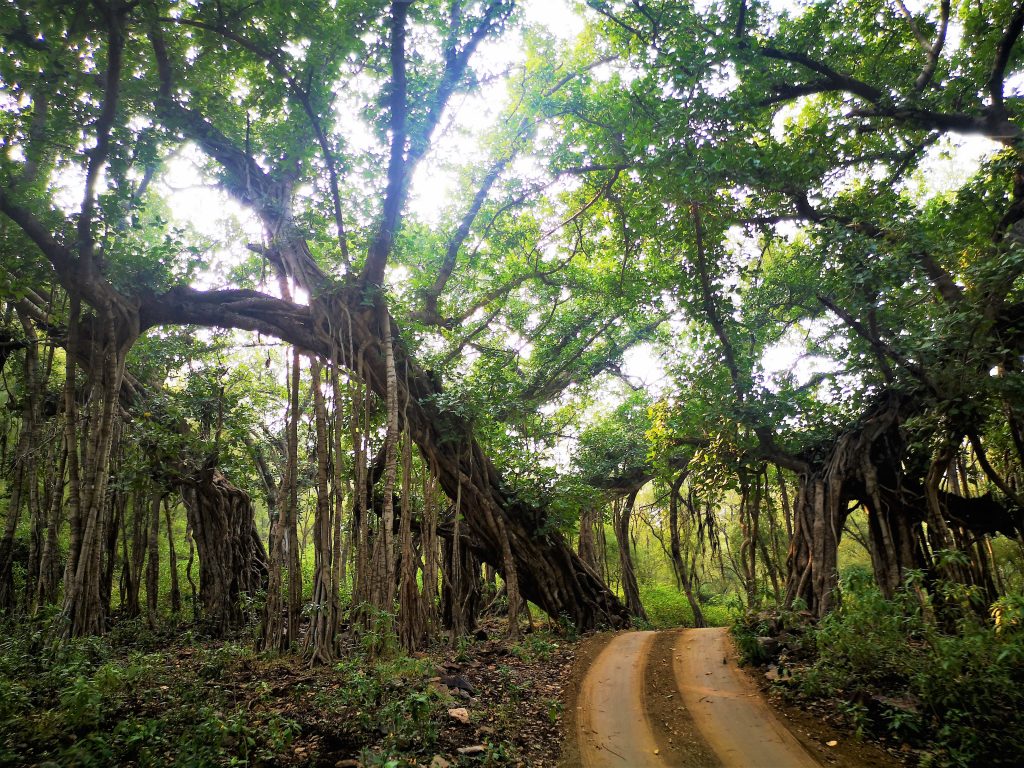 The area of this zone has some hills/mountains and therefore gives a completely different feeling. The views are less far and you have to search a bit better between the trees. On one side of this zone is a river which is of course a spot where the animals come.
Here we saw a crocodile.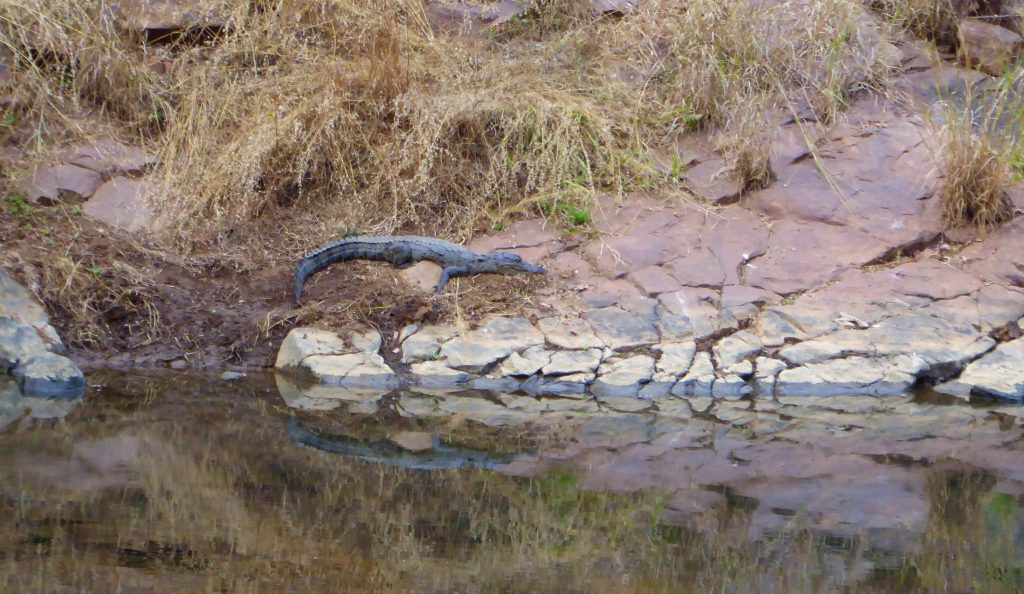 Because the news was that there would be a tiger: Sultana, T107, in the area we drove around for quite some time and searched several places. In the morning she was seen on the other side of the river, against the slope of the mountain. Unfortunately we didn't see her… Or had already disappeared…or was asleep!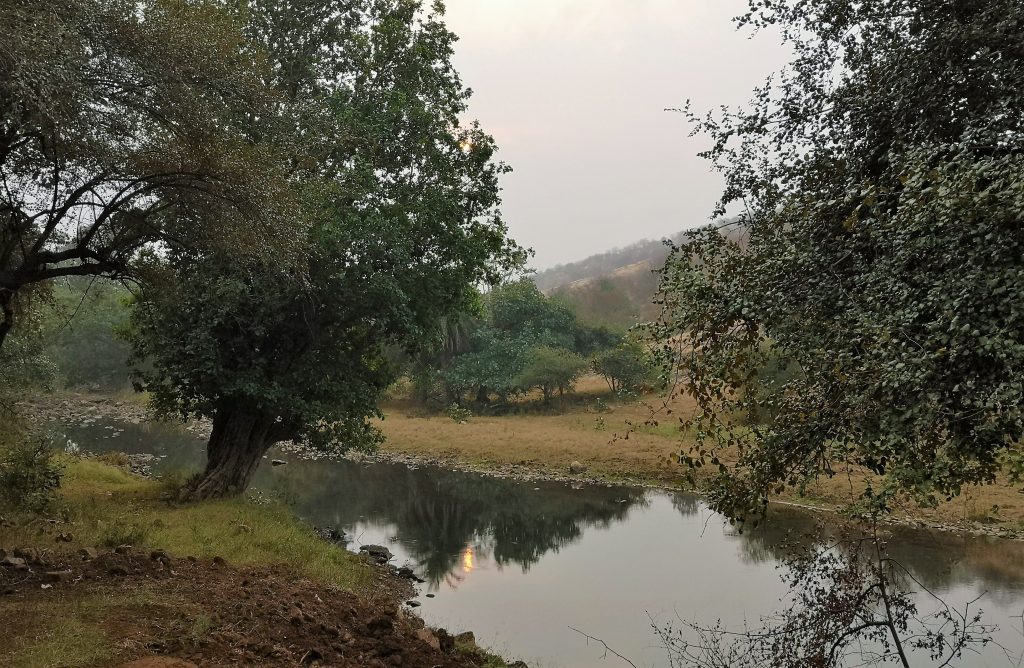 When we finally gave up, just after sunset we saw a bear walking. I saw the movement in the bushes… At first I thought I saw a little elephant, so thick and dark. But it turned out to be the sloth bear. This is the bear we all know from Jungle book: Baloe. Such a pity that we didn't see him better but in a shadow in the background in the edge of the jungle between the trees.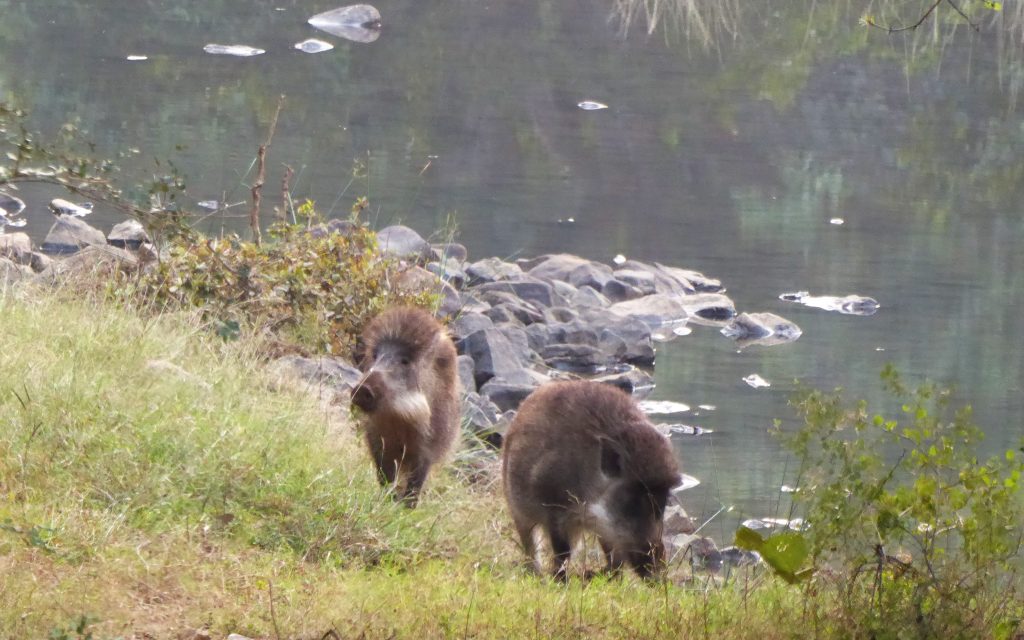 The Best Place for Tiger Spotting in India
Ranthambore NP
Ranthambore Fort
Because I had some more time I also spent an afternoon, after my morning safari, to go to Ranthambore Fort. You can certainly walk around there all afternoon. It is a huge fort on top of the mountain opposite the entrance to zone 3.  The entrance is free of charge and after a long climb where the view over zone 3 becomes clearer and wider you reach the houses and huge buildings that once belonged to the Maharajah of Jaipur.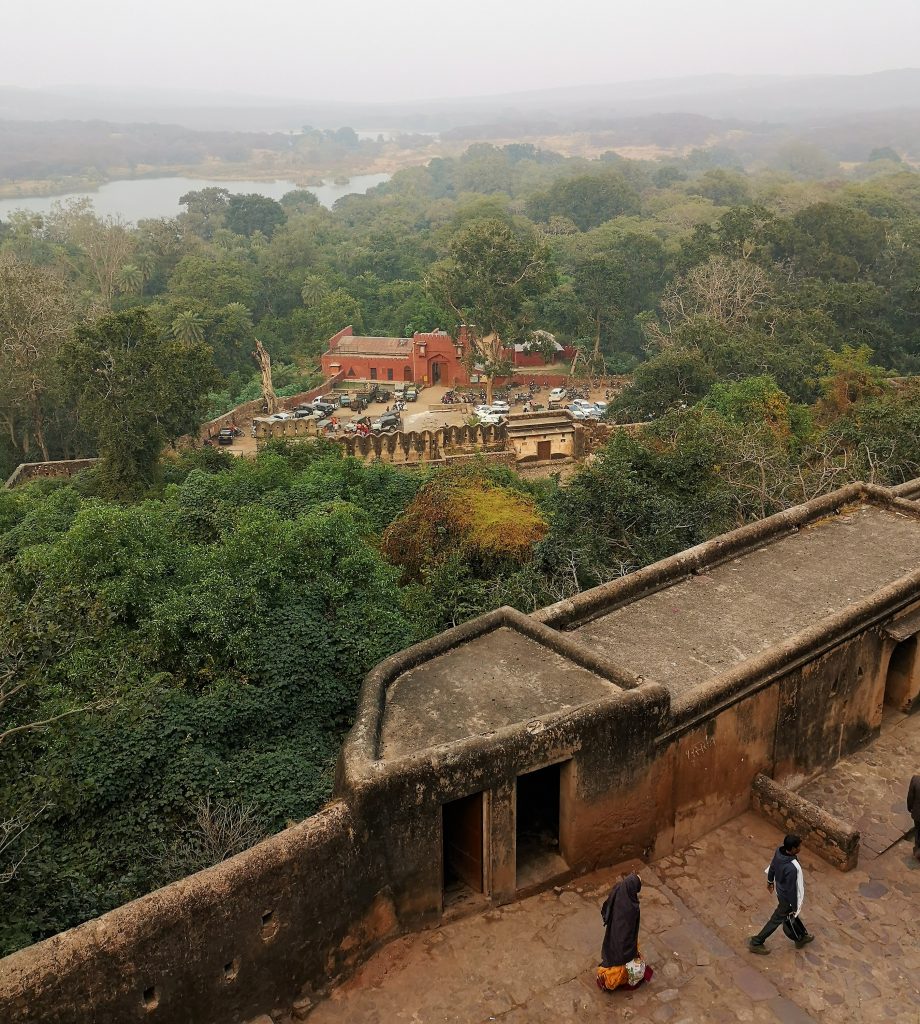 I didn't have binoculars with me but if you have them with you make sure you take them up because you have a great view over the surroundings. Who knows you might spot a tiger drinking on the waterfront near one of the lakes in zone 3.
I walked around for about an hour. Walkingn there I got the feeling of being in a large park with every now and then a great building, country house, temple etc.. I thought it was a nice way to spend my afternoon!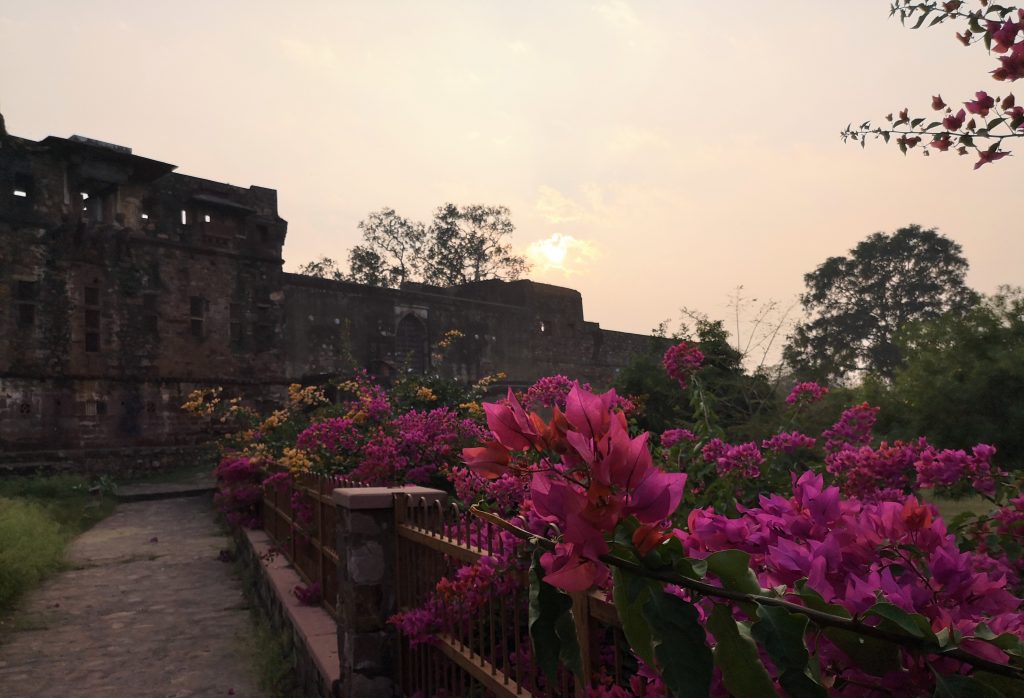 Stay Sawai Madhopur
Abrar Palace & Jungle Camp
I stayed at the luxury safari camp Abrar Palace & Jungle Camp. I thought it was a lovely camp, you're sitting in a kind of big garden and right on the edge of the National Park. A bit outside the city so if you are looking for peace and quiet this is a lovely spot to pick!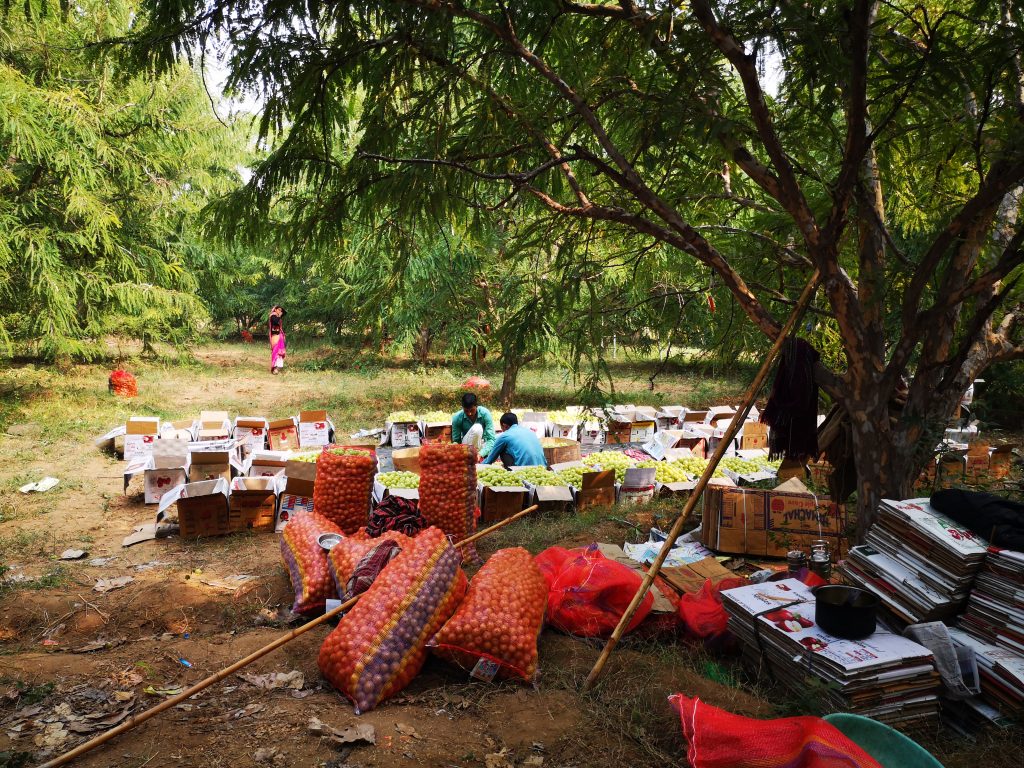 They have a swimming pool which is lovely in the summer of course! I was there at the end of Nov early December and the weather was lovely but really too cold to swim 🙂 You can walk around the camp, in the orchard. They have a total of 10,000 trees in the camp. Most of the trees (5.000) are gooseberry. There are also people working every day to harvest the many gooseberries. These are of course used for different purposes. In addition, they have 3,000 lemon, many Indian Rose and Teak standing there.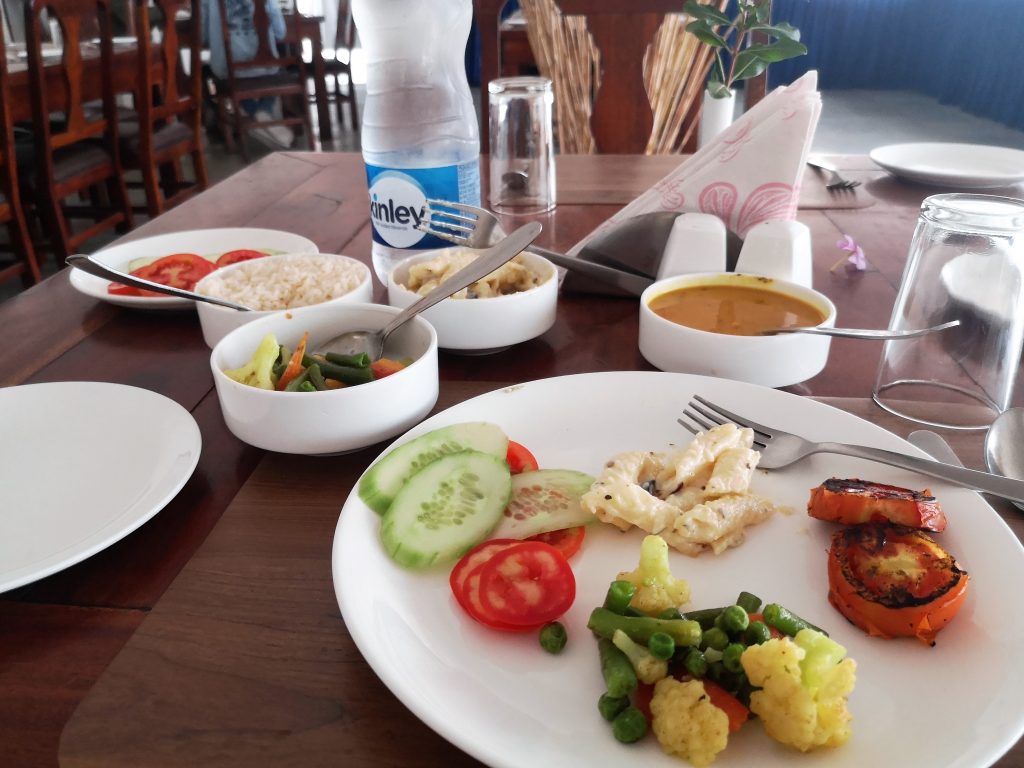 The food is perfectly arranged. In the large tent there is a buffet 3 times a day and every day is different and during my 4 days I have eaten different delicious curries and veggies. I was well taken care of and served at my beck and call….
And every evening at 18.00 before dinner (20.00) they have live music. Three of them come and make local Indian music. There is dancing, a puppet show and you get Indian Chai with cookies. I enjoyed this every evening with a nice bonfire!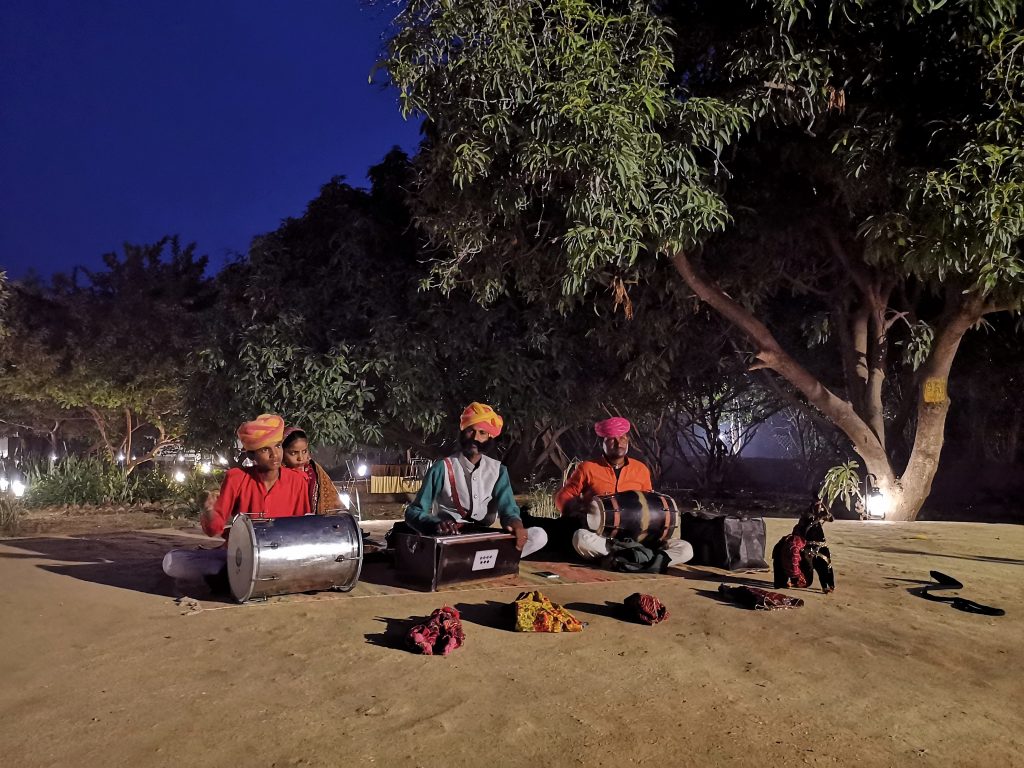 It was defenitely worth spending 4 days here. I can imagine that if you have a little less time to spend you will only stay here for 1 or 2 days. As you can read from my report you also have every chance to see the tiger in 1 or 2 safaris. If I had only been for 1 day my visit would also have been successful 🙂
Have you been here and spot the tiger too?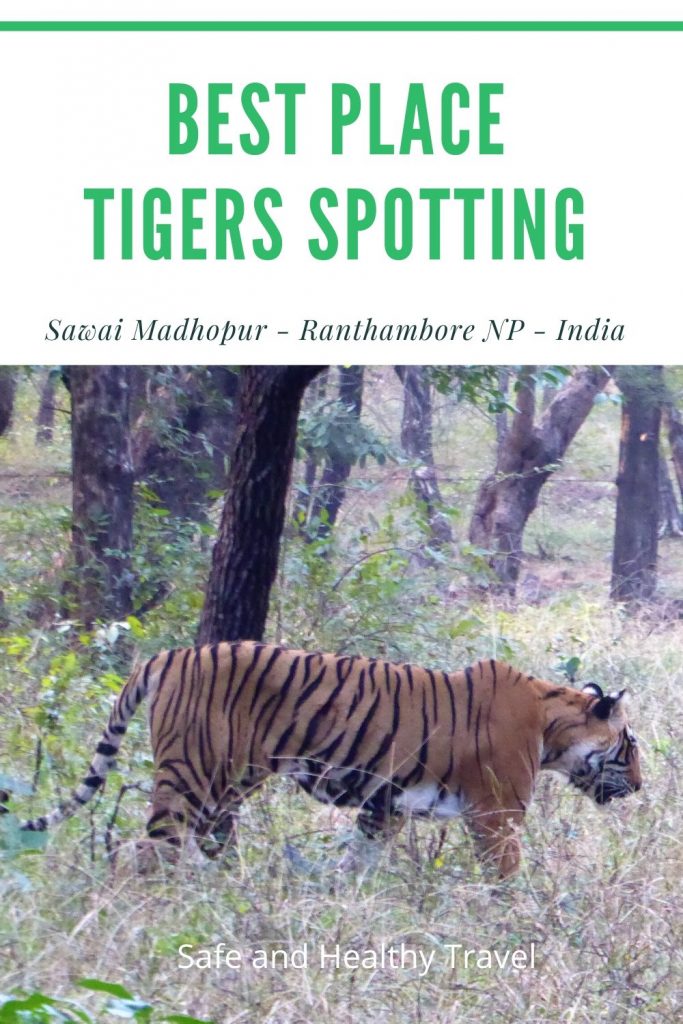 You'd make me happy if you would share this post on your social media!
Want to read more about India?
Travelguide Namchi & Surrouding – Sikkim
Complete travelguide Pushkar – Rajasthan
What to visit on your Kashmir trip – India
2 week travel itinerary Kerala
Or read my tips if you go to India on your own as a woman!
I hope you love this world as much as I do!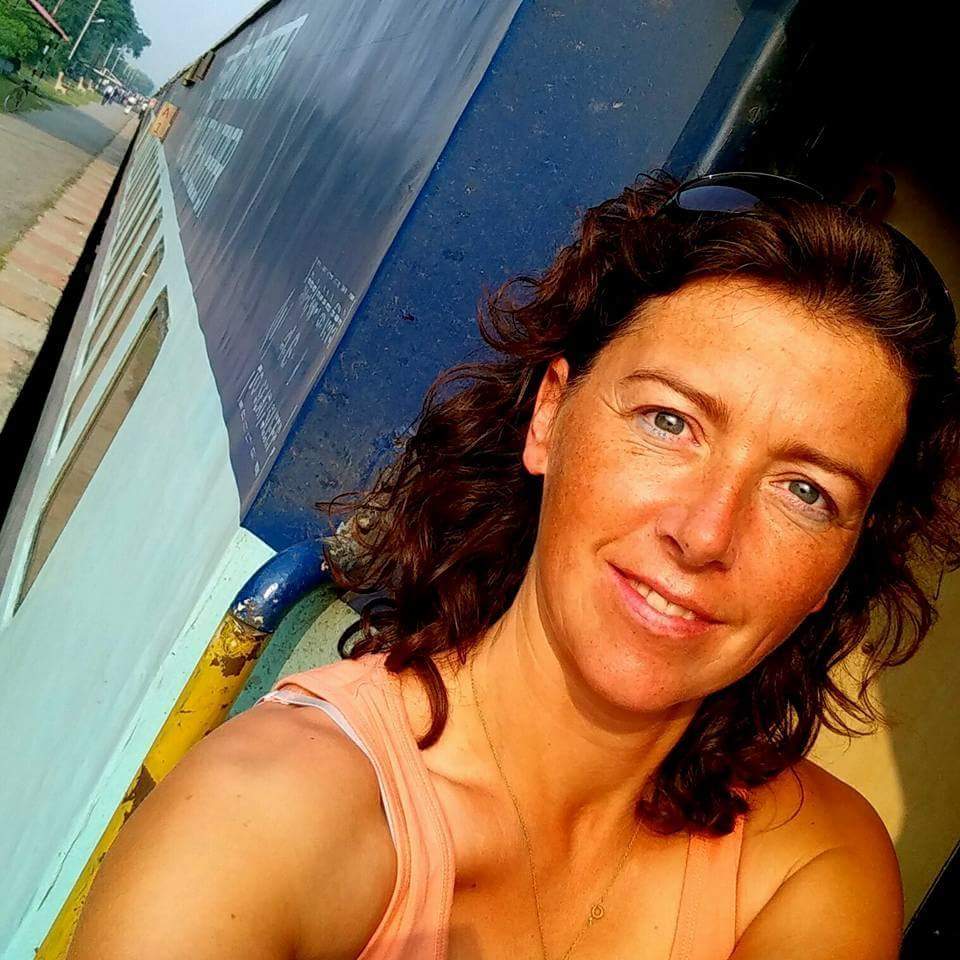 Jacomijn is een politieagent uit Nederland die jou graag laat zien hoe je veilig, actief en gezond de wereld kan over reizen. Safe and Healthy travel is a MUST